If you're looking for a way to improve your sleep, a weighted blanket may be a good option. Weighted blankets are designed to provide pressure and sensory input to the user, which can help promote relaxation and better sleep.
But if you're a hot sleeper, you might be worried about getting a weighted blanket. Will it be too thick and heavy to keep you cool?
In this article, we'll review one particular brand of cooling weighted blanket called Aricove to see how well they handle hot sleepers. We'll also provide tips on how to pick the best products for you and your family.
About Aricove
Aricove is a brand of weighted blankets created to help people sleep better. Their blankets are made from twill woven bamboo fabric, and feature a unique design that helps keep you cool while you sleep. Their materials are certified Oeko-Tex Standard 100, an international testing and certification system that verifies no harmful substances or chemicals are present in their products.
Overview of Aricove weighted blankets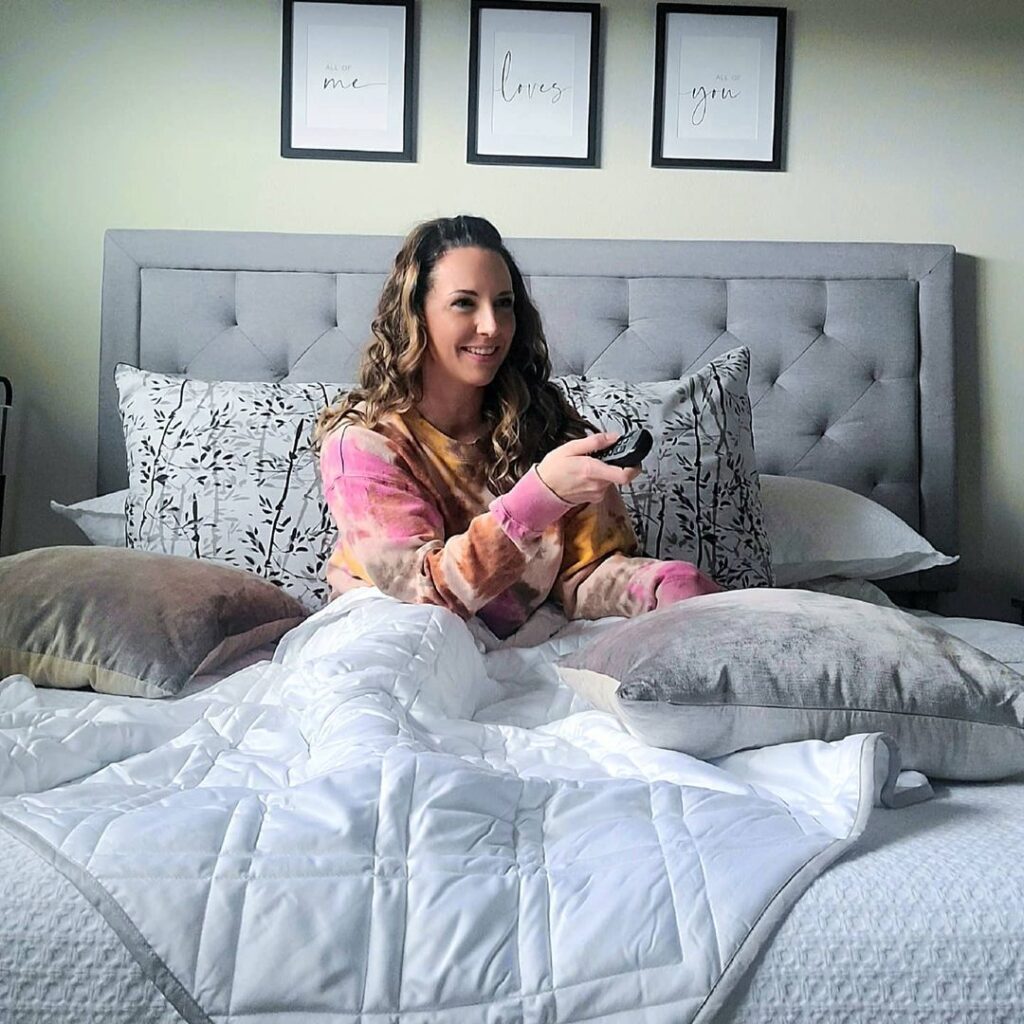 The Aricove weighted blanket is filled with superfine glass beads, which helps give it weight, but also keeps you cool. The blanket features a breathable microfiber material that does an excellent job of keeping air flowing freely through it.
The outside of the blanket is made from bamboo, which naturally regulates your body temperature and absorbs moisture during the night. It's designed to be both comfortable and functional.
This blanket is available in a number of different sizes and weights:
Kids Weighted Blanket at 36″x48″and weighing 5lb
Regular adult sized Weighted Blanket at 48″x72″ available in weights of 10lb, 12lb, 15lb, 17lb or 20lb
A 48″x72″ Weighted Blanket Cover which we recommend getting so you can use it while your other cover is in the wash
Aricove reviews: What customers think
As far as reviews go, this particular weighted blanket has been well received by customers. Most people agree that the material is very soft and comfortable, even for people who get overheated while they sleep.
Most customers seem to appreciate the fact that Aricove weighted blankets come in a number of different weights, which should allow you to find the perfect amount of pressure regardless of your size or weight. Most adults don't need a blanket any heavier than 20lbs.
Is Aricove worth it?
Overall, we think the Aricove weighted blanket is a great choice for hot sleepers. The combination of materials used in this blanket help keep you cool and comfortable all night long.
The bamboo material on the outside of the blanket helps regulate your temperature by wicking moisture from your body, and the superfine glass beads further promote airflow.
Aricove is a new brand in the world of sleep products, but it seems to be making a decent name for itself with its line of cooling weighted blankets. If you're looking for a way to improve your sleep, an Aricove weighted blanket may be a good option for you.
Where to buy an Aricove weighted blanket
You can buy an Aricove weighted blanket directly from the company's website. Prices start from $69.95.
Aricove promotions, discounts and coupons
Currently, there are discounted prices offered on the Aricove website for their full selection of products. They also have free 2 days shipping.
FAQs
How do you clean an Aricove weighted blanket?
You should only wash the cover of your weighted blanket – you can do so in a washing machine on a gentle cycle, or by hand. Hang up to dry when done. If the inner blanket gets dirty, you can spot clean it with a damp cloth.
How long does Aricove take to ship?
Aricove has free 2 day shipping on all domestic orders in the US. Orders placed before 12pm EST will get shipped that same day, while orders placed after will ship the next day.
What is Aricove's return policy?
Aricove has a 30-day money back guarantee which begins when your items are delivered.
How to contact Aricove
If have questions after reading this Aricove review, you can get in touch with the brand by emailing [email protected].