#1.
ME: im an adult and i deserve to be treated as one
ALSO ME: wakig up early… is good for u???

— jomny sun (@jonnysun) November 1, 2016
#2.
When parents say to kids "go to ur room & think about what you've done" it's really good practice for what you'll do every night as an adult

— pat tobin (@tastefactory) September 18, 2015
#3.
#4.
[as a kid]
Don't tell me what to do, I can make my own choices
[as an adult]
I don't know anything and I take life advice from memes

— Hippo (@InternetHippo) April 9, 2016
#5.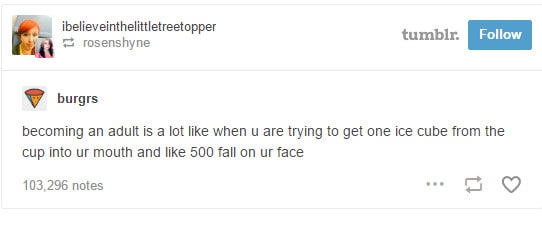 #6.
I'm an adult, and I can eat whatever I want whenever I want, and I wish someone would take this power from me.

— Mike Primavera (@primawesome) May 17, 2014
#7.
Injuries as a kid:

fouled on a layup

fell off trampoline

pulled muscle running

Injuries as an adult:

slept wrong

sat too long

coughed

— James Breakwell (@XplodingUnicorn) July 18, 2016
#8.
You guys ever hear an awesome old song and you're like OMG I USED TO LOVE THIS SONG wow time flies I'm so much older now and death awaits

— Eliza Bayne (@ElizaBayne) June 15, 2015
#9.
age 16: wow 20-somethings are so wise & old & have their lives together

age 23: if I get hit by a car will I have to pay my student loans

— Jarry (@jarry) September 22, 2016
#10.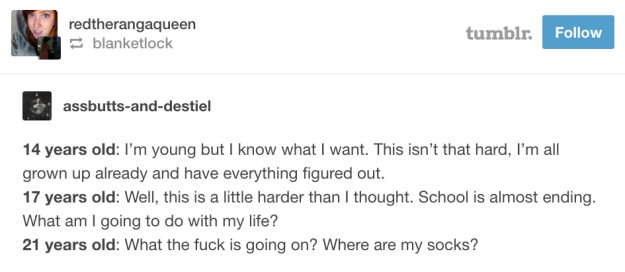 #11.
#12.

#13.
age 10: the floor is lava!!! hahahahahha
age 25: the stable adult relationship is lava!!!! hahAhaha

— chuuch (@ch000ch) March 7, 2016
#14.
The worst thing about being an adult & not a kid is that no one stands behind you when you're being an asshole mouthing "she's just hungry."

— maura quint (@behindyourback) January 16, 2016
#15.
"Mom, I'm an adult. There's nothing left for you to show me."
(*folds a fitted sheet*)
"TEACH ME YOUR SORCERY, LINEN WIZARD"

— batkaren (@batkaren) March 7, 2015
#16.
#17.
you know you're becoming an ADULT when you get excited for new sponges!! lol. and you're really sad a lot

— cool as h*ck turtle (@dubstep4dads) November 17, 2015