President Donald Trump and First Lady Melania Trump were booed by crowds when they arrived at the Supreme Court on Thursday to pay their respects to the late Justice Ruth Bader Ginsburg.
The first couple stood at the top of the steps at Ginsburg's flag-draped coffin, their heads bowed and faces covered by masks. The crowd yelled at them, 'Honor her wish!' and 'Vote him out!"
The Trumps spent 11 minutes at the court before returning to the White House. They entered through the back of the Supreme Court building and walked through it and out its front door to view Ginsburg's coffins, most likely for security reasons.
Thousands of mourners lined up at the Supreme Court to pay tribute to the Ginsburg, who at 87 was considered a cultural icon and feminist hero. The Clinton apointee was known for her liberal philosophy, which has oftentimes put her in direct opposition to the president.
The chant 'Honor her wish,' referred to Ginsburg's dying request that the winner of the November 2020 presidential election appoint her successor.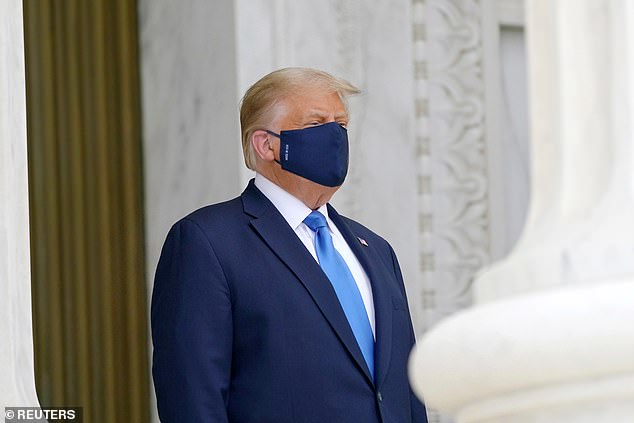 President Trump, however, has vowed to move forward in the confirmation process and will name his replacement on Saturday at the White House.