#11. This fair request.


mrcrockervevo.tumblr.com
#12. This inquiry into the origin of the boof.

fiyhi.tumblr.com
#13. This lesson in excess.


nice-wig-janis.com
#14. This excellent thing birds do.


intrude.tumblr.com
#15. This petition we should all get behind.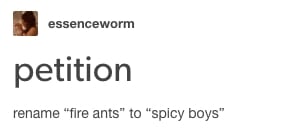 essenceworm.tumblr.com
#16. This misleading name for a potentially fun activity.


myriani.tumblr.com
#17. This really cute nickname.


australiansanta.com
#18. This thing that should never ever happen.


thelilnan.tumblr.com
#19. This interesting understanding of animal anatomy.

seriousjones.tumblr.com
#20. These weirdos that we all tolerate for some reason.


summer-librarian.tumblr.com
#21. And this fight I would definitely buy tickets to. uglytwink.tumblr.com