A few years ago, Rehan Staton, an 18-year-old student from Maryland, was down on his luck and left with very few options in life. However, instead of letting life get the better of him, Rehan chose to fight — one day at a time — until he achieved his goals.
It would have been easy for Rehan to accept defeat. He was working as a garbage collector to support his family after his mother abandoned them years ago. He lost all chances of becoming a pro boxer after sustaining a double shoulder injury in the 12th grade.
With no future in sight, and no money to go to school, Rehan chose the humble life of a garbage collector at Bates Trucking & Trash Removal sanitation company.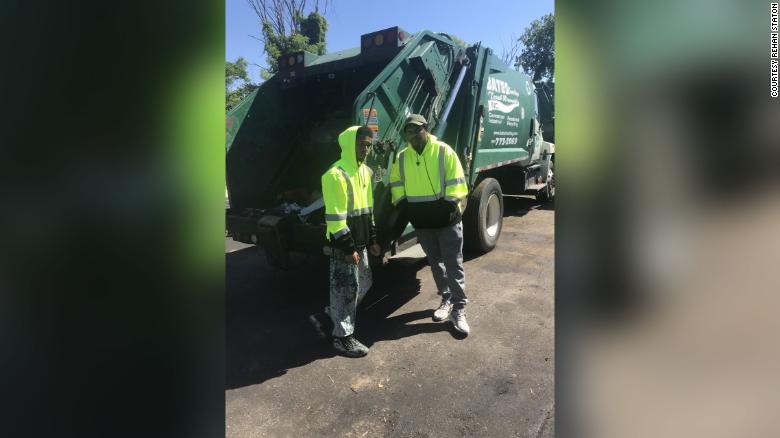 This wasn't an easy transition. Rehan used to go to private school and had a middle-class upbringing. However, his mother left them and his father struggled to provide for them financially. There were times when Rehan and his brother barely had anything to eat or electricity at home.
"I wasn't eating meals every day and my dad was working all the time. Sometimes there'd be no electricity at home," Rehan explained, saying this was also the time his grades began to suffer.
Fortunately, a kind teacher took the boy under his wing and Rehan was able to do well in school. In 12th grade, he had a sports injury that put an end to his dream of becoming a pro boxer.
He tried applying for college but was rejected from every school he applied to.
"That ended up just not working in my favor. So, I ended up going to work as a garbage man. It was the first time in my life people were lifting me up for the sake of lifting me up and not because I was good at sports," Rehan recalls.
His co-workers at Bates Trucking and Trash wondered what he was doing there. These were guys who have been in and out of prison, and they wanted Rehan to have a different life from theirs.
Unknown to Rehan, his co-workers spoke to the owner of the garbage trucking company about his smarts and good character. Bates brought Rehan to Bowie State University to meet a professor who later became impressed with him.
The professor appealed to the admissions board on Rehan's behalf and he was able to go to college, earning a 4.0 GPA.
"I became the president of organizations. I was winning so many scholastic accolades — it was crazy." After his sophomore year, Rehan decided he wanted to go to law school.
He transferred to University of Maryland, where he graduated in 2018. After that, Rehan worked in political consulting with the Robert Bobb Group, a firm in downtown DC, while studying for the LSAT. He was accepted to law schools at Harvard, Columbia, University of Pennsylvania, the University of Southern California, and Pepperdine this Spring.
Rehan has chosen to attend Harvard Law school and will start taking online classes this fall.
Looking back at his journey, Rehan can attribute his success to two things: his perseverance, and the kindness of strangers.
He said his time as a sanitation worker helped him see his potential. While it may seem like it was the lowest point in his life, Rehan said he never felt more supported.
"Throughout my entire life … all the people in my life who I was supposed to look up to were the ones who always downplayed me and made me feel bad about myself. I had to go to the 'bottom' of the social hierarchy — that's to say formerly incarcerated sanitation workers — in order to be uplifted," Rehan said.
To give back to the community and thank people who helped him achieve his dreams, Rehan said he will help other young people with LSAT tutoring and college counseling.
"When I look back at my experiences, I like to think that I made the best of the worst situation. Each tragedy I faced forced me out of my comfort zone, but I was fortunate enough to have a support system to help me thrive in those predicaments," Rehan said.