The Metropolitan Police began receiving reports of gunfire in Oxford Street and at Oxford Circus station at 4:37 in the afternoon.
The scare happened while shoppers were crowding London's busiest shopping street to take advantage of Black Friday discounts.
Something happening on #oxfordcircus – Hope everyone is ok!!! pic.twitter.com/M5UQ1VNsNz

— Charlotte Terry (@CharlotteTerry1) November 24, 2017
The ensuing panic caused a mass stampede of rush-hour commuters fleeing the station and mallgoers dropping their purchases on the street. "They were crying, they were screaming, they were dropping their shopping bags. It was a very panicked scene," said BBC reporter Helen Bushby, who happened to be walking by.
"People said they heard a gunshot and panic was just spreading," she said.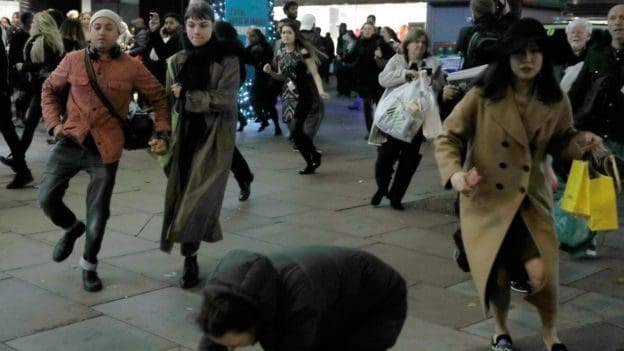 BBC
One bystander, 37-year-old Greg Owen, said he was at Oxford Circus station when people began running away.
"I was next to the Tube station and everyone started screaming and shouting and then a flood of people came up the stairs," he added.
Chaos on #OxfordStreet, what's happening pic.twitter.com/SJBLjQHCoJ

— Emily (@EmilyBarnfather) November 24, 2017
Given the nature of the reports, The Met enforced their existing protocol for terrorist attacks, including their deployment of armed officers. The Oxford Circus junction – where Oxford Street and Regent Street meet – was closed off, while shops and businesses were placed in lockdown.
Nearby Bond Street station was also closed to prevent overcrowding.
The 999 reports remain unsubstantiated, however.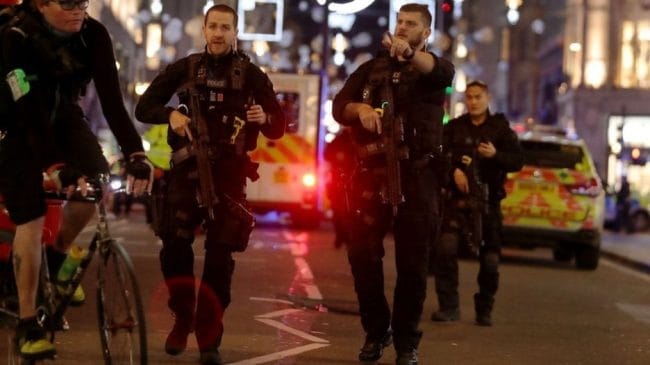 BBC
"A full and methodical search of the station and Oxford Street was conducted by our specially trained firearms officers but they did not find any evidence of gunfire at the station," a statement from the British Transport Police (BTP) read. "We continue to work with the Metropolitan Police Service and are working to reopen Oxford Circus and Bond Street Tube stations."
"We understand that incidents like this cause panic and concern. We would therefore like to thank Londoners for their patience during this incident. Our officers will remain highly visible on duty this evening to reassure the public," they added.
The only casualty reported was a woman who sustained a minor injury during evacuation.
At this stage, we have received one report of a woman sustaining a minor injury when leaving Oxford Circus station. There are no other reported casualties. More updates to follow.

— BTP (@BTP) November 24, 2017
Witnesses believe a fight on a platform at Oxford Circus Tube station sparked the chain reaction that ended in the frightening stampede. Regan Warner, a passenger waiting for her train at around 4:35 pm, said she saw a man bumping into another man on the "overcrowded platform".
"They exchanged words, then a punch to the gut, then a full-out fight," she added. "People were trying to break it up, there was lots of yelling. People were running away, a woman fainted, children were scared and crying."
"The emergency button was pressed. The fight was broken up and the parties walked in opposite directions."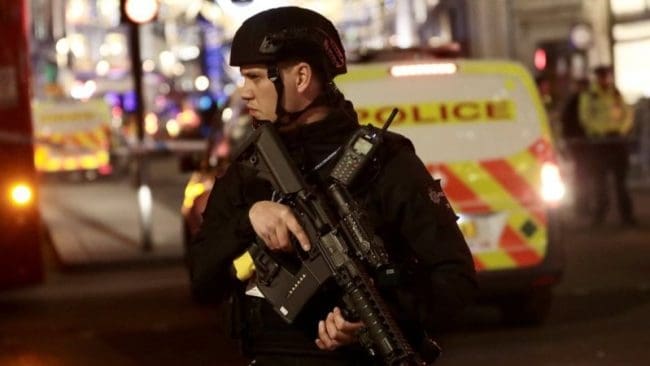 BBC
As she departed on a Tube train, Warner reports hearing an announcement over the loudspeakers ordering a full evacuation of the station.
The Duke and Duchess of Cambridge, who were slated to attend the Royal Variety Performance, arrived at nearby London Palladium theatre an hour later than scheduled as a result of the incident.
A spokesman for Kensington Palace said the royal couple were in time for the start of the show, but the traditional pre-show meeting with some of the performers had to be dropped.
In a statement, Mayor of London Sadiq Khan commended the city's emergency services for their "swift response" to the alert.
Thanks to our police and emergency services for their swift response at Oxford Street this evening. pic.twitter.com/6lLdbxlC8L

— Sadiq Khan (@SadiqKhan) November 24, 2017
Scotland Yard reports that armed police have been stood down, police have removed the barricades and people who took cover in a building have been asked to leave.
Oxford Circus and Bond Street Tube stations have both reopened.