Riley and Emily Portie lived in Orange, Texas, and were parents to five children.
Tragedy struck when their motorcycle was hit by a drunk driver in a pickup truck — killing the doting parents instantly.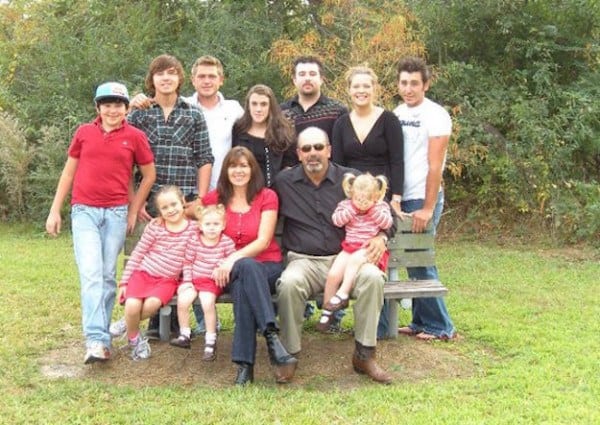 Facebook: emily.portie
Officer Eric Ellison of Orange Police Department was one of the first respondents on the scene. The father-of-two was tasked to break the devastating news to the Porties' next of kin. When he got to the house, their youngest son, 18-year-old Kazzie, was home alone.
In a moment that Ellison would describe as one of the most difficult in his 21-year career, the officer sat Kazzie down and told him the terrible news.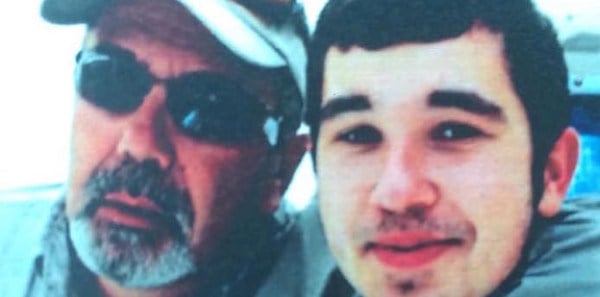 Facebook: captcornmeal
The teen said he didn't know what to do, and told Ellison that he was graduating from Little Cypress–Mauriceville High School less than a week later.
"I said, 'You are going to walk!'" Ellison exclaimed. "Your mom and dad will have front-row seats looking down from heaven, and I'll stand in their place. I've got your back."
A man of his word, the officer kept his promise and attended the teen's graduation ceremony in honor of his parents. "I had to be the bearer of bad news for him, and I felt that was just the right thing to do," Ellison said.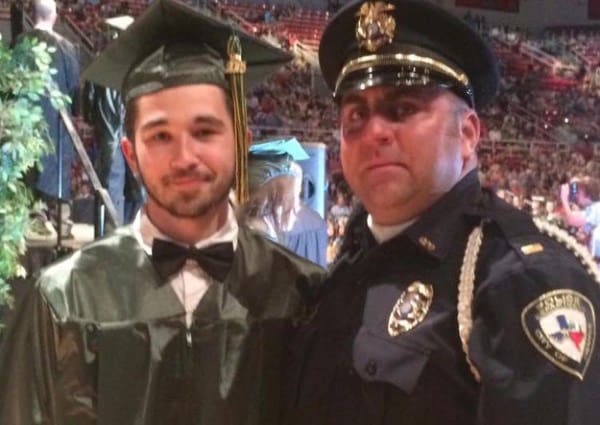 Facebook: captcornmeal
When Kazzie went onstage to receive his diploma, Ellison was standing in full police regalia, where the teen's parents would have been — and smiling just as proudly. The two shared an embrace as the crowd applauded.
Ellison — whose daughter also graduated the day before — knew exactly what this moment meant to Kazzie's parents. "I just did what I would want someone to do if I had left my girls early." the officer said.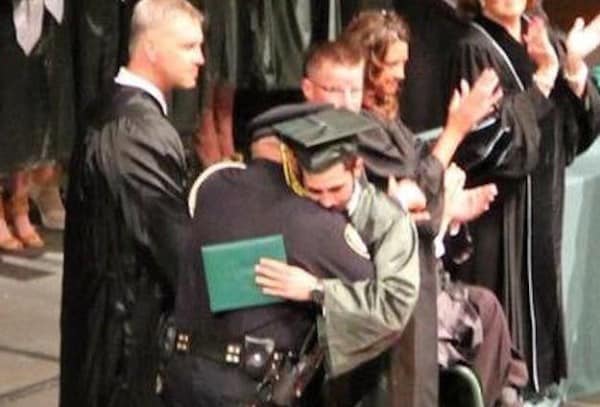 Facebook: captcornmeal
Kazzie's brother, Blake Henning, said, "If you didn't have a wet eye you needed to check your pulse. The class of 2015, 245 seniors and their families, on their feet and everyone right behind him."
When Kazzie's name was called, the entire stadium leapt to its feet and gave a 40-second standing ovation for the teen.
This was such a special moment. Thank you class of 2015 for making this such a memorable occasion for our family. So proud of you @kazz418 I love you so much. Throughout all of this you have been so strong and we are so proud of you. Thank you for being such a great brother. I am so excited to see what the future holds for you. I know mom and bubba are so proud of you. Again, love you brother and thank you for being who you are.Kazzie Portie

Posted by Blake Henning on Saturday, May 30, 2015
"Seeing Officer Ellison there to congratulate me meant the world to me," an overwhelmed Kazzie said. "It was so nice to see that he actually showed a genuine care for me and my family's situation instead of us just being another 'case.'"
Kazzie also said that since his parents' death, he has received "never-ending" love and support from his community. He said, "I'll never be able to thank enough some very few people that stayed with me through the days and as well as everyone that helped me in any way at all and all the people praying for me and my family."
When the story went viral, Ellison voiced his gratitude for all the praise that came his way, but he stressed that the focus should be on Kazzie.
I would like to say thank you for all the birthday wishes today, and I am HUMBLED for the positive comments I've…

Posted by Eric Ellison on Sunday, May 31, 2015
As for Kazzie, the focus was still on his mom and dad. "My parents talked in the last month how proud they were of me for graduating, and not just for graduating, but how proud of me they were for the man I have become," he said. "And knowing all of this, truly warms my heart with joy."