China is a beautiful country, and much of it is filled with natural landscapes that are nothing short of idyllic. These pictures, however, paint a very different story:
#1. Fishermen row a boat in the algae-filled Chaohu Lake in Hefei, Anhui province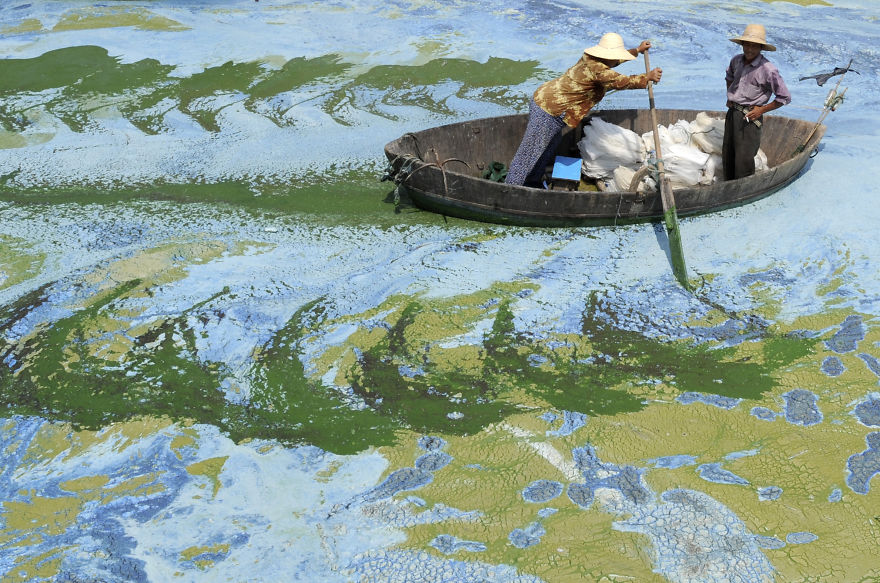 source
Largely due to China being the fourth most visited country in 2014, as well as its fast-paced economic transformation, the Asian juggernaut's environment sadly becomes the sacrificial lamb for progress.
#2. Workers clean up floating garbage on the Yangtze River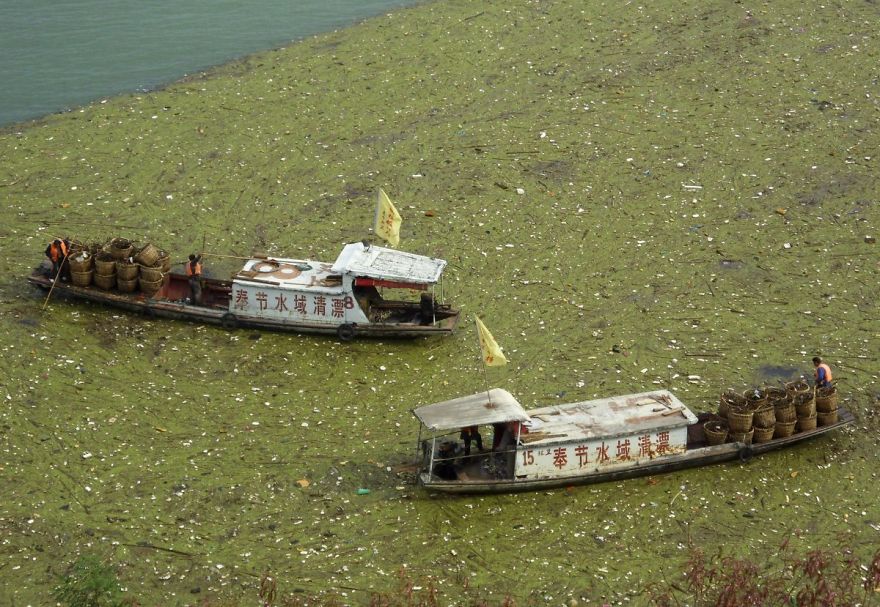 source
Much like the smog that perpetually hangs over the skyline, China's reputation for being one of the worst polluted countries looms above it: waterways slick with waste, increasing tendencies of birth defects, and dying wildlife due to pollution-related factors.
#3. Girl walks through smog in Beijing, where small-particle pollution is 40 times over international safety standard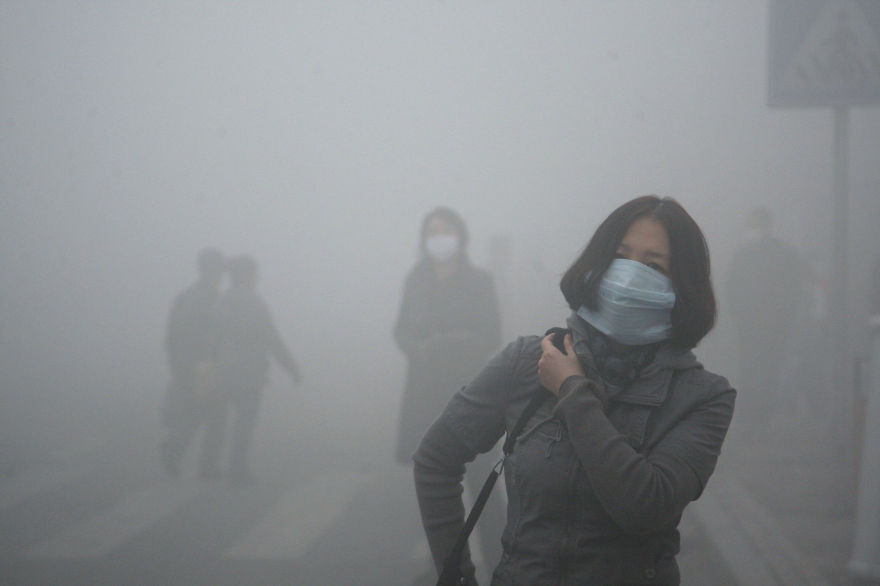 source
According to the Harvard Business Review, China, "is taking this challenge much more seriously than others… doing things differently, making longer-term, sustained commitments that are much larger."
#4. Child drinks water from stream swimming with waste in Fuyuan County, Yunnan province

source
In 2010, China ranked as the world's leading investor in low-carbon energy technology, investing $54.4 billion on that year alone, up from $39.1 billion in 2009.
#5. Boy swims in water choked with algal bloom, Qingdao, Shandong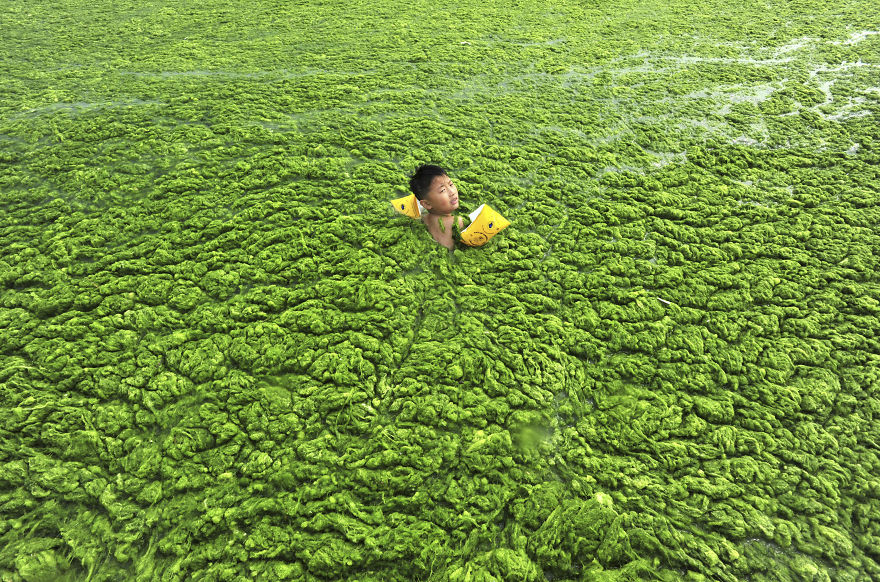 source
It can be said that the Chinese government is very much aware of the ecological impact of their activities, and are developing long-term plans to solve them.
#6. Journalist takes a sample of red polluted water from the Jianhe River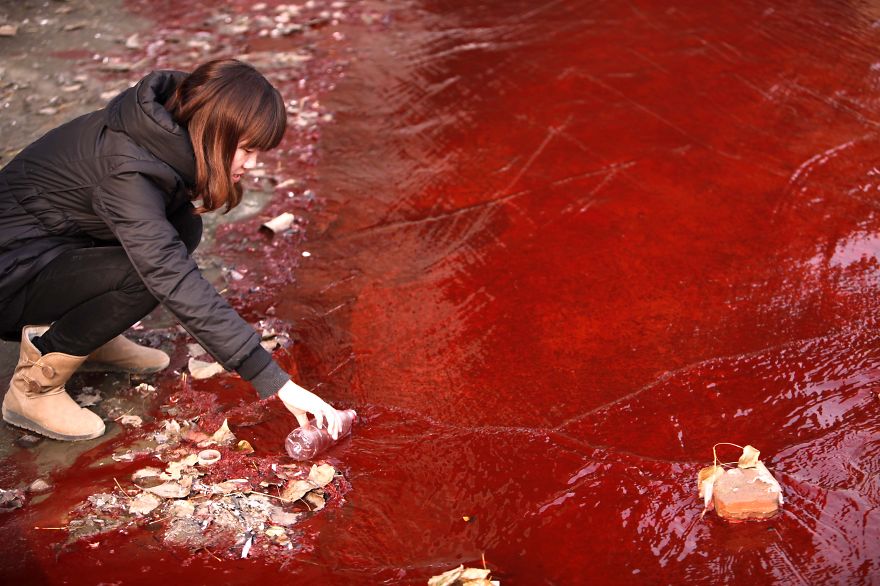 source
Hopefully, these changes start happening soon, before the harm becomes irreversible.
#7. Worker clears dead fish floating in a lake in Wuhan, Central China's Hubei Province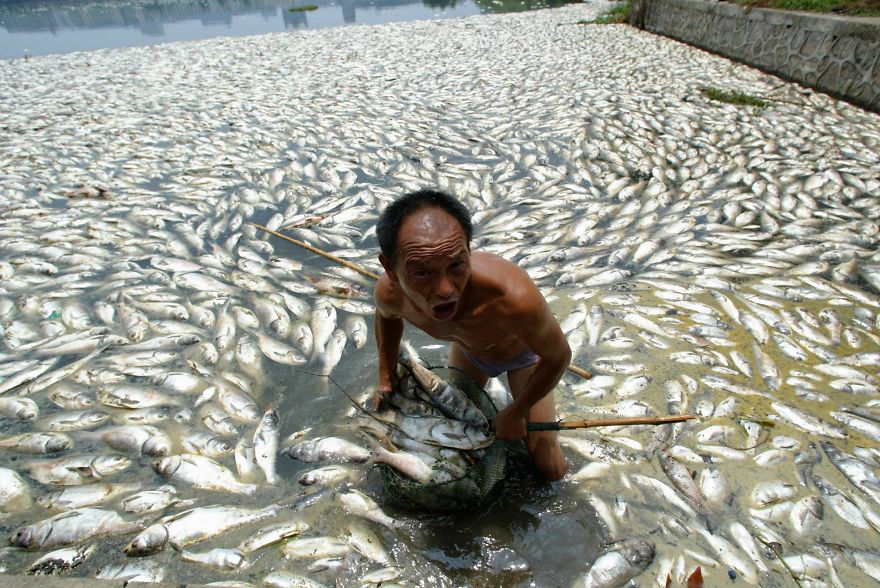 source
#8. Labourer tries to clean up oil from water, Dalian, Liaoning

source
#9. Workers try to drain sewage water from leaking sewage tank, Shanghang, Fujian

source
#10. Buildings in Beijing surrounded by smog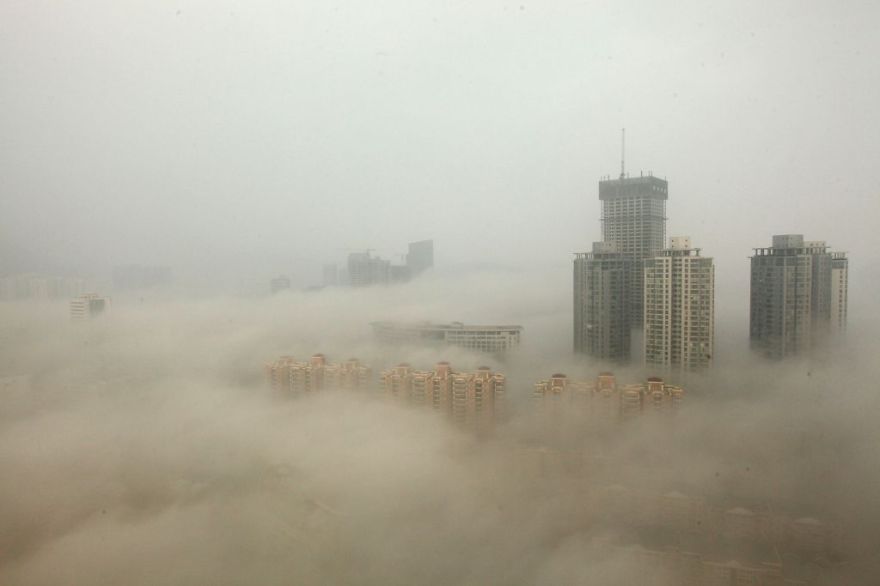 source
#11. Child swims with the garbage in a polluted reservoir, Pingba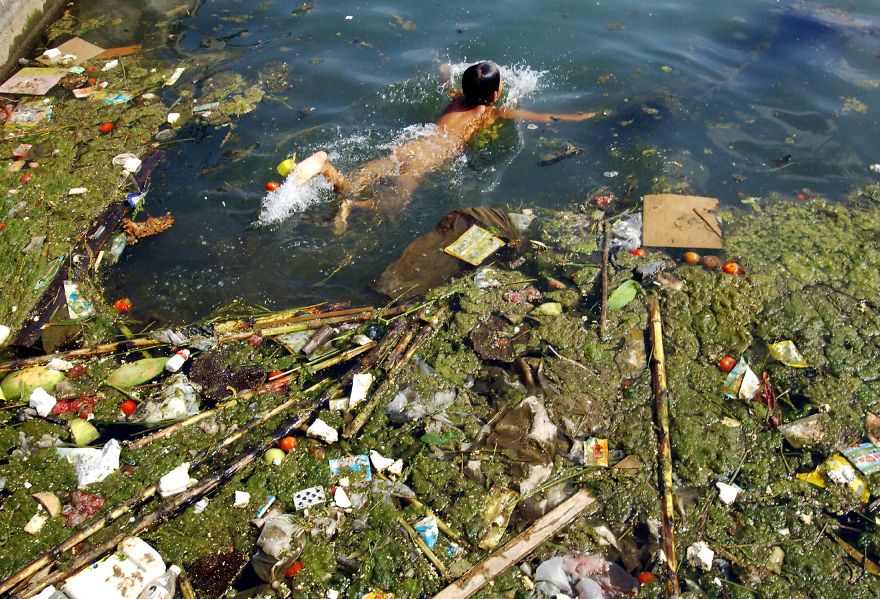 source
#12. Boy tries to avoid scattered rubbish floating on a flooded street in Shantou, Guangdong Province

source
#13. Pollution from a factory in Yutian, 100km east of Beijing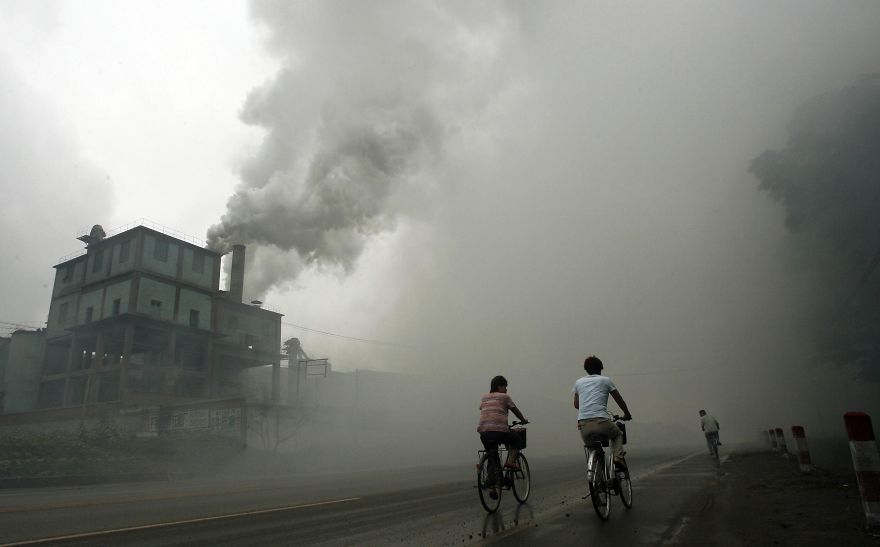 source
#14. Fake Hong Kong skyline for tourists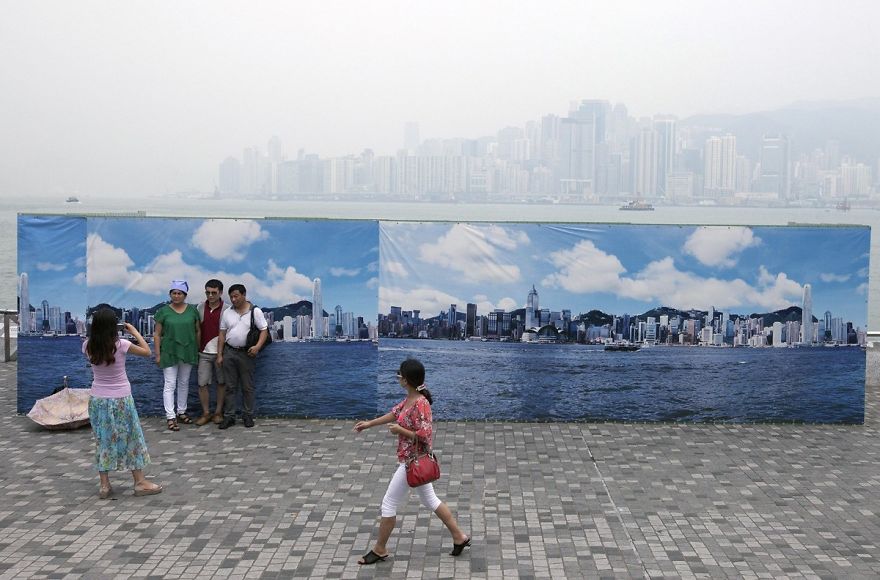 source
#15. Dead fish in water filled with thick, muddy algae, in East Lake, Wuhan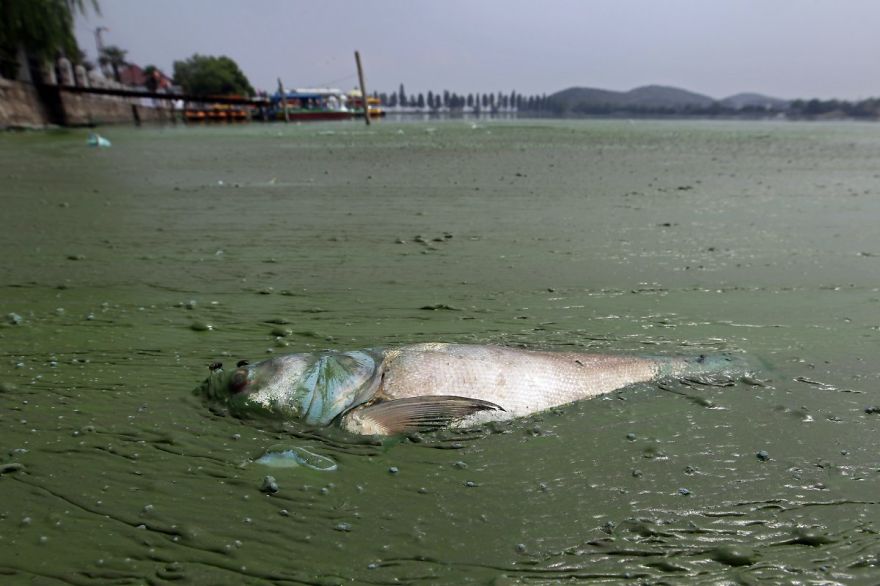 source
#16. Woman collects plastic bottles near river polluted by reddish dye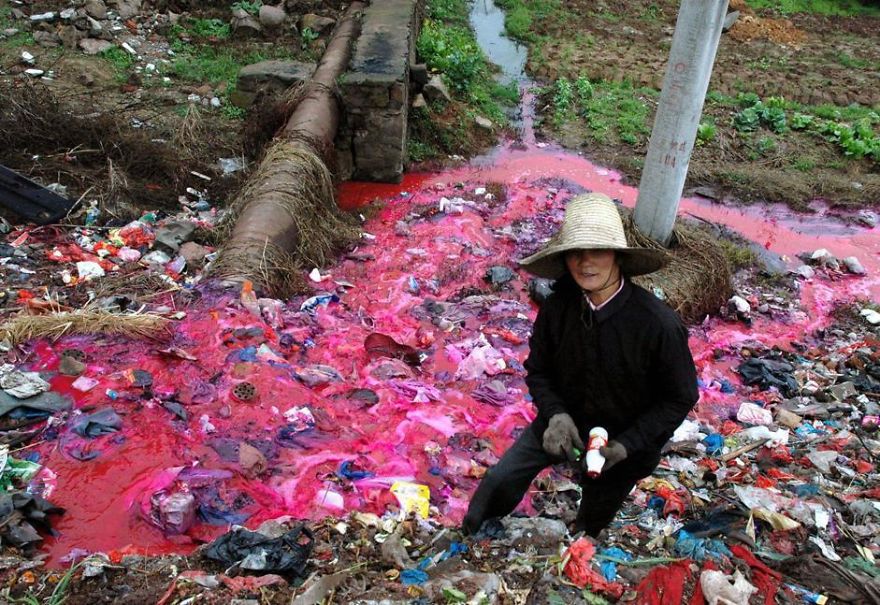 source
#17. Pipe discharges waste water into Yangtze River

source
#18. Great Wall Of China, with not-so-great hidden secrets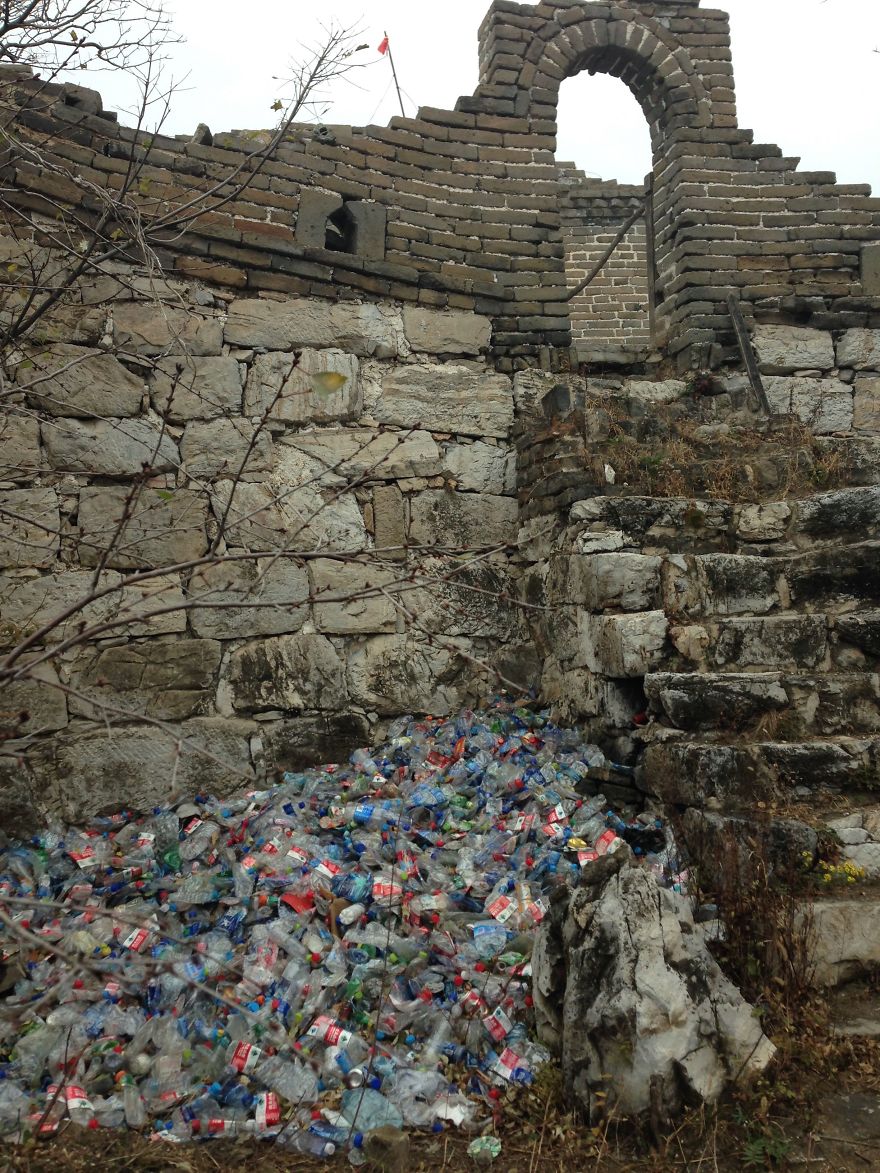 source
#19. Heavily polluted river in Jiaxing, Zhejiang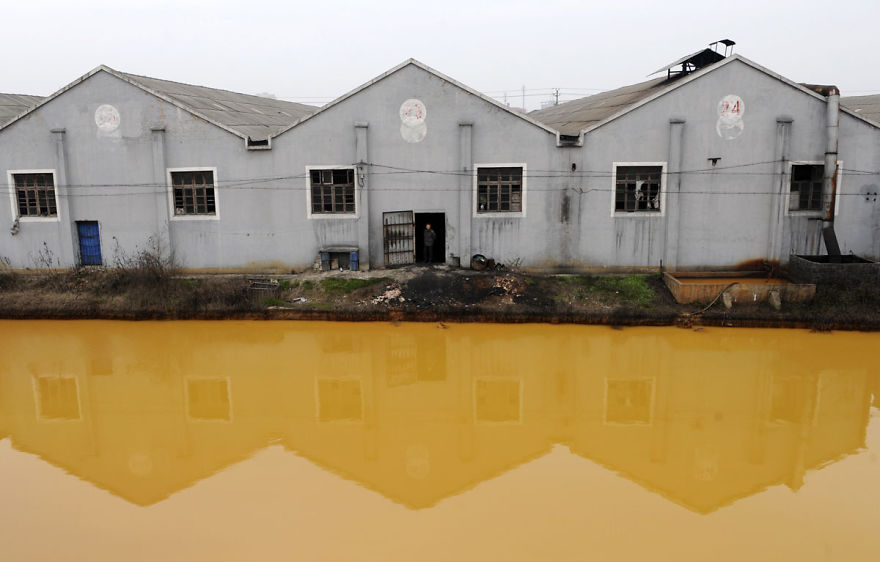 source
#20. Child playing in the trash at a village, Jiaxing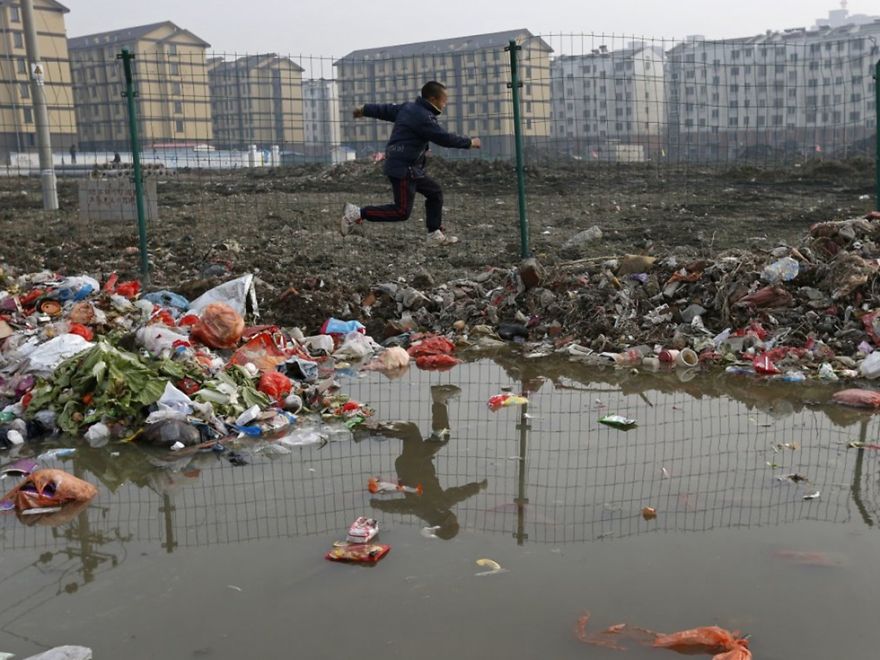 source
#21. Fisherman cups a handful of water from the algae-filled Chaohu Lake in Hefei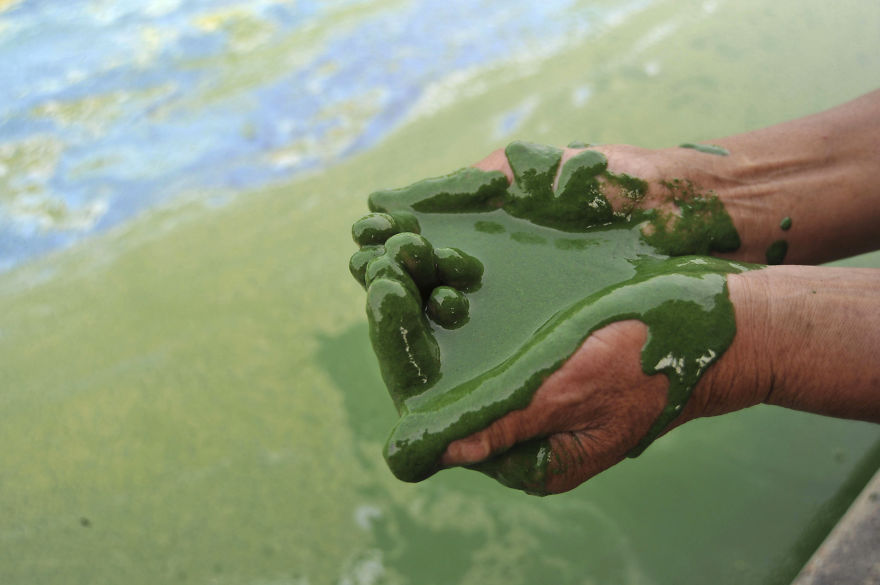 source
#22. Factory emissions against a backdrop of lush greenery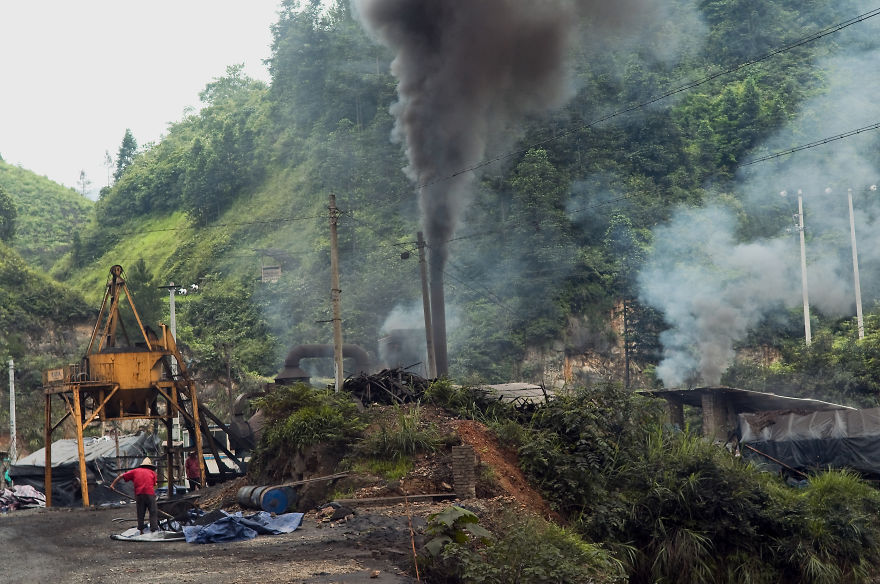 source
#23. Fisherman wading through lake covered in algae, Chaohu Lake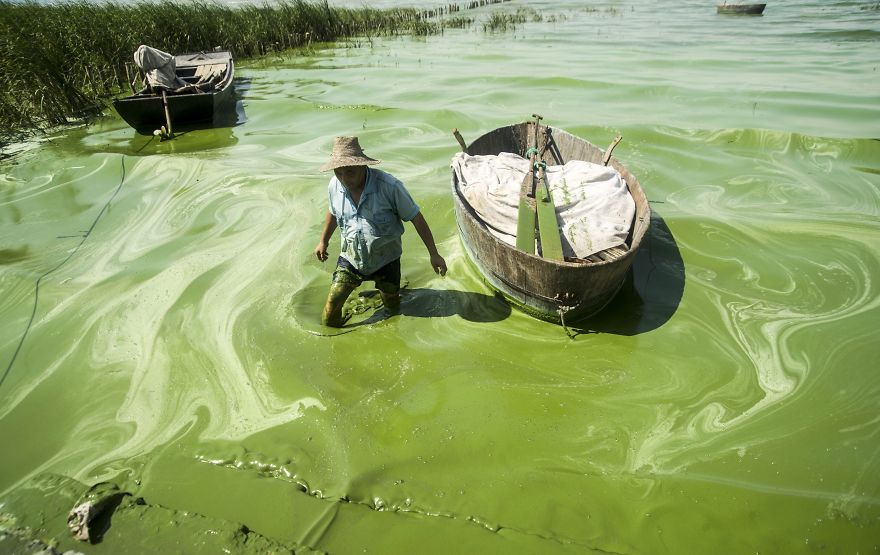 source
#24. A bridge over troubled water, Wenzhou, Zhejiang province

source
#25. Girl and her father collect water from puddle at dried-up reservoir, Baofeng County

source
#26. Fishermen picking fish in a polluted canal, Beijing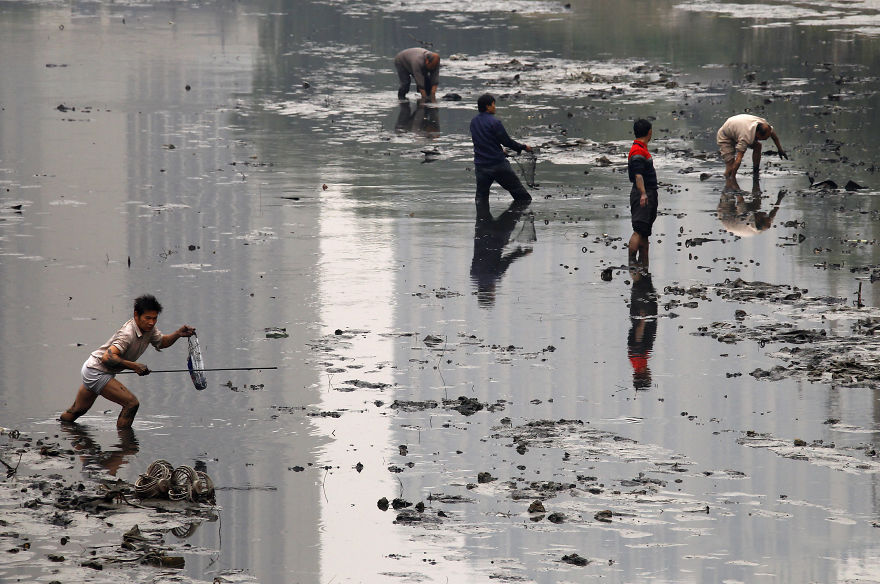 source
#27. Workers collect bags of dead fish at a park in Shenzhen, Guangdong province

source
#28. Residents stare at a heavily polluted river in Zhugao, Sichuan province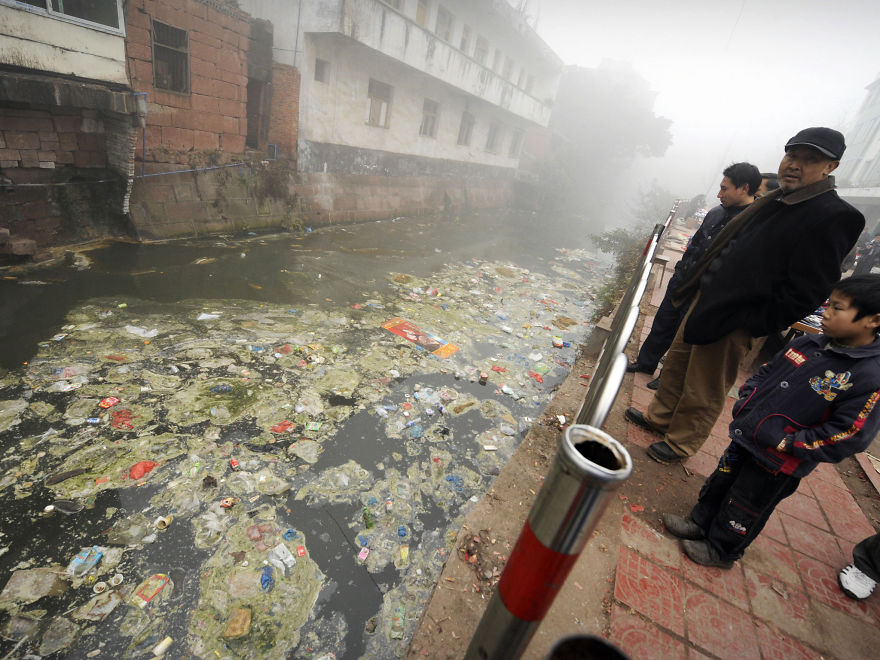 source
#29. A street dog's home is a garbage pile in Northern China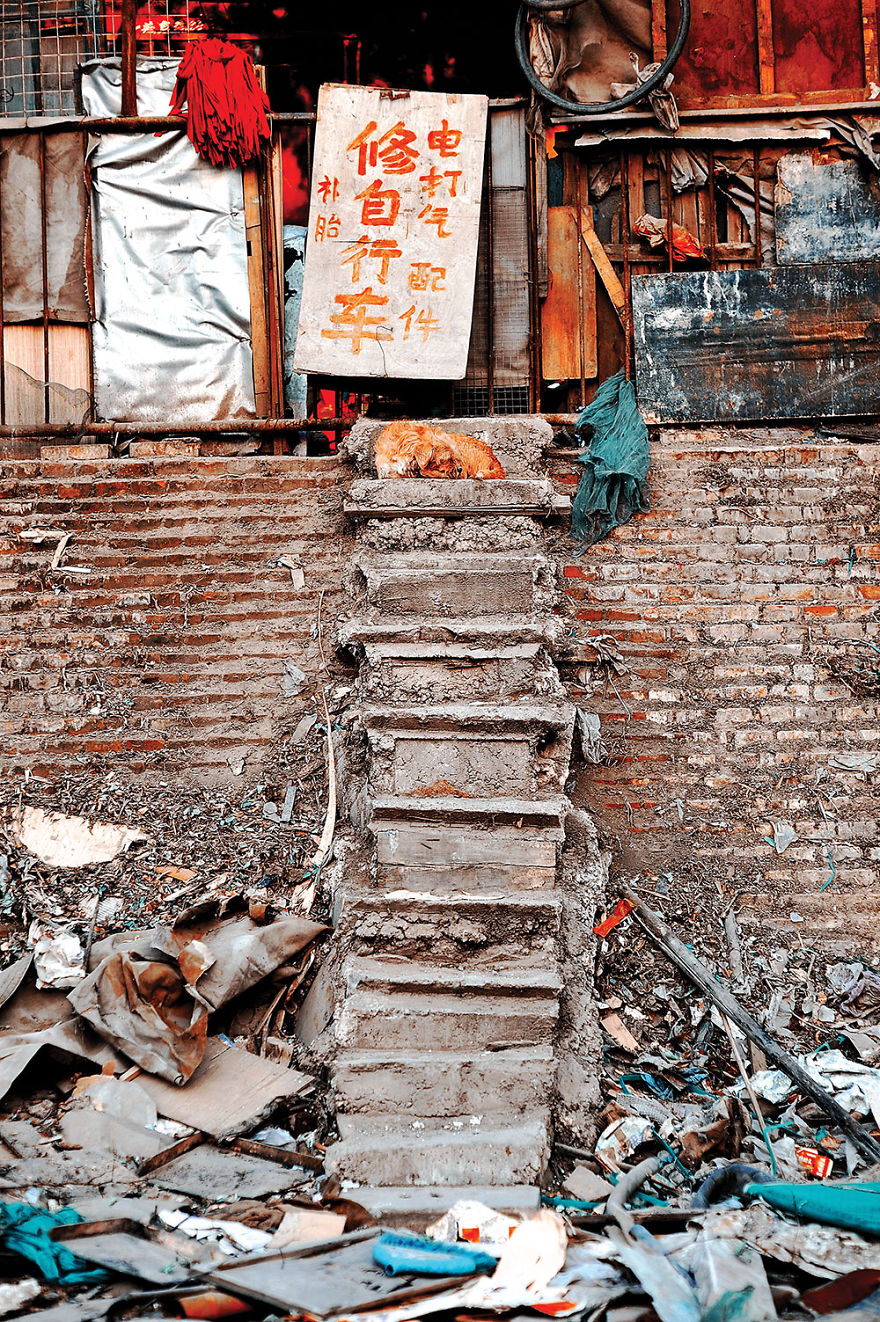 source
#30. Over 3,000 dead pigs float in Huangpu River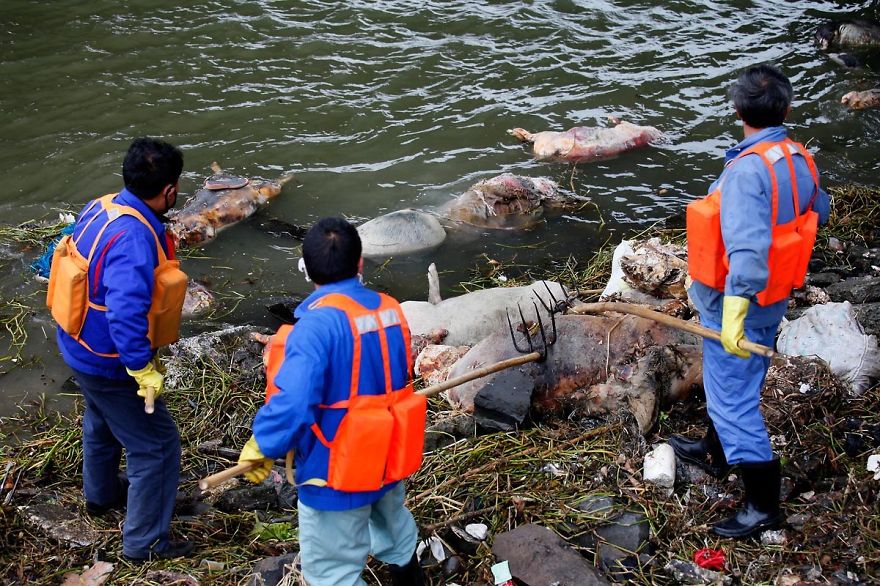 source
#31. Thick smog greets morning commuters in Beijing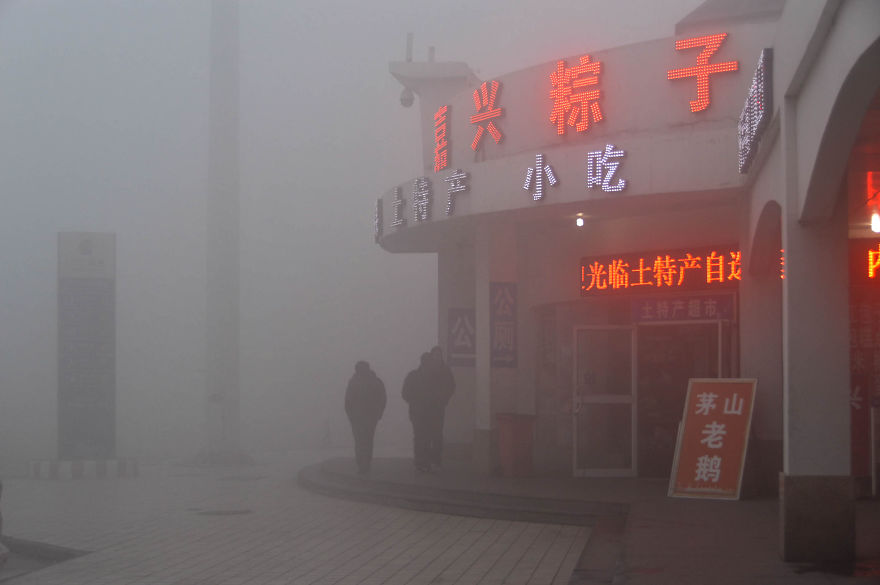 source
#32. Workers clean up leaked oil after an oil pipeline explosion, Qingdao, Shandong

source
#33. Fishermen clean up 400 million gallons of oil after oil spill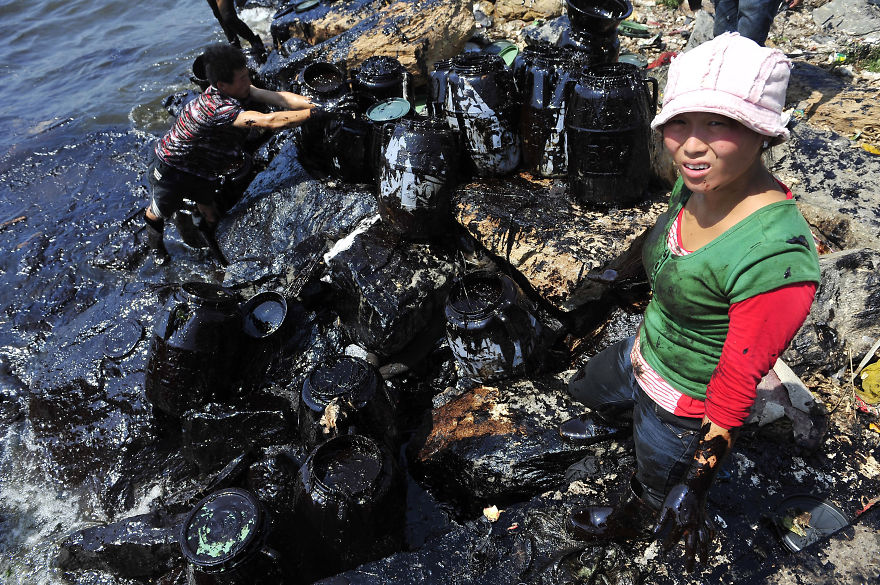 source
#34. Polluted lake in China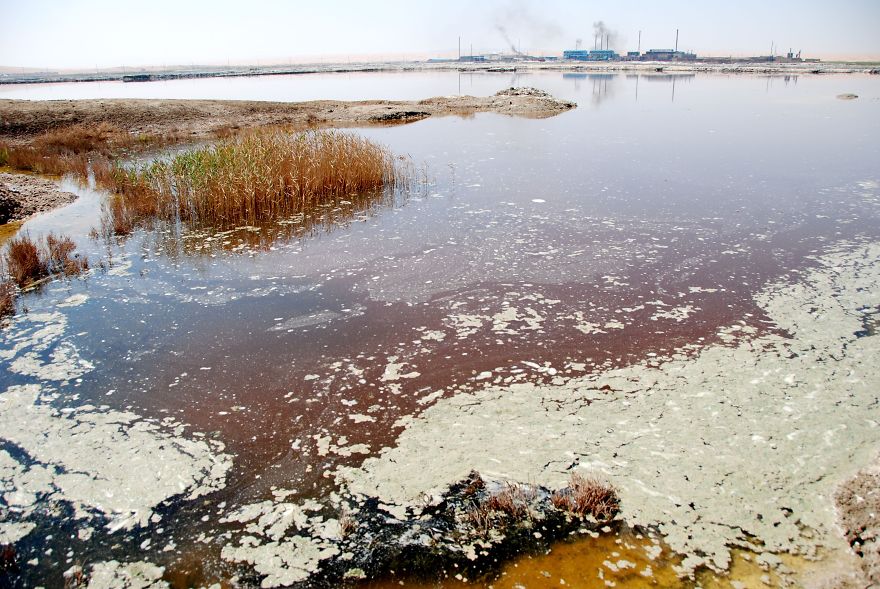 source
#35. Flies gather on railings because of polluted water, East Lake, Wuhan