1. Wake up to your favorite lyrics with this very customizable stenciled shower curtain.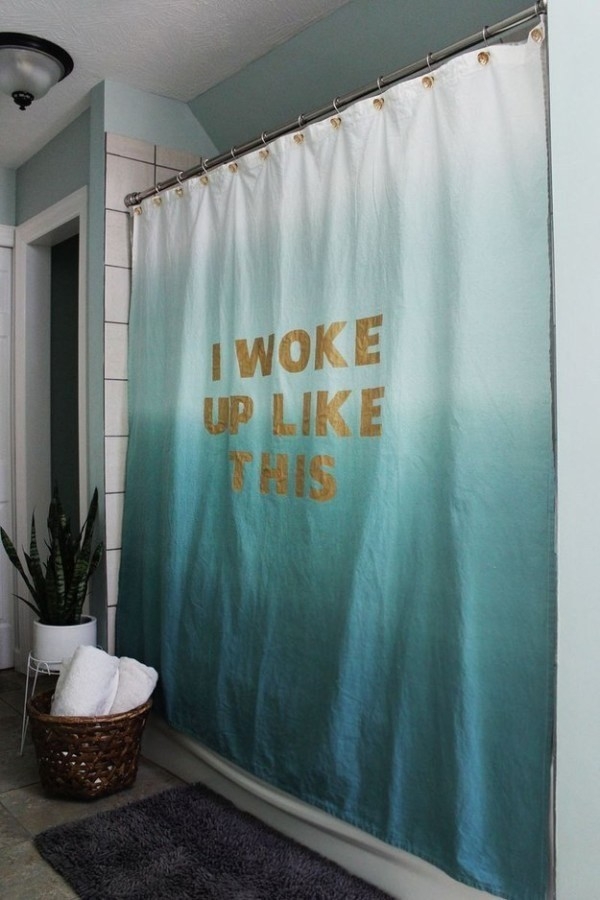 Are you more a T-Swift kind of person, or do you prefer gettin jiggy with it? Make it your own! Get the how-to here.
2. Treat. Yo. Feet.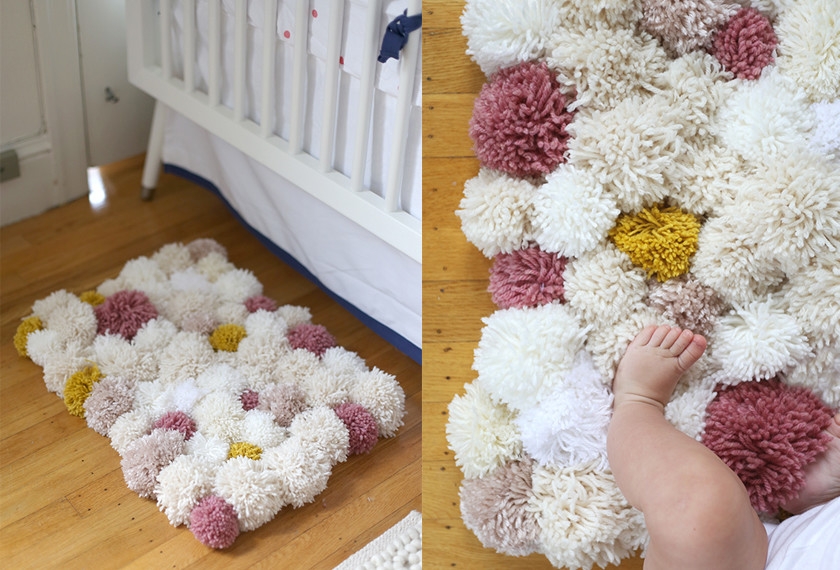 This yarn + nonstick mat DIY will rescue your toesies from cold tile floors.
3. Prettify your shower rack with uniform containers for your cleansing potions.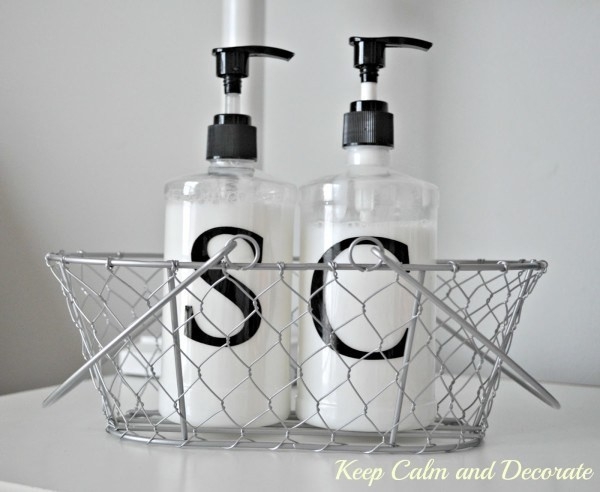 Please exercise caution, and only use plastic bottles. DIY tutorial here.
4. You can get a bubblegum pop-styled vanity organizer on a budget.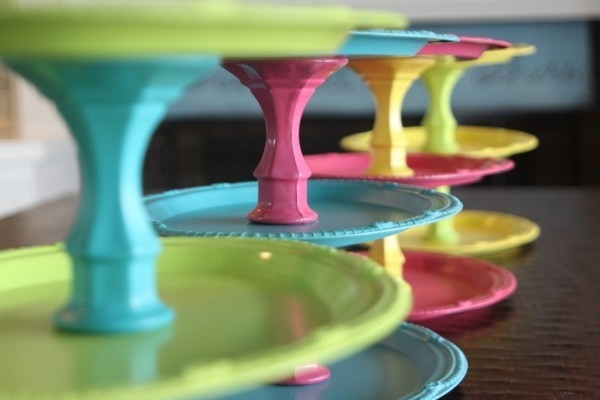 Five bucks (plus a ton of strong adhesive) is all it takes to recreate this. Just buy from the dollar store!
5. For a nautical bathroom, this Ikea hack will be the perfect accessory.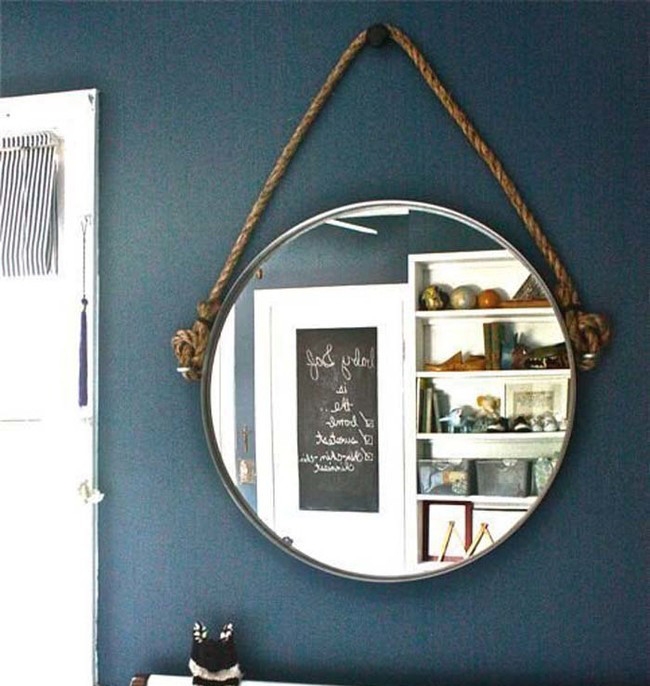 6. A curved shower rod will make your shower area feel more spacious.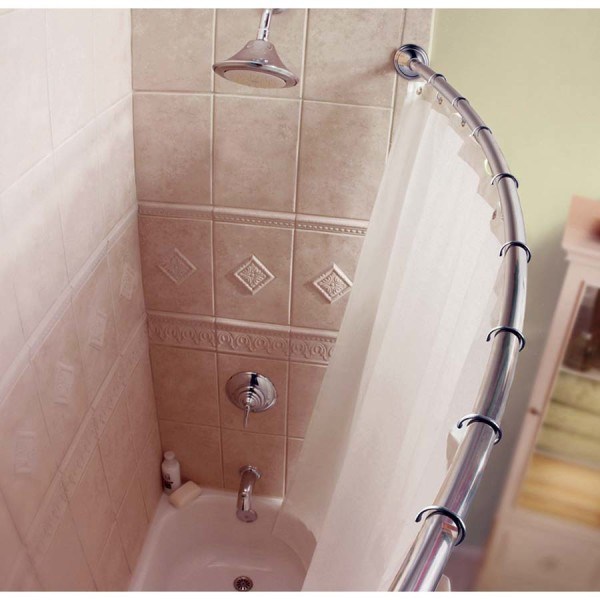 A few small inches can make a world of difference when you're rub-a-dub-dubbing.
7. Be not a mere plebeian with this parted shower curtain.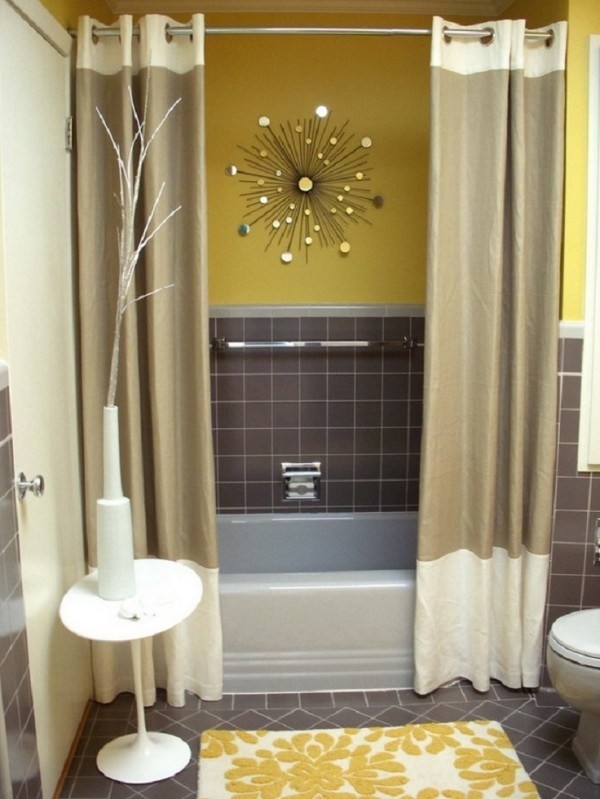 Instead of one giant shower curtain, why not make two shower panels, and step out of the tub like royalty?
8. Forego a towel rack, and hang towels on a decorative ladder.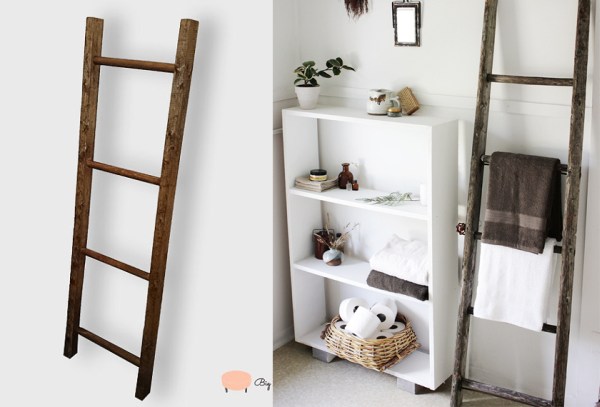 Perfect for rental homes: no need to drill holes! This particular ladder costs $29.
9. Need additional storage? Install another shower rod.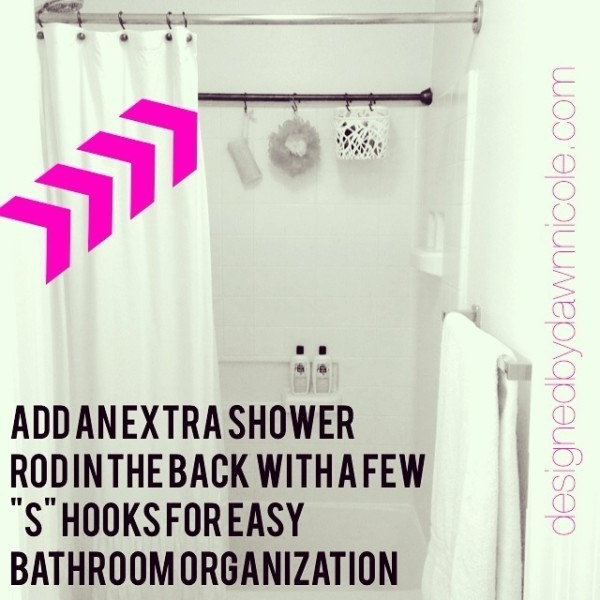 Hang your loofahs and other bath buddies within reach. Find out more here.
10. Get the "walking by the beach" experience at home with a DIY pebble bathmat.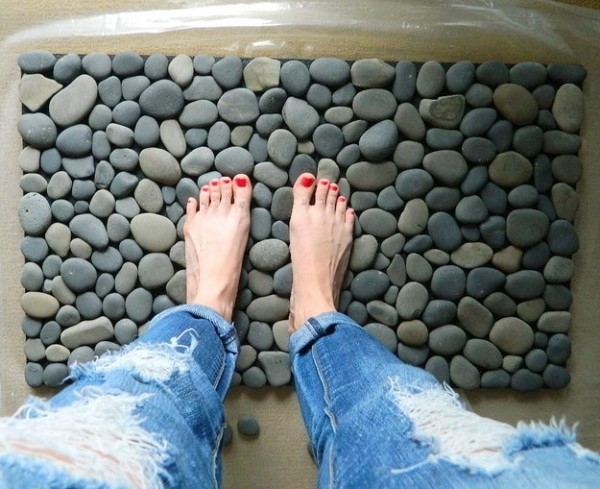 This awesome tutorial can be done with an outdoor rubber mat (with holes for drainage), some waterproof sealer, and smooth stones.
11. Feel like a million bucks while pouring your mouthwash from a crystal decanter.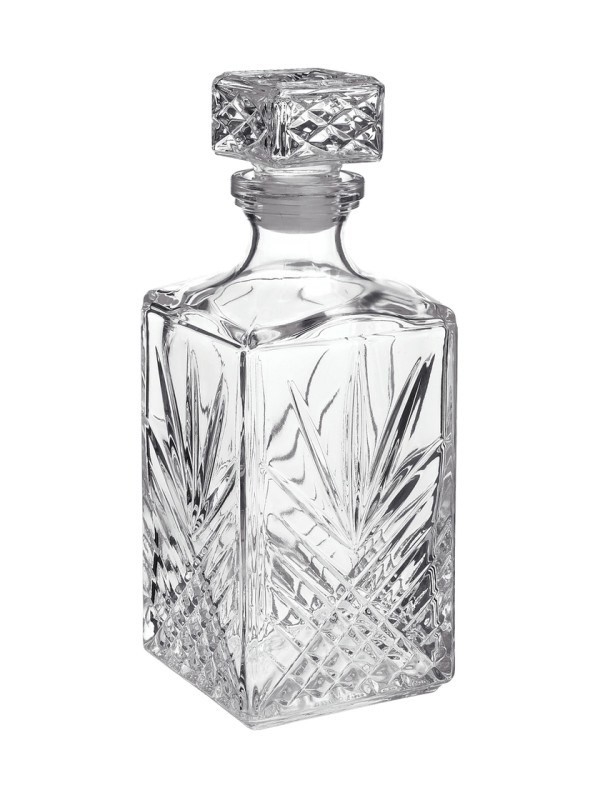 Be fancy schmancy for under $15.
12. Have a romantic night in the bath with your lovely self.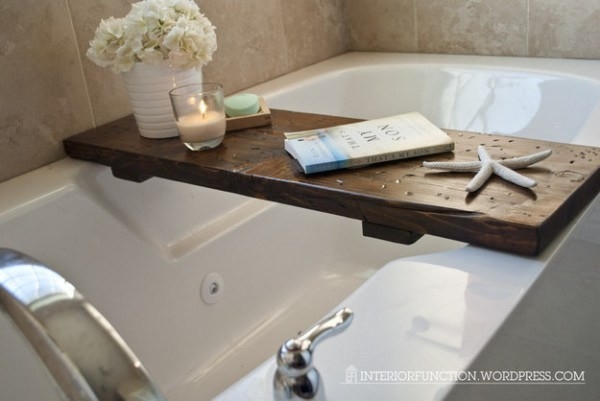 Bring a book, and maybe some wine, too. Instructions here.
13. A flea-market find like this beat-up dresser can be turned into a vanity with a built-in sink.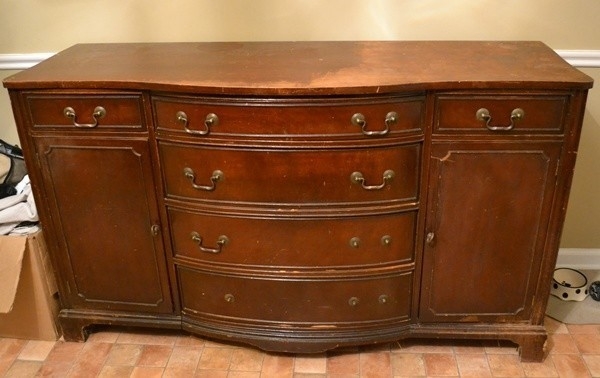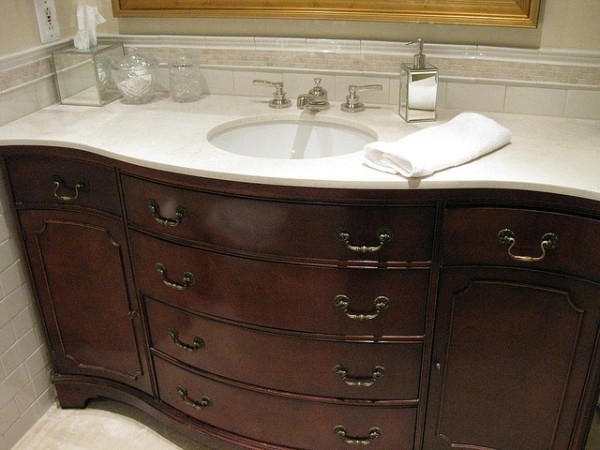 So much cheaper than getting a brand-spanking new vanity. Step-by-step guide here.
14. Painting your mirror a bright color will add some drama to an otherwise drab room.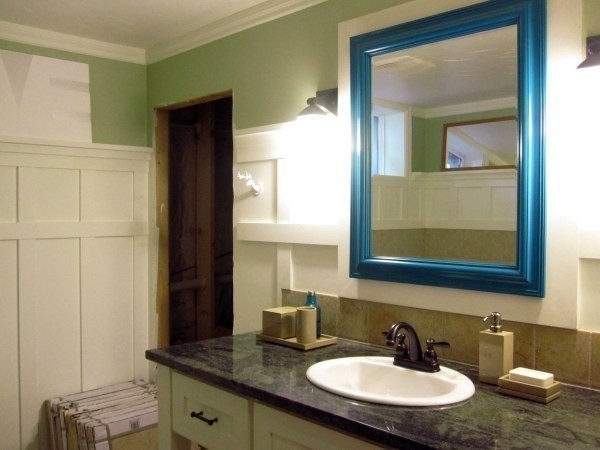 Find out more here.
15. Looking to organize your under-the-sink stuff? Use shower caddies!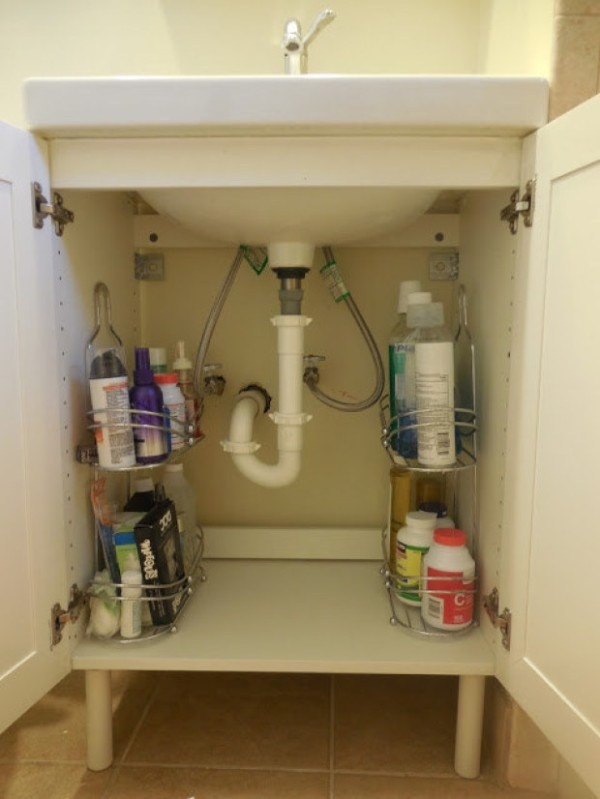 Simple, but effective.
16. No more space for your makeup essentials? Utilize your walls, honey.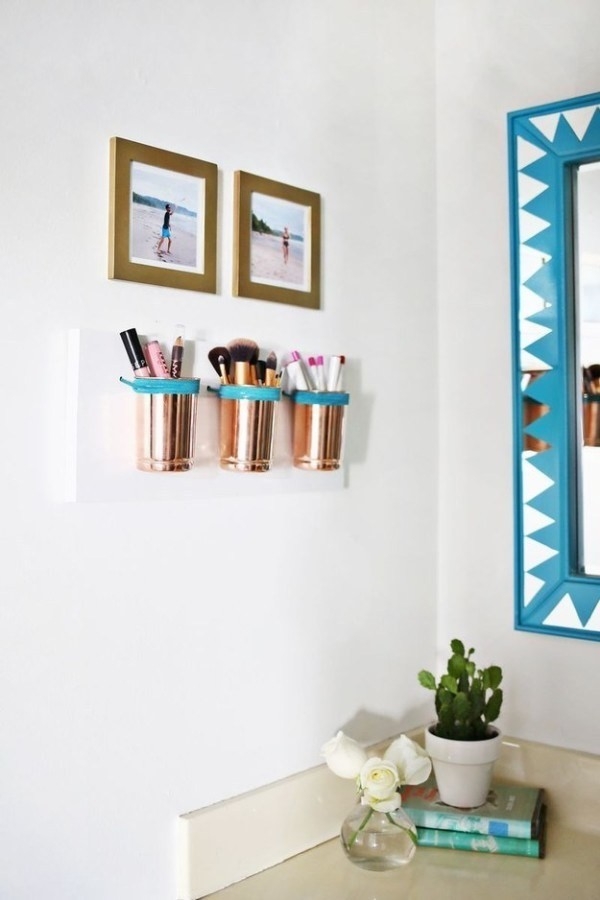 These copper cups are both practical and pretty. Full tutorial here.
17. Make frosted windows that won't look DIY-ed using contact paper.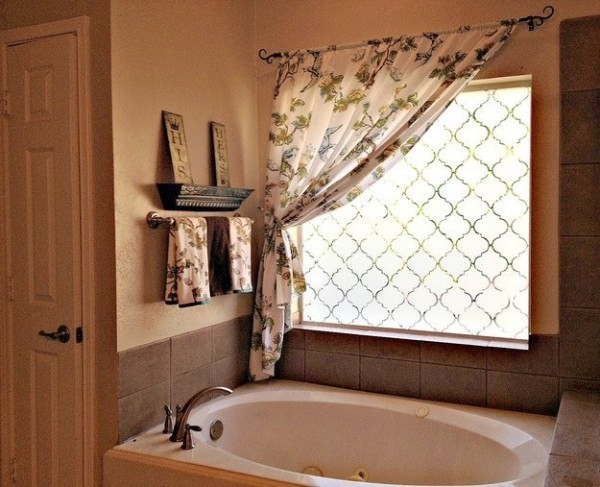 Now you can see out into your beautiful yard without worrying about someone else looking right back. Yikes.
18. Solve the problem of tangled hair machinery cords with a PVC pipe.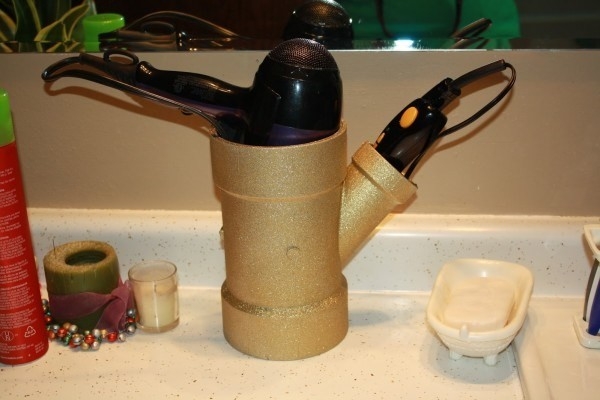 You can paint it any color you want, but let's all agree on one thing: glitter is always better. Instructions here.
19. Give your bathroom some cottage-y charm with a rustic pallet shelf.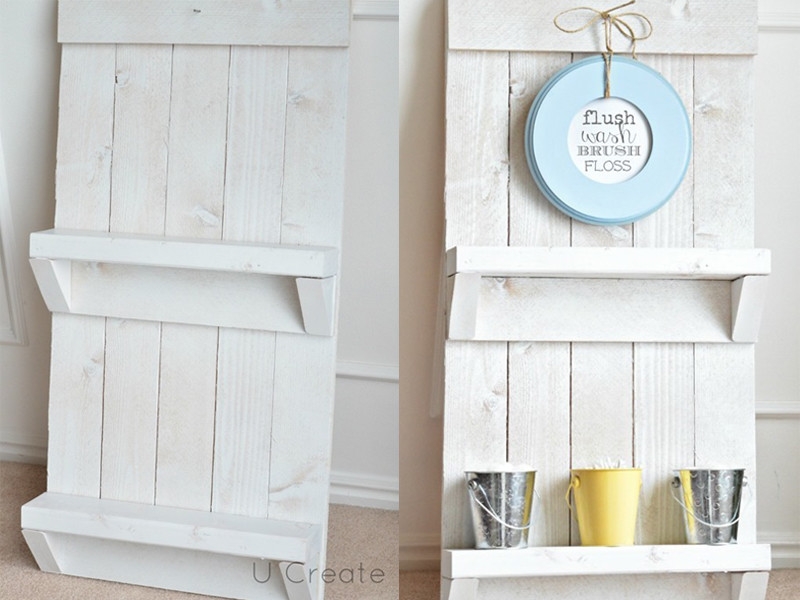 Find out how here.
20. Upgrade your sink with a painted-on granite countertop. Yes, you read it right.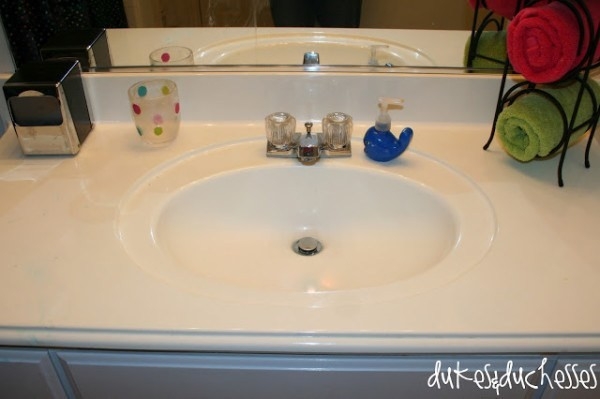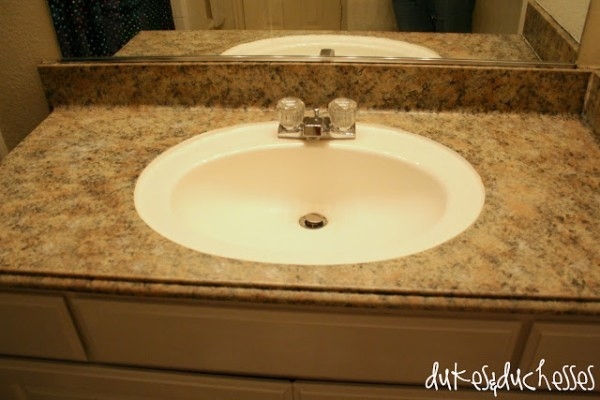 It's crazy, but not impossible. to turn your plain white countertop into granite with just a few coats of paint. Find out how here.
21. Add a rustic touch with a reclaimed window-turned-medicine cabinet.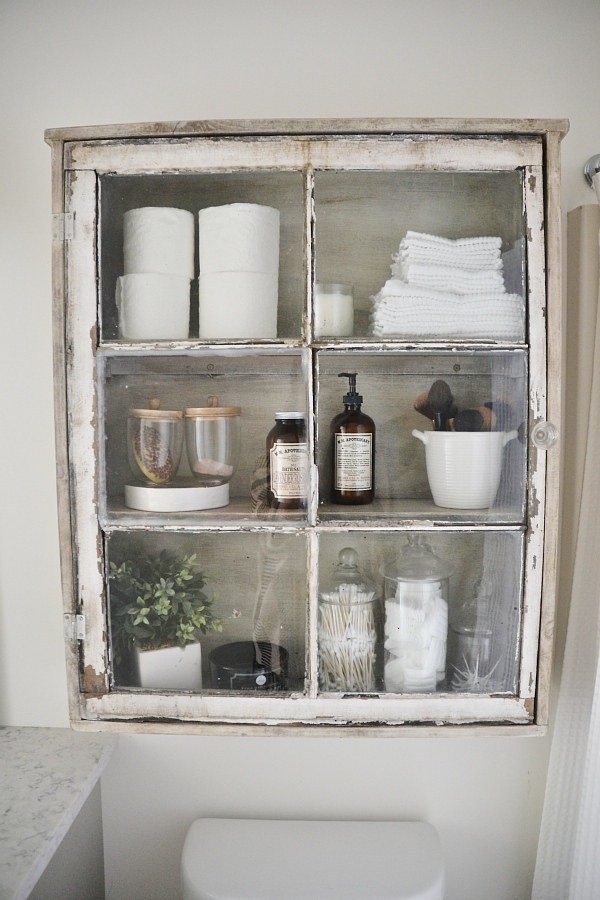 Extra hipster chic. Tutorial here.
22. Jot down your to-do list for the day on this DIY desktop dry erase board .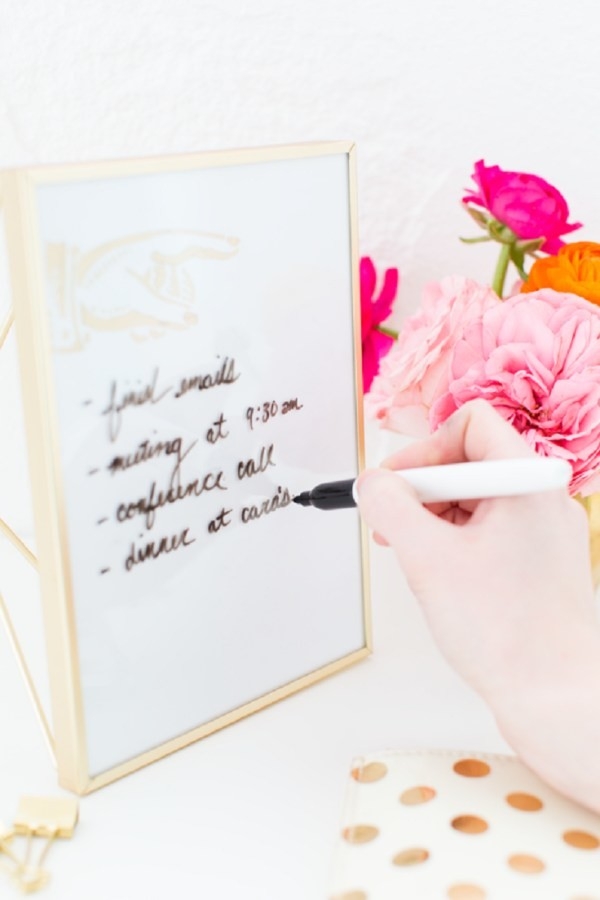 All you need is a glass frame + white paper + stencil.
23. Recreate this fun alternative to a boring towel hook.
Use an antler wall sculpture from Target for a cheaper alternative. Just hammer into the wall and hang your towels.
24. DIY your own Sephora haven with a glass top vanity.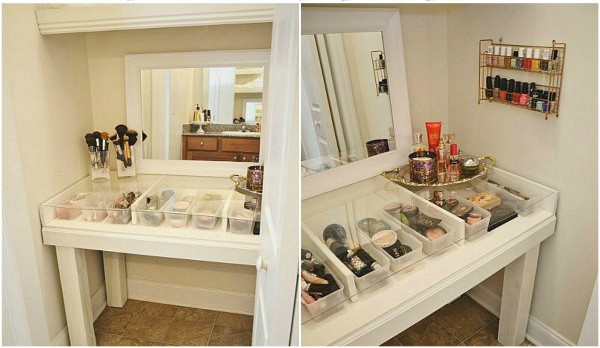 It's like a mini makeup bar. Check out the tutorial here.
25. Give tiny bathrooms the illusion of space with geometric mirrored accents.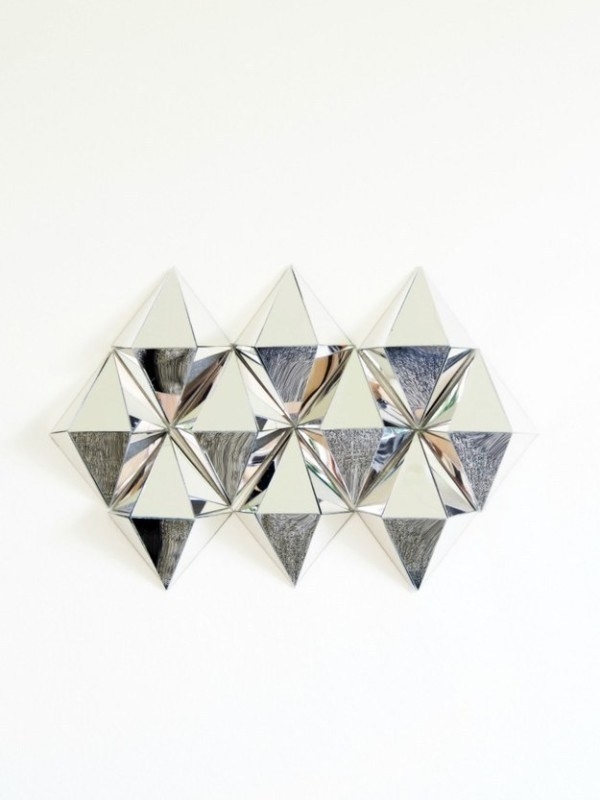 This DIY project is only made out of cardboard shapes and mirror sheeting.
26. Turn even Coca-Cola bottles into pretty pastel vanity decor.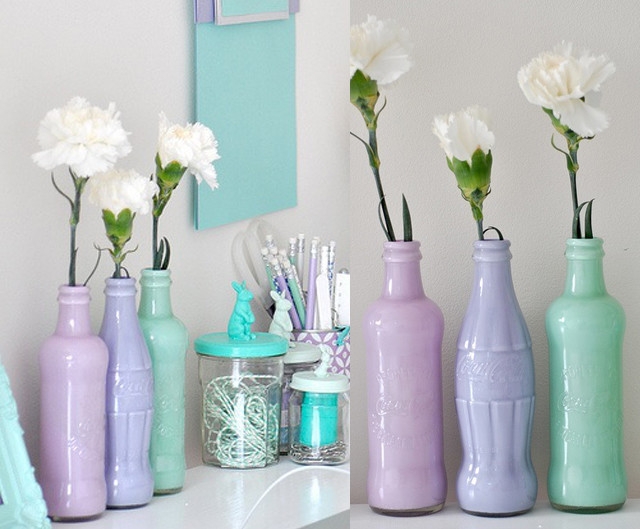 Perfect for flower displays or just holding all your junk. Instructions here.
27. Transform storage with a pop of color on shelf fronts.
And nail-on leather labels for professional-level organization.
28. Get a plant or two.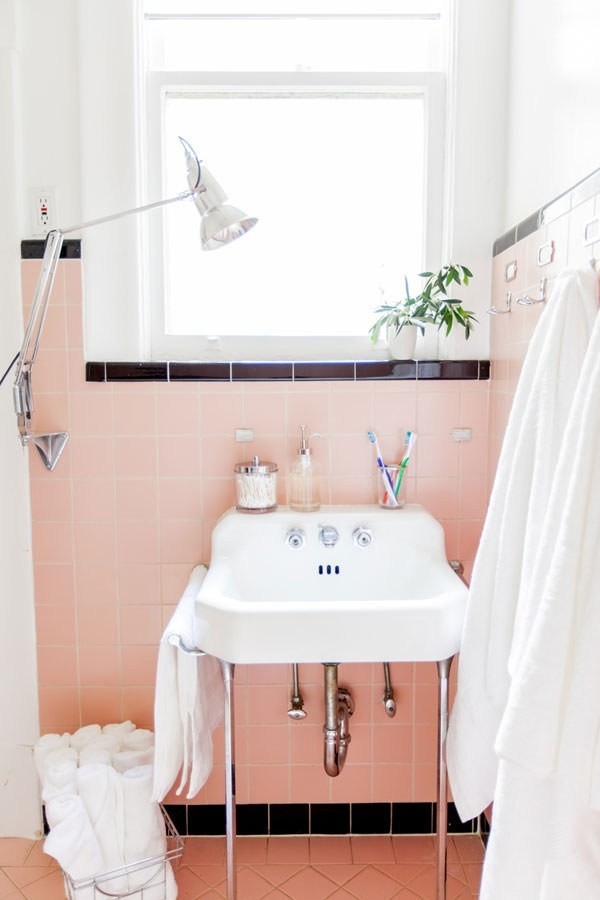 A little green always makes any space look fresher, and smell cleaner, too! Make sure to pick plants that suit the bathroom environment — preferably ones that require less natural light and a more humid environment.
29. Keep guests from tripping in the middle of the night with this unique twinkle-light DIY.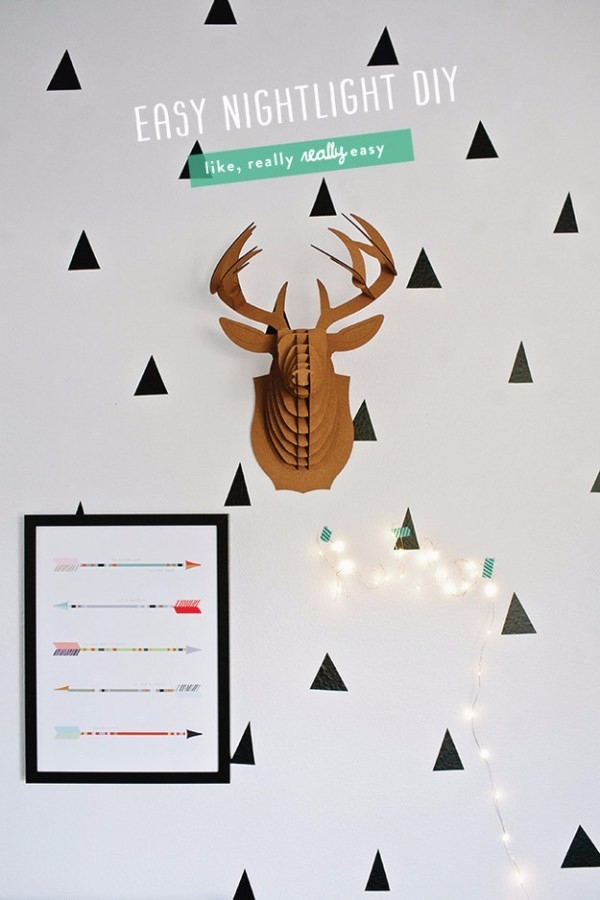 You can spell out any word or shape you like.
30. Use unusual shelves for added storage and for a more interesting wall.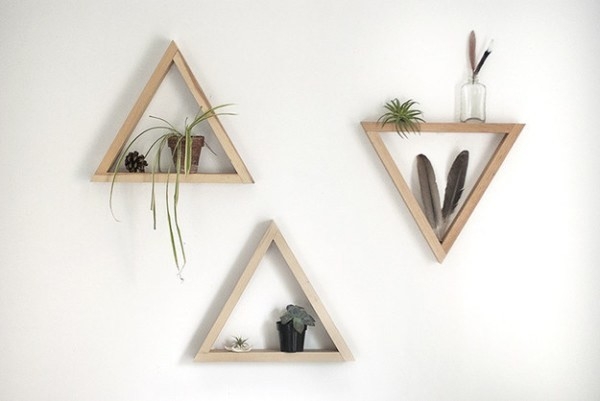 Make your own with this tutorial.
31. Unleash your inner 7-year-old with an Apatosaurus toilet paper holder.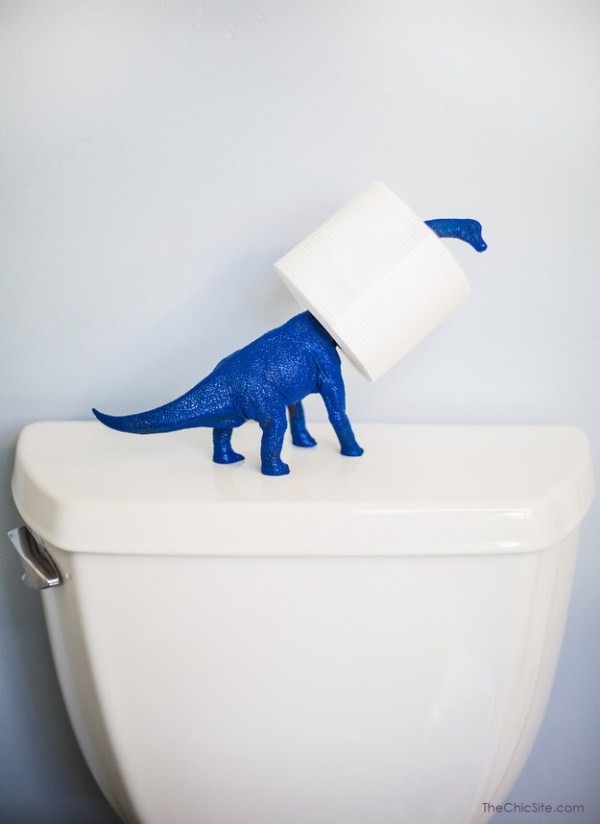 Little Foot's on a roll. Rawr.
You May Also Like