Doughnuts should be considered a food group. No need to argue this point, just one scroll down these pictures and you'll be penning a letter to USDA halfway through.
Warning: There's enough yumminess in the photos below to knock even a completely healthy person into a diabetic coma.
According to Buzzfeed, these are the best doughnuts in the US of A (by order of awesomeness):
1. The Apple Cider Fritter from Blue Star Donuts, Portland, Oregon

BlueStarDonuts
Leftover donut holes from bakes done throughout the day are made into the Hard Apple Cider Fritter, a sinful pull-apart dessert. Uhm…there's some drool on your face.
The Cointreau Crème Brulee doughnut is filled with house-made vanilla custard, and the pipette on top contains Cointreau syrup sweetened with Madagascar vanilla beans.
2. The Nutella Doughnut from Hurts Donut, Springfield, Missouri

HurtsDonutCompany
It's a sugar-coated donut with a Nutella pool in the middle. 'Nuff said. Note: You have to start queuing early for these babies, tho. They're kind of a big deal in these here parts.
Donut holes filled with sweet cream cheese and jalapeño, and rolled in our sriracha glaze. They'll burn right through your tongue, bubba. They ain't called "Fire in the Hole" for nothing.
3. The Cafe au Lait Doughnut from Dough, Brooklyn

Dough
How about a coffee and coffee-and-donut? One of their most popular flavors, Dough's Cafe au Laut doughnut is made of roasted coffee beans and is topped with pecan brown sugar with their signature glaze.

Dough has a chocolate glazed doughnut with a hint of Earl Grey tea, if you're British. And how's about a citrusy-spicy Lemon-Ginger doughnut that packs a wallop of lemon with a zing of candied ginger?
4. The "Evil Elvis" from Hypnotic Donuts, Dallas

craveonline
sprinkles for breakfast
The Evil Elvis is packs some star power with peanut butter, bacon, and banana all on a yeast-raised donut, deliciously drizzled with honey. Sorry if we're making your arteries nervous.
Hypnotic Donuts is like the wild child of the fried dough confectionery world. With unconventional options like Ski Accident and Canadian Healthcare (also, killer chicken biscuit sandwiches), their cult following is there for a reason.
5. The Chocolate Orange Old Fashioned from Stan's, Los Angeles and Chicago

the backyard explorers

stans donuts chicago
Get their popular lemon pistachio donut — old-fashioned or glazed — with crushed pistachio garnish, and prepare to be hit by a solid punch of pistachio flavor, with an aftermath of lemon.
Did we mention that this gourmet doughnut shop offers doughnut-gelato sandwiches? Sounds like it's gonna be a Chicago weekend for you.
6. The Bacon Maple Apple Doughnut from Dynamo Donut & Coffee, San Francisco

dynamo donut

pottery barn
Their bacon maple glazed peanut butter doughnut has apples in the batter, which have been sauteed in bacon fat, as well as a maple glaze that's studded with crispy bacon pieces. You'll want another one before the last bite is over.
They also offer a relatively popular Apricot Cardamom Donut that's sweet yet piney, with wisps of ginger and cinnamon. The texture is soft and pillowy, compressing and deflating under your teeth like a good yeast doughnut should. Oh, and gluten free stuff, too. Yay.
7. The Salted Caramel & Reduced Balsamic Vinegar Doughnut from Sublime Doughnuts, Atlanta
The one doughnut they're doing that you probably have never seen anywhere else is their Salted Caramel & Reduced Balsamic Vinegar Doughnut. The reduced balsamic is very lightly drizzled on – giving a light punch of tart sweetness that balanced so well with the near-smokey saltiness of the caramel frosting.
The Strawberry N Cream is definitely worth getting. Its a sweeter, doughnut version of Strawberry Shortcake. It's not for sharing.
8. The Malasada from Leonard's Bakery, Honolulu

gastronomy blog

food republic
Malasadas, the Portuguese answer to doughnuts, are fried without the holes taken from the middle and usually are oozing with custard or other fillings. They're rolled in sugar for extra sweetness. The haupia (coconut) doughnut is one of the shop's standby flavors and hits the perfect tropical note.
Their sugar malasada, which is 'plain', is still good even without the filling. They're served piping hot so don't be too greedy and wait a few minutes before taking a huge mouthful.
9. The Oreo Doughnut from Mojo Donuts, Hollywood, Florida

thrillist

yelp
If you call yourself an adventurous donut-eater, then you've met your match with the 420 Munchies: a glazed donut topped with chocolate, Snickers, and potato strings. We're not even kidding with this one.
Aside from outrageous flavors such as Guava and Cheese, Mojo's has a Deco Drive donut that is a banana-cream-filled, frosted-flake-covered, strawberry-and-blueberry-topped, chocolate-drizzled magical confectionery.
10. A traditional cake doughnut from A Baker's Wife, Minneapolis

amy armato

mpls
You won't believe this, but the so-called "best donut in town" is actually just plain ol' sugar. This humble donut perfectly sums up the pastry shop: unpretentious and authentic.
Their cinnamon sugar cake doughnuts are the perfect amount of cake, and always served warm and fresh. Simple never tasted so good.
11. The Hulk Hogan Fudgie Wudgie from The Cinnamon Snail Food Truck, New York City

midtown lunch

the cinnamon snail
The Hulk Hogan Transvestite Fudgie Wudgie, a chocolate filled, chocolate frosted, chocolate cookie topped doughnut — looks and sounds so delicious that it will make you want to eat your own hand. Oh, that didn't happen to you? Weird.
It's hard to believe a place that specializes in Mexican hot chocolate twist doughnuts and a vanilla bourbon creme brulee doughnut is 100% vegan and kosher certified. Also, gluten-free. Their Crème Brûlée doughnuts even won the special Maker's Mark award. Why do others even try?
12. The Driftwood from Cops & Doughnuts, Clare, Michigan

michigan live

Cops Doughnuts
Their award-winning "Driftwood" doughnut, basically a long john in the shape of driftwood filled with coconut cream topped with chocolate ganache and toasted coconut, are extremely popular. The store is self-described as '100% cop-owned' so maybe that has something to do with it.
Cops & Doughnuts has been making treats since 1896. They also have insane Paczkis, weighing a half pound each and jam-packed with fruit preserves, sprinkled with powdered sugar.
13. The Strawberry Doughnut from The Donut Man, Glendora, California

the donut man

chooze
During strawberry season, Glendora's famed Donut Man comes out of the woodwork to satisfy your craving for a hole-less doughnut split like a taco and crammed to the brim with fresh strawberries handpicked that same morning. Yeah, that was a mouthful. And so is this doughnut.
The Tiger Tail is about a foot long with devil's food chocolate cake that runs through the center, and delicious ribbons of chocolate and cinnamon sugar bathing its exterior. Who does this Donut Man think he is, making people drool like that?
14. The Purple Goat from Glazed, Charleston, South Carolina

pinterest

holy city sinner
Glaze is run by a culinary school graduate, and uses only fresh ingredients, including herbs from the owner's garden. She does a lot of crazy things, like a lemon tarragon doughnut and curry and such. The Purple Goat may not sound edible, but the slightly-savory-slightly-sweet doughnut stuffed with berry goat cheese filling and topped with lavender icing will surely excite your tastebuds.
This shop knows our darkest, most twisted fantasies, and went, "We know you want a sandwich of ham, melted cheese, and strawberry jam placed inside a glazed doughnut and dusted with powdered sugar." They know us better than we know ourselves.
15. The Brown Butter Hazelnut Crunch from Union Square Donuts, Somerville, Massachusetts

Union Square Donuts
The Brown Butter Hazelnut Crunch Doughnut is a classic doughnut glazed with buttery smooth sweet icing and topped with crushed hazelnuts and a crispy crunchy crumble. You will swear it's made of magic.
Along with the infamous Maple Bacon Donut, Union Square taste tests each creation over and over to achieve their perfectly unique flavors.
16. The Maple Bacon Bar from Varsity Donuts, Manhattan, Kansas

Varsity Donuts
Uh, LOOK AT IT. The traditional long john is topped with maple icing, then a generous amount of crispy bacon, AND THEN MORE icing. These things are so insane, people line up before the sun rises just to get their hands on them.
Their donuts are thebomb.com, but the best thing about Varsity is the grilled cheese mac & cheese from their food truck. Some might say it's the best thing that ever happened to Manhattan.
17. A traditional Glazed Doughnut from The Amish Baking Company during Bonnaroo, Manchester, Tennessee
The elusive Amish Baking Company can only be found at a handful of festivals, the most popular being Bonnaroo. These authentic Amish doughnuts are hand-rolled and shaped, deep fried, dunked in icing, and set on polls to dry. Your concept of a glazed doughnut won't ever be the same after trying these.
18. The Apple Fritter from Randy's Donuts, Los Angeles

Randys Donuts
Randy's employees have been operating out of the same doughnut-topped tiny shack for decades, and you can even go through the drive-thru if you're really feeling lazy. Their classic Apple Fritter miraculously creates the perfect balance of soft and crunchy. Each and every corner is a crispy golden-brown bite and you slowly get to the doughy center with every bite.
Though it looks like a gas station that was renovated into a food truck/restaurant hybrid, Randy's Donut is a hole-in-the-wall shop that has been in business for 60 years. As the locals will also tell you, the giant donut on its rooftop has become a major Los Angeles landmark, almost as much as the Hollywood sign!
19. The Texas-Sized Doughnut from Round Rock Donuts, Round Rock, Texas

madame squirrel

foodspotting
This small bakery creates insanely big doughnuts. Just one Texas-sized doughnut takes up the entire traditional dozen-pastry box, and still tastes insanely good. If you know anyone from Texas, their first answer to the best doughnut around is Round Rock Donuts just outside of Austin.
20. The Coconut Glazed Doughnut from The Downyflake, Nantucket, Massachusetts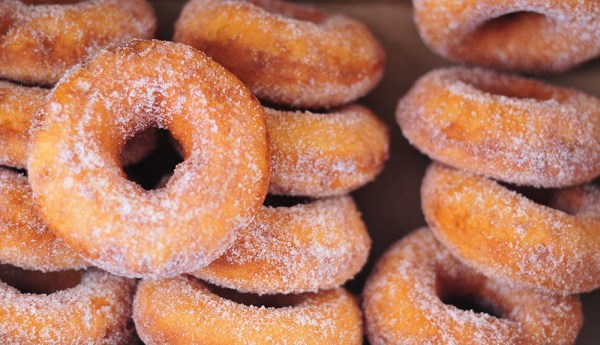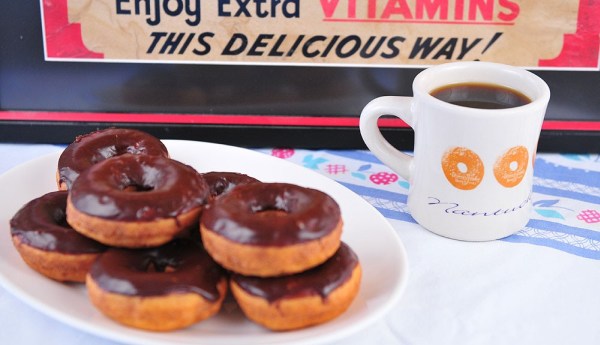 The Downyflake
Although the Downyflake serves breakfast and lunch, people flock to the restaurant for the doughnuts, especially the Coconut Glazed flavor. Instead of just getting toast with your breakfast, every meal comes with a doughnut. The Coconut Glazed is their homemade cake glazed doughnut sprinkled with a generous helping of fresh coconut flakes.
21. The Cinnamon Caramel Doughnut from Rise 'N Roll Bakery, Fort Wayne, Indiana
These doughnuts are called "crack doughnuts" by anyone who goes to Rise 'N Roll. Their traditional yeast doughnut is topped with caramel icing and then sent out to swim in a sea of cinnamon sugar until they're perfectly coated. The bakery also has a special doughnut of the week, ranging from peanut butter to chocolate coconut filled.
The Tropical Dream donut is filled with a creamy Orange Pineapple filling and topped with a smooth white frosting. Judging by the looks of it, this donut will quickly become a favorite of the whole family.
22. Blueberry Crumble Doughnuts from Art City Donuts, Utah Valley, Utah

art city donuts
Operating out of a tiny food truck, Art City Donuts serves some mean tiny doughnuts. Every day the truck serves a handful of different flavors, ranging from Strawberry Shortcake to Maple Glaze with Coconut Crumbles. Their Blueberry Crumble mini doughnuts are topped with homemade tart and creamy berry icing and buttery crumbles. They're perfect for sharing and have a diehard following.
23. The Frosted Angel Cream Doughnut from Paula's Donuts, Buffalo, New York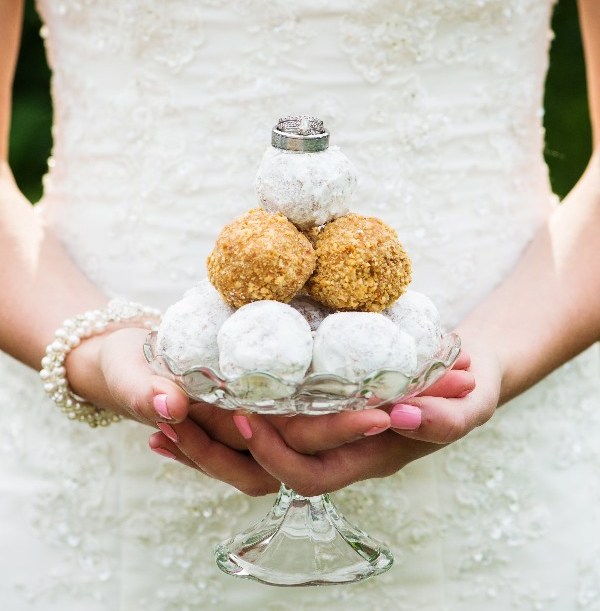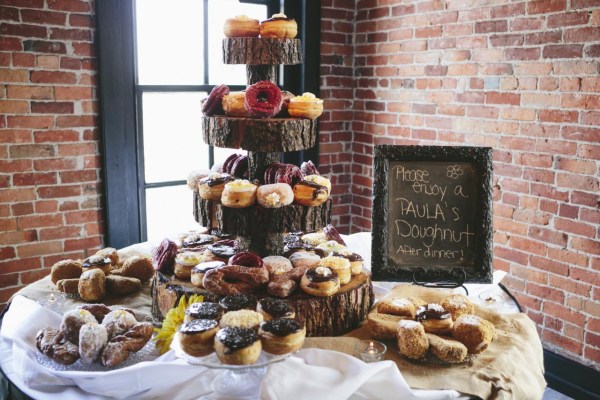 Paulas Donuts / Amanda Badgley Designs wedding chicks
First of all, any doughnut place that caters weddings deserves an A+ already. Paula's claims to use a super secret ingredient that "you won't find in any of the big chain store donuts," so they have to be amazing. Their Frosted Angel Cream is filled with homemade whipped cream and topped with a layer of fresh icing and glittery sprinkles. You can even order it to be the size of an actual cake.
24. The Doughnut of the Month from Krumpe's Do-Nuts, Hagerstown, Maryland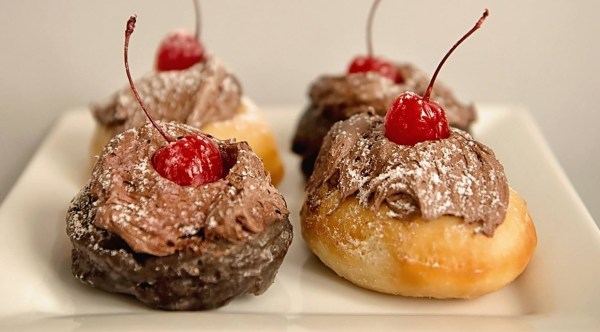 Facebook: KrumpesDonuts / Kelly Ring Photography
Krumpe's has a brand-new flavor every single month to fit perfectly with the season and holiday celebrated during that time. Part of the appeal is the surprise, the other part being deliciousness and creativity. Their flavors range from September's Caramel Apple Doughnuts filled with fresh apples to October's S'mores Doughnut topped with marshmallow cream, crumbled graham crackers, and chocolate bars.
25. The Maple Bar from The Original House of Donuts, Lakewood, Washington

Facebook: OriginalHouseOfDonuts
Locals have kept this place as their go-to doughnut shop for generations, and can be as old as fifth-generation customers. Their maple bars have been handmade since the 1950s and are topped with fresh maple frosting. They're also known for making any custom doughnut you could ever ask for, ranging from special Seattle Seahawks colors to unique flavors like banana and orange.
26. Honey Doughnuts and Fried Chicken from Federal Donuts, Philadelphia

federal donuts
Doughnuts and fried chicken. Need I say more? Federal Donuts prides itself on its homemade doughnuts and quirky flavored fried chicken. With every order of fried chicken you have a choice of having your doughnut naked, seasoned, or full-on glazed.
27. The Spa Doughnut from Little Bigs, Portland, Maine

Little Bigs
Little Bigs is owned by a couple who share a love of sweets. The two create new and noteworthy flavors, one being the Spa Doughnut made with house-made nut and berry granola, Greek yogurt, and drizzled with honey. This doughnut will trick you into thinking you actually made a healthy choice. Many of their doughnuts include the excess doughnut hole as an added bonus of a topping.
28. The Chestnut Glazed Doughnut from The Doughnut Vault, Chicago

doughnut vault
People wait for HOURS just to get their hands on one doughnut. Each location only makes a handful of perfected flavors to make sure each doughnut is flawless, so they've been said to sell out in under an hour some days. Their Chestnut Glazed doughnut has nutty notes to counterbalance the sweetness of their classic icing. Really, any choice is a good choice at the Doughnut Vault.
29. The Heavenly Hash Doughnut from Gourdough's, Austin

gourdoughs public house

delish
All of Gourdough's doughnuts are served with a fork because, I mean, look at them. The Heavenly Hash is made of your kindergarten dreams: "Marshmallow With Chocolate Fudge Icing Topped With Fudge Candy." If this just seems a little too sweet, you can build your own with toppings like jalapeño icing, gummy worms, Oreos, and cake mix.

Glam Doll Donuts
Glam Doll Doughnuts never fails to go full glam with flavors like Peanut Butter & Sriracha and Spiced Mexican Chocolate & Cayenne Pecans. If you're feeling like pregaming your work day, the Daddy Dearest is a SURLY beer cake donut, with SURLY BENDER glaze, topped with bacon and a buttery crumble.
Try our Simpsons inspired Tomacco donut! Filled with a sweet tomato custard, rolled in smoked sugar with a creme fraiche topping. The Tomacco cocktail Eat Street Social is the perfect compliment!
31. A Doughnut Ice Cream Sandwich from Peter Pan Donuts, Brooklyn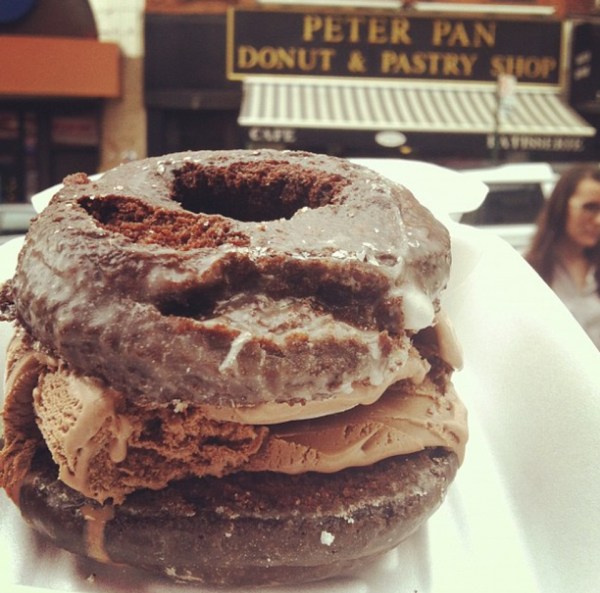 foursquare.com
Summertime in NYC can be anything but enjoyable when it comes to the heat. The owner of Peter Pan Donuts created the perfect solution by slicing her traditional cake doughnut in half and putting scoops of either vanilla, cookies and cream, or strawberry ice cream in the middle. You can even have it with a red velvet doughnut. So now you can get away with ice cream for breakfast.
32. The Chipotle Caramel Doughnut from Pink Box Doughnuts, Las Vegas
Doesn't the name just say "Vegas"? You have to start your day with a Vegas-style doughnut before hitting the Strip. The Chipotle Caramel Doughnut will wake you up with its surprising spice and calm your senses with its sugary sweetness. If you're not feeling up to the challenge, you can nab a chocolate doughnut topped with Cocoa Pebbles.
33. A piping hot fresh glazed doughnut from Krispy Kreme, Everywhere, 'Merica

Krispy Kreme
That's right, I said it. Come get me.