There's something about arm tattoos that just screams badass. Maybe it's the fact that they're so visible, or maybe it's the fact that they can be so intricate and detailed. Whatever it is, arm tattoos have become one of the most popular tattoo choices for men in recent years.
If you're thinking of getting an arm tattoo, here are some of the best designs to choose from.
Popular Arm Tattoos
1. Japanese Arm Tattoo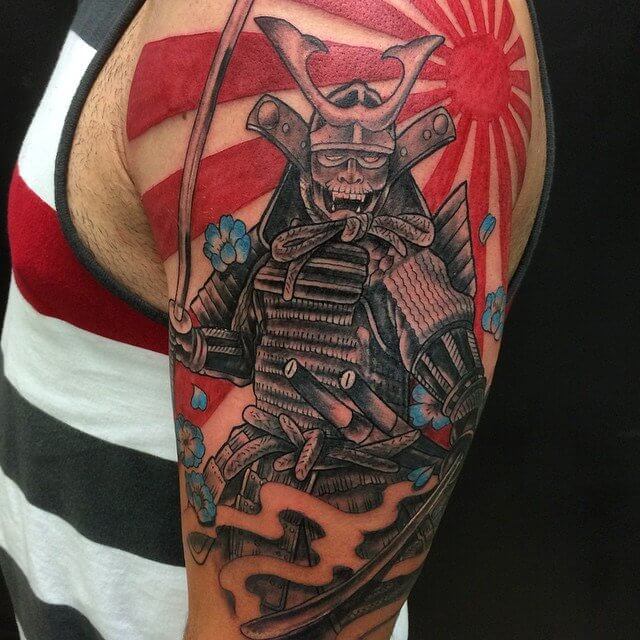 Traditional Japanese tattoo style or the Irezumi is one of the most popular designs men want for their arms. It features Japanese elements such as the red rising sun, samurai, and sakura blooms. If you put a Japanese warrior in your design, it represents that you are ready to give up your life for honor, nobility, and family.  
2. Dragon Arm Tattoo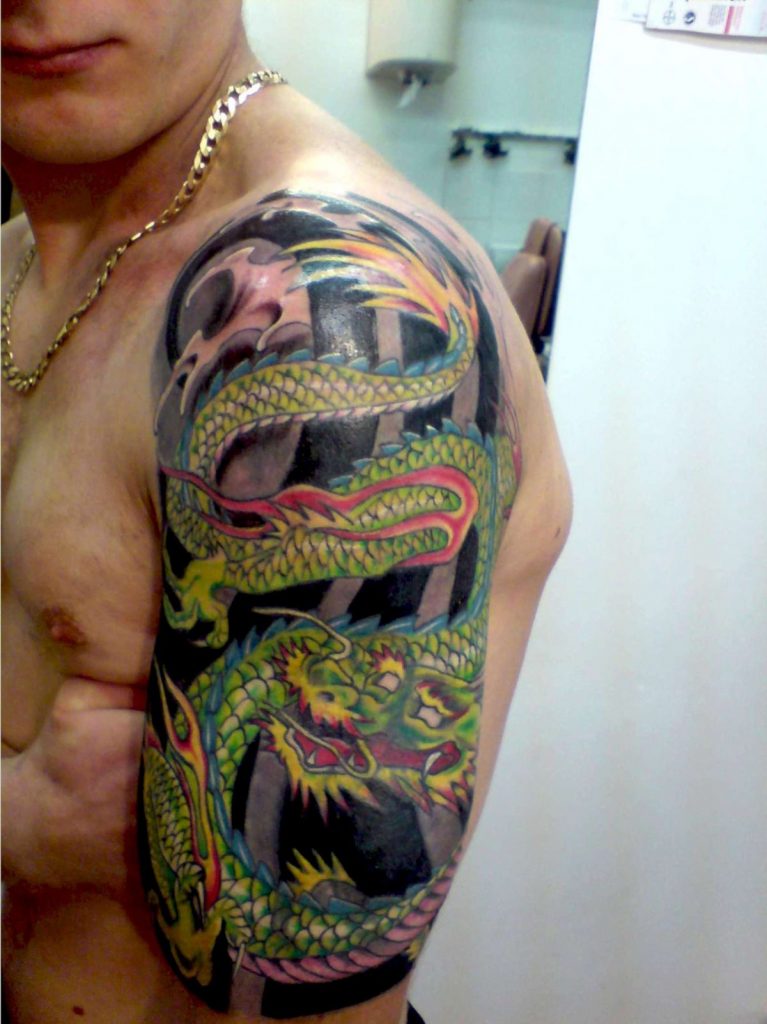 If you're looking to get a wicked dragon tattoo, there are various designs and styles to explore. The traditional Chinese, simple, fantasy, or medieval dragon tattoo will nicely suit the arms because of its long and slender shape. 
3. Wing Arm Tattoo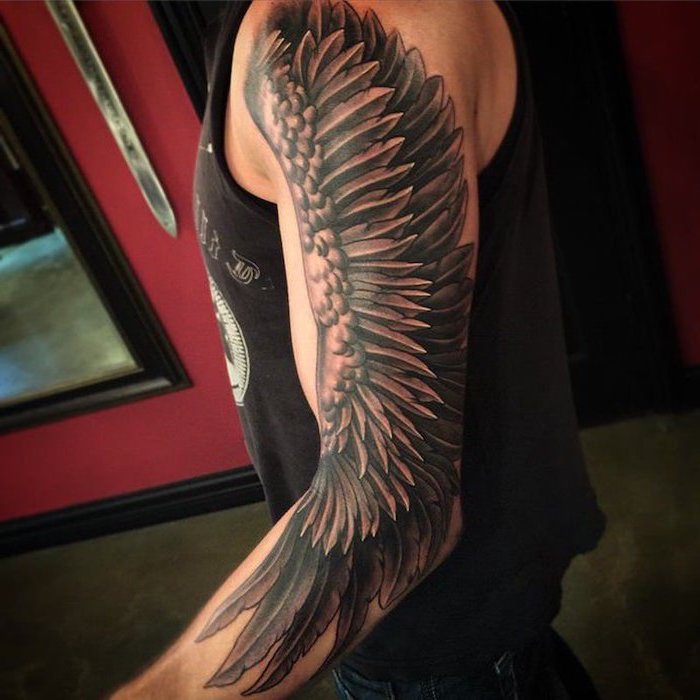 Wings are popular tattoo designs for arms because it looks cool and carries a deep meaning with them. When inked from the shoulders down to the arms and wrist, the wings look like they belong to you. The wings even are extended on the back for a more detailed and intricate ink design. 
4. Name Tattoo on Arm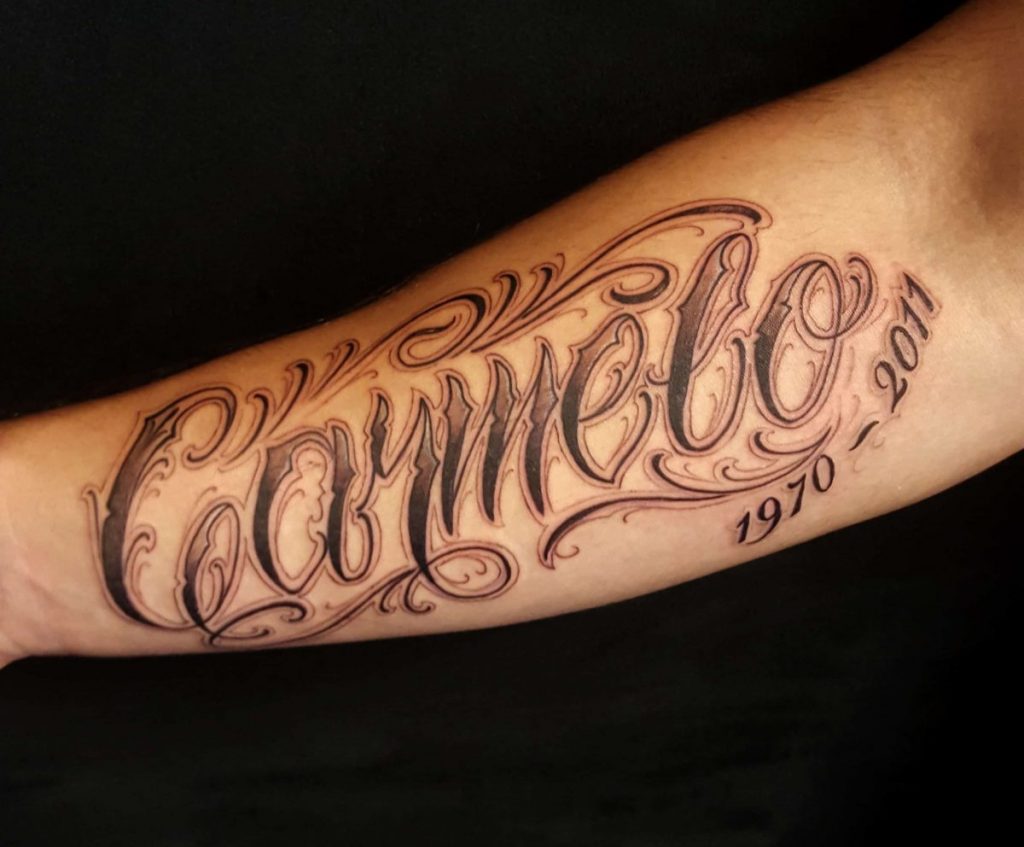 Men who feel sentimental about a particular person choose to have name tattoos in their arms. Ideally, these tattoos are helpful if you want to represent the birth or death of your loved ones. It can be written in fancy scripts combined with dates or photos to make a unique design. 
5. Jesus Arm Tattoo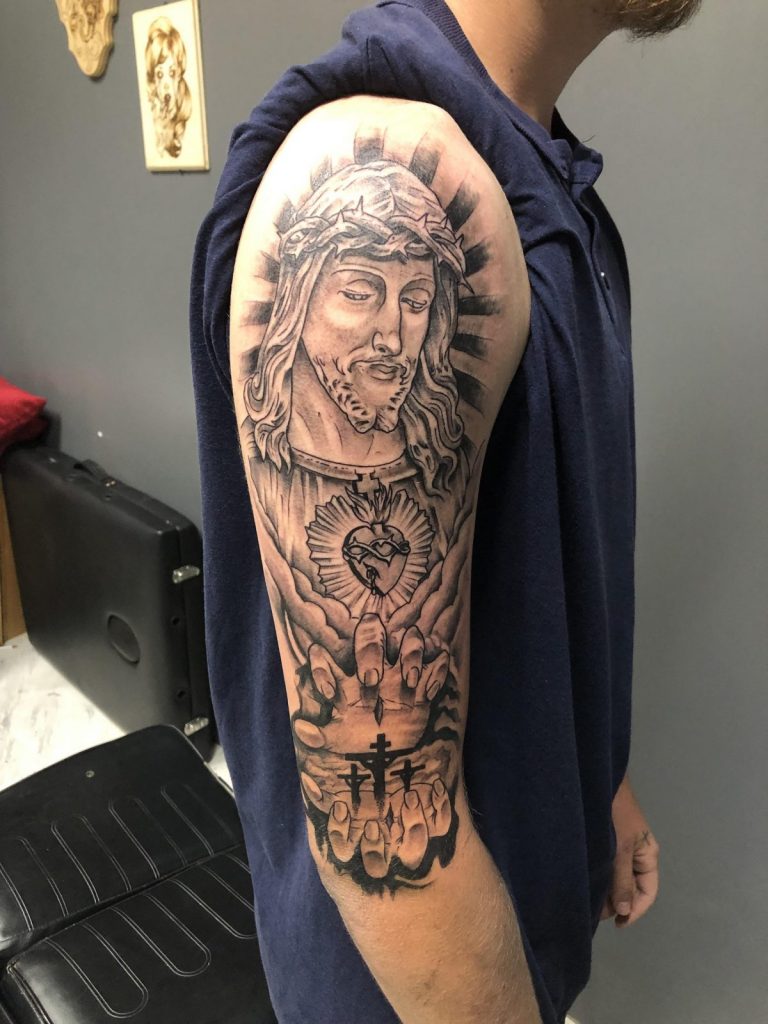 If you choose to have an image of Jesus Christ on your arm, you can have an intricate design for full effect. Some men prefer a close-up image or across and thorns. If you are a religious person, this is the perfect tribute to your faith.
6. Cross Tattoo on Arm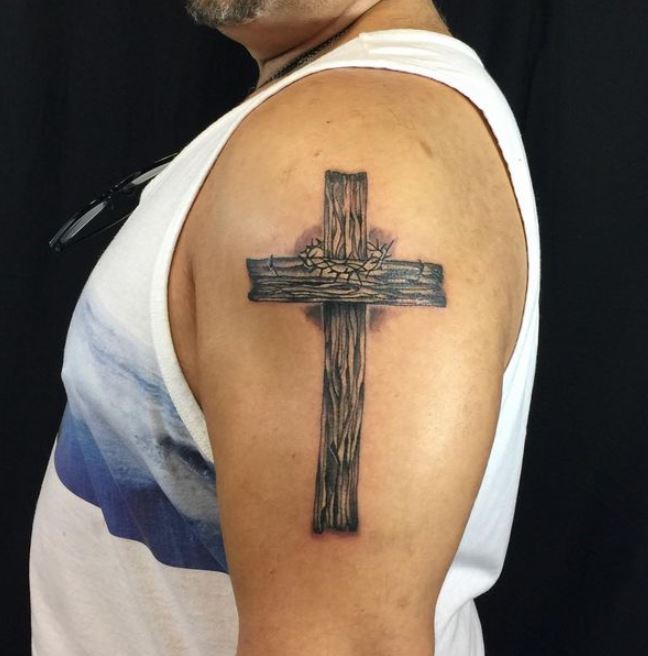 Cross tattoos are a great way to pay tribute to your Christian faith. There are many designs and styles so you can find something that suits your taste. It can be anything simple with just two lines or detailed with other elements.  
7. Rosary Arm Tattoo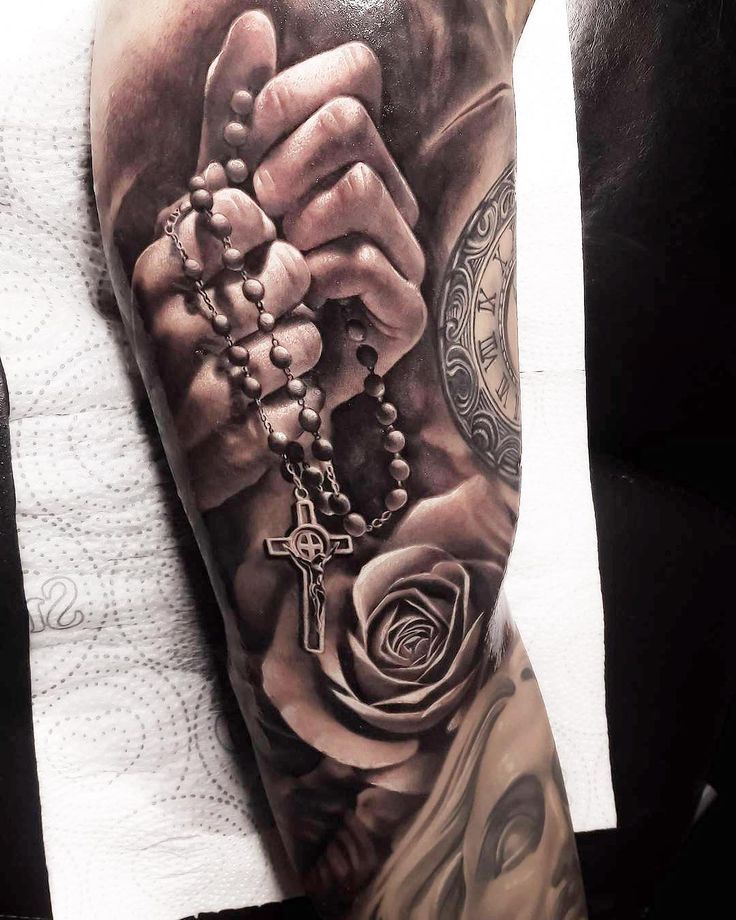 A rosary tattoo is another option for a religious tattoo design that looks great when inked on the arm. You can have it designed to wrap around your arm and combined with elements such as roses or scriptures. There are also various designs to choose from. 
8. Industrial Arm Tattoo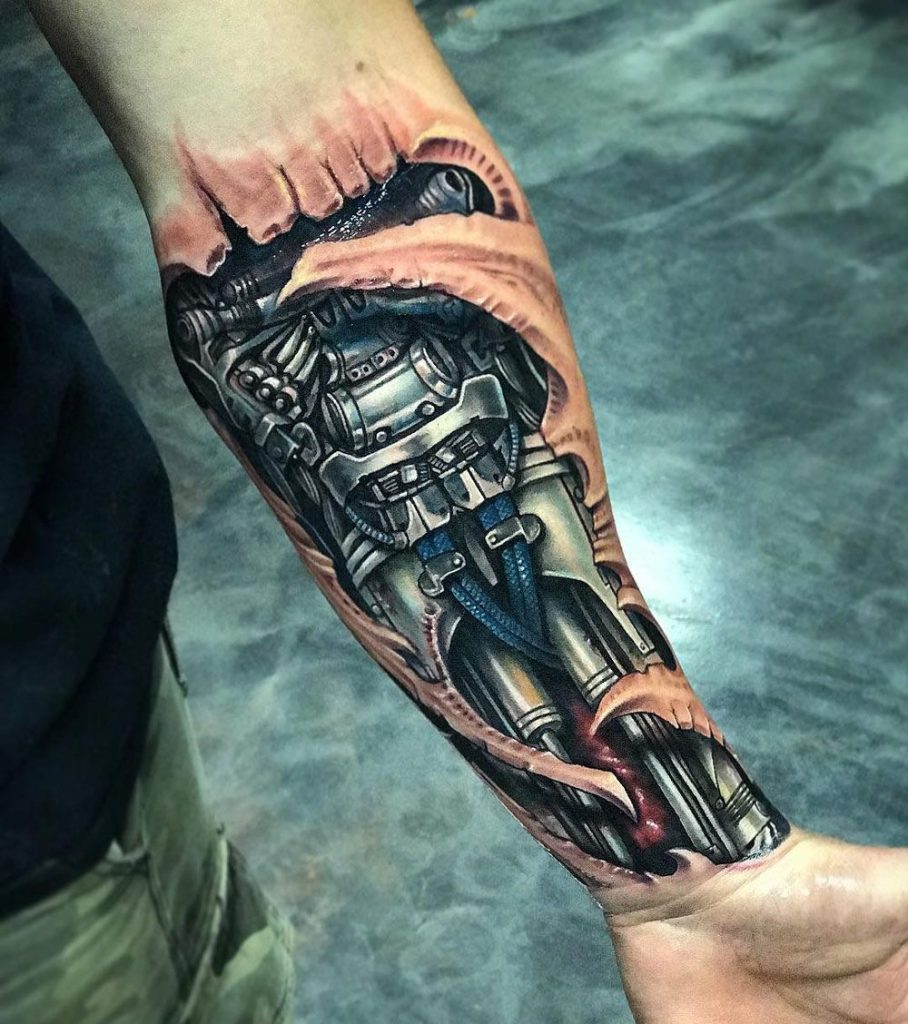 Unlike the mechanical arm tattoo, an industrial arm ink design features blackened portions suited for the rugged guys. Some choose to have it designed like steel knots underneath your skin, but others have it as if the whole arm is made from industrial materials. 
9. Quote Tattoo on the Arm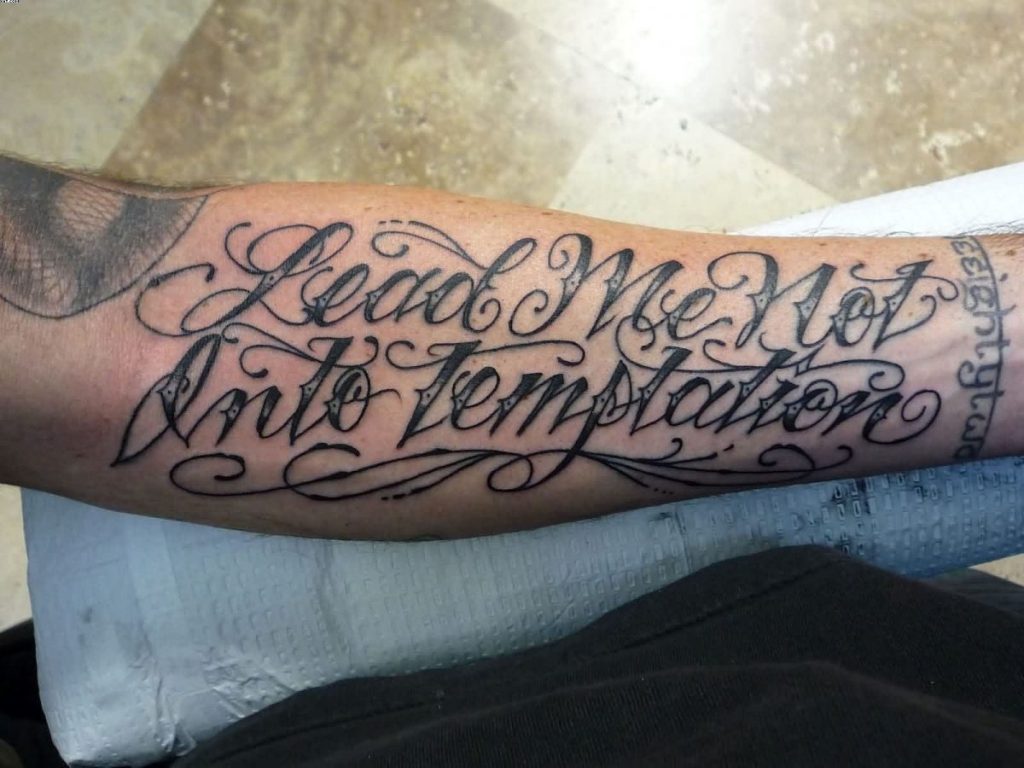 Some people find quotes or words from books, movies, or special people to be inspiring. These words are very sentimental to them as they might have helped them during their times of struggles. Keep these inspiring quotes in your line of vision, so you are reminded of how it helped and kept helping you. 
10. Mechanical Arm Tattoo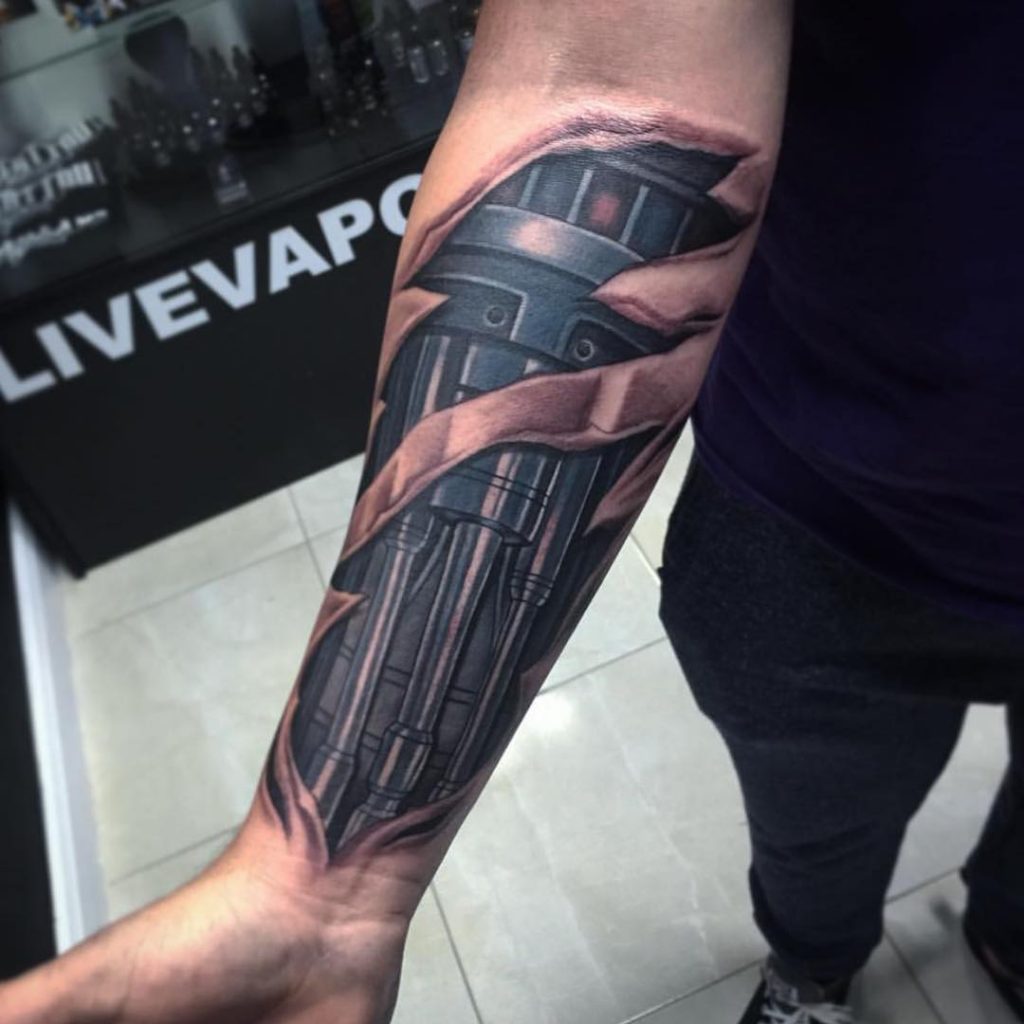 Young men are experimental with their tattoo designs. Mechanical arm tattoos are fantastic, and they are often extensive and detailed. These designs cover at least half of the arm, so it is ideal only if you want a sizable tattoo. 
11. Skull Arm Tattoo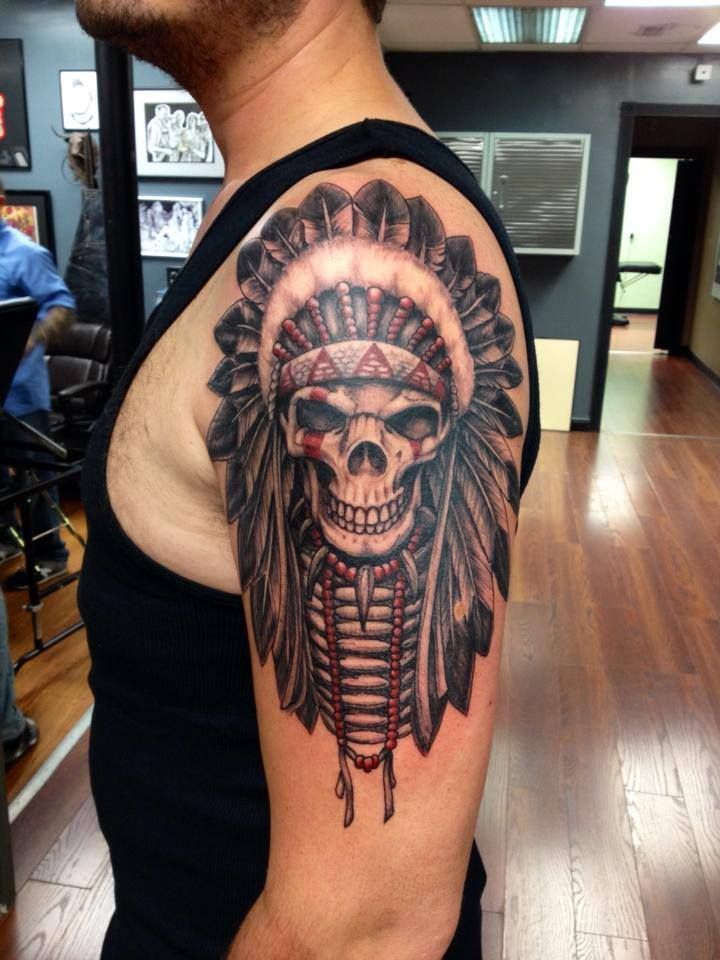 Skull tattoos remain one of the most popular arm tattoo designs that men of all ages choose to have. Some prefer simple lines and black ink, but others go for intricate and realistic designs. There are many designs and styles to apply if you want a skull tattoo to be unique. Some examples are the Pirates of the Caribbean style, sexy corpse, or Indian headdress.  
12. Heart and Banner Tattoo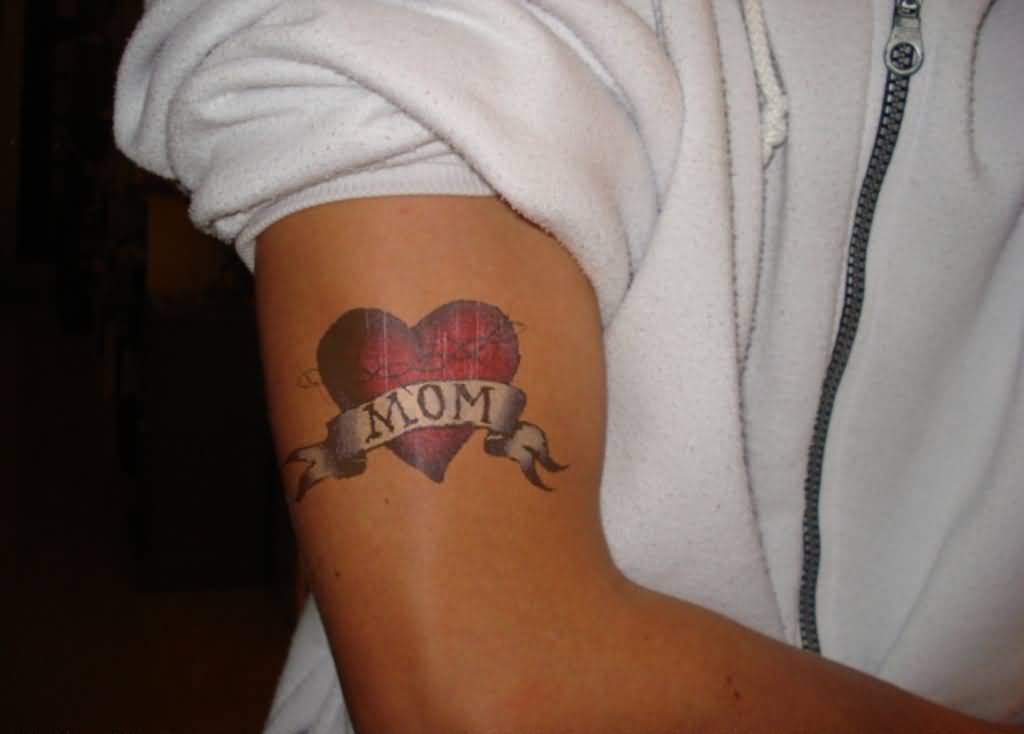 The heart and banner tattoo is an iconic choice for guys and looks incredible if they are inked on the chest or the bicep. It is instantly recognizable, and the design has stood the test of time. 
13. 3D Arm Tattoo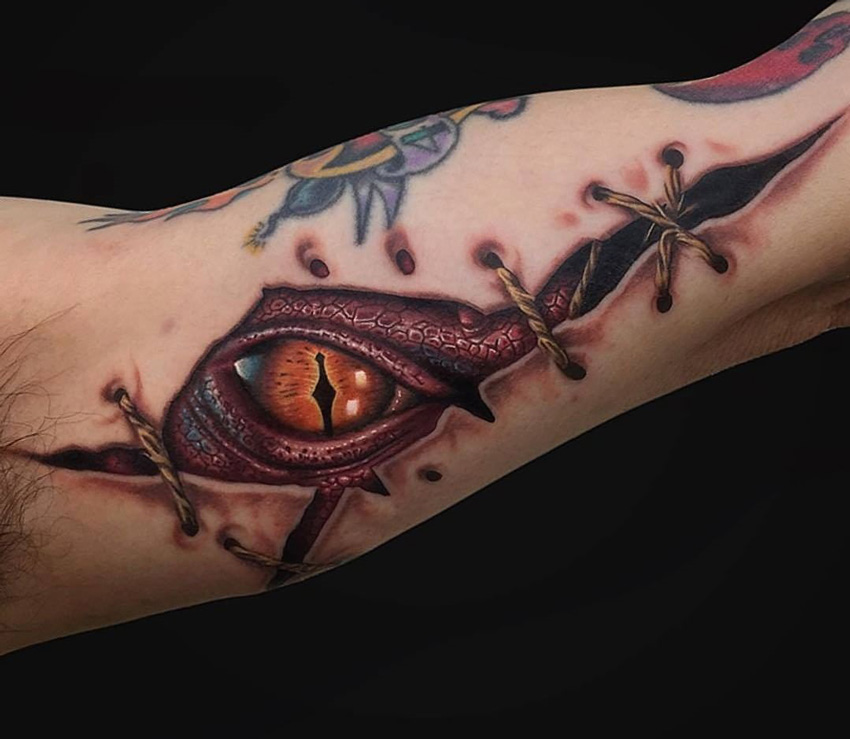 A well-executed 3D ink design is also one of the most fantastic things that you can see on a man's arm. If you are toying with this design idea, make sure to have a skilled artist do it. Otherwise, the design can be a total failure. 
14. Grieving Heart Tattoo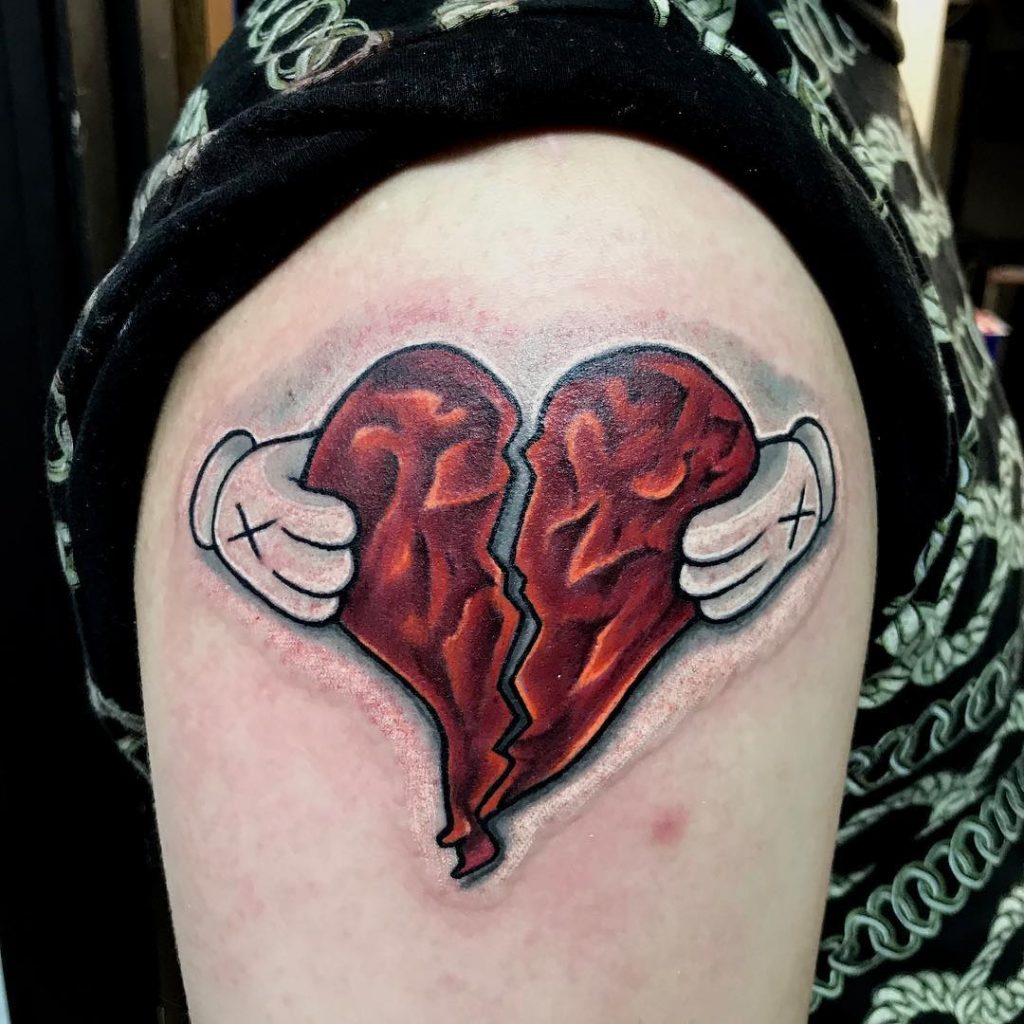 For a memorable and meaningful ink design for your arm, the grieving heart design is one way of immortalizing your love for someone you lost. It is a popular theme for arm tattoos. 
15. Tribal Arm Tattoo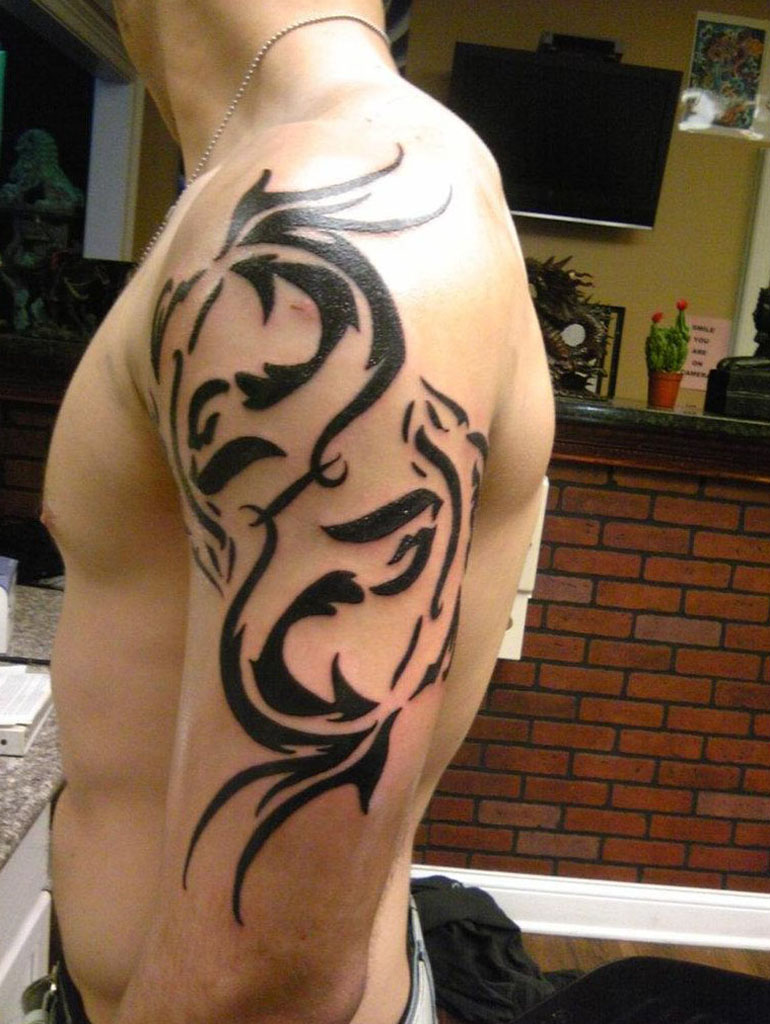 Another popular style that has been around for centuries is tribal tattoos. These tattoos now combine the modern features with the styles of the original tribes. Typically, the designs are intricate and eye-catching. Some designs are well suited for the arm. Explore your options and do research to prevent being offensive.  
Simple Arm Tattoos
16. Simple Feather Arm Tattoo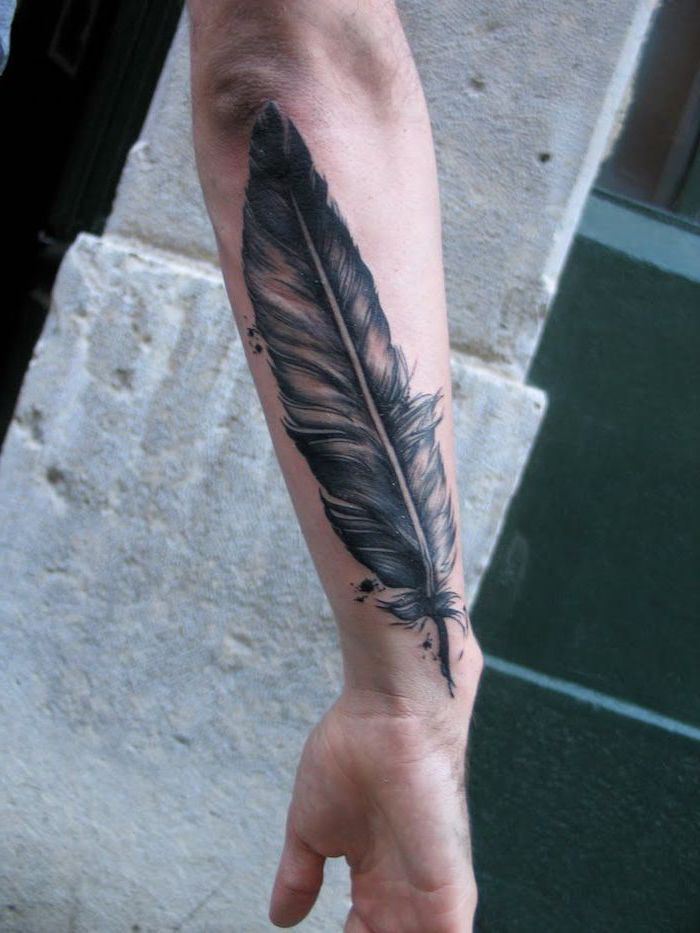 Simple feather tattoos on the arm can be something shaded or intricately detailed. Depending on your choice, you can express yourself with an excellent feather design that goes nicely with the shape of your arm. 
17. Simple Nature Arm Tattoo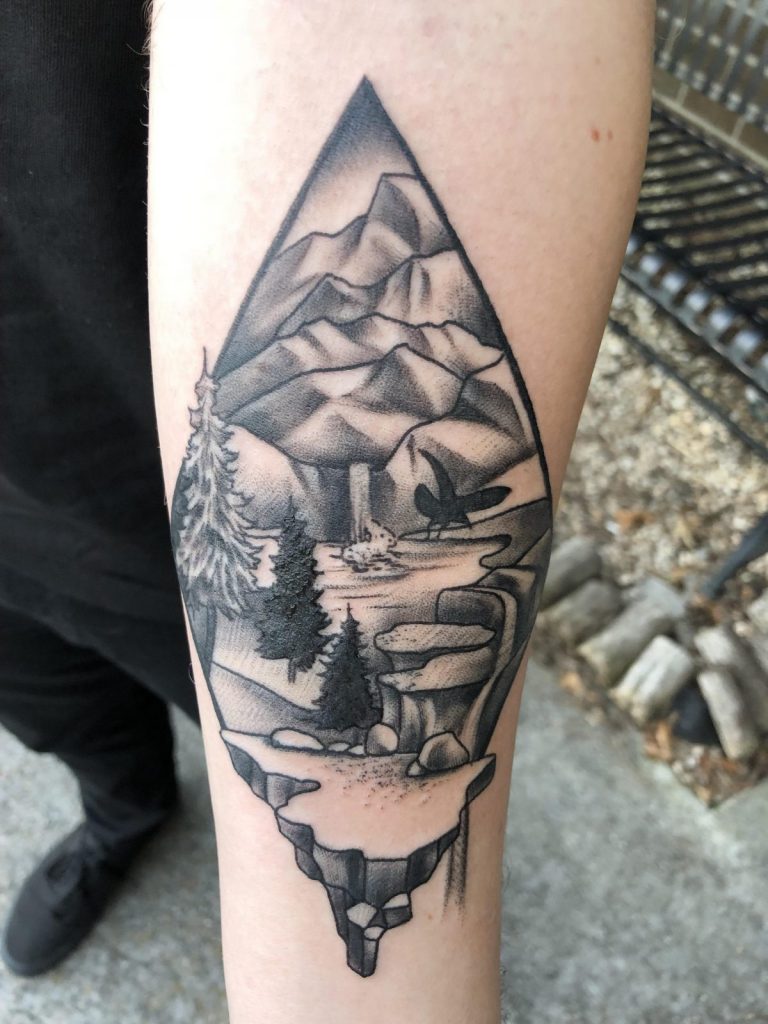 If you are not into detailed tattoo designs, you may settle for a unique simple nature arm tattoo that evokes peace and calm. Some options for you to choose from are a small group of pine trees, a wolf, or a stand-alone rocky mountain. 
18. Simple Writing Arm Tattoo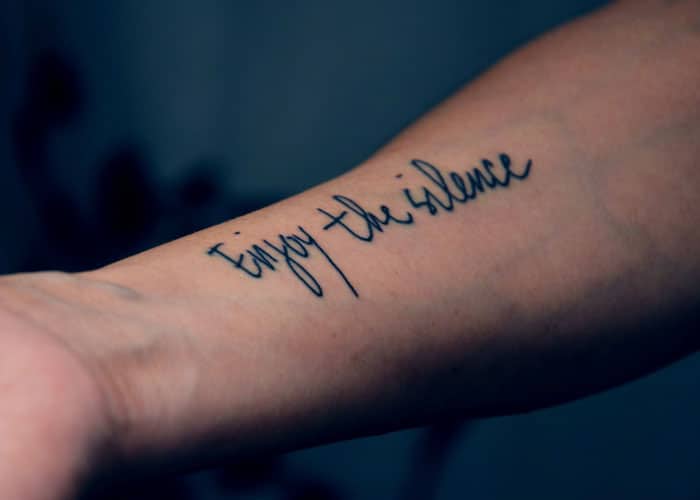 Meaningful words are also excellent arm tattoo options for men. It can be intricate with lots of details, but it can also be created with simple fonts. In some cases, men who know another language also get inked using foreign words or characters. It's one way of paying tribute to their roots. 
19. Simple Geometric Arm Tattoo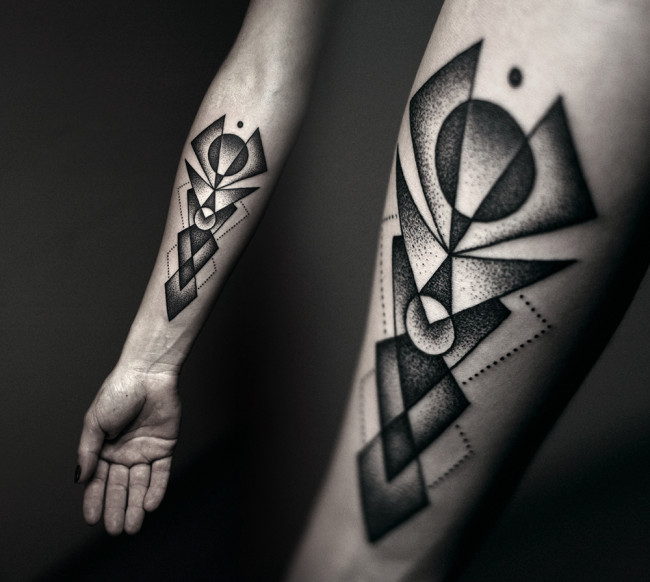 Geometric tattoo styles allow you to be creative and design designs from lines, dots, or shapes. You can design a tessellation or anything random with these simple elements. 
20. Simple Band Arm Tattoo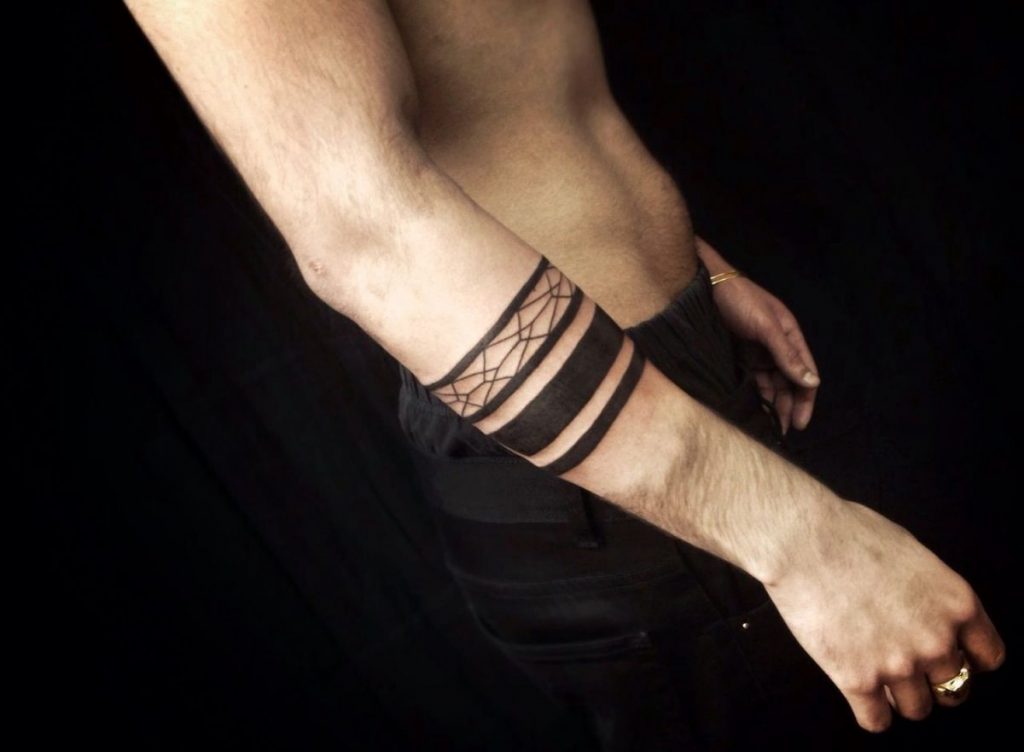 A simple armband tattoo is an ink design that is precisely placed in this spot. It consists of lines wrapping all around the arm. Often this design represents strength, equality, or mourning. It is a meaningful yet straightforward tattoo to consider. 
Small Arm Tattoos
21. Small Sparrow Arm Tattoo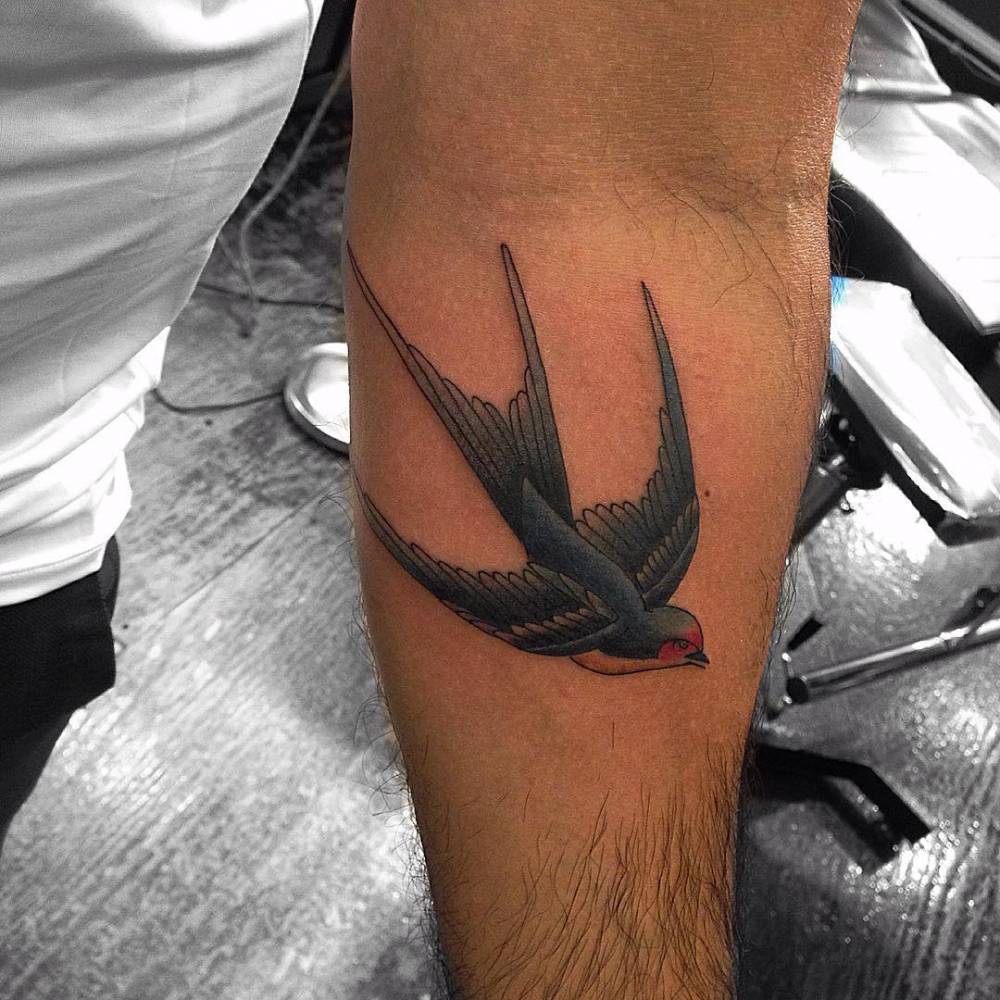 If you consider some sentimental tattoo for your arms, a small sparrow tattoo might be a good choice. The Grand Sparrow represents love and loyalty, while others also have significant meanings behind them. If you want a simple but meaningful ink, choose this design. 
22. Small Armband Tattoo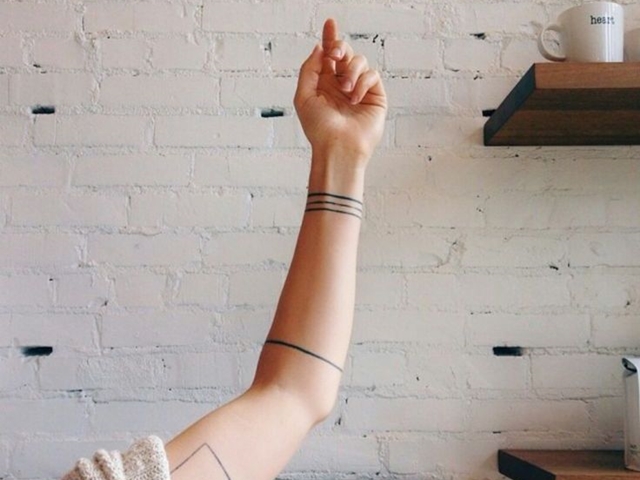 If you prefer simple body art, you can opt for a small armband tattoo. Some people might not understand it, but the meaning of these bands is quite personal to the wearer.  
23. Simple Anchor Arm Tattoo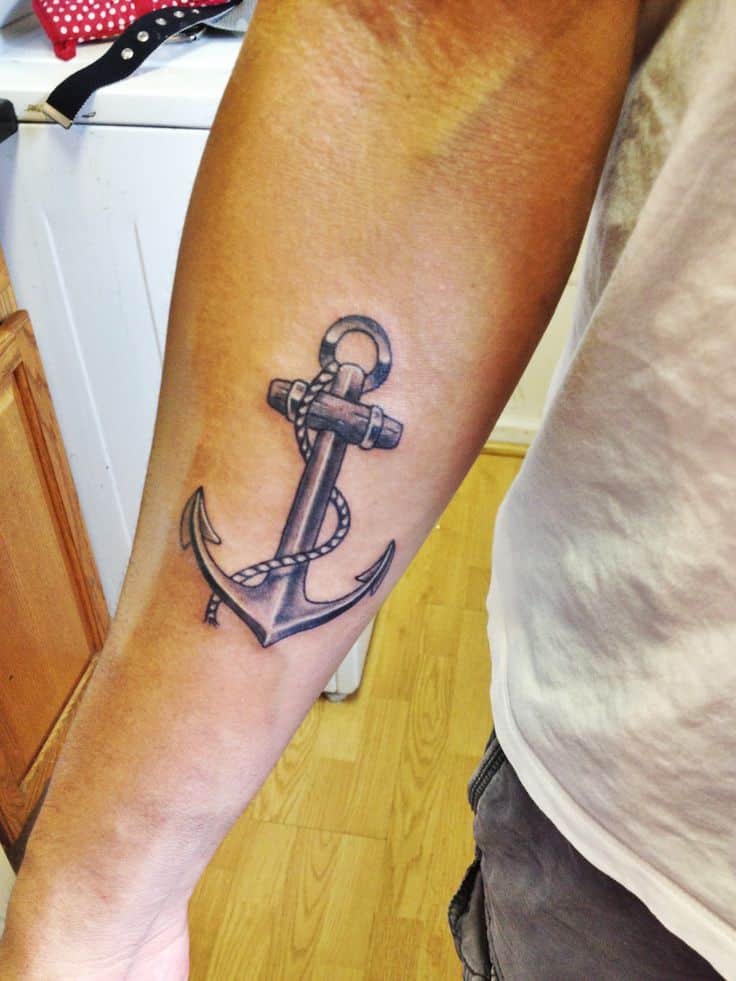 Anchor tattoos have been inked on sailors for centuries, but still, it is a popular choice among men for their arm tattoo. You can get this on the upper arm, bicep, or lower arm. These images can be detailed, but choosing a simple design appeals to others as well. 
24. DC Simple Arm Tattoo
Boys love movies and comics, so it's not uncommon to see arm tattoos featuring Marvel or DC. You can work with our artists to create wicked designs that will inspire other people who love DC or Marvel. 
25. Simple Moustache Arm Tattoo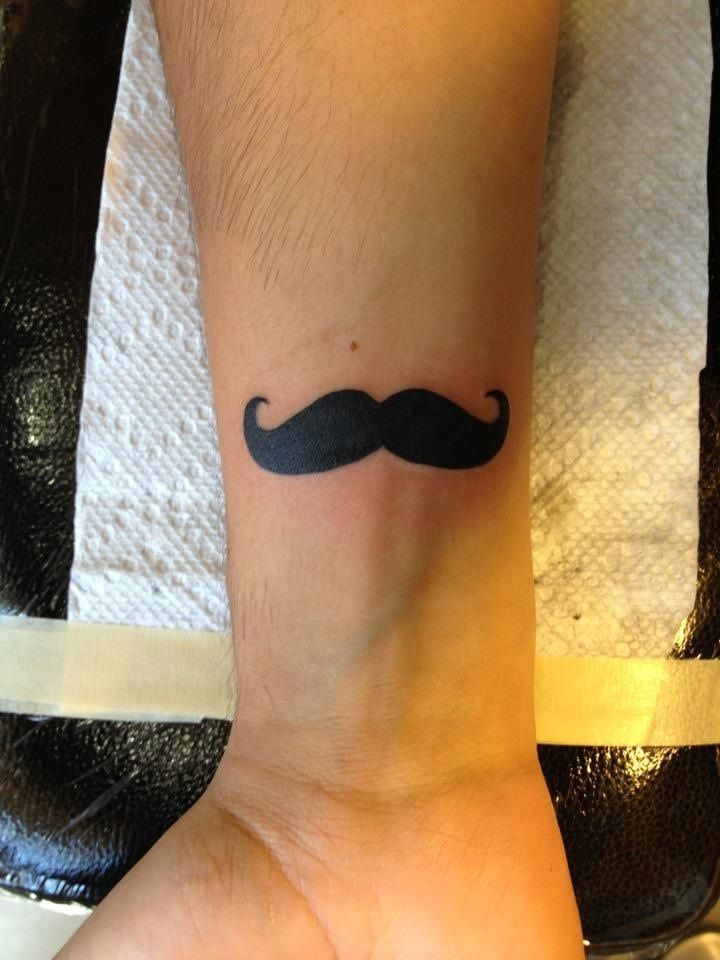 If you are after some bizarre things for your next inking session, how about a mustache? It will spark a conversation, but typically this tattoo design represents authority. 
Upper Arm Tattoos
26. Detailed Upper Arm Tattoo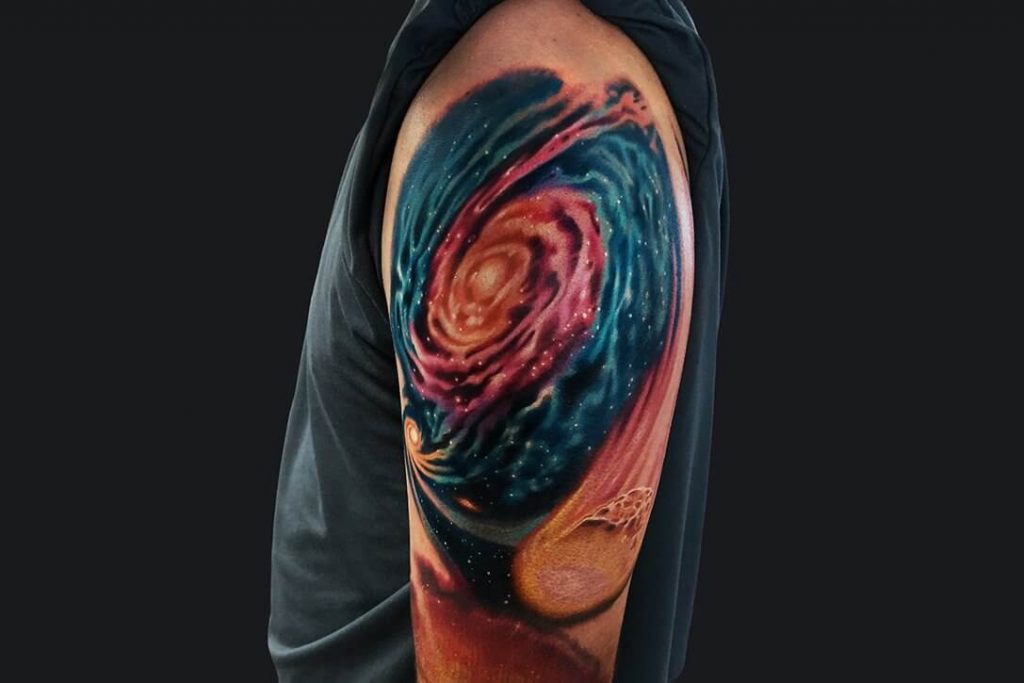 Depending on size, a detailed upper arm tattoo will take several sessions to complete. There are various designs and styles that you can explore for intricate tattoo designs that perfectly express your thoughts or feelings. 
27. Colorful Upper Arm Tattoo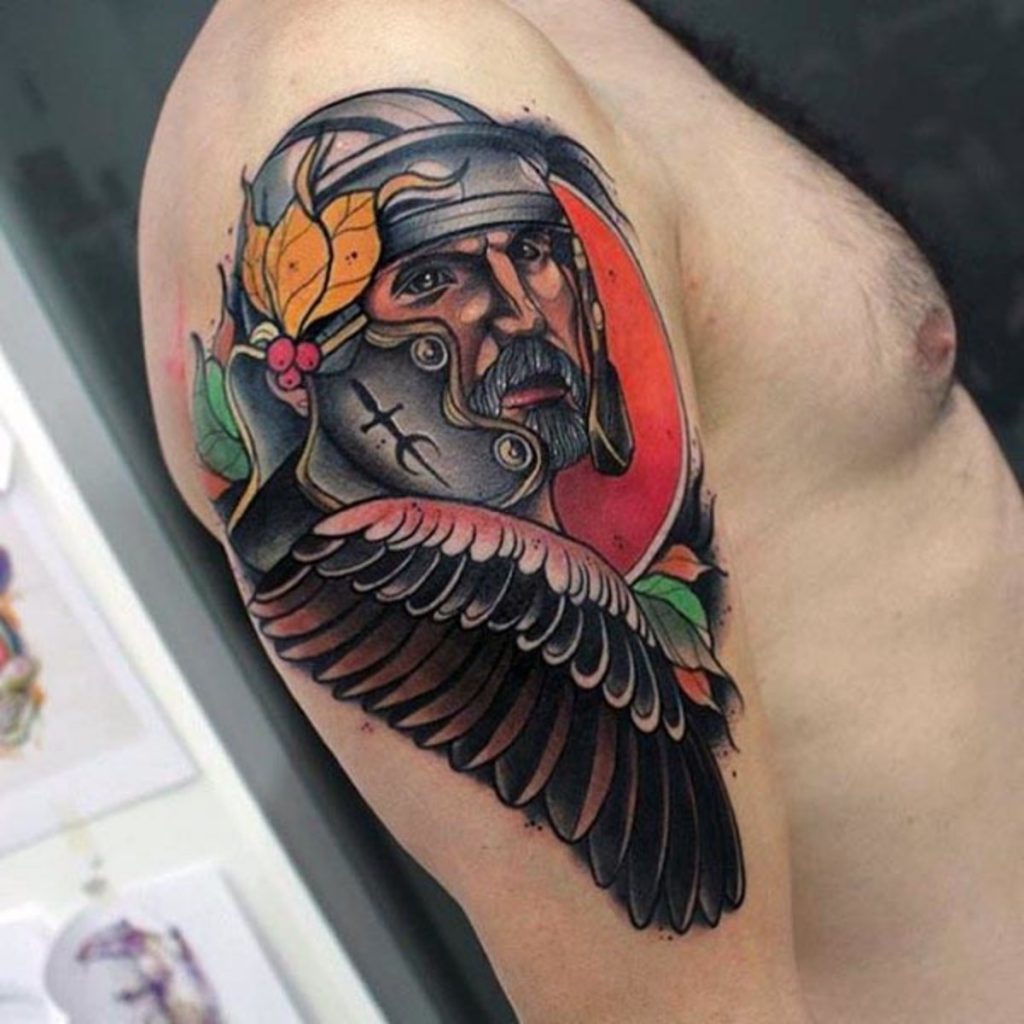 If you want to make a statement, choosing a colorful upper arm tattoo is a great option. Colors will look amazing with a detailed ink design. It gives your ink a sure pop, and in some cases, it adds exciting dimensions to your design.
28. Delicate Upper Arm Tattoo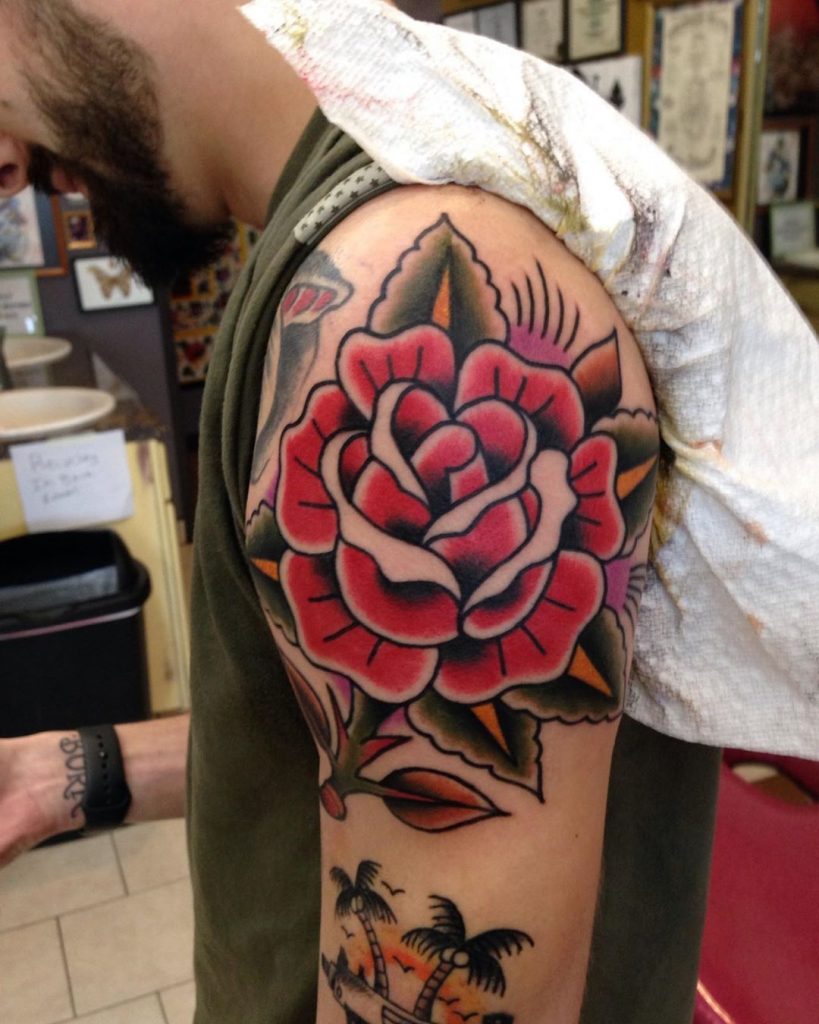 Contrary to what other people think, detailed tattoos also work for males. They can be made into complex and delicate designs, but masculinity is kept intact. And though roses are a common element in male tattoos, you can have whatever blooms you want to have. 
29. Tribal Upper Arm Tattoo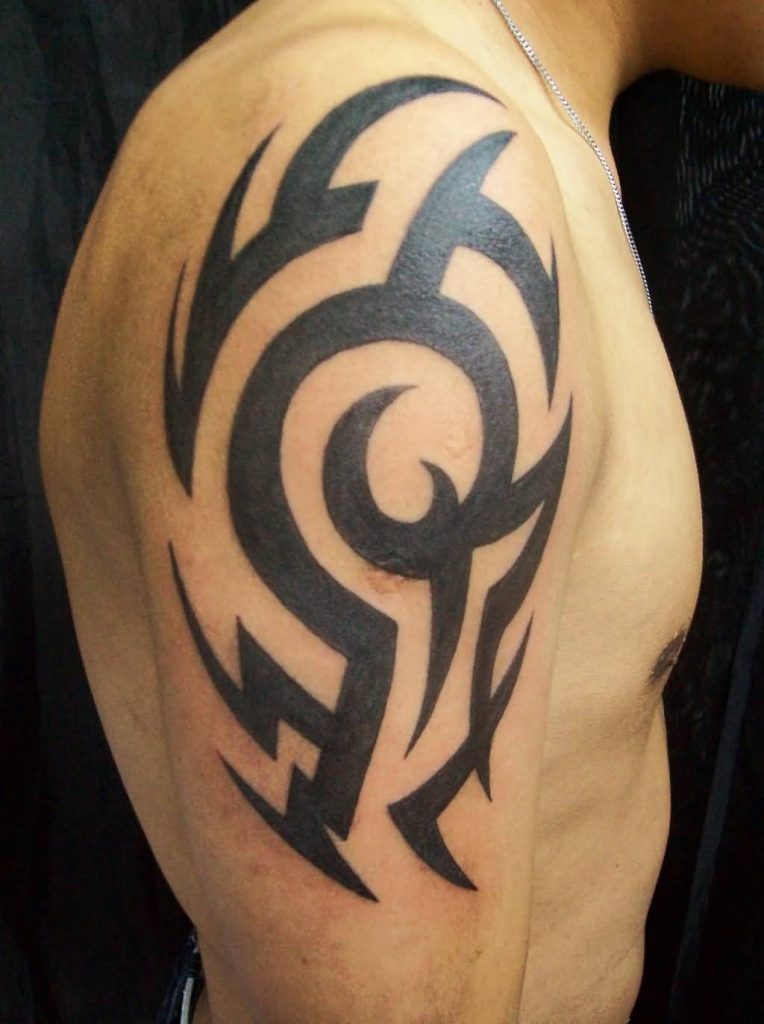 Consider getting a tribal tattoo that starts at the shoulder and goes down on your upper arm for an excellent tattoo design. These designs highlight the muscle shapes of your arm. 
30. Simple Upper Arm Tattoo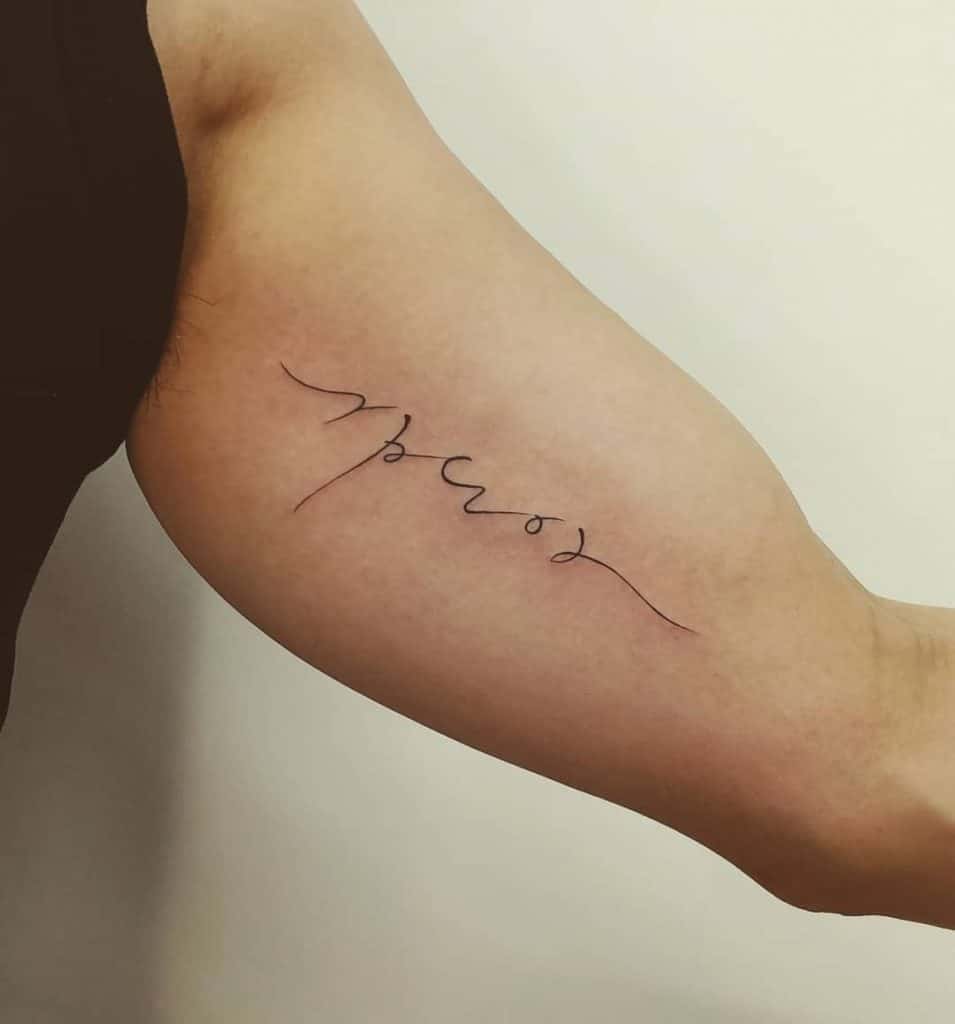 You can't go wrong with a simple upper arm tattoo, whether it is your first time or tenth already. It is easy to cover up, or you can also put the tattoo on display if you want to flex your ink. Simple and minimalistic designs are also favored for this placement. 
Arm Sleeve Tattoos
31. Traditional Sleeve Tattoo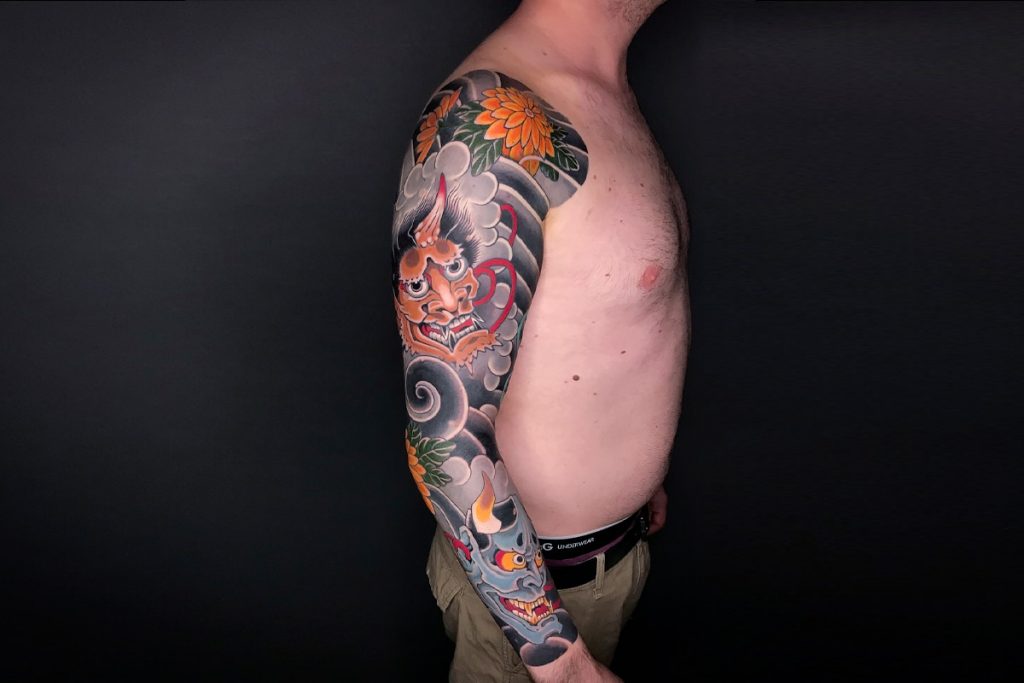 One great way of showing how proud you are of your roots is by having cultural tattoos. These ink designs are unique and eye-catching. Some popular styles are Polynesian tribal, Japanese Irezumi and American Traditional.   
32. Dark Sleeve Tattoo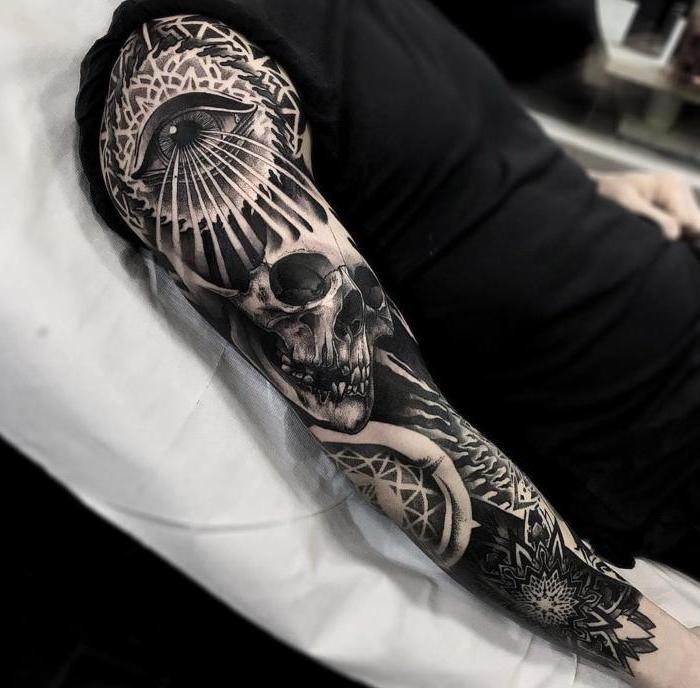 For a gothic appeal, you should go for the dark sleeve theme. It features crows, skills, smoke, candles, and other spooky elements. The design may be pretty dark, but it looks incredible once completed.
33. Religious Sleeve Tattoo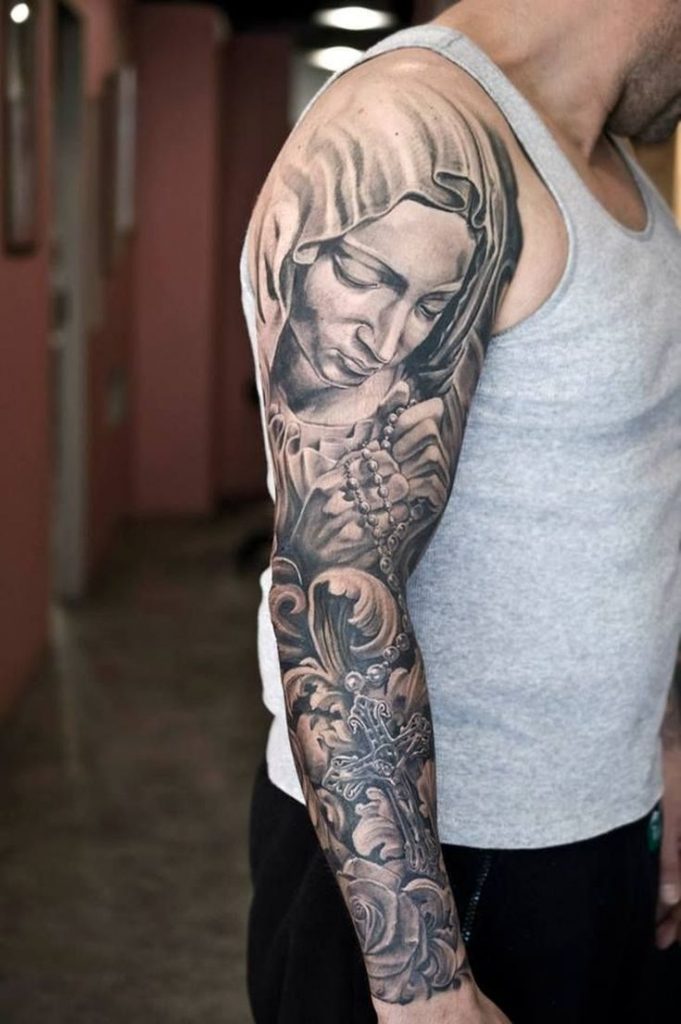 If a religious bicep tattoo is not enough for you, go on a full sleeve tattoo to incorporate the elements you want. It can be bible verses, characters, crosses, doves, and others. 
34. Nature Sleeve Tattoo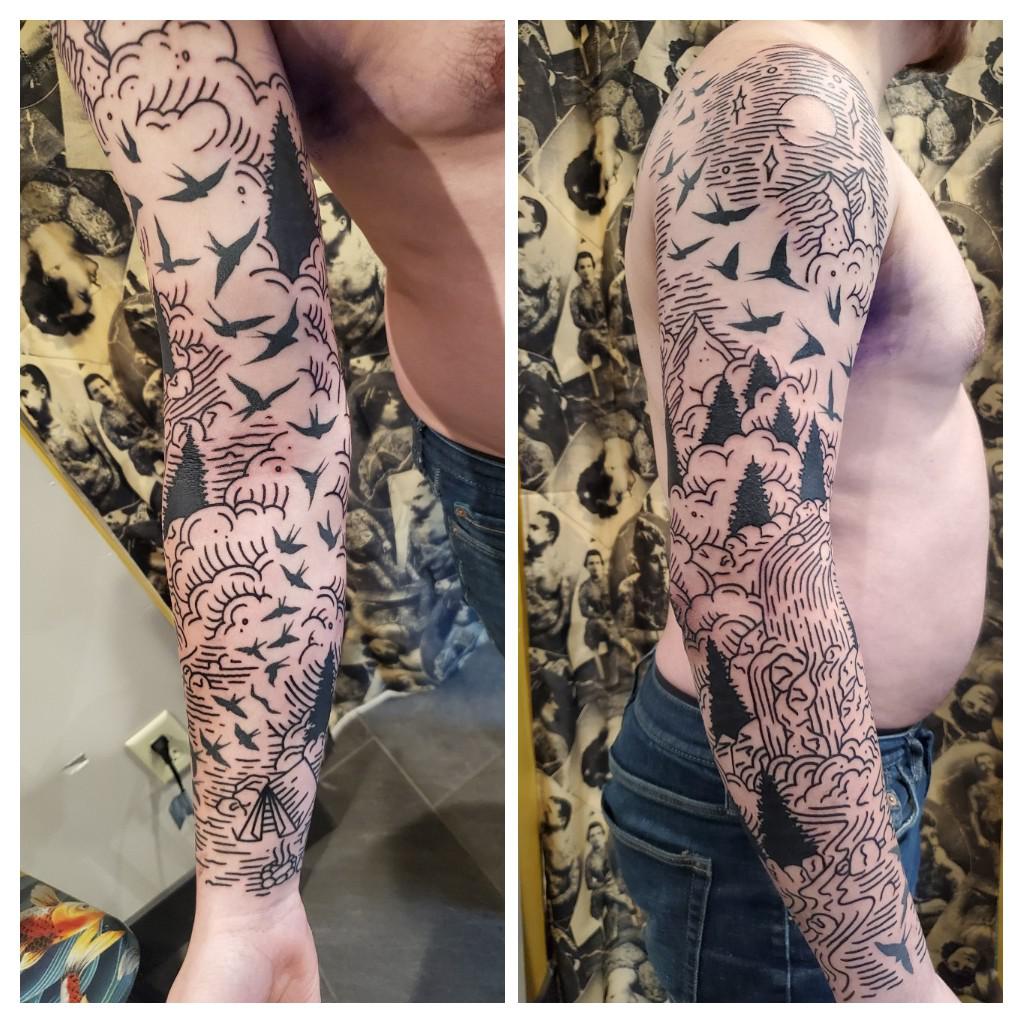 Nature sleeves tattoo will provide you with a beautiful view every time you look at your whole arm. You can include mountains, wild animals, pine trees, and others. If you love nature, this design is perfect for you. 
35. Alice in Wonderland Sleeve Tattoo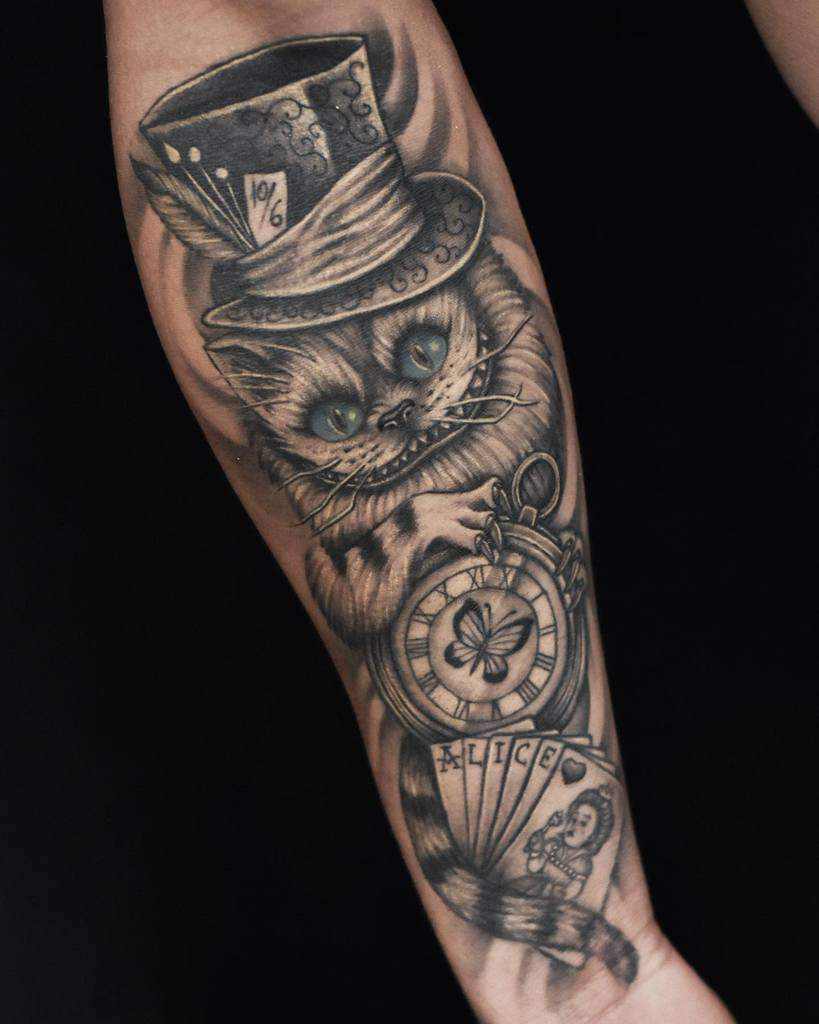 Arm sleeve tattoos often focus on a theme, and the wearer will decide on the related elements that will go with it. The "Alice in Wonderland" theme is a popular style because it includes roses, watches, swirls, and other vintage designs. 
Inner Arm Tattoos
36. Sentimental Inner Arm Tattoo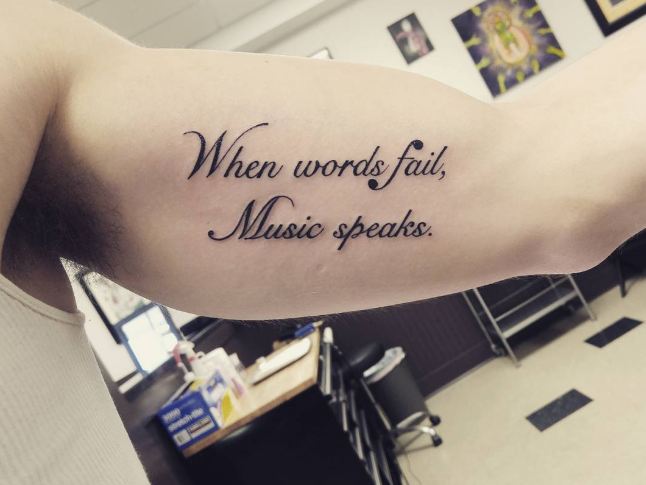 Both the upper and inner arms are right spots for meaningful images or a few essential words. This placement is perfect if you want to have a sentimental tattoo design. 
37. Textural Inner Arm Tattoo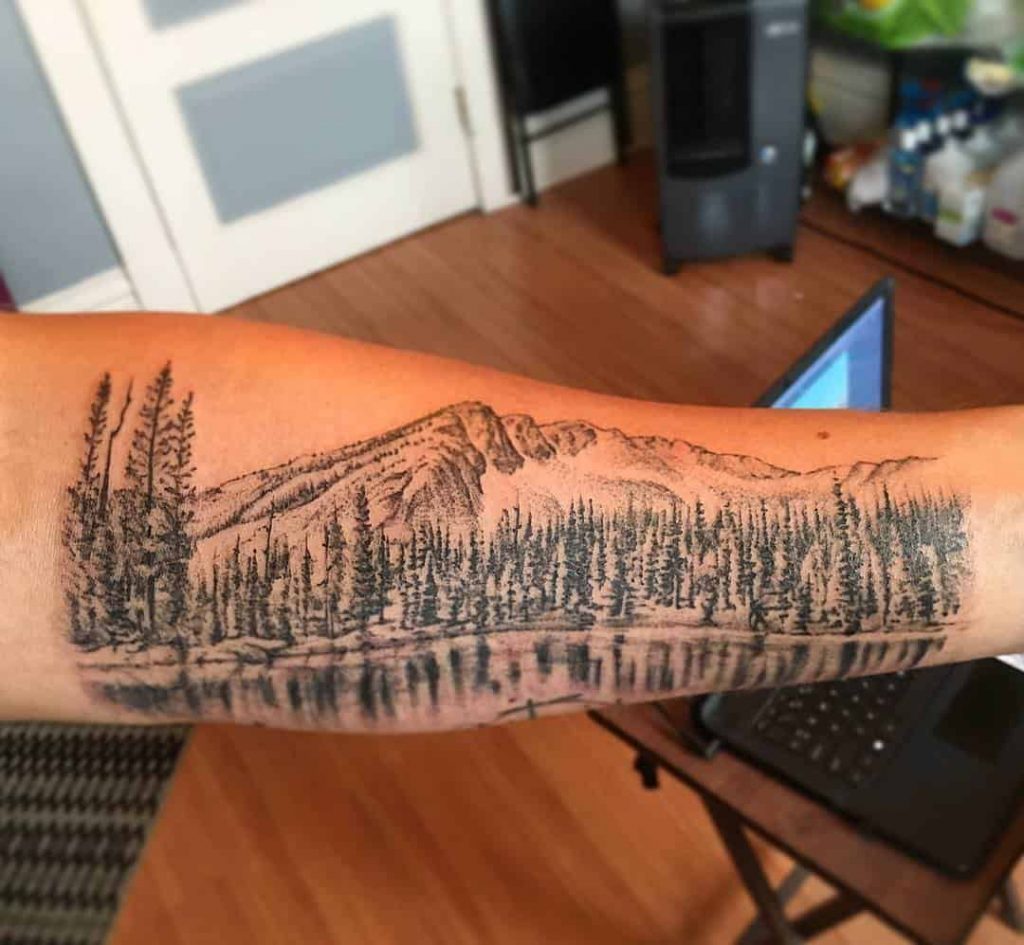 The inner arm offers a low-on-pain spot for detailed ink designs such as textural inner arm tattoos. It involves plenty of lines and dot work, and it will look great in this placement. 
38. Detailed Inner Arm Tattoo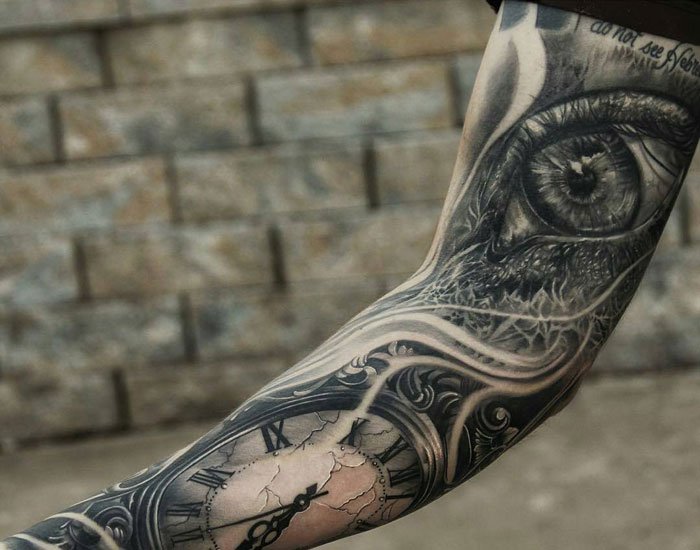 The inner forearm is a good spot for those considering a detailed tattoo. It is obvious but remains low on the pain scale.  
39. Script Inner Arm Tattoo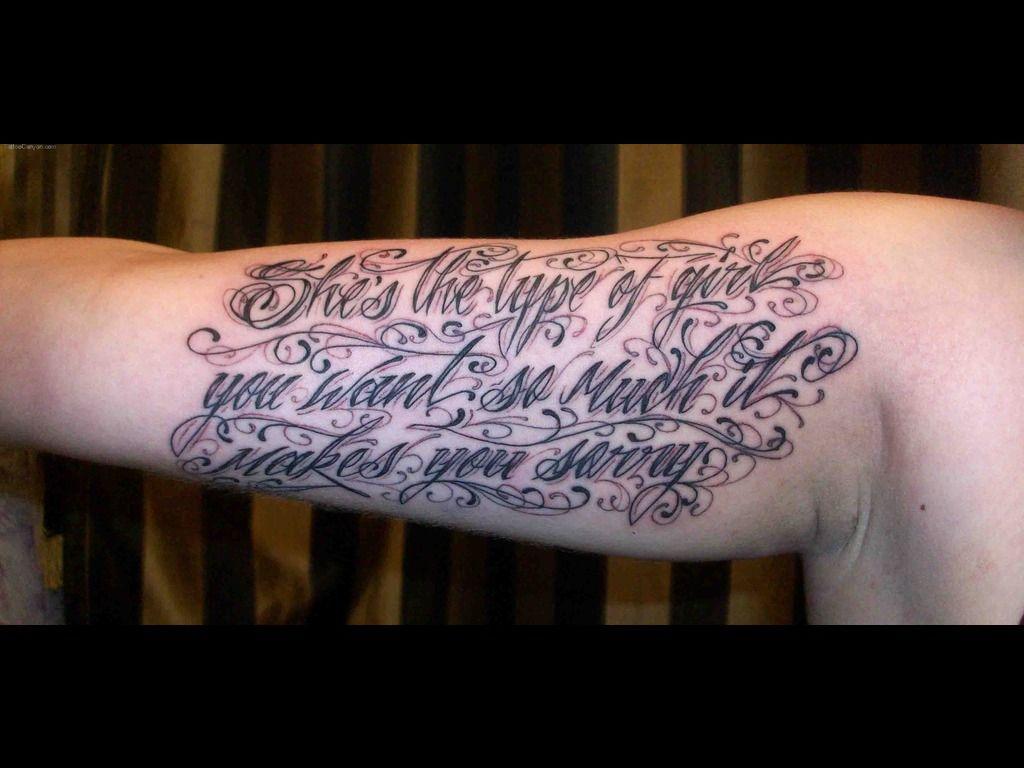 The inner arm is also ideal for script tattoos. If you are toying with the idea of getting dates, names, and quotes, this location is a must. It is big enough to accommodate any script size. 
40. Simple Inner Arm Tattoo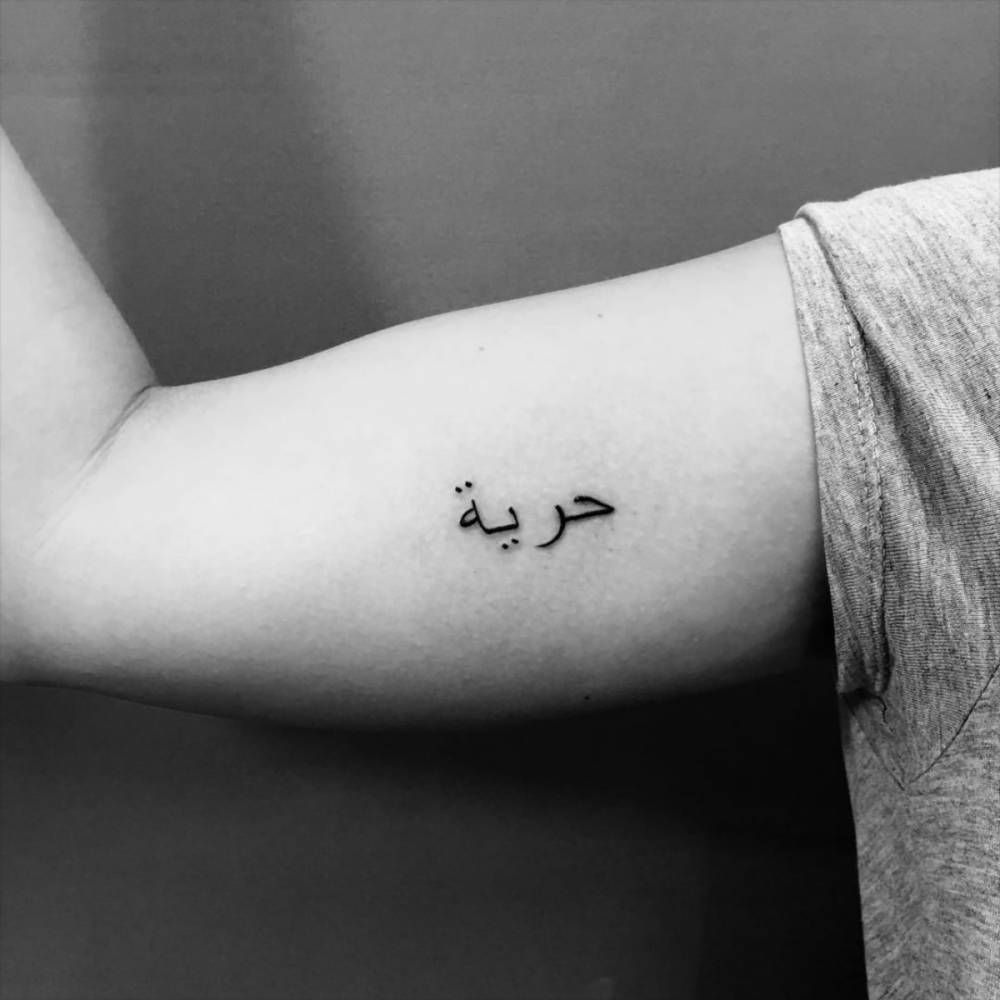 For the laid-back kind, simple inner arm tattoos would be a fantastic option. This spot works well with a less detailed but good-looking ink design too.
Back of the Arm Tattoos
41. Nature Tattoo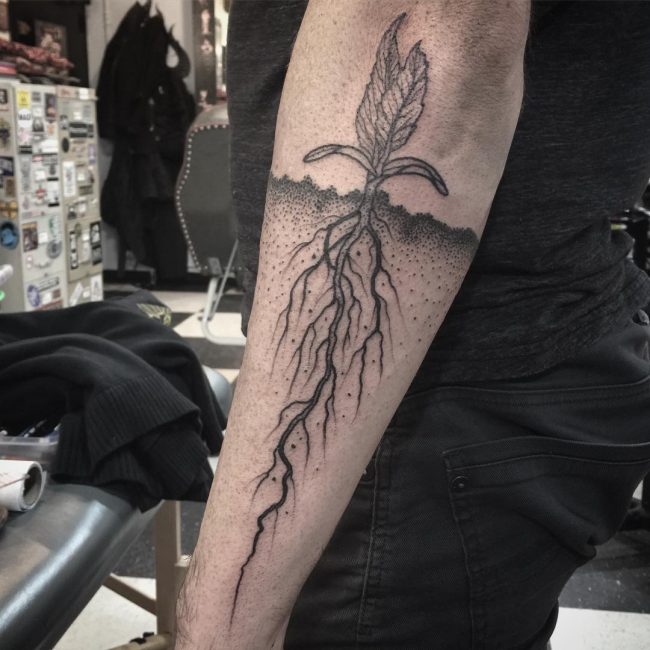 Another idea for a back of the arm tattoo is animals and nature tattoos. These elements fit perfectly on the back of the arm. Choose among various species of trees and animals with a long and slender shape.
42. Roman Numerals Tattoo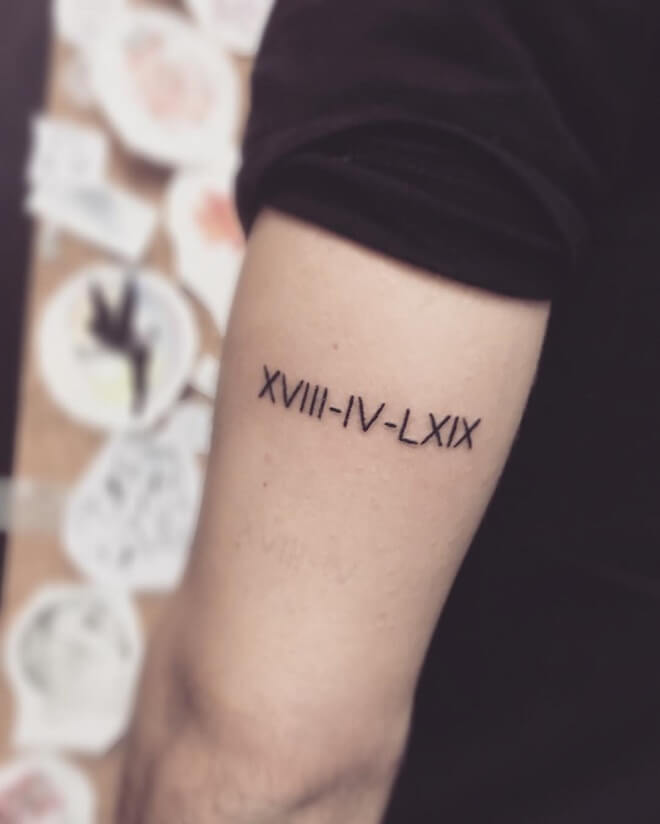 If Roman Numeral tattoos are appealing to you, consider having them on the back of your arm. Draw the tattoo a bit bigger, and you can add more elements to them.
43. Geometric Tattoo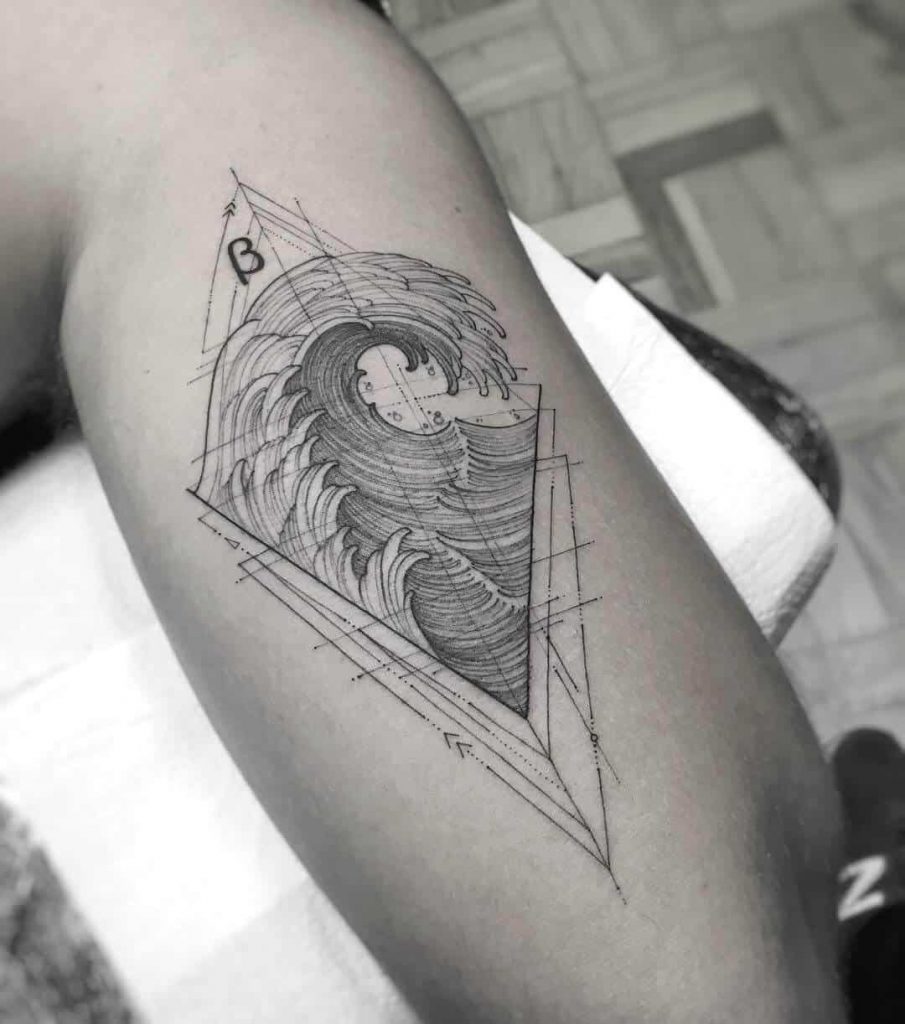 For something trendy, men can explore geometric tattoo designs which will look great on the back of their arm. This spot is ideal for long and thin designs. It gives a tattoo element a modern look which is an excellent alternative to traditional choices. 
44. Unique Back of Arm Tattoo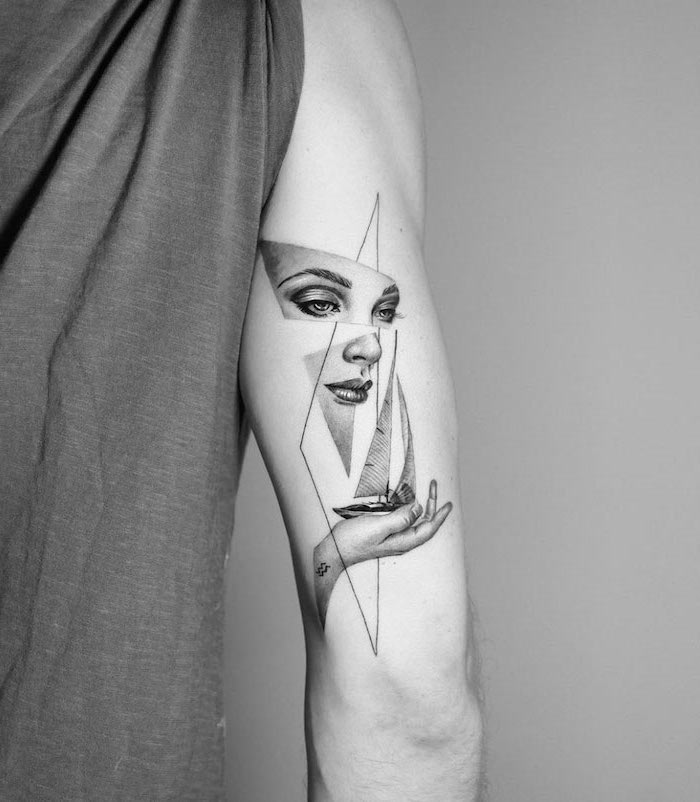 For creative and unique designs, the back of the arm is one of the coolest spots to get inked. People can see and appreciate these designs, which express your creative side. 
45. Simple Back of Arm Tattoo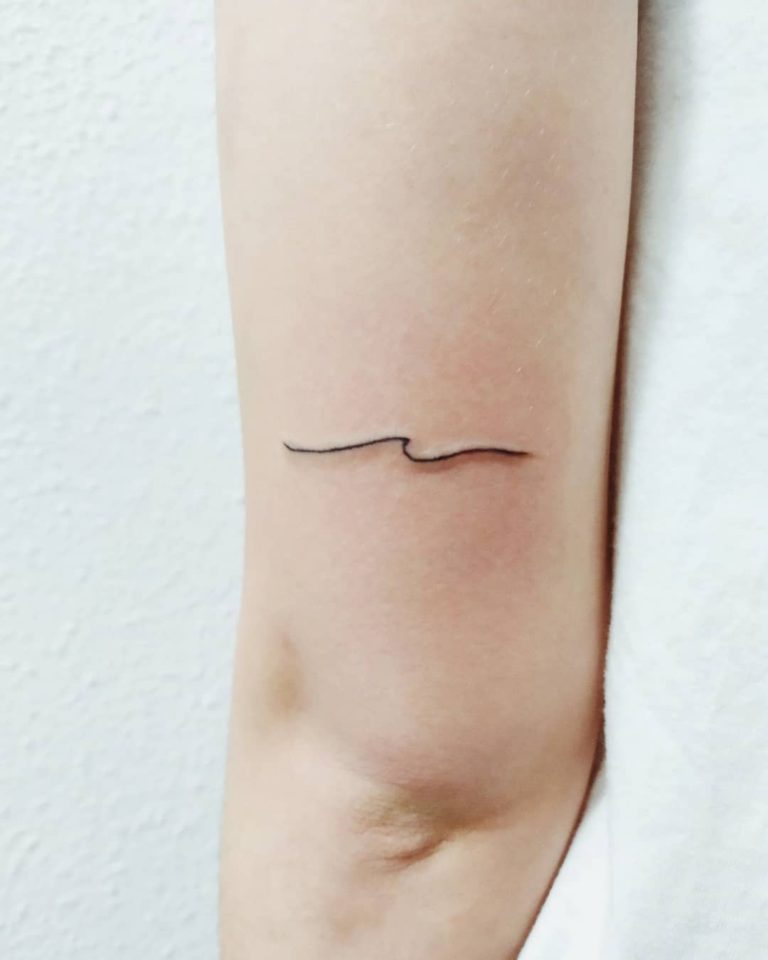 The back of the arm is also a wonderful spot for simple designs that are not heavy on details. It is not a very large spot. Thus, you should find a design that will highlight your muscle definition while keeping it eye-catching with your ink. 
Bicep Tattoos 
46. Animal Bicep Tattoo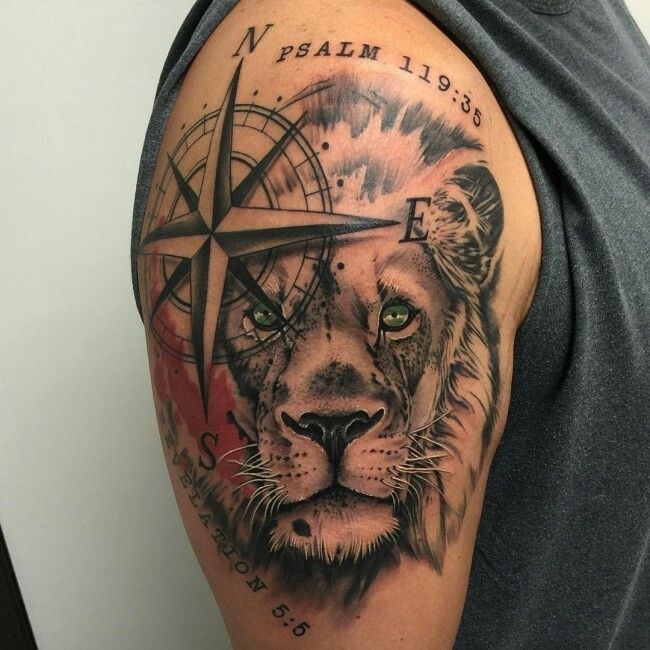 You can opt for another popular design choice with animal bicep tattoos. The bicep offers an ideal spot for this meaningful ink design. 
47. Compass Bicep Tattoo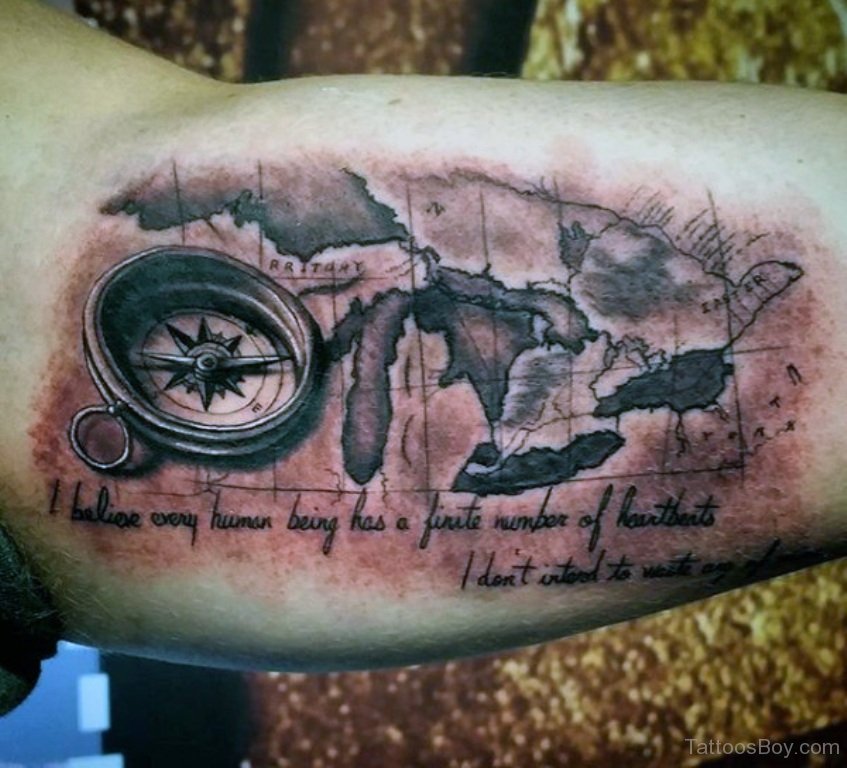 Most young people today love traveling, and they express this through their tattoos. You can get a nice world map and a compass inked on your biceps if you are an explorer by heart. 
48. Half-Sleeve Bicep Tattoo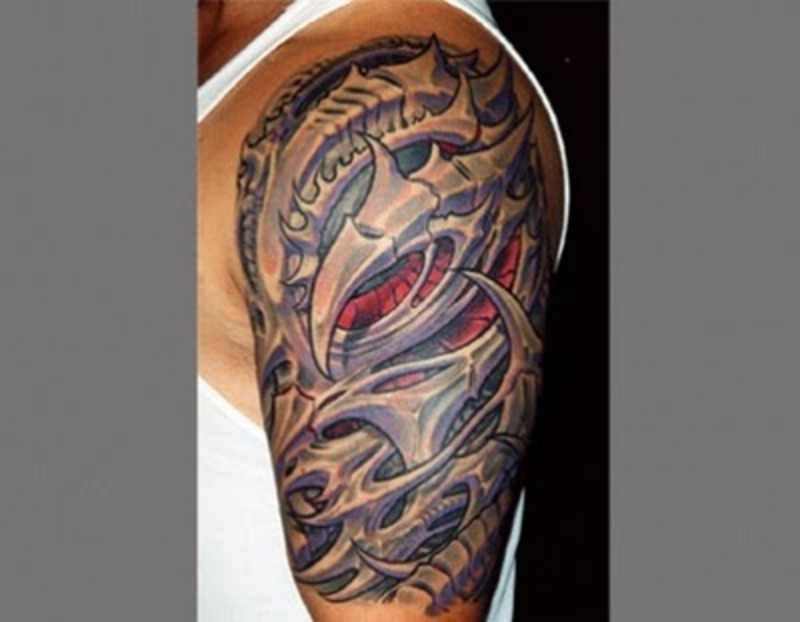 The bicep is a great spot if you want a half-sleeve or upper arm tattoo. This placement is more straightforward to cover up than the lower arm. 
49. Angel Wings Bicep Tattoo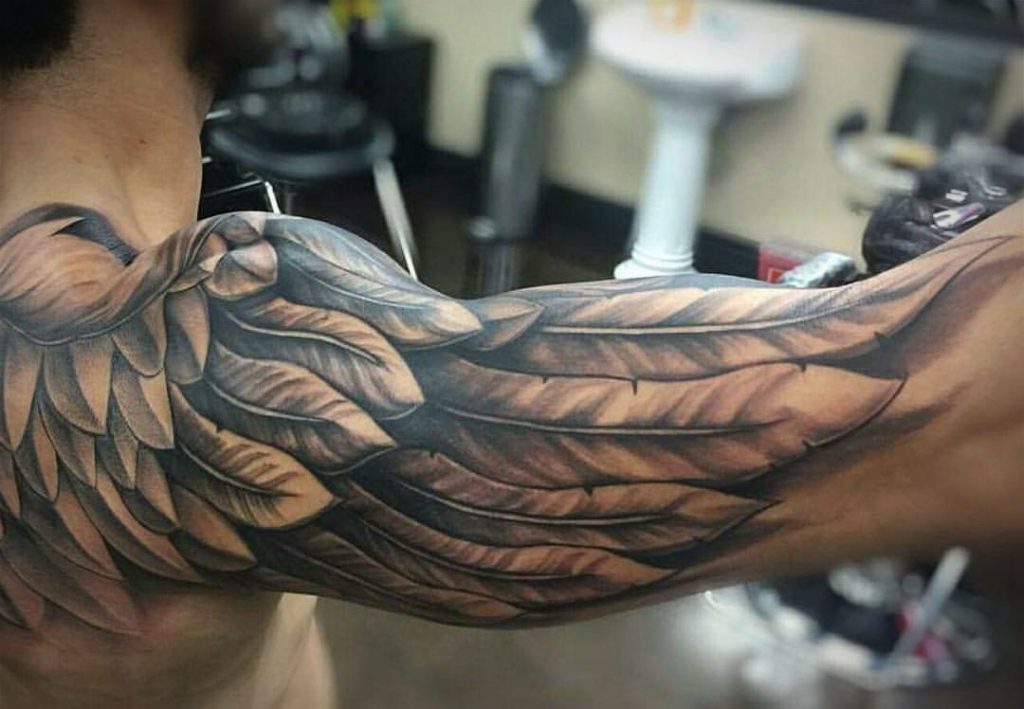 For unique angel wing placement, you can have it tattooed on one of your biceps or get them in pairs. Whichever you choose, it will look incredible in this spot.
50. Religious Bicep Tattoo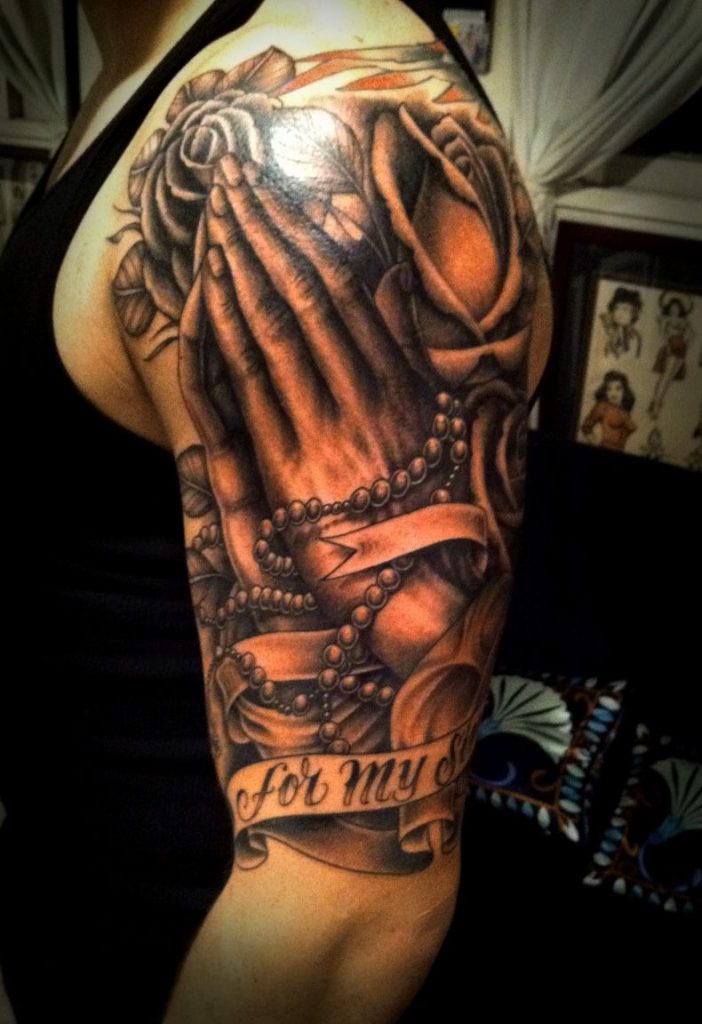 Some men also choose to have their religious tattoos inked on their biceps. Some standard designs include a mural of Jesus, praying hands, a cross or rosary. 
Full Arm Tattoos
51. Full Arm Angel Wing Tattoo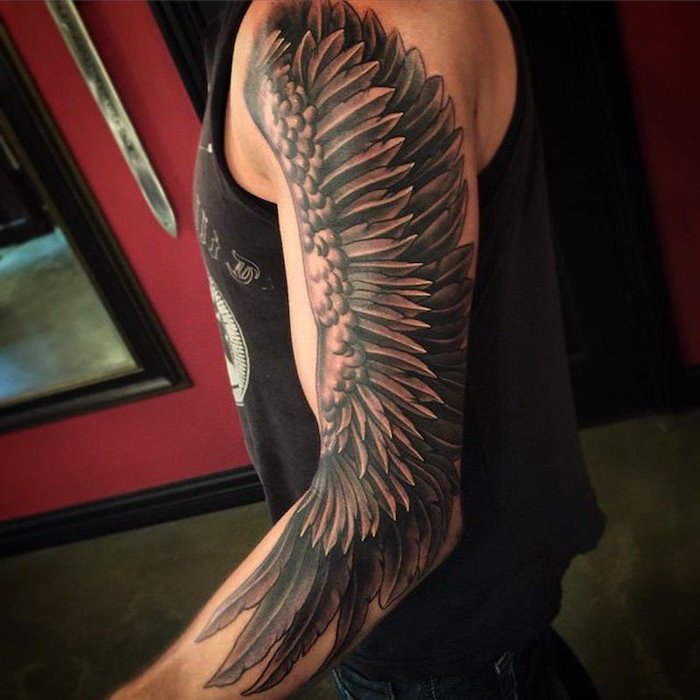 Angel wing tattoos can be inked in various places in the body. But the popular placement for this element is on the arm. It can be designed to start from the back and stretch down to the arms for a significant representation. 
52. Fantasy Arm Tattoo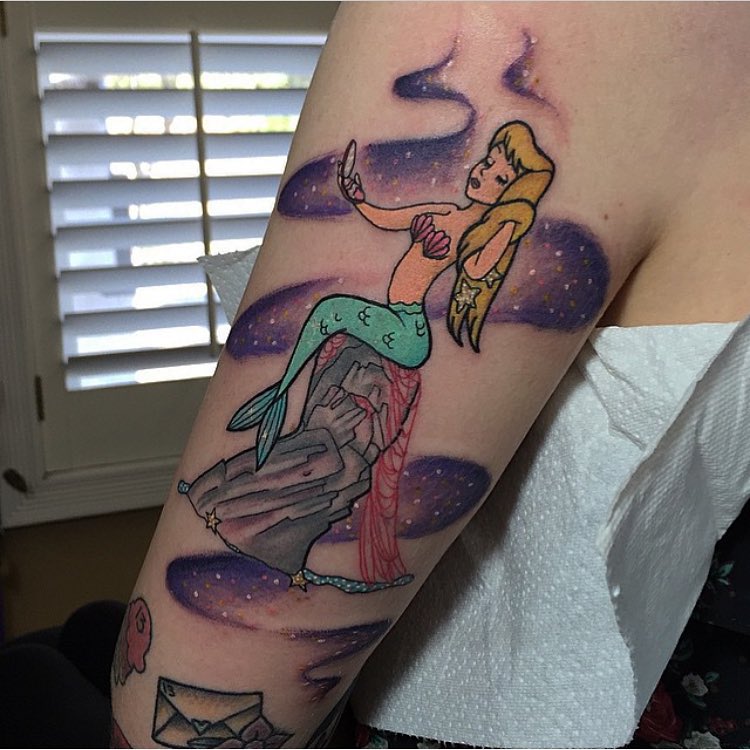 Are there stories that you find exciting and mysterious? You can use it as inspiration for your next ink. Folktale ink themes, especially stories from the sea, are great designs for a full arm tattoo. You can put in a lighthouse, a mermaid, or an octopus tattoo to build up the story. 
53. Full Arm Vein Tattoo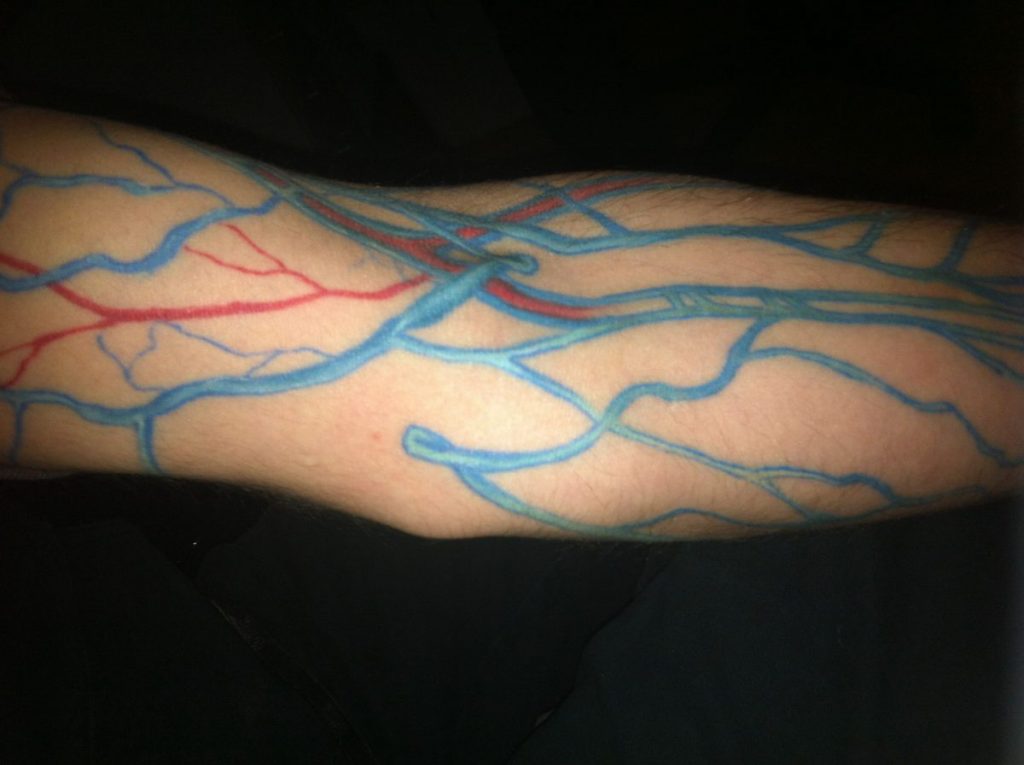 Vein tattoos are trendy and wicked. If you are after unique and exciting tattoo styles, you can consider this design. The artist will trace out the veins in your whole arm and make them look real.
54. Full Arm Snake Tattoo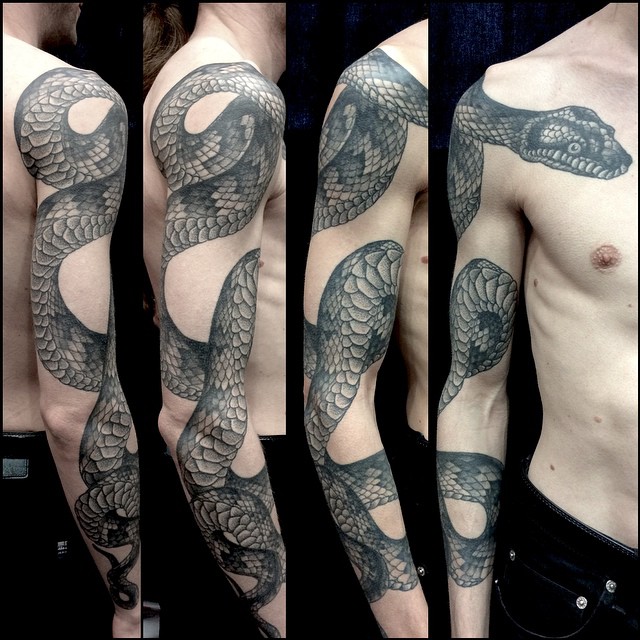 A snake tattoo that wraps around the whole arm is probably one of the most extraordinary full arm tattoo designs that you will ever see. Your artist can also put in a lot of details into this and create a real-looking python. Consider adding unique elements like Egyptian scripts or Asian symbols. 
55. Full Arm Skull Tattoo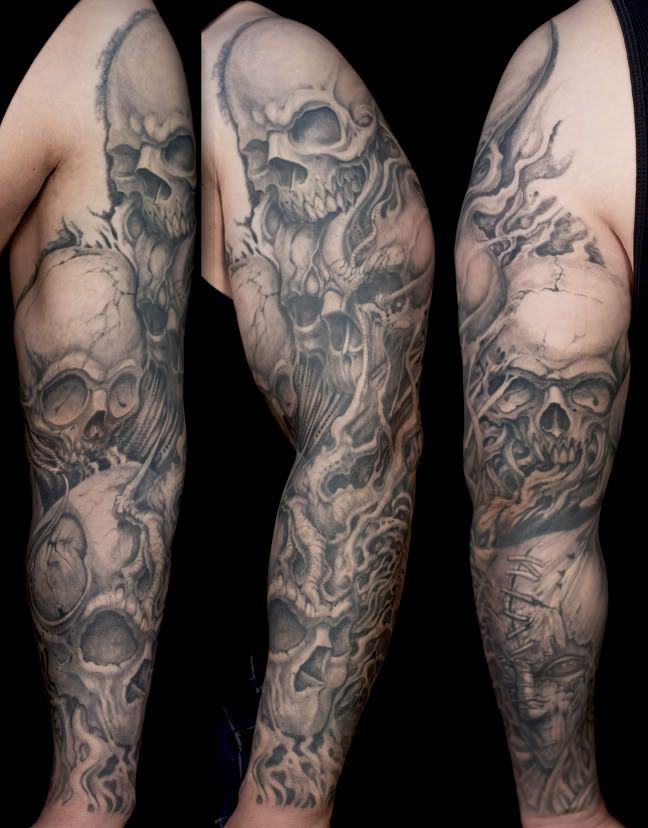 A skull tattoo looks great, whether alone or as a focal point on a full arm tattoo. You can always find elements related to it and create a theme that works for your desired outcome. 
Side Arm Tattoos
56. Colorful Side Arm Tattoo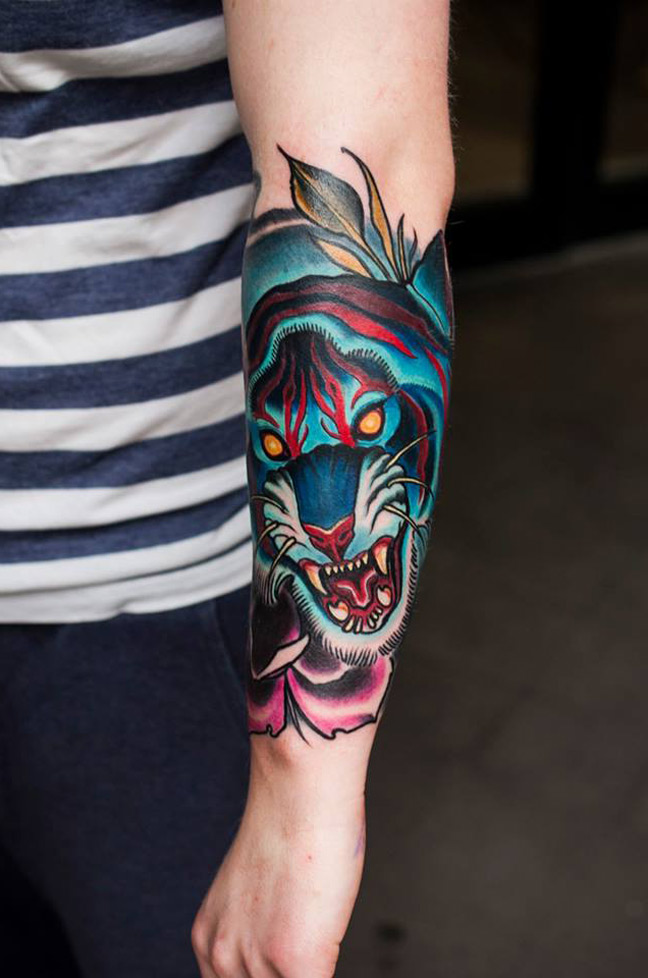 Before getting a colorful side arm tattoo, you should plan out your future ink design. Ideally, you can create a theme that would look great together when scrutinized. Colorful side arm tattoos are popular options, but always consider the color scheme before deciding on the final design. 
57. Side Arm Tessellation Tattoo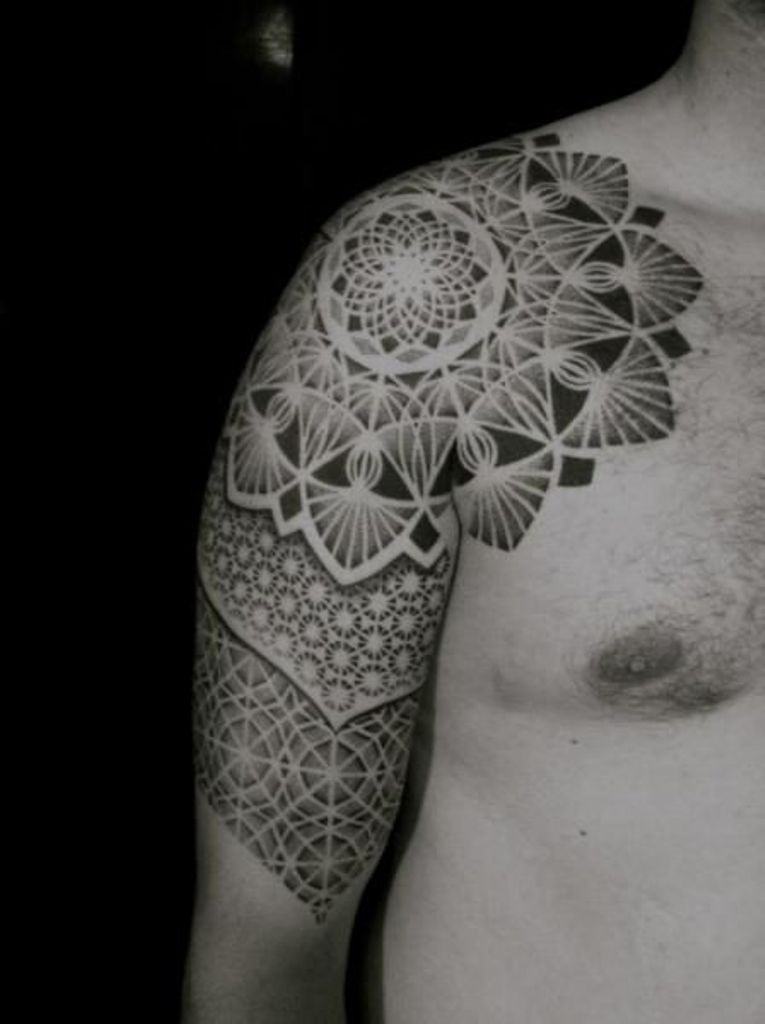 Tessellation tattoos are popular wrap-around tattoos placed on the arm. They can be big or small, but most of the designs are eye-catching. There are thousands of designs to choose from. 
58. Side Arm Wolf Tattoo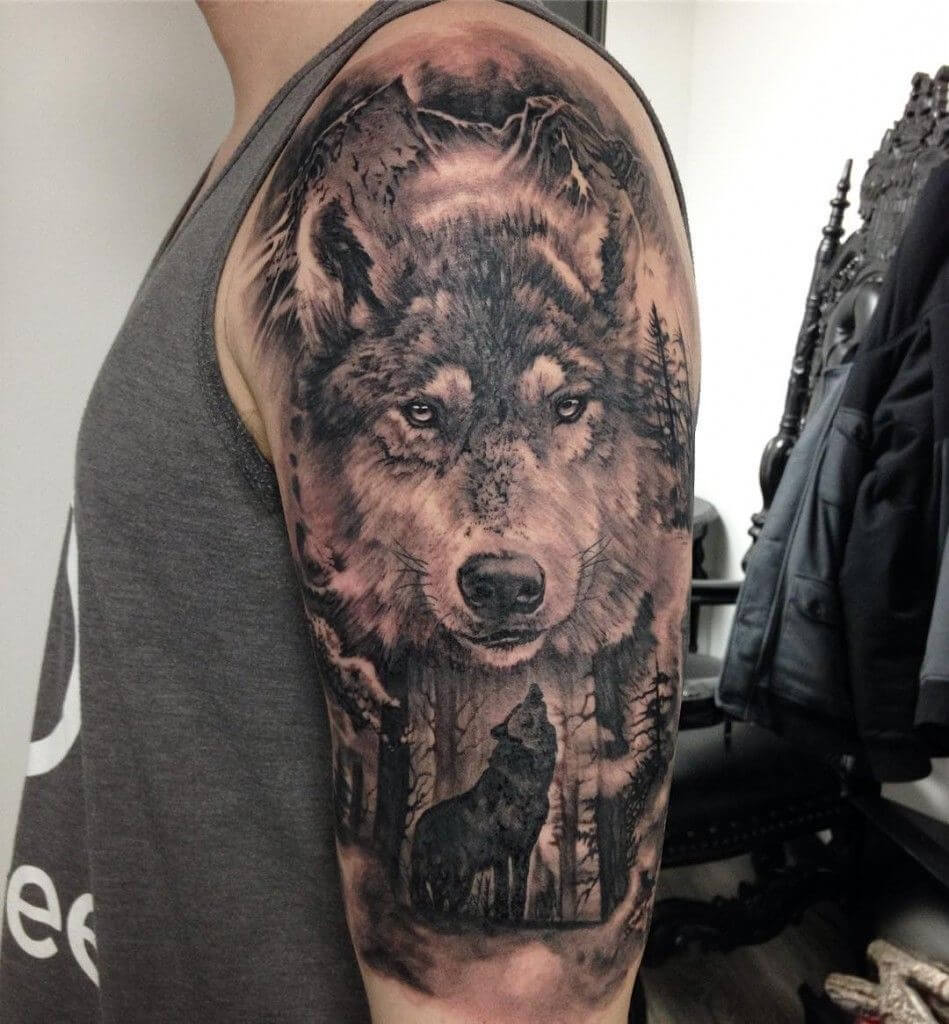 The wolf is one of the most popular elements that men choose for their arm tattoo among spirit animals. Wolf tattoos look great on a sidearm placement. It might be better if you will add more details to it and create an intricate-looking animal. 
59. Side Arm Cross Tattoo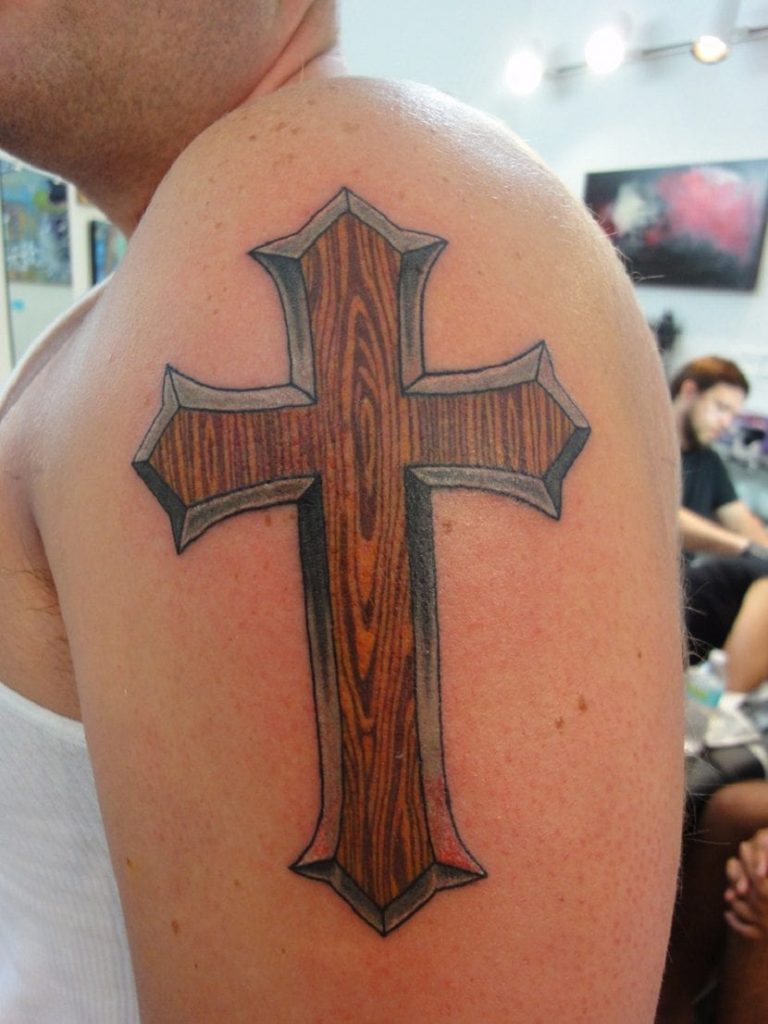 Cross tattoos may look simple, or you can have an intricate design on your sidearm. It looks quite lovely in this placement because it fits perfectly.
60. Simple Side Arm Tattoo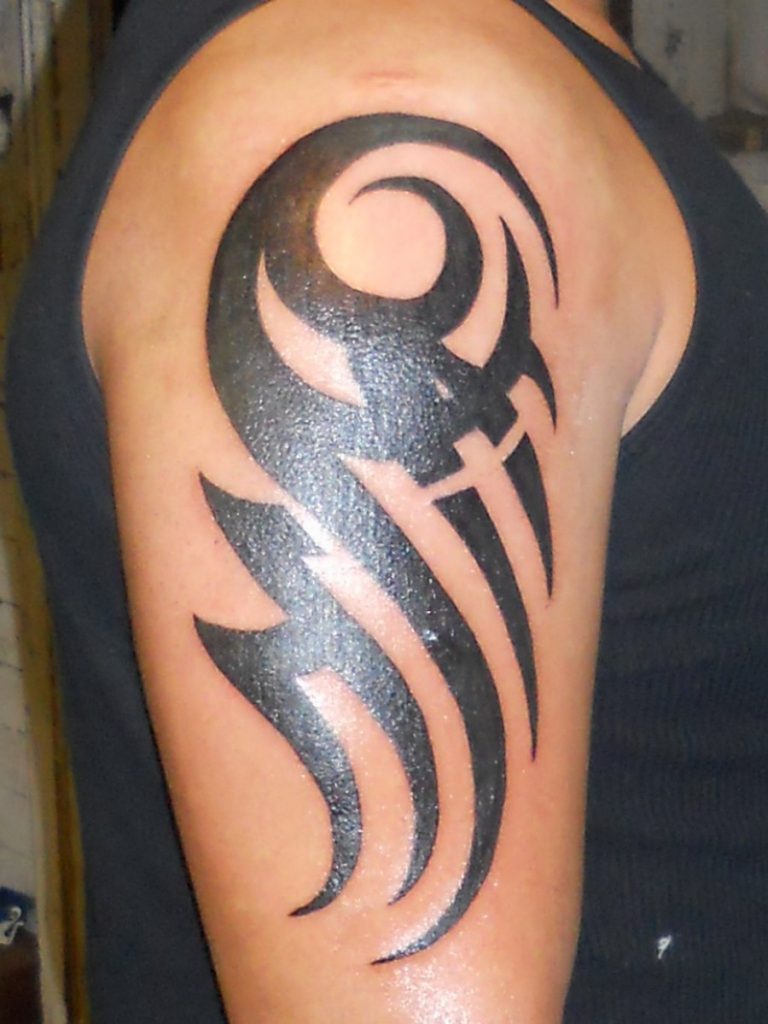 When you choose simple designs, know that some people will still find them fantastic and mesmerizing. Simple side arm tattoos are pretty cool to wear, and many people will notice and comment on them. 
FAQ
Does Getting an Arm Tattoo Hurt?
Arm tattoos are among the less painful pieces you can get. That's because the arms have thicker skin, unlike many other more delicate areas of the body. But keep in mind that getting tattoos in the inner arm will be slightly more painful, as this area is more delicate.
What tattoo looks best on the arms?
There is no definitive answer to this question, as everyone's preferences will be different. However, some popular designs that look great on the arms include tribal tattoos, script tattoos and floral designs.
Do Tattoos Look Good on Thin Arms?
Yes, tattoos can look good on thin arms, but you need to choose the right design and size. A small or minimalist tattoo design will look best on thin arms. Avoid large or intricate designs, which will only make your arms look smaller.
Can Tattoos Make Your Arms Look Bigger?
Tattoos can enhance the look of your arms, especially if you have muscular arms. If you have a small or thin arm, adding a tattoo can give the appearance of larger, more muscular arms. The size and design of the tattoo will play a role in how much it enhances your arm appearance.