Behind the ear tattoos are meant to be cute, intimate and meaningful. The area behind the ear is also the best place to keep a tattoo hidden in plain sight. Placing a tattoo behind the ear is increasing in popularity because it is a place where a person can easily hide the tattoo, and display it when the urge arises. It is a private place, tucked away behind the ear, and can be covered by the hair, a headband, by glasses or even ear rings.
The following tattoos are samples of how small or how large a tattoo behind the ear can be. You can admire the small sample of diverse charming and thought-provoking tattoos tucked away behind the ear.
1. Small Tattoo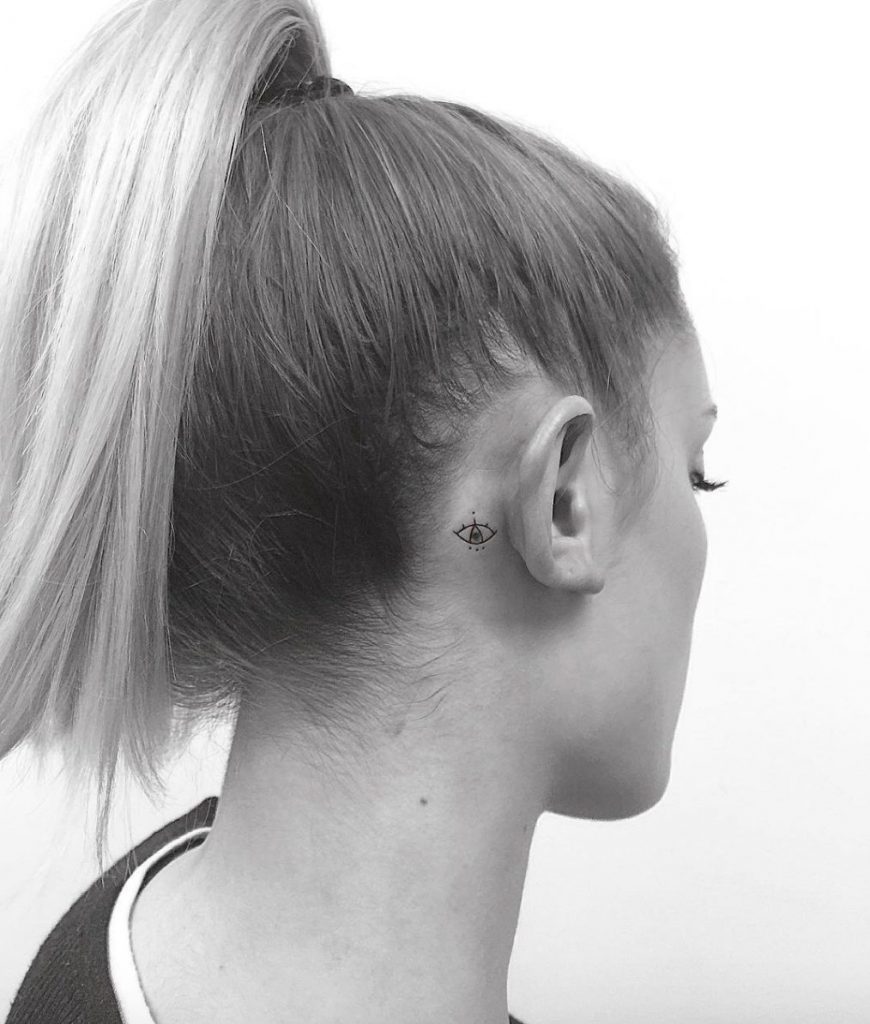 Most women prefer to have small tattoos that are discreet and easily covered up. It is actually on trend these days and one of the most popular placement options is behind the ear! The space in this spot is limited, so it is perfect for delicate and dainty designs that best represent you. There are various designs that you can explore, some of which are the geometric shapes, musical notes, initials or an adorable pet! Getting inked behind the ear can cause a lot of discomfort, but a small tattoo will not take long to complete.  
2. Simple Tattoo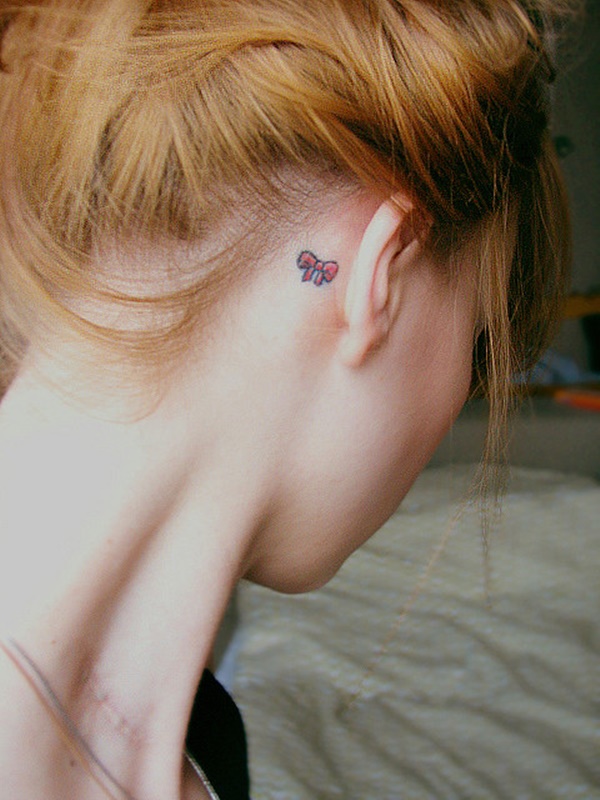 Getting a tattoo behind the ear is a popular trend among women. But the placement offers very limited space for intricate tattoo design. And if it is your first time, your best bet is to get a simple tattoo option. Go for clean and straightforward design with limited shading for a body that truly stands out. You can have an anchor, star, flower or initial. These are popular and eye-catching designs which are simple yet defined. Opt for black ink to retain its elegance over time.   
3. Clean Lines Tattoo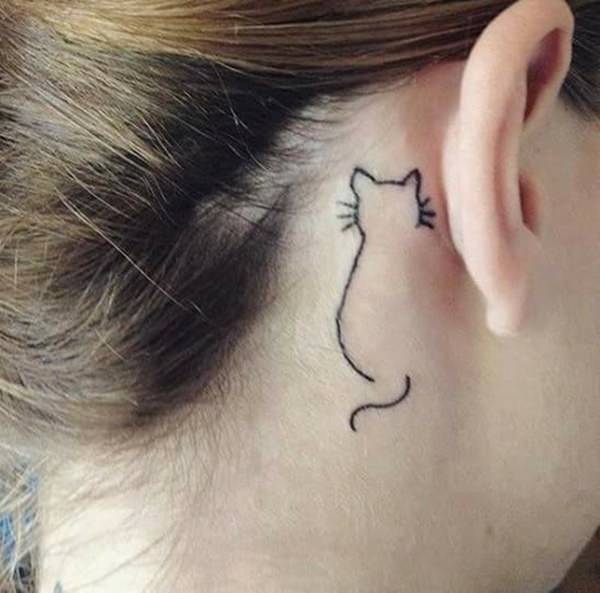 If you prefer the minimalist approach, simple and clean lines tattoo are your perfect option for a behind the ear tattoo. The spot does not have plenty of space, but an intricate black ink arrow or funky like will look great inked in this spot. 
4. Flower Tattoo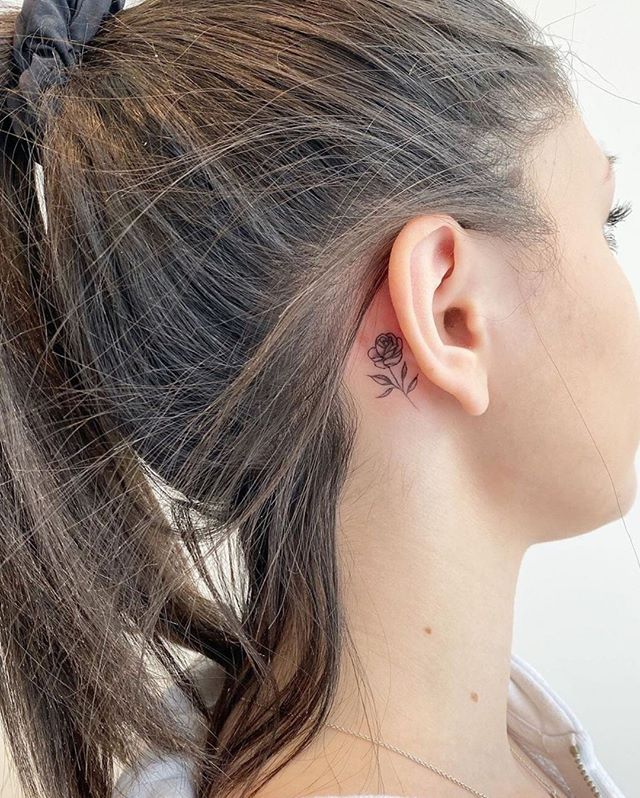 Floral tattoos are popular ink design choices for women. There are different meanings attached to different blooms. It can symbolize friendship, joy, hope, courage and love, thus there is an option for everyone. Flowers are beautiful any way you look at them, whether big or small. Thus, they also make adorable behind the ear flower tattoo choices. Pick out a vine following the shape of your ear for a stunning ink design.  
5. Cherry Blossoms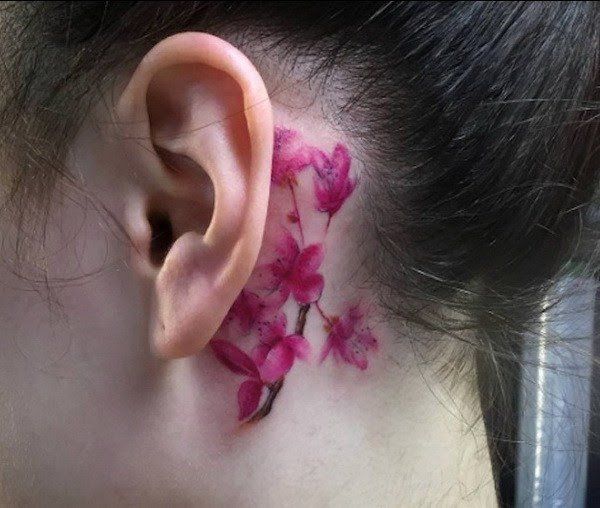 Are you missing Japan and all the nice things about the country? Get a cherry blossom tattoo to remind you of your happy memories in this country. This flower means beauty, love and the passing of time. Choosing this design gives you exquisite body art that is also rich in meaning. 
6. Feather Tattoo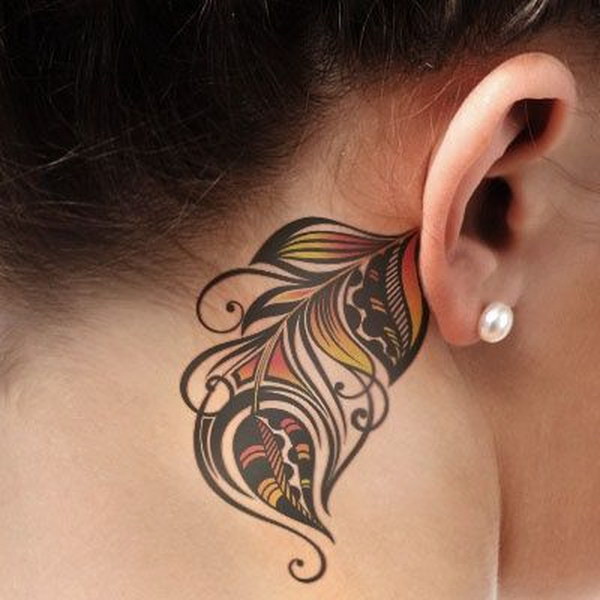 Feathers tattoo designs are also popular choices for both men and women. They look amazing when inked in large, detailed and colorful designs. But they also look elegant when done simply with limited design and solid black ink. Feathers are associated with flight, travel and freedom. As a small and simple tattoo, they will be amazing when placed behind the ear. The image will subtly curve along the shape of the ear for perfect tattoo design. 
7. Cross Tattoo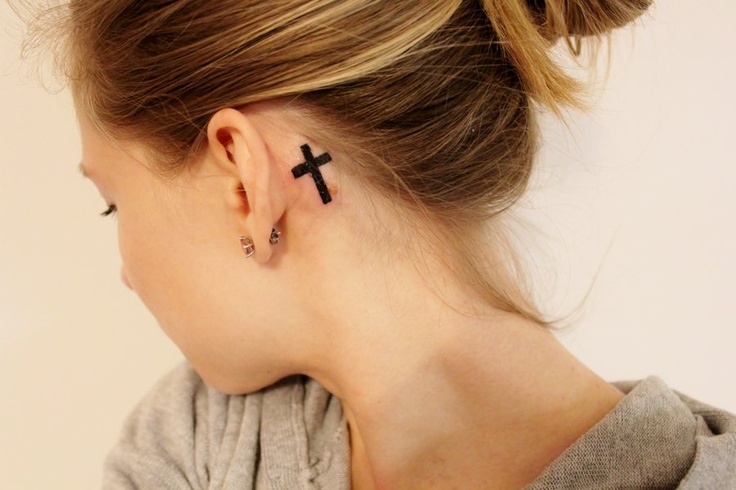 One of the simplest tattoo designs that showcase your commitment to your faith is the cross tattoo. If you want a constant reminder of your beliefs, you can have a cross tattoo behind your ear. It will also symbolize how deeply you listen to the word of God. A tattoo behind the ear is a unique and discreet placement. It is ideal for people who want to keep their tattoos hidden. 
8. Tree Tattoo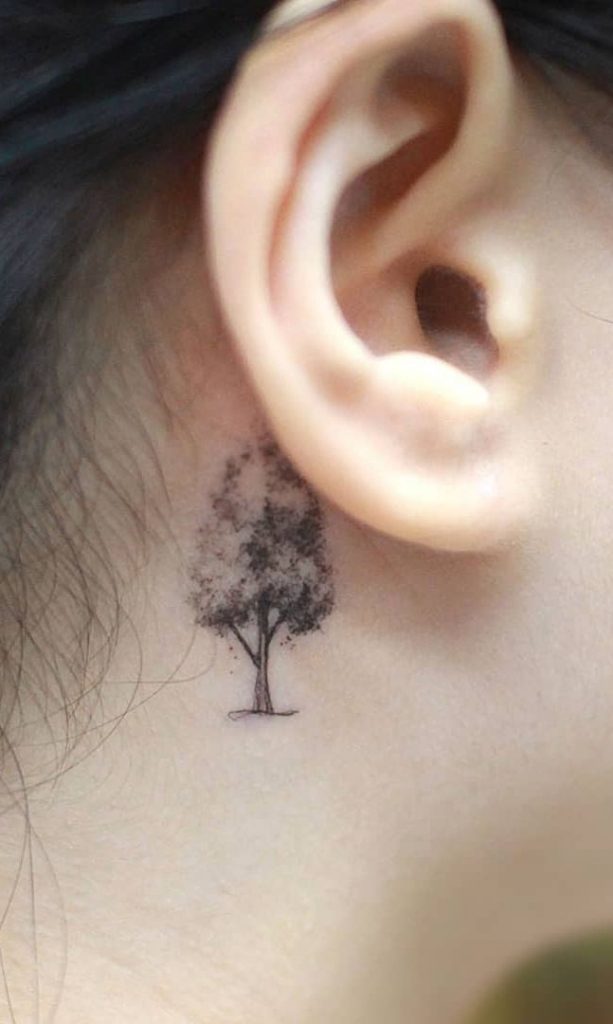 Tree tattoos are excellent tattoo designs to have behind the ear. Trees represent growth, knowledge, protection and long life. If you love nature, you will also appreciate tree tattoo designs. You can have a simple, yet significant black ink tree silhouette behind the ear for your next inking. 
9. Angel Tattoo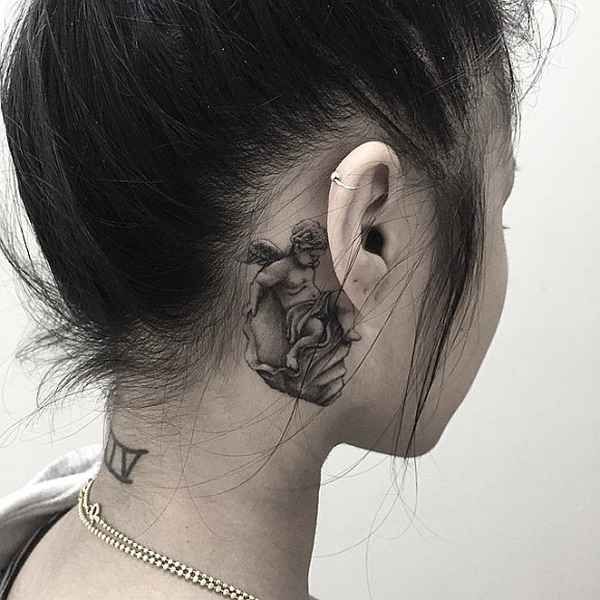 Another versatile tattoo design that is quite popular with modern women are angel tattoos. Christians are drawn to angels because it symbolizes their faith. Angels are also biblical figures and others consider them as "guardian angels." There are various representations that come with angel tattoos and they look great in different inking techniques. If you intend to have an angel image behind your ear, you should get a simple design that will follow the natural curve of your ear. 
10. Dreamcatcher Tattoo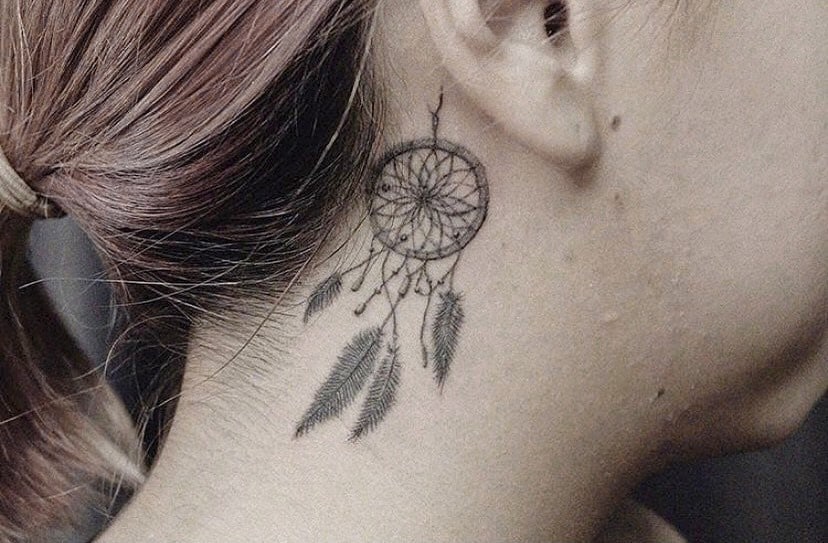 Dreamcatchers are significant talismans in some Native American cultures. They are crafted by mothers and grandmothers to keep their children safe from nightmares. When inked as a beautiful tattoo design, dreamcatchers become a symbol of protection against negative thoughts or energy. Some also consider it as a tribute to their roots. If you relate closely to what it represents, you may use its elements like the feathers and webbing as a subtle nod to the original image. For behind the ear tattoo, it is best to stick with a small, less intricate dreamcatcher design.
11. Heart Tattoo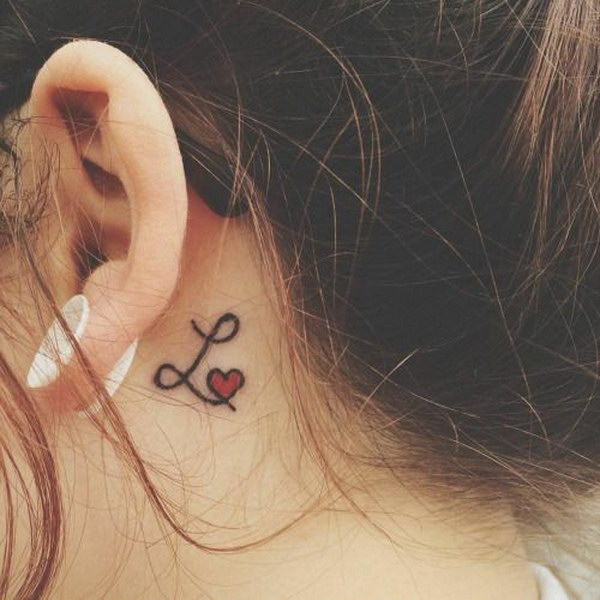 There is nothing louder in meaning than a small heart tattoo. It is universally known to represent love, passion and affection. Getting a heart ink can be a tribute to your loved one, or a constant reminder for you to listen to your heart. Women find the heart tattoo behind the ear to be an appealing choice for their next inking project. They look dainty and delicate, but they are also quite personal too. 
12. Crown Tattoo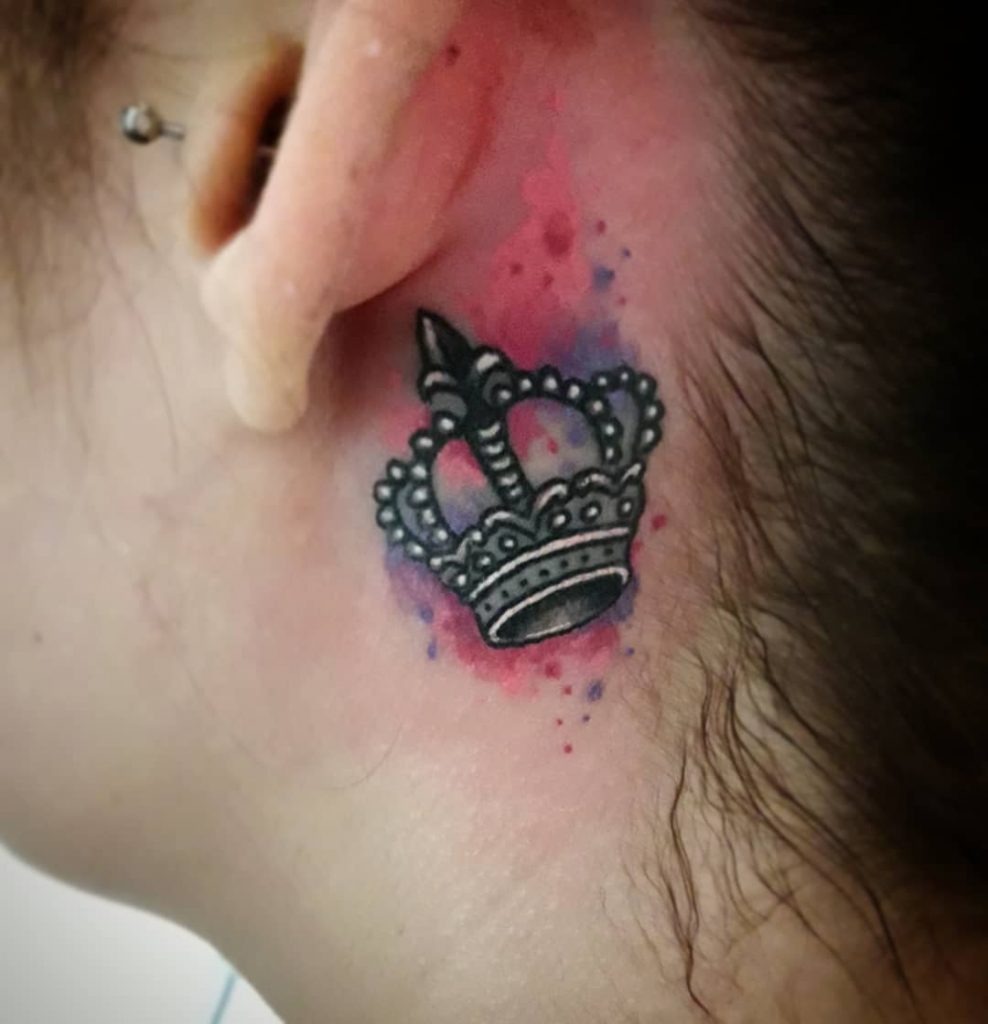 Ladies will also love to have this crown tattoo for a behind the ear inking. It is a clear representation of power, wealth and royalty. Find inspiration in a crown tattoo design and hustle until you reach your goals. 
13. Moon Tattoo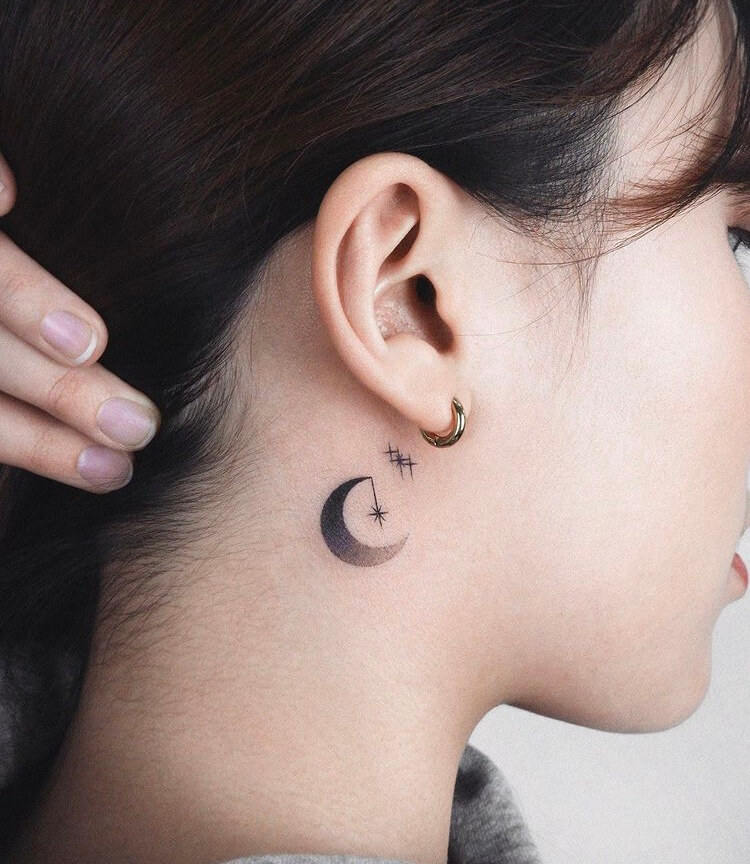 Moon tattoos are versatile design options that you can consider to have behind your ear. It is associated with change and transition. Likewise, the moon is also associated with feminine energy, thus they are very popular with women. Consider getting a small moon tattoo that perfectly suits the limited space behind the ear. You can either get a full moon, half-moon or a crescent moon depending on the symbolism you wish to achieve. 
14. Star Tattoo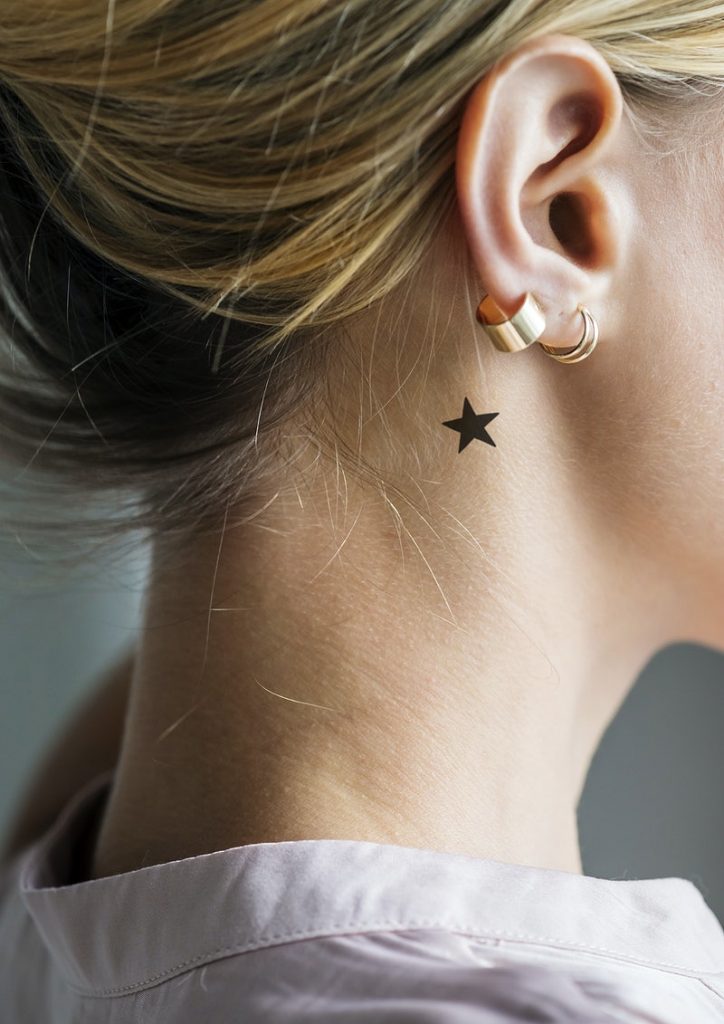 Another popular behind the ear tattoo placement design is are stars. You'll see them in various celebrities inked exquisitely. Stars symbolize guidance and hope, they provide light during the darkest nights. Women who experienced tough times may find inspiration from behind the ear star tattoo. It may also be a tribute to a loved one who passed away. There are various design options that you can have for this placement. Some trendy choices are constellations, dot-and-line stats, zodiac signs and traditional stars. 
15. Celestial Tattoo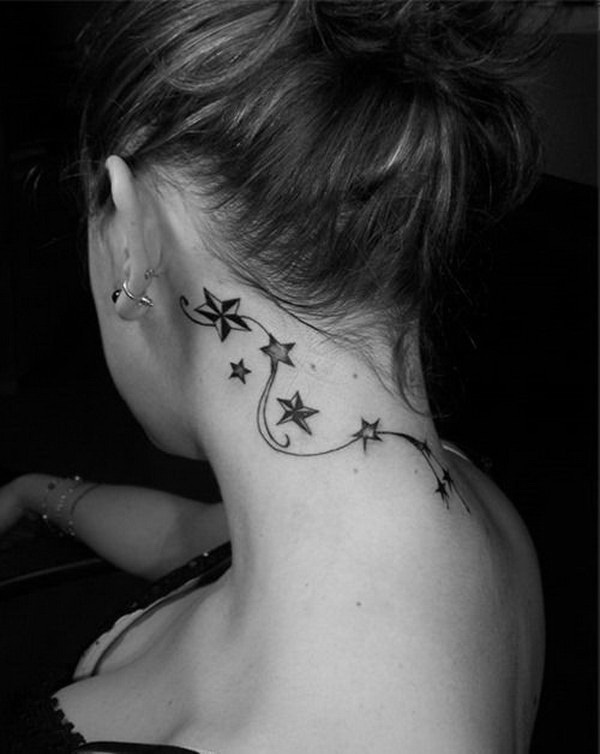 If you love looking at the night sky, you might find inspiration for a celestial theme tattoo for a behind the ear inking. This design is quite popular with younger women and it goes well with a moon and star earrings. 
16. Zodiac Sign Tattoo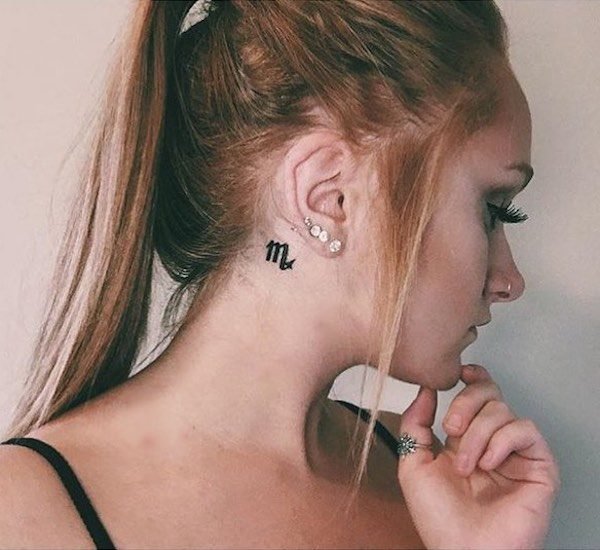 As popularized by Rhianna, many women are also drawn to zodiac sign tattoos behind the ear! If you believe in this stuff, then get your zodiac up and find an artist that can create a design that will perfectly resonate with you. 
17. Musical Note Tattoo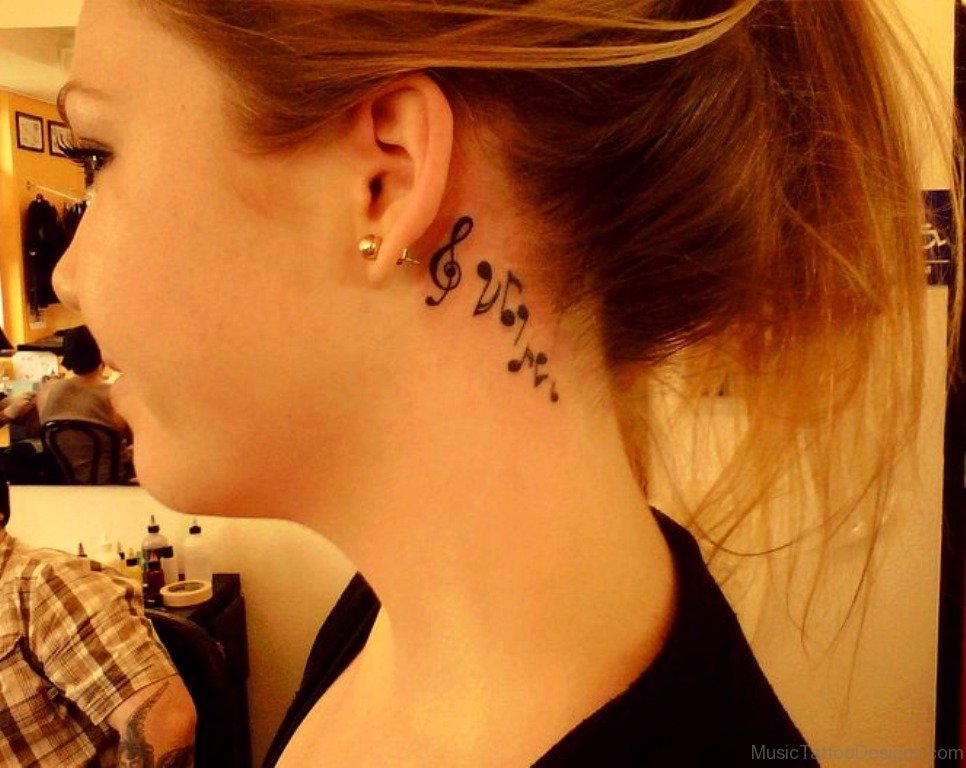 You will often see musical notes tattooed on people who are musically inclined. Sometimes, it runs a melody, but sometimes you'd only see a single note. If you are a big fan of music, or if it has a huge impact on your life, you might want to consider getting a note or notes tattooed behind your ear. It will be like hearing the melody of your own. 
18. Scissor Tattoo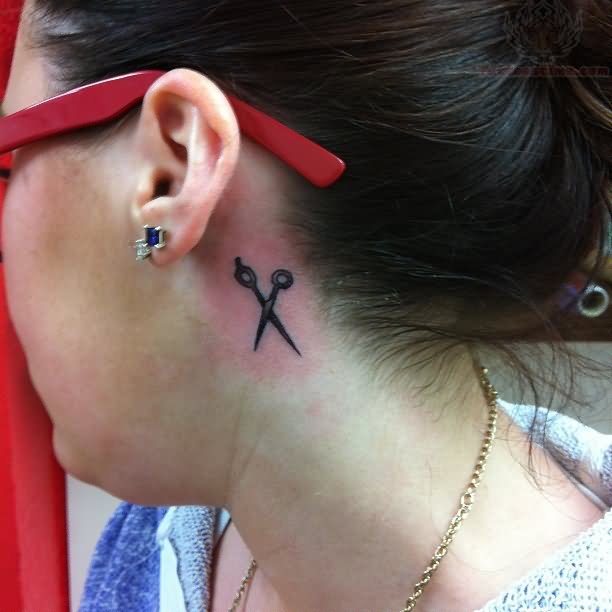 Are you looking for a unique tattoo that also has a deep meaning? Scissor tattoo is a statement piece that you can wear discreetly or visibly. It is an ideal small behind the ear scissor tattoo design. It may be a common household item, but it actually represents cutting negative influences and self-improvement. It is associated with independence, being sharp and taking control of your decisions. It may be a simple ink, but it loudly communicates that you are out for a fresh start. 
19. Anchor Tattoo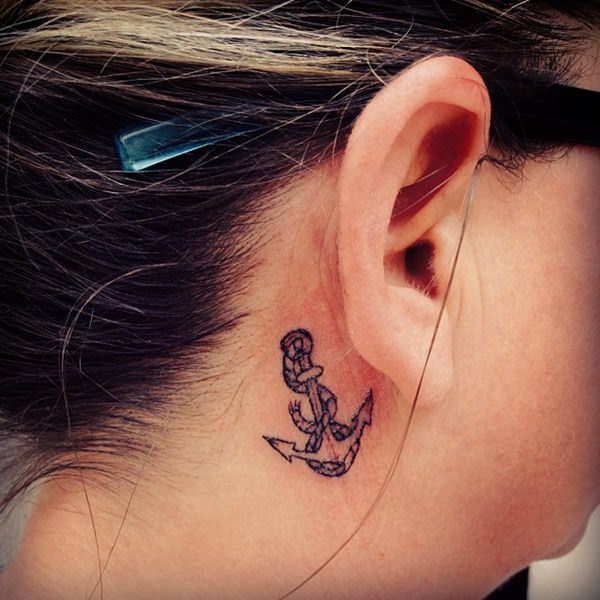 For the ultimate symbol of hope, safe harbor and coming home, consider getting an anchor tattoo design for your behind the ear inking. It has long been a popular tattoo design for sailors who are longing to end their long journey. It can be a great couple tattoo for those who are across oceans or those who traveled extensively. It is a simple yet meaningful design that is perfect for a limited space like behind the ear. 
20. Under the Sea Tattoo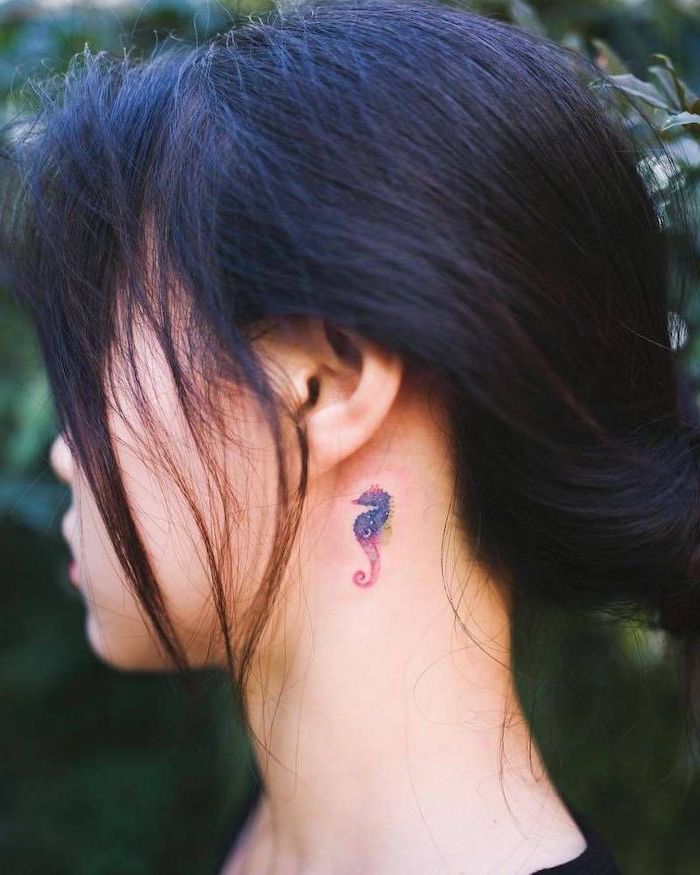 There is something mysterious about under the sea creatures and women find them really interesting. Should you have been a mermaid, you'd surely love a seashell or starfish tattoo design behind your ear! Explore your options and get a tiny watercolor speckled statement piece. 
21. Elephant Tattoo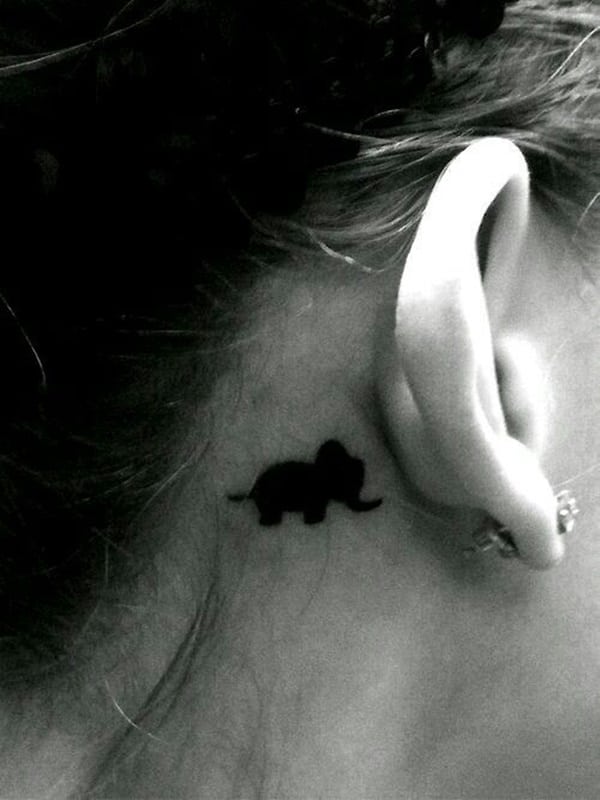 Elephants are considered as gentle giants and they represent prosperity, luck and wisdom. Despite their size, they can be an adorable tattoo design when inked in a tiny image. Elephants are intelligent beings, and they are also associated with patience and loyalty. Many women also relate well with these mammals because they are matriarchal. Though tiny elephant tattoos look great in any placement, they also make astounding behind the ear tattoo designs. You may also get a mother-and-daughter tattoo to showcase your bond. 
22. Dragon Tattoo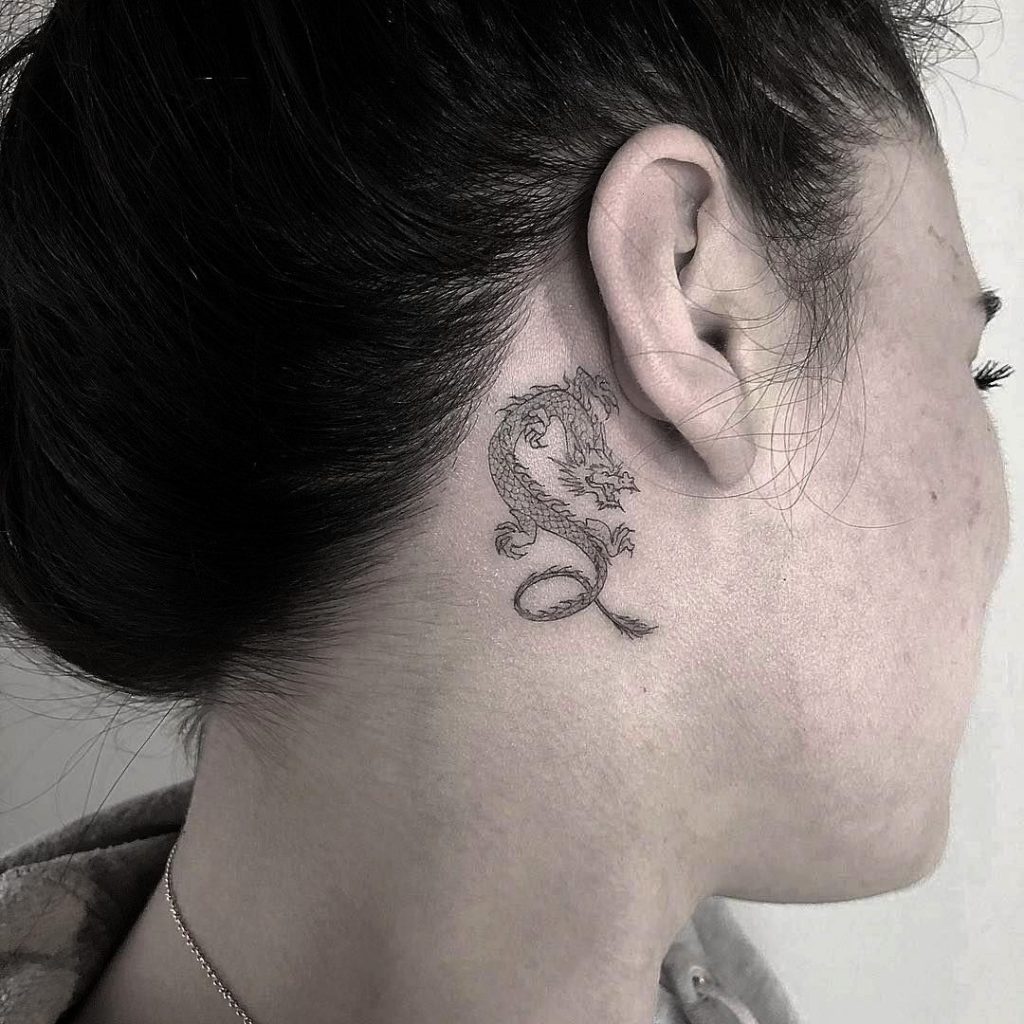 If you want a versatile tattoo with a fierce meaning, choose a dragon tattoo design. They look good on male or female, and they can be styled in various techniques depending on how you want them to look. Dragons are often linked with protection, power and wisdom. Women born in the Year of the Dragon will surely relate well with this tattoo design. Likewise, if you love fictional dragon characters, you might also be inspired to get a dragon tattoo behind the ear.  These elements look great whether they are designed large or tiny. 
23. Dog Tattoos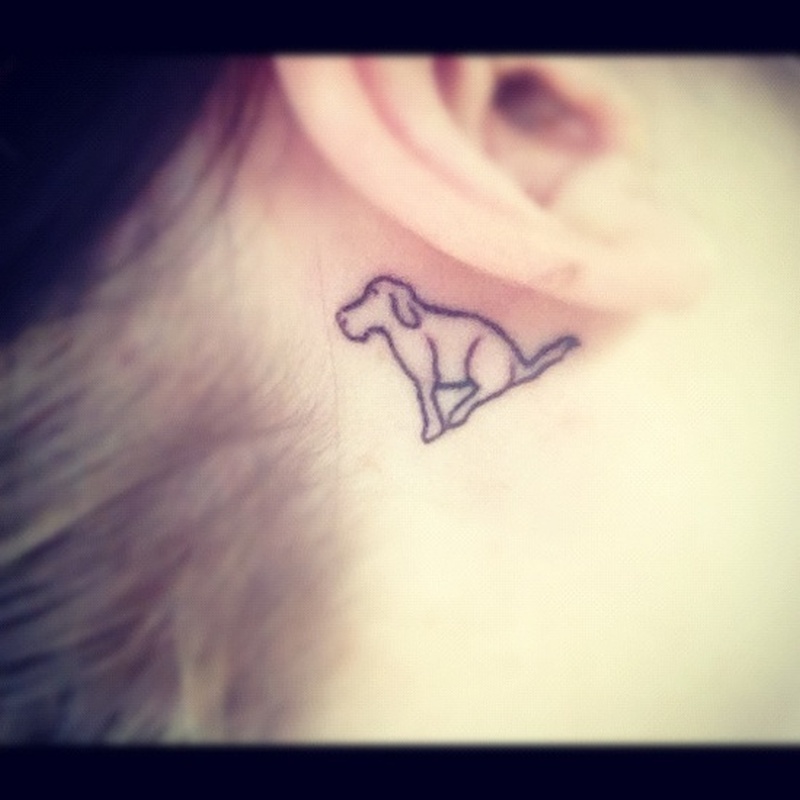 It is true that sometimes, we don't deserve to have dogs. These animals commit their whole lives to their owners. They are always full of affection, love and loyalty. When you have a dog, you know what it feels like to have someone love you 100%! You can dedicate your behind the ear tattoo to your dogs. But do choose simple line drawings so there is no shading needed. 
24. Kitten Tattoo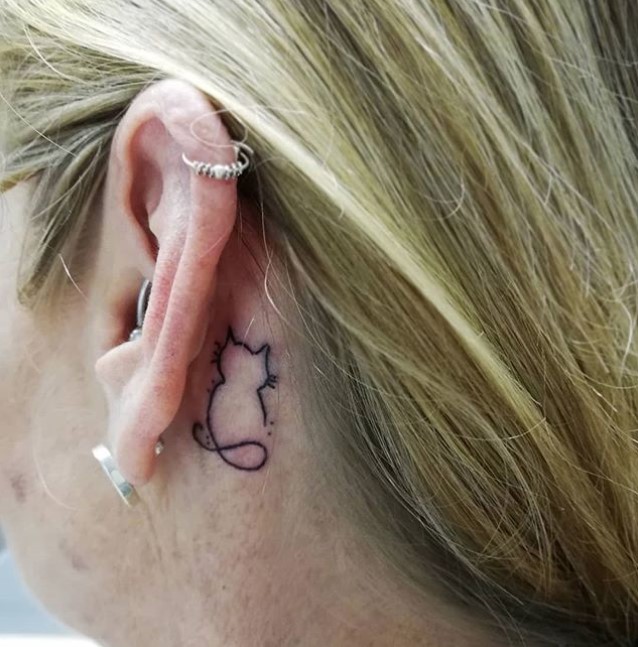 Typically cat and kitten tattoos are associated with luck, intelligence, mystery and grace. A small cat or kitten tattoo will make an amazing behind the ear tattoo for women who are aware of their grace and feminine power. 
25. Paw Print Tattoo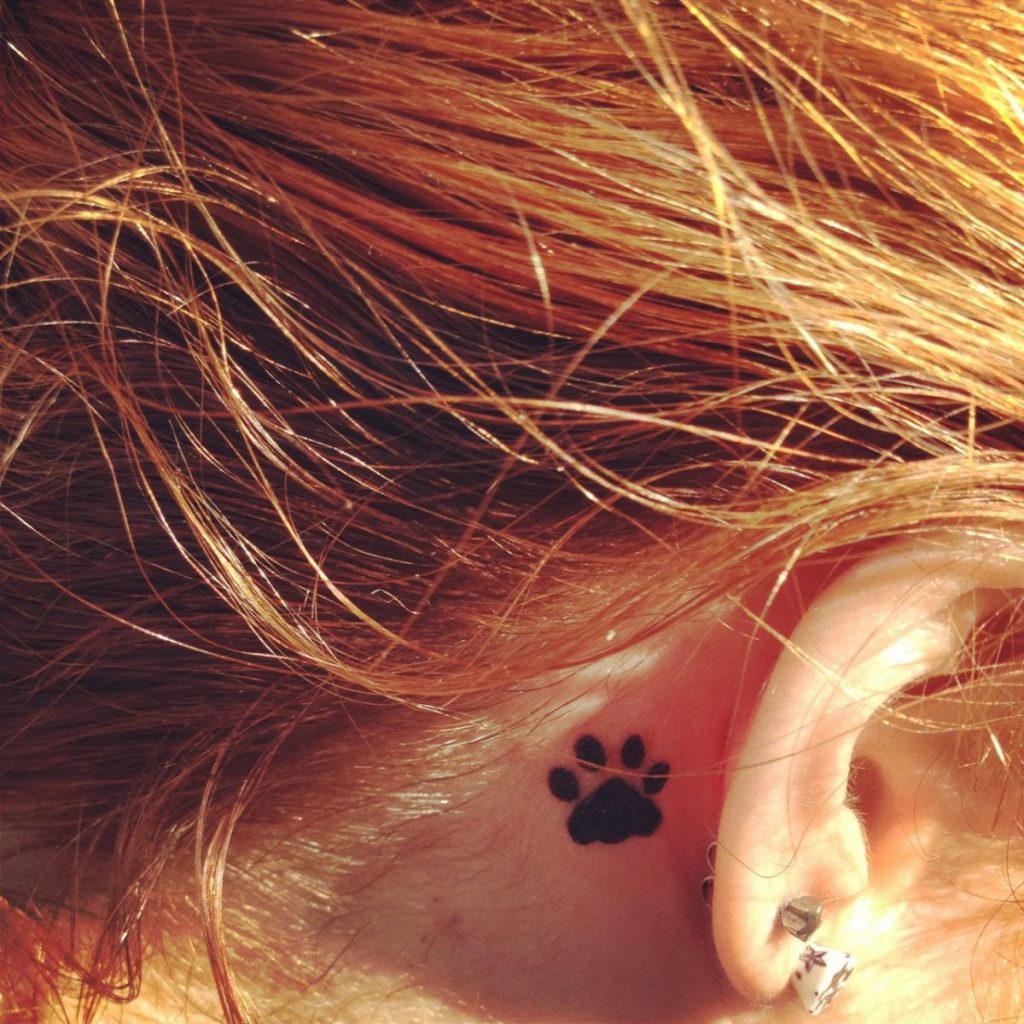 A paw print tattoo is an excellent way to honor a beloved pet who passed away. Though they are dogs, they sometimes touch our lives more than other people do. They are loyal companions who show love and affection without limits. 
26. Dove Tattoo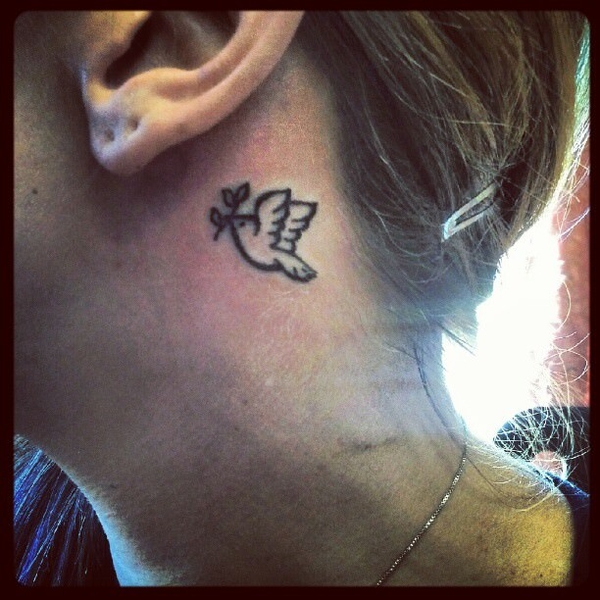 For a delicate and beautiful behind the ear tattoo, choose a bird design like the dove. It represents love, forgiveness, peace and hope. It is also viewed as a symbol of God or new beginnings due to its significance in the story of Noah. A dove tattoo behind the ear can be made straightforward, but it will be a statement piece when revealed. You can also add other elements like a cross or olive branch to highlight its spiritual meaning. 
27. Butterfly Tattoo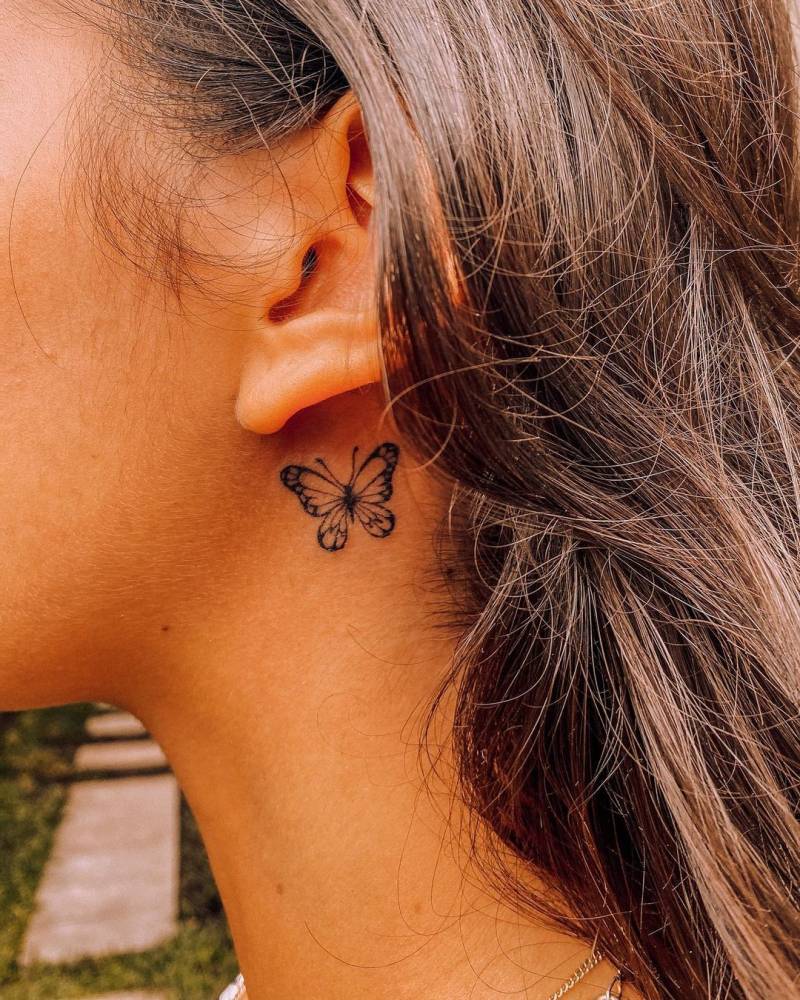 In recent years, butterfly tattoos have also become a favorite element in women's tattoo designs. They are colorful, vibrant, beautiful and also meaningful. Butterfly tattoos symbolize growth, transformation, freedom and change.  As a tattoo element, butterflies are versatile pieces and you can easily have them placed anywhere. A tiny behind the ear butterfly tattoo is a feminine choice for a discreet but on-trend ink design. 
28. Words Tattoo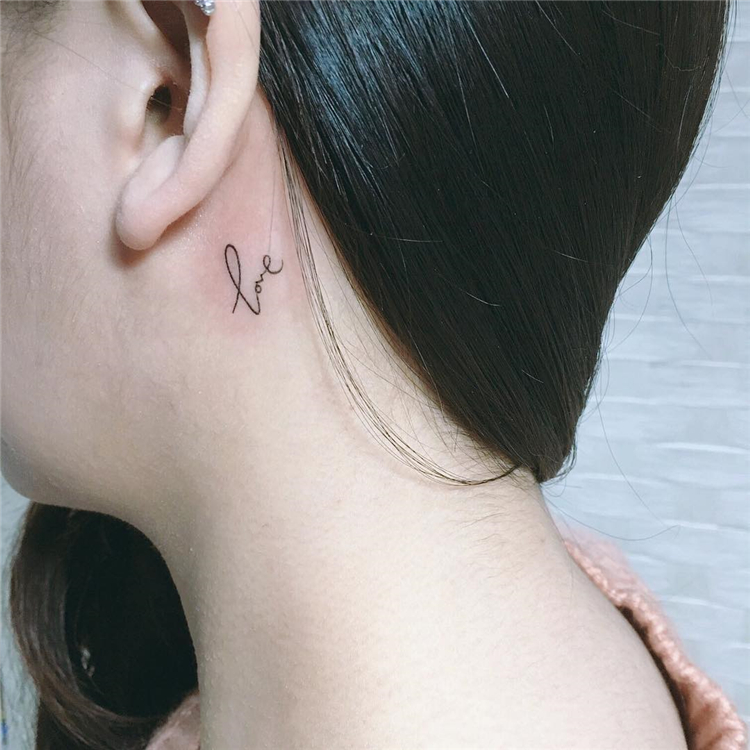 A picture can paint a thousand words, but sometimes a word is enough to express everything you want to say. Words tattoo will look amazing when inked behind the ear in a tiny script. Choose a short, possibly one word tattoo for greater impact. It can be a name of your loved one, or a word that inspires you the most. A delicate script or a unique handwriting will be a great choice for words tattooed behind the ear. Your artist may also include accents like a heart, flowers or stars. 
29. Tribal Tattoo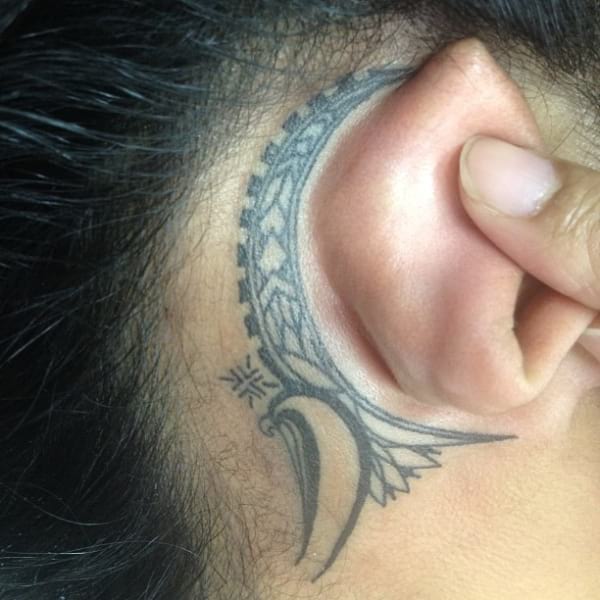 Large tribal tattoos look magnificent when inked on spacious placement like the torso, back or arms. It uses solid black ink to create patterns and a bold outcome. Tribal tattoos are commonly worn by people who'd like to honor their Maori or Polynesian roots. But it has also grown popular with other cultures because of its edgy and unique design. It is also quite versatile and can easily adapt to any placement – including limited spaces like behind the ear. For a design that stands out, have your artist create a tattoo that runs down towards your neck and shoulders. 
30. Cover Up Tattoo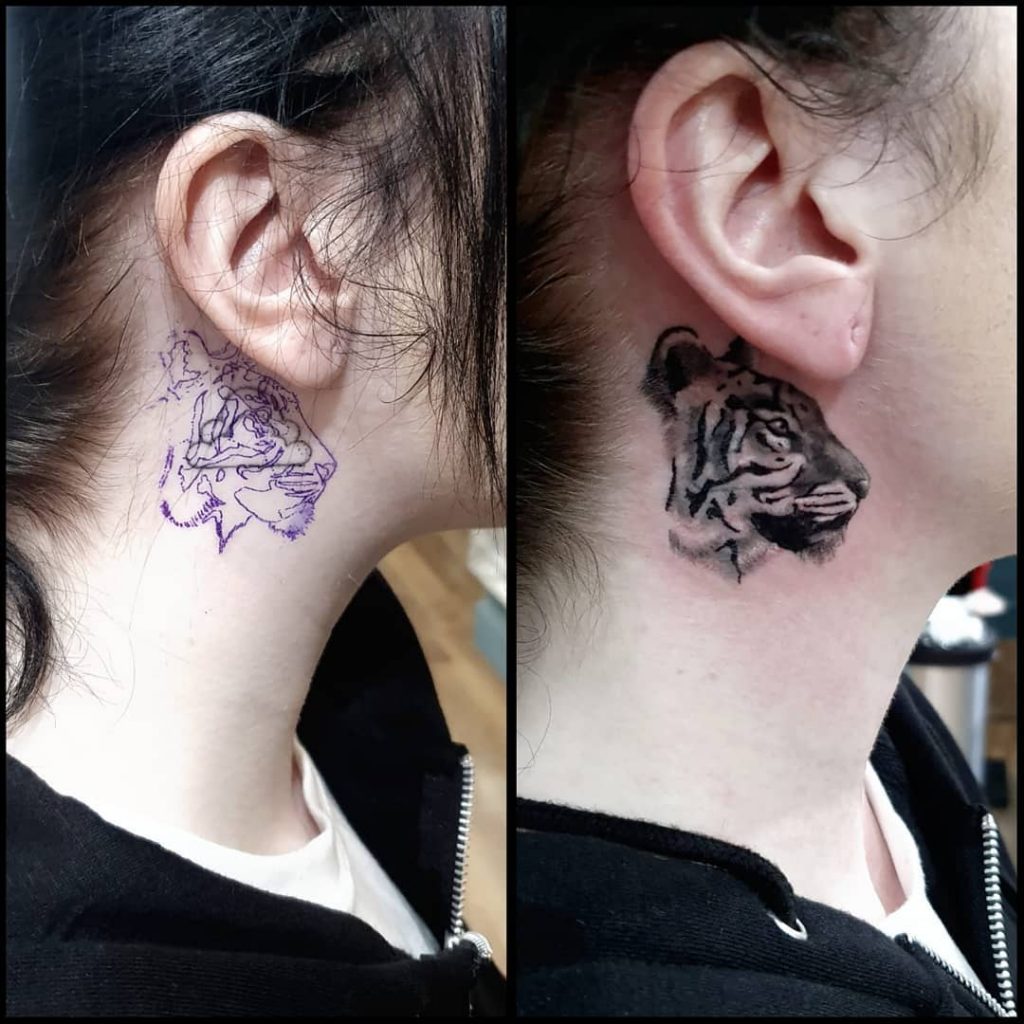 Thankfully, simple and straightforward designs are encouraged when getting inked behind the ear. In case you change your mind in the future, it will not be too painful to get a cover up tattoo. The spot behind the ear is pretty sensitive, thus laser tattoo removal might not be advised. If you have an old ink design that you want to change in this spot, expect to have a heavier and slightly bigger design to completely obscure it. 
FAQ
How painful are behind the ear tattoos?
Some consider behind the ear tattoos as mildly painful among all the places to place a tattoo. However, there are those who consider the area behind the ear as delicate and the tattooing might be more painful than expected. It all depends on how heavy handed the tattoo artist is.
How long does it take to ink a behind the ear tattoo?
The design, colors, size and complexity determines how long it will take to finish the tattoo. A small tattoo the size of a quarter can be done within an hour, but more complex designs, or a tattoo with more color inks will take longer.