Men with chest tattoos are associated with a certain type of machismo. A man with a big and bold chest tattoo is often seen as tough, brave, and even sexy.
Chest tattoos can be incredibly masculine and striking, and there are many different designs that you can choose from. Whether you want something simple or something more elaborate, there's definitely a design out there that will suit your style. If you're not sure what to get, here are some of the best chest tattoo ideas for men.
1. Lion Chest Tattoo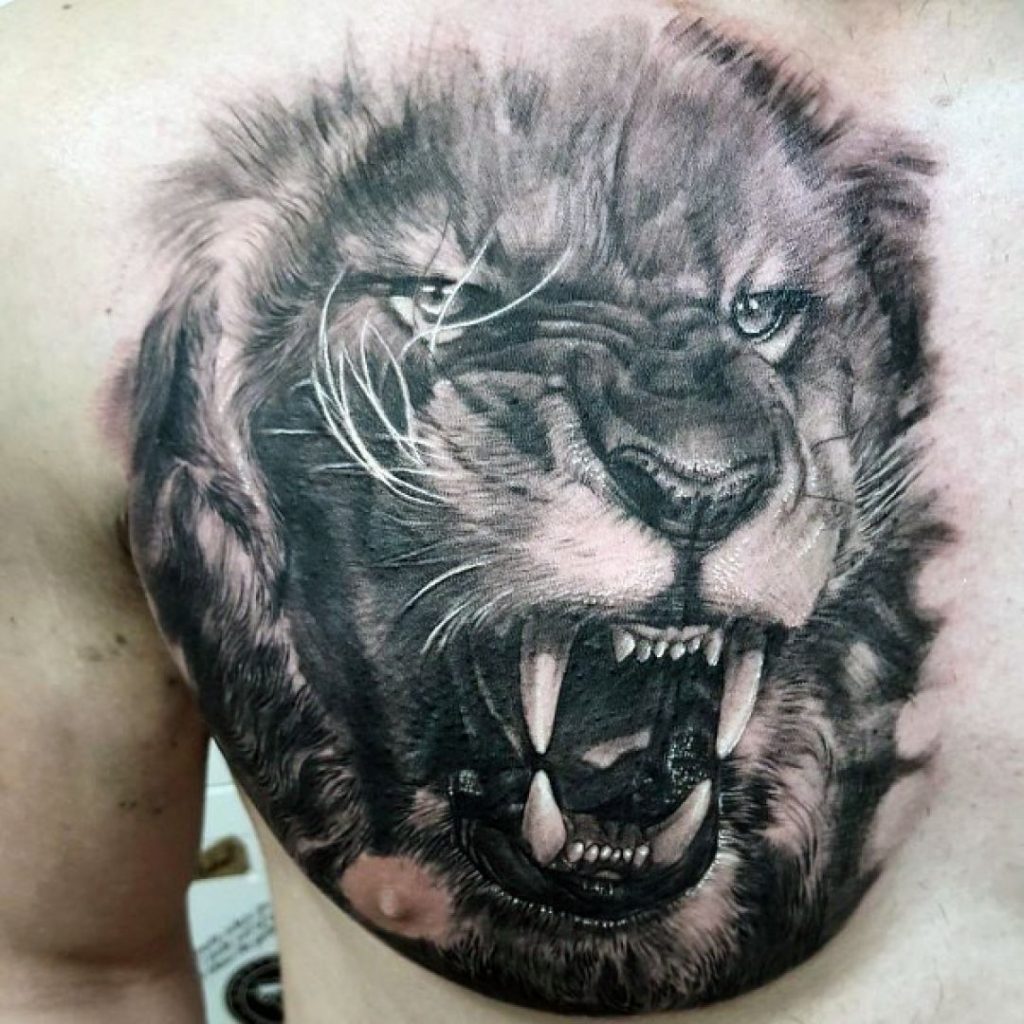 Lion tattoos are a favorite choice among men since they symbolize strength, pride, and courage. Plus, lions always look cool. The chest is the best placement for lion tattoos, bringing them to life. After all, the broadness and flatness of the chest give the artist more room to work on and explore. It's best to get a lion chest tattoo in full color, making it more eye-catching and symbolic.
2. Owl Chest Tattoo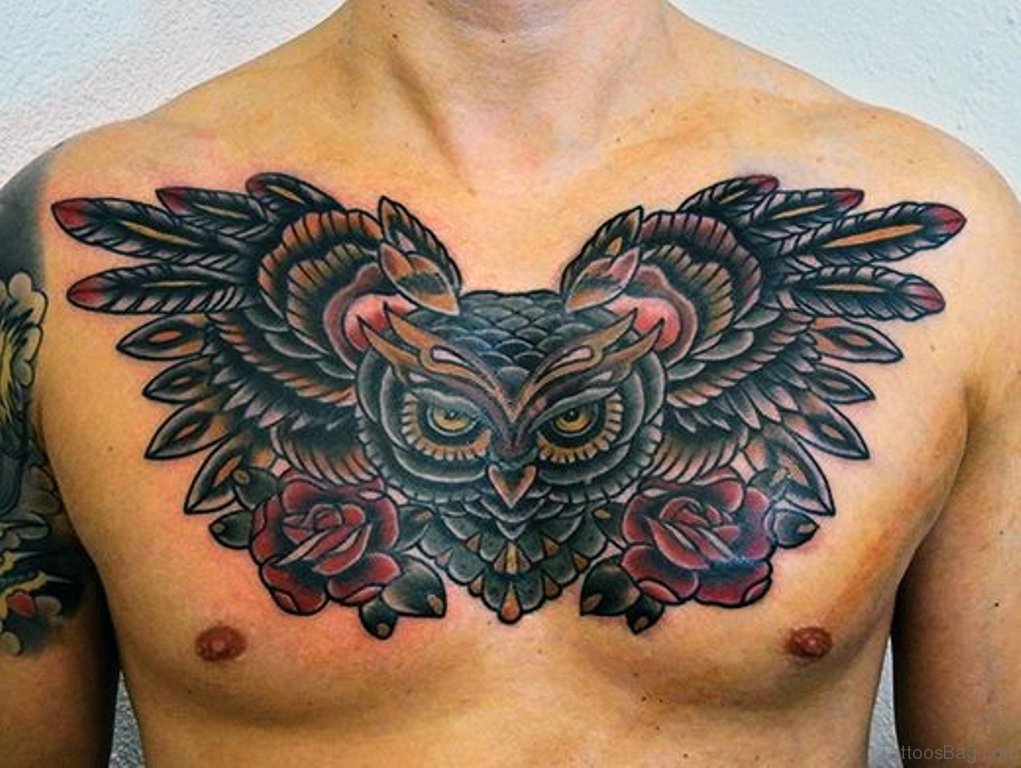 You can let everyone know who's boss by getting an owl chest tattoo. After all, this nocturnal bird offers meanings ranging from knowledge to transition. It's an excellent option for those who have made some challenging decisions in their lives. Choose to have the bird's wings cascading across your chest for a more eye-catching piece. For men, it's best to get this tattoo in traditional black with tribal patterns inside the owl's wings.
3. Wolf Chest Tattoo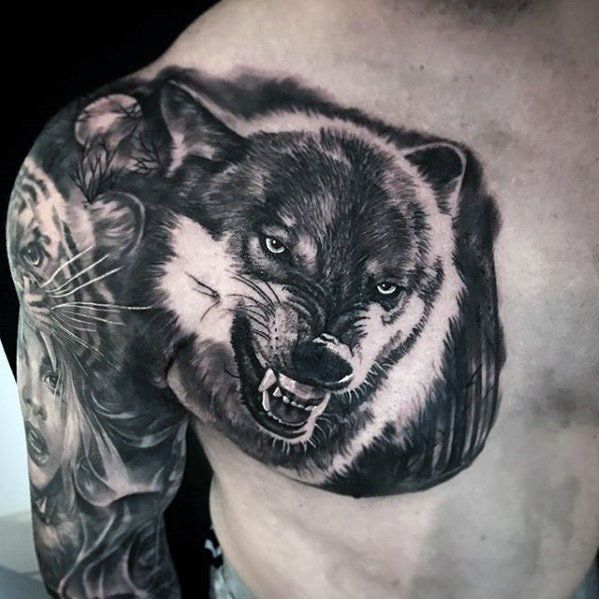 The wolf is often seen as a symbol of strength, courage, and ferocity. A wolf chest tattoo can be a great way to represent these traits, and there are many different design options to choose from. You could go for a realistic depiction of a wolf, or you could choose a more stylized version with tribal influences. Regardless of your choice, a wolf chest tattoo will make a powerful statement of masculinity.
4. Dragon Chest Tattoo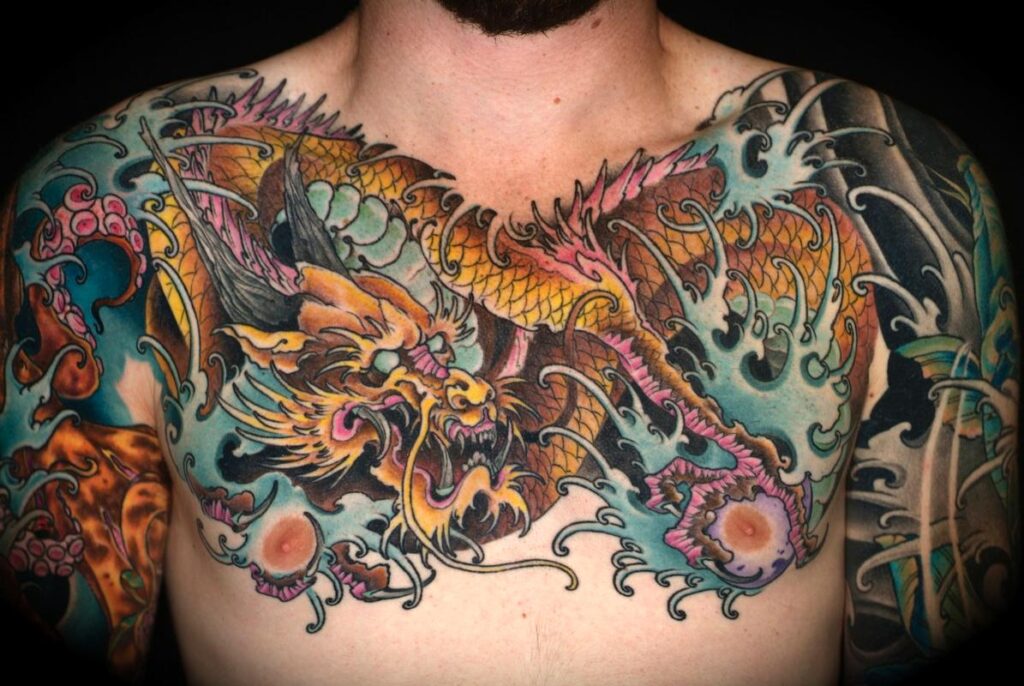 The dragon is a legendary creature that has long been associated with strength, power, and masculinity. A dragon chest tattoo can be a great way to show off your own inner power and strength, and there are many different design options to choose from. You could go for a traditional Chinese dragon, or you could choose an American-style dragon with more exaggerated features. No matter what design you choose, a dragon chest tattoo is sure to turn heads.
5. Tiger Chest Tattoo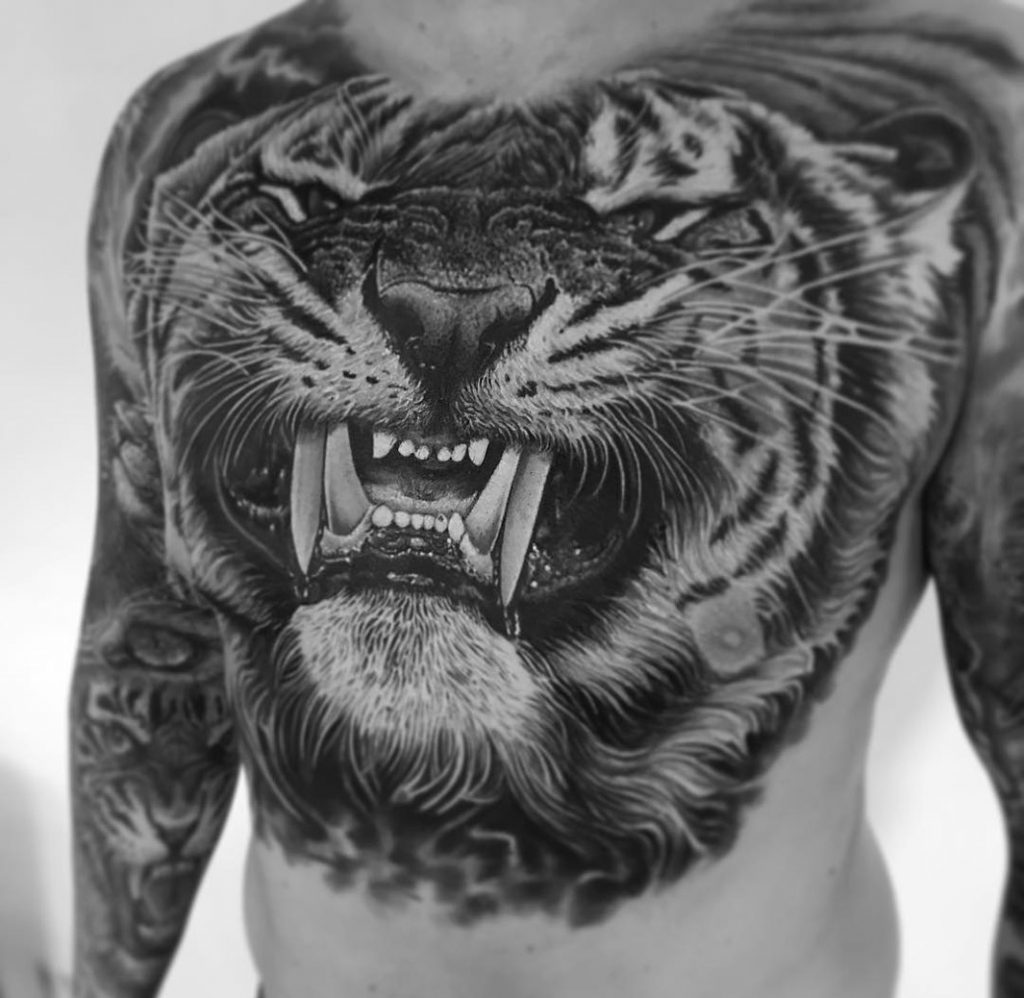 Tiger tattoos, no matter the style you choose, always represent the same traits. These include power and strength. They usually look best in an Asian or photorealistic modern style. Although tiger tattoos are considered traditional designs, it's still a popular choice among tough men. To get the most out of this chest tattoo idea, opt for a colored tiger chest tattoo.
6. Traditional Chest Tattoo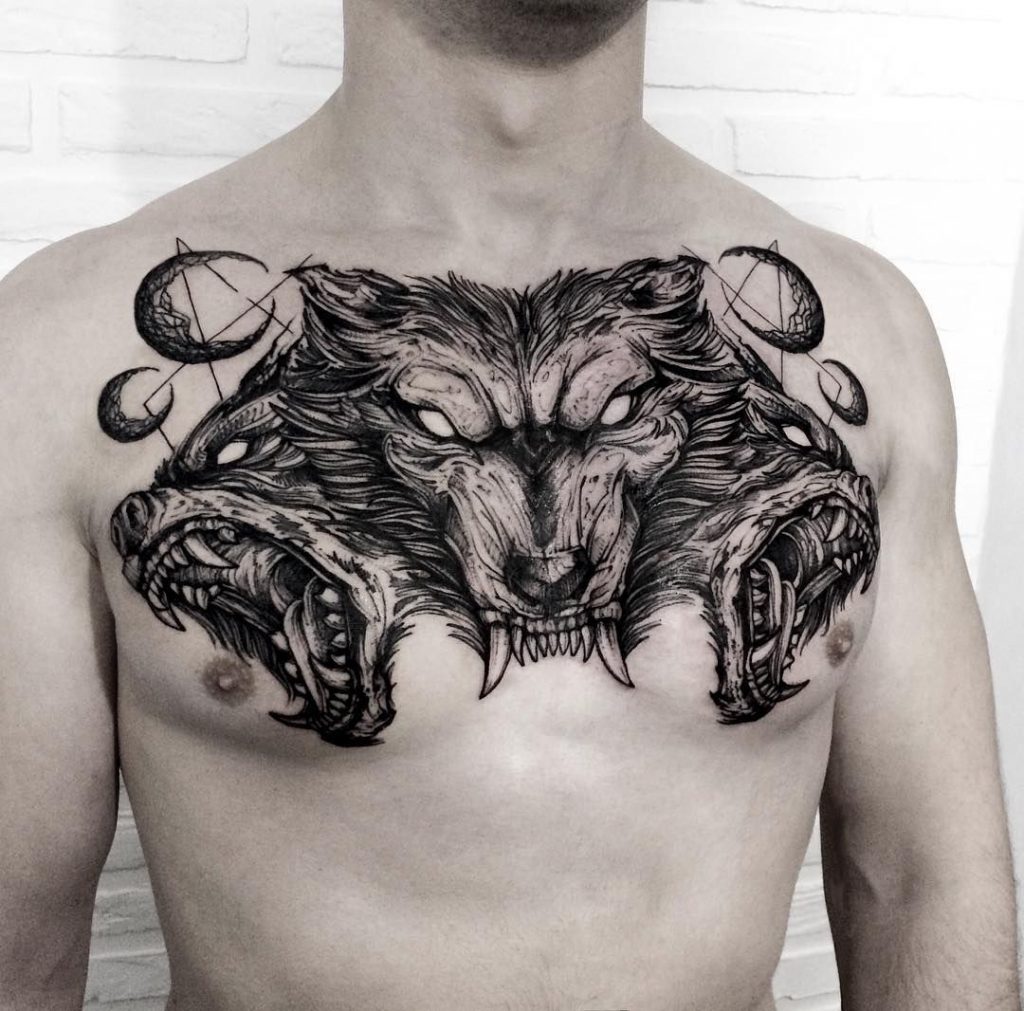 If you're looking for a classic and timeless chest tattoo design, then traditional tattoos are the way to go. Also known as American Traditional, these tattoos often feature bold and simple designs with strong black outlines. They can be used to represent many different things, such as patriotism, religion, or strength. If you're looking for a traditional tattoo design that will stand the test of time, then a traditional chest tattoo is the perfect choice.
7. Viking Chest Tattoo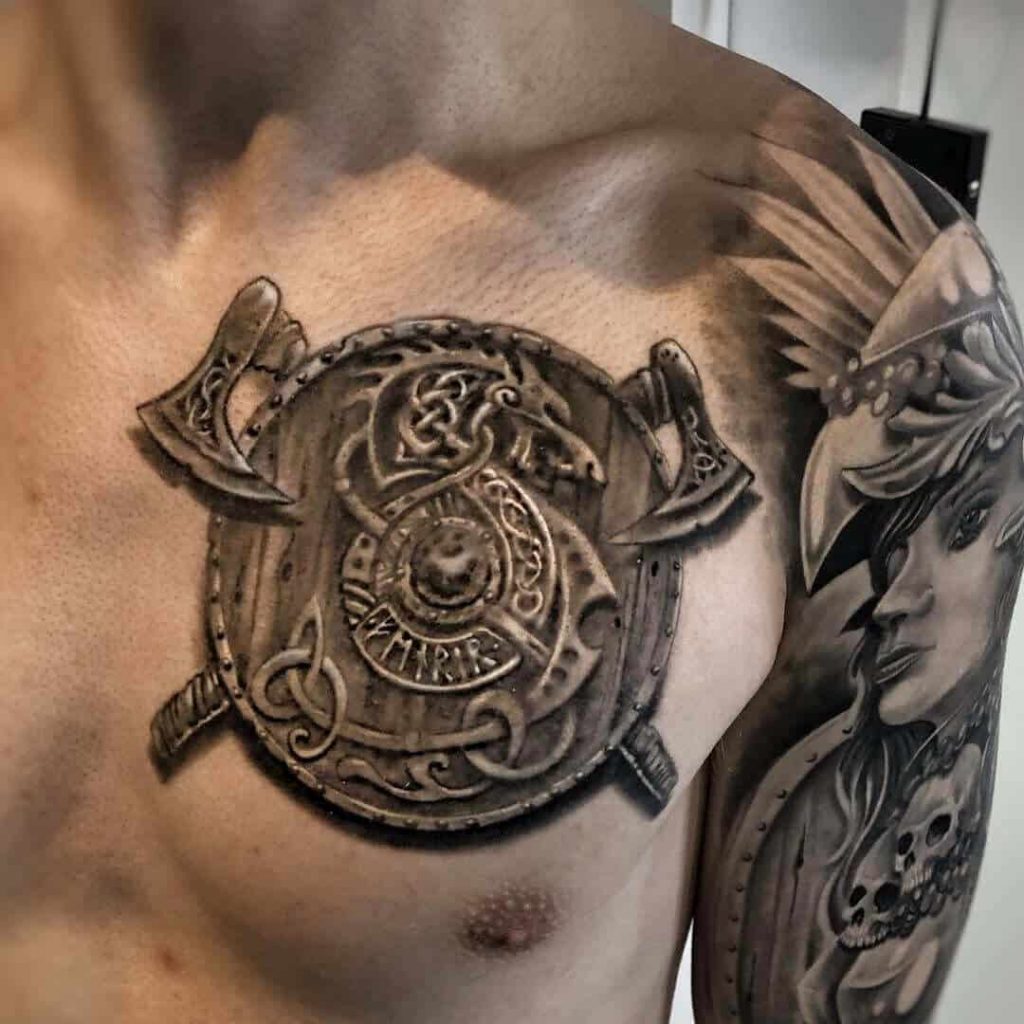 There's nothing more badass than a Viking. That's why Viking chest tattoos remain one of the most popular tattoo concepts for tough men. Whether you go for the Valknut representing Odin's Knot or the Yggdrasil of the tree of life, Viking-inspired tattoos are guaranteed to look fantastic and masculine. If you're of Nordic heritage, this piece is a great way to honor your roots. Overall, a Viking chest tattoo allows you to show off your strength and bravery. 
8. Roman Numerals Chest Tattoo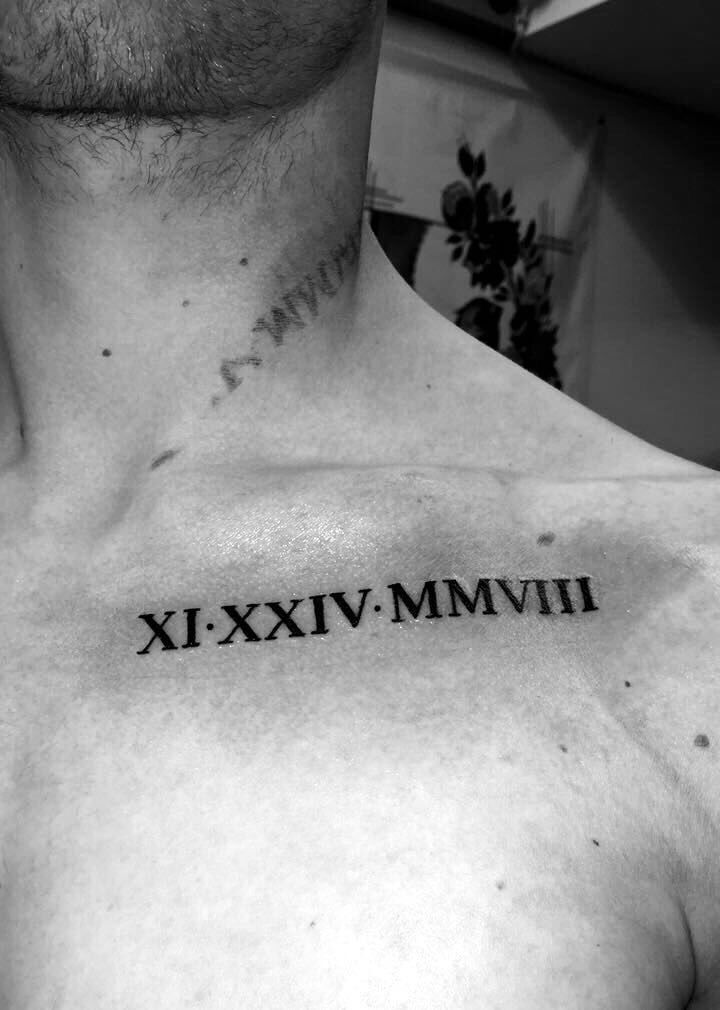 You can immortalize a particular date or number with style by getting a Roman numerals chest tattoo. It's a classic and timeless tattoo concept that keeps the meaning behind the numbers close to you at all times. The best part is, roman numerals are simple enough to work with other existing tattoos. To complete the tattoo, you can pick large or small fonts and include additional elements like scriptures or quotes.
9. Family Chest Tattoo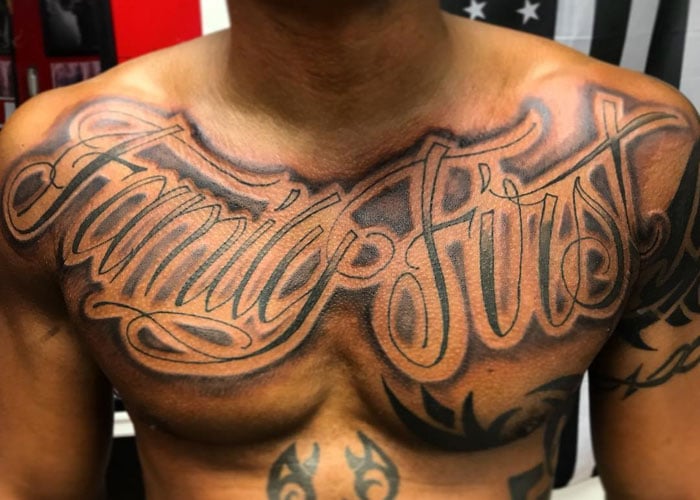 Your family has always got your back, and you only got one, so why not pay respects by immortalizing them on your body? Getting a family-themed chest tattoo is one of the best ways to respect your loved one's honor. You can choose from several designs, from portraits to names. Regardless of the style you choose, you'll always keep them close to your heart. It's the perfect tattoo concept for tough men who love their families.
10. Tribal Chest Tattoo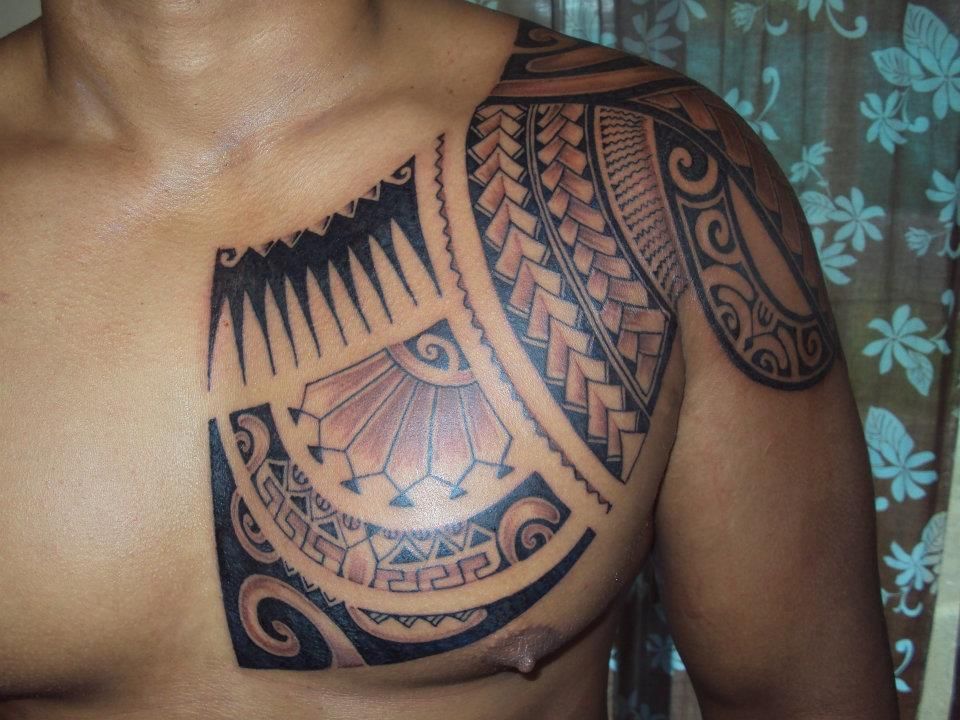 You can complete your macho and tough man vibes by getting a tribal chest tattoo. There are different designs of tribal tattoos, allowing you to make various combinations. For instance, you can have your tattoo solely on your chest or have it extend on your shoulders or arms.
11. Compass Chest Tattoo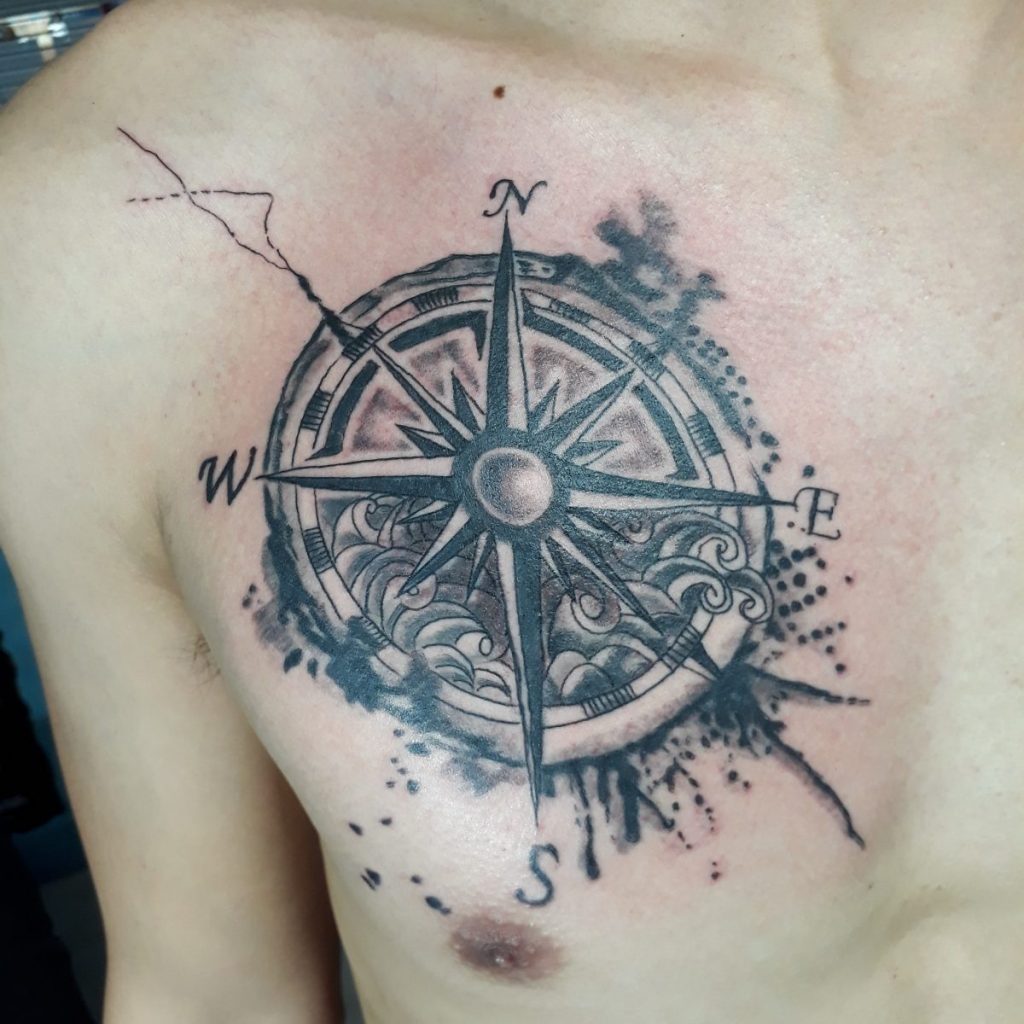 Although you can't always know where to go in life, getting a compass chest tattoo helps. It helps you remember to always stick in the right direction. Let your heart make the right decisions by inking this tattoo concept into your chest. Regardless of the style, this tattoo concept is perfect for tough men who want to stay on the right path.
12. Skull Chest Tattoo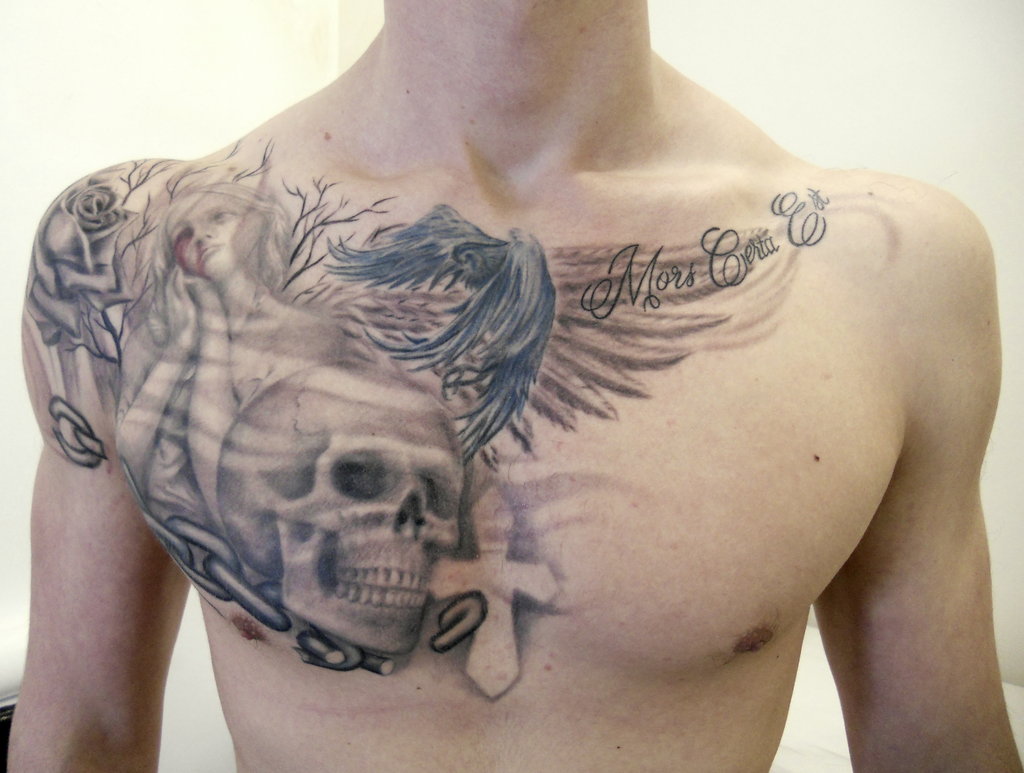 Skull tattoos are the hallmark for rebellious individuals. That makes it perfect for the modern tough man. Combining this tattoo concept with other elements like wings or roses lets the ink gain a deeper meaning. It will represent the person's overcoming of difficult times and protection. Skull chest tattoos combined with other elements are an excellent choice for tough men looking to change for the better. But no matter how you symbolize this tattoo, it holds a strong message close to your heart.
13. Rose Chest Tattoo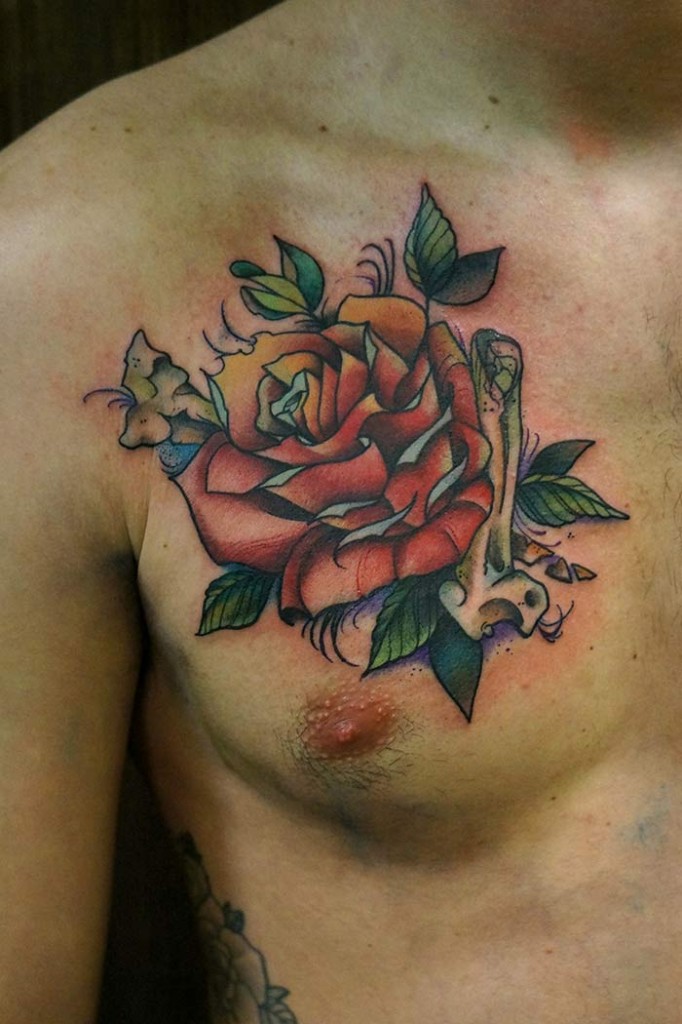 Rose tattoos hold a lot of meaning. They're the perfect piece for tough men looking to express themselves through art. Combining a rose tattoo with other elements portrays different emotions and significance that are challenging to ignore. For a more masculine touch, you can have the blooms drawn in traditional black ink.
14. Angel Chest Tattoo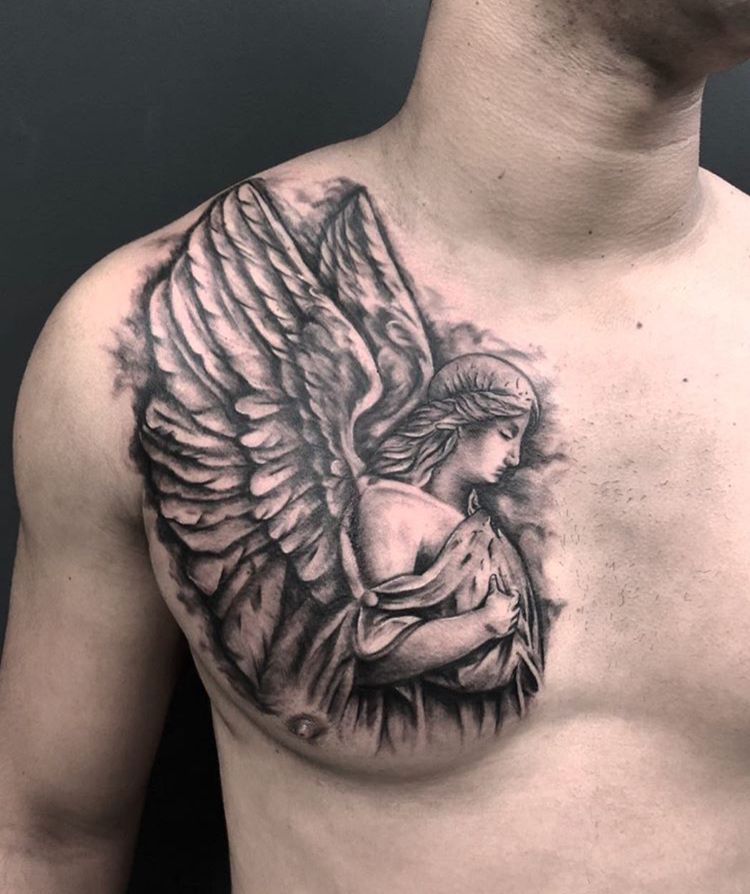 You can pay respects to your faith or a loved one by getting an angel chest tattoo. Regardless of the style, this tattoo concept will always hold deep meaning. These include devotion and hope. Getting an angel chest tattoo places these important phrases close to your heart, resonating with its rich symbolism. For tough men, it's best to keep the tattoo design traditional.
15. Cross Chest Tattoo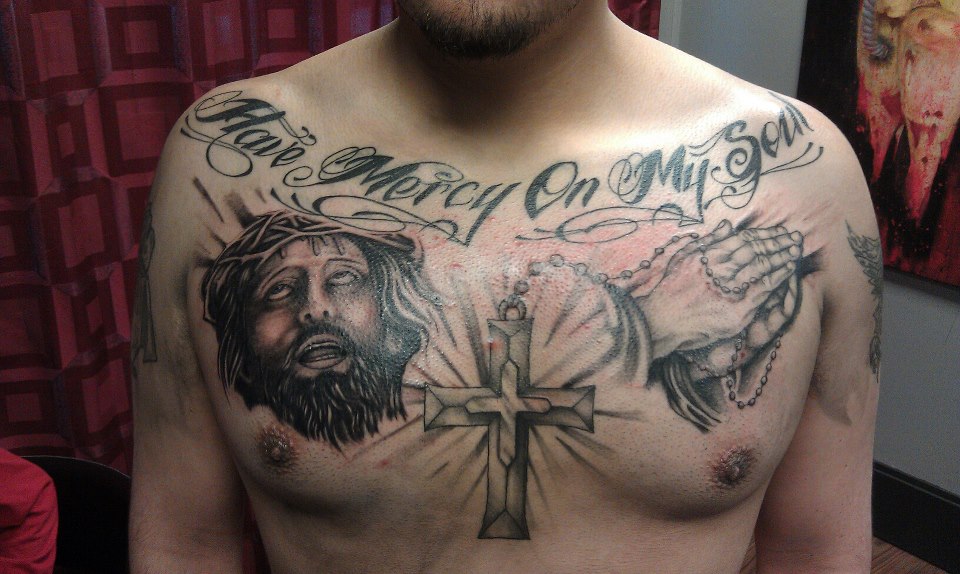 The cross is a timeless and universal symbol that has been used for centuries as a representation of faith, hope, and love. You can get this tattoo to showcase your devotion to your religion and faith, or immortalize your love and respect for a loved one. No matter the reason for it, this is a powerful tattoo concept that's guaranteed to get people's attention. You can cover your entire chest with religious imagery and add as much detail as you like. Traditional black ink looks fantastic with this tattoo design. 
16. Motivational Chest Tattoo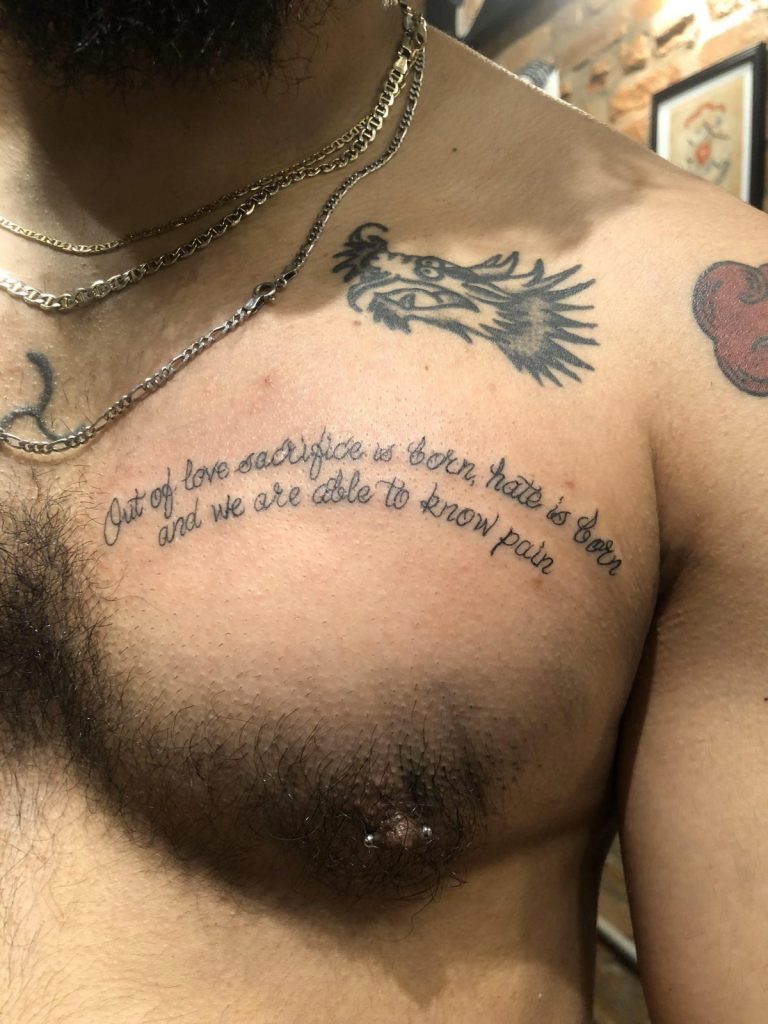 Tattoos that remind you to push through the difficulties no matter how tough things get are always a good idea. A motivational chest tattoo is an excellent choice for tough men as it helps them pursue life with their strength intact. Popular motivational tattoos among men include phrases like "Trust your struggles."
17. Quote Chest Tattoo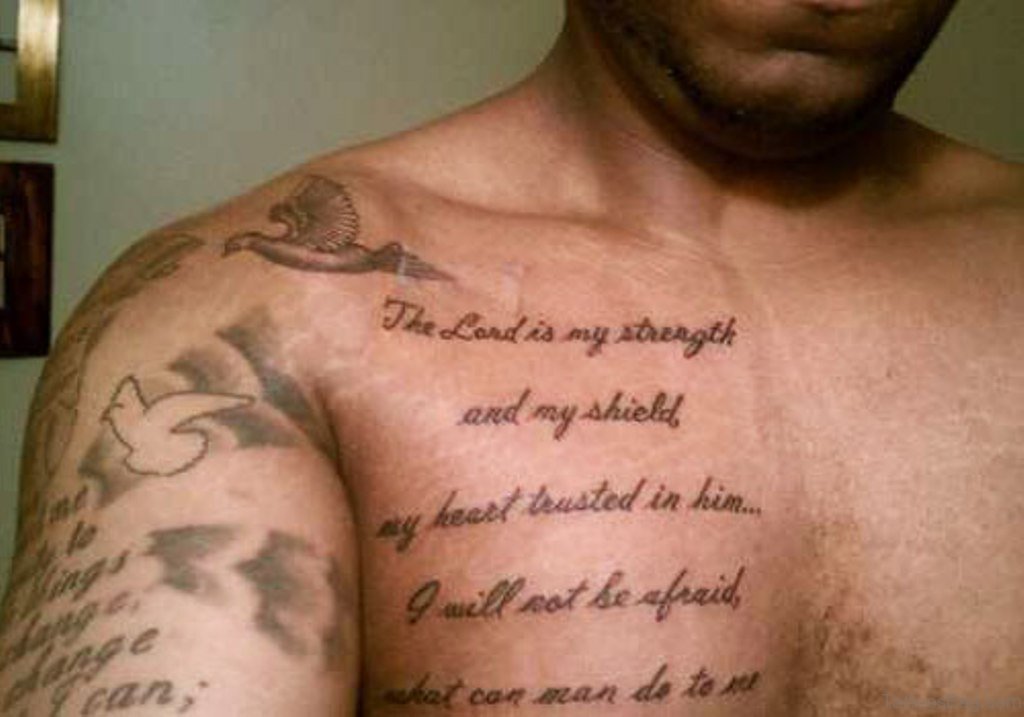 Quote tattoos are personal and always a good concept. After all, it resonates with the wearer, reminding them of that important message every day. Whether you're inspired by words of wisdom or a movie line, why not immortalize them into your skin? Have the phrase placed across your chest and keep it located on only one side of the body to make it look good from all angles.
18. Line Art Chest Tattoo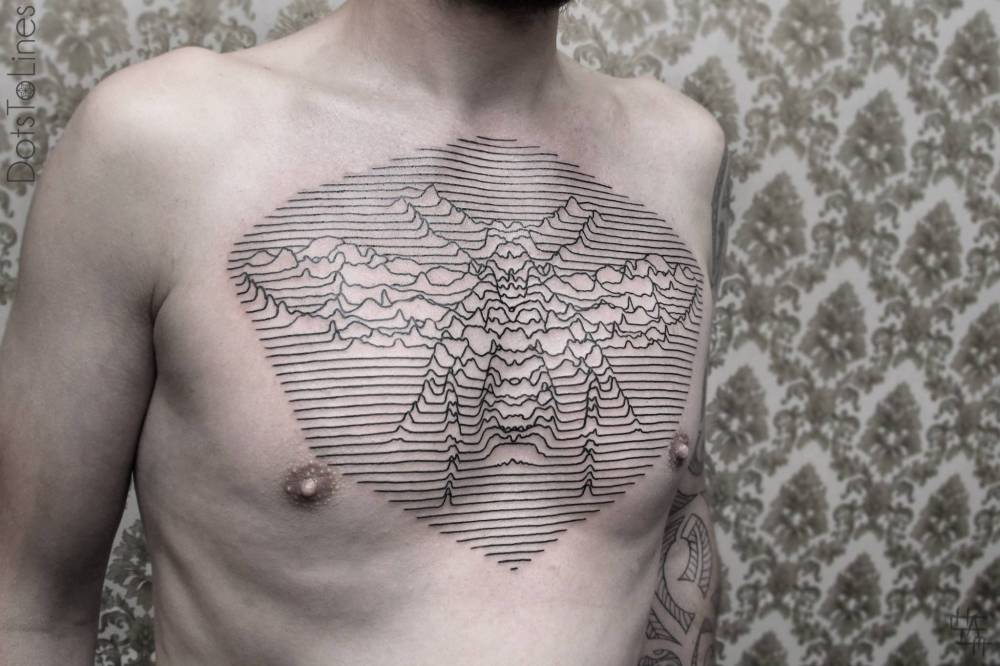 What better tattoo to get than a line art chest tattoo? From a Mandala-themed design to a simple portrait, the clean-cut design of line art chest tattoos is an excellent choice for tough men who are refined and classic. They look best in darker colors, emphasizing the shapes created across the chest. In this tattoo concept, symmetry plays a huge role. After all, one skewed figure can ruin the whole thing.
19. Heart Chest Tattoo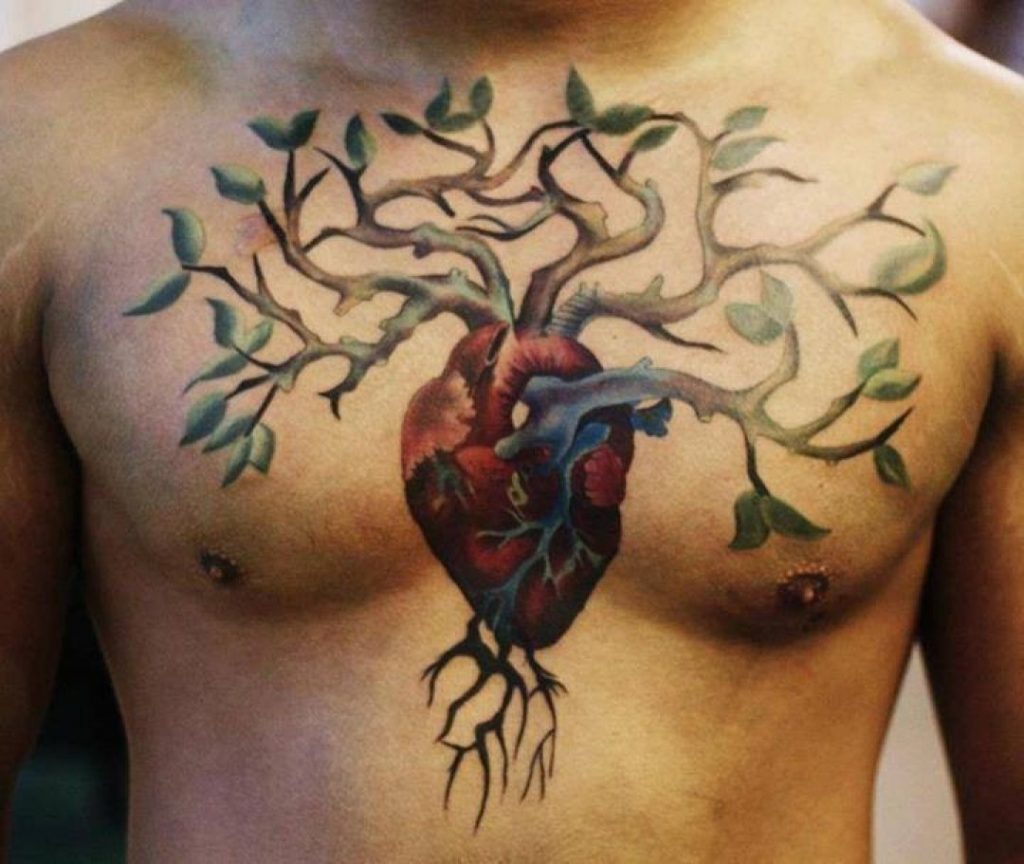 You can make a statement by getting a heart tattoo right on your chest. Whether you're going for a realistic heart tattoo or one in cartoon style, this design is a timeless option that holds a powerful meaning.
20. Phoenix Chest Tattoo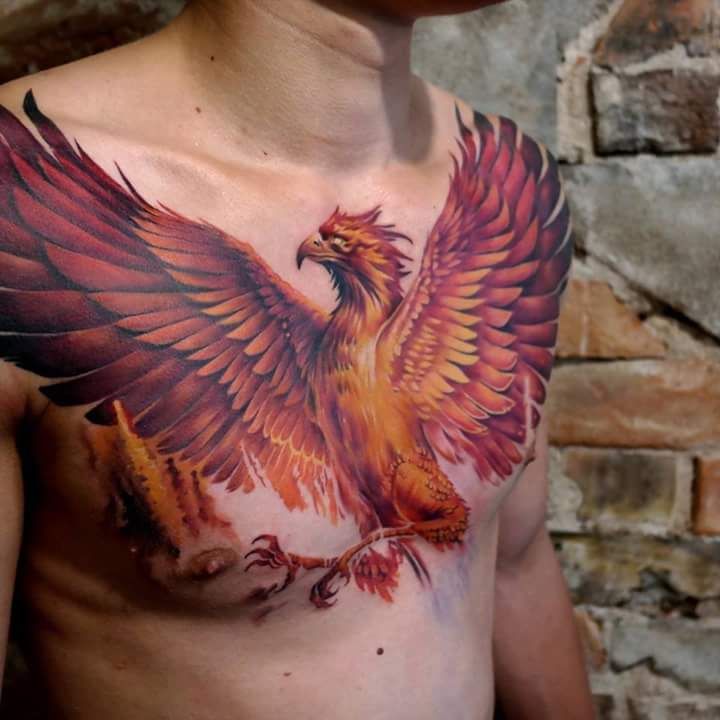 You can showcase your rebirth and triumph by getting a phoenix chest tattoo. This mythical bird is often associated with reincarnation, allowing wearers to express the process of letting go of the past and looking forward to the future. The best style for tough men is phoenix chest tattoos in traditional color choices like gold, red, and orange.
21. Small Chest Tattoo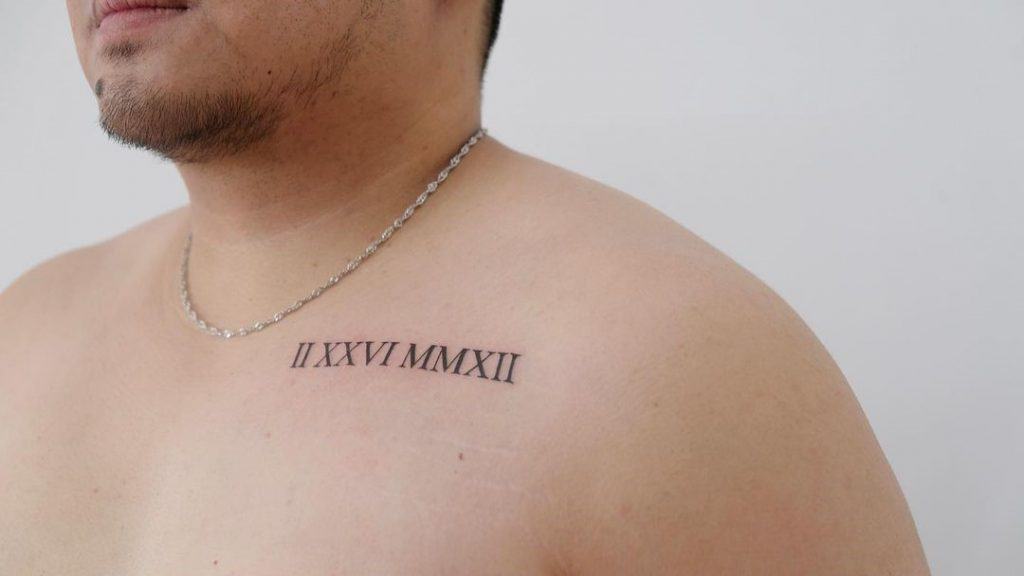 Chest tattoos for tough men don't need to be big or complex. After all, even smaller ink designs can have an impact. You can get a tattoo that'll catch everyone's attention with its distinctiveness and simplicity. For instance, getting a year tattoo like 1999 or 2020 is a great way to pique people's interest.
22. Meaningful Chest Tattoo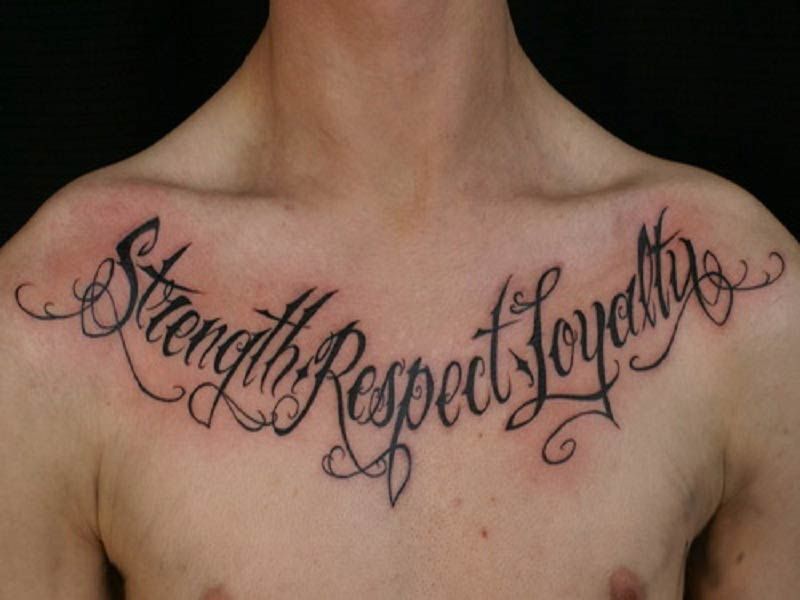 Meaningful chest tattoos won't only look cool, but they'll also motivate you every day. Whether it's a family portrait or a song lyric, meaningful tattoos are perfect for men. After all, it allows them to add the most important things and people in their lives to their bodies. So make sure to choose a design containing a deep meaning for you, allowing it to stay close to your heart. For men, it's best to get something in simple black ink. But no matter what design you go for, it's worth getting if it's important to you.
23. Octopus Chest Tattoo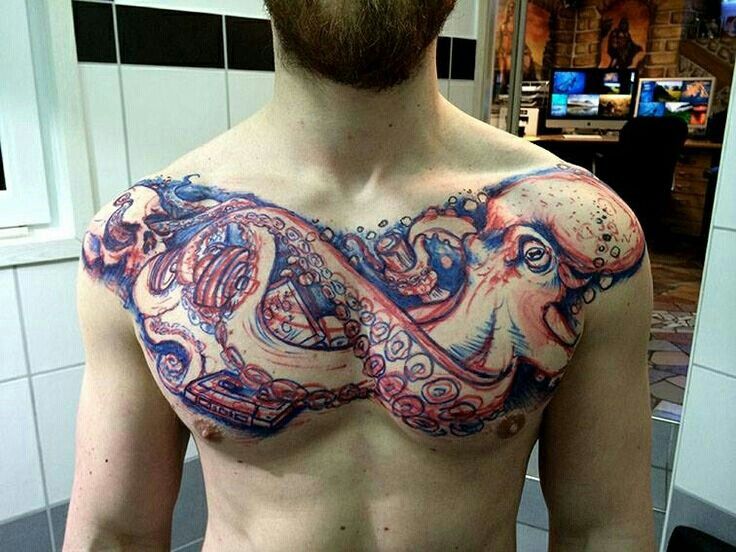 There are many animals out there, and each one has a symbolic meaning. One of the most underrated animals out there is the octopus. They're not relatively famous for tattoos, but they make great pieces. After all, they look unique and hold deep meanings. Octopi are often linked with mystery and intelligence. But for men, an octopus chest tattoo may represent their adaptability and unpredictability.
24. Eagle Chest Tattoo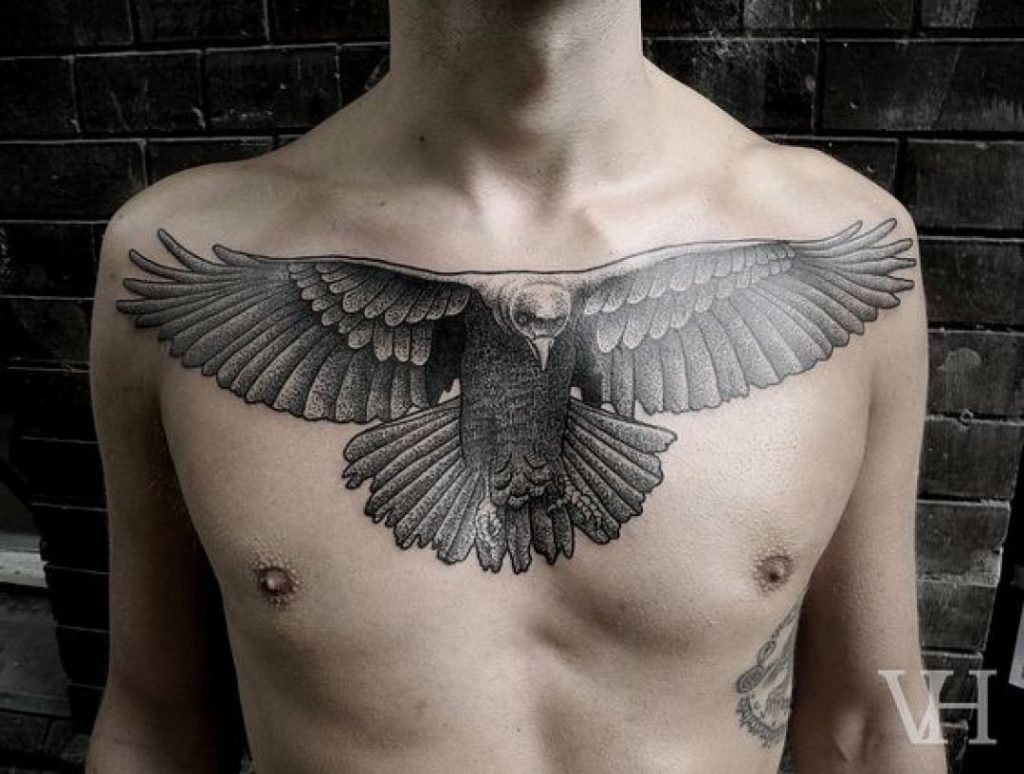 Eagles represent bravery focus. It's the perfect tattoo concept for strong men. After all, an eagle tattoo showcases your strength to be able to go through difficulties with ease. But keep in mind that the meaning behind this tattoo varies in different cultures. The best way to portray an eagle chest tattoo is by having its wings spread across the torso, providing a full effect.
25. Wings Chest Tattoo
Wings are often associated with spirituality, and they usually hold deep meaning for their wearers. Whether you pick a bird's wings or an angel's wings, this tattoo concept looks best when spread across the chest to the shoulders. For tough men, a wings chest tattoo would look best in a traditional black ink design. It's a great way to show off detailed shadings and patterns.
26. Name Chest Tattoo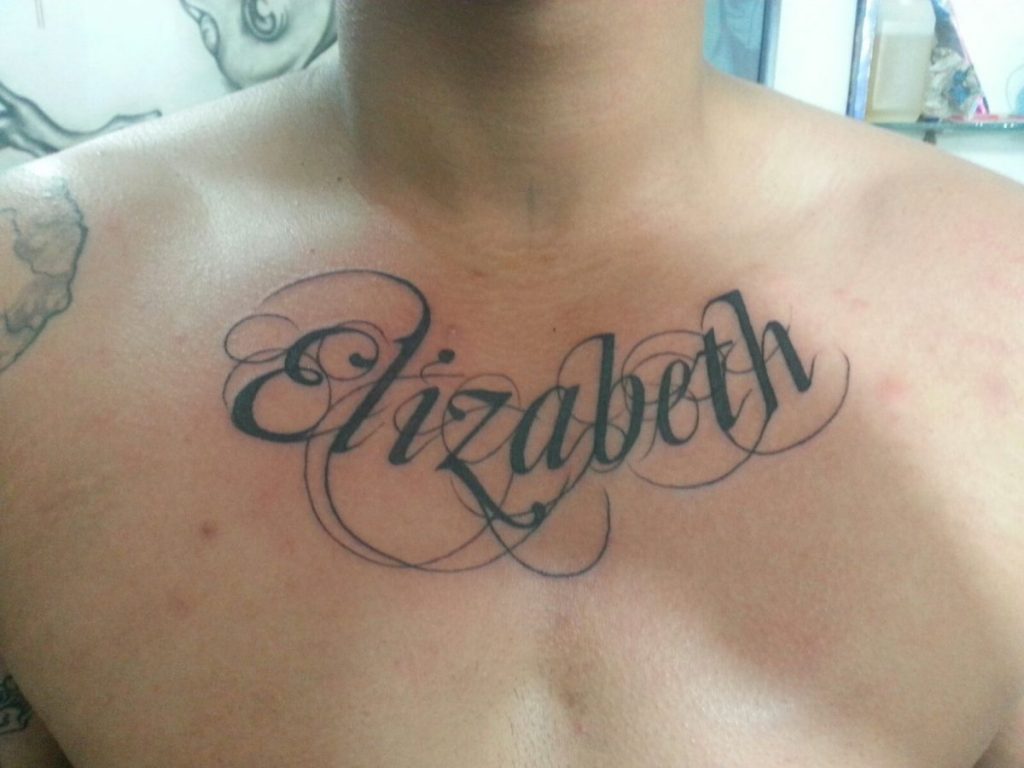 Even the toughest men like to express their appreciation to those close to them. There's no better way to show your love for a particular person than by getting a name tattoo on your chest in their honor. The best part about this tattoo concept is its simplicity. But these types of tattoos usually look best with a cursive or type font. Regardless of the style, this tattoo allows you to hold that particular person close to your heart.
27. Geometric Chest Tattoo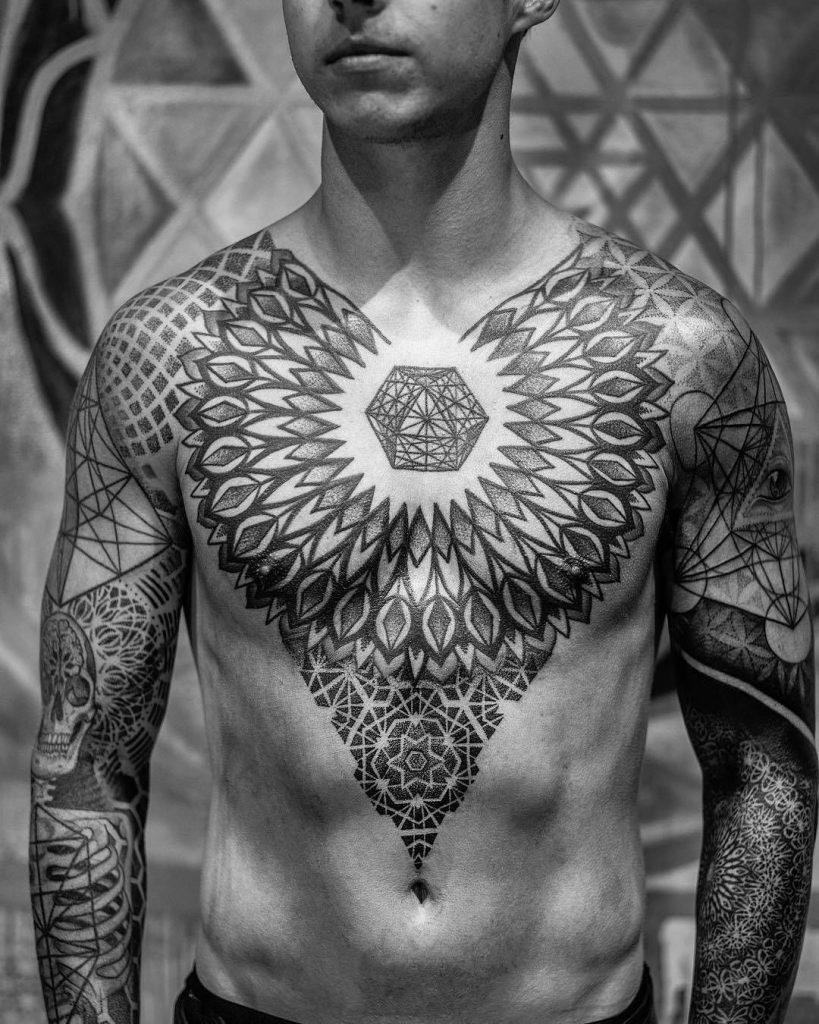 If you're looking for a modern yet masculine tattoo, a geometric chest tattoo is your best choice. Whether you're going for a simple shape or a detailed figure, a geometric-themed tattoo is a timeless piece with a modern twist. The best part about geometric tattoos is that they're versatile, so you can style them any way you want. Plus, you can spread it across your chest or focus on one side only. No matter what design you choose, you'll get a cool tattoo that'll last forever.
28. Scorpion Chest Tattoo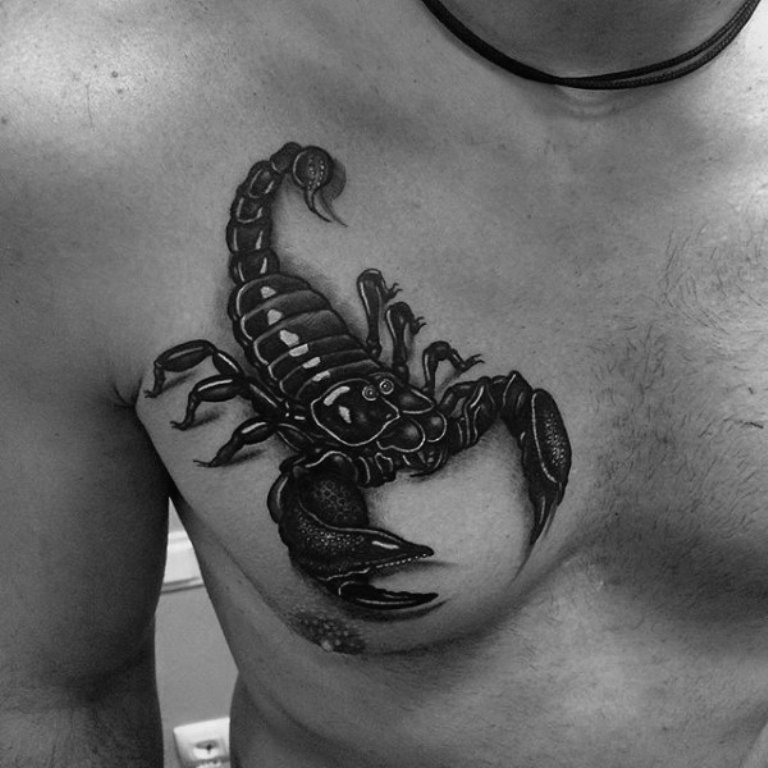 You can repel fear by getting a scorpion chest tattoo. That's because the animal is often associated with the ability to protect one's self. But it's a design that requires intricacy, so whether you pick color or monochrome, ensure to find a reputable tattoo artist good with detail.
29. Snake Chest Tattoo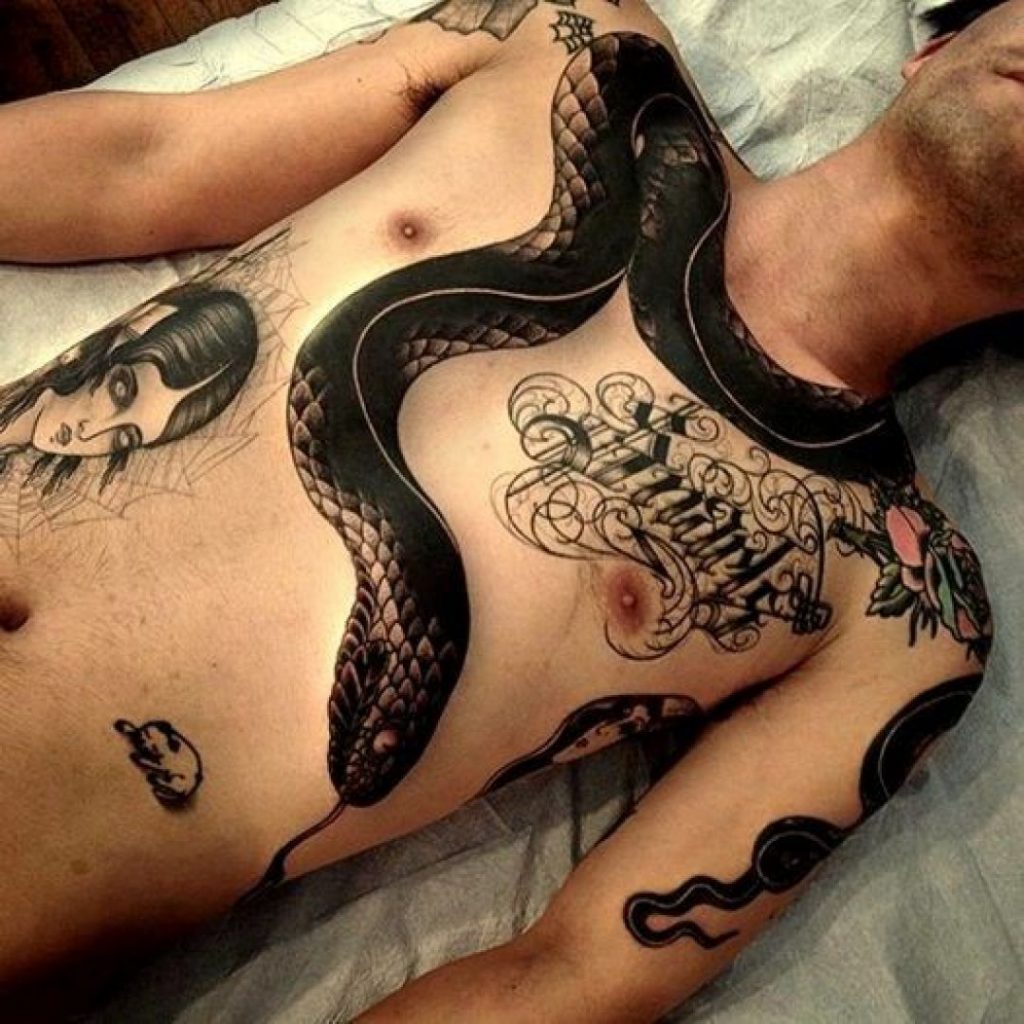 Although snakes are often associated with negative traits, they're surprisingly meaningful. These reptiles are often associated with rebirth or a fresh start. Snake tattoos are an excellent choice for tough men. After all, whether it's a tattoo design with one snake or an entire den, it holds a deep meaning to the wearer. If you're looking to depict an infinity sign, you can portray the serpent eating its tail. Regardless of the style, the best color for a snake chest tattoo is a bold emerald color. This hue can make the design pop.
30. Mechanical Chest Tattoo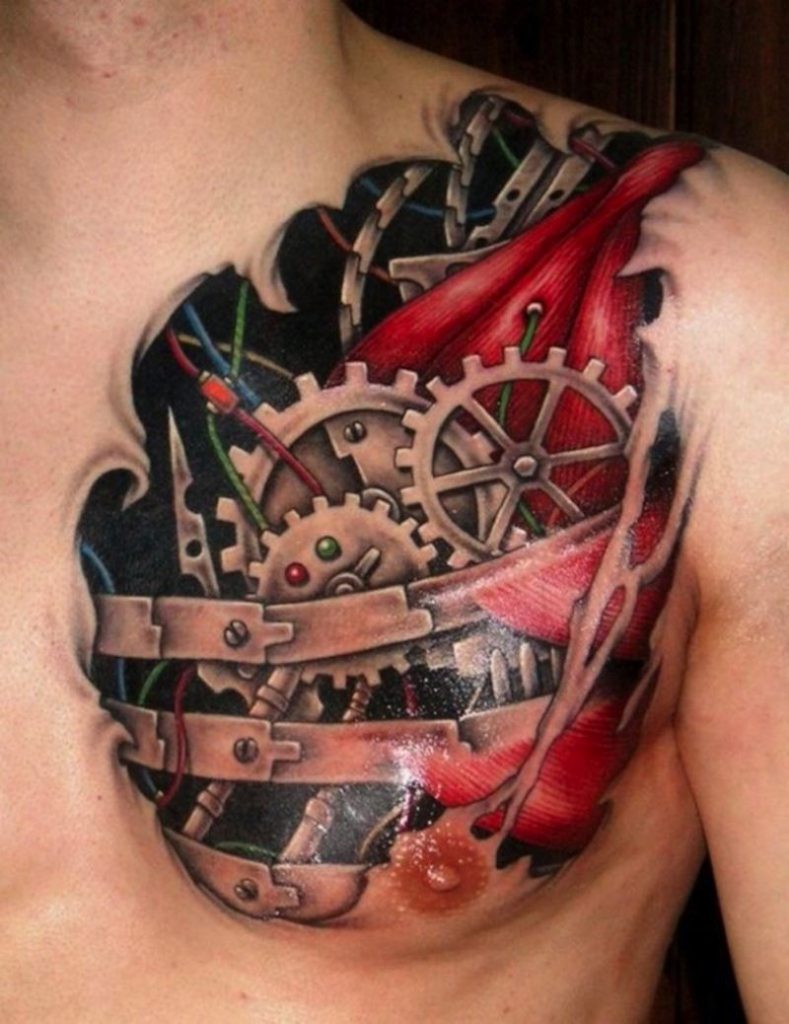 Showcase your love with machines by getting a punchy mechanical chest tattoo. For this type of tattoo, it's best to get a 3D-styled piece to give it better shading and delicate tinting. This style can make the tattoo look more photorealistic, and for mechanical-themed tattoos, the more realistic it seems, the better. The best part about this tattoo is that it can look fantastic on any torso.
31. Japanese Chest Tattoo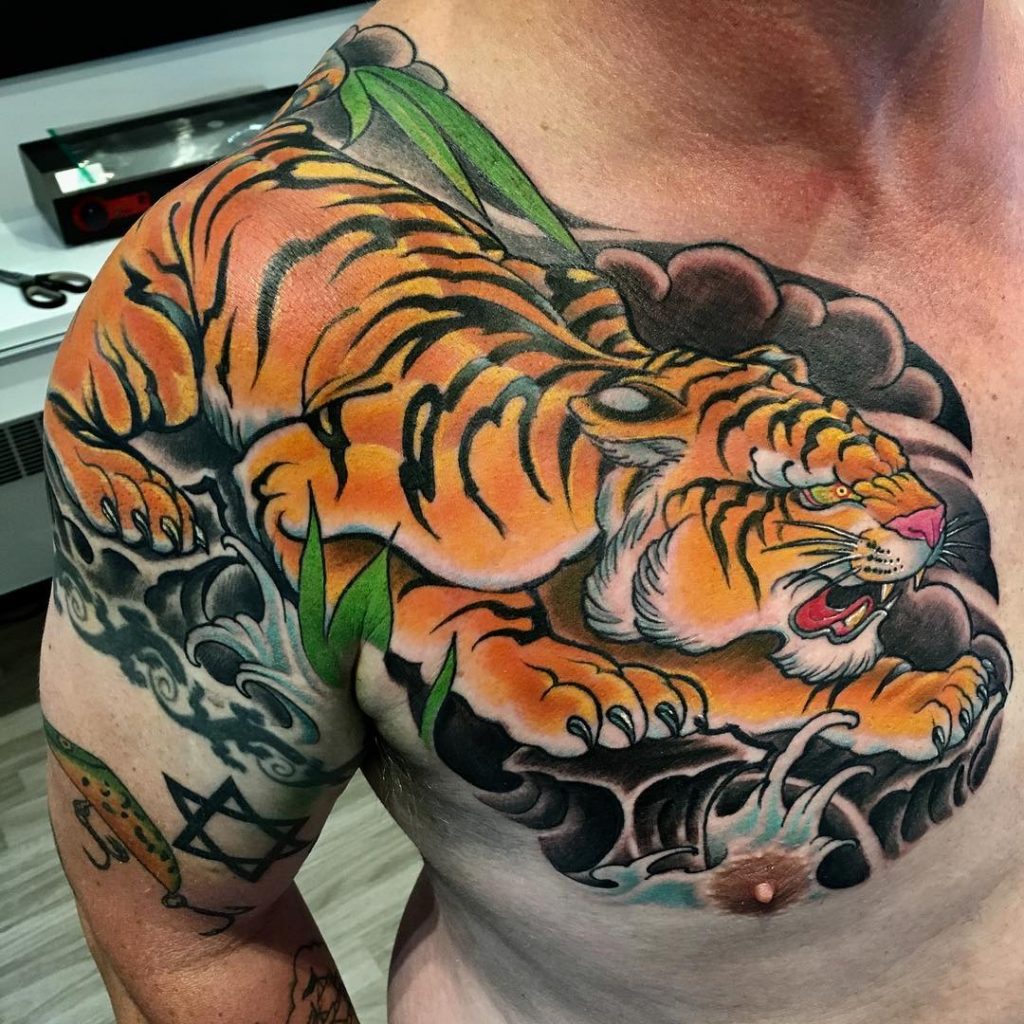 Japanese tattoos often feature intricate and colorful designs with traditional Asian influences. Some of the most popular Japanese tattoo designs include dragons, tigers, and Koi fish. If you're looking for a unique and eye-catching chest tattoo design, then a Japanese chest tattoo is definitely the way to go.
32. Aztec Chest Tattoo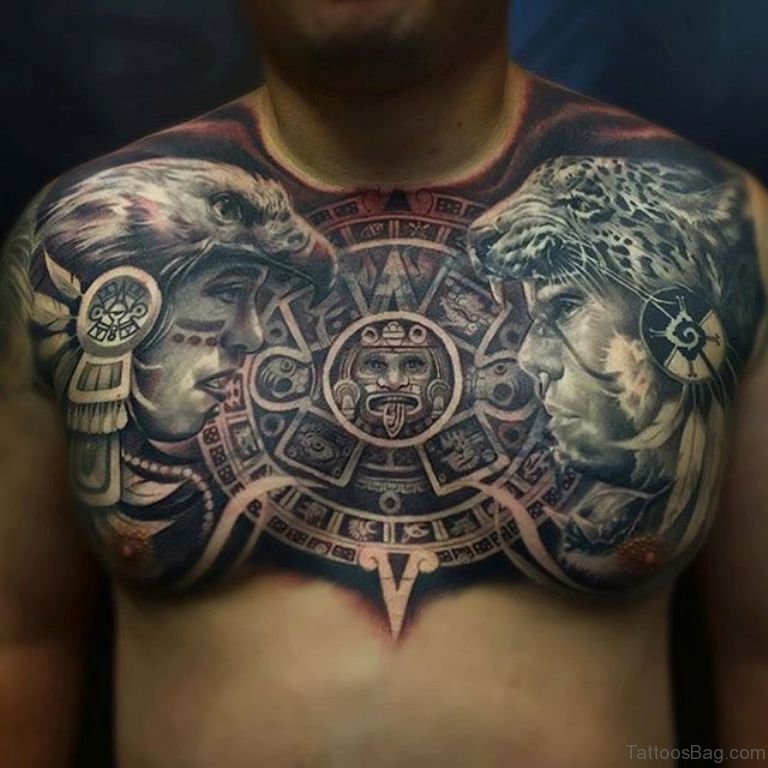 Many designs represent Aztec cultures, and they make for great tattoos. Not only do they look great, but they also have deep meanings. For example, an Aztec chest tattoo with a hummingbird symbolizes the Aztec sun god, Huitzilopochtli. Regardless of the figure, the detailed patterns of Aztec tattoos make for a fantastic ink design.
33. Star Chest Tattoo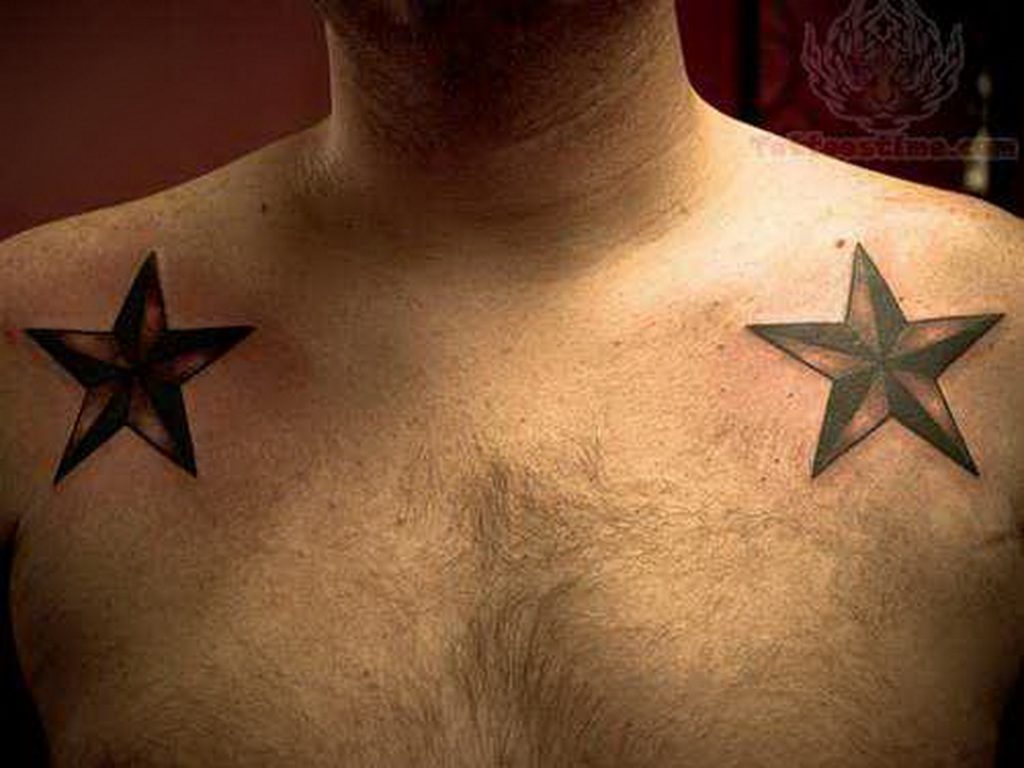 The star is a versatile symbol that can be used to represent many different things. It can be used as a symbol of hope, love, and protection, or it can be used as a symbol of power and strength. A star tattoo can be a great way to show off your own personal beliefs and values, or it can be used as a tribute to someone special. No matter what meaning you choose to give your star tattoo, it will make a beautiful and unique addition to your chest.
FAQ
Does Getting a Chest Tattoo Hurt?
Chest tattoos can be a bit more painful than other areas of the body, but the level of pain varies depending on the individual. Some people find that chest tattoos don't hurt too much, while others find it to be quite painful. If you're worried about how much it will hurt, ask your tattoo artist for advice on how to make the process as pain-free as possible.
What Do Chest Tattoos Mean?
Chest tattoos can mean many different things, depending on the individual. Some people choose chest tattoos as a way to express their religious or spiritual beliefs, while others choose them as a symbol of strength and power. No matter what your reasons are for getting a chest tattoo, it will be a personal expression of who you are as an individual.
What Should I Tattoo on My Chest?
The possibilities are endless when it comes to chest tattoos, so you can be as creative as you want. Designs can include anything from animals to traditional, tribal or abstract art. If you're not sure what design you want, then ask your tattoo artist for suggestions. They will be able to help you find the perfect design that reflects your personality and interests.
You May Also Like