For women, the upper chest is one of the most visible parts of the body, making it a great location for a tattoo you would like others to see a lot. A chest tattoo doesn't necessarily have to cover the whole chest, so a wide variety of sizes and styles will suit that area of the body well. More recently, under the chest and sternum tattoos have become popular among women.
What's great with chest tattoos is that you can't really go wrong with any of the styles covered in this list, as they will do a great job of accentuating the chest area with dazzling style.
1. Under Chest Tattoo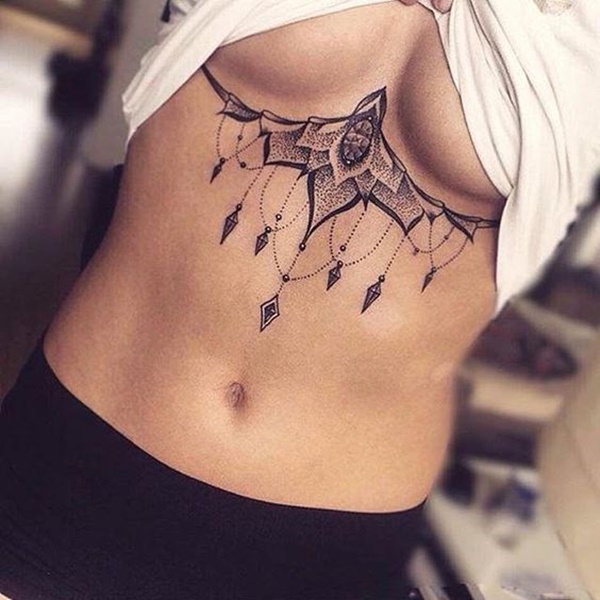 A recent trend among chest tattoos for women is under the chest tattoos. They're an excellent alternative to traditional chest tattoos, especially if you don't want them to be out there all the time. But under chest tattoos would look the best if your tattoo follows the curve of your chest, with the focal point sitting right in the middle. Overall, it's a great choice, no matter your tattoo's size.
2. Flower Chest Tattoo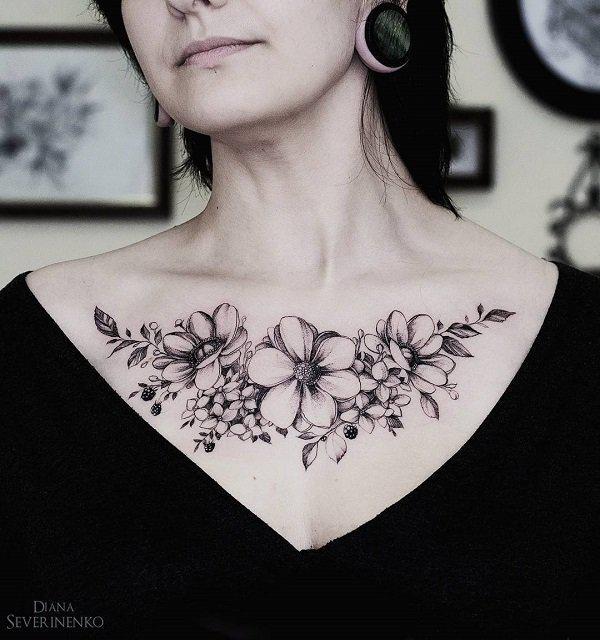 A flower chest tattoo is an excellent option when you're looking to get an elegant tattoo design. Whether you choose a black and white floral chest piece or a colorful floral tattoo, these are an excellent choice for women. The most popular blooms among women are sunflowers, lotus flowers, peonies, cherry blossoms, orchids, and lilies.
3. Small Chest Tattoo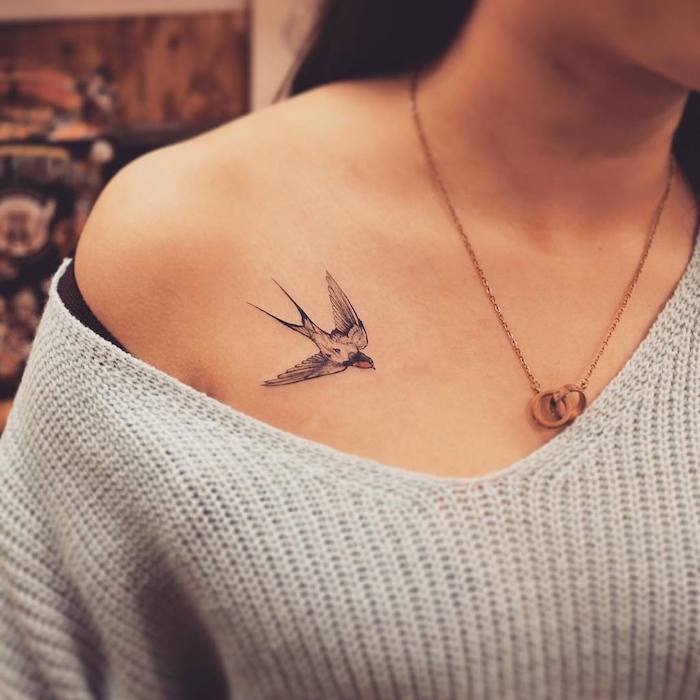 Chest tattoos don't have to be big to make an impact. In fact, for women, small and simple is the best way to go. If it's your first time getting tattooed, a small chest tattoo is ideal. That's because it doesn't hurt as much and doesn't take as long. Anything similar to the size of a ten-cent coin and your palm is considered small. So you have some room to decide how you want it done.
4. Rose Chest Tattoo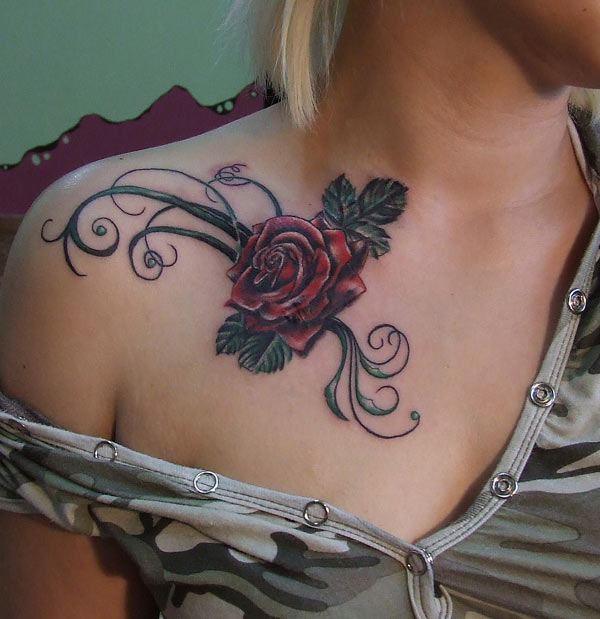 Rose chest tattoos are a versatile option since roses come in different colors and can mean different things. Regardless of the style you choose, it's best to have a black rose outline to perfectly blend into the effortless beauty and infuse them with color and delicate designs if you're going for something bolder.
5. Tribal Chest Tattoo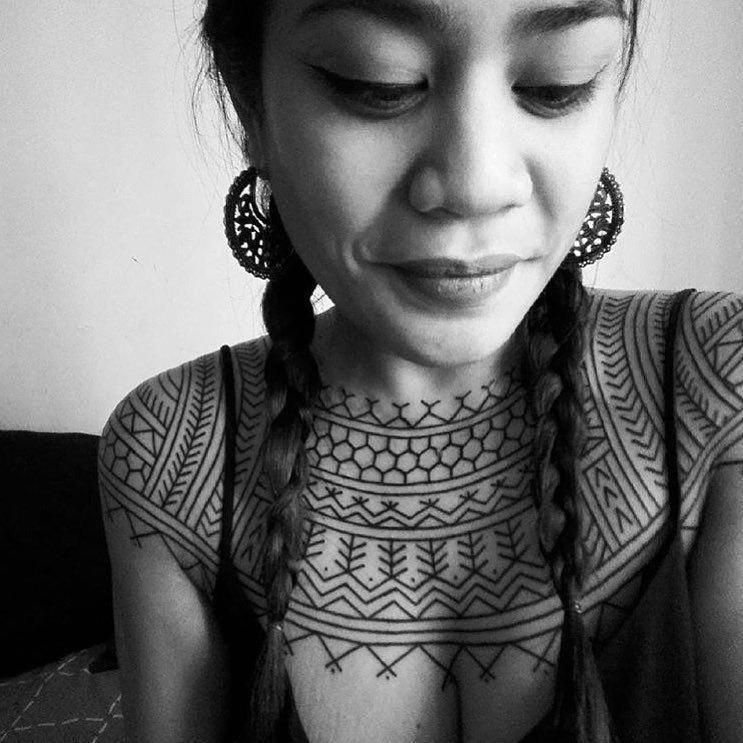 Tribal tattoos are one of the most popular designs in body art. After all, they go way back. In the past, only individuals part of a tribe were allowed to get a tribal tattoo. But, nowadays, anyone can now get a tribal chest tattoo. They're a popular choice among women, thanks to their versatility and gorgeous designs. The most common tribal chest tattoos ladies get are geometric patterns. These include bold lines, shapes, and dots. Additionally, you can turn other elements, like animals and plants, into a tribal tattoo.
6. Chest Quote Tattoo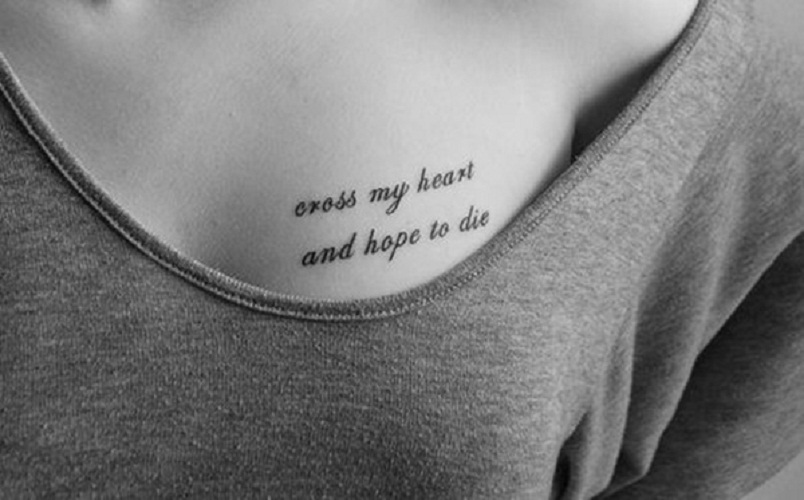 Chest quote tattoos are popular among women since they look clean and cute while holding a deeper meaning. Typically, you'll find the best placement around the chest for a quote tattoo is across the collarbone. That's because the bone structure around this significantly emphasizes the message. So if you're thinking of using a big font and want to cover most of your chest area, then the center will look the best.
7. Cute Chest Tattoo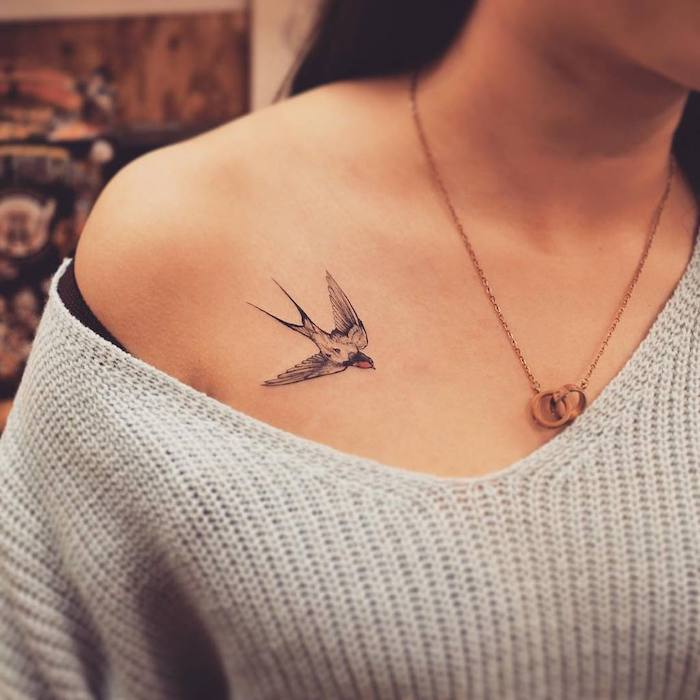 When deciding on chest tattoos, embrace your girly side and come up with a cute design. It's a foolproof plan that'll help you come up with a cute tattoo idea in no time. Examples of cute chest tattoos perfect for women are anything that showcases femininity, like a tiny heart or delicate flower.
8. Star Chest Tattoo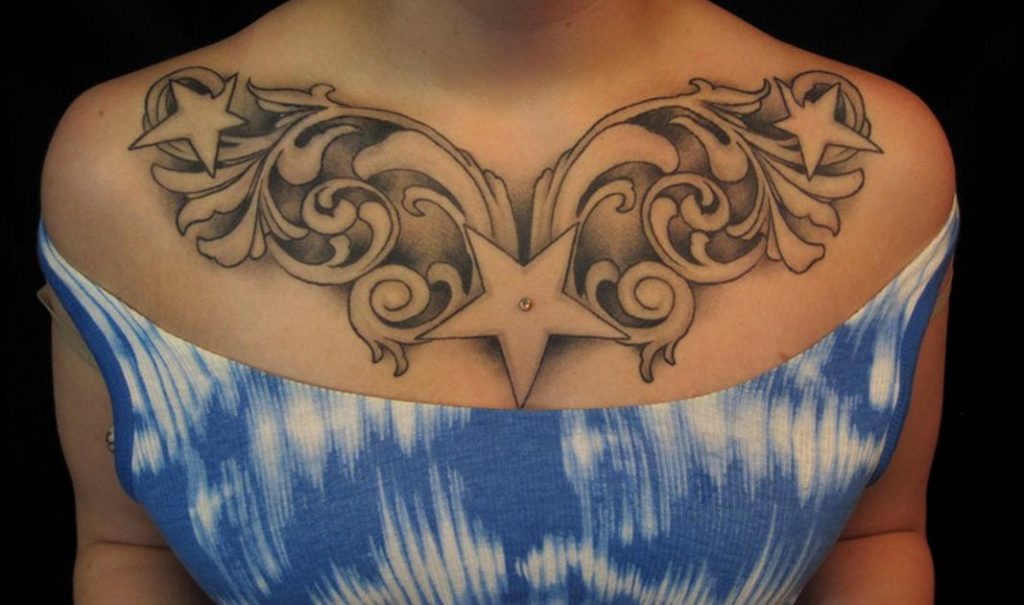 Star tattoos are popular among ladies, thanks to their diversity. After all, you can get anything from throwing stars to twinkling stars. Or, if you're feeling a bit adventurous, you can get an entire night sky inked on your chest. Whichever style you choose, you can never go wrong with a star chest tattoo.
9. Full Chest Tattoo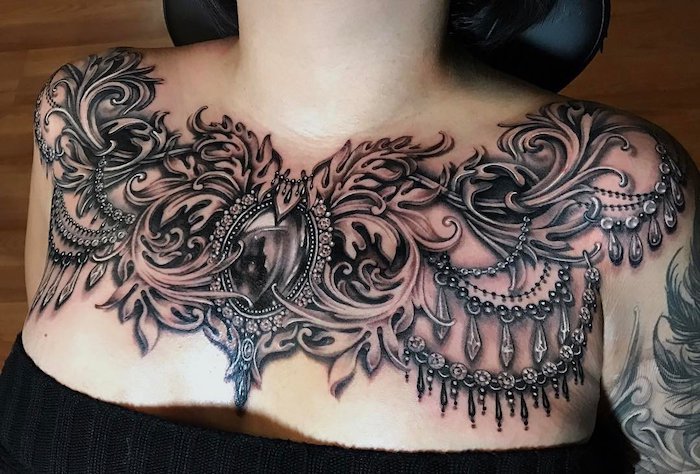 Full chest tattoos aren't just for men, as they'd look just as good on women. Plus, it's excellent to see ladies breaking these stereotypes and boundaries. Since the chest is a broad area to work with, your imagination is all that's limiting you. So whether it's your favorite song lyric or a collage of flowers, full chest tattoos are bound to look fantastic.
10. Owl Chest Tattoo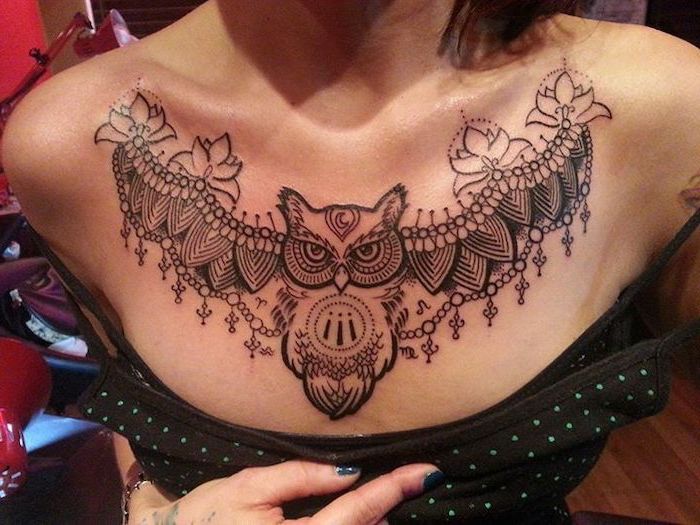 Bird-themed tattoos are a common design choice for chest tattoos. That's because these animals tend to have intricate appearances, making for a detailed and gorgeous tattoo. Among women, the owl is one of the most popular bird chest tattoos. That's because you can have it as a whole or have its wings cleverly extend to your shoulders. Regardless, when you get an owl chest tattoo, you're guaranteed to show off your intelligence and knowledge to the world.
11. Butterfly Chest Tattoo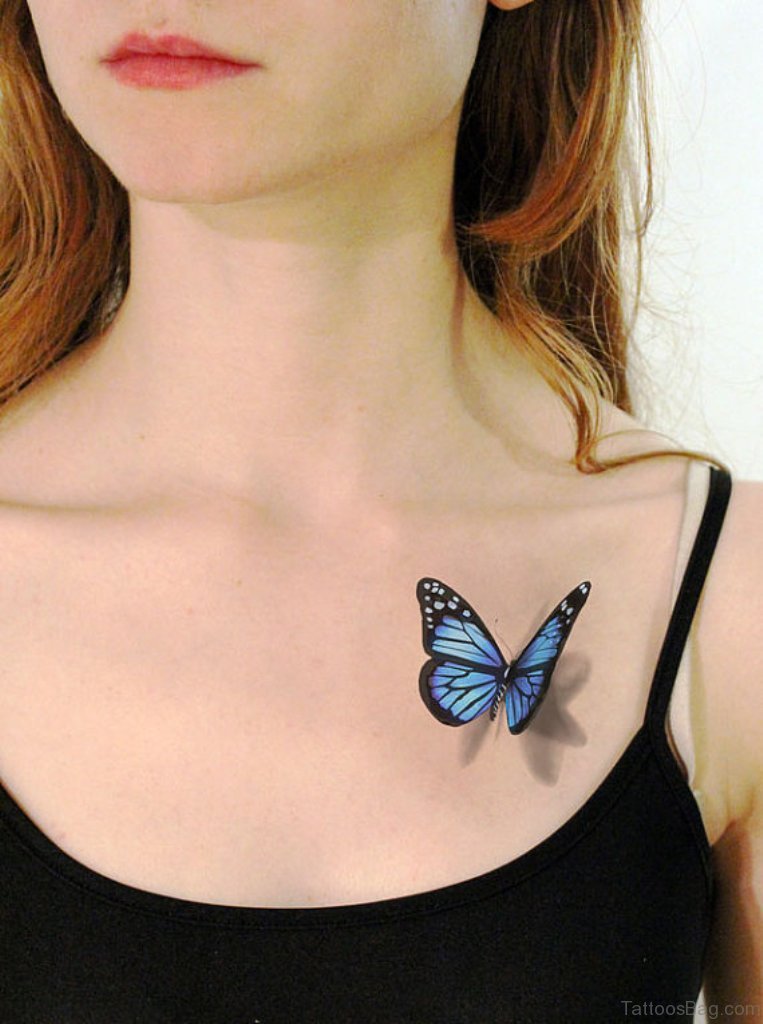 Butterflies are popular tattoo elements among women because of their versatility and femininity. Although most would get small butterfly tattoos, the chest is one of the best placements for it. That's because butterfly tattoos look best when you add as many details as possible.
12. World Map Chest Tattoo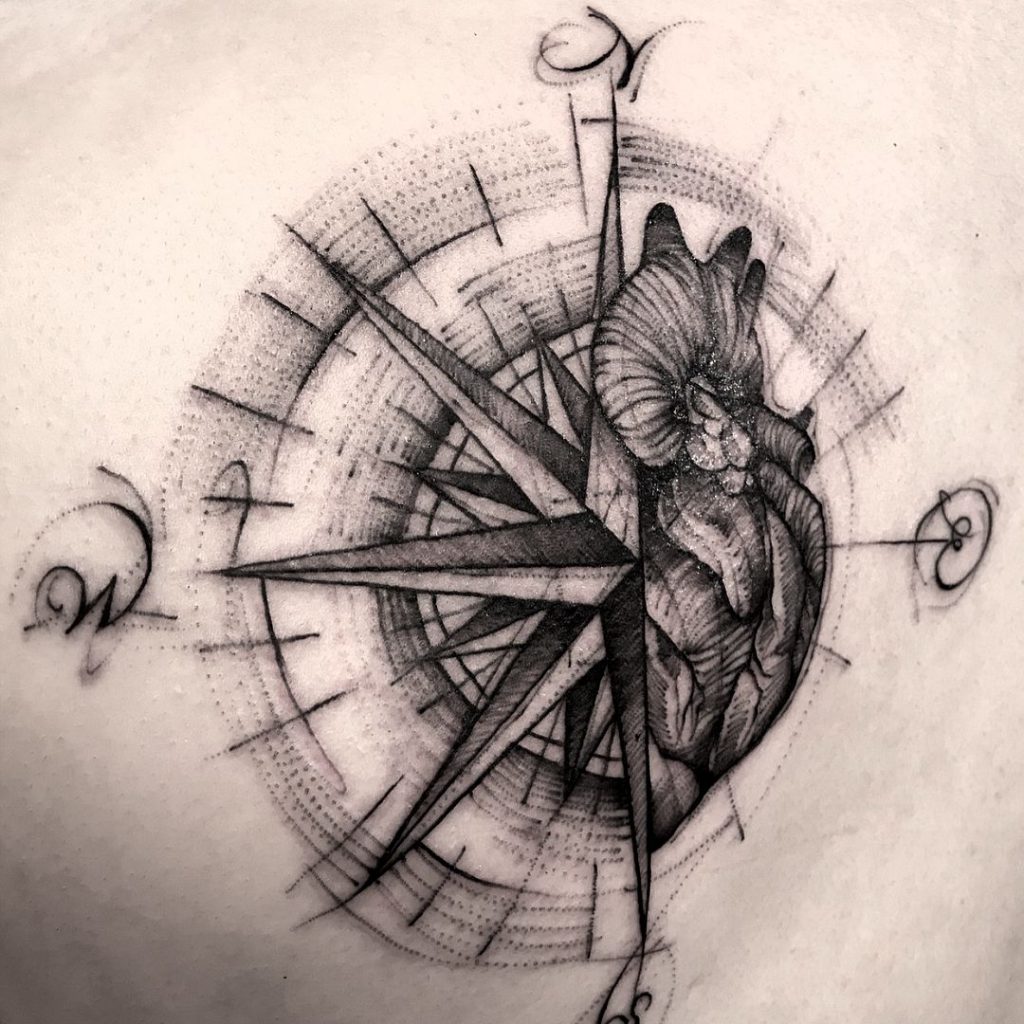 Getting a world map chest tattoo is an excellent idea for travelers or women who love adventures. You can get this tattoo close to your heart to remind you always to follow your desires to live life to the fullest. You can make this piece more meaningful and personal by choosing a specific state, nation, or continent vital to you.
13. 3D Mechanical Chest Tattoo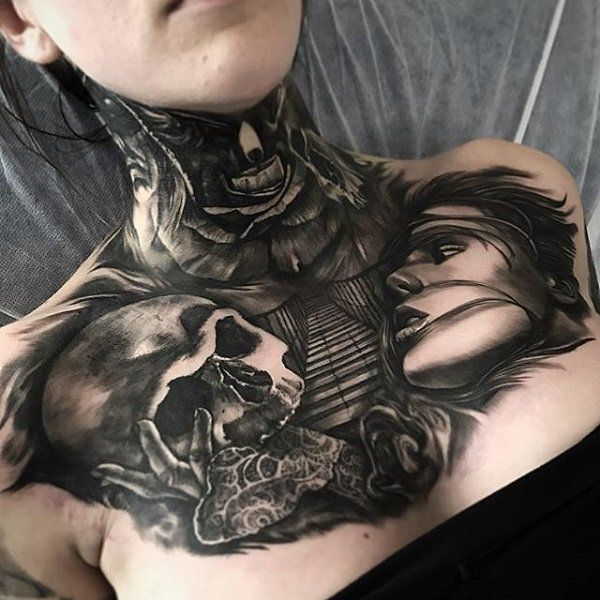 Nowadays, 3D tattoos are becoming more popular among women thanks to their lifelike appearances and eye-catching styles. The most popular design done in this tattoo style is a mechanical chest tattoo. Although it's widely considered masculine, it can make an excellent tattoo for women, showcasing their inner toughness and strength. These tattoos do this by exposing the insides, showing off the gears.
14. Heart Chest Tattoo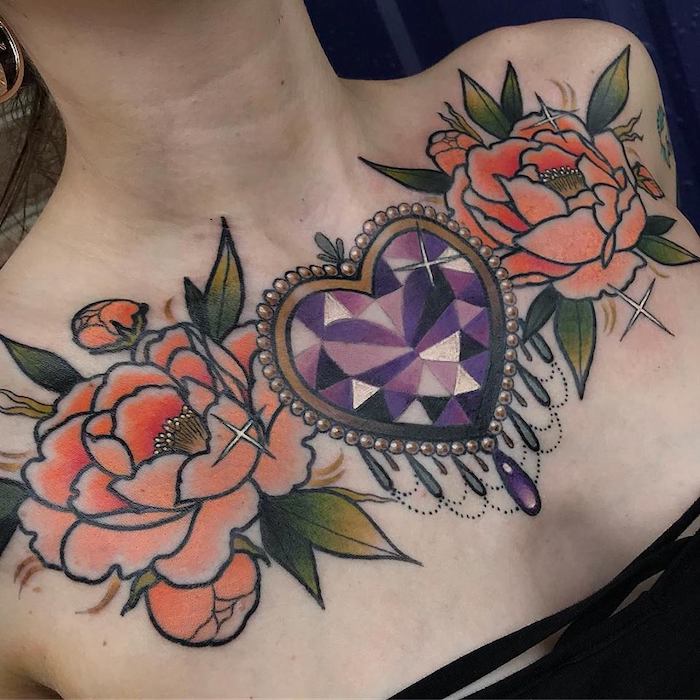 If you're looking for a simple but meaningful chest tattoo, consider getting a small heart tattoo. It's the perfect design if you're not looking to get anything extravagant. The placement for heart chest tattoos is under the collar bone and towards the shoulder. This unique area allows you to conceal and reveal the tattoo whenever you want.
15. Henna Chest Tattoo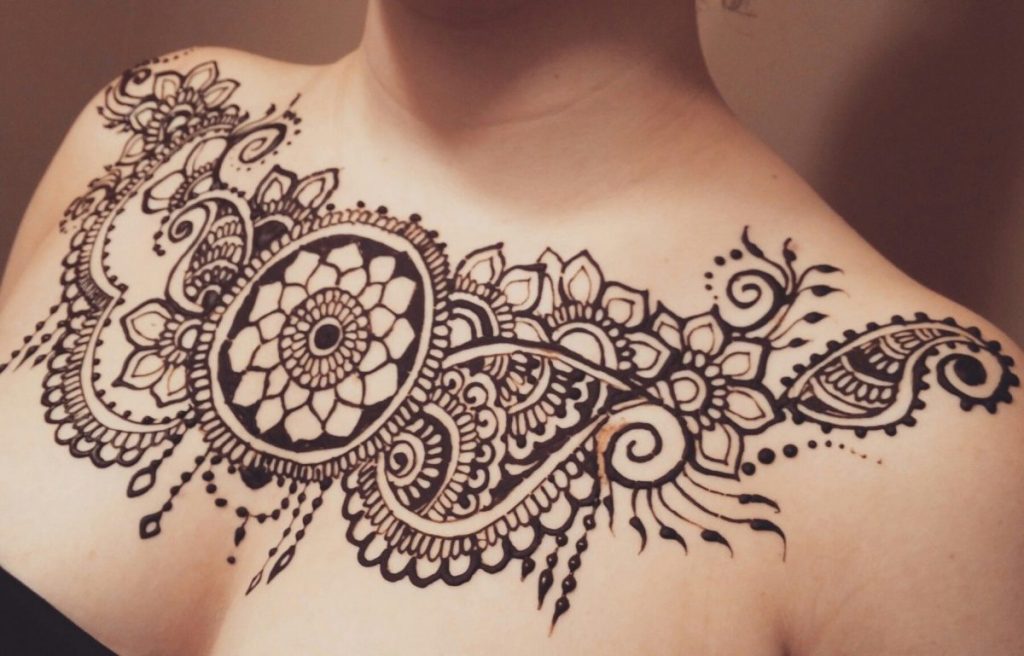 Henna is a particular branch of tattoos. They've been used by Indians throughout the ages, creating complex and eye-catching patterns. Most ink lovers would know how traditional henna looks. So why not get the best piece possible by getting a henna-inspired chest tattoo? Although popular spots for henna tattoos are on the hands and fingers, the chest is an excellent alternative. After all, it gives more space for details.
16. Wolf Tribe Chest Tattoo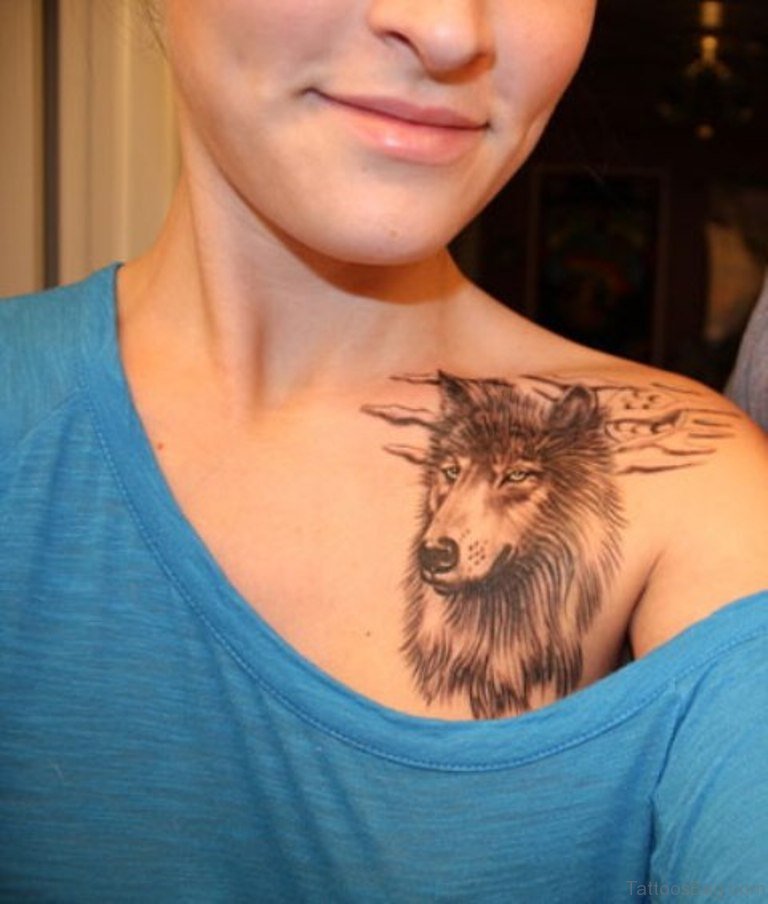 Wolf tattoos are popular among women, but they usually contain only one lone wolf. If you're looking to cover your entire chest with art, consider getting a wolf tribe chest tattoo. This gorgeous tattoo concept brings realism to the next level, making it the perfect tattoo option for adventurous women. Plus, wolf tribe chest tattoos depict that the wearer is still thriving.
17. Bird Chest Tattoo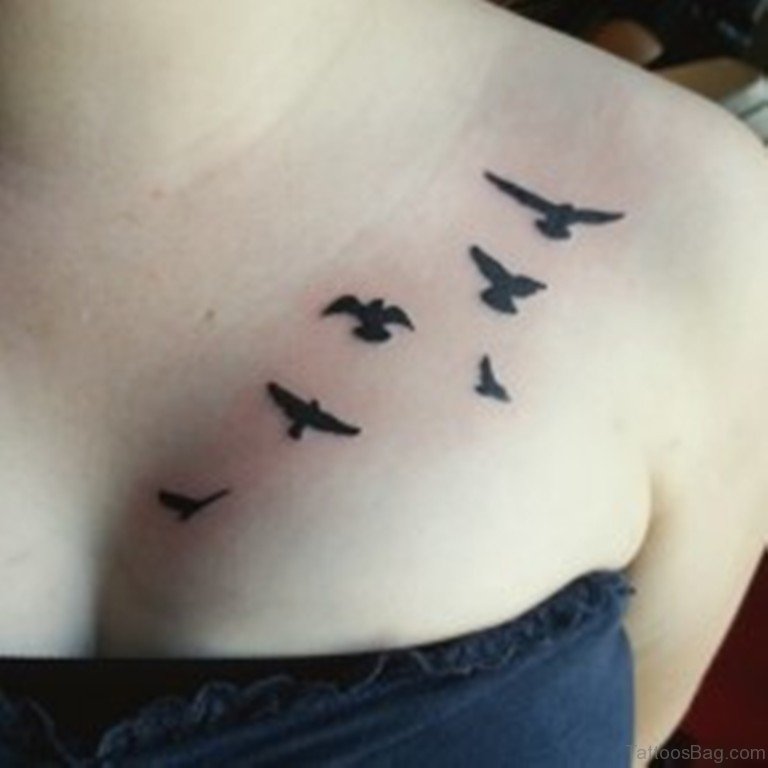 Bird tattoos are meaningful and stunning pieces for women. The best part about this ink design is the variety. After all, different birds hold different meanings and look different. For instance, many individuals get dove tattoos to represent their purity and innocence. Bird chest tattoos are limitless. All you need to do is pick your favorite bird and progress from there.
18. Dragon Chest Tattoo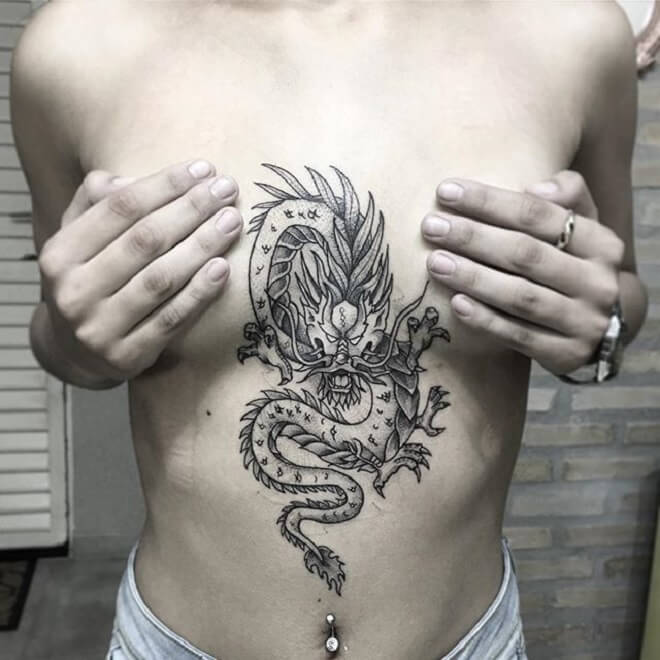 A classic tattoo choice among women is dragon tattoos. That's because these mighty mythical creatures are versatile and hold powerful meanings. So whether you get a traditional Chinese dragon tattoo or a mystical fire-breathing dragon piece, you'll get a gorgeous and meaningful piece. But dragon tattoos by themselves aren't ideal for those looking to get a feminine chest tattoo. Luckily, since they're adaptable designs, you can add different elements like flowers or butterflies to make them more girly.
19. Ram Skull Chest Tattoo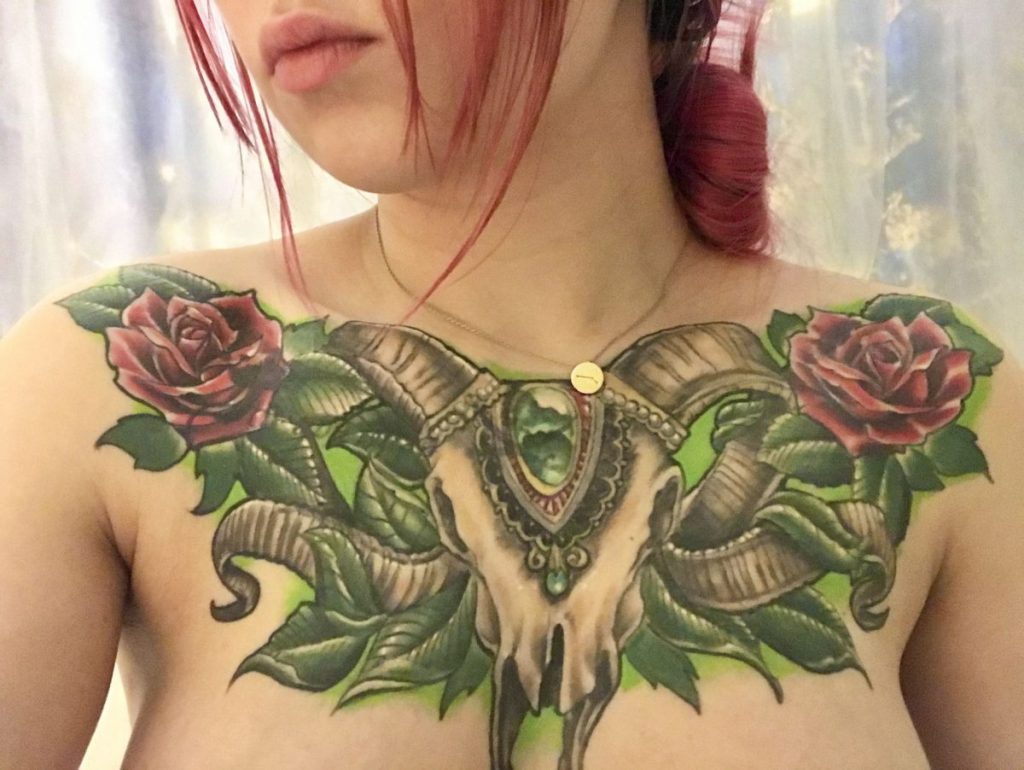 A unique chest tattoo idea perfect for women is a ram skull. This piece can give the wearer a new perspective in life, where you need to struggle to live life to the fullest. You can make the tattoo design more interesting by adding a flowers, or jewels. All in all, it's a motivational piece.
20. Colorful Chest Tattoo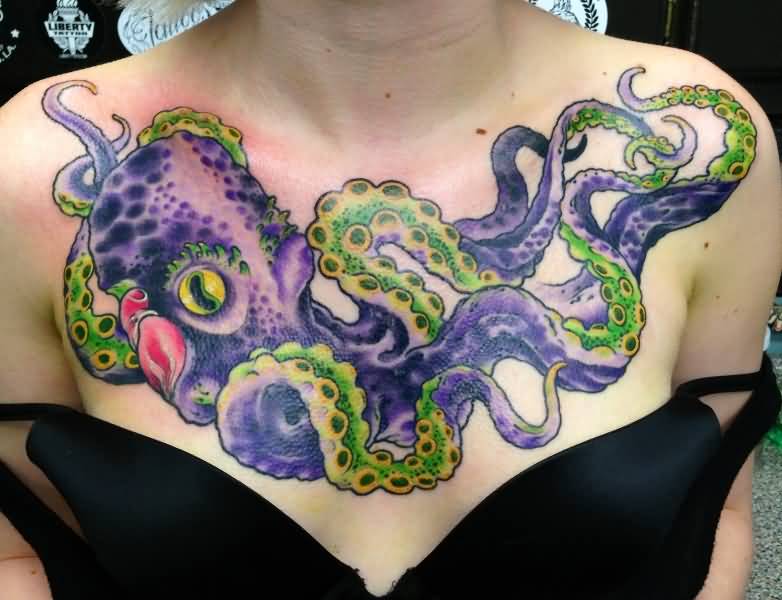 Although most chest tattoo designs tend to be black, why not make it stand out more by adding color? After all, adding different hues to a tattoo design can bring more life to the piece, making it more appealing and meaningful. Regardless of the style you choose, whether it's a flower or dragon, adding colors will make it pop out more. For this reason, a colorful chest tattoo is a perfect choice for women since it can make your ink look more lively.
21. Anchor Chest Tattoo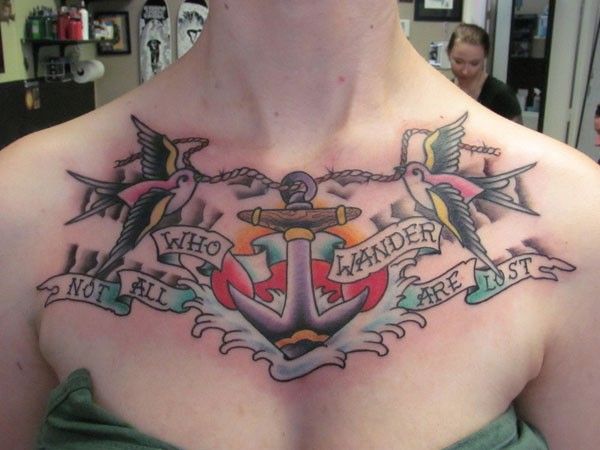 Although anchors are widely considered masculine, they can also be an excellent tattoo choice for women. You can make the piece more feminine by adding different elements, such as roses or any other flower. This unique combination reminds the wearer to always stay calm amidst the issues and trials in life. It's best placed over the side of your chest with the heart muscle remaining anchored no matter the situation. Overall, the unique anchor with roses chest tattoo concept showcases a person's appreciation of what life offers.
22. Unique Chest Tattoo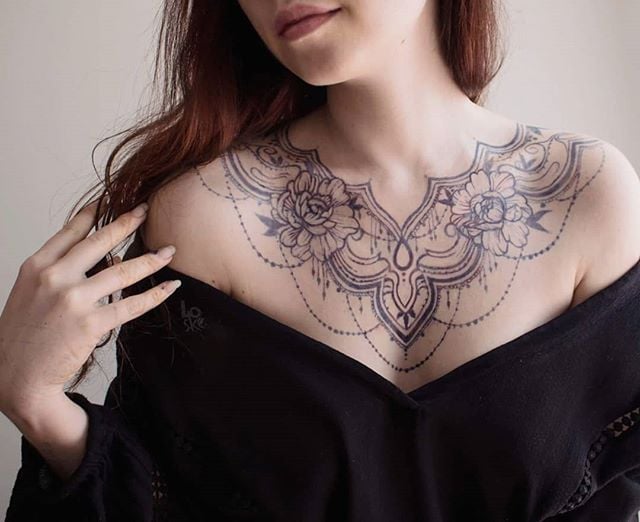 If you consider yourself a great artist or have a fantastic running imagination, why not take advantage of these traits and create a unique chest tattoo? You can make the ink design exclusive to you by personalizing the piece in some ways dear to you, giving it some sentimental value. Although the entire design concept will depend on your preferences, try coming up with one that's tied to your background, heritage, and life.
23. Artsy Chest Tattoo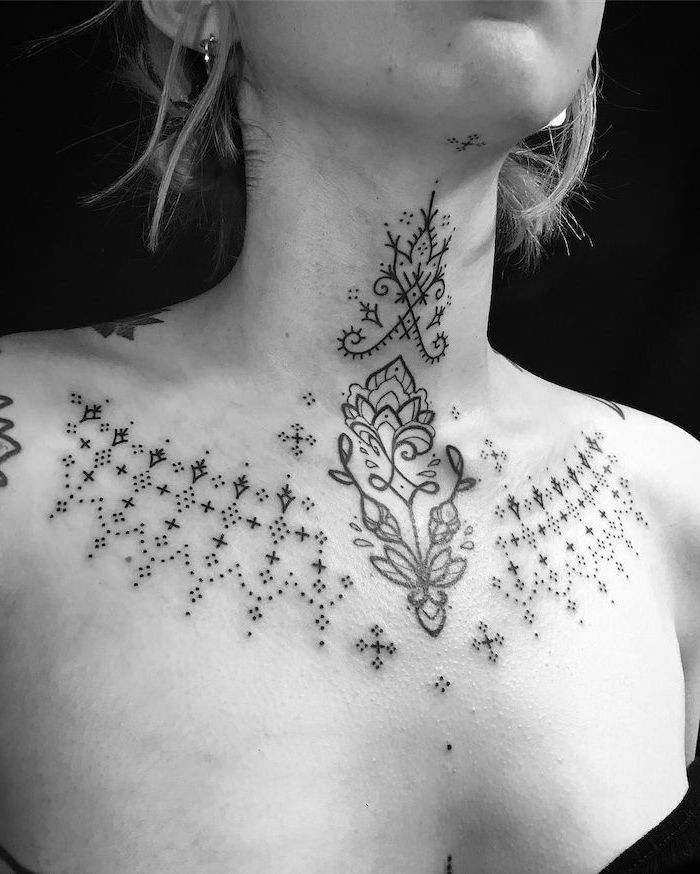 Most people get artsy chest tattoos to express themselves through the form of body art. This tattoo concept is perfect for women as it allows them to explore their creativity. You can either replicate famous paintings on your skin or create your very own masterpiece. Regardless of the style you choose, remember, when selecting an artsy tattoo, add color. That's because different hues can bring any artsy-themed tattoos to life.
24. Sand of Time Chest Tattoo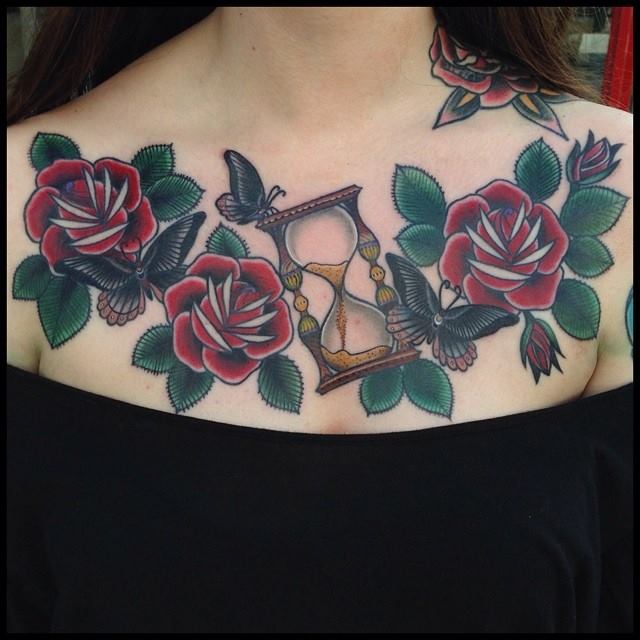 This gorgeous chest tattoo concept usually depicts an hourglass clock. Eagle wings and opulent roses often surround it with the faces of several women. The message here is that as a woman's face fades to decay following the passage of time, they're bound to pass away. It's a meaningful chest tattoo piece that symbolizes the wearer's acceptance of mortality. All in all, the sand of time chest tattoo design gives women a reminder to push through the difficulties and enjoy life. After all, as the wings and roses are still blooming, time continues even after we cease to be.
25. Moon Chest Tattoo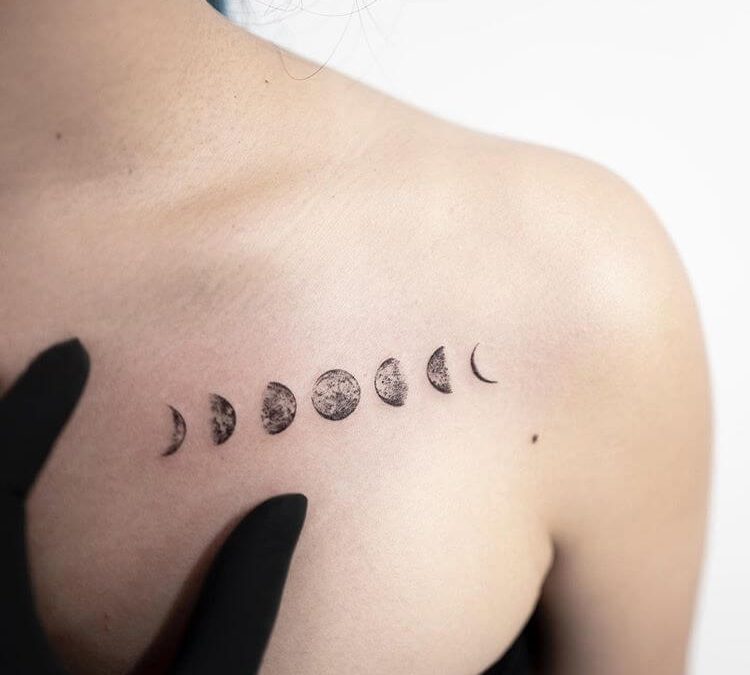 Moon tattoos are a popular design choice among women, thanks to their feminine and mysterious charms. Plus, they can be as simple or complex as you'd like. So whether you want to get a stand-alone moon chest tattoo or one with different elements like stars and the night sky, they're guaranteed to look fantastic. Moon chest tattoos allow you to explore more tattoo concepts and ideas. So be as creative as you want.
26. Geometric Chest Tattoo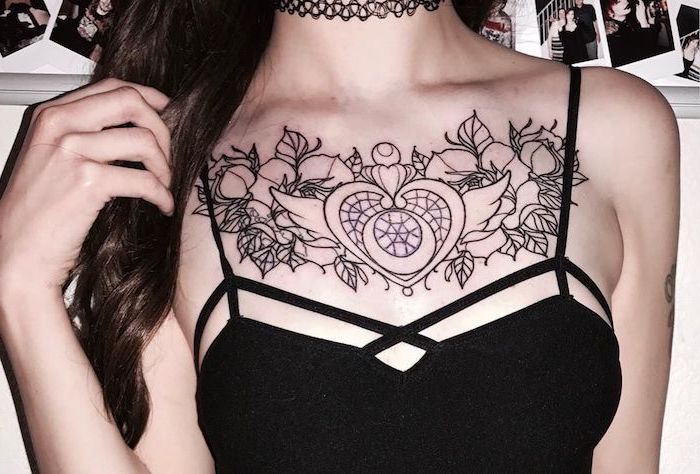 Geometric tattoos are a modern take on body art. They've become popular among women in recent years. That's because there are many styles you can make with a geometric-themed tattoo. So explore your creativity and get the most out of the chest tattoo by expressing yourself abstractly.
27. Delicate Chest Tattoo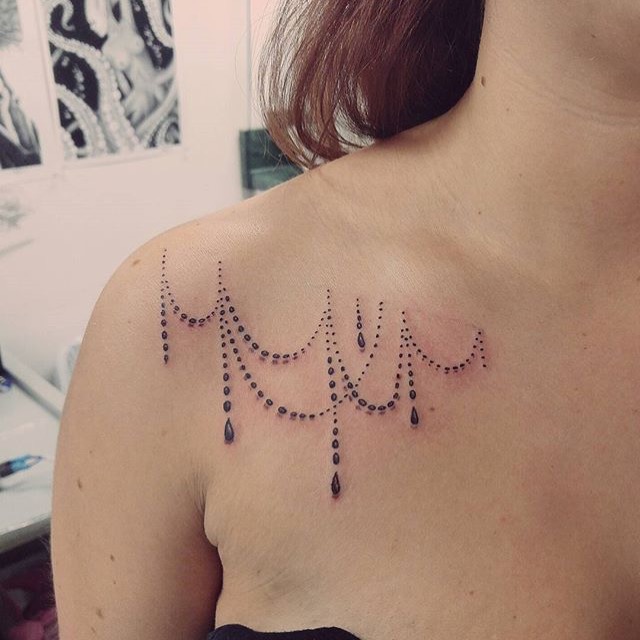 For women who wish to get a classy tattoo, consider getting a delicate chest tattoo. These are often small and dainty tattoo designs such as flowers or butterflies. Ultimately, this concept is perfect for women who want to express their elegance and beauty through art.
28. Gypsy Style Chest Tattoo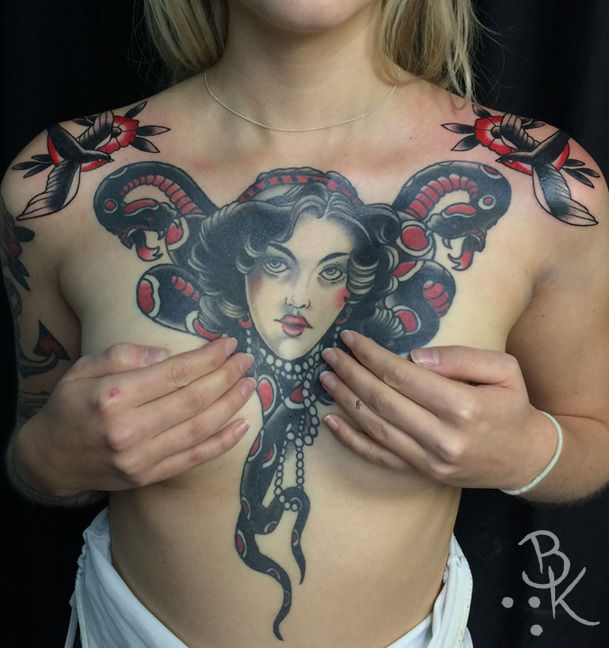 Gypsy-themed designs are a classic favorite among ladies. That's because they're feminine and look fantastic. The best part is that since these tattoos are so intricate, the chest is the perfect placement for it. It gives the artist more area to work with, adding more details to make the piece even more eye-catching than it already is.
29. Mechanical Heart Chest Tattoo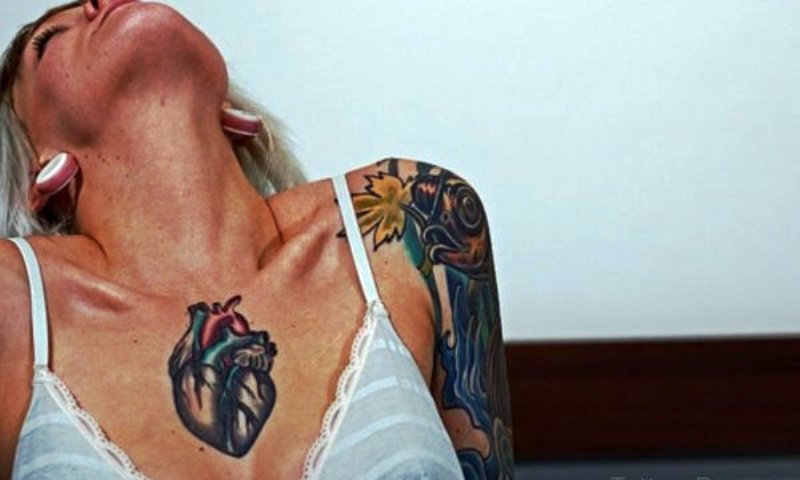 This tattoo concept brings realism amidst the symbolism. It lets you see the inner workings of the heart, reminding everyone that not every day will be well. After all, many consider the human heart to be a machine. But, it's something that can also get broken. It's a great tattoo choice for women looking to show their perseverance in life, overcoming each challenge that comes along their way.
30. Vine Chest Tattoo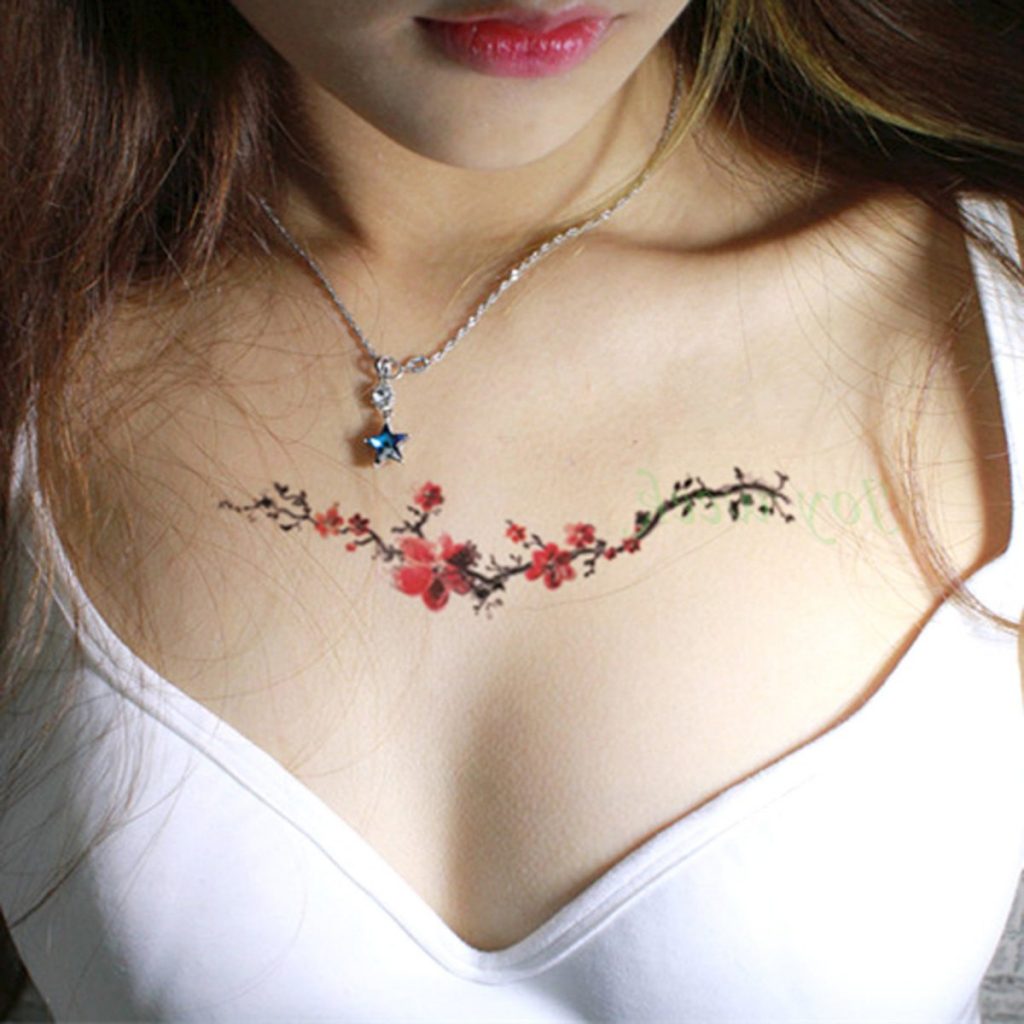 For women who have a special connection to nature, the vine chest tattoo is an excellent choice. These tattoos are simple and stunning, representing one's adoration for the natural world. Vine chest tattoos are best to have across your collarbone down to your chest.
31. Heart and Dagger Chest Tattoo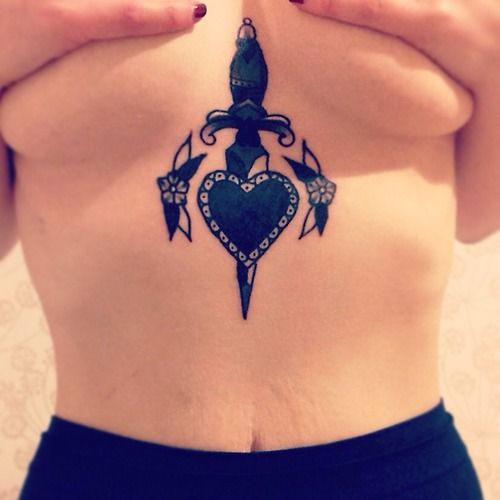 A heart and dagger chest tattoo consists of a dagger impaled inside a heart. It usually implies a love painfully lost or betrayal. After all, the heart is the universal symbol of love. Overall, a heart and dagger chest tattoo would be a good choice for a woman who has persevered despite heartaches.
32. Theatre Chest Tattoo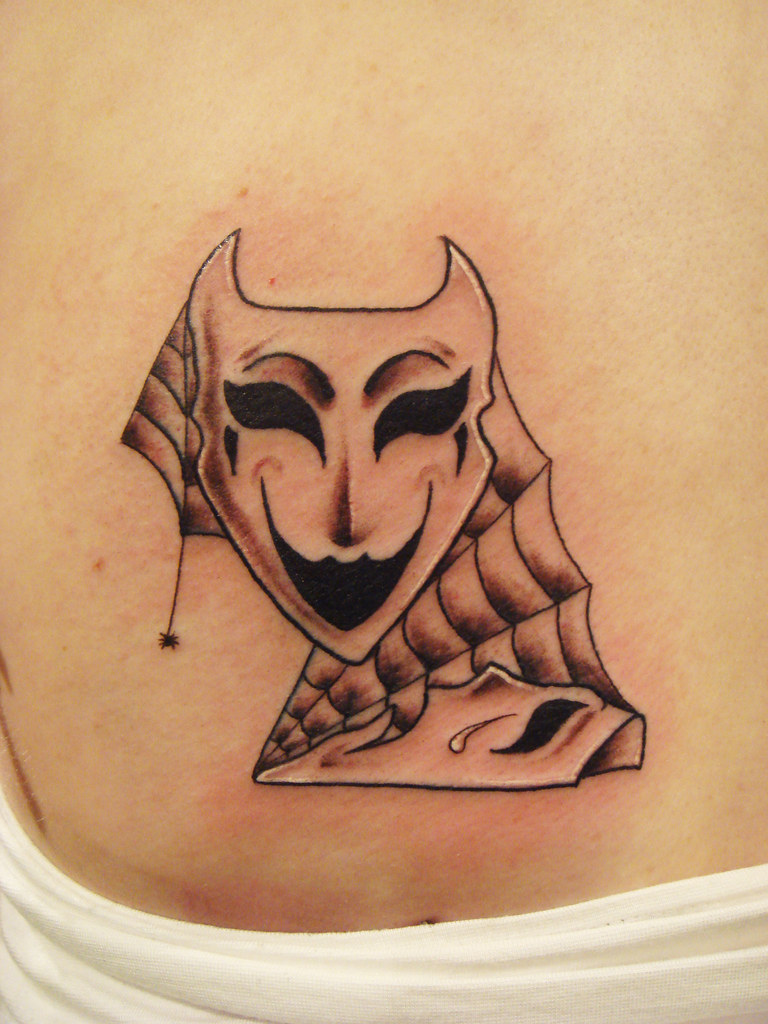 There are several elements you can add to this piece. For example, theatre masks are a common choice, representing the beauty of theatre art. If you consider yourself a bit of an actress or love the theatre in general, getting a theatre-themed chest tattoo would be perfect for you.
33. Shoulder to Chest Tattoo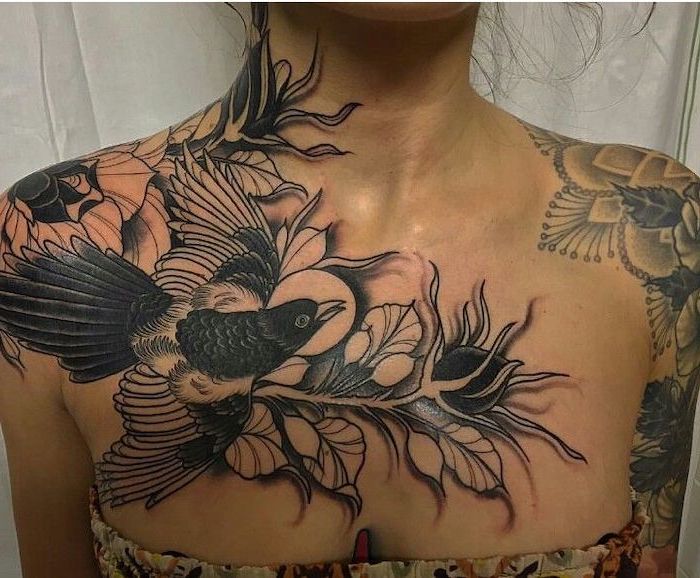 If you're looking to make your chest tattoo more interesting, expand the inking to your shoulders. After all, getting symmetrical tattoos on your body would look fantastic. The best part about this is that you can have any tattoo designs you want. That's because the broad space between the chest and shoulders is plentiful enough. You can get something as simple as flower tattoos to two intertwining snakes around your shoulders.
34. Complex Under Chest Tattoo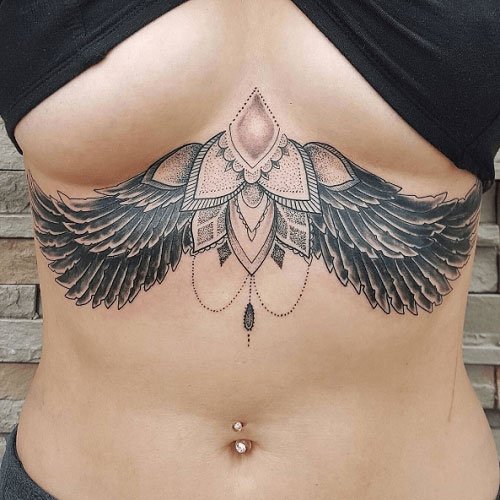 Detailed and complex tattoos look best under the chest. It emphasizes your bust while allowing you to express yourself through art. Overall, it can make any woman look more appealing, unique, and fun! But you'll need to be strong-willed to handle this one.
35. Stomach to Chest Tattoo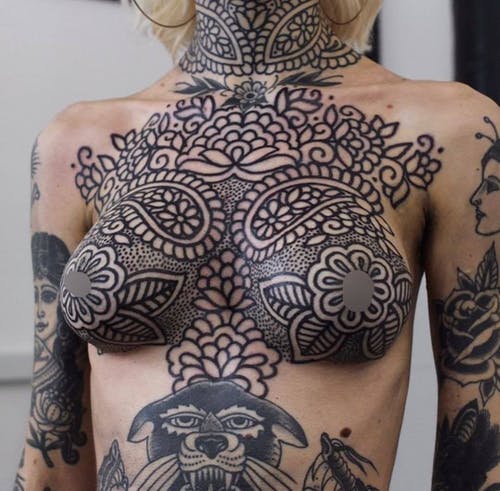 If you want a tattoo that's elaborate and detailed but don't want it to be as visible, consider getting a tattoo that begins at your chest creeping down to your stomach. It offers the tattoo plenty of space. Usually, the main attraction of the tattoo will sit on the abdomen while the chest provides a sneak peek to outsiders. For this placement, henna patterns and flowers are popular designs.
36. Sternum to Chest Tattoo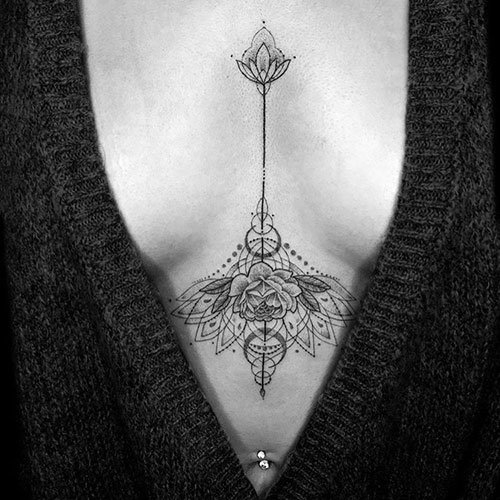 For women looking to get a more attention-grabbing chest tattoo, consider expanding to your sternum. This tattoo design starts on the chest and will work its way down to your sternum. Hence, giving you a generally longer tattoo. It's the best placement if you're looking to get a tattoo of something long, like an arrow or a spear.
37. Simple Chest Tattoo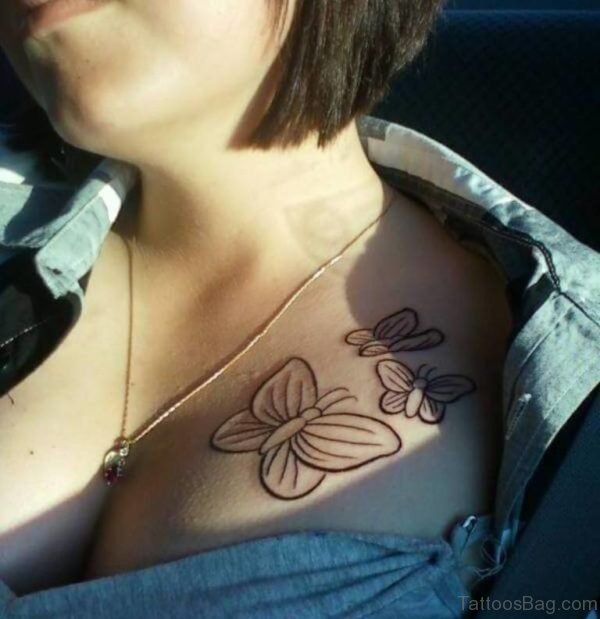 If you're getting your first tattoo on the chest, it's best to keep things simple. A simple chest tattoo comes in many forms. These include heart, stars, or subtle gypsy design. Whichever design and style you choose, you don't have to get anything too complex. Overall, simple chest tattoos are perfect for laidback ladies.
38. Rising Phoenix Chest Tattoo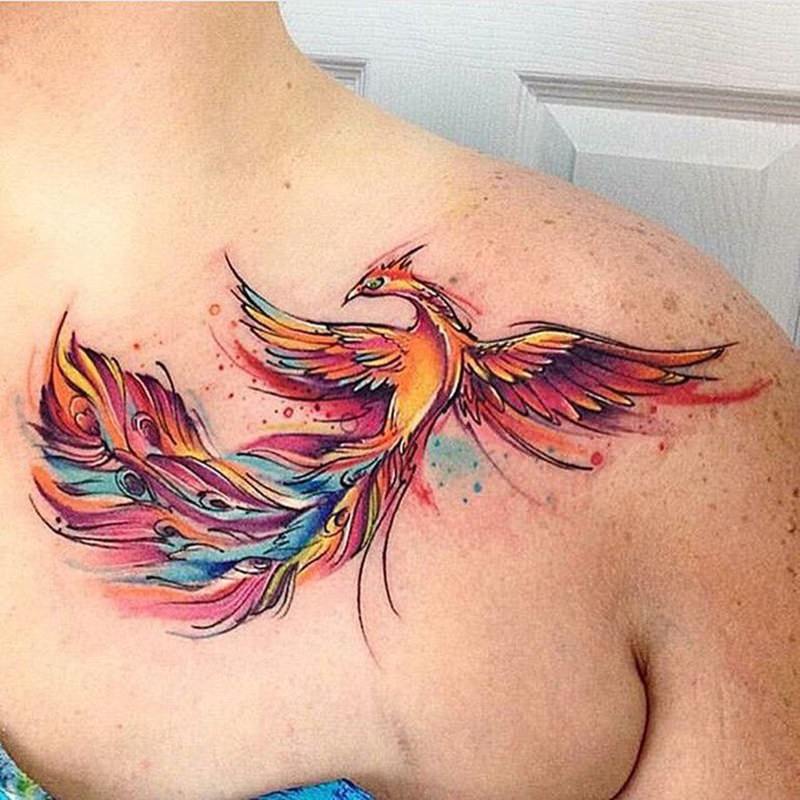 The phoenix is a mythical bird used as ink inspiration among women for a long time. That's because the bird is known to symbolize rebirth or reincarnation. As a result, many women get a rising phoenix tattoo to signify their rise after a defeat. Additionally, the best placement for this tattoo design is the chest, as it gives more space for the artist to add more details.
39. Script Chest Tattoo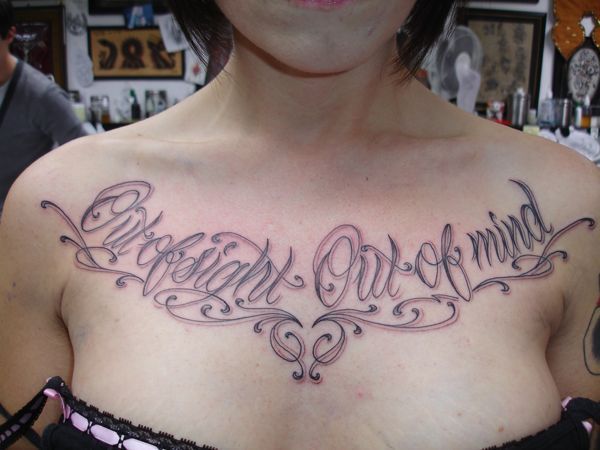 Getting a piece of script valuable to you in a delicate font would make for a great chest tattoo. It would especially look fantastic when placed under the collar bone. That's because the bone structure in the area emphasizes the script. You don't have to go all out when getting a script chest tattoo. A single word with a lot of sentimental meaning to you would be the best choice.
40. Memorial Chest Tattoo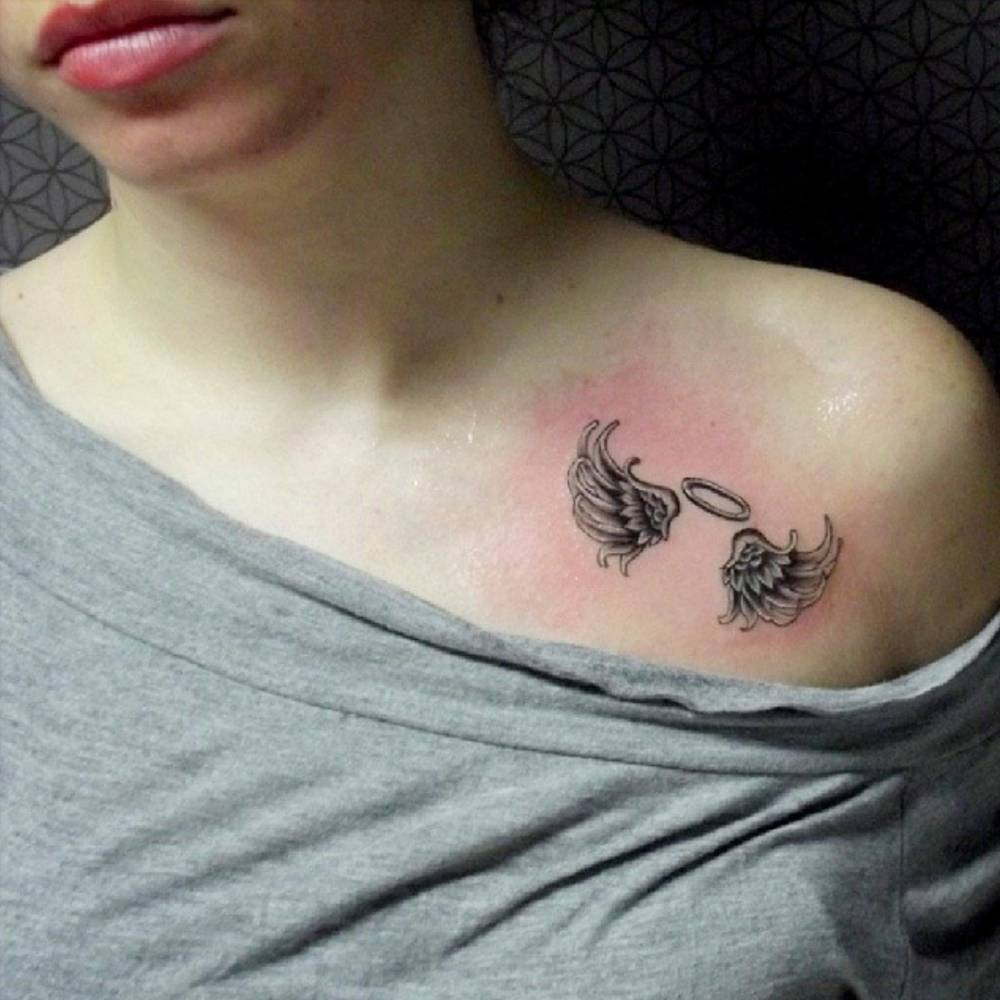 If you've recently lost a loved one or pet, immortalize them by getting a memorial chest tattoo. Whether you're getting a name or a particular date, make sure to put thought into the font style and size of the tattoo. After all, it's a sentimental piece, so ensure it reflects the relationship you had.
41. Steampunk Chest Tattoo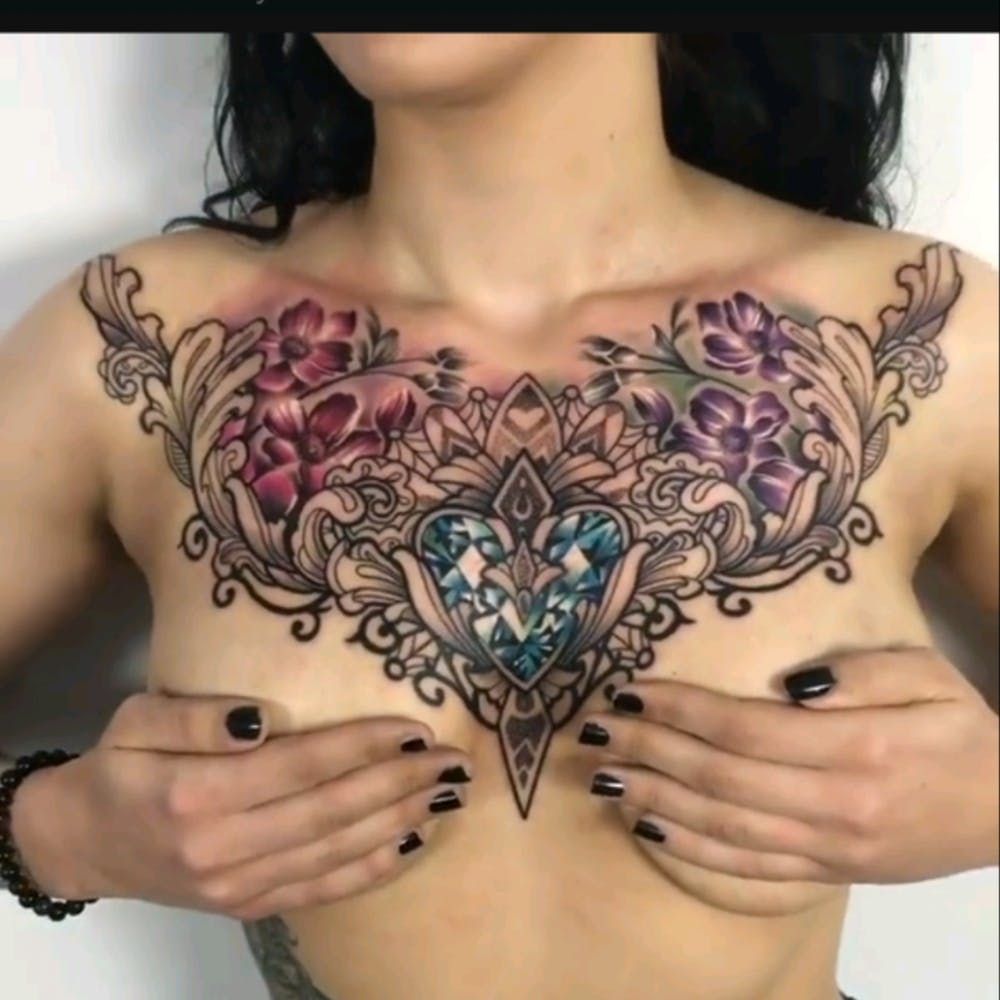 If you love machines and tinkering, consider getting a steampunk-themed chest tattoo. It's best to get this design in a 3D style since it'll make it photorealistic. There are many steampunk tattoos you can incorporate into your chest. But a popular centerpiece for these designs is a clock. Then women would add valuable items around the clock, reminding the wearer to always appreciate those important to her. After all, all things must come to an end.
42. Script and Tribal Chest Tattoo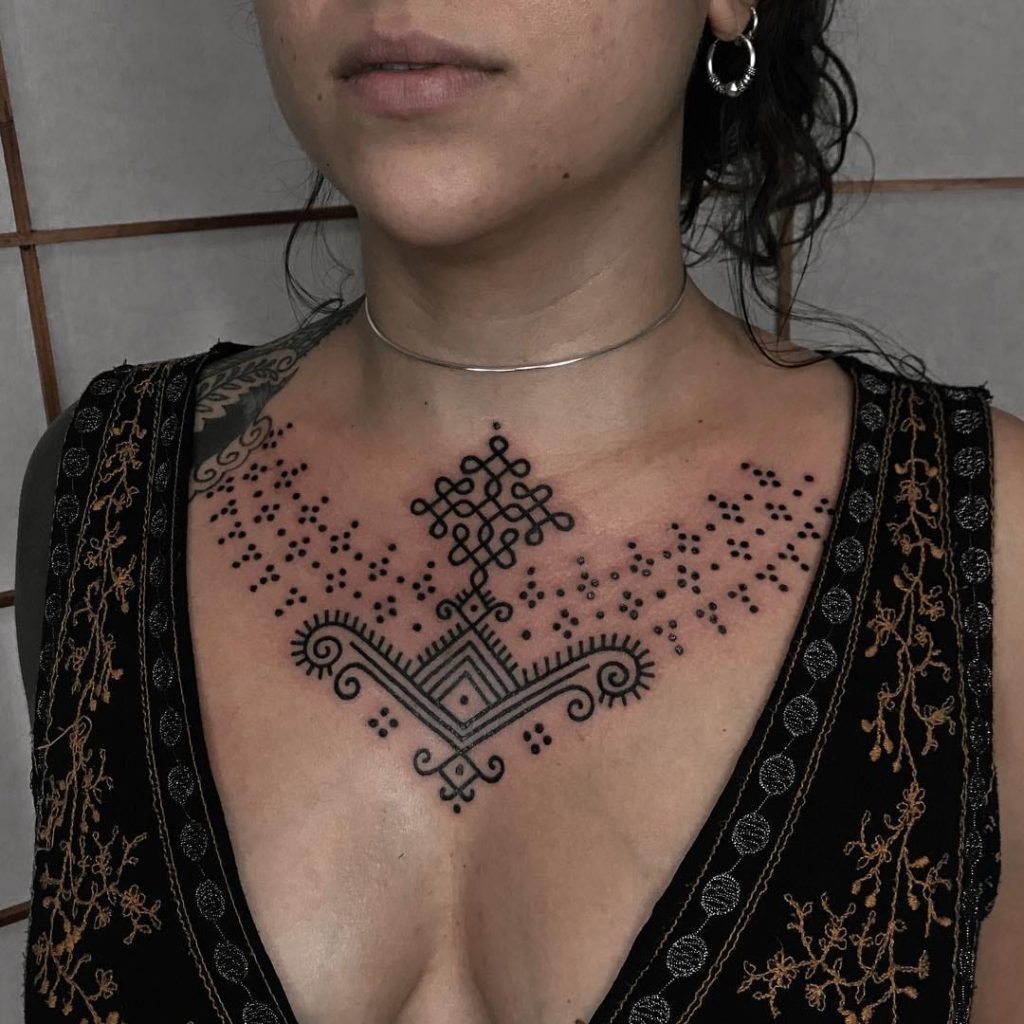 If you're looking for something different, consider a script and tribal chest tattoo. It's a unique tattoo concept for powerful women. The combination of the flowing script against the intricate lines of tribal tattoos makes for a great piece. Overall, it serves as a reminder of the balance of strength and peace.
43. Snake Chest Tattoo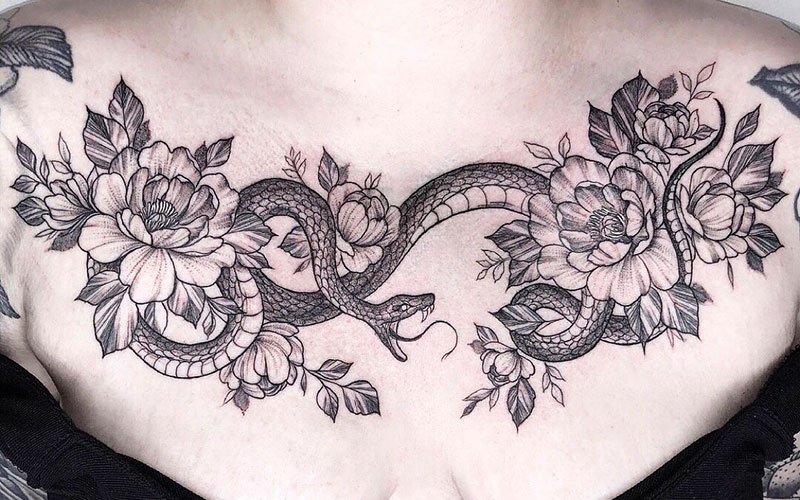 Snake tattoos are famous among mysterious, secretive, and strong women. These can be as simple as black and filled-in outlines. But for a chest tattoo, it's best to get a snake tattoo that's as detailed as possible. The artist should be able to show the reptile's scales and other details with ease. But whatever your choice is, let it showcase your artistic style.
44. Feather Chest Tattoo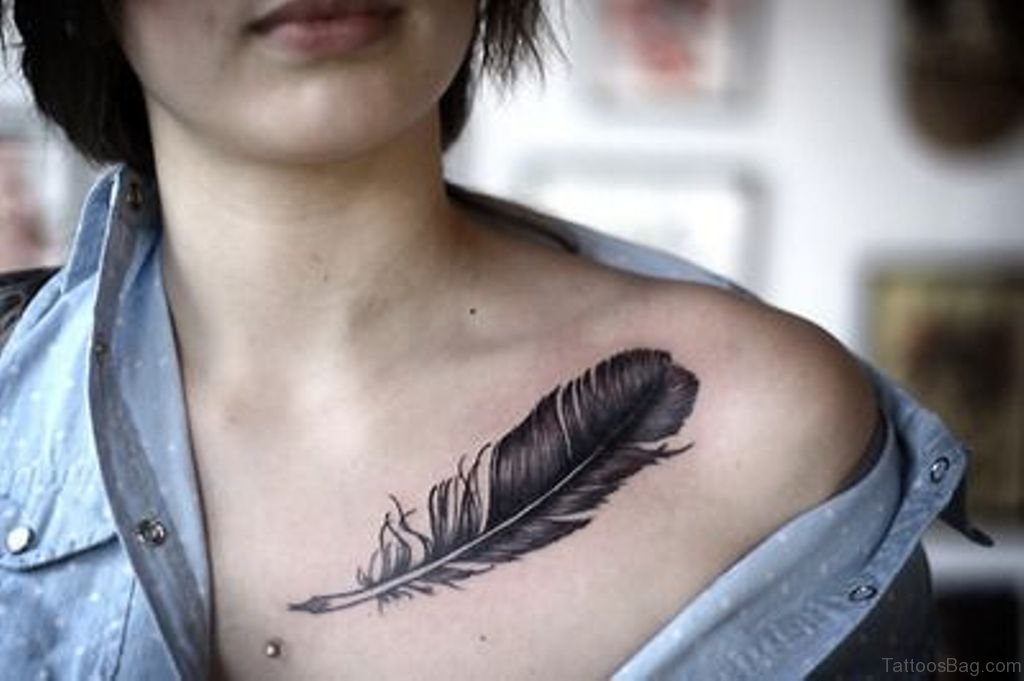 Feather tattoos are popular among women. That's because they're whimsical and hold a lot of meaning. Although all feathers look good as a tattoo, the most popular feather design is a black feather transforming into a small bird. It showcases the message of transformation. For this reason, it's a perfect chest tattoo for women looking to embrace a fresh new start. Alternatively, you can opt to get a peacock or quill feather. These are popular choices as well due to their vibrancy and impact.
45. Dandelion Chest Tattoo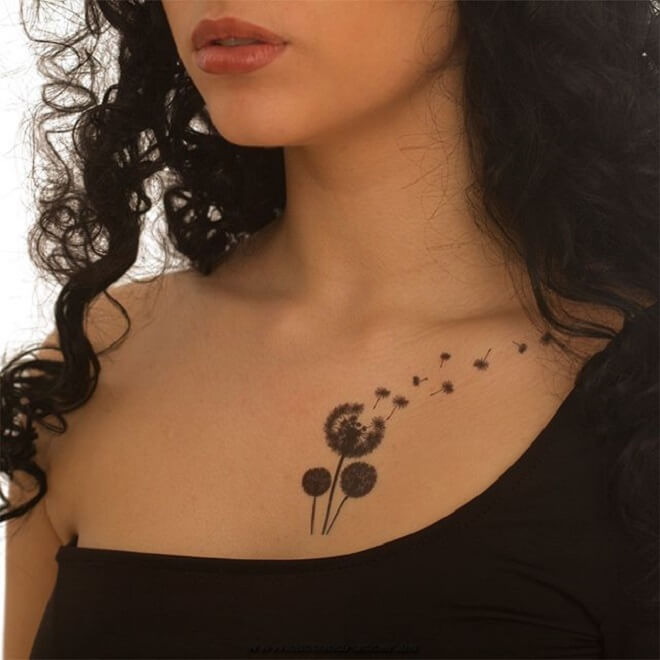 Dandelions are popular tattoo designs for women since they're feminine and sweet. Artists can draw these flowers as subtle or as bold as the wearer would like. Because of its intricate appearance, the most popular placement for these tattoos is the chest. Specific places include under the collarbone or across it toward the shoulder, working its way to the chest. It's a perfect tattoo concept for women looking for a memorable and eye-catching piece.
46. Compass Chest Tattoo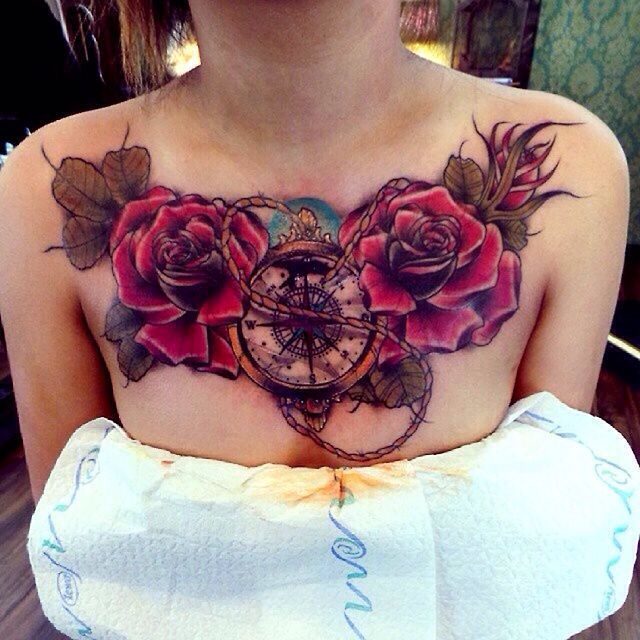 The compass is all about directions. That's why if you're looking to get an inspirational piece to remind you always to go the right direction, consider getting a compass chest tattoo. It's a popular tattoo design among women who travel often and love adventure! But different compasses tend to have various interpretations. That's why before getting a compass chest tattoo, see which style resonates the most with you.
47. Angel Wings Chest Tattoo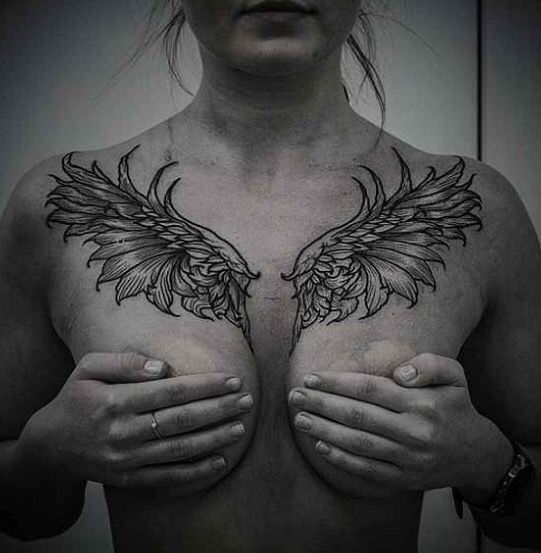 Although angel wings tattoos are a popular option for back tattoos for women, they look as good on the front. The best part about this design is its many variations, allowing women to express themselves through art. So think about whether you want elaborated angel wings covering your entire chest. Or a smaller one just below your collarbone.
48. Contemporary Rose Chest Tattoo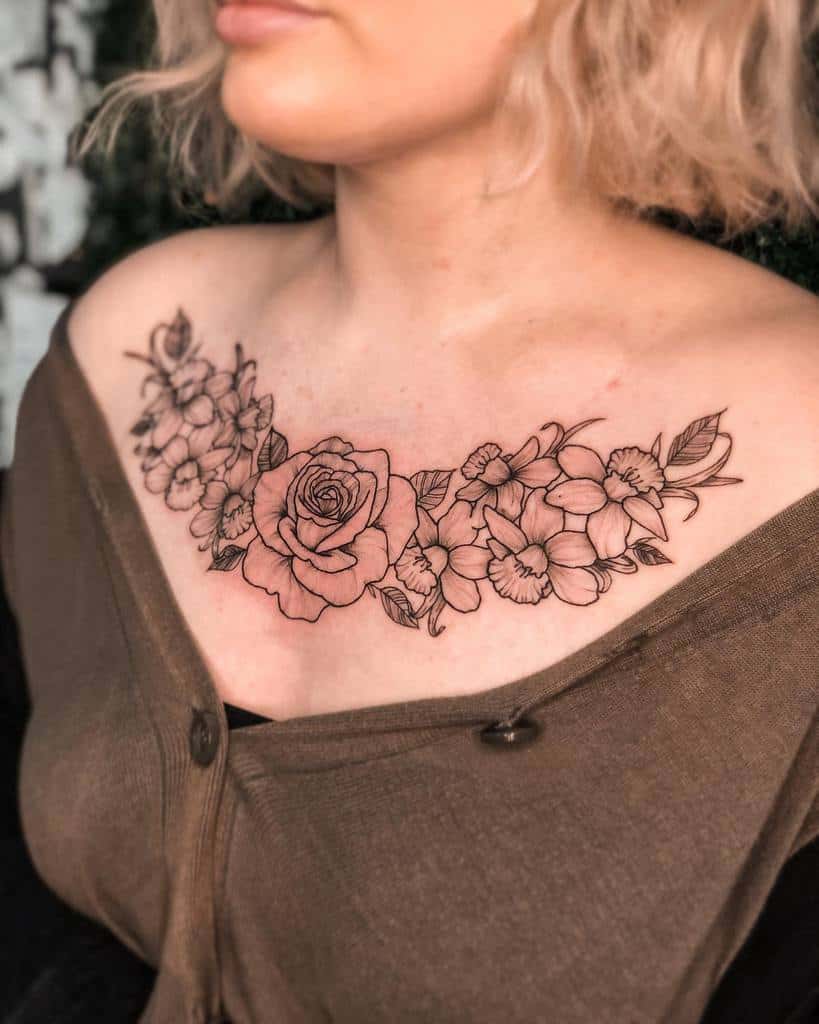 For a unique take on rose tattoos, consider getting a modern-styled one. These designs usually consist of the design's outlines. Because of its simple appearance, an outlined rose tattoo would look best on the chest area. But if you choose to get a small rose and stem, the sternum or along your collarbone is the best area. Overall, it's a perfect chest tattoo concept for women, thanks to their simplicity, beauty, and grace.
49. Cross Under the Chest Tattoo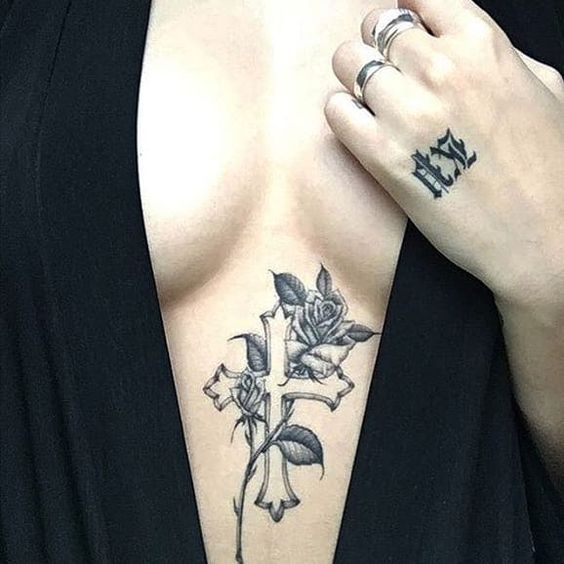 For faithful or religious women, consider getting a holy cross under the chest tattoo. There are several cross tattoo designs to choose from, but whichever style you pick, the chest is the best placement. That's because it's close to your heart, making the chest tattoo extra symbolic.
50. Arrow Chest Tattoo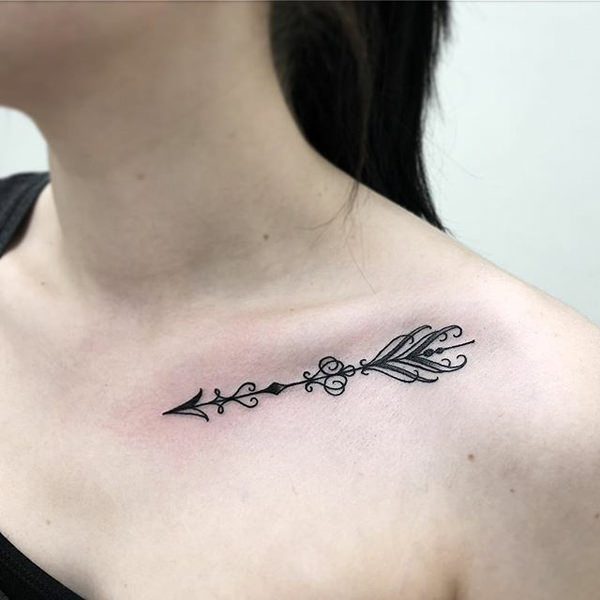 Arrows are popular symbols among women, especially when it comes to hand or ankle tattoos. But they also look good on the chest. The best part is that you can have the tattoo as small and simple or as long and complex due to the chest's broader space. If you choose something extensive and detailed, the sternum is the best placement for your arrow chest tattoo. Meanwhile, for smaller pieces, let them sit under your collarbone.
51. Skeletal Hands Chest Tattoo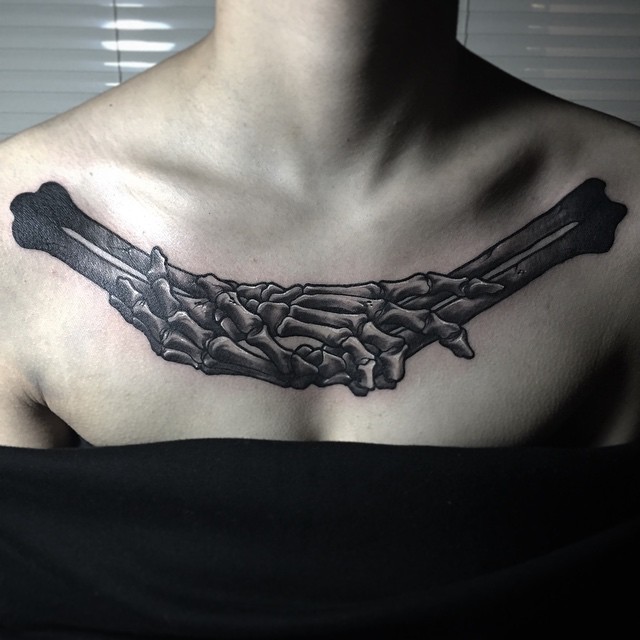 Skeletal hands are some of the most distinctive chest tattoo concepts. But they're surprisingly a popular choice among sophisticated women. You can choose from different variations, ranging from praying hands to the karma hand symbol. Either way, a hands chest tattoo is a perfect choice for women looking to express their faith and beliefs.
52. Skull Chest Tattoo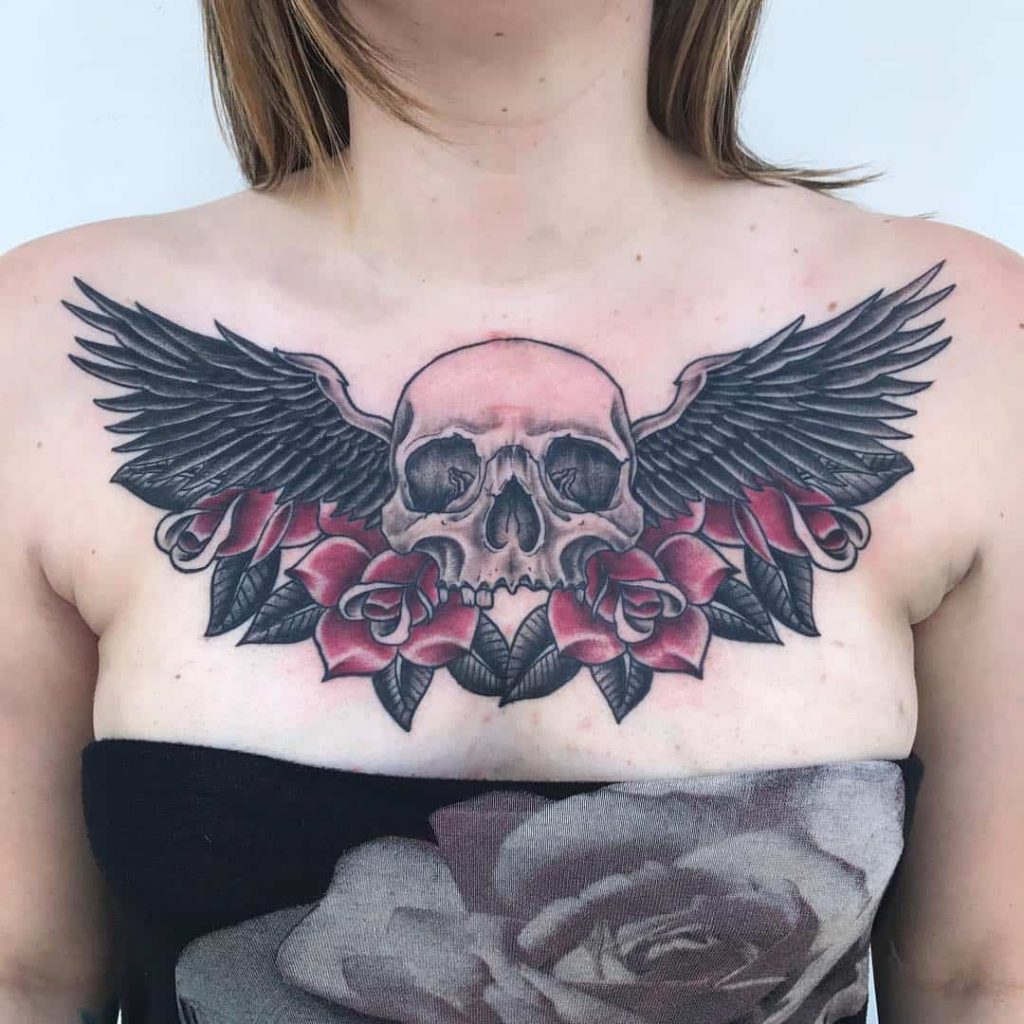 Skulls are among the most common elements in chest tattoos. That's because, with skulls, you have the option of covering your chest with a large and intimidating design. On the other hand, you can also opt for a lighthearted sugar skull. The best areas for skull tattoos on the chest include the side of your upper chest for smaller tattoos and under the chest for more extensive tattoos.
53. Animal Skull Chest Tattoo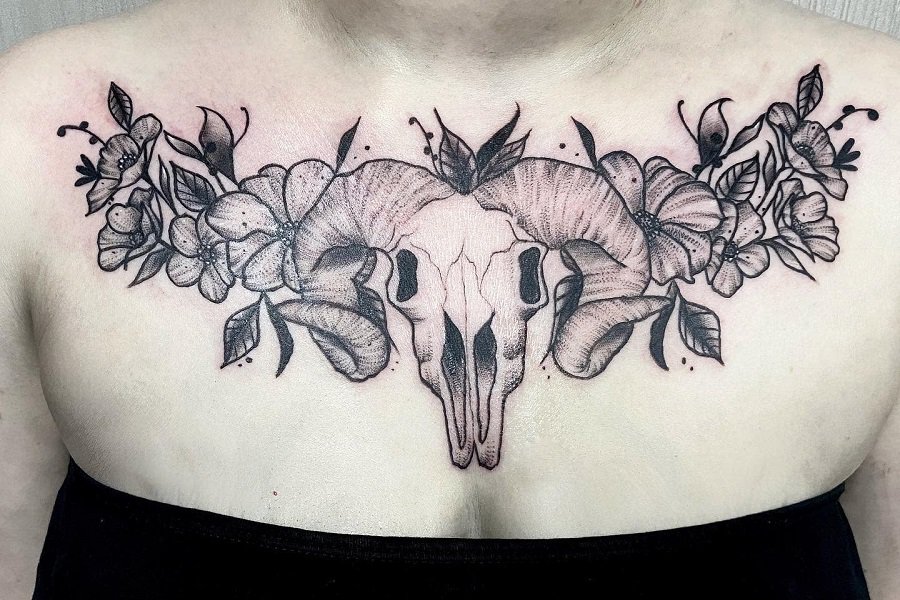 For gothic women or those who prefer the gothic lifestyle, consider getting an animal skull chest tattoo. Each animal skull has its unique meaning, making it a versatile design. For this reason, you can be as creative as you like when getting an animal skull chest tattoo.
54. Moon Cycle Chest Tattoo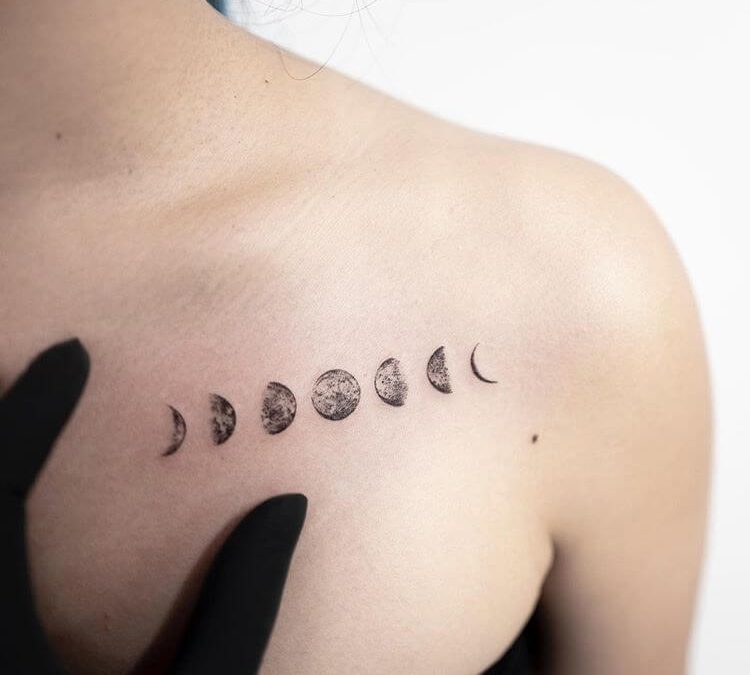 If you consider yourself spiritual or like the moon, why not try getting a moon cycle chest tattoo. The tattoo represents life cycles, showing off that no matter what happens, you should always stick to your true self and embrace yourself fully! Besides being meaningful, a moon cycle tattoo looks stunning, making it a perfect piece for ladies.
55. Lightning Bolt Chest Tattoo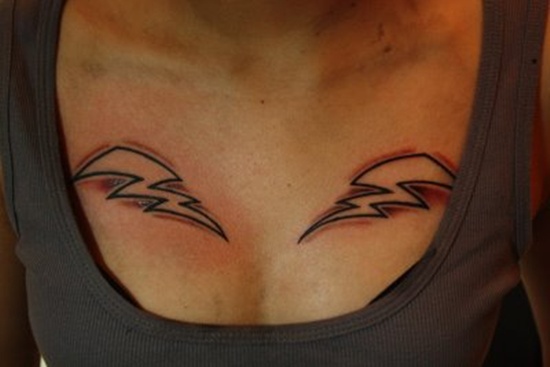 If you're looking to get a small chest tattoo, something as simple as a lightning bolt will do. This simple design showcases your neverending energy and spark. It's the perfect tattoo design for daring and bubbly women.
56. Spirit Animal Chest Tattoo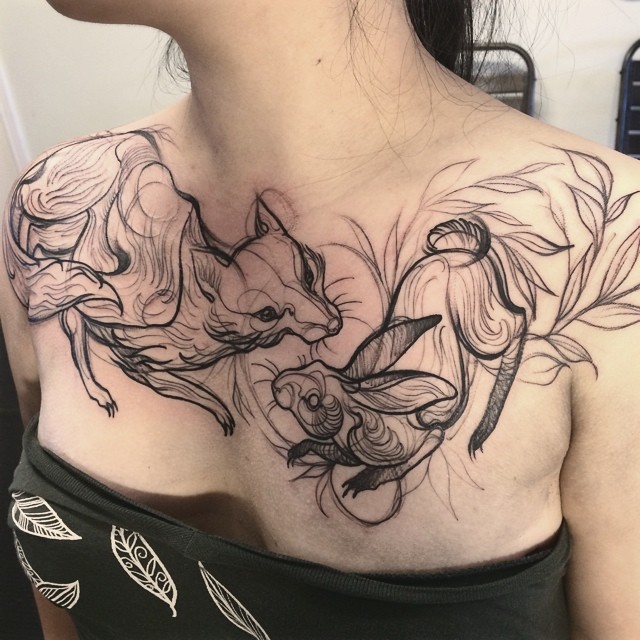 For women who think they have an unbreakable connection and bond toward a spirit animal, honor them by getting them inked on your body. These tattoos can look anywhere between adorable and badass, depending on your spirit animal and tattoo style. The best part is that since each person has a different spirit animal, you can make the chest tattoo unique to you.
57. Scorpion Chest Tattoo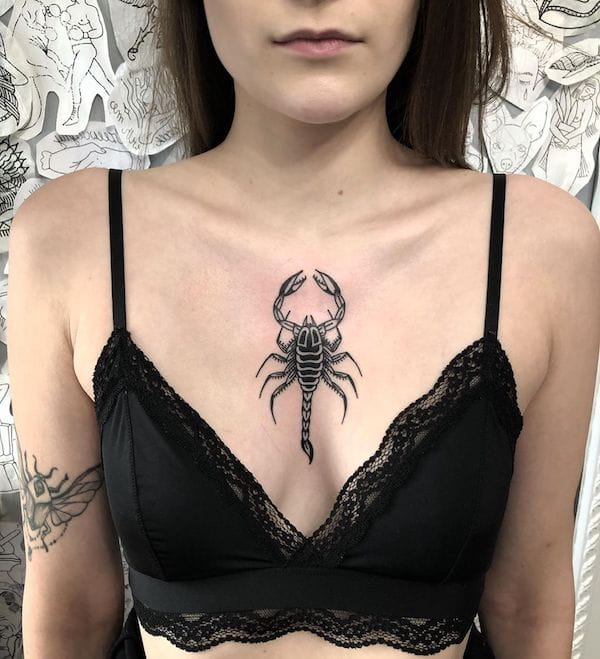 Scorpions are fierce insects. For this reason, this insect is the perfect chest tattoo design for women sharing the same traits. When it comes to placement, it's best to put the scorpion on the center of your chest.
58. Semicolon Chest Tattoo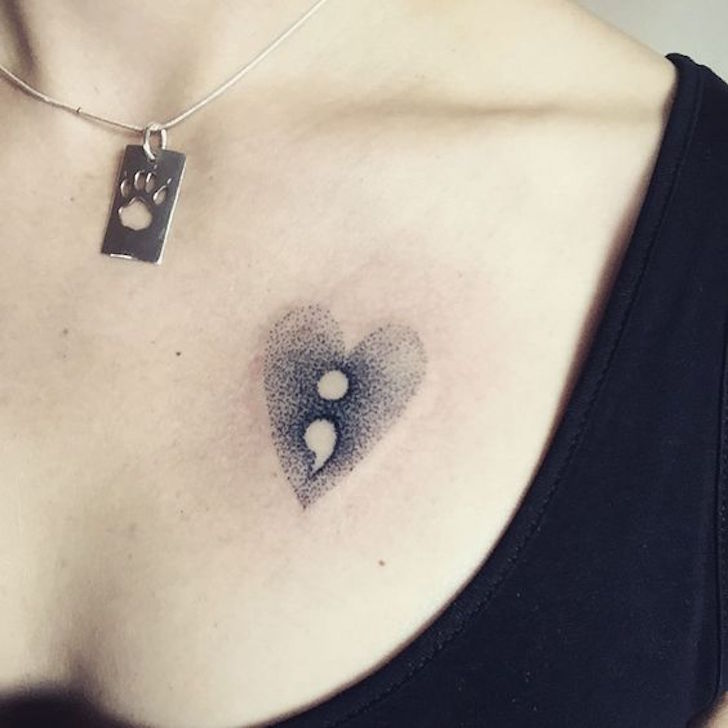 Semicolon tattoos are popular among women since they're sentimental pieces. Plus, they're often used amongst the prevention suicide community. Although semicolon tattoos are usually placed on smaller areas like behind the ear or the wrists, they'd look as good on your chest. Getting a semicolon chest tattoo allows you to wear it with pride, showcasing that you're a fighter!
59. Chakra Chest Tattoo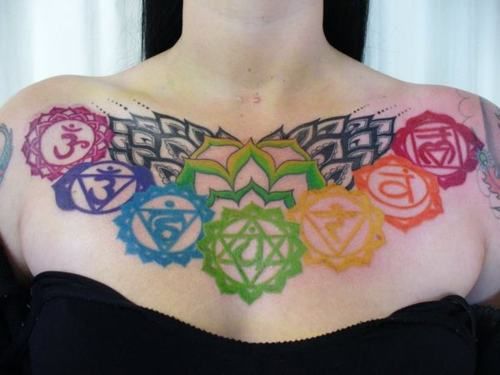 A person's Chakra consists of seven circular vortexes. Each one has a different meaning. 'Chakra' is often used in the spiritual community, resonating deeply with individuals who embrace their spirituality. Due to the many symbols of Chakra, the best area for it is between your chest and stomach. If this is you, consider getting a Chakra chest tattoo to showcase your beliefs through body art.
60. Insect Under the Chest Tattoo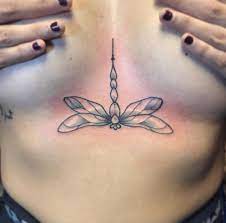 Insect tattoos look fantastic when they're elaborate and highly detailed. They're a popular choice among women since they look exotic and fun. Although you can get an insect under the chest tattoo in full color, they're best in traditional black ink.
FAQ
Can Women Get Chest Tattoos?
Chest tattoos are great pieces if you're looking to showcase your tattoo when you want to. For this reason, chest tattoos have become popular among women. So, yes, women can get chest tattoos. The most popular area for ladies is under the chest and sternum. 
What Does It Mean When Women Have a Chest Tattoo?
Chest tattoos can have different meanings, depending on their design. For instance, a simple chest tattoo can be sentimental, like a loved one's name. Meanwhile, larger chest tattoos can represent something important to the wearer. 
How Painful Are Chest Tattoos?
Chest tattoos have become more popular among women in recent years, but how painful are they? Chest tattoos are generally painful since the area has relatively thin skin. But if you have ample body fat or muscle in the place, it shouldn't hurt too much. 
What Do Chest Tattoos Symbolize?
Chest tattoos symbolize ink lovers brave enough to go through a painful session. But, for the location, chest tattoos are often associated with boldness and strength. After all, the chest is forward and visible. Additionally, the design can add more to the piece, making it unique to yo
You May Also Like