Picking out a tattoo can be a difficult decision, but when you are in a relationship, it can be even harder. You want to make sure that your tattoo is something that both of you will love and be proud to show off. Our collection of matching couple tattoo ideas will have something for every couple in here. Whether you are looking for simple designs or something more complex, these tattoos will definitely stand out.
1. Love Couple Tattoos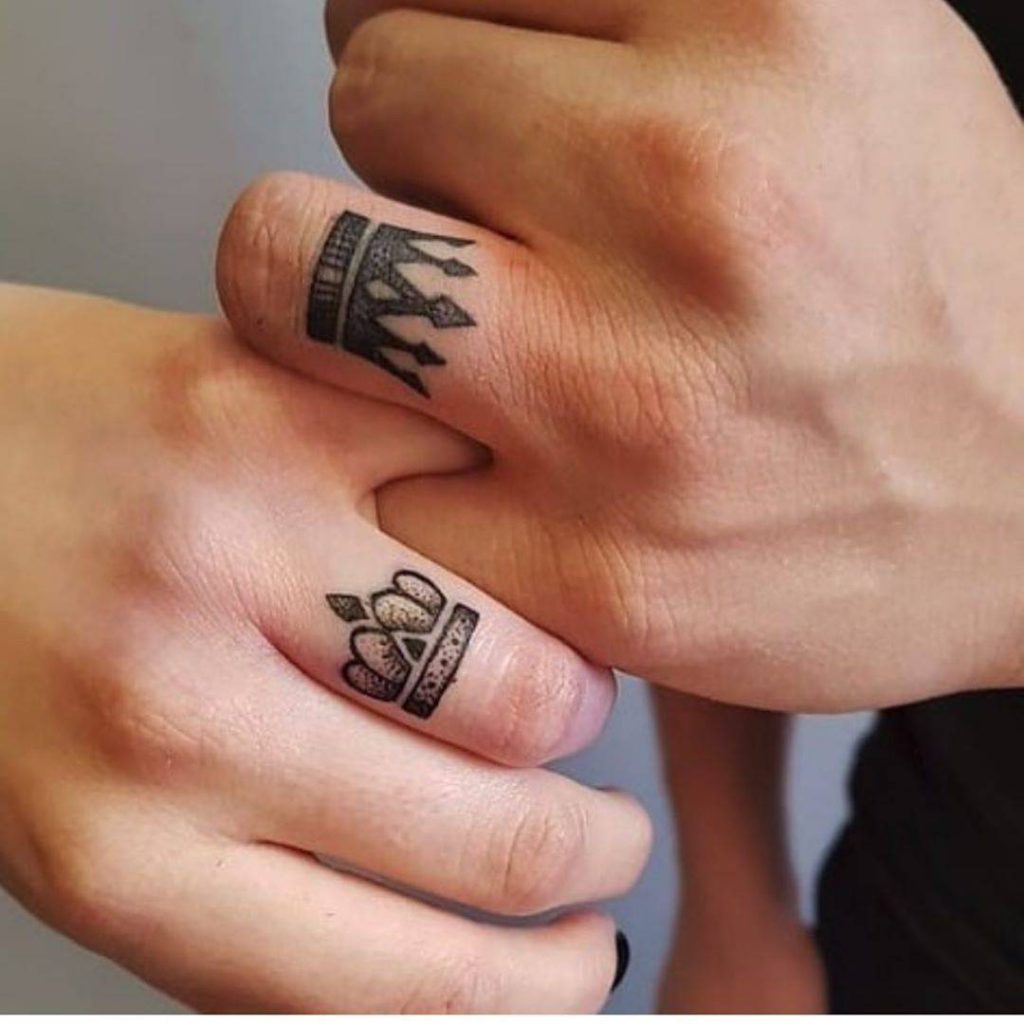 Some of the most famous couple tattoos are the word "love" and heart. If you are a romantic couple, wearing the love couple tattoo is similar to wearing your heart on your sleeves. This tattoo design cannot be misinterpreted because it is bold, simple, and direct. For these reasons, this tattoo design has been around for so long, and couples will still get them because they are iconic.
2. Marriage Couple Tattoos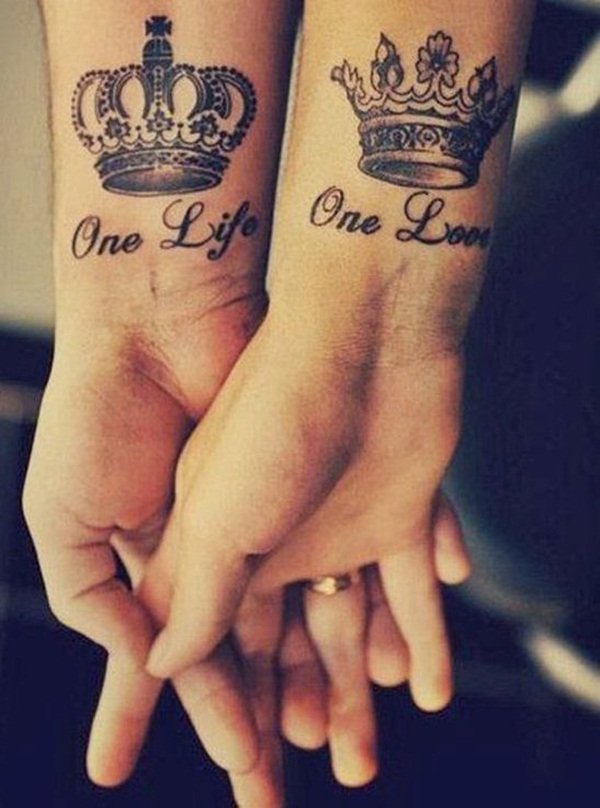 Traditionally, couples wear wedding rings to show that they are married. But younger couples today are exploring the beauty of wearing marriage tattoos. It is more permanent than jewelry and can be adapted to any design. This couple tattoo is perfect for those who do not wear rings or can't have the wedding band for safety reasons. It serves as a permanent and visual reminder of your commitment to one another.
3. Minimalist Couple Tattoo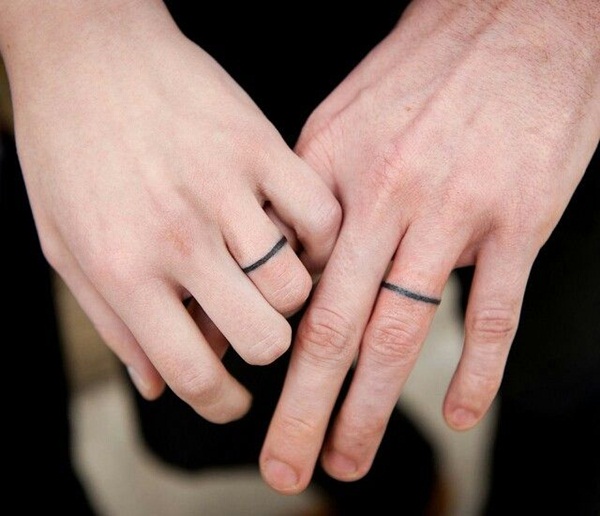 Minimalist and short couple tattoos are ideal for couples who are not into details and intricacies. Something subtle like the classic x and o symbols easily conveys that you are a couple and you are in love. There is no need for complicated patterns or quotes because you understand each other very well.
4. Meaningful Couple Tattoos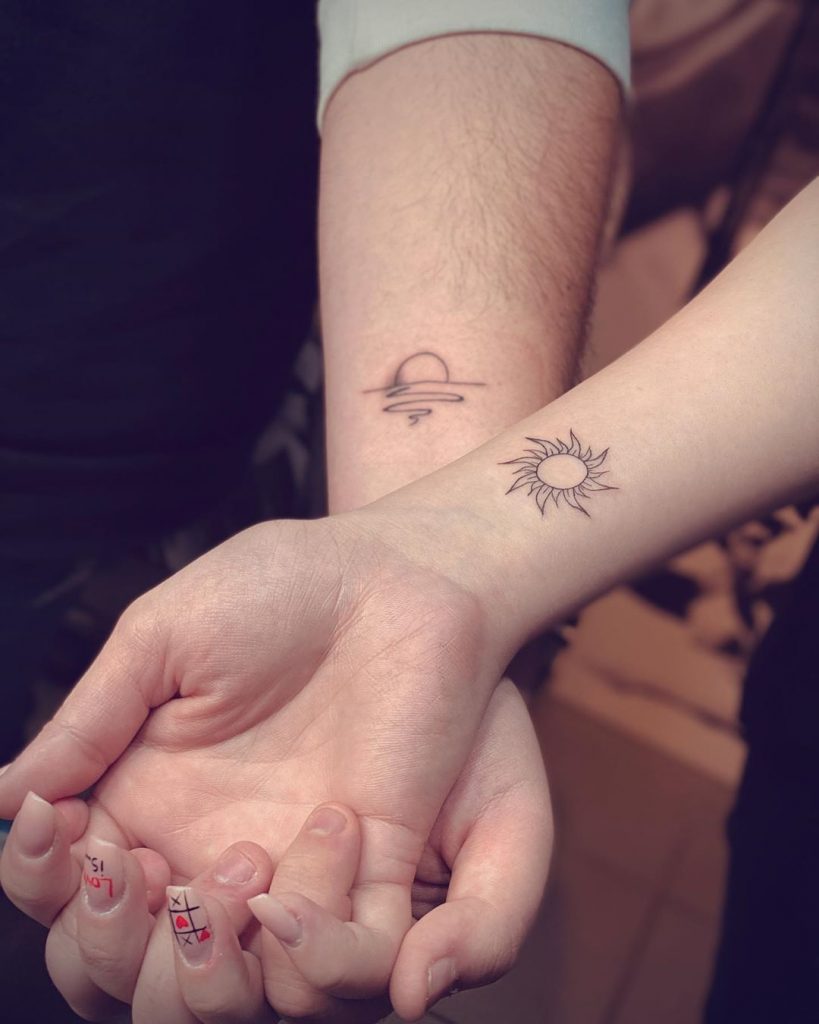 The meaning attached to tattoo designs is quite personal to the wearer. Some couples choose an abstract image that best represents how they feel or their relationship. An example of this is a set of coordinates – it can be where you met or fell in love. Meaningful couple tattoos can be your shared secret that only the two of you understand.
5. Matching Couple Tattoos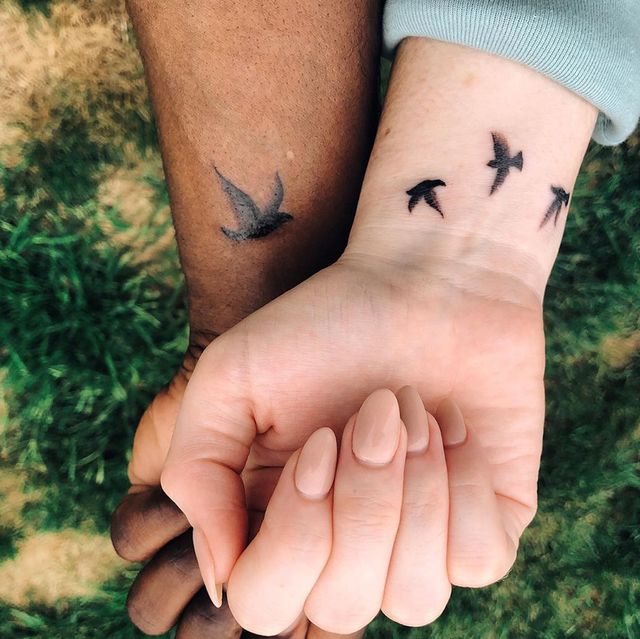 A matching couple tattoo is a perfect choice for you if you want to celebrate your beautiful connection with your partner. It means that both of you have the same tattoo, which links you to life. It can be a special symbol, word, initials, memorable date, or an inside joke that you share. Matching tattoos are a prevalent choice for couples and soulmates.
6. Infinity Tattoo for Couples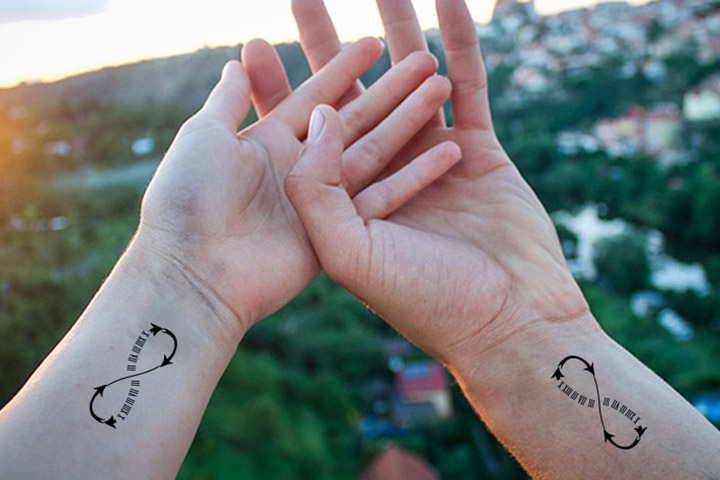 The symbol of infinity features a never-ending loop that has no beginning or end. It represents eternity. Thus, it is a popular choice for couple tattoos. It shows a limitless kind of love, one without boundaries and will continue forever. Also, the image is meaningful and unisex design. It will suit every type of couple.
7. Couple Finger Tattoos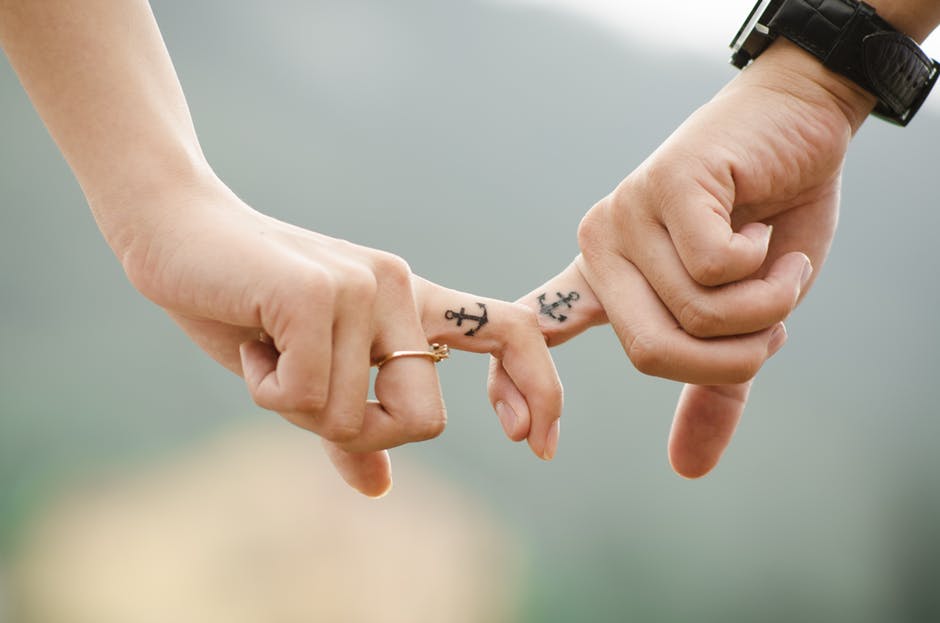 Despite the limited space, there are lots of possibilities when it comes to the design. For instance, you can have a line from a poem that you both love, and you can only read it in full when you weave your hands together. Otherwise, you can opt for low-key and straightforward designs that have a playful vibe. Quirky couples will indeed find couple finger tattoos to be an appealing choice.
8. Ring Finger Tattoo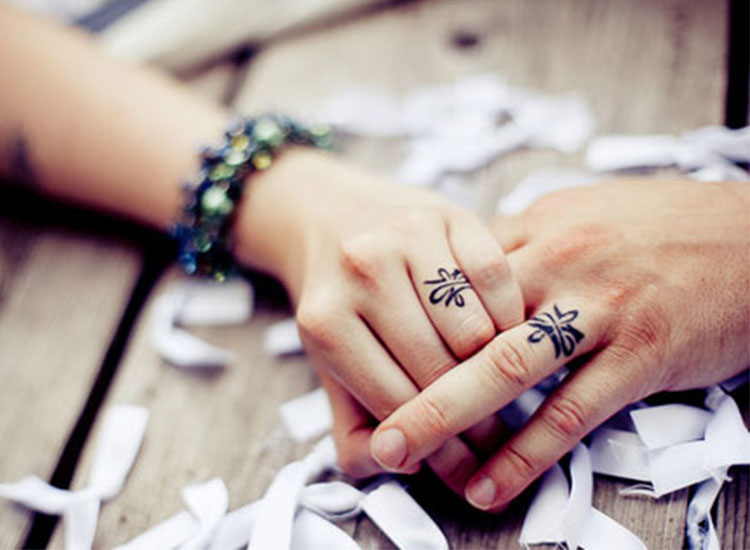 It is believed that the fourth finger on your left hand has a vein that runs directly to the heart, and it is called the vein of love. It is where rings are worn. In the same way, a couple of tattoos on the ring finger is an incredibly romantic piece. You can opt to have your partner's initials or name inked as a symbol of your relationship.
9. Unique Couple Tattoos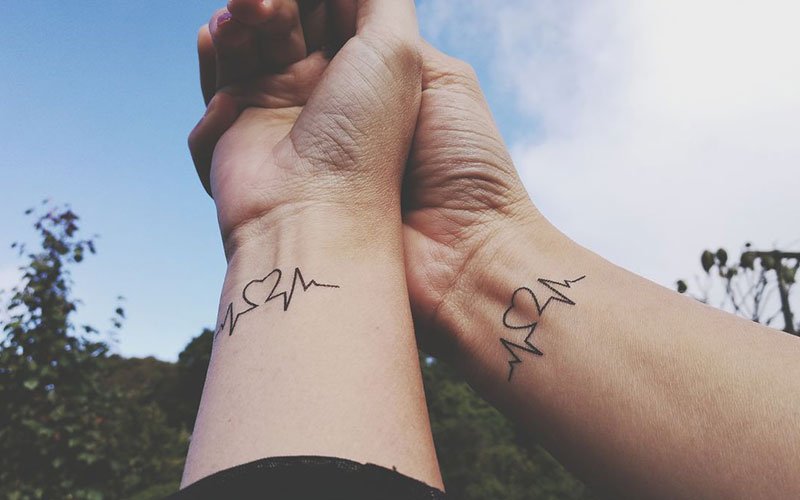 Couple tattoos are trendy, and there are thousands of designs that you can explore. These tattoos are one of the easiest ways to represent the universal feeling of love and affection. Some couples prefer a unique tattoo concept that only the two of them understand. Whatever design you choose, the meaning is kept unique between the two of you.
10. King and Queen of Hearts Couple Tattoos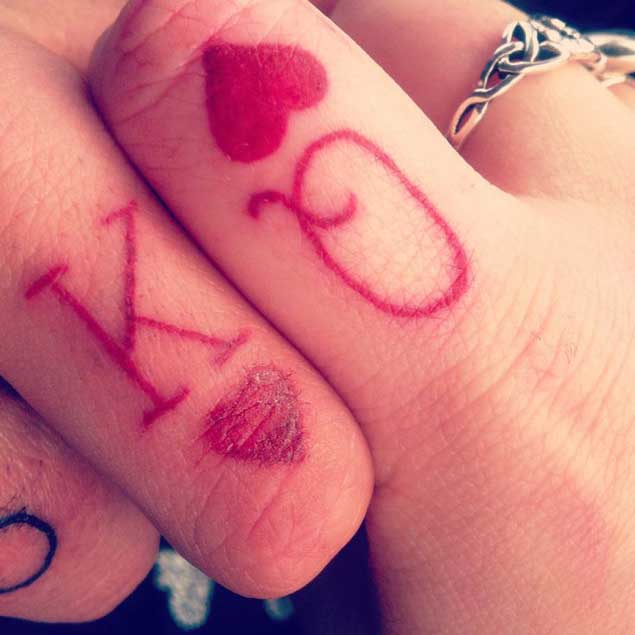 Give your body a royal touch by choosing to have the King and Queen of Hearts couple tattoo. It is like expressing that you are the king and queen of each other's hearts. These icons represent the distinct masculine and feminine roles, but each one complements the other perfectly. A king and queen heart tattoo is a fun way of showing that you are partners and equals in the relationship.
11. Quotes Couple Tattoo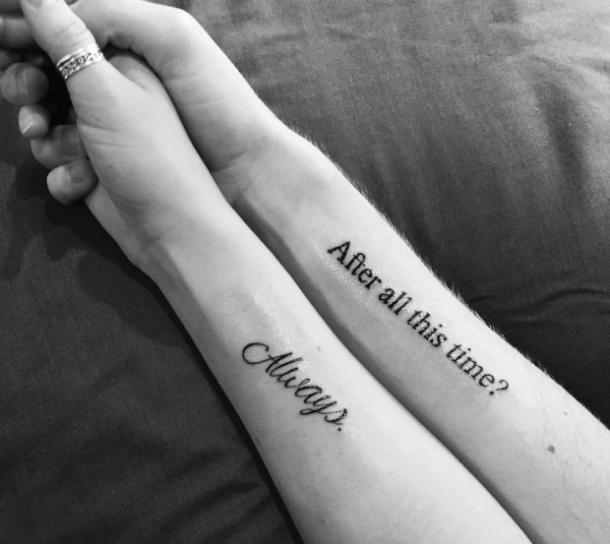 There probably are thousands of quotes that give you the "feels" about love. And for some couples, a particular one sums up their emotions and articulates their feelings about each other. Lucky for you if you have found that specific quote, and it will be a great idea if you can have it as a couple of tattoos. How about getting half of the saying tattoo on each of you. The message will be complete only when you are together.
12. Crown Couple Tattoos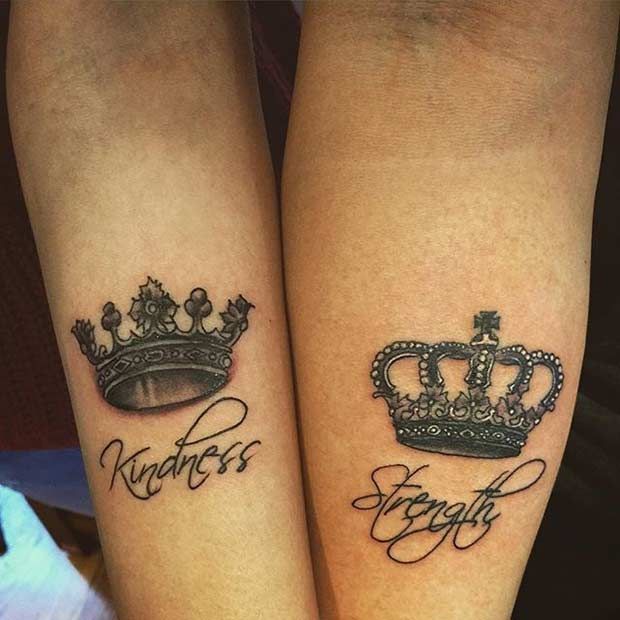 Crowns are associated with power and responsibility. And couples can have king and queen crown tattoos to represent their aspirations and goals in life. European-style crowns are designed to symbolize eternal life. It means everlasting life for both of you.
13. Small Couple Tattoos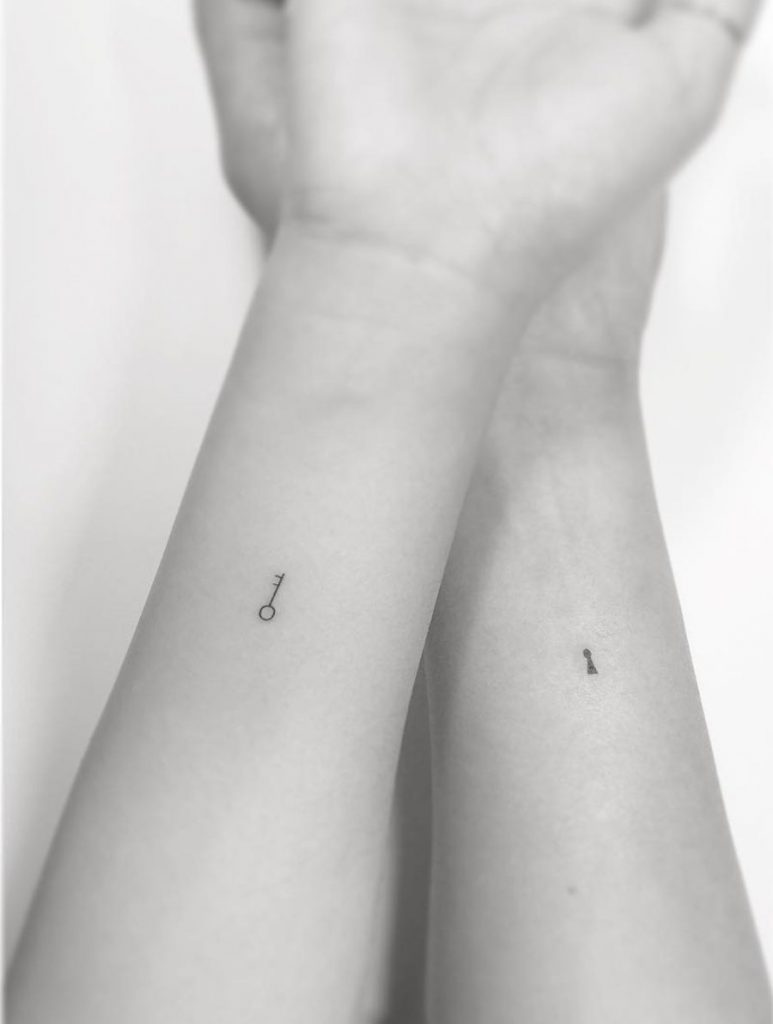 The beauty of body art is not in size. Instead, it is in the meaning. When choosing a design with your partner, consider your thoughts on the style, budget, and pain tolerance. If this is your first inking, it is advisable to go for a small couple tattoo that features a minimalist design. You won't have to spend hours under the needle, and the outcome is a subtle and discreet design. Small couple tattoos are a shared secret between you and your partner and connect you like a special bond.
14. Cute Couple Tattoos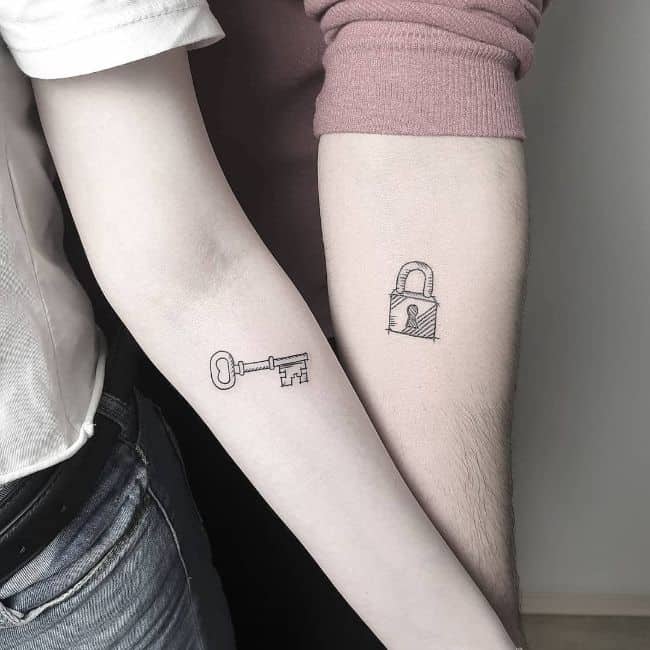 Tattoos don't necessarily need to be artistic or edgy, its essence for the couple is what matters most. Some couples are playful and fun-loving, and they prefer something that reflects the nature of their relationship. Cute couple tattoos are the ideal designs for them. These tattoos have a youthful design that will put a smile on your face and include fluffy animals, fruits, cartoons, and other adorable elements.
15. Cool Couple Tattoos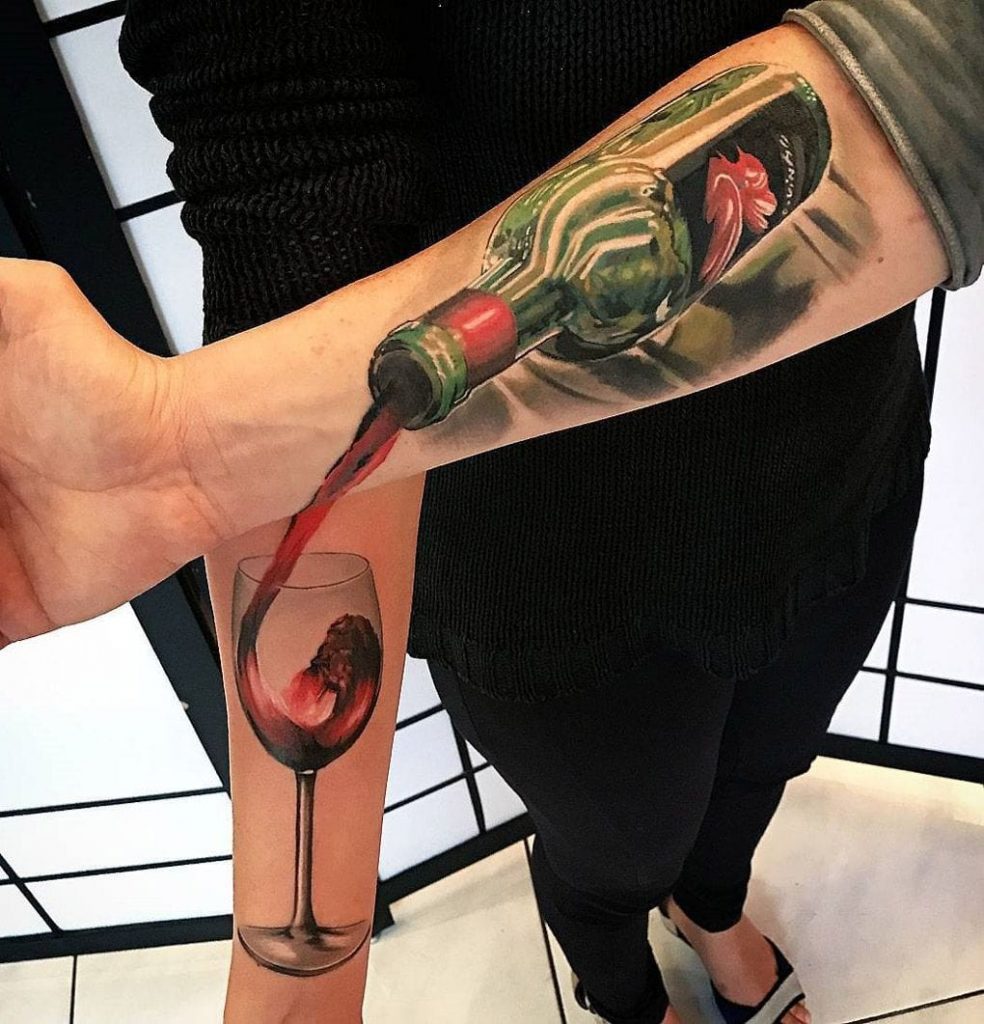 Cool couple tattoos are fun and on-trend. For instance, the classic swallow tattoo can be rendered beautifully to represent a long-distance relationship. It uses fresh designs that combine traditional elements and some modern twists for a unique style. It can be created to achieve movement and aesthetics for an overall excellent ink design.
16. Skull Couple Tattoos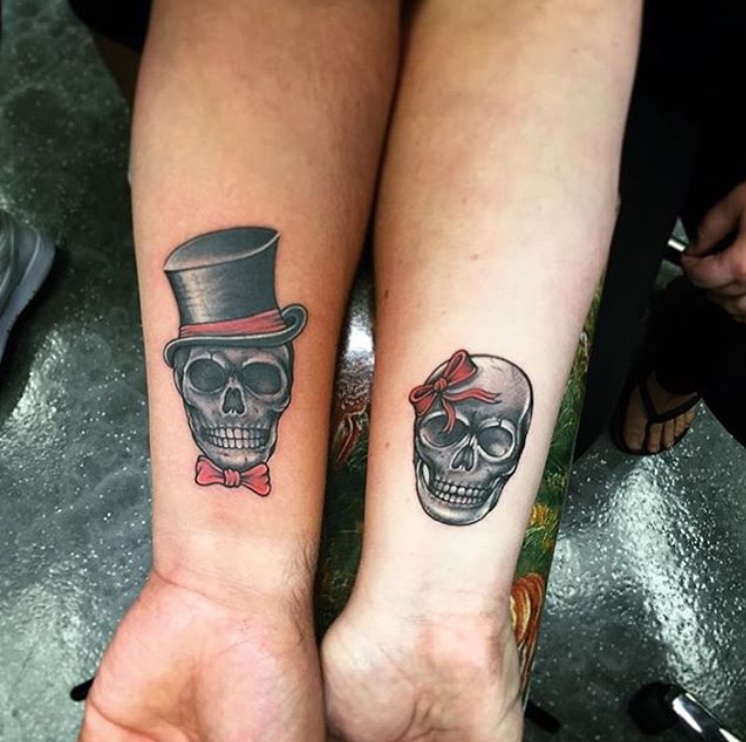 Not all couples are showy and romantic. Some are also edgy, with strong personalities and others prefer Gothic and macabre. If you are this kind of couple, you will appreciate a Skull couple tattoo. You can opt for the anatomical, realistic look or something more elaborate and unique.
17. Disney Couple Tattoos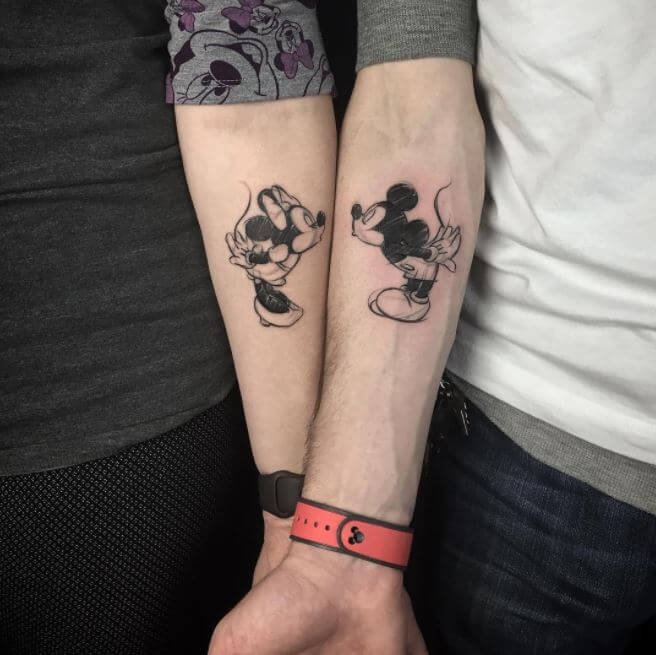 Disney is a massive part of every child's life. And when you grow older, the stories still inspire you. If you and your partner are Disney fans, you will indeed find inspiration from various Disney couple tattoo designs. You can have a silhouette of Mickey and Minnie or any quotes and characters that will remind you of your childhood sweetheart. It might also be the place where you got engaged or married.
18. Lock and Key Couple Tattoo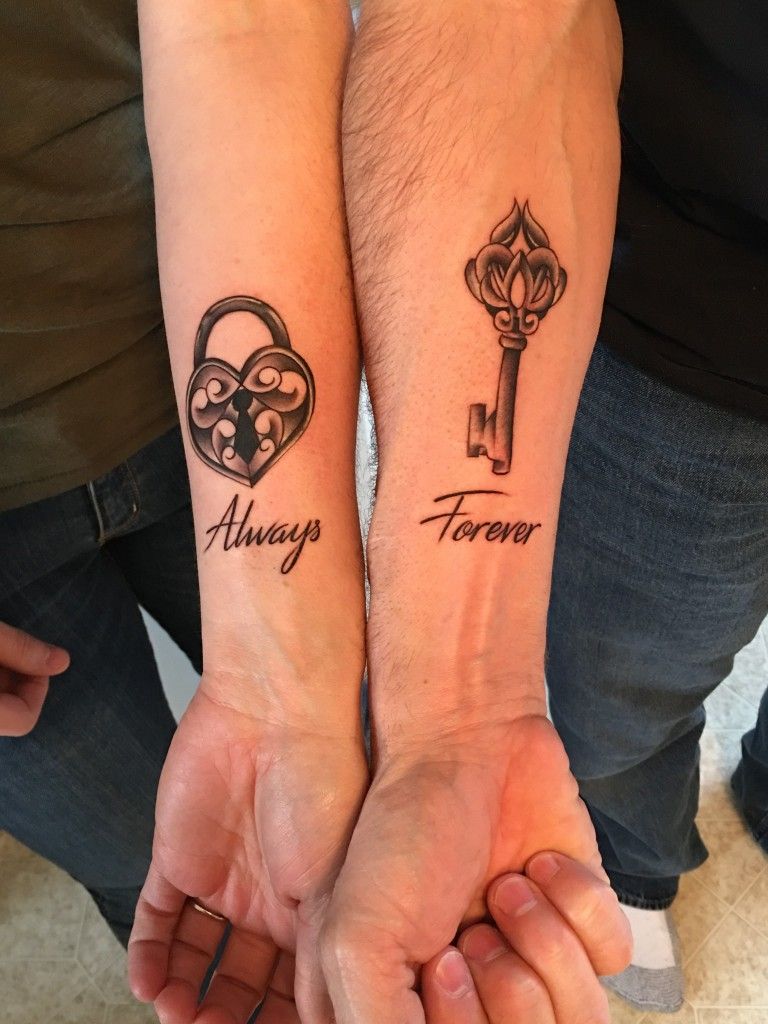 When you are in love, it seems that only one person holds the key to your heart. Thus, a lock and key tattoo is an excellent option for your couple's tattoo design. It is a meaningful ink that you can place on your arm, ankles, and hands. The design can also be big or small. It suits whatever preferences you may have.
19. Nerdy Couple Tattoo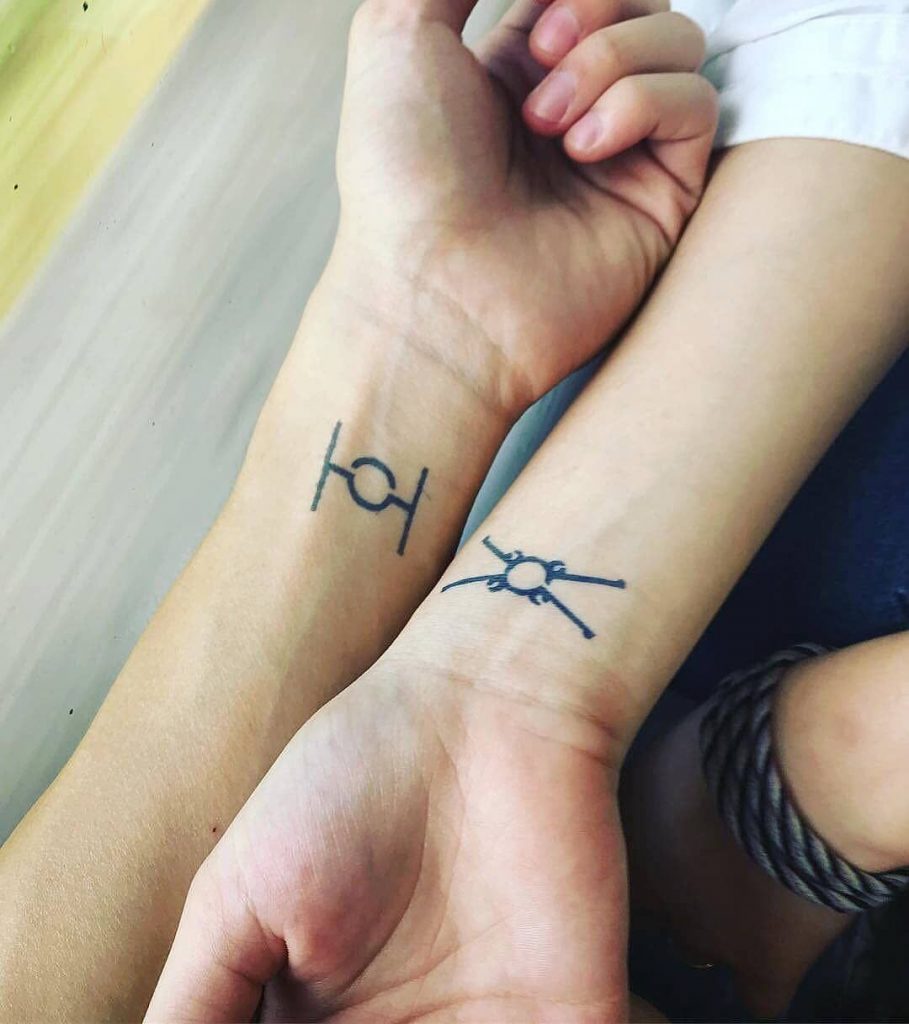 A nerdy couple tattoo is an excellent way to celebrate your relationship for couples who started bonding over nerdy stuff such as comics, Harry Potter books, or video games. It constantly reminds you of the fun times you spend together until your love deepens and develops. Try to find a symbol or slogan that relates to your favorites.
20. Sexy Couple Tattoo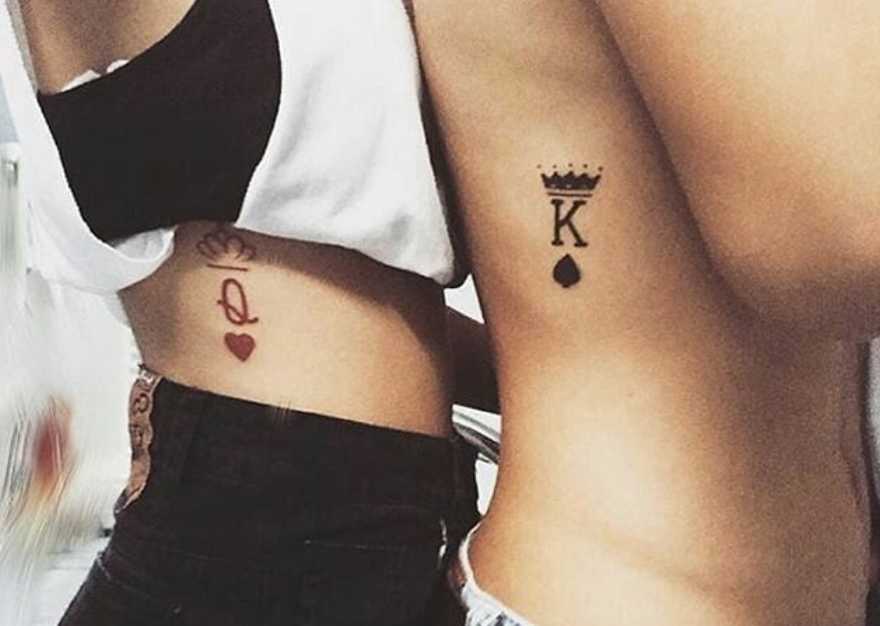 For couples who want to celebrate their sensual connection with each other, a sexy couple tattoo is a must. There is a wide range of options, such as getting inked with each other's initials on your private area like the chest, hip, or thigh. You can also choose to have a unique symbol inked on your sides, and it is only visible when you are undressed.
21. Simple Couple Tattoos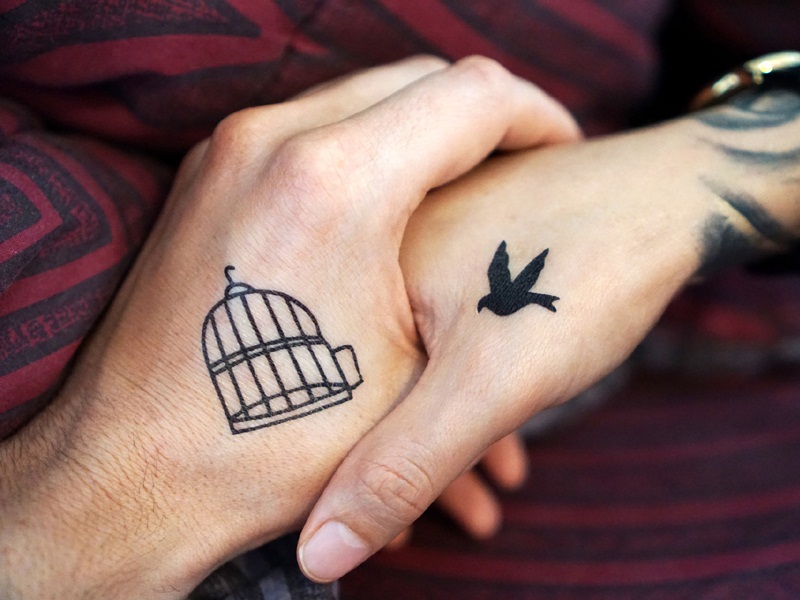 For couples following a minimalist lifestyle, low-key and straightforward tattoo designs are the perfect choice for you. It features solid black ink, stripped-back line styles, small size, and minimal shading. Its simplicity makes it even more symbolic, especially of the romantic couple wearing it.
22. Yin and Yang Couples Tattoos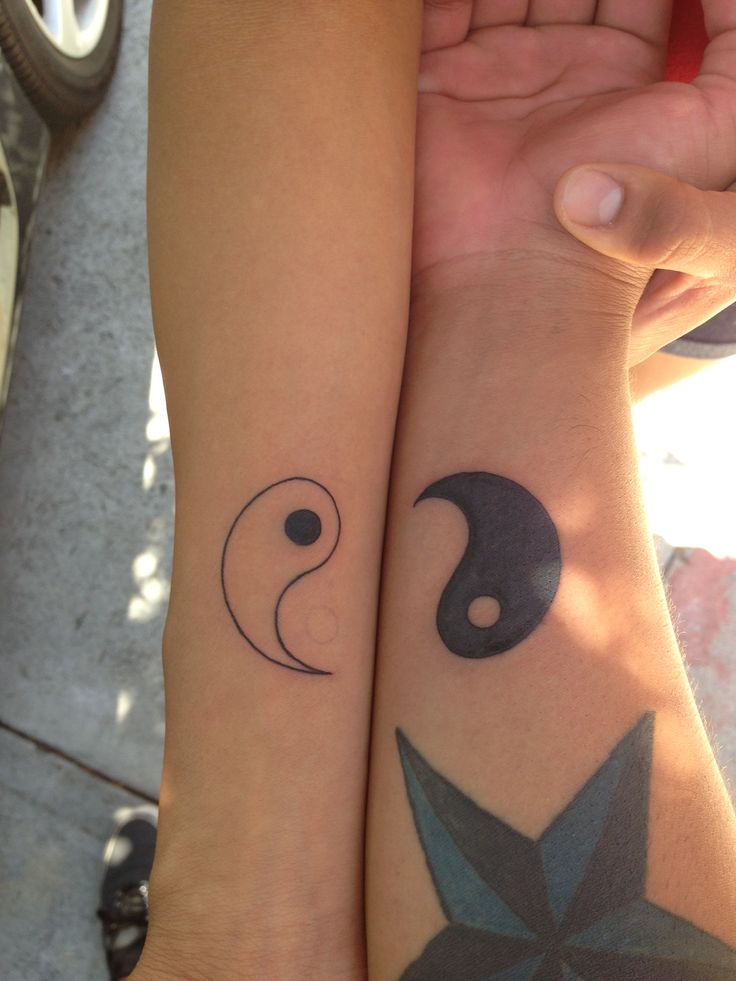 Another unique couple tattoo that you can consider is the Yin and Yang symbol. This ancient concept features two different halves that fit together perfectly. Yin is a feminine energy, while Yang is masculine. They make a perfect circle and are suitable for couples who may be opposites but complement each other perfectly.
23. Puzzle Piece Couple Tattoo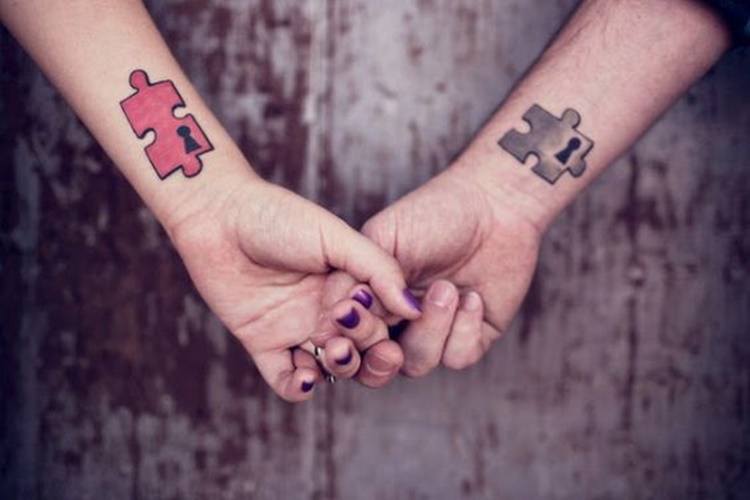 Couples often describe their partners to be the missing piece of the puzzle in their life. If you feel this way about your loved one, a puzzle-piece couple tattoo is an excellent choice for you. It is a symbol of connection and completeness. It also shows that you are a work in progress, and you are moving towards a unique journey for your shared goals.
24. Country Couple Tattoo
If you are a couple inspired by nature, this country couple tattoo might be the perfect choice for you. It features the traditional lifestyle and the great outdoors. It has a theme that is associated with riding, hiking, fishing, and more. Symbols you can use include flowers, trees, antlers, and more. These designs will remind you of being home in each other's arms.
25. Anchor Couple Tattoos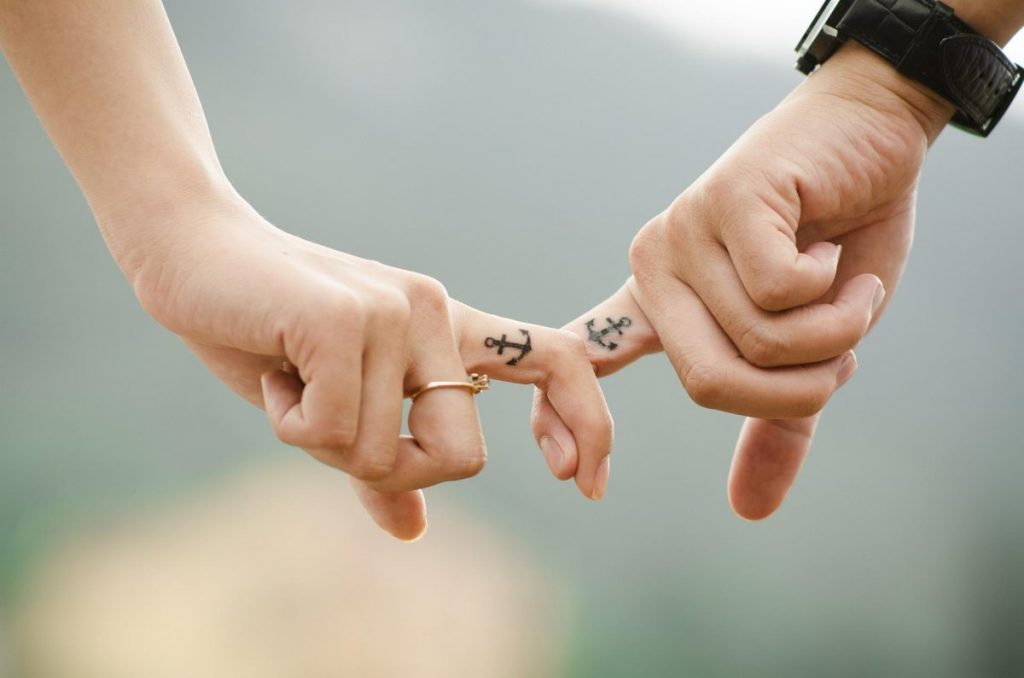 If your relationship gives you feelings of safety, stability, and protection, this nautical ink design may appeal to you as a couple. Anchor couple tattoos look nice, and it has deep meanings as well. Relationships are not always smooth sailing, and the anchor represents hope, calmness, salvation, and steadfastness – qualities that might all be present in your partner.
26. Gay Couple Tattoos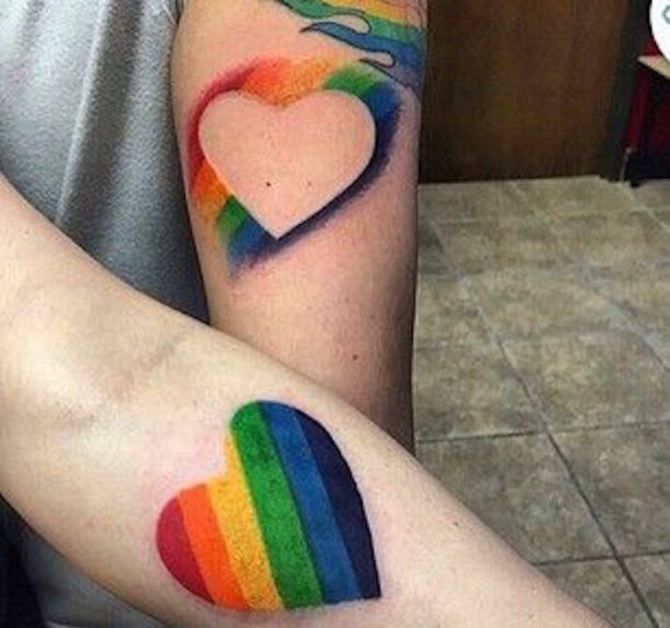 Gay couple tattoos work two ways. First, it symbolizes your love for your partner, and second, it is a constant reminder to be proud of who you are. You can opt for a rainbow-themed design or a double triangle black ink design. It is a great tattoo idea for gay couples who are seeking subtle ways to express themselves.
27. Wrist Couple Tattoos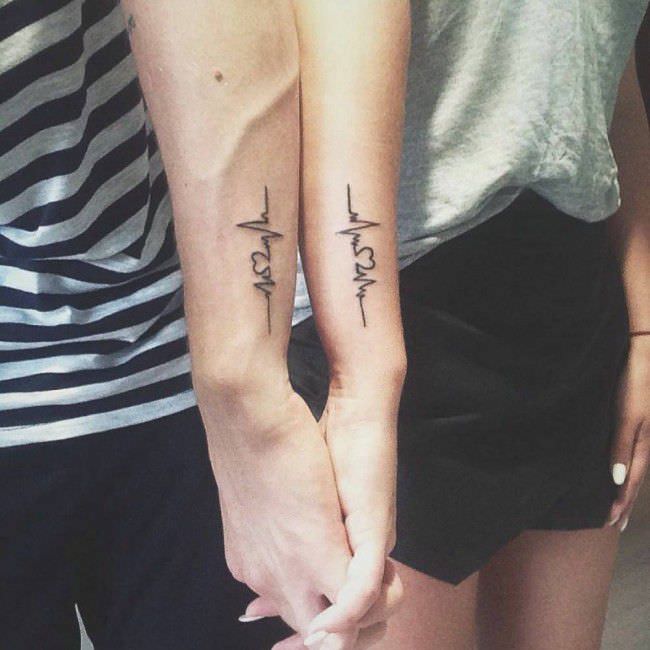 The wrist is a prominent placement for meaningful tattoos. If you want to show off your couple status, a wrist couple tattoo is an excellent choice for you. Ideally, petite and relatively simple designs are the most suitable here. Some inspiration for you includes a heartbeat, a plane in flight, or a Celtic knot. Design it in a way that makes sense when you hold hands for a unique couple inking.
28. Tribal Couple Tattoo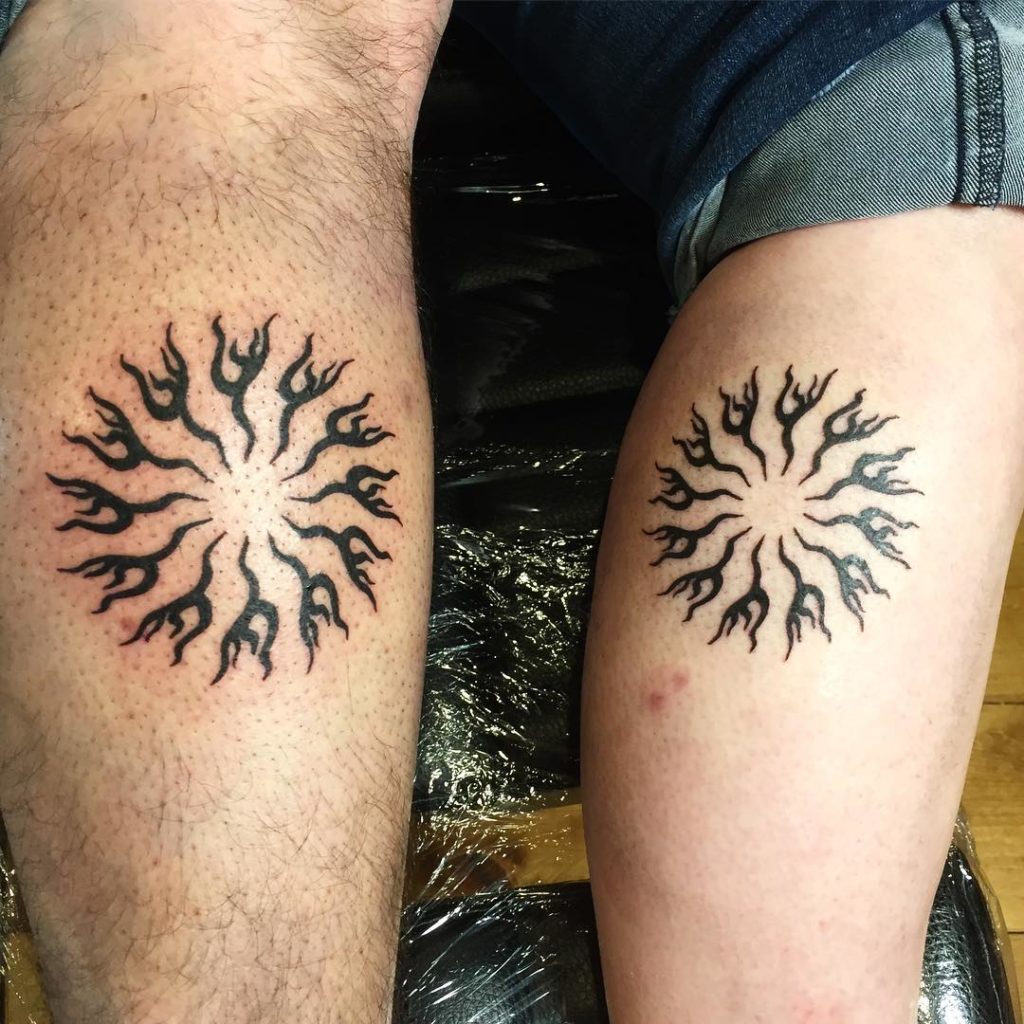 In various cultures, tribal tattoos are very significant and are sometimes earned as a rite of passage. If you are not from the tribe, you have to respect their symbols when choosing a tribal tattoo design. You can create an original piece that uses shapes inspired by these traditional designs. Ask your artist for a unique design that suits the two of you for a perfect couple tattoo.
29. Couple Hand Tattoos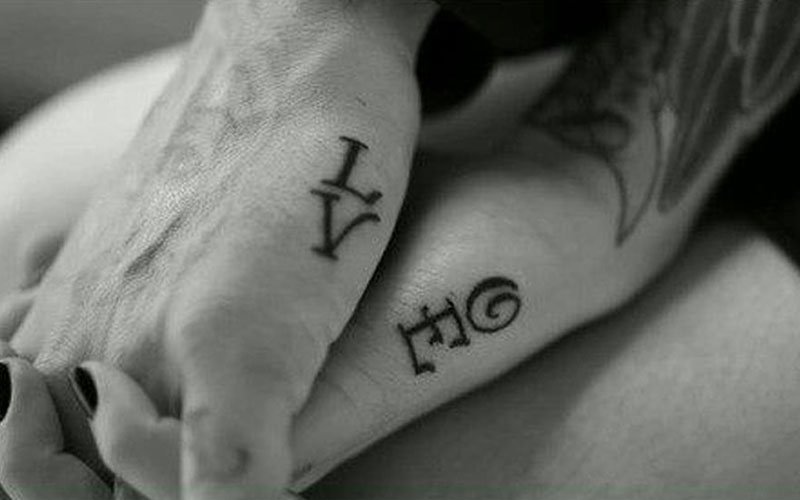 Hand tattoos used to be associated with unsavory people, but these days, people from all walks of life embrace this popular placement. It is obvious, and they are perfect for a unique couple tattoo. Choose a design that becomes complete when you entwine your fingers, hold hands, or high five. It will symbolize how you complete each other.
30. Initial Couple Tattoos
If the idea of having your partner's name does not appeal to you, how about getting your initials instead? This original couple tattoo is an excellent way of paying tribute to you only without having their names plastered on your skin. It's a cute and unique design that you can both wear your initials to showcase your bond.
31. Star Wars Couple Tattoos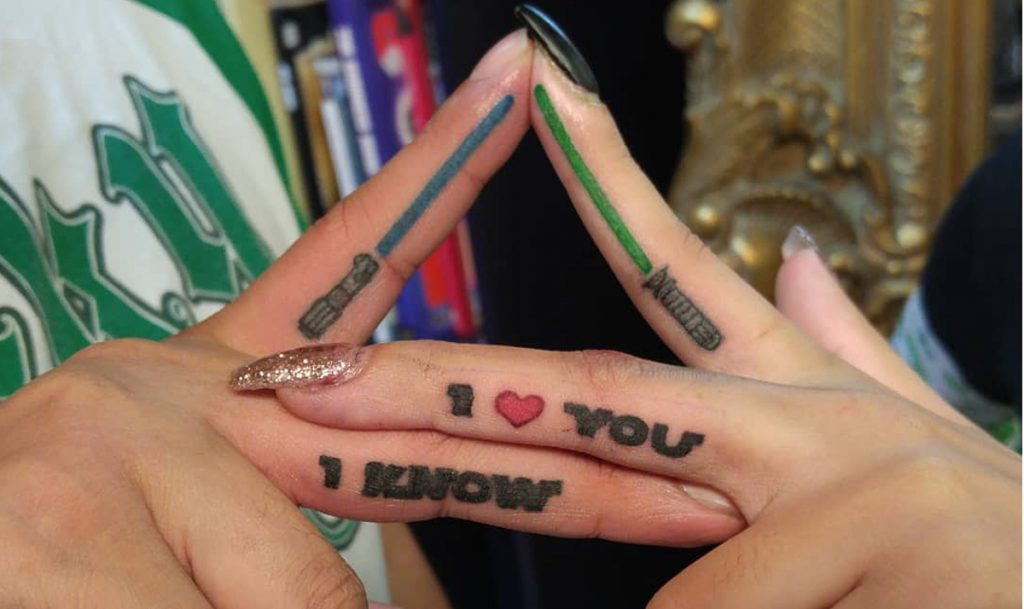 Couples who love movies and entertainment have a favorite on-screen team too. For Star Wars fans, Han Solo and Princess Leia are the perfect symbols of love amid wars. If you love this epic franchise, there are various other couple tattoo ideas that you can source out from the movie.
32. Sun and Moon Couple Tattoo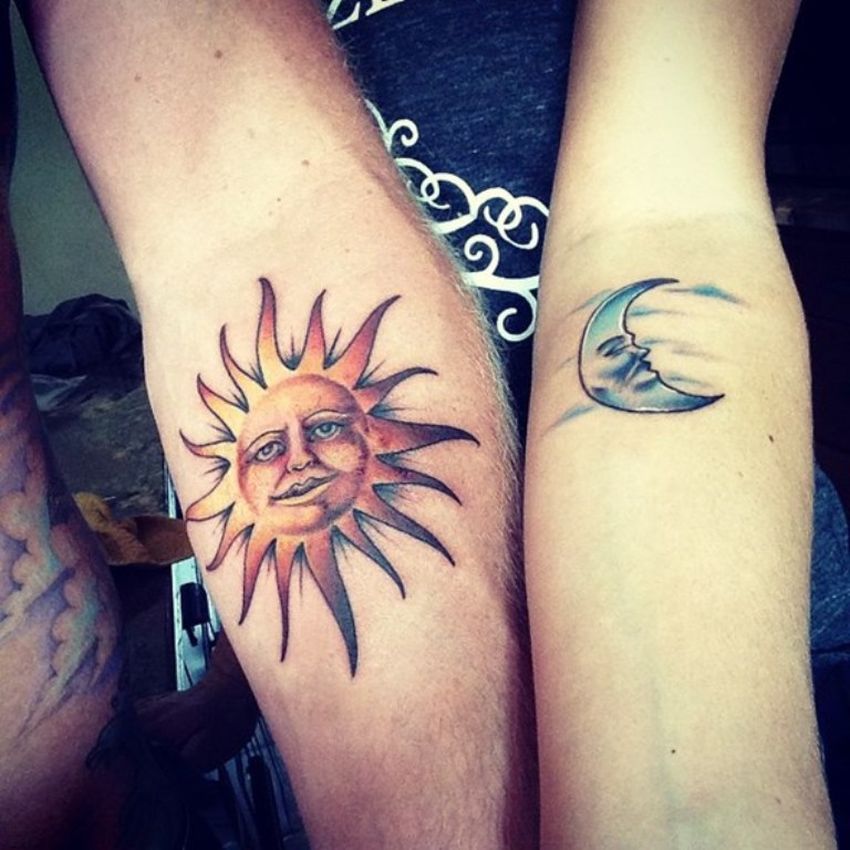 Do you consider your partner to be your opposite? Then how about getting a sun and moon couple tattoo? One represents heat, light, and energy, while the other is dark, rest, and cold. This design is perfect for couples who are entirely different but complement each other perfectly.
33. Wolf Couple Tattoo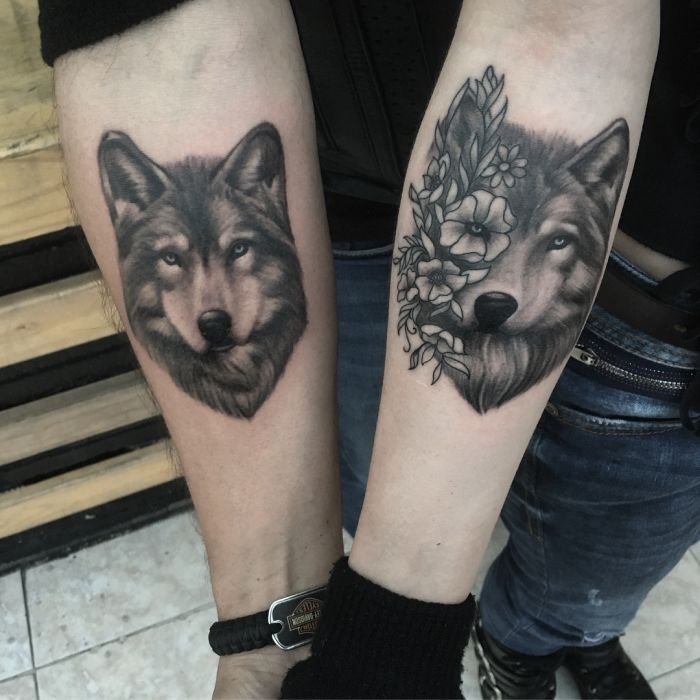 Wolves are amazing animals that symbolize protection and loyalty. These animals are wild and untameable, but they stay together for many years when they couple up. They hunt, play, and raise their cubs together. If you share the same values in your relationship, a wolf couple tattoo is perfect for you.
34. Lesbian Couple Tattoos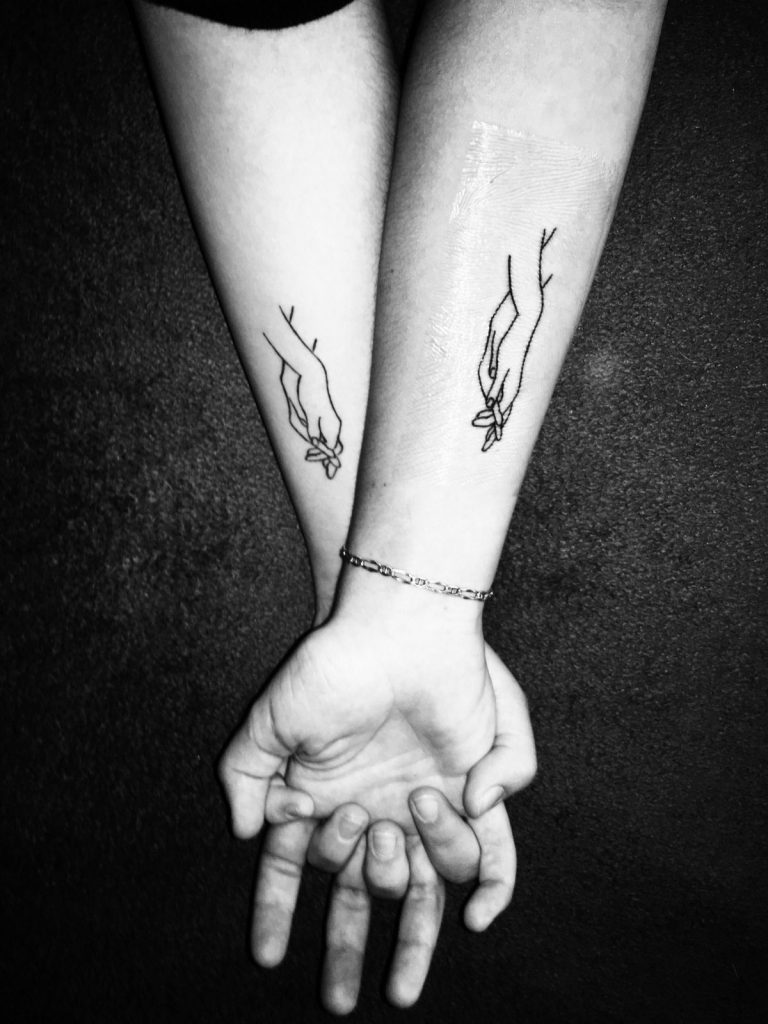 There are also various ways to express your love to your partner if you are a lesbian couple. One option is a simple line drawing of girls with their arms around each other. You can also have matching lips, rainbow hearts, or a double feminine symbol.
35. Funny Couple Tattoo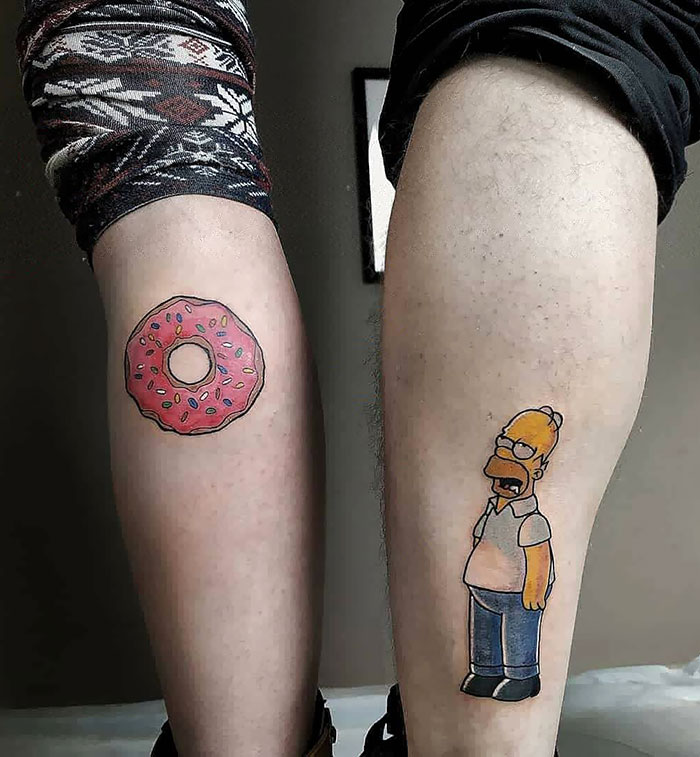 There are also various funny couple tattoo designs for couples who enjoy a good laugh and have a unique sense of humor. Some couples prefer those bawdy sex jokes, while others have original inside jokes that they share. If you are toying with the idea of getting a couple of tattoos, find something that cracks you up together and get it inked with your partner.
36. Soulmate Couple Tattoos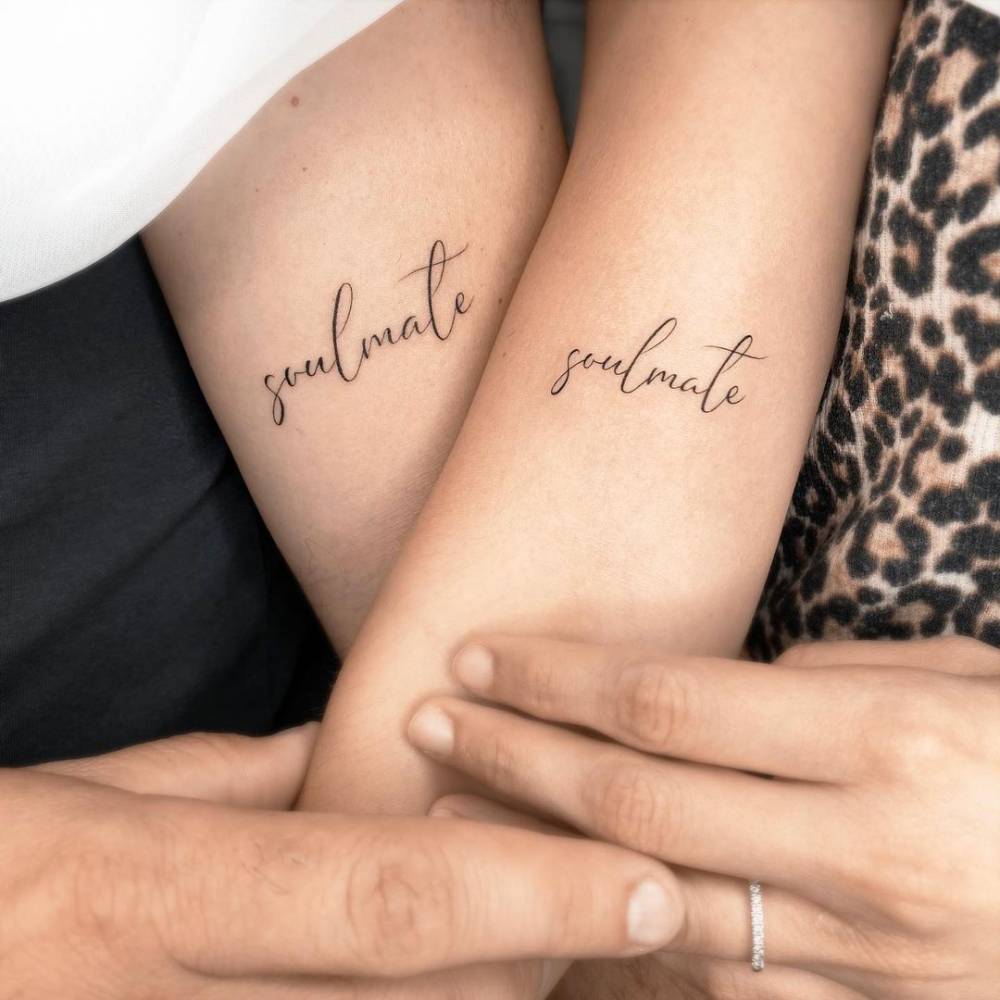 There is nothing more apt than getting the word "soulmate" inked on you and your partner for a literal couple tattoo design. Has this inked on your wrist in a sweet script font for an exquisite couple tattoo?
37. Conjoined Butterfly Couple Tattoo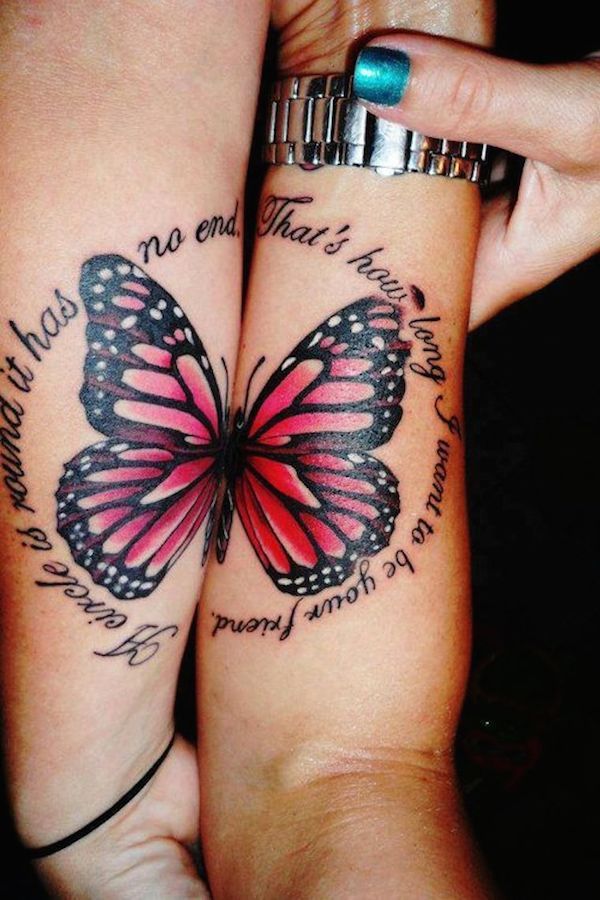 Matching couple tattoos are doubly fun and meaningful when they have a conjoining element. Consider getting inked with half of the image on the same spot in a conjoining design. For example, a blue butterfly tattoo on the wrist will only be completed when you and your partner hold hands.
38. Promise Couple Tattoo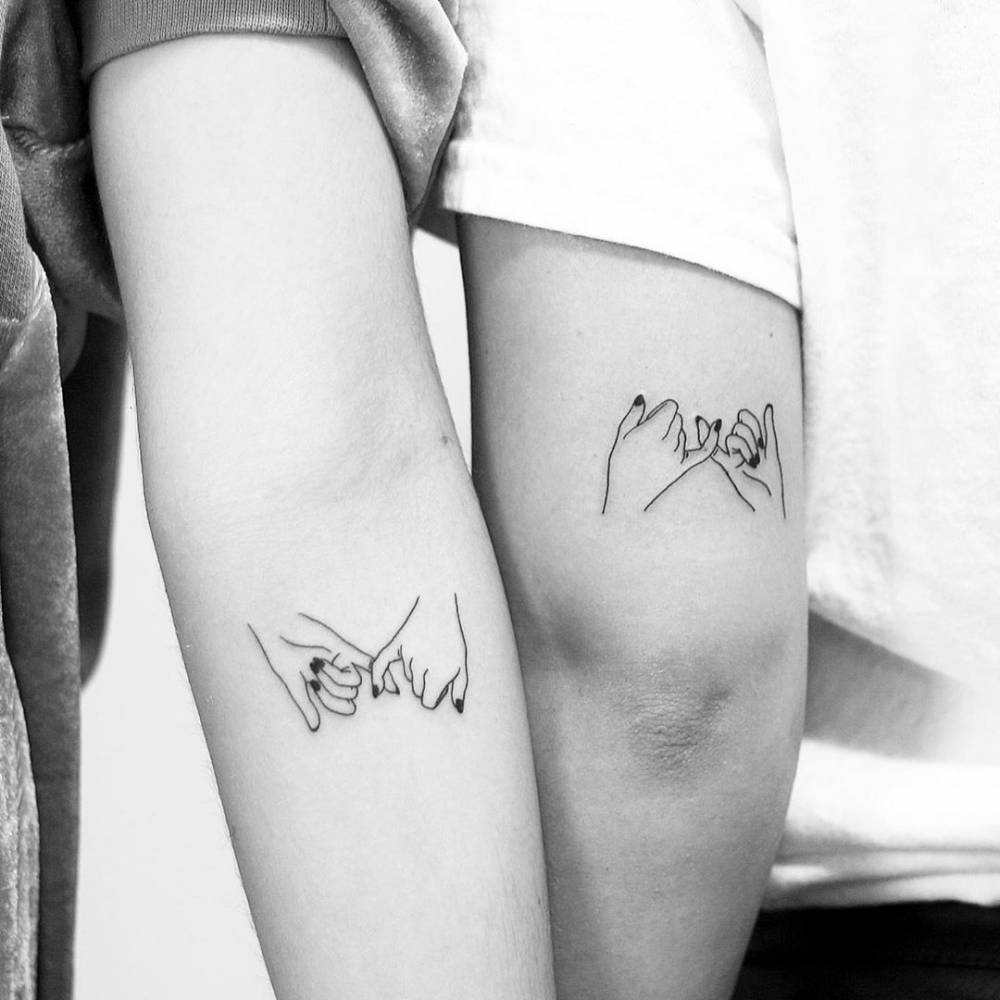 Some people feel promised to their loved ones, and if you feel the same way, how about celebrating it by getting the word "promise" inked on you both? One ideal placement for this is on the ribcage.
39. Koi Couple Tattoos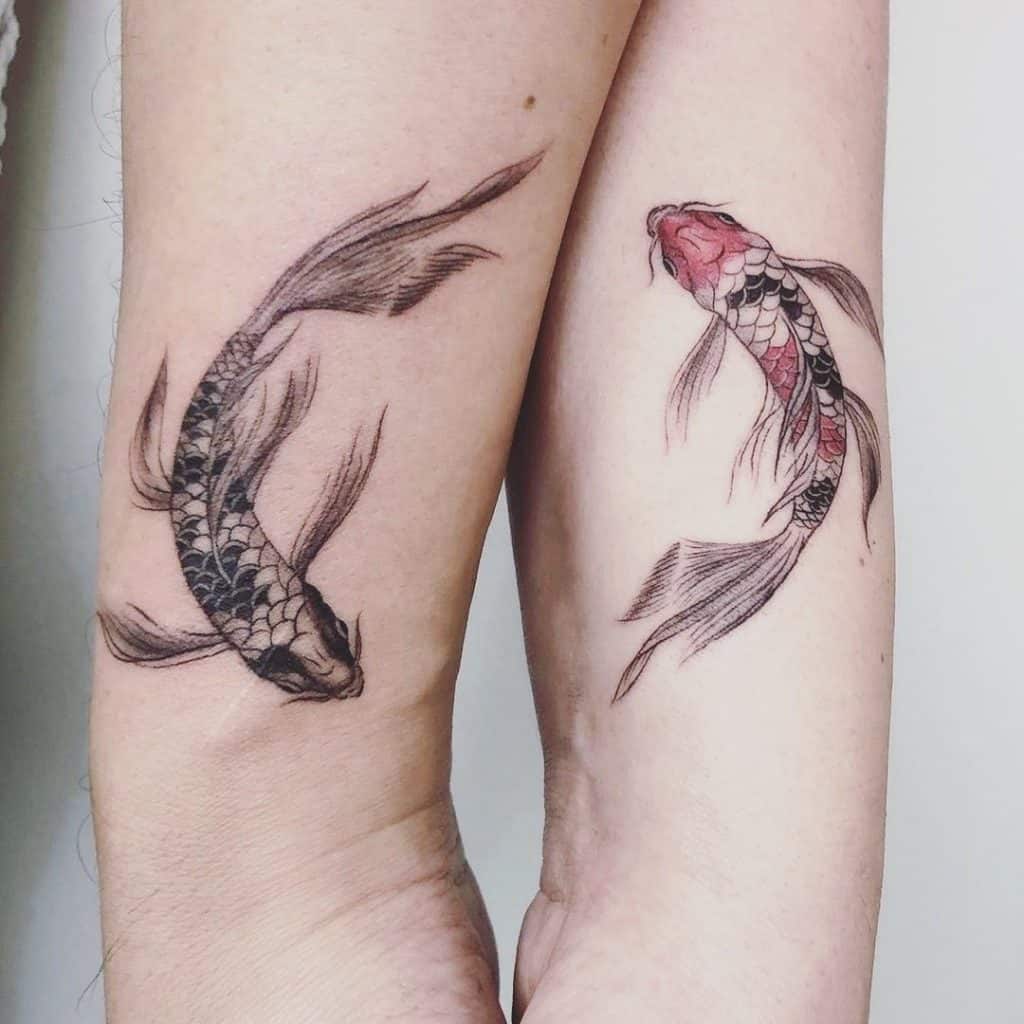 Koi tattoos are significant symbols in Japanese culture. These fishes are known to bring prosperity and good luck. They also look fantastic when rendered intricately as a couple of tattoos.
40. Fine-Line Couple Tattoos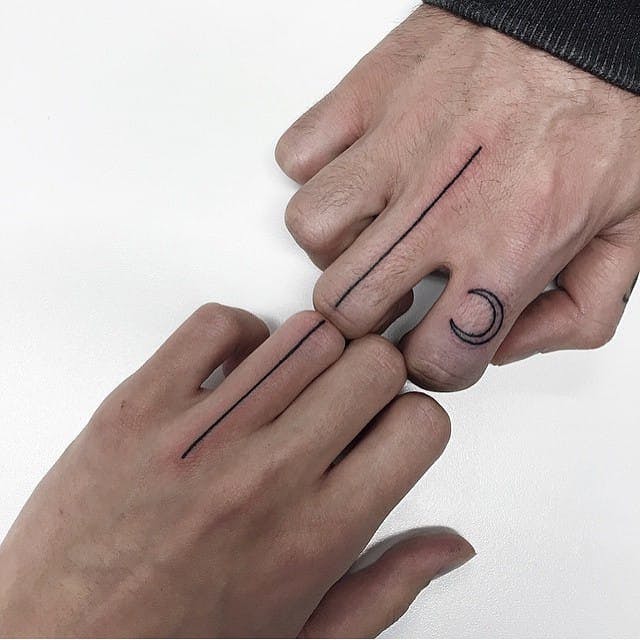 Not everyone is into extensive and detailed tattoo designs. If you prefer the most explicit images, but want something unique, choose a fine-line tattoo design.  
41. Bird Couple Tattoos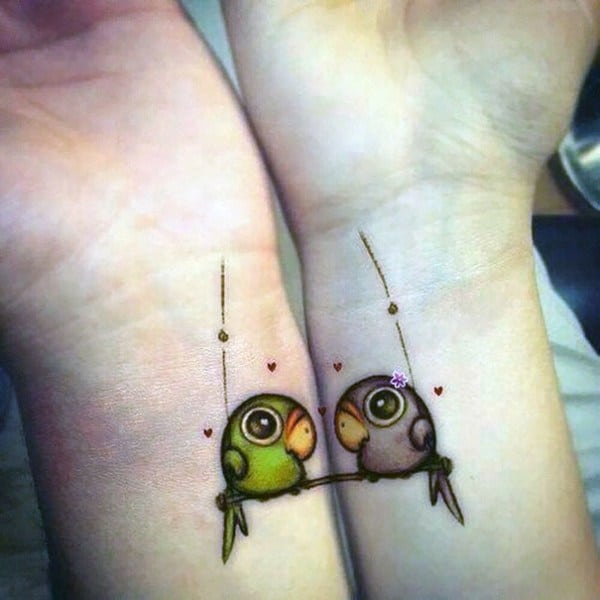 For the cute love birds who can't stand to be away from each other.
42. Deer Couple Tattoos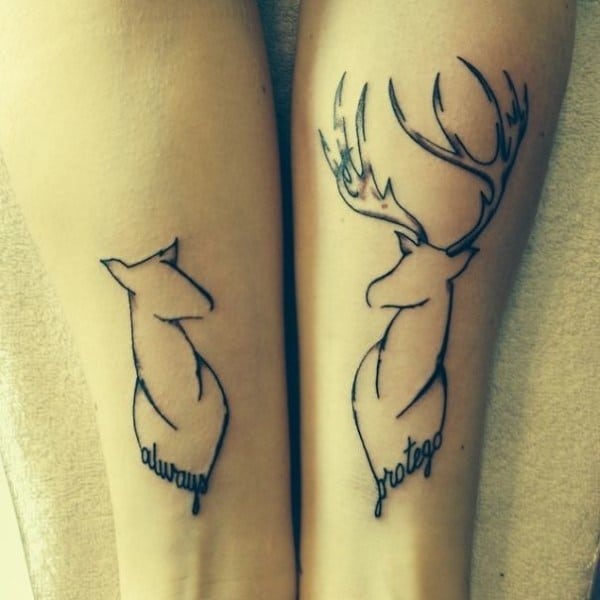 For the couples who are deer-ly in love. The deer is the ancient Celtic symbol for love.
43. Flying birds couple tattoos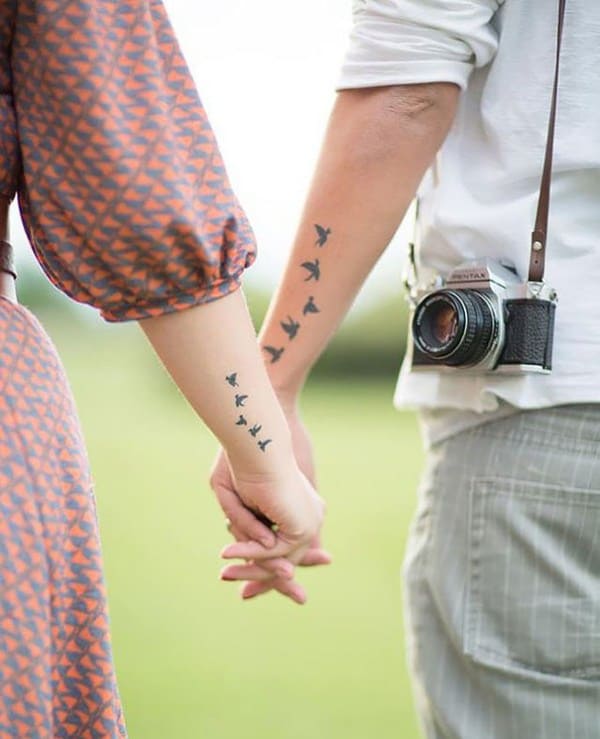 For the love birds who just want to be free and fly away together.
44. Landscape Couple Tattoos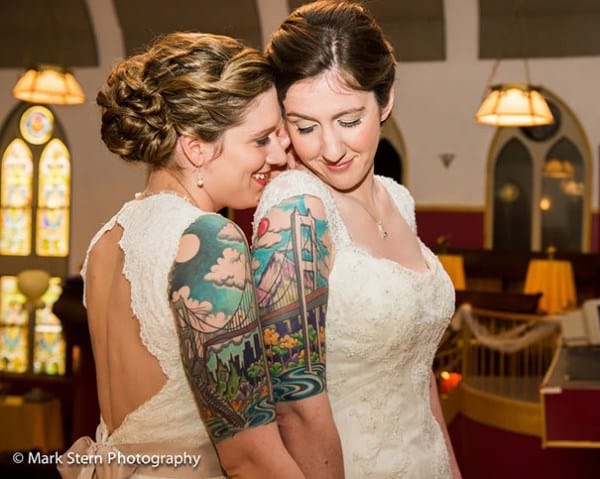 For the couples who like to bridge the gap, no matter how close or far their differences.
45. Tin Can Couple Tattoos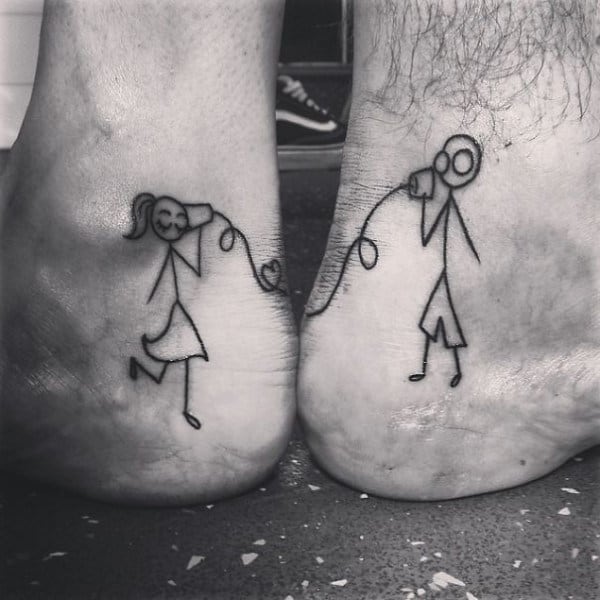 For the couples who understand trust and communication is key.
46. Finger Half Heart Tattoos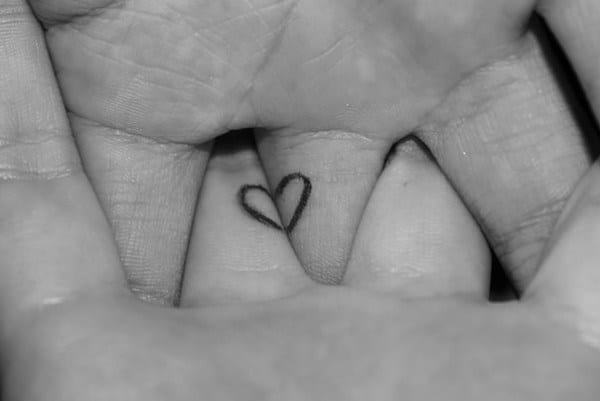 For the couples who want to be reminded of their love every time they lock hands.
47. Cat Couple Tattoos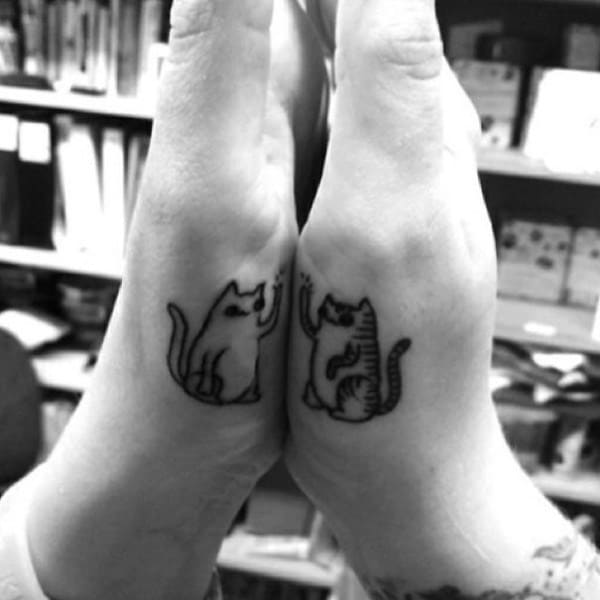 For the purr-fect couples who high five each other every day.
48. King and Queen of Hearts Couple Tattoos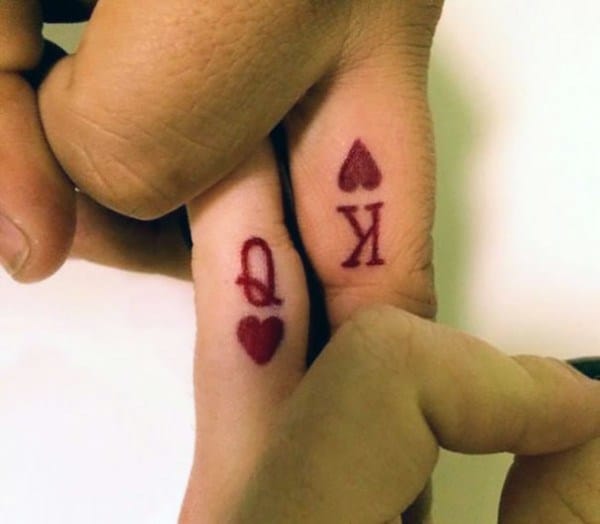 For the Kings and Queens of Hearts who are by each others sides, always.
49. Musical Notes Couple Tattoos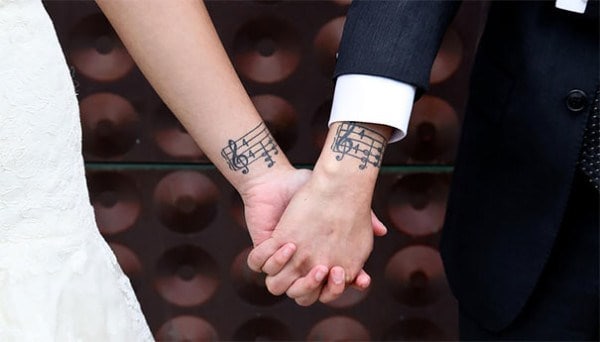 For the lovers who like to upgrade their relationship with a happy note.
50. Geeky Couple Tattoos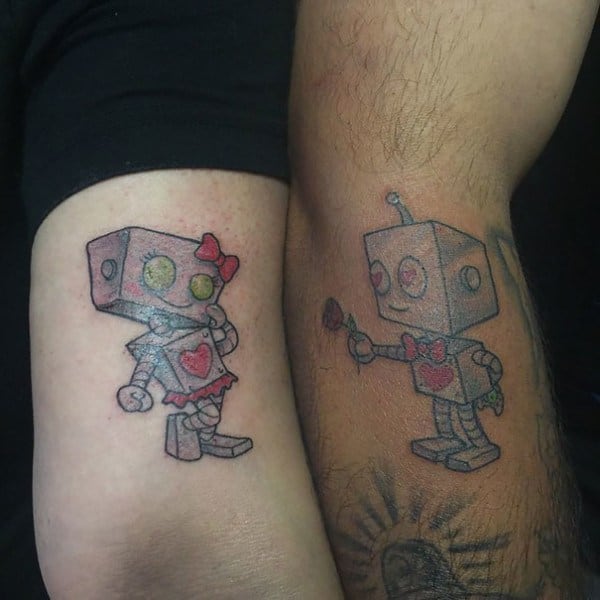 For the geeks in love who can't live without each other.
51. Funny Couple Tattoos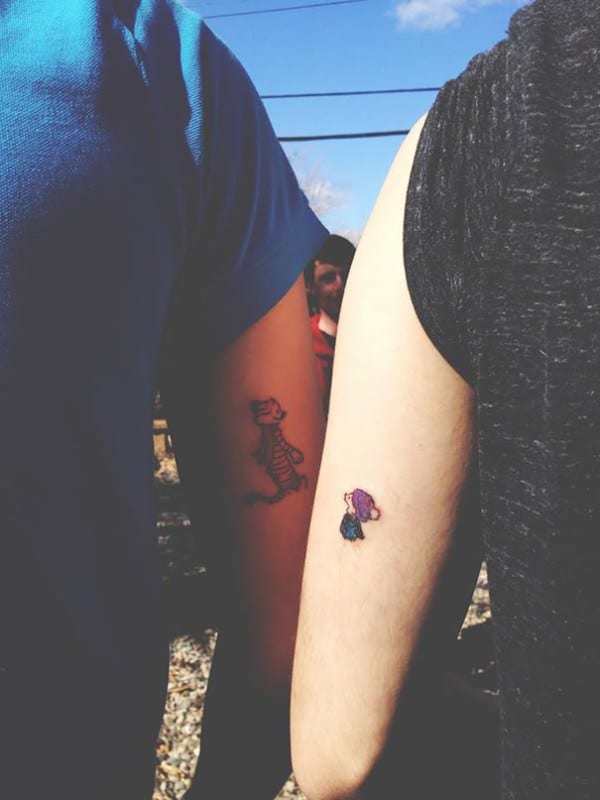 For the partners who like to appreciate a good bit of light humour.
52. Colorful Couple Tattoos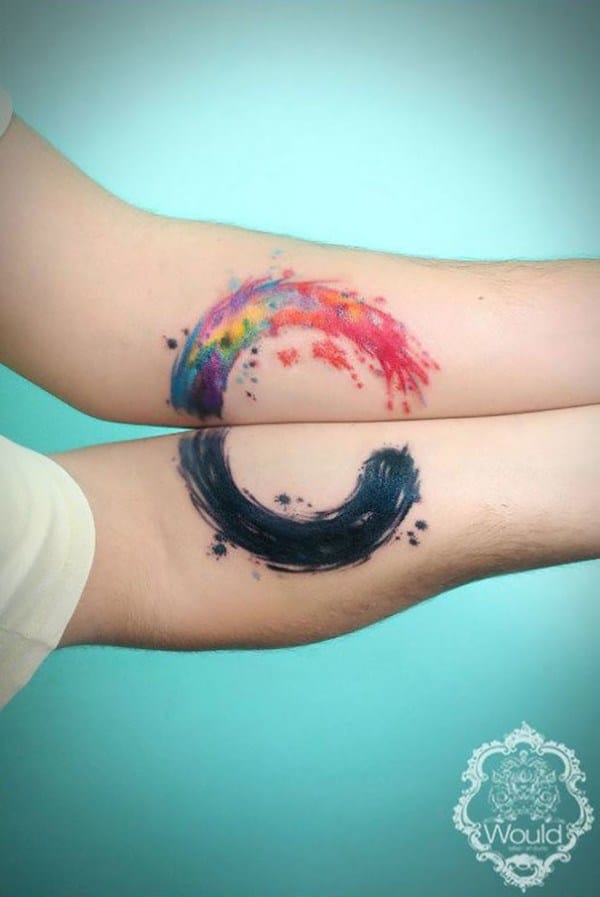 For the artsy types who like to join forces just to put a bit more color into their lives.
53. Geometric Couple Tattoos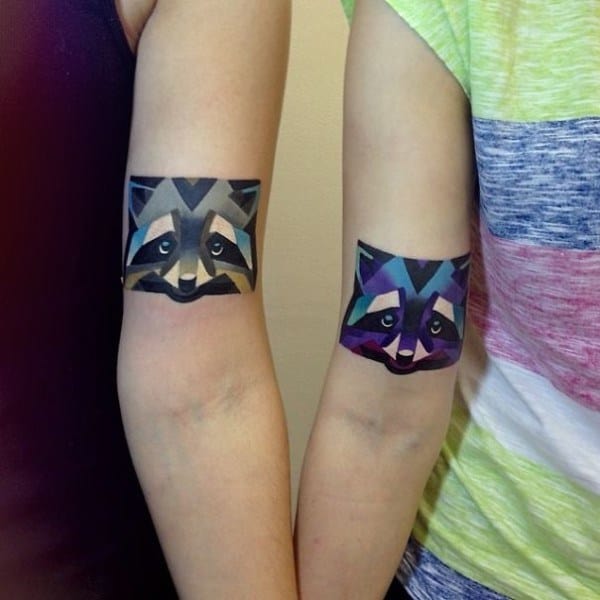 For the quirky couples who like go with something different, and show it off proudly too.
54. Cartoon Couple Tattoos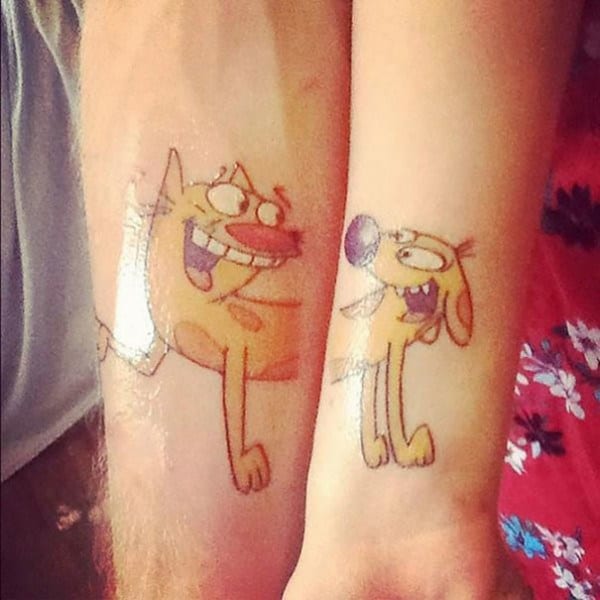 For the couples who aren't afraid to show the world what they really enjoy, no matter how childish it may seem.
55. Heartbeat Couple Tattoos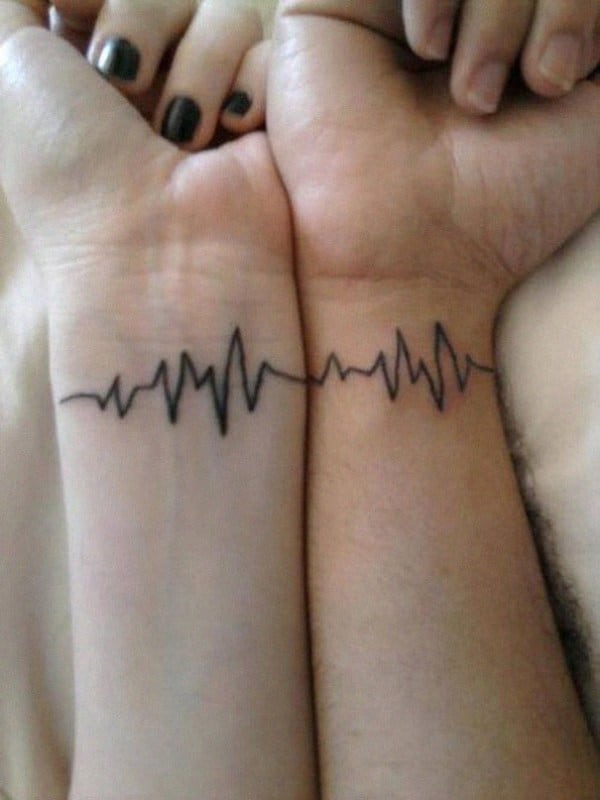 For the couples whose heart skips a beat every time they touch.
56. Mandala Couple Tattoos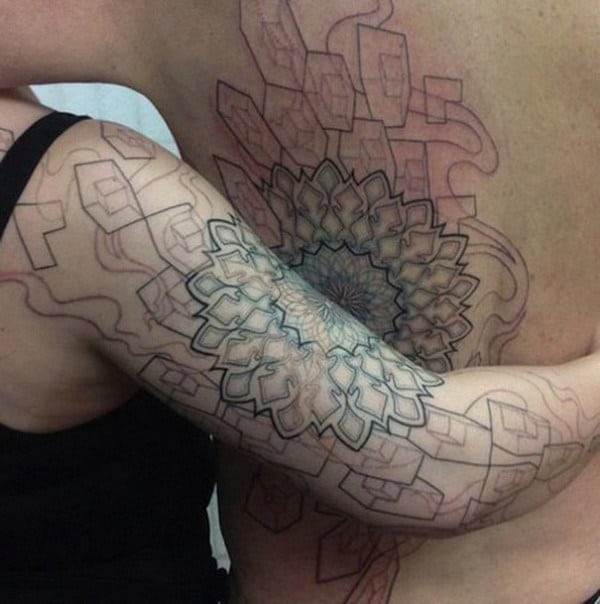 For the artists who complete each other perfectly.
57. Finger Lightsaber Couple Tattoos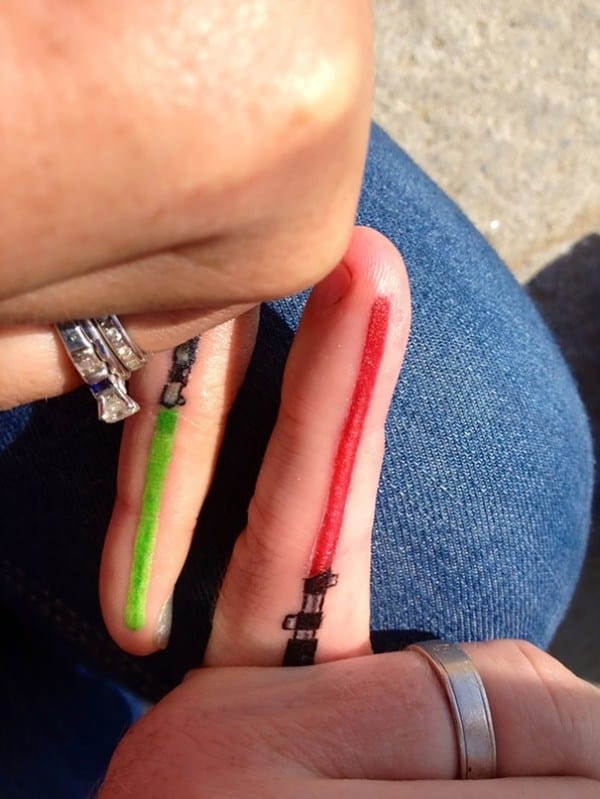 For the movie lovers who found a way to bring the big screen to their little fingers.
58. Jigsaw Puzzle Couple Tattoos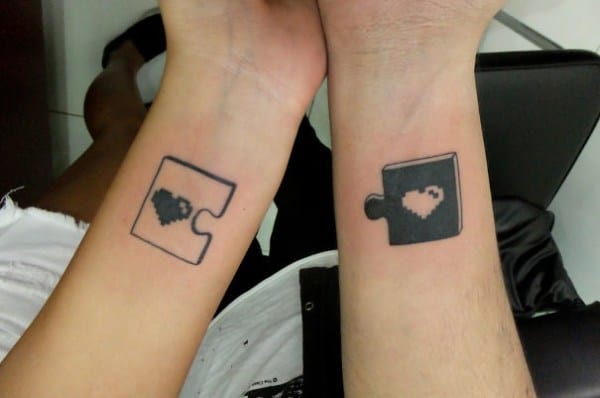 For the gamers who understand they are a jigsaw puzzle just waiting to be matched together.
59. Star Wars Couple Tattoos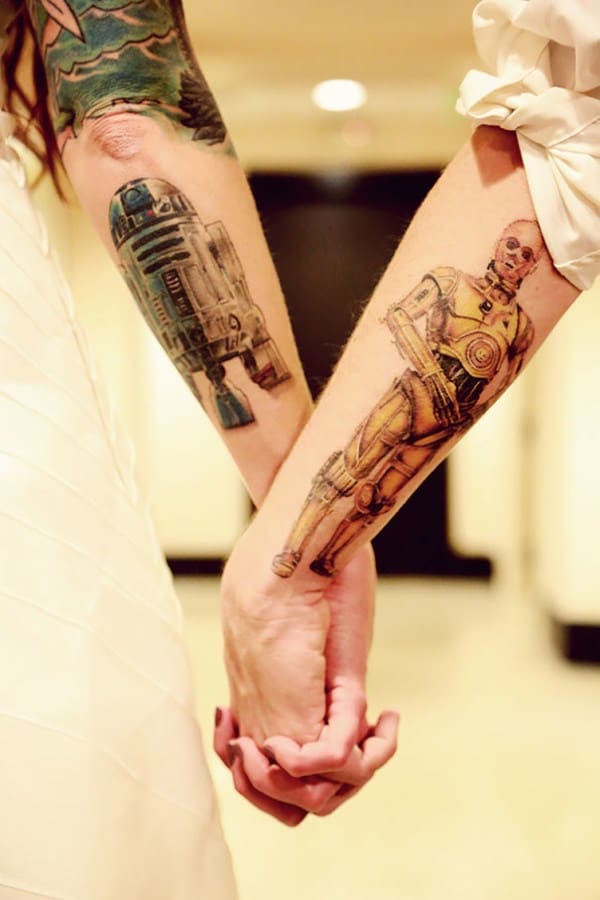 For the dreamers and fantasists who know that love can go even further than a galaxy far, far away.
60. Behind the Ears Couple Tattoos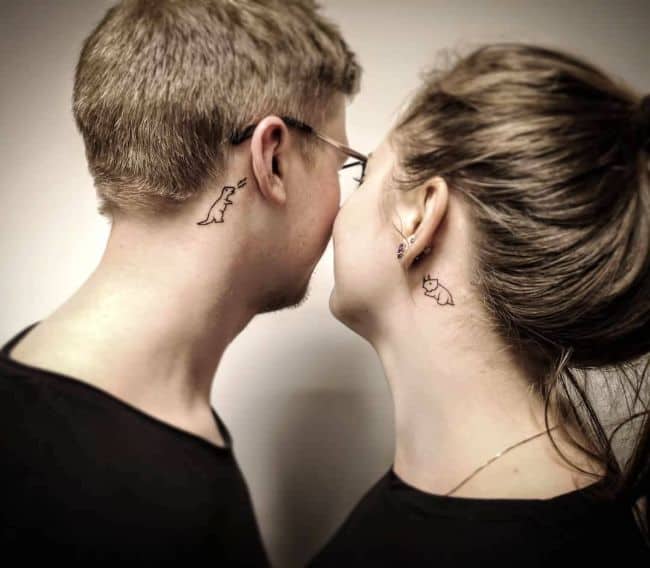 This is a really cute placement which works well with any design, in particular line art, symbols, and small cute animals.
FAQ
Is Getting a Couple Tattoo a Bad Idea?
There is no easy answer to this question – it depends on a lot of factors. If you and your partner are sure that you'll be together forever, then getting a couple tattoo may be a good idea. However, if there's any chance that your relationship might not last, getting a tattoo with your partner's name or initials could end up being a very regrettable decision.
What Does a Couple Tattoo Symbolize?
A couple tattoo can symbolize a number of things. For some couples, it may simply be a way to show their love and commitment to one another. For others, it may represent the strength of their bond, or serve as a reminder of a special moment in their relationship. Couples who get matching tattoos may also view it as something that will unify them, help them feel closer to one another, or even make them feel like they are truly soulmates.
Why Do Many Couples Get Tattoos Together?
There are many reasons why couples might get tattoos together. Some couples might get tattoos to commemorate a special event or moment in their relationship, while others might simply enjoy the idea of sharing a physical representation of their love and unity.
Are Couple Tattoos Bad Luck?
No, couple tattoos are not bad luck. In fact, they can be seen as good luck charms. Couple tattoos are a symbol of commitment and unity, and they can represent the strength of your relationship. Tattoos are also personal expressions of art and style, so matching couple tattoos can be a fun way to show off your shared taste in body art.
You May Also Like