Every individual has a special spot in their hearts for their family. Each member of the family means so much to us. They are the first people in your tribe and the ones to teach, guide, support and love you through thick or thin. Therefore, it is not unusual to see people honoring the bond they have with their families through body art. There are beautiful designs that may showcase one's heartfelt gratitude and love for their family. It can range from simple figures like hearts, anchors or a detailed crest and family tree. Some people may also opt to have their favorite animals ink to indicate protection and loyalty. 
1. Matching Family Tattoo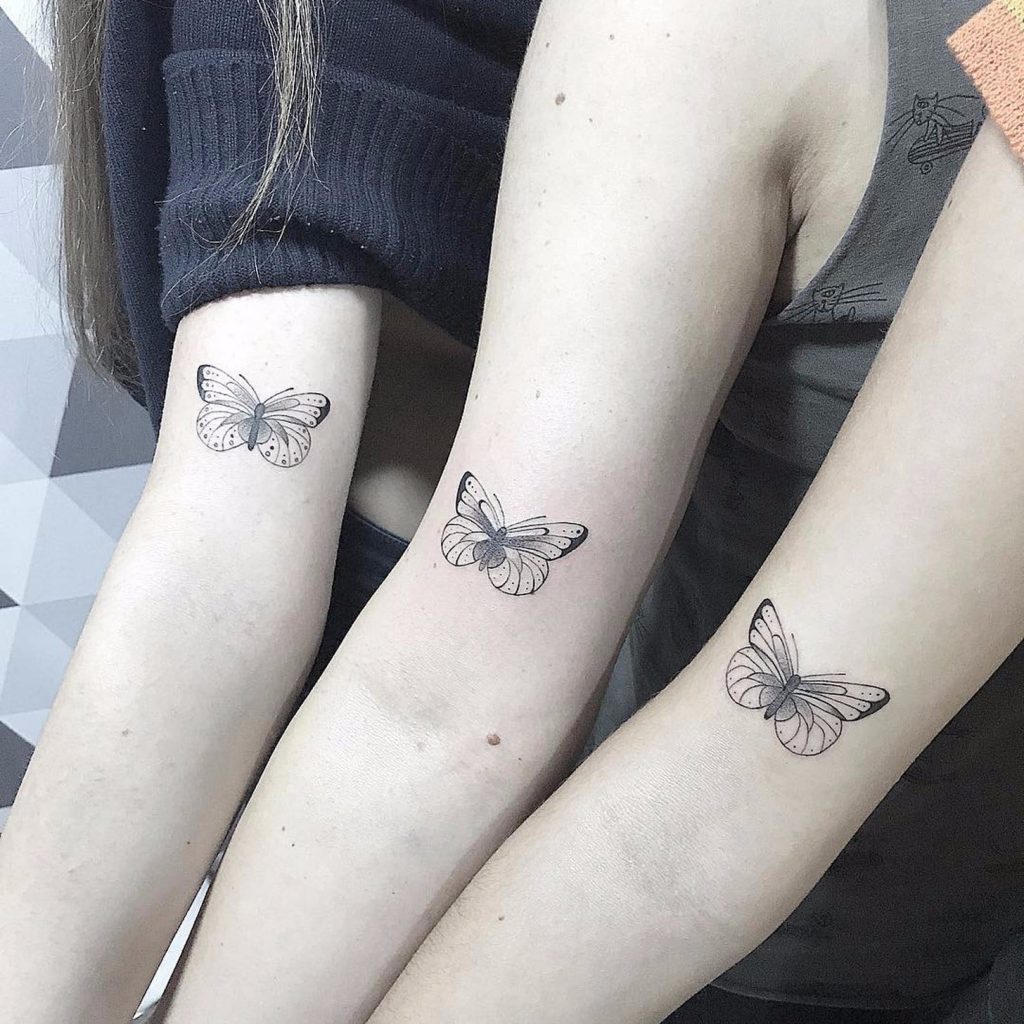 Often, we can see young couples wearing matching clothes and items. And matching tattoos can also be an excellent means of showcasing your bond with your loved ones. It is an ideal inking sessions that sisters, siblings and partners can do. Couples can opt for matching ink to honor their children or relationship, while siblings can be experimental with their matching inks. It is important to agree on the design before the inking session to avoid having regrets.
2. Family Symbol Tattoo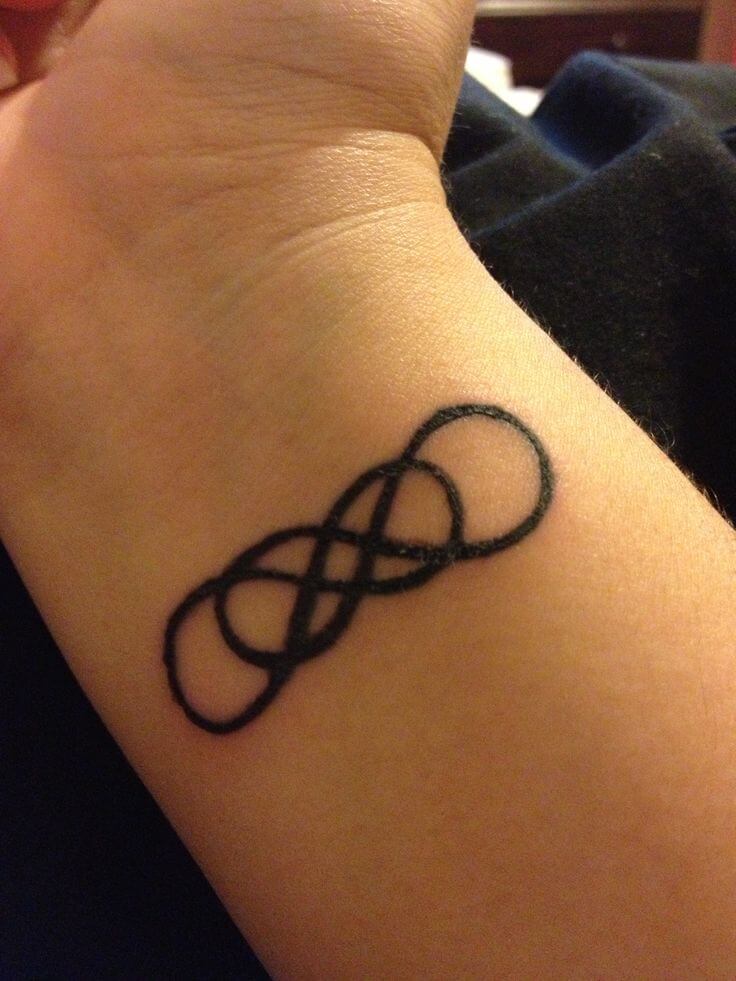 Various tattoo designs can be used to symbolize family connections such as the Triquetra or the Celtic Knot. It features an interlocking symbol representing an everlasting bond and eternity. It's beautiful design makes it a popular choice for people seeking out tattoos to celebrate familial bonds. This shape is rich in symbolism and can mean different things for an individual. It can be associated with life, or for the members of the family. It is even more meaningful for people with Celtic heritage.
3. Family Tree Tattoo
Another popular family tattoo design is the family tree. It is considered as an excellent way of honoring the people closest to your heart. You can be creative in how you'd like to design your family tree, but the most common is one with branches and the including the names of the family members. This kind of ink design represents the strong bonds shared, connections, strength, endurance and love. There various tree species and they are associated with different meanings. You can opt for a willow tree for its semblance to stability, birch for new beginnings and others.
4. Family Quotes Tattoo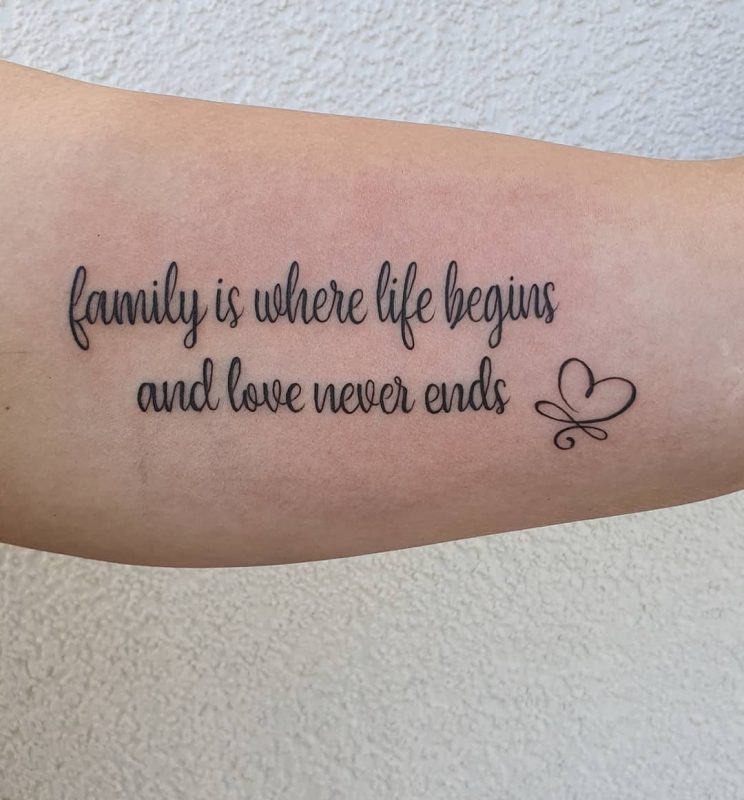 Getting inked with meaningful quotes about family is also an ideal way to pay homage to your pack. There are various quotes, poems, and famous lines that are quite moving especially when they are about family love. Choose something that connects with you emotionally on the love or bond you share with the special people in your life.
5. Family Forever Tattoo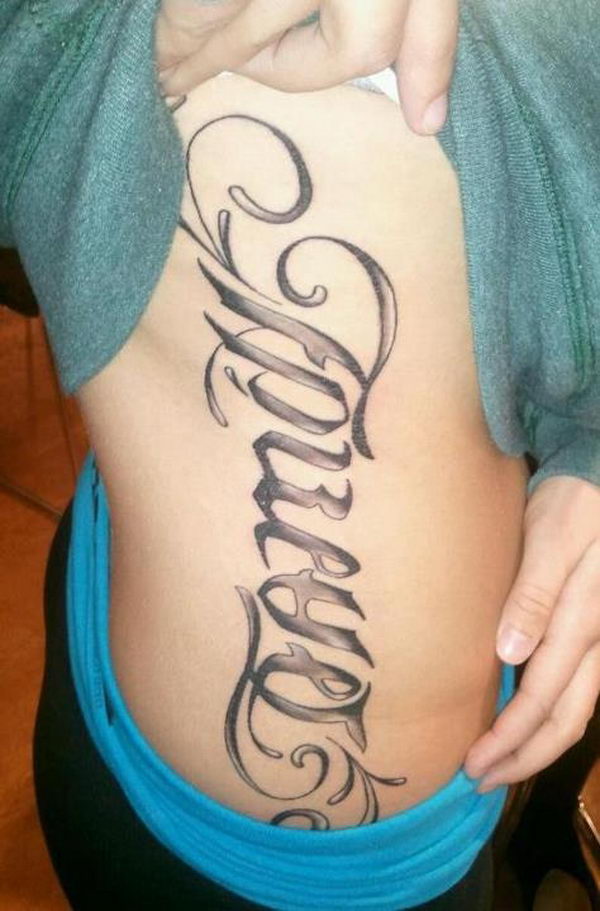 For people who value their family above anything else, getting inked with a family forever tattoo is an ideal choice. This design suggests that your family is the top priority in your life and are the ones you hold closest to your heart. The Family forever ink design can be interpreted differently and accentuated with signs that represent your bond. It can be written simply or looped with an infinity sign. This beautiful and meaningful ink can be tattooed on a spot where you can see it everyday, alternatively, it can be placed on your chest.
6. Family Chest Tattoo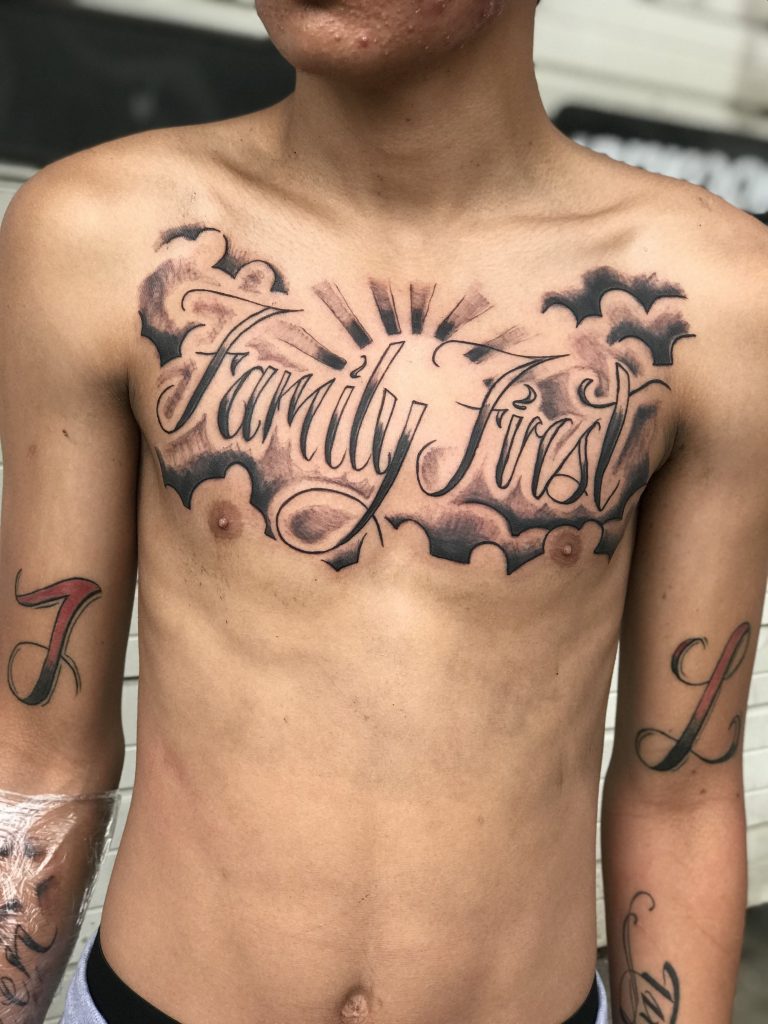 When it comes to family tattoos, one of the most popular spots for getting inked. A family chest tattoo allows for something detailed, but it is meaningful because you have something you love placed very close to your heart. The chest area is large enough for intricate designs you may want for your family tattoo. A lot of men and women choose to have their family tattoo on their chest to constantly remind them of the significant role these special people play in their lives.
7. Family Over Everything Tattoo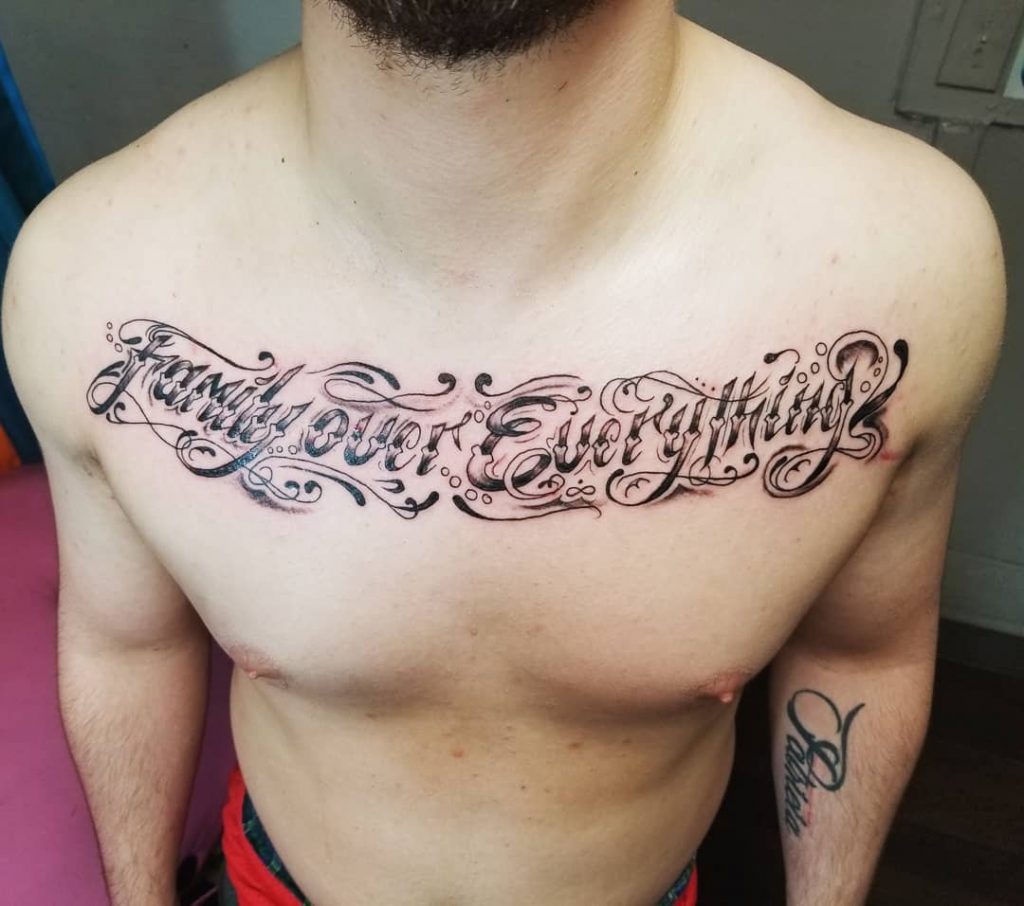 Another way to prove how much your family means to you is to have a tattoo that depicts "family over everything" in a literal manner. This straightforward design has the whole phrase spelled out in a simple manner. But others may want to put in some creative designs like having the word family placed on top of the word everything. You can also choose a font that is special to you, even the handwriting of your beloved family member. Though the phrase is quite common, you can make it extraordinary.
8. Small Family Tattoo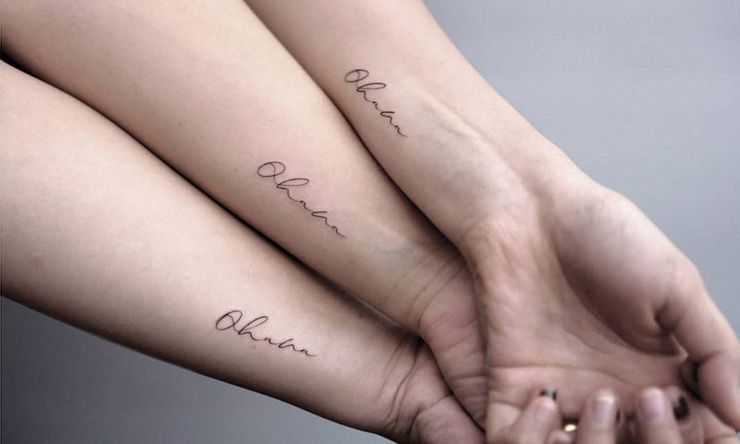 If large and intricate tattoo design is not your thing, but you still want to honor your family, you can opt for a small design that you would love. Small tattoos are well-loved by many because of their versatility. They can be inked on any part of the body, it is easier to hide, it quickly gets done and it is obviously cheaper. Despite the size, family tiny tattoos can mean the world for someone. It can showcase the weight and size of love they have for their family through simple words, heart figures or animals.
9. Family Traditions Tattoo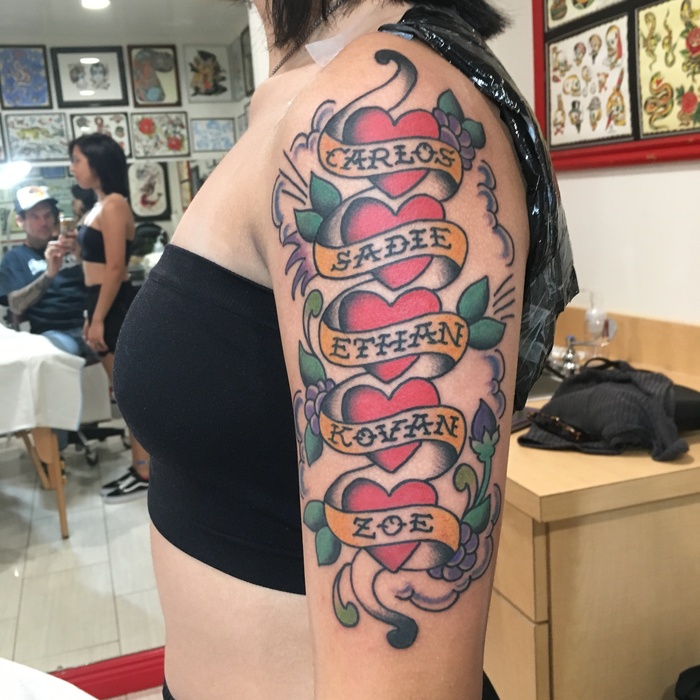 Traditional tattoos can be recognized through the limited color palette used and the heavy outlines in the design. For years, this tattoo design has been quite popular especially with the sailors and those who spent time in penitaries. The common hues are blue, green, yellow, red and black, and it has a bold statement design that demands attention. In this modern times, many people are exploring traditional tattoo designs because they are unique, bold and bright. It can be a perfect choice if you want to get inked with a subject that's close to your heart.
10. Family Anchor Tattoos
Anchors represent stability and endurance, thus they are often a favorite design for getting inked. It is used by all forms of sea vessels to prevent them from drifting away. For people looking for something meaningful to associate with their family, an anchor tattoo is an excellent choice. Our families serve as our anchors that keep us on course, they support and keep us grounded during tough times.
11. Family Names Tattoo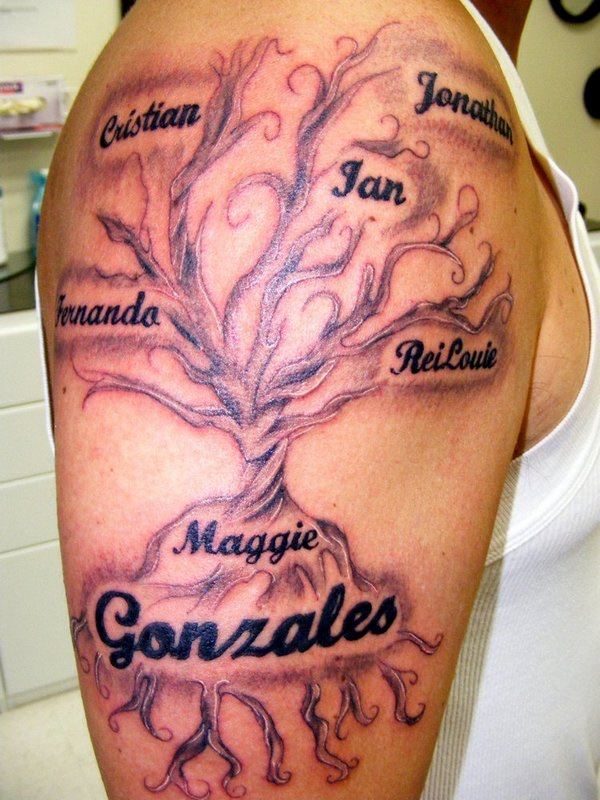 Getting a name tattoo is another great idea if you want something to represent your family love. There are plenty of variations and designs that can go along with a name tattoo. It can be something that you love like books, boats or planes. It can also be something that is associated with strength, guidance or grounding like an anchor for instance. Adding names of family members and loved ones to these significant designs is a beautiful tribute that will surely bring smiles to their faces.
12. Family Baby Footprints Tattoo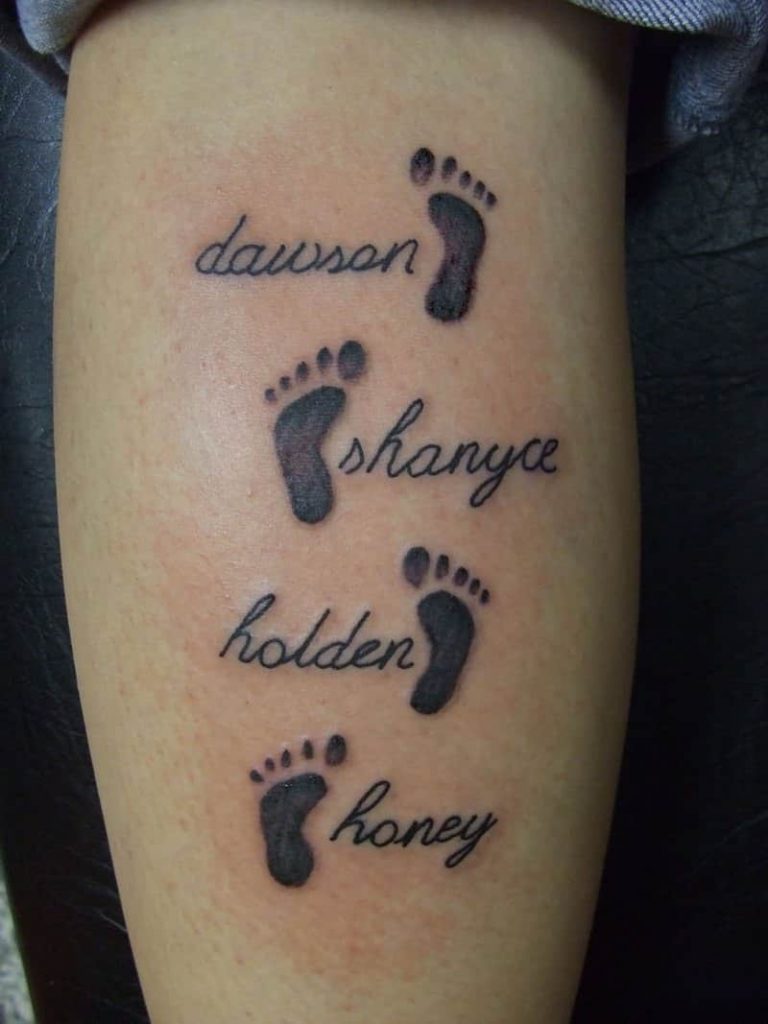 A heartwarming family tattoo idea is great for parents who have been granted a child after years of waiting or even normal parents who want to show their love for their children. Most parents would like to hold a memoir of the sweetest moment with their child. And imprinting their baby footprint is the perfect symbolism of a meaningful journey with their kids. This tattoo design can be easily accentuated with hearts, names or numbers indicating the sequence of the children in the family.
13. Family Dedication Tattoo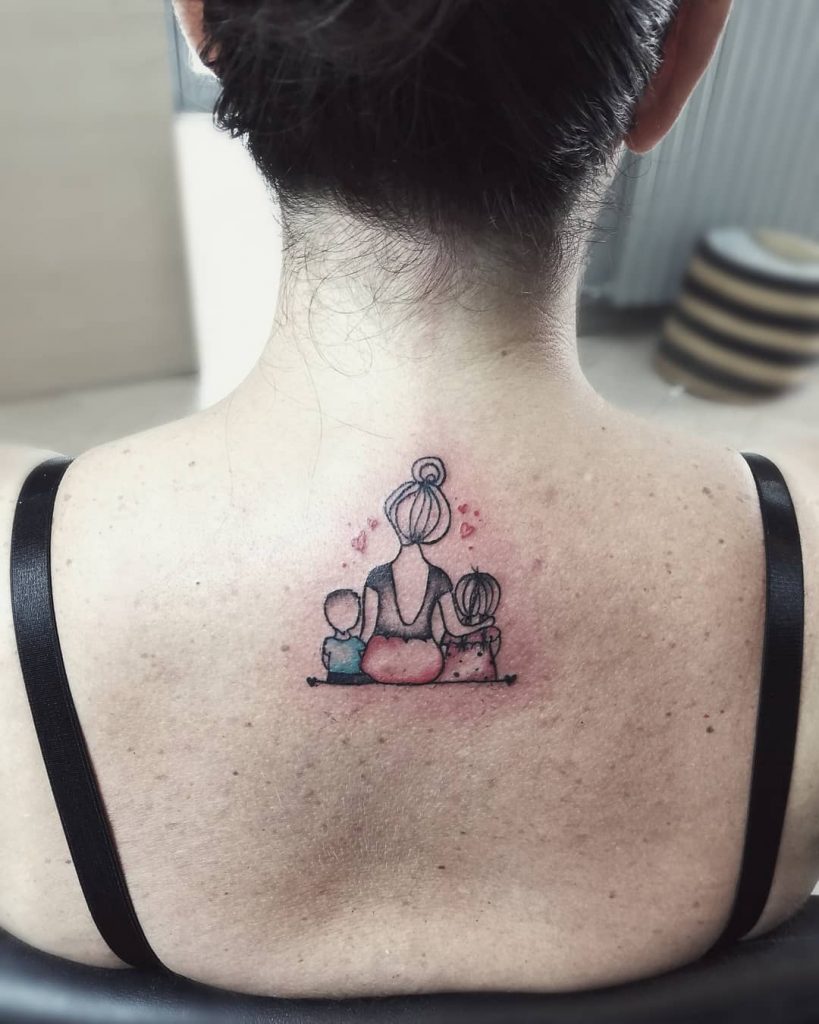 Choosing your own dedication family tattoo offers extreme versatility to showcase your love for your family. It can be anything from etched bracelets, photographs or meaningful symbols that they associate with their loved ones. Some people also prefer some secret codes that they share with family to tell the tale of their dedication and love.
14. Family Ringer Tattoo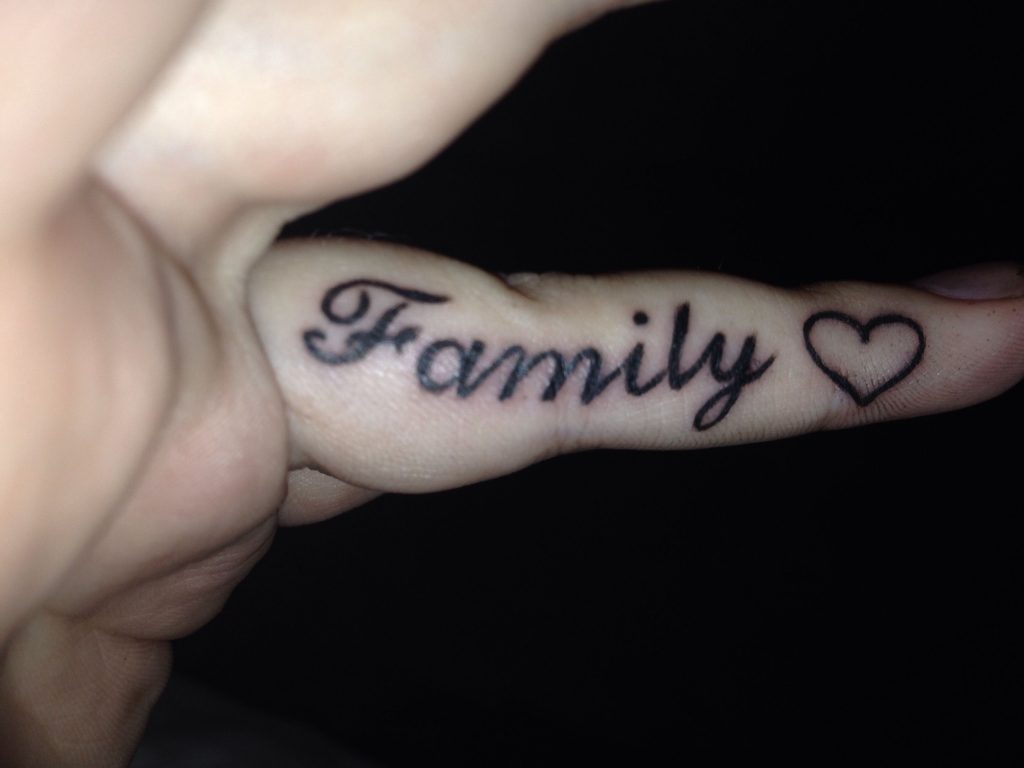 For those looking for a discreet family tattoo idea, getting a ringer is the perfect choice. It is ideal for people who want a minimalistic yet meaningful design as tribute to their family. An example of this is having the word "family" etched on the ringer finger to signify their love and loyalty. Having a small tattoo in the ringer finger is made even more special because the vein the runs through here is connected to the heart.
15. Family Portrait Tattoo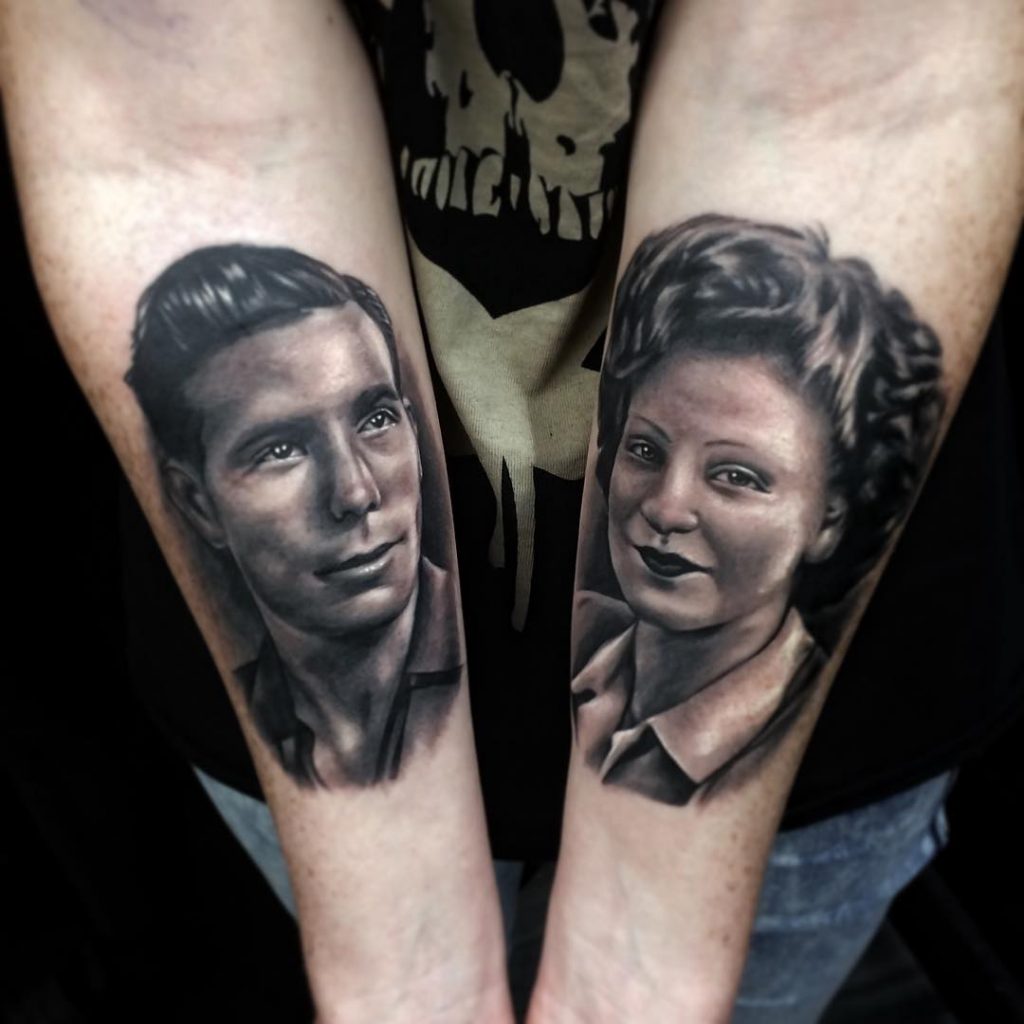 Another beautiful way of honoring the people closest to your heart is the family portrait tattoo. It is the perfect means of expressing your closeness and bond. It can be a reminder of a special occasion or to show the strength of your family. There are several designs and techniques that can be applied for this type of family tattoo. It can be a realistic image of the family member's faces, simple outlines or a more abstract design.
16. Celtic Family Tattoo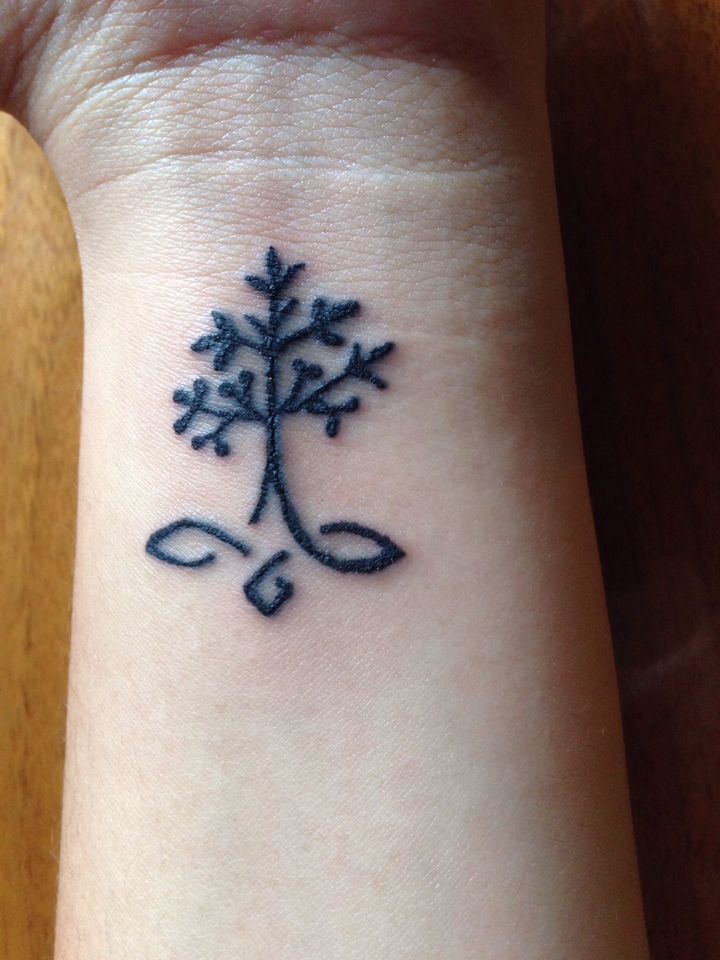 Even if you do not have a Celtic lineage, you can readily explore symbols that they have which are associated with family, connection and love. You can always opt for the Trinity symbol, or some intricate pattern that depicts mother and child connections. There are several Celtic symbols that evoke connections, calm and closeness. Thus, they are perfect selections if you'd like something that would honor your familial bonds.
17. Family Tribal Tattoos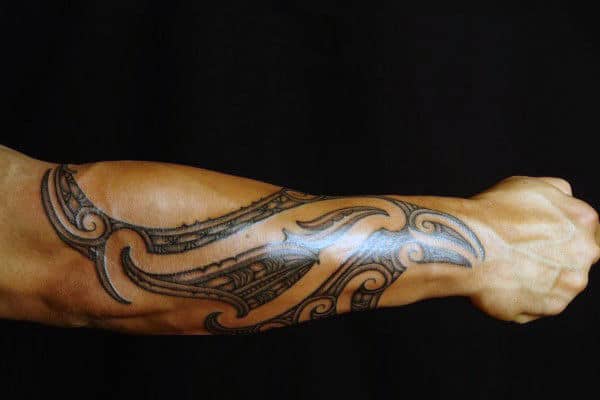 When it comes to tribal tattoos, people have various interpretations of how it goes. It generally depends on the cultures that use it. Some popular tribal tattoos range from Native American and Polynesian etchings. People with tribal blood would love to showcase their heritage and achievements through these symbolic body art. There certainly is no one design that would represent the family, but it will be up to you to incorporate the idea while you honor your culture and heritage too. Try to research the meanings and the designs before having it etched so that you won't create something that will seem offensive to one's culture.
18. Family Lion Tattoo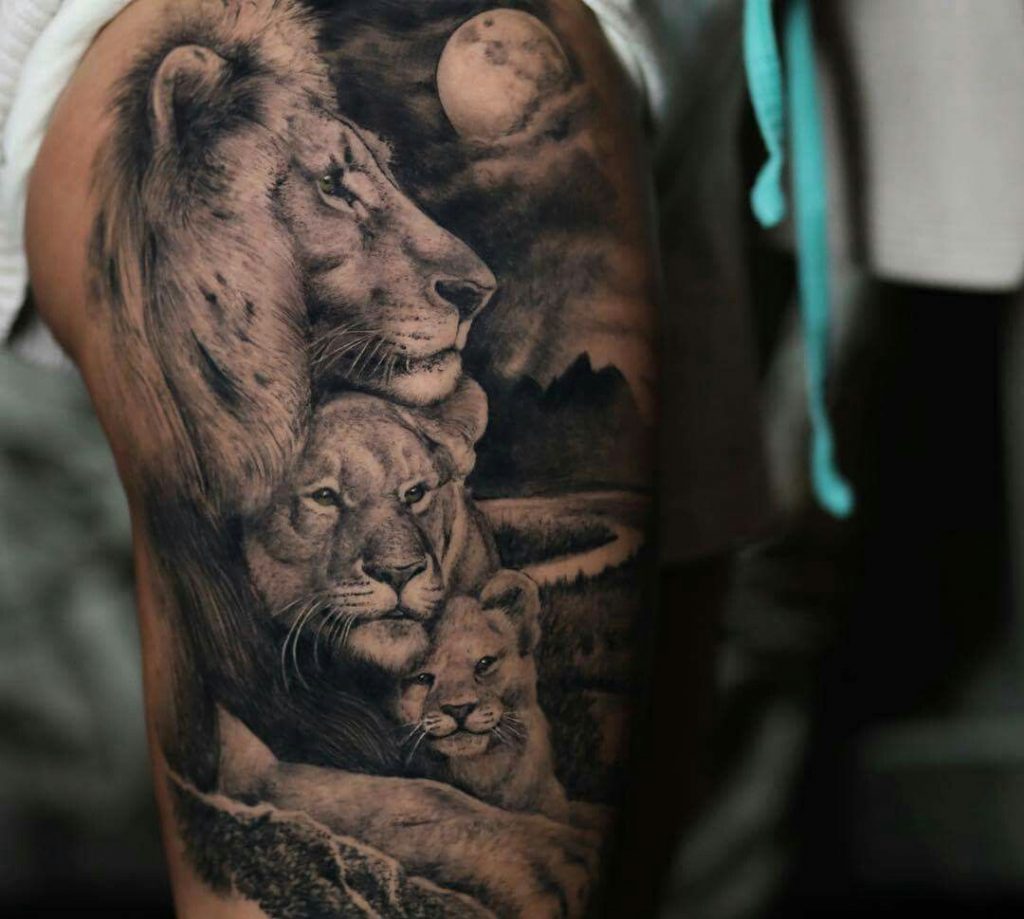 The lion is considered as the king of the jungle and they are associated with loyalty, protection and strength. Lions are fearsome creatures, but when pictured with a lioness and cubs, they become a meaningful representation of a family. If you are after getting a family tattoo that signifies your family's strength, powerful connection and loyalty, this a wonderful alternative.
19. Family Heart Tattoo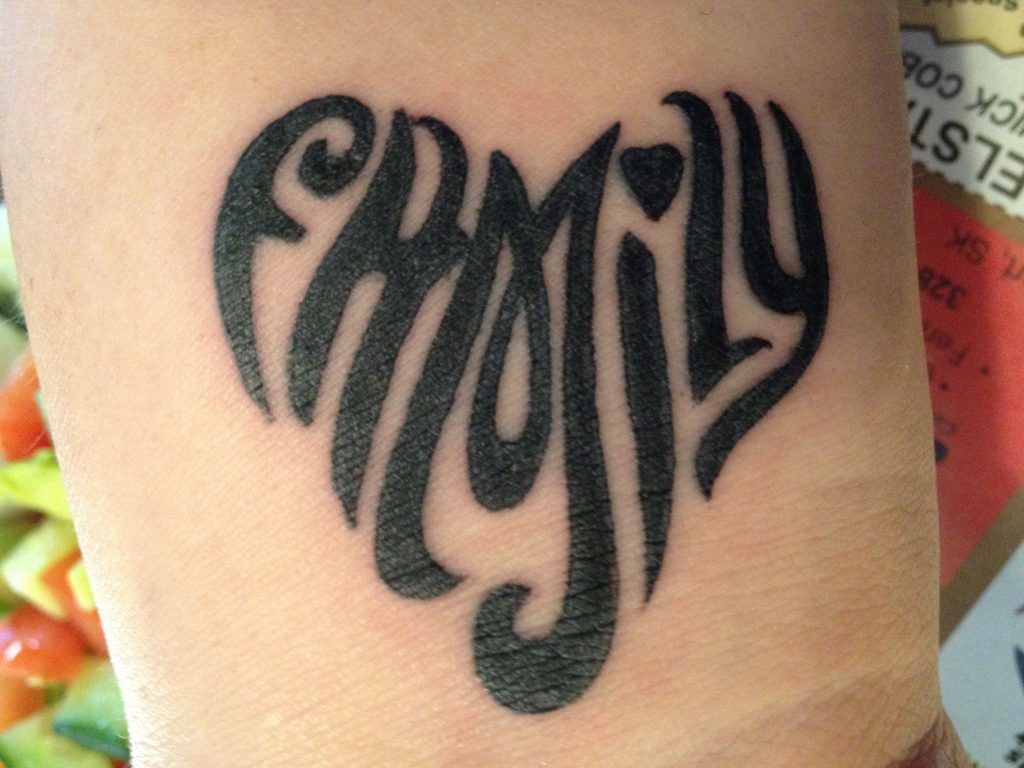 When it comes to symbols that represent the family, you need not look for anything complicated to find the perfect design. For a straightforward approach on your family's tribute, getting a heart tattoo design might just be the answer you're looking for. Hearts universally signify love and connections – the perfect symbol for your family. Keep in mind that while it is simple, it is never boring with the right amount of colors and techniques. You will have a unique ink that will not only look great, but will also be special for you. Apart from hearts, you may also add flowers, or family phrases on your design.
20. Family Wolf Tattoo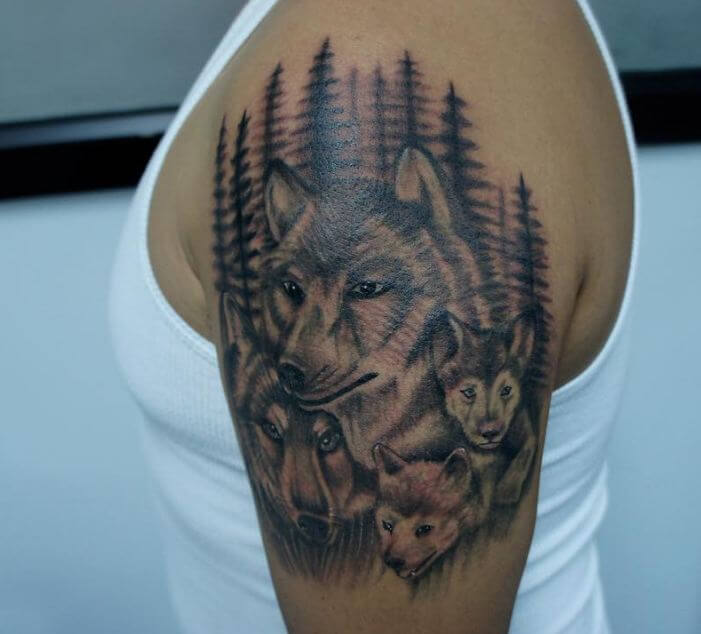 Another animal symbol that represents loyalty and family is the wolf. Getting a wolf family tattoo can be an excellent option for you to showcase your pack's bond and connection. Wolves rely on each other for protection, companionship and hunting. They show strength in numbers and their need for one another to succeed. If there is anything that can perfectly symbolize what your family means to you, wolf tattoo design is the perfect representation.
21. Family Important Years Tattoo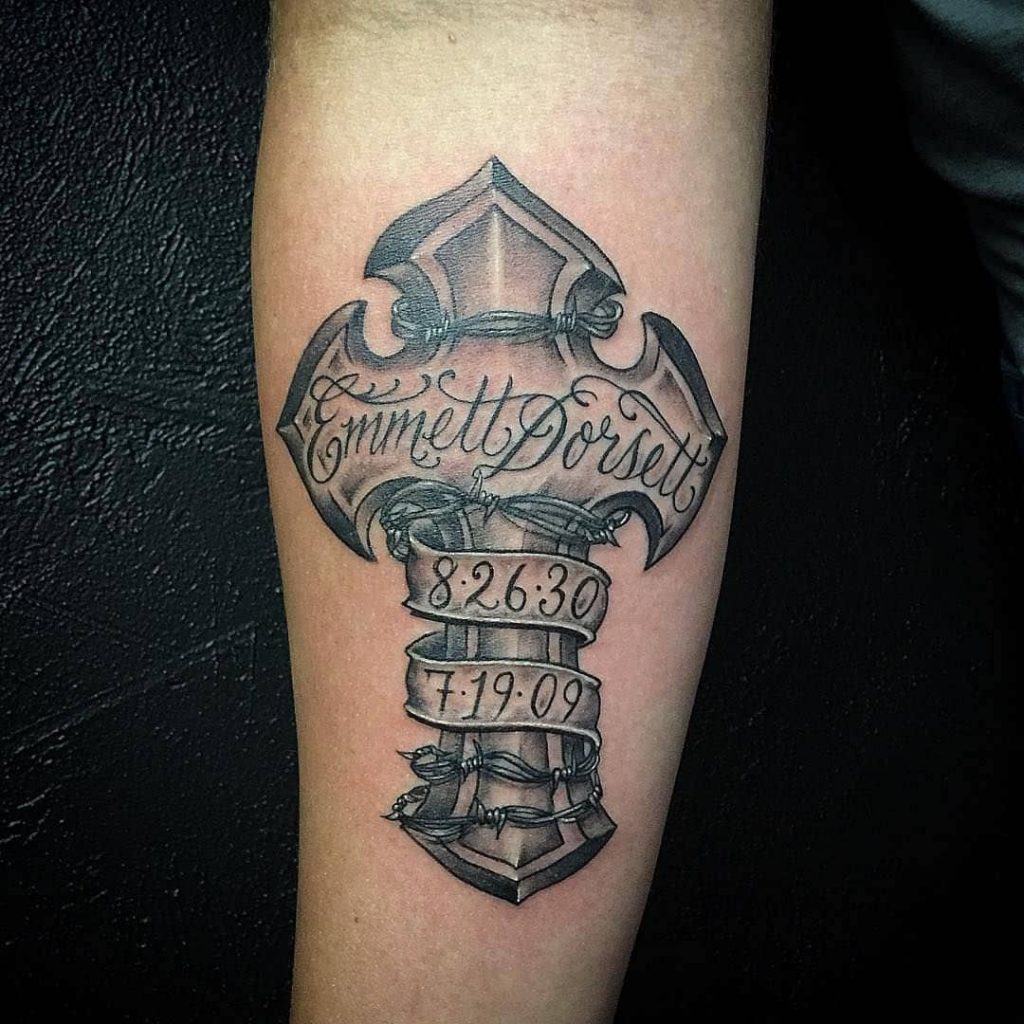 Getting inked with significant years or dates is another family tattoo design idea that you can explore. It can be mixed with other designs that represent the family such as vines, trees or animals. It can be designed by placing birthdates of the family members or the milestone years for the family. It is a meaningful yet simple tattoo that you can get if you are looking for something small, discreet and special.
22. Addams Family Tattoo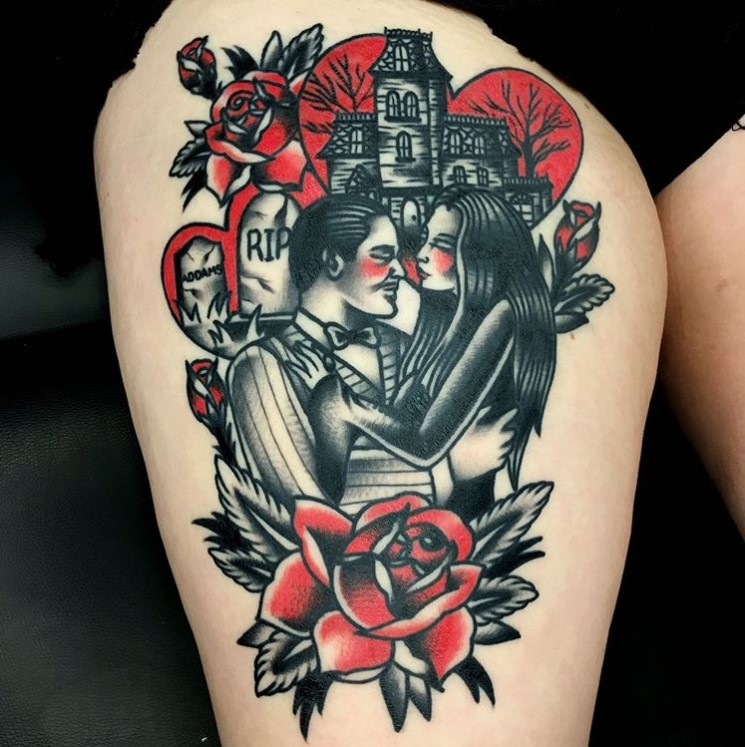 Is your family weird and quirky? Do you find your family's uniqueness impressive and loveable? How about honoring your strong bond and connection with an Addams Family inspired ink? Though they are not normal, each member remains loyal, protective and proud of one another. The parents are considered as one of the best couples in films – making a lot of fans wish that they are like them too. If you too are a big fan, consider getting an Addams family tattoo for a fun and special way of showcasing your loved ones through body art.
23. Family Bear Tattoo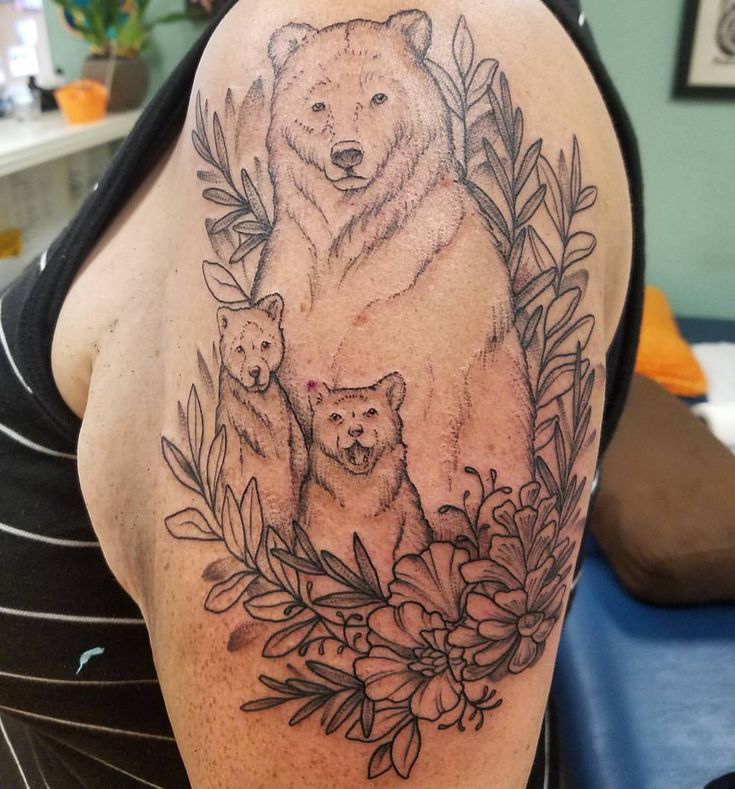 A bear family tattoo is another great option for honoring the most important people in your life through body art. Bears represent strength and protection. It is a common knowledge that mother bears will go through lengths to protect her cubs. Thus, if you have a strong woman as the center of your family, celebrate her with this special tribute. The bears can be made hyper-realistic or a simple picture of a family. Then, bring in other accents to complete a unique meaning for your ink.
24. Family Japanese Tattoo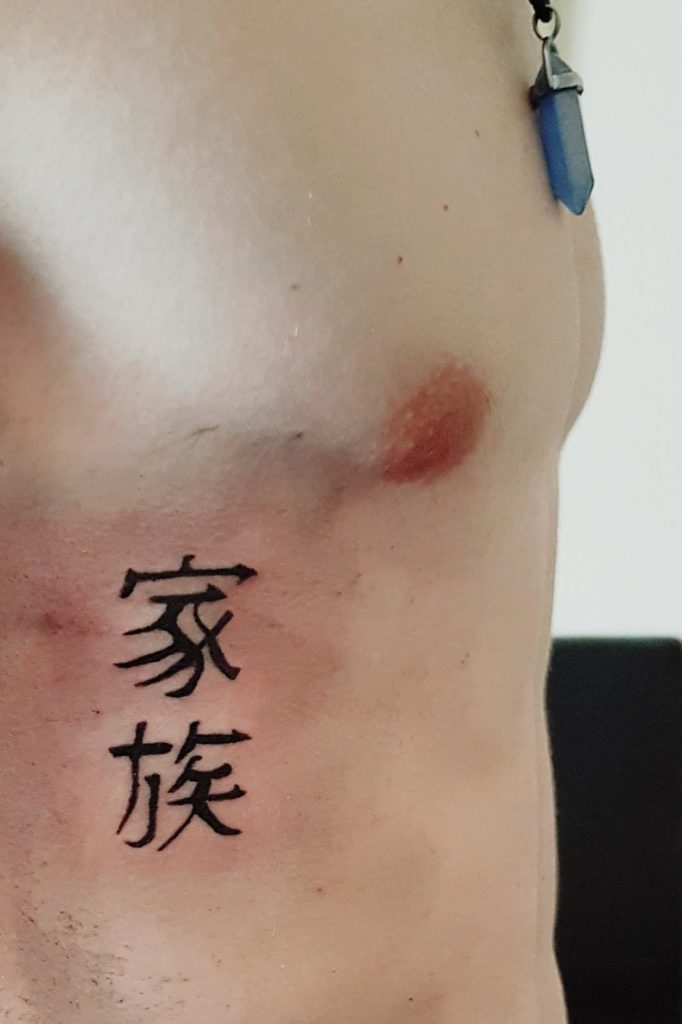 For the Japanese, family is very important. It is represented with the "Kazoku" characters and composed of various symbols. If you have Japanese roots, it would be easier for you to choose the symbols to come up with the perfect Japanese tattoo that will signify your family love. But for people who are not familiar with the language, it is best to research the design and the symbols first. It would be best if you consult with someone who is an expert on the language so that you will have the perfect Japanese family tattoo for your body art.
25. Family Hands Tattoo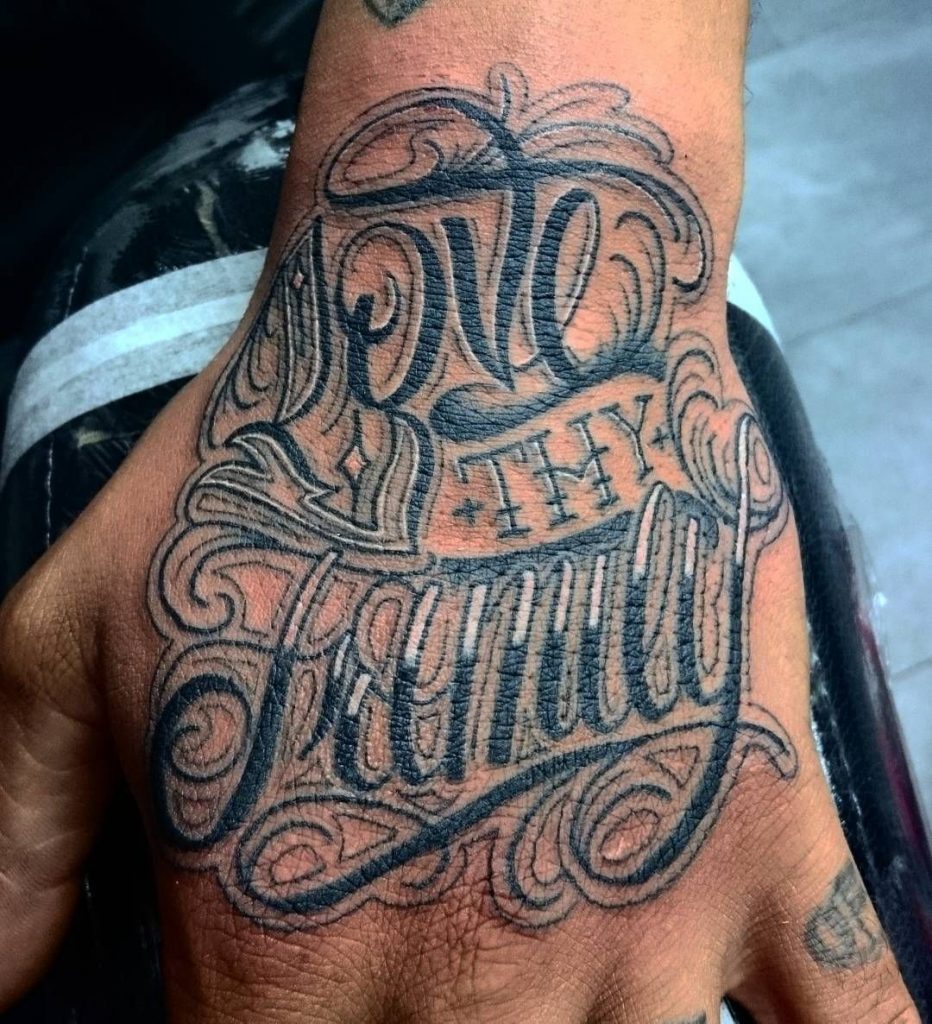 Another great tattoo design that you might want to consider is a group of hands tattoo. In some way, it is similar to the baby footprint tattoo, but this one can include all the members of the family in one amazing ink design. It is a popular family tattoo choice because one can be flexible and versatile in the designs. For instance, you can have an image of intertwined hands to represent your relationship with your partner. If you have kids, you can have an image of hands on top of one another – from the father, mother and then the kids. Some fathers also love the idea of imprinting the image of the first time their baby held their finger. Others prefer to etch a fist-bump with their beloved child. Whatever designs you have in mind, you can always showcase the love and connection you have with your family through an expressive hand tattoo.
26. Family Silhouette Tattoo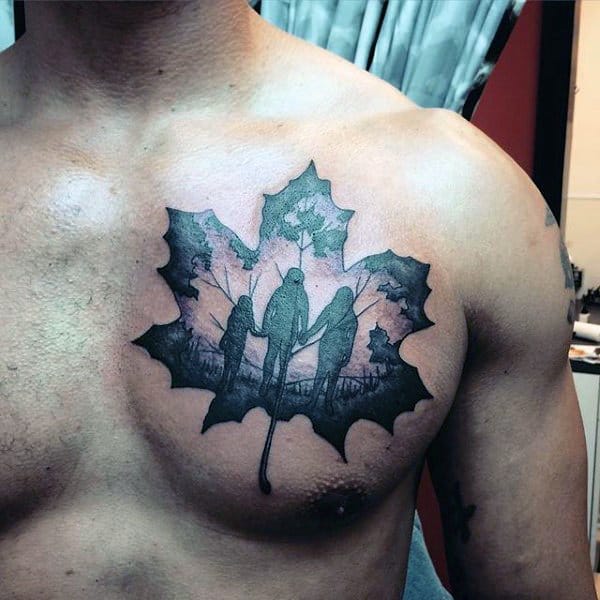 Last on the list are silhouette family tattoos. These designs range from intricate pieces showcasing the family's togetherness in simple black image to ones accentuated with quotes and other symbols. It can be a copy of your family's silhouette or a simple group symbolizing your family's closeness and bond.
There many things and animals that may symbolize the essence of the family. Apart from having pictures etched on the skin, many people also explore these symbols as a tribute to their loved ones. Family tattoos are not just about putting images of your family members as body art, it may also be a way of honoring the connection, uniqueness and faith you have in each member. The designs highly depend on the meaning or thoughts you want to invoke. At present, the most popular spot of getting family tattoos are the chest, arm and shoulders. However, there is also a growing demand for simpler, smaller and minimalistic family tattoos.
When it comes to families, the respect and honor is not limited to those with whom you share a biological connection with. Even if you are not related by blood, you can always celebrate your meaningful connection through these unique and special family tattoo ideas.
FAQ
What are some reasons to get a family tattoo?
A family tattoo is about remembrance and showing respect to the family. It can also be a reminder of events past, or family history. Family tattoos are usually a celebration, with more than one family member having a tattoo or a set of tattoos. It can also be a matching tattoo with other family members.
What is a good tattoo for a family?
For a family to get tattoos for the members, it is best to have a tattoo that is simple and easy to work on. It can be an important symbol, or a family crest, and it can also be a logo or family motto. There are some who would recommend a Biblical phrase or verse. While others would stick with a one word that is full of meaning for the family.