Tattoos have evolved from being fads and niche fashion, to mainstream. Today's body inking has diversified into inspirational messages, creative outlets, expressions of the individual persona or personal mantra- with different sides that can be seen all over their bodies for those who want it plainly visible; others keep discreet images where they are barely perceptible. Finger tattoos are part of the latter.
If you're looking for a way to express your individuality or show off some personality without having to put any more permanent ink on yourself, then finger tattoos are the perfect choice. They can be simple and cute like small hearts that look rebellious in plain sight as opposed to drawing attention by being out front where people might see them easier.
Feeling inspired to get one of your own? Keep reading to find out all about finger tattoos and discover the best designs that will stand the test of time.
1. Ring Finger Tattoo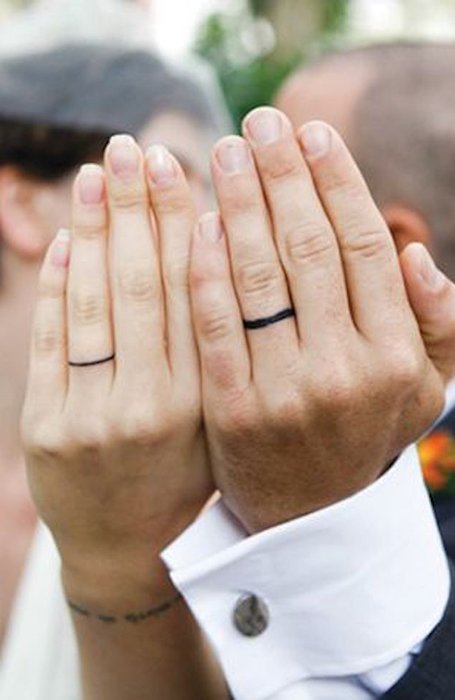 It's a love story as old as time. When you commit your life to someone, the symbol of that commitment is an eternal tattoo on the ring finger and it never goes away. A lot of couples choose this inking style for their wedding nowadays because they want something unique that'll hopefully last forever —just like their marriage!
What better way to show your lifelong devotion than with a permanent ink on your finger? It stays there through thick and thin; whether or not things get tough during rough patches in marital bliss, at least one thing will stay: Your everlasting promise!
Interestingly, there is a belief from ancient Romans that the ring finger has the 'vein of love,' which is connected directly to the heart, making this ring finger tattoo a very meaningful and romantic option.
2. Small Finger Tattoo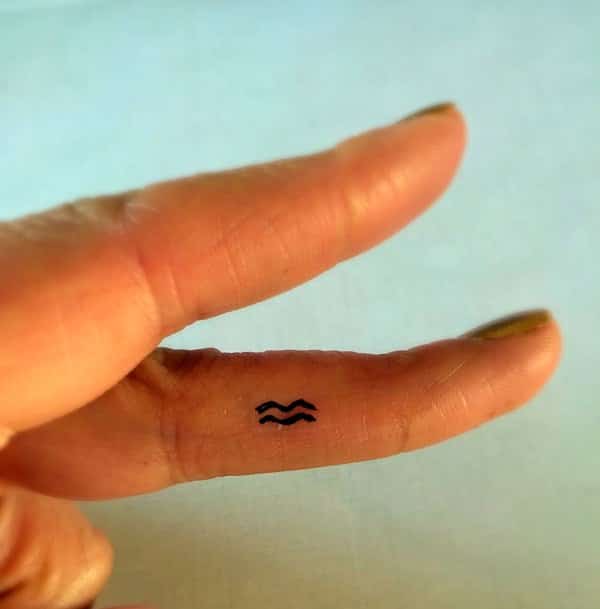 Tattoos are a popular form of self-expression and there's no shortage of styles you can get. If delicate tattoos with intricate designs appeal to you, then this is something worth considering!
Small finger tattoos come in many shapes including initials or your favorite shape as well as symbols that have significant meaning in your life such as stars (which represent hope) or wings (representing freedom). They can be placed anywhere on the body but they will always look best where skin meets bone because it provides optimal ink coverage which leads to stunning results.
Small tattoo styles like these never go out of fashion due their delicacy and finesse – if small prints suit what you want from an aesthetic standpoint, getting one done could make all the difference.
3. Cute Finger Tattoo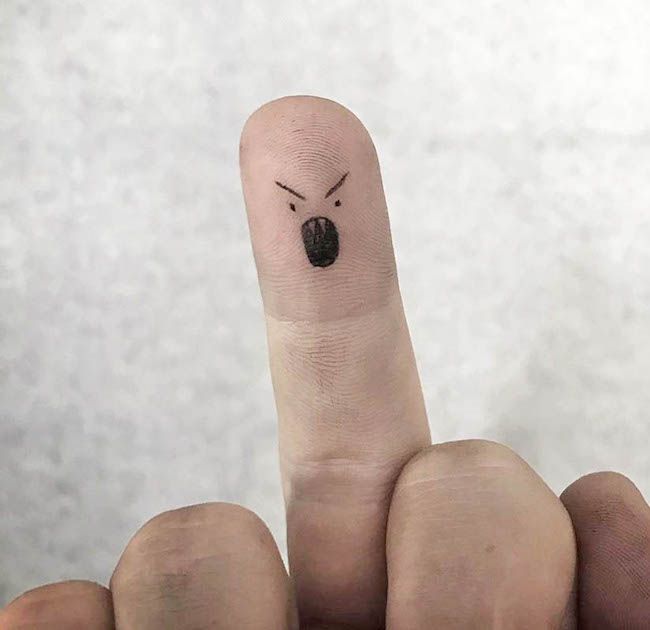 Cute tattoos are a great way to express one's self and be creative. Choose from many different themes such as fruits, cartoon characters, symbols, or signs. As long as you bring your chosen theme with you when visiting the tattoo artist, there should not be any problem getting exactly what you want. The best option for most finger tattoos is to keep the art simple. It doesn't need to be grand; as long as it has meaning and symbolizes you, then it will never go wrong. A cute line-drawing inked with blue and black colors can even give you the best results.
4. Side Finger Tattoo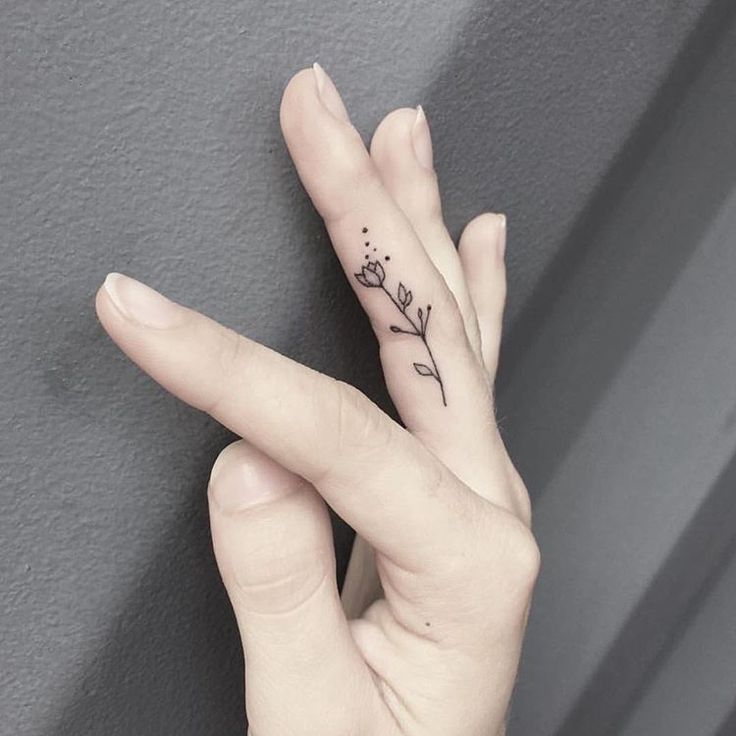 Side finger tattoos are a clever option to keep your tattoo hidden from view. These inks have an intriguing and mysterious purpose that is up for interpretation by the wearer of such tats. If you want to keep the idea of something in your head but not broadcast it, a small tattoo on one side is perfect. This choice can also be popular with couples who prefer messages that are spelled out when they hold hands.
5. Inner Finger Tattoo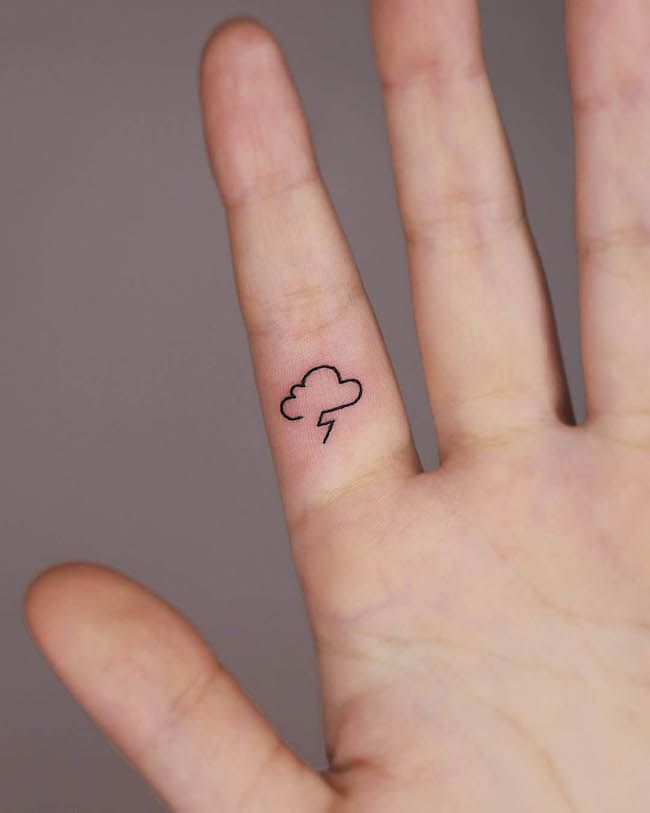 The most downbeat type of ink is a secret tattoo that you can only show to someone if they ask. It's great for those who want to keep their design hidden, or are just looking for something small and meaningful like an initial or symbol. Additionally, one of the perks to getting an inner finger tattoo is that it's less painful than other tattoos because there are more fat and muscle in this area.
6. Middle Finger Tattoo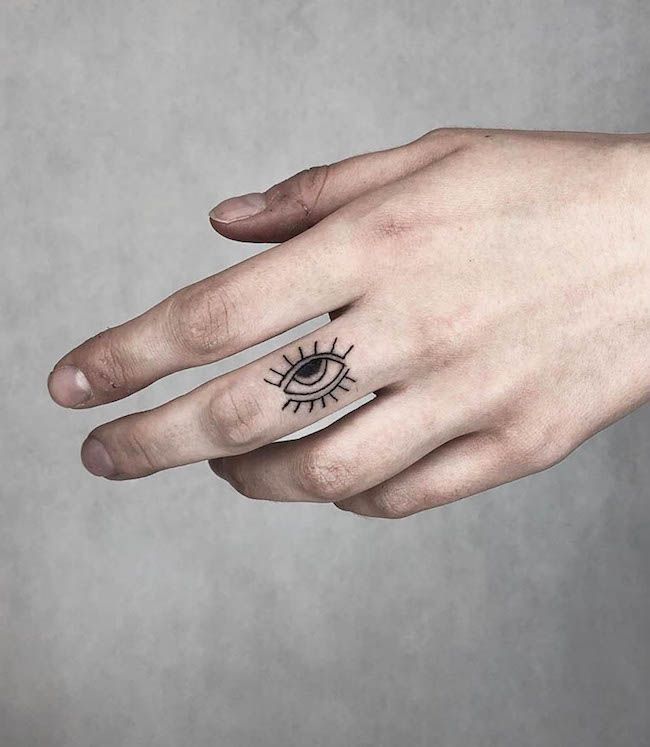 The middle finger tattoo is all about showing your rebellious side. You can show off any attention-grabbing and bold design you want since the finger is long enough to accommodate most patterns or drawings that you might like, such as stars in Ariana Grande's ink style. If you're looking for a tattoo that is over-the-top and has an elaborate design, your best bet would be to choose the middle finger as it will cover most of the area.
7. Heart Finger Tattoo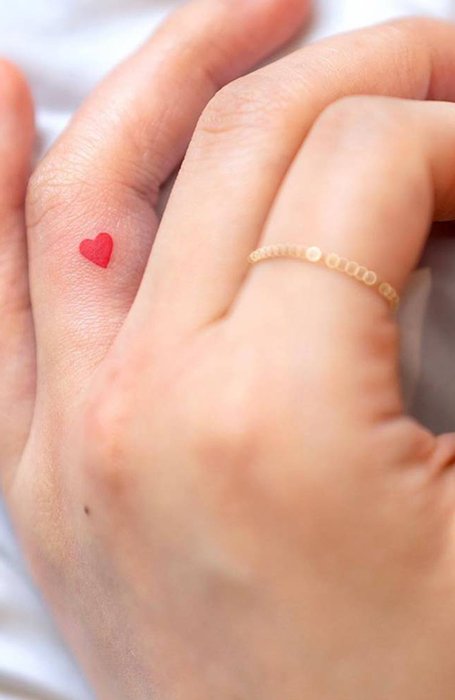 The heart finger tattoo is the most common inking type today. Like ring finger tattoos, this symbol of love and commitment can show your personality as a caring person who values freedom and trustworthiness with unconditional self-love. A tattoo on your hand that reminds you about the most important thing in life: love.
8. Rose Finger Tattoo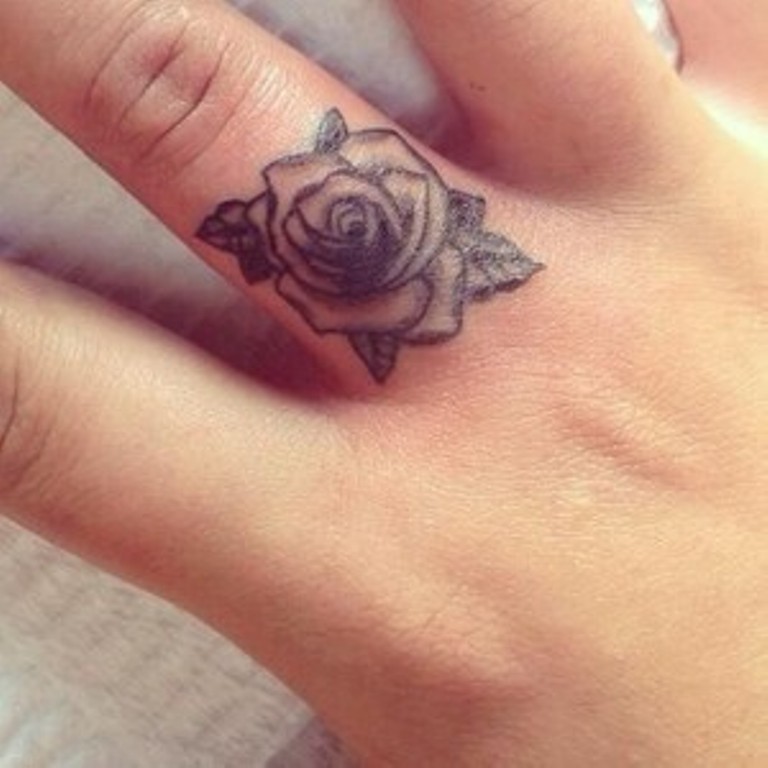 Did you know that people who choose to get a rose tattoo have deep and meaningful reasons for doing so? They're often about the pain of life, mixed with beauty. Roses are also connected with passion and love which is why they make excellent symbols in tattoos.
So if you are passionate about something, this is the best choice of tattoo type for you and will look amazing on your fingers too!
9. Infinity Tattoo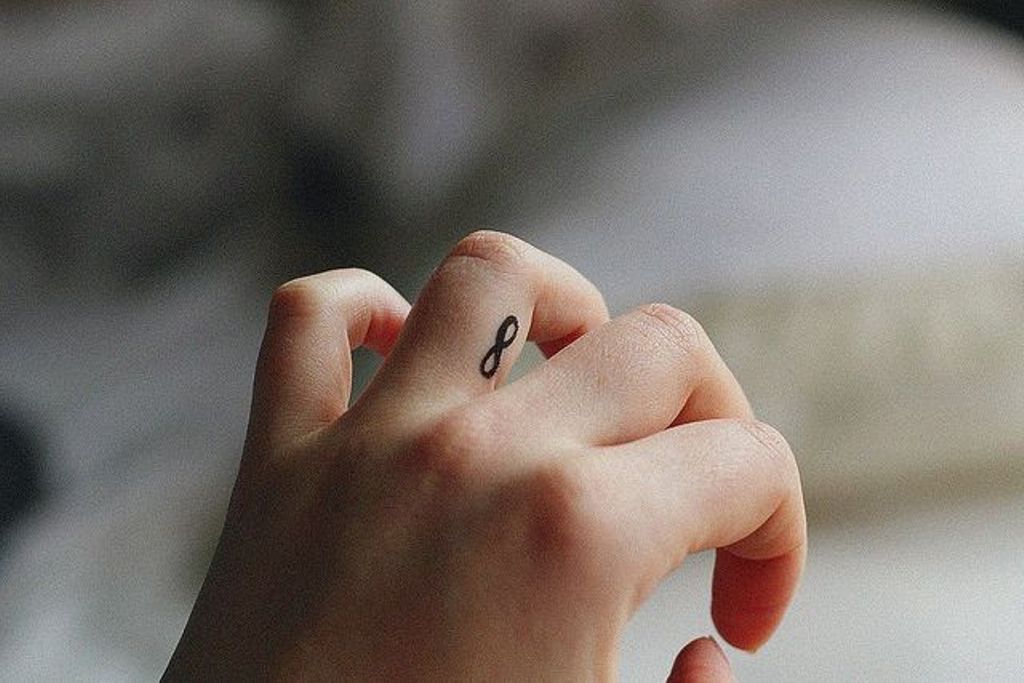 You don't have to like math to appreciate the beauty and simplicity of the infinity symbol. You might not even need a deep understanding of what it is, but you can still love this tiny line that looks so much more than just an 8 lying on its side! Infinity tattoos are usually drawn in black ink with calligraphic details between each letter or number. The most popular variation includes adding either "forever" or "never ending" depending on how committed your partner really is.
10. Wave Tattoo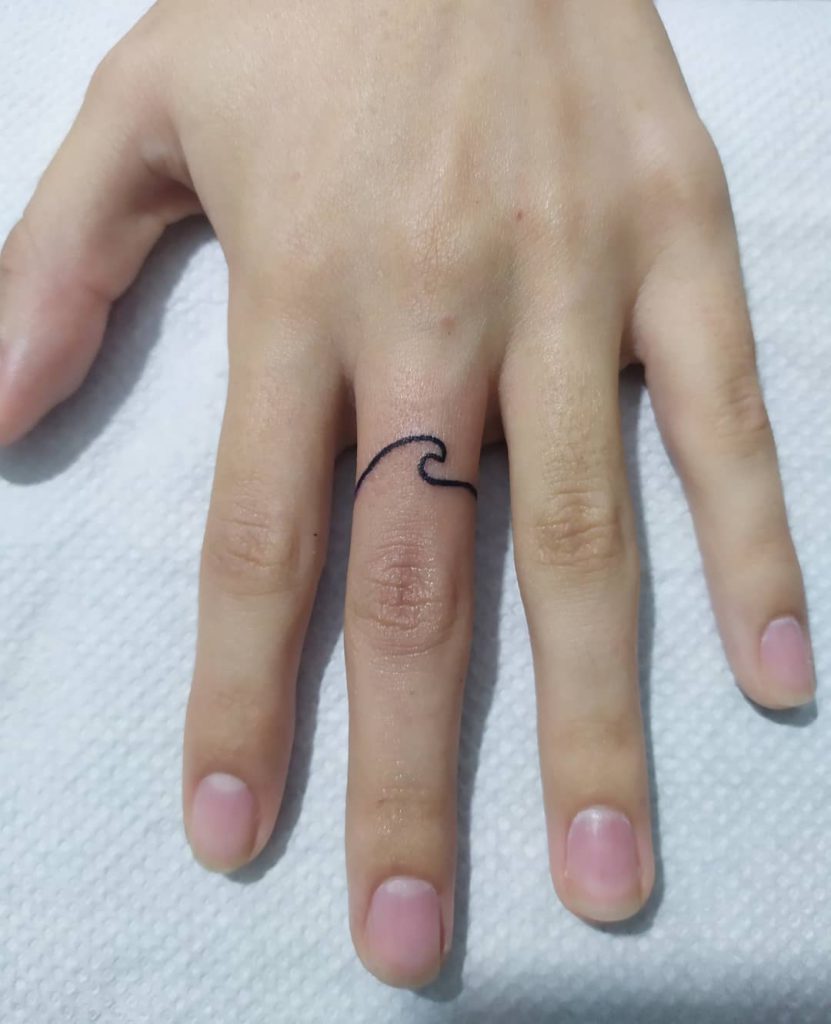 The Japanese tsunami wave print is an iconic image in the world of graphic designs and wall hangings. You can now have a stylized line drawing of waves tattooed on your finger or thumb, which make for compelling reasons to get tattoos. A simple wave design may be worth getting as a small alternative because you are never too old to show off youthful enthusiasm!
If you love the ocean, the serenity of the seashore, or the fierceness of a tsunami, a wave tattoo can be a constant reminder.
11. Lion Tattoo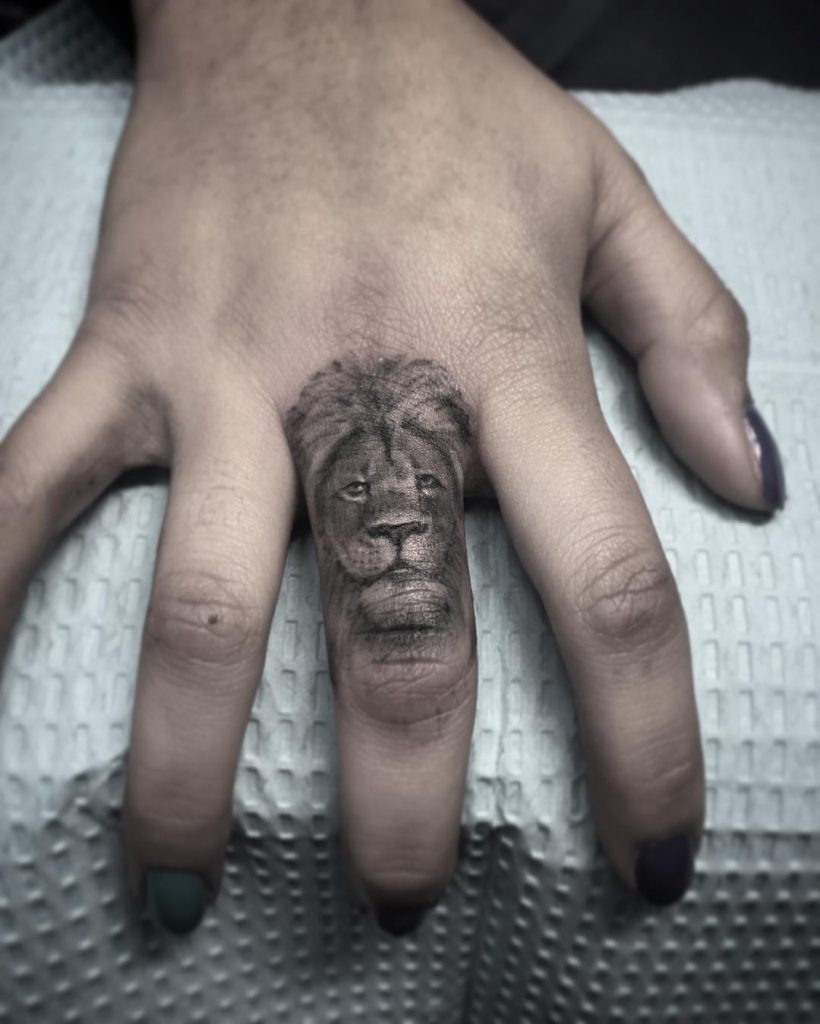 Lion tattoos are exceptional in detail, catching the eye of many celebrities like Anthony Joshua and Cara Delevingne. They're also popular because they stand out from other designs and styles that have traditionally been used for finger art.
This tattoo symbolizes strength, courage, nobility and pride since the lion is considered to be a king of the jungle. Since you are born under this sign if you want to have it on your finger for all times. Lion tattoos represent royalty.
12. Snake Tattoo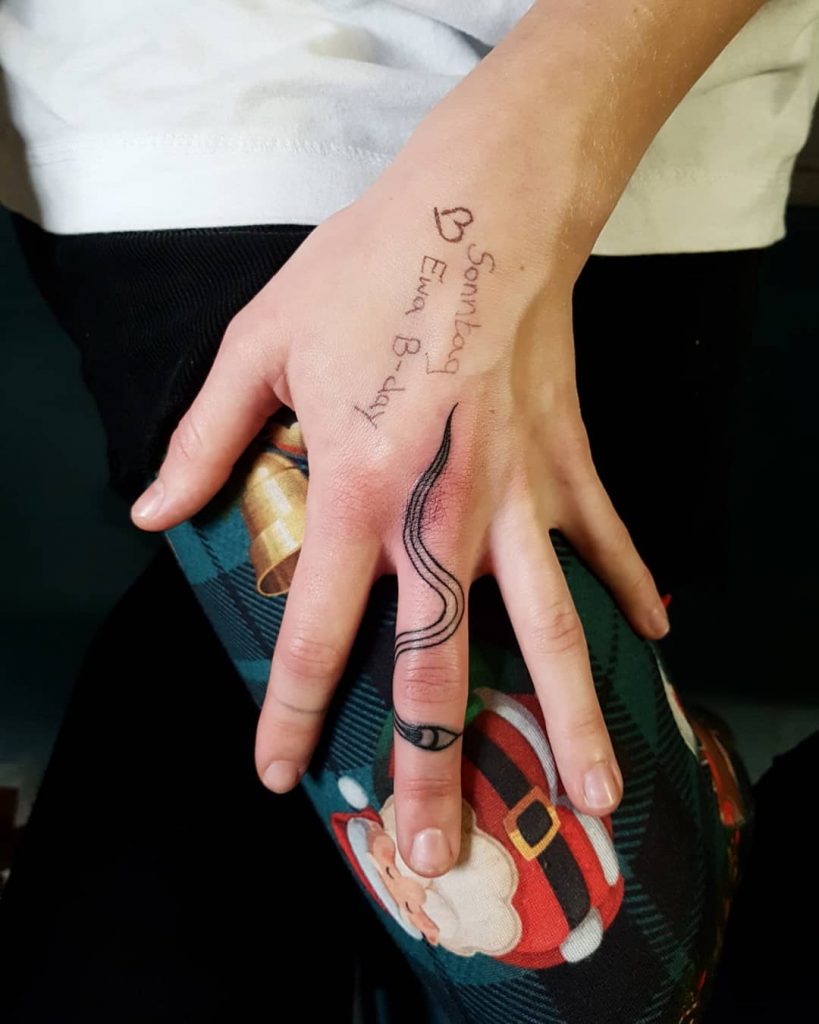 Snake tattoos are becoming increasingly popular with tattoo enthusiasts for a number of reasons. They not only look cool but can also be adapted to any part of the body and have never gone out of style. Historically, they're seen as symbols that represent knowledge, transformation, creativity and fertility making it a perfect design for both men and women.
Snake tats also have an appealing character and trendy to those who are looking for a unique finger tattoo choice.
13. Tattoo with Words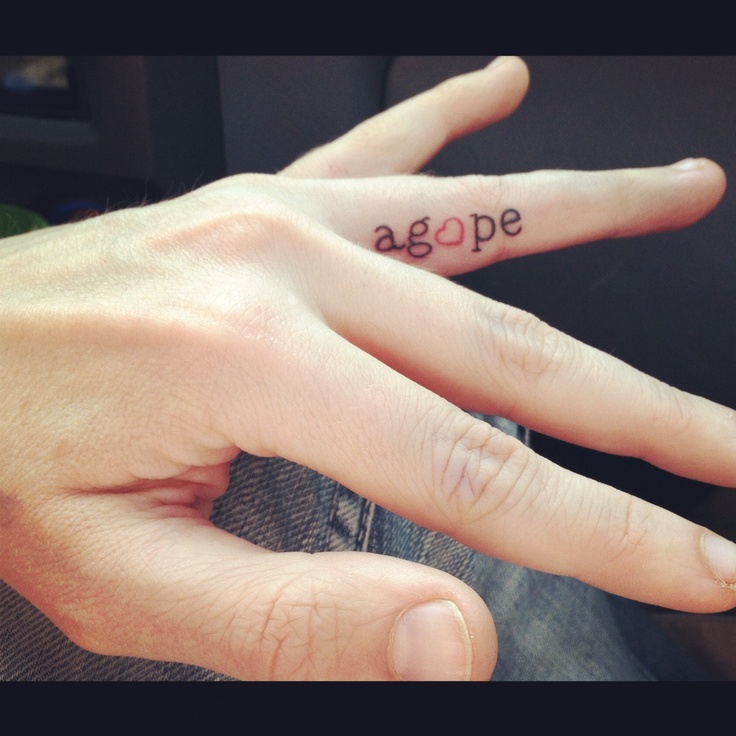 A word tattoo is a perfect choice to put on fingers since they are straight and long. You can express what it means for you by having meaningful inkings. You can use your favorite motto, spell out a special quote, or simply hide a secret message for a special person to read it.
Finger tattoos are perfect for creating a powerful yet personal statement. The right word can encapsulate your personality in just two letters and they're the easiest to customize with text or color.
14. Butterfly Tattoo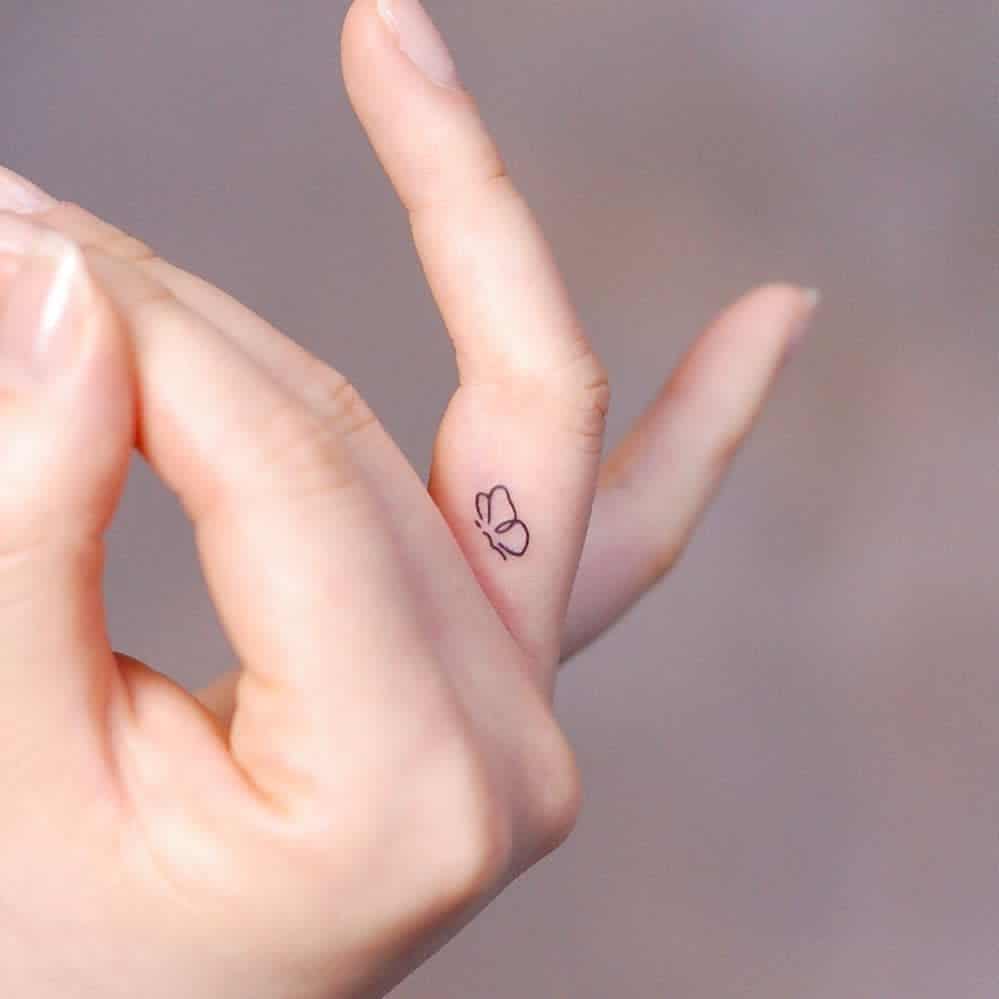 A butterfly is a symbol of beauty, freedom and transformation. You can think about the design as representing both women's and men's interests: for more feminine fingers try wrapping it around your finger in brighter colors like yellow or red. Meanwhile, a masculine butterfly inking could use a black one in a static and dignified pose.
15. Flower Tattoo
Getting a flower tattoo may provide several meanings, depending on the preference of the person getting it. This can range from an optimistic viewpoint like that of sunflowers to spiritual harmony such as with lotuses. When choosing which one is best for you, think about what meaning you want your design to represent and if they're something that matches up well with who you are.
Long-stemmed flowers like roses and daisies will look stunning when on your fingers. No doubt why they are most likely the choice of many for their beauty and elegance.
16. Finger Dot Tattoo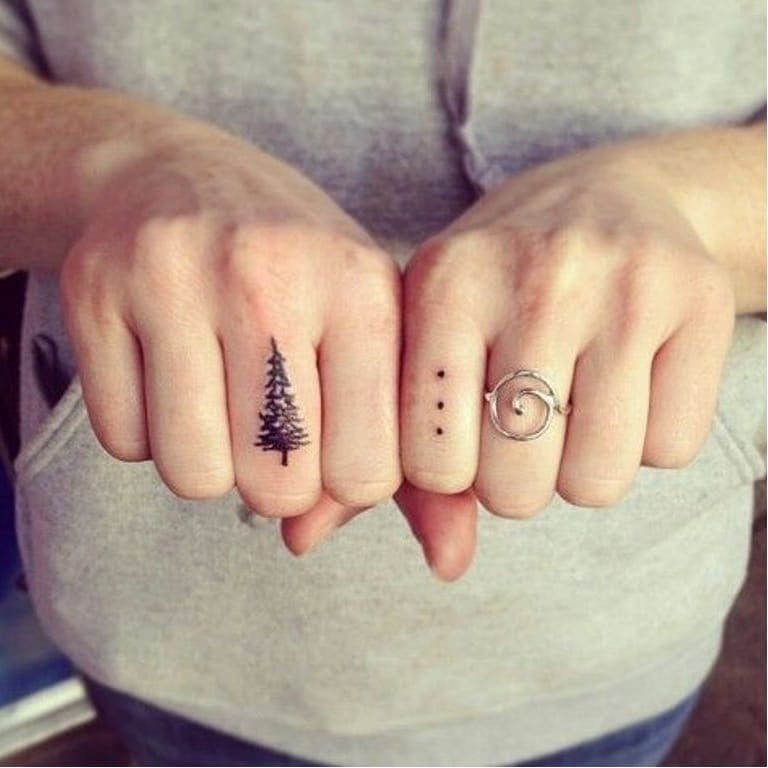 One of the most popular but simplest finger tattoo designs are dots. They're often understated, but dot tattoos can also have multiple meanings and significance. For instance, a single dot could be representative for an end mark or pause in one phase
Dot tattoos may seem simple at first glance because they mostly come with no color design on the top layer; however this doesn't mean that they don't offer significant meaning to those who wear them. Perhaps you want your tattoo as a representation of starting something new? Or maybe it's time to close out each day by resting until tomorrow begins again
17. Henna Finger Tattoo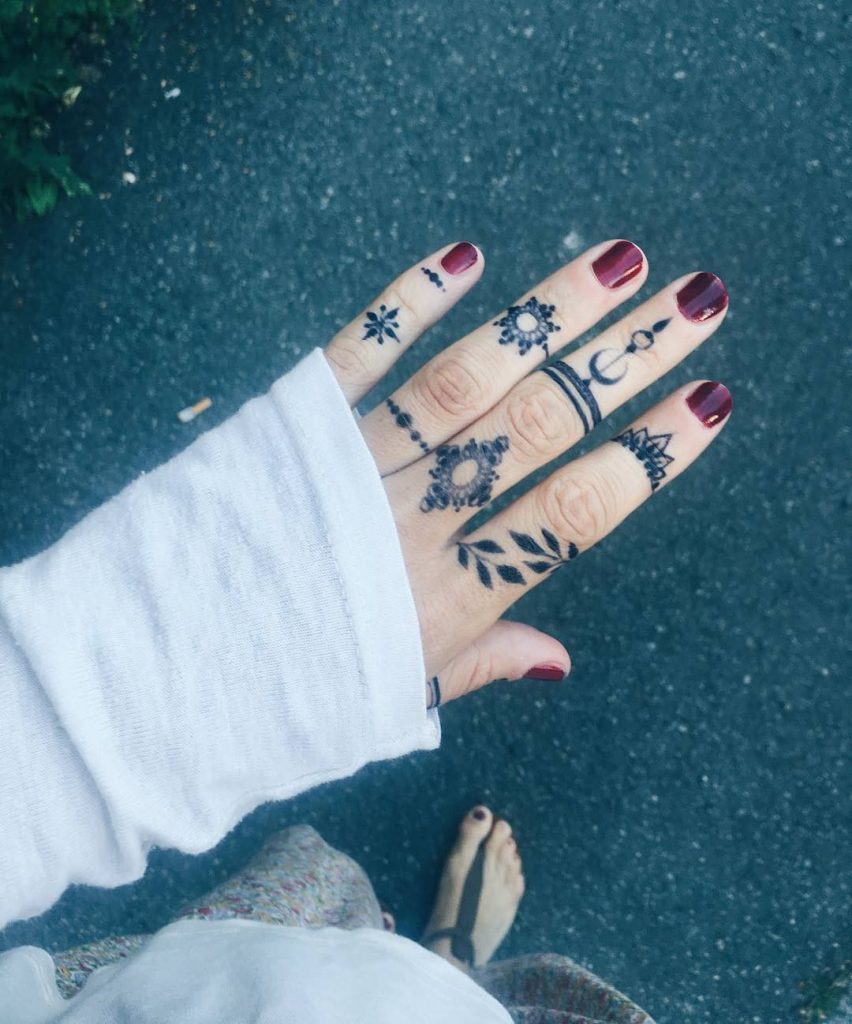 Do you want a tattoo but don't know if it's the right time to commit? Not a problem! You can have one in henna, which is painless and naturally fades over some time. Henna has been used for centuries as beautiful body art in many cultures because it is a natural plant-based dye.
If you're looking for something more exotic to add a little flair and originality into your wedding day, consider Mehndi tattoos. These traditional Indian tattoos have become popular internationally as well.
18. King and Queen Finger Tattoo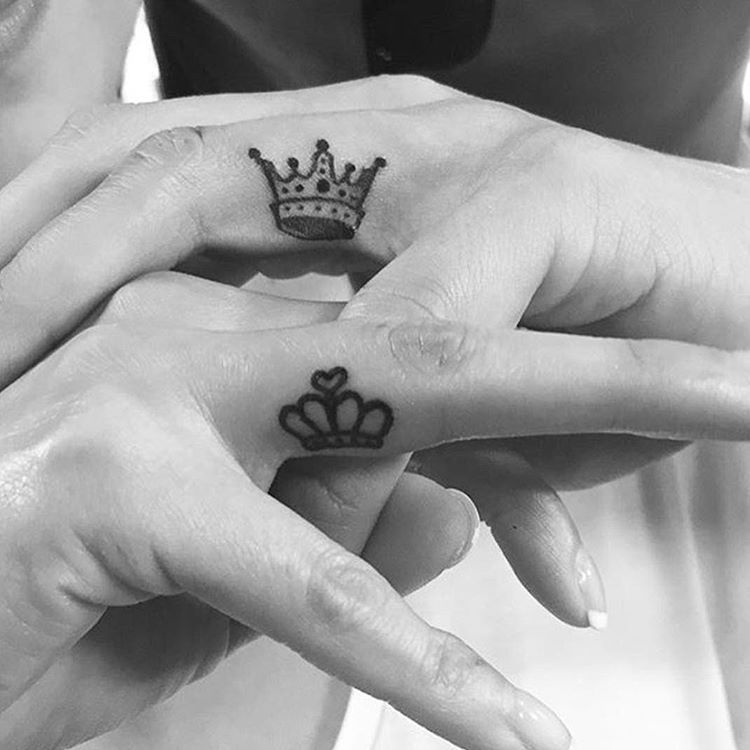 For couples who are deeply committed, a king and queen tattoo can be the perfect way to show mutual respect. Displaying these two iconic symbols on each other's bodies will always remind them that they compliment one another beautifully despite having different roles in life with their own strengths and weaknesses . The tat pays tribute to your partner and signifies that this person rules over you as well as won your heart completely.
If you and your partner are looking for a special way to express your commitment, take the plunge with king or queen finger tattoos. These ink designs look especially romantic when each of you will be able to hold hands together as an ultimate symbol of unity between two people.
19. Rosary Tattoo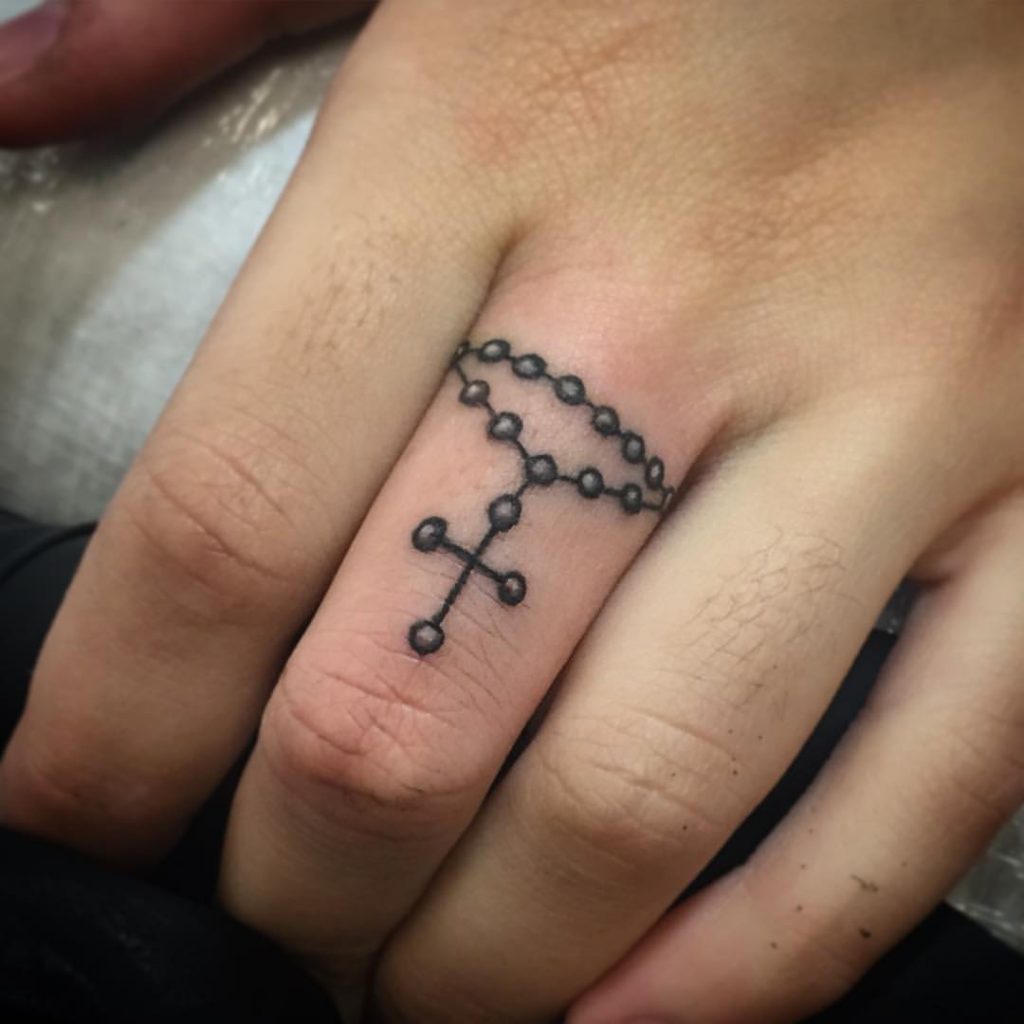 A rosary finger tattoo is an obvious and meaningful reminder of a person's faith in God. Most of the time, religious individuals used to have it inked in their fingers. As a Catholic symbol, the rosary is associated with the Virgin Mary. However, when used as a tattoo, it symbolizes God's protection from all evil. If you will base it on scripture, the right hand represents power, blessings, and strength, so having a rosary tattoo on a finger of your right hand could mean something remarkable and special.
20. Arrow Tattoo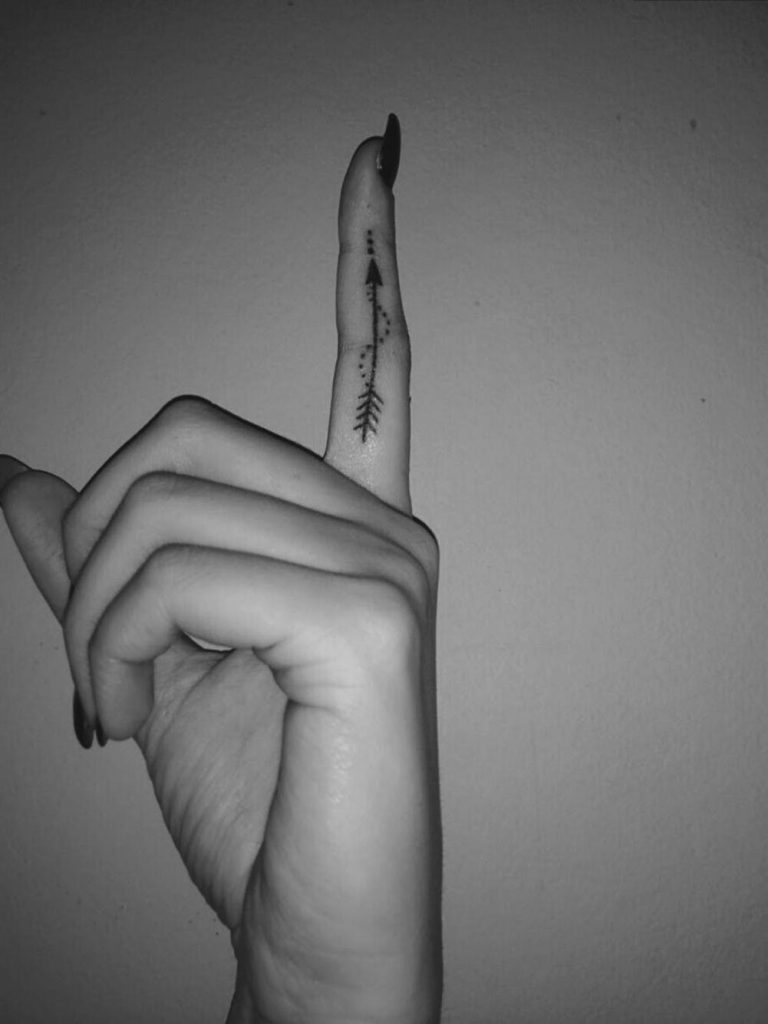 Arrows are unique in style but beautifully simple. It's a good option for a finger tattoo for both men and women. In fact, it is a very popular ink design for most young people today. It represents life's direction and the importance of moving forward, not backward. A lot of people consider an arrow design to define their goals and to stay true to themselves. Not only does this tattoo design has a motivating and positive meaning, but it can be also be perfectly aligned with the shape of someone's finger.
21. Diamond Tattoo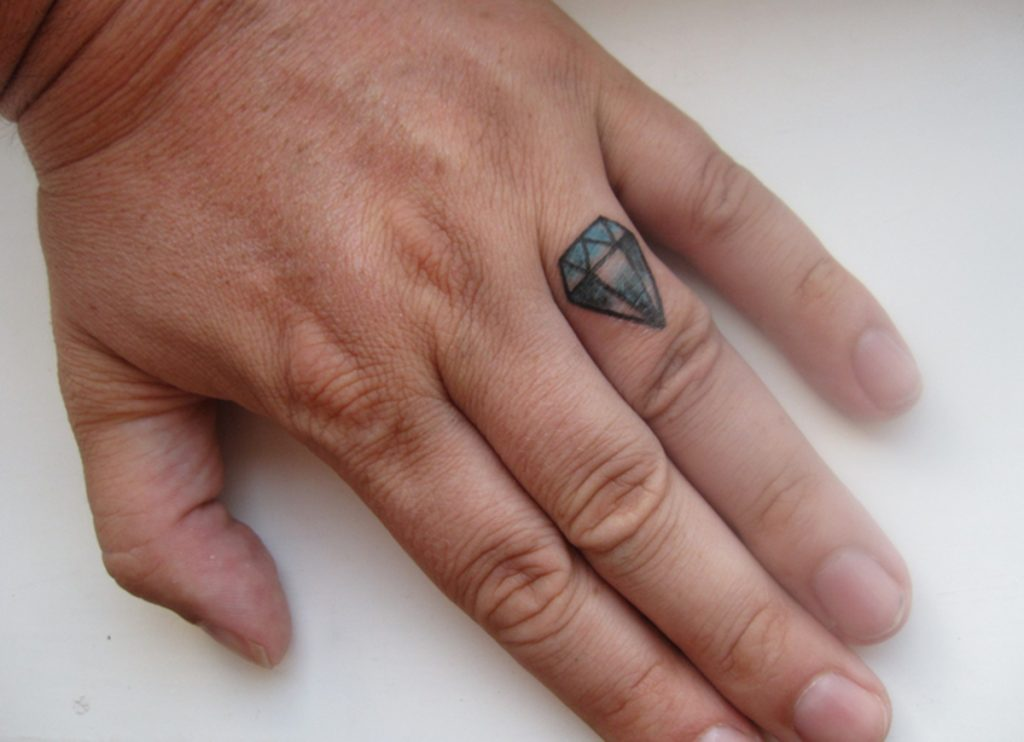 A diamond is the strongest material on Earth and has been considered priceless and precious for thousands of years. It's not surprising why diamonds represent wealth, beauty, strength, and eternal love. It will not only look great as a tattoo anywhere on your body but it is an awesome finger tattoo. Some individuals consider a diamond tattoo as part of their engagement inking, since the traditional proposal symbol is a diamond ring.
22. Moon Tattoo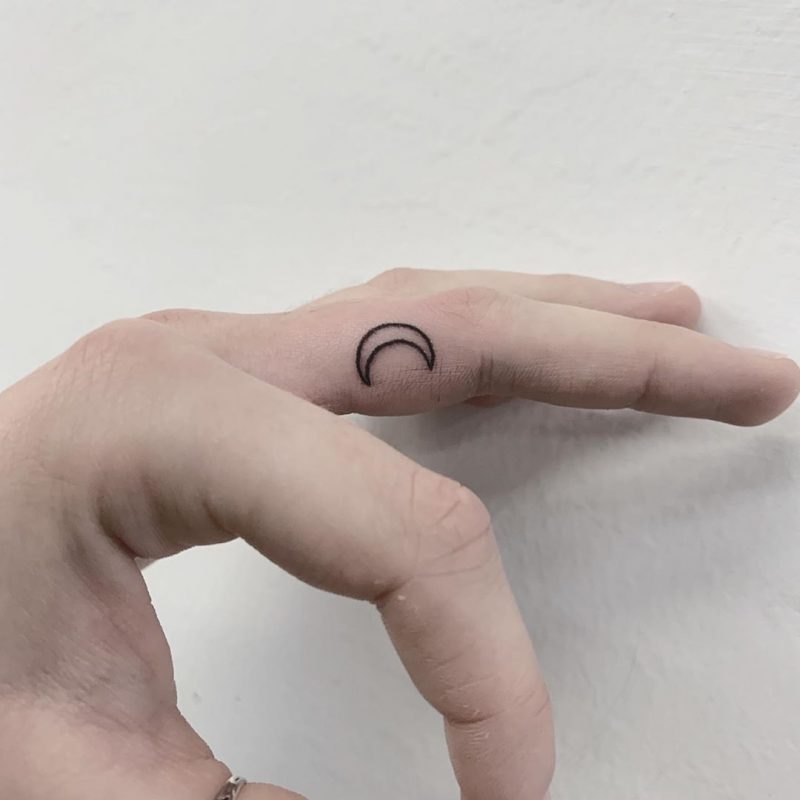 One of the most popular designs for tattoos is the moon. For many years, it has been part of tattoo artistry. The bold shape of the moon looks excellent when inked on someone's fingers. It's an attractive tattoo for those who have a mysterious side since the moon is associated with the night. Having a moon tattoo also represents the beauty of transformation.
23. Anchor Tattoo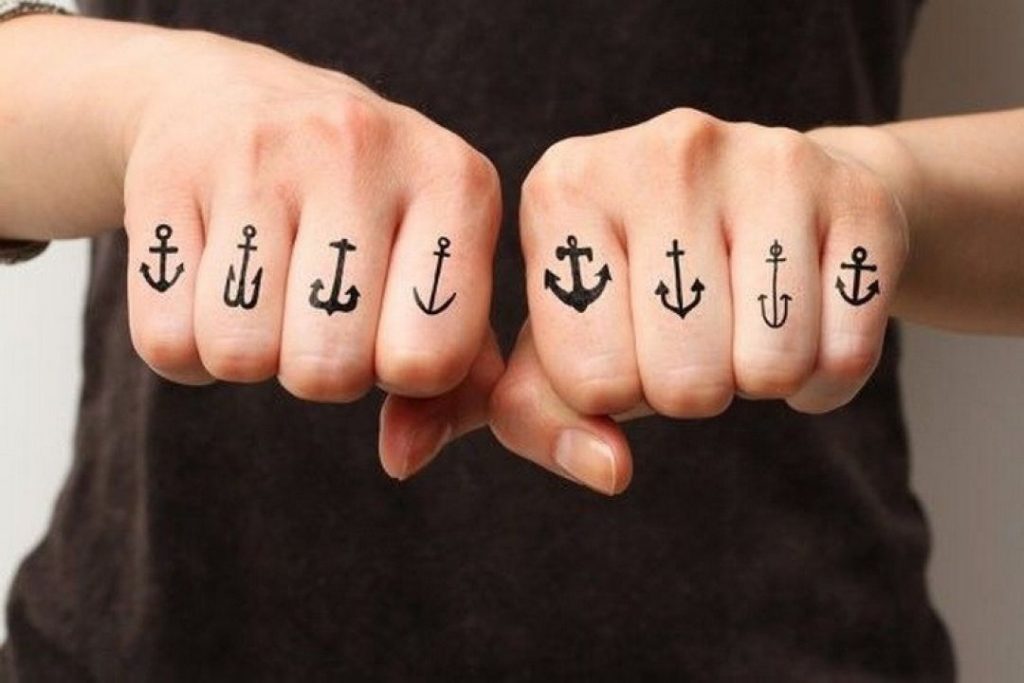 Anchor tattoo designs have been popular for many centuries. It's a nautical symbol that represents the end of a long journey. Anchors can also symbolize hope and safety. This design is often chosen by couples who are ready to commit and get married, as they express that they are each other's 'safe harbor.'
24. Feather Tattoo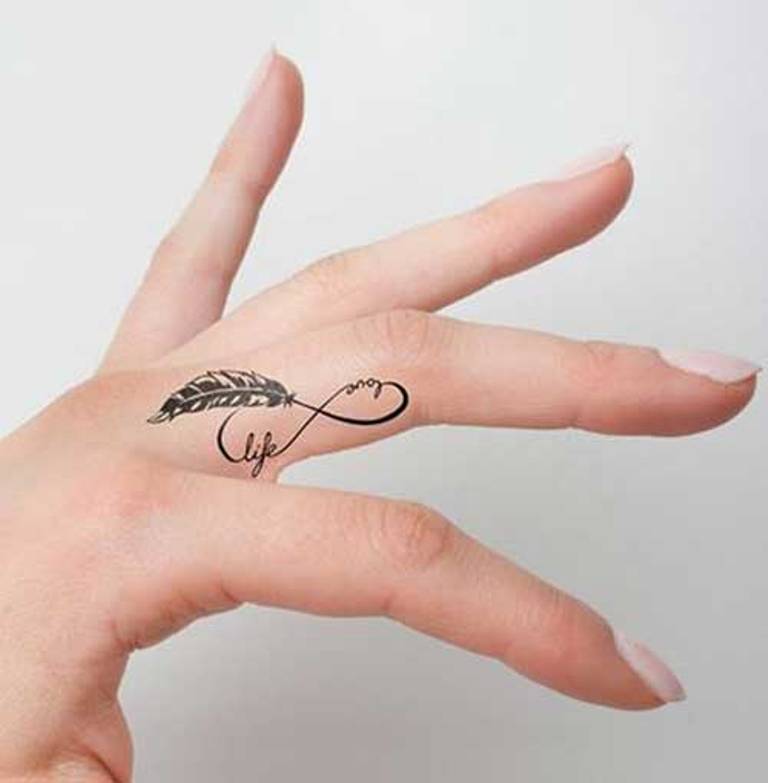 Compositionally more complex, feather tattoos are not common in large form. These fit well, however, in finger tattoos, as these are inked along the length of the finger or the side of the thumb. The complexity can range from line drawings to full shadings. Inspiration from feathers can come from different sources. Eagle feathers of Native American Indians denote courage, goose quills for writers, and peacock feathers harken 1920s fashion. The wide range of options allow for endless possibilities in a tight space.
25. Gun Tattoo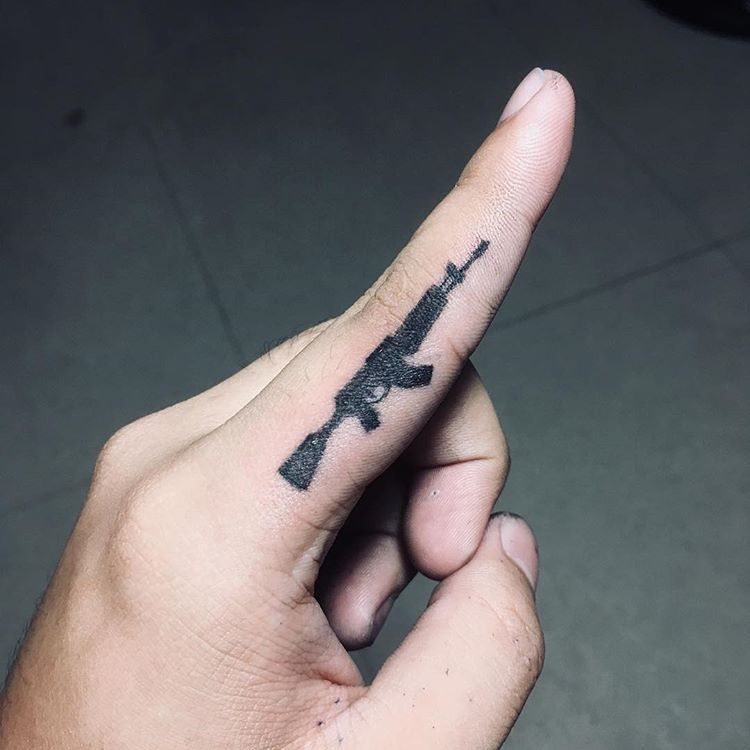 Gun tattoos are as controversial as gun control laws. Guns project an image of power and are usually large images on the chest, arms, and at the back or shoulder blades. However, small finger tattoos of guns present a private message of power, strength, aggression or even as a peacekeeper and defense. Men may prefer large gun tattoos but gun tattoos on fingers are more attuned for women.
26. Printed Snake Tattoo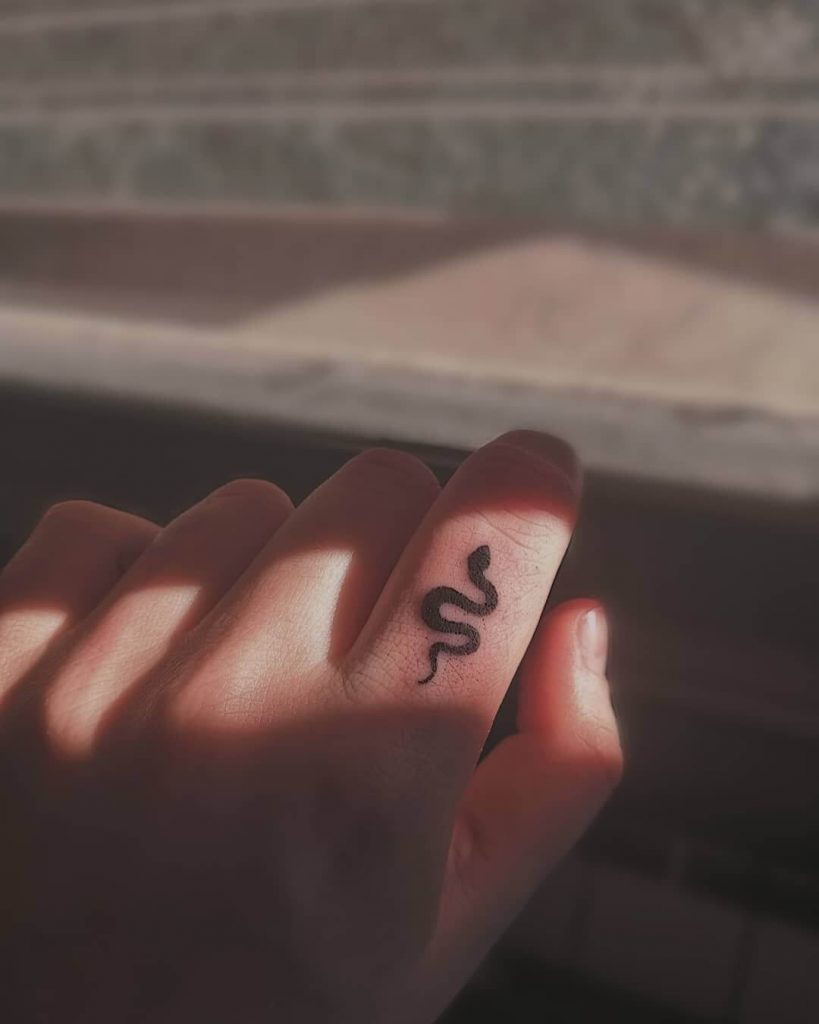 Printed snake tattoos are considered the most stylish tattoos of all time. It includes a printed snake with black ink tattooed on your finger. It looks like the snake curls around your finger as the tail and head appears on the surface. To make it more realistic, you can enhance it by adding a bit of green ink, which is the usual color of a snake. The snake symbolizes wisdom and knowledge. It can also represent a transformation of a person, so if you believed that you'd changed a lot for the past years, this unique choice of tattoo is the right one for you.
27. Gothic Flowers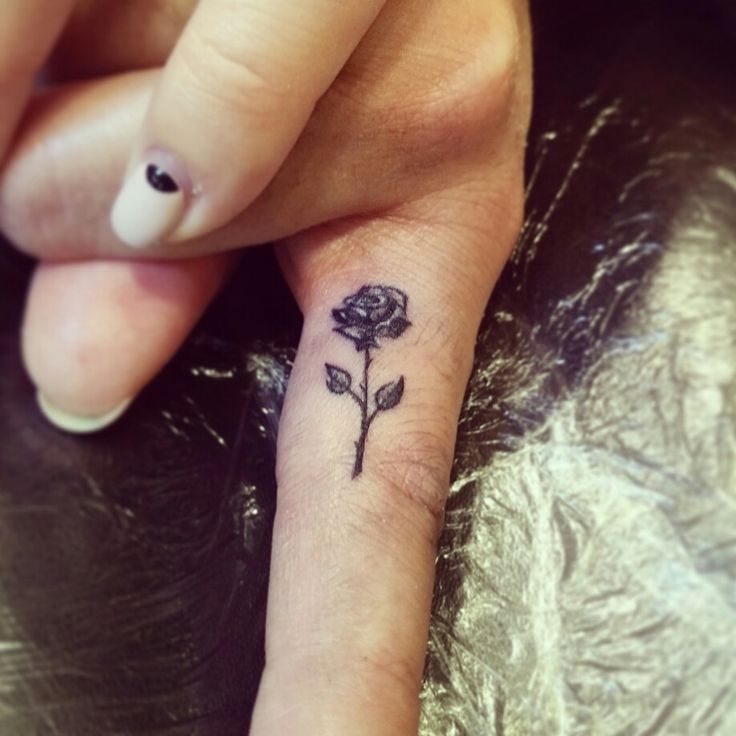 Everyone has their views about the darker side of life, and it's excellent, as long as you know how to handle it in a good way. Some show it by getting a gothic flower tattoo, which includes a black inked gothic image that appears in a geometrical design on all fingers. You can choose one flower on each finger with a small dot on top of the flower. It's still possible to create it on one finger alone. However, it's more stylish if you get it on all fingers. You need black ink for this tattoo to bring out the dramatic look and vibe, making a gothic flower tattoo perfect.
28. Yin Yang Shaolin Tattoo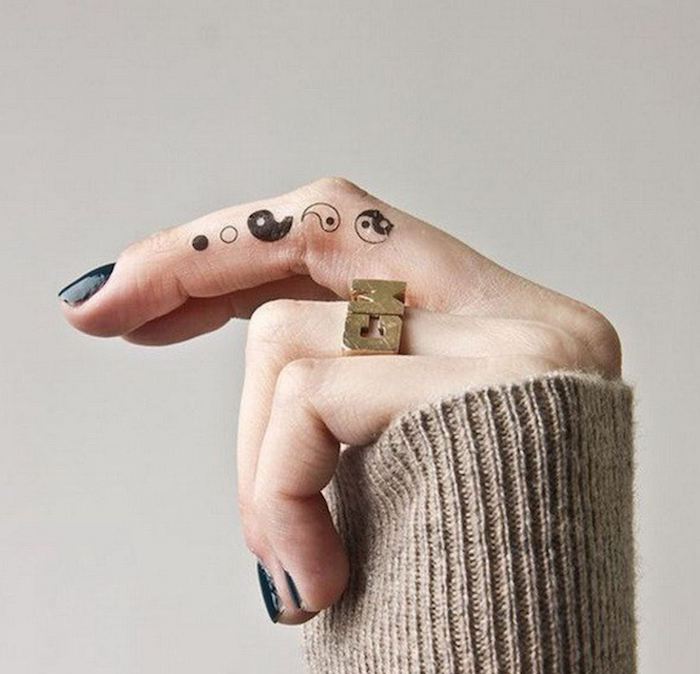 If you are fascinated by symbolic finger tattoos, the Yin Yang Shaolin tattoo is suitable for your fingers. It leaves you with a meaningful and uniquely designed tattoo. The Yin Yang includes four symbols. The first and most important one is the Shaolin circle inked in black, the Yin and Yang symbols, and the last one is the two black and white dots for a powerful appearance. They all appear in a straight line on the side of your finger. It's up to you which fingers you want to get tattooed on, but it looks best on the middle finger. This type of tattoo represents the way you wish to reconnect with nature. It helps you get started on a new phase in your life.
29. Pharaoh Tattoo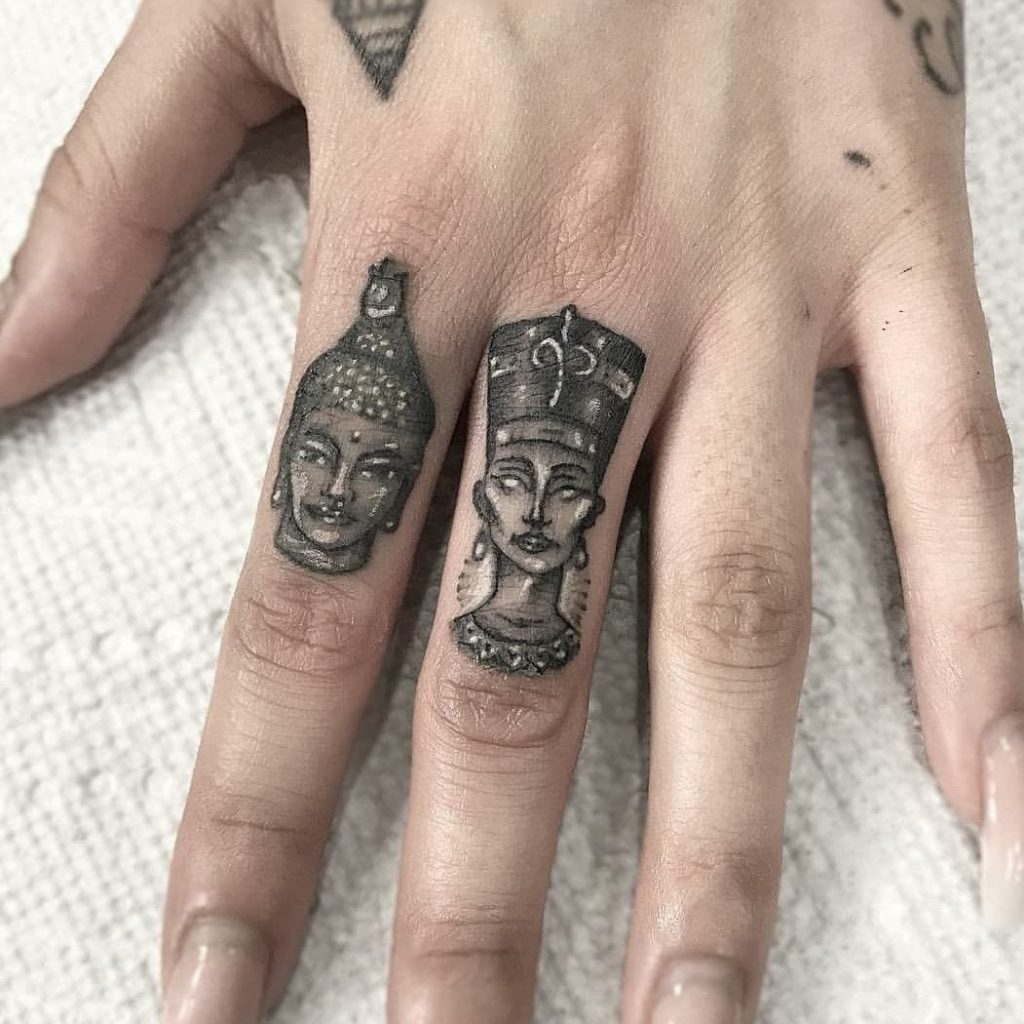 Supposing you are a fan of Egyptian civilization and its history, the Pharaoh finger tattoo is the best choice for you. It will showcase your love for Egyptian culture as it connects you to its rich and colorful history. This tattoo includes a gray and black Pharaoh inked in the center of your middle finger. You can choose any finger you desire to get tattooed on. It symbolizes boldness, power, and royalty. You can get these hieroglyph tattoos on all your fingers as well.
30. The Finger Bone Tattoo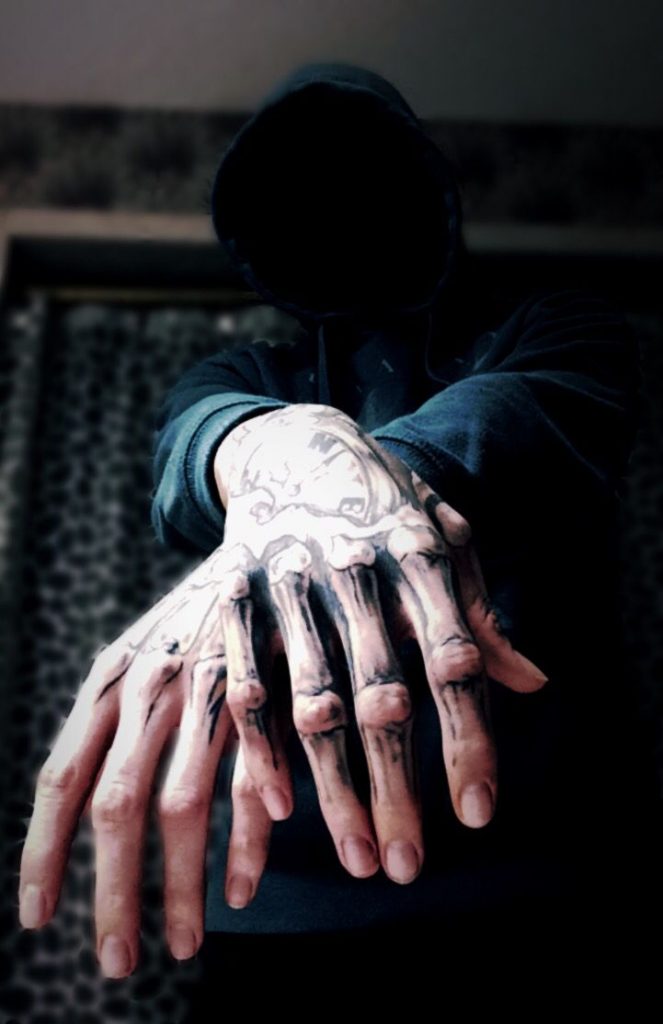 Fingerbone tattoo is one of the unique types of finger tattoos. It includes the anatomy of your finger inked in black and appears on the top of the index finger, then goes halfway to your hand. It is considered the most realistic tattoo of all time. You will need a good and experienced tattoo artist to execute the design for you. It's about time to spice up your tattoo experience with this incredible finger bone tattoo design.
31. Ribbon Tattoo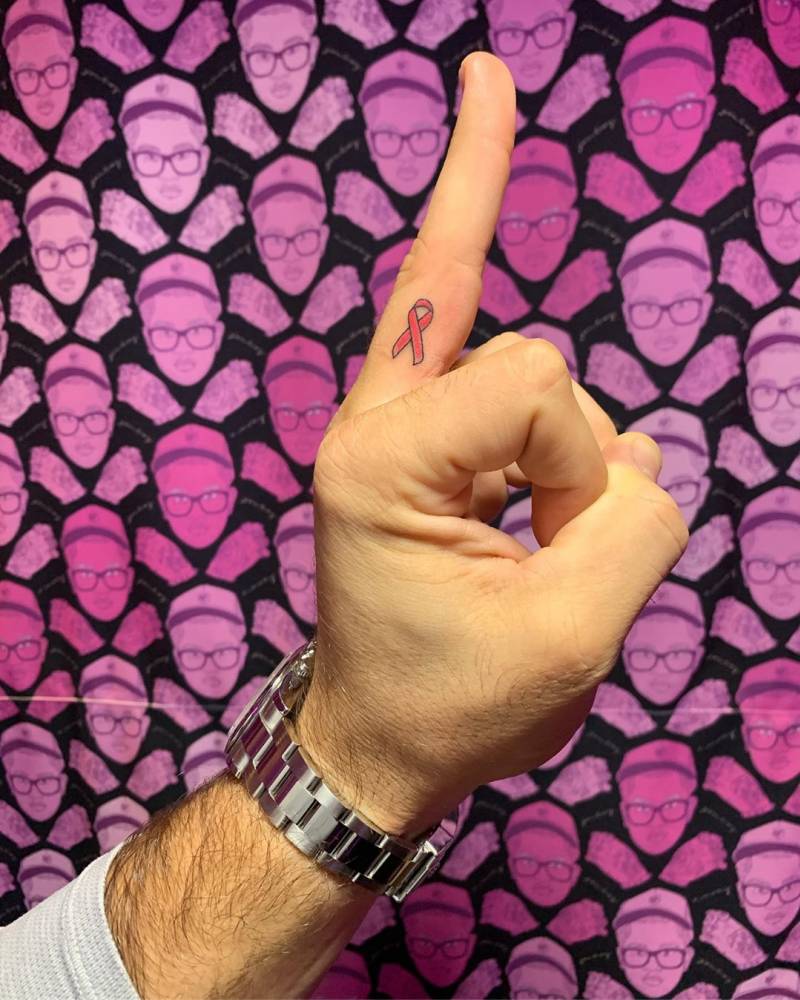 Bring out the kid in you by getting this ribbon finger tattoo. Sometimes, someone gets a tattoo like this because it is cute and feminine. It can symbolize an important event in your life or it represents you as the forever baby girl of your Dad. For sure, it's not a boring tattoo. The small ribbon wrapped around the finger shows a delicate touch, and associating it with a bit of color will make it pop.
32. Small Shapes Tattoo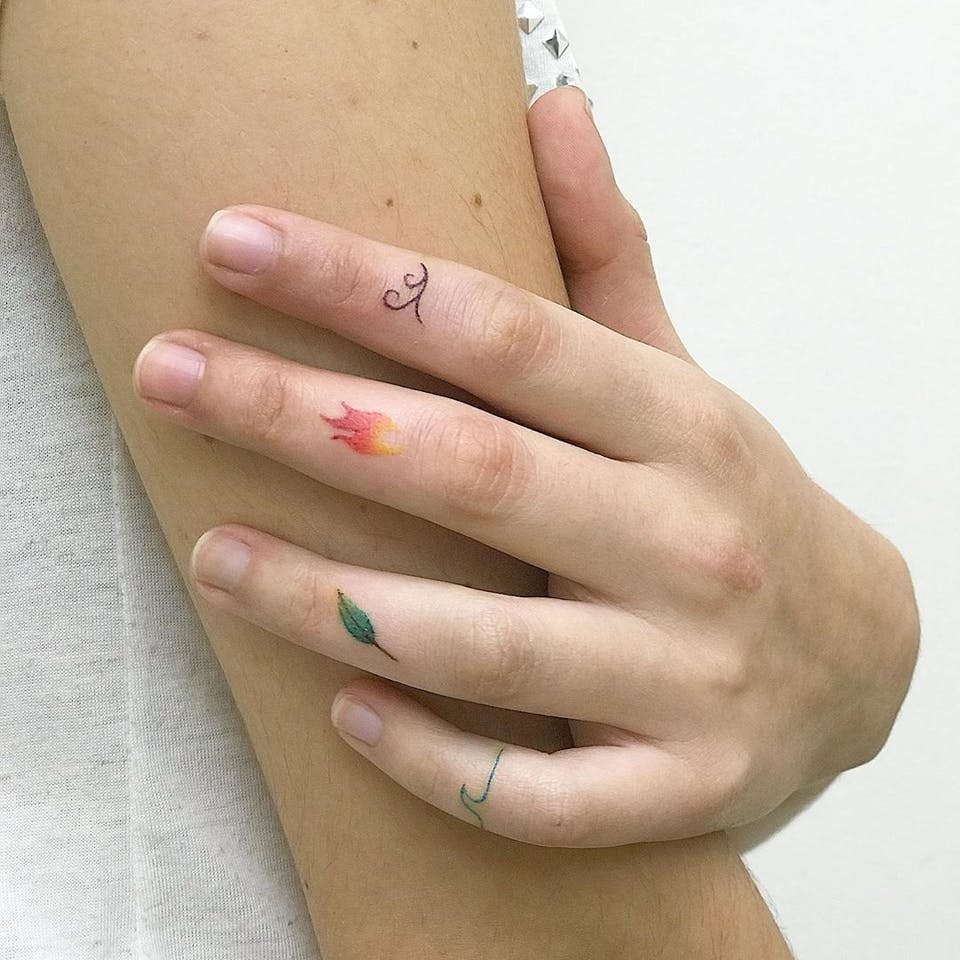 The most basic design for a tattoo is the small shape. Tiny tats are trendy these days, especially among millennials. A lot of people love the effortless look and simplicity of this design. Having small shapes designed for a tattoo is something Native Americans would love to try. But there are already modern tattoo enthusiasts who find these small shapes very attractive to look at in your fingers.
33. Finger Symbols Tattoo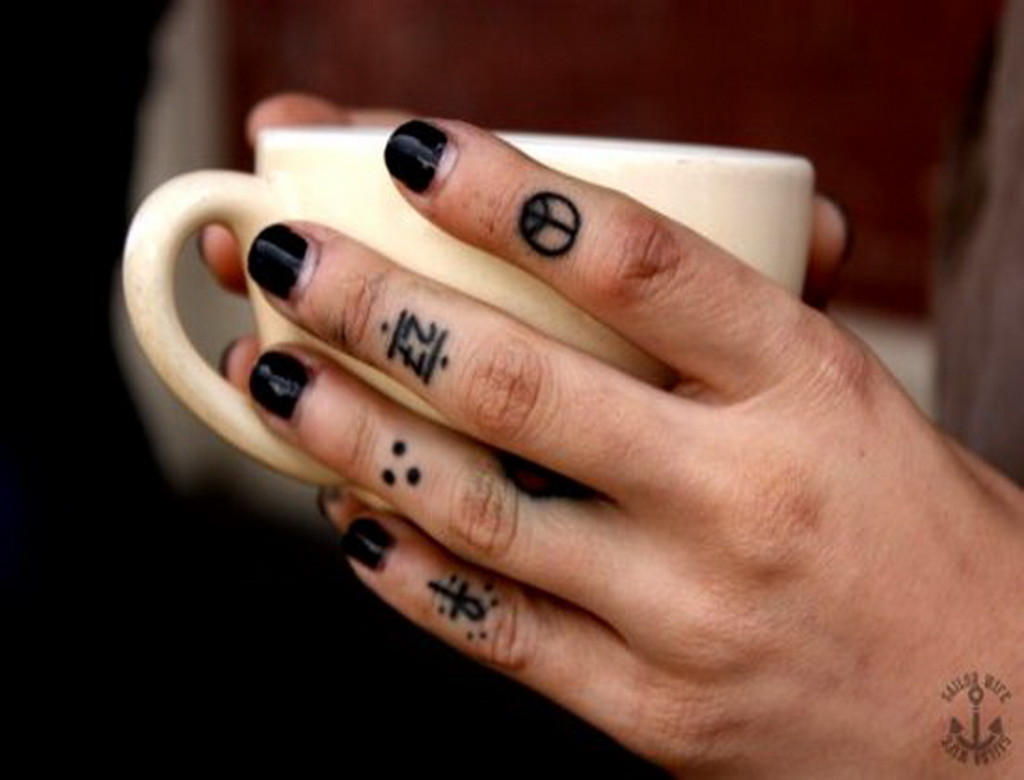 Looking for the cutest way to express the artistic side in you? Finger symbols can be your option. It can be tiny arrows, hearts, eyes, pizza slices, waves, and even fruits. It can boost the cuteness in you and even lighten up your mood. The tattoo's cuteness never fails to mesmerize.
34. Crescent Moon Tattoo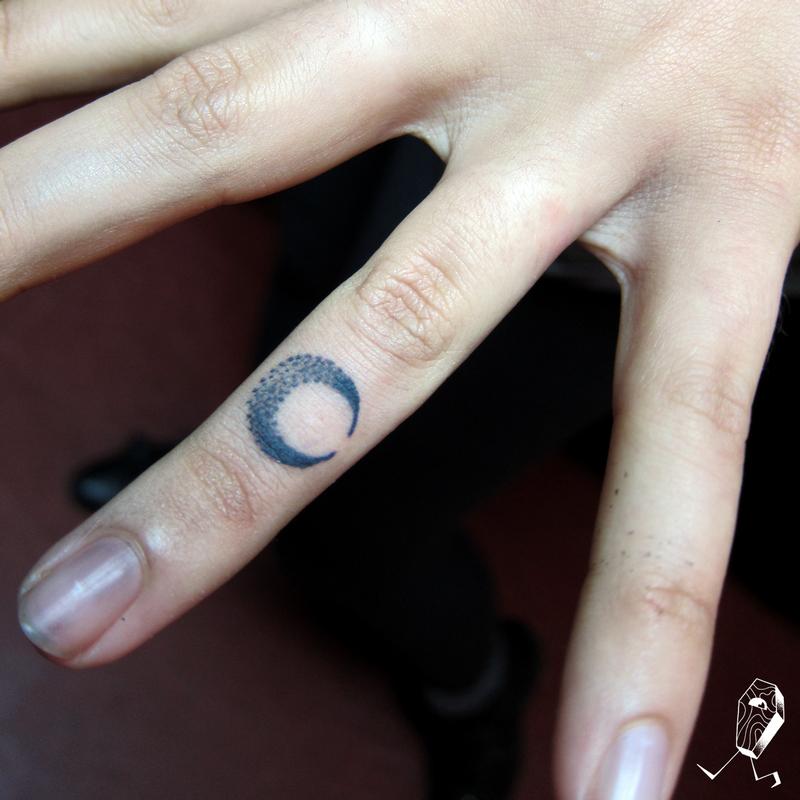 Looking for a refined yet straightforward finger tattoo design? A crescent moon can be a viable choice. It comes with excellent shading that brings out the nature in you. If you love the moon, you will show it with a crescent moon tattoo. You will definitely showcase the most extraordinary design.
35. Owl Tattoo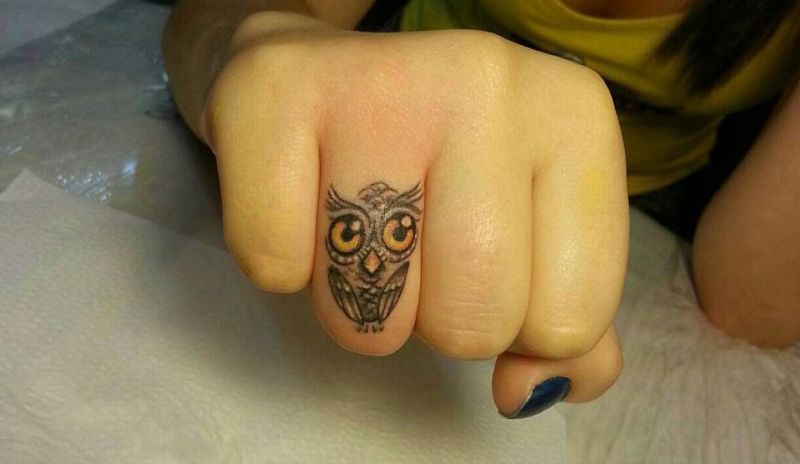 Do you want to represent wisdom with your own wit? You better have an owl tattoo. It is a symbolic figure that mirrors hope, wisdom, charity and serves as a connector to different worlds. If you are into symbolic figures with deep and aesthetic meaning – an owl tattoo is the best for you.
36. Space Tattoo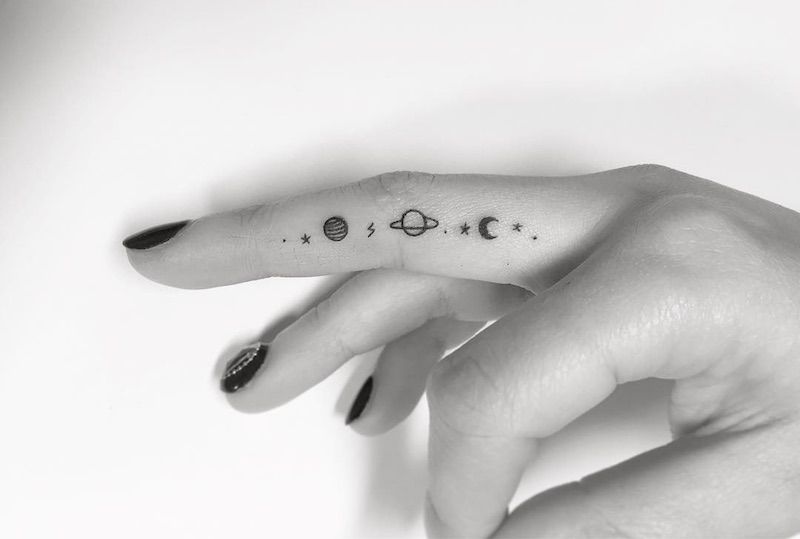 Fascinated with the idea of space and beyond? Space tattoos can be a good alternative. It comes with fantastic imagery that represents the coolness of space. You have a variety of options, from planets to rocket ships. You can also have an alien if you want to. There is no denying that integrating space as your art style is lovely and excellent.
37. Ancient Symbols Tattoo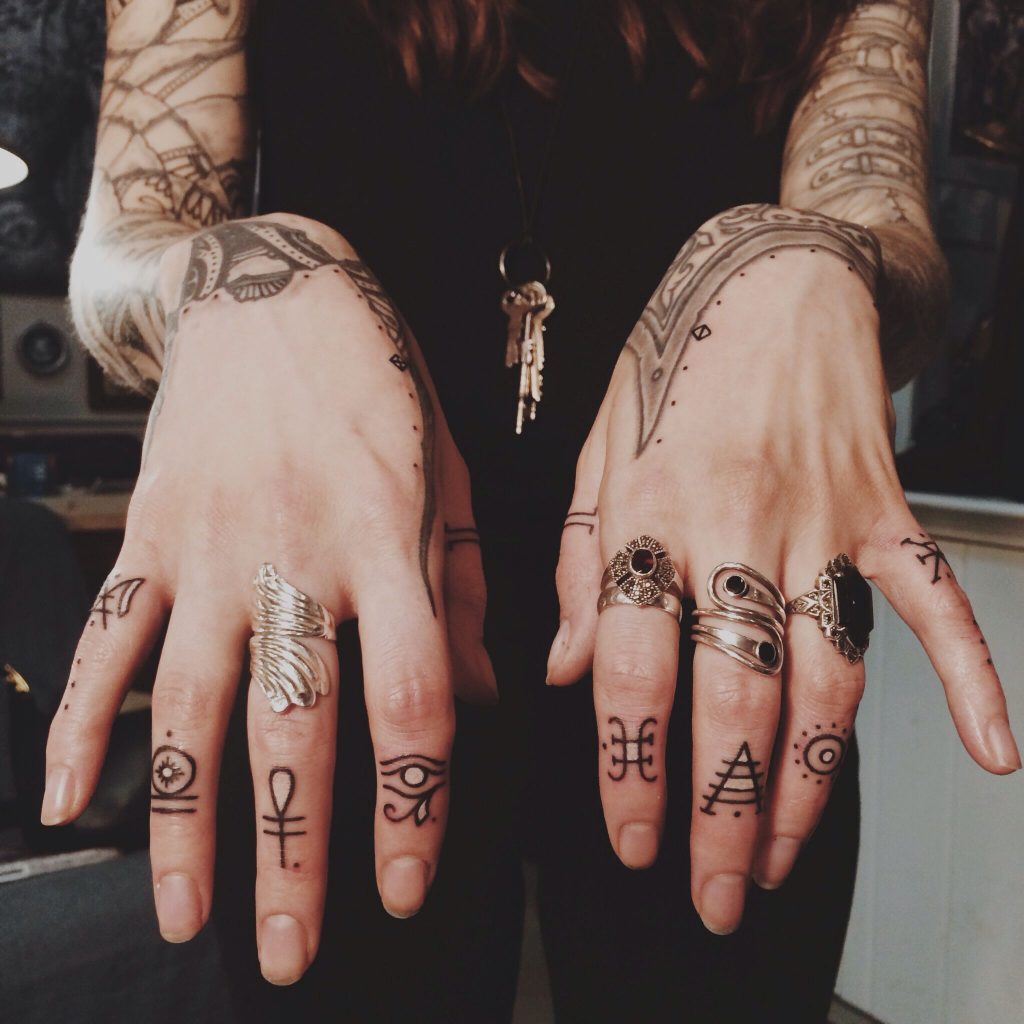 Ancient symbols as a tattoo comes with great respect and awesomeness. You can choose your own design from different types of symbolic triangles or an all-seeing eye. You can enjoy what pagan and religious symbolism can offer. You can showcase your personal style, unique beliefs, and still make it a great fashion statement.
38. Wolf Tattoo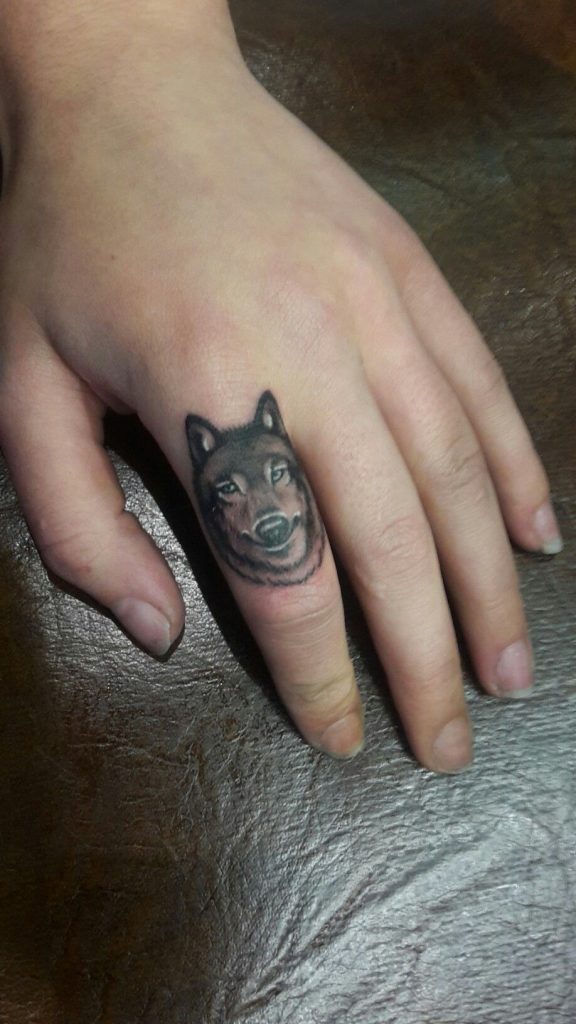 One of the most popular tattoos is the wolf. After all, who can ignore this beautiful animal tattoo design? Wolves are majestic animals.They symbolize the loyalty and fierceness of an individual. You can never be outdated with a wolf tattoo.
39. Airplane Tattoo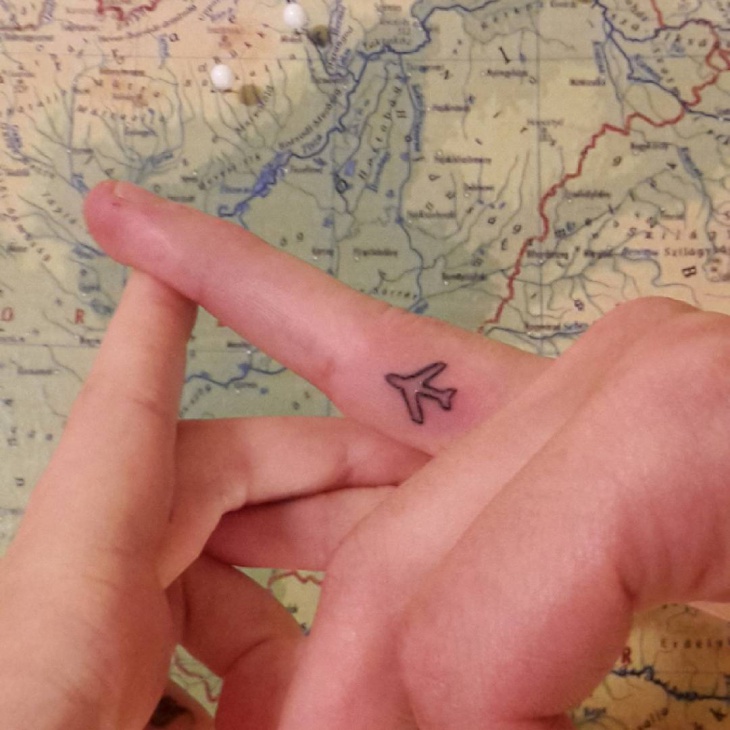 Looking for the most incredible way to express your artistry? The airplane tattoo may be the one for you. It is one of the most delicate finger tattoos that you can have, especially if you love traveling wherever an airplane can take you. It gives you freedom and ways to explore and is an expression of limitlessness!
40. Cat Tattoo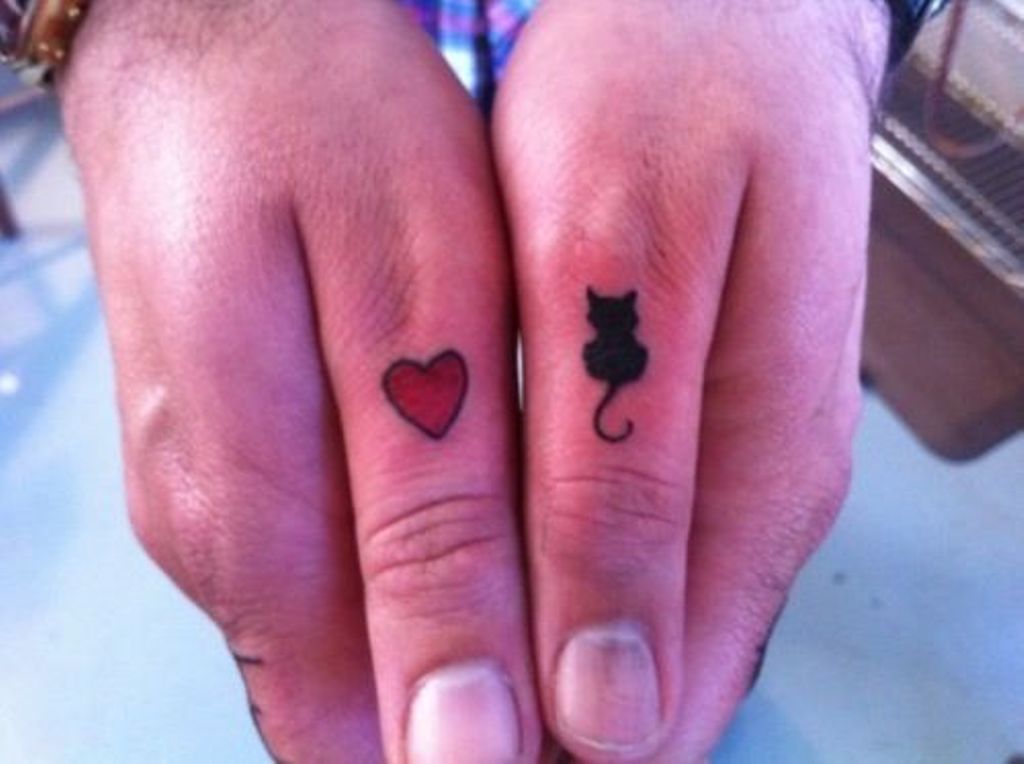 Be mesmerized with the cutest finger tattoo in the image of a cat. You can show everyone your love for cats with these tattoos. It keeps the connection that you have with your loving cat. If you want to remind yourself about the coolness of your cat, having a finger cat tattoo can fulfill that.
41. Cat Whiskers Tattoo
Expressing your love for cats is fulfilling and satisfying. It helps you rebuild your connection with your loving pets. The cat lover spirit can also be expressed with a cat whiskers tattoo. You can have your own design starting with precise color and amazing detail.
42. Crosses and Jewels Tattoo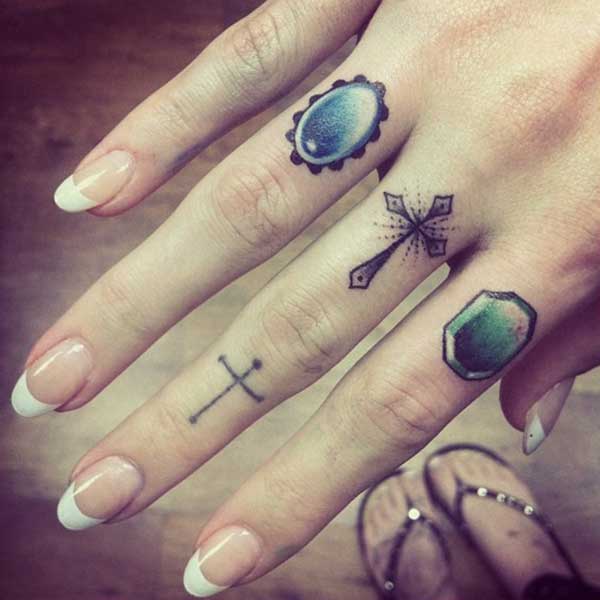 Loving the elegance that crosses and jewels can bring? You can enjoy them and never take them off by having crosses and jewel tattoos. There are a variety of designs to choose from depending on your style. Who would have thought that mixing crosses and jewels can become extremely elegant? This tattoo offers you style and swagger!
43. Pencil Tattoo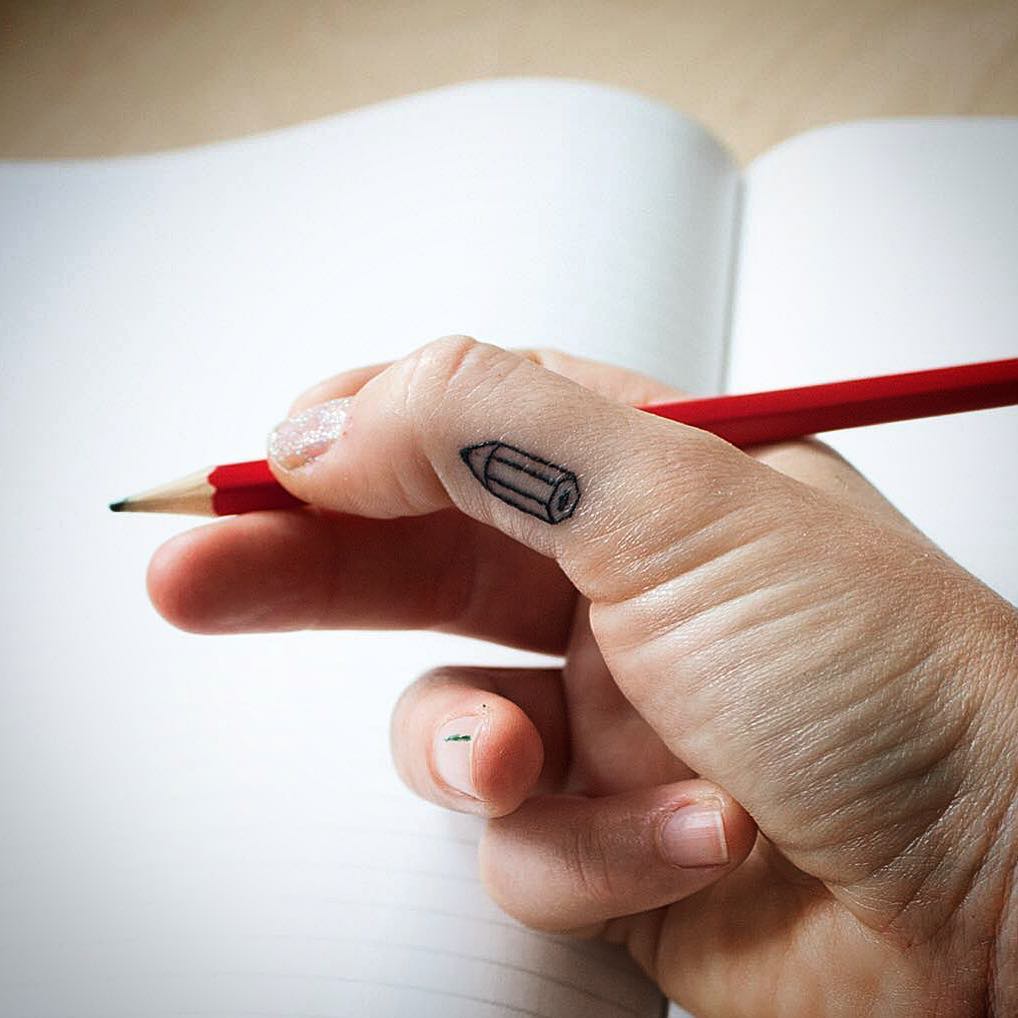 A pencil represents freedom. It is an exciting design that awakens your poetic side. A pencil tat is a great design for writers, teachers, accountants, or artists. It symbolizes creativity and continuous creation. A pencil tattoo is also a great conversation starter since people are bound to ask what you do.
44. Abstract Floral Tattoo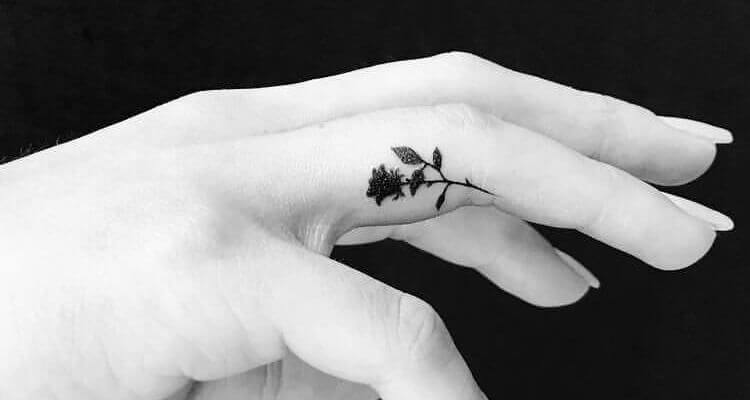 Abstract designs exude elegance, especially if it can be perceived as a beautiful flower. Abstract tats come with elegant shading that adds to its overall beauty. If you are looking for an intriguing design that matches your personality, the abstract floral tattoo can be part of your list.
45. Elegant Lines Tattoo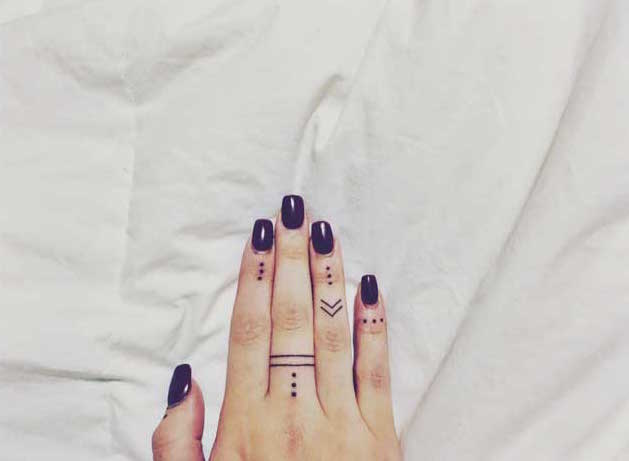 Elegant lines are minimalist designs that can be used as your new tattoo. This type of tat goes well with the natural shape of your fingers. It is a captivating design that leaves an impression on the people who see it.
46. Musical Note Tattoos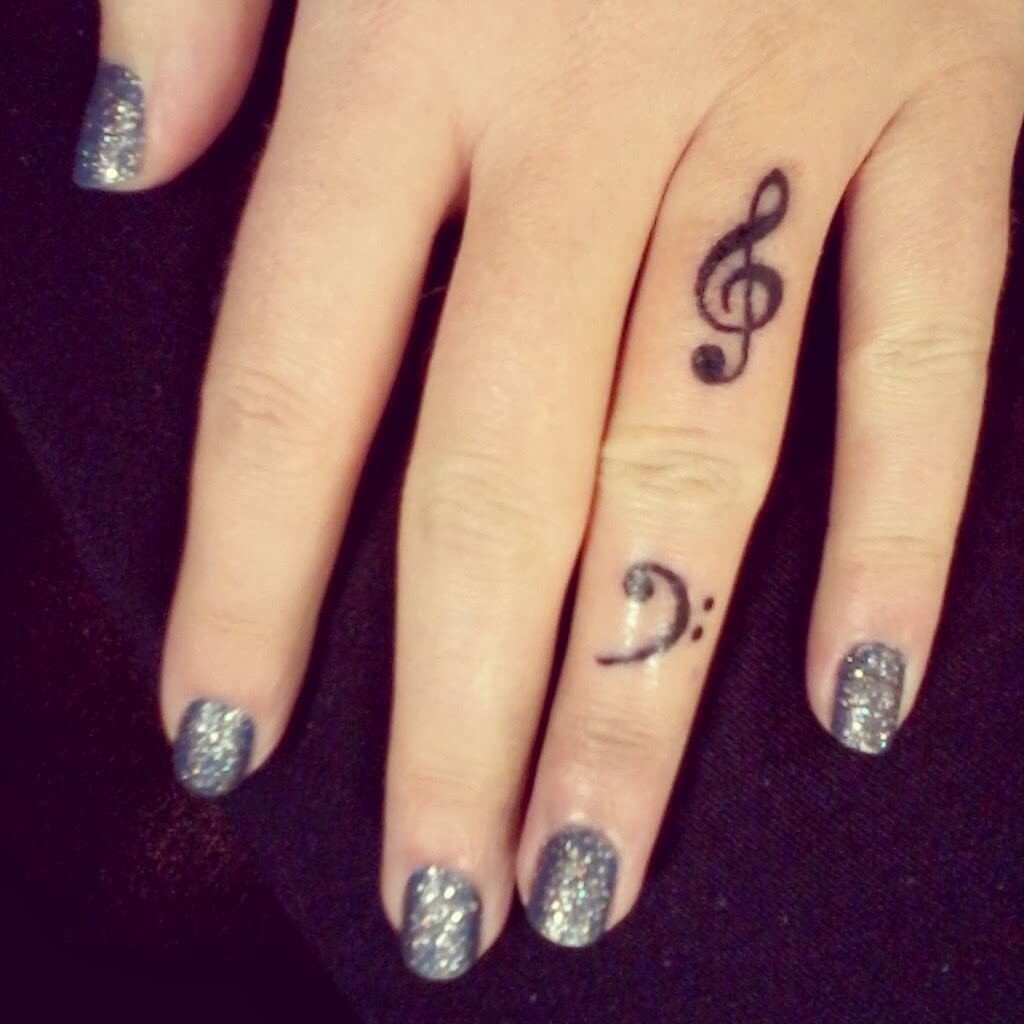 Are you a music lover? Then a musical note tattoo may be the best for your personality. This finger tattoo expresses your love for music and is easily seen when you pick up an instrument and play.
47. Native American Tattoo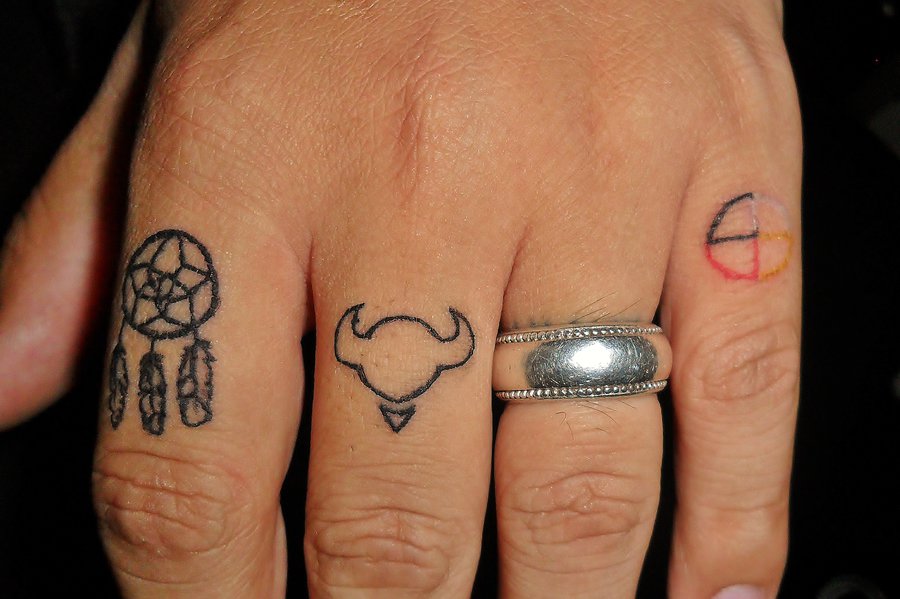 Native American art comes with interesting styles and symbols. Having one as your tattoo gives you an aesthetic and one-of-a-kind artwork. It connects you to the spirits and guides and helps give you a sense of purpose.
48. Card Symbols Tattoo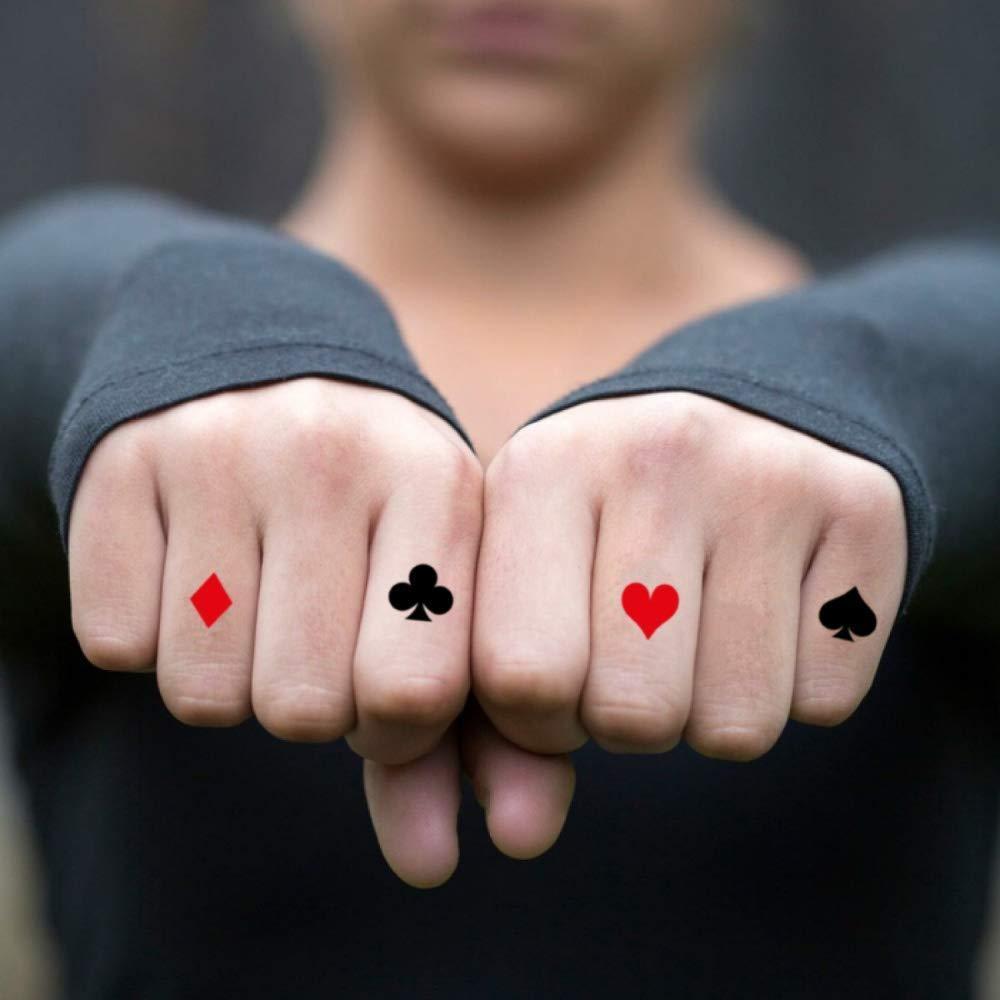 Are you fond of playing cards? You can show your interest or skill in playing cards by having a card symbol inked on your finger. You can be the King or the Queen or represent your favorite number. These tattoos are mesmerizing, and can be easily matched up with a partner or group of friends.
49. Love Tattoos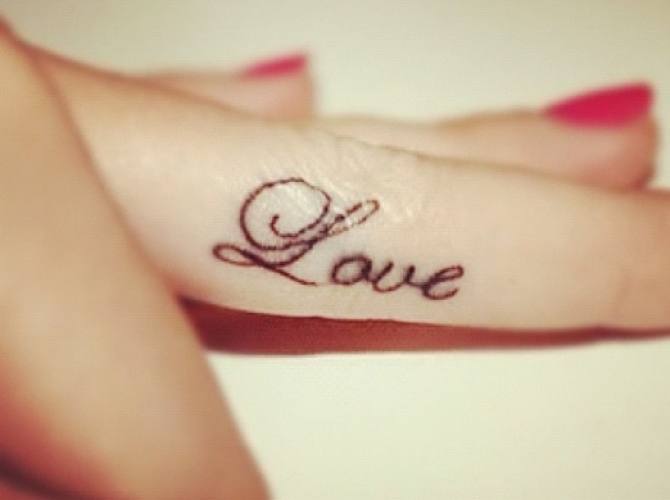 Love tattoos come with a delightful style and display of emotions. There are countless words to choose from that suit your interest, appreciation, and dedication for the one you love. The important thing is to capture what you are feeling at the moment.
50. Simple Arrows Tattoo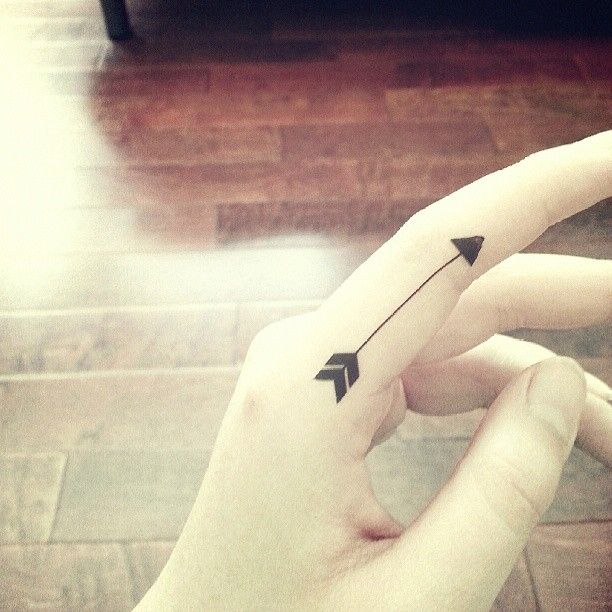 Are you looking for a captivating yet straightforward tattoo? Arrow tattoos can be part of your list. If you have not decided yet on your first tattoo, you can add this to your choices. Arrows symbolize a sense of direction and forward movement.
The secret messages that can be drawn with this small tattoo should not go unnoticed. These tattoos are a good choice for those interested in the art form but do not want to commit fully, and they also serve as hidden secrets between couples or friends!
FAQ
Is getting a finger tattoo more painful than regular-size tattoos?
Getting a tattoo can be an intense experience, but it's also one that is often worth the pain. With larger tattoos there will likely be some discomfort and bleeding involved due to how much surface area needs to go under the needle. Smaller tattoos may not have as many issues because they are on less sensitive skin areas like fingers or wrists.
Getting a tattoo requires overcoming two barriers: physical pain (depending on size) and psychological anxiety over permanent change in appearance; however these hurdles tend to make getting inked even more rewarding for those who decide to do so.
How long do finger tattoos take to heal?
Unless you have full-blown inking that covers the whole finger, finger tattoos have fine lines, and are small. The smaller the tattoo, the faster they heal.
Can you make big designs for finger tattos?
When tattooing the back, there is a temptation to go big and bold. But in order for tattoos on fingers to look their best, they need thin lines that allow them space without being too overpowering or messy. This is where an artist can show off his skill by drawing with thin lines which will make your finger tats stand out from everyone else. Thin line designs tend to go well with simple designs, like geometric shapes, outlines, text, and tribal designs. You don't need to shade heavily to carry a deep message.
Do finger tattoos fade?
It's no secret that tattoos fade over time and finger tattoos fade faster. One of the main reasons for this is because our hands get dirty more often than any other part of our body and they're constantly rubbing against things which are loaded with dirt, oils and soaps we use to clean them- thin lines in tattooed skin make it easier for these foreign substances to catch on.
How do I maintain finger tattoos?
Tattoo care is not only about preventing tattoos from fading. It also means keeping them bright and visible for years to come! Make sure you wash your hands with fragrance-free soap, then apply lotion or oil after drying off. Dry skin can cause both faded colors and a dull appearance; so be vigilant in maintaining the health of your tattoo by washing away germs every day as well as moisturizing it often so that the ink doesn't dry out too quickly.
How often do I require touch ups for finger tattoos?
The fading of a tattoo can be an expensive and difficult process. Letting a tattoo fade is a waste. Fortunately, tattoos are easy to touch up. Without touch ups, your tattoo will quickly disappear completely. This is why you should touch up at least once per year to maintain its appearance.
Do all tattoo artists ink finger tattoos?
It takes a lot of skill to tattoo fine lines and not all artists are capable of doing this. You might want to ask people that already have finger tattoos who their artist is, as they will be likely happy to recommend theirs.
You May Also Like