A 'fundraising campaign' set up to help Prince Harry and Meghan Markle pay the £11 million mortgage on their California home has been recently closed after raising only £78.64 or 109.5 U.S. dollars.
According to The Daily Mail, California native Anastasia Hanson, set up the GoFundMe page two days after the couple's bombshell Oprah interview and titled 'Harry and Meghan $5 Donation to Buy Home (£3.61)'.
Hanson said the 'jobless' Duke and Duchess of Sussex had been going through a 'very rough time' after having funding for their security and lifestyle cut off by the Royal family.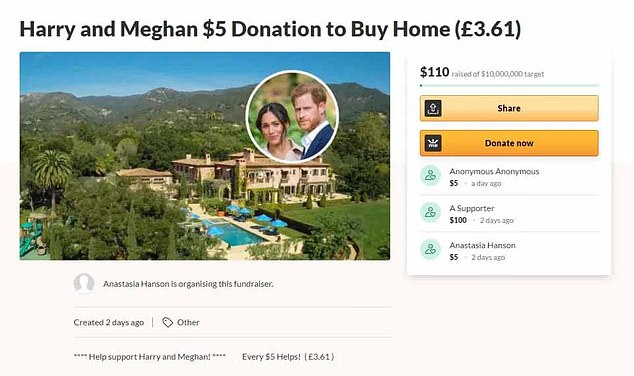 The page, which was thought to have been a joke, has been removed from the website after raising just £78.64, but Hanson insists that her intention to help was serious.
During their interview with Oprah, Prince Harry revealed that they had been 'cut off financially' after they stepped down from Royal life, abandoning up to £8.4million worth of funding and services.
The couple purchased their nine-bedroom, 16-bathroom mansion in the exclusive neighborhood of Montecito, California, last year.
Hanson, who lives just 25 minutes away from the couple, said, 'I like to help people and help them in any way I can. That gives me happiness. If you needed a home, I'd do the same for you. It's a good deed.'
'They've stated that they've had a very rough time, so this fundraiser is a way to give help, compassion, and love by paying their home loan in full. I personally relate to mental health, racial equality, diversity, and inclusivity.'
'They both support these issues as well. Together, they can help bring healing and restoration to the whole world.'
You May Also Like