For anyone who has spent any time on the internet, it's impossible to escape the phenomenon of memes. These short, often funny pieces of digital media have taken over social media and become a staple of internet culture. While they can be about anything, some of the most popular memes are those that are relatable, addressing the unique experiences and challenges that come with getting older. For anyone who is feeling a little nostalgic (or just needs a good laugh), here are some funny relatable memes you'll understand now that you're older.
#1.
ME: im an adult and i deserve to be treated as one
ALSO ME: wakig up early… is good for u???

— jonny sun (@jonnysun) November 1, 2016
#2.
When parents say to kids "go to ur room & think about what you've done" it's really good practice for what you'll do every night as an adult

— pat tobin (@tastefactory) September 18, 2015
#3.
#4.
https://twitter.com/InternetHippo/status/718867993984258048
#5.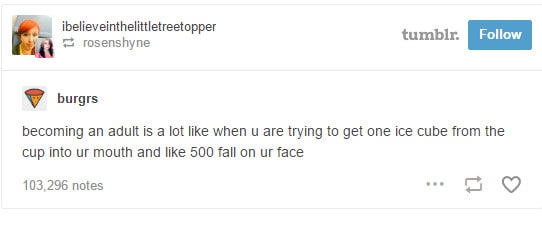 #6.
I'm an adult, and I can eat whatever I want whenever I want, and I wish someone would take this power from me.

— Mike Primavera (@primawesome) May 17, 2014
#7.
Injuries as a kid:

fouled on a layup

fell off trampoline

pulled muscle running

Injuries as an adult:

slept wrong

sat too long

coughed

— James Breakwell, Exploding Unicorn (@XplodingUnicorn) July 18, 2016
#8.
You guys ever hear an awesome old song and you're like OMG I USED TO LOVE THIS SONG wow time flies I'm so much older now and death awaits

— Eliza Bayne (@ElizaBayne) June 15, 2015
#9.
age 16: wow 20-somethings are so wise & old & have their lives together

age 23: if I get hit by a car will I have to pay my student loans

— JARRY LEE (@jarry) September 22, 2016
#10.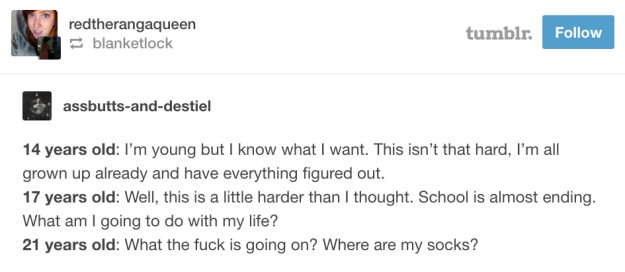 #11.
#12.

#13.
age 10: the floor is lava!!! hahahahahha
age 25: the stable adult relationship is lava!!!! hahAhaha

— chuuch (@ch000ch) March 7, 2016
#14.
The worst thing about being an adult & not a kid is that no one stands behind you when you're being an asshole mouthing "she's just hungry."

— maura quint (possibly parody sometimes depending) (@behindyourback) January 16, 2016
#15.
"Mom, I'm an adult. There's nothing left for you to show me."
(*folds a fitted sheet*)
"TEACH ME YOUR SORCERY, LINEN WIZARD"

— @[email protected] (@batkaren) March 7, 2015
#16.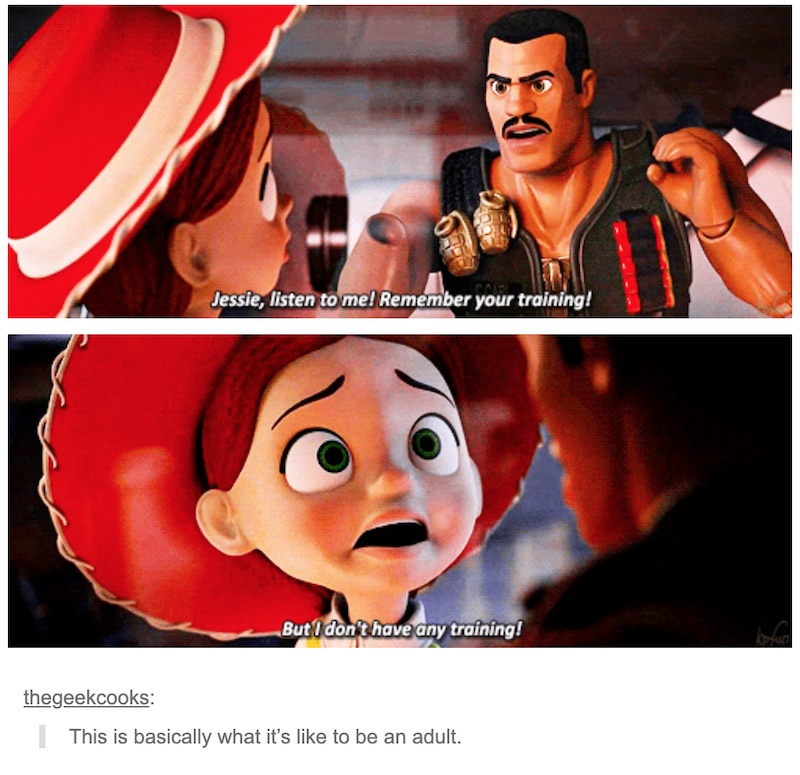 #17.
you know you're becoming an ADULT when you get excited for new sponges!! lol. and you're really sad a lot

— dubstep4dads (@dubstep4dads) November 17, 2015
You May Also Like