#1. This identity crisis.
Nothing like not recognising your own initials! Who's AR? #newlywedproblems 😂🙈

— aimiesarah (@aimiesarah) June 23, 2016
#2. This scheduling issue.
I want to fool around with my husband AND make the flight for the honeymoon! #NewlywedProblems

— Charlotte Whitlock (@PetersSugarTits) January 2, 2016
#3. This long-distance love.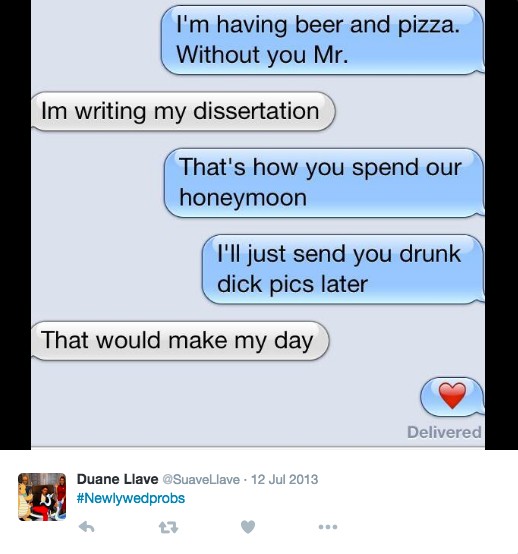 #4. This. A million times, this.
#newlywedproblems get sick, everyone makes jokes about morning sickness! No people I don't have a bun in the oven!

— Heather Poole (@HyperHeather11) January 11, 2016
#5. This losing battle that will alway need fighting.
How my mom ends our phone conversations:

"I want grandkids. I love you. Bye." #newlywedproblems

— teresa (@teresa_franco) November 28, 2015
#6. This decision which will upset someone, somewhere, somehow.
Having the 'what to do for Christmas' discussion #NewlyWedProblems

— Matt Collins (@thegingerMC) November 7, 2015
#7. This creative couple challenge.
Trying to come up with a funny name for our wifi #newlywedproblems

— Erin Klemz (@erinclams) November 16, 2015
#8. This "sorry not sorry" moment.
All I've done today so far at work is hug people and tell them all about the wedding/honeymoon, oh and show off my bling. #newlywedproblems

— Katie Fultz (@khelene) September 15, 2015
#9. This weird tradition.
Who are these people who have room to keep 1/3 of a cake in the freezer for a year and what do they do w/ their leftovers? #newlywedproblems

— Becky Stone (@DiamondsintheLi) June 14, 2015
#10. This level of suffering.
https://twitter.com/raylor_toss/status/517319986688180225
#11. This first heartbreak.
"Half of everything is mine now, remember?", says the husband biting into my last Swiss chocolate 😮 #newlywedproblems @ekuber

— Victoria Norman (@v_nrmn) September 18, 2014
#12. This (actually brilliant) idea.
https://twitter.com/noksangoma/status/636060495318020096
#13. This struggle.
https://twitter.com/AshliMazer/status/315218265314033665
#14. This mother of pearling nightmare.
I hear the 1st year of marriage is the hardest but Jacob just started using "mother of pearl" as a swear. Thoughts & prayers appreciated.

— Drew Zandonella Etc. (@dzandone) May 21, 2016
#15. This mutual understanding.
Happy 1st anniversary to my amazing and beautiful wife. This picture she sent me sums up our first year of marriage! pic.twitter.com/GdEtEB59y4

— Andrew D'Silva (@AndrewJMDSilva) May 7, 2016
#16. This first world problem.
That moment when you realize that you have Pottery Barn taste with an Ikea budget. #newlywedprobs

— Alison Mohr Boleware, LMSW (@alisonmboleware) October 25, 2015
#17. This confusing babble to all strangers.
"Who are you?" -"I'm Pat's girlfriend. Wait, wife, I'm Pat's wife" 😐 #newlywedprobs

— Mj Reusch (@wwwwd2) August 8, 2015
#18. This mathematical mystery.
How is it possible that I'm twice the size of my wife but she manages to take up twice as much bed space as I do? #NewlywedProbs

— Jonny Linehan (@jlinehan9) July 21, 2015
#19. This serious household dilemma.
https://twitter.com/jax_drake/status/475776511371251712
#20. This joyous celebration.
https://twitter.com/fessi_jloyd/status/444408470411177984
#21. This grandpa who gets it 😉
https://twitter.com/linswesterfield/status/381559419474960385
#22. This colorful minefield.
Trying to decide what color to paint our bathroom might be the hardest decision we have faced in marriage. @minicoop35173 #newlywedprobs

— Megan Cooper (@mrscooper2013) September 5, 2013
#23. And this post-honeymoon issue.
https://twitter.com/TheRedRaver/status/366616279819366400