With tattoos becoming more famous among the ladies in recent years, many are going for bolder choices, and of all the trends in the ink world, sleeve tattoos are the most popular for women. It's a great way to stand out from the crowd, thanks to the skin's artwork's expressive nature. Although small and dainty tattoos also have appeal, a sleeve piece can leave a more significant impression, covering the whole arm up to the wrist—but you can also go for a half design.
Half sleeves stop at the elbow, giving you more room for imagination. The best thing about sleeve pieces is that you can go for several variations, enabling you to make your ink piece unique to you. Whether you're honoring your faith or are looking to display your passion for something else, here are 25 of the most chosen half tattoo sleeve designs for women.
1. Half Sleeve Skull Tattoo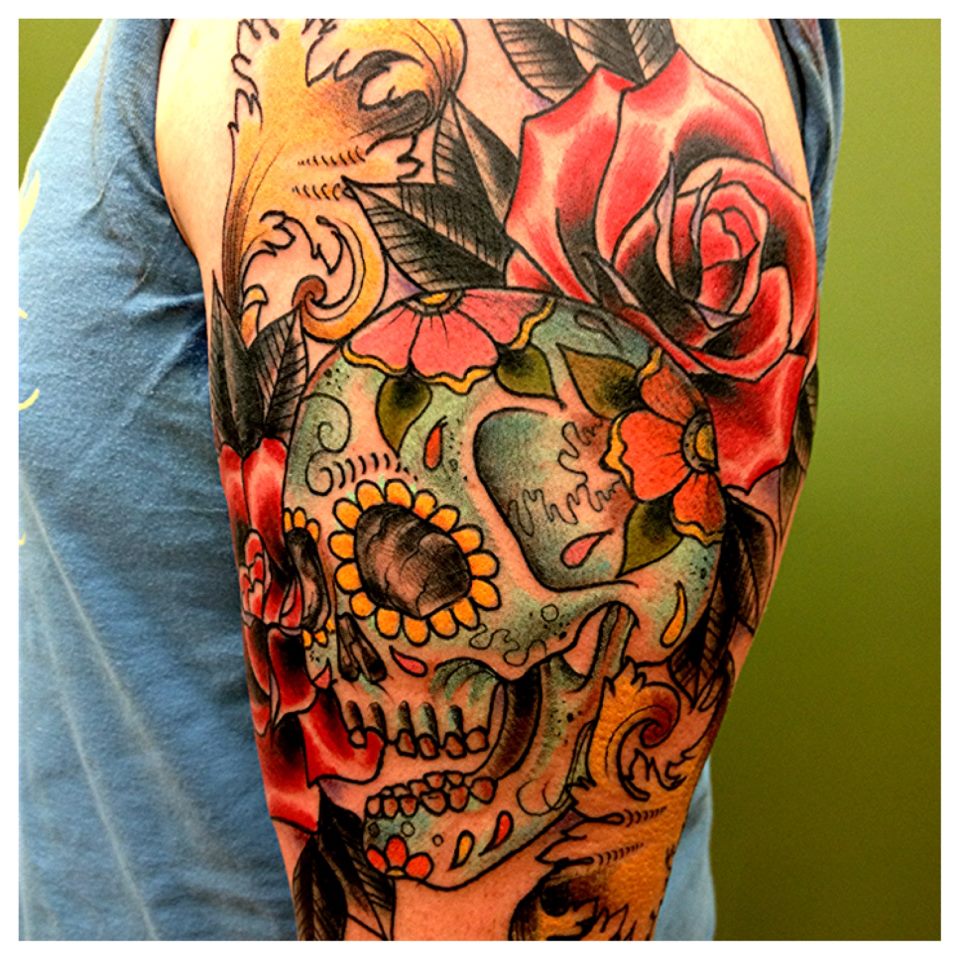 Although skull sleeve tattoos, even half designs may look intimidating, remember that there's beauty in this design as well. There are several tattoo ideas and styles to choose from, and you can make the skull designs realistic or abstract. Skulls are recognizable symbols that have been popular for tattoo enthusiasts for decades. In recent years, as women become more independent, it has become a popular choice among them.
Skulls can leave a massive impact and make a bold statement, usually representing life or death, and you can combine them with different symbols to deepen its meaning—and make it more personal.
2. Half Sleeve Tribal Tattoo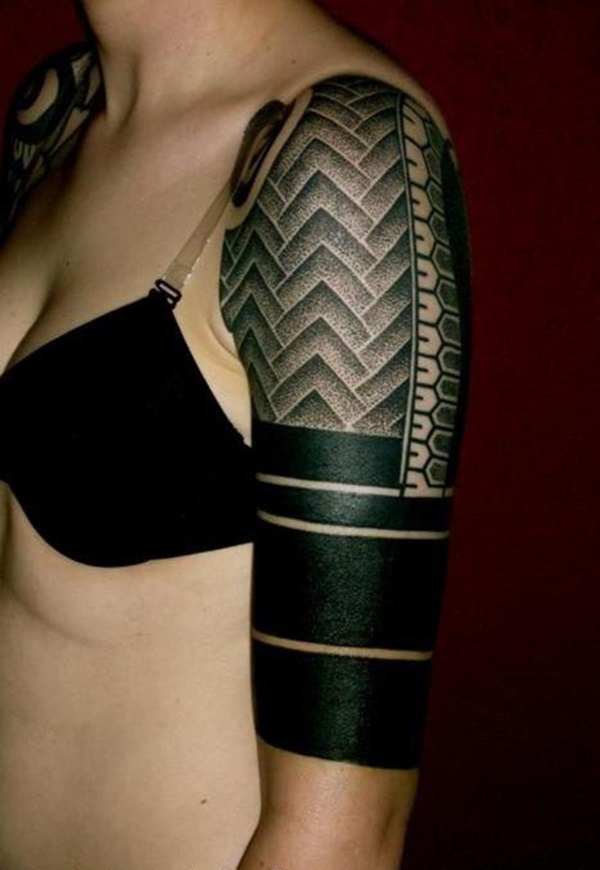 Regardless of the tattoo style you've chosen, tribal tattoos will always be deeply symbolic, especially when you research and discover what they represent. Several cultures have used the art of inking to express their pride and heritage, as each piece of body part describes a story. If you keep this symbolism in mind, it's no wonder half sleeve tribal tattoos have become a popular choice among women, representing their different stories through art.
3. Half Sleeve Christian-Themed Tattoo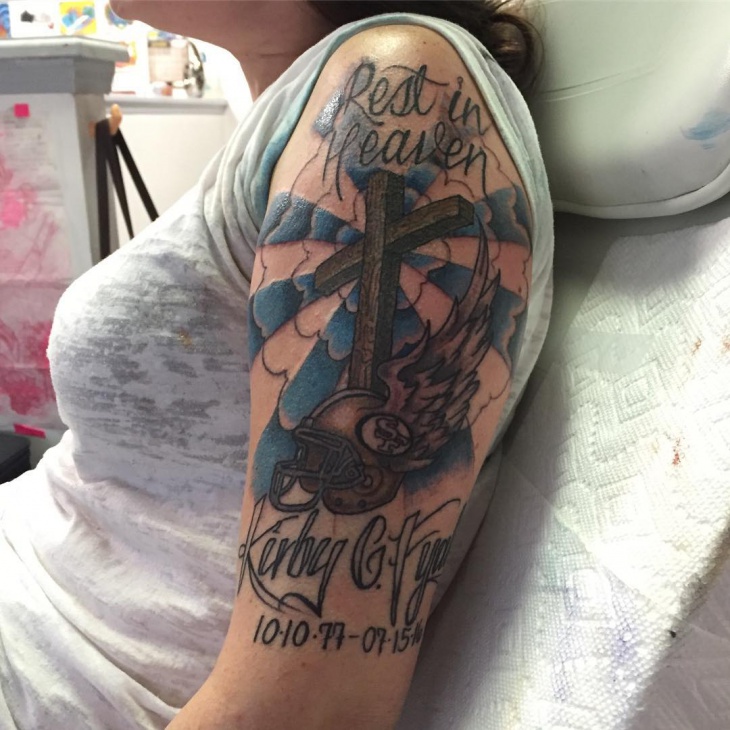 If you're a Christian and are looking to pay tribute to your beliefs, you can do so by getting a half sleeve Jesus tattoo. Jesus represents different things to Christians, ranging from the concept of love, resurrection, and rebirth. For many individuals, the decision to get a tattoo with such a powerful symbol like Jesus shows massive commitment to their faith, and if you're that type of person, you can make Jesus the focal point of your sleeve. Many women also like to add other images to this centerpiece to tell their story.
4. Half Sleeve Flower Tattoo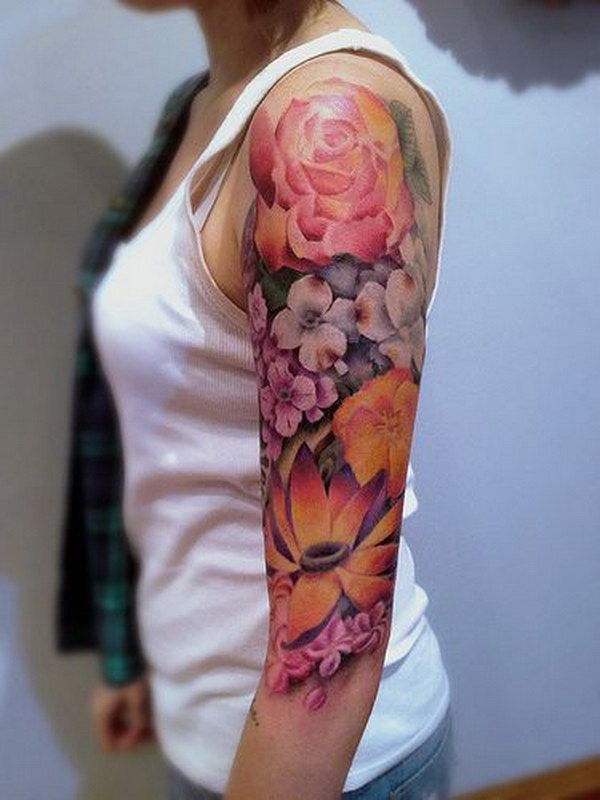 Half sleeve tattoos are known to leave quite the impression and statement since they cover a large amount of your skin while including intricate detailing. Because of this, a flower-themed half-sleeve tattoo has become a popular choice among women, giving ladies plenty of varieties to choose from, each one with unique symbolism and appeal. Generally, flower blooms represent love, but depending on what you pick, you can tailor the body art specifically to your preferences or personal meaning.
For instance, red roses often pertain to passion and love, while black ones are associated with grieving or death. The lotus flower is connected to life and wisdom, while daffodils are connected with integrity. Because of the theme's flexibility, you can go for anything you'd want.
5. Half Sleeve Japanese Tattoo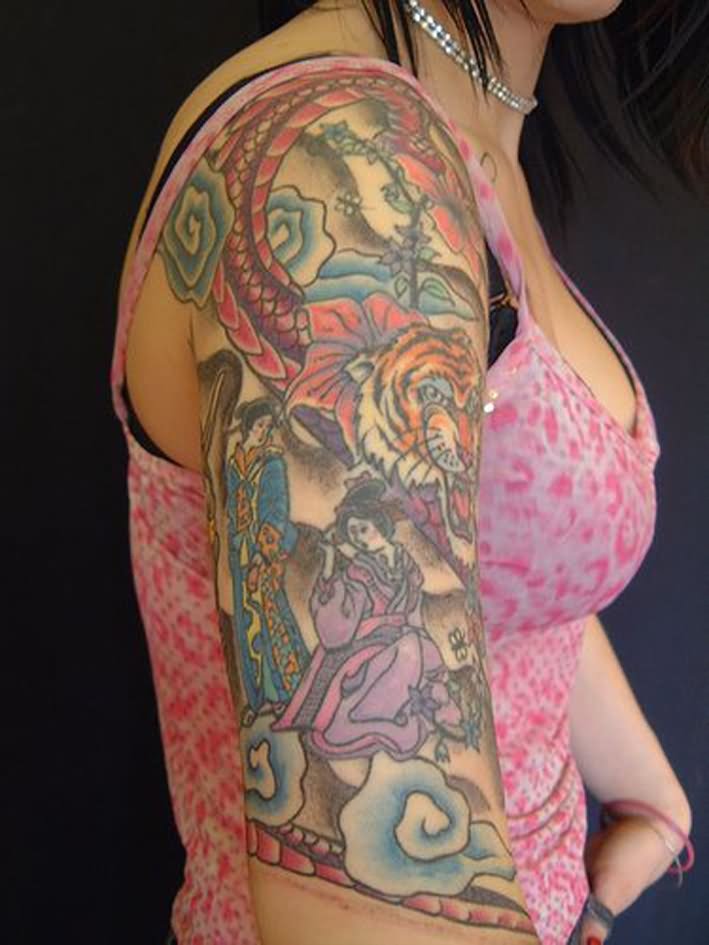 Irezumi or Japanese tattoos have always had a unique style, typically defined by vibrant colors and daring designs. That's because body art has always been connected with their culture. Many of the symbols used in the traditional art of tattooing found their way into mainstream tattooing—and has since then become a popular choice among women. If you're looking to find a half sleeve design that can turn heads no matter what, you'll adore this concept.
Although it's up to you to choose a theme, half sleeve Japanese tattoos often include dragons, cherry blossoms, lotus flowers, phoenixes, and koi fish.
6. Half Sleeve 3D Tattoo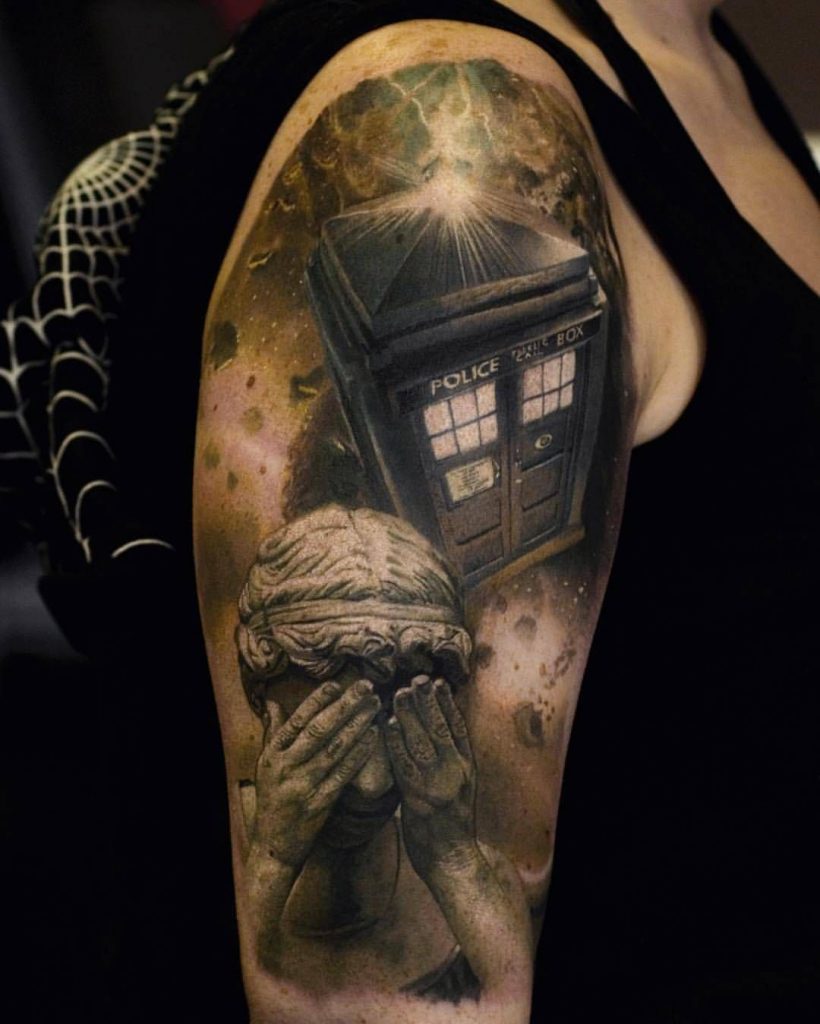 As tattoos become more accepted worldwide, the abilities of a few tattoo artists have gone beyond traditional talent, and there are many talented people whose work is so exceptional that they can make an incredibly realistic design. Because of this, 3D tattoos have become mainstream, with many women opting for this approach to make something stand out more on their skin. The extra dimensions used by artists bring these tattoos to life, which never fails to be awe-inspiring.
7. Half Sleeve Polynesian Tattoo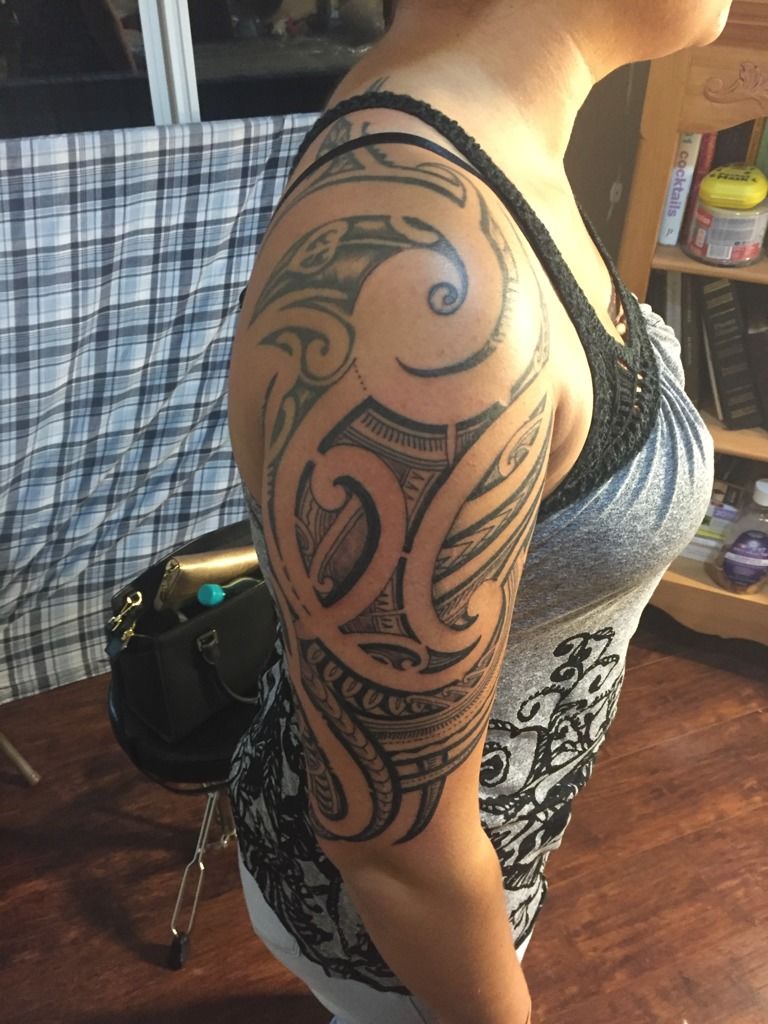 In Polynesian culture, people usually get tattoos to show status and hierarchy, consisting of intricate designs and patterns and symbols, telling the story holding importance to the wearer. Although it's an aesthetically pleasing concept, getting a Polynesian half-sleeve tattoo may be seen as cultural misappropriation. However, when done right, you can use it as a way to honor and admire Polynesian art and customs. Many women opt for this design thanks to its meaningful design and unique appeal.
8. Half Sleeve Celtic Tattoo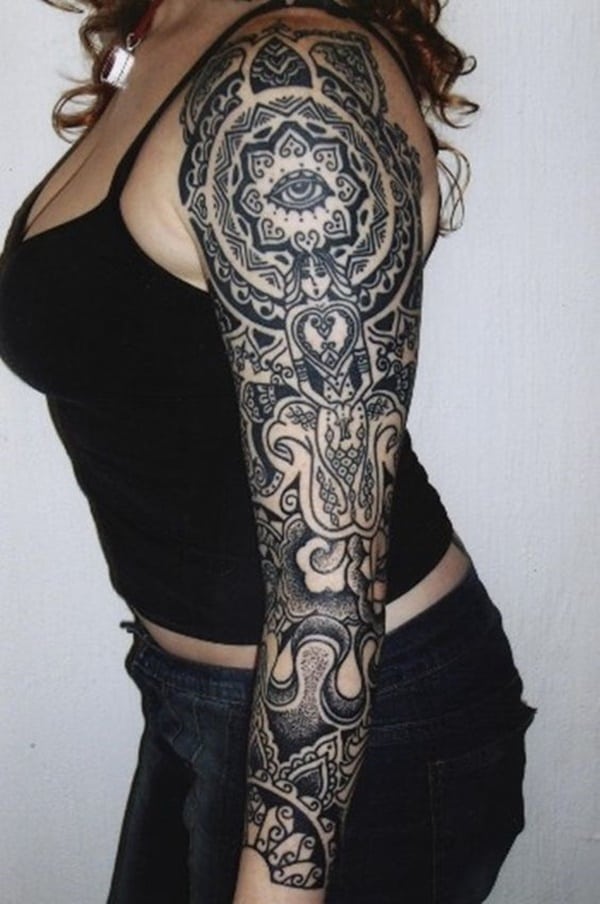 The time and effort it takes in making a sleeve tattoo, even those with half designs, are worth it, which can become even more meaningful when the wearer goes for a piece that has a deep personal meaning for them. That's why many women choose to honor their culture and heritage with the half-sleeve designs they choose. Celtic tattoos are intricate, consisting of known and complex symbols that make them more attractive. All while giving ladies the freedom and creativity when it comes to the actual design.
9. Half Sleeve Tiger Tattoo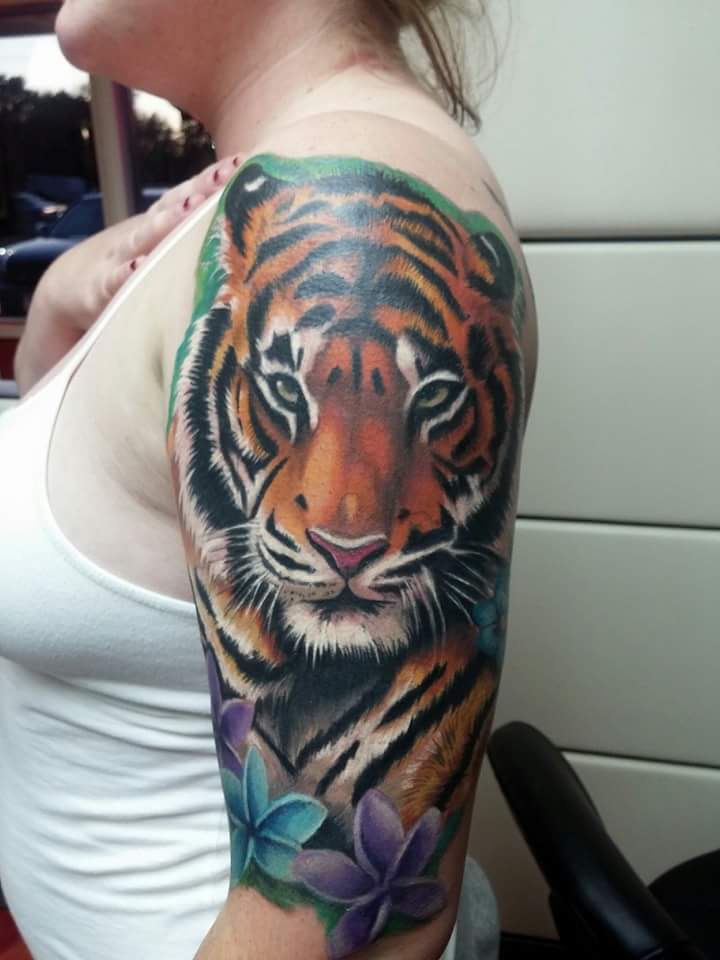 Tiger tattoos have always been a favorite choice among empowered women looking to display their independence and strength through art. It's no secret that the tiger is a powerful predator, with many individuals often linking the big cat with strength, courage, and freedom. It also represents significant importance in different cultures. For instance, in China, the tiger represents dignity, while in India, it's their prized national animal. Besides that, half-sleeve tiger tattoos have become a popular choice among women, thanks to their beauty.
That's why when deciding to get inked—it's not difficult to see why women would pick such a meaningful and appealing design. Additionally, tiger tattoos work well as half sleeves since their placement gives enough space for detailing to make it stand out.
10. Half Sleeve Dragon Tattoo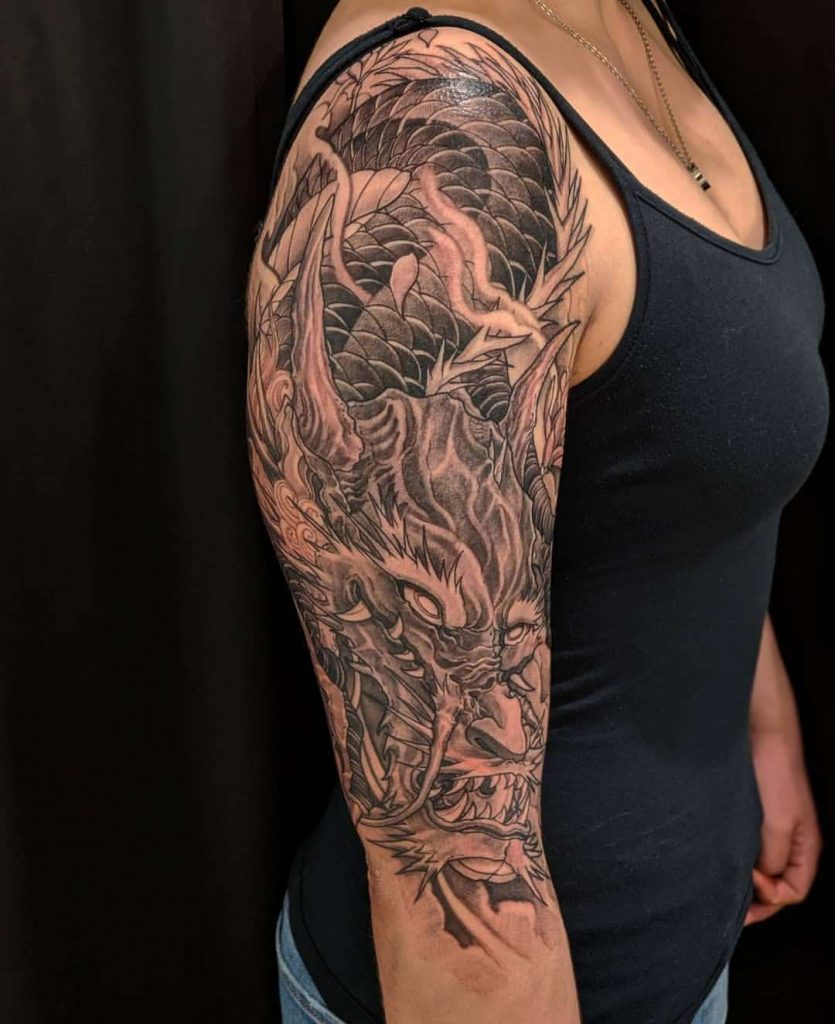 If you're a woman looking to show off your strength, there's no better half-sleeve tattoo idea than the dragon. Dragon tattoos often symbolize power, knowledge, and protection. These are often intricate and exceptionally stunning, lending themselves to sleeve tattoos thanks to the shape of the mythical creature. Plus, it's become a popular choice among the ladies thanks to its versatility, allowing you to opt for vibrant colors or stay with the boldness of traditional black ink.
Regardless of the tattoo style you go for, it's undeniable that Dragons represent powerful and brave, making it an excellent way to show off what these qualities mean to you.
11. Half Sleeve Viking Tattoo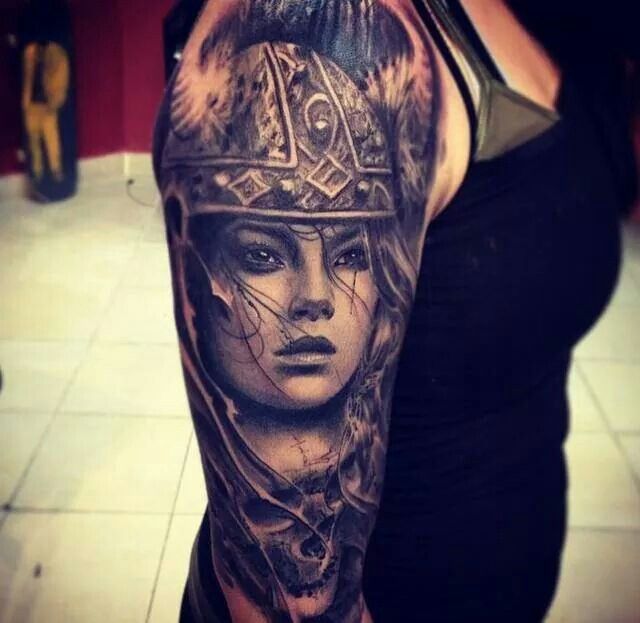 Vikings, the real Norse individuals originating from Scandinavia, have been popularized in art and movies for years. These people have conquered multiple lands and were famously known to be brave and ruthless warriors who had a never-ending thirst for battle. However, besides being fearless, there was another side of Vikings: their beliefs in several Gods. Because of this, tattoos have become a popular part of their culture. Many women choose to go for Viking-theme half-sleeve tattoos to symbolize power, honoring the Norse people's faith and rituals—or simply a chance to decorate their body in gorgeous patterns.
12. Half Sleeve Koi Fish Tattoo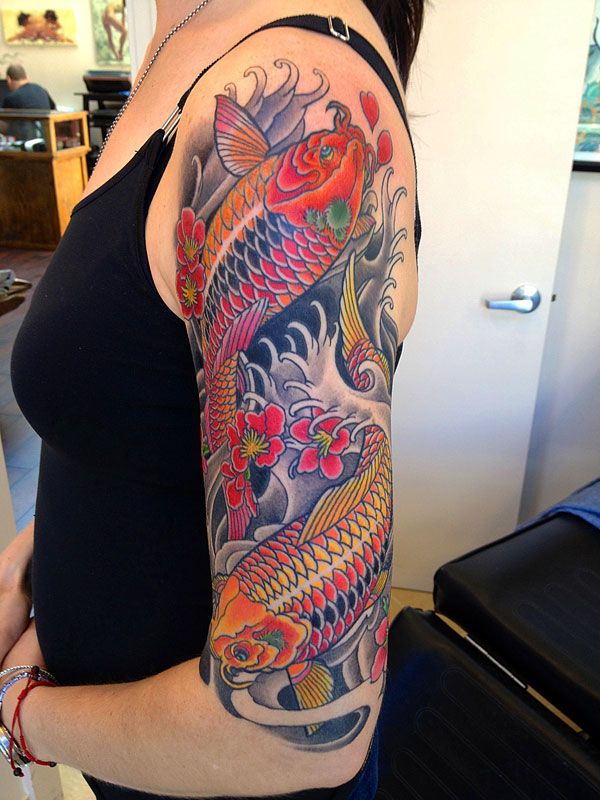 The Koi fish has always had a deep meaning, boasting great importance in Japanese and Chinese cultures, and has become a popular tattoo choice because of these reasons. Koi fish are often associated with positivity and strength, allowing ladies to indicate they've experienced great hardships before and have overcome them by their means. Besides that, the color you pick is also crucial as it can change the whole tattoo sleeve's meaning.
For instance, a red Koi fish represents intense passion and love, or a symbol of family, while a blue Koi fish is often associated with masculinity or fertility.
13. Half Sleeve Tattoo with Quote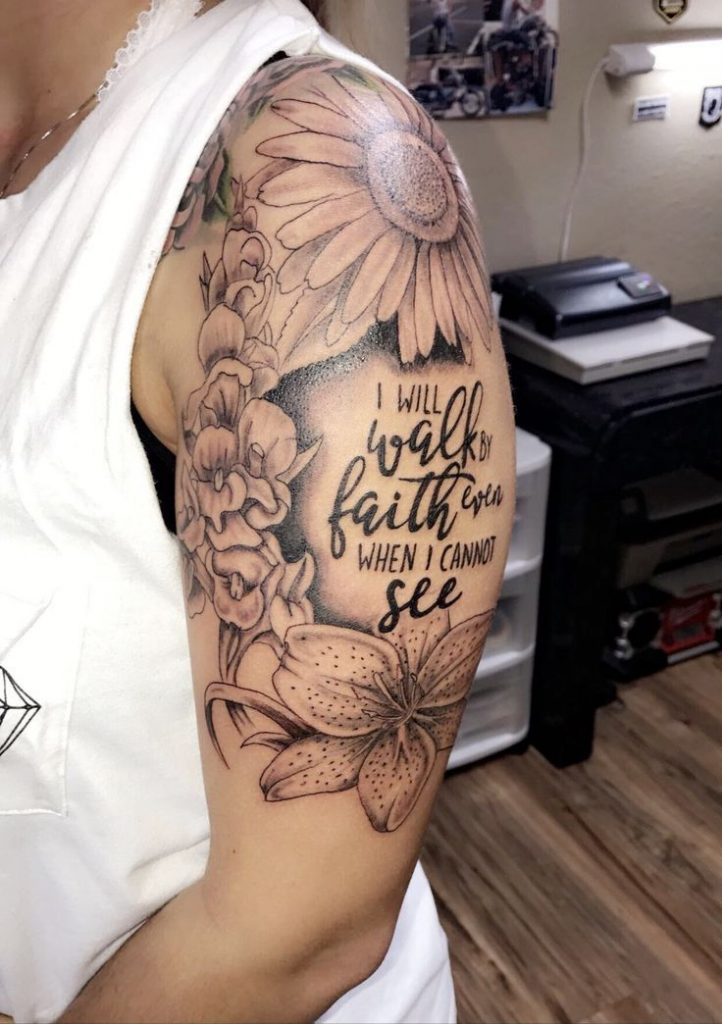 Many believe that pictures can speak a thousand words, but sometimes, it's better to be blunt. That's why many women choose to go with half-sleeve tattoos with quotes to get their message across better. You can incorporate your favorite poem, an unforgettable speech from a movie, or a lyric from a song that strongly resonates with you into any tattoo design, making it more 'deep.' The choice is yours. It works perfectly with other elements, whether it's pictures or abstract patterns, creating an eye-catching piece of body art.
14. Half Sleeve Angel Tattoo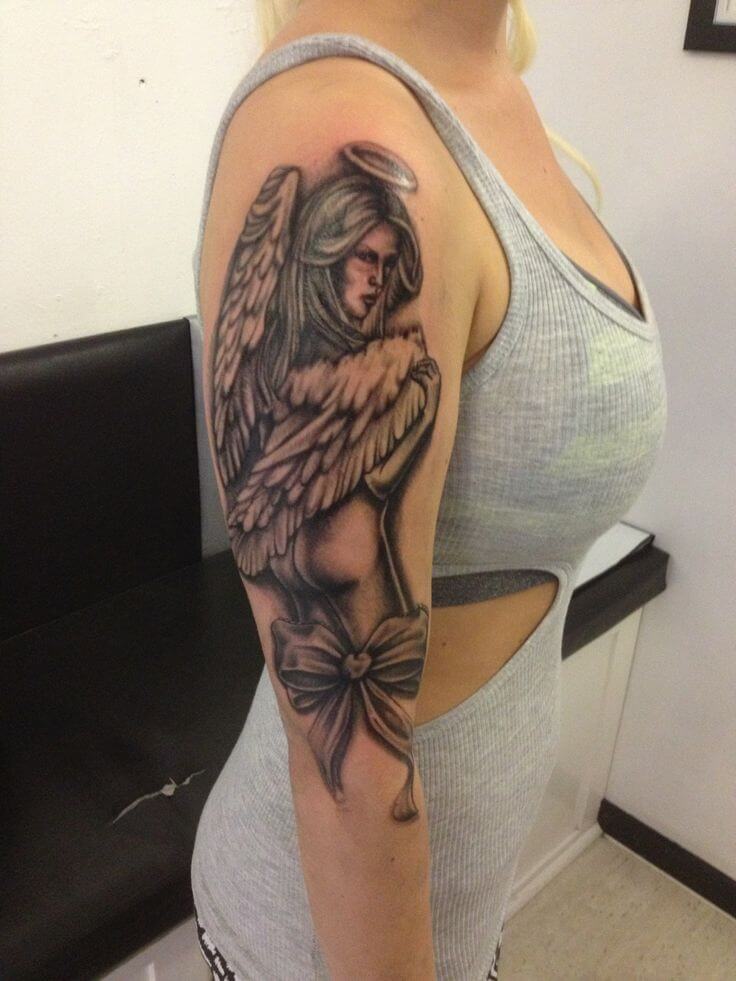 Body art has become so popular among women thanks to the many interpretations of designs and their unique meaning, with angel tattoos a top choice among them. Angel tattoos are often associated with hope or heaven, reminding the wearer that's someone's always watching over you. Besides that, angel tattoos can also serve as a spiritual guide or image of pure beauty and innocence. Alternatively, many ladies choose to have half sleeve angel tattoos to honor a loved one who has passed. You can have the image of an angel's wings or the holy being itself.
15. Half Sleeve Clock Tattoo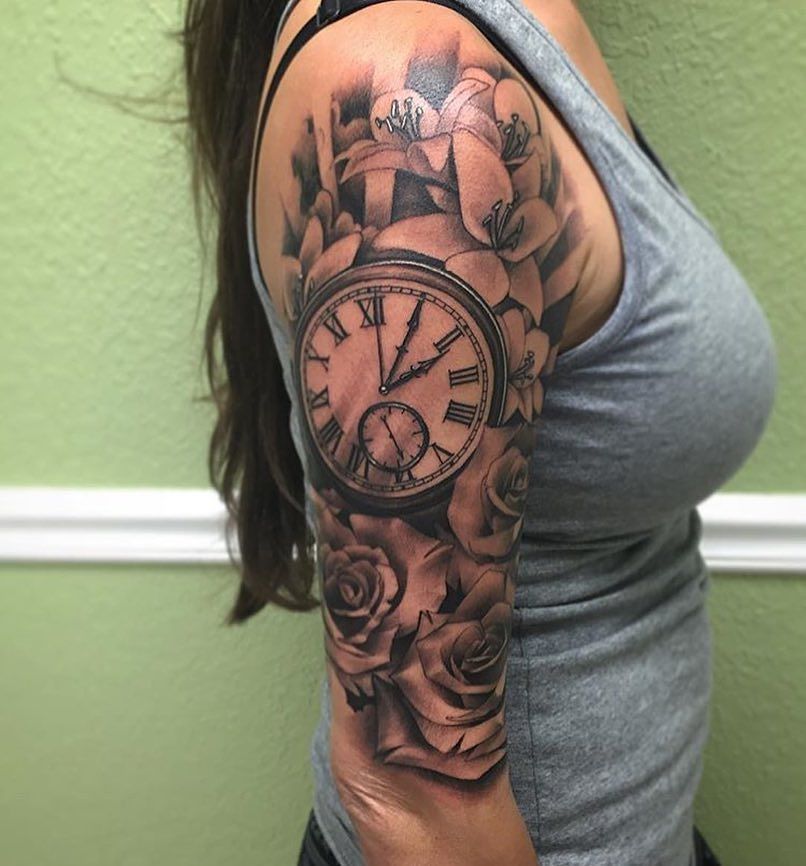 When most people think of clocks, many contemplate the concept of time, but clocks may also represent life and death. Those looking to explore this idea may consider tattoo sleeves with a timepiece. This unique design reminds the wearer of the importance of every day and that they should spend each one wisely. The best part of half-sleeve pieces is that you can add several elements besides that focal clock piece. For instance, many women opt to add roses and other flowers, expressing life. Alternatively, you can also add darker elements like skulls or fire to indicate something more somber.
16. Half Sleeve Music Tattoo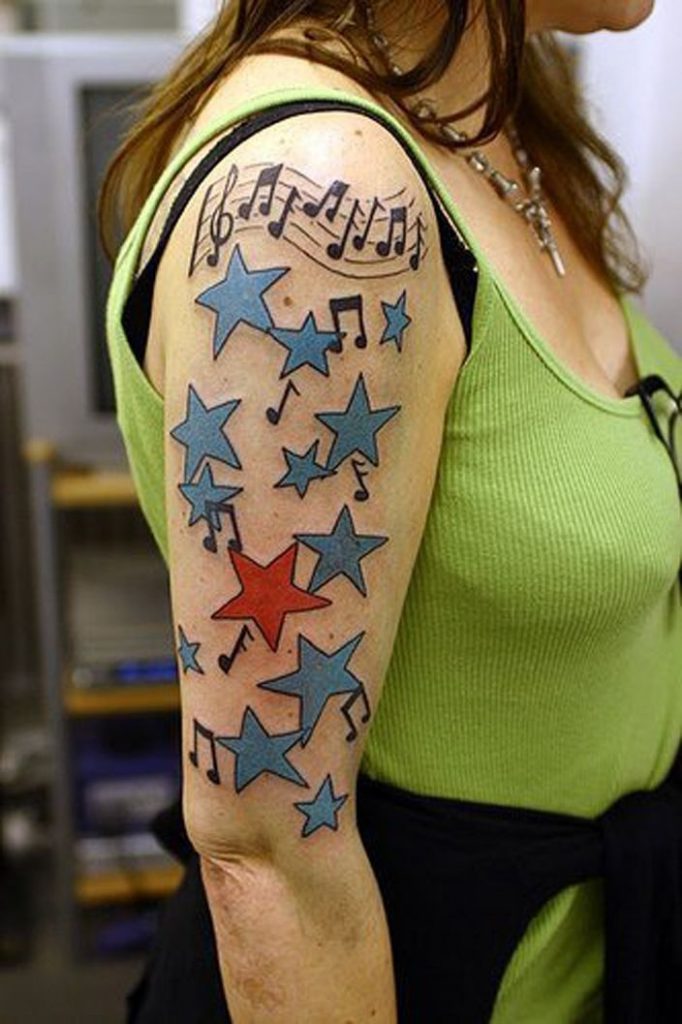 Musicians and general music lovers can show off their passion and love by getting a half sleeve music tattoo. Half sleeve music pieces are extremely appealing since you can add various images into the design, ranging from music notes to meaningful lyrics. Whatever style you're going for, expect the overall effect to be stunning, making it a perfect choice among musically-inclined women or those who adore it.
Additionally, music tattoos can also be meaningful, where you can pay tribute to a loved one by choosing their favorite songs or acknowledging how music has changed your life.
17. Half Sleeve Wolf Tattoo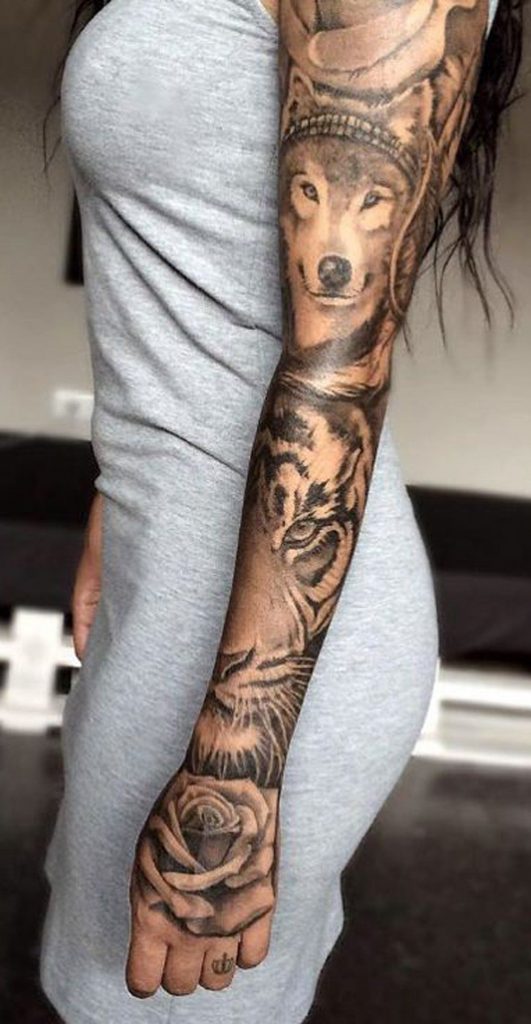 If family and personal growth are crucial to you, a half-sleeve wolf tattoo is an excellent choice for you. That's because the majestic animal is often associated with these traits since they live in packs, with their survival and resilience dependent on their close-knit family. Besides that, if love and loyalty are great attributes that you pride yourself on possessing, this tattoo design is also an excellent choice for you. Wolf tattoos can be perceived as a symbol of power and reminding the were of their strength and determination.
Before going for a half-sleeve wolf tattoo, make sure to find a creative tattoo artist who can make a realistic piece since it'll have the best results for a sleeve piece while leaving a more significant impact.
18. Half Sleeve Clouds Tattoo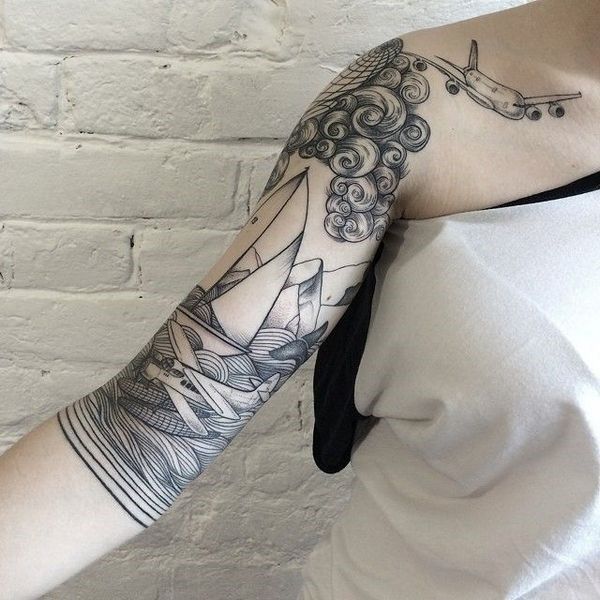 There's just something dreamy about getting inked with clouds. However, not only do cloud tattoos look cool, but they're also rich in symbolism. For instance, for some individuals, cloud tattoos may represent personal growth while having a positive element. In contrast, for others, the imagery reminds them of floating freely into the sky, saving them from the negativity. On the other hand, cloud tattoos may also represent something sadder, especially when going for dark and stormy designs.
19. Half Sleeve Portrait Tattoo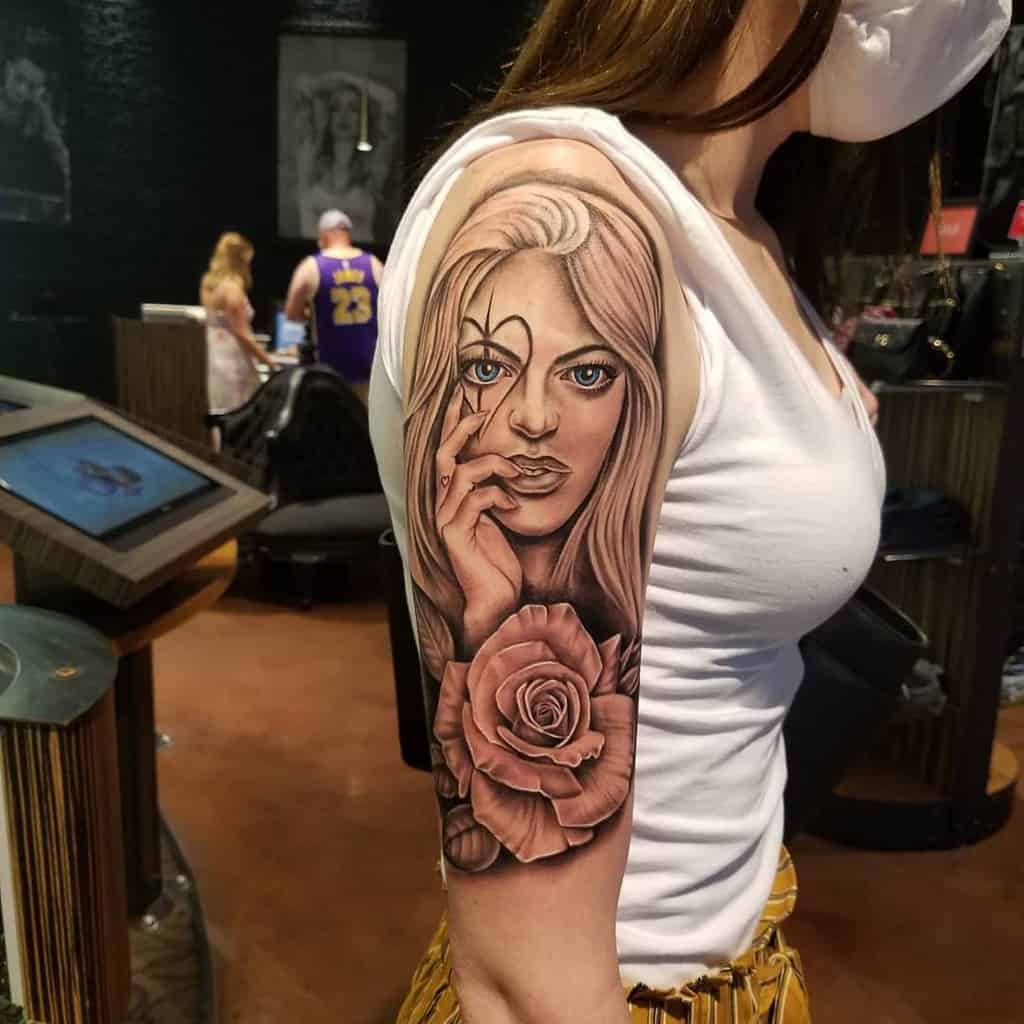 If you've lost someone important to you, celebrate the birth of your firstborn, or want to cherish your lover, then getting a half-sleeve portrait tattoo is a great way to do all these. Often, individuals choose to have themselves inked with realistic pictures of those important to them or those who inspired them to live. Sleeve tattoos, even half designs can take this to a new level since it allows the wearer to add more elements to the portrait that has a personal meaning to them.
20. Half Sleeve Tree Tattoo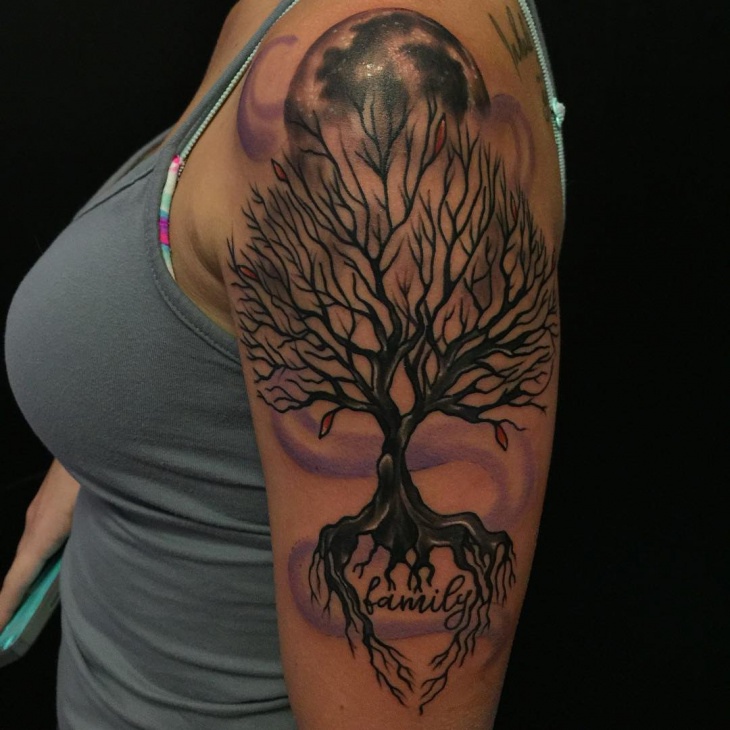 Many people often identify trees as the symbol of wisdom, life, and resilience. They're also usually associated with solid bonds, like relationships with family or friends. However, half sleeve tree tattoos have become a popular choice among women because there are different species they can choose from, with each one having a unique symbolism to it. For instance, birch trees are linked with new beginnings and everlasting hope, while willow trees are often linked to honor someone special who has passed.
The best part about tree tattoos is that their naturally long and narrow shape perfectly lends themselves well into half sleeves.
21. Half Sleeve Patriotic Tattoo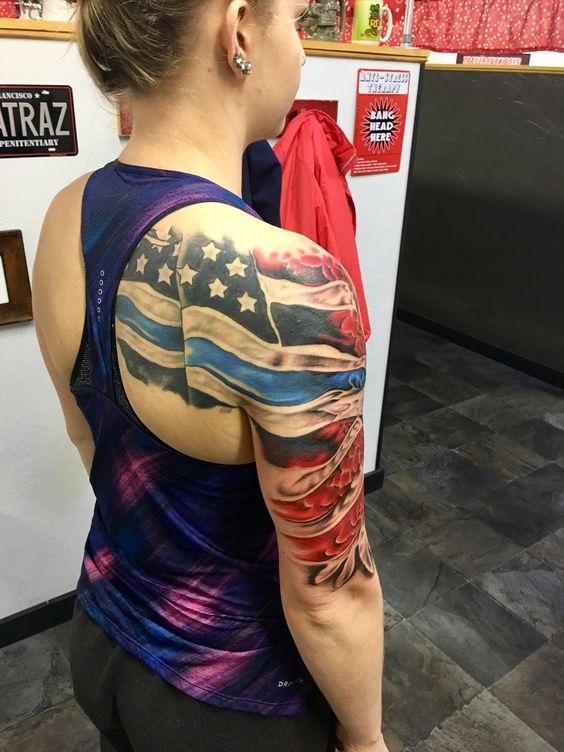 There are several ways to show off your love for your country, and one of the most popular methods among women includes getting inked with a flag tattoo. For instance, Americans or those whose ancestors hail from the United States can honor their heritage by displaying an image of the red, white, and blue flag. Patriotic individuals can show off their love for their country every day with a half-sleeve flag tattoo with ease.
22. Half Sleeve Arrow Tattoo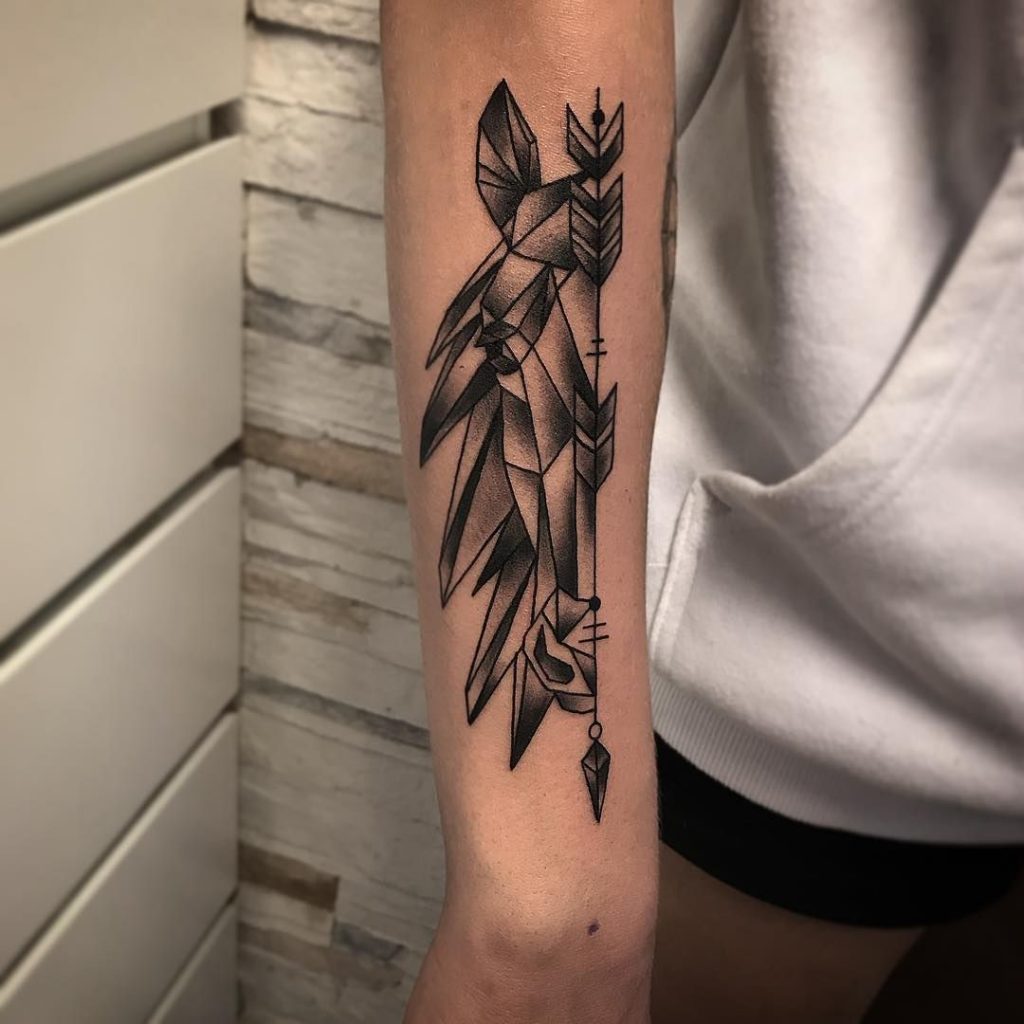 Arrows represent many things, with the most common one being 'direction.' Many women guide themselves toward the right way with a half-sleeve arrow tattoo. The bow and arrow are often linked with Native American culture, symbolizing strength, achievement, and focus. The best part of getting an arrow tattoo is that you can keep it as subtle as you want or go for something more eye-catching such as a 'realistic' piece. Half-sleeve tattoos can work well independently or perfectly blend with other elements like roses or a quote.
23. Half Sleeve Family Tattoo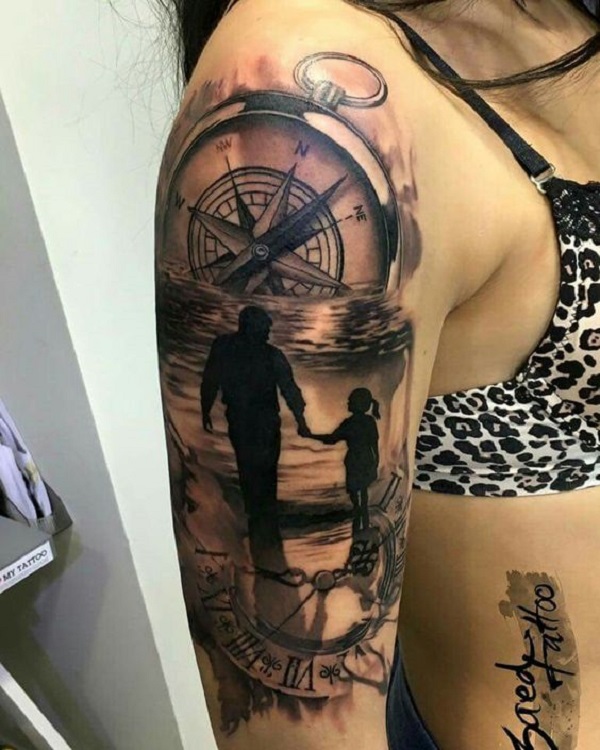 If you love your family and want to immortalize it, there's no better way than getting a half-sleeve tattoo filled with realistic portraits of your loved ones, their birthdays, or the date of their death, names, or relevant quotes. All you need to do is get creative and honor those important to you or get 'matching tattoos' with them. Half-sleeve family tattoos are popular among women and their sisters, as they often get matching 'sister' tattoos.
24. Half Sleeve Watercolor Tattoo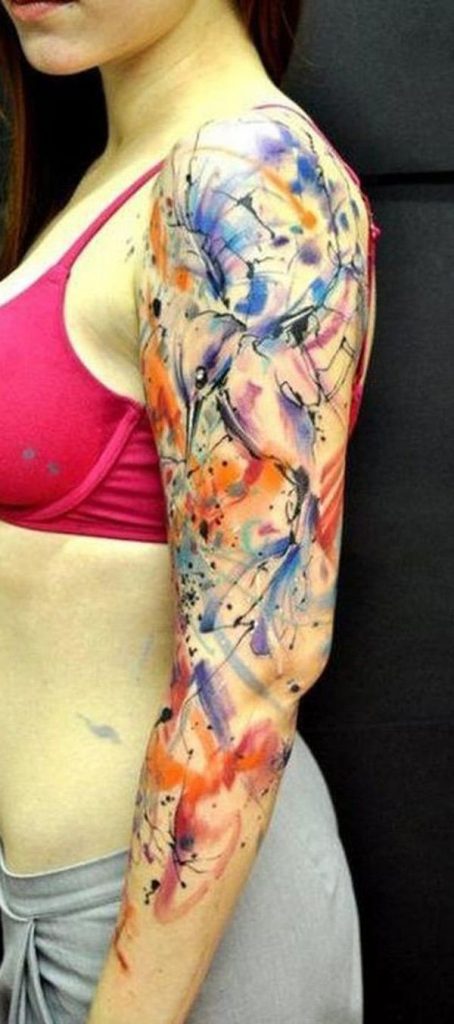 As tattoos become more mainstream, more and more techniques are surfacing, with watercolor tattoos at the top. It's a unique technique that uses bright and bold colors to replicate a painted canvas, but on the skin, creating a gorgeous painting on one's body. The appeal of this body art as a sleeve piece is that the area is large enough to welcome more details without needing black outlines, creating a gorgeous piece of art, making it a popular choice among the ladies.
25. Half Sleeve Mechanical Tattoo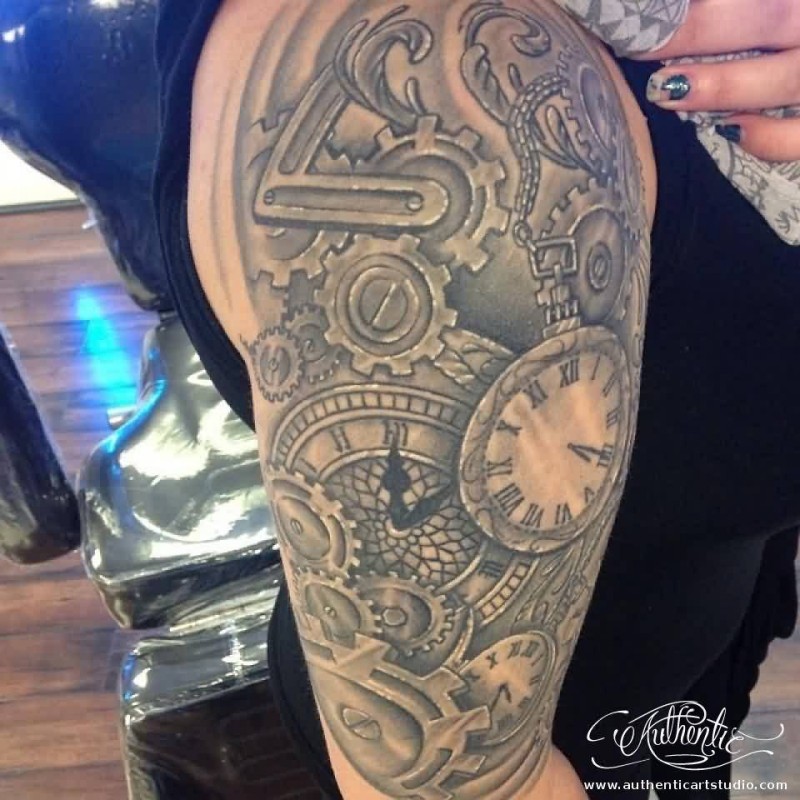 If you love robots or love the Terminator or Ironman, what better way to commemorate it than getting a mechanical tattoo? Regardless of your preferences, half-sleeve mechanical tattoos are a great idea if you're looking to stand out. Although this tattoo style is often perceived as 'masculine,' many women are now showing off that it can look as good on them.
FAQ
How do you design a sleeve tattoo?
The best sleeve or half-sleeve tattoos have a theme, a story or a message. It is cohesive even though it is made up of different elements. Explain your concept to the tattoo artist and let them design something that fits your needs. You would need to tell the artist what you want to convey, what elements, shapes, images and colors are included, and any additional symbolism you care to include.

How long does it take to create a half-sleeve tattoo?
A half-sleeve tattoo may take several sessions, spending from 4 to 8 hours in total. The length of time depends on the tattoo details and the complexity.