The heart tattoo was once the most common tattoo for men, and symbolized a loved one, a religious belief, or a passion. For women, the heart tattoo is usually related to their loves, and the feeling of being loved.
This post contains some of the best heart tattoo designs we have found for both men and women, and hope they will give you some great ideas. You can jump to each section using the table of contents.
Heart Tattoos For Women
Women usually have heart tattoos placed differently from men. Common places for a woman's heart tattoo is the wrist, the shoulder, the back, the finger or even the back of the ear. They don't have to advertise it, they just know where it is.
Women also choose to have a heart tattoo for personal or intimate reasons. The tattoo does not need to be seen, and they would not explain its meaning. It is enough that the tattoo is hidden, but people can still take a peek.
The following heart tattoos bear witness to women's playful and loving nature. Women who have heart tattoos are inspired everyday, by their little hearts they wear on their body.
1. Fingerprint Heart Tattoo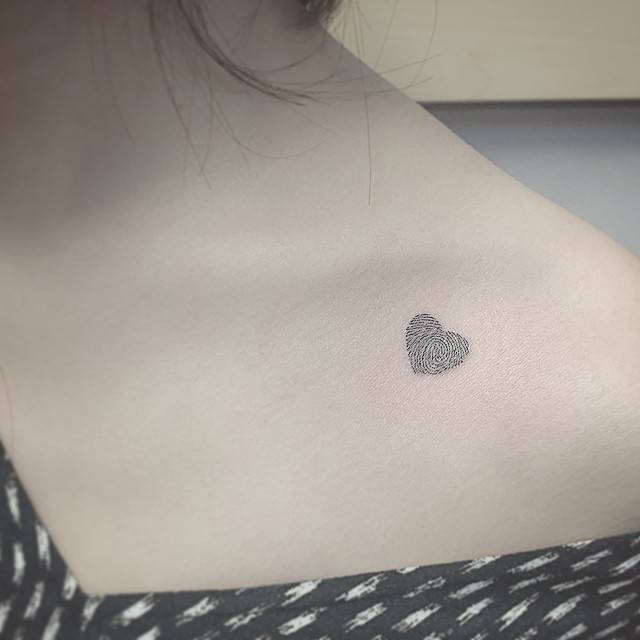 For a truly unique finish, take a look at inspiration for the fingerprint heart tattoos. We all know that no two fingerprints are alike. Thus, your tattoo design will be one of a kind. You can have your print along with your loved ones for a thoughtful design created by a skilled artist. The artist can shape it into anything, but heart-shaped images are adorable and popular. It looks super cool and significant too!
2. Three Hearts Tattoo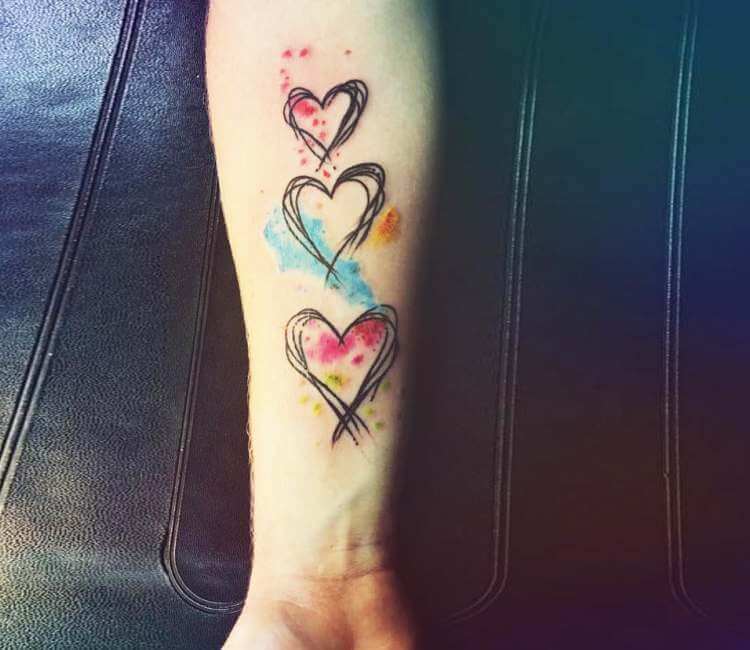 The three hearts tattoo is a unique tattoo design that represents the past, present, and future. Although it can also mean different things for different people – the three elements are thought-provoking. It can also serve as a reminder for one's goals and dreams or symbolize essential milestones in their life.
3. Anatomic Heart Tattoo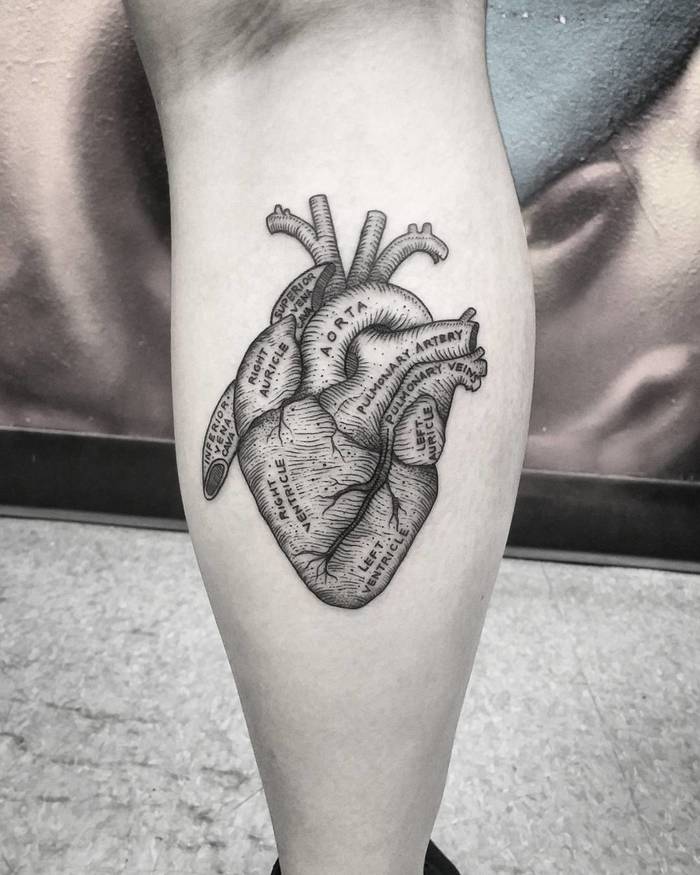 Would you like a more realistic heart tattoo? Although the universal heart shape looks cute and exciting, some people prefer the anatomic picture of the heart for a unique inking. This tattoo design adds a level of realism, and you have to find a skilled artist to recreate all the details of the human heart. It represents love, friendship and is a symbol of life. Located in the center of the chest, we will not survive without our hearts. Make it more meaningful by adding other elements like flowers or names.
4. Red Heart Tattoo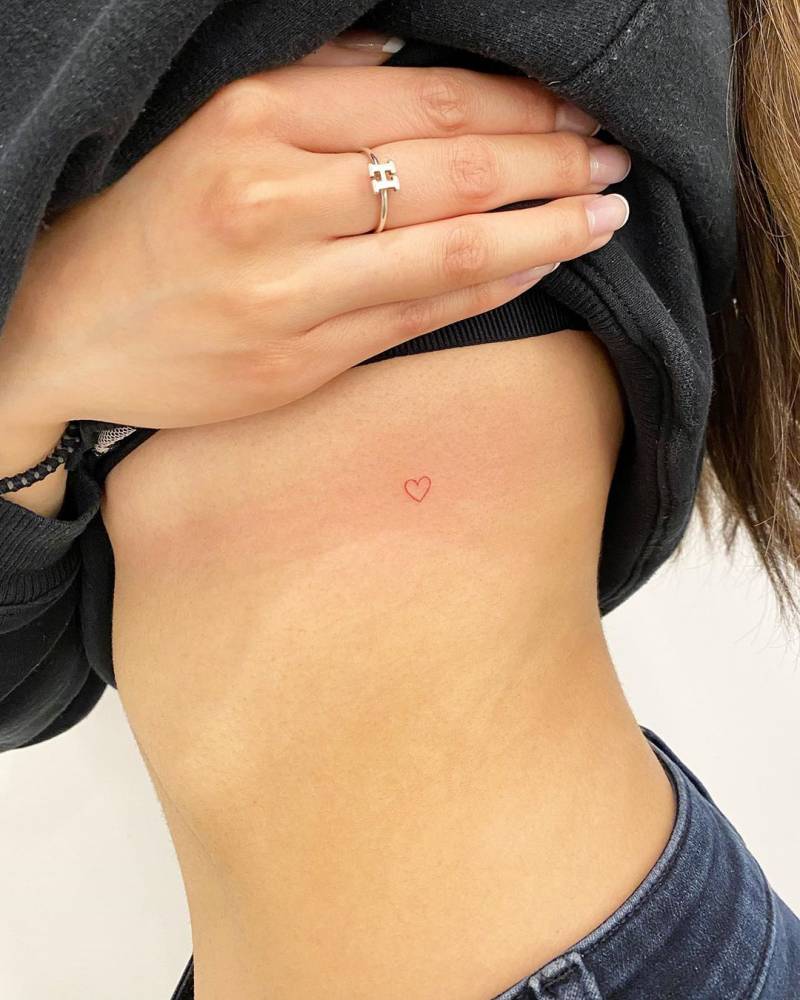 Red may be the most common color of the heart we knew since childhood, but the variety of colors you choose may change what the image of the heart means. Red ink is all about romantic love and passion, while a black ink heart represents sadness. Tiny red hearts tattoos are trendy choices as it is a beautiful tribute for your partner. You can have it as a matching tattoo with your siblings or friends too. There are also celebrities wearing bold red heart inks, such as Hilary Duff and Kylie Jenner.
5. Black Heart Tattoo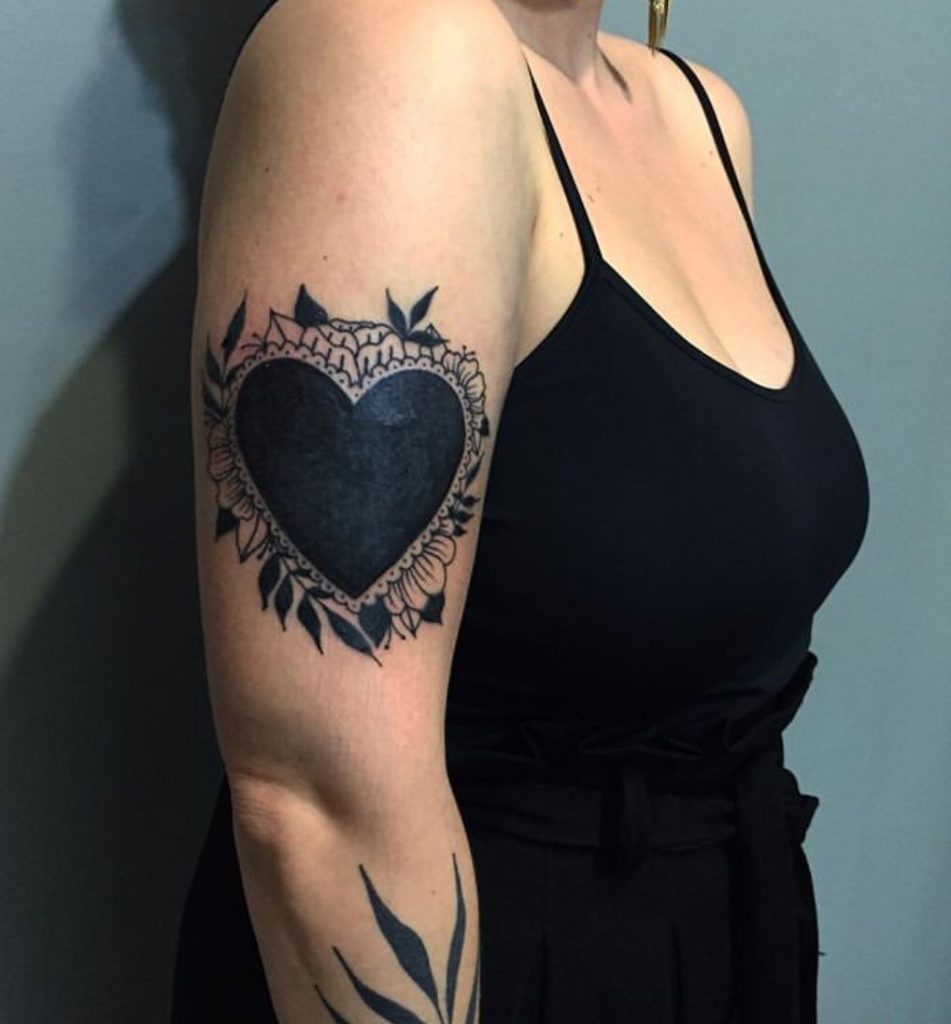 A black heart tattoo can mean various things. It can be a simple choice for the wearer to have a simple and black ink heart tattoo. However, it can also mean grief and death. Black heart tattoo symbols are often associated with a loved one who passed away. It is a reminder of personal loss or heartbreak. A popular placement for this ink design is over the heart area, but tiny black hearts can be inked on the wrist too.
6. Small Heart Tattoo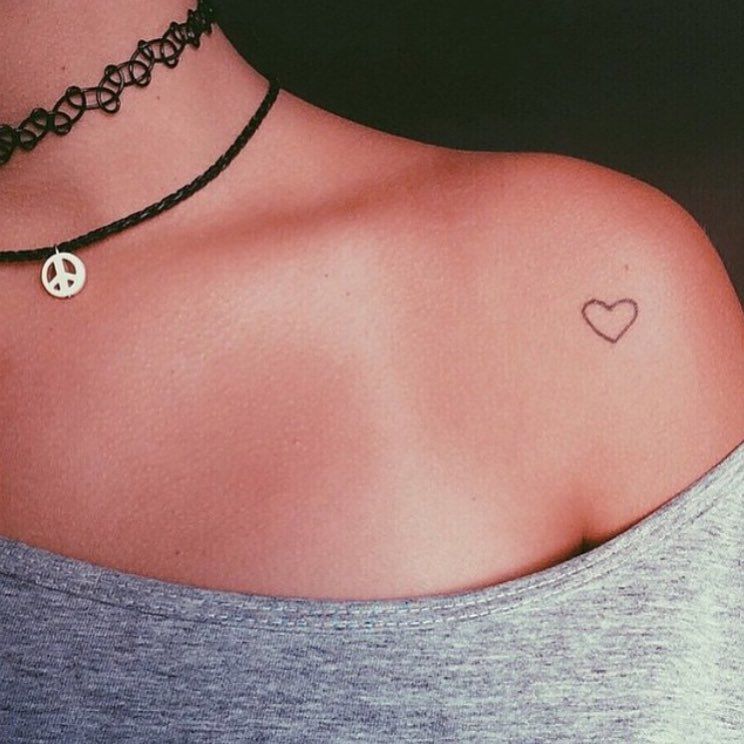 For delicate and dainty tattoo designs, small heart tattoos are cute elements that are sure to suit you. These tattoos do not require much time to complete compared with more extensive procedures, but they carry the same meanings. If it is your first time getting inked, a small tattoo will be your perfect piece. Likewise, small heart tattoos give you freedom on their placement. Because they are tiny, they can fit anywhere from your fingers, wrists, ankle, or behind the ear.
7. Bleeding Heart Tattoo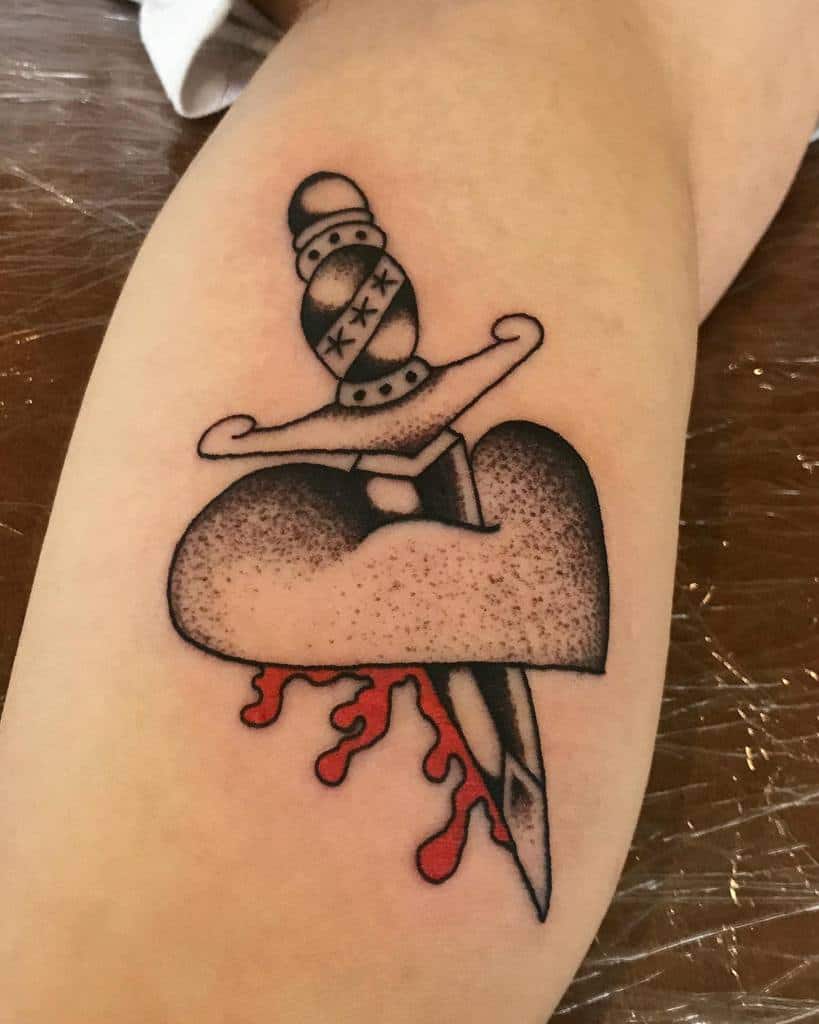 Tattoos are lovely self-expression in forms of body art. If you have experienced pain and sadness, and you want to express it through inking, a bleeding heart tattoo may be something that appeals to you. It represents various things, including losing a loved one, unrequited love, or the end of a relationship. Many people relate to the feelings it evokes. It is a powerful picture of a wounded heart, with droplets of blood and losing its strength.
8. Simple Outline Heart Tattoo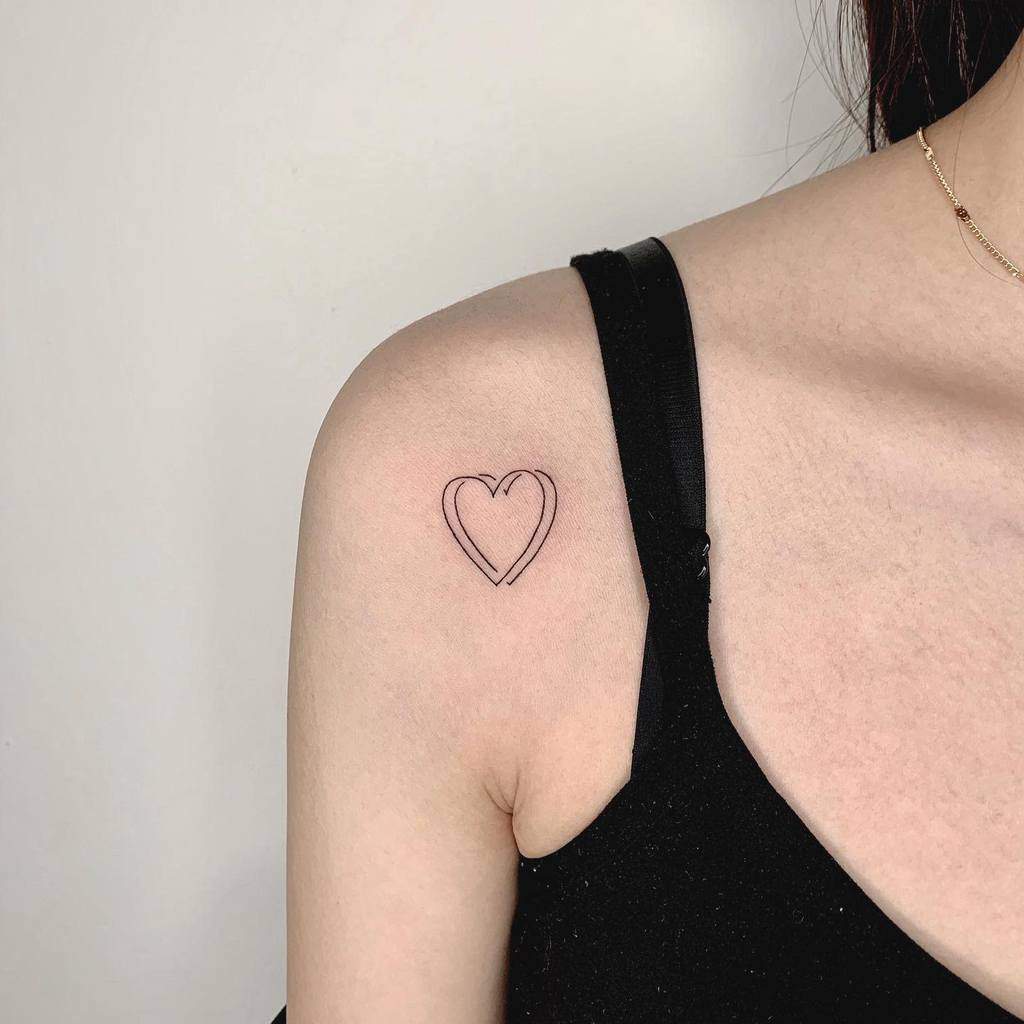 A detailed and intricate heart tattoo design may be appealing, but others prefer those with simple techniques. Heart tattoos are endearing, and sometimes, you don't need to go significant and exhaustive to get your message across. If you find beauty in simplicity, a simple heart outline tattoo will appeal to you. It focuses on the basic design and comes without shading or colors. It is best done in black ink, and it is perfectly minimalistic and dainty
9. Broken Heart Tattoo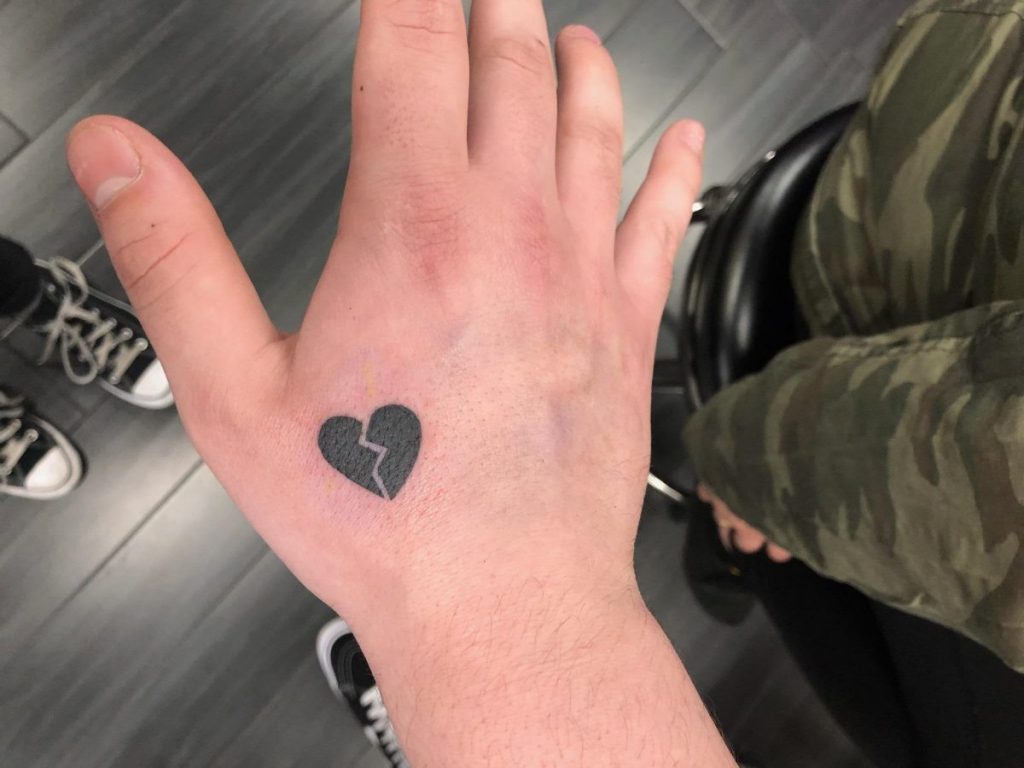 Not every love story ends happily ever after. Despite the lovely feeling, a failed relationship often leaves a bad taste in your mouth. A broken heart symbol is a typical representation of the intense feeling of pain that one experiences after a love gone wrong. It is a reminder to the wearer that she should be more careful in choosing to give her heart. A broken heart tattoo will serve as a cautionary tale that the wearer is guarding her heart, but she is overcoming her suffering.
10. Semicolon Heart Tattoo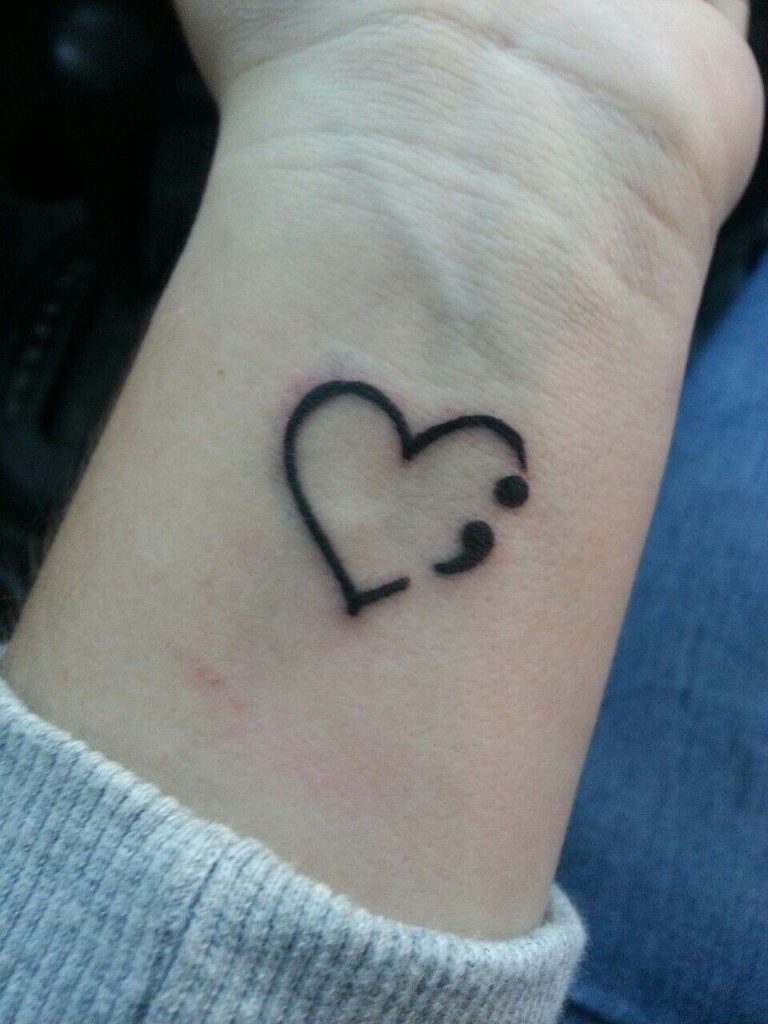 The semicolon tattoo has grown quite popular over the years. It is used to represent a continuing story of an individual. It is a symbol used by people who suffered from depression and other mental illnesses. Combined with the image of the heart, it becomes a symbol of self-love and survival. It becomes a reminder of their past and how far they've come in their struggles.
11. Heart Cross Tattoo
Another tattoo design that would appeal to women strongly connected to their Christian faith is the heart cross tattoo. The combination of these two elements represents love and faith. You can also personalize these elements to suit your preference. Some like it on the elaborate and detailed side, while others, especially women, prefer the minimalistic designs.
12. Sacred Heart Tattoo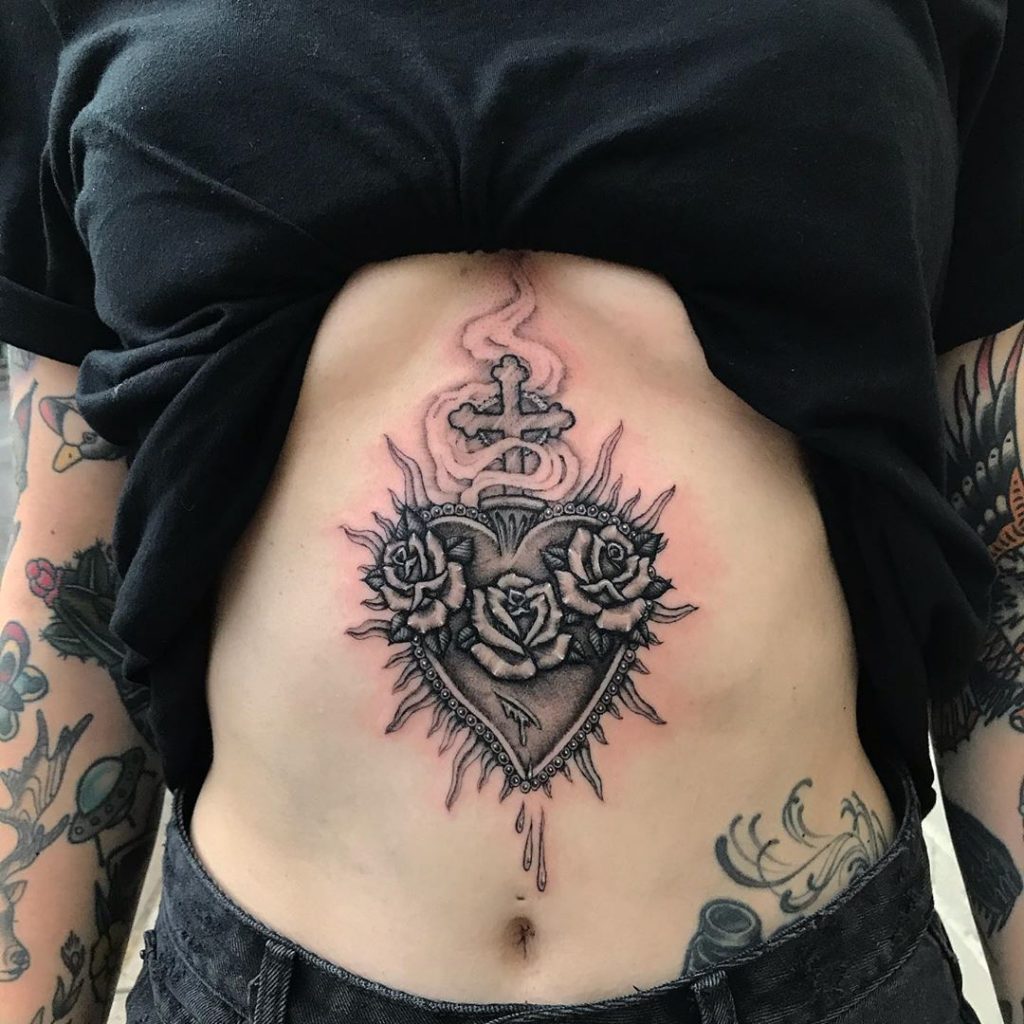 There are many heart tattoo styles that you can choose from, but for devout Christians, the sacred heart symbol is the perfect choice to honor their faith. This design links the Catholic and Christian believers, and it is known to represent the unwavering love for humankind shown by Jesus Christ. Wearing a sacred heart tattoo symbolizes a person's dedication to her beliefs and devotion. If you look closer, there are several elements in the religious heart tattoo. It also includes a crown of thorns surrounding the heart.
13. Colorful Rainbow Heart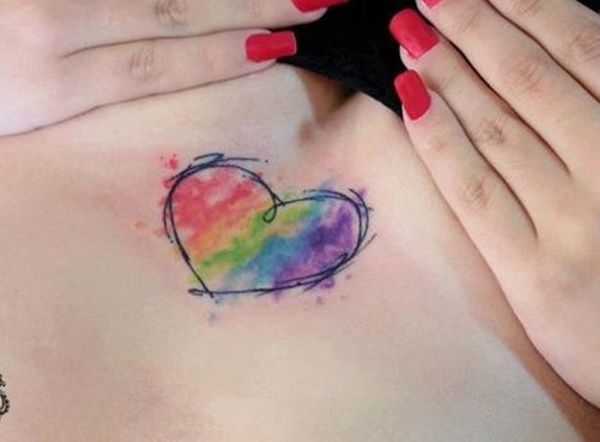 Red is the color that is associated with the heart. However, you can choose as many colors as you want and be creative with your heart tattoo design. You can go for the watercolor technique and find happiness in a fantastic splash of colors that look like a painting on your skin. If you want to celebrate pride, you can also use the shades of the pride rainbow colors for your heart tattoo design.
14. Beating Heart Tattoo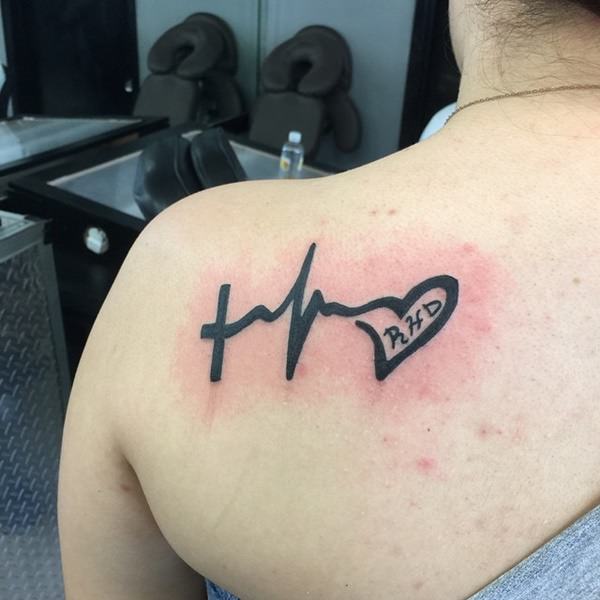 The beating heart tattoo is another variation of the realistic and anatomical heart tattoo. With a skilled artist, you can create a heart design that looks like it is beating. It makes use of clever lines and shading. The outcome is a lovely image of longing and love for someone special.
15. Kingdom Hearts Tattoo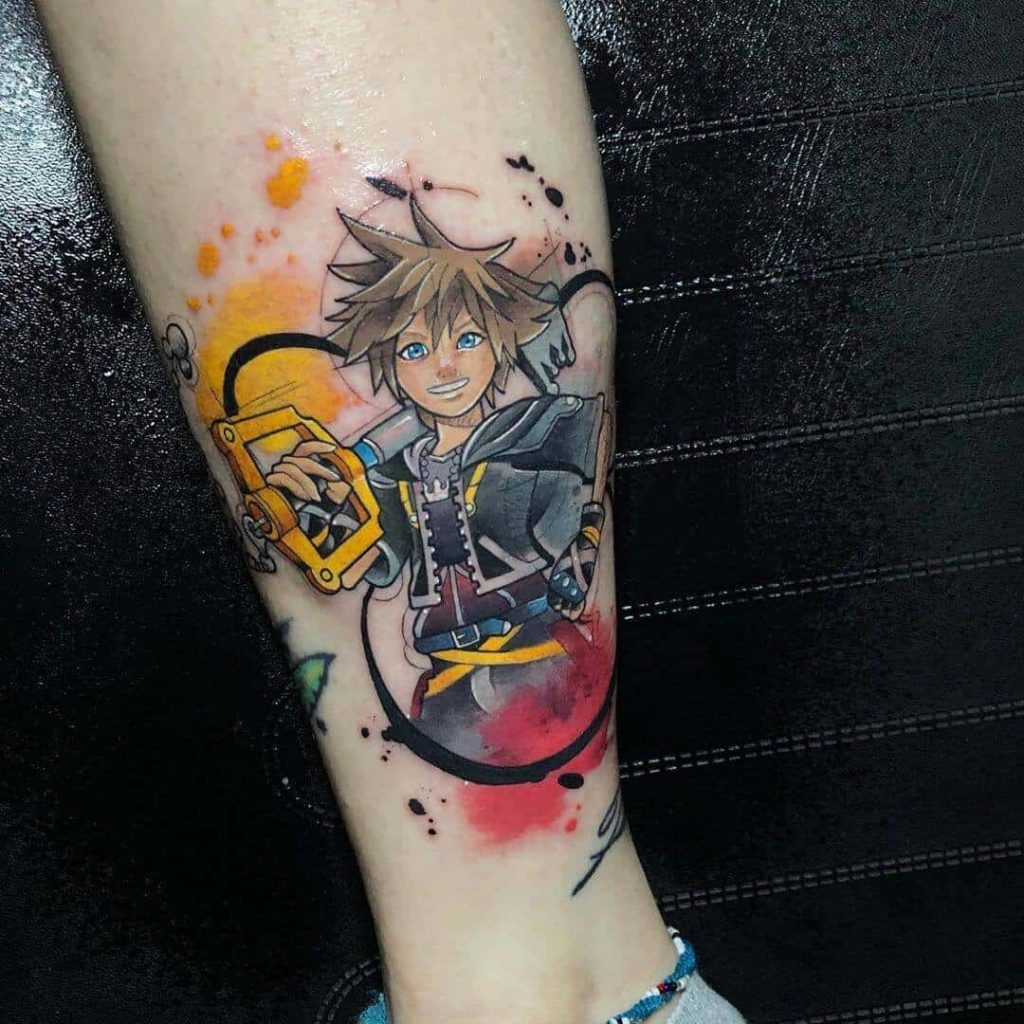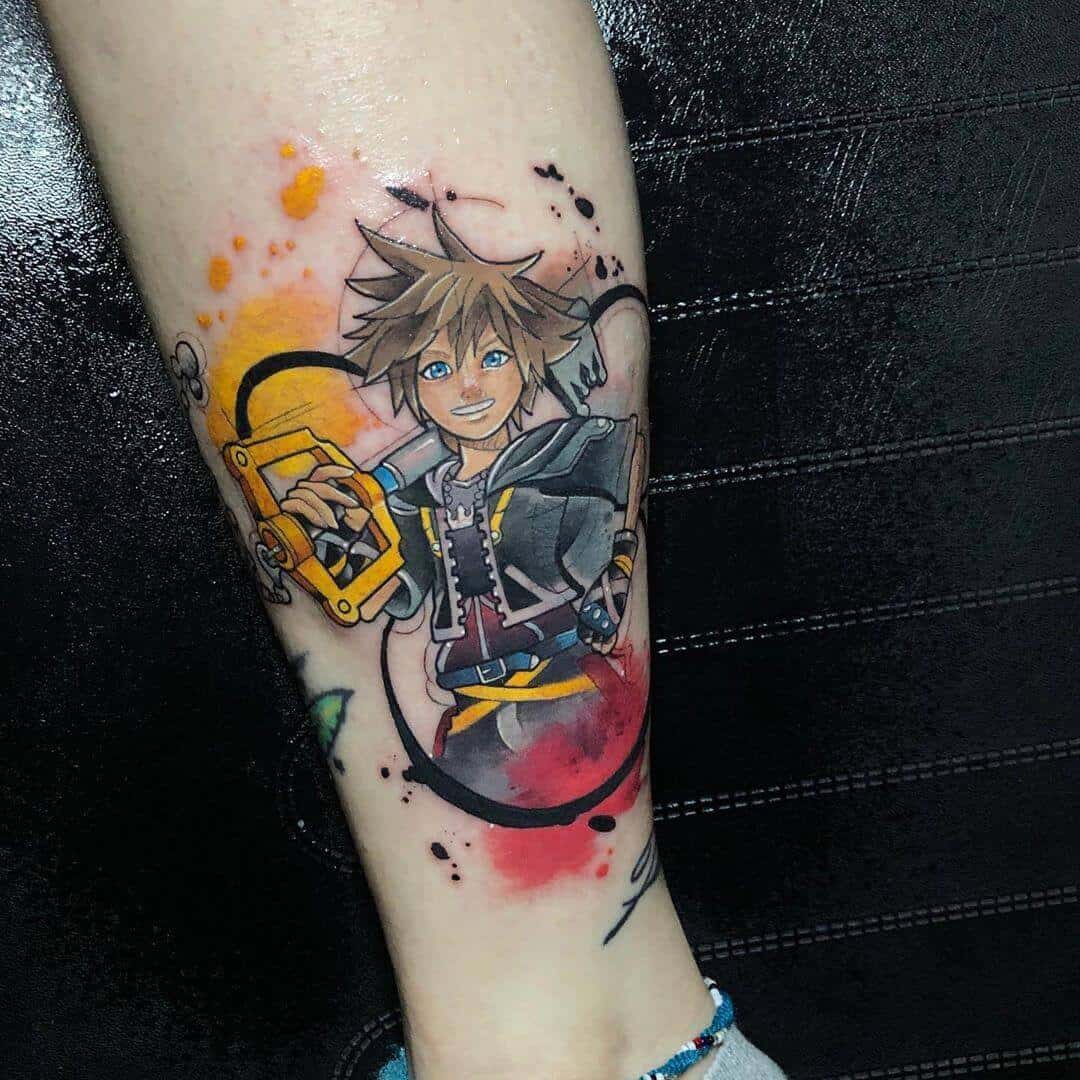 If you are a gamer and you like the action role-playing game Kingdom Hearts, it can inspire you to have a tattoo based on the game. Fans and followers have created tattoos dedicated to the game, including the familiar symbol of the heart topped with a crown and interlocking keys. Some fans also choose images of their favorite character from the game for a unique ink design.
16. Infinity Heart Tattoo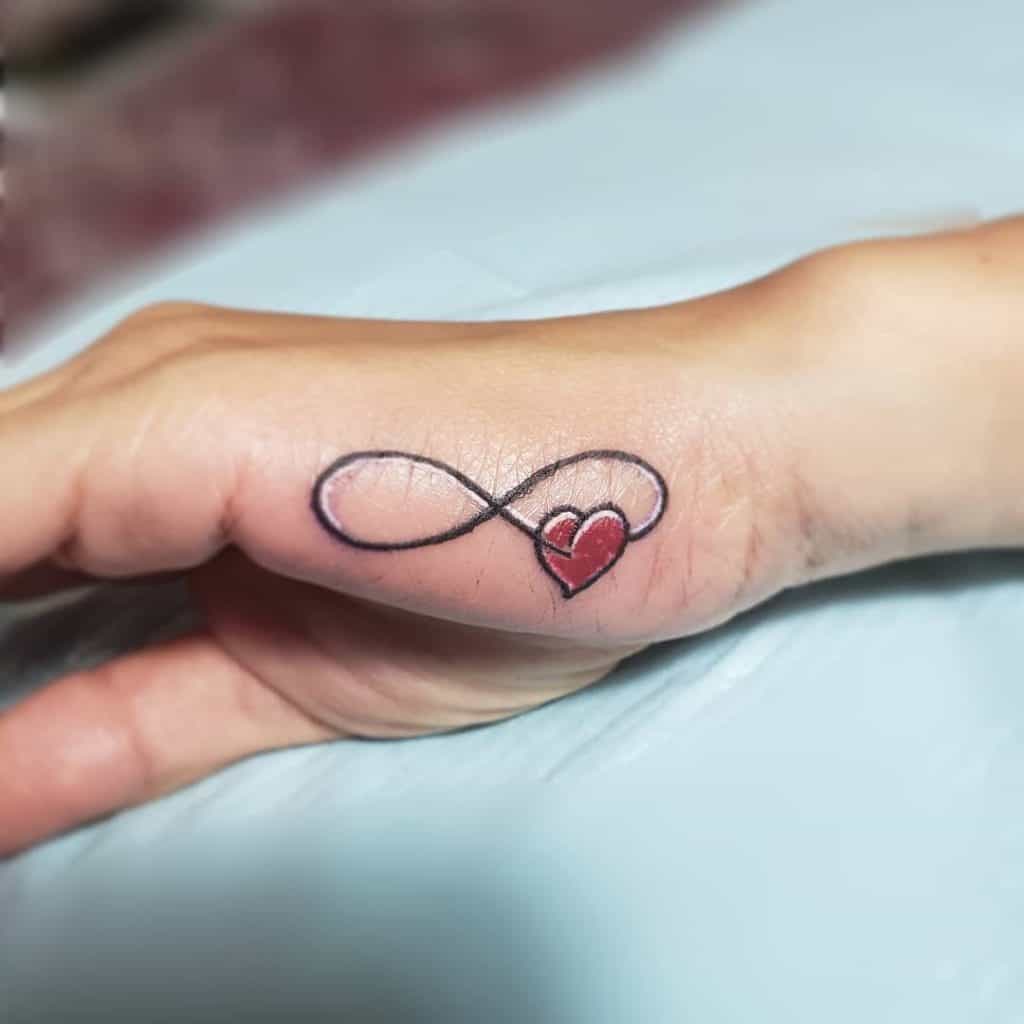 When we say infinity, it should go on forever and without end. The infinity symbol represents limitlessness, and if you include it with your heart tattoo, it will symbolize endless love. The infinity heart tattoo is a lovely design for women who want to showcase their passion, dedication, and passion for their special ones. The ink design may also include the names of the people they hold dear. Other elements you can consist of are birds, butterflies, stars, or flowers.
17. Arrow-Pierced Heart Tattoo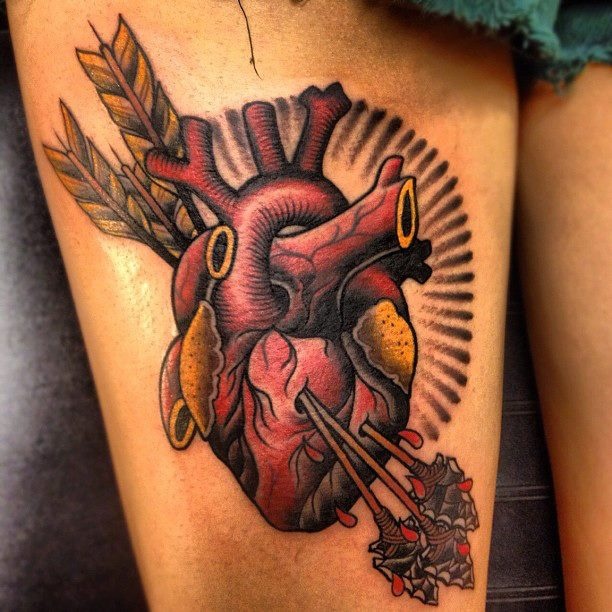 This symbol originates from the story of Cupid, the God of Love, and his habit of shooting subjects with arrows to make them fall in love. It is a fun and adorable design that can celebrate bliss in finding and falling in love with someone.
18. Anchor Heart Tattoo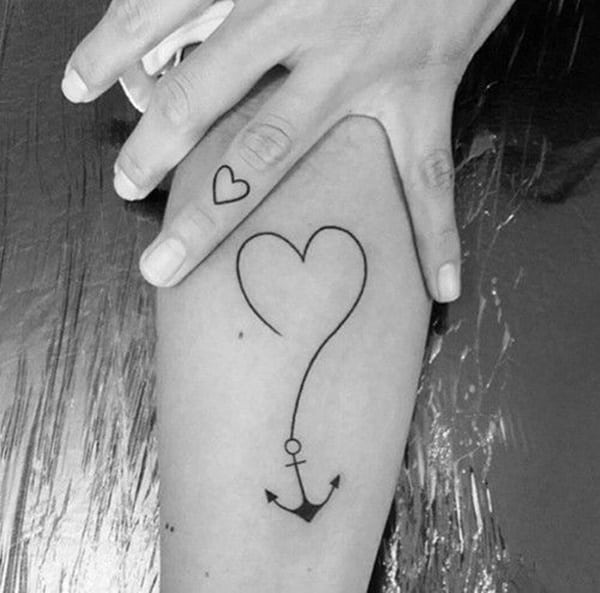 An anchor heart tattoo is a unique way to represent genuine relationships with your significant other. It looks elegant and gorgeous when done in a small-sized design and using solid black ink. It often means security, faith, protection, and stability in the relationship. The best placement for this includes heels, ankle, wrist, shoulders, and behind the ear.
19. Heart Tattoo With Names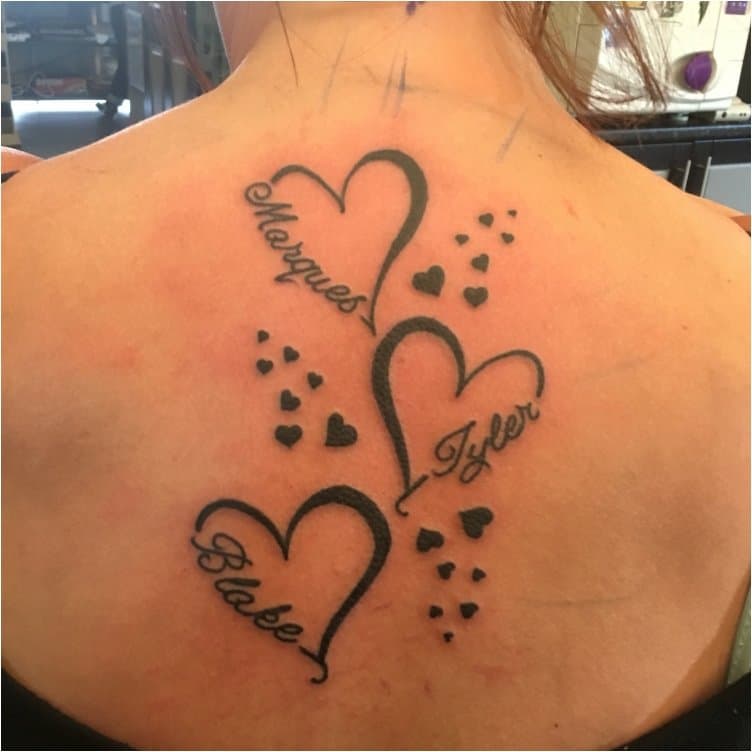 For a more personalized tattoo design, adding up a person's name or initial is the key. A heart tattoo with words is very symbolic for the wearer, and depending on how it is created, it can be a stunning work of art. It is an excellent way to honor your loved ones, not to mention that it is unique to you too. It can be the names of your family members or your significant other. Regardless of the names you put, it always has a personal touch to it.
20. Rose and Heart Tattoo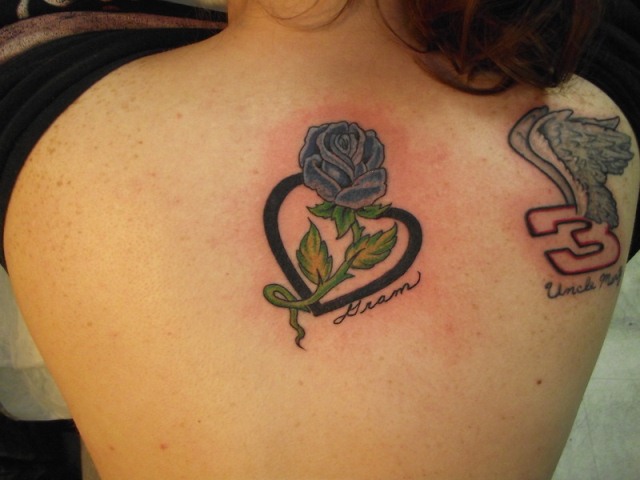 The heart and a rose tattoo is a feminine and elegant design that will suit the modern woman. Even when you have it done in a petite format, you still send a strong message of love and passion. The rose symbolizes friendship and romance. It is a lovely flower tattoo especially made in bold red ink. You can choose to have it designed daintily or fiercely with more gothic elements to it.
21. Queen of Hearts Tattoo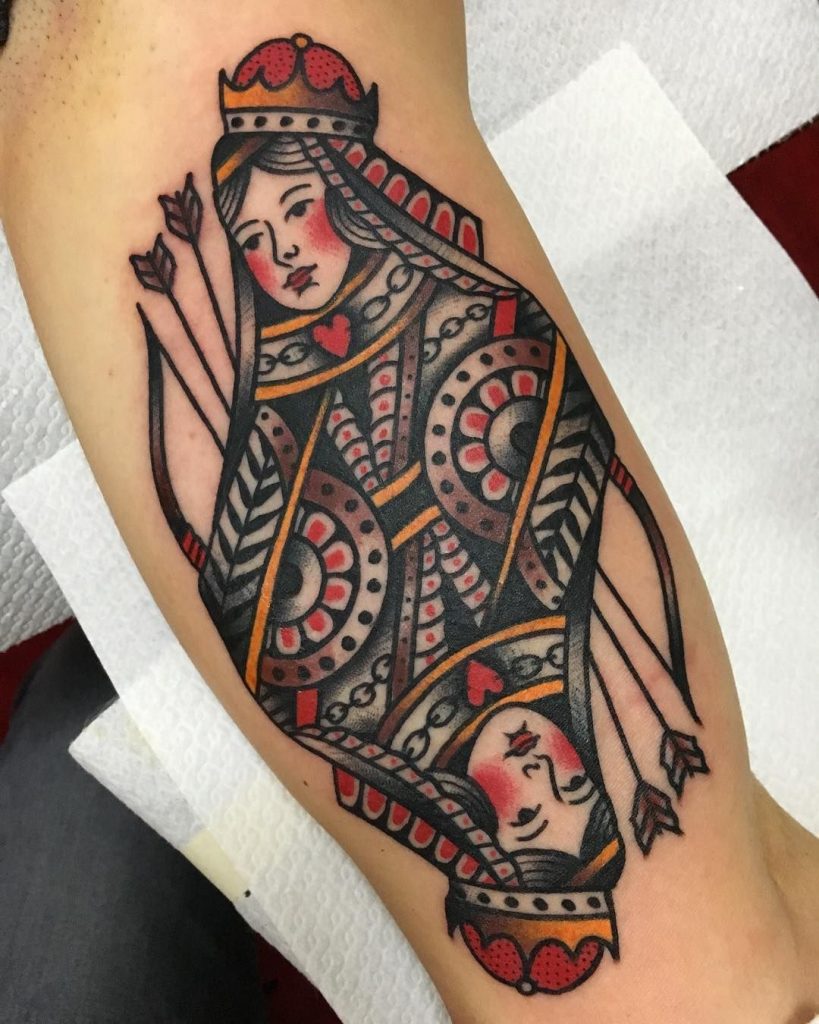 For a tattoo design that best represents strength, independence, and femininity, choose the Queen of Hearts tattoo. This design can be associated with the playing card or the character from Alice in Wonderland. A Queen of Heart symbolizes affection, beauty, and willpower. Women who choose this design can be extra creative in how they want to be inked. It can be simple, like a heart with the letter Q, or intricate with more detailed pieces.
22. Mom Heart Tattoo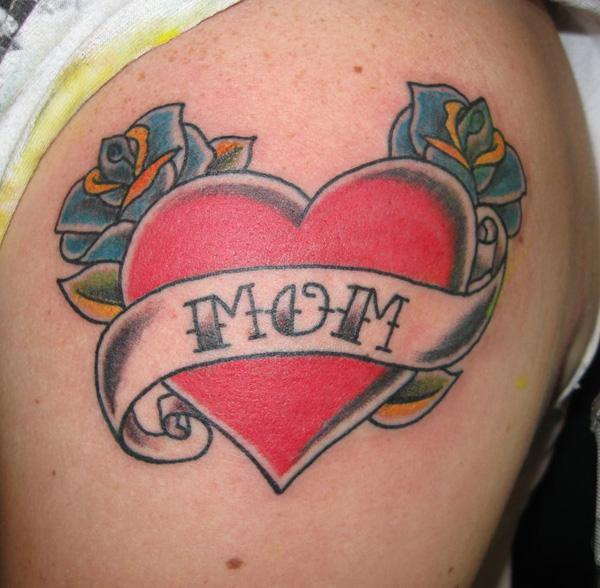 This classic tattoo design has been around for decades. It is made famous by sailors as a tribute to their mothers. The original design is created in the Sailor Jerry style with a banner spelling out MOM and filled with bold colors and lines. In recent years, tattoo design has also evolved and now comes with variations in language and elements. However, the focus is still on the queen of our lives, and it remains a special tribute to mothers around the world.
23. Heart with Wings Tattoo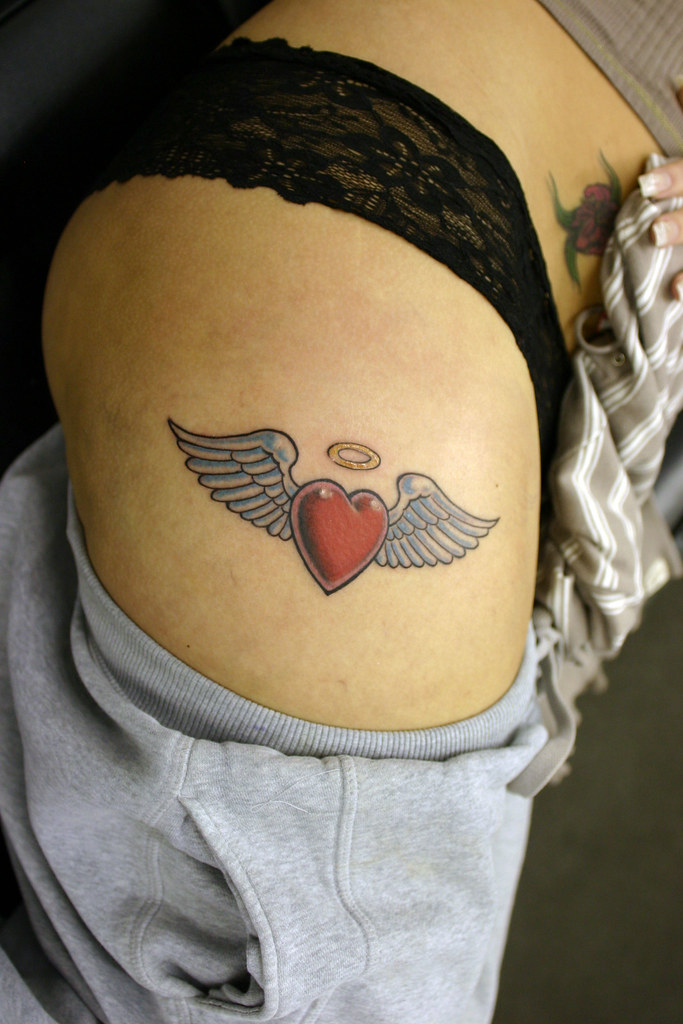 For a lightweight-looking ink, consider having the heart with wings tattoo design. There are variations of this design, and they often represent love, life, and freedom. It is an exquisitely liberating creation that is also associated with mythical beings like fairies and angels. It is also shrouded in spirituality to bring you closer to God. You can also use it to honor loved ones who passed away.
24. Heart and Quote Tattoo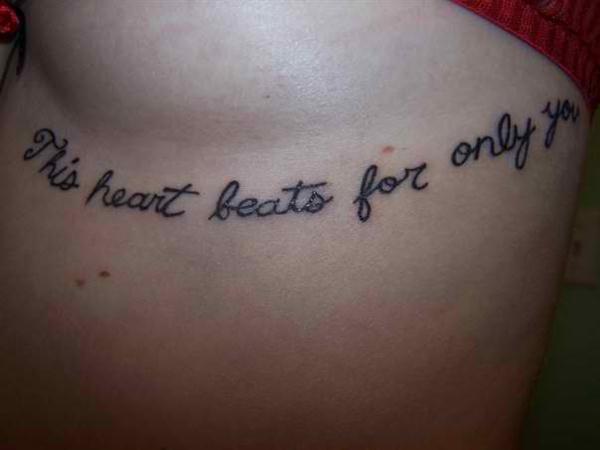 There are many ways to personalize a heart tattoo design. One of the best ways to put a message across is to add a meaningful quote with the image of the heart. You have to choose the phrase or quote so that it will match what you want to express. It can be about the pain of losing someone you love or how you have survived a heartache. You can add other images like birds, flowers, stars, and others.
25. Heart and Face Tattoo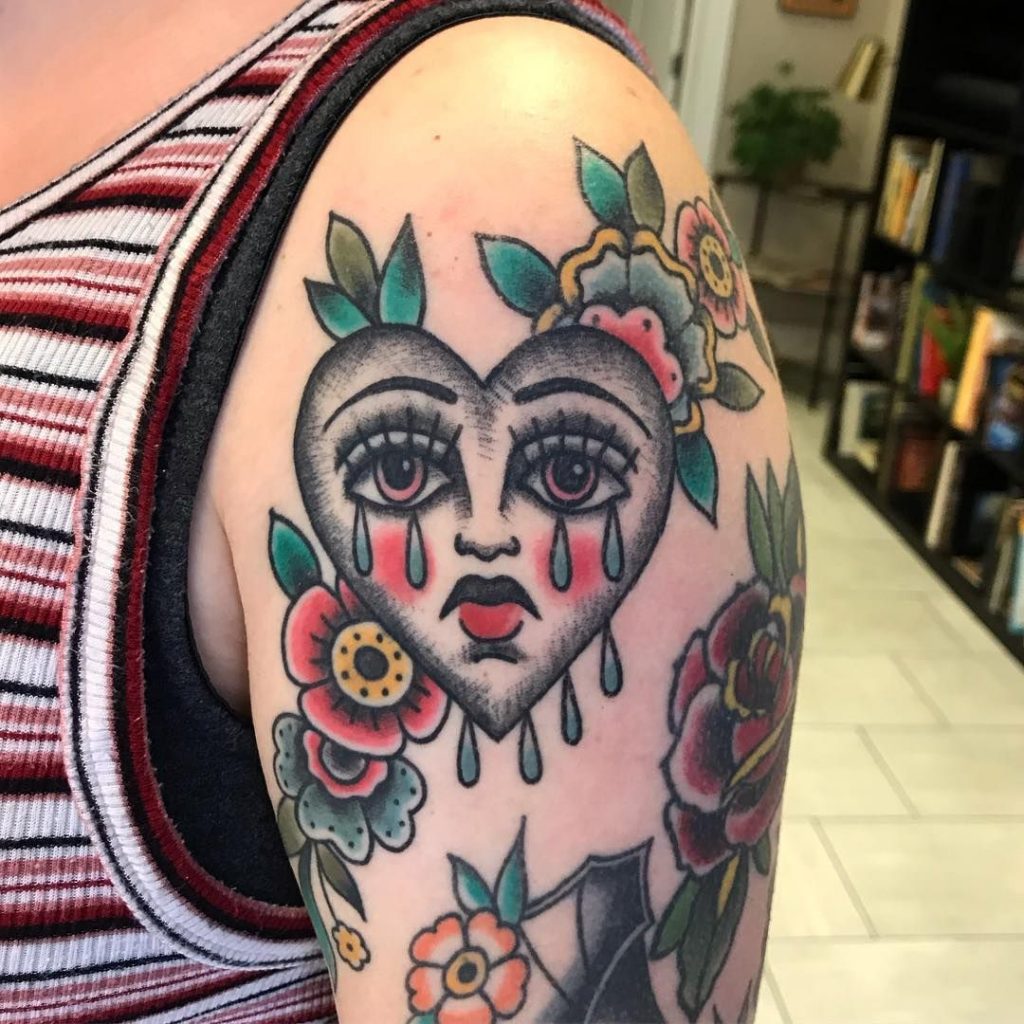 For an exceptionally eye-catching tattoo design, a heart and face tattoo is a beautiful idea to consider. Depending on how you want to express it, this design has a powerful meaning. You can have a crying heart to show sadness or grief over losing a loved one or heartbreak. There are different variations to this design, but the most popular one is a teary-eyed heart.
26. Heart Tattoo on the Wrist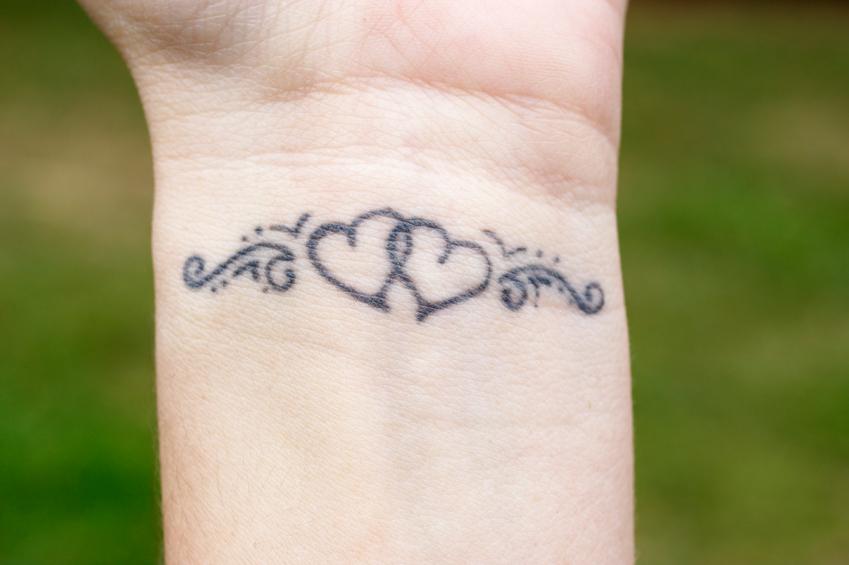 One of the most elegant placements for unique tattoo pieces is on the wrist. More women consider this spot for simple, small and unique tattoo designs that they will want to see every day. A heart tattoo on the wrist will take a short time to do, but it will carry a deep meaning for the wearer. Getting inked here is mildly discomforting, but it will be worth it.
27. Finger Heart Tattoo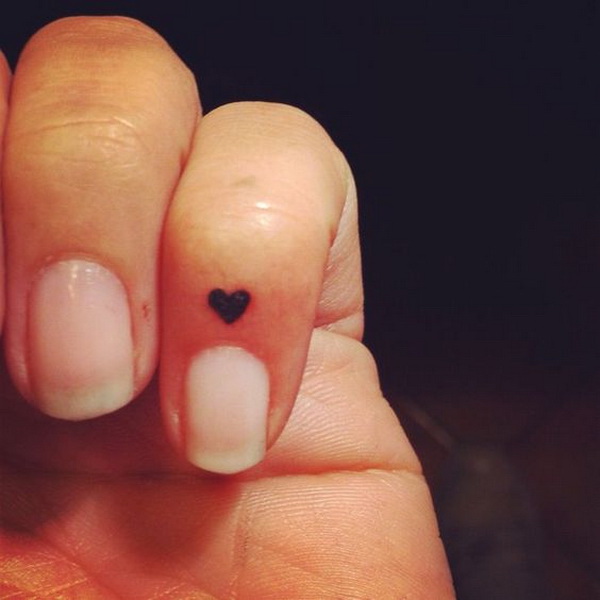 One of the best things about small tattoos is that they don't take a lot of time to complete. These tattoos are also versatile and flexible because you have them anywhere in the body. For a super cool option, consider getting a finger tattoo with tiny heart elements. It is not only trendy, it will also be a meaningful choice. On the other hand, finger tattoos can be a bit painful so, choose the most significant design to have here.
28. Behind the Ear Heart Tattoo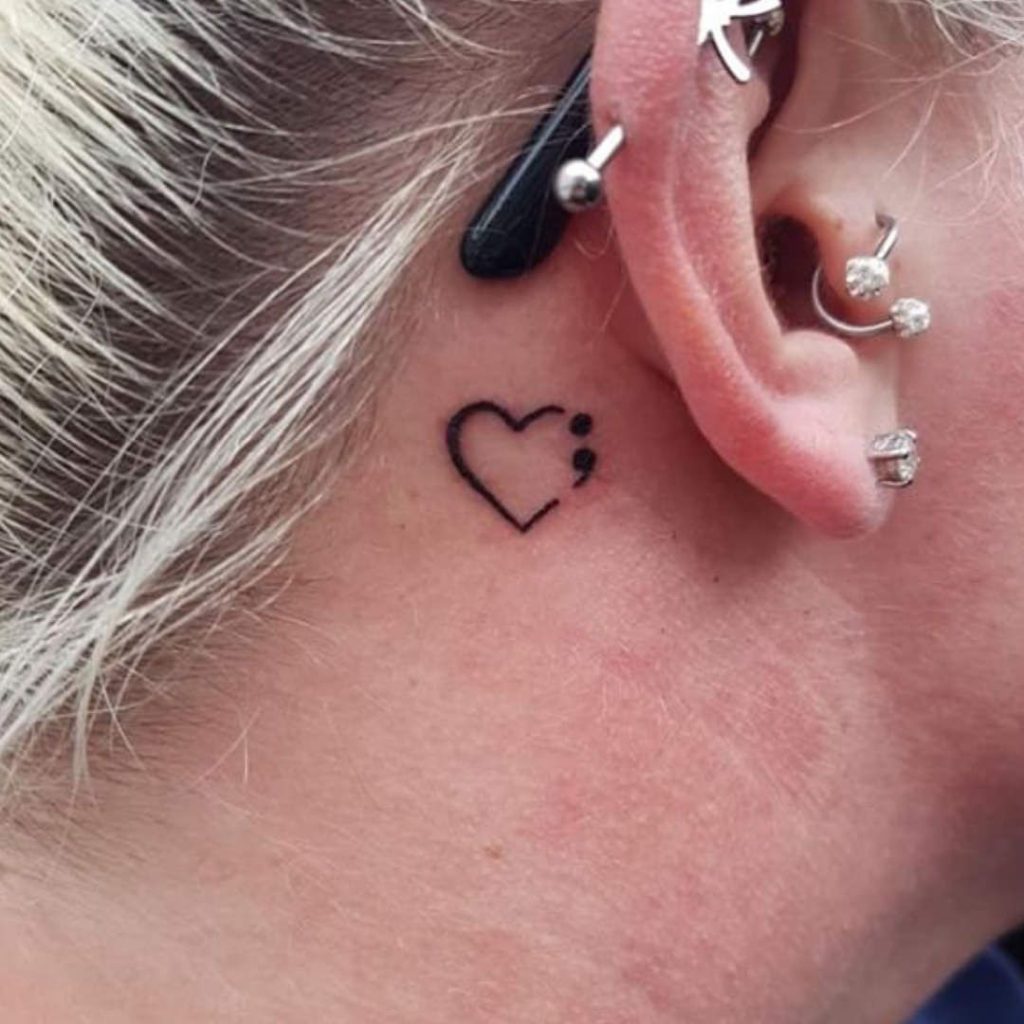 If you think that behind-the-ear tattoos are fantastic, then you are right! A small heart tattoo is an excellent choice to have on this spot because you will need something that the artist can complete quickly and effortlessly. The meaning will be something significant to you, but your ink should finish in a matter of minutes because more detailed ink will be painful to have in this spot.
29. Chest Heart Tattoo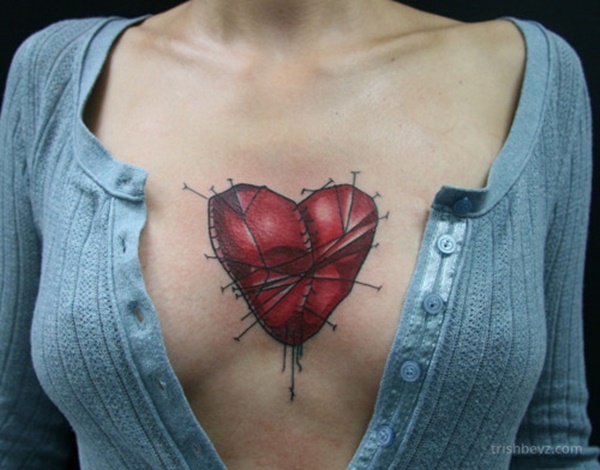 While chest tattoos are popular among men, more women today are also considering this placement for a more detailed ink design. The heart tattoo is a perfect choice for a chest tattoo because it is right where it should belong. On the other hand, you should also remember that chest tattoos can be a painful experience. If you can tolerate much pain, then your tattoo will be worth it.
30. Heart Shoulder Tattoo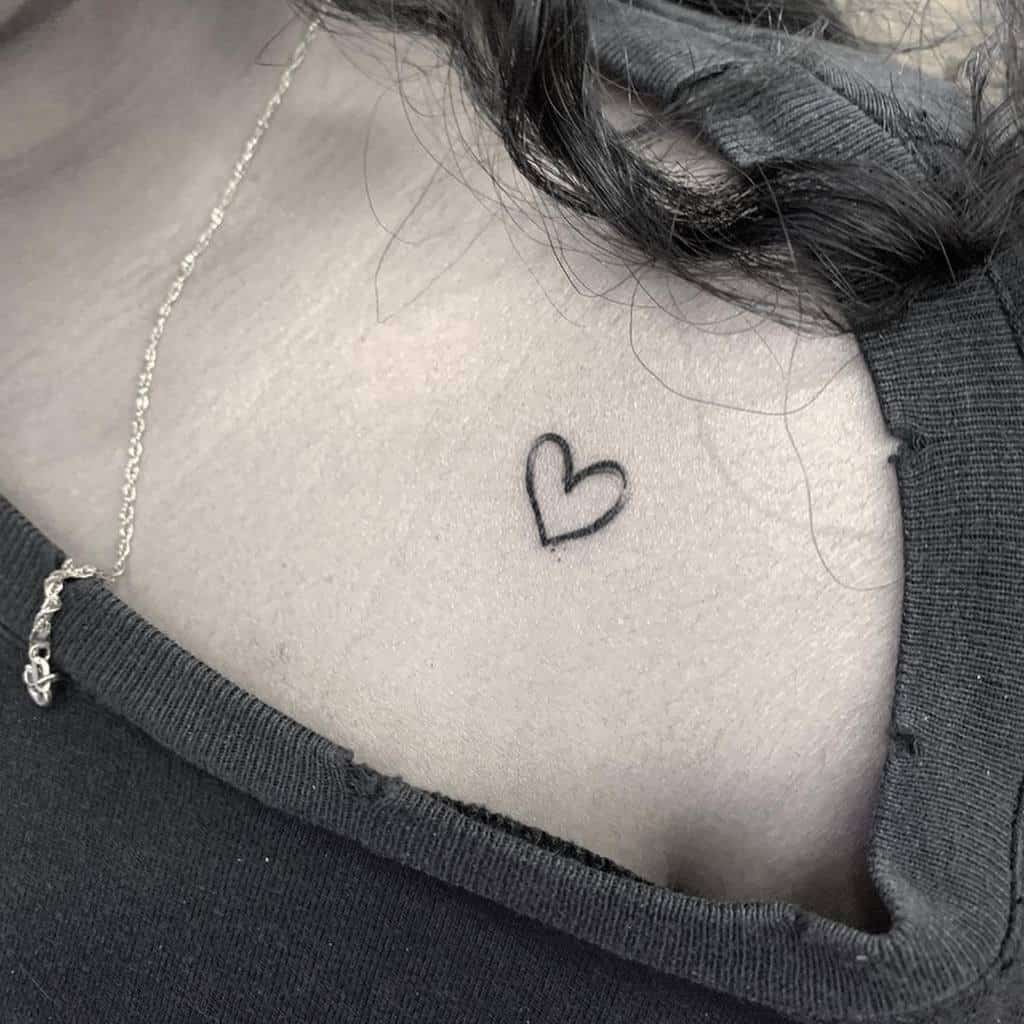 Getting inked on the shoulder is a dainty choice for many women. There is something very feminine in this placement, and you can choose to be discreet or showy with your ink. A heart tattoo is a beautiful design choice for this spot. Choose a design that you resonate deeply with, for instance, a heart with wings or a fingerprint heart tattoo. It is something unique and powerful which you can proudly wear on your shoulders.
Heart Tattoos For Men
The heart is known as the universal symbol of love, life, and loss. It is a fantastic tattoo choice for most men who desire for a rich symbolism of their emotions. Some may choose a broken or crying heart to remind them of the heartbreak they've experienced and how they will stay more guarded in the future. Others want a tattoo to honor the special people in their lives, which can be a combination of a heart and the person's name. Heart tattoos can be used to commemorate a loved one who passed away.
Several techniques and ideas or combinations with other symbols and images give a different meaning to your heart tattoo, making it an expressive and powerful piece.
1. Rose Heart Tattoo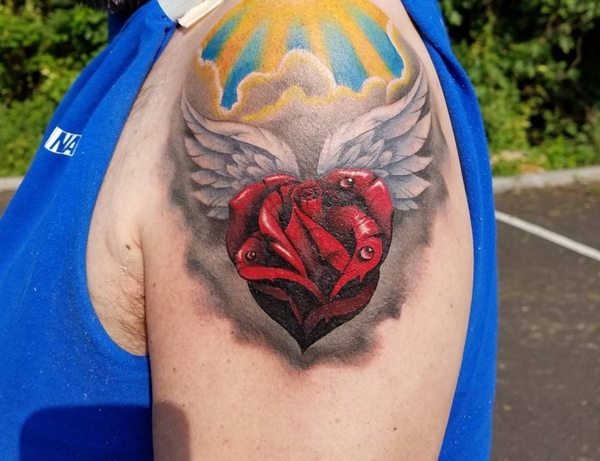 The heart and rose are both rich in meaning, and when combined, it reveals even more so. Usually, it is linked with intense passion and love. There are several ways to acknowledge this tattoo and many available designs. That said, most men like to make the rose into a heart shape rather than featuring it as two separate images. It can be interpreted as heartache since the flower is mainly associated with pain because of its thorns. If you need body art to remind you how love can be both passionate and painful, a rose tattoo with a heart is the right choice for you.
2. Ace of Hearts Tattoo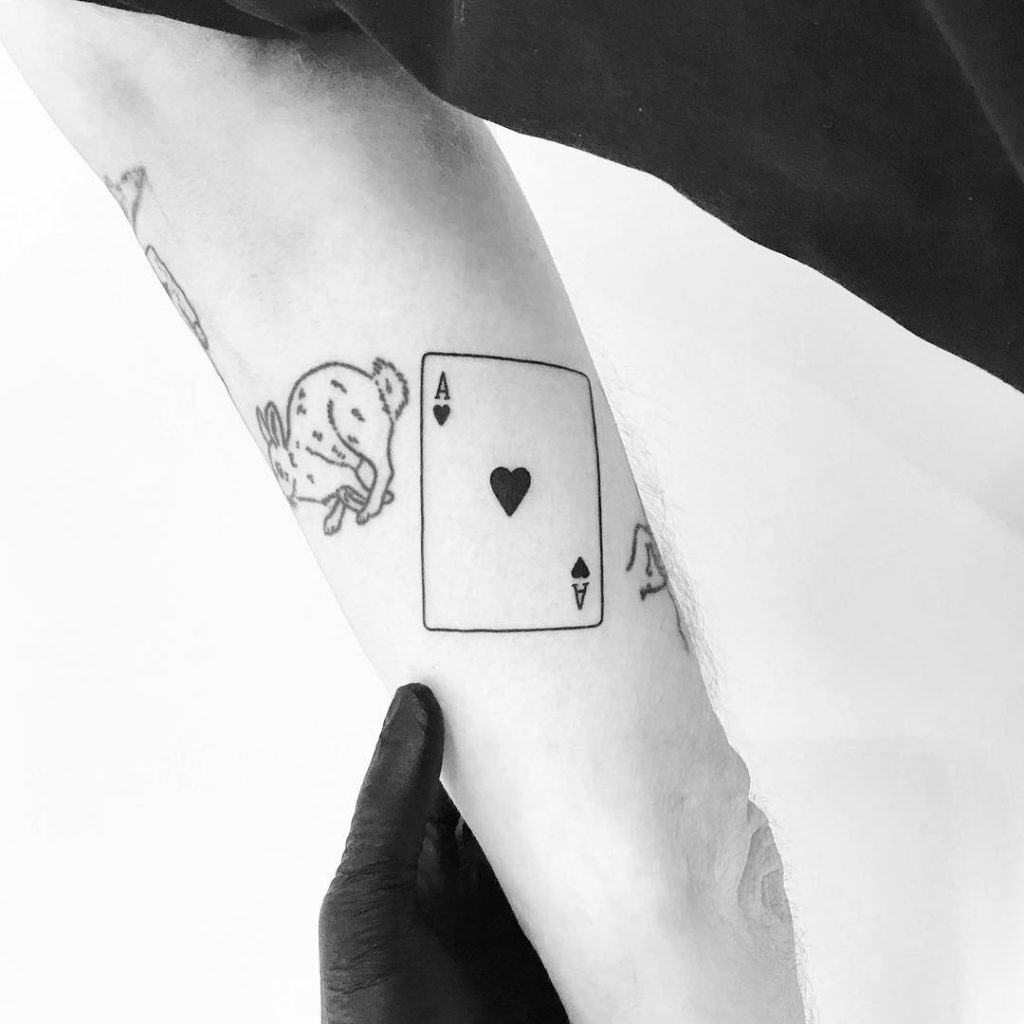 It is more than just a playing card. It often symbolizes good fortune and good luck. It can also be used by someone who desires body art that indicates power. There are many negative connotations linked to the design, though, as it has been associated with biker gangs and gamblers. There are many ways to create this tattoo, and you could choose for the Ace of Hearts or just the symbol only, depending on how fixed you want your body ink to be. Most men choose to add other elements, including other playing cards or names.
3. Heart Tattoo on a Wrist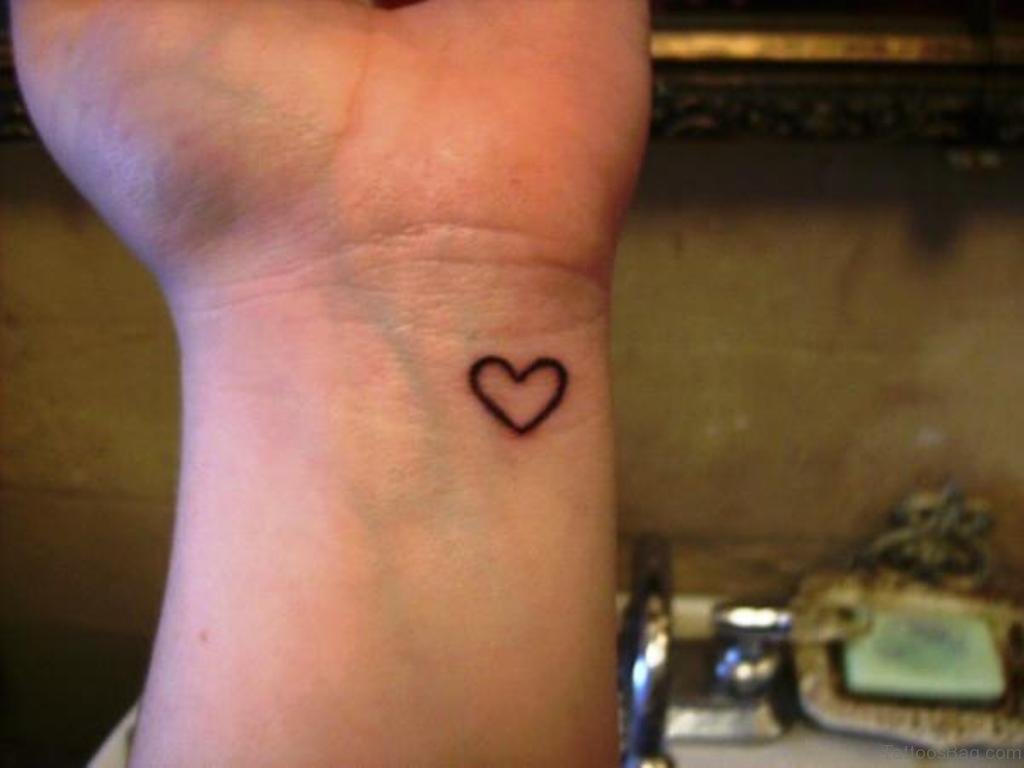 A person's wrist is a popular placement for most tattoos because of its visibility. It is an area that you can see every day, and it is often reserved for a tattoo design that has significant meaning to the wearer. A heart tattoo is small enough to be inked on the wrist; whether you pick a heart design and semicolon, a heart emoji, or a simple outline, the choice is yours. There are some drawbacks to this location. It can be painful to create because of the thin skin in the wrist area and a lack of muscle. Luckily, since wrist tattoos are usually small, the discomfort may be only for a short while. Tattoos in the wrist part tend to fade quickly because of too much exposure.
4. Heart Face Tattoo
Face tattoos make a remarkable statement. That said, this is not the kind of ink that anyone could get, as it is known to be the most controversial spot for body art. Mostly, only rappers or gangsters, like Post Malone and Offset, have ink on their faces, but that perception is changing. Still, many people will not consider getting a tattoo on their face as their first choice because of some restrictions. Otherwise, if you are throwing caution to the wind, then a heart-face tattoo is a versatile and trendy option. You can choose something subtle and small, depending on how big your desire for it, or something detailed and intricate for a loud effect.
5. Traditional Heart Tattoo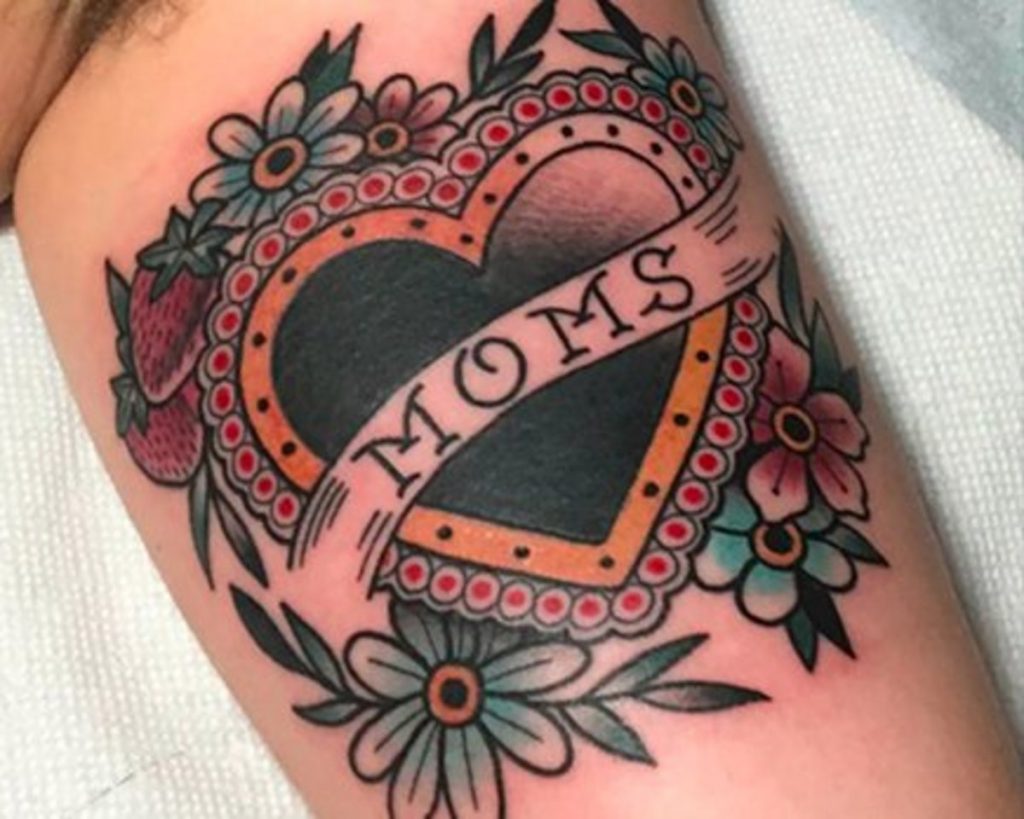 This tattoo refers to a specific style primarily recognizable by its versatility and strong use of black color and bold outlines with a limited color palette. The tattoo usually comes in blue, red, green, and black with heavy shading, making a bright and bold appearance. The techniques were once well-known among sailors but have since filtered into the mainstream. Still, it remains a popular pick for those wanting a distinct body art. The heart design often includes daggers, banners, flowers, or swallows, which add to its unique meaning.
6. Black Heart Tattoo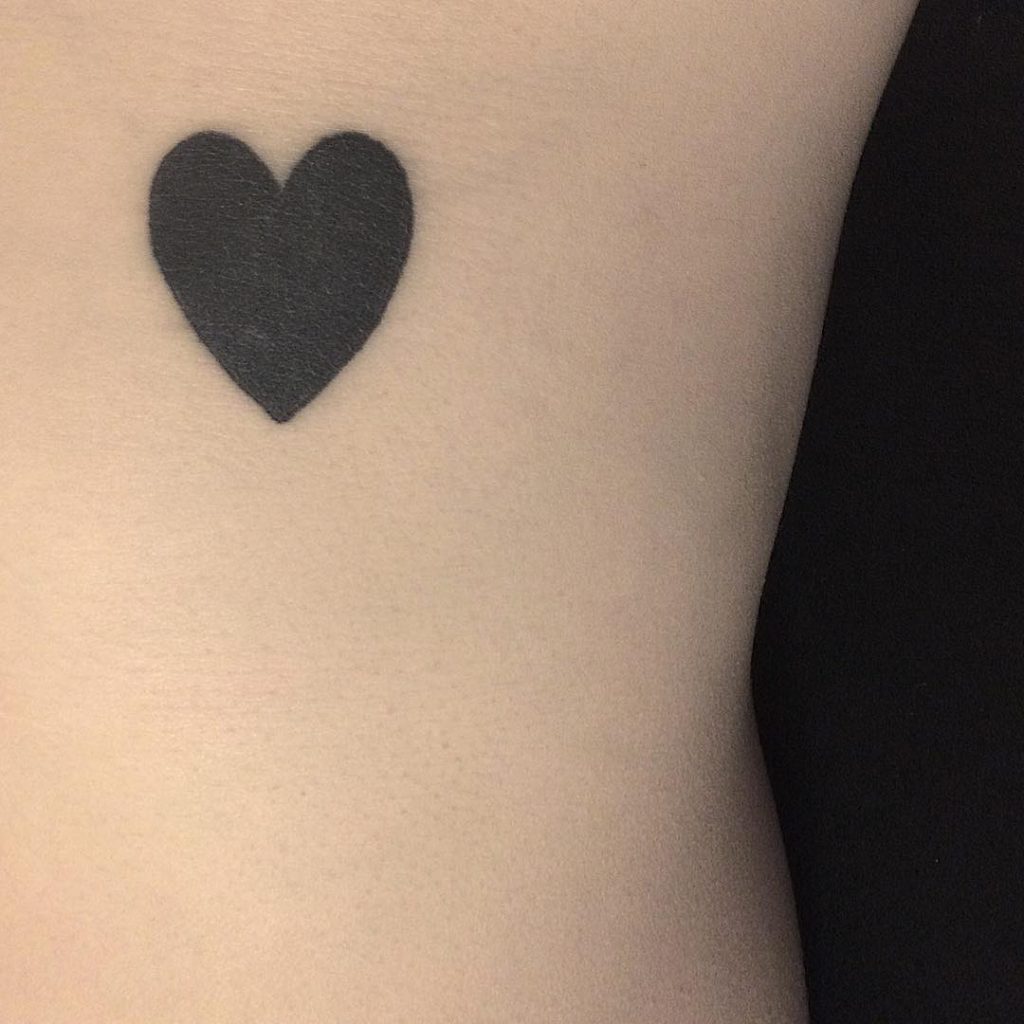 The heart symbol may be simple to some, but there are several colors and designs to choose from; each piece has special symbolism to the wearer and is unique. For example, a black heart is mainly associated with grief, loss, and sadness. It can tell so much about a person's feelings, just by the chosen color. Most men want a reminder of their heartache and not to make the same mistakes again in the future. This kind of tattoo can also serve as a reminder to better guard their hearts the next time they choose to love again. Others see this as a perfect memorial ink to honor a person who has passed away.
7. Sacred Heart Tattoo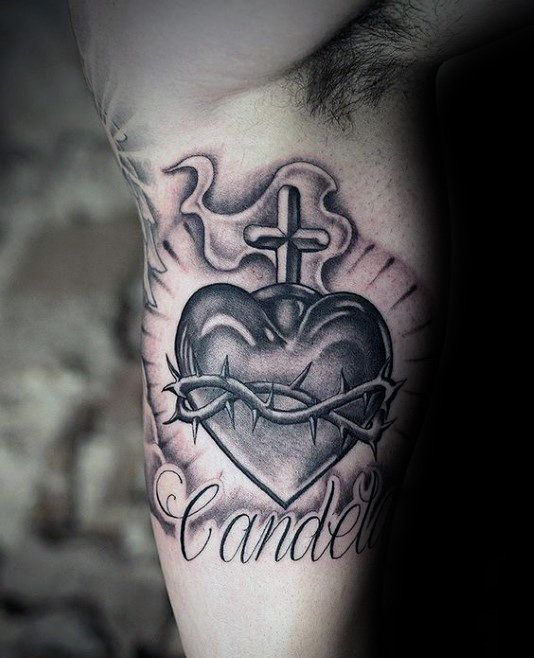 The sacred heart tattoo represents Jesus Christ and his love for people. It is mainly tattooed as a symbol of devotion to the Catholic faith. The image is a good choice for a person whose beliefs play a vital role in their life. Most well-known designs often include spiritual elements like an image of Jesus Christ, the Virgin Mary, or an angel. This design creates a more profound statement on its own. Since it has a strong symbolism, it is often inked in an area where you can see it every day, like on your chest, so that it's closer to your heart and all the things you hold dear.
8. Heart Tattoo With Names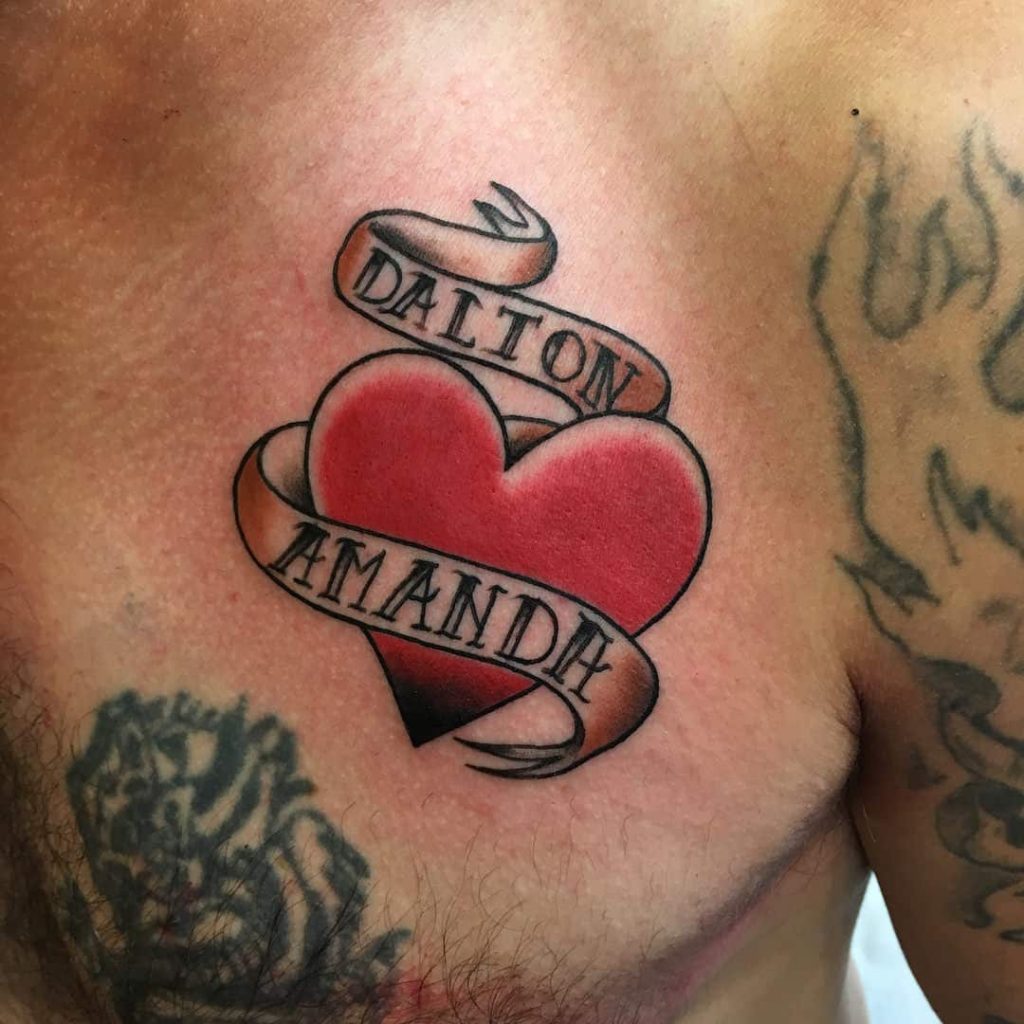 The heart is a recognizable universal symbol of affection and love. It is one of the most well-known tattoo designs for men and women. If you want to honor a specific person, a heart tattoo with a name is the best way to do it. It could be your kids, your parents, or your partner. It's a way to guarantee that your tattoo is unique but has deep meaning in it. Some people even choose to add their birth dates or any significant values in their lives.
9. Anatomical Heart Tattoo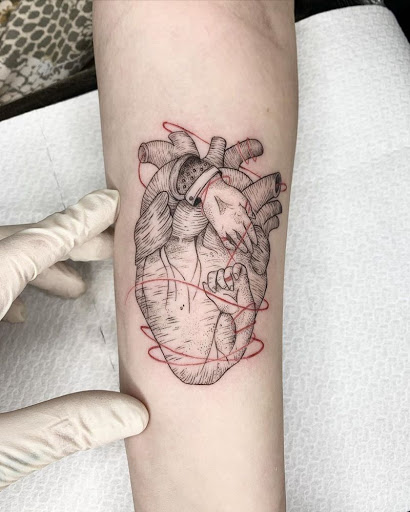 If you choose a more realistic heart rendition, you can consider an anatomically correct tattoo instead. This design is associated with life and love. It can represent a celebration of what it means to be human or the essence of living a well-deserved life. This choice is lovely and detailed and should be inked in a big area, like the thigh or arm, to allow for details. If you desire to convey a message of life, you can add other designs like flowers, or if you want to link it with destruction and death, you can add a skull.
10. Heart Tattoo Behind the Ear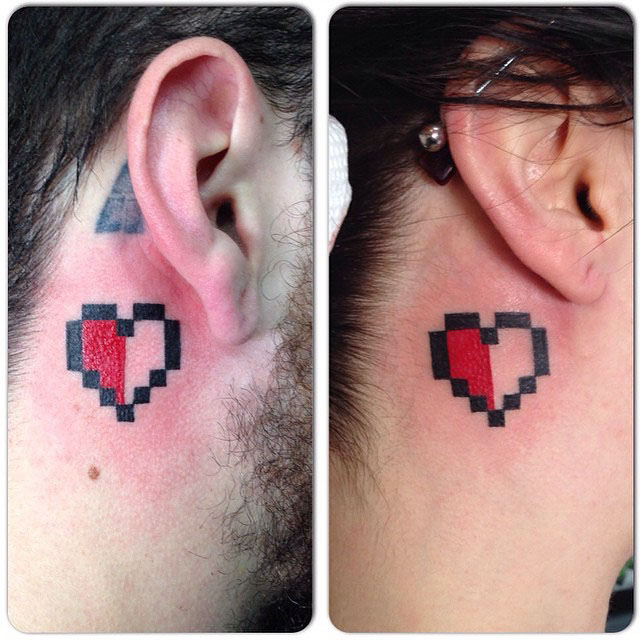 Compared to face tattoos, behind the ear is a location that is a lot more subtle. Many people will not see your tattoo as soon as they look at you, and you need to get close to them before noticing a small piece in this area. The placement is small, and simple designs work best here, like a heart outline. It is an uncomfortable place for body art, and the vibrating and buzzing from the tattoo machine can be annoying.
11. Heart Outline Tattoo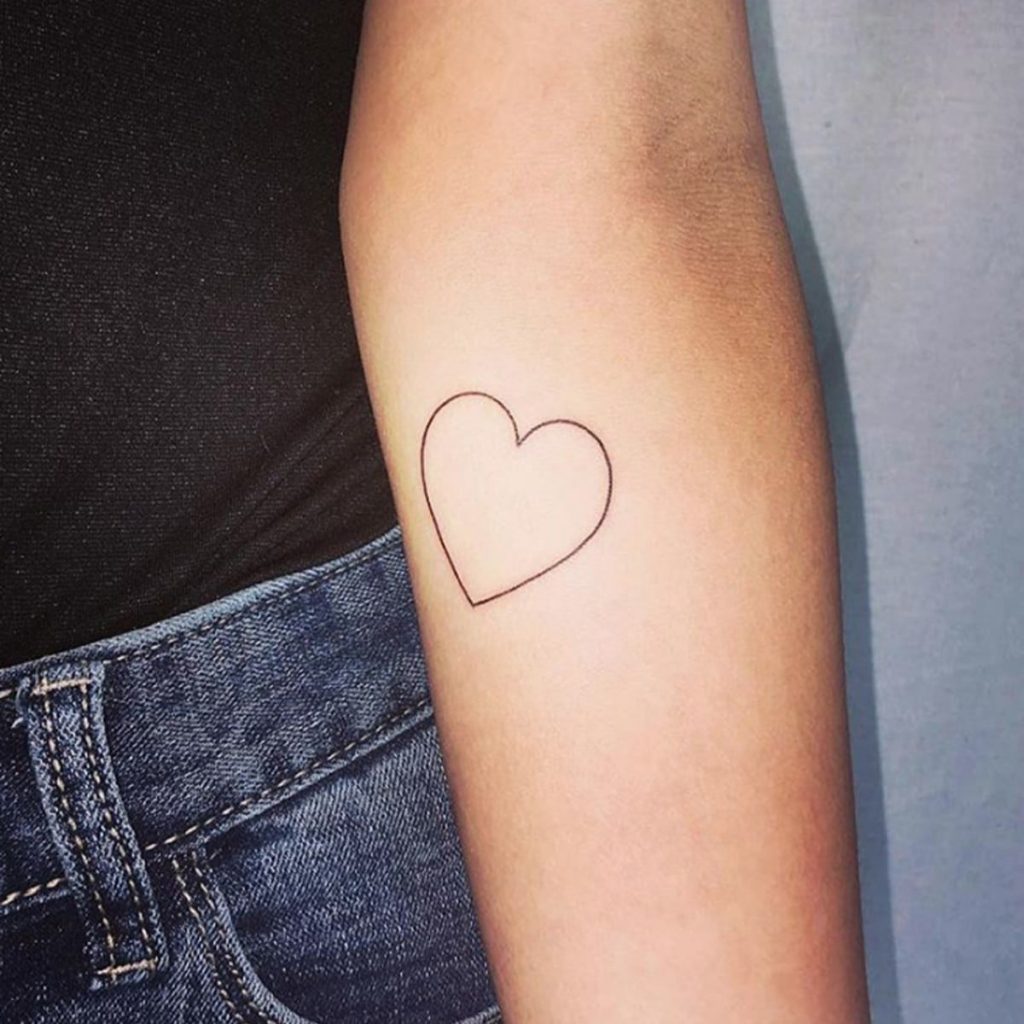 You don't need to choose a detailed tattoo to create a statement or have something symbolic. These outline tattoos are a popular choice, especially for people who want a more minimalist approach to body art. The meaning of the art stays the same, associated with life and love, but further shading and having intricate designs means a short tattoo session. Therefore, you will endure less pain and less cost too. Outline tattoos are not always straightforward. Some men choose detailed pieces or ink with a geometric appearance, which can have a calming effect when they see it.
12. Infinity Heart Tattoo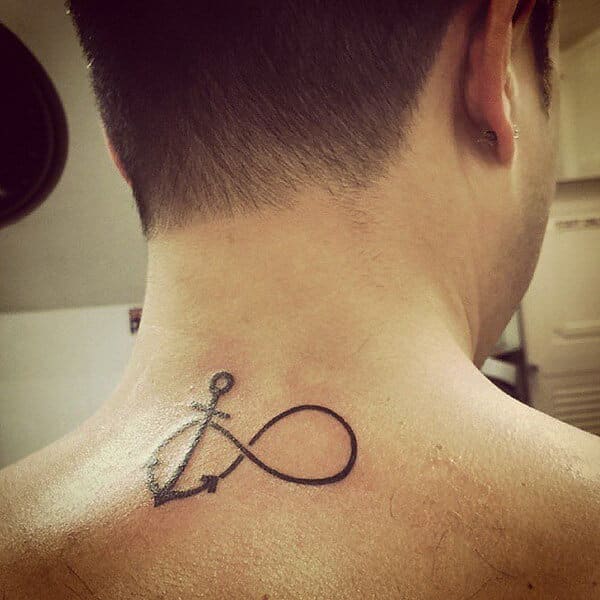 If you prefer a tattoo that focuses on everlasting love, then the infinity heart is the perfect design for you. It symbolizes love without conditions, limitless, and is a beautiful way to celebrate the essence of relationships. If you also want to honor your parents or siblings and the strong bond with them, this tattoo works best. It can be a tribute to your children, too, who will forever be a part of your life. The image itself is uncomplicated and very simple. You can create a more interesting visual by adding various colors, names, and important dates.
13. Heart and Rose Tattoo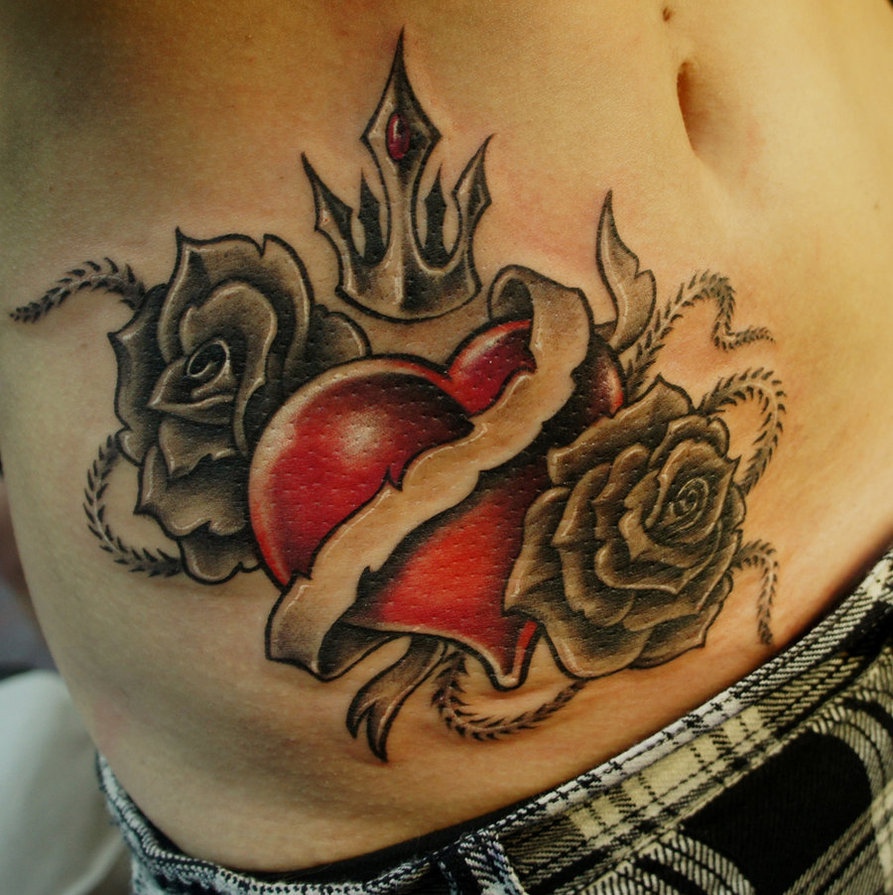 The rose and heart are two symbols that are mostly tattooed together because of their respective meanings. The flower is connected with beauty, life, and pain. But, there is a slight change in meaning depending on the color of ink you choose. For example, black is linked with pain and loss, while yellow represents friendship and joy. The heart is considered a universal symbol for love, and when combined with tattoos, it often symbolizes deepest desire and passion.
14. Semicolon Heart Tattoo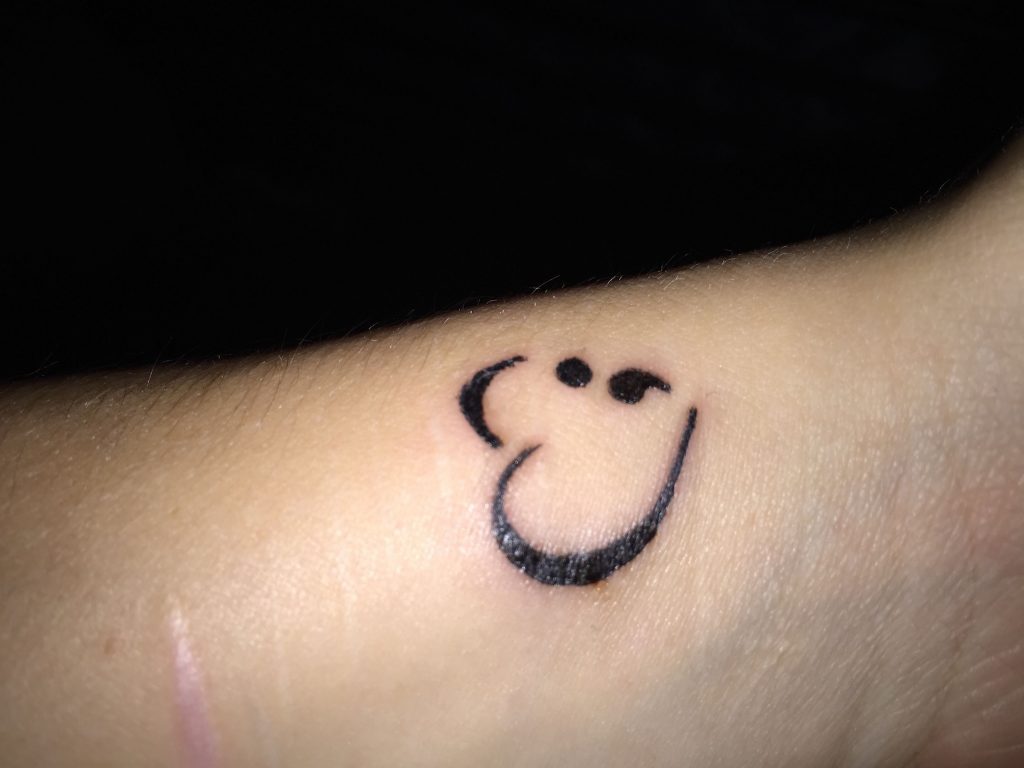 Semicolon tattoos have become a symbol of solidarity, hope, and strength, and it is the right choice for people who are battling with mental health issues. It reminds the wearer that life is not over yet, with a bright future ahead. It is more than just a punctuation mark since it gives a deep meaning to the person having it. The inclusion of the heart symbol reminds you to love yourself more and to remember your worth. It might be a simple design to you, but it has a moving purpose to be tattooed somewhere where you want to see it every day.
15. Heart with Wings Tattoo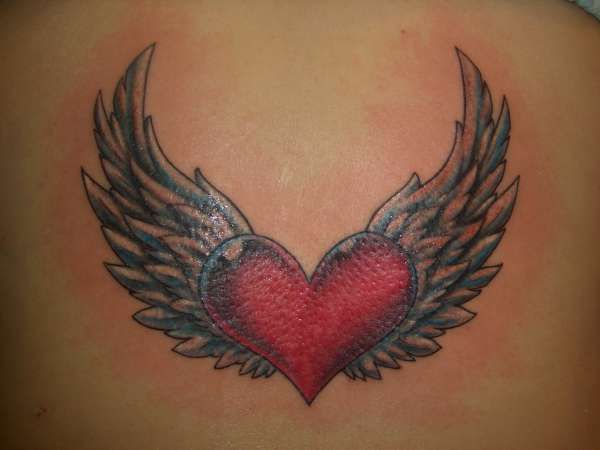 One of the popular ways to honor someone who has passed away, is with a heart and wings tattoo. It often includes the name and date of your deceased loved ones. You can include a special quote or a halo. It's a memorable piece and mostly seen to remind you that someone is watching over you.
16. Crying Heart Tattoo
The heart design with a crying face is amazingly expressive, which conveys loss and sadness. People who have suffered from heartache may want to get a tattoo like this to remind them of the pain or express their emotions. Perhaps it can be a warning sign to your future partners to take care of your heart. It is a simple way to honor the past, and a reminder to be strong enough not to make the same mistakes again in the future. Black can be a dominant color, but other color preferences and techniques can also be appealing.
17. Broken Heart Tattoo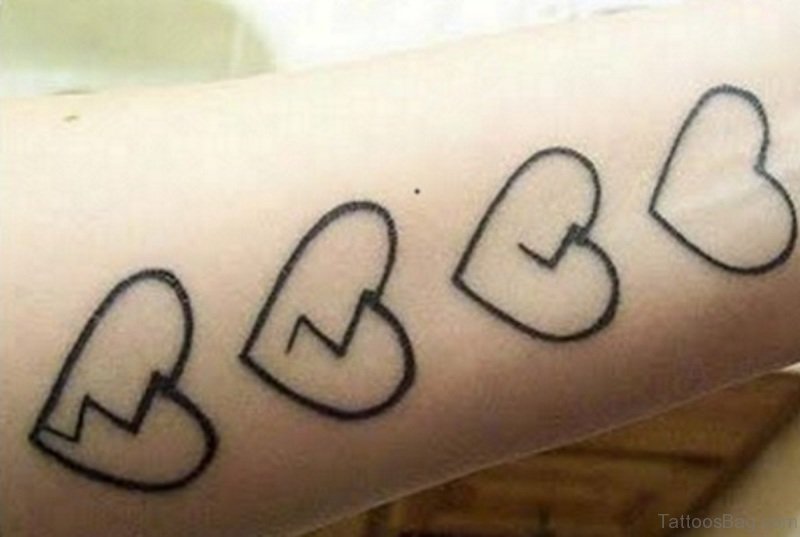 As the name implies, a broken heart is associated with intense pain and heartache. It could symbolize the end of a special relationship and be tattooed to remind you of the pain. It can also take a more positive idea as the wearer chooses not to fall into mistakes. There are a few interpretations of this body art, and they are unique for people who tattooed them. You can also add names and quotes that are important to you to make the tattoo even more special and meaningful.
18. Kingdom Hearts Tattoo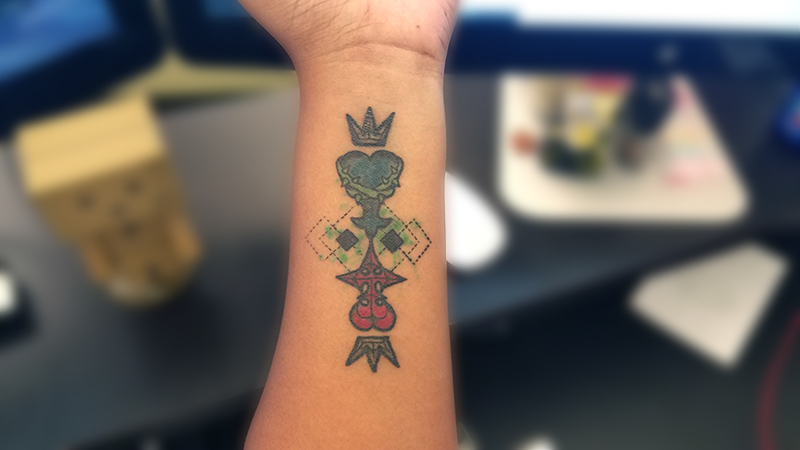 If you are a real gamer and Kingdom Hearts is your favorite, this tattoo can be your inspiration to get inked on. The role-playing action is created and published by Square Enix and has broad and dedicated followers. The designs mostly feature a crucial blade, Mickey Mouse symbol, and your favorite character from the game itself, like Sora as the main protagonist. This kind of tattoo is commonly bold and bright, which is easy to notice.
19. Three Hearts Tattoo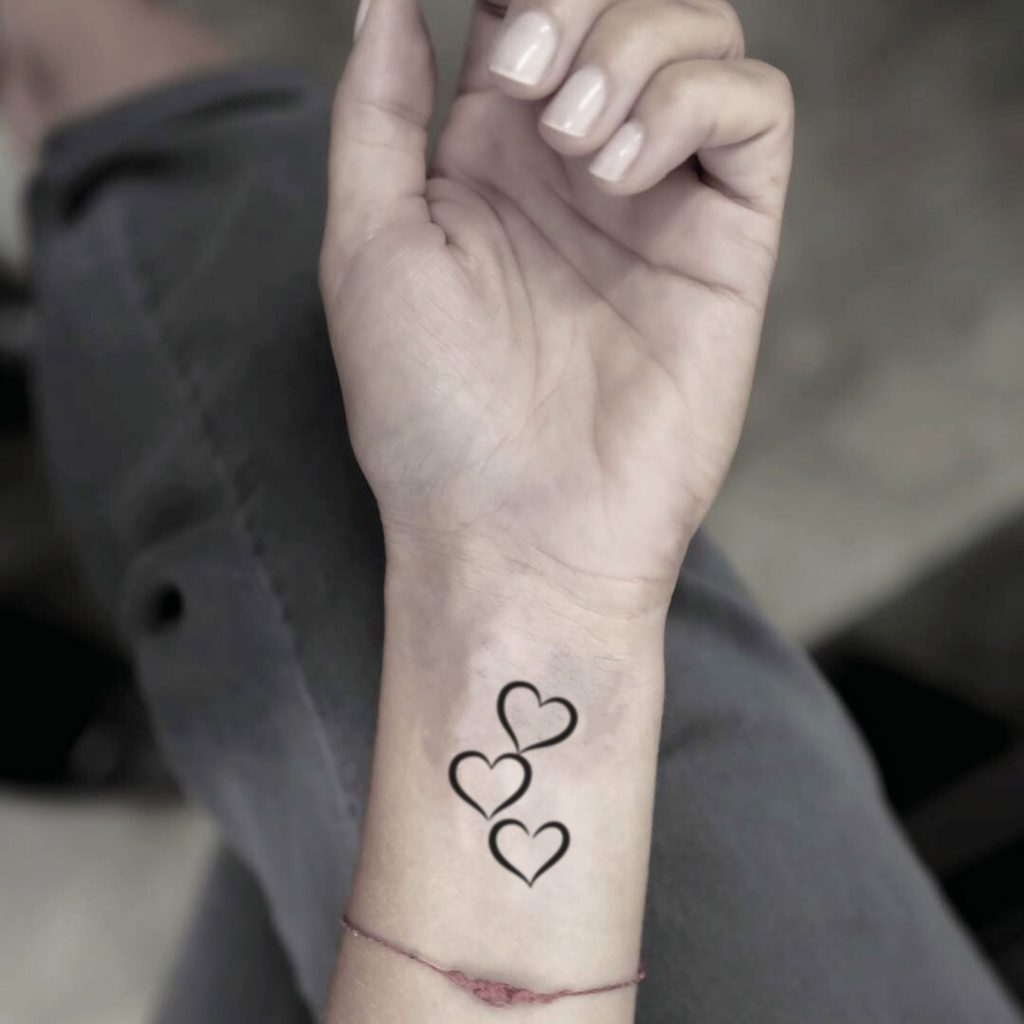 The three heart option is more a personal preference. For example, you can choose pixel art like a heart bar representing health or three simple outlines. This body art varies on the selected design, but three hearts are linked with the past, present, and future. Each symbol indicates a particular time in your life or special milestones of your goals and dreams you want to achieve.
20. Finger Heart Tattoo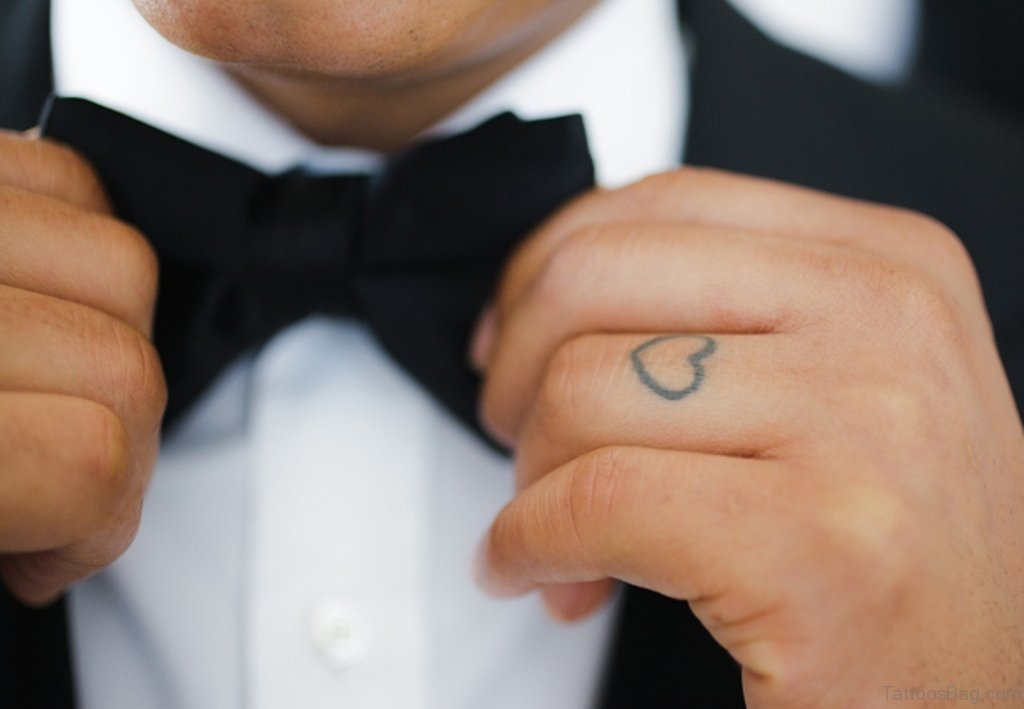 Another tiny spot for a design you want to see every day is on the fingers. This area may have once been reserved for the outcasts like thugs and bikers. But, it has become well-known today as a fantastic way to show off something important to you. There is less room for exceptionally detailed ink, and a simple finger tattoo like a heart can exist boldly and makes a remarkable statement.
21. Dagger Heart Tattoo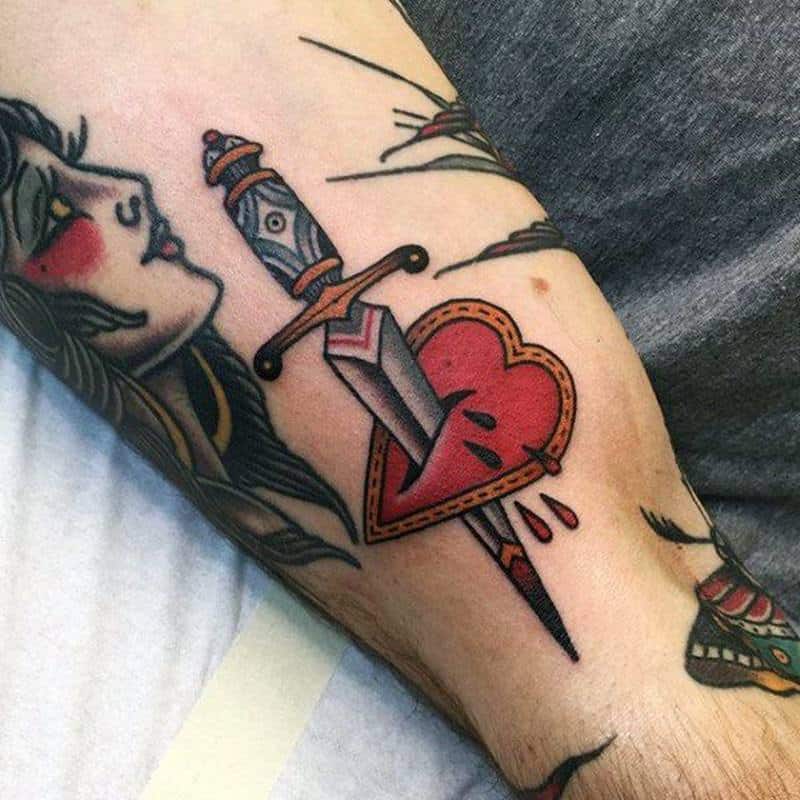 The dagger through the heart symbol is an enigmatic tattoo that represents betrayal. The dagger is a medieval weapon for stabbing, and a stabbed heart connotes pain from an intimate encounter. Even though it has a dark meaning, the dagger through the heart tattoo is quite common because of its dramatic effect.
22. King of Hearts Tattoo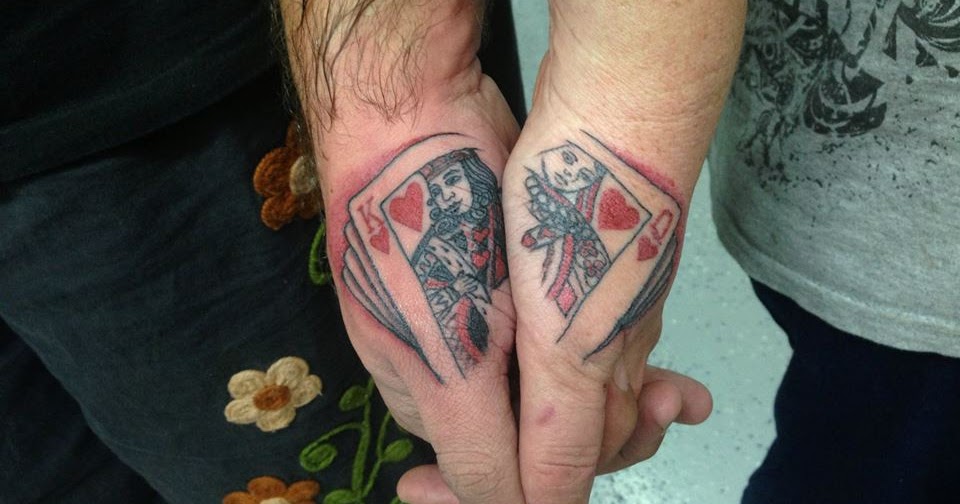 Technically, the King of Hearts tattoo is more of a card tattoo. However, when paired with a Queen of Hearts, it becomes a paired tattoo for couples. Whether it is worn as matching his-and-hers (King and Queen for the couple) or as a stand-alone tattoo, it calls to mind a deck of cards and the risks of playing or gambling with the heart.
23. Arrow Heart Tattoo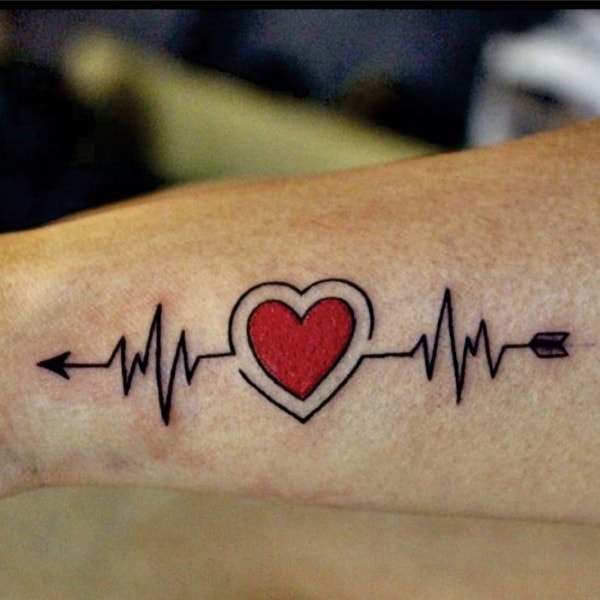 Valentine's day usually sees arrow-heart symbols or cutouts, and the tattoo has the same roots in myth. The arrow heart tattoo is not as dark in symbolism as the dagger heart tattoo. Instead, it refers to Cupid's arrow and how a person is smitten or in love.
24. Flower Heart Tattoo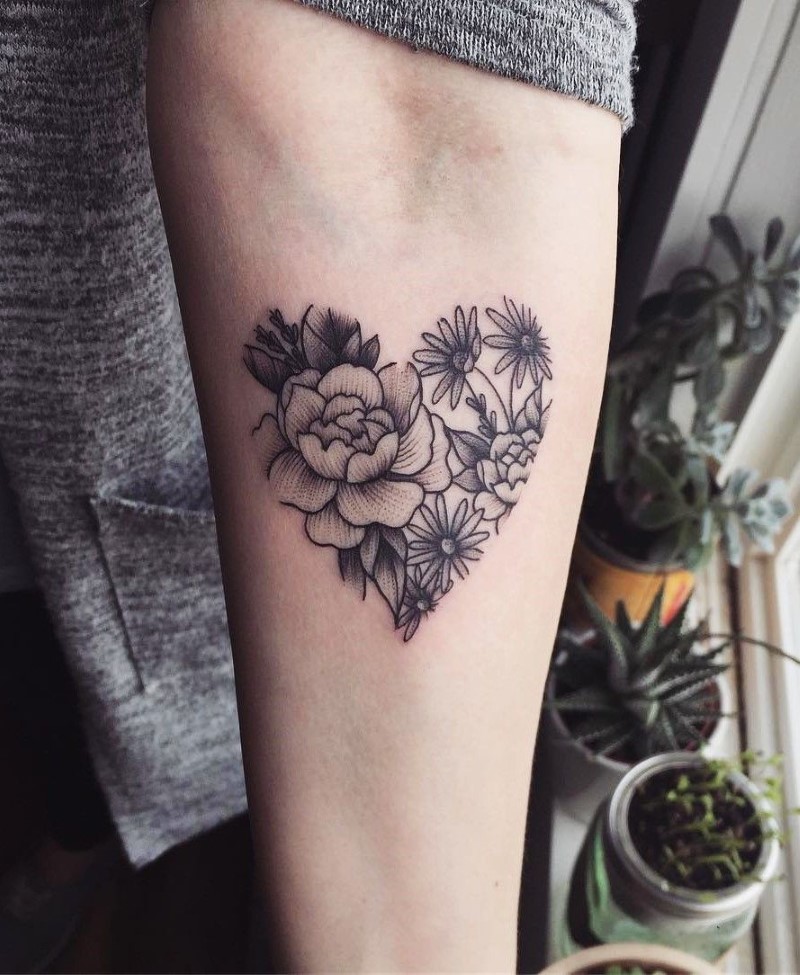 The flower heart tattoo is a creative, emotional outflow of the close relationship between hearts and flowers. In this instance, the tattoo may be a wreath of flowers or a chain of flowers outlining a heart. Either way, the romantic guy has plenty of stories to tell with this engaging tattoo.
25. Chained Heart Tattoo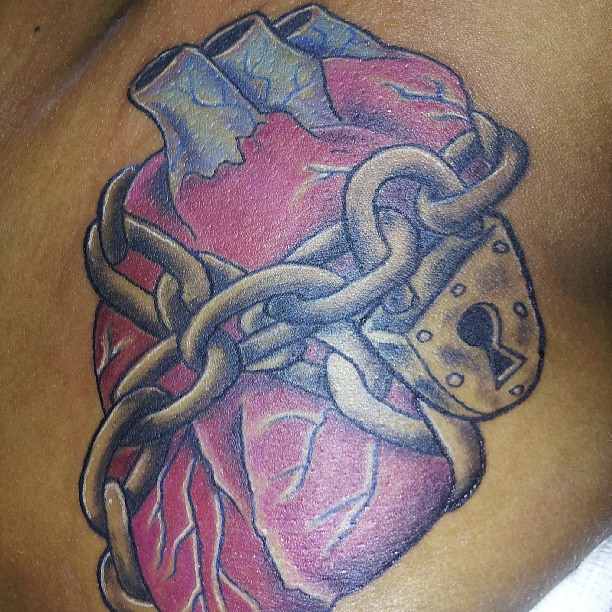 The chained heart tattoo has different meanings, depending on the person and the design of the artwork. It can be a chain made of hearts or hearts tied up in chains (complete with a lock). It can also be a broken chain, denoting the heart's freedom. This tattoo can mean a heart tied with another, like a devoted vow, or it can be a protected heart. Having a personal history to go with a chained heart tattoo is a terrific way to break the ice.
Do you want to have a reminder of the essence of your tattoo inked onto your skin? Or do you like to share your feelings and emotions with the rest of the world? Whatever the purpose, the best way to show it is through heart tattoos.
FAQ
What does a heart tattoo symbolize for women?
The heart is the traditional symbol for love, passion and emotions. A red heart symbolizes a loved one, or a lover. A black heart may mean grief, or a great loss.
Where is the most appropriate placement of a heart tattoo for women?
Heart tattoos are most commonly placed on the arms, or on the chest. For women, the trend is to have a heart tattoo on the wrist, the shoulder blade, or the fingers. A woman's heart tattoo is usually filled with meaning, but not something they would readily share.
What does a heart tattoo symbolize for men?
The heart tattoo originally symbolizes love, specially among sailors. Originally, sailors place a heart tattoo on their arm or biceps with the name of their loved one. Larger and more elaborate tattoos were placed on the chest. Adding other images or symbols revise the meaning of the heart. The sacred heart, for instance, is usually found among Catholics and refers to their faith in the Church. Other symbols that are commonly associated with heart tattoos are names, flowers, and other details to the heart image.
Where do you put a heart tattoo for men?
The traditional places for a heart tattoo are the chest, either on the left or right breast, or on the shoulders. Nowadays, it has become common to put a heart tattoo on the fingers, forearm, and even the thighs.
You May Also Like