Camille Vasquez, the former lawyer of Johnny Depp, has achieved internet fame for her representation of the actor during his trial against ex-wife Amber Heard. Now, the 38-year-old lawyer is set to take on a new role as an on-air legal analyst for NBC.
Vasquez achieved newfound attention after successfully representing Depp in his $100 million defamation case against Heard. The media widely covered the trial, quickly propelling the attorney into the spotlight.
An online sensation, she has become wildly popular among social media users, accumulating an army of fans due to her bold behavior in the courtroom and strong personal connection with her famous client.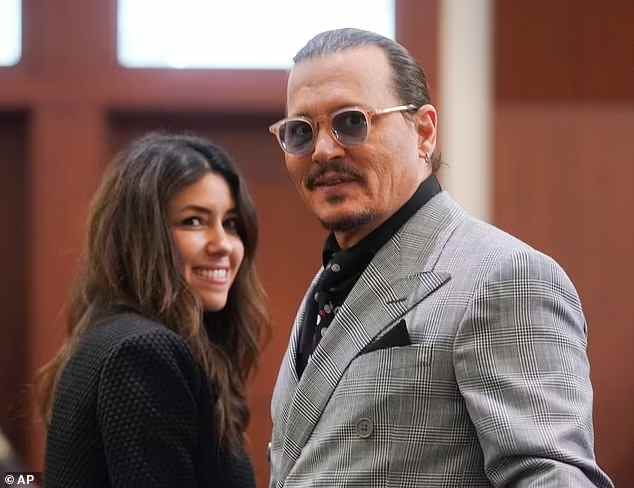 Following the conclusion of the case in June of last year – Depp was granted $15 million in punitive and compensatory damages – sources stated that at least three major news divisions asked about her joining them as an analyst or contributor.
She has now officially joined NBC and made her debut appearance on the network this morning on the Today Show, where she highlighted the recent Idaho college student killings.
Hoda Kotb introduced her as 'NBC News' legal analyst,' before pressing Vasquez about her opinions on how social media and internet sleuths may effect the case – something she is well-versed with given the attention the Depp and Heard case garnered.
Her father used to run a UPS Store in Anaheim, but the property has been a FedEx store for the past ten years, according to an employee who previously informed DailyMail.com.
Vasquez earned a bachelor's degree in arts, communications, and political science from the University of Southern California in 2006.
From 2007 to 2010, she attended Southwestern Legal School in Los Angeles and worked at one law firm before joining her current firm, Brown Rudnick LLP, as an associate.
According to her bio on the law firm's website, she concentrates on 'plaintiff-side defamation litigation, with additional expertise litigating contract disputes, business-related torts, and employment-related issues.
She also has 'significant expertise with concurrent reputation management and crisis communications challenges stemming from these projects.' She does not have any publicly accessible social media platforms.
Many fans began to question if love sentiments had grown between Depp and Vasquez throughout the trial, after noticing a series of amorous exchanges between the two, including whispering in one other's ears, chuckling together, and swapping seductive smirks.
Rumors of a relationship were sparked after a TikTok video showed the Pirates of the Caribbean star assisting the lawyer in untangling her iPhone charger went viral. He was also seen moving her chair out for her.
However, body language expert Judi James told DailyMail.com exclusively at the time that the passionate moments between them were most likely not the result of a hidden affair, but rather were all part of a scheme to make Depp appear like a 'romantic hero.'
She said associating Depp with a "fresh, clever, perfumed, and confident-looking lady" would "demolish" Heard's account of their terrible relationship.
'This has become something that has grabbed the country,' she added of the killing of four young ladies on November 13, 2022, in Moscow, Idaho.
'And so people want to talk about the evidence, they want to talk about the human impact.
'I think it can be helpful to investigators, they pleaded to the public and asked for information about the [murder suspect Brian Kohberger's] white [car], but it could also be harmful when you start naming someone.'
NBC then confirmed her hiring in a Tweet, writing, 'New: Camille Vasquez joins @NBCNews as a legal analyst.'
Vasquez is still a partner with the legal firm Brown Rudnick, co-chairing the company's brand and reputation management practice.
Vaquez was born in July 1984 to Colombian-born parents Leonel and Marilia Vasquez. According to public records, they dwell in a $1 million property in Buena Park.
You May Also Like