There are many different types of tattoos that men can get, but leg tattoos are some of the most popular. They are often seen as more manly and tough than other types of tattoos, and they can be a great way to show off your personality and style. If you're thinking about getting a leg tattoo, here are some of the best designs for men.
1. Front of Leg Tattoo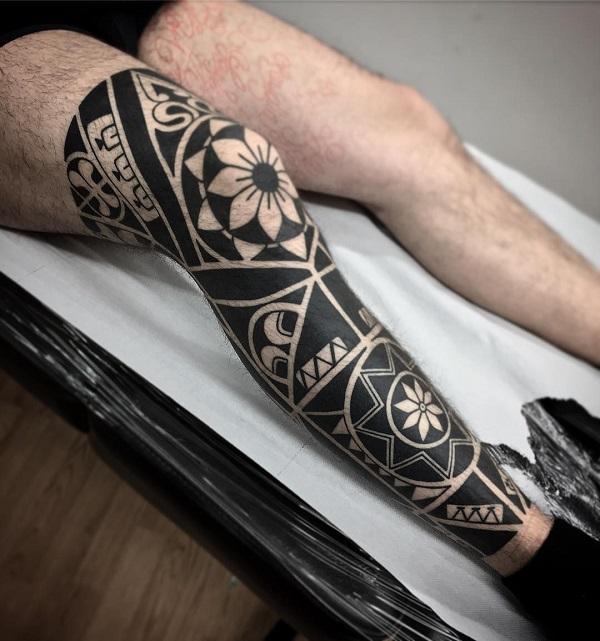 The shin or the front of the leg spot is becoming an increasingly popular tattoo placement for men. It shows off your ink beautifully when you wear shorts, but it does involve pain and discomfort to have a tattoo on the shin. Still, both vertical and horizontal tattoo designs look great in this spot. Thus, men who can tolerate the pain will always go for this.
2. Side Leg Tattoo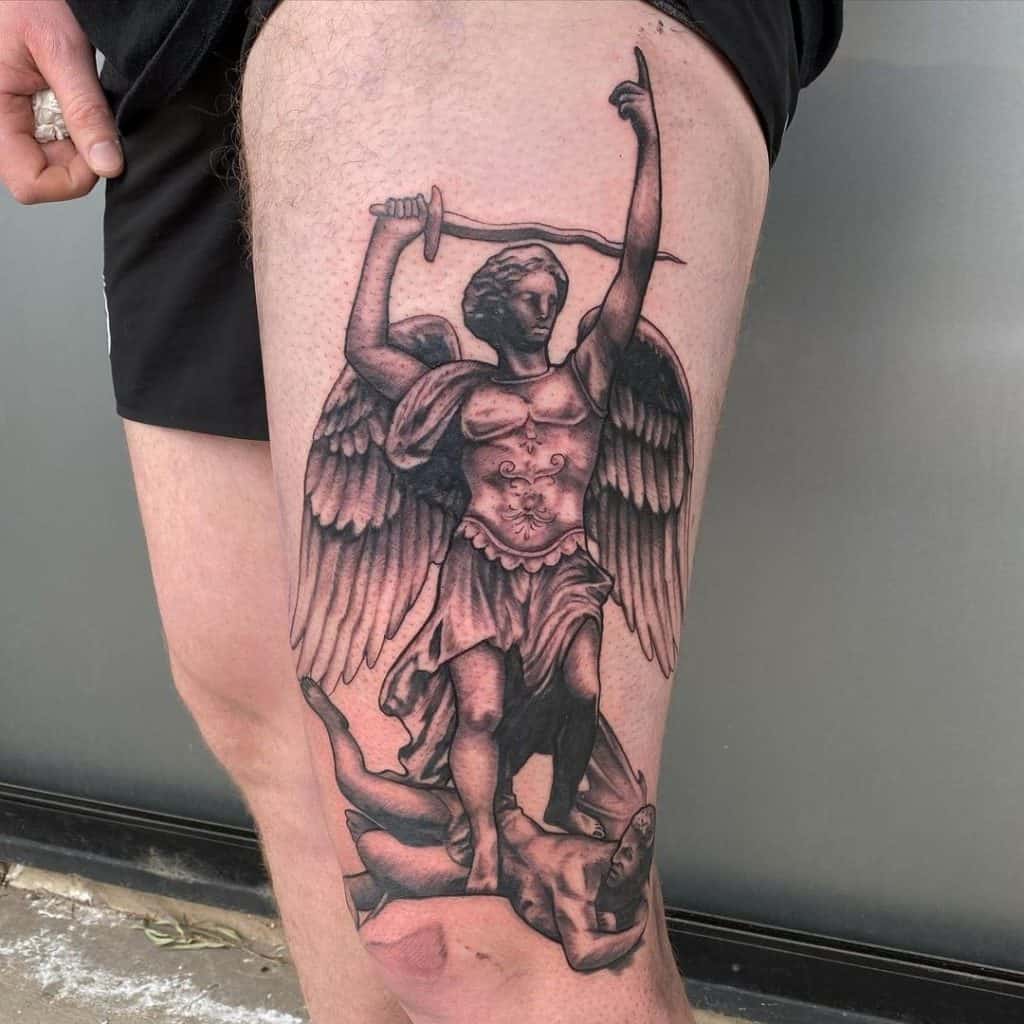 A side leg tattoo is an excellent option for designs made for the lower part of the body, whether it is your thigh or your calf. Men prefer having a side leg tattoo because it is easy to show off when wearing shorts. It can also be covered when you wear jeans or pants for formal events. Ideally, a design that wraps around the leg is an excellent image for a side leg tattoo.
3. Leg Sleeve Tattoo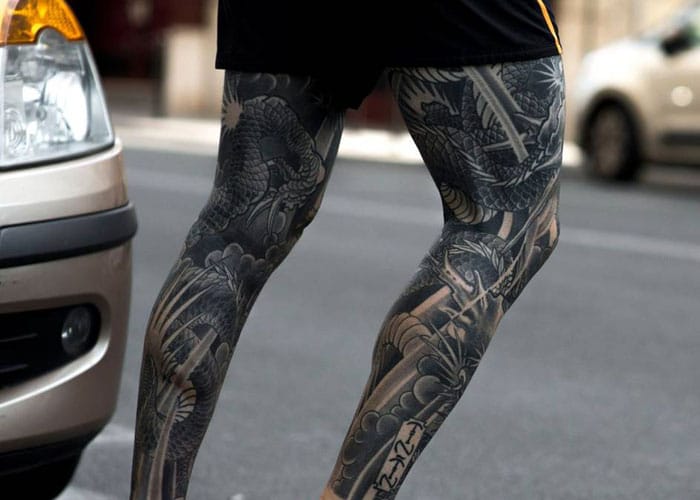 Sleeve tattoos are not just limited to the arms. Men are also exploring the deal on leg-sleeve tattoos because it looks incredible and unique. It is not as dramatic as the full leg tattoo, but it has an impact. A leg sleeve covers the skin from the ankle, knee, and thigh, and it can also take several sessions to complete. Popular designs for this include geometric patterns, Japanese irezumi, and mandalas.
4. Full Leg Tattoo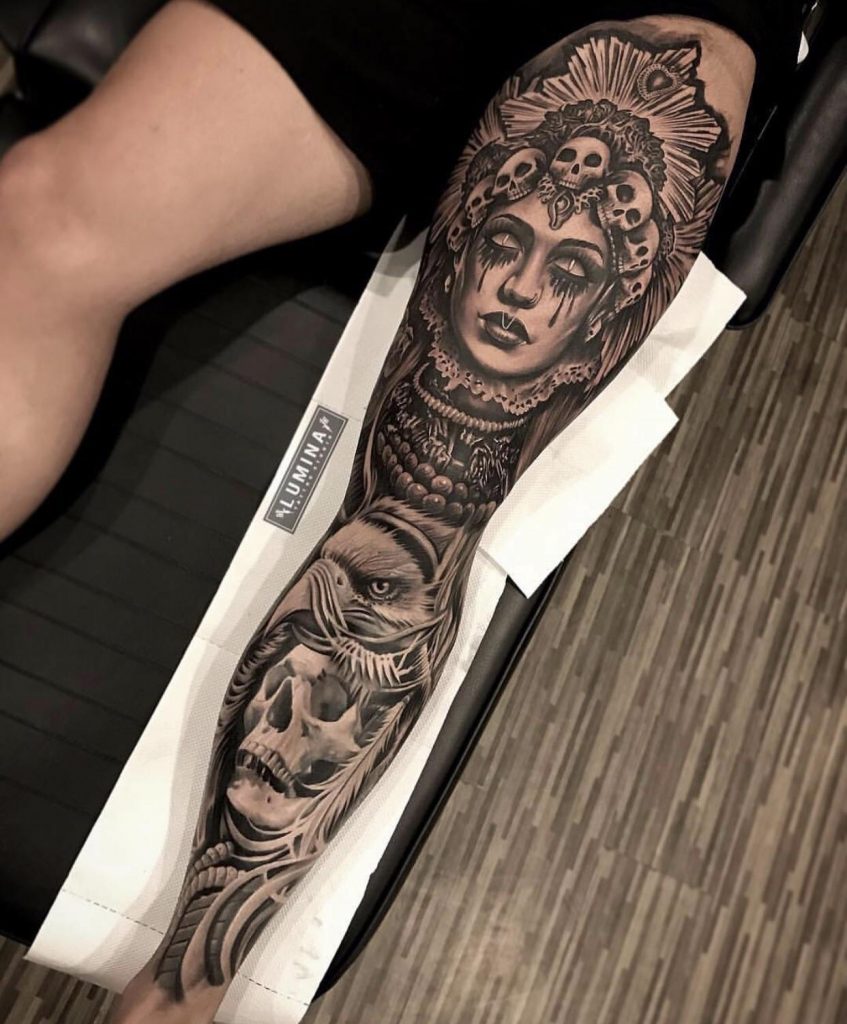 Like a full sleeve tattoo, a full leg tattoo is a collection of images creating a single theme and wrapping around your leg, from your calf, up the knee, and thigh. The full leg tattoo is a striking and bold tattoo design for men into eclectic and unorthodox styles. It will take several sessions to complete a full leg tattoo design, which may cause a lot of discomfort. After multiple settings, the final results will be worth the pain and wait.
5. Lower Leg Tattoo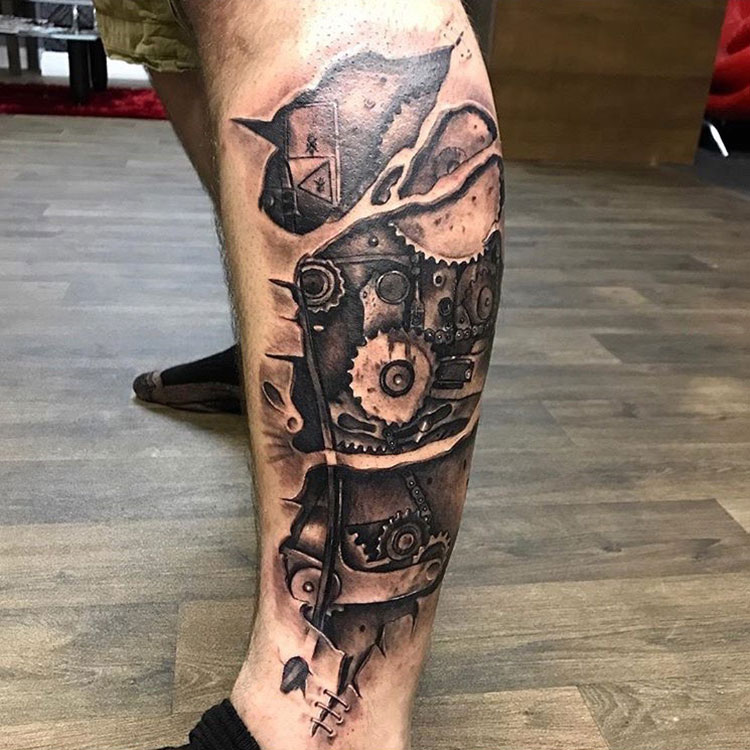 This tattoo design typically starts below the knee, towards the calf, shin, and upper ankle. Opt for a vertical design to make your leg look slimmer and longer. A lower leg tattoo draws attention to your shin and calf, but expect some discomfort when getting inked on this spot as it has thin skin close to the bone.
6. Calf Tattoo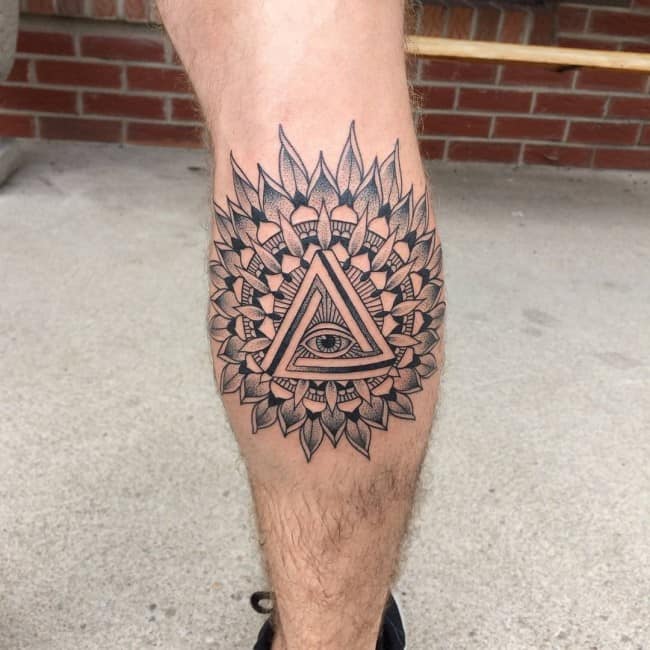 The calf area is one of the least painful tattoo placements. Thus it is one of the best placement for your leg tattoo. A calf tattoo is not as visible to you as those on your thigh, but people behind you will immediately notice this badass ink on your calf. The spot has plenty of muscles to showcase, and calf tattoos are often designed for carving up these muscles intricately. You can opt for vibrantly or heavy-colored images for a fantastic piece.
7. Leg Tattoos for Black Men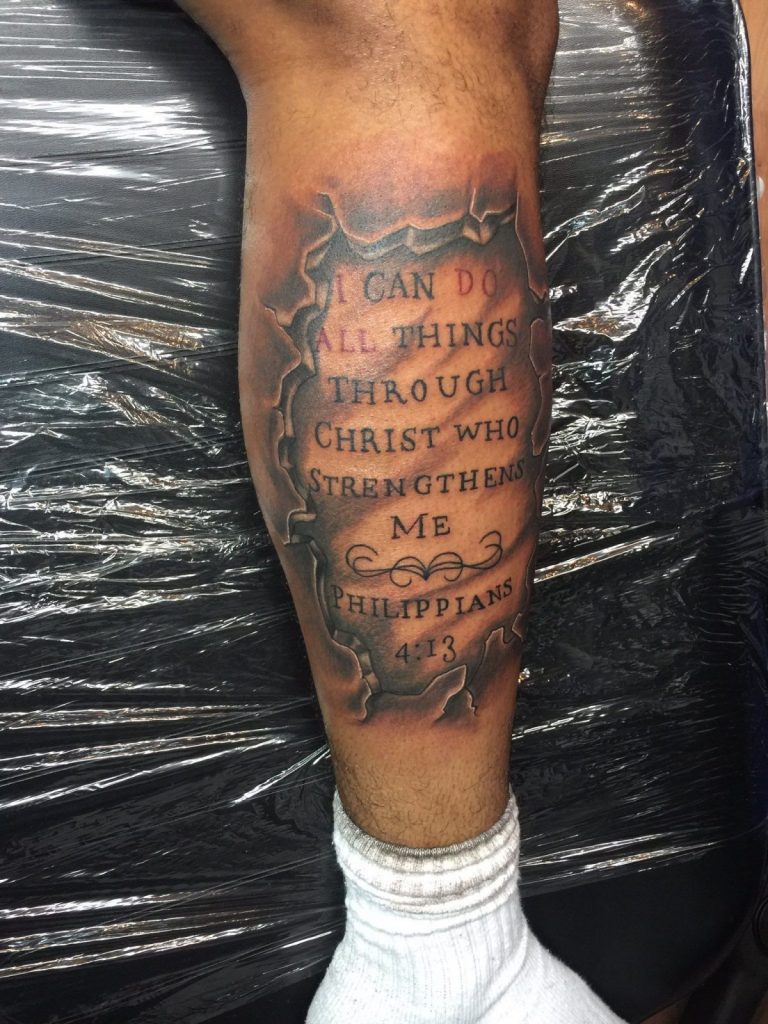 Leg tattoos are great tattoo options for men with light or dark skin tones. There is a range of designs to explore, including modern geometric designs and bold colors, and these tattoos can be adapted for darker-skinned men. On the other hand, people with African heritage typically scar more quickly compared with lighter-skinned individuals. Thus, it is essential to work with an artist that will use less pressure and know the best colors for your skin tone.
8. Colorful Leg Tattoo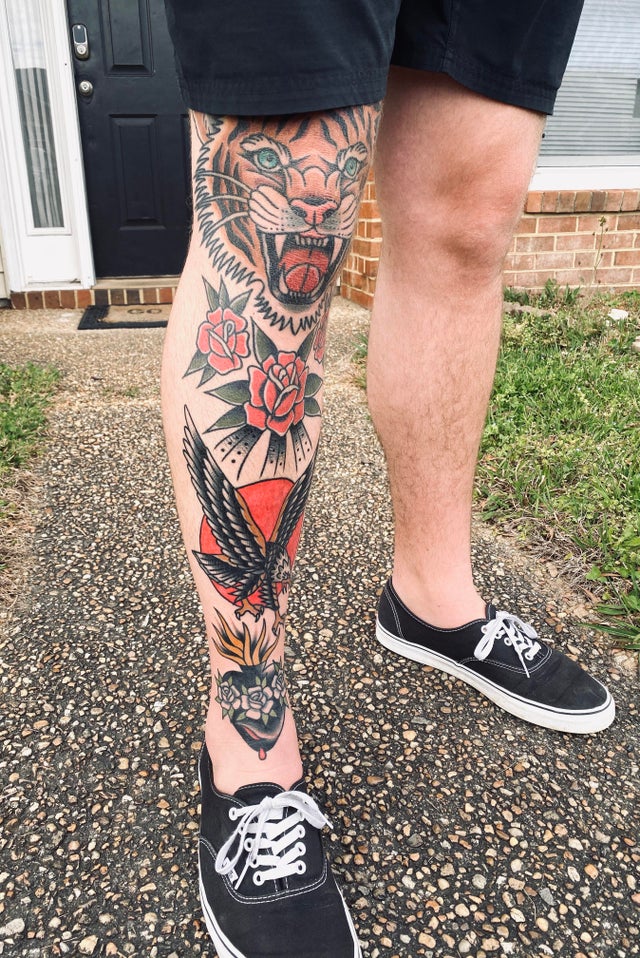 Black tattoos are common choices for leg tattoos in men. But others would like to explore colorful ink designs to elevate it to the next level. One popular trend to consider is the watercolor style tattoo. It is an artistic choice for images such as landscapes, animals, or scenes. Colors add life and vibrancy to any tattoo designs you have on your leg.
9. Intricate Leg Tattoos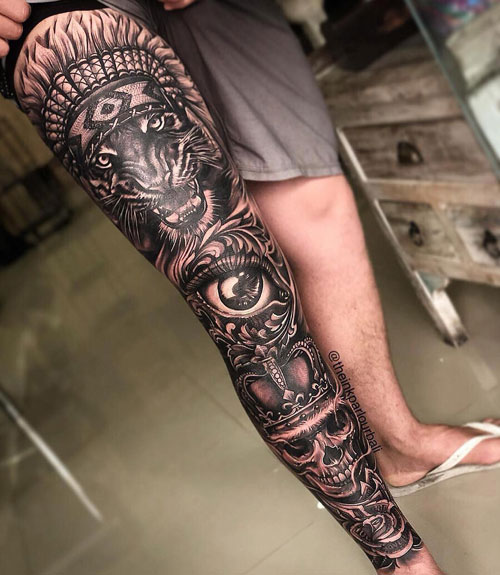 Although simple leg tattoos are striking and meaningful, a truly intricate leg tattoo is one way for an artist to showcase their craft. Intricate tattoos are great for the legs because of the size and shape of the placement. An artist can work multiple sessions to create something outstanding. Whether it is a heavily detailed tribal pattern, an illustrative scene, a landscape, or a fantastic concept for a full leg tattoo, an intricate piece is perfect if you are looking for an exceptional leg tattoo design.
10. Urban Scene Leg Tattoo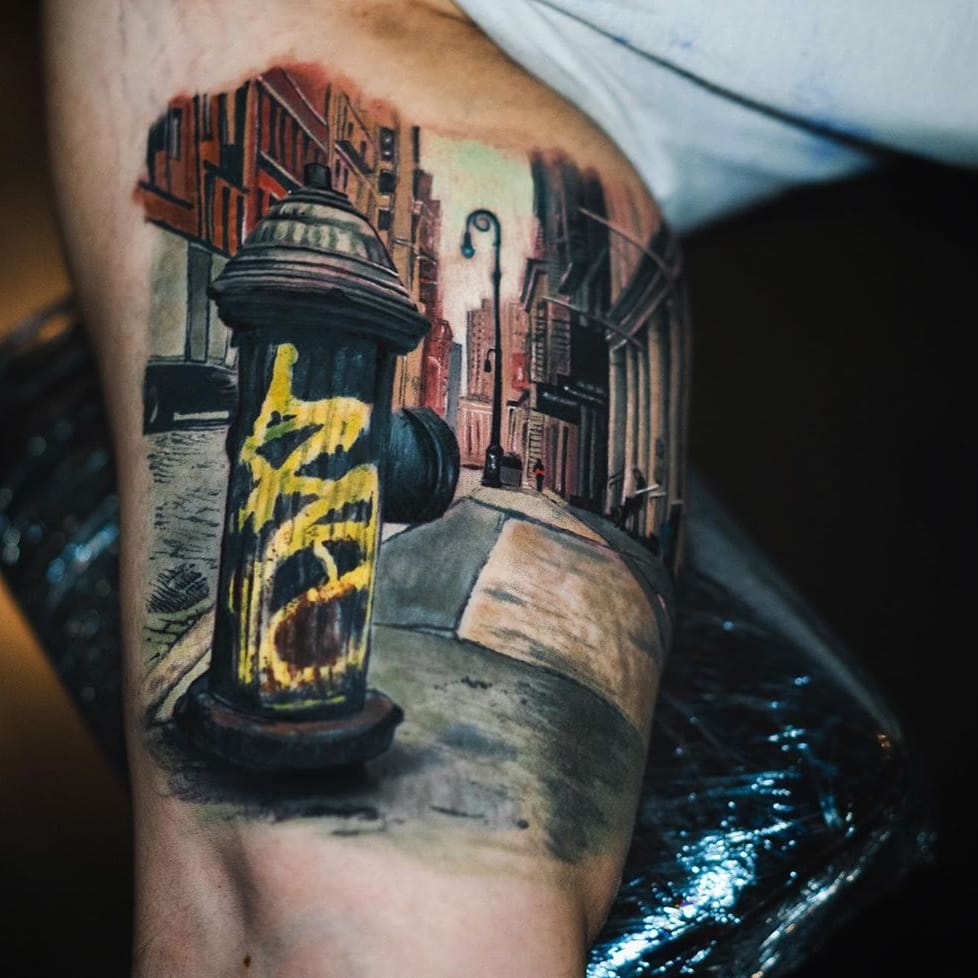 The appeal of leg tattoos lies in providing ample space for a detailed ink design. You can create scenes from a movie, an urban neighborhood and fill it up with the concepts in your mind. The leg is a beautifully shaped canvas where you can express your thoughts and feelings. How about a car race scene or the busy neighborhood scene from where you grew up? It is an exciting and eye-catching piece to wear.
11. Mandala Leg Tattoo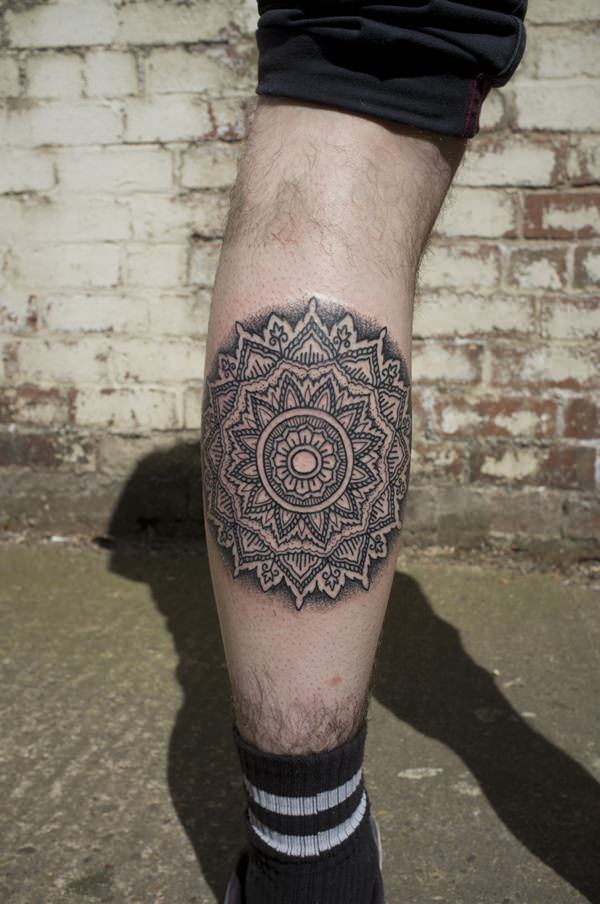 Another popular leg tattoo design is the Mandala, with its circular pattern involves shapes and curves that seem to move outward. It signifies harmony, balance, and the earth. Its beautiful rounded design makes it a great design choice for the leg. Have inked as if it is wrapping around your thigh or calf area just below the knee.
12. Maori Leg Tattoo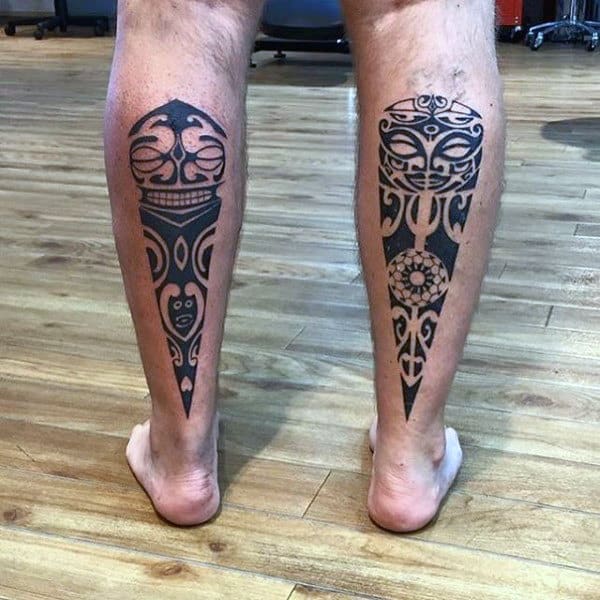 Much like tattoos from Hawaii, traditional tattoo, called "Ta Moko," is a part of the Maori culture. The Ta Moko can reveal a lot of details like his tribe, achievement, and status. If you are looking for ways to pay tribute to your Maori heritage, getting a Maori leg, thigh, or calf tattoo is an excellent choice.
13. Tribal Leg Tattoo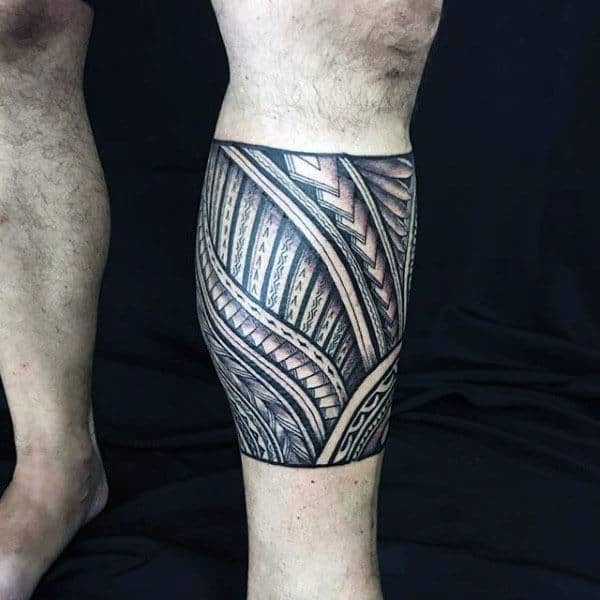 For a dynamic and graceful tattoo design on the leg, choose something that is designed using a tribal tattoo style. It features patterns and curved lines, thus offering a more fluid appearance. You can work with your artist to create an image that moves with your body. The curved lines of a tribal tattoo look flattering when wrapped around the calf, shin, and thigh.
14. Japanese Leg Tattoo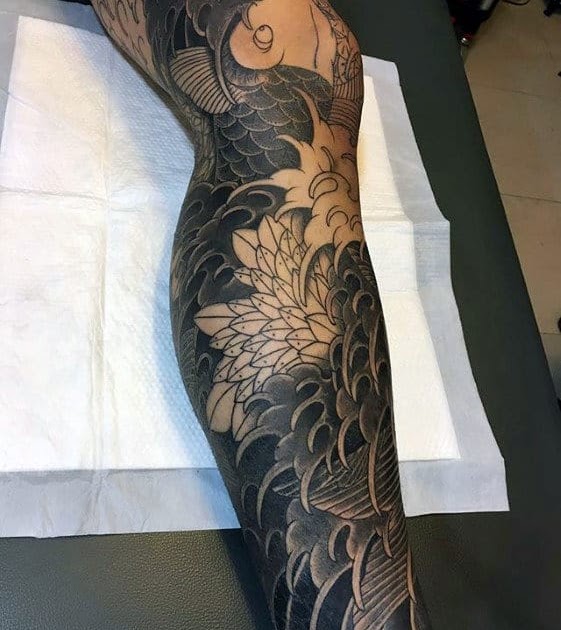 The traditional Japanese-style tattoo is called Irezumi. It uses bold and vibrant colors; thus, it is pretty popular among men and women. Most of the meaningful symbols and images here are inspired by nature. If the design appeals to you, you can work with your artist to create a beautiful Japanese full-leg tattoo concept. You can include images of peony flowers, koi, Japanese masks, and others.
15. Small Leg Tattoo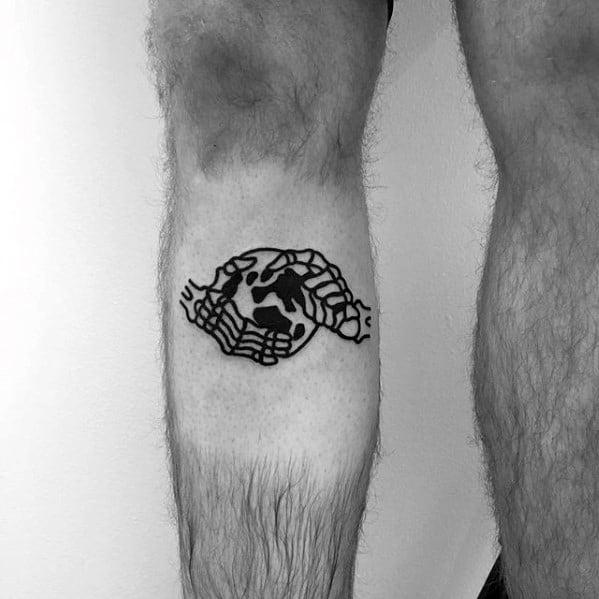 If you can't have visible tattoos because of your profession or choose a minimalist design, you can always go for a bit of leg tattoo. Although the leg offers a big canvass for complex, detailed, and extensive tattoos, some prefer small leg tattoos. Some ideas for a minor leg tattoo include small shapes, a single word or name, or a short quote that is influential to you. The best placement for small leg tattoos consists of the thigh area or the ankle.
16. Simple Leg Tattoo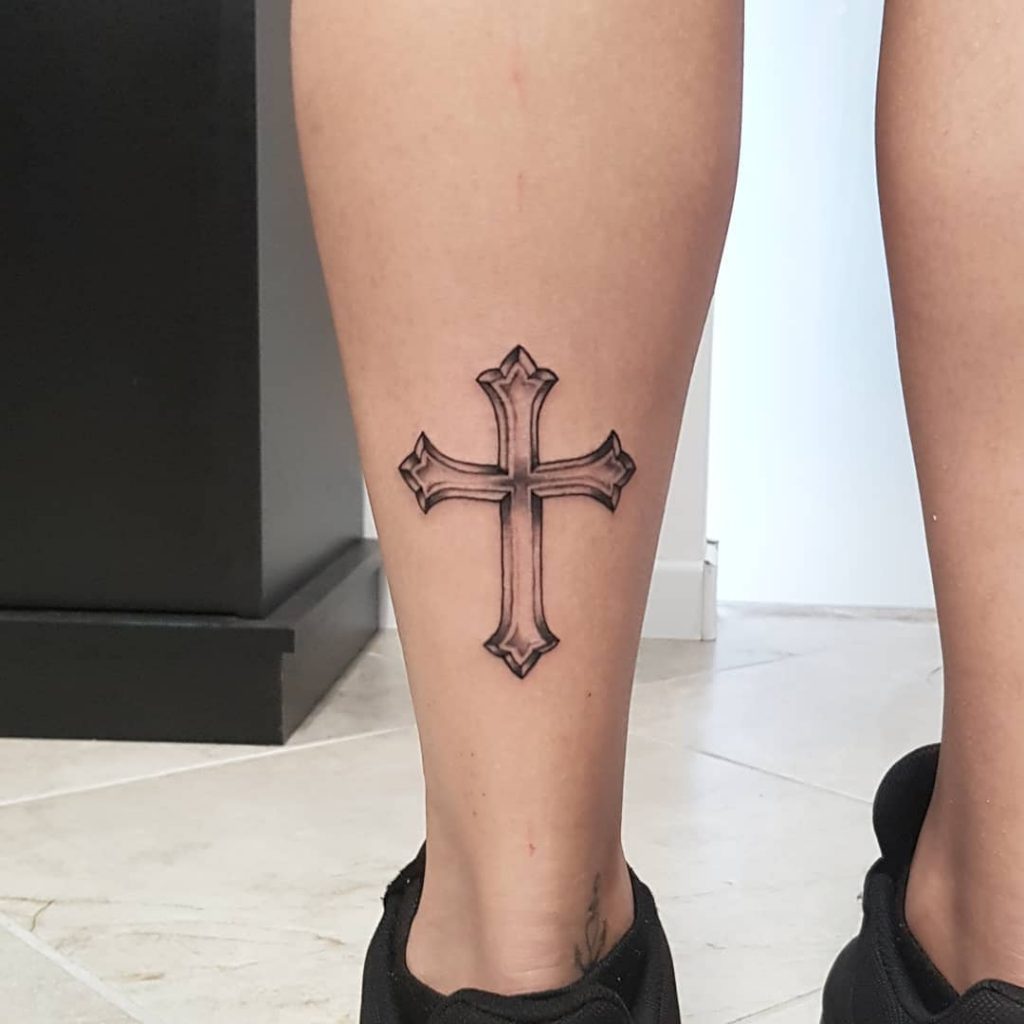 Large and complex tattoo designs do not work for everyone. Some guys prefer meaningful but straightforward designs. For instance, solid black banded tattoos are great options for guys looking for masculine and minimalist. You can easily add more lines in different thicknesses to have an attractive visual without a complicated tattoo. Simple tattoos also take quickly to complete.
17. Celtic Leg Tattoo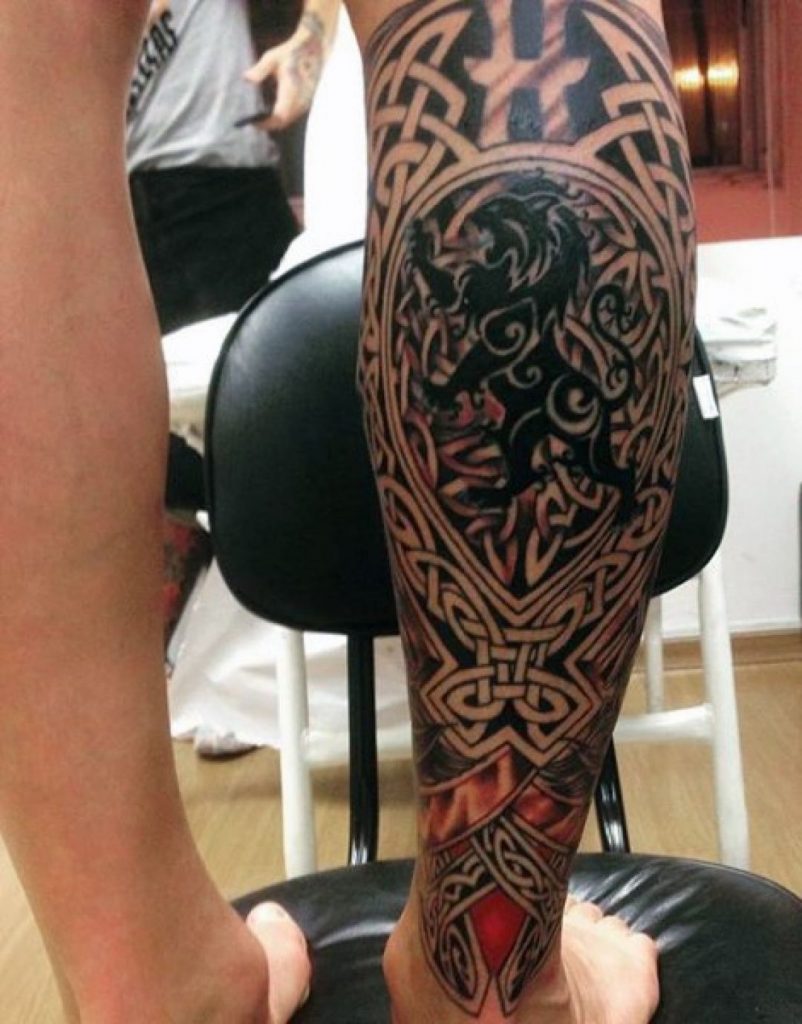 Getting this leg tattoo is a beautiful way of paying tribute to your roots for men with a Celtic heritage. Celtic art features a unique method of incorporating circles and knots, which look amazing when inked on the legs. You may also choose to have a Celtic cross on your calf with vertical lines and circular elements to make your leg look slimmer and longer.
18. Hawaiian Tribal Leg Tattoo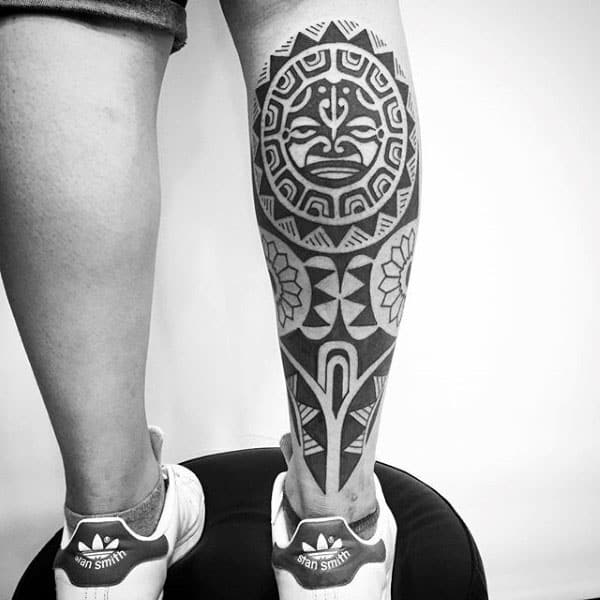 Tribal tattoos are traditional practices of the Polynesian and Hawaiian cultures. Their ancestors used black ink to create meaningful designs made up of complex lines and shapes. Present tribal tattoos are made to fit the body's curves and shape, leading to complex and large designs. Traditionally, male warriors wore these amazing leg tattoos. However, at present, it can be an excellent way of representing your native heritage and your pride.
19. Religious Leg Tattoo
There are many ways to show your faith through body art. For a more intricate and detailed design, you can have a religious leg tattoo. This spot is spacious enough to feature a range of spiritual images such as the sacred heart, a cross, rosary, and roses. If you love the old-school tattoo style, consider getting a portrait of Jesus Christ.
20. Biomechanical Leg Tattoo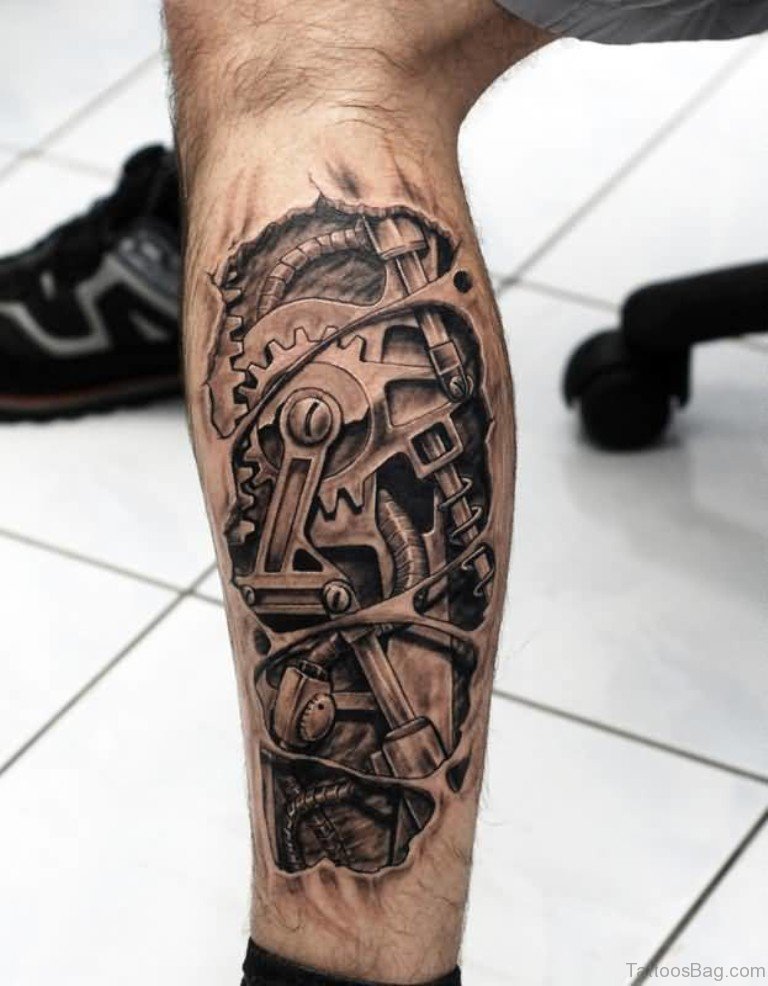 For an excellent and badass tattoo design, consider having this biomechanical leg tattoo design! It creates an illusion of robotics and machinery under your skin. It looks like you have a 'cyborg' leg; thus, it is a perfect design choice for men who appreciate the si-fi influence. On the other hand, keep in mind that these tattoo designs quire technical color, shading, and structure. It is a complex design with a realistic effect. Thus, work with an artist that specializes in these design concepts.
21. Remembrance Leg Tattoo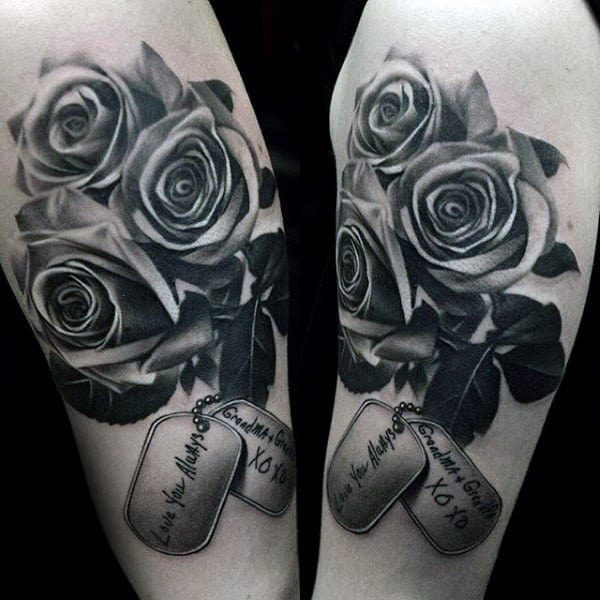 If you have seen people wearing black armbands when they are mourning for the loss of a loved one, you may also consider having the same band inked on your body to express how you feel. Some men choose to wear these kinds of remembrance on their legs to respect their deceased loved ones. On the other hand, these bands can also mean something else for some people – the interpretation is way too personal for some for us to understand.
22. Quote Leg Tattoo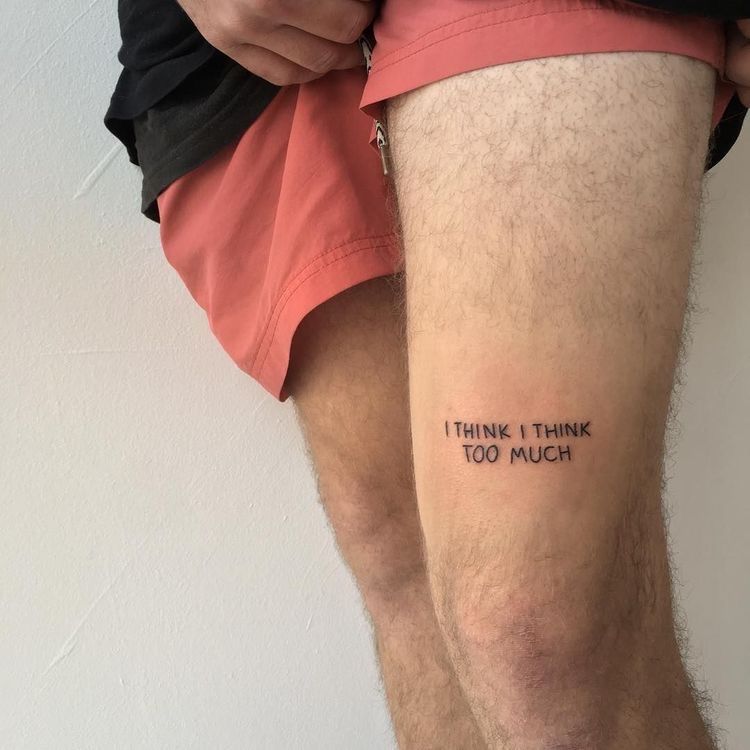 A versatile tattoo choice is getting a quotes tattoo. These one-liners suit various placements on the body, and they easily express your personality. Often, people choose quotes from their favorite movies, song lyrics, or words from famous people.
23. Koi Fish Tattoo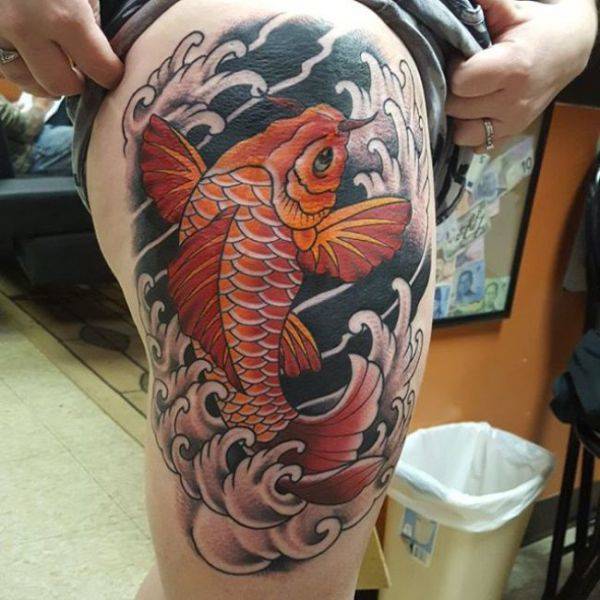 The Koi fish is one of the most significant symbols of Japanese culture. There is a legend that a Koi fish swam up a mystical waterfall for 100 years, and this fish was rewarded by the Gods and turned into a dragon. Because of this, koi fishes represent determination, perseverance, and the fulfillment of a person's destiny. If you relate well to these meanings, the koi fish leg tattoo is an excellent choice for you.
24. Dragon Leg Tattoo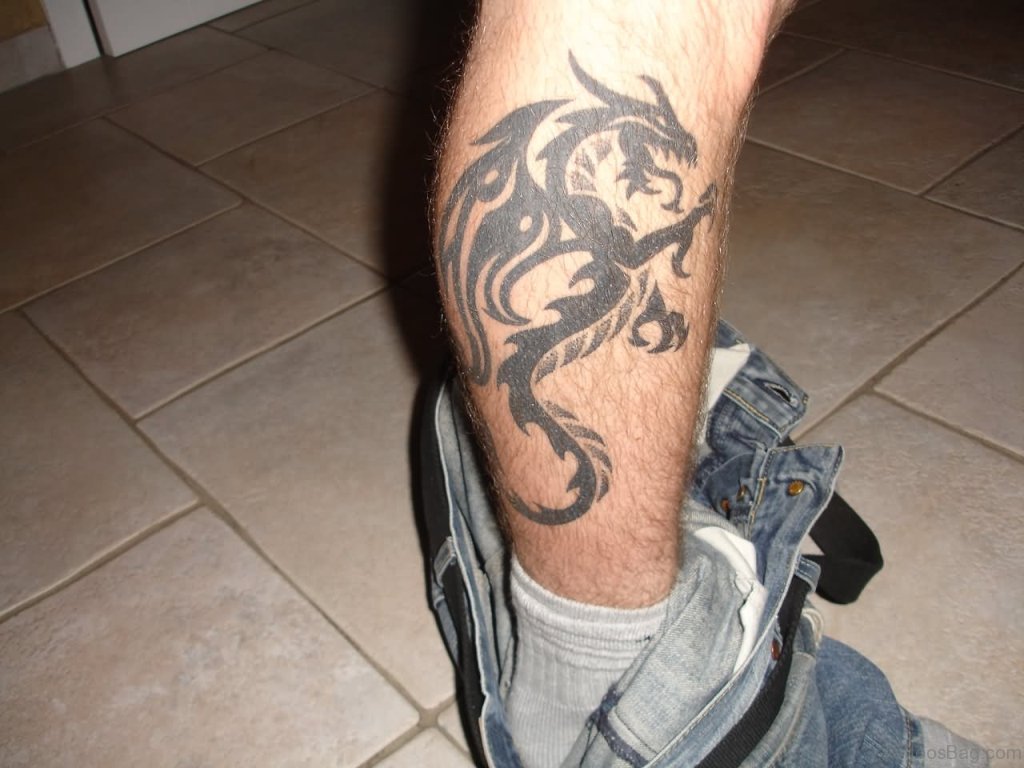 Dragon tattoos are a favorite among men and women of all ages. It is a powerful image that is quite versatile when chosen as a tattoo design. Opt for masculine dragon images on your leg and fill it up with details that suit your lifestyle. You can have a range of dragon styles from Japanese and Chinese to classic European monsters and mythical creatures.
25. Leg Lion Tattoo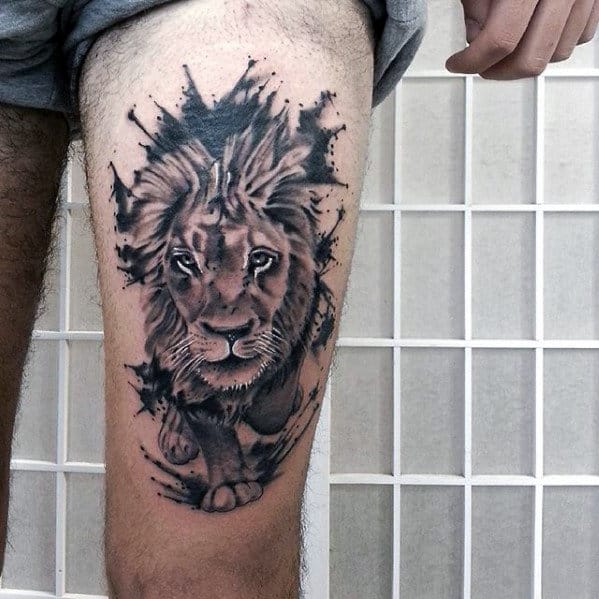 The lion will always be one of the most famous images in men's tattoos. The king of the jungle represents loyalty, leadership, power, and pride. Thus, it carries with it a certain masculine appeal. You can opt for a lion tattoo on the calf instead of having it on your shin so that your artist can make it more detailed and intricate.
26. Angel Leg Tattoo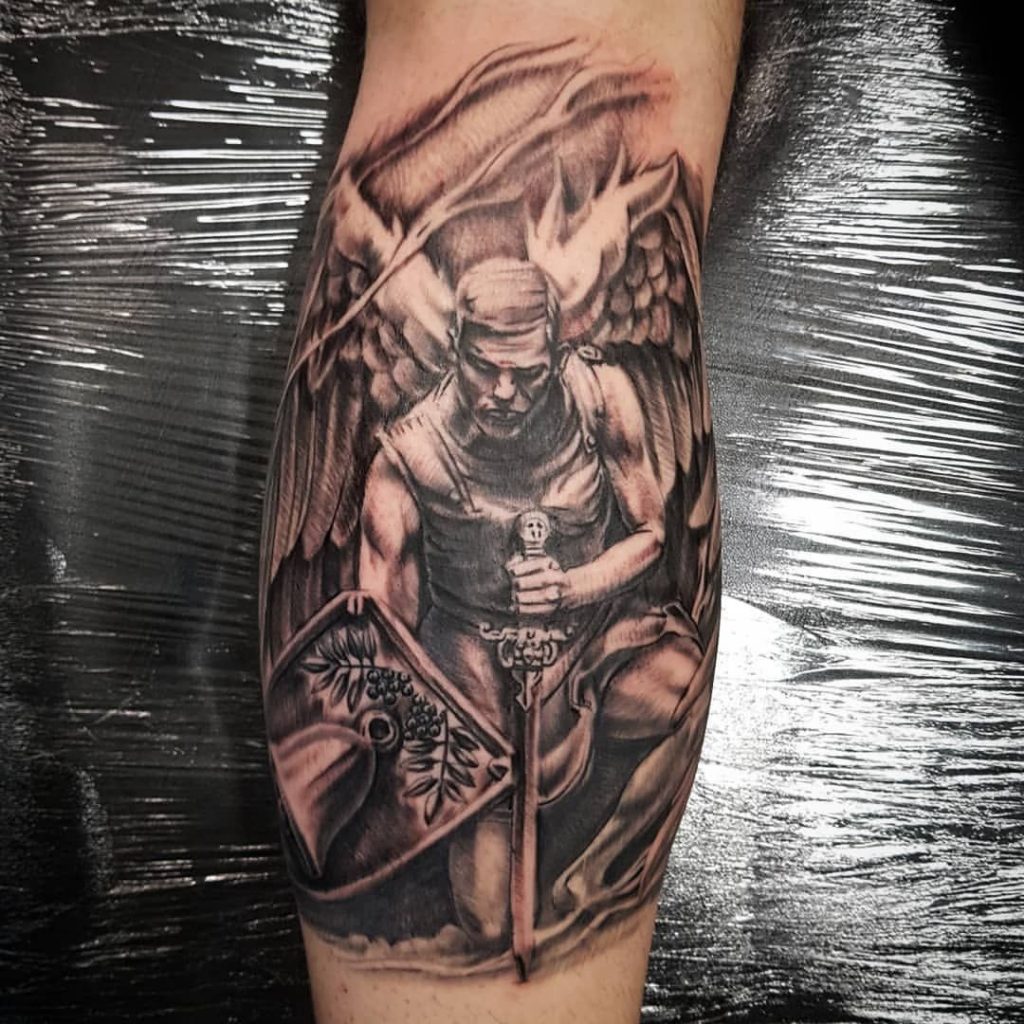 Angel tattoos are pretty popular designs for men who are religious and are guided by their faith. One of the most commonly selected images is the Archangel Michael – the leader of the Army of Heaven. This tattoo design represents one's faith and warrior spirit. Likewise, angel tattoos are also used to pay tribute to a loved one who passed away or for a guardian angel who keeps the wearer safe in all situations.
27. Skull Leg Tattoo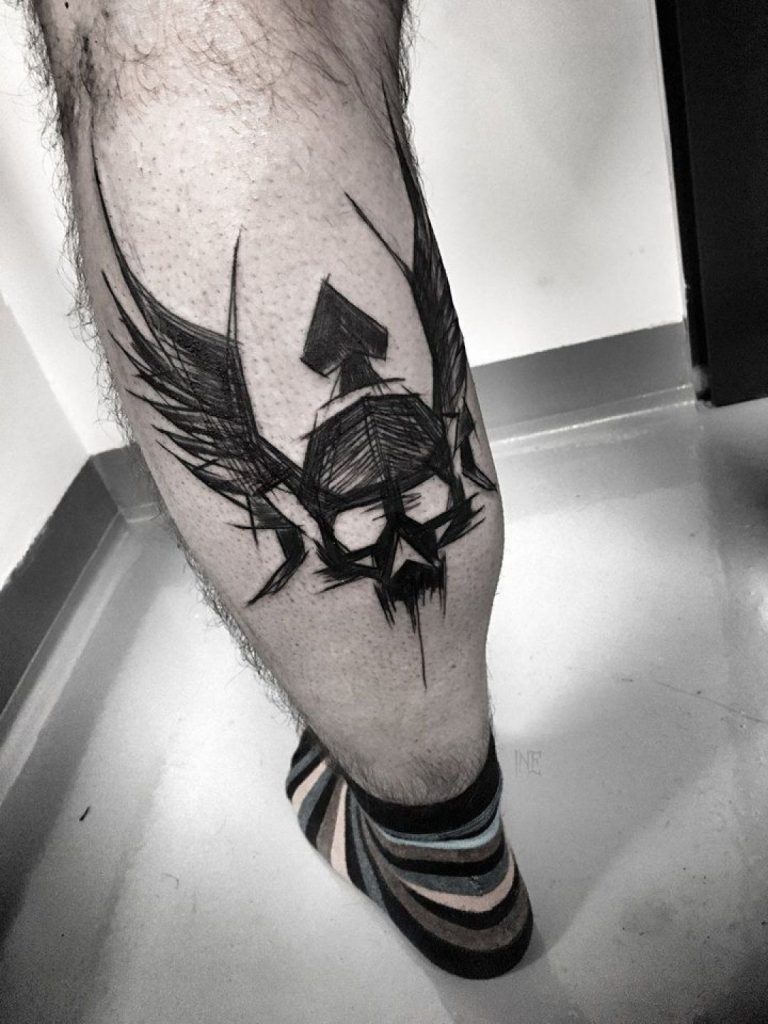 Skull tattoos look fabulous no matter where they are placed. When inked on the leg, the tattoo can be a versatile and expansive design covering your thigh, calf, and ankle. There are many design ideas for skull tattoos, but the meaning mainly revolves around death and destruction. On the other hand, some people view it as an inspiration for how fleeting life can be. Thus it is essential to living life to the fullest.
28. Tree of Life Leg Tattoo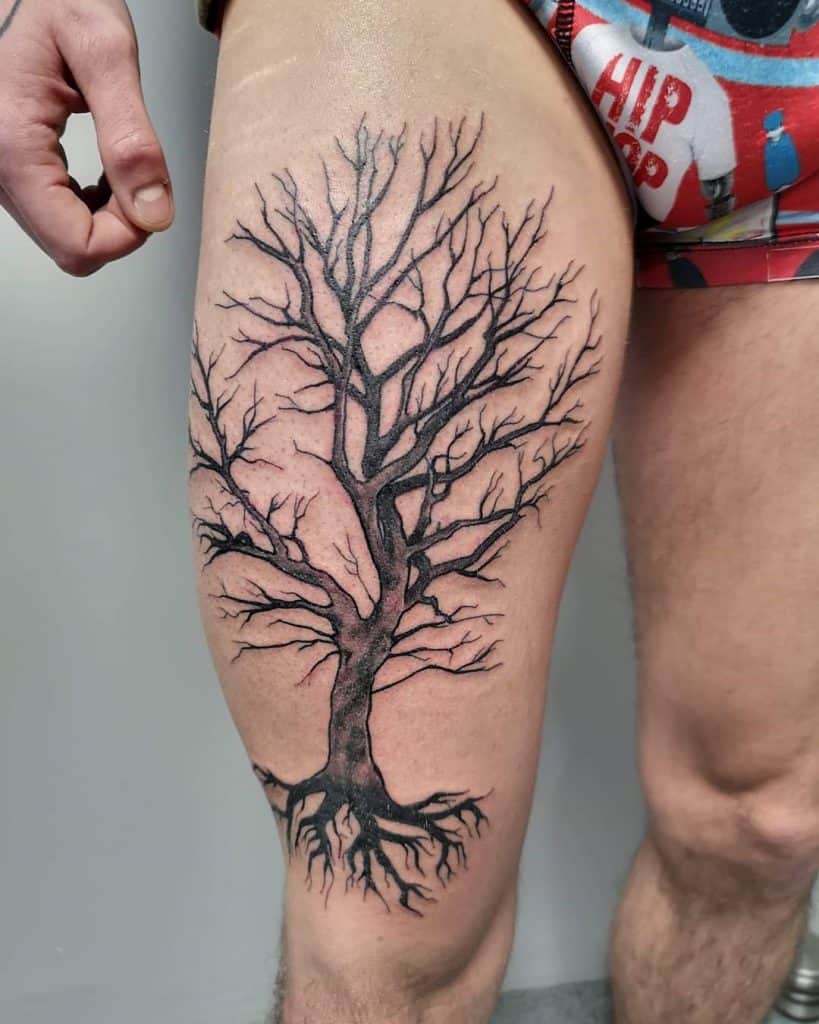 Extensive and intricate tattoos such as the tree of life tattoo are ideally placed on the leg. The artist can work out the intricacies and details in the design because your leg provides ample space for it. Some men go for many tree silhouettes or a pine forest instead of a single tree of life. You can have it in full colors for a fun and exciting design concept.
29. Anchor Leg Tattoo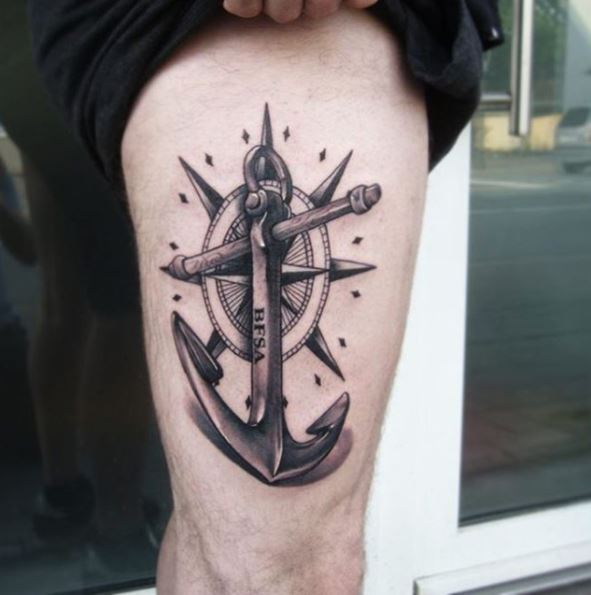 The anchor tattoo is an ever-popular piece for both men and women. If you plan on getting an anchor tattoo on your leg, opt for the traditional style and combine it with other elements like rope and a rose. Some artists can make out anchors with a metallic look. Thus even if the concept is simple, the image is a stunning piece.
30. Map Leg Tattoo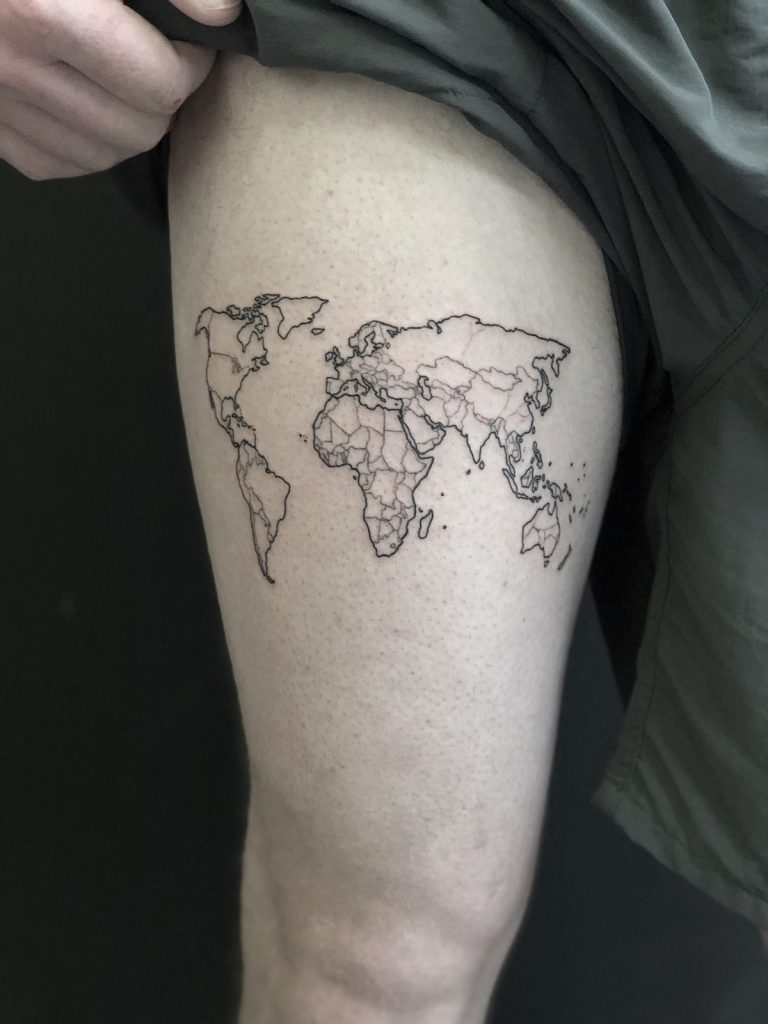 For jet-setting men, travel-themed elements can make an excellent concept for a leg tattoo. You can get inked with a map of the world and add in some compasses, a highlight of specific places, and possibly names that keep you guided on your journeys. It is a lovely design that you can wrap around your calf or have inked on your thigh for easy visibility.
FAQ
Can a Leg Tattoo Look Good on a Man?
Although initially considered feminine, leg tattoos can also look great on men. Whether it's detailed or simple designs, leg tattoos can look incredible on men. Plus, they look fantastic in dark and light skin tones. 
Are Leg Tattoos Feminine?
Leg tattoos can be considered feminine if you choose girly designs. So, you don't need to worry about the piece being too feminine for men who want to get a leg tattoo. That's because you can make leg tattoos masculine by using elements like skulls. 
What's the Best Place for Leg Tattoos?
For men who want to get a large and detailed tattoo that they can hide with ease, the thigh or upper leg is the ideal place. Meanwhile, for those who want a subtle and simple tattoo, the ankle is a great place for it. 
Do Leg Tattoos Hurt?
The pain levels of getting leg tattoos are different. That's because there are several areas you need to consider. For instance, the inner thighs and behind the knees are among the most painful areas for tattoos. That's because there are plenty of nerve endings on them. 
You May Also Like