#1. This boy who misunderstood the instructions.
https://twitter.com/gothamsbatman/status/758617653498023936
#2. This terrifying experience.
https://twitter.com/MikaelaLong/status/784955985500581893
#3. This little girl who ditched her parents for a new set.
So my niece decided to sneak off & jump in another families picture! Lmfao pic.twitter.com/SN6mt3JFsZ

— JORD (@jordieham) December 21, 2014
#4. This girl whose Halloween costime was a little too scary.
????? pic.twitter.com/P5wQiW7dIS

— ₚₚ ?? (@pandatoria) October 30, 2016
#5. This girl who packed only the essentials.
LMAO MY BABY SISTERS BAG pic.twitter.com/5i9qA8E3gq

— ape (@PurpIeApe) January 29, 2016
#6. This boy living the dream.
LMFAOOOOOOOOO I just walked in on my son eating wings in the bathtub ??? pic.twitter.com/jG6qHFizWS

— mum????‍? (@TheMilfGod) June 10, 2016
#7. This future secret shopper.
My daughter brings a checklist to stores now and just makes random checks. It makes everyone uncomfortable. pic.twitter.com/UgHJ4eIDSc

— bottlerocket (@bottlerocket) September 25, 2016
#8. This evil kid.
https://twitter.com/annaszpalik14/status/774410832079970304
#9. This delicious treat.
#FathersDay
The kids have made me breakfast. pic.twitter.com/g1T33SzXhS

— joe heenan (@joeheenan) June 19, 2016
#10. This brilliant-yet-awful revenge.
My son got mad at me yesterday and opened all the bananas in the house. What type of passive aggressive monster… pic.twitter.com/4p2Ucqh9NF

— Southside Vic (@VictorPopeJr) March 9, 2016
#11. This girl who found her calling.
Little cousin got a mermaid tail for xmas and hasn't opened anything else since ? u ok Hun pic.twitter.com/9YXmSShJva

— Jess (@1JESSMILNE) December 25, 2015
#12. This girl who needs to work on her spelling.
My sister is quite the speller pic.twitter.com/HBgX4SPJjX

— Jessie (@Jessie_Gaudard) February 7, 2016
#13. This 9-year-old who's got your back.
When your 9 year old sister see your ex with a new bitch ??? pic.twitter.com/7PJ3DWdn70

— QUEEN KONG (@dbillli) July 31, 2016
#14. This youngster who found an unattended shopping list.
My brother & his wife left a shopping list unattended, their 6-year-old son got to it, and … pic.twitter.com/rllANtRweL

— Anne B (@abroshar) March 26, 2016
#15. And this devious trick.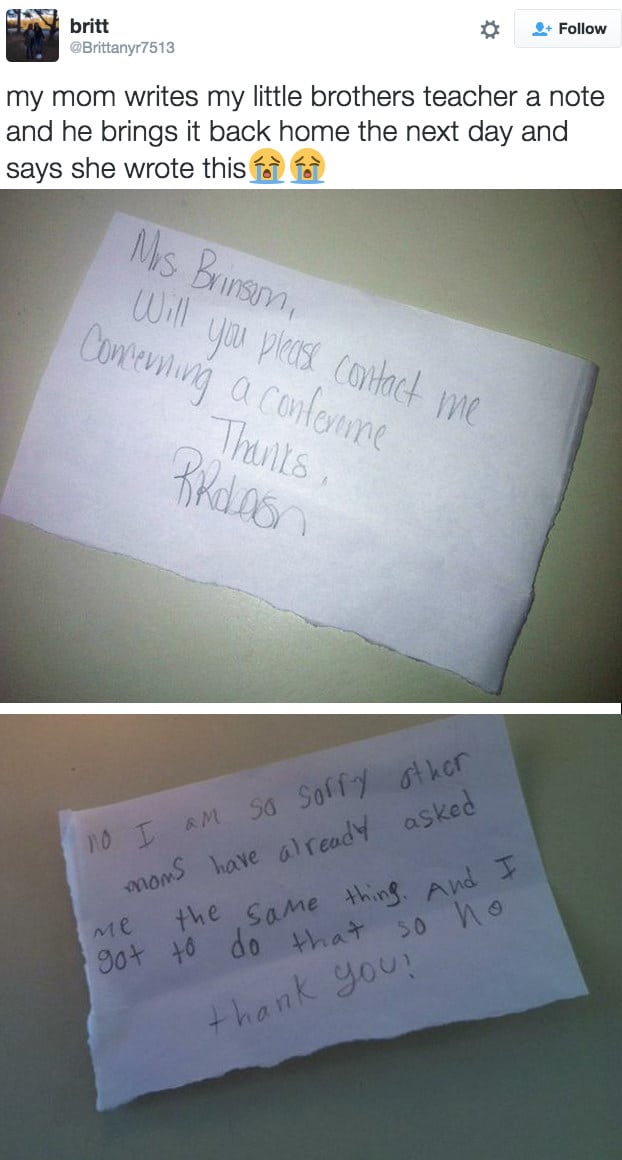 You May Also Like