Sophia Weaver was born with deformities on her face, hands, and feet. She was diagnosed with Rett's Syndrome when she was only a year old.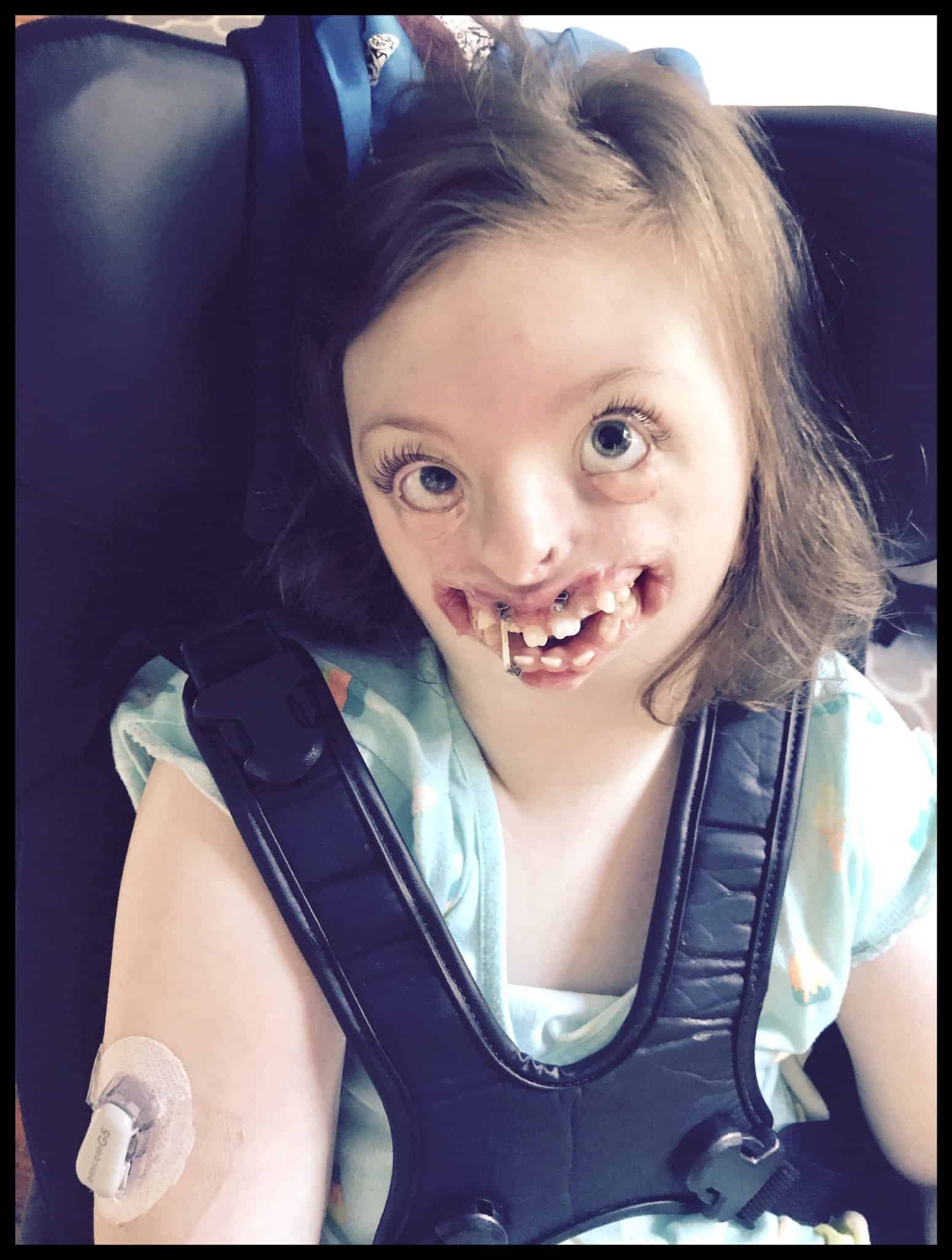 Twitter
Even when Sophia was young, the Weavers were no strangers to nasty comments and bullying because of how their daughter looked.
I'd like to share an email I received the other day. This able-bodied woman w/ a healthy able-bodied child decided to send me her hateful judgments. This is significant because it's the 1st email I've received that wasn't kind. The hate I've received has been on social media. pic.twitter.com/CROUAjwytN

— Natalie Weaver (@Nataliew1020) February 18, 2018
"She's had 22 surgeries. She has seizures and choking spells because of both the deformities and the Rett syndrome", her mom Natalie said.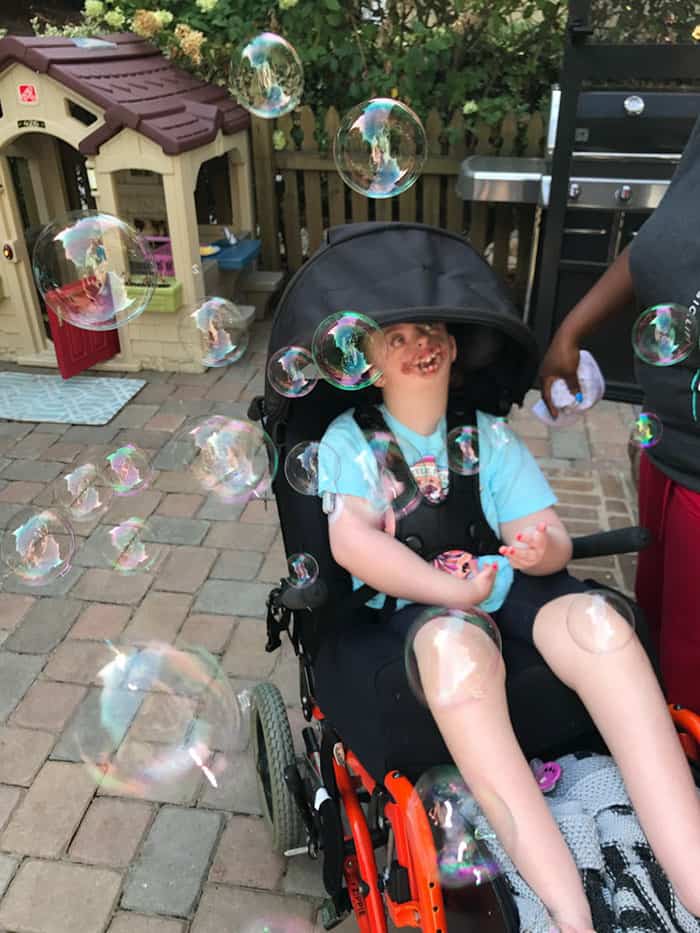 Twitter
This condition makes caring for Sophia a 24/7 job. Though it's tough, the Weavers love Sophia and have done everything to give her a comfortable life.
#TrueHappiness is watching the beautiful impact my #SweetSophia has on her little brother and sister pic.twitter.com/eY2jZ5Yfd7

— Natalie Weaver (@Nataliew1020) February 17, 2018
Wheelchair fun with their Sister? #SweetSophia pic.twitter.com/xyzuZJxhDa

— Natalie Weaver (@Nataliew1020) February 26, 2018
So when Natalie found out that a troll on Twitter used Sophia's face as the poster image for an abortion campaign, she was furious. The bully even tagged her Twitter handle so she would get hateful messages.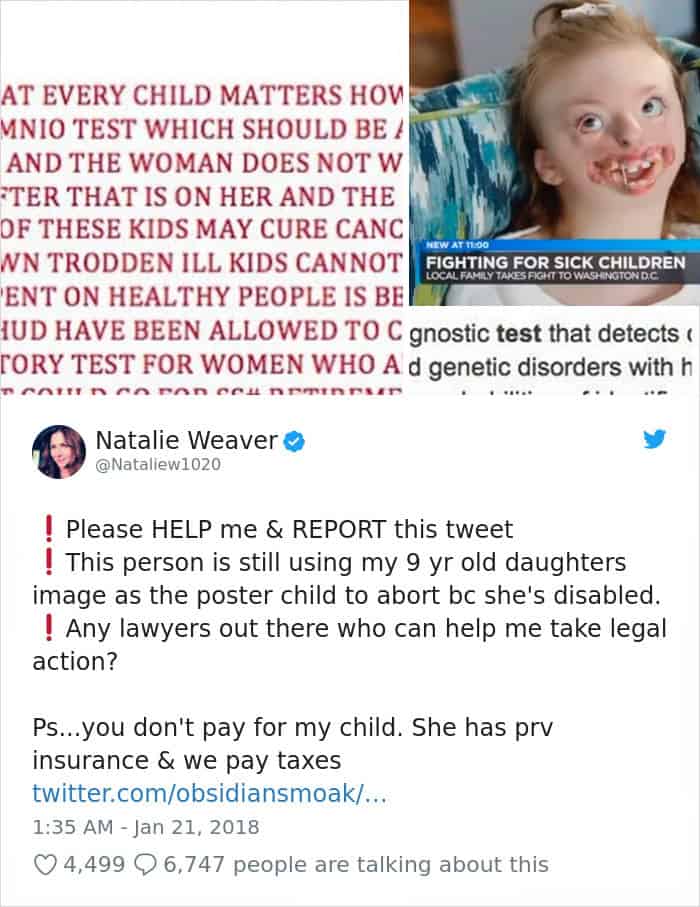 Twitter
So she did what any loving mother would do — she decided to fight back until Twitter took down the post. Initially, Twitter replied to her by saying that the post didn't violate any terms and conditions, but Natalie didn't give up.
She kept speaking out about the issue until her voice was heard. She had many supporters who backed her up and Twitter eventually responded by apologizing and taking down the post.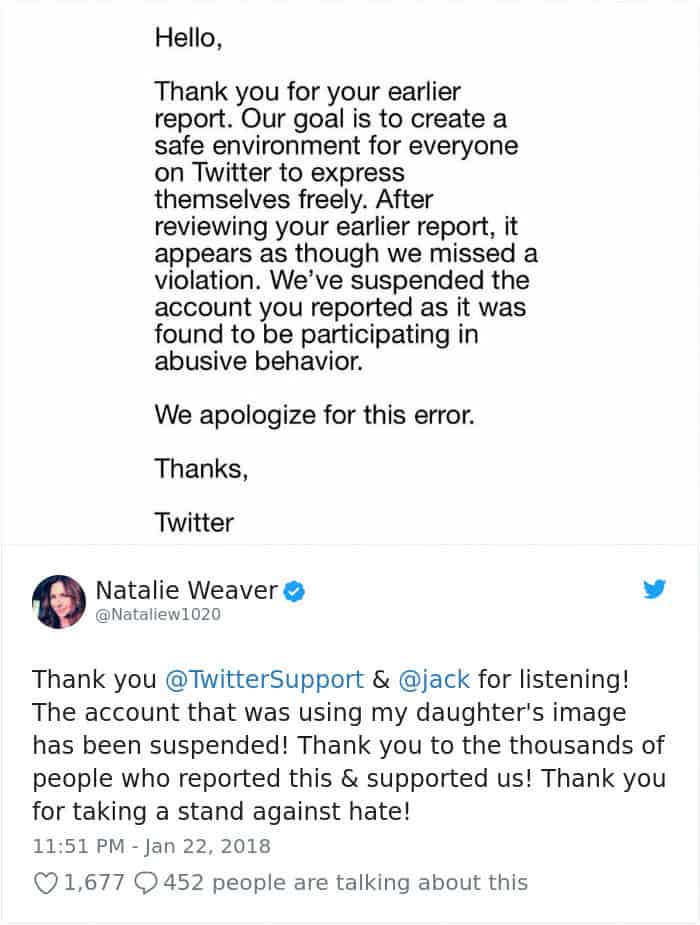 Twitter
Natalie has since become an advocate for children with complex medical needs and disabilities and founded Advocates for Medically Fragile Kids in North Carolina.
Sophia has a full life thanks to prv ins and 2ndary Medicaid, which is why I became an advocate & I fight for it. Up until 2 yrs ago, I was very private because the cruelty we experienced was too painful. I found my calling in being her mom & now in being an activist pic.twitter.com/s4NpmnjuKz

— Natalie Weaver (@Nataliew1020) February 11, 2018
She continues to speak out and give support to those who deal with the same issues like bullying.
I'm really getting used to this. It doesn't hurt anymore. Bring on your vile trash & hate because it will not stop me or shut me up! I won't hide away again bc society doesn't accept ppl with deformities. I'll continue to raise awareness & make your tiny mind uncomfortable. pic.twitter.com/h4DBqCJXLU

— Natalie Weaver (@Nataliew1020) March 9, 2018
Sophia is now 9-years-old and Natalie and her family continue to give her the love and care that she needs and deserves. This just goes to show how a mother would do anything to protect her child.
Sophia is unable to say words but this does not mean that she cannot communicate. She is very expressive and uses various methods to communicate. Check out those big dimples under her eyes when she is happy. She uses her expressive eyes & emotions to tell us things. #SweetSophia pic.twitter.com/fT0o3tjmRl

— Natalie Weaver (@Nataliew1020) March 3, 2018