#1. July 1863 — Battlefield at Gettysburg.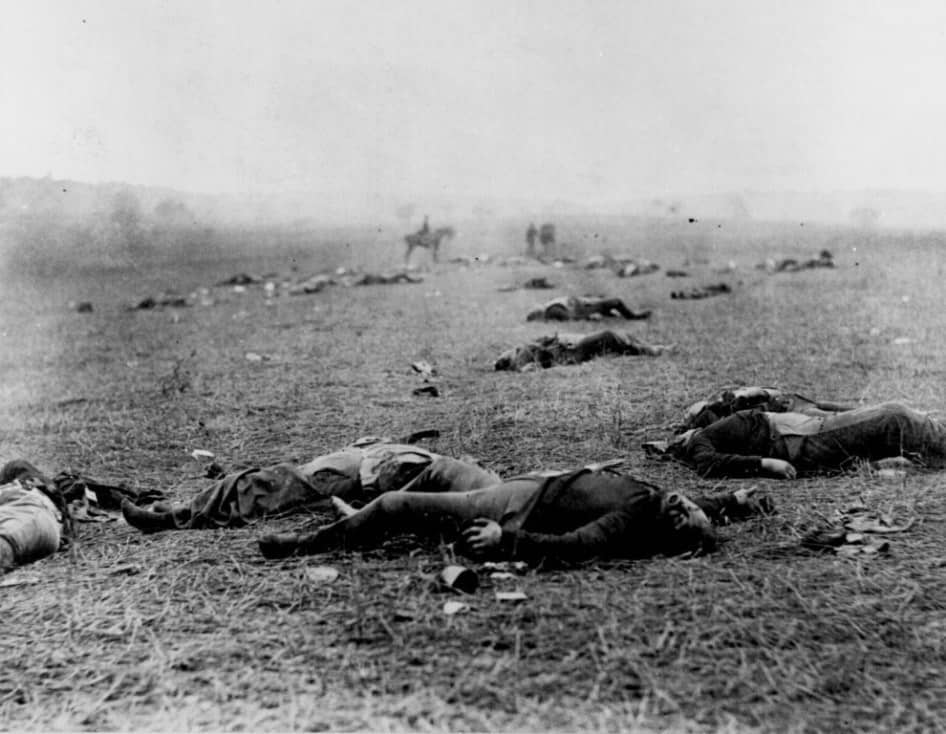 Public Domain
Dead soldiers lie on the battlefield at Gettysburg, Pennsylvania, where more than 50,000 Union and Confederate troops were killed, injured, or captured during the Civil War.
#2. April 1906 — Destruction after the San Francisco earthquake.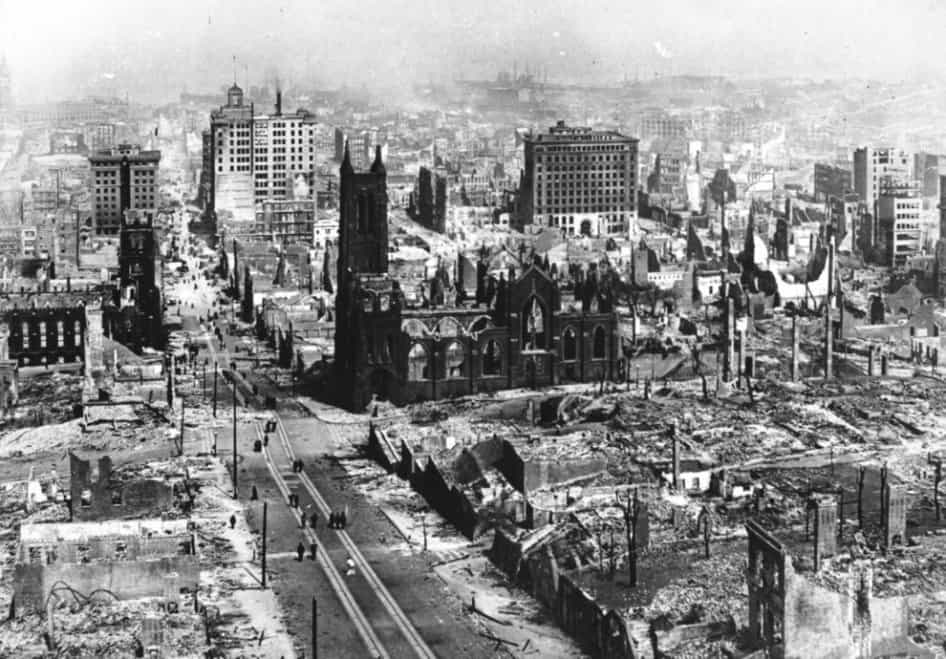 Public Domain / Via AP
The severe damage of an earthquake in San Francisco is shown throughout the city. The earthquake spurred a devastating firestorm that claimed the lives of about 3,000 people and destroyed about 80% of San Francisco.
#3. Nov. 19, 1863 — Lincoln delivers the Gettysburg Address.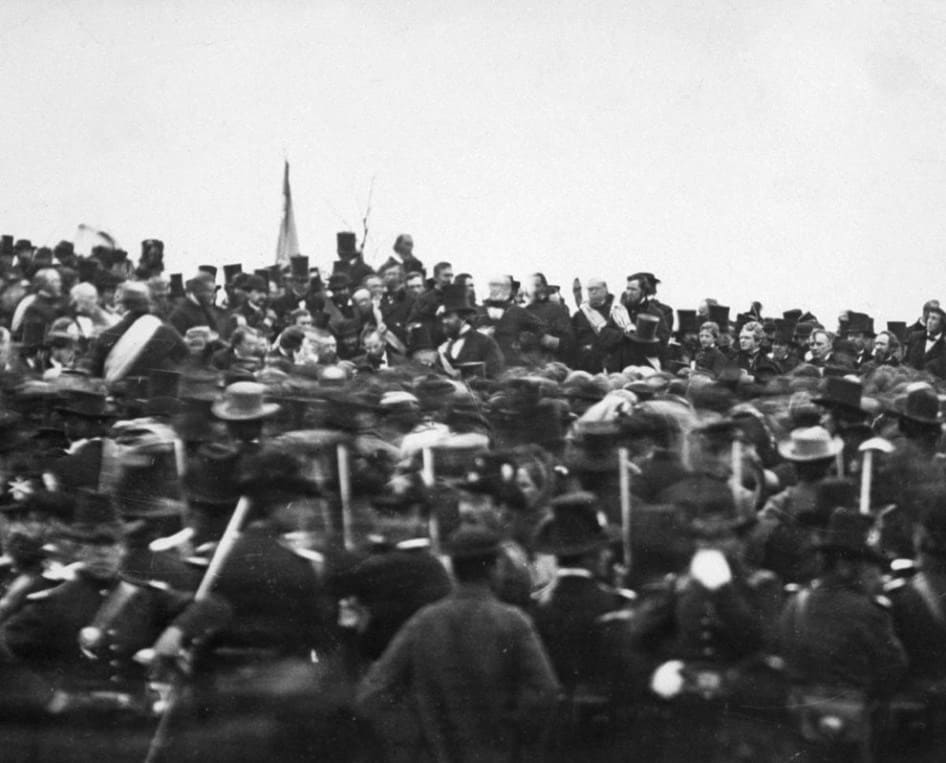 Matthew Brady &Company / Keya Morgan Collection, LincolnImages
Crowds gather around President Abraham Lincoln in Gettysburg, Pennsylvania, as he prepares to deliver his famous Gettysburg Address.
#4. 1870 — Bison skulls used as fertilizer.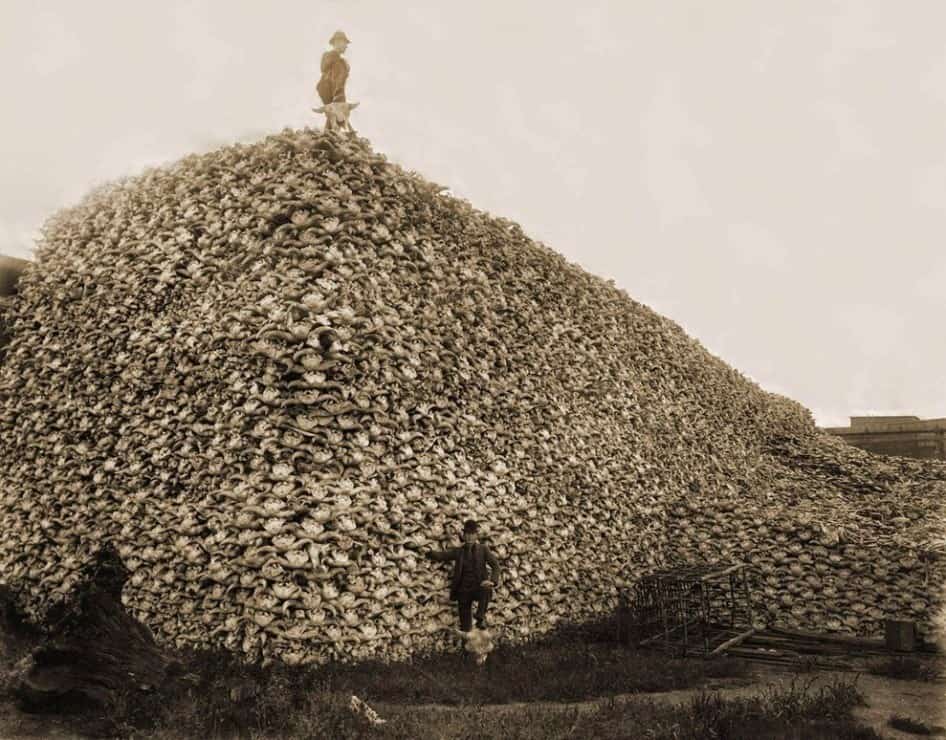 Public Domain
In the 19th century, American bison were hunted to near extinction. Entrepreneurs and hunters killed the animals for their prized skins and left their bodies behind to decay. In this picture, a poacher is seen standing on a pile of around 100,000 bison skulls.
#5. Dec. 17, 1903 — Flight at Kitty Hawk.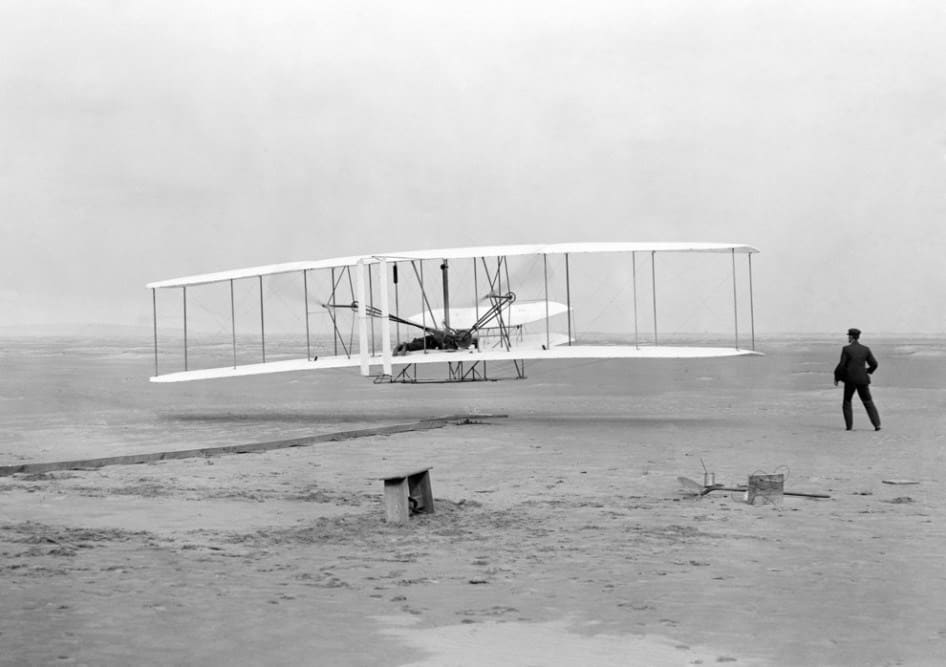 John T. Daniels / AP
Orville Wright is seen manning the controls on the lower wing, piloting the Wright Flyer on the first powered flight ever. In the moments before the plane was airborne, his brother, Wilbur Wright, on the ground, guided and steadied the plane as it accelerated along the starting rail at left.
#6. March 1936 — "Migrant Mother".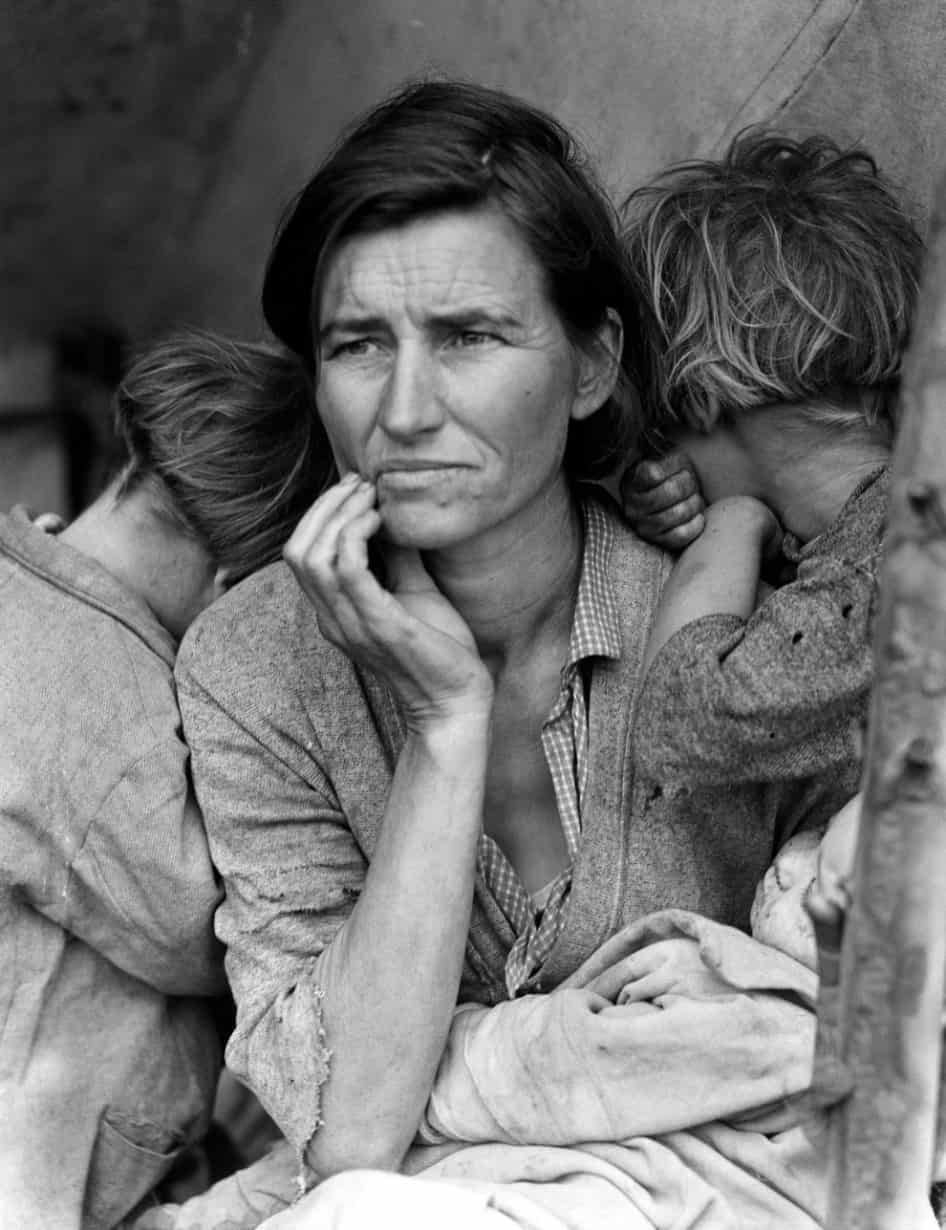 Dorothea Lange / Public Domain
During the height of the Great Depression, photographer Dorothea Lange came across a camp of 2,500 destitute campers and snapped this photo. Known as "Migrant Mother," the photo came to define America's Great Depression era.
#7. May 6, 1937 — Hindenburg disaster.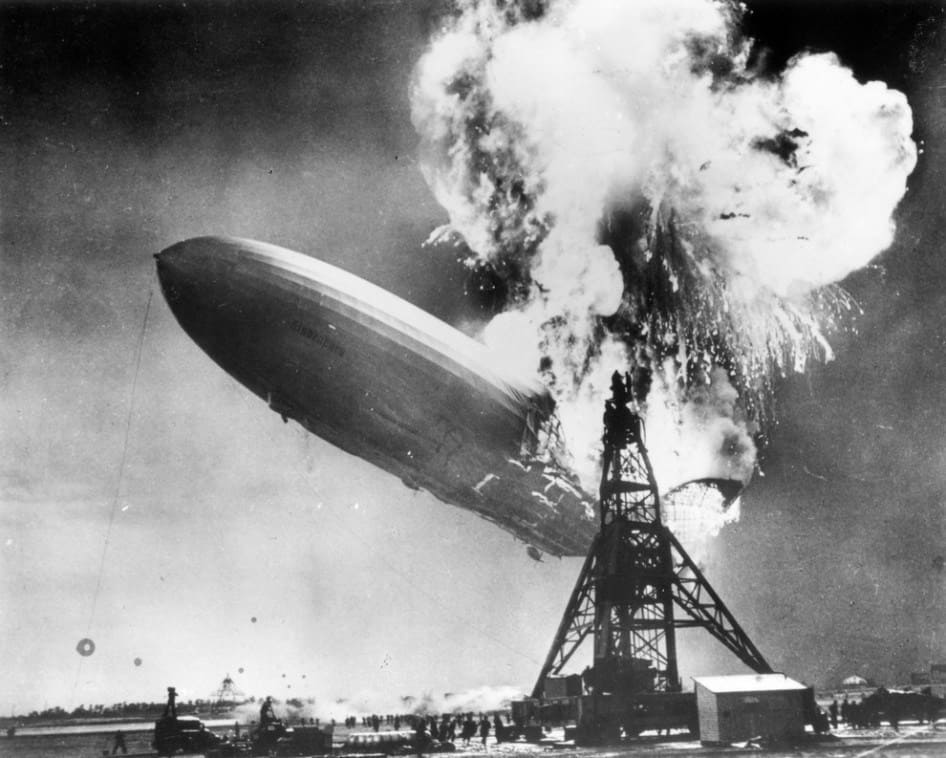 Sam Shere / Getty Images
The passenger-carrying airship Hindenburg is seen at the moment of exploding midair in Lakehurst, New Jersey. The disaster claimed the lives of 36 and marked the end of the era of passenger-carrying airships.
#8. June 6, 1944 — Allies invade Normandy.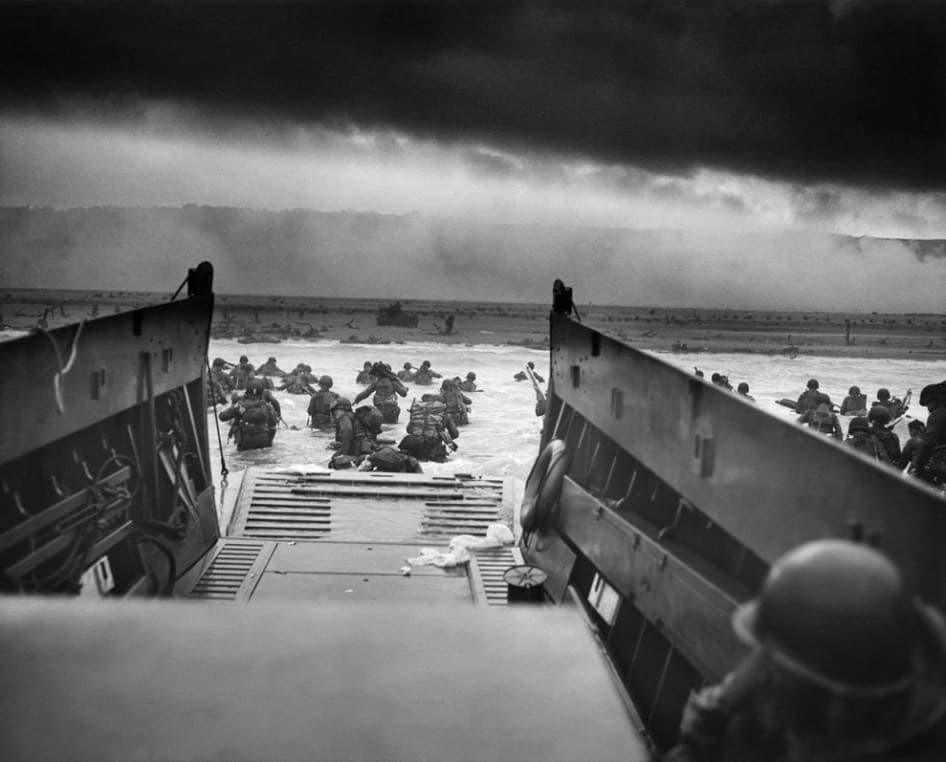 Public Domain / Via en.wikipedia.org
A military vehicle called an LCVP disembarks troops of Company E, 16th Infantry, 1st Infantry Division (the Big Red One) onto Omaha Beach in Normandy, France. This remarkable act of heroism sought to liberate France from Hitler's grasp and end World War II in Europe. During the initial landing, two-thirds of Company E became casualties.
#9. Feb. 23, 1945 — Raising the American flag on Iwo Jima.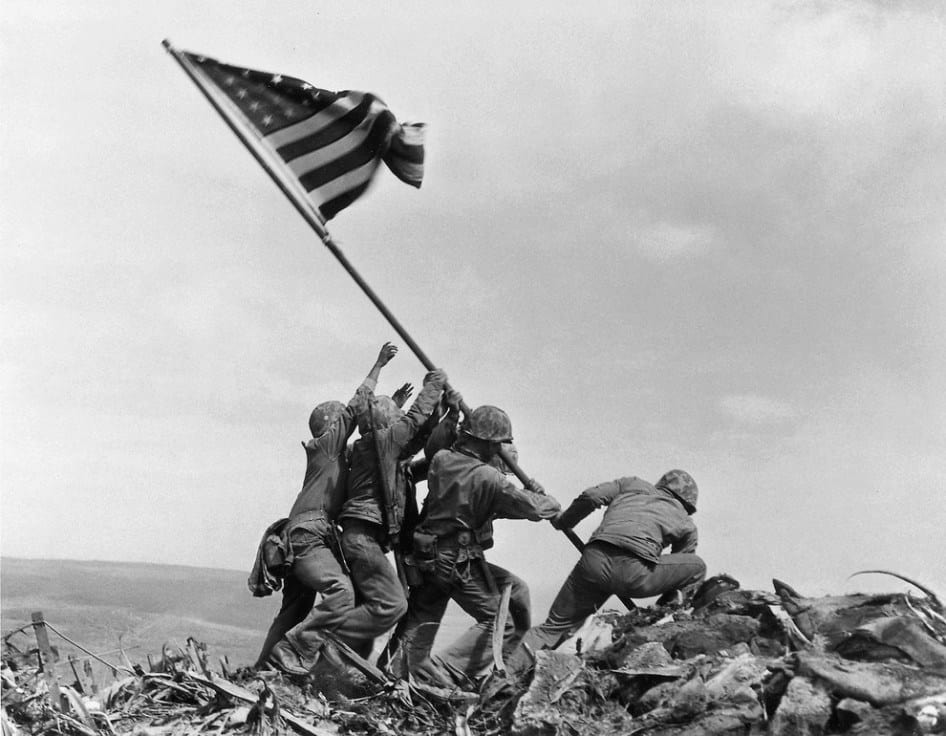 Joe Rosenthal / AP
Taken on the island of Iwo Jima, Japan, U.S. Marines and a United States Navy hospital corpsman, raise a U.S. flag atop Mount Suribachi. These men fought alongside more than 70,000 Marines, sailors, and airmen on Iwo Jima, a tiny eight-square-mile speck of volcanic rock and sand midway between Guam and Tokyo, during the closing months of World War II. Three of the Marines depicted in this picture were killed in the following days.
#10. August 1945 — The bombing of Hiroshima and Nagasaki.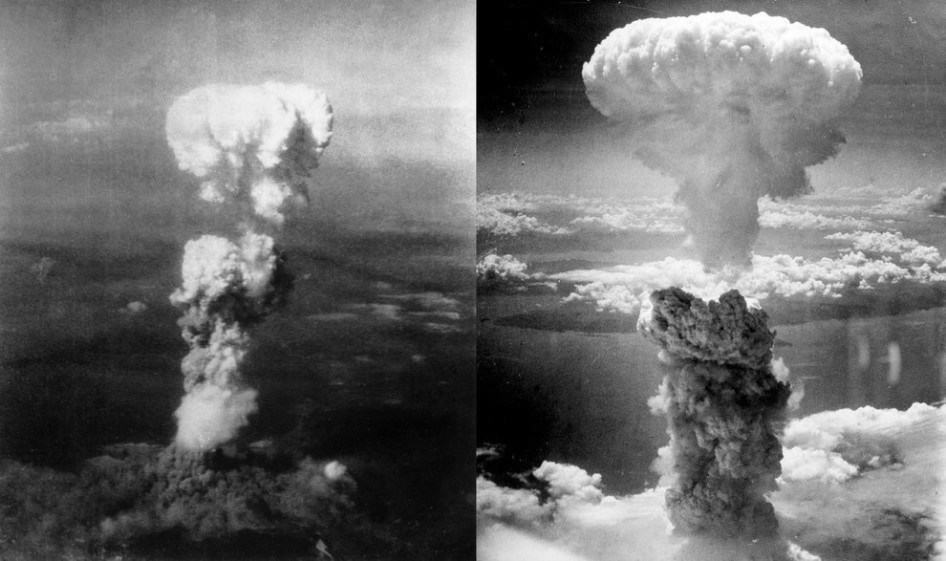 Public Domain
In these photos taken from U.S. military aircraft, atomic mushroom clouds are seen rising over the Japanese cities of Hiroshima and Nagasaki as the atom bombs leveled everything to the ground. The picture on the left is of Hiroshima, bombed on Aug. 6, 1945, while the picture on the right shows the Nagasaki bombing on Aug. 9, 1945. The bombs killed nearly 160,000 people in Hiroshima and another 75,000 in Nagasaki.
#11. 1945 — V-J Day in Times Square.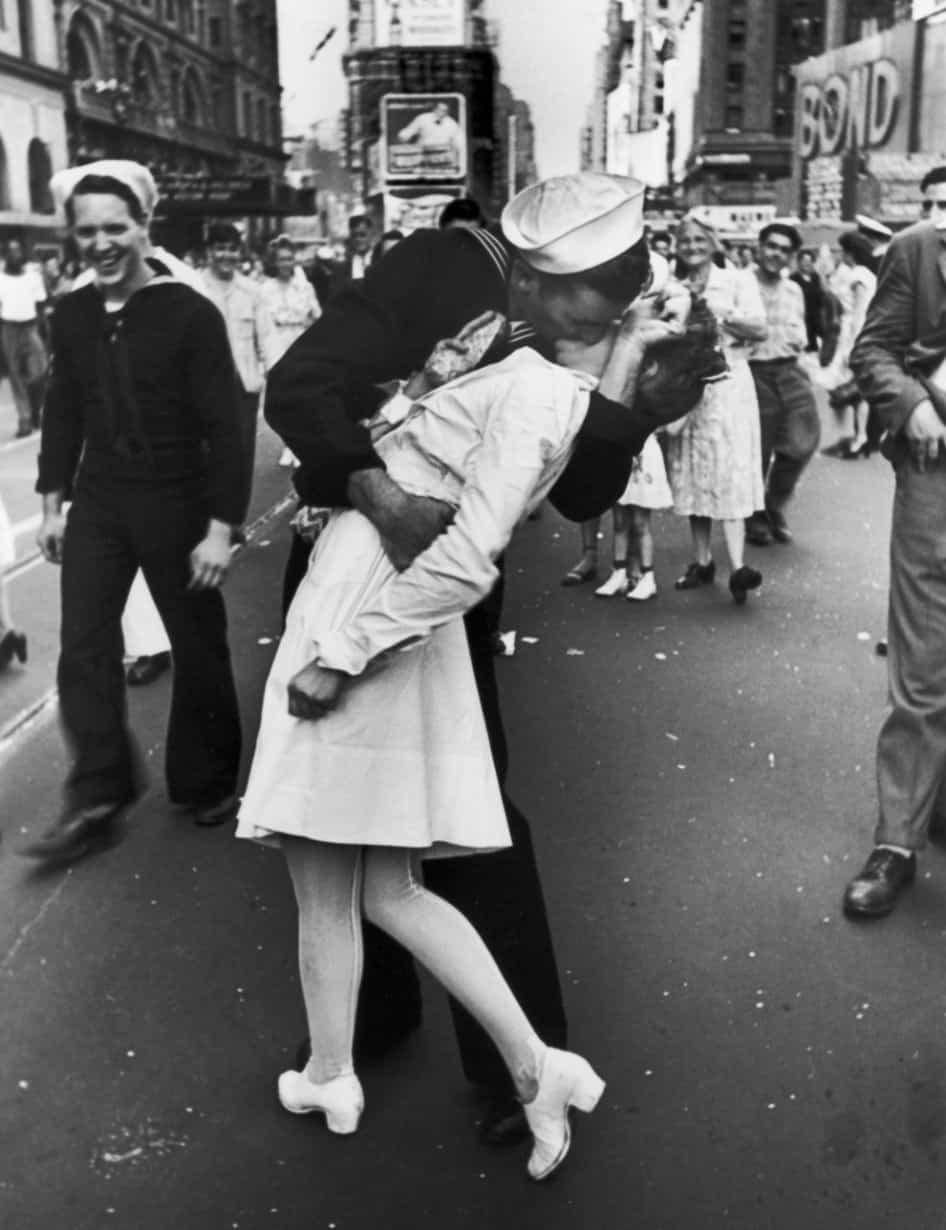 Alfred Eisenstaedt/The LIFE Picture Collection / Getty Images
An American sailor passionately kisses a nurse as thousands jam into Times Square to celebrate the long-awaited victory over Japan in World War II.
#12. 1955 — Rosa Parks mugshot.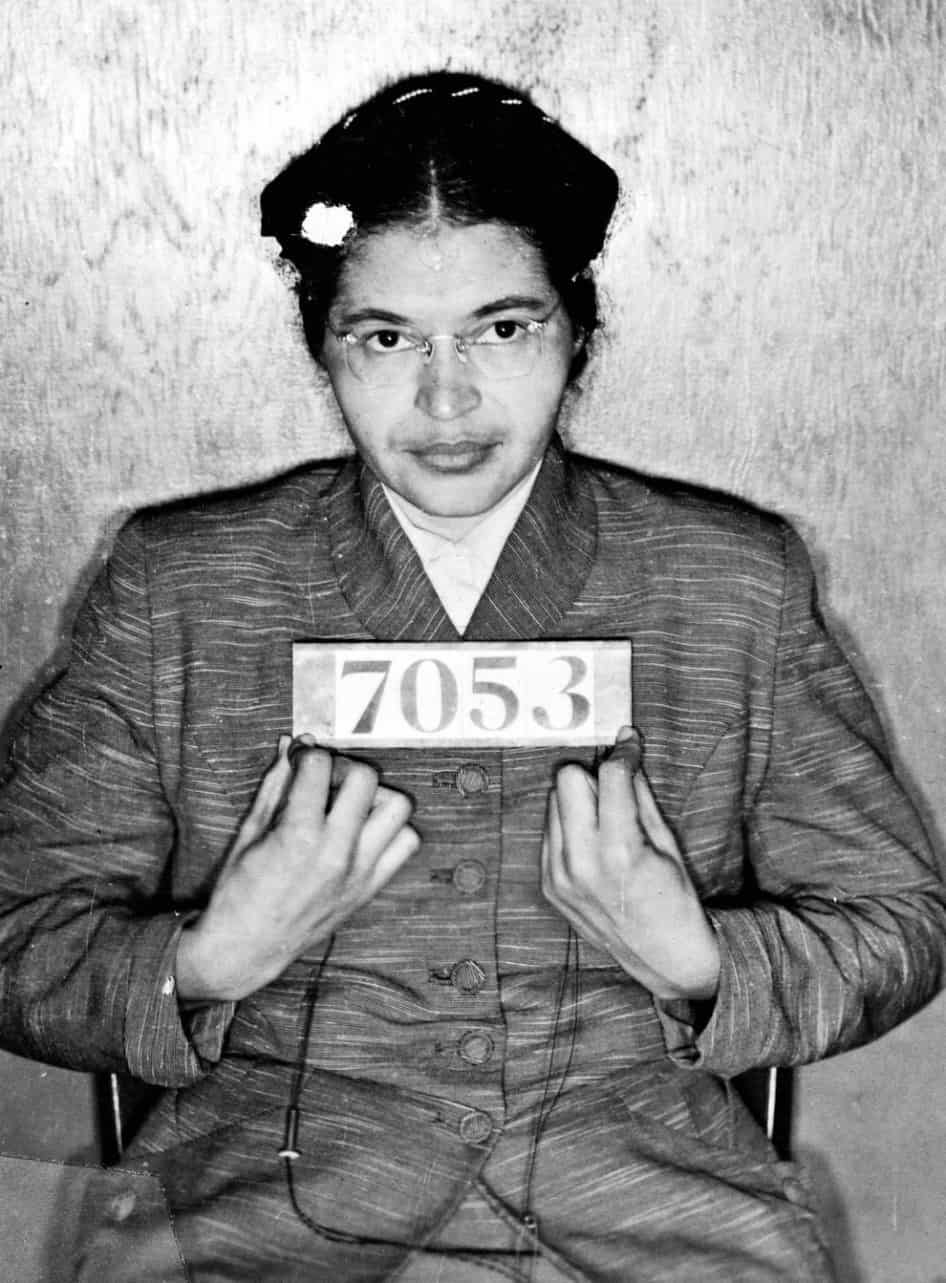 Universal History Archive / Getty Images
Rosa Parks is seen in her Montgomery county mugshot after being arrested for refusing to give up her seat on a public bus to a white passenger. The actions of Rosa Parks and the subsequent Montgomery Bus Boycott became important symbols of the Civil Rights Movement during the mid-20th century.
#13. 1957 — Little Rock Nine.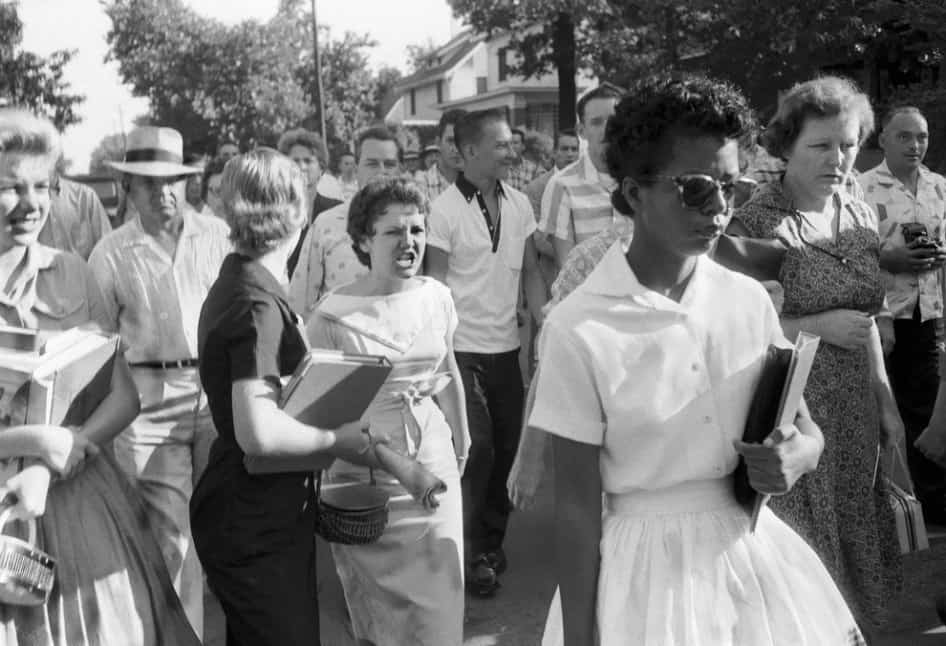 Will Counts Collection / Indiana University Archives
Elizabeth Eckford of what became known as "The Little Rock Nine" is seen being followed and threatened by an angry white mob on her way to class, as one of the first African-American students to ever attend classes at Little Rock Central High School in Little Rock, Arkansas.
#14. Aug. 28, 1963 — Martin Luther King Jr.'s "I Have a Dream" speech.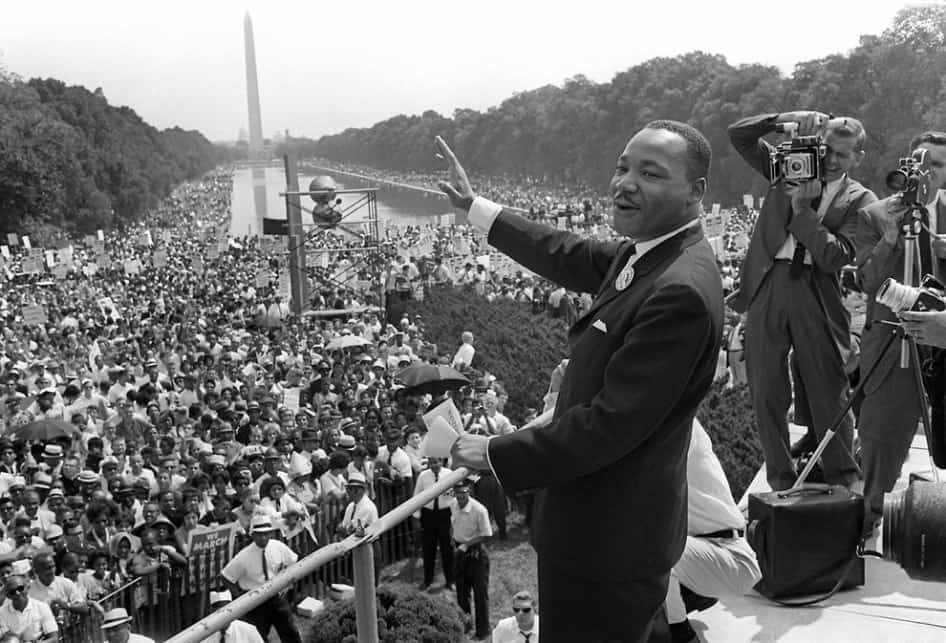 Afp / AFP / Getty Images
U.S. civil rights leader Martin Luther King waves to supporters from the steps of the Lincoln Memorial moments after delivering his iconic "I Have a Dream" speech on Aug. 28, 1963, during the March on Washington.
#15. Nov. 22, 1963 — Assassination of President John F. Kennedy.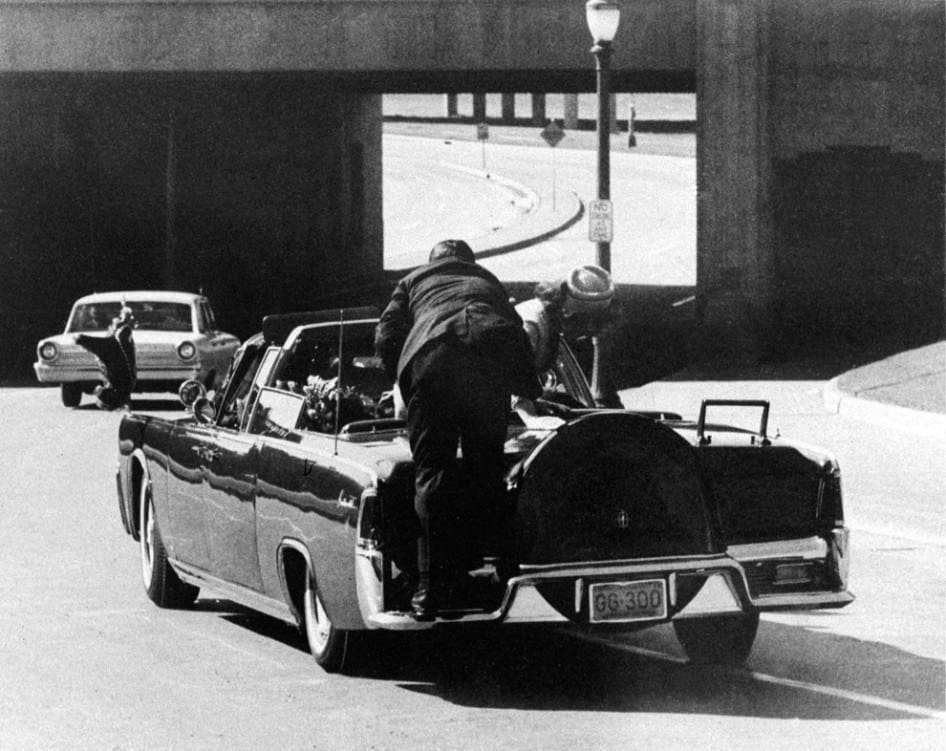 James W. Ike Altgens / AP
President John F. Kennedy slumps down in the backseat of his presidential limousine in Dallas after being fatally shot by a sniper. First lady Jacqueline Kennedy leans over the president as Secret Service agent Clint Hill pushes her back to her seat. "She's going to go flying off the back of the car," Hill thought as he tried to secure the first lady.
#16. Nov. 22, 1963 — Lyndon B. Johnson is sworn in as president of the United States.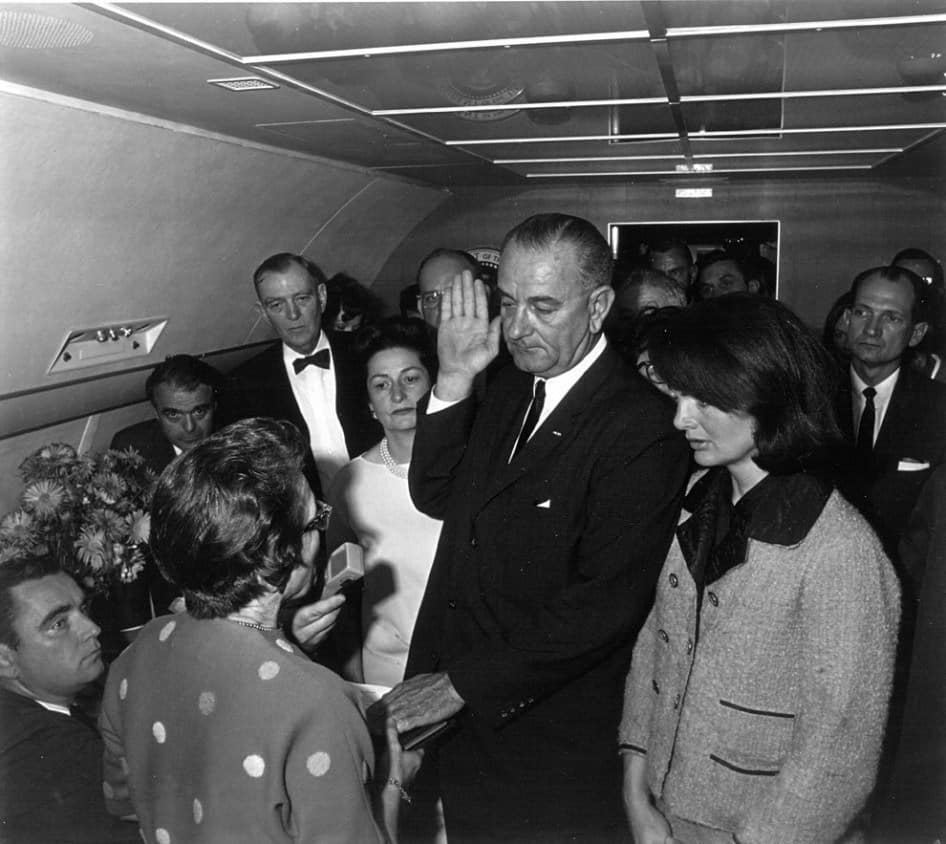 National Archives / Getty Images
Lyndon B. Johnson takes the oath of office as president of the United States, shortly after the assassination of President John F. Kennedy in Dallas. Jackie Kennedy stands to Johnson's left as he is sworn in.
#17. Nov. 25, 1963 — Burial of John F. Kennedy.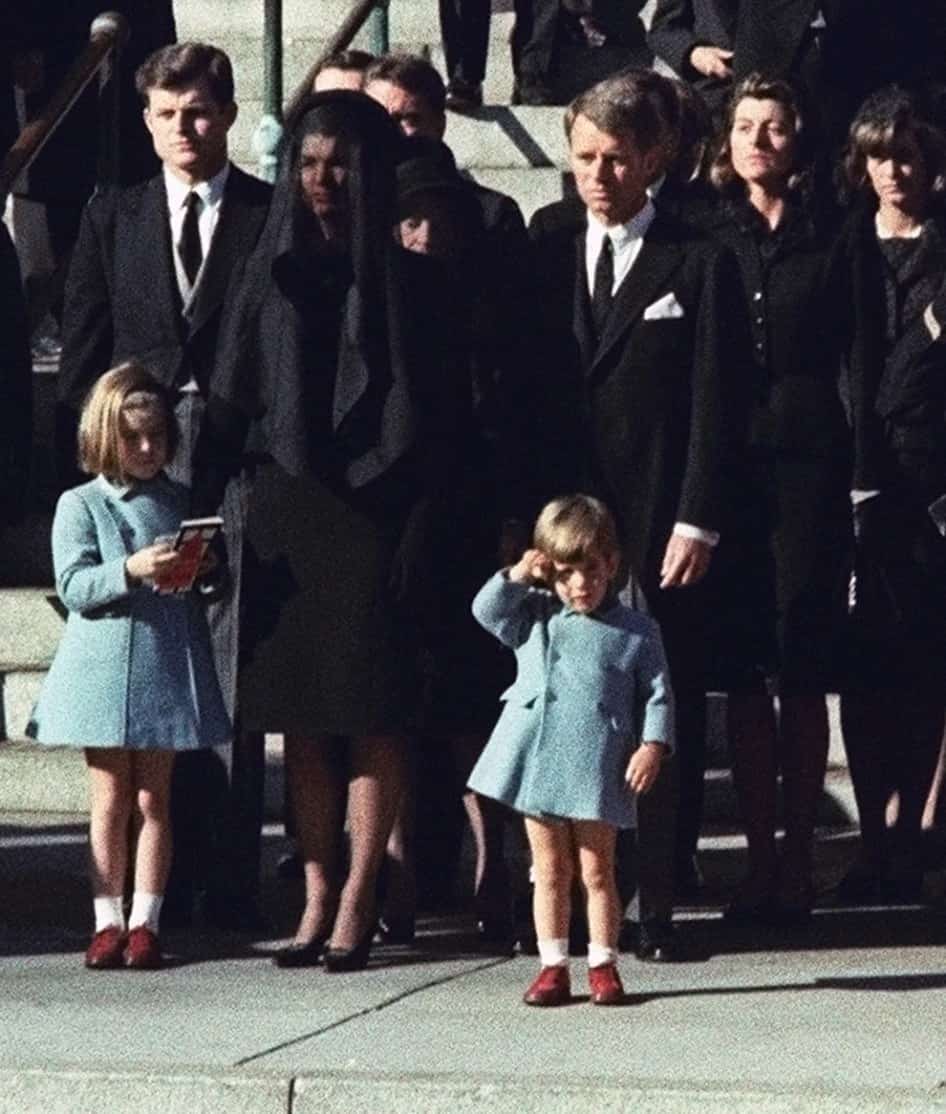 AP Photo
In this picture taken on Nov. 25, 1963, 3-year-old John F. Kennedy Jr. salutes his father's casket in Washington, three days after the president was assassinated.
#18. May 25, 1965 — Muhammad Ali vs. Sonny Liston.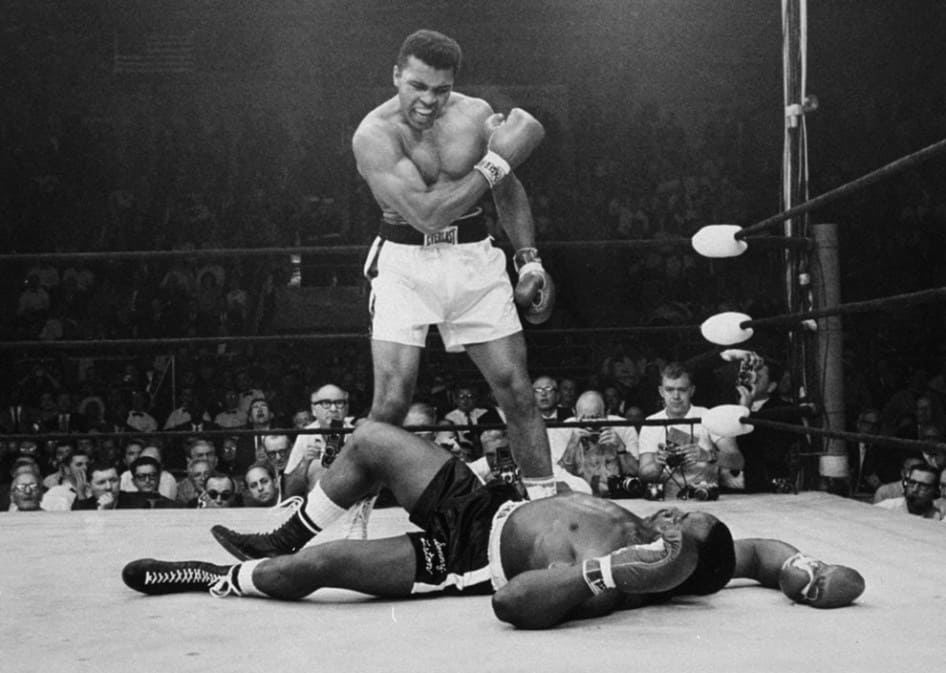 John Rooney / AP
Heavyweight champion Muhammad Ali stands over fallen challenger Sonny Liston, shortly after dropping Liston with a short hard right to the jaw. The bout lasted only one minute into the first round.
#19. June 1965 — "War Is Hell".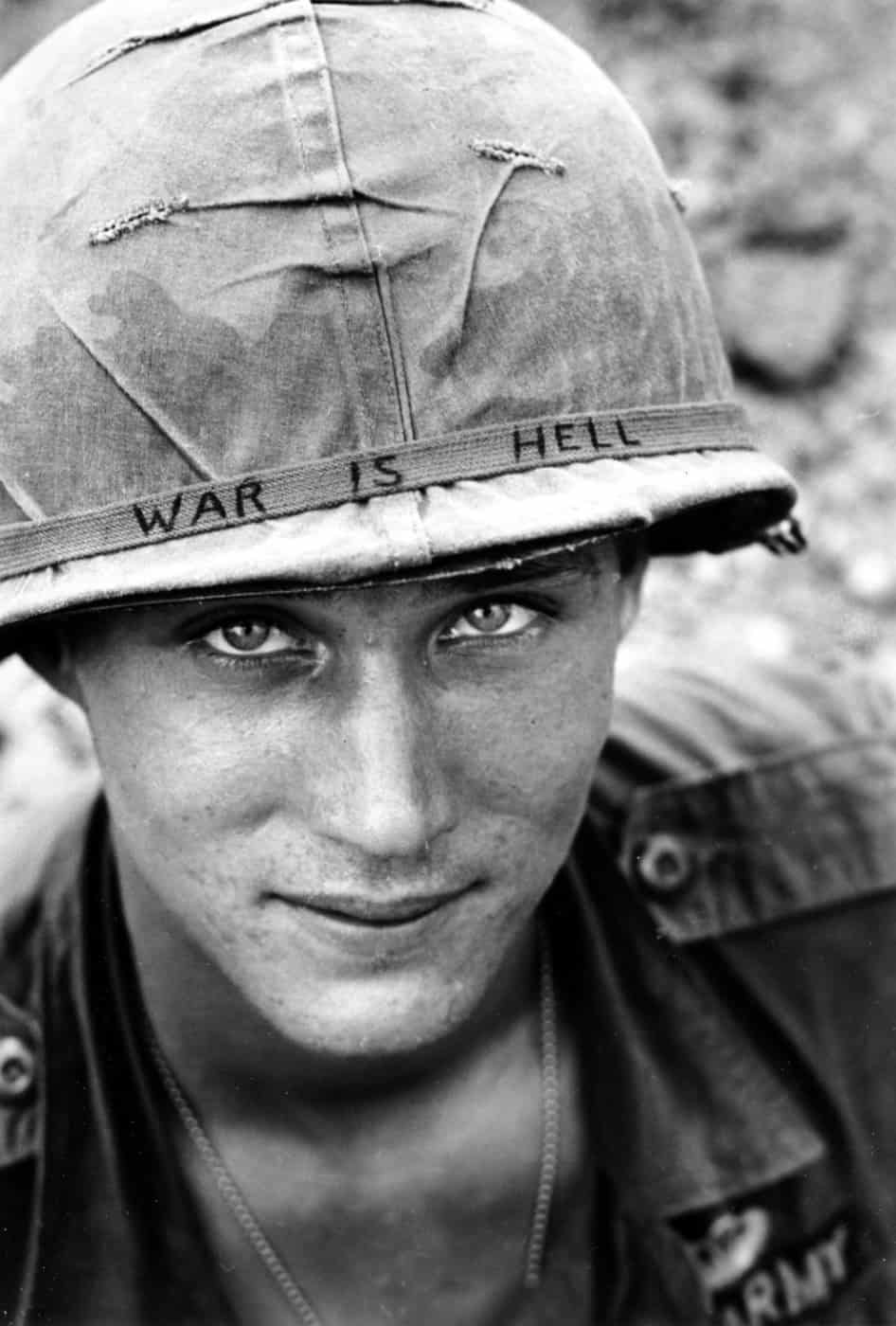 Horst Faas / AP
An unidentified U.S. Army soldier wears a hand-lettered "War Is Hell" slogan on his helmet, a phrase that became popular during the Vietnam War.
#20. June 6, 1966 — James Meredith and his March Against Fear.

Jack Thronell / AP
Civil rights activist James Meredith grimaces in pain as he pulls himself across Highway 51 after being shot in Hernando, Mississippi, on June 6, 1966. Meredith, who defied segregation to enroll at the University of Mississippi in 1962, completed his protest march from Memphis, Tennessee, to Jackson, Mississippi, after receiving treatment for his wounds.
#21. Oct. 26, 1967 — "Flower Power".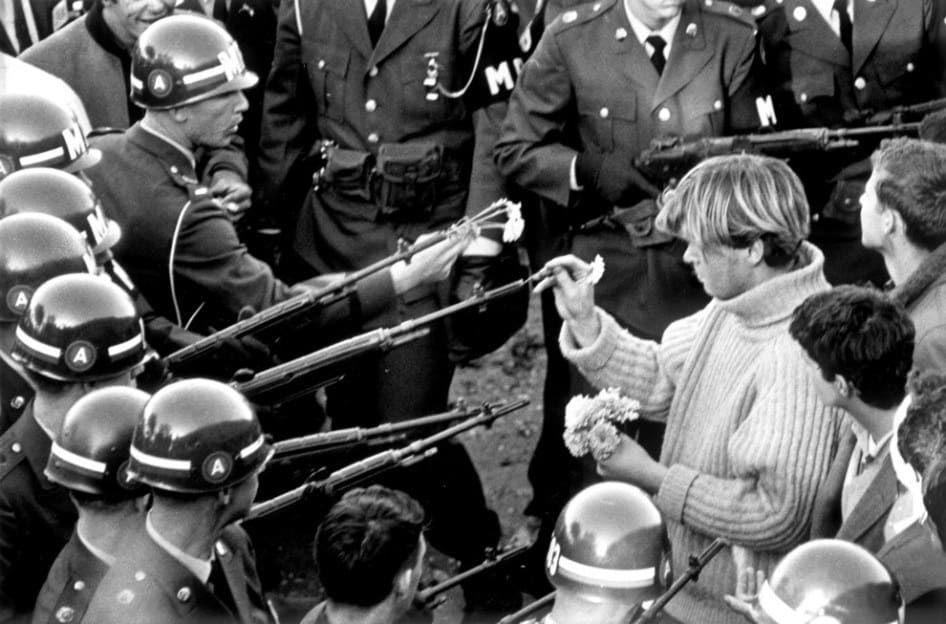 The Washington Post / Getty Images
Antiwar demonstrators tried "flower power" on MPs blocking the Pentagon in Arlington, Virginia, on Oct. 26, 1967.
#22. April 4, 1968 — Assassination of Martin Luther King Jr.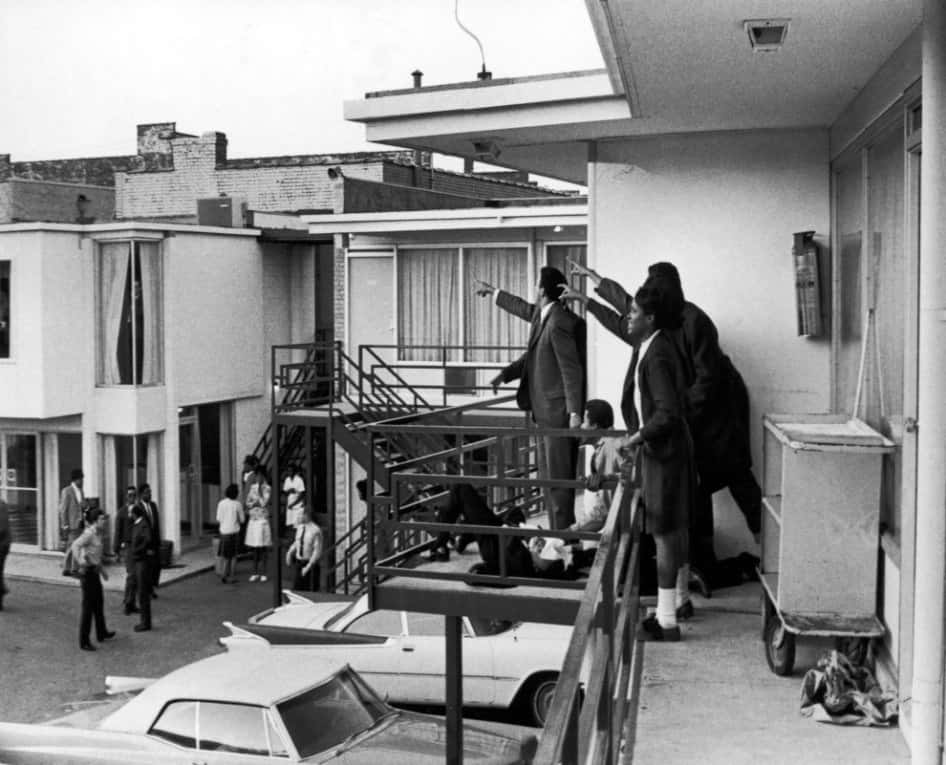 Joseph Louw / The LIFE Images Collection / Getty
Ralph Abernathy, Jesse Jackson, and others stand on the balcony of the Lorraine Motel and point in the direction of gunshots that killed American civil rights leader Martin Luther King Jr. in Memphis.
#23. Oct. 16, 1968 — "Black Power" salute.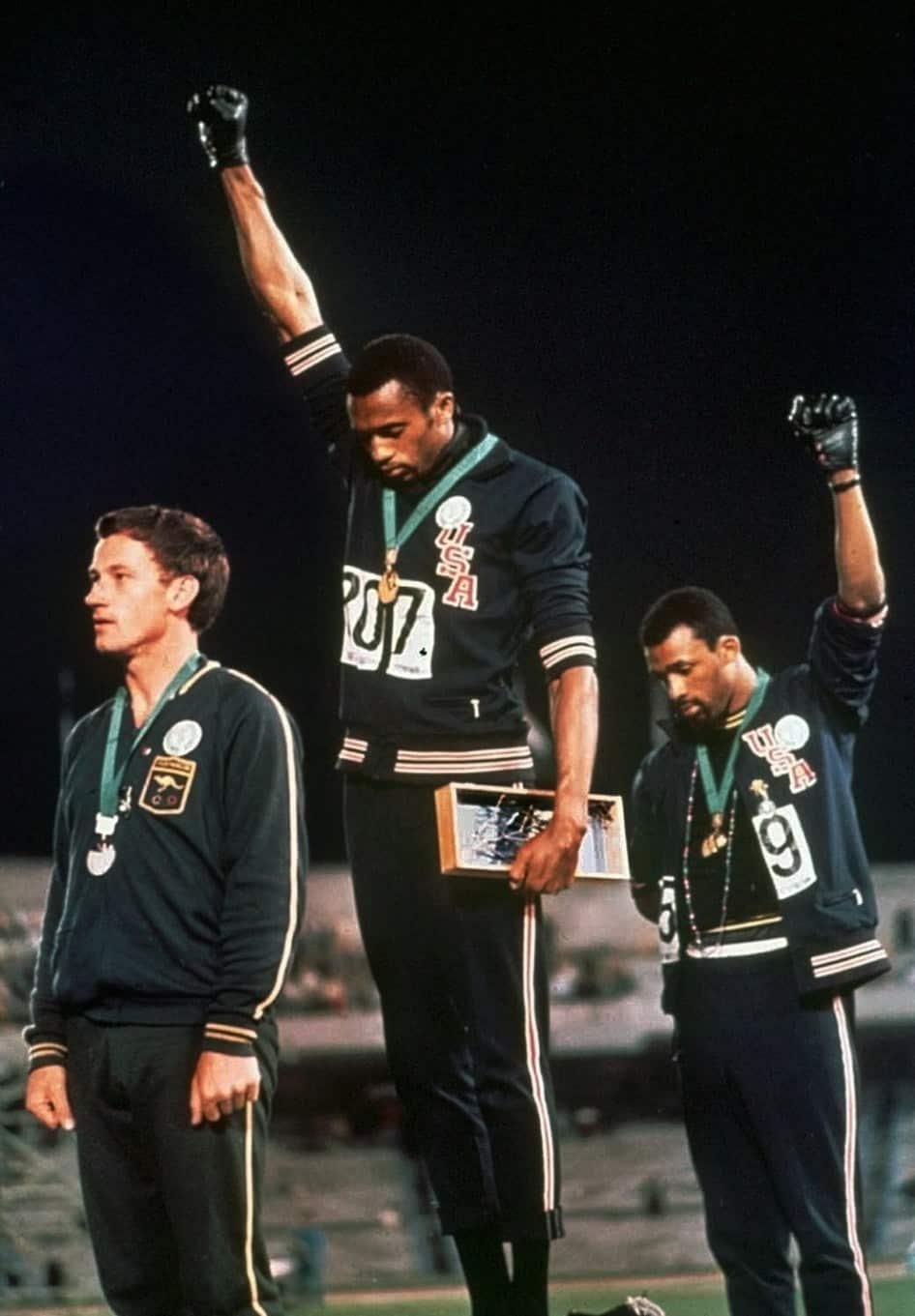 AP Photo
Extending gloved hands skyward in racial protest, U.S. athletes Tommie Smith and John Carlos stare downward during the playing of "The Star-Spangled Banner" after Smith received the gold and Carlos the bronze for the 200-meter run at the Summer Olympic Games in Mexico City.
#24. June 6, 1968 — Assassination of Robert F. Kennedy.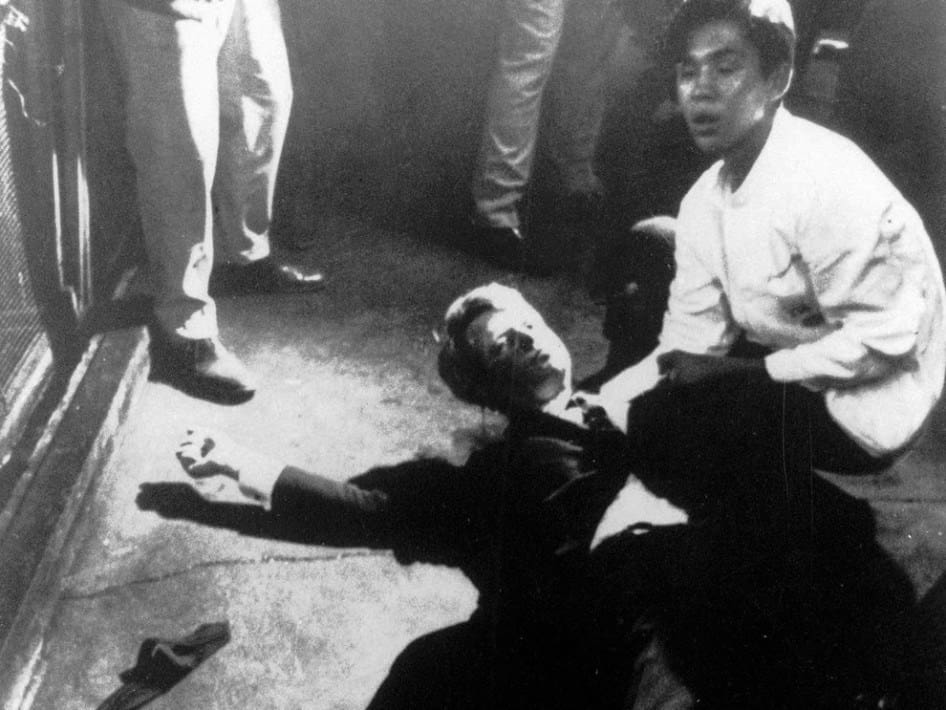 Boris Yaro / Via moma.org
Robert F. Kennedy is comforted by Juan Romero, a busboy at the Ambassador Hotel, after being shot three times by a gunman. He died in the hospital a day later from his wounds. The killer's motive for the murder appears to have been in retaliation of Kennedy's support of Israel.
#25. Dec. 24, 1968 — "Earthrise".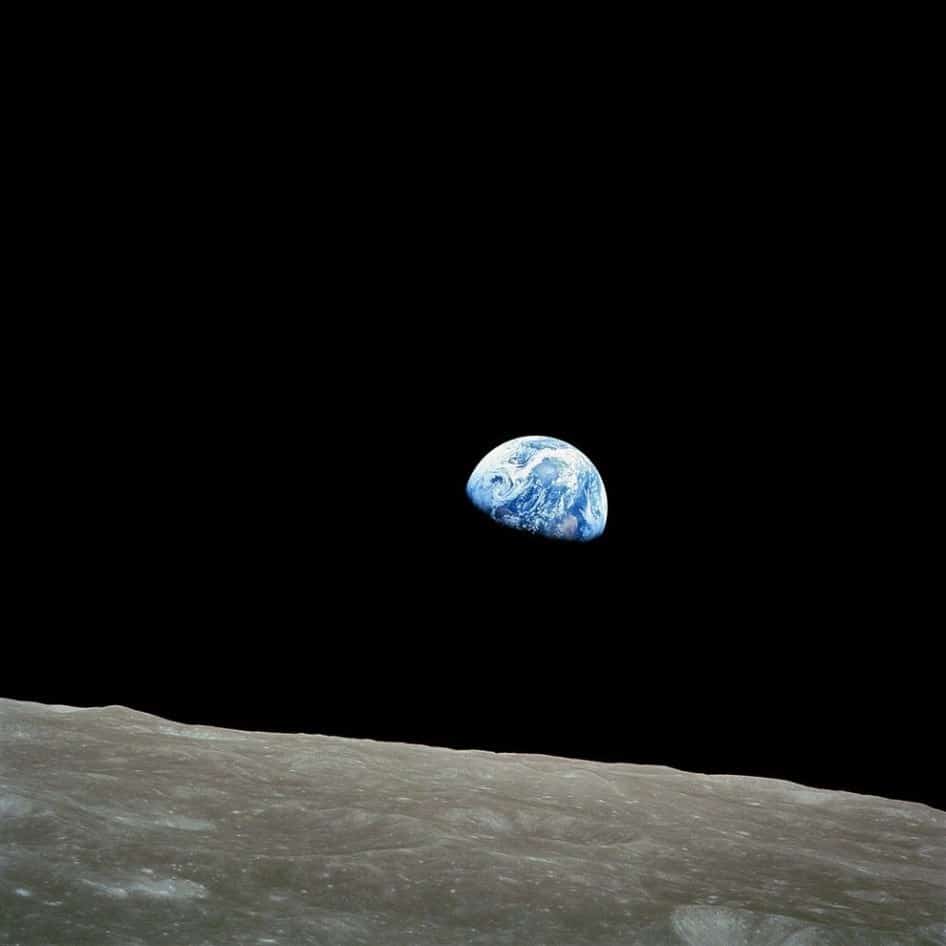 NASA / Bill Anders
Taken by Apollo 8 crew member Bill Anders while in orbit around the moon, this picture shows Earth rising above the lunar horizon.
#26. July 20, 1969 — Astronaut Neil Armstrong.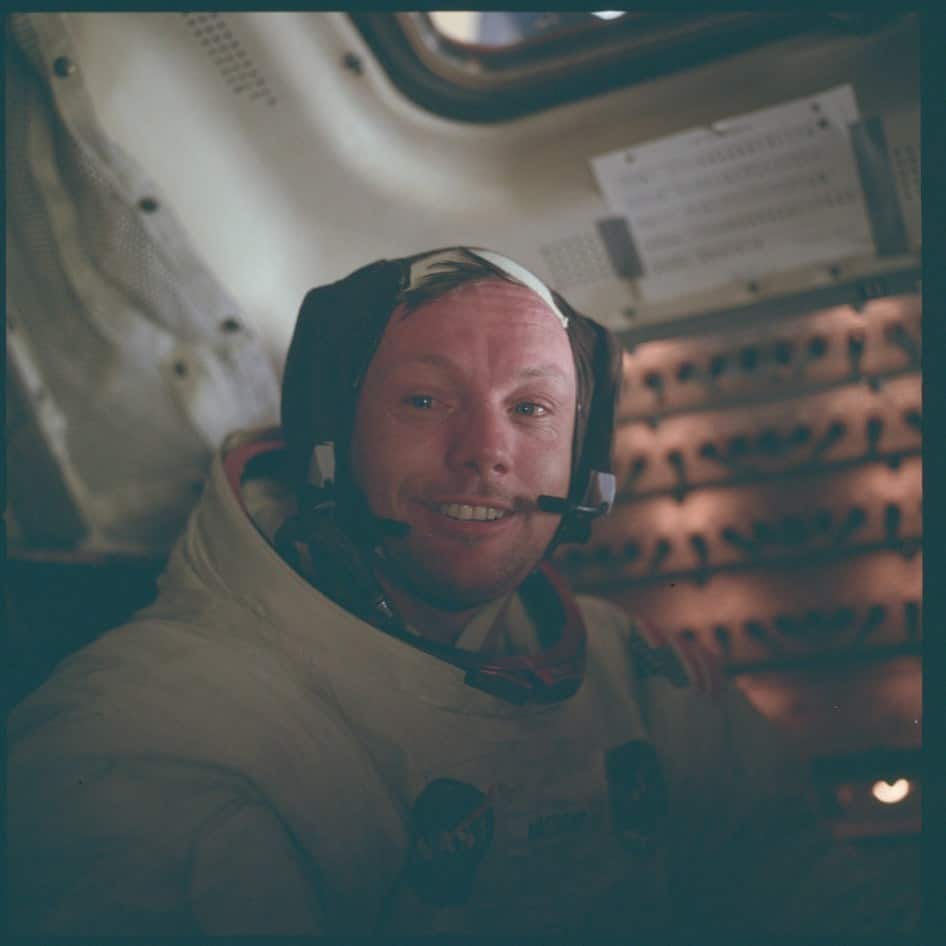 NASA / Project Apollo Archive
Taken moments after Neil Armstrong first walked on the moon during the Apollo 11 flight, the astronaut is seen on verge of tears by what he had just experienced: He was the first human being to ever set foot on the lunar surface.
#27. March 17, 1973 — "Burst of Joy".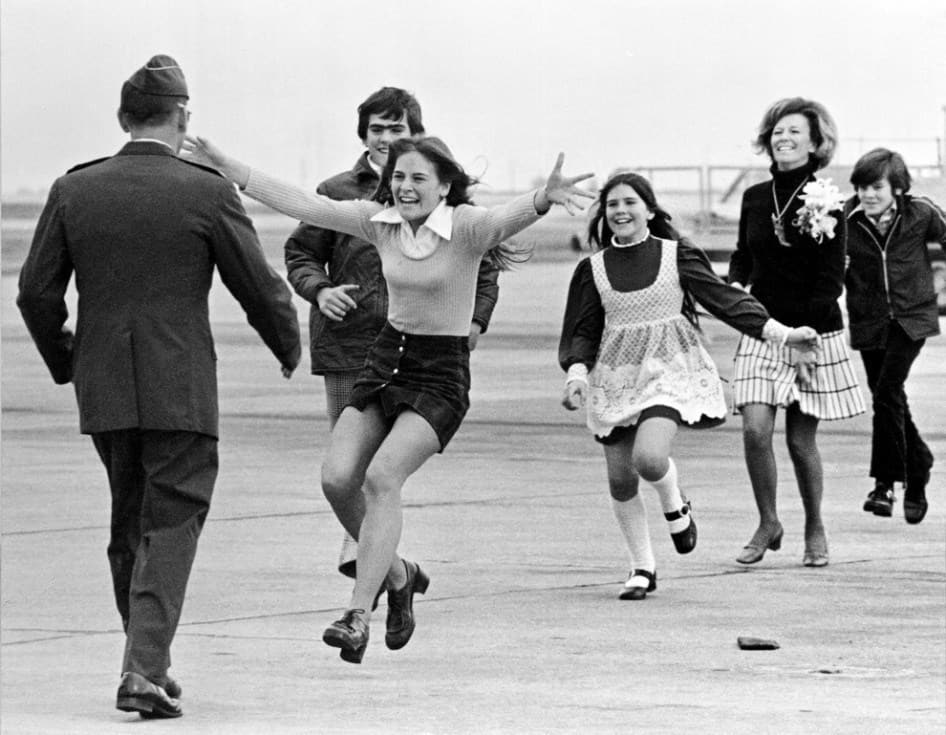 Sal Veder / AP
In this Pulitzer Prize–winning picture, released prisoner of war Lt. Col. Robert L. Stirm is greeted by his family at Travis Air Force Base in Fairfield, California, as he returns home from the Vietnam War.
#28. July 22, 1975 — "Fire on Marlborough Street".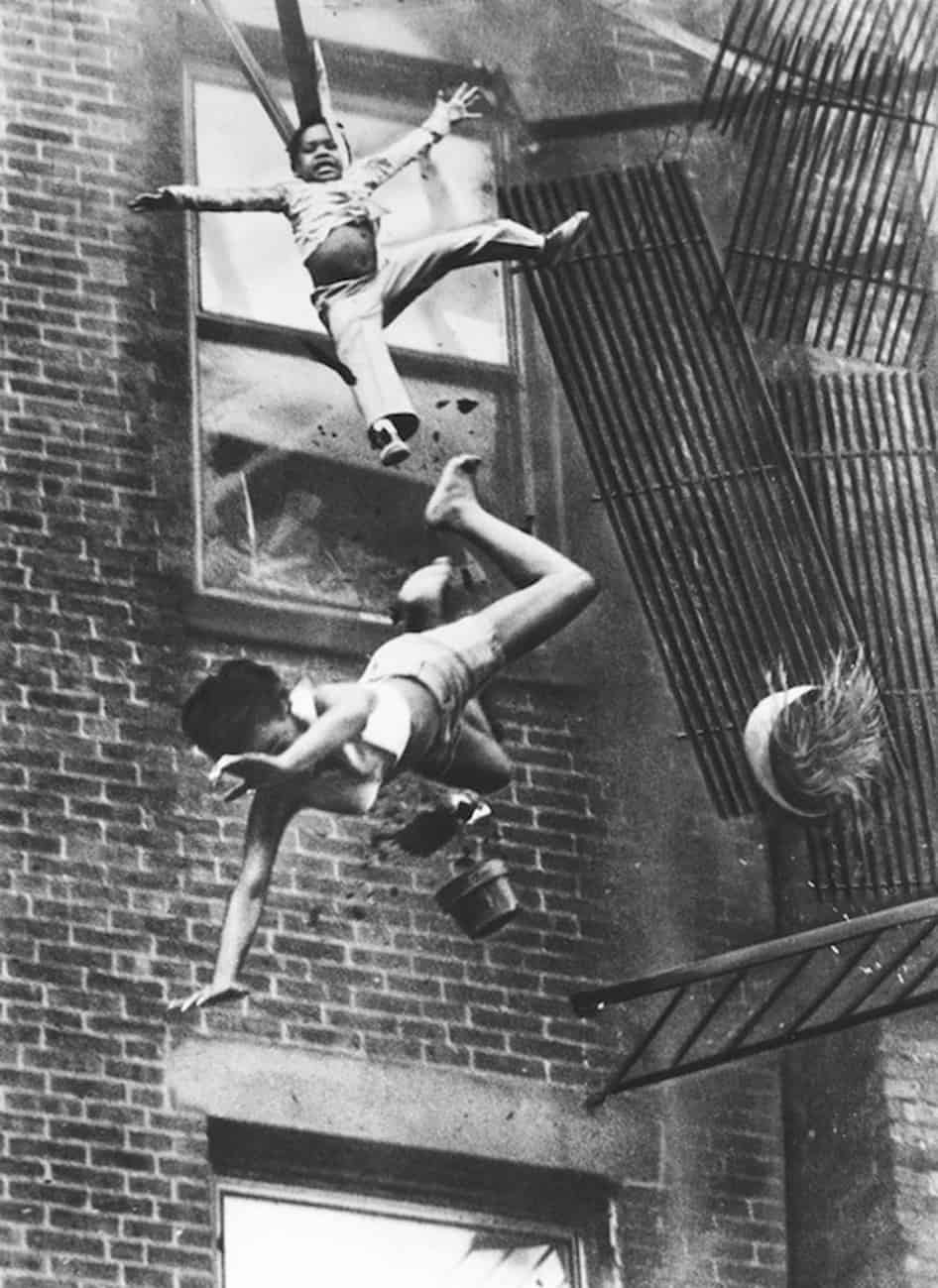 Stanleyformanphotos.com
This harrowing picture was awarded a Pulitzer Prize in 1976 for spot news photography and depicts two people, 19-year-old Diana Bryant and her 2-year-old goddaughter, Tiare Jones, falling from the collapsed fire escape of a burning apartment in Boston. Bryant died as a result of injuries sustained during the fall, but the young child lived.
#29. Dec. 8, 1980 — John Lennon's murder in New York City.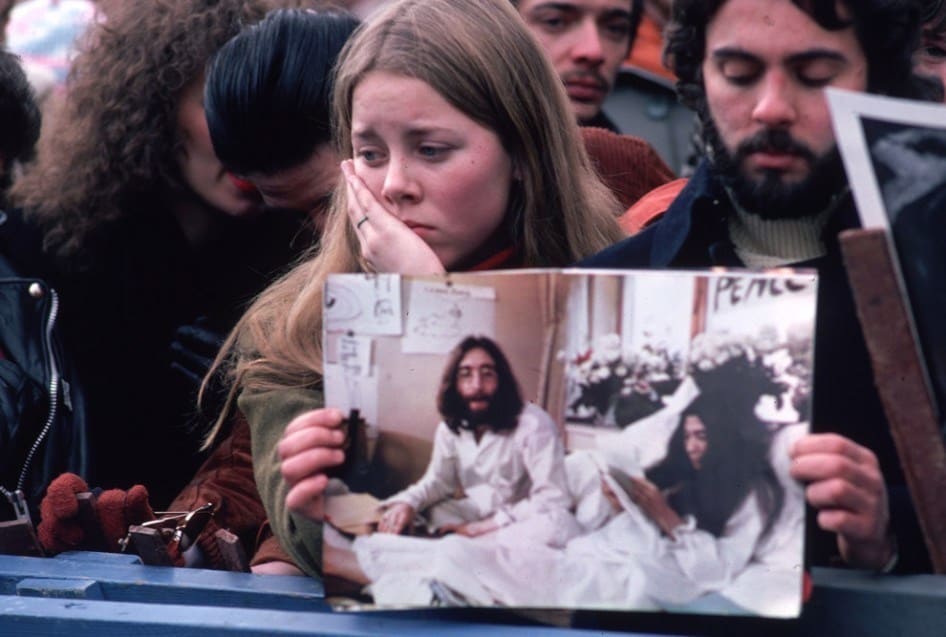 Luiz Alberto/Keystone / Getty Images
On Dec. 8, 1980, John Lennon was murdered by Mark David Chapman outside of his Upper West Side home. He was 40 years old. In Central Park, scores of people gathered to mourn the death of the music and cultural legend.
#30. Feb. 22, 1980 — "Miracle on Ice".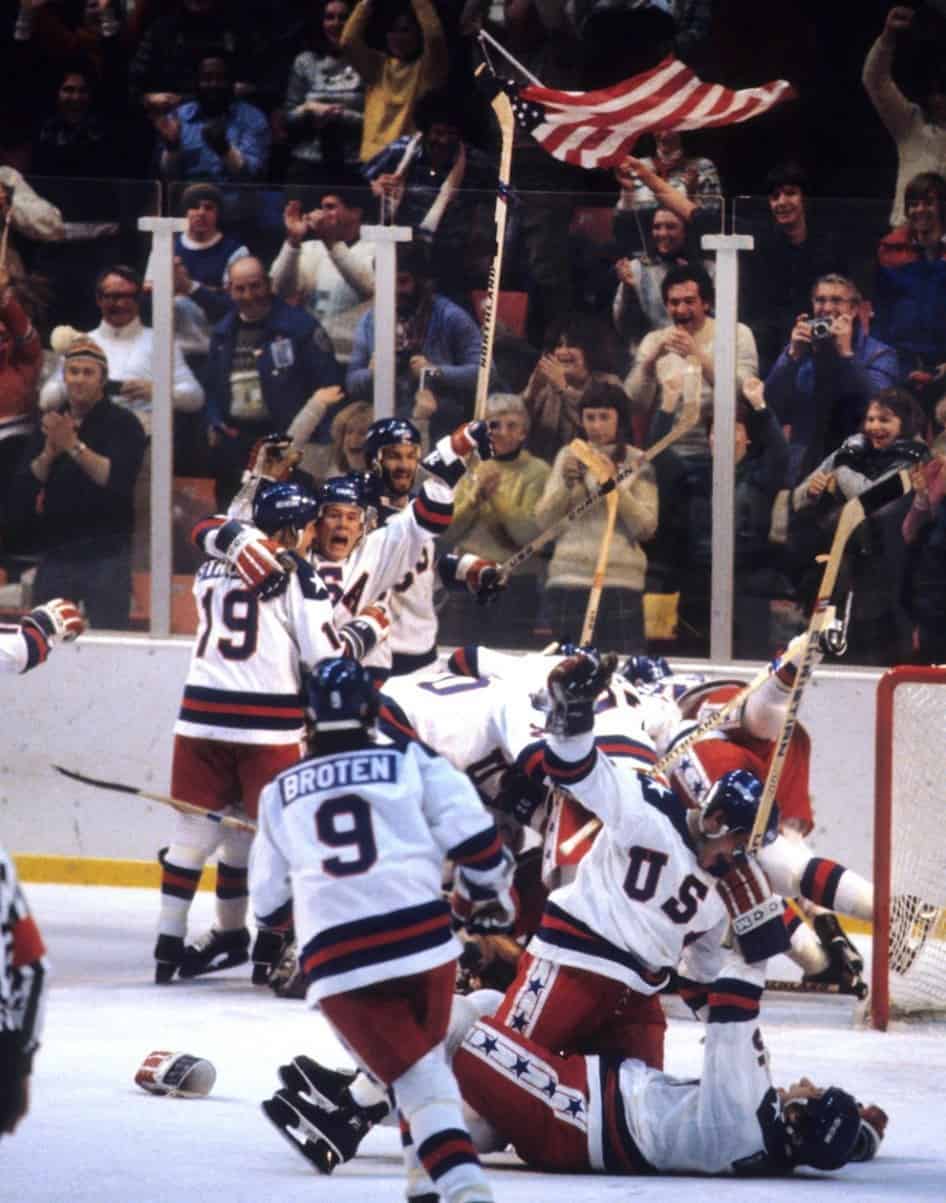 Heinz Kluetmeier / Getty Images
In this hockey game of historic proportions, the United States national team, made up of of only amateurs and collegiate players, defeated the Soviet Union national team, which had previously won six gold medals in seven previous Olympic games.
#31. March 30, 1981 — Assassination attempt on President Reagan.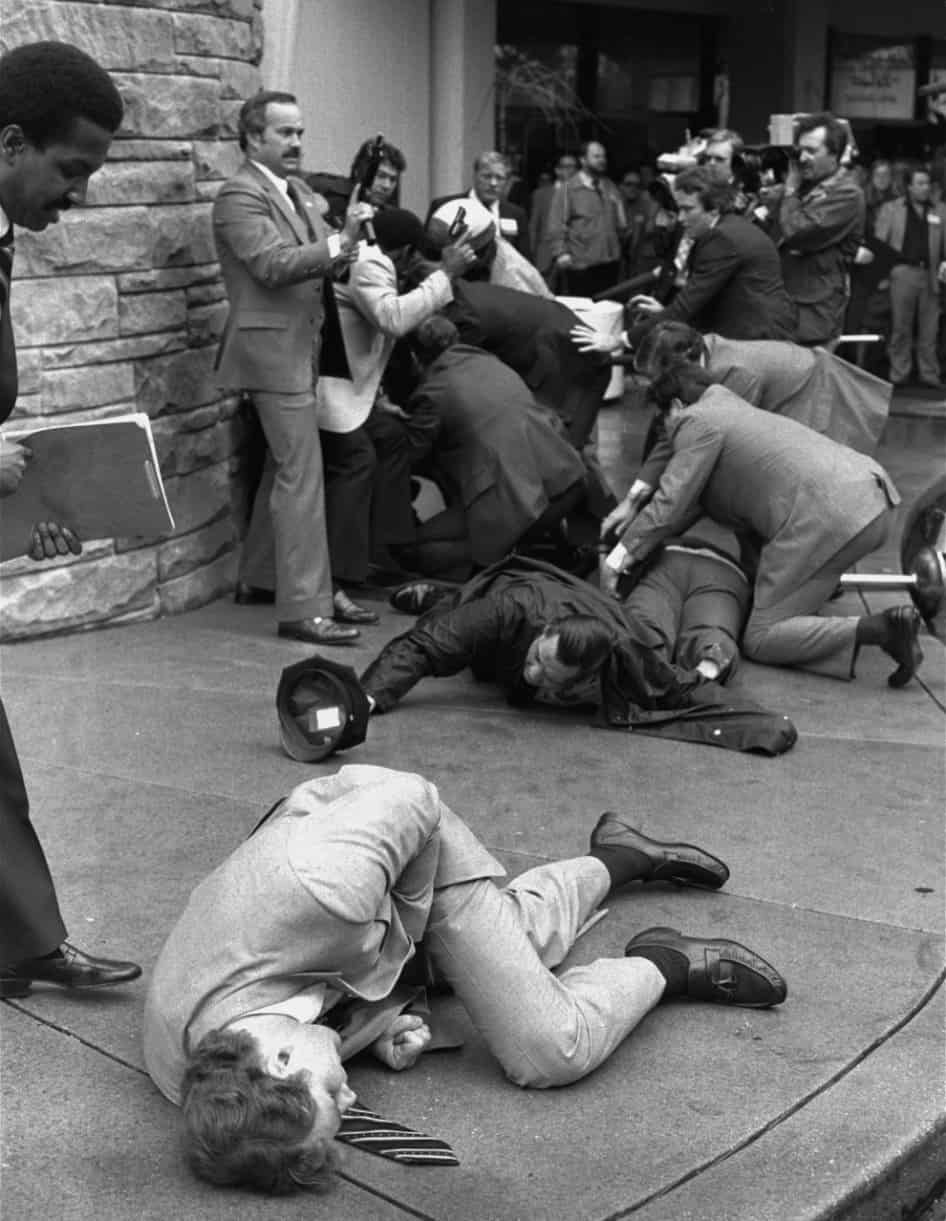 Ron Edmonds / AP
Secret Service agent Timothy J. McCarthy, Washington police officer Thomas K. Delahanty, and presidential press secretary James Brady lie wounded on the street after shots were fired at President Reagan on March 30, 1981. McCarthy threw himself into the line of fire after gunman John Hinckley Jr. had fired six shots from a crowd.
#32. Jan. 28, 1986 — Space Shuttle Challenger disaster.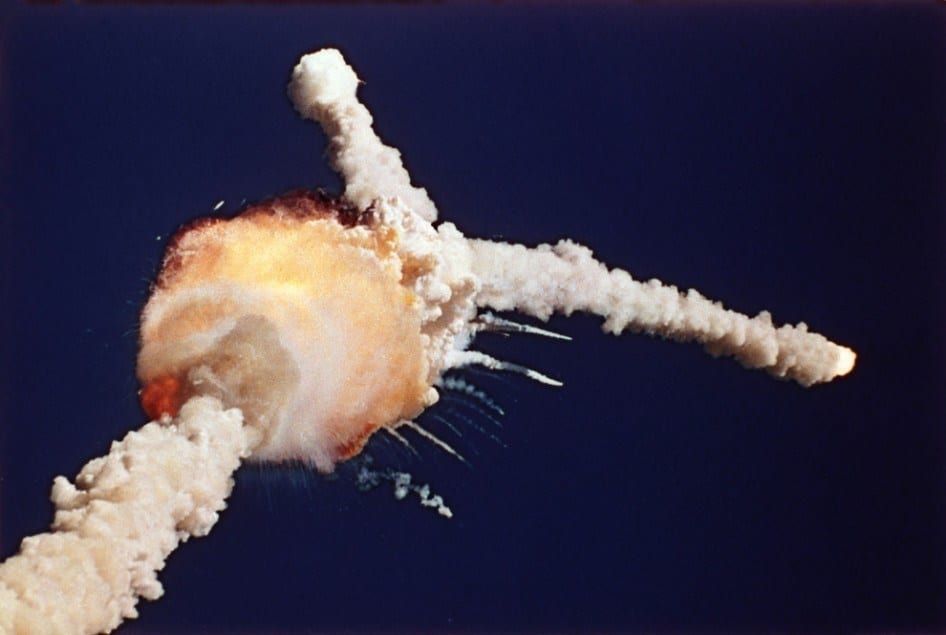 Bruce Weaver / AP
The Space Shuttle Challenger explodes shortly after lifting off from Kennedy Space Center, Florida, on Tuesday, Jan. 28, 1986. All seven crew members died in the explosion, which was blamed on faulty O-rings in the shuttle's booster rockets.
#33. Fall 1992 — Bill Clinton runs for president.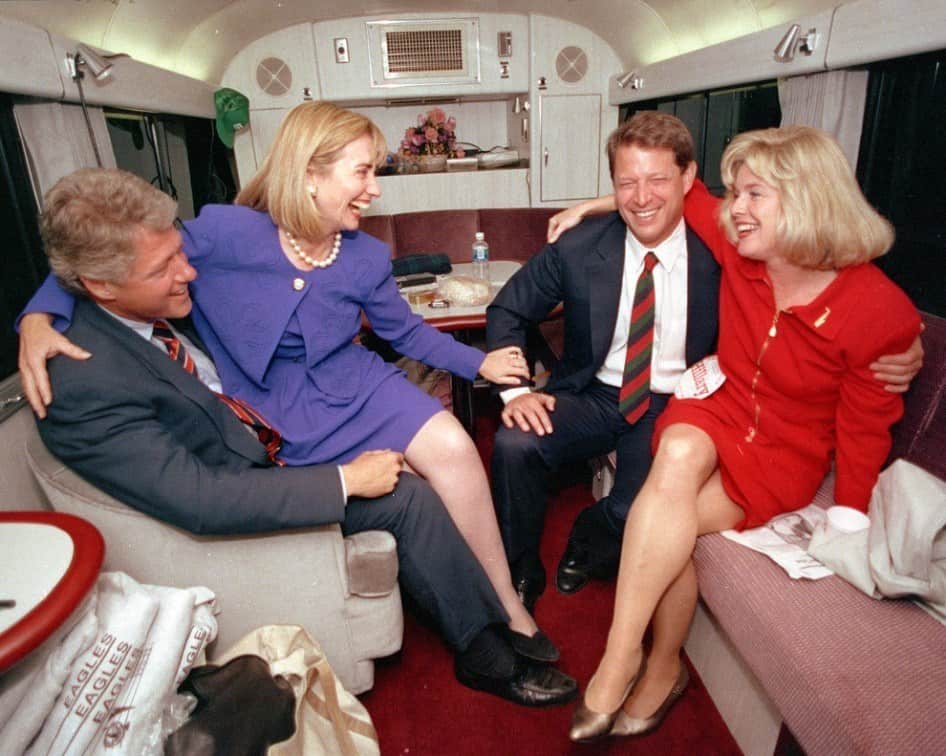 Stephan Savoia / AP
Hillary Rodham Clinton sits on the lap of her husband, then Democratic presidential candidate Bill Clinton, as she jokes with vice presidential candidate Al Gore and his wife, Tipper, during a brief rest on their bus in Durham, North Carolina.
#34. June 1995 — O.J. Simpson trials.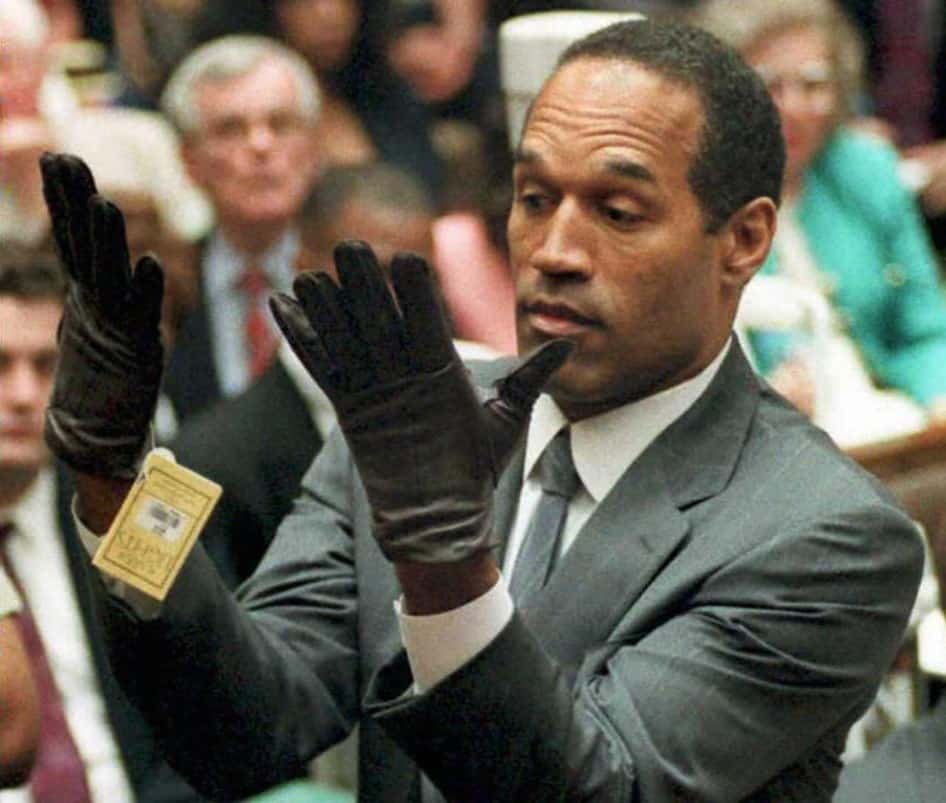 Vince Bucci / AFP / Getty Images
Former professional football player and actor O.J. Simpson tries on a new pair of Aris extra-large gloves that prosecutors had him put on during his double-murder trial in Los Angeles, California.
#35. April 2000 — The Elián González affair.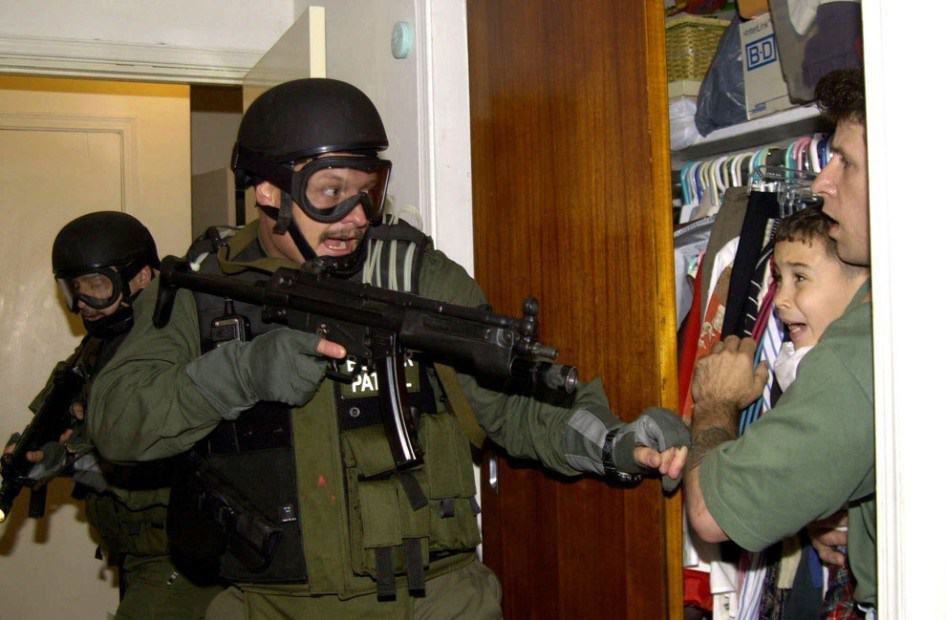 Alan Diaz / AP
After traveling with his mother and 12 others in a small aluminum boat, Elián González left Cuba in search of asylum in America. After his mother and 10 others drowned during the journey, he was rescued by fishermen and brought back to Florida. In this picture, armed federal agents seized González from the home of his Miami relatives as the U.S. Supreme Court declined to hear the case. He was returned to Cuba in June 2000.
#36. Sept. 11, 2001 — President Bush is notified of the terror attacks.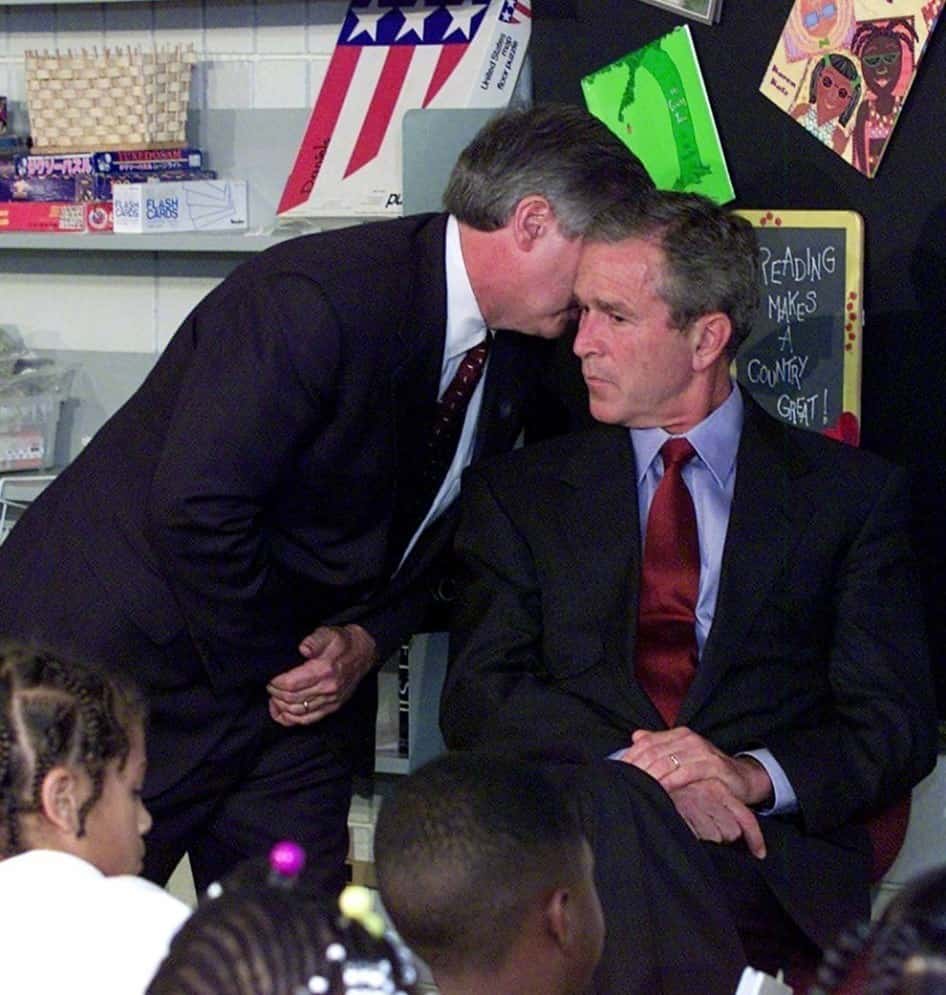 Doug Mills / AP
President Bush's Chief of Staff Andy Card whispers into the ear of the president to give him word of the plane crashes into the World Trade Center, during a visit to the Emma E. Booker Elementary School in Sarasota, Florida.
#37. Sept. 11, 2001 — Attacks on the World Trade Center in New York City.

Spencer Platt / Getty Images
United Airlines Flight 175 from Boston crashes into the south tower of the World Trade Center and explodes at 9:03 a.m. in New York City. The crash of two airliners hijacked by terrorists loyal to al-Qaeda leader Osama bin Laden and subsequent collapse of the twin towers killed some 2,800 people that day.
#38. Sept. 11, 2001 — Workers carry FDNY chaplain Mychal Judge.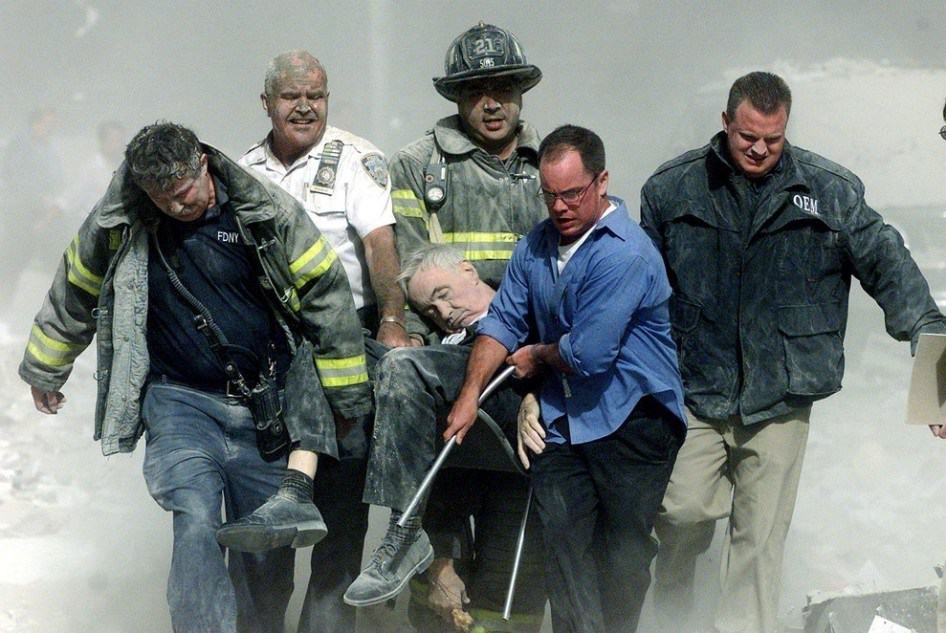 Shannon Stapleton / Reuters
In this picture, rescue workers carry fatally injured New York City Fire Department Chaplain Mychal Judge from one of the World Trade Center towers. That morning, Judge rushed to the site to pray over the dead and wounded in the streets. When the south tower collapsed, Father Judge was killed after being struck in the head by falling debris. According to Judge's biographer, at the time of his death he was praying aloud, "Jesus, please end this right now! God, please end this!"
#39. September 11, 2001 — Raising the Flag at Ground Zero.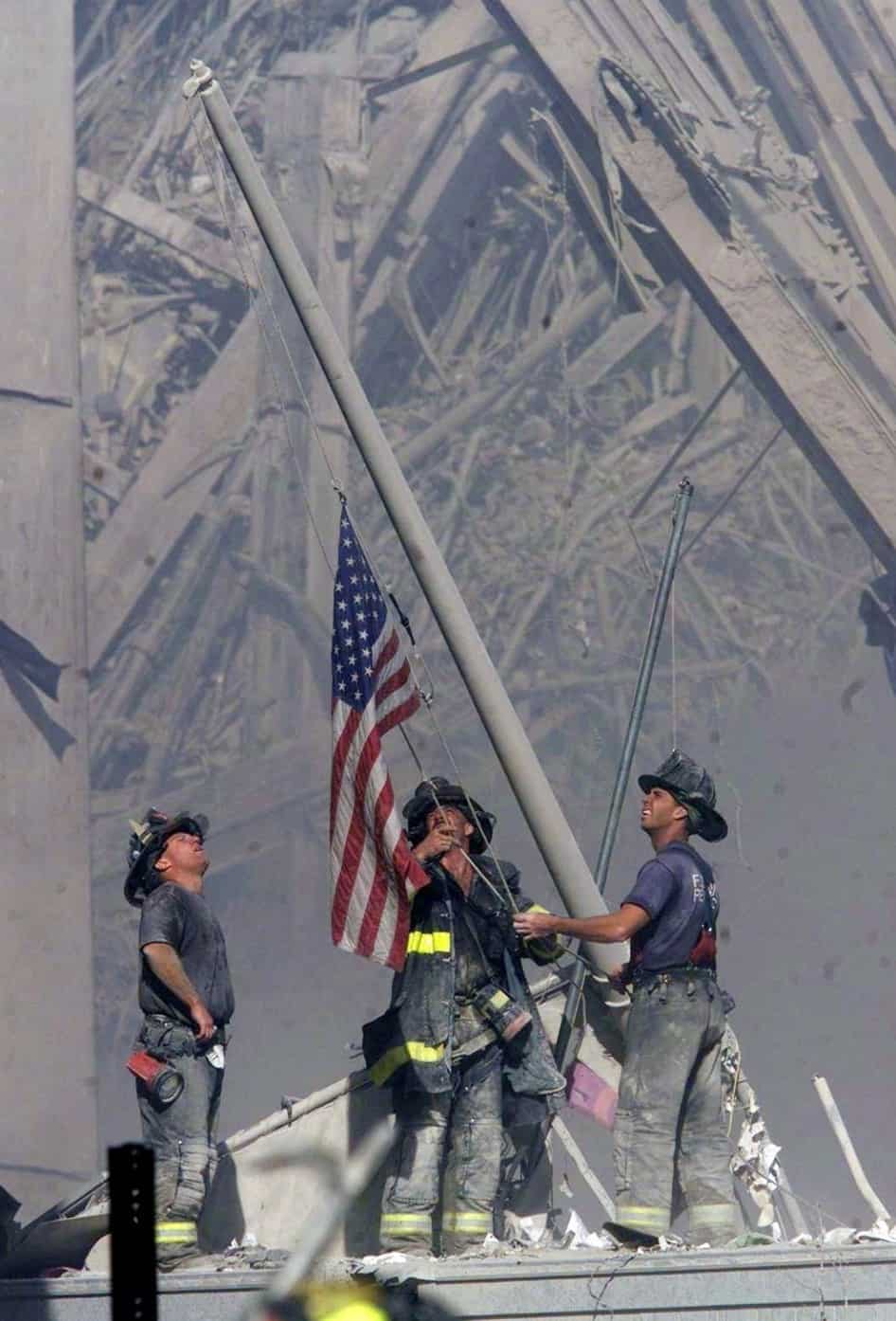 2001 The Record (bergen Co. Nj) / Getty Images
Firefighters raise a U.S. flag at the site of the World Trade Center on September 11, 2001, as a sign of patriotism and perseverance in the face of evil.
#40. Sept. 11, 2001 — "Dust Lady".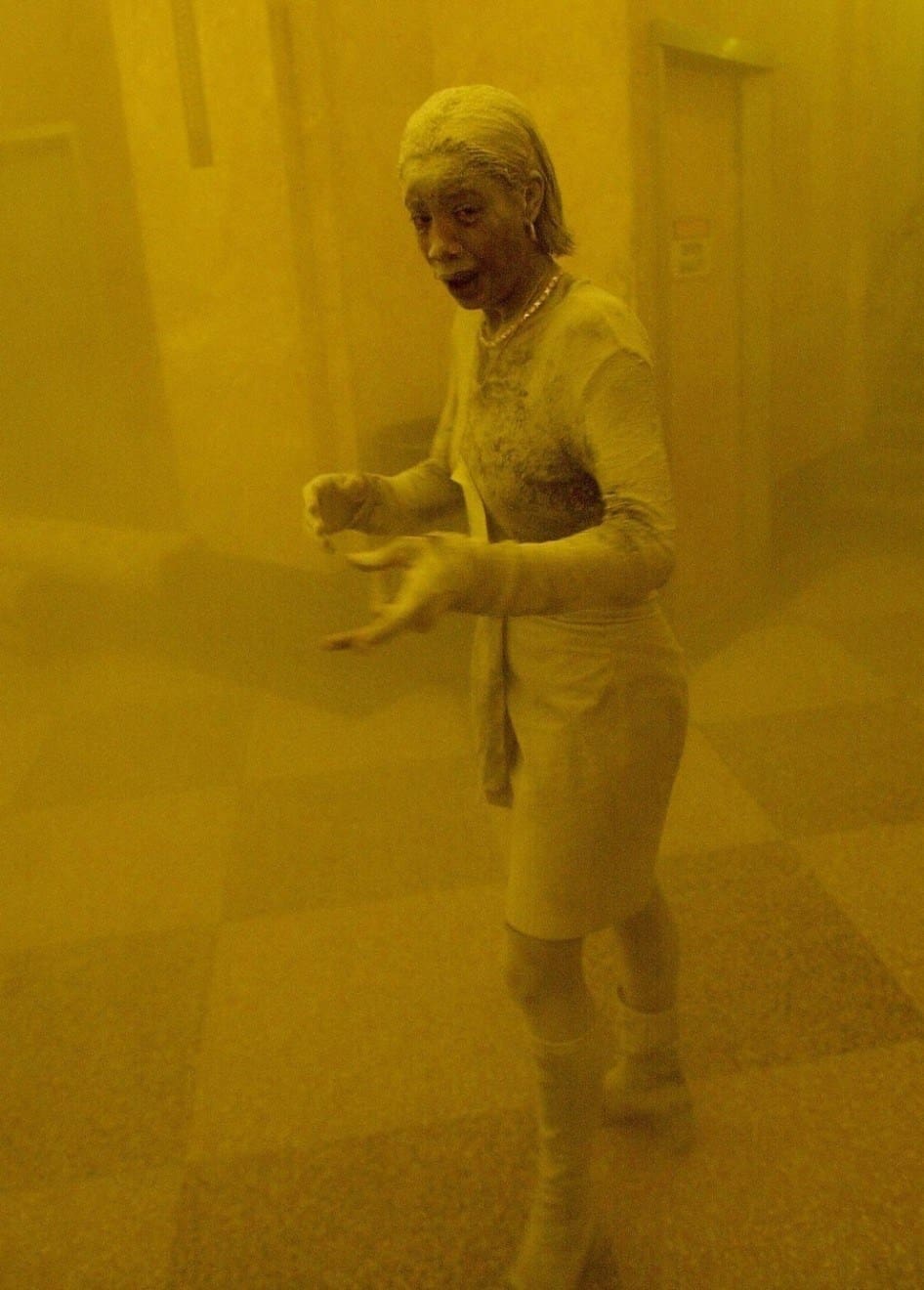 Stan Honda / AFP / Getty Images
Marcy Borders is seen covered entirely in yellow dust as she takes refuge in an office building after one of the World Trade Center towers collapsed in New York. Borders was caught outside on the street as the cloud of smoke and dust enveloped the area. She died in August 2015, a year after being diagnosed with stomach cancer.
#41. April 9, 2003 — Fall of Saddam Hussein.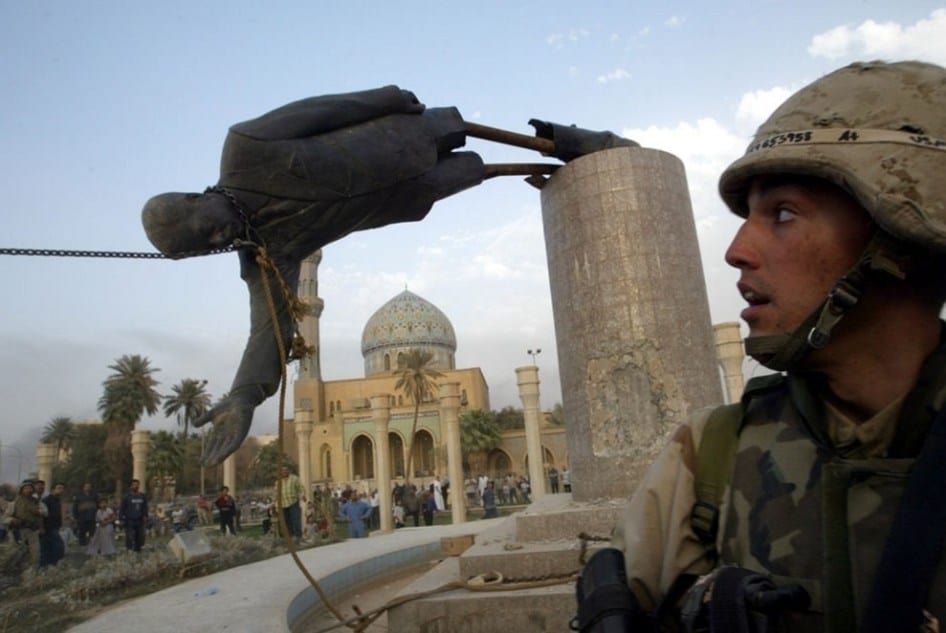 Goran Tomasevic / Reuters
U.S. Marine Kirk Dalrymple watches as a statue of Iraq's President Saddam Hussein falls in central Baghdad. U.S. troops pulled down the 20-foot high statue as Iraqis danced on it in contempt for the man who ruled them with an iron grip for 24 years.
#42. Sept. 4, 2005 — Hurricane Katrina.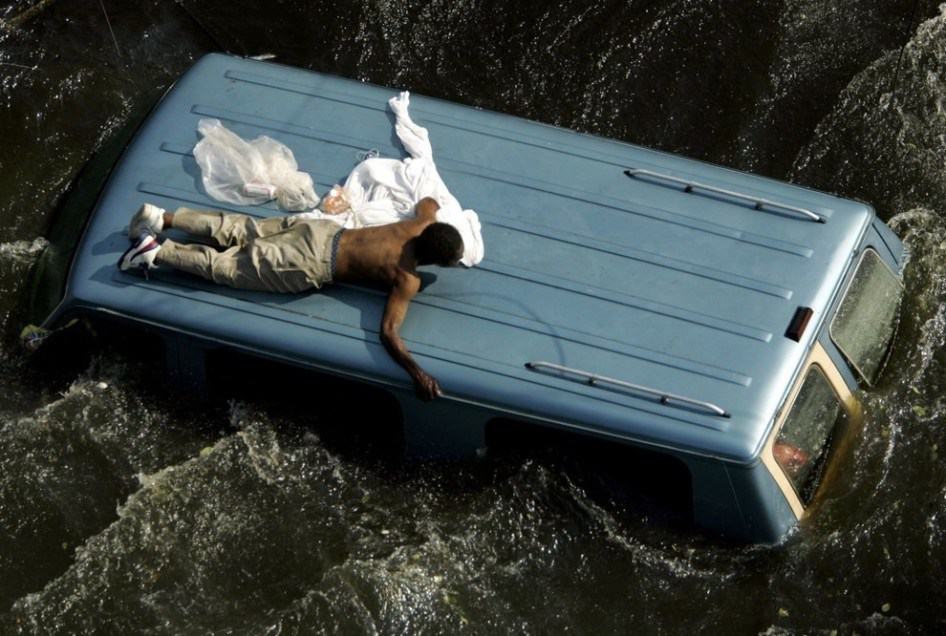 Robert Galbraith / Reuters
A man clings to the top of a vehicle before being rescued by the U.S. Coast Guard from the flooded streets of New Orleans in the aftermath of Hurricane Katrina.
#43. Sept. 11, 2007 — Returning home from war.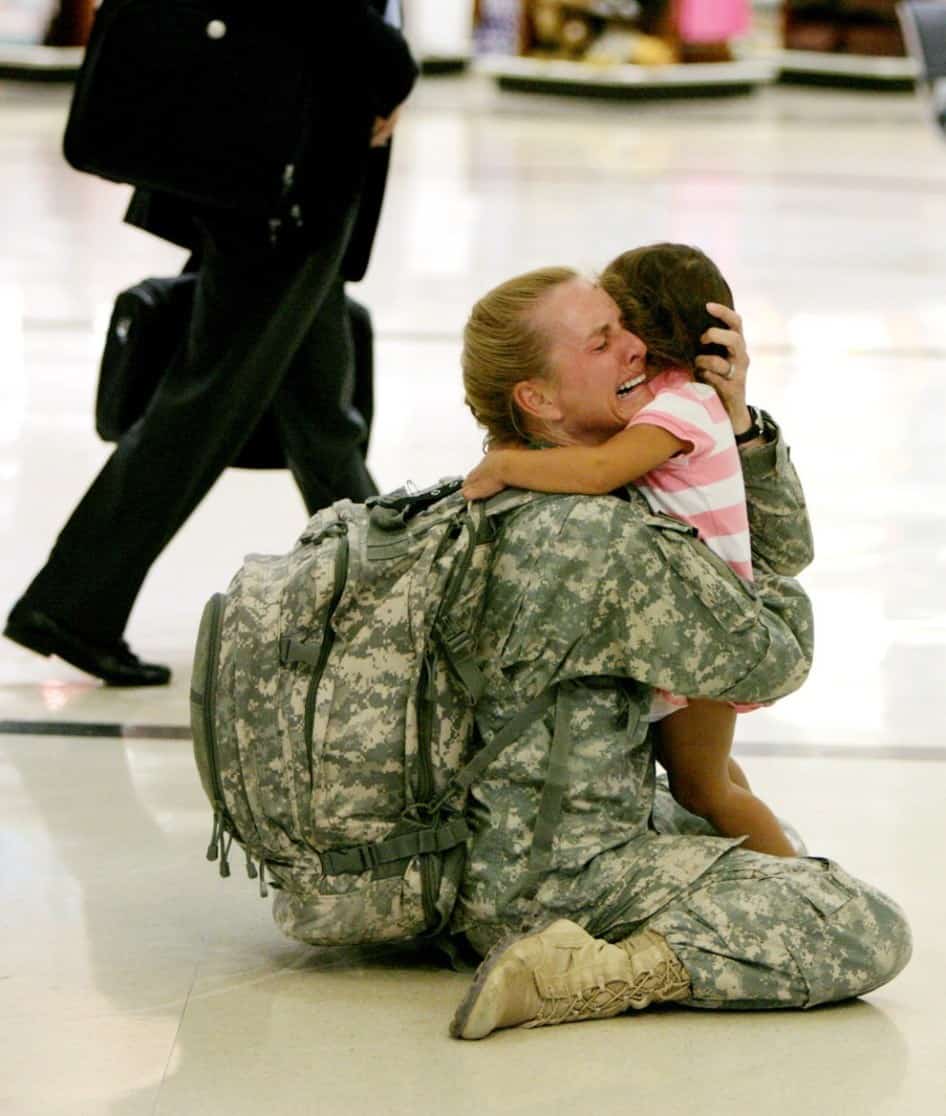 Louie Favorite / AP
Maj. Terri Gurrola, U.S. Army, PA-C, weeps with emotion as she greets her daughter Gabrielle Gurrola at the Atlanta Hartsfield-Jackson International Airport in Atlanta after returning from a seven-month tour in Iraq.
#44. May 19, 2005 — Sunset on Mars.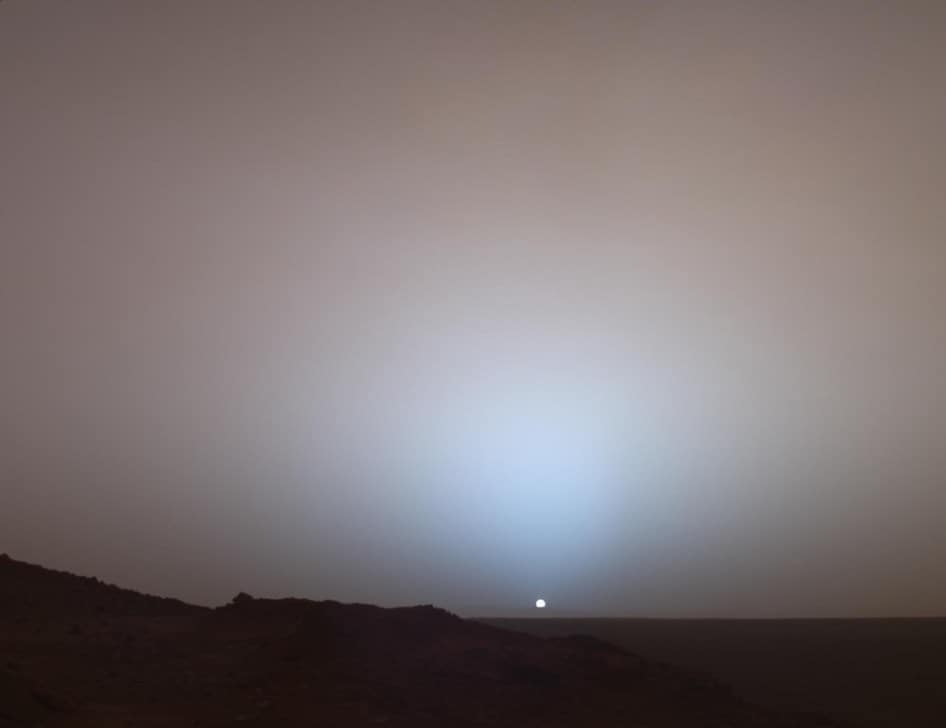 apod.nasa.gov
The Mars rover Spirit made this remarkable picture in 2005 from the Martian surface, revealing the sun dipping slowly below the distant lip of Gusev Crater.
#45. May 1, 2011 — Situation Room.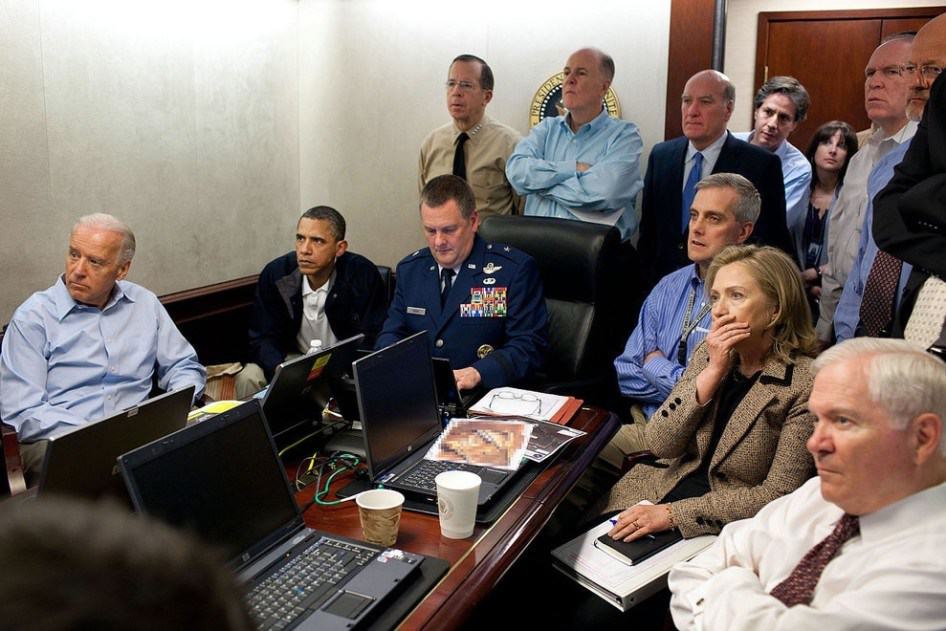 Public Domain / Via White House
President Barack Obama and Vice President Joe Biden, along with members of the national security team in one of the conference rooms of the White House Situation Room, receive an update on Operation Neptune's Spear, a mission to kill terrorist leader Osama bin Laden. Note: A classified document in front of Hillary Clinton has been obscured by the White House.
#46. Dec. 14, 2012 — Sandy Hook Elementary School shooting.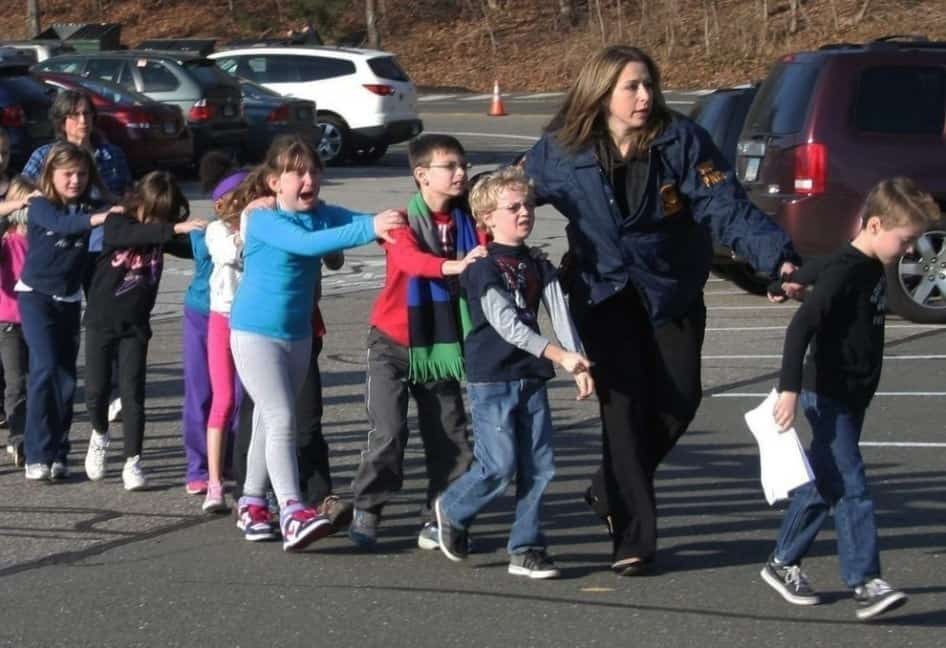 AP / Via Newtown Bee
In this photo provided by the Newtown Bee, Connecticut State Police lead a line of children from the Sandy Hook Elementary School to safety after a gunman fatally shot 20 children and 6 adult staff members.
#47. April 15, 2013 — Boston Marathon bombing.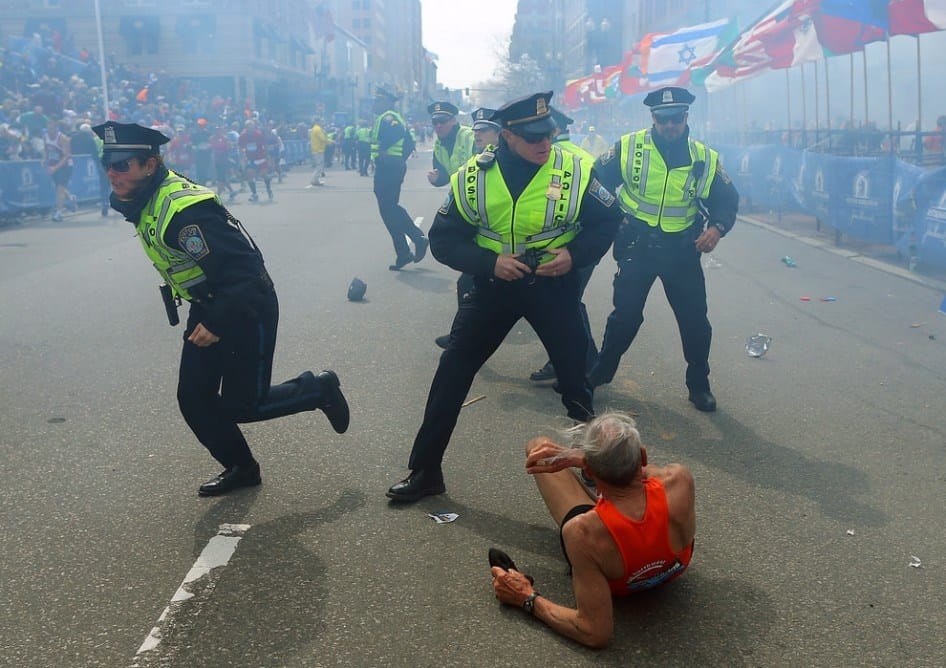 Boston Globe / Getty Images
Police officers with their guns drawn react to the second explosion down the street. The first explosion knocked down 78-year-old marathon runner Bill Iffrig at the finish line of the 117th Boston Marathon. The attack killed 3 people and injured an estimated 264 others.
#48. June 26, 2015 — Legalization of same-sex marriage.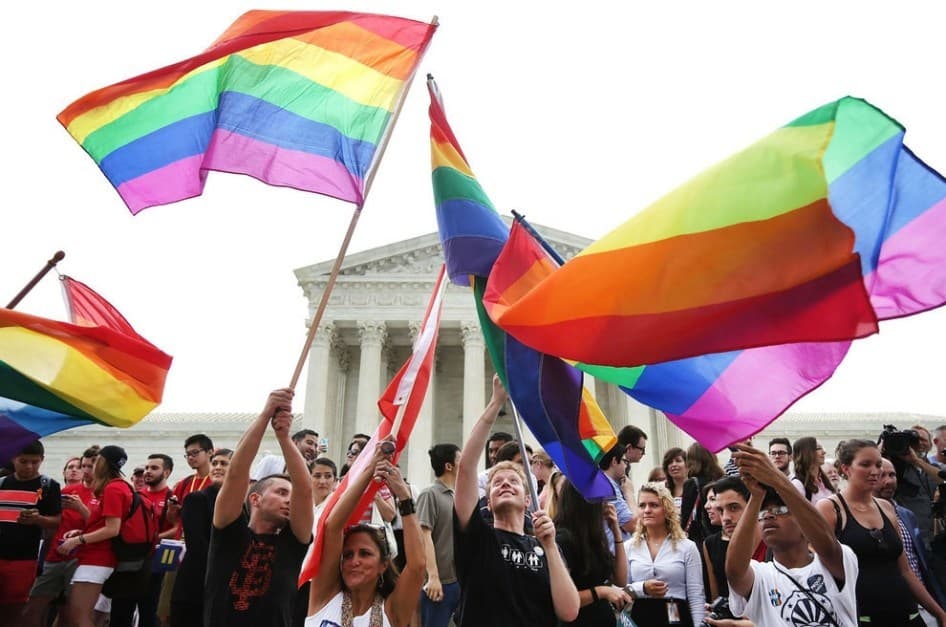 Getty Images
Same-sex marriage supporters rejoice outside the Supreme Court in Washington, D.C., after the high court ruled that same-sex couples have the right to marry in all 50 states.
#49. April 2015 — Baltimore protests.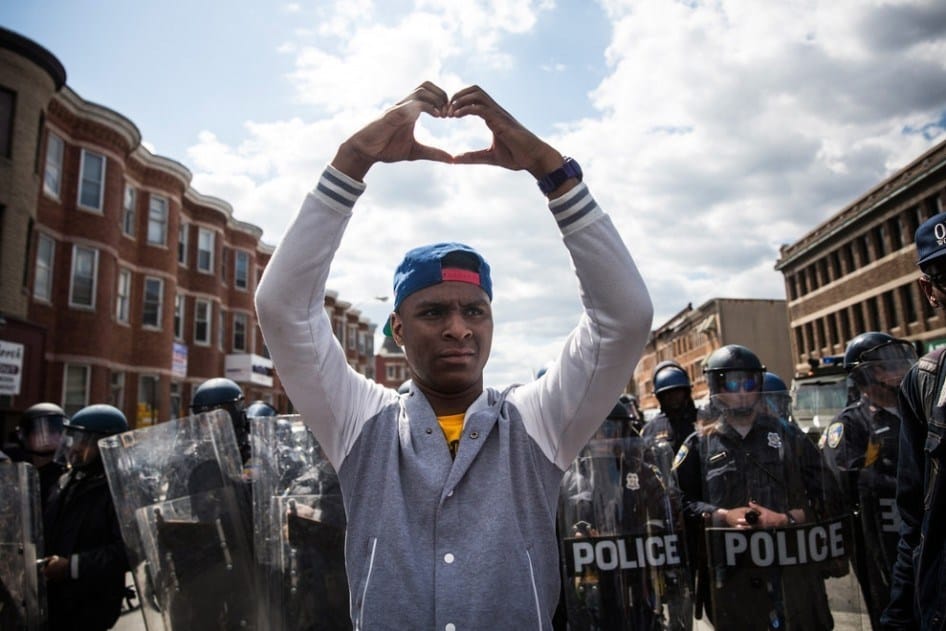 Andrew Burton / Getty Images
A man makes a heart shape with his hands during a protest near the CVS pharmacy that was set on fire during rioting after the funeral of Freddie Gray in Baltimore, Maryland. Gray, 25, was arrested for possessing a switchblade April 12 outside the Gilmore Houses housing project on Baltimore's west side. Gray died a week later from a severe spinal cord injury he sustained while in police custody.