Tattoos can be used to commemorate the close relationship between mother and daughter. These tattoo designs are a great way to show your unbreakable mother-daughter bond to the world.
1. Small Mother and Daughter Matching Tattoos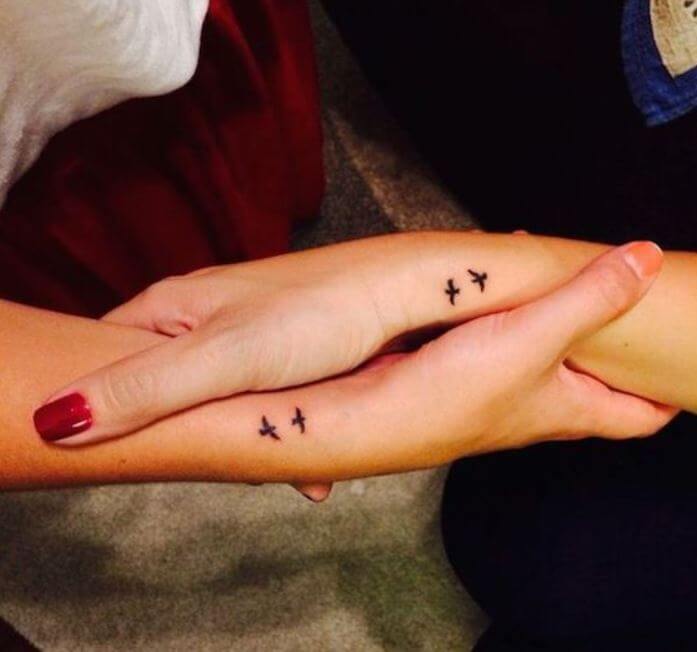 A tiny tattoo will work as a meaningful symbol for mom and daughter tandem who prefer low-key designs. There are various designs to choose from. Choose a little reminder of the special bond you share.
2. Double Heart Tattoo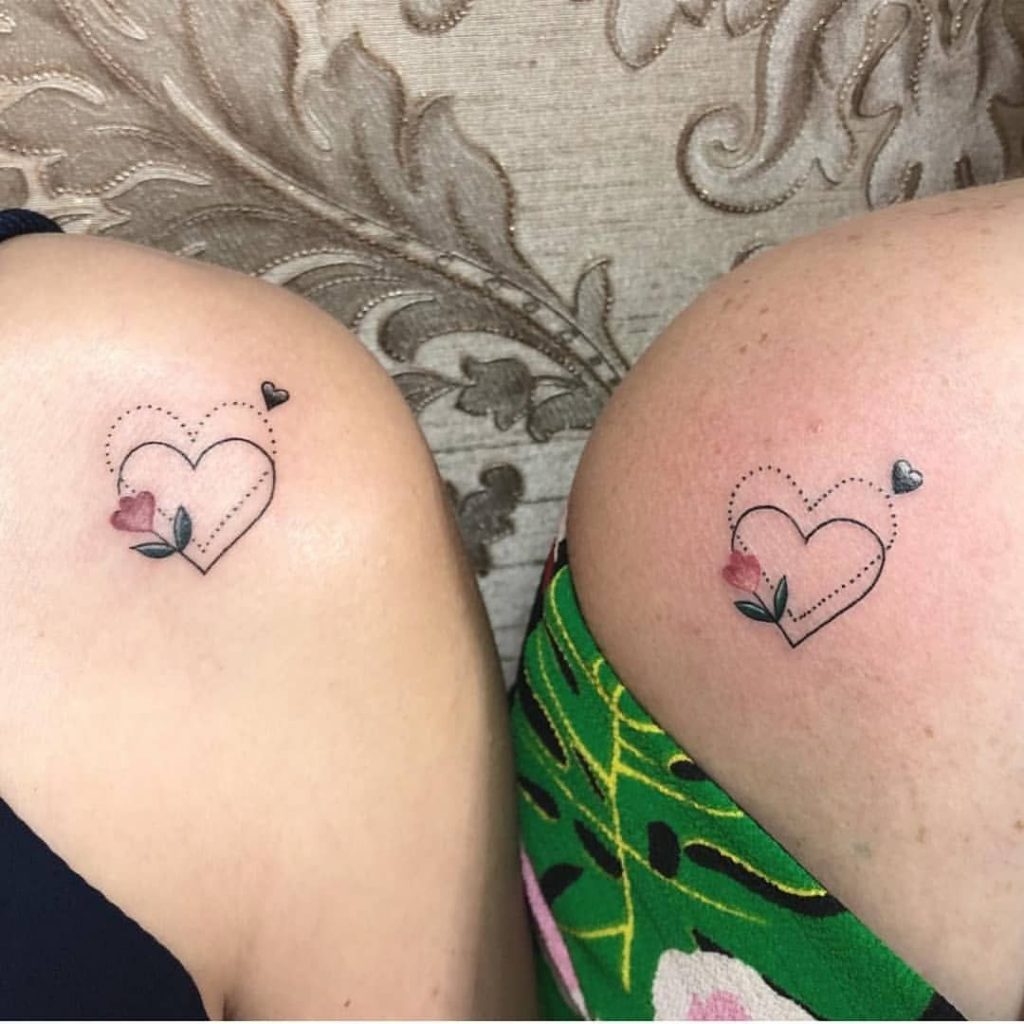 Tiny and minimalist double heart tattoos work well for mothers and daughters matching tattoos. This matching set signify two hearts beating as mirrors of another. It's short of saying they think and look alike.
3. Year of Birth Tattoo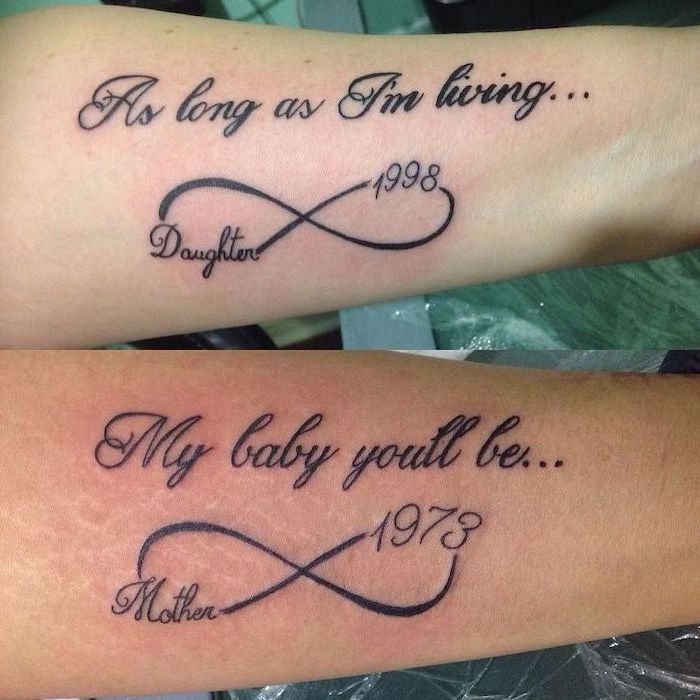 Almost all mothers know their child's birthday. But not all daughters remember their mother's birthday. Cherish your loved ones with a wrist tattoo that will remind you of these special dates.
4. Beyond the Stars Matching Tattoo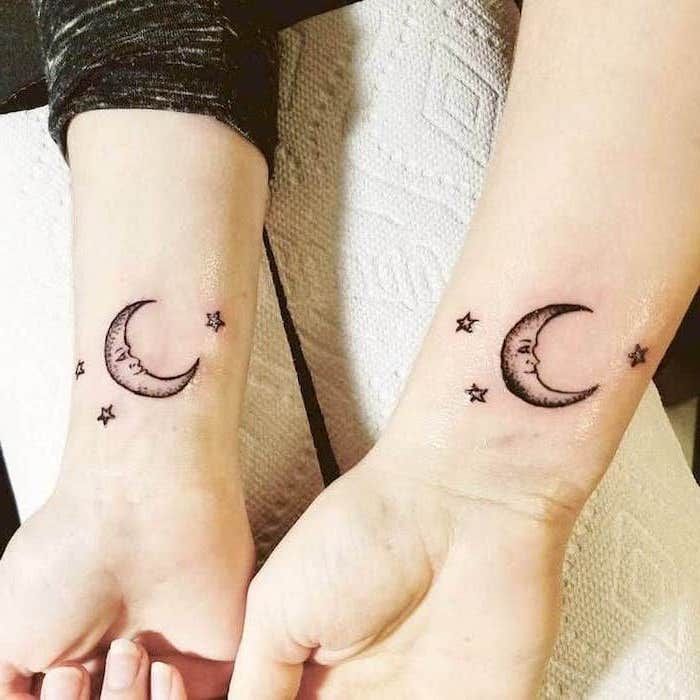 Share your magical mom and daughter relationship by choosing this ink that is filled with stars! It exudes positive female power, just like how unstoppable you are when you and your mom are together!
5. Take My Hand Mom and Daughter Tattoo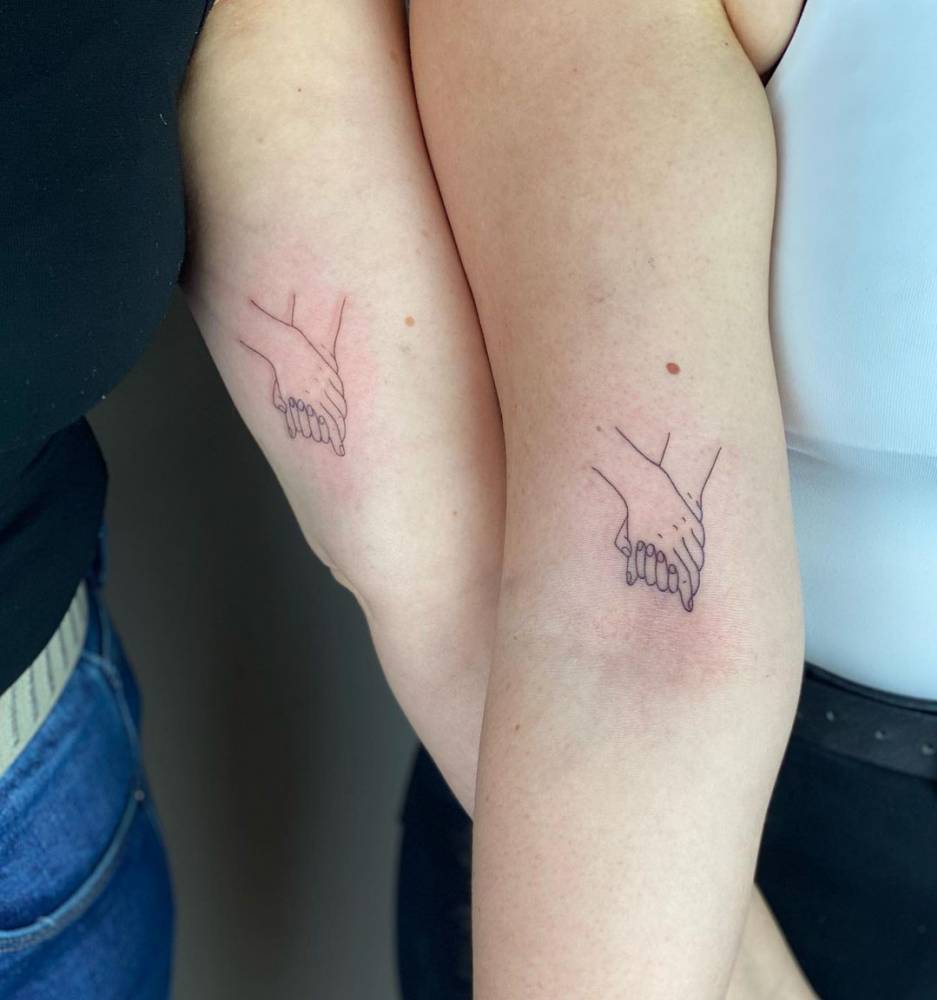 This design of two holding hands represents the connection between mothers and daughters. As kids, you hold on to your parent's hand for protection and because you trust them. Once you grow older, you hold hands because of love and as proof of your trust in them.
6. Anchor Tattoos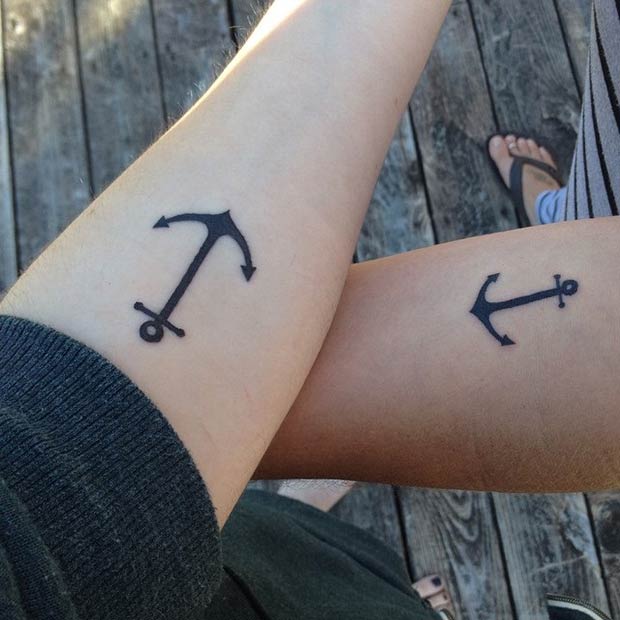 Anchor tattoos symbolize stability and safety – much like how mothers make us feel. Celebrate motherhood in your generation by asking your mom and grandma to get matching anchor tattoos.
7. Sunflower Tattoo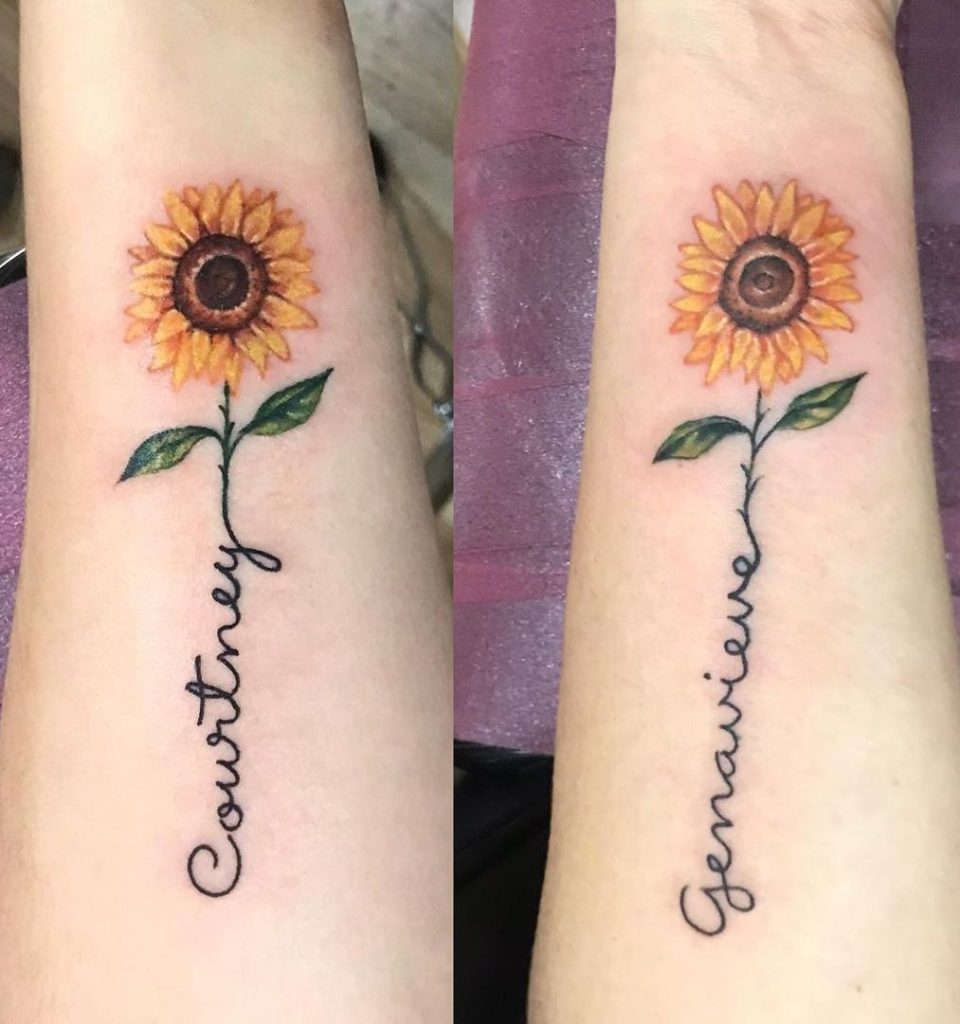 Daughters will always be a part of their mothers, in heart, mind, and spirit. This design pays tribute to this unbreakable bond that will connect you for life.
8. Sunflower and Water Can Tattoo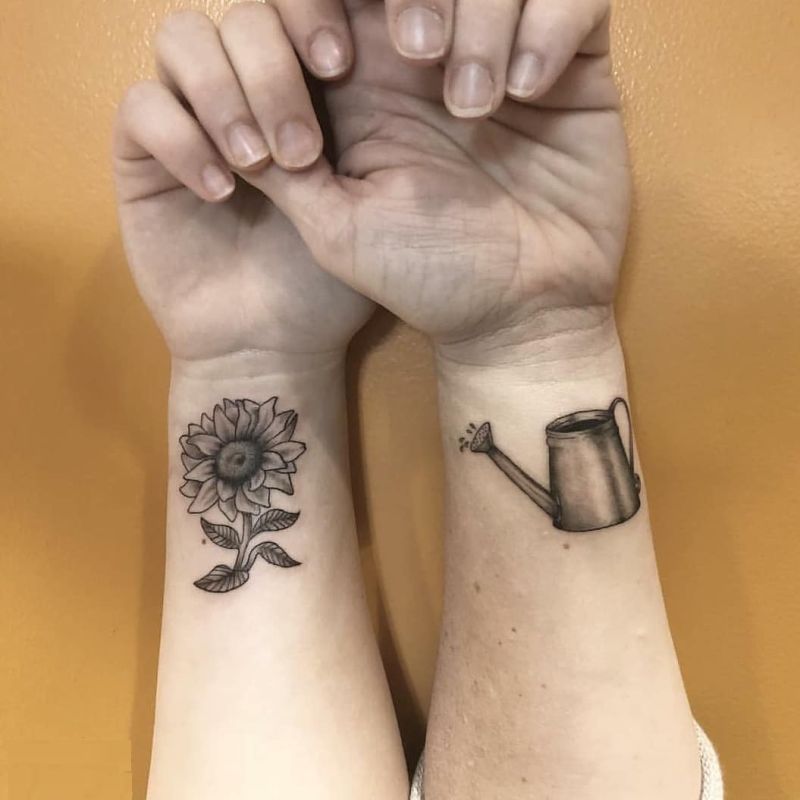 The sunflower and water can tattoo a fantastic way of thanking mothers for the love and care they provided for us. As mothers nourish, daughters flourish.
9. Mama Bear and Baby Bear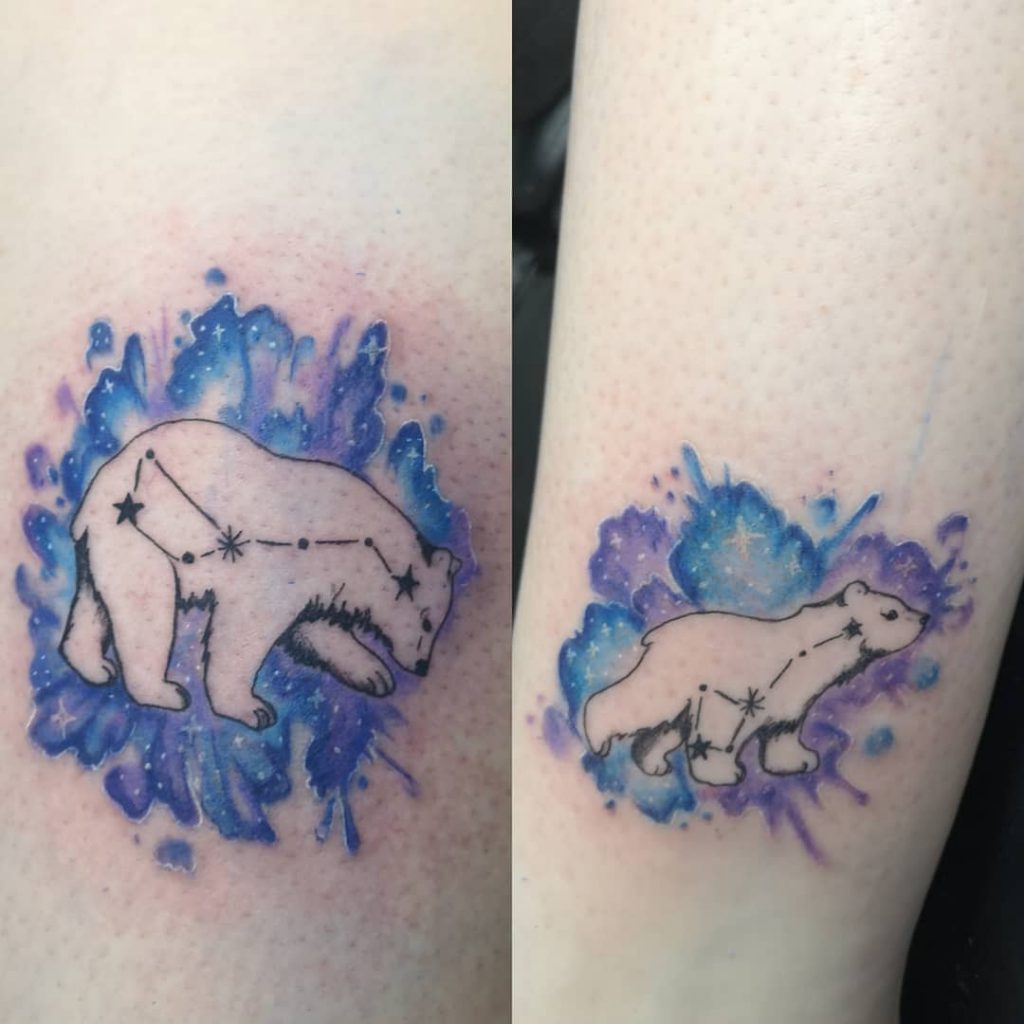 A watercolor tattoo of a mother and baby bear represents motherly protection, wisdom, and love. For the Native American people, bears are associated with the Shamans' spiritual world and sacred rituals.
10. Sending Love Hand Sign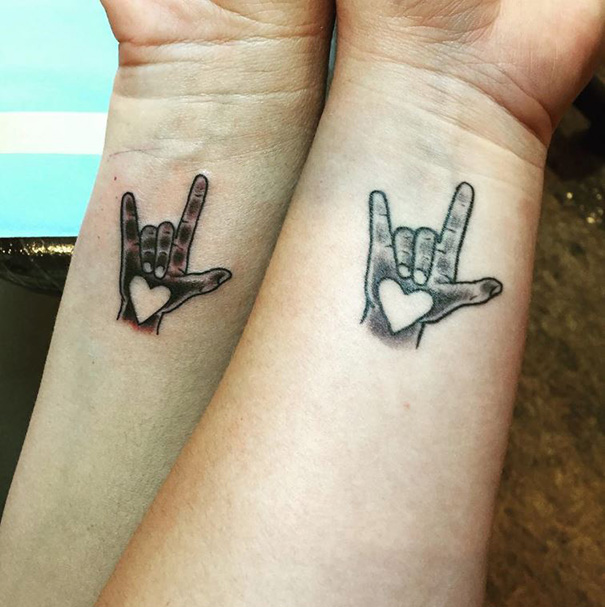 For mothers and daughters who share a love for K-Pop and K-drama, the signature finger heart gesture will be an excellent choice for you. It shows the thumb and index finger crossing to create a small heart shape. It is a cute way of saying "I love you" every day.
11. Fingerprint Heart Tattoo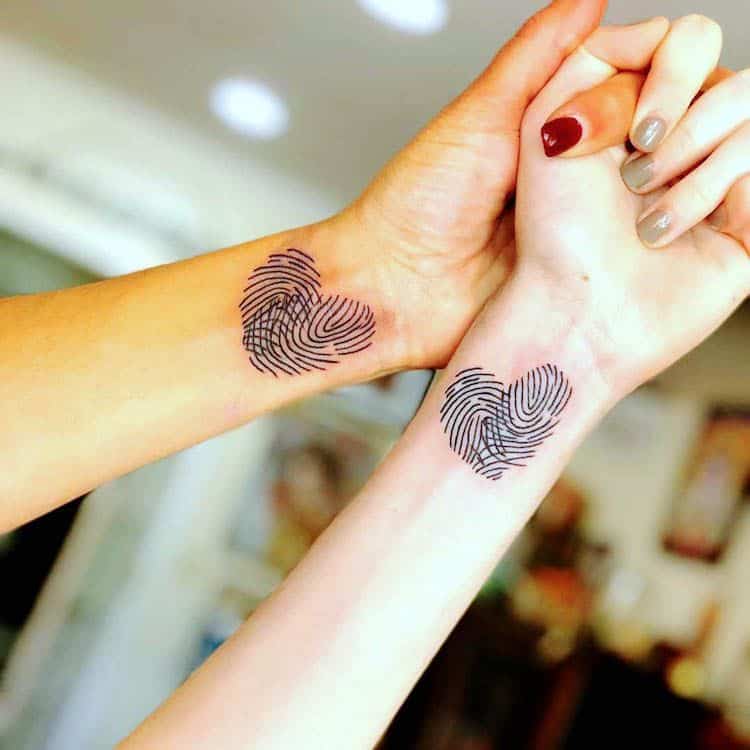 The fingerprint heart tattoo is a brilliant way to create a unique tattoo that honors your mother and daughter relationship. The artist took the fingerprint of the mother and daughter and inked it in the shape of a heart.
12. Meaningful Quotes Tattoo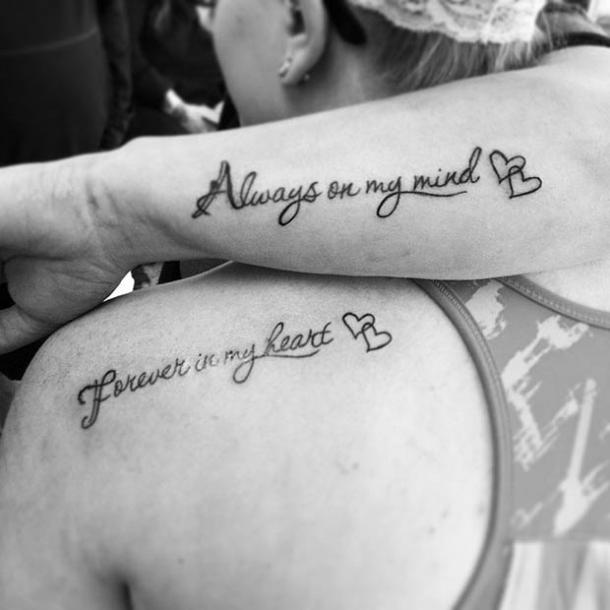 A short quote can also tell a story when an image does not suffice. If you have a meaningful selection with your mother, you can use it as your matching tattoo.
13. You are my sunshine tattoo.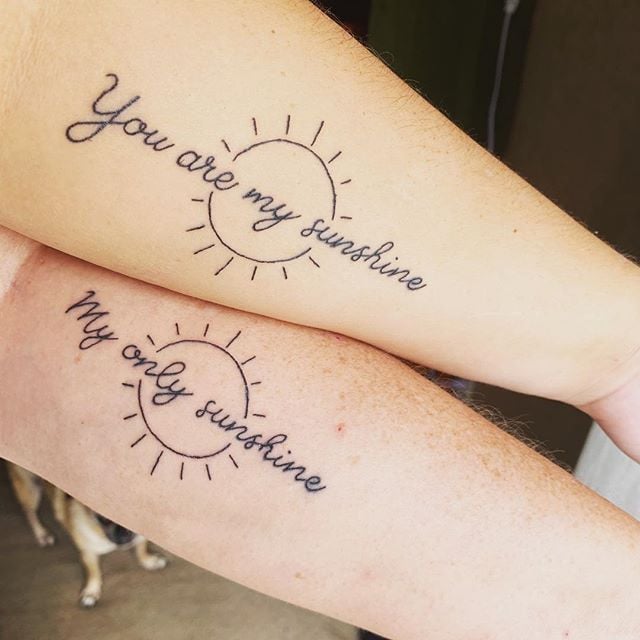 The phrase "you are my only sunshine" is a song line that many mothers and daughters can relate to. You can use each other's handwriting to make your tattoos one-of-a-kind.
14. A Bestfriend's Promise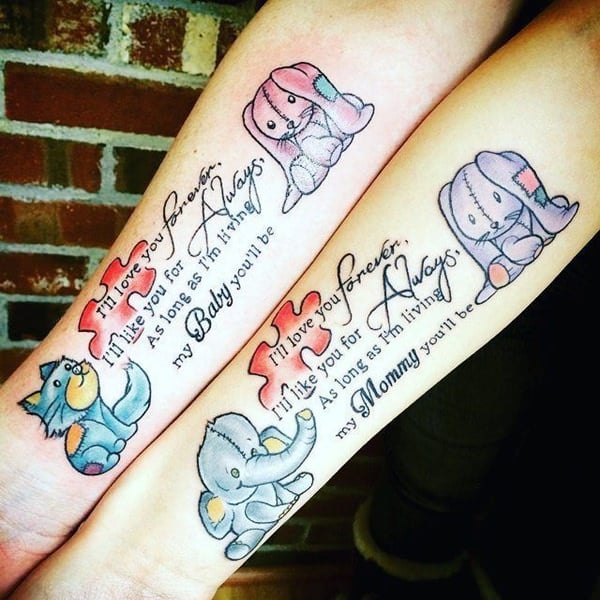 The relationship between mothers and daughters is continuously evolving. When the child reaches a certain age, they become best friends!
15. As Is the Mother, So is Her Daughter Quote Tattoo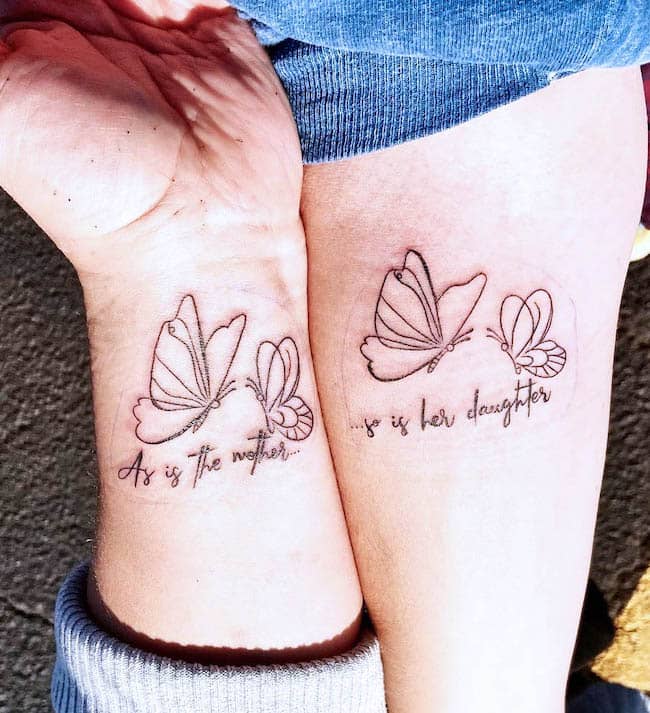 This is the perfect ink to share between mothers and daughters who are alike in almost all aspects. If you are proud to be your mother's daughter, honor her and ask her to wear this matching ink with you.
16. Quote Tattoos on the Shoulder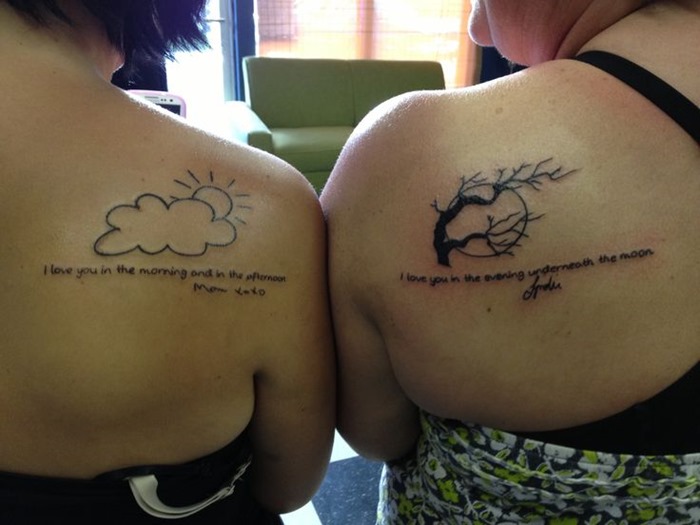 "Always together, never apart, maybe in the distance but not in the heart." You might have heard it many times, but it will remain to be a heart-warming quote to share between mothers and daughters with their unbreakable bond and unwavering love.
17. You keep me safe. You keep me a wild tattoo.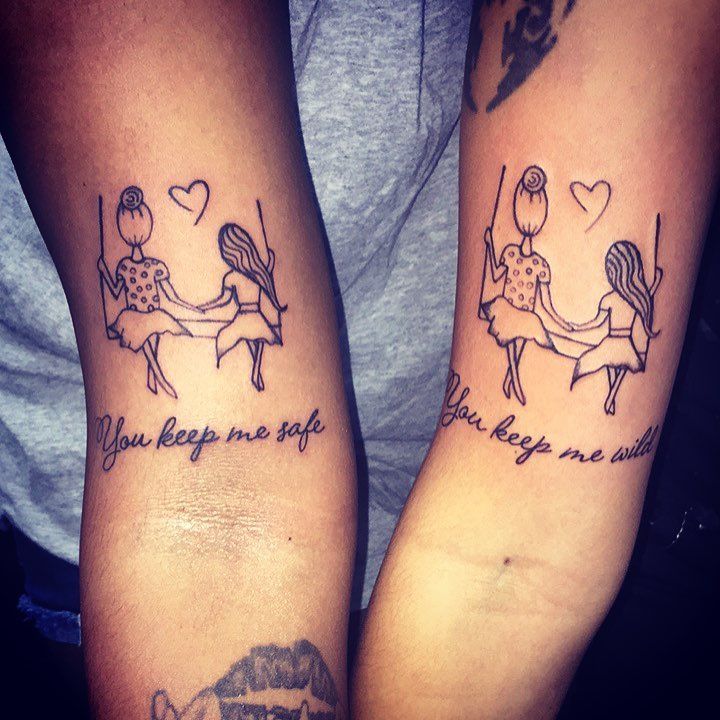 This famous quote speaks to many mother and daughter relationships. If you feel this way about each other, make it a permanent reminder of the love you share.
18. Heart-melting quote on the feet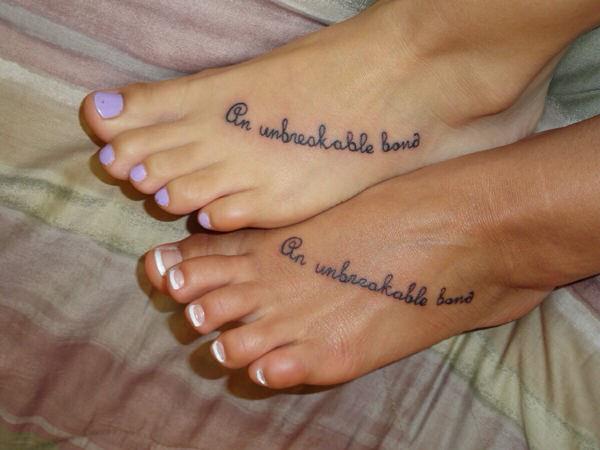 The feet are a discreet placement option if you want to keep your ink hidden from plain view. You can share heart-melting quotes with your mother in this spot to summarize your unconditional love and bond.
19. I love You More Tattoos.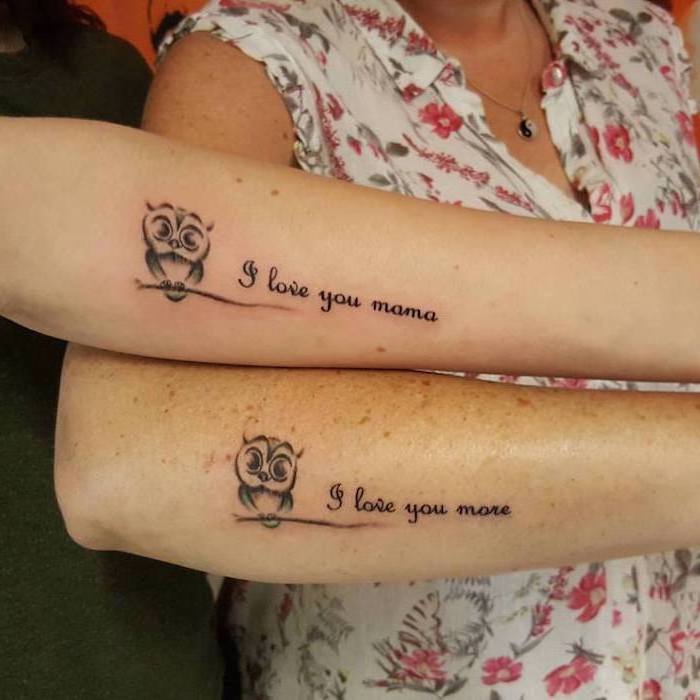 Another quote to try using each other's handwriting is the "I love you more" tattoo. It will often remind you of how much love you share in your mother-daughter relationship.
20. Her Mother, Her Daughter Tattoos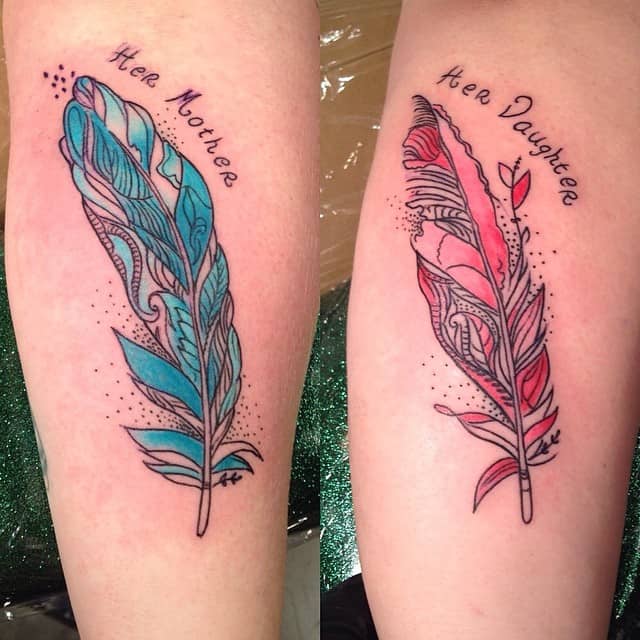 You don't need anything elaborate to express big statements on love. These simple quotes are made of two words each, and it shows who rules their heart.
21. To the Moon and Back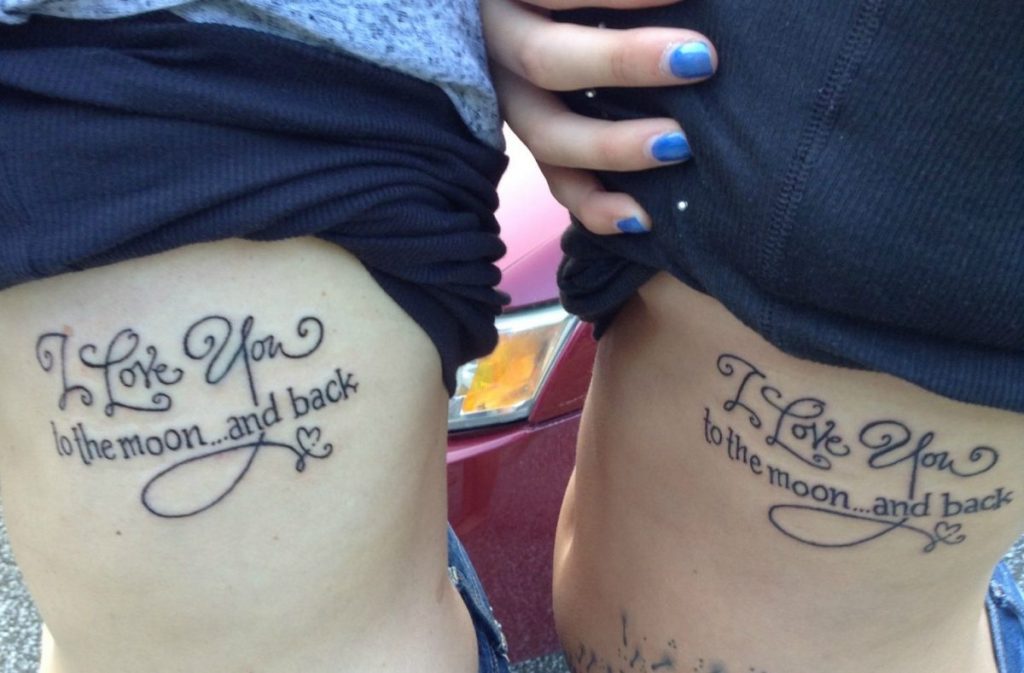 This probably is the sweetest moon quote for parents and children. It can accentuate the images of the moon done in a gorgeous rustic style to remind you always of your love and bond.
22. Big Dreams Matching Tattoo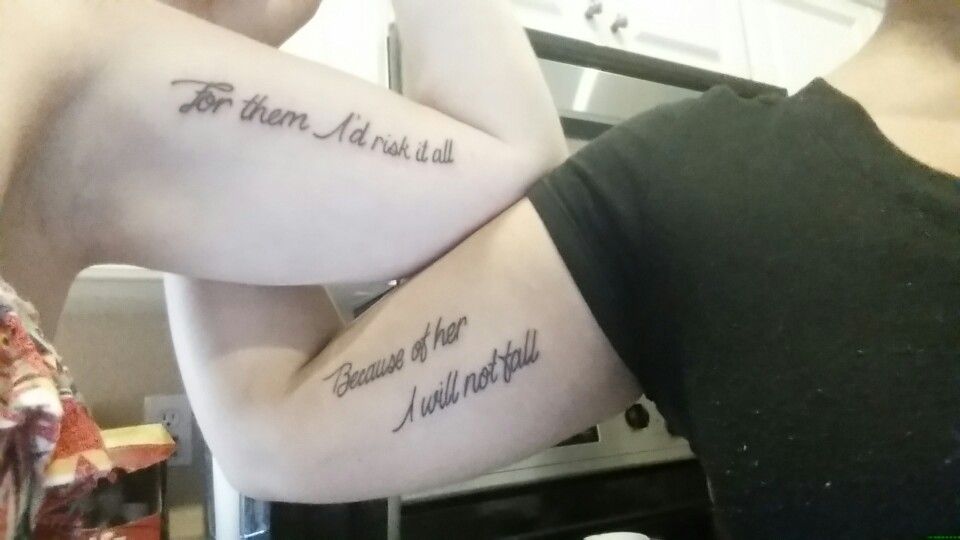 Your mom is your number one supporter. Whatever your goals are, your mom will always be there to push you until you reach your big dreams! It is a perfect way to honor her and the sacrifices she made for you.
23. Sunrise Minimalist Tattoo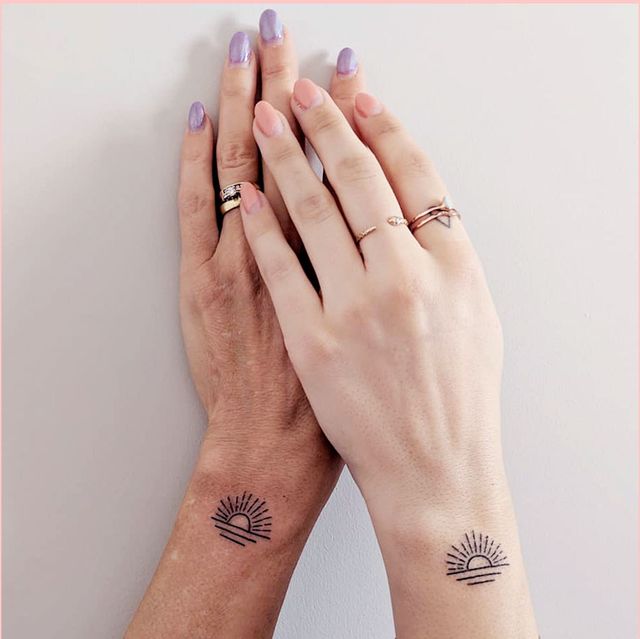 The rising sun tattoo represents one's pursuit of growth and passion. Ask your artist to create a sun with the cleanest shape. A timeless sun tattoo design is perfect for the minimalist in you.
24. Chrysanthemum and Gladiolus Tattoos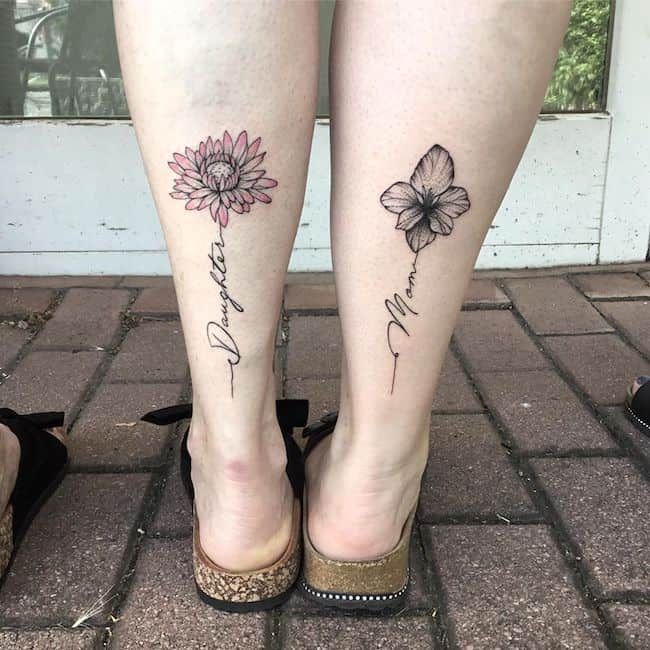 Chrysanthemum represents truth, hope, and selfless love, while Gladiolus symbolizes honor and resemblance. Have these blooms inked for a mother-daughter tattoo that represents motherly love and compassion.
25. Mother and Baby Lion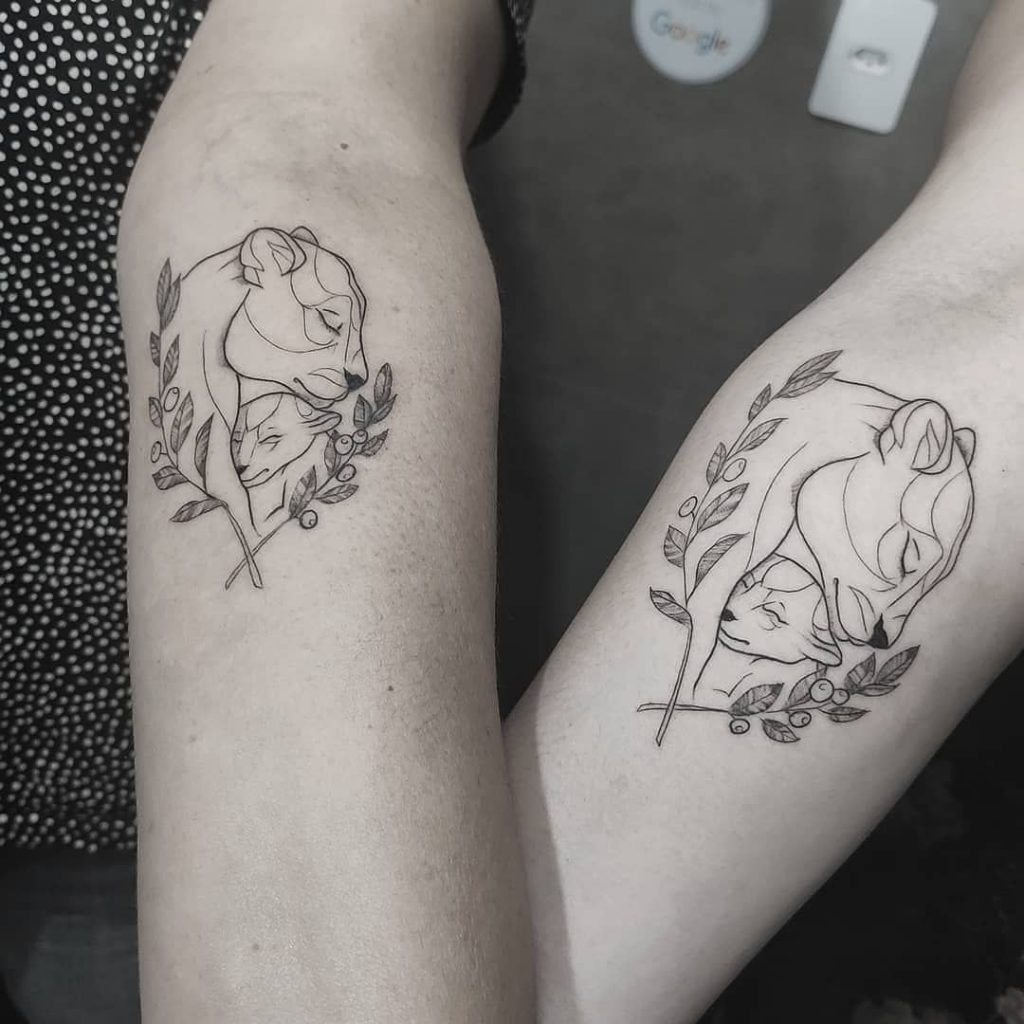 Lion tattoos are for the fearless. It symbolizes strength, courage, and power. But even for the toughest moms, the little ones always bring out one's softer side. Do you relate well to this?
26. Deer Matching Tattoos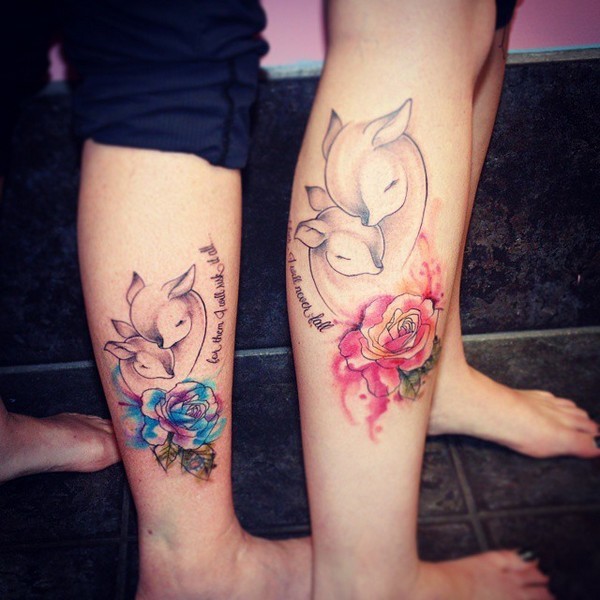 Greek and Roman mythology considers deers to be symbols of beauty and grace. Deers are the symbol of Artemis, the goddess of nature and childbirth. Deers are common mother-daughter matching tattoos. It's up to you to make it more personal.
27. Matching Astrology Tattoos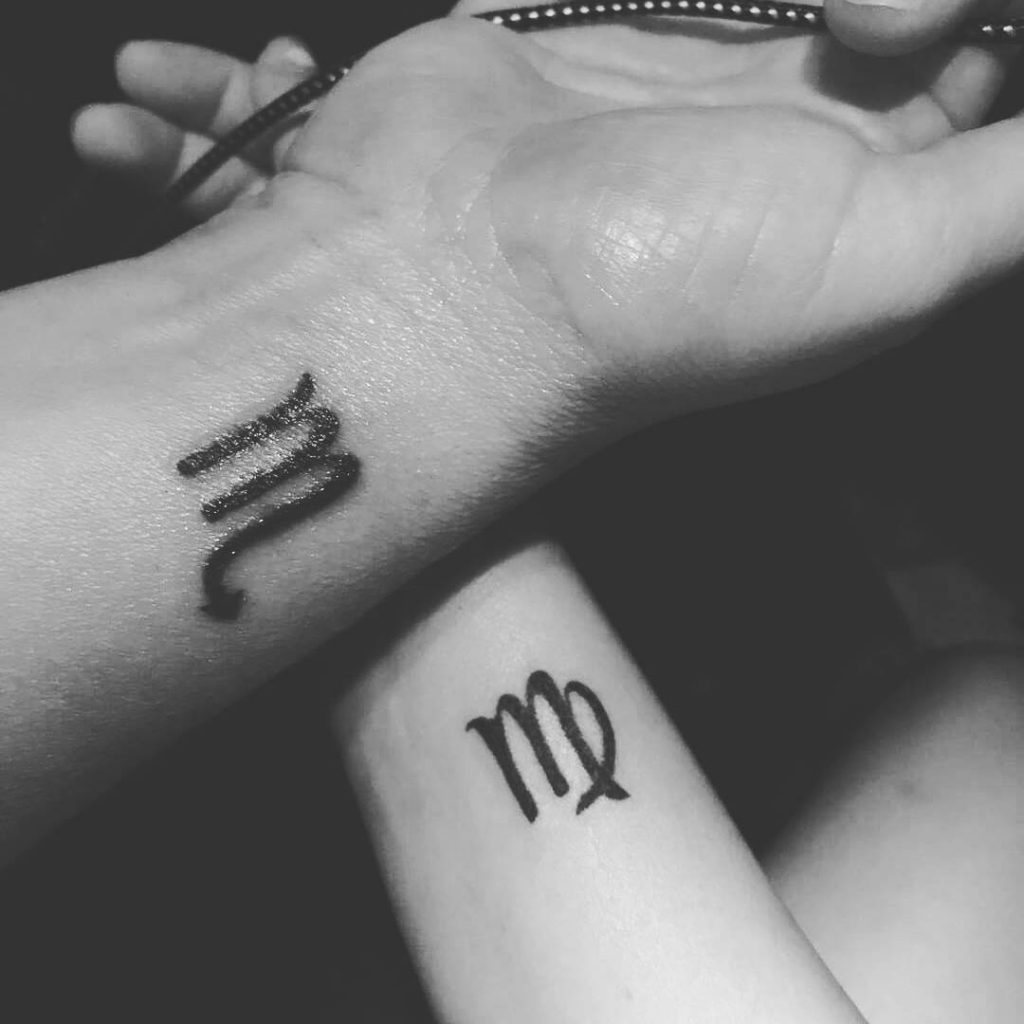 If you and your mom love astrology, you can wear adorable matching tattoos of the constellation of your signs. Don't forget to add a splash of color for the galaxy.
28. Matching Whale Tattoos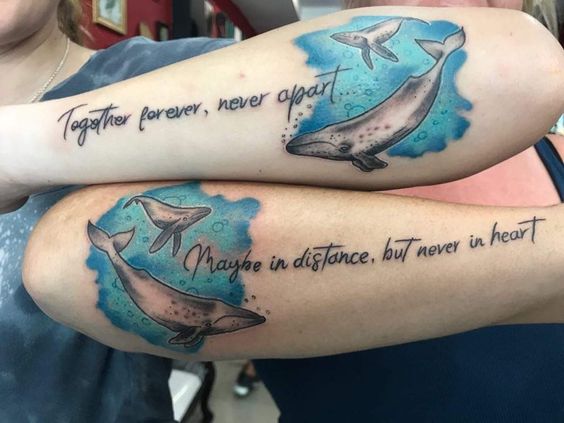 Whales are not popular tattoo images, but these creatures are calm and nurturing mammals. They also represent freedom and exploration. For the adventure-seeking mother-daughter tandem, a tailor-made whale ink might be the perfect choice for you.
29. Matching Sunflower Tattoos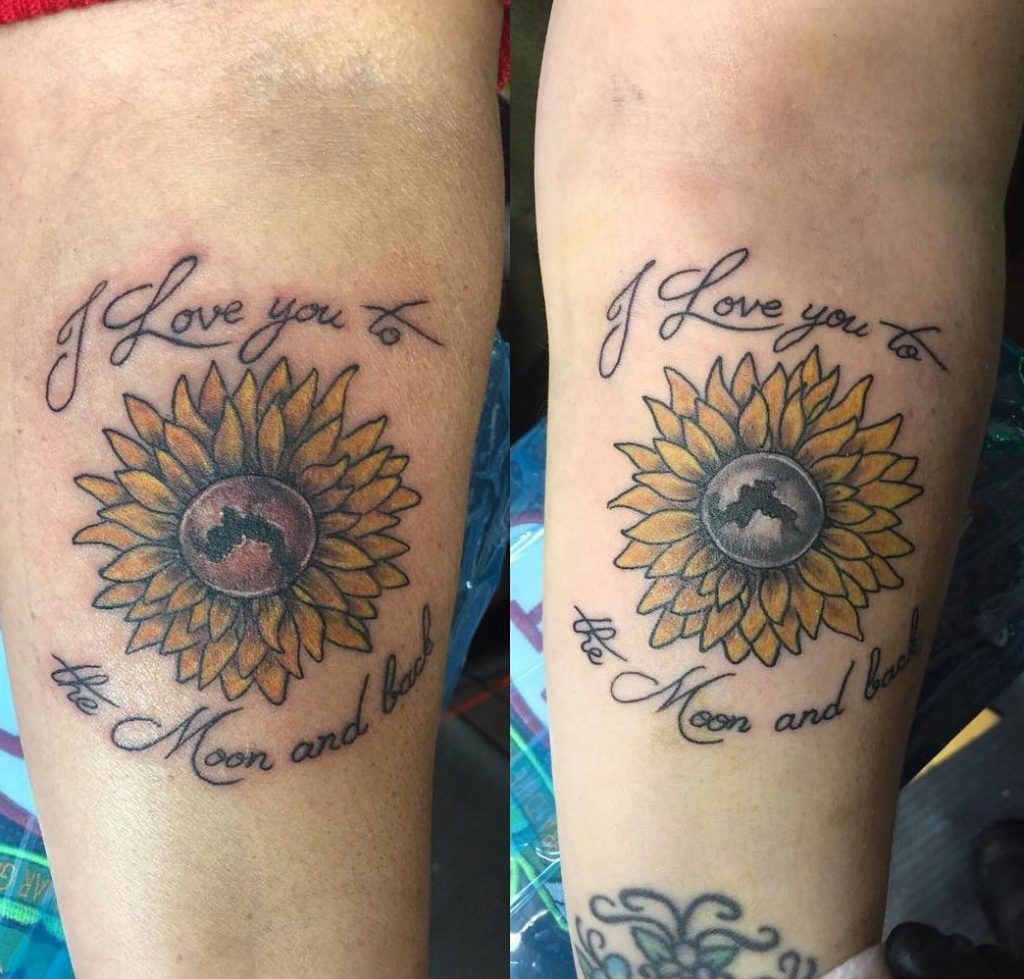 Sunflowers are warm, bright, and spirit-lifting. It symbolizes nourishment and energy. It also looks charming when worn as a matching tattoo for mother-daughter teams.
30. Matching Elephant Tattoos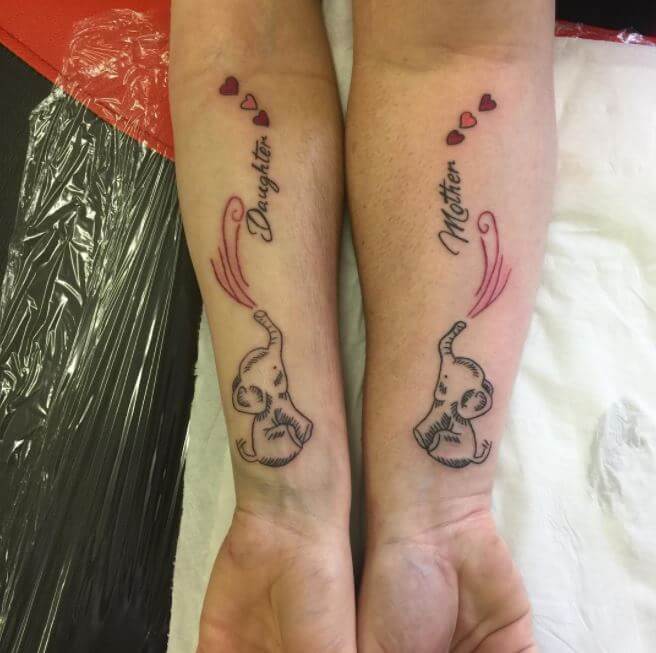 Women who wear elephant tattoos are most likely to value their families, especially their children. Elephants symbolize selflessness, protection, and family. This is a lovely ink design to share between mothers and daughters.
31. Mrs. Potts and Chips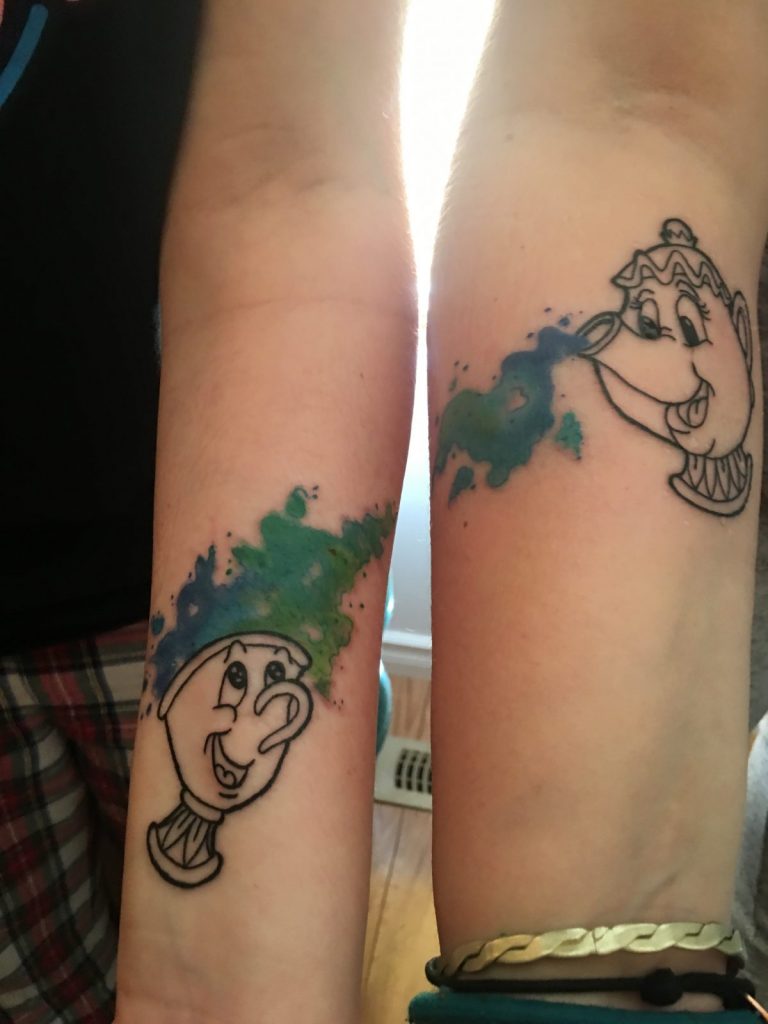 Mrs. Potts is not just an intelligent and level-headed housekeeper turned into a teapot. She is also a nurturing and gentle mom to Chips. If you love Disney's Beauty and the Beast, how about this tattoo design?
32. Rune Tattoos on Fingers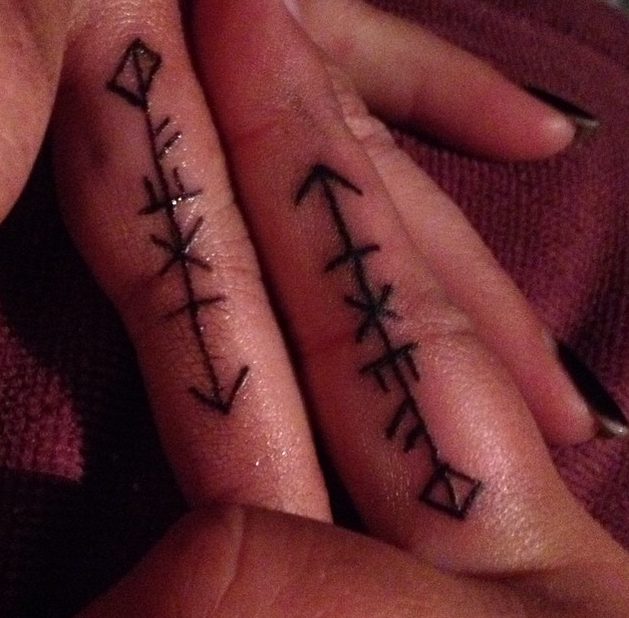 Finger tattoos are discreet and trendy. Mom and daughters will love these matching symbolic runes as a way to celebrate their special bond.
33. Matching Sun and Moon Tattoos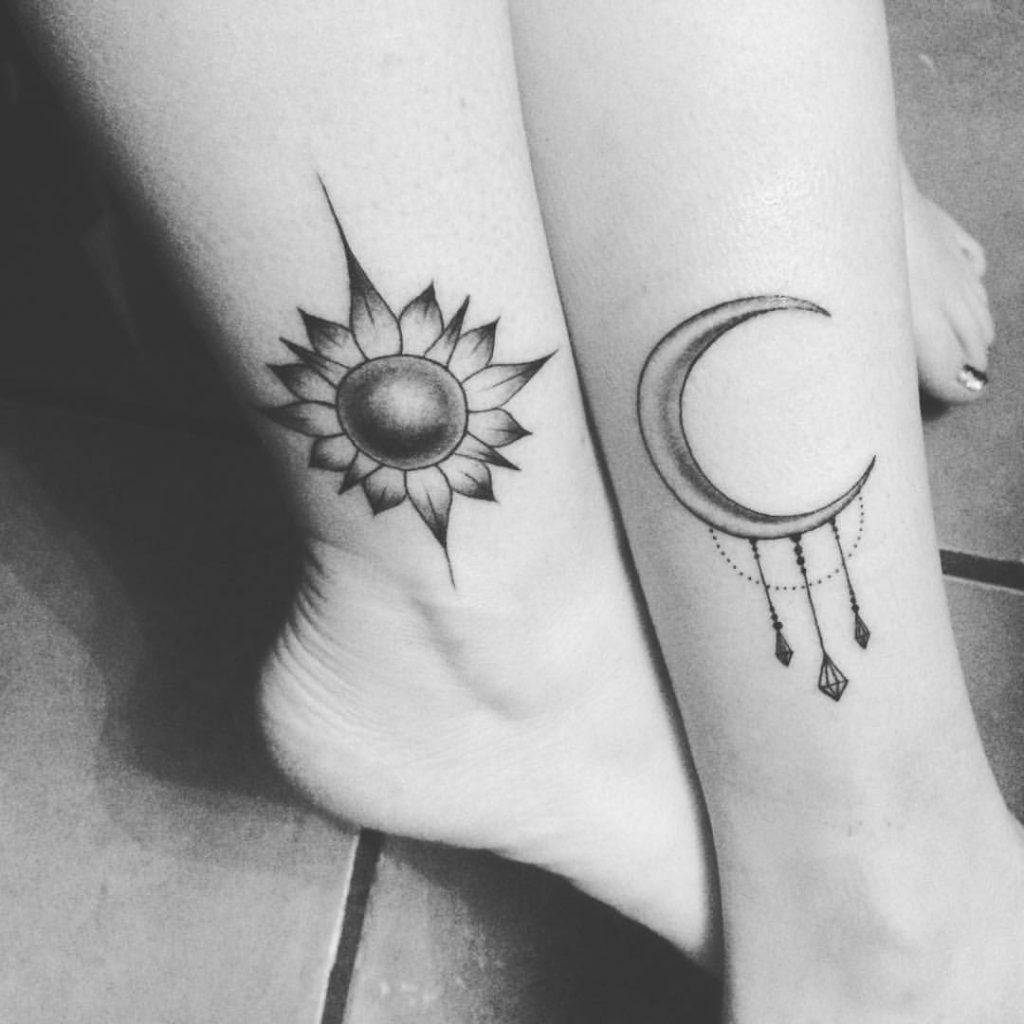 This tattoo is the perfect way to pay tribute to the bond for mothers and daughters who are like night and day. They love differently but are created in the same style, which is sweet.
34. Butterfly Wings Tattoos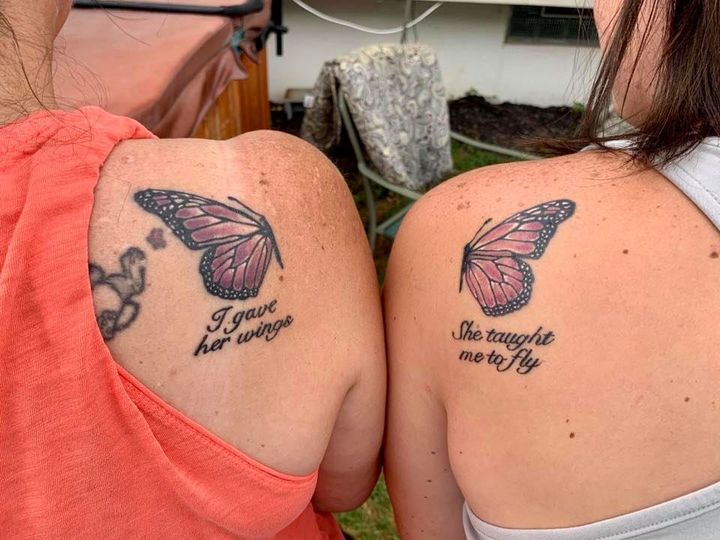 Choose a monarch butterfly to honor the family matriarch – the grandma. Then consider getting a full butterfly on each of you, which, when put together, create a whole image of love.
35. Three Little Birds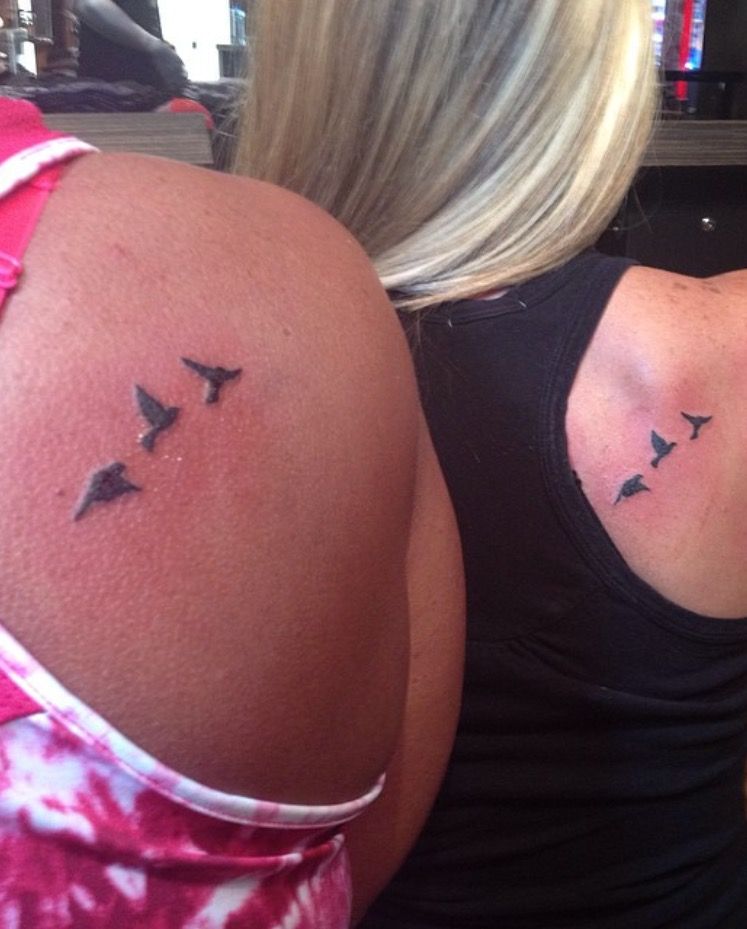 If there is anything more special than a mother-daughter tattoo, it's a mom with three daughters matching tattoos. An excellent idea to express this is to have a matching mother bird with three little birds.
36. Infinity Symbol Tattoos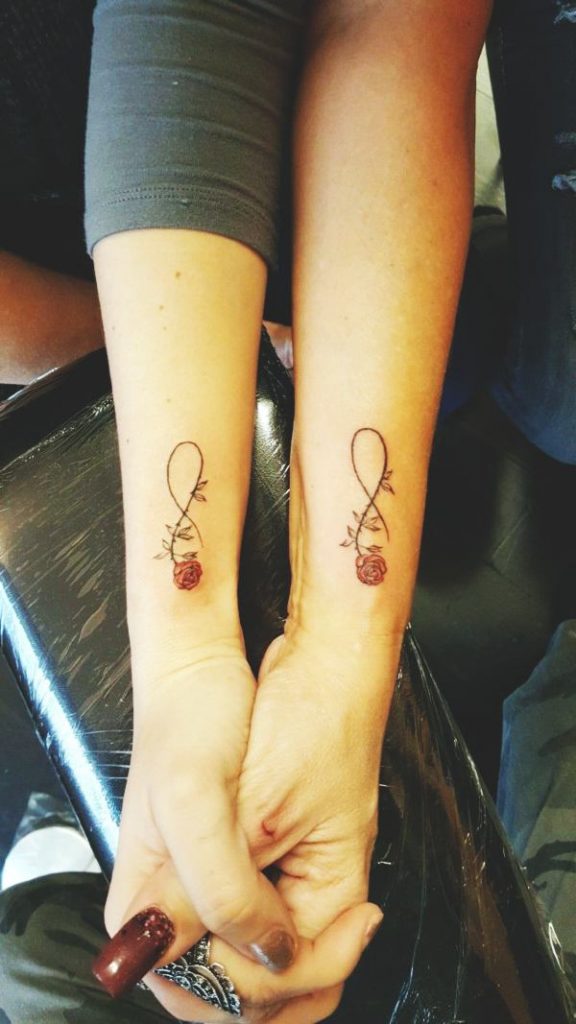 Stay connected with your mom by getting these matching infinity tattoo symbols. It is a fitting symbol that represents the infinite bond shared by mothers and daughters.
37. Matching Hamsas Tattoos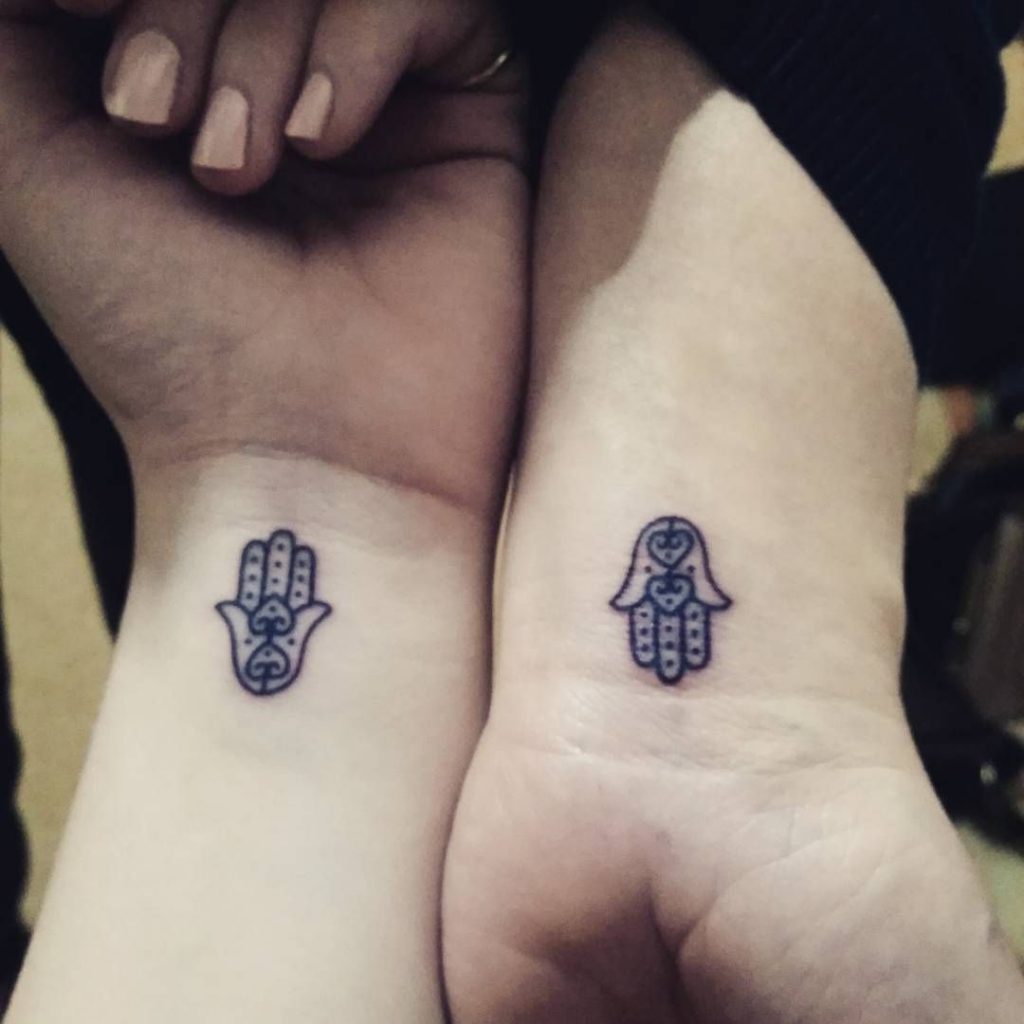 Hamsa is a traditional ancient symbol that symbolizes protection. Often these images are designed to be intricate and detailed. They are perfect as mother-daughter tattoos, which are always protective of each other.
38. Roses and Butterflies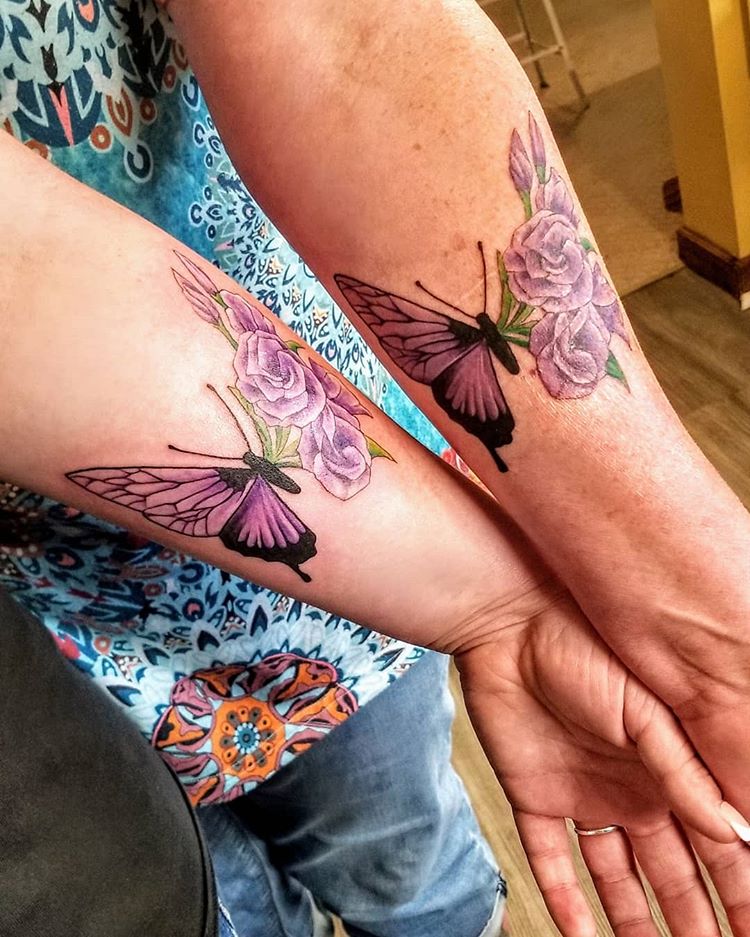 These tattoos can go beautifully on their own or with other elements like initials or names. It looks adorable, inked in matching styles on mom and daughter's shoulders.
39. Mother and Daughter Stick Figures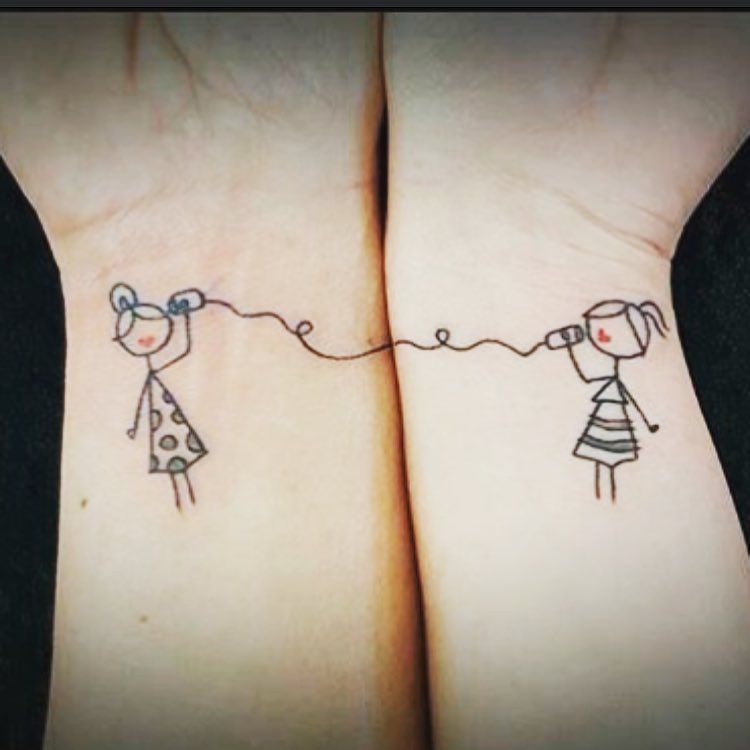 Mothers and daughters will always stay in touch no matter how far they are from each other. So how about getting inked with these stick figures waiting connected over the phone?
40. Orchids Matching Tattoos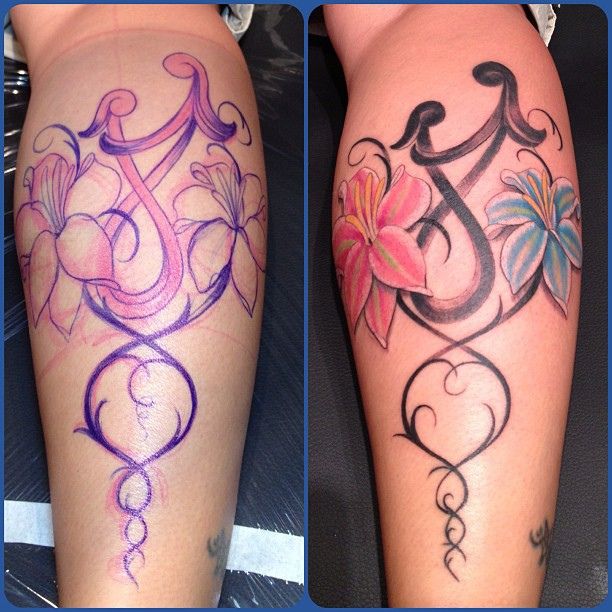 Some mothers love orchids because of their uniqueness and rarity. Get inked with her favorite species and show your mom that you love her forever!
41. Heartbeat Matching Tattoo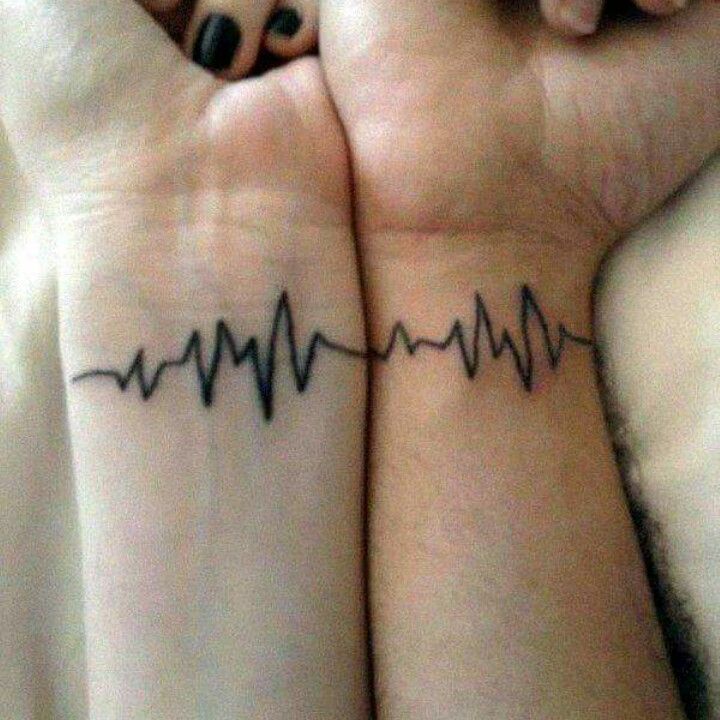 Here's a bold reminder that being mother and daughter is for life. The tattoo is from the heartbeat monitor and signifies lifelong love.
42. Birds in Flight Tattoo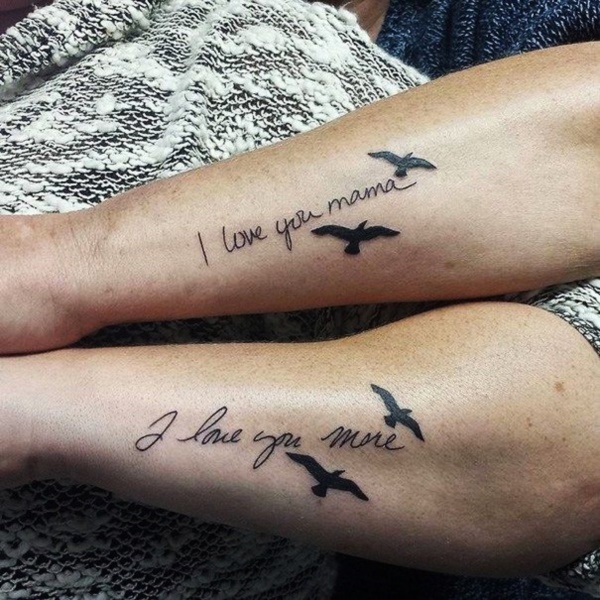 Often, mother and daughter relationships are symbiotic. They serve as an extension of one another. This birds and flight tattoo showcase this unique bond between the two of you.
43. Tiny Hearts Tattoo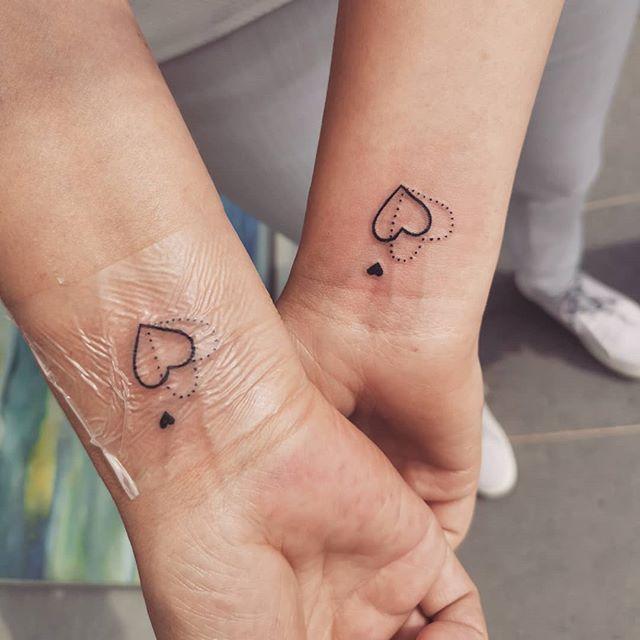 Tiny hearts tattoos can be inked on hidden spots. Share this sweet and meaningful ink with your mom with a matching behind-the-ear tattoo. It is a small but powerful expression of your bond.
44. Matching Music Tattoo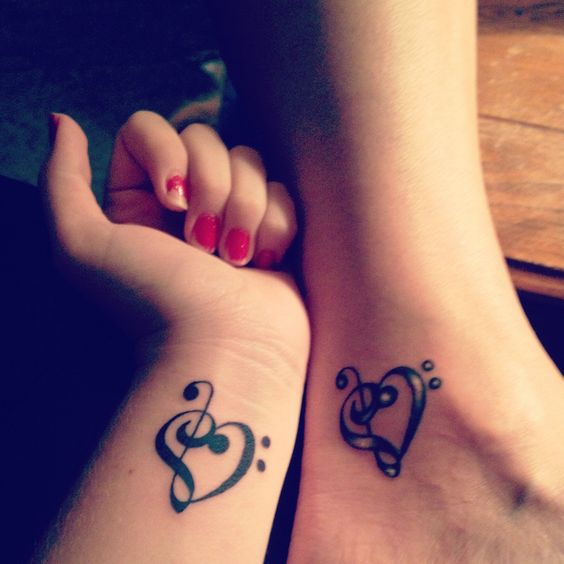 Do you have a timeless song that reminds you of sweet days with your mom? It is a beautiful inspiration for a mother-daughter tattoo that keeps you connected even when you are leading different lives now.
45. Signs and Symbols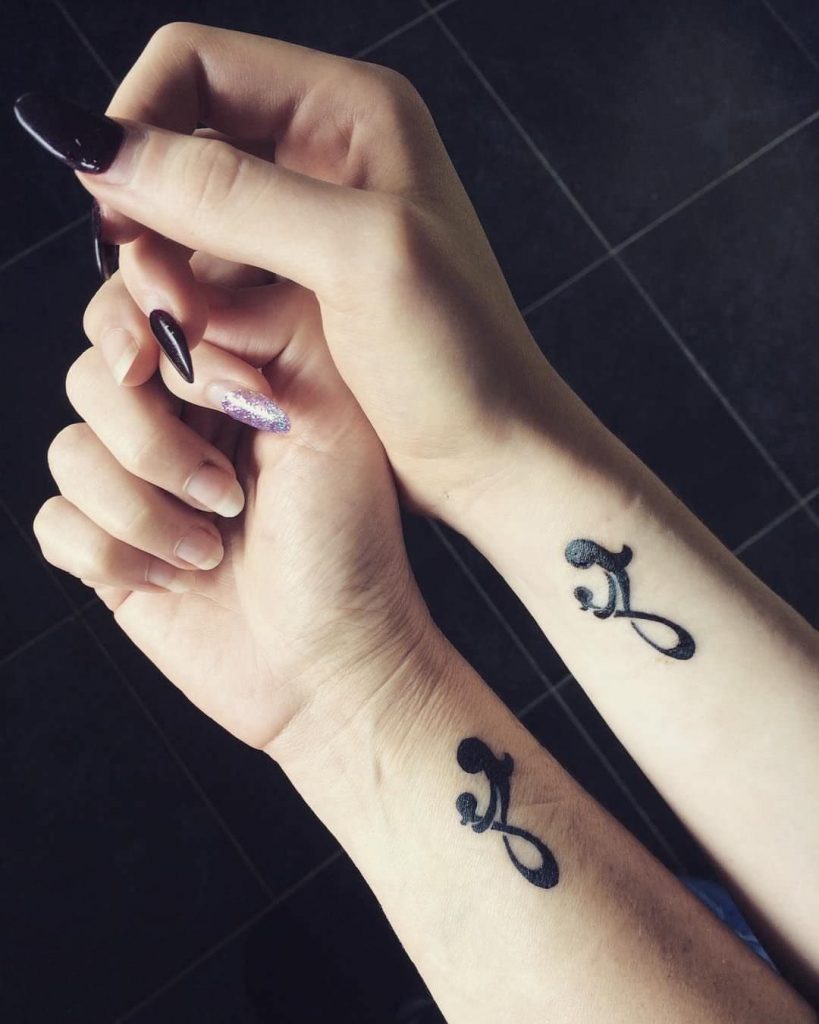 If you are more into signs and symbols, tribal tattoos are the perfect choice style for you. You can have a spiritually and culturally significant ink design specially made to match your mom's.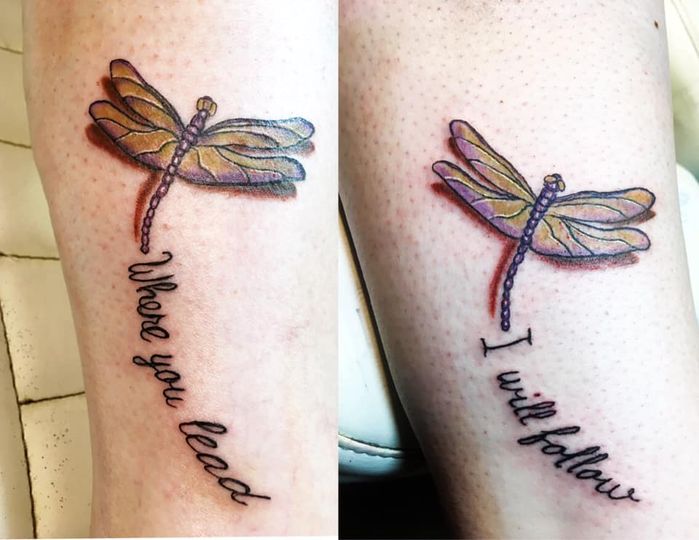 Do you and your mom share the same passion for music, cooking, or gardening? Have a subtle ink design that commemorates this shared passion that strengthens your bond even more.
47. Tea Time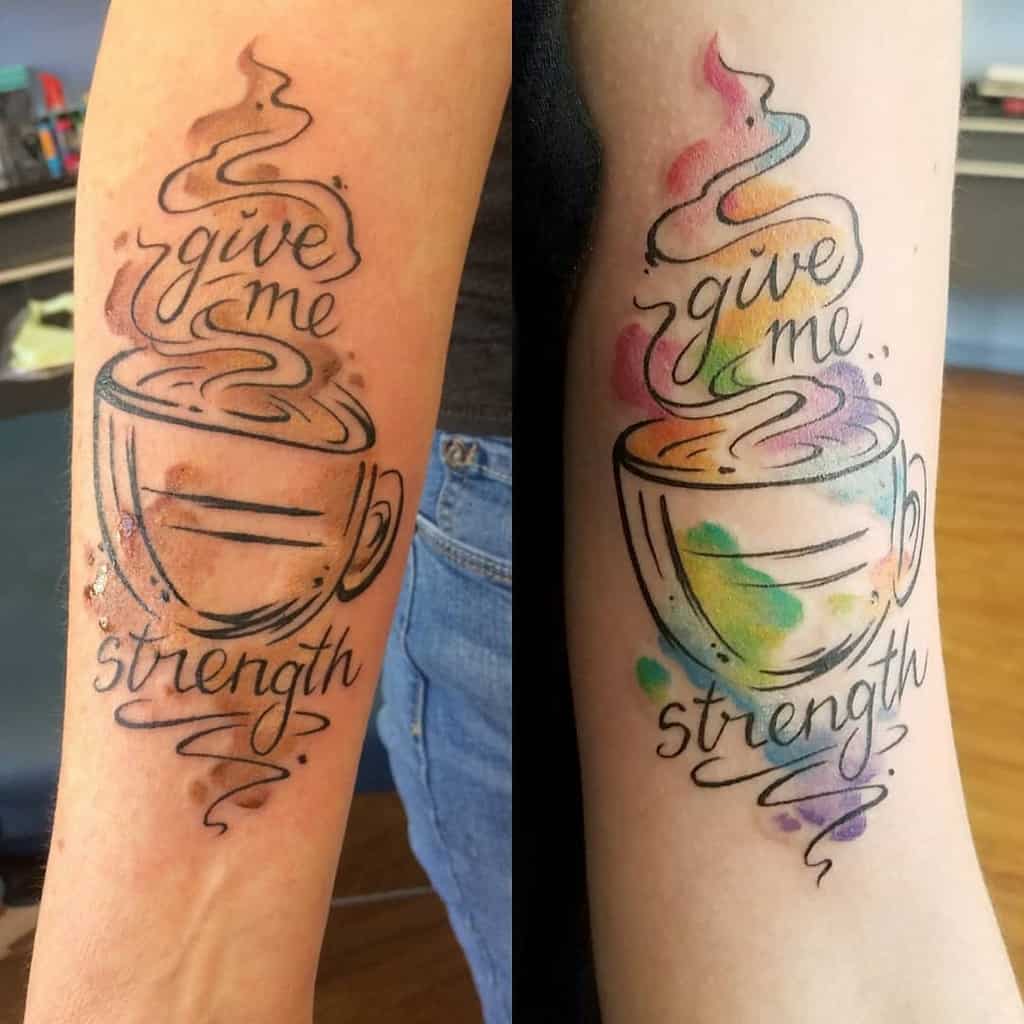 Despite your busy schedule, always make time for mom, and don't forget your usual cup of tea! These teacup tattoos will be a lifelong reminder of your bonding time with mom!
48. Hold On Tightly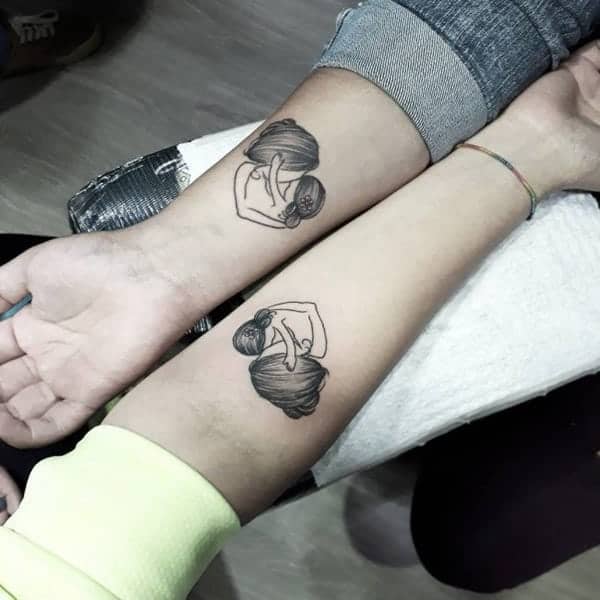 These matching and elegant hand tattoos that seem to hold on tightly are a symbol of the strong bond you share with your mom. It is made simply with bold black lines and white areas, but it is striking!
49. Flowers Says It All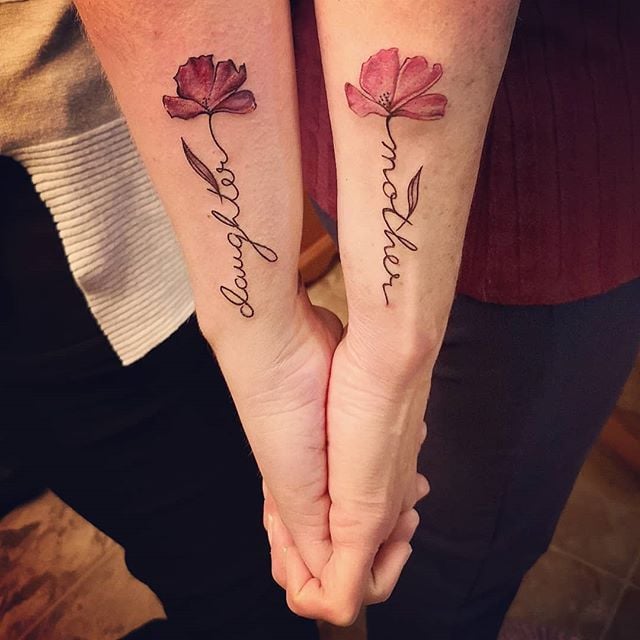 Flowers are a dainty and delicate representation of femininity. It is also an excellent inspiration for mother-daughter tattoos to showcase their unique bond. Have something to show how you've stemmed beautifully from your mom.
50. Unlocking Mom's Love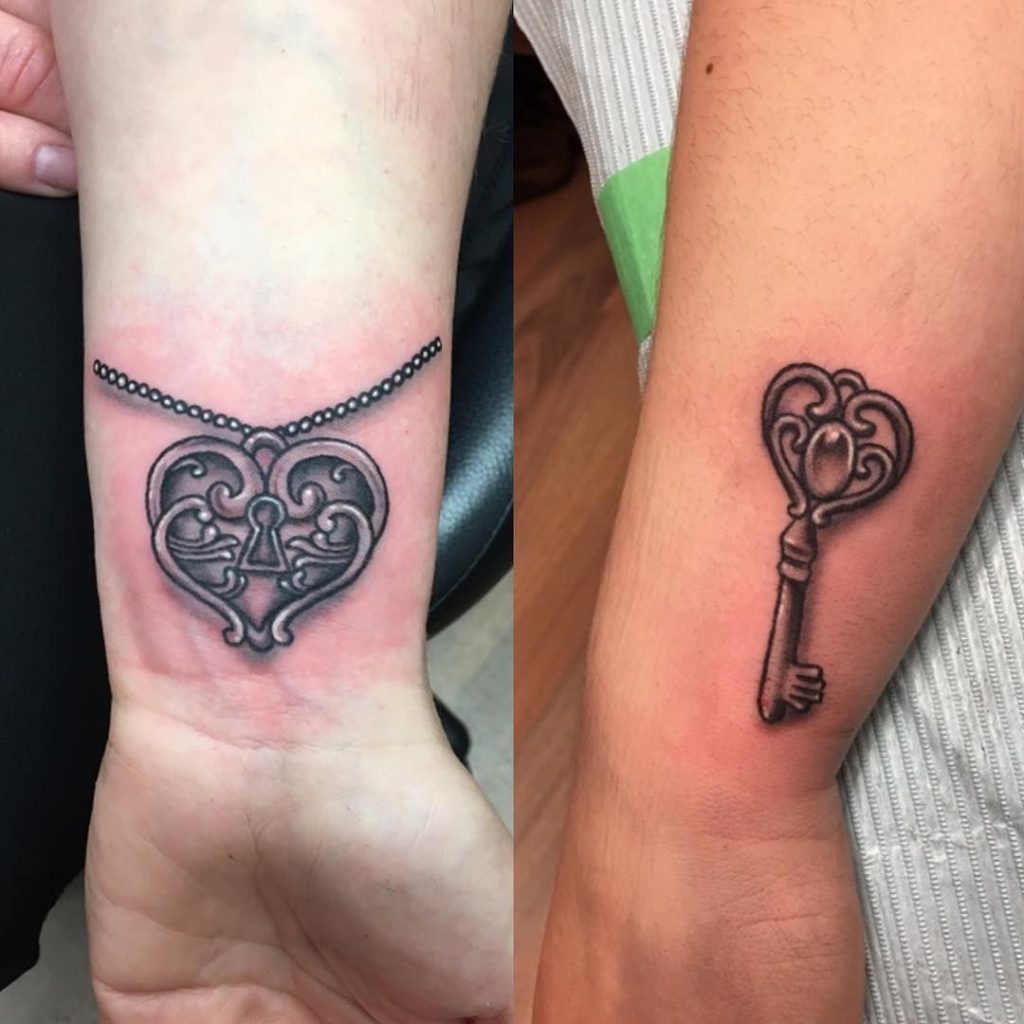 A daughter holds the key to her mother's heart! You can choose to have this intricate but straightforward reminder of the woman who has unlimited love for you.
51. Mother-Daughter Outlines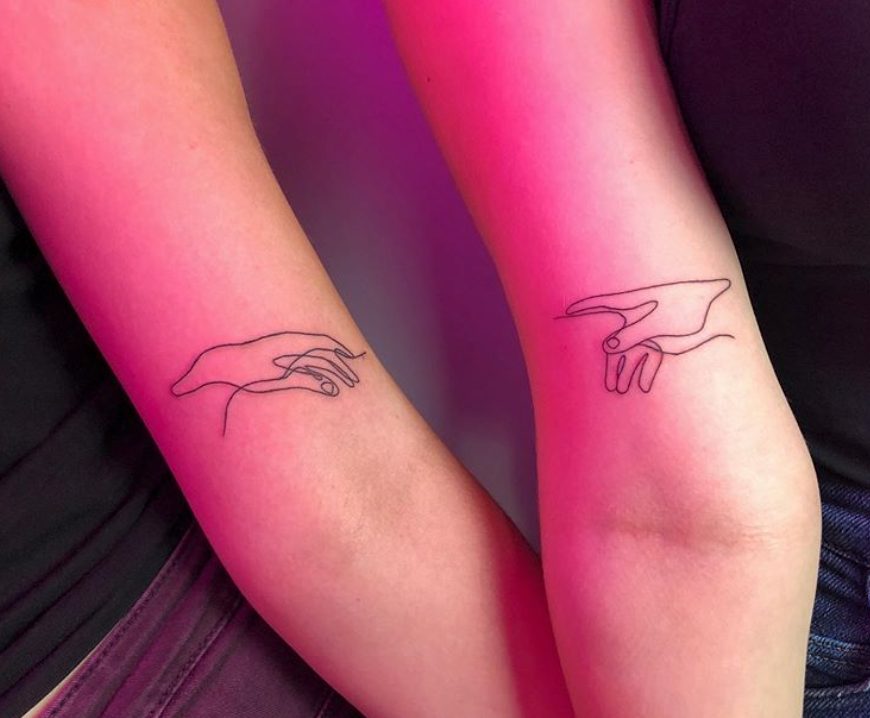 This unique tattoo design takes the outlines of the mother-daughter duo. It is rendered in bold lines and has plenty of open space. It is a straightforward yet meaningful design for a matching mom and daughter tattoo.
52. Hummingbird Matching Tattoos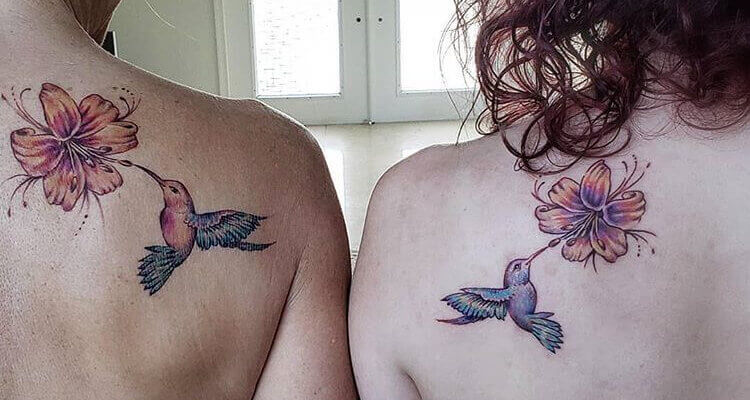 There are a thousand reasons why you should go for this colorful and detailed hummingbird tattoo design with a heartstring. It shows that the love between mom and daughters is always there wherever they go, and it looks gorgeous.
53. Pinky Promise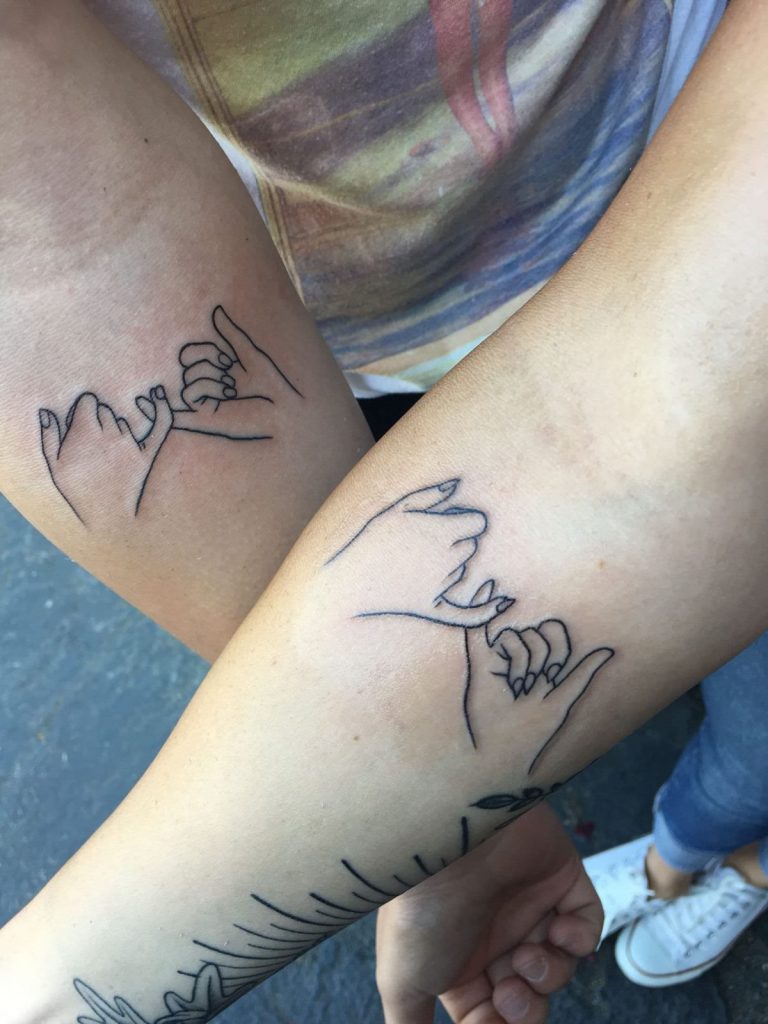 When your heart belongs to your mother or vice versa, your heart can never truly break. If you feel this way about your mother-daughter bond, cherish it with this lovely pinky promise tattoo.
54. Perfectly Proud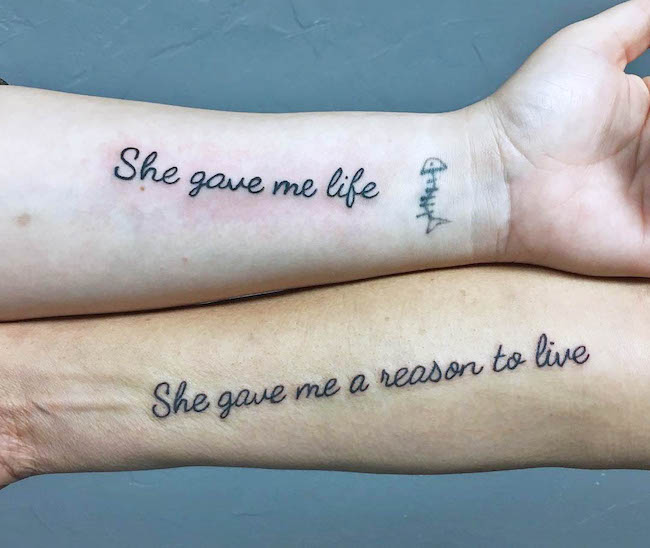 If you take pride in your cultural history along with your family, something meaningful and symbol in your heritage will work for your mother-daughter tattoo design.
55. Sweet Swings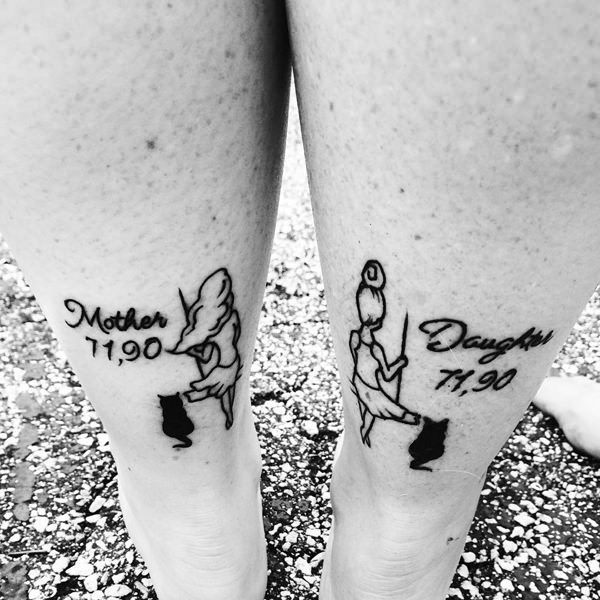 Moms and daughters remain ideally in sync even when they are apart. Take inspiration from this swing on the moon design for that magical connection you have.
56. Where you lead, I Will Follow.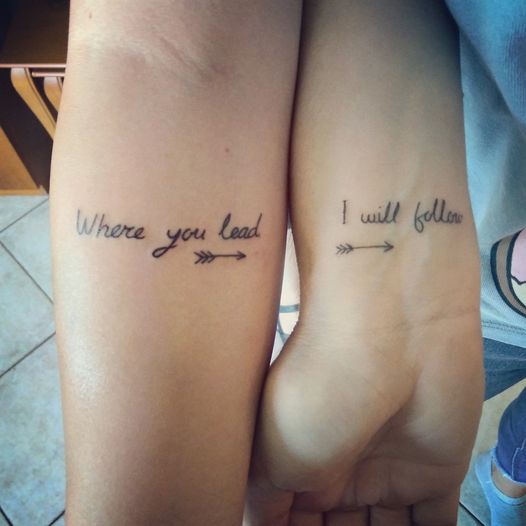 This song lyrics from the Gilmore Girls series is a heart-melting description of an unbreakable mother-daughter bond. If you, too, are touched by the music and what it symbolizes, have it in matching ink right over your heart.
57. Matching Moon Tattoos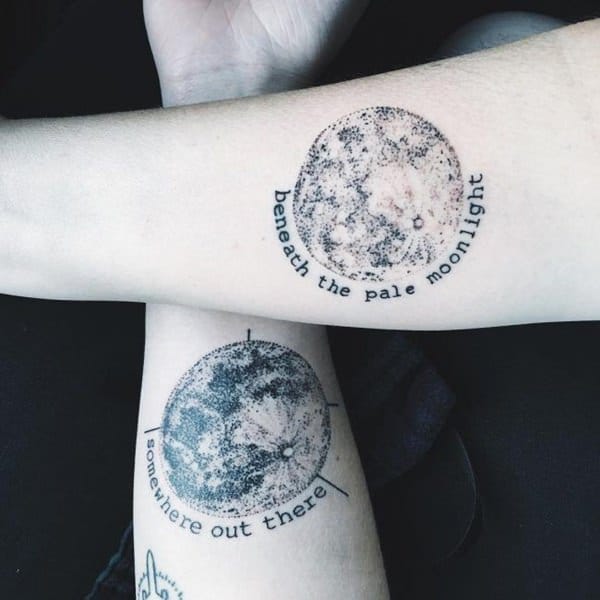 The moon represents calm, feminine energy. If you and your mom share a love for the moon, then this ink design will be an appealing choice for you. Have an intricate style with pretty details for dreamy art.
58. Matching Cranes Tattoo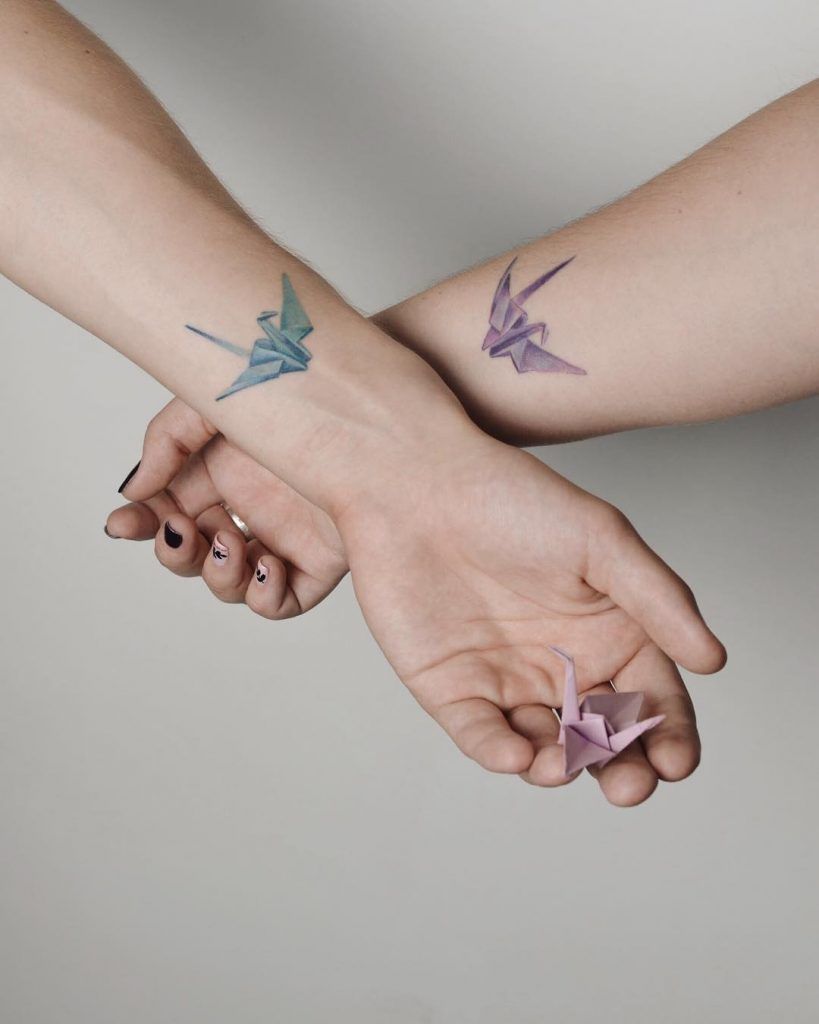 There is something poetic about cranes in flight. Cranes symbolize grace, wisdom, and love of life. It is also an inspiring ink design that you can have for a mom-daughter matching tattoo.
59. Roots Tattoo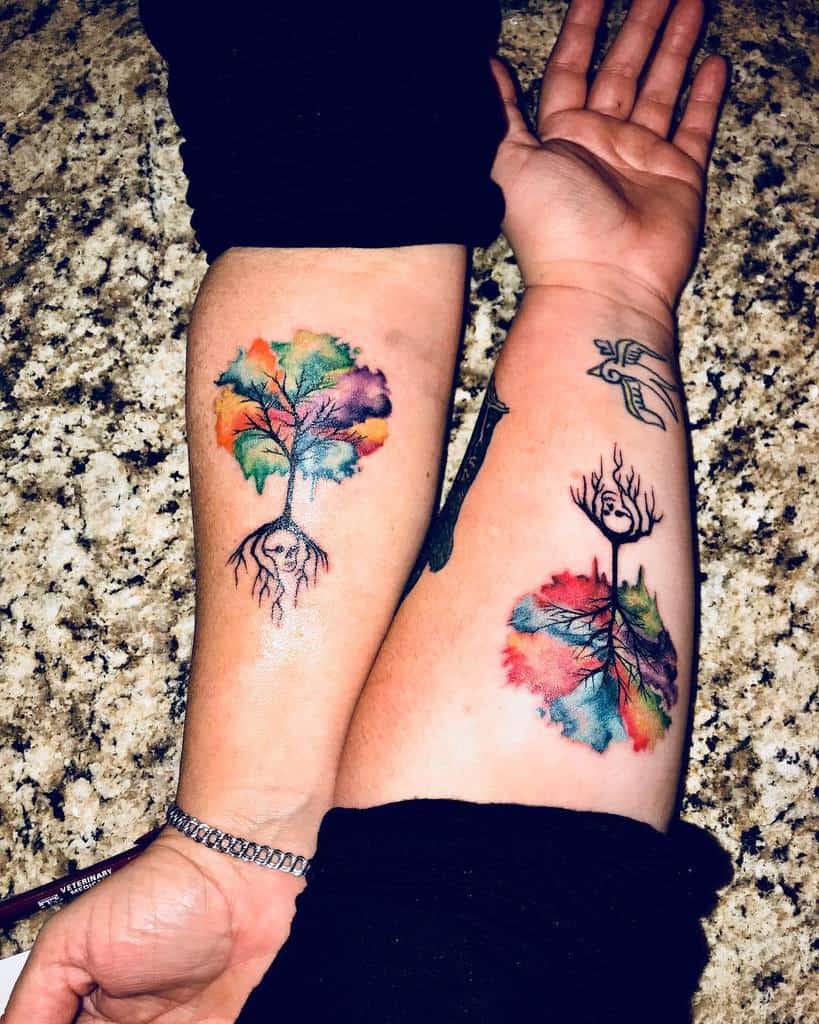 In most cases, it is the mom who keeps the family grounded. This root tattoo perfectly describes how deep the roots of her love go.
60. Mandala Matching Tattoos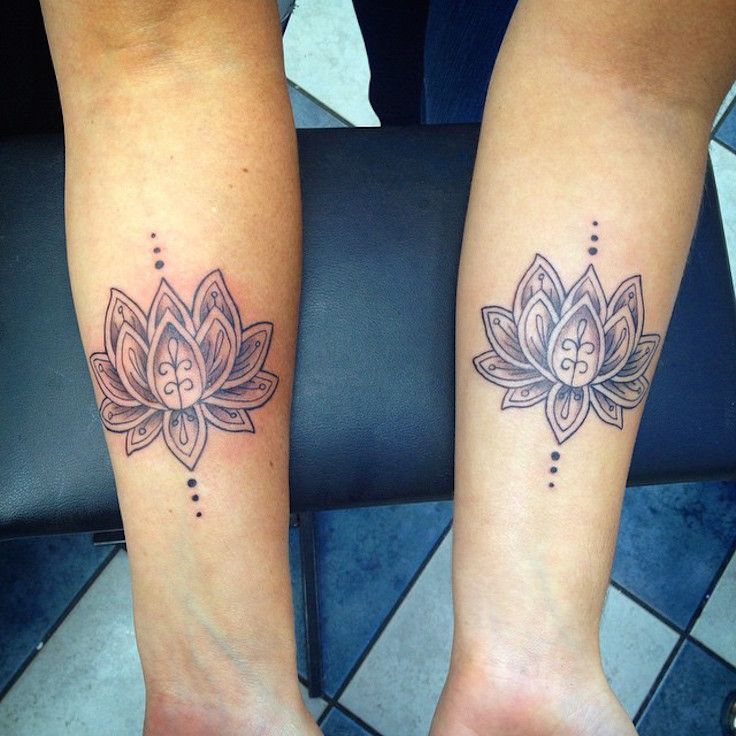 In Sanskrit, "mandala" means circle, and the unique technical design symbolizes a spiritual journey passing from the outer ring and going inwards. Mother and daughter relationships are like the mandala and provide understanding for them both.
#61. Watercolor Heart Tattoo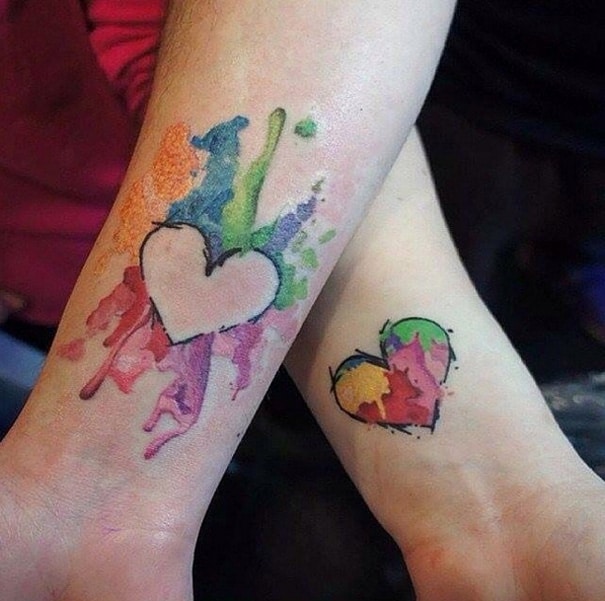 #62. Peanut Butter and Jelly Tattoo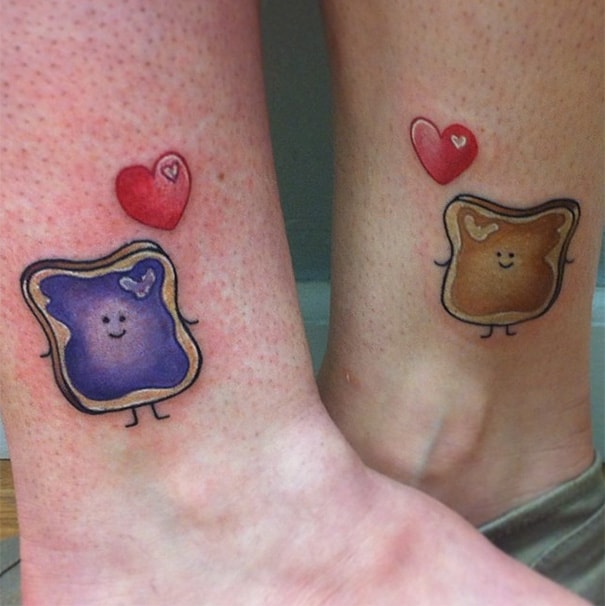 #63. Musical Notes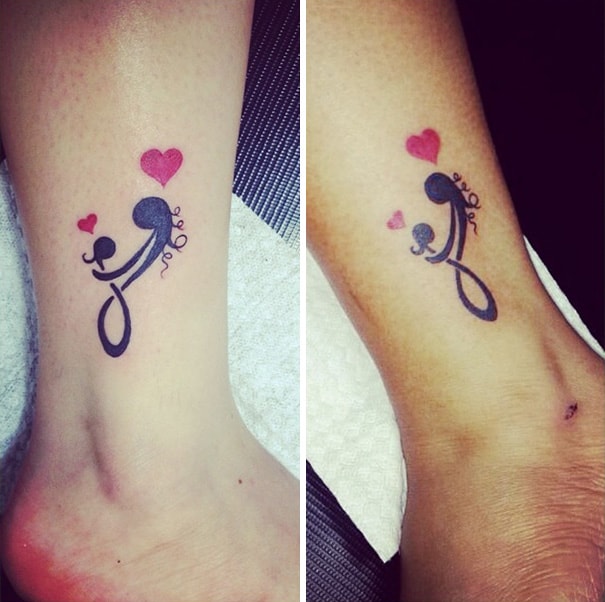 #64. Winnie the Pooh Quote Tattoo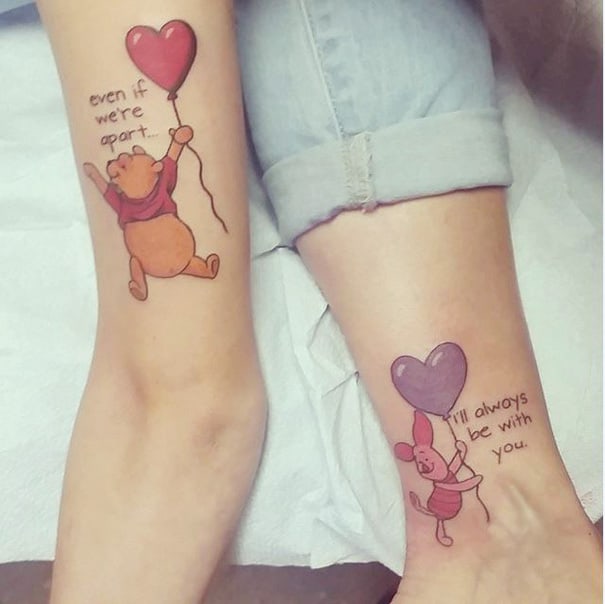 #65. Puzzle Pieces Tattoo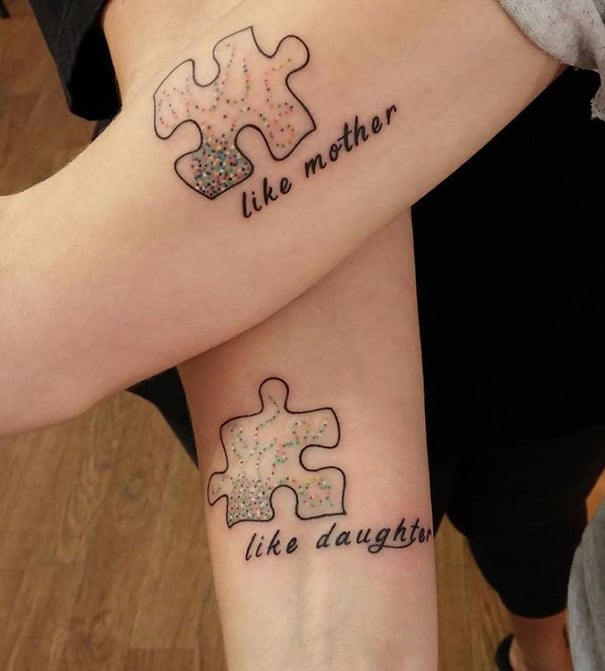 #66. Folded Butterfly Tattoo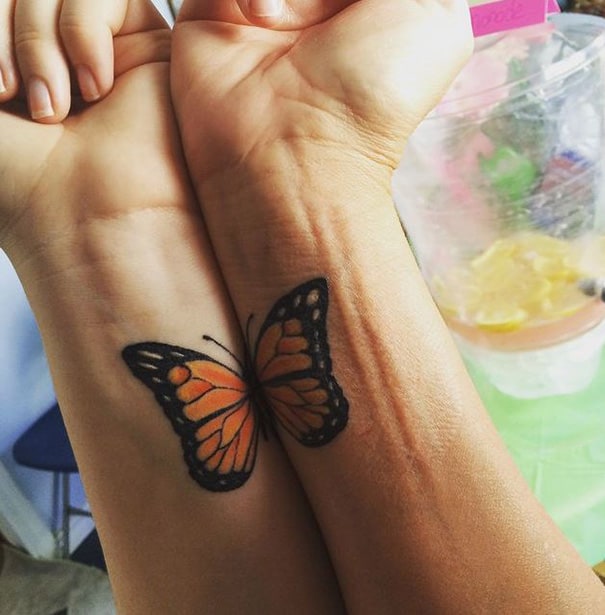 #67. "I Love You Mama… I Love You More"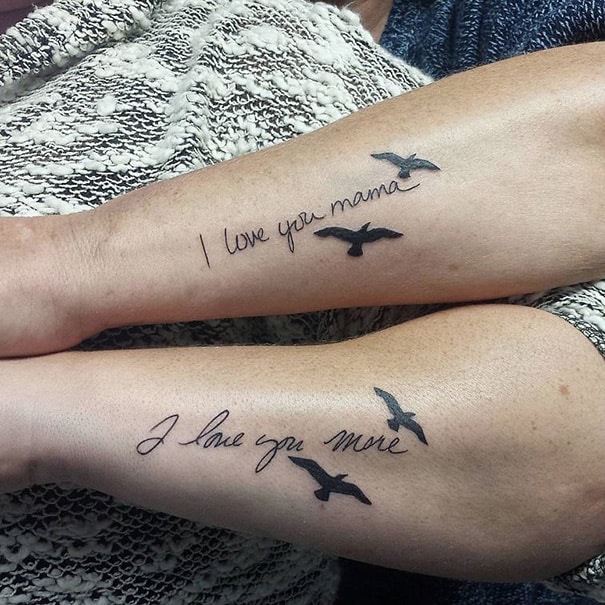 #68. Always on the other end of the line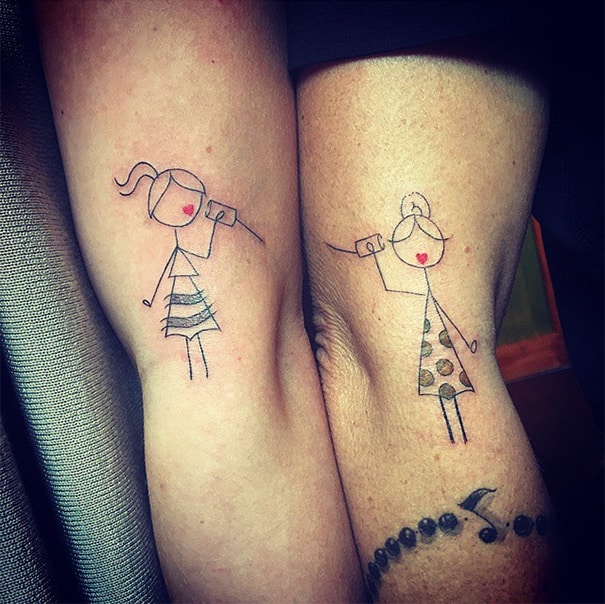 #69. Soaring birds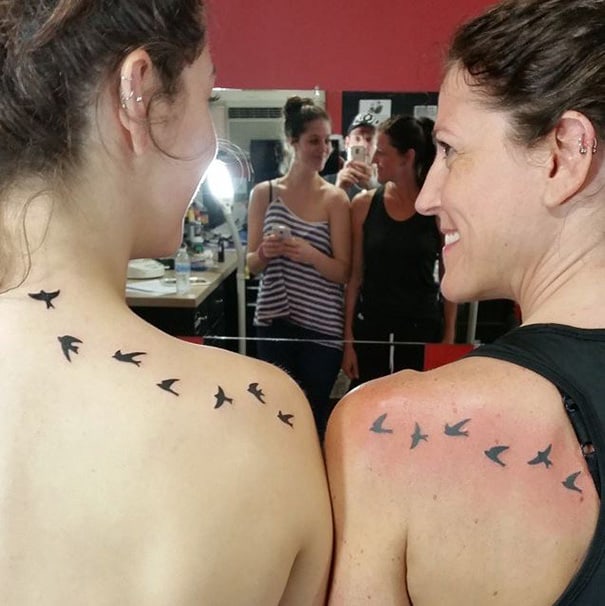 #70. Mama hen and baby chick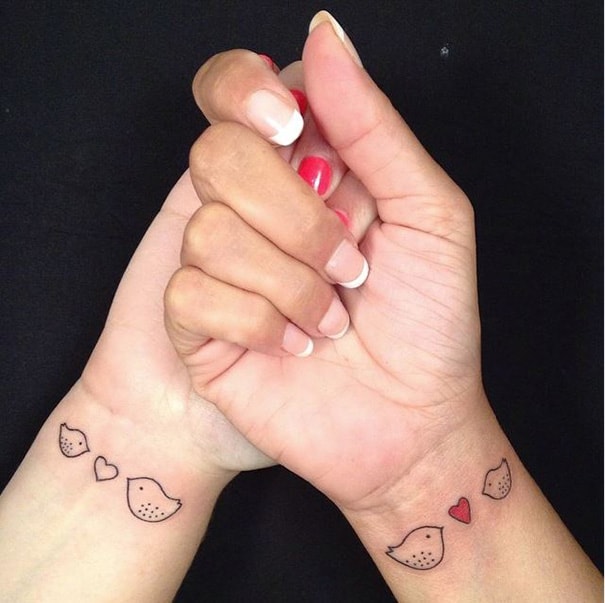 #71. Teapot and tea cup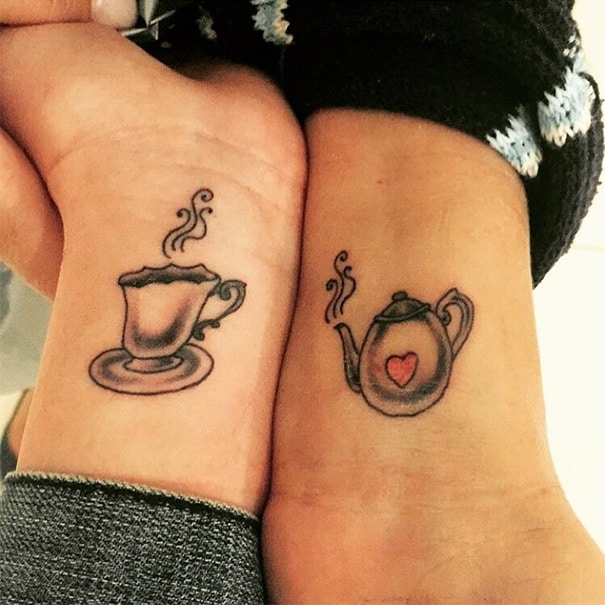 #72. Cut from the same cloth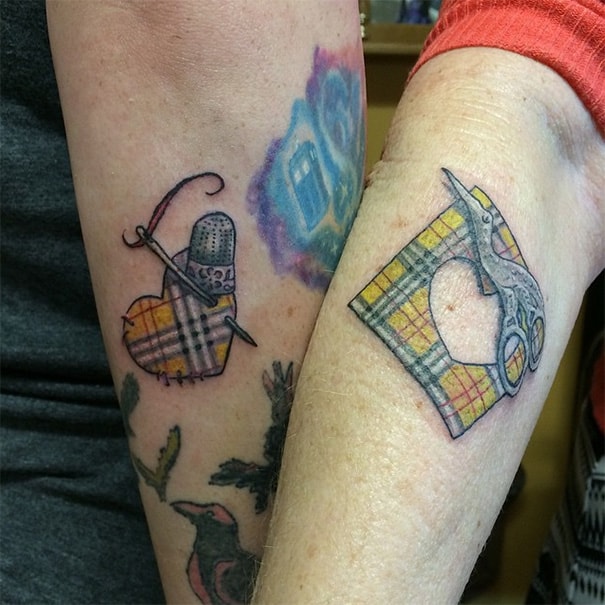 #73. For rockstar moms and daughters
#74. Tiny matching hearts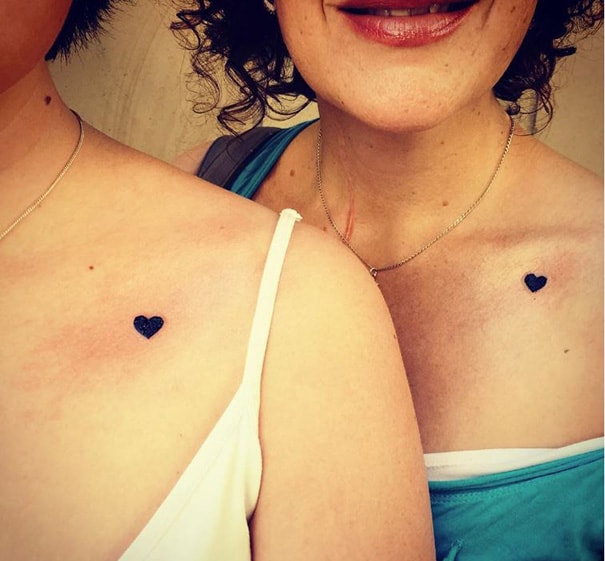 #75. Bracelet Tattoos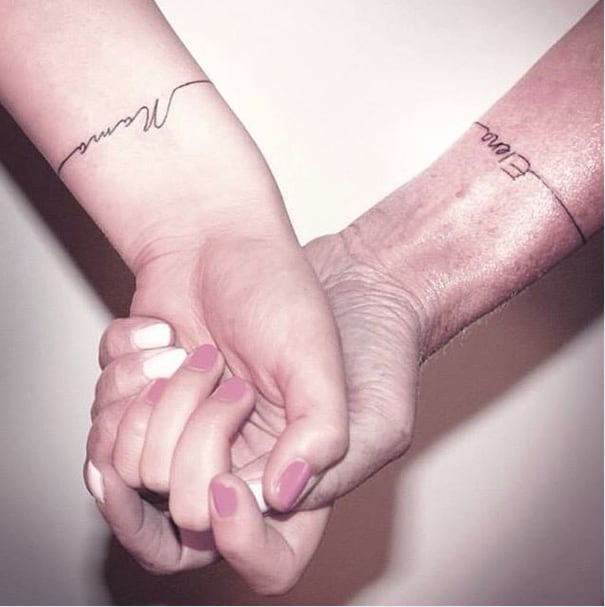 #76. Big and Small Arrows Tattoo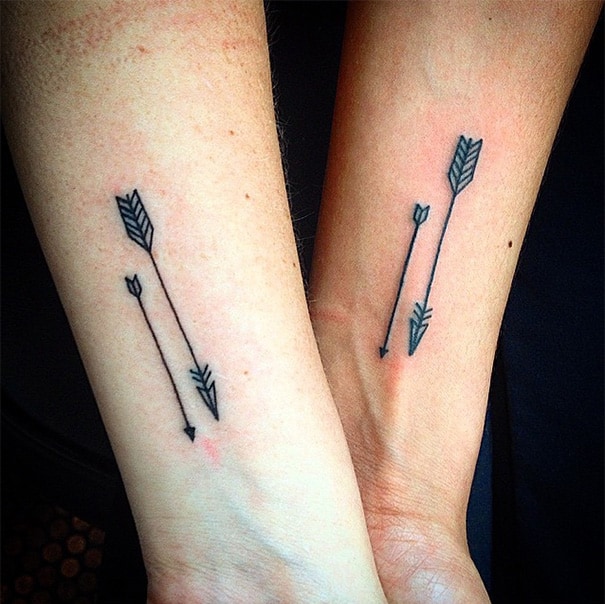 #77. Infinity Leaf Clovers Tattoo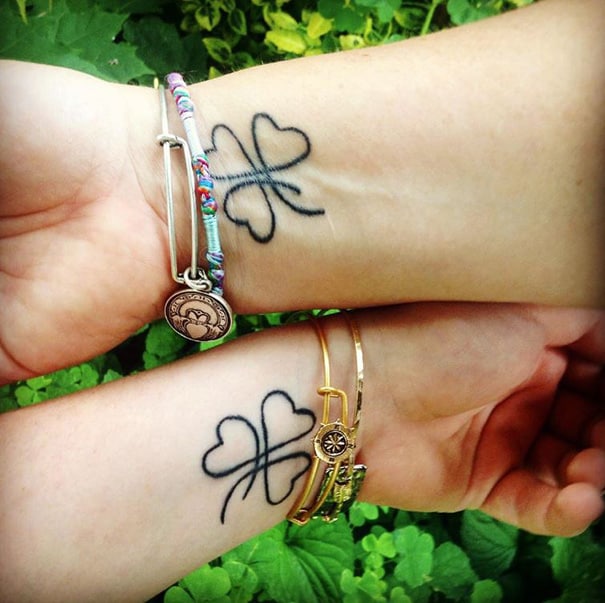 #78. Pink breast cancer ribbons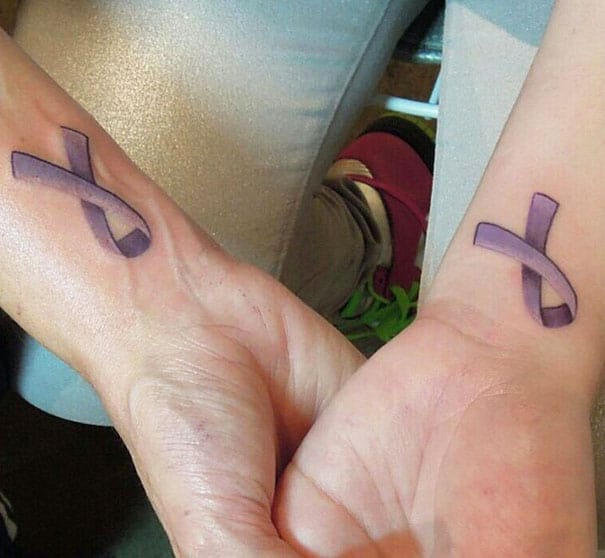 #79. Two birds on a branch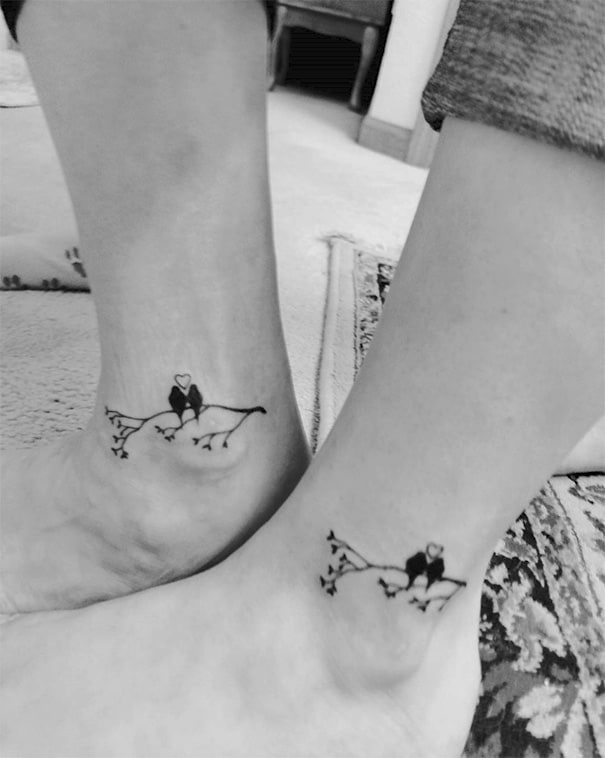 #80. Noughts and Crosses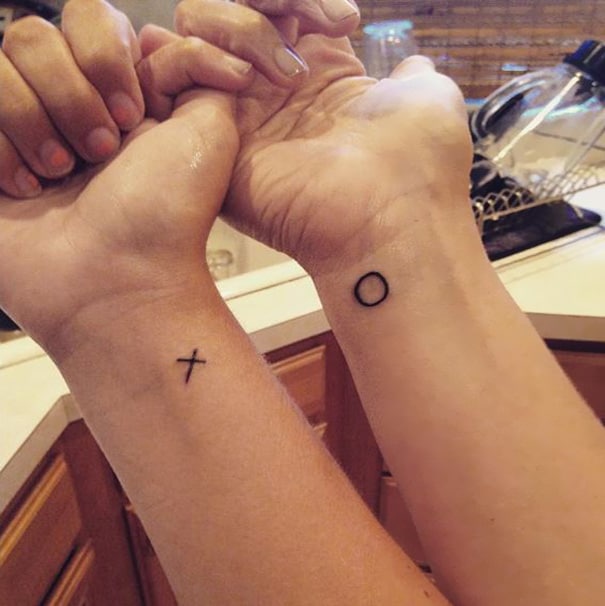 #81. Heart Tree With Roots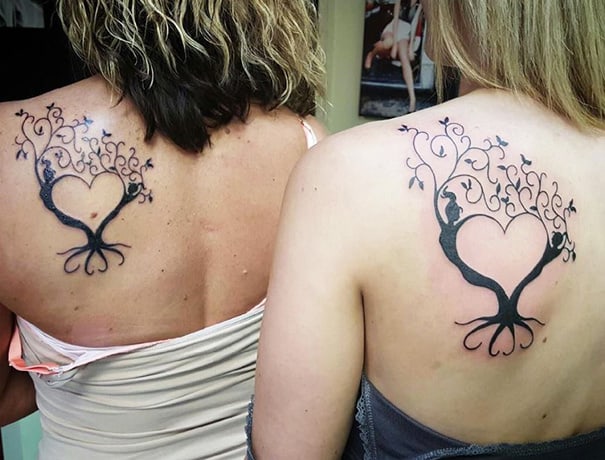 FAQ
What is the most common type of mother and daughter matching tattoos?
The most common type of mother-daughter tattoo is a small heart. This is usually in a discreet place which the mother or daughter can easily see, but is not too obvious for other people.
What are some common mother-daughter quote tattoos?
There are quite a few common quotes for matching mother and daughter tattoos, like "where you lead, I will follow," "She gave me life. She gave me a reason to live" and "give me strength."
Why is the infinity symbol popular with matching mother and daughter tattoos?
The infinity symbol is a versatile symbol. It is a looping line in a figure eight and oriented in landscape. For tattoos, it means forever, and the curves can be converted to a a quotation, or the words "mother" and "daughter" can be inserted inside the symbol.
Where is the most common place for mother and daughter tattoos?
The most common place for a mother and daughter tattoo is the wrist or forearm. Placing a tattoo on the forearm makes it very visible and is a constant reminder of the message of love between mother and daughter.