If you describe yourself as anything but a traditional bride-to-be, don't you think your hardware should fit that description as well? Thanks to a slew of crafty jewellers, the offbeat woman now has a wide selection of equally-unique engagement rings at her disposal.
#1. Prop up two tiers of tiny stones with a teardrop-shaped diamond.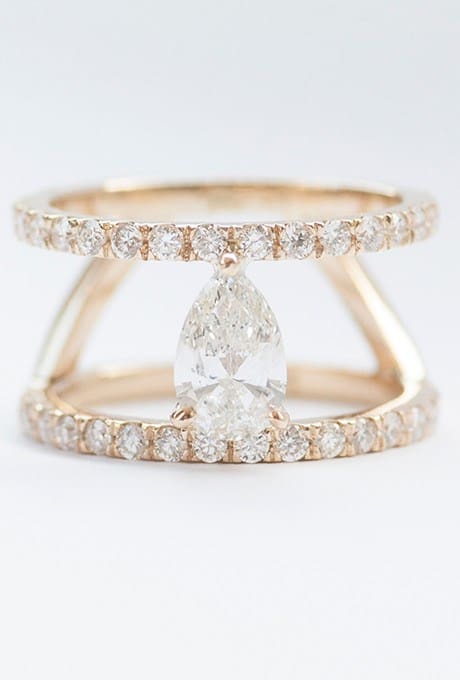 Mociun
This custom-made 14K yellow gold engagement ring's double band is unique in its own right, but all eyes will be on the pear-cut white diamond sitting pretty in the middle. Pear Cut Diamond Cage Ring, available at Mociun. Price upon request.
#2. Dainty but definitely not conventional, this piece exudes low-key elegance.
Whoever thinks wedding bands are boring has clearly never seen the Tiffany Harmony ring. With brilliant diamonds delicately cradled in a tapered band of 18k rose gold, this band proves that simple can be stunning. Get it for $1,900, available at Tiffany's.
#3. Who says engagement rings can't be bang on trend?
Don't want your emblem of love to clash with your beach girl style? Check out this opal beaut. Petite Triangle Double Band Opal ring, $1,825, available at lunaskye.com.
#4. Maybe a slight twist on the traditional is all you need.
If you prefer a less complicated arrangement of stones but with a punch, this ring's off-set pattern and baguette-shaped diamonds will suit your fancy. Baguette Ring, $4,400, available at Finn.
#5. A little pavé never hurt anybody.
This pear-shaped diamond is only a minor departure from the classic wedding band, but that chevron pavé diamond band kicks it up a notch. It would look ridiculously sexy on your hand. Available for $3,200 on Etsy.
#6. Not gonna lie, heart-themed jewelry will always be a favorite.

Finn Jewelry
This ring comes in two pieces, with the diamond-studded heart loosely held in place by 18k gold jump rings. Diamond Open Heart Ring, $1,650, available at Finn.
#7. Feel like Cleopatra with this regal piece of jewellery.
This thing of beauty is made of three layered rings. The black diamond center stone grabs the eye, while the delicately tapered pavé band gives it an imperial, powerful air. Bea Suite No.01, $6,750, available at Anna Sheffield.
#8. Reinvigorate your jewellery collection with a slighty offbeat gem choice.
Ever heard of morganite? Yeah, me neither. But that doesn't subtract from the sheer beauty — and subtle mystery — this ring exudes. Theda Oval Pink Morganite Ring, $4,200, available at Anna Sheffield.
#9. Talk about a brilliant centerpiece.
You could almost drown in the color of this bold blue-topaz ring. A something blue and something new on your big day, perhaps? Round Stone & Champagne Diamond Bezel Ring, $1,760, available at Nordstrom.
#10. Large diamond, meet simple band.
Refined yet unique, the rare rose cut diamond perfectly rests on a bed made by this handmade mounting. Inquire about custom orders, alternative metals, gem stones and pricing on Catherine Angiel.
#11. Have the entire universe on your hand… or at least, a constellation.
This 14k gold ring adorned with a twinkling of diamonds would suit the dreamer. All the Stars Gathered Ring, $1,010, available at Catbird.
#12. Who says tiaras are only worn on heads?
Be a queen in your own right with this piece jewelry worthy of royalty. Floating Star Tiara Ring, $6,500, available at Karen Karch.
#13. Shed tears of joy with this teardrop rosette stone.
The Rosette is a vintage inspired silhouette with tiny diamonds encircling the Pear-shaped center stone. This design is a nod to the past with a thoroughly modern look. Moonstone Pear Rosette, $2,900, available at Anna Sheffield.
#14. An amethyst ring offers a refreshing pop of color.
If monochromatic isn't your style, then this ring is perfect for you. A smattering of diamonds adds just the right amount of sparkle. Ivy Round-cut Pave Ring, $1,290, available at Gemvara.
#15. Show your love for nature with a sophisticated, feather-themed ring.

Etsy
Light and airy but not lacking in the twinkle department, the champagne diamonds following the curvature of the feather's spine make this piece extra beautiful. Champagne Diamond Feather Ring, $941, available on Etsy.
#16. Natural, unpolished, and raw.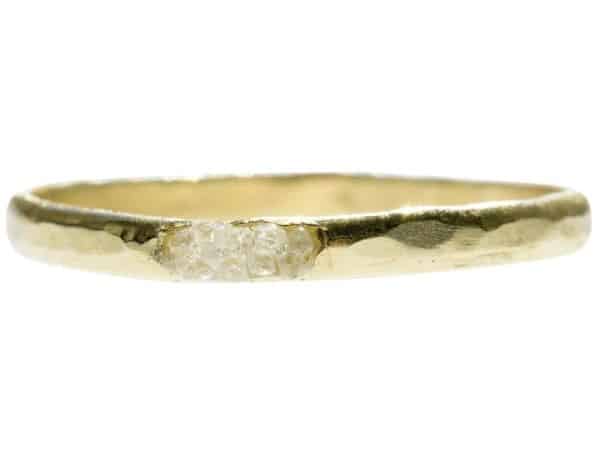 AHAlife
The discreet bride will love this ring with a raw diamond clustered onto the band rather than displayed front and center. Raw Diamond Cluster Ring, $293, available at AHAlife.
#17. Be an edgy and modern bride with this piece of hardcore hardware.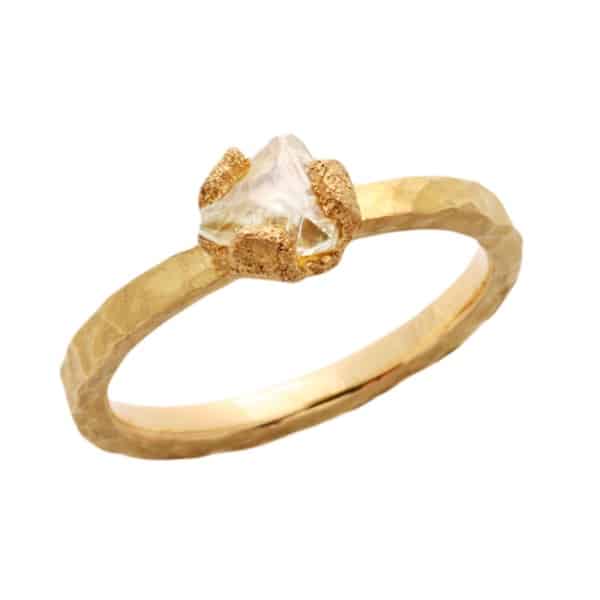 Love Adorned
In theory, a ring that looks like it was plucked from a cave at the bottom of a volcano should not look this fantastic. But this piece defies reason. Natural Diamond Ring, $2,250, available at Love Adorned.
#18. Wear the galaxy on your finger.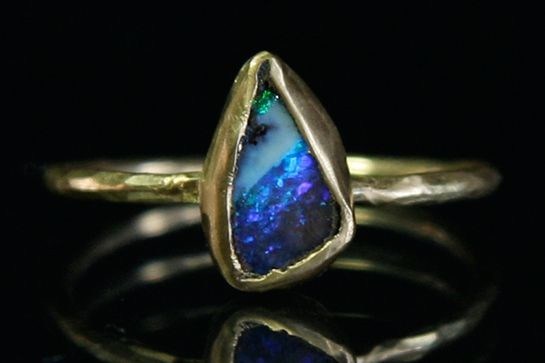 Gold Bug
Contrary to the saying, diamonds aren't every girl's best friend. If you're strictly anti-diamond, this boulder opal ring may be the perfect alternative. Triangular Boulder Opal Ring, $740, available at Gold Bug.
#19. Blind your enemies with this vibrant diamond.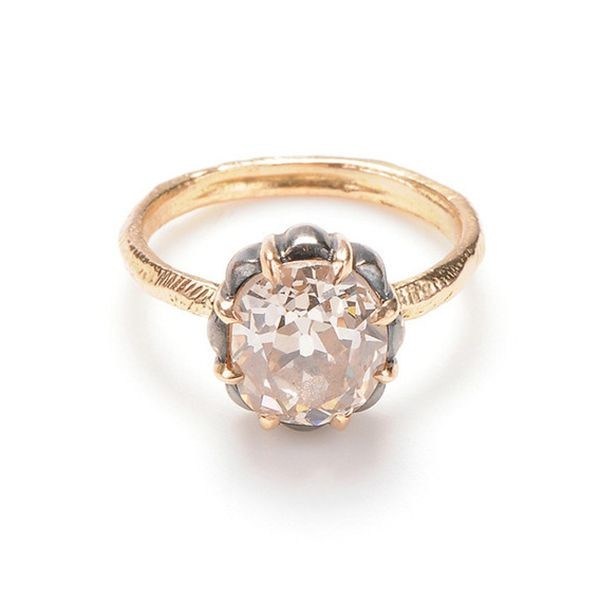 Page Sargisson
The price on this bad boy might be hard to swallow, but just one glance at that mine-cut peach diamond and you'll be hypnotized. Antique 3.19 Carat Diamond Ring, $32,000, available at Page Sargisson.
#20. Don't want a diamond but hankering for an equally beautiful stone?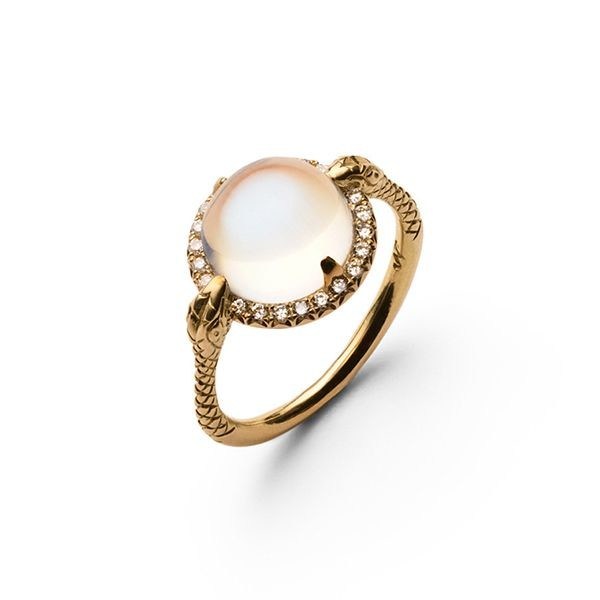 Nora Kogan
The Araminty Ring is your answer. The gemstone-quality cabochon moonstone perched atop a diamond pavé held very delicately by two snake heads will convince you that there is no other ring out there for you but this. Araminty Ring, $3,900, available at Nora Kogan.
#21. As black as midnight, but as shiny as the stars.
This French ring looks almost too dangerous to wear. Black Gold Three Stone Dark Blue Sapphire Ring, $1,849, available on Etsy.
#22. Classic can be edgy, too.
The traditional round cut is in stark contrast with the jet black stone in the center. You will definitely give this one a second look. Black Diamond Ring, $1,839.99, available at overstock.com.
#23. The mother of all offbeat engagement rings.
Viewed from any angle, this ring looks breathtakingly beautiful. Both classic and violently edgy at the same time, the dark metal band perfectly contrasts with the low-set center stone, giving off a gothic look that very few brides can pull off. We're pretty sure that one of them is you. Tori Flower Ring, $15,950, available at Melissa Kaye Jewelry.