We are so used to seeing Hindu-Arabic numerals that we know instinctively what the numbers signify. In contrast, Roman numerals require us to take a long look and decipher what the numerals mean. The mind halts and puts effort in translating from the Roman numerals to its modern day equivalent. Additionally, while translating the symbols, you begin thinking at the significance of using the Roman numerals.
It is not hard to be attracted to the mystery of the Roman numerals. Gears inside the mind start turning to come up with a reason for the use of these ancient numbers. This is the allure and attraction of these numbers. You see the Roman numerals tattooed on a man, and you see him in a different light. You appreciate the person for his perceived intellect, thinking, "he's smart." These numerals are not just there as an ornament, they usually have a greater significance to the person who has these tattoos. Below are some examples of Roman numeral tattoos and their meanings.
1. Small Roman Numerals Tattoo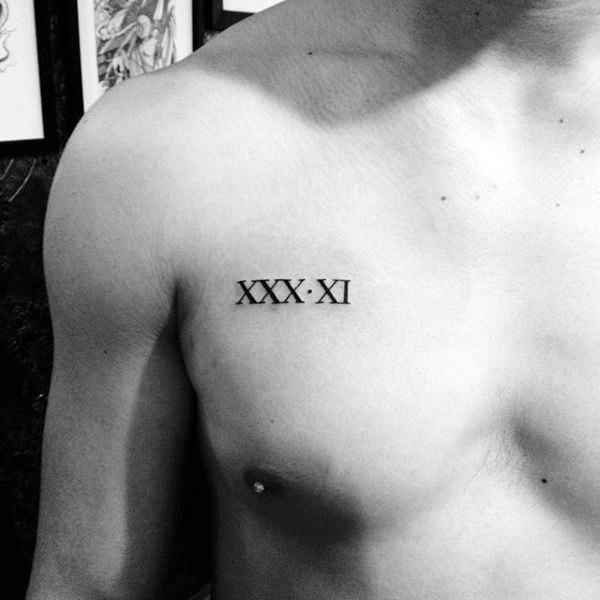 Some people find small and simple tattoo designs to be more appealing than large and intricate ones. It depends on the person, but body art is always versatile and flexible. Small tattoo designs might not call much attention for laid-back individuals, but they are meaningful to the wearer. Maybe the wearer is not really into tattoos, but he wants to pay tribute to a loved one who passed away. An ideal option is the small Roman Numeral tattoo to indicate the effective date. An artist can render it on any chosen spot like the wrist, ankle, chest, or finger. Small tattoos are also quicker to accomplish and are less painful than more detailed designs. 
2. Simple Roman Numeral Tattoo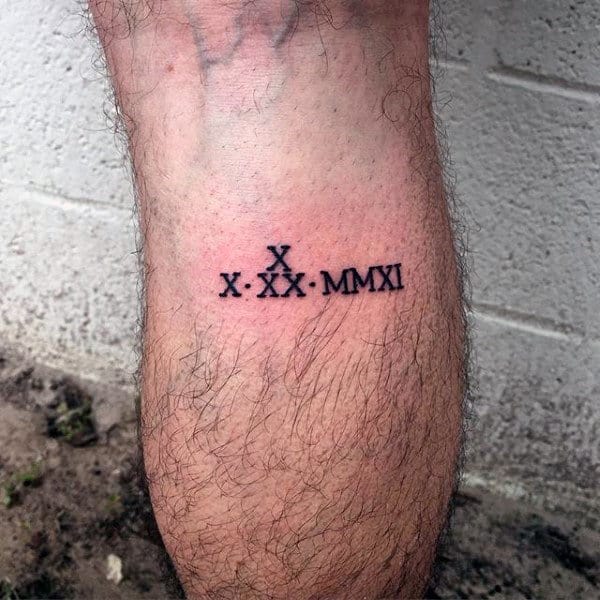 Simple Roman Numeral tattoos may not have many details or intricacies, but they are elegant and classy. An artist can ink it on a specific spot that is also significant to you. Some standard placement for simple ink designs is on the wrist, behind the ear, and fingers. When seen by others, it becomes a great conversation starter. 
3. Artistic Roman Numeral Tattoo Design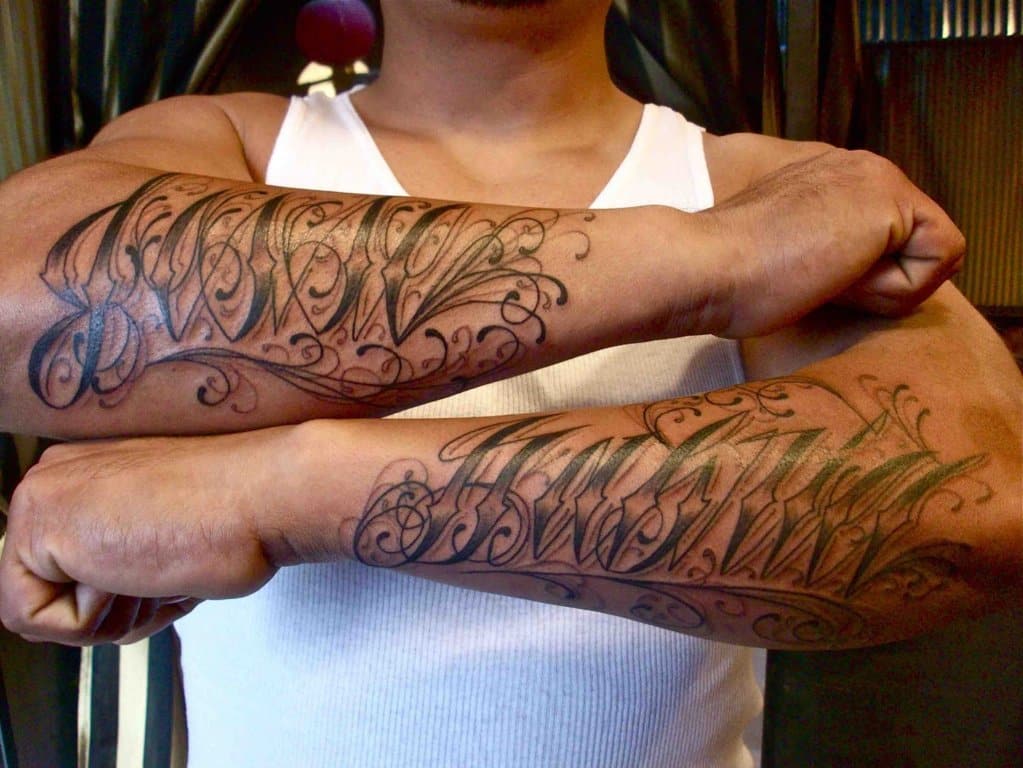 Another eye-catching and stylish way to showcase your Roman Numeral tattoo design has it on the underside of your arm. It creates an elegant look and gives you a distinct identity. Ideally, you can add a cursive font showcasing the name of someone important, like your kids, and their dates are done in numeric symbols. 
4. Watercolor Roman Numeral Tattoo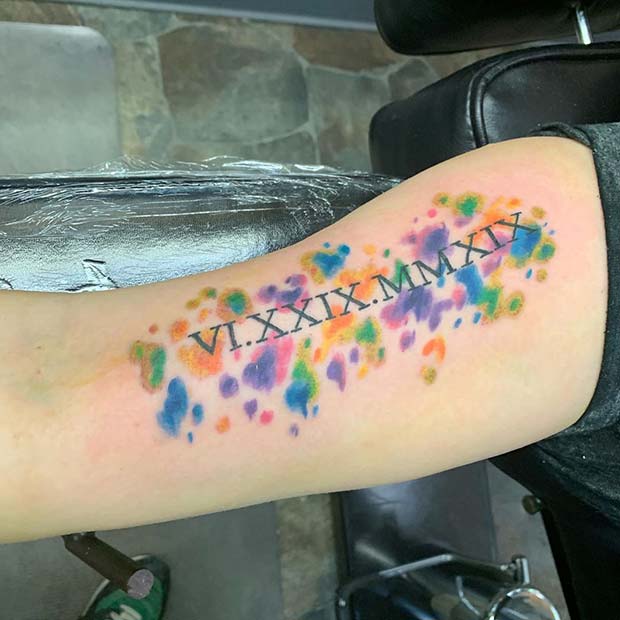 Watercolor tattoos are stunning no matter what elements you have inked. So if you have a clock tattoo with stylish Roman Numeral symbols, make it come to life with a pop of vibrant color. A piece like this will surely catch the attention and interest of people around you.
5. Roman Numeral Date Tattoo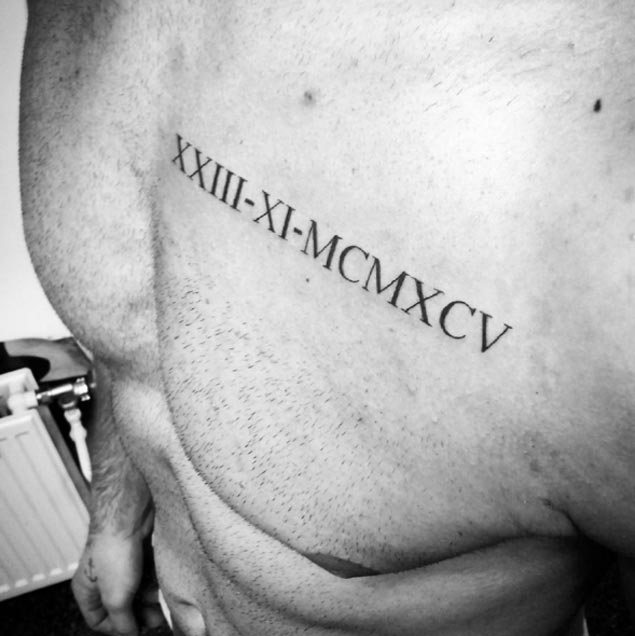 One of the most common ink ideas if Roman Numerals appeal to you is the date Tattoo. It allows you to carry a particular date or time that is meaningful to you. It can range from anything like your anniversary, wedding date, or death of a loved one. The Roman Numeral date tattoo is an abstract and interesting design idea because it is not an everyday image that people will see. In addition, it is not easy to recognize the symbols, so it is also a unique ink design.   
6. Meaningful Roman Numerals Tattoo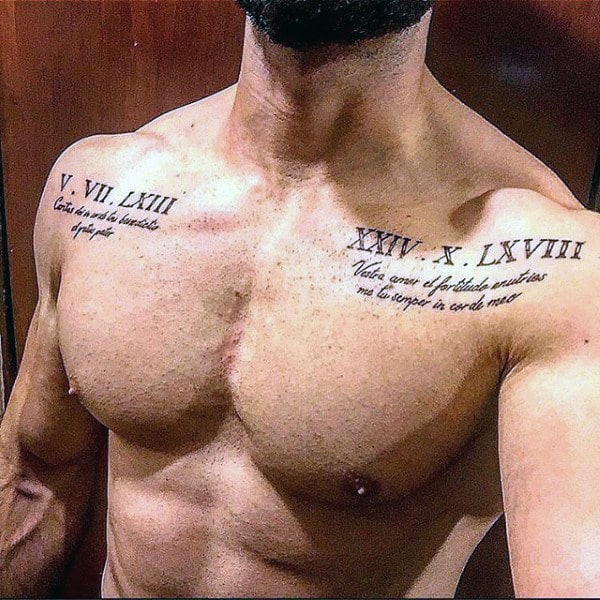 There are many options for you to explore when choosing a meaningful tattoo design. Often men seek out tattoo ideas to pay tribute to their loved ones or remember those who already passed away. One way of honoring their memory is to have their name linked with a Roman Numeral tattoo. It looks classy and meaningful to you. You may also include other elements such as feathers, birds, or angel wings. 
7. Roman Numeral Finger Tattoo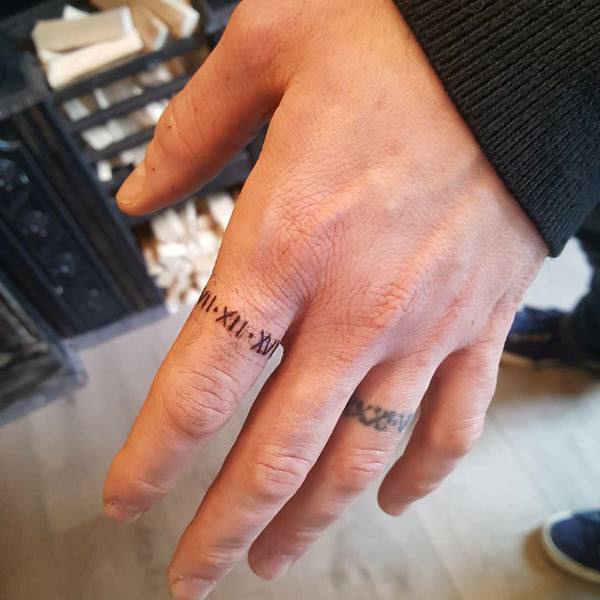 A finger tattoo is a subtle choice if you want something minimalist and simple. One excellent example of a Roman Numeral tattoo is the ring tattoo design. It is a beautiful way of showing your love and commitment to your partner. You can have your anniversary inked, and it is more permanent than any jewelry. It is a sentimental piece that a couple will appreciate to celebrate their love. 
8. Roman Numeral Arm Tattoo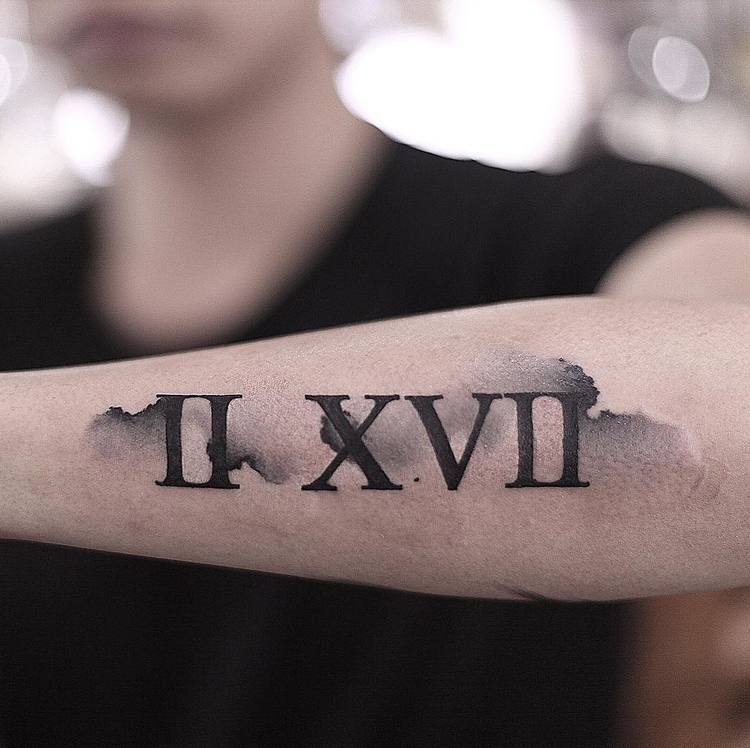 The arm is perhaps the most popular tattoo placement choice for most men. It is considered to be on the moderate pain scale even for intricate tattoo design. Additionally, it is a versatile spot because you can easily show off your Tattoo or conceal them if needed. Finally, a Roman Numeral ink on the arm is something that you will always see and remind you of its significance. Thus, make sure to choose a design that you will be proud to wear every day. 
9. Roman Numeral Neck Tattoo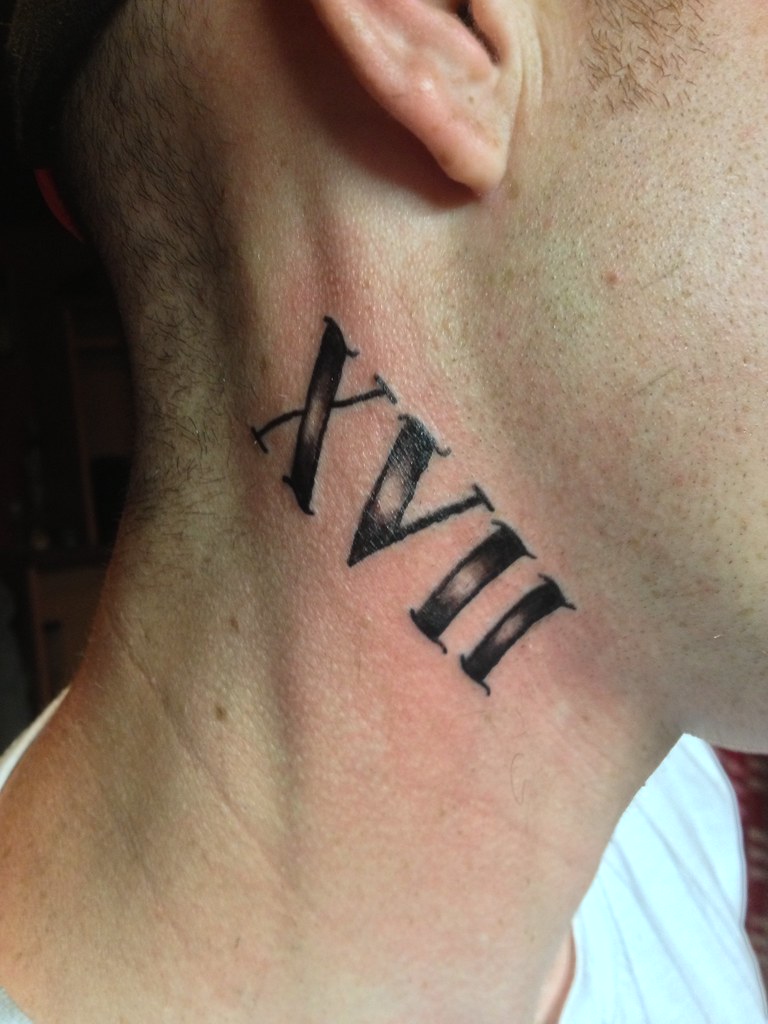 When you see people with neck tattoos, they may inspire you to have one of your own. But you have to realize that getting inked on this spot is not for the faint-hearted. Roman numeral symbols look pretty appealing when inked on the neck, but be ready to experience high pain levels because it is a susceptible spot. Neck tattoos are also hard to conceal. Everyone will see and notice it. So if you don't have any issues with the pain or others catching it, it can be one of the most fantastic bodies art to have! 
10. Roman Numeral Chest Tattoo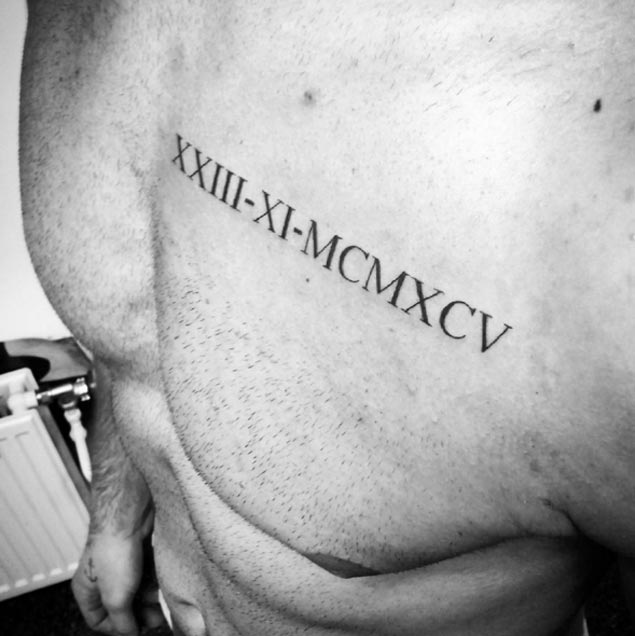 The chest area offers ample space for an extensive and detailed ink design. Also, it is a meaningful location because it is where your heart is. If you want a tattoo close to your heart, this is your primary choice. Chest tattoos are also very personal and intimate because they are kept concealed. Other people will only see it if you take your shirt off. In most cases, people get inked with initials or names with Roman Numeral dates on their chest. You can add other elements like crosses, roses, and feathers. 
11. Roman Numerals Bicep Tattoo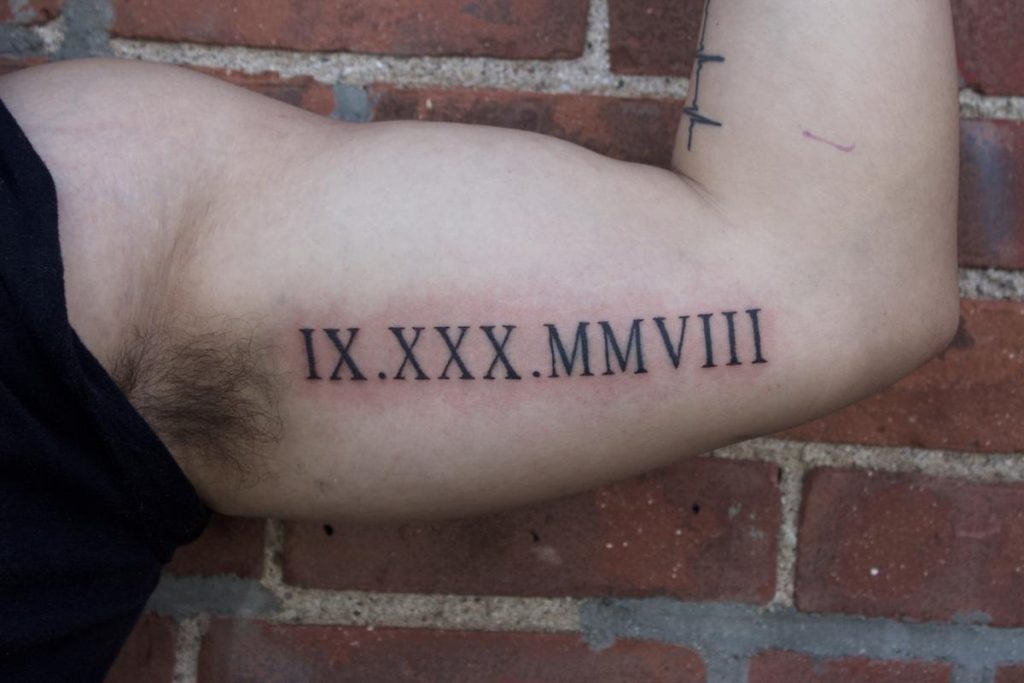 Bicep tattoos are perfect for men who want to draw attention to their masculine parts and muscles. Getting a significant ink design will also enhance its shape and create a statement piece. Bicep tattoos are something that you can easily show off or hide when you don't need to flex. On the other hand, the arm's underside is high on the pain scale, so expect some discomfort when you get inked here.
12. Roman Numeral Rib Tattoo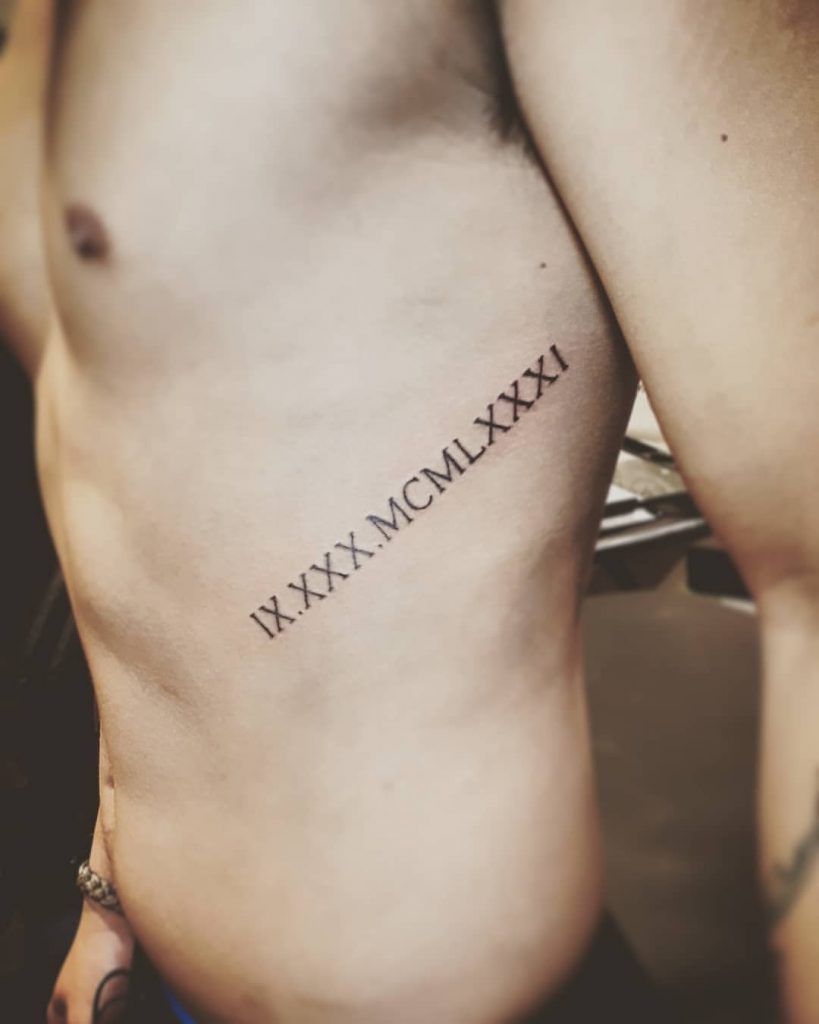 Some people have a very high pain tolerance. Thus, they are not afraid to get inked in pretty high areas on the discomfort or pain level. For instance, a rib tattoo is not very popular because of the severe discomfort one may experience when getting inked. But because memorable tattoos look great in this spot, it is a highly coveted piece. You can have a simple tattoo here that has essential meaning because it will take some time to heal.
13. Roman Numeral Collar Bone Tattoo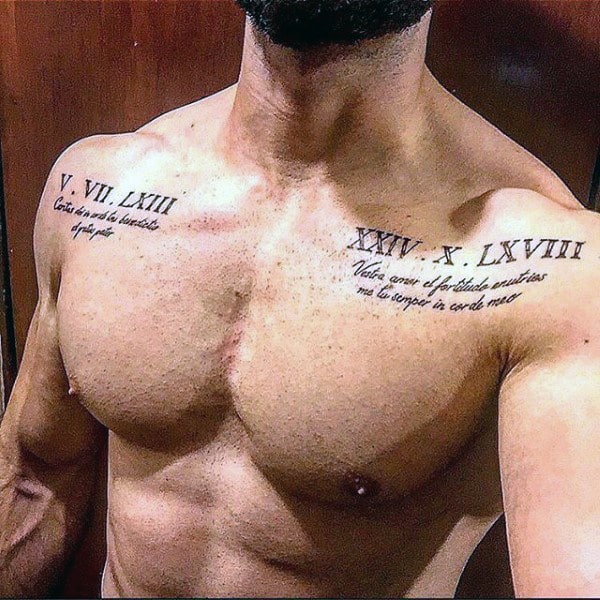 Another excellent spot for getting a meaningful tattoo is on the collarbone. Like the ribs, this is also high on the pain scale, but the outcome can be super cool. The location is visible and discreet. You only have to take your shirt off to showcase your ink. It is also ideal for long and simple designs such as Roman Numeral tattoos. You can add other elements to make the design less plain and more unique. 
14. Roman Numerals Back Tattoo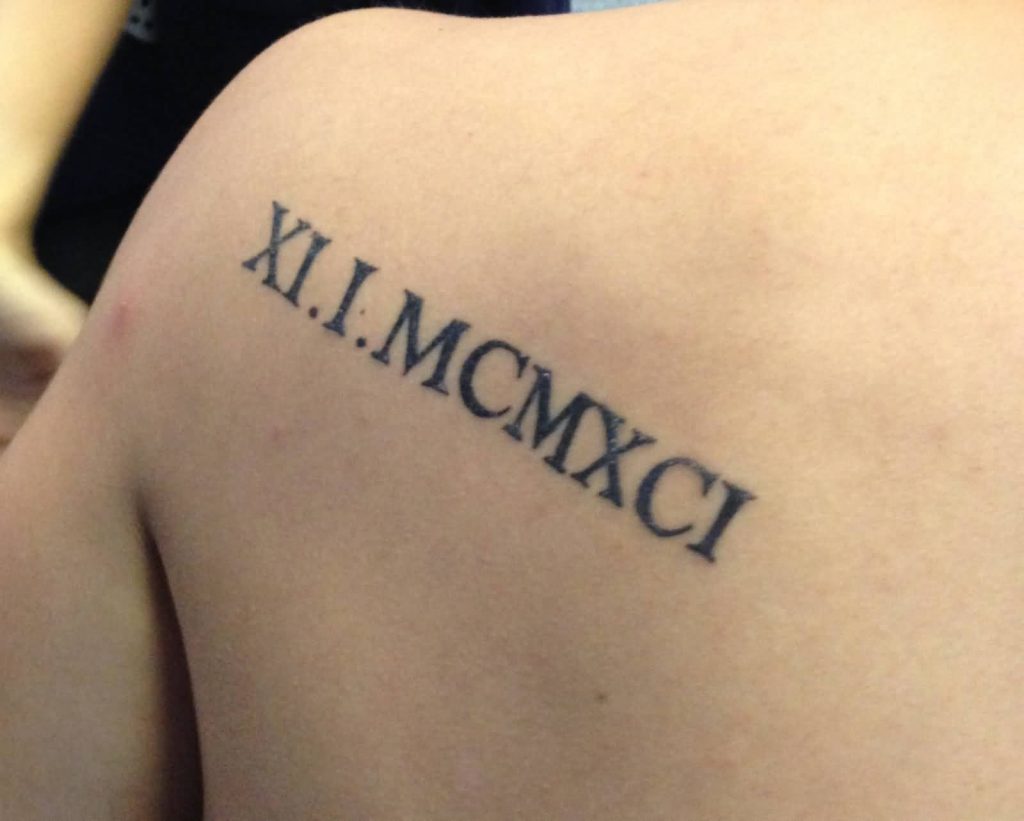 If you are up for a detailed and intricate tattoo, your back should be your first consideration. Most men think of a theme when planning to get a back tattoo. This spot is like a big canvas where you can express your thoughts and your feelings. It is also a very private spot as you will not see it unless you take a mirror. But people who get a tattoo are comfortable in themselves and trust that they have an excellent ink design. You can combine various elements related to your central theme. For example, Roman numerals can be added as an important date or number in your life. 
15. Roman Numeral Wrist Tattoo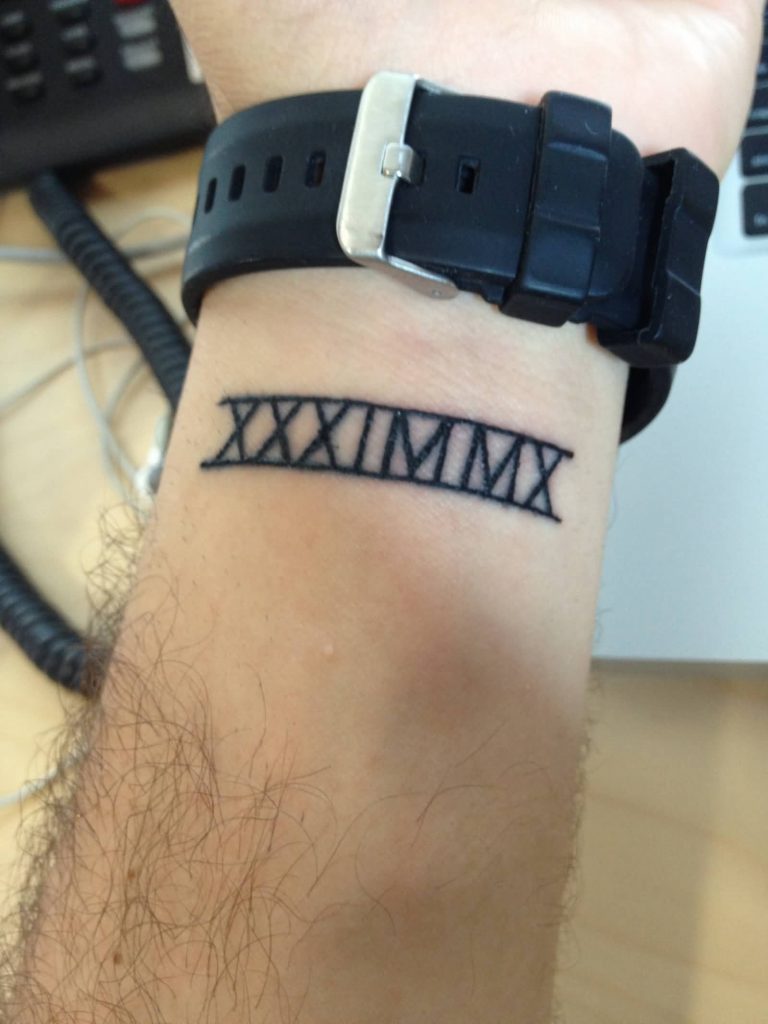 The placement of your meaningful tattoos is also one of the top considerations that you must make. If it is deeply significant, you might want to have it in visible areas, and you can see it every day. One of the top placement choices for Roman Numeral ink designs is on the wrist. This spot will quickly remind you of the critical dates and the reason why you have them inked. However, there are some drawbacks to getting a wrist tattoo. It is high on the pain scale and tends to fade faster because of its exposure. 
16. Roman Numerals Forearm Tattoo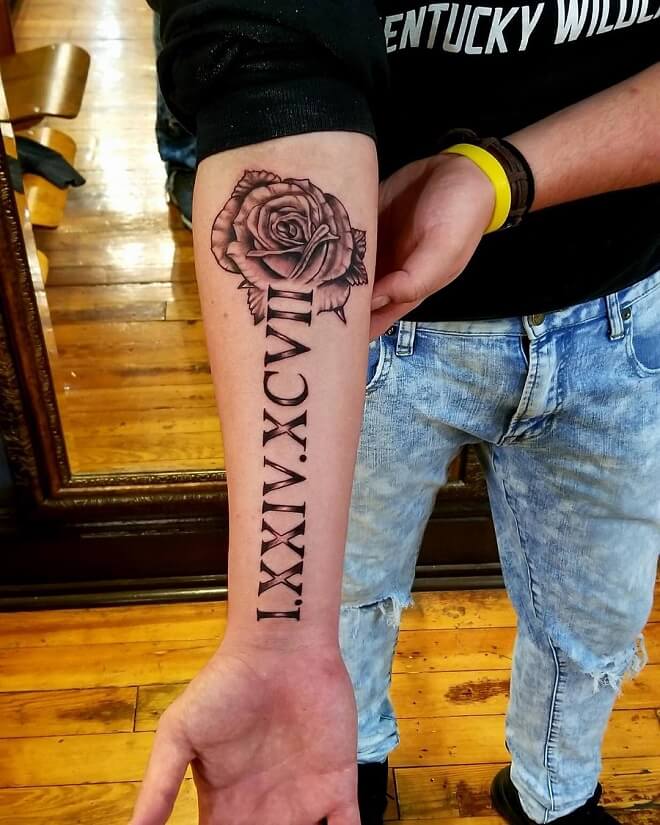 The forearm is another popular tattoo placement choice for men. It is one of the best locations if you intend to put in something significant to you. It is evident, versatile, and low on the pain scale. You will be able to see your ink design every day and be reminded of the reason behind it. This spot is also great for various types of design, including Roman Numerals tattoos. You can have just the symbols or include other elements to create a unique piece. 
17. Roman Numerals and Rose Tattoo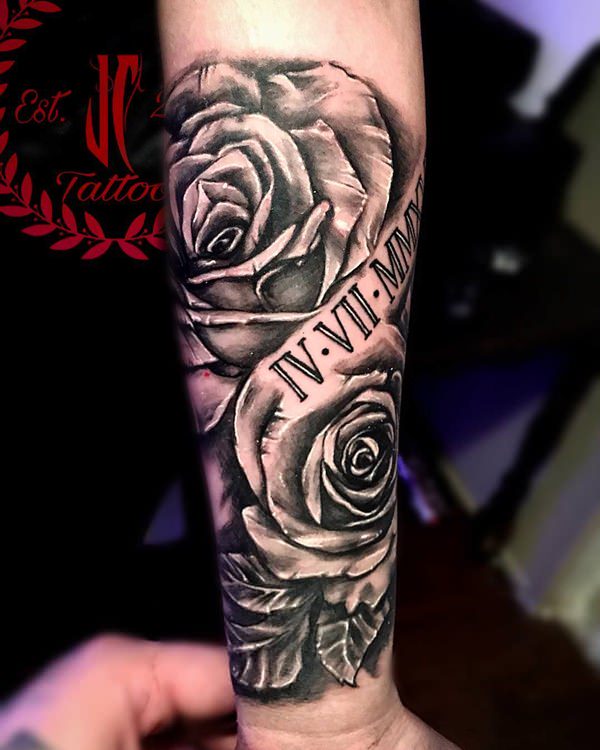 Choosing a design that will express what's on your mind is a challenge. With Roman Numerals, you can showcase important dates or memorable numbers that have significant meaning to you. On the other hand, Roman Numerals alone may look plain. So the beauty of this is that you can easily personalize it with other elements such as a Rose. This flower is a famous symbol that is associated with beauty and pain. The color of your rose also impacts the meaning of your tattoo design. For instance, red roses mean love and passion, while black is associated with grief. 
18. Roman Numerals and Cross Tattoo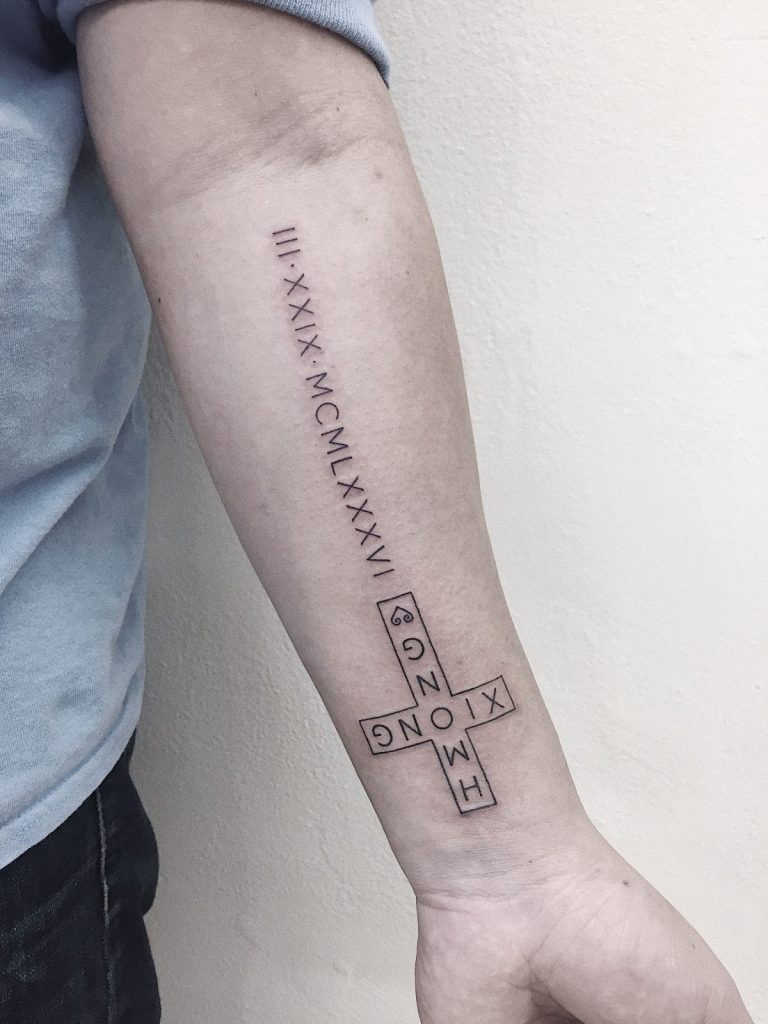 Cross tattoos are meaningful and symbolic ink designs for deeply religious individuals. It is ideal for people who want to honor their Christian faith. The cross is a universal symbol of Christ's sacrifice for the salvation of humanity. A date using Roman Numerals may indicate a memorable date that changed the course of your life and brought you closer to your faith. Cross with a dating tattoo may also be a tribute to a loved one who passed away. This ink design may be simple, but it is open to interpretation, and you can make it unique to suit what you want to express.   
19. Roman Numerals and Feather Tattoo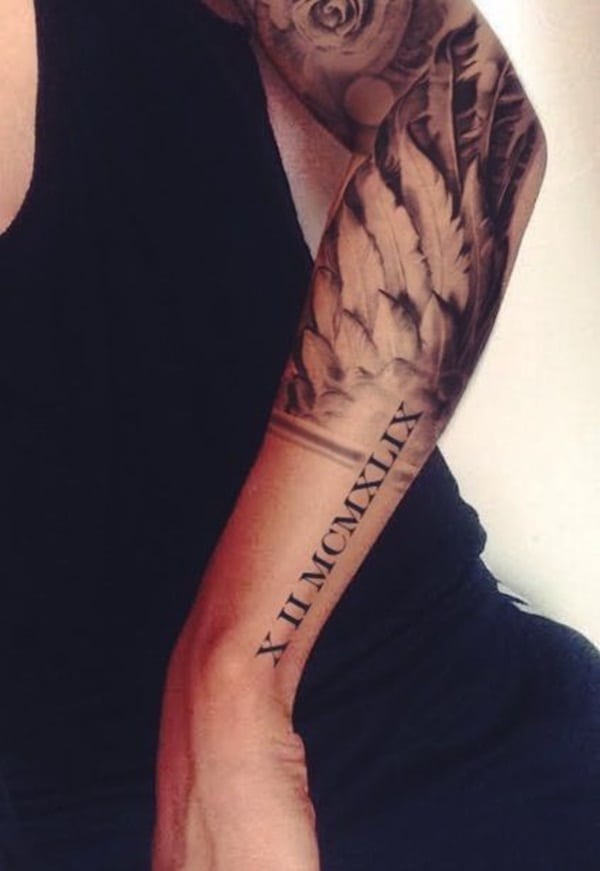 Roman numerals are great tattoo designs for honoring dates and times that have an impact on our lives. If you find it too plain, you are always open to adding other details such as a clock, flowers, or feathers. The feather tattoo is associated with wisdom, freedom, power, and strength. It is an excellent addition to a memorial tattoo with Roman Numeral symbols for the date. Feathers from specific bird species also come with different interpretations. For instance, the eagle feather is linked with courage, while the owl is linked with knowledge. 
20. Roman Numerals and Bird Tattoos
Roman Numeral tattoos are already meaningful on their own, but you can choose to make them more significant by adding elements such as birds. For example, the numeric symbols may feature important dates, and the birds will showcase the connection between heaven and earth and freedom. Depending on the bird species that you choose, the meaning of your ink design will also change. For example, swallows represent dedication, loyalty, and love. 
21. Realistic Eye and Roman Numeral Tattoo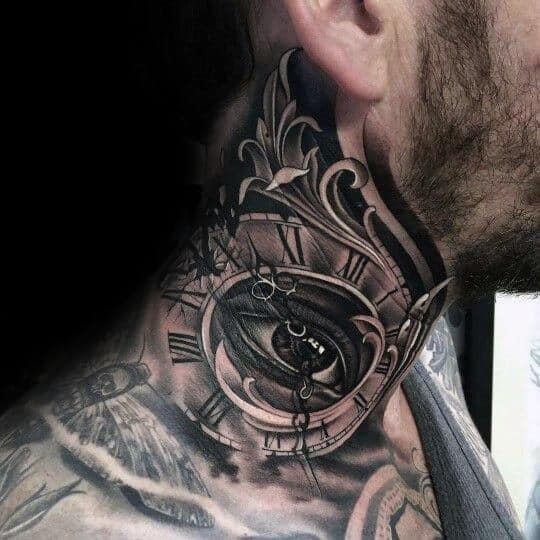 Realistic tattoos are pretty popular because artists create a piece that is very close to the real-life image. They can be highly detailed and intricately lovely. In addition, the human eye tattoo carries a deep symbolism to make into a focal point for your ink. For example, you can add Roman numerals to showcase significant numbers or dates on your artistic ink. 
22. Lion Head and Roman Numeral Tattoo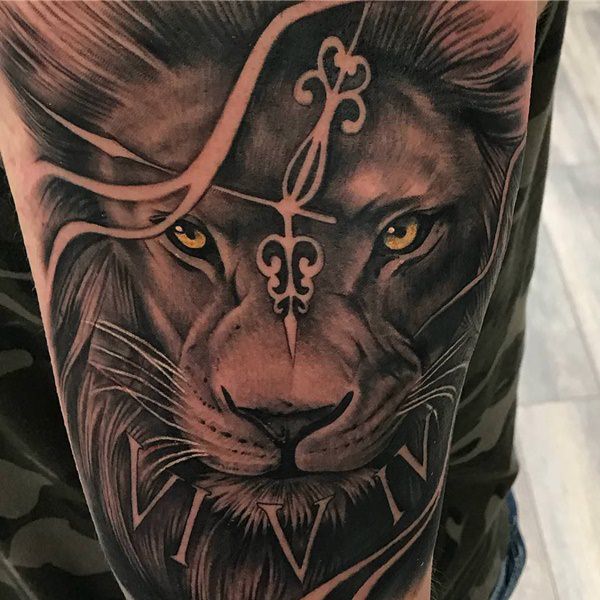 Another inspiring tattoo design is one featuring a traditional lion head with Roman numeral symbols on the background. Some people find the strength and power of lions to be an appealing choice for tattoo inspiration. Combining this with other elements like numeric symbols and clock make it a unique and meaningful piece. 
23. Roman Numerals and Clock Tattoo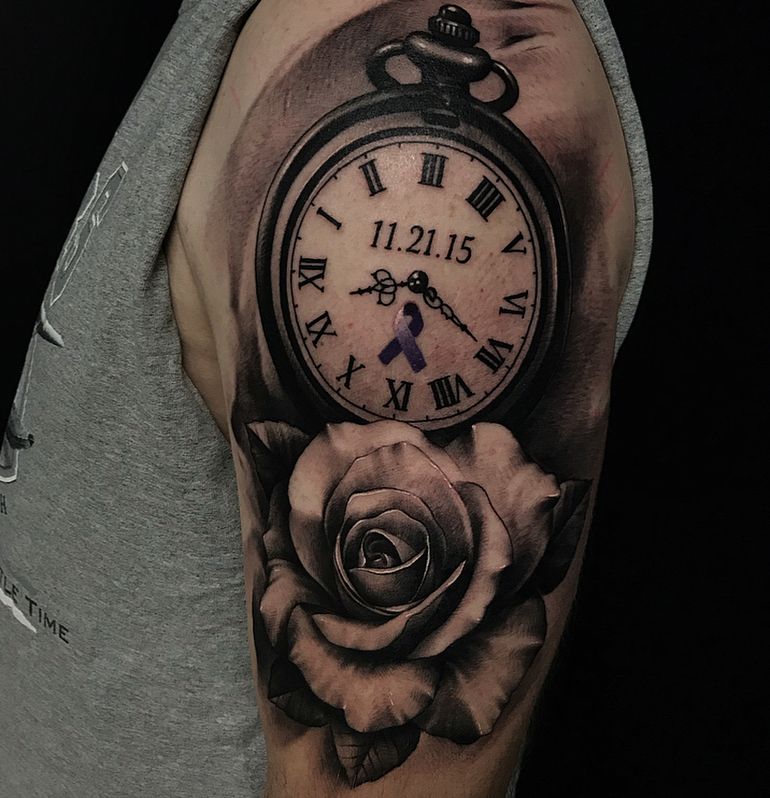 Men also find clock tattoos to be an appealing choice for inking because it is symbolic. It is ideal for those who contemplate life, death, mortality, and our fleeting existence in this world. A clock tattoo with Roman Numeral numbers is aesthetically pleasing to the eyes. You can decide where the hands of the clock should stop. It can be used to commemorate a child's birth or as a tribute to a loved one who passed away. Tattoos such as these often feature a detailed and intricate finish. Choose a spot that allows ample space for this that is also low in the pain level.
24. Roman Numerals and Name Tattoo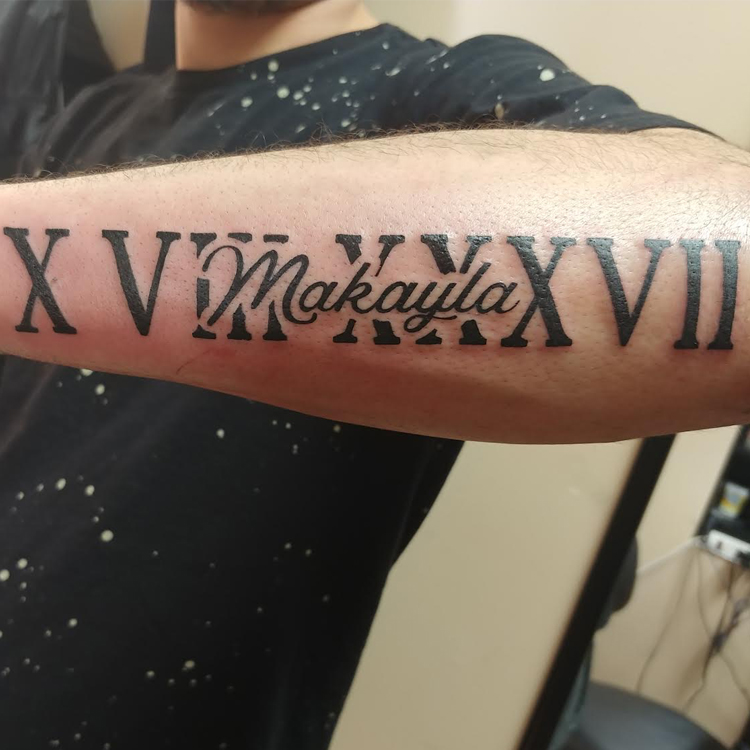 Including a date or memorable numbers in a name tattoo design is one of the best ways to make it more profoundly personal. The name is primarily essential to you as it may be your child, partner, mother, or someone who passed away. Some men add significant dates using Roman numeral symbols. It can be the birth of their child or the date when they lost someone special, and they can add the name of their loved ones and include their anniversary. However, you must be sure that your relationship will last forever, so you won't need a cover-up if things end up badly.
25. Roman Numeral Tattoo Coverup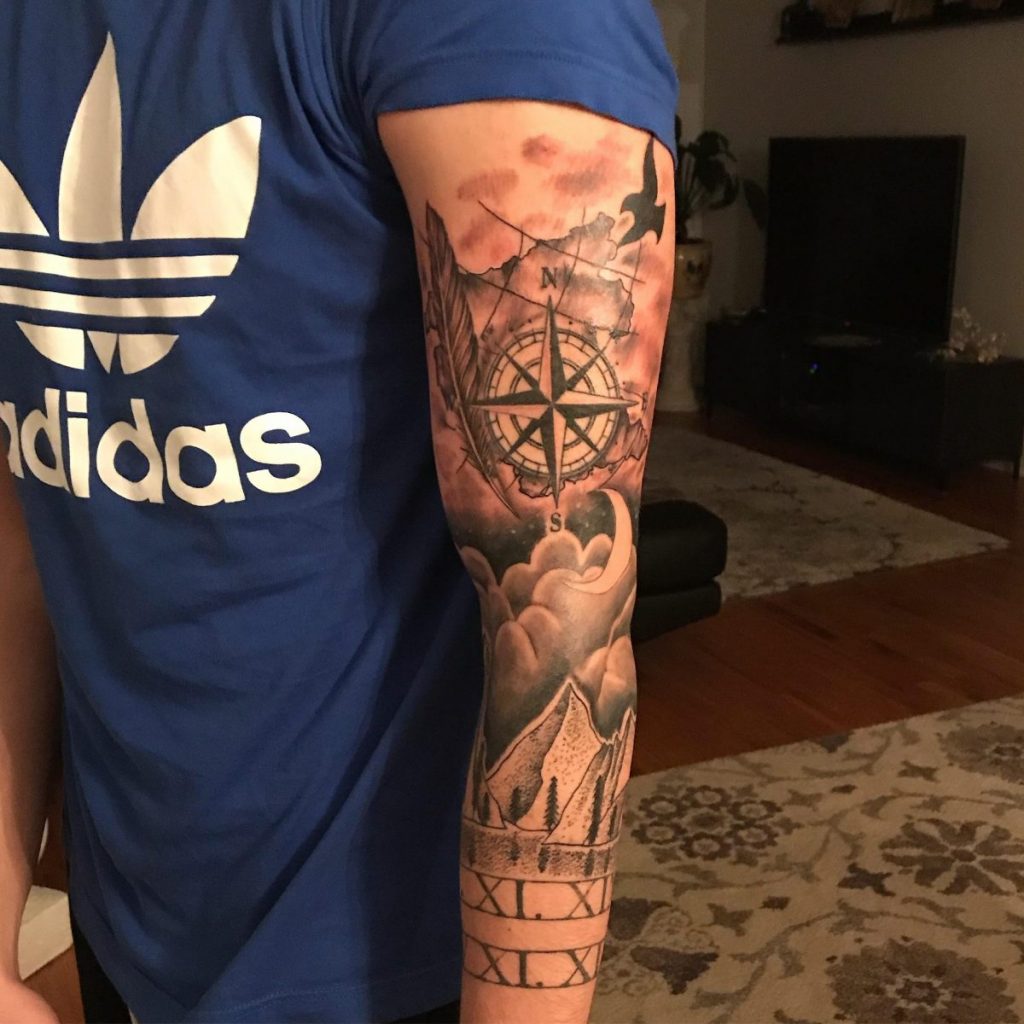 When things change, and you want to remove tattoo designs that remind you of not-so-good memories, you can choose to have a tattoo cover-up. As much as possible, we don't want to regret our previous tattoo design, but if it is indispensable, a Roman Numeral tattoo cover-up is always a potential alternative. 
FAQ
What is the most common reason for having Roman numeral tattoos?
Most Roman numeral tattoos follow a date format, and either celebrate or commemorate a special date in the person's life. This can be the birth of a child, wedding day or the death of a loved one.
Can a Roman Numeral be read incorrectly or misread upside down?
There are only a few Roman numeral symbols, and one of them could be read upside down. It is possible to create an ambigram, or a mirror image with only this number. However, the resulting numbers would be limited. It is possible to misread or to misunderstand, however, the choices are limited.
Where is a good placement for a Roman numeral tattoo?
The most common placement is the chest. The other popular placements are the biceps and back. This kind of tattoo deserves to be seen, and the wearer is usually proud to show it off.
What format is the most common Roman numeral tattoo?
Most Roman numeral tattoos are dates, and they follow the convention for modern date formats. Of course, there are differences between countries, and it would require some sleuthing to correctly read some dates.