The semicolon tattoo has become a symbol of strength and solidarity for many people. This simple design can be an eye-catching ink choice, but it seems to have a more profound message that's hard to ignore once you see one in person.
The meaning is deep – this piece signifies the struggle with depression or suicide attempts and overcoming these struggles. Those who are struggling and understand this symbol may feel a special connection with others wearing the same mark on their skin; knowing there's support available if needed helps them keep going when times get tough!
1. Semicolon Heart Tattoo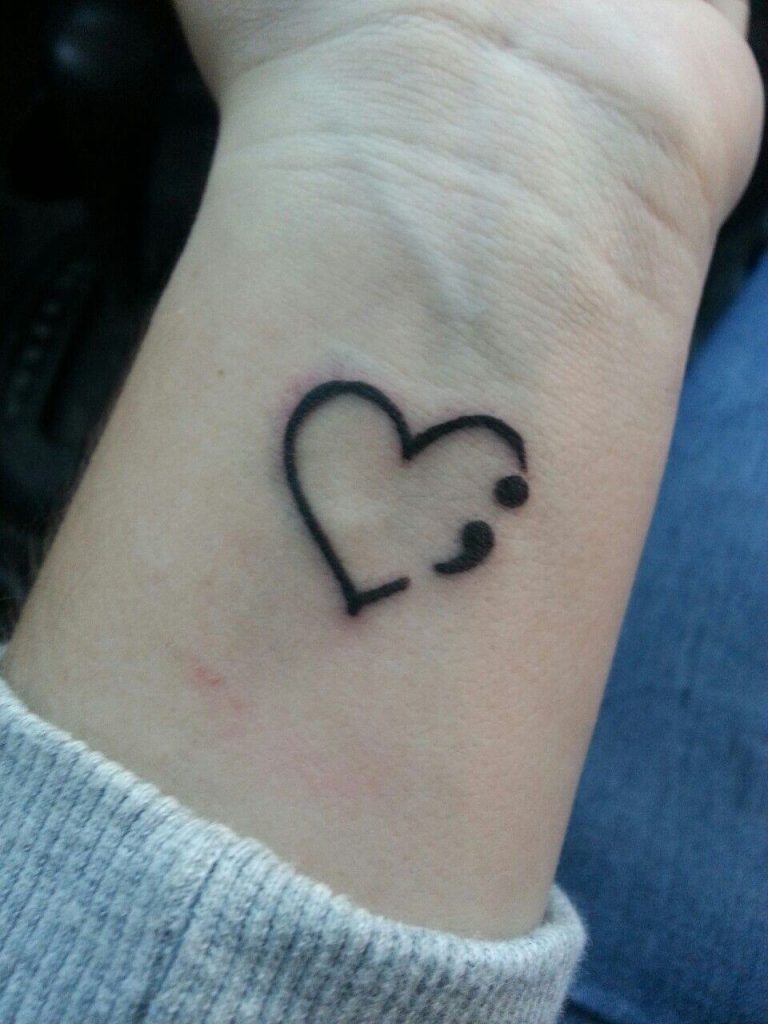 If you're searching for a tattoo that best represents the way love can get us through anything, then look no further. Tattooing yourself with this design will remind you to always take care of yourself and think about what matters most before letting something like sadness or anger control who you are.
It also has other meanings; one symbolizes how romance is often seen as saving someone from their worst moment in life by giving them hope again. Or, as a remembrance to someone who has lost the battle to depression but will always be in your heart.
2. Semicolon Butterfly Tattoo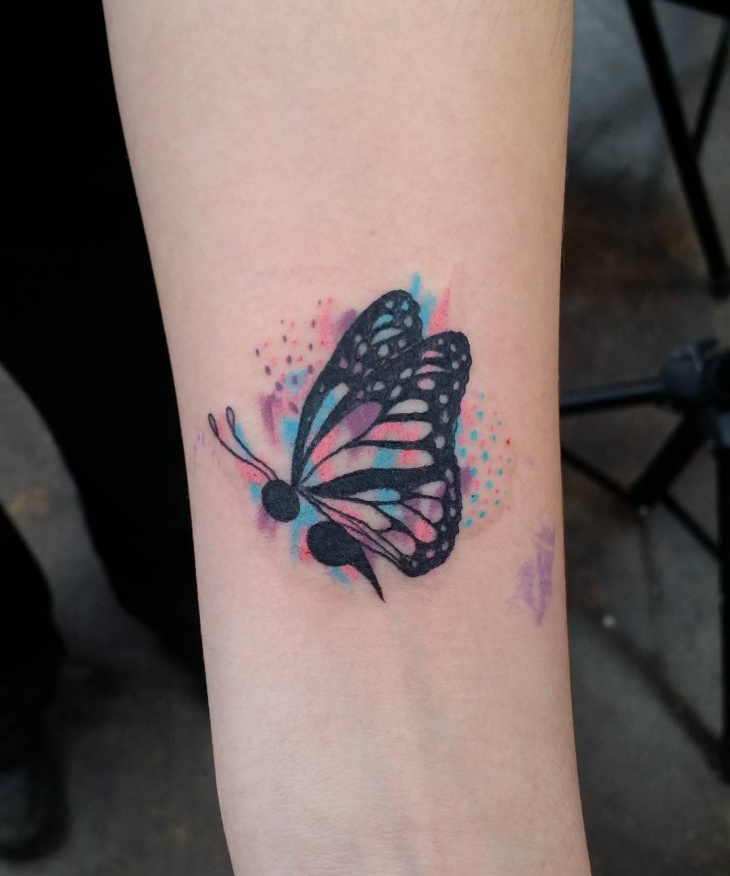 Many people who get this tattoo choose to place it somewhere sensitive, like on their wrists or neck. This placement is ideal for someone who may not hide their hurt from the world every day. They can breathe easier knowing that wearing a heart-shaped symbol of hope on them will remind them that things will eventually get better.
3. Cat Semicolon Tattoo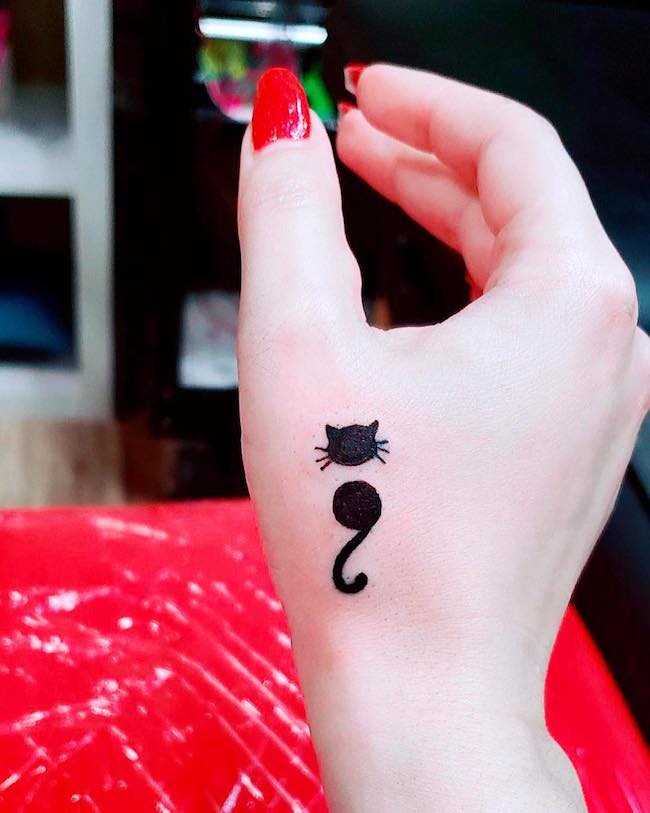 Cats have been associated with transformation and independence in Japanese mythology for centuries. In Celtic culture, they were seen as guardians of the underworld. Cats also represent luck and wandering spirits – a person who never settles down or keeps seeking new experiences.
This can make them quite intriguing subjects in tattoo art because it implies an adventurous spirit – something which many people find appealing and can relate to.
4. Semicolon Cross Tattoo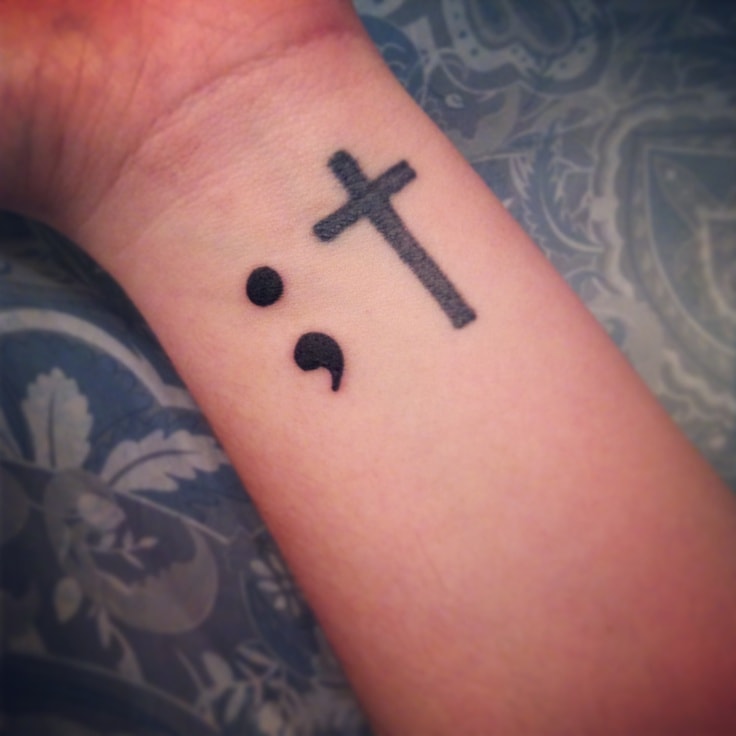 A cross is the perfect tattoo design for someone who wants to be reminded of one thing–that they are always going to be needed in this world. Putting this on your skin will help remind you to never hold anything back from anyone. This symbol combined with a semicolon tattoo may also signify guilt or remorse. To get rid of this weight, you need to forgive yourself over and over again.
5. Semicolon Birds Tattoo
For anyone looking for ink representing spiritual connections or complete freedom from problems on earth, this is the design for you. Birds are often used in tattoos because of their symbolism. They represent freedom, good luck, and fortune to many different cultures around the world. They also symbolize a connection with heaven for some people who believe birds can carry messages between Earth and Heaven. For those seeking to fly free from all troubles, this is an excellent choice.
6. Semicolon Dragonfly Tattoo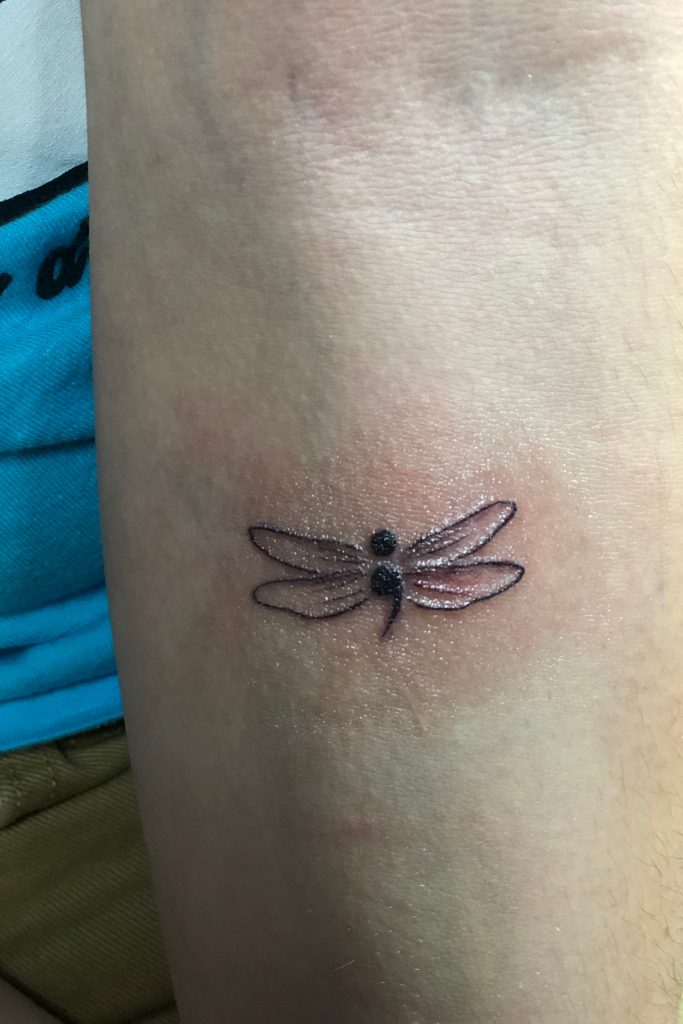 A dragonfly is a beautiful creature that represents the power of change and strength within you. It's an excellent option for those who have fought depression, suicidal thoughts, or found peace in their life after such struggles as it can be represented big or small with equal appeal.
7. Semicolon Finger Tattoo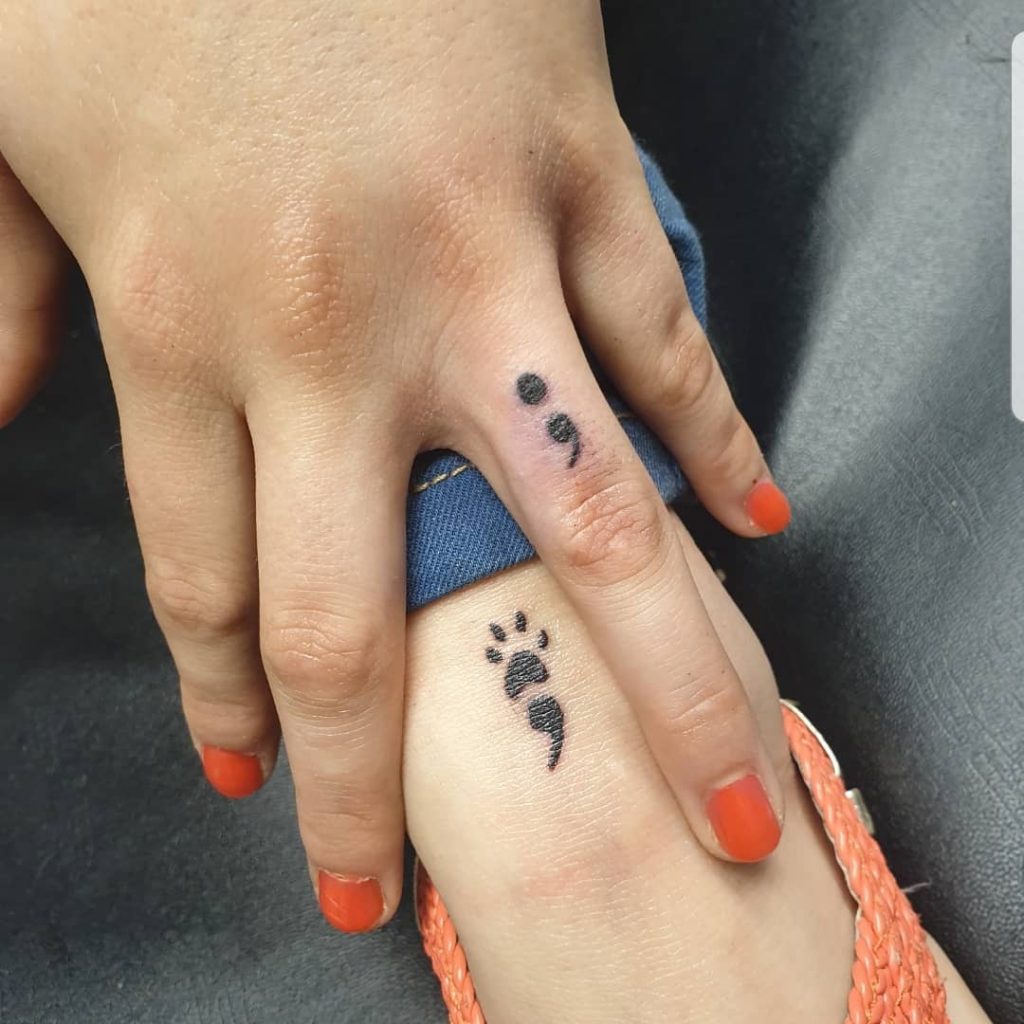 Since the semicolon design is incredibly simple, subtle and small, the finger is one of the best places to put this design for those who want to be discreet. You can also easily hide the semicolon tattoo by placing it in an area that is not easily visible, such as the side of a finger.
8. Semicolon Wrist Tattoo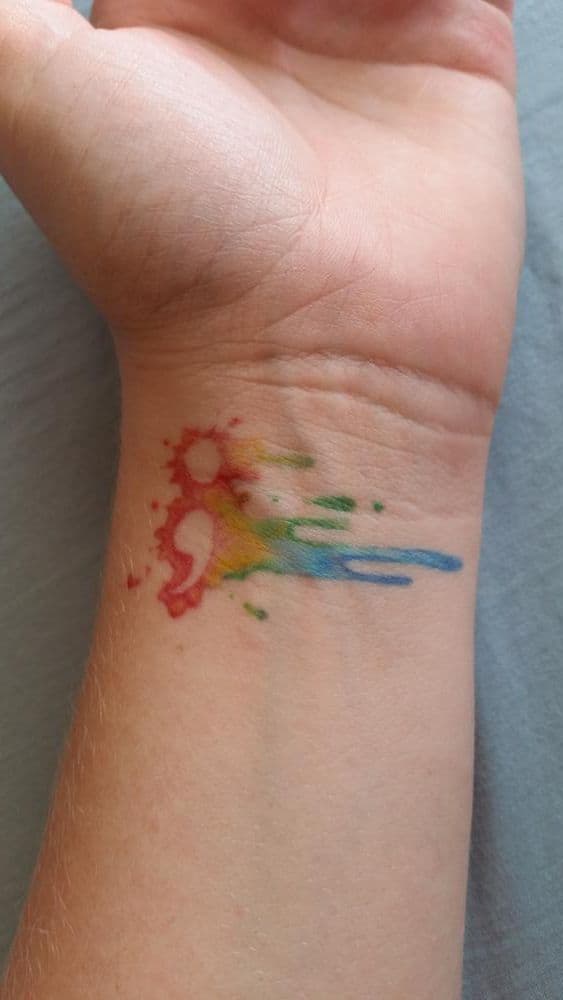 Wrist tattoos have a wide variety of meanings, including connecting oneself to fate and faith. But as with other semicolon designs, this one symbolizes the wearer's faith in God during everything they go through in life. As tattoos on the wrist tend to be hidden underneath clothing, this is an excellent choice for someone who wants to express their spirituality but doesn't want to make a big scene of it.
9. Watercolor Semicolon Tattoo
A watercolor semicolon tattoo is straightforward and pleasing to the eye. This type of art shows love for life, inner peace, and the desire to be emotionally intense despite what's happening in the world around you.
10. Semicolon Tattoo Behind The Ear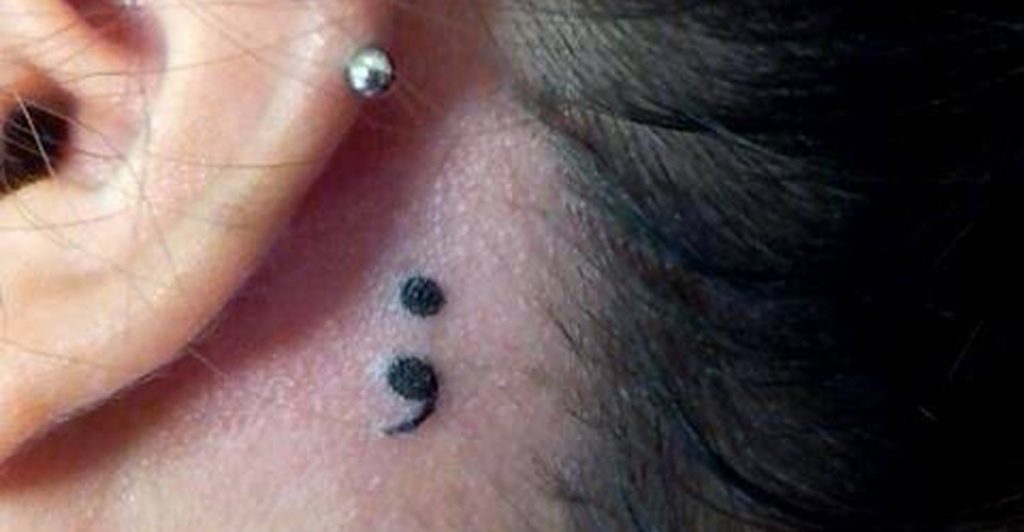 A semicolon tattoo behind the ear means that you've chosen something in your life to remember. This could be a significant other, an event, or even a mantra that has helped you get through some tough times.
11. Semicolon Tattoo on the Nape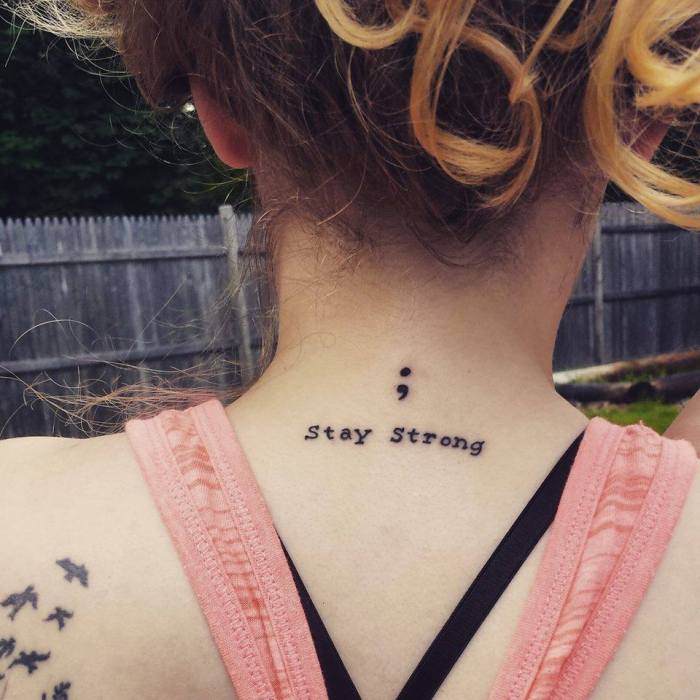 The nape or back of the neck is a bold choice for a tattoo, as it's in a delicate and high visibility area of your body. For those with long hair, it does afford some flexibility, as you will be able to conceal it with your hair down. Nape tattoos can look really cool and quite edgy, but since it's in such a prominent location you have to make sure you are committed to the design.
12. Semicolon Flower Tattoo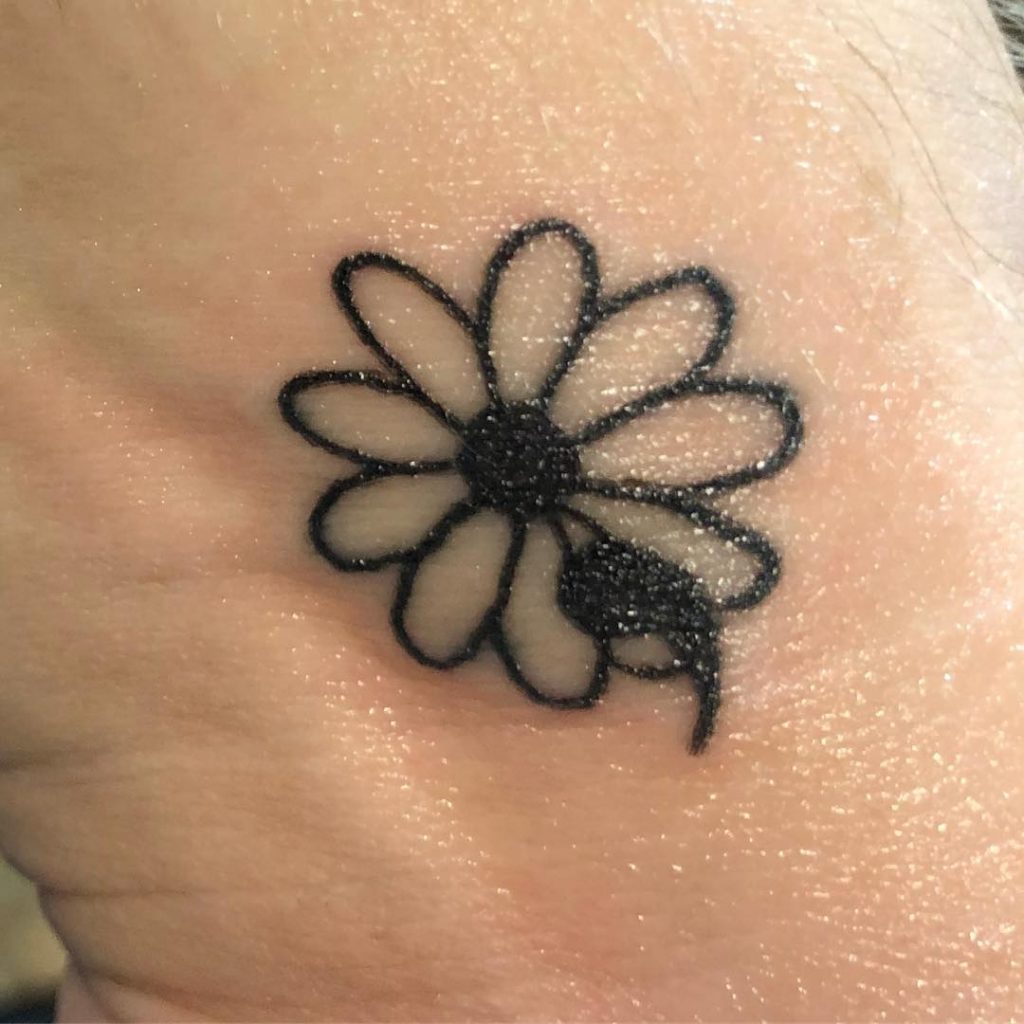 Flowers are a popular design used in tattoos. Some flower designs represent specific concepts and ideas, but others can be customized per individual interpretation. The semicolon flower tattoo is one of the latter sorts: It doesn't have one particular meaning like most flowers, but it is more of a way for the wearer to express their love for nature and life.
13. Semicolon Warrior Tattoo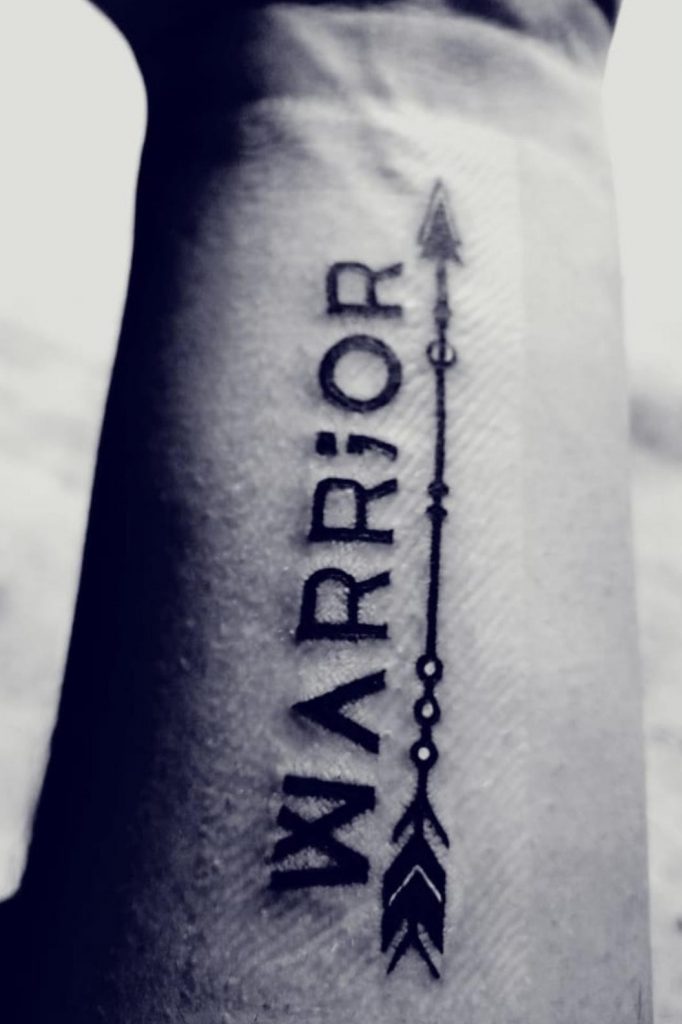 The semicolon warrior tattoo symbolizes a woman who has survived the most brutal battles and emerged victorious. For many people, the warrior is a symbol of strength and fortitude. Warriors can also be considered to have supernatural or divine powers, however, and that's why they are often used as tattoo designs for those who search for inner peace through their struggles.
14. Semicolon with Words Tattoo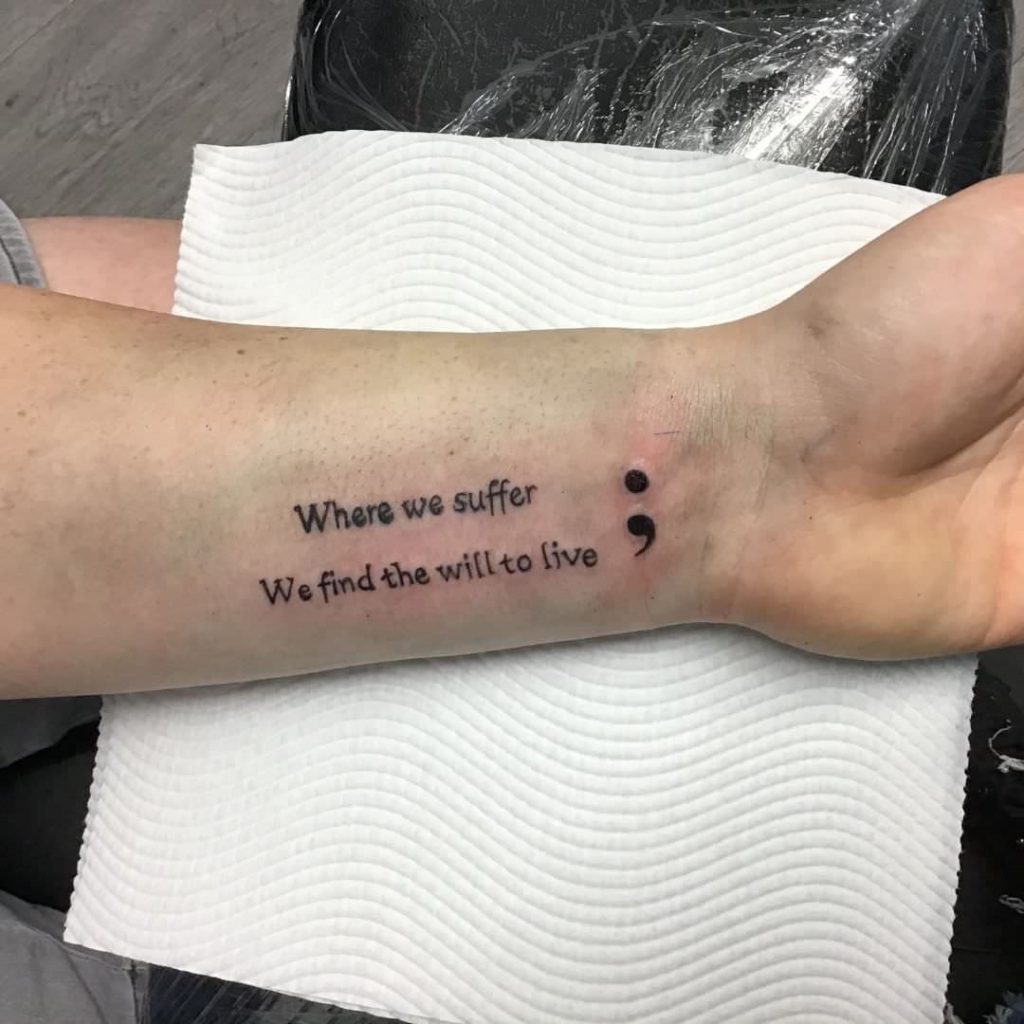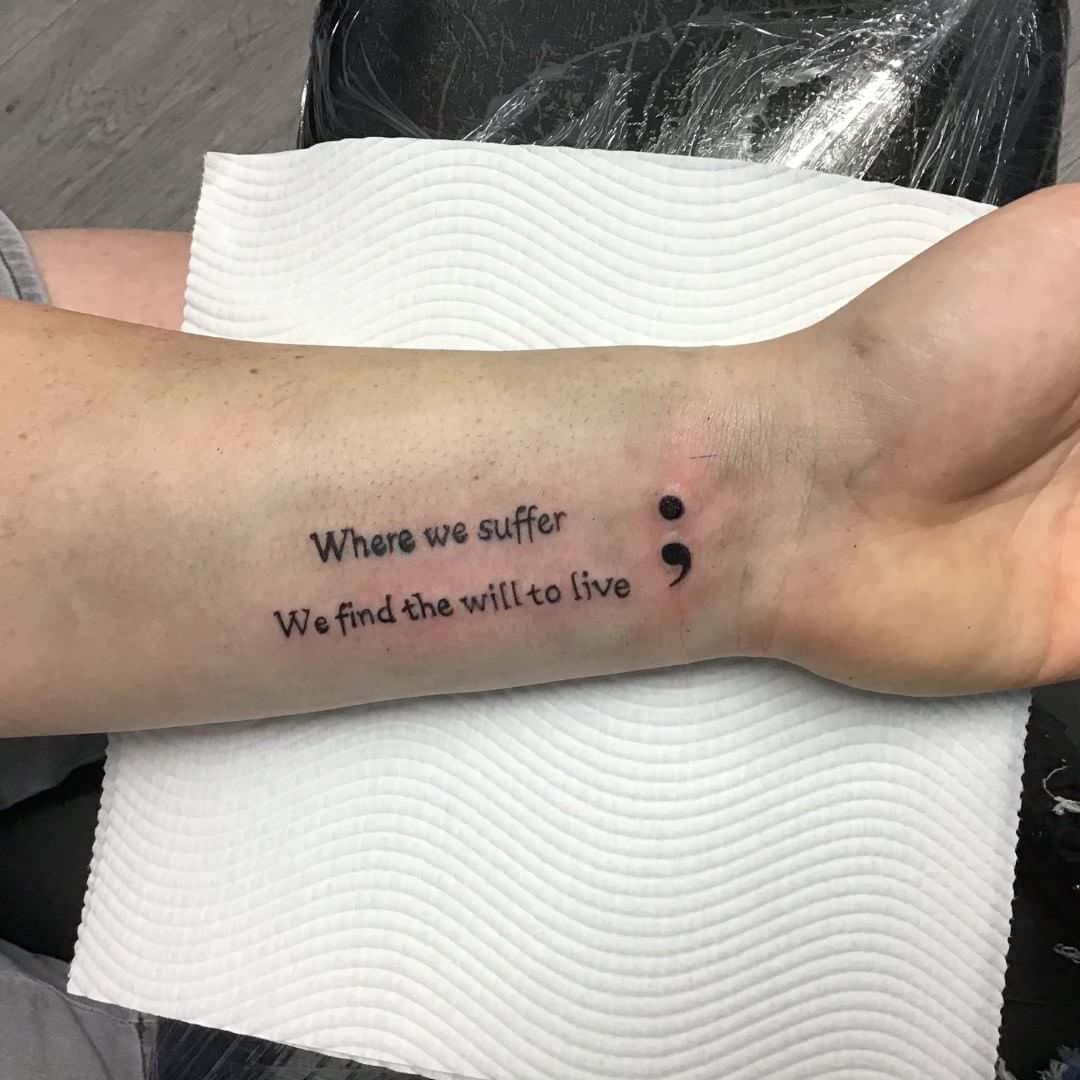 Semicolon tattoos are popular among artists and writers, especially those who suffer from depression. This is because of the way a semicolon can be used to create perfect cadence in writing, but also the fact that by doing so, you are holding back from entering into something darker or more permanent with your words.
Adding a phrase, quote, or a mantra to keep you grounded on dark days make this tattoo a true symbol of courage.
15. Semicolon Infinity Tattoo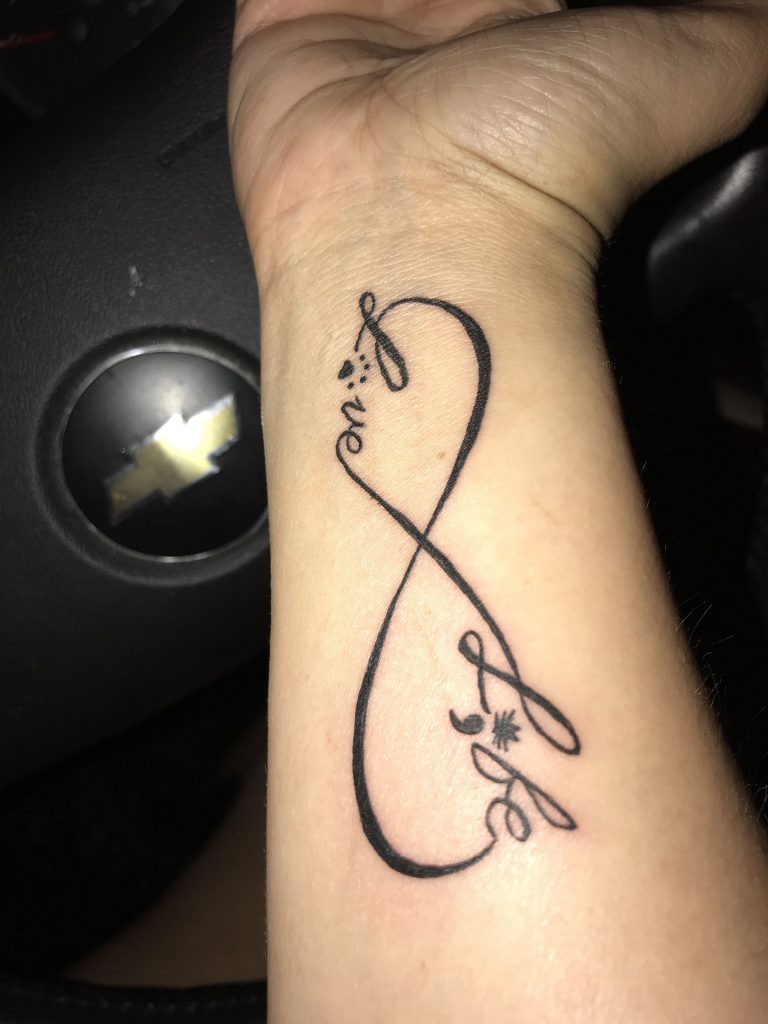 The infinity symbol represents the never-ending nature of something. This is why semicolon designs are perfect in creating an image of hope: You can always look to someone else for help, but no matter what happens, you will have to take care of yourself. This tattoo design reminds the wearer that there is still hope and that life goes on no matter how ugly things were in the past.
FAQs
What does a semicolon tattoo mean?
The semicolon tattoo is a part of Project Semicolon, which helps raise awareness for mental health and suicide. The project encourages people to use the symbol as an indicator that life can be lived after hardship. Instead of ending their sentence with death through suicide, they pause it by taking time to heal or take care of themselves before continuing in life's story.
How did the semicolon tattoo start?
Amy Bluel, a survivor of suicide loss and founder of the Semicolon Project, has been advocating for mental health care with her signature semicolons. The punctuation mark shows the significance of pausing during hard times rather than ending. It has become an art form through this project.
Which famous people/celebrities have the semicolon tattoo?
The semicolon has been seen on celebrities like Demi Lovato, who is also recovering from addiction struggles. In 2013 Amy started The Semicolon Project when she realized no one was talking about how much survivors need help in their recovery process, too. They needed support, not just those struggling but those having succeeded at surviving such tragedy.
You May Also Like