There's nothing as lovely as love, except maybe hilarious tweets from slightly annoyed spouses opening their hearts and homes for us to laugh at.
#1. Invisible cloak, activate.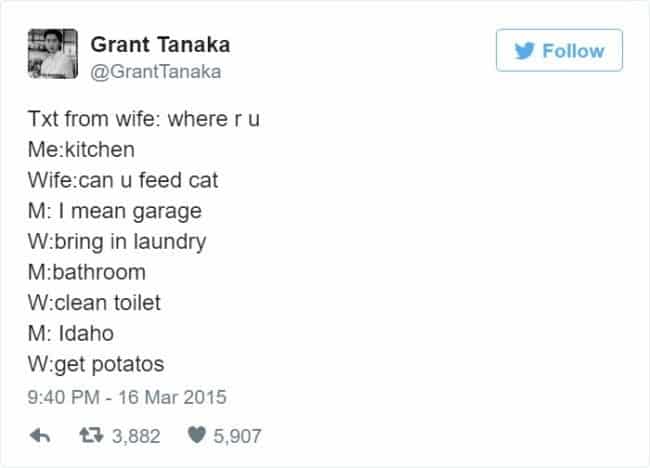 #2. Chicken soup for stubborn husbands.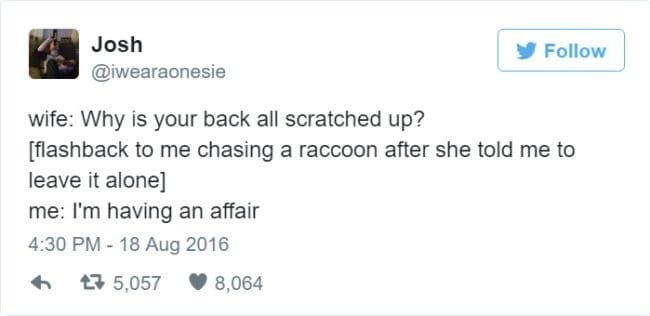 #3. Poor parents.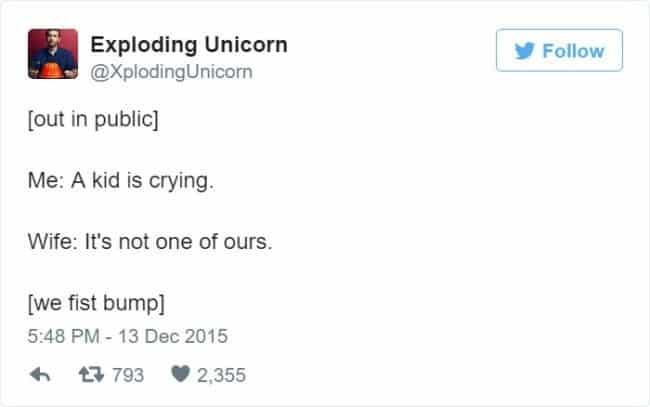 #4. Husband being the first born.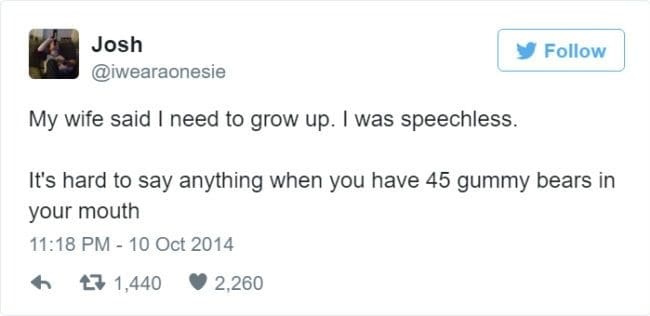 #5. Wife: What's yours is mine, what's mine is mine.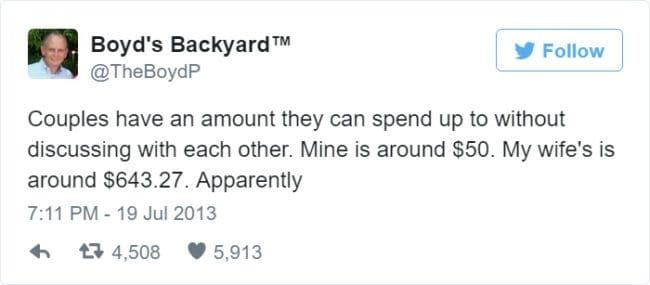 #6. Argument starter.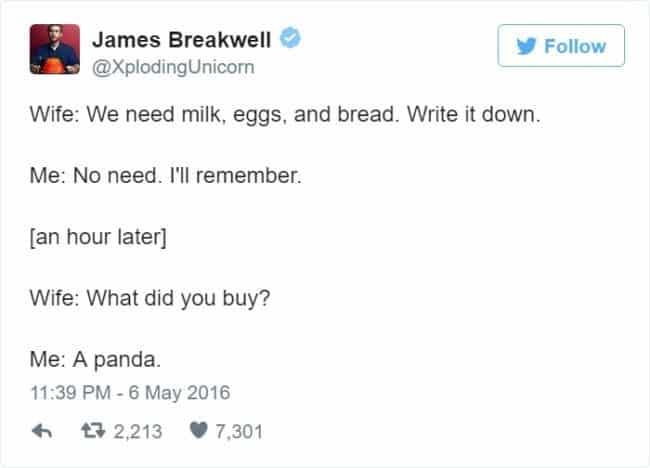 #7. Married sexting 101.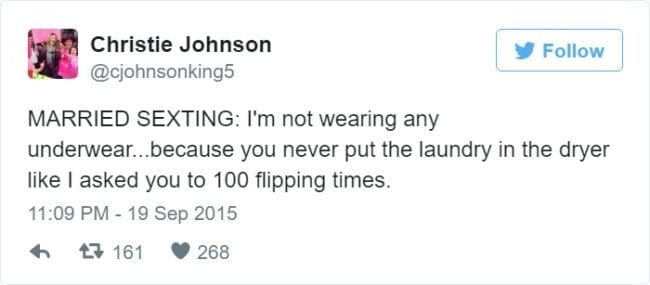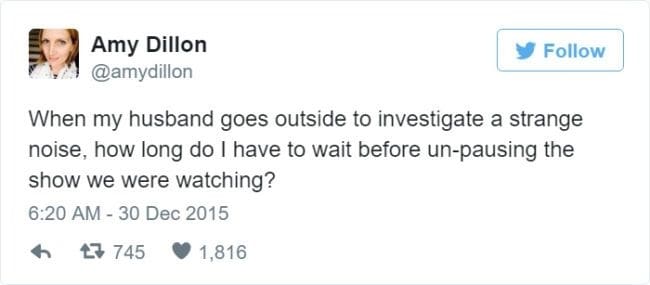 #9. Bathroom doors will forever be unlocked.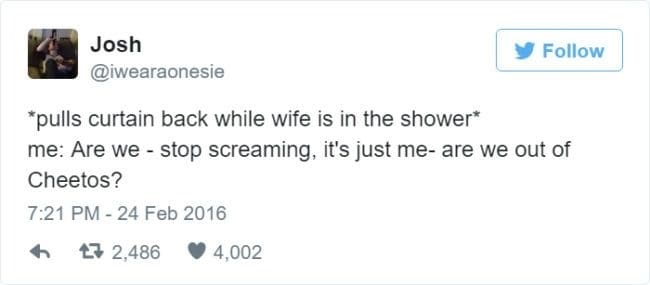 #10. The silent treatment.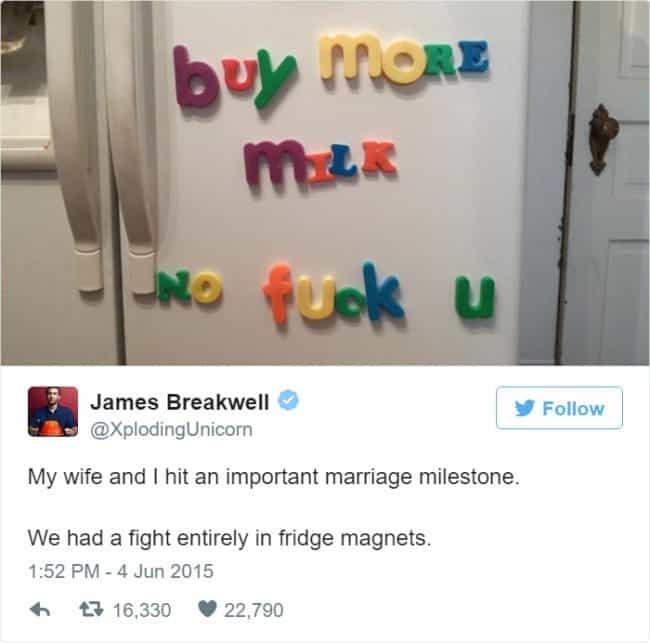 #11. There are always exemptions to the rule.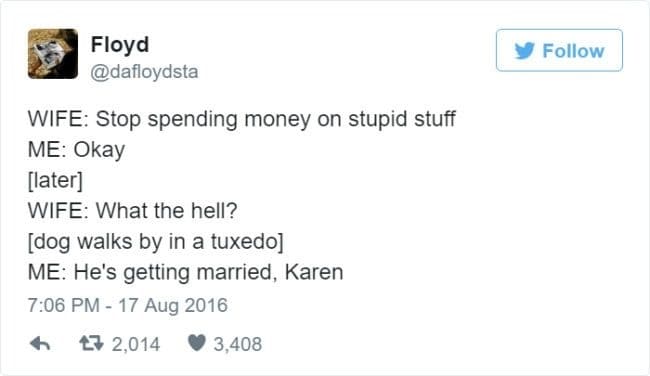 #12. Innocent face: ON.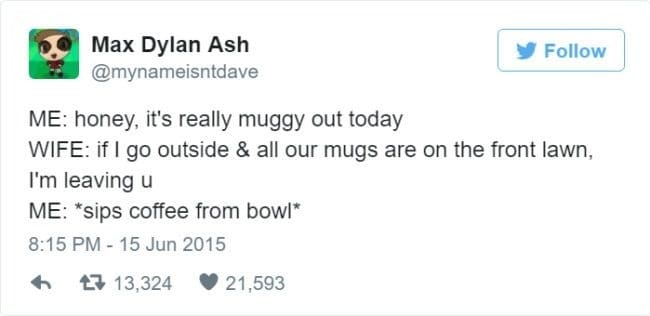 #13. Sexy time? Oh wait, just snack time.
https://twitter.com/ValeeGrrl/status/682055528311308288?ref_src=twsrc%5Etfw
#14. Phew.
me: want me to make dinner
wife: nah it's ok honey, I know you're still tired from doing it back in 2003

— Grant Tanaka: Honky (@GrantTanaka) August 24, 2016
#15. The dog is a part of this marriage.
wife: You forgot to turn the TV off last night

[flashback to me leaving it on so the dog could finish watching Air Bud]

me: No I didn't

— Josh (@iwearaonesie) July 25, 2016
#16. Quick, guys, I need the brain!
Wife: It's like every man on earth has to share one brain
Me: [can't think of a good comeback because it's not my turn to use the brain]

— Grant Tanaka: Honky (@GrantTanaka) March 6, 2016
#17. It's all about compromise.
My wife wanted two kittens but I am the man in this house so we got two kittens

— Justin Guarini (@JustinGuarini) January 17, 2015
#18. And then this just sums up modern love, really.
https://twitter.com/mel_evans/status/701636263619665920?ref_src=twsrc%5Etfw