Sibling tattoos represent the close bond between brothers and sisters. It is not just the familial relationship but also the share history of growing up together. Close friends, and comrades usually experience a lot together, that they consider themselves as siblings. It is fitting that there are many brothers and sisters who have matching, identical or mirror tattoos to celebrate the family bonds. There are also those who commemorate their brothers or sisters with tattoos of important dates.
Sibling tattoos are personal, and yet communal, because the they symbolize more than a person's interests. These tattoos are mirrored with an equivalent tattoo by siblings. These are fun and serious at the same time, much like the relationships of siblings.
Below are 35 sibling tattoos that represent the variety of choices for those who want to have tattoos about their family, or they want matching tattoos with the rest of their family.
1. Cute Sibling Tattoos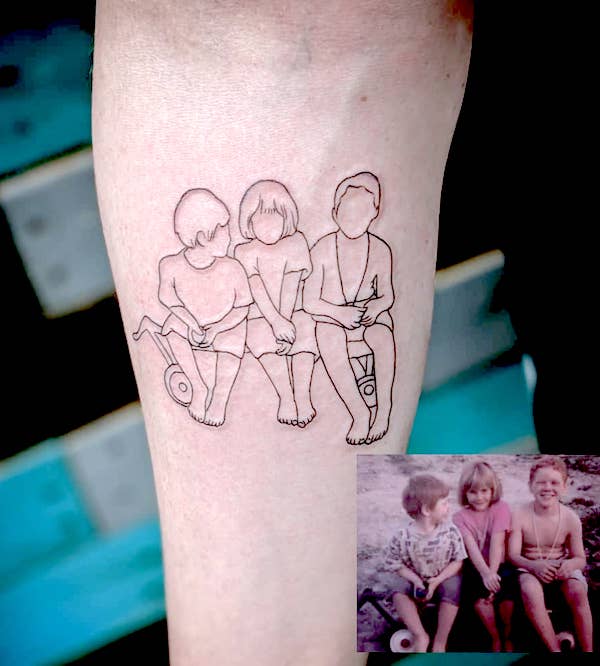 Having a sister means that you have a friend for life. And if both of you love all things cute and adorable, you should go for cute sibling tattoos. You can choose something meaningful for you both, like a favorite movie character, animals, mythical creatures, and other images. There is no rule about cute tattoos; you can color them up or have them in bold lines and shapes. Choose something that you will be proud to wear together. 
2. Sibling Memorial Tattoo for a Brother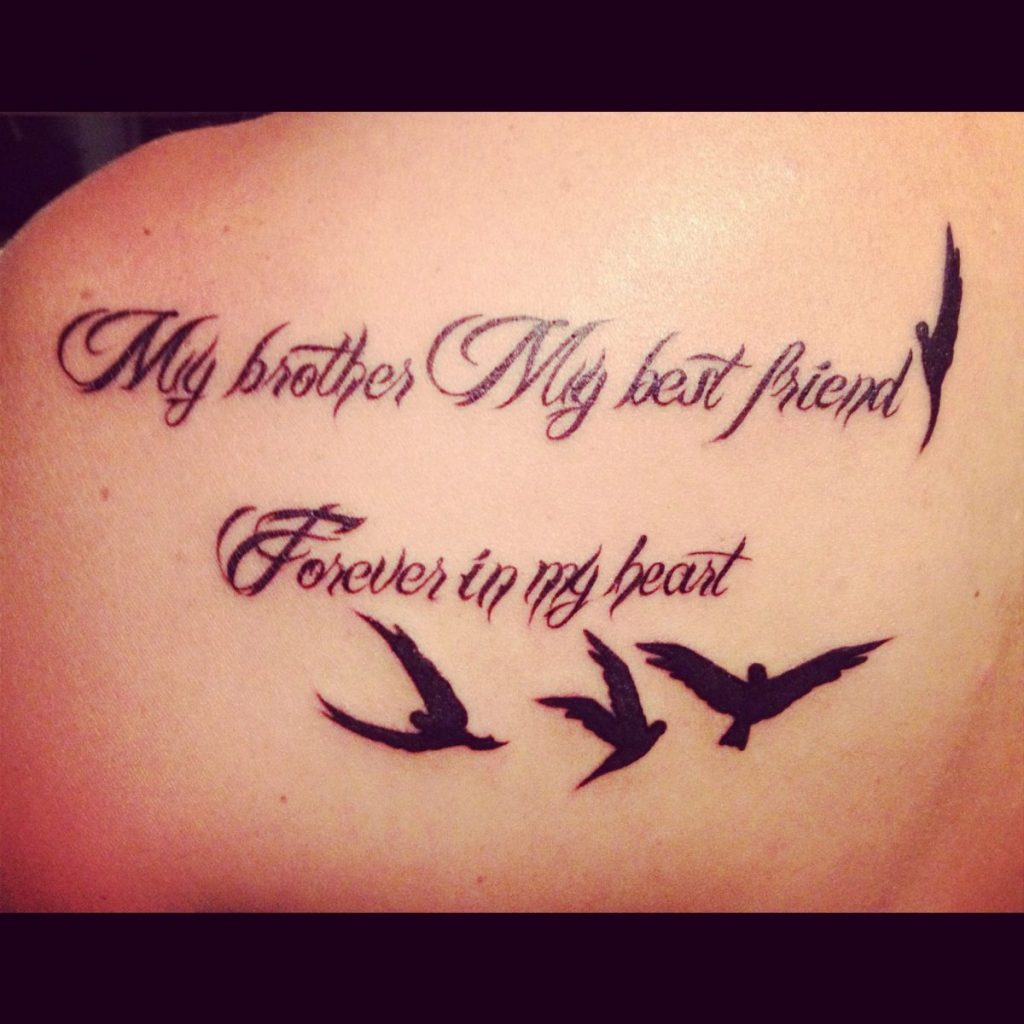 Despite the grief and sadness of losing a sibling, life must go, and your brother will be happier in his place if he sees you are so glad too. A sibling memorial tattoo is an excellent way of celebrating his life and the love you share with your sibling. It gives you a piece of him that goes with you forever. It can be a portrait, particular date, name, or a meaningful phrase that you can place on your arm or wrist. 
3. Unisex Sibling Tattoo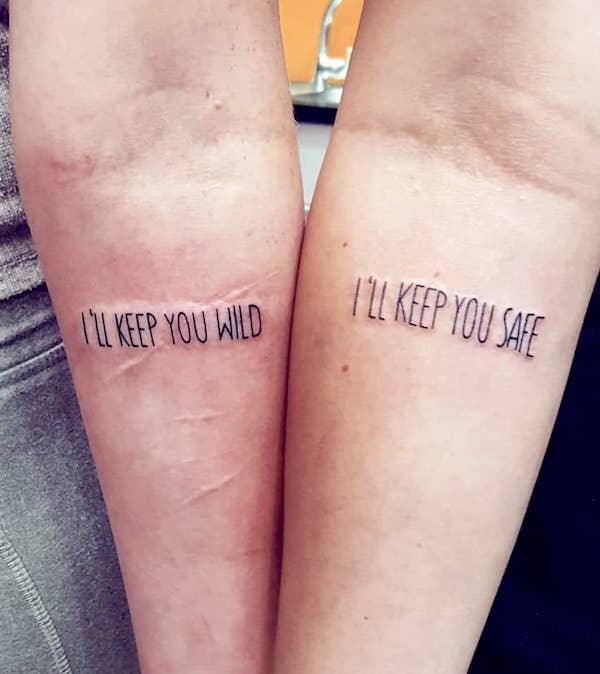 The bond between siblings is unshakeable. And many try to find a tribute for this connection through meaningful and unisex sibling tattoos. These gender-neutral pieces can be made as simple or complicated as you like. It can be made up of Roman numerals, quotes, letters, or words. You can have an important date or anything special that you share with your sibling. Have fun deciding on your theme!
4. Ohana Sibling Tattoo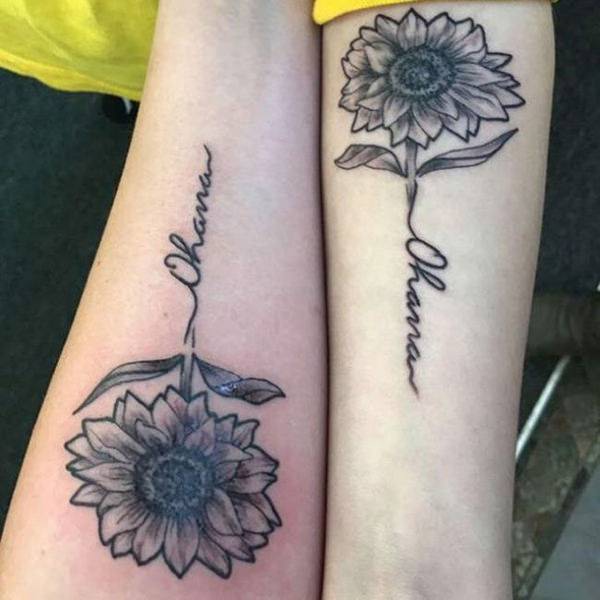 Ohana means family, and family means nobody gets left behind – from the movie Lilo and Stitch. You can get a matching "Ohana" tattoo to express your love and loyalty to your family and siblings. 
5. Sister Tattoos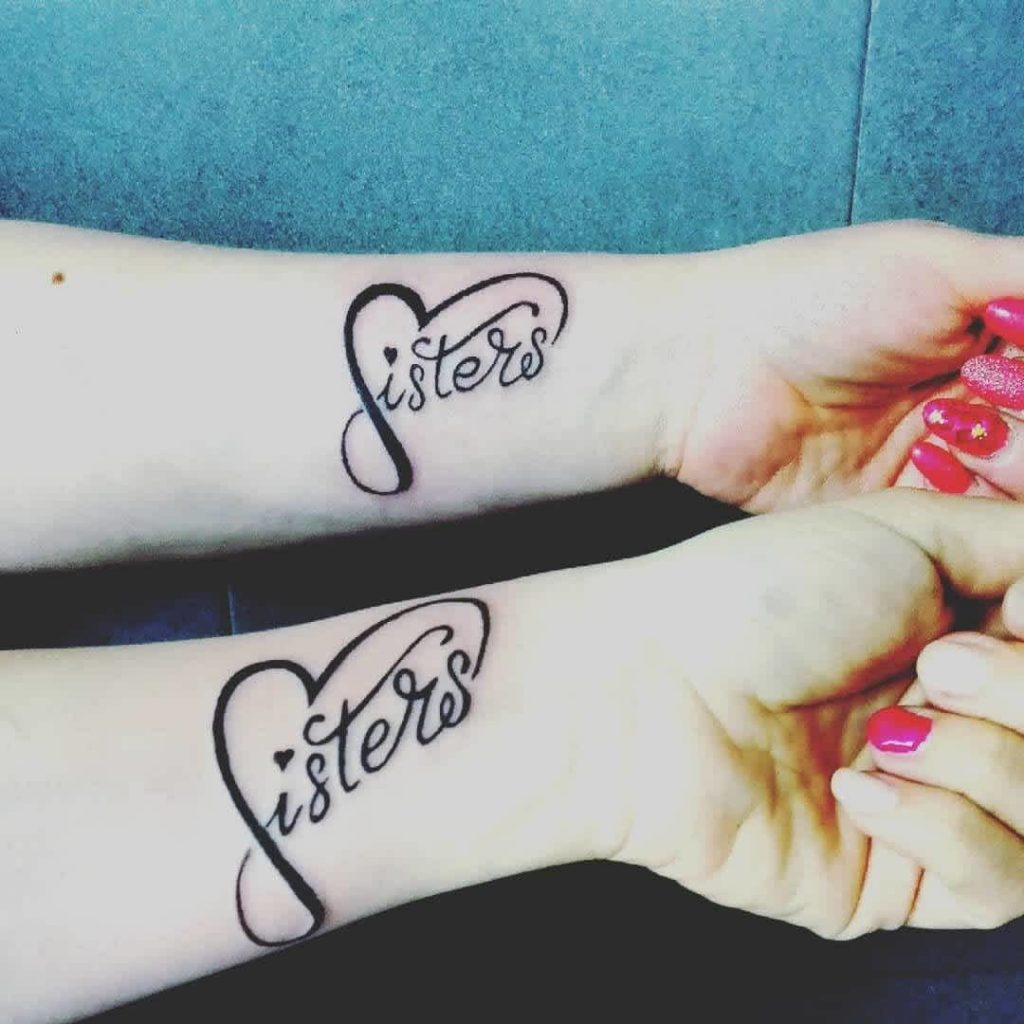 Sisters have an unbreakable bond. A big sister gets a friend for life the moment her little sister is born. If you share this kind of closeness with your sibling, you should get a meaningful sister tattoo. There are various designs to explore, so choose carefully to reflect who you are as a family. These tattoo designs are always unique and special because it's the sisters that create and decide on them. 
6. Brother Tattoos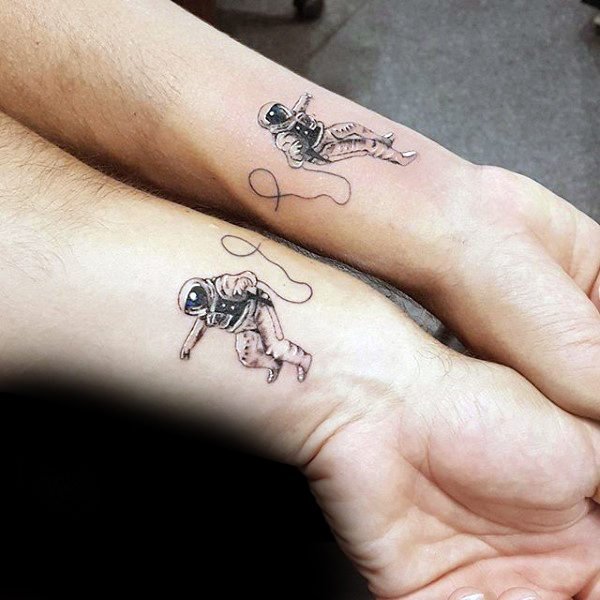 Just like the special relationship between sisters, brothers also share a unique bond. Often, society restricts males from showing emotions, but this perception should change. Brothers can also celebrate their bond – whether it's a masculine design or not. Even small and simple designs work well to honor brother bonds. These tattoos also cover non-blood relations, so you can also do it with your buddies, who are like a brother to you. 
7. Brothers and Sister Tattoos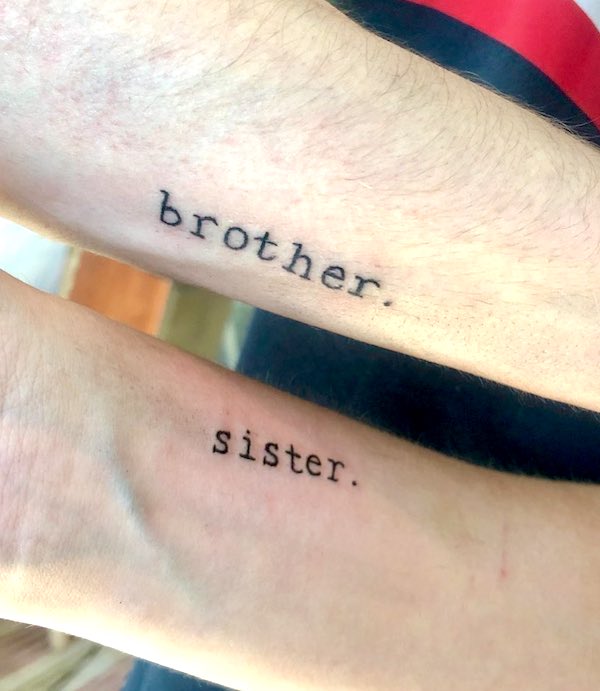 Another fantastic way to celebrate familial bonds with your siblings is to have brothers and sisters' tattoos. Unisex designs that would go well across all genders are ideal for this project. It can be something you all love, like, or your similar hobbies as a tribute to your bond.  It does not need to be a complicated design to be meaningful. Some siblings opt for laid-back designs that are simple but unique. 
8. Matching Sibling Tattoo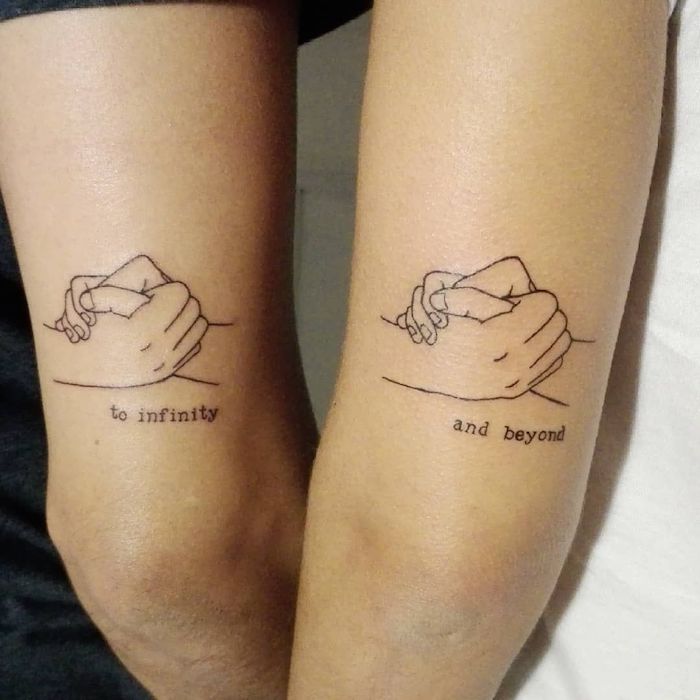 Matching sibling tattoos is a thoughtful way to express your bond with your brother or sisters. It may reflect a memory, something that you share or you both love. It would be best if you decided on it together to remind you of how much you mean to one another. Matching tattoos will strengthen your bond even when you no longer see each other every day. 
9. My Siblings Protector Tattoo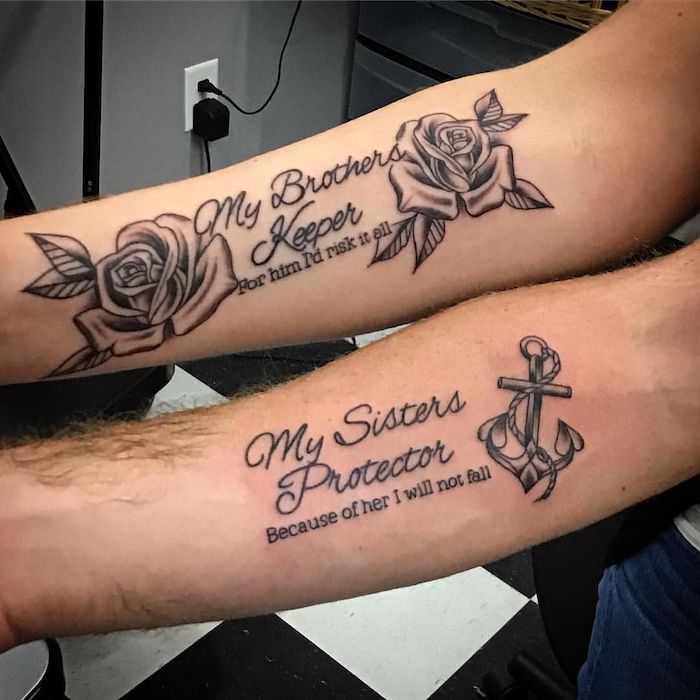 You can have images or quotes to showcase the bond you share with your brother or sister, but one of the most potent lines is the "My Siblings Protector" tattoo. It is a claim that you will take with you anywhere you go, and it is a promise that you will do anything to protect your siblings.
10. Sibling Circle Tattoo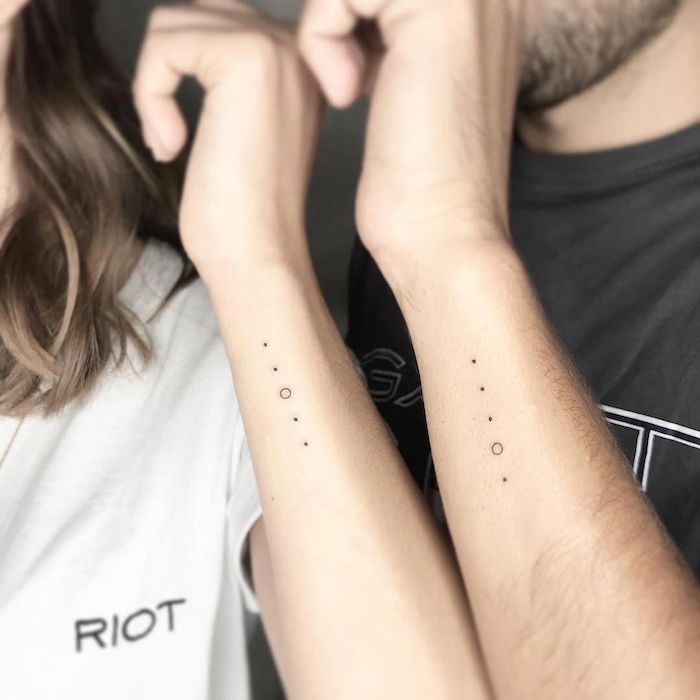 If you want a symbolic tattoo design to celebrate your bond with your siblings, a circle tattoo is a meaningful but straightforward option. Circles represent wholeness, eternity, life, and perfection. It is a minimalist design, and it can be something that describes your deep connection with your siblings. 
11. Sibling Puzzle Tattoo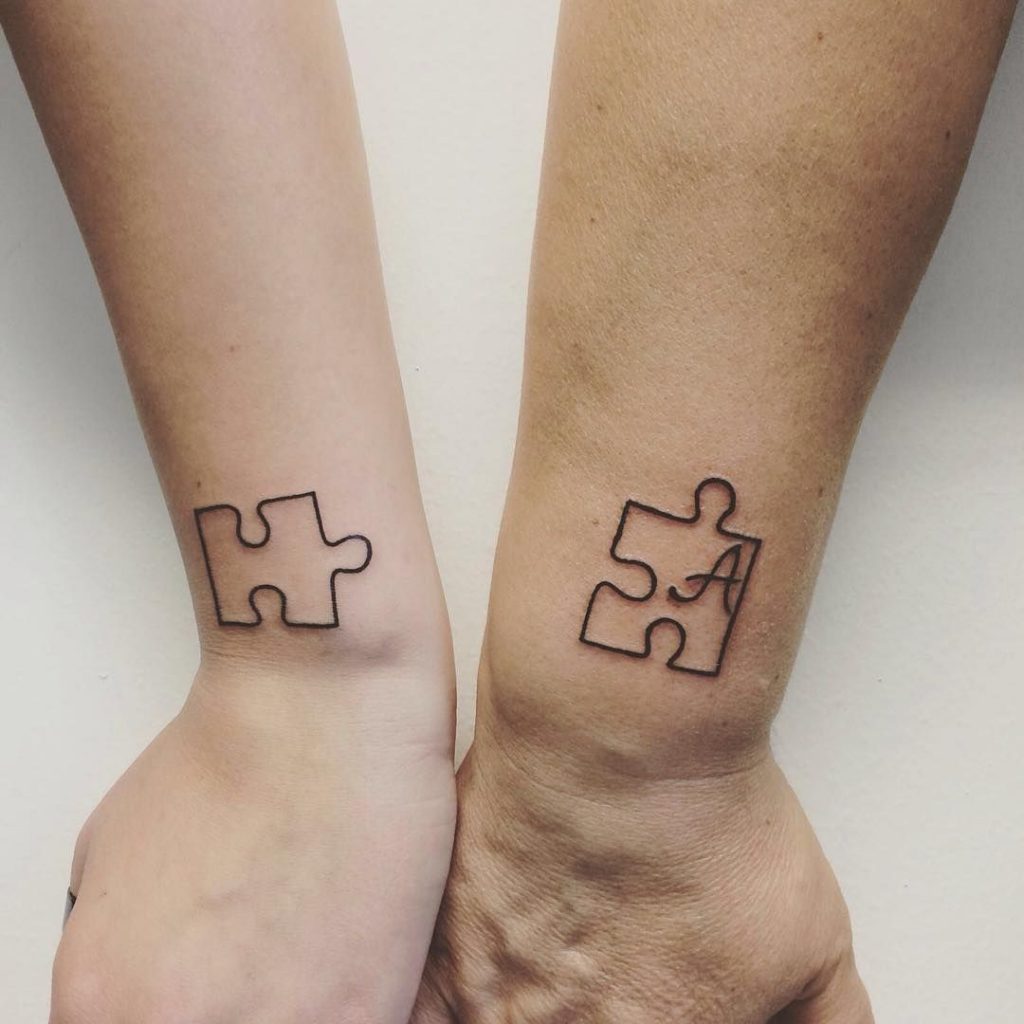 Sibling puzzle tattoos represent the connection of each piece and its importance to make while. It is an excellent way of showing closeness with your other family members. You can make it personalized by adding your initials or birth dates.  
12. Celtic Sibling Knot Tattoo
Families who would like to honor their Celtic heritage may explore symbols representing their familial bond. The Celtic sibling tattoo makes it possible to showcase the special bond you have with your siblings. For sisters, it can symbolize the female strength and power that you share. Designed into a heart, it represents a triquetra or triple spiral weave to celebrate your connection and honor your heritage.  
13. Sibling Tattoos for A Sister and Two Brothers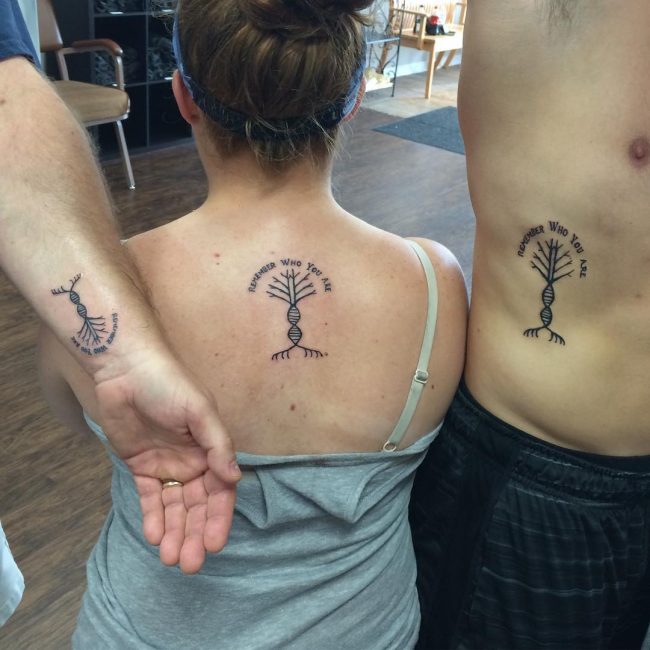 If you want to showcase your closeness and bond with your siblings, there are various ways to do that. Each family is unique, and you can choose a tattoo design that suits your relationship well. A sister with two brothers can have a tattoo that works for them or tells their story. It can be an image of two princes and a princess. Or, if you want a unisex design, how about combining your fingerprints to form a heart shape? It is an incredible design that says much about your love and support for one another. 
14. Sibling Tattoo for Four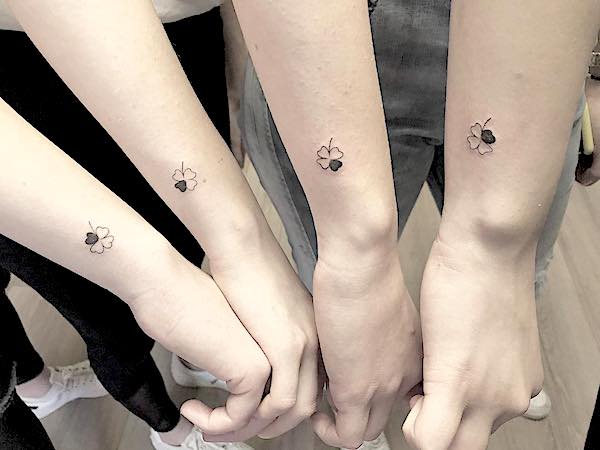 The more siblings you have, the more complicated life may seem to you, significantly while growing up. There are likely things you dislike, but the other loves when deciding on sibling tattoos for four, brainstorm and decide on a design that captures your personality or showcases your birth order.
15. Sibling Tattoos for Five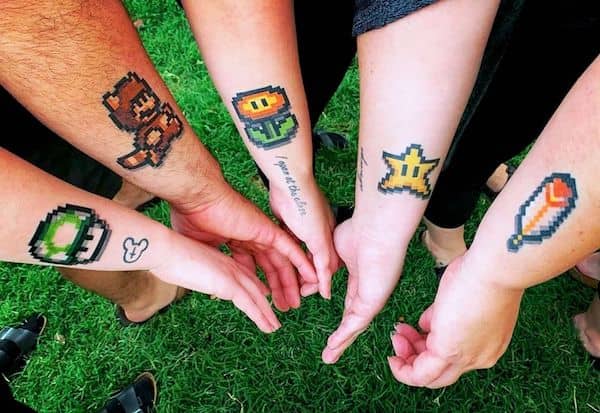 The more siblings you have, the more people you have to love and fight with. Thinking of the perfect design for a sibling tattoo for five should be done with all consent of all siblings. It can be a simple but meaningful design that celebrates your connection. You can customize these designs to showcase your unique personalities and your bond. Look at the things you love and the memories you cherish for inspiration. 
16. Unique Siblings Tattoo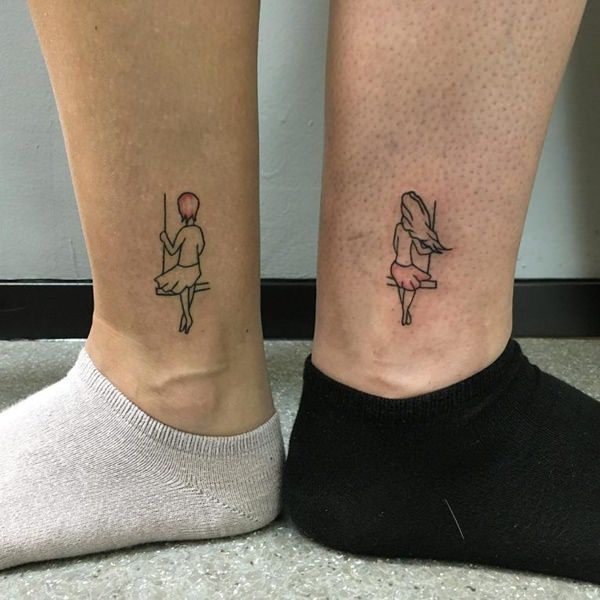 One unique way to showcase your connection with your siblings is to choose symbols, letters, or quotes. It should be something that honors the bond you share with your brothers and sisters. You can include various images to make it personal and tell your story as siblings. Abstract designs are great conversation starters, especially if they see you with your siblings wearing matching tattoos together. 
17. Sibling Tattoo for Three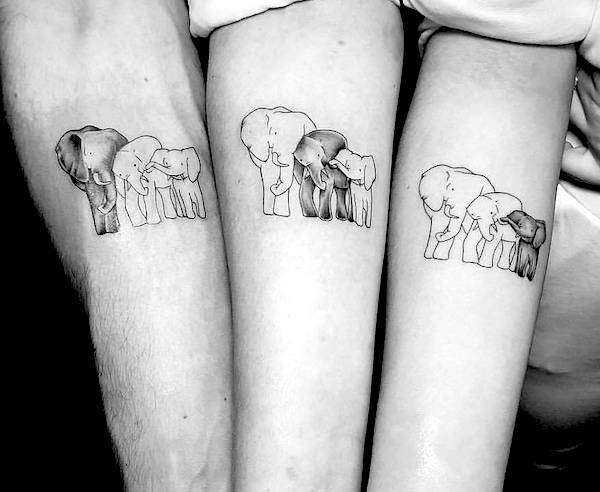 Finding the perfect tattoo for a sibling of three can be pretty challenging. One of your siblings may want their design to be considered, but you should discover the image that all of you love. It can be something from the childhood you share, and all liked. A cartoon character, perhaps? Or a shared memory that you want to celebrate. Get a matching tattoo that compliments each other to keep that special bond you share.  Others opt for designs that showcase the order in which they were born.
18. Clever Siblings Tattoo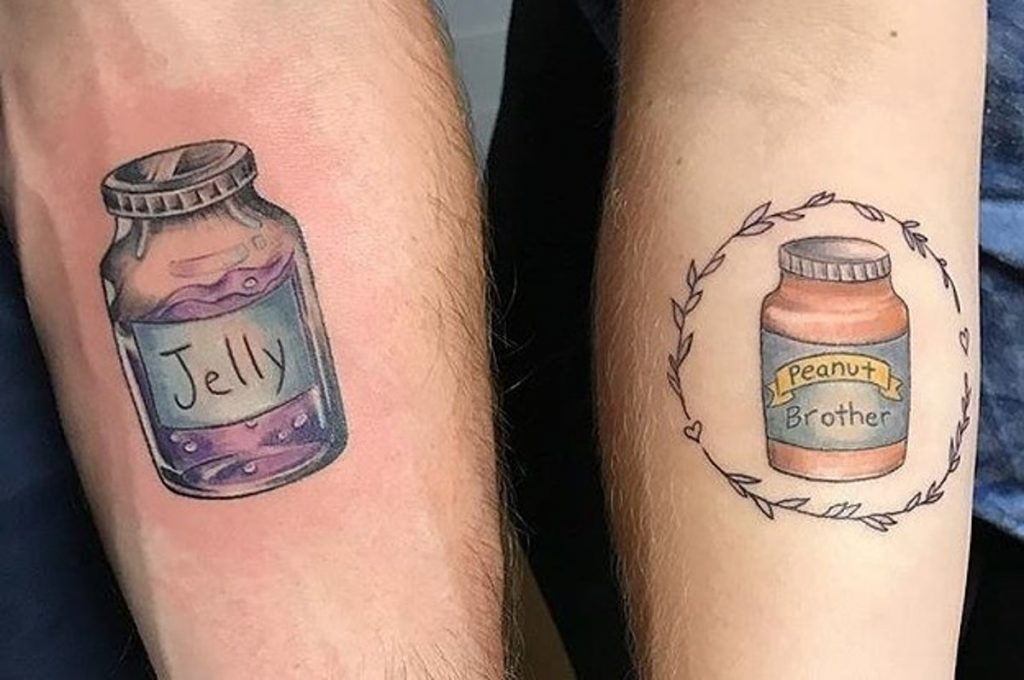 Clever siblings' tattoos are appreciated differently from one person to the next. Design it in a way that only makes sense when all pieces are together. It will look fabulous together, but the meaning is completed when you are together.   
19. Sibling Quotes Tattoos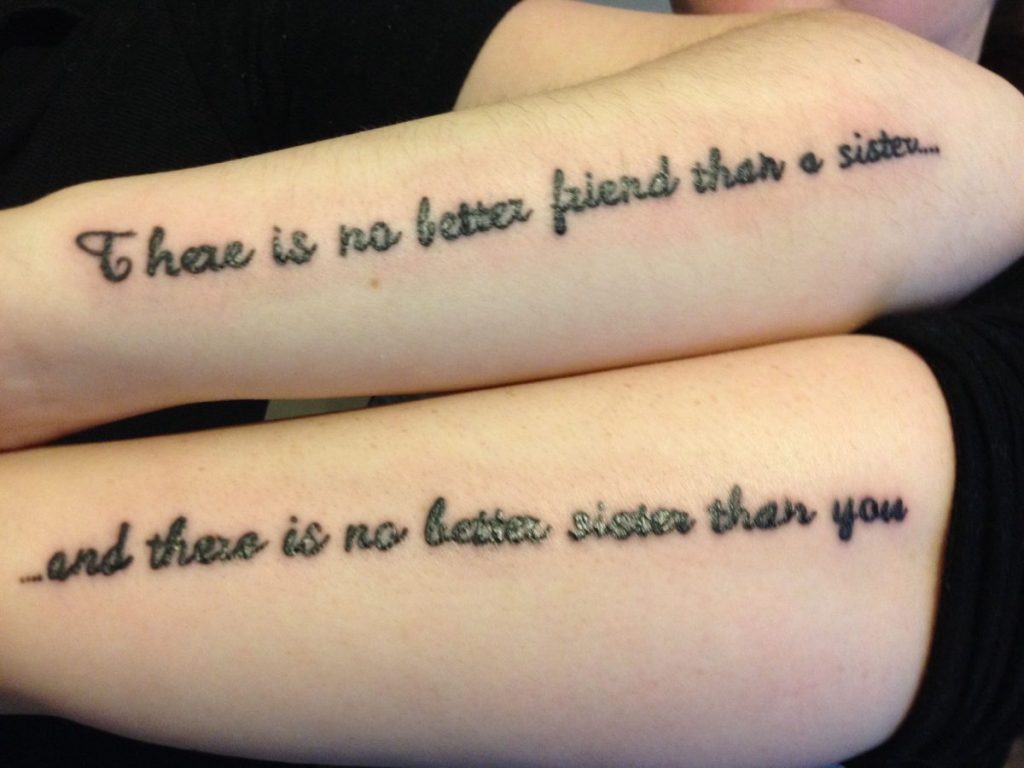 If you can describe your relationship with your siblings, a famous quote might come to mind. Or perhaps a song lyric that you all love? A sibling quote tattoo could be something that speaks directly to you and reminds you of your unique connection as siblings. It is a bold choice that will showcase the importance of your relationship with one another. 
20. Sibling Initial Tattoos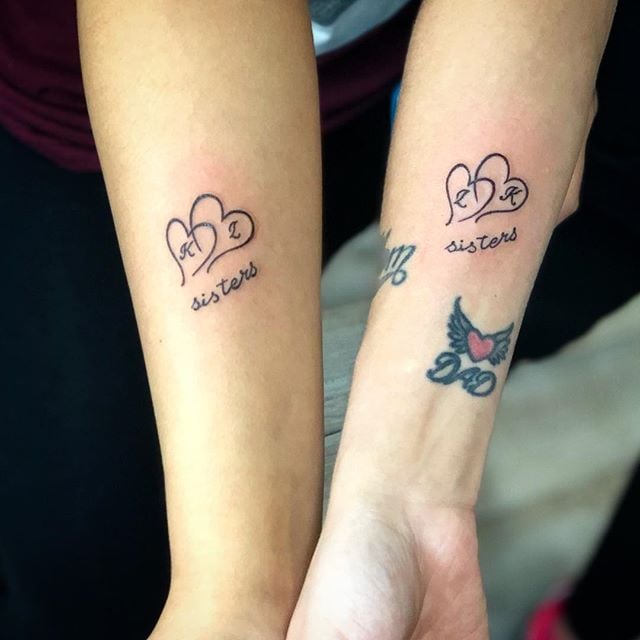 For a more straightforward option, go for the initial sibling tattoos. It is simple but meaningful. Wearing your sibling's initials is an excellent way to show your appreciation for them and your family. It is something that you will be proud to wear and initials that you will never regret to have inked on your skin. 
21. Simple Minimalist Sibling Tattoos
If you and your siblings prefer more superficial things, you will also appreciate simple minimalist sibling tattoo designs. Ideally, these pieces do not have much detail and are rendered with a limited color palette or plain black. It can be large or small, but still very basic. It is a versatile tattoo design that you and your siblings can have to match your individual qualities.
22. Tattoos that Represent Siblings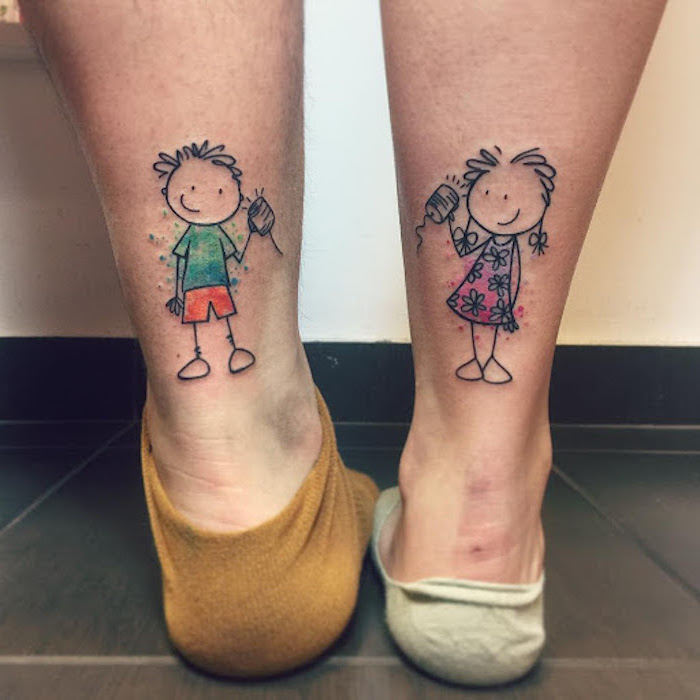 Siblings may sometimes drive us crazy, but they can be your best friend for life. Getting tattoos that represent siblings and their unique connection is not limited to order design or initials. You can always have something representing your bonds, like Celtic knots, family, or siblings from your favorite cartoon shows. 
23. Sibling Tree Tattoos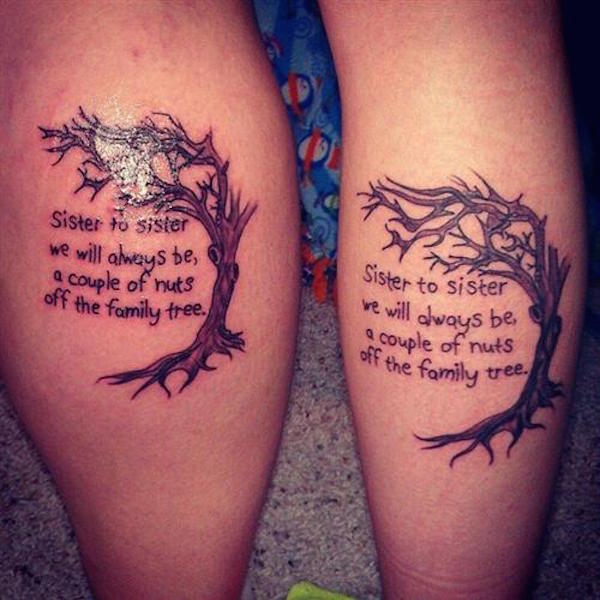 A sibling tree tattoo is similar to the famous family tree tattoo. Both these images are powerful and represent endurance, strength, and familial bond. Sibling tree tattoos feature the names of the siblings in various branches. It can be made simple, but you can add other details like birthdates if you want a more complex piece. These tattoo designs are perfect ways to honor your bond with your family. 
24. Disney Sibling Tattoos
Children grow up with the magic of Disney happening all around them. The movies will continue to remind us of happy childhood memories with your family and siblings. Thus, it is not hard to see why sisters and brothers are drawn to the thought of having a Disney sibling tattoo. You can explore your favorite movies for characters that resonate with you and the special bond you share with your siblings. 
25. Sibling Heart Tattoo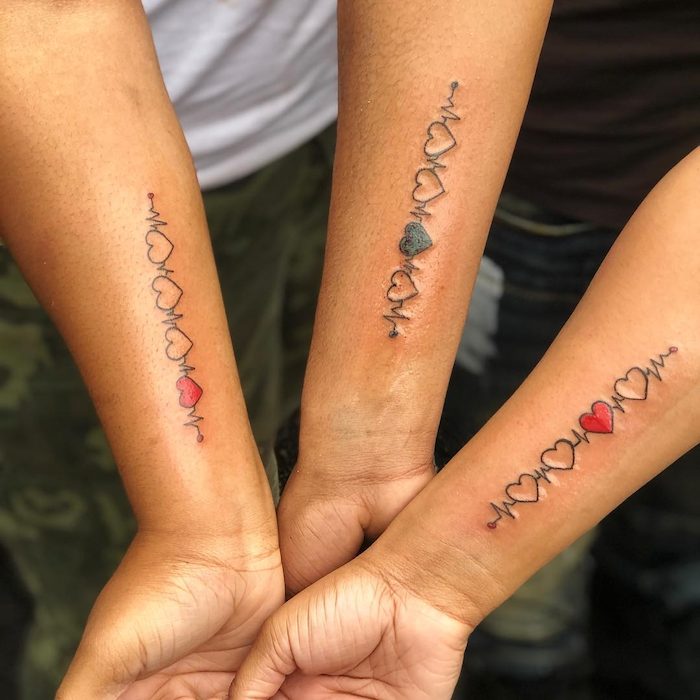 There might be no better way to showcase your love and affection than a sibling heart tattoo. The heart is universally known as the symbol of love. Along with it comes other values like compassion, courage, and affection. It is one of the simplest tattoos for you and your siblings to share. The design can be a minimalist one or as intricate as you wish. Regardless of your choice, the meaning remains the same. 
26. Geometric Sibling Tattoo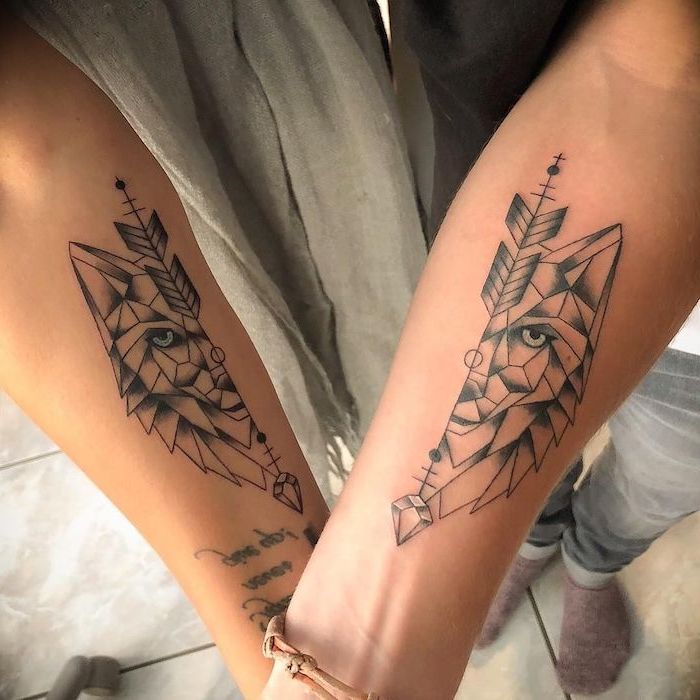 Geometric tattoo designs are gaining a lot of traction recently. They have this modern edge that looks cool and fascinating. The designs are mainly filled with shapes and lines, creating something complicated yet meaningful. Siblings may love these styles and seek out images that will perfectly showcase their unique connection. Find inspiration from those who got a tattoo that matches or completes a design like a puzzle.  
27. Celestial Sibling Tattoos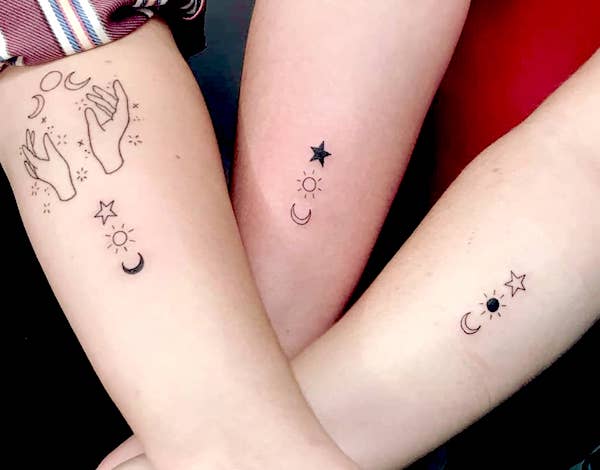 Images of celestial bodies are a popular tattoo design trend, and they can easily be made into star sibling tattoos. It can feature the sun, moon, and star with one colored unit to represent each sibling. 
28. Fractions Sibling Tattoo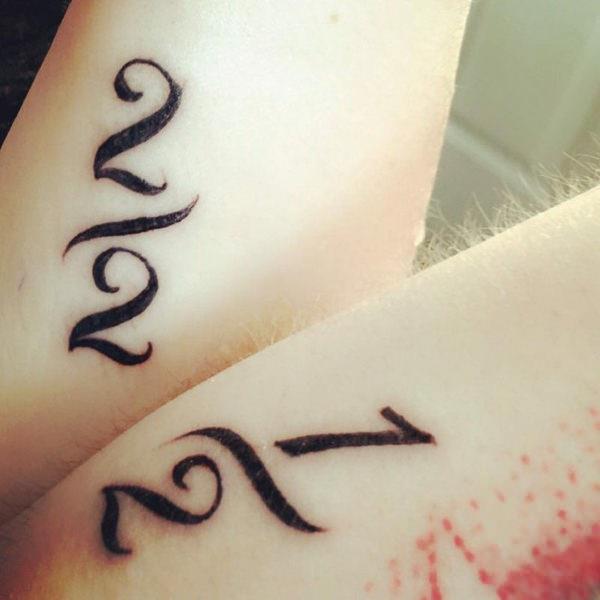 For a group of brothers and sisters, a fraction sibling tattoo is a fun way to go. It features a sweet symbol of your birth order and will represent the special bond you share with your siblings. 
29. Creative Sibling Tattoo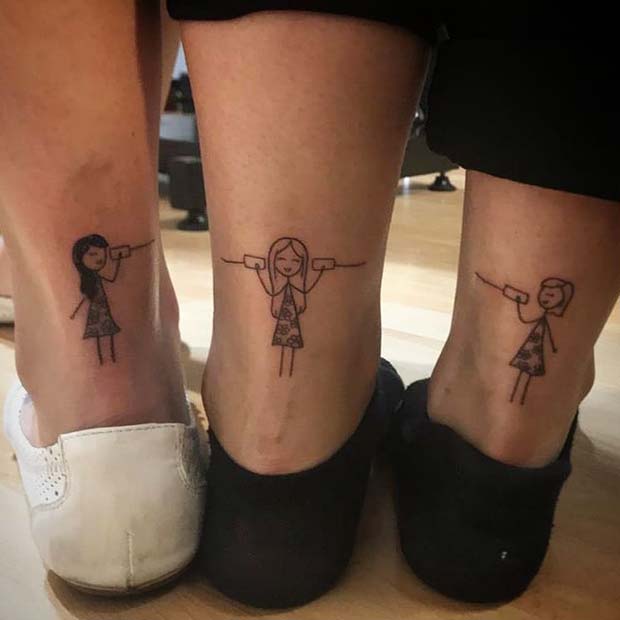 There is no limit to the designs or themes that you can create for a sibling tattoo. A creative tattoo is a product of the sibling's colorful imagination. You can play around with a favorite image to make them uniquely yours. It can be a combination of elements like a bow and arrow or a set of Roman numerals. There are no rules for body art, so work together and find the designs that suit you best!
30. Big Sister Little Sister Tattoo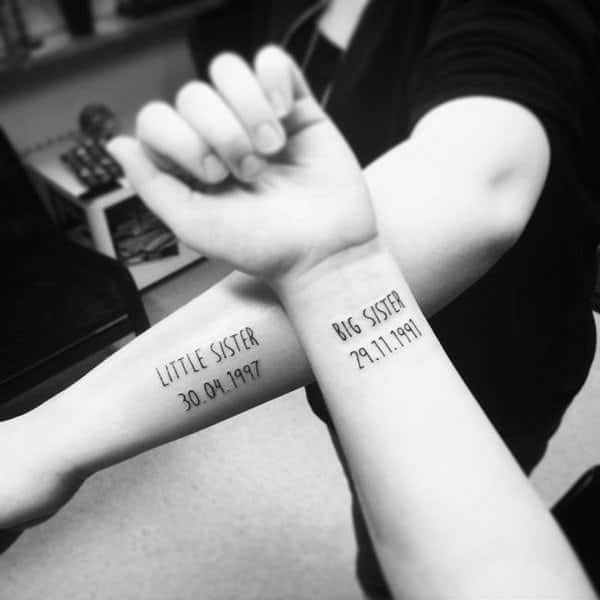 There is always something special about having a sister, and you can celebrate the unique bond with the Big sister, Little sister tattoo design. You can write in fonts you love or in your handwriting. It is made special with initials and birthdates.  
31. Four Card Symbol Sibling Tattoo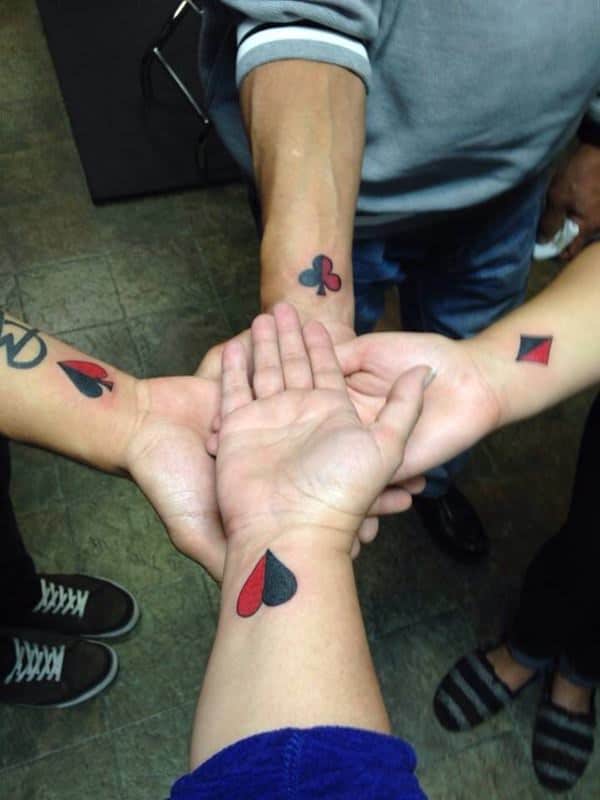 This tattoo design is perfect for a sibling set of four. One member can have one symbol from the deck of cards. It is a beautiful way of claiming each of your unique personalities while recognizing that you all came from one deck. A full deck of card symbols is best inked in minimalist or simple designs. 
32. Pinky Promise Sibling Tattoo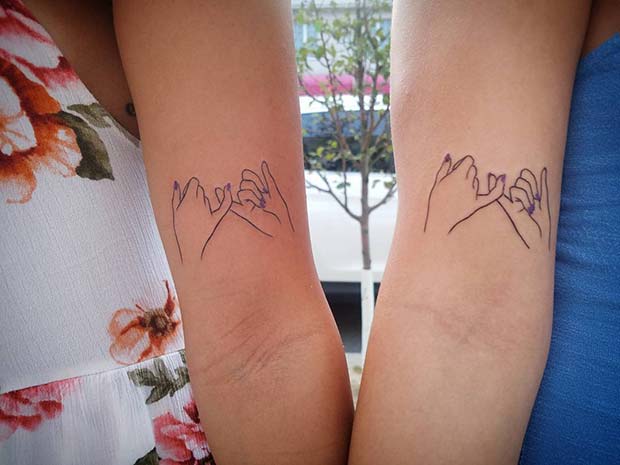 Children have steadfast beliefs in a pinky promise. It is a tattoo design that best signifies close relationships like siblings and friendships. As for the bond shared with siblings, the locking of the pinky fingers of two people means that an unbroken promise is made between them. 
33. Split Pair Sibling Tattoo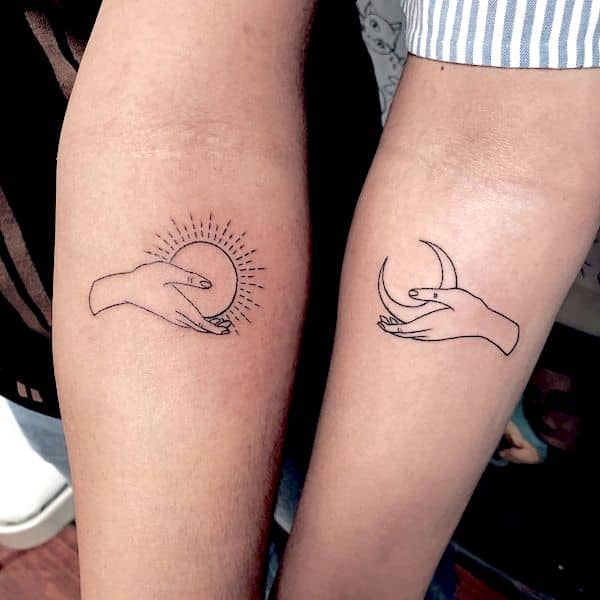 If you are not into matching sibling tattoos, you can choose the split image sibling tattoo. This idea is to create a collaborative design that features a unique version for each sibling. 
34. Four Leaf Clover Sibling Tattoo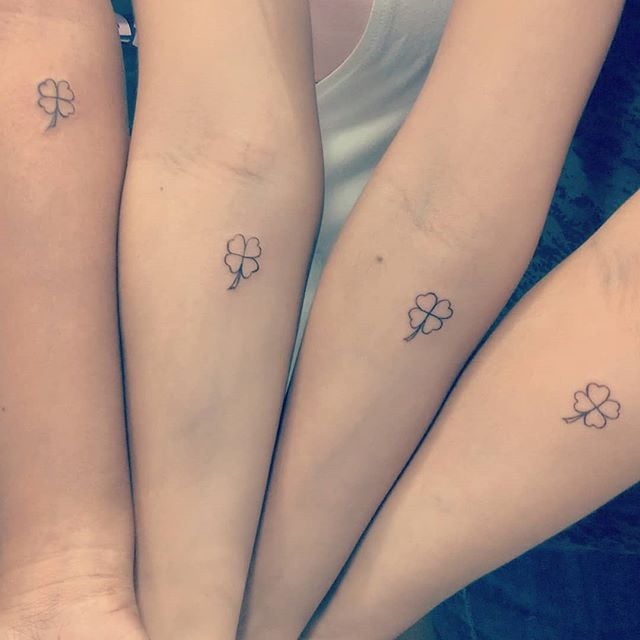 The fourth petal in a four-leaf clover is a symbol of good luck. It is a rare find – just like the special bond shared between siblings. A four-leaf clover sibling tattoo highlights your individuality and serves as a charm for every circle member. 
35. Sibling Memorial Tattoo for a Sister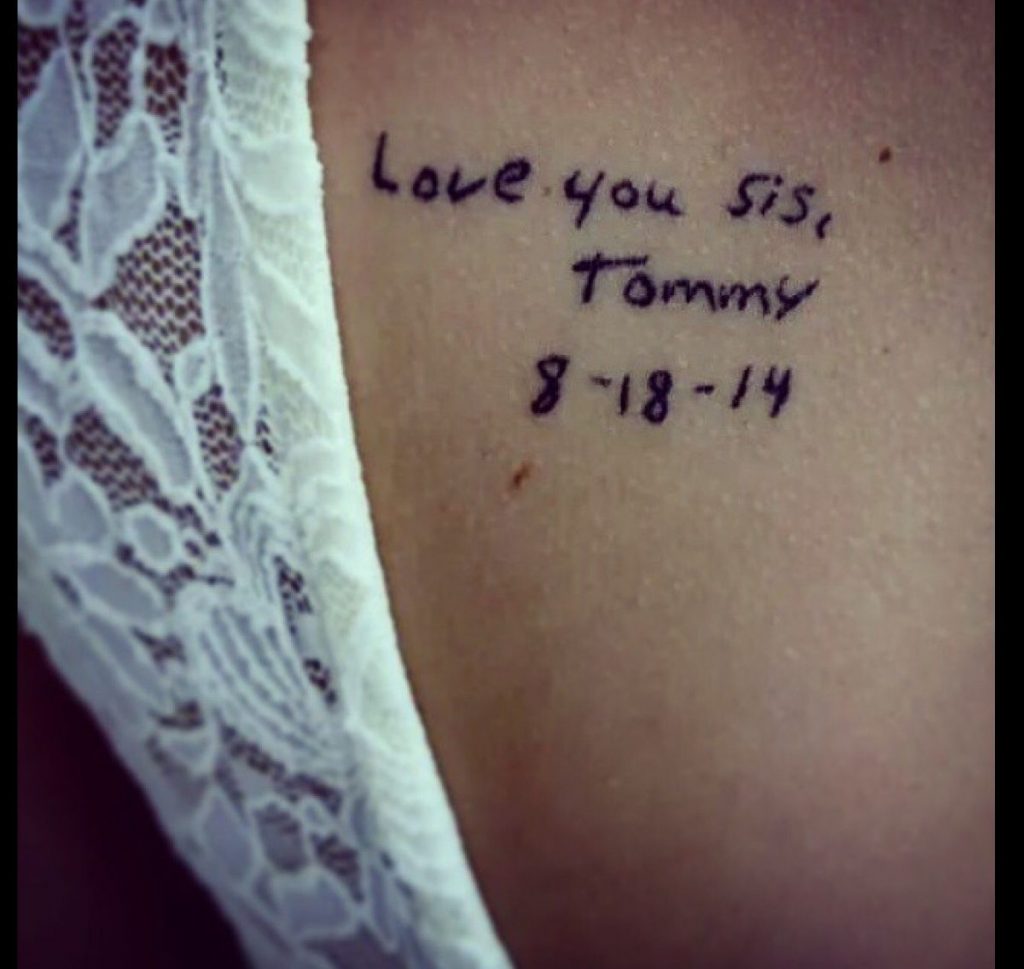 Nothing beats the pain of losing someone you love, especially if she is your sister. A sibling memorial tattoo for a sister who passed is a body art that you can wear as a tribute to your dear sibling. It can be presented in various ways – a likeness of their image, a particular date, or their name. Whichever design you decide on, it will be an expression of your love for her. 
FAQ
What tattoo image symbolizes brothers?
The most common symbolism for brothers is the word "brothers" or a quote that brothers have an affinity to. This is not limited to actual brothers, but also to close friends or comrades.
What symbol represents a sister or sisterhood?
The Celtic circle knot is a powerful symbol, that also celebrates sisters and sisterhood. It has two parts that are the same, and symbolizes the bond between sisters. It is used to represent the bond between females, in general, and sisters in particular.