Sunflowers are bright yellow colored flowers which usually bloom annually. These are lovely flowers which bring out everyone's bright and positive disposition. It became prominent in the art world due to the popularity of Vincent Van Gogh's paintings and it has endured in countless other renditions, including tattoos. It is not surprising that women find it attractive and fitting as a tattoo.
The sunflowers were sacred to the ancient Incas and believed that it represented the Sun God. The flower was used as an offering in temples. It symbolizes the search for spiritual knowledge, and faithfulness. The following images of women's sunflower tattoos can help your search for spiritual meaning, as well as bring a light to your every day.
1. Black and White Sunflower Tattoo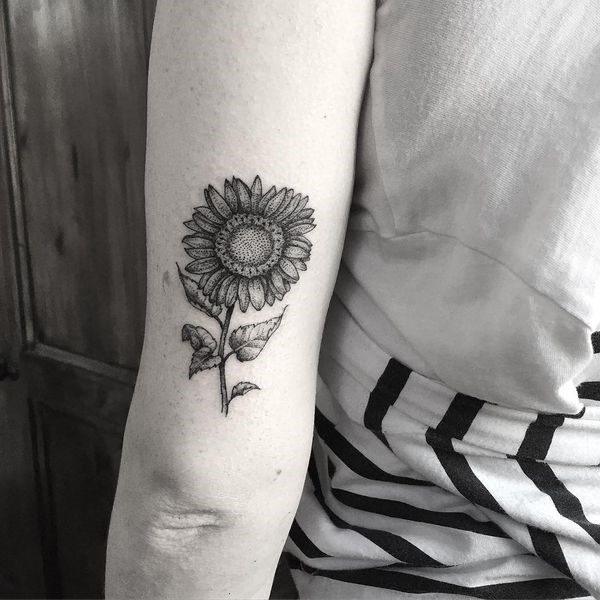 The sunflower is known around the world through its bright yellow colors. So it makes sense to apply the same vibrancy of colors to achieve a fantastic work of art when tattooed. But these flowers look distinct and eye-catching, too, even without the bright yellow hue. A black and white sunflower tattoo has a certain depth and dimension. It is a perfect choice if you are into graphic tattoo style or following a minimalist lifestyle.
2. Small Sunflower Tattoo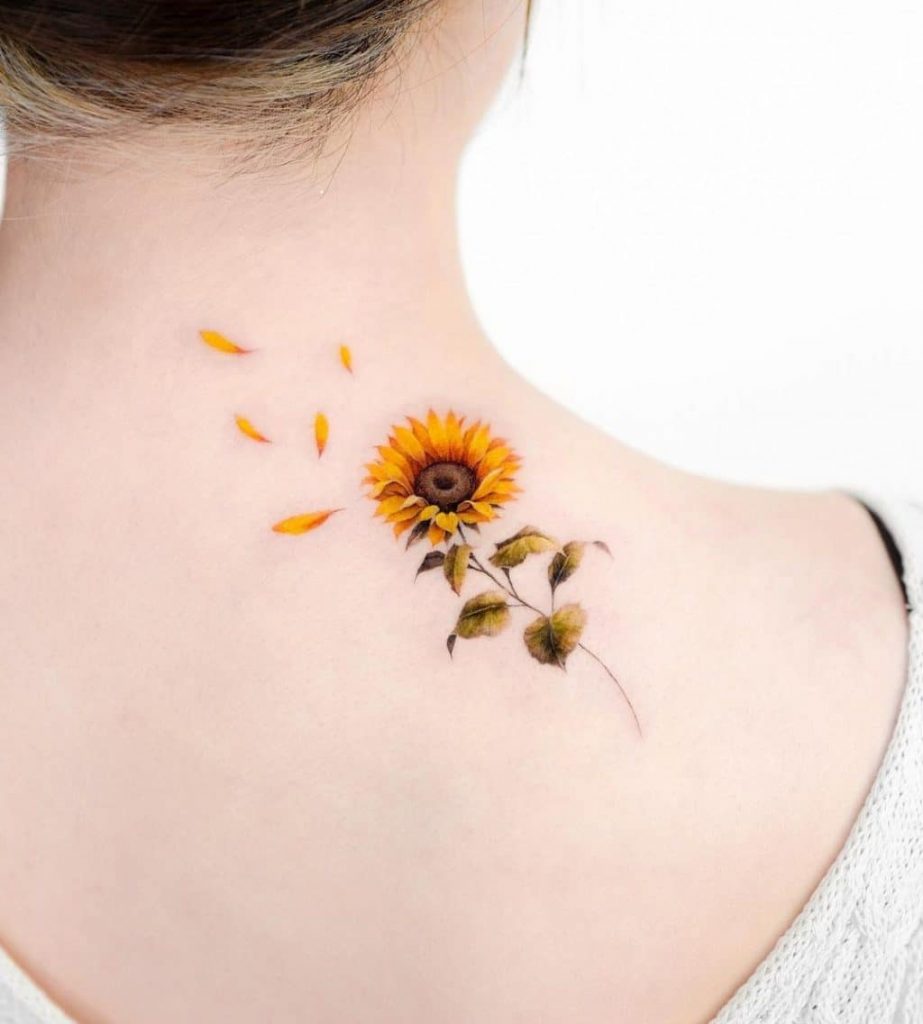 Whether it is your first or tenth inking, the appeal of a small sunflower tattoo will indeed find you. Small tattoo designs are favored by those who want a discreet and minimal piece of body art. And because they are small, you have the liberty of choosing any placement you like. One of the best spots for a small sunflower design is on your wrist. It is discreet, but it is a conversation starter for those who see it.
3. Simple Sunflower Tattoo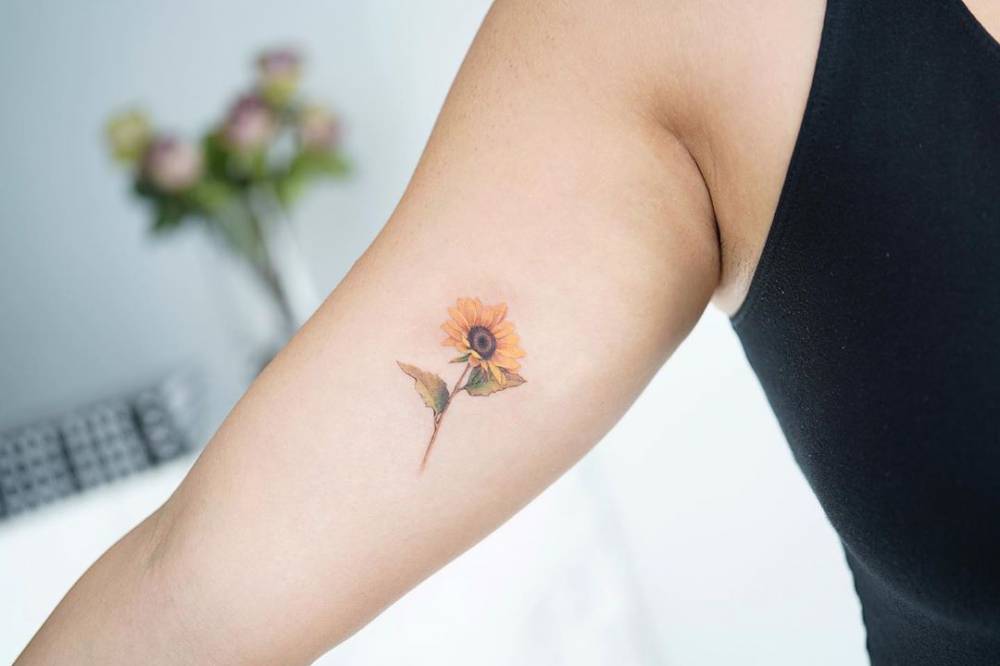 The sunflower is a very versatile flower. When inked, it looks elegant and classy. However, if you are not into grand and intricate pieces, stick to a design with black ink and minimal shading. These tattoos are easy and quick to complete, so you will not feel much discomfort in the process.
4. Sunflower Mandala Tattoo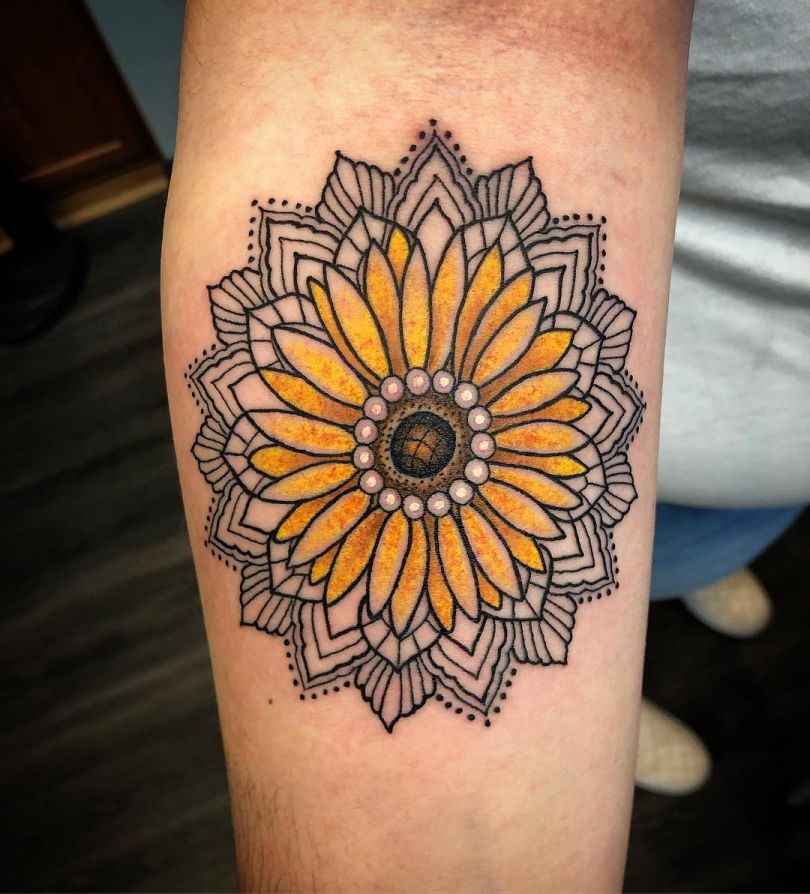 The mystical Mandala is a Buddhist symbol that represents harmony and completeness. It is a popular tattoo design choice for women because of its aesthetic appeal and meaning. The Mandala is designed in a circular pattern. Thus it works well with other circle-based designs such as sunflowers. This bloom is associated with openness, positivity, and joy, all of which perfectly match the Mandala.
5. Realistic Sunflower Tattoo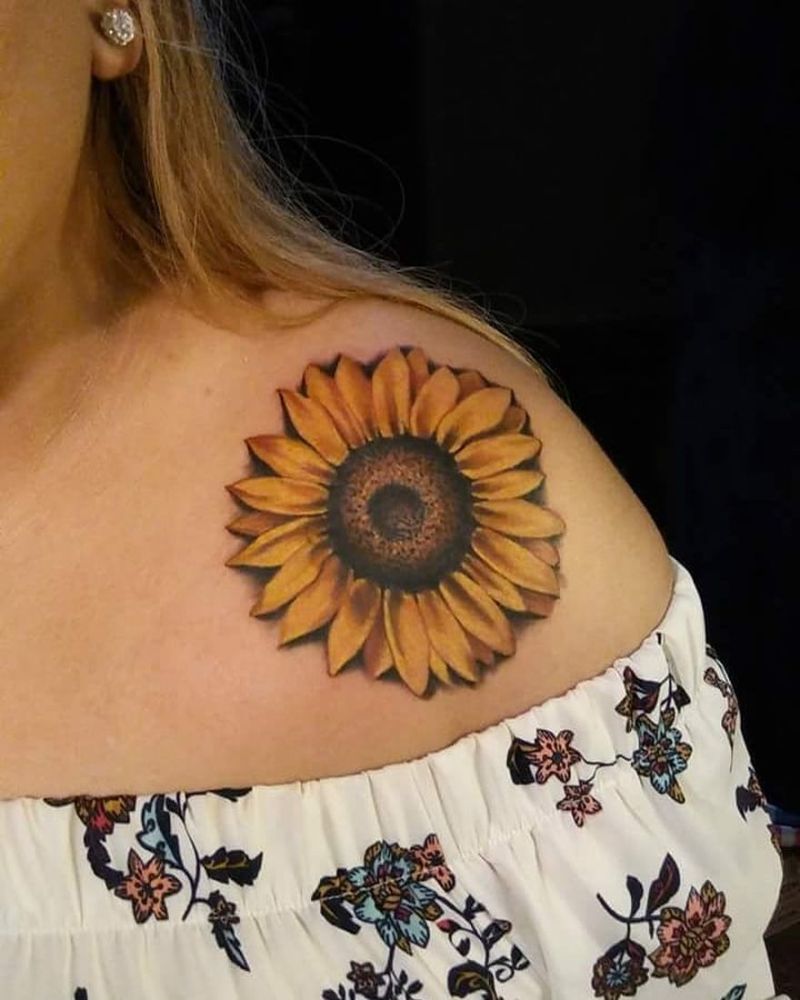 Realistic tattoos are eye-catching, but they are tricky to be perfect. If this style appeals to you, you should find a skilled tattoo artist for designing it properly. A realistic sunflower ink should have a life-like appearance, with angles, shadows, and light. Check the colors too. It should not be too dark or too bright.
6. Watercolor Sunflower Tattoo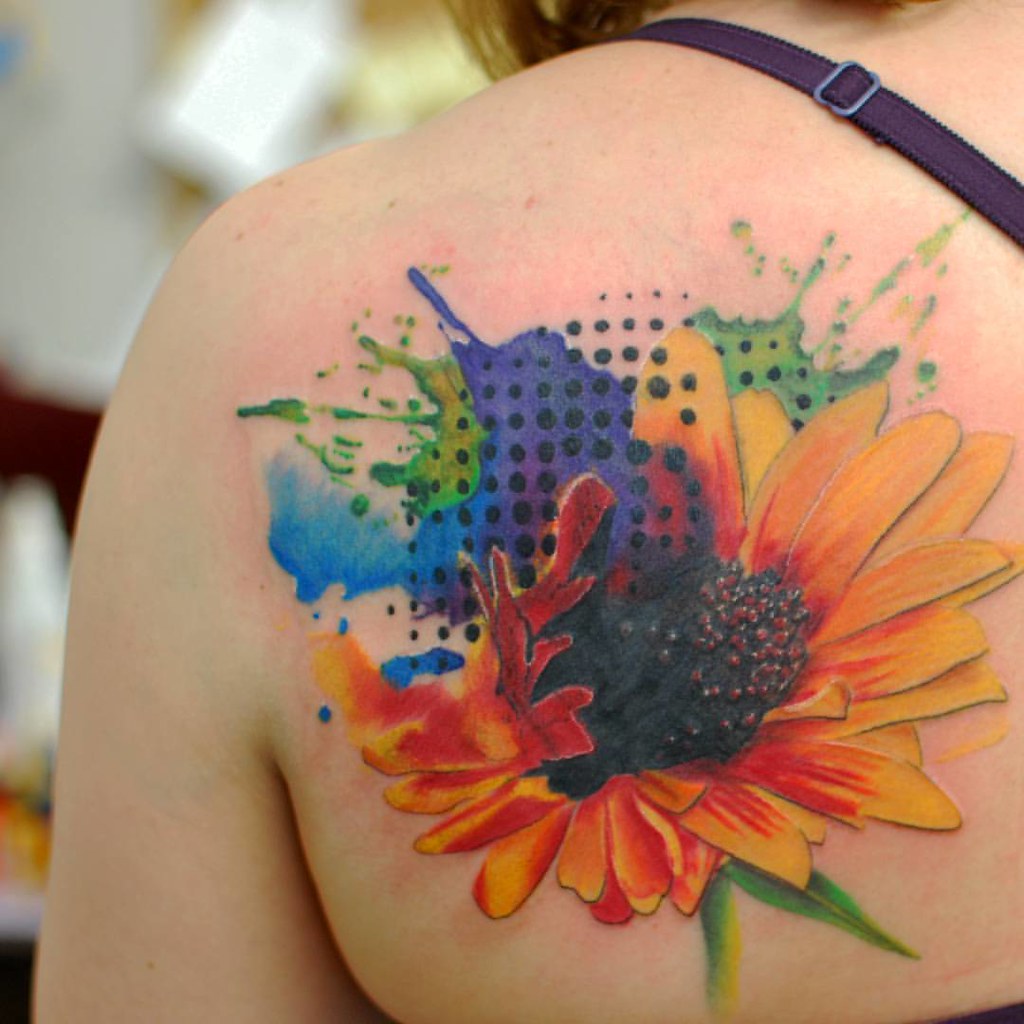 In recent years, sunflower tattoos became widely popular. It features a colorful technique that often lacks black lines. Sometimes, artists use pigment colors to recreate the effect of a watercolor painting. A vivid sunflower watercolor tattoo will look amazing on a fair-skinned woman. Be sure to choose an experienced artist to do this style for you for the best results.
7. Outline Only Sunflower Tattoo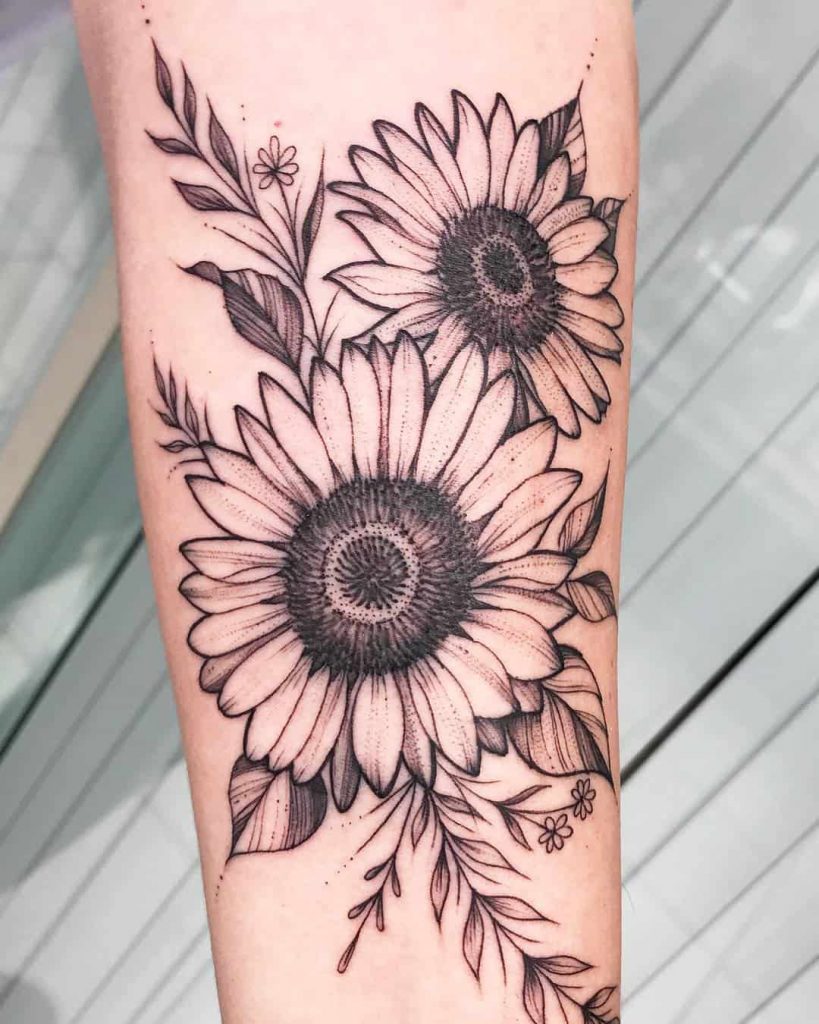 Sunflowers are known for their vibrant color, but you can use its outline if you prefer a minimalist tattoo approach instead. It will still look fantastic with or without colors.
8. Tall Sunflower Tattoo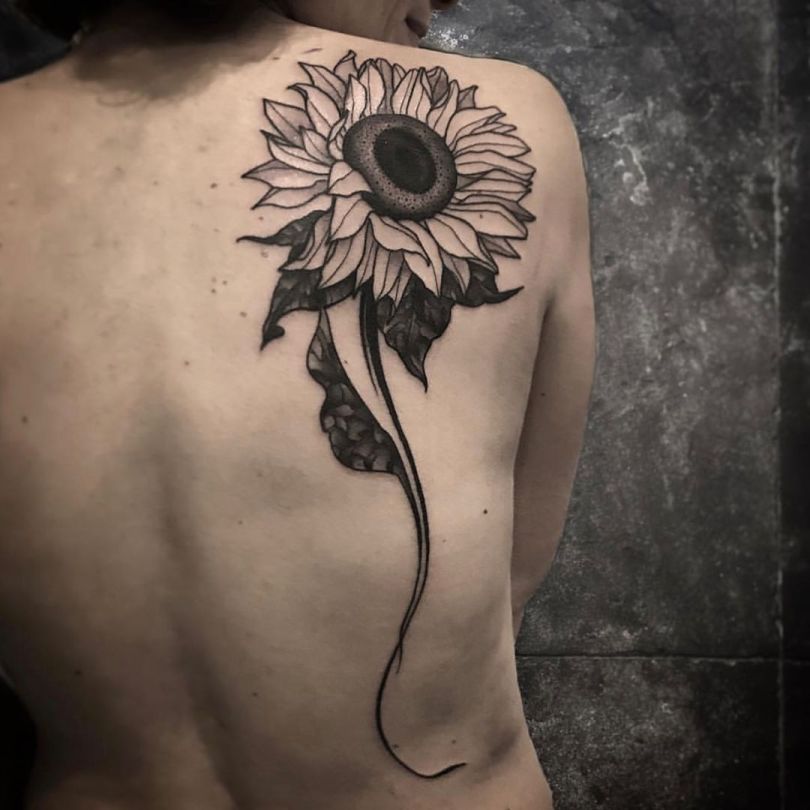 Apart from their beautiful yellow hue, sunflowers are also known for their height. They grow very tall and big! If you're toying with a vertically pleasing design, get a sunflower tattoo on your calf. Have the stem extended, so it gives off the tall sunflower look.
9. Symmetrical Sunflower Tattoo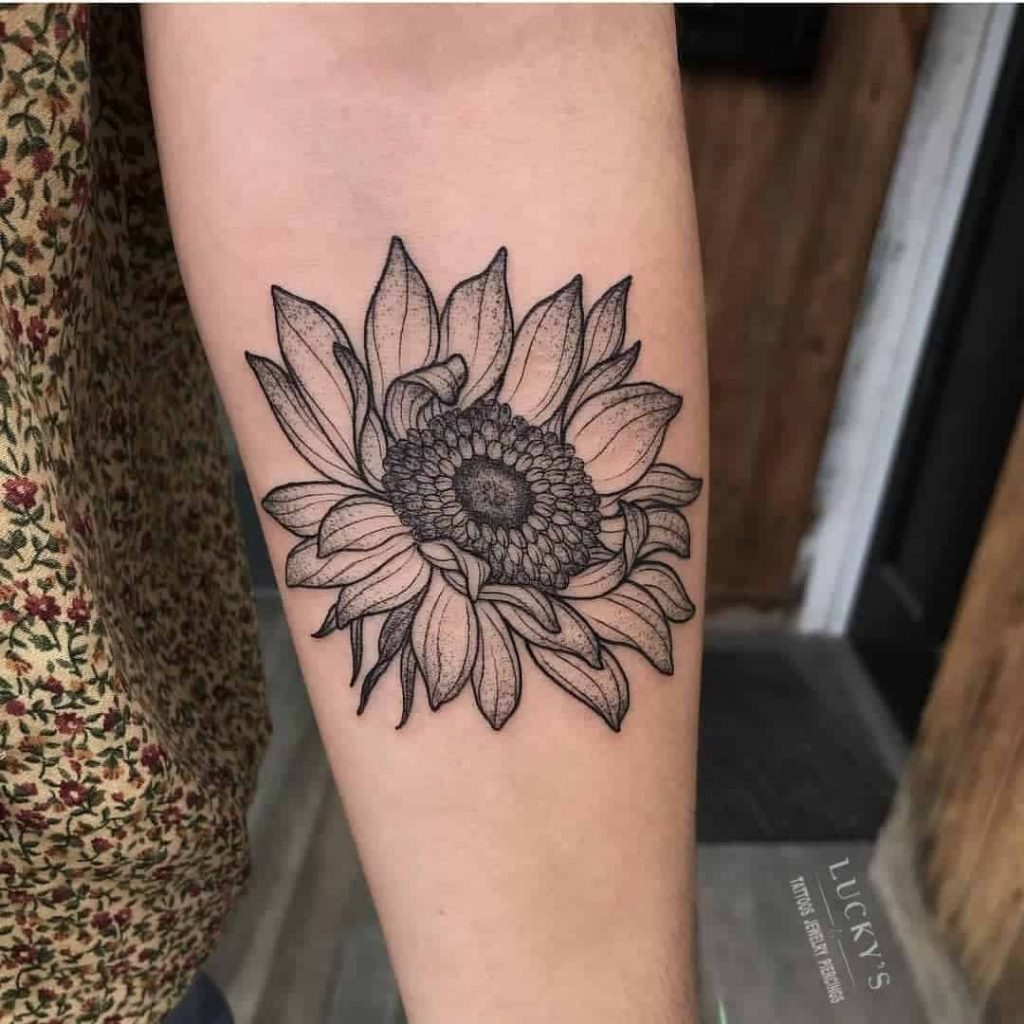 The sunflower has a symmetrical beauty. Even if you cut it in half, you still get a lovely bloom to appreciate. An asymmetrical sunflower tattoo will look great, mainly if you include details such as an arrow or a quote to customize the design.
10. Lineart Sunflower Tattoo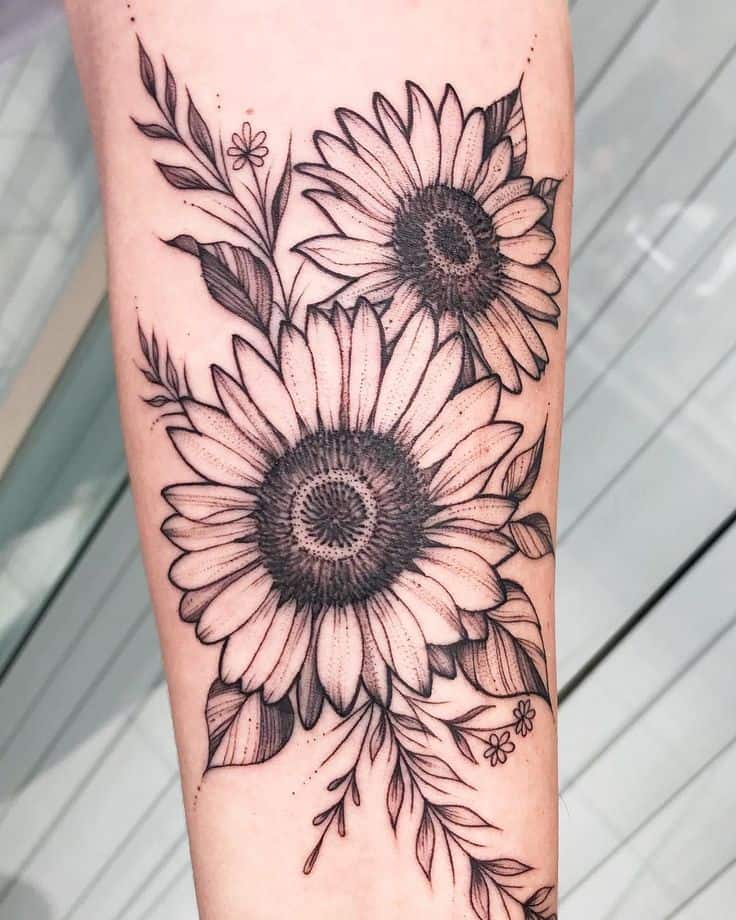 A single-line design that looks ever-connected with some dot details creates a truly minimalist sunflower tattoo design. Line art tattoo uses primary lines, a bit of dot work to create a recognizable sign – in this case, a rare sunflower bloom.
11. Petals-Only Sunflower Tattoo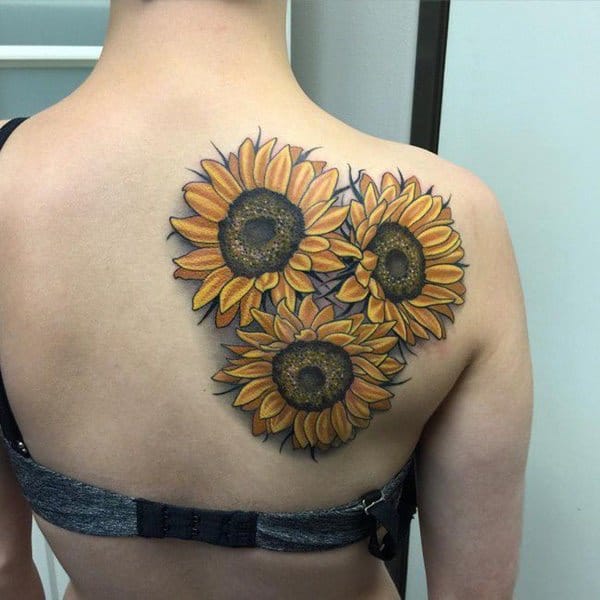 Sunflowers are known for their long stems, but you don't have to include them too. Instead, you can have a basic petal-only sunflower tattoo that emphasizes its beauty and vibrant hues.
12. Sunflower Tattoo with Name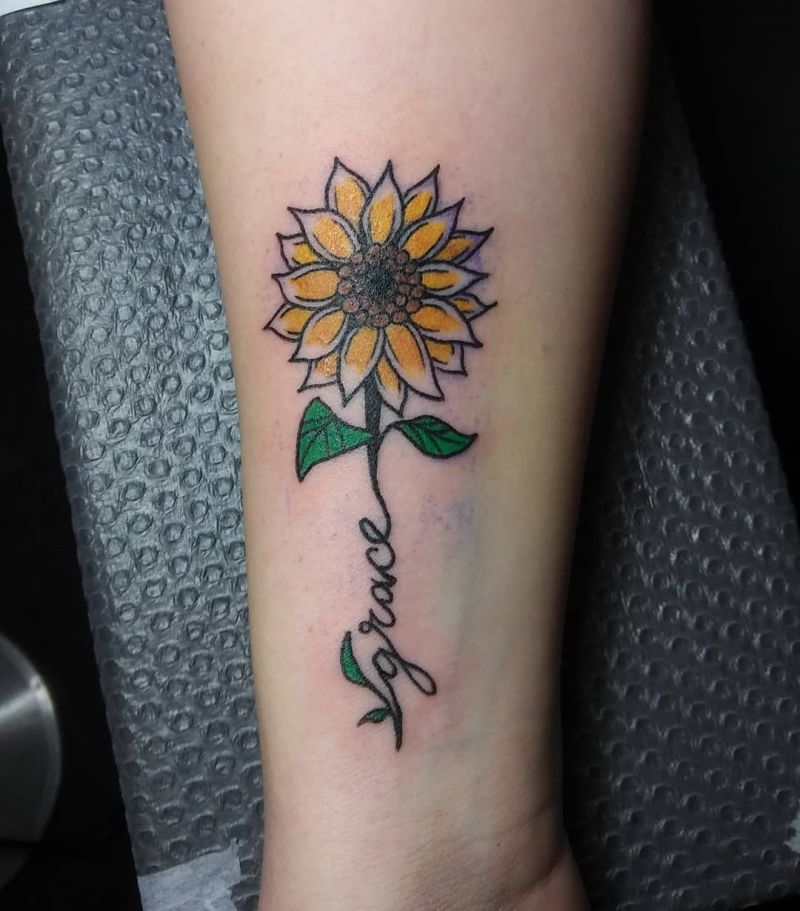 Floral tattoos are dainty and feminine. Depending on the type of bloom, it also has a meaning that the wearer relates to. Thus they work well with a name or message tattoo. The sunflower and name tattoo is an ideal choice if you want to get a friendship or sibling tattoo. The flower is associated with joy and positivity. Thus, a name that brings you happiness should go with it.
13. Van Gogh Summer Sunflower Tattoo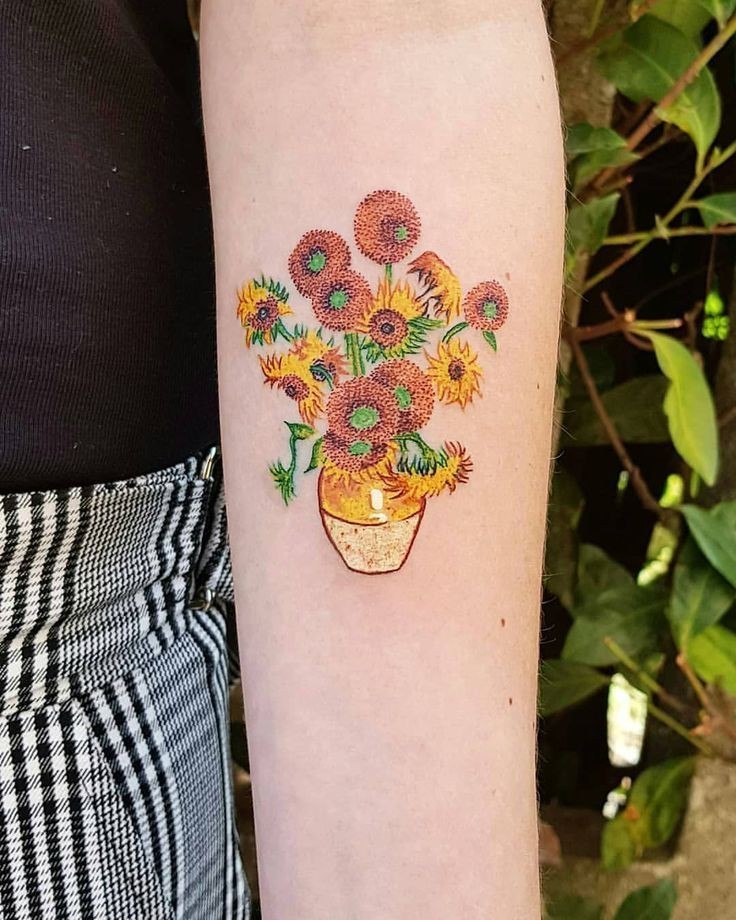 If you are a fan of Van Gogh, you will remember his love for sunflowers in one of his famous paintings – Summer. A lot of people were inspired by this artwork and used it as a sunflower tattoo design. It is indeed an exceptional choice because it looks cool and connects you with your love for art.
14. Hips Sunflower Tattoo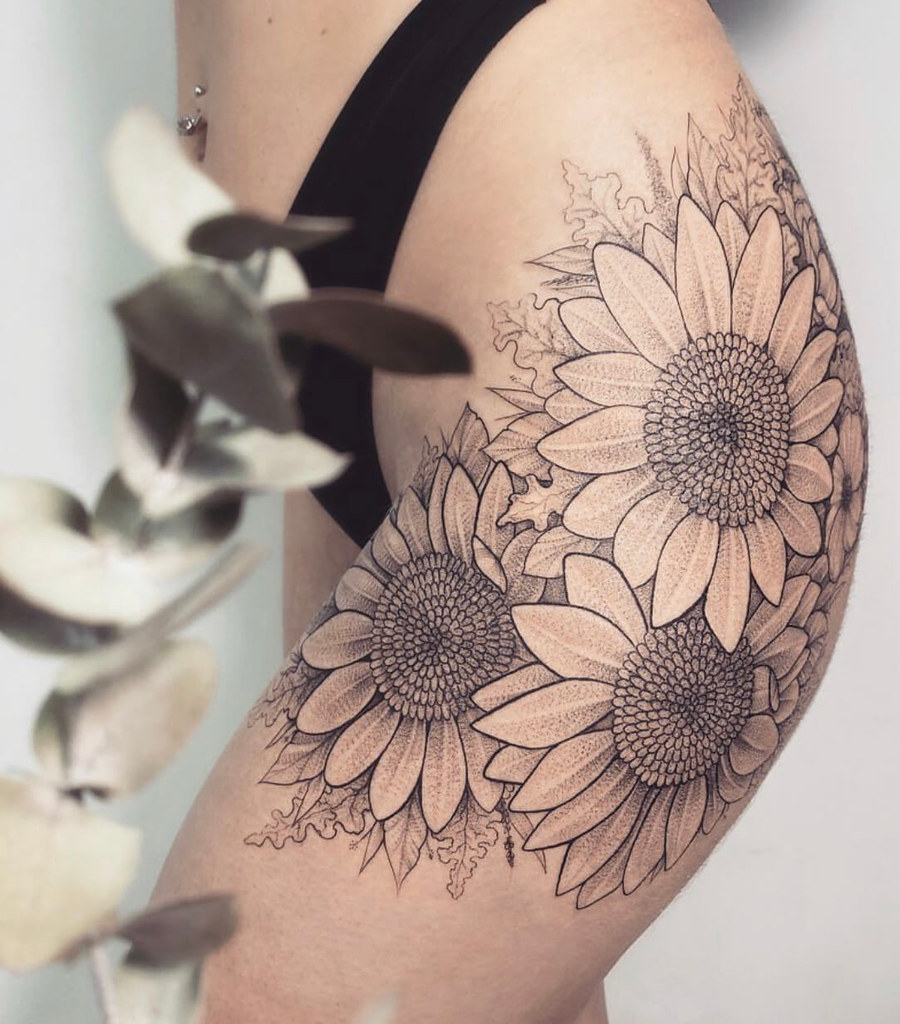 There are some reasons you might want to keep your tattoos hidden. First, you can still get your dream ink in secret places. The hip is an ideal placement for ink that you want to keep confidential. It provides a narrow space for a slender design that is quite fetching and seductive. Choose an image with long lines and curves that follow the hip movement. A realistic image or one with a stylized name design will look amazing on the hip.
15. Sleeves Sunflower Tattoo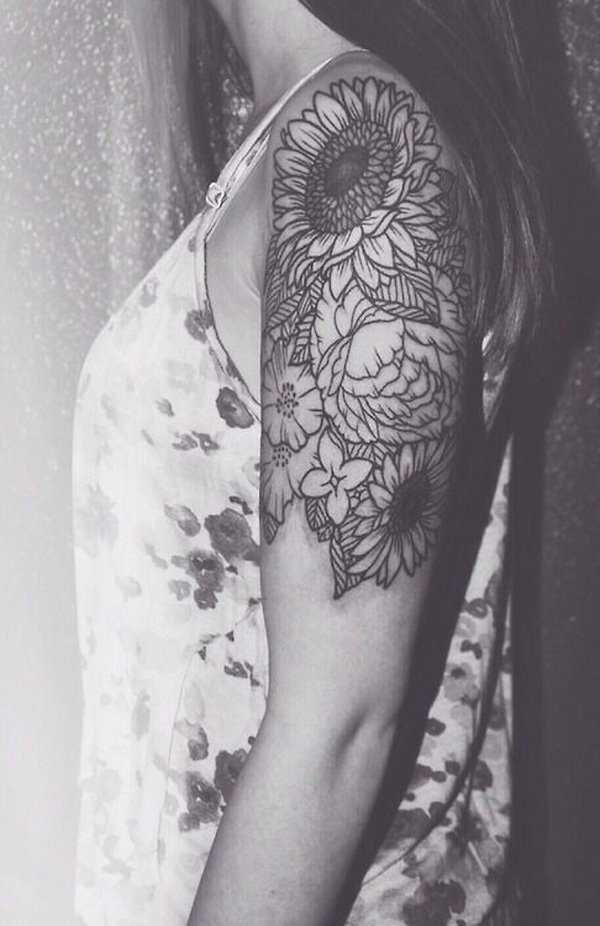 Sleeve tattoos are those that cover most of your arms, stretching from the shoulder and extending down to your elbow and then the wrist. These tattoo designs are often large and intricate. Some women choose a focal point of the design and add in other elements to create a theme. It gives you a fantastic opportunity to be creative. For a sleeve tattoo, the artist can put in leaves, petals, and vines to fill up the arm and make the design flow beautifully. You also have the option to keep it in black ink or full colors.
16. Arm Sunflower Tattoo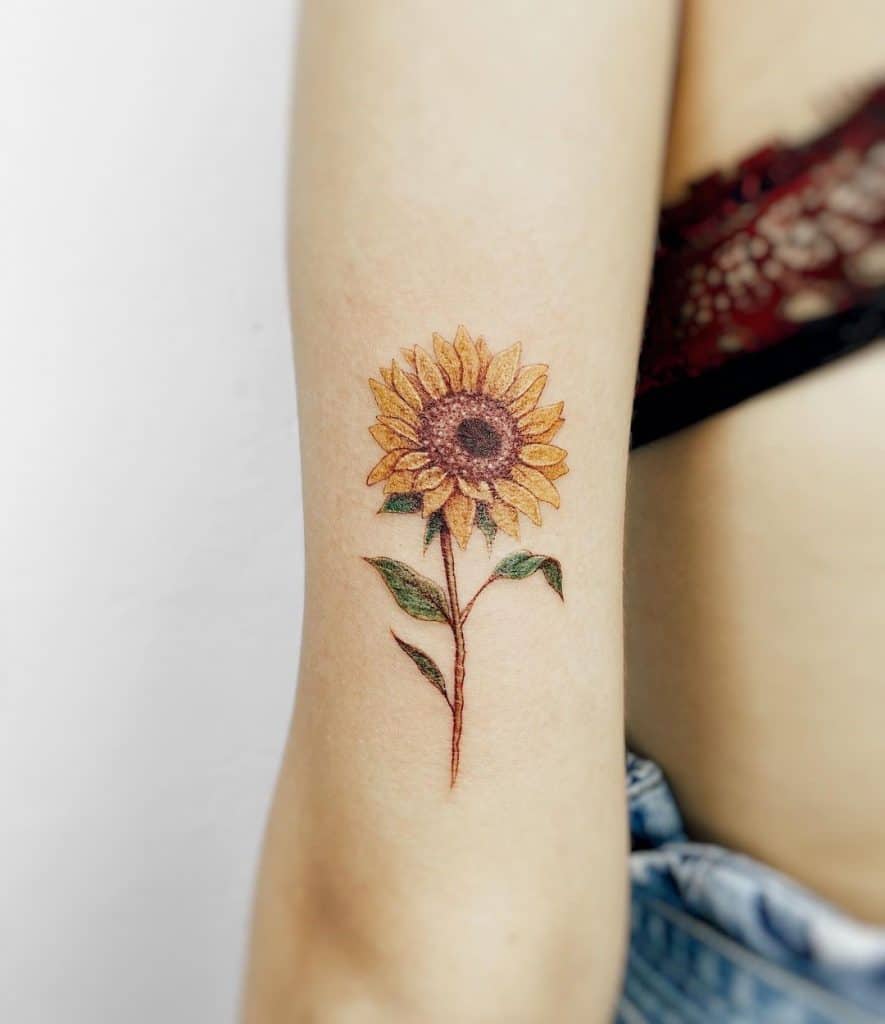 An arm sunflower tattoo is also a popular option if you intend to share positivity with the world. The placement is quite popular because it is obvious and suits most types of tattoo designs. It is also quite versatile because you can cover it up when needed. When you decide to get a tattoo, choose a lovely sunflower design that follows the gentle curve of your arm. It can be extensively detailed, simple, or dainty. Whichever effect you choose, it will look great on your arm.
17. Wrist Sunflower Tattoo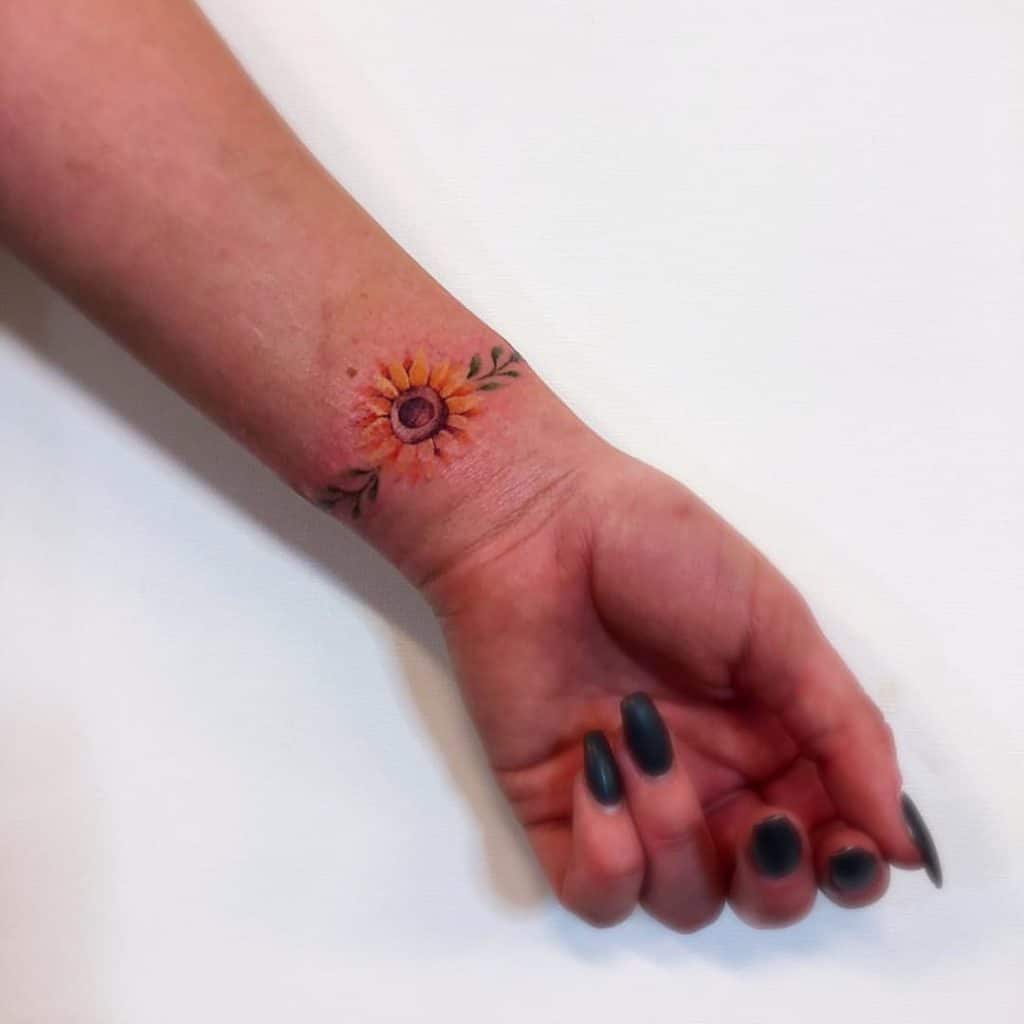 The wrist is another popular tattoo placement for both men and women. It is a spot that is discreet but visible. You can choose whether to show it off or cover it. Many tattoo designs look beautiful when inked on the wrist, but the small space is best paired with simple and minimalistic designs. So how about getting a tiny, simple, or winding sunflower tattoo that wraps around the wrist?
18. Hand Sunflower Tattoo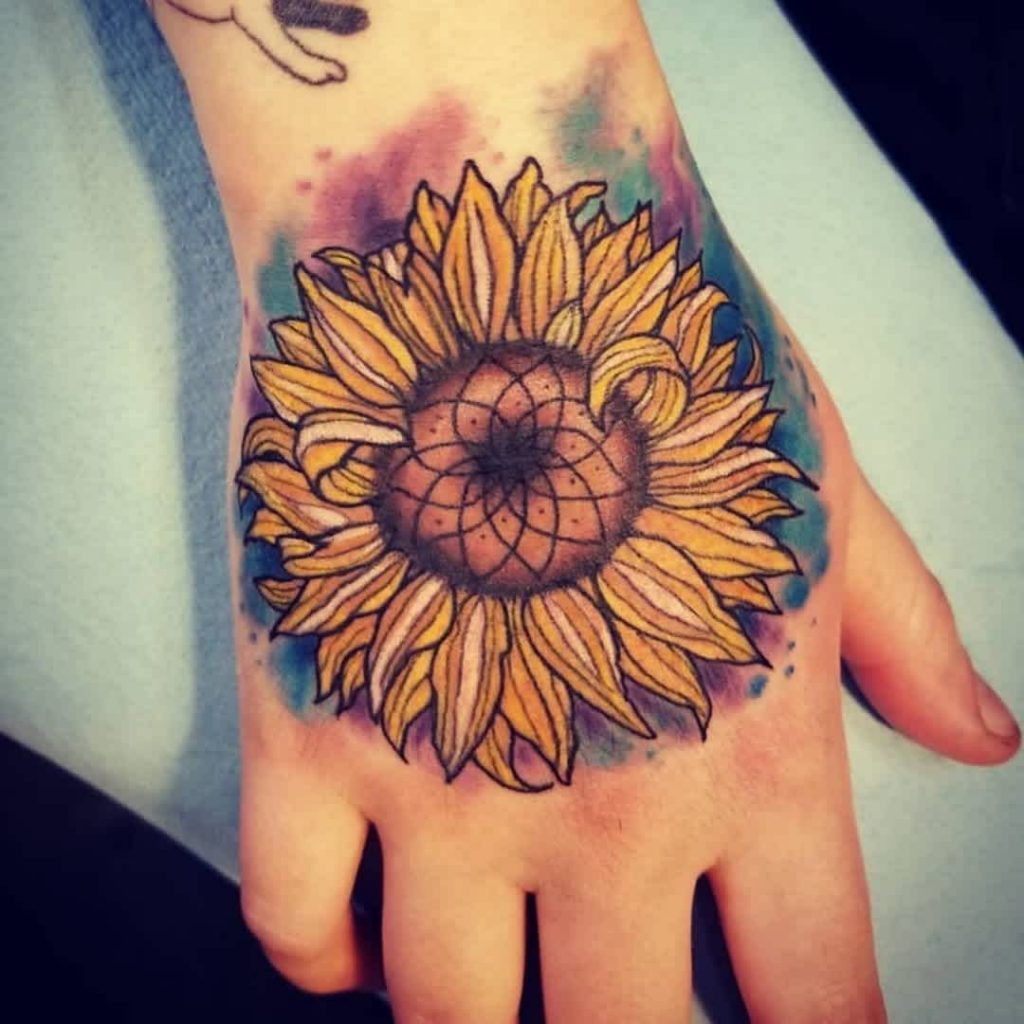 For a trendy tattoo placement, choose the hand for your sunflower design. You want to see this design every day, and people who see it will also feel the positivity it brings. Sunflower tattoos will adapt beautifully to the curves of your hand and fingers.
19. Behind the Ear Sunflower Tattoo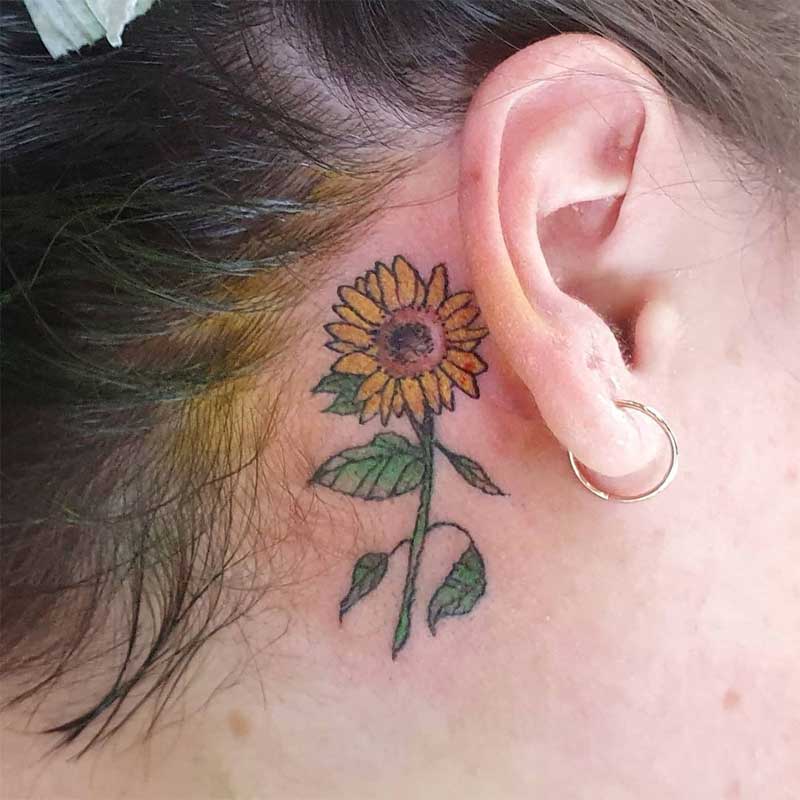 Behind the ear, tattoos have been growing in popularity over the years. More and more young people opt for a discreet placement for tattoos that mean so much to them. For women, this spot is perfect because hair can easily cover the tattoo. If you want something cheerful and bold, choose a small sunflower tattoo. It is trendy and cute whenever you decide to show it off.
20. Ankle Sunflower Tattoo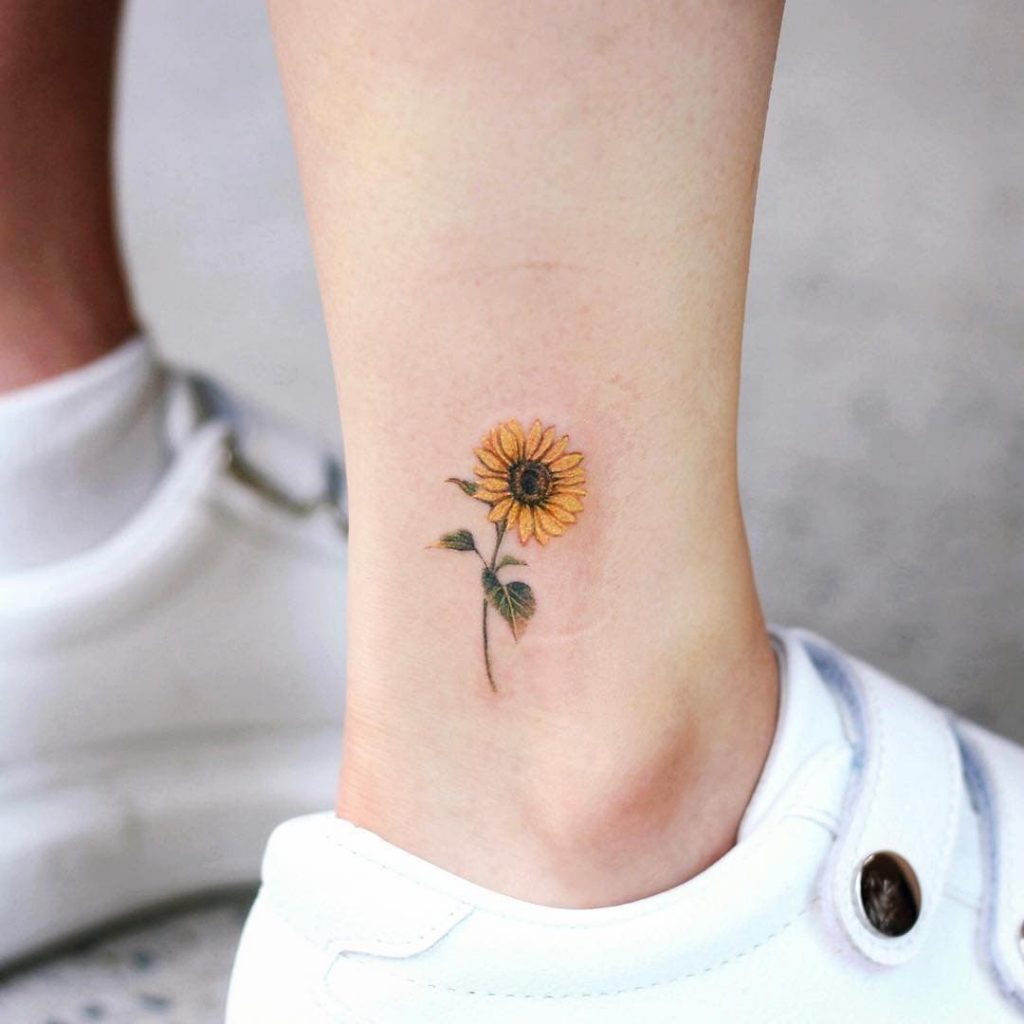 Another discreet location for meaningful and symbolic ink designs is on your ankle. This body part is extra feminine and delicate. Thus, delicate designs work wonderfully here. Ask your artist to consider the lovely curve from your lower leg to your heel when working on a sunflower ankle tattoo design. You may also include other elements like stems or leaves to add a dynamic element to your body art.
21. Foot Sunflower Tattoo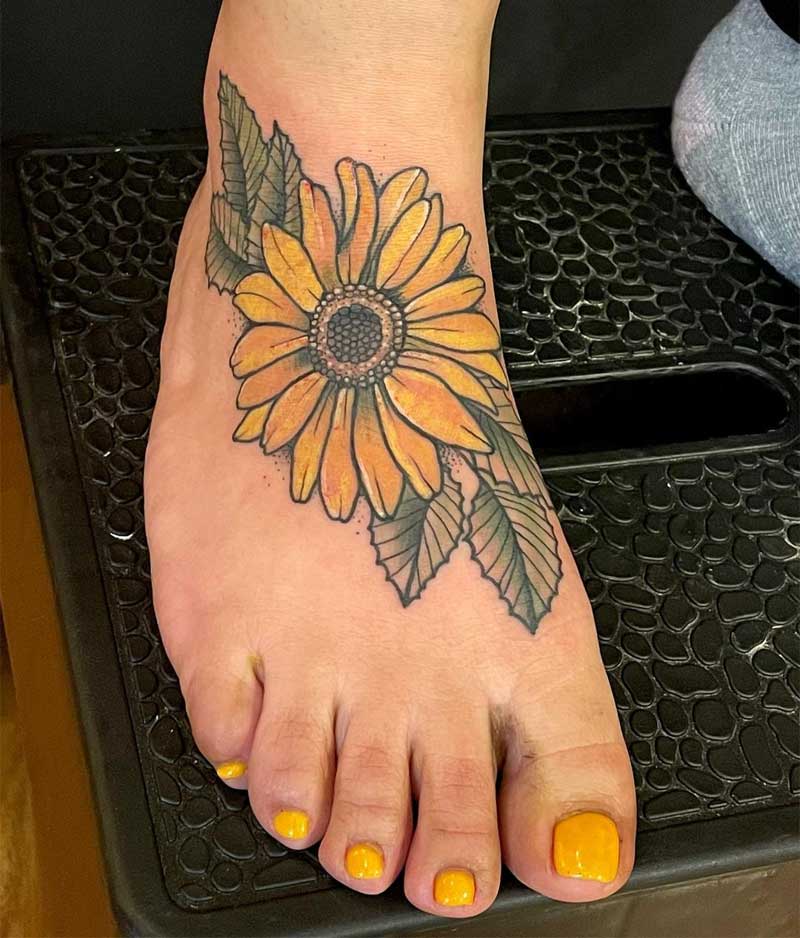 If you are toying with the idea of getting a tattoo on your foot, you should plan out the design and the placement carefully. Foot tattoos are a popular option for women because it evokes a free-spirited and sexy feel. In addition, foot ink design can be kept when you wear shoes or show when you wear sandals or heels. However, it would be best to remember that tattooing the foot involves higher levels of discomfort and pain. Therefore, it is best to choose a more straightforward and smaller floral design so you can enjoy the quick and easy process.
22. Shoulder Sunflower Tattoo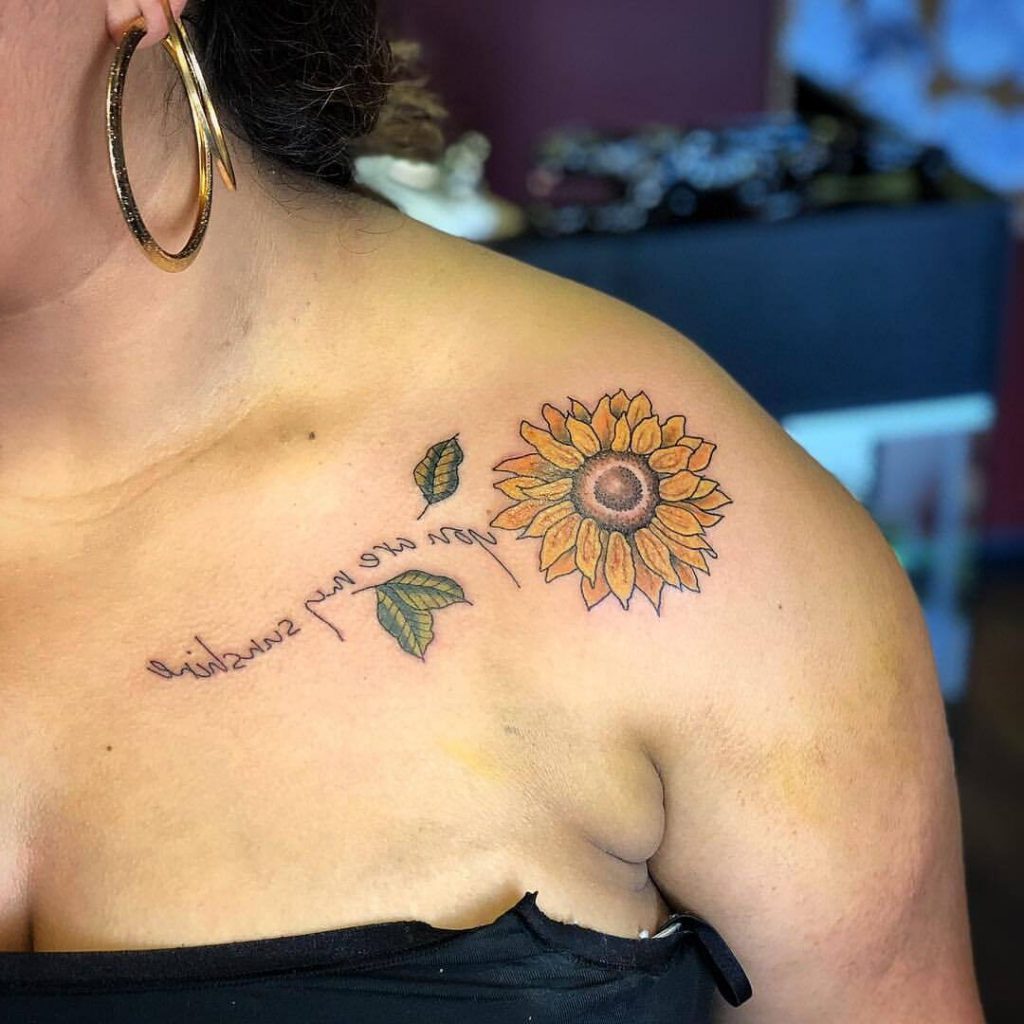 Sunflower tattoos are vibrant flower designs that evoke feelings of positivity. When choosing a placement for this type of tattoo, consider having it on your shoulder. This spot works well for images with circular elements such as the sunflower. Your artist can create a design that follows your collarbone or extends down your arms to create a dainty half sleeve ink design that has a vibrant vibe.
23. Thigh Sunflower Tattoo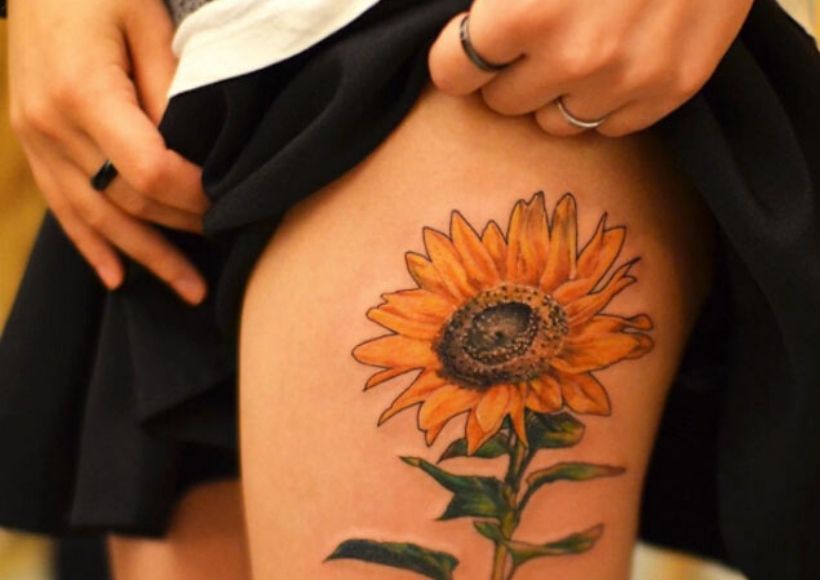 Thigh tattoos are popular among women because they come with a lot of advantages. It is a sexy and fierce placement, plus it flatters your curves too. Various design inspirations are suited for the shape of your thigh, but sunflower tattoos will look amazing on this spot too. Whether you choose a small discreet piece or a big and intricate one, the thigh is a spot-on placement for it!
24. Forearm Sunflower Tattoo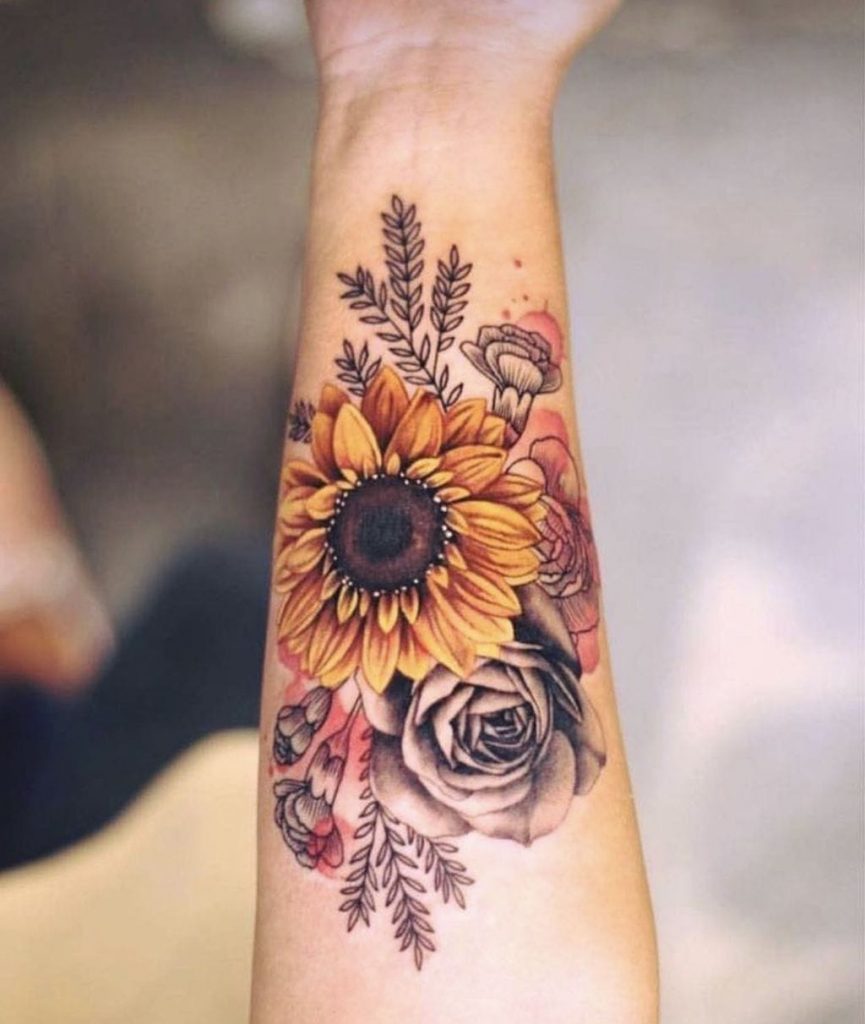 Getting inked on the arm allows you to see your body art freely every day and even without a mirror. Tattoo designs on the peninsula are often picked for their symbolism and meanings. For example, a sunflower tattoo on the forearm will inspire you to stay positive and vibrant whatever life throws at you. You can have a simple sunflower tattoo design, but if you want to show it off, you can go all out and have an intricate floral ink on the outer forearm.
25. Back Sunflower Tattoo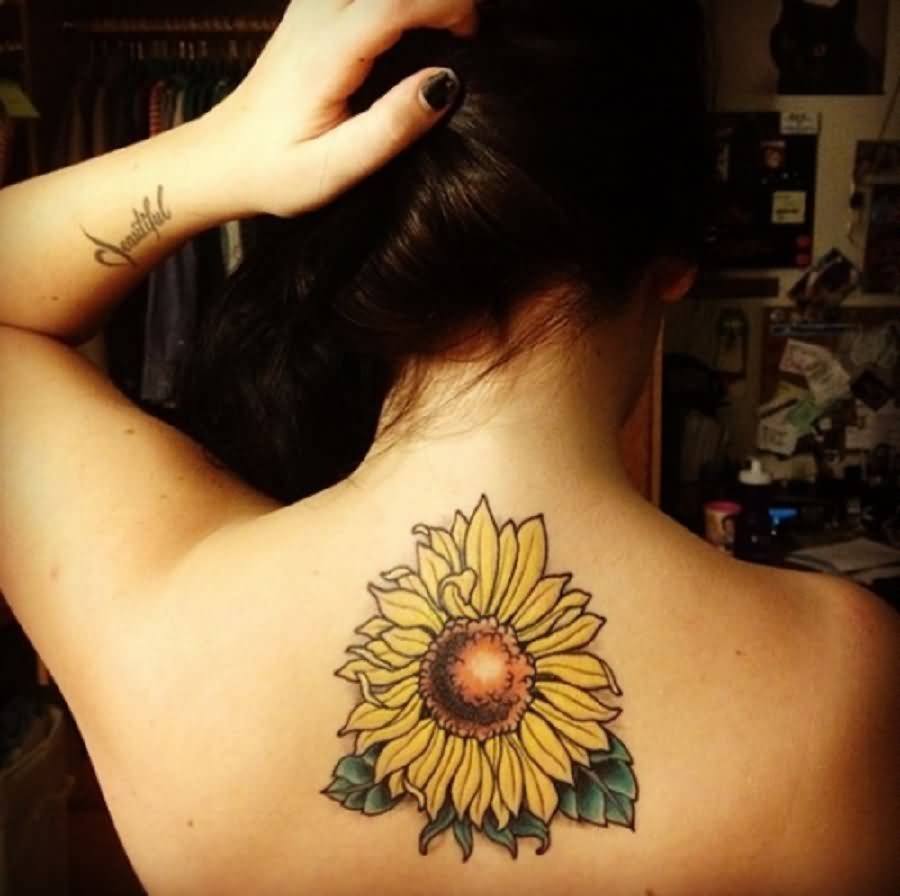 The back is a large canvas for something detailed and extensively designed body art. It features a flat and broad space where artists can work on their masterpieces. Back tattoos are often more complicated, with lots of shading and vibrant colors. A full bloom realistic sunflower back tattoo will indeed look alive on your back. Most women find a specific back tattoo design appealing – the one that follows the line of their spine. It creates a flattering look that is fresh and natural.
26. Sunflower with Butterfly Tattoo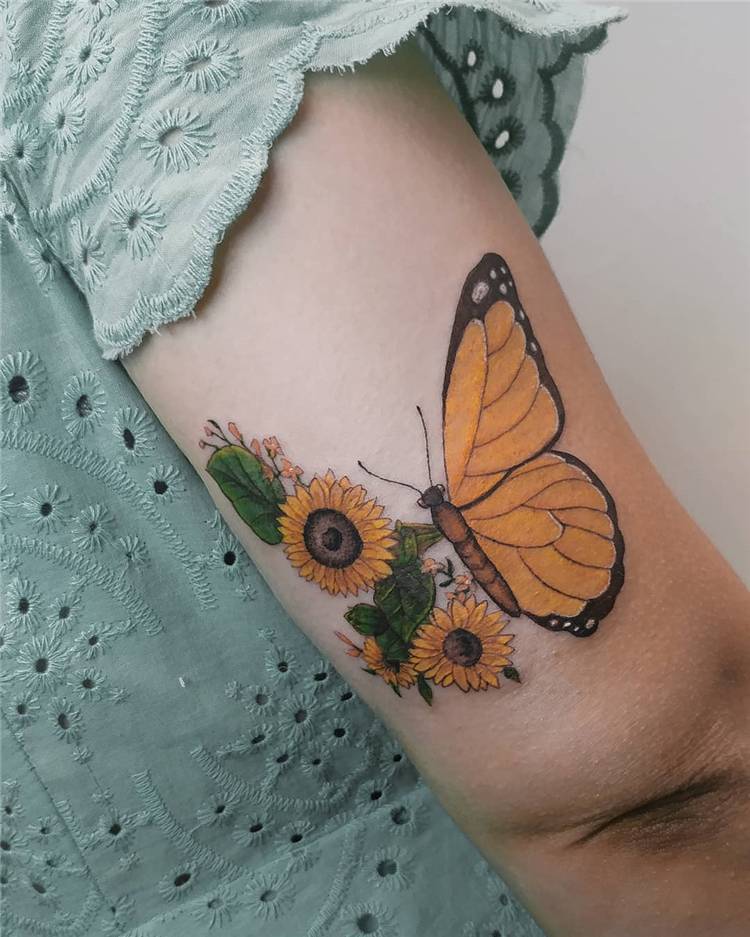 Another tattoo design option that involves the butterfly and sunflower is to have it in a more realistic style. For example, choose a giant sunflower with a small butterfly tattoo and use vivid colors to represent the meanings of these elements. Ideally, a vibrant blue butterfly will look amazing on the bright yellow hues of the sunflower.
27. Rose and Sunflower Tattoo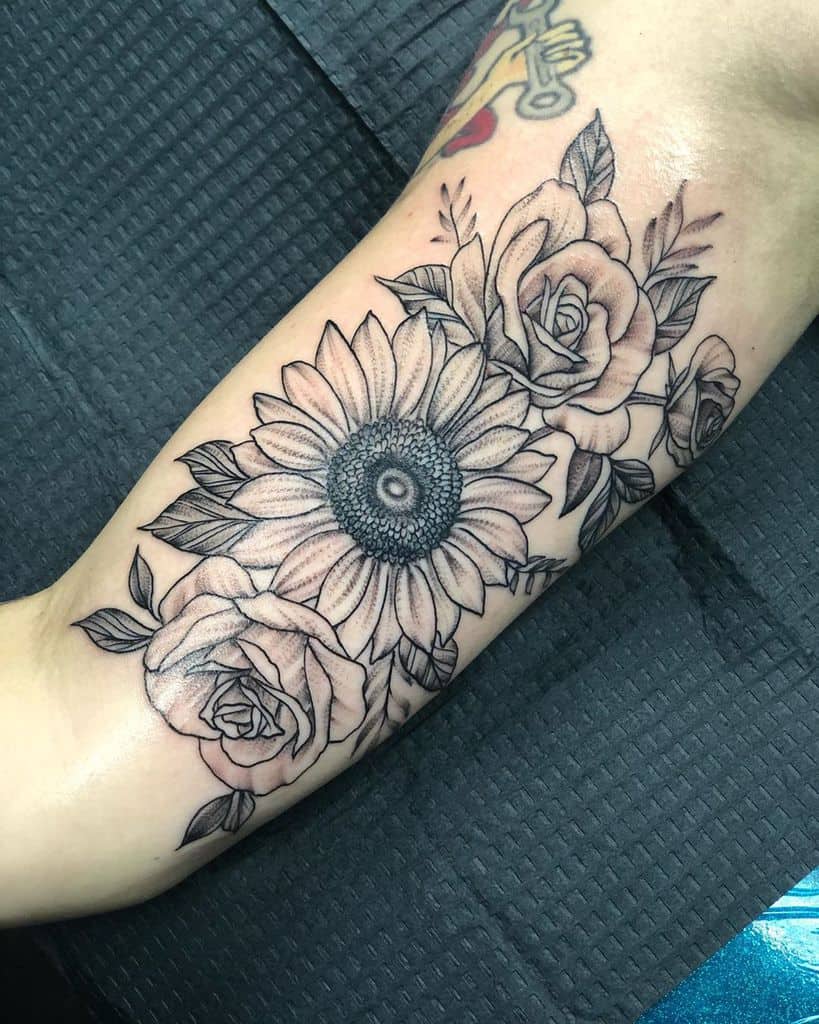 For women who remain optimistic and romantic at heart, a combination of the rose and sunflower tattoo is the perfect tattoo inspiration for you. Roses are popular symbols of love and romance. In contrast, sunflowers represent adoration, joy, and longevity. If you feel all of these values with your partner or significant other, you are a lucky girl!
28. Geometric Sunflower Tattoo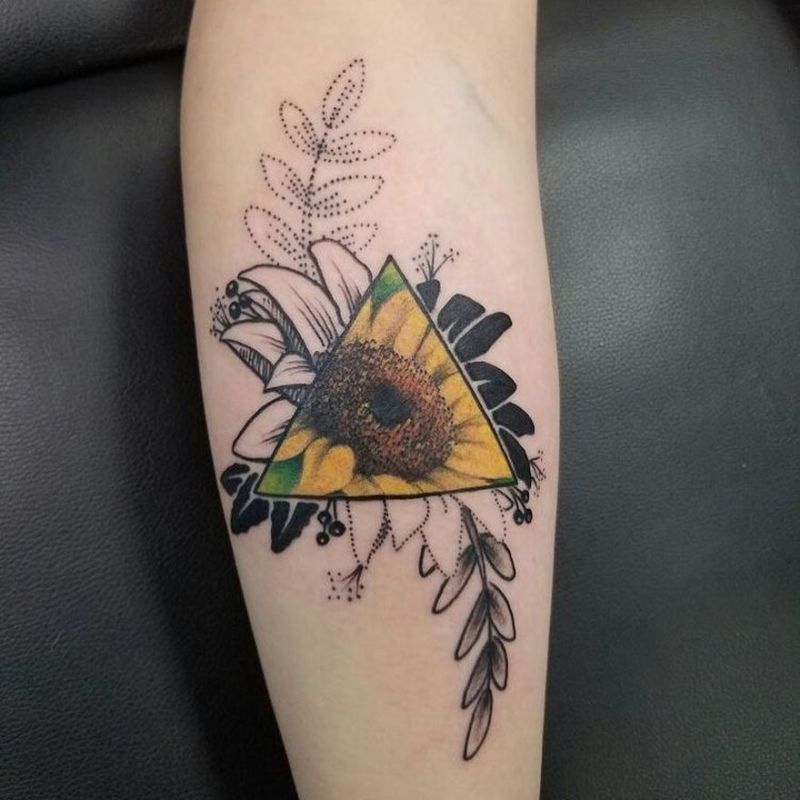 Modern tattoo design have gone beyond simple lines and realistic figures. Geometric tattoos have become popular for their multi-layered approach in drawings. Geometric sunflower tattoos provide a frame for the sunflower image. In addition, some geometric tattoos have the main object in color and the background in black and white. This provides drama in presenting the tattoo.
29. Sunflower and Daisy Tattoo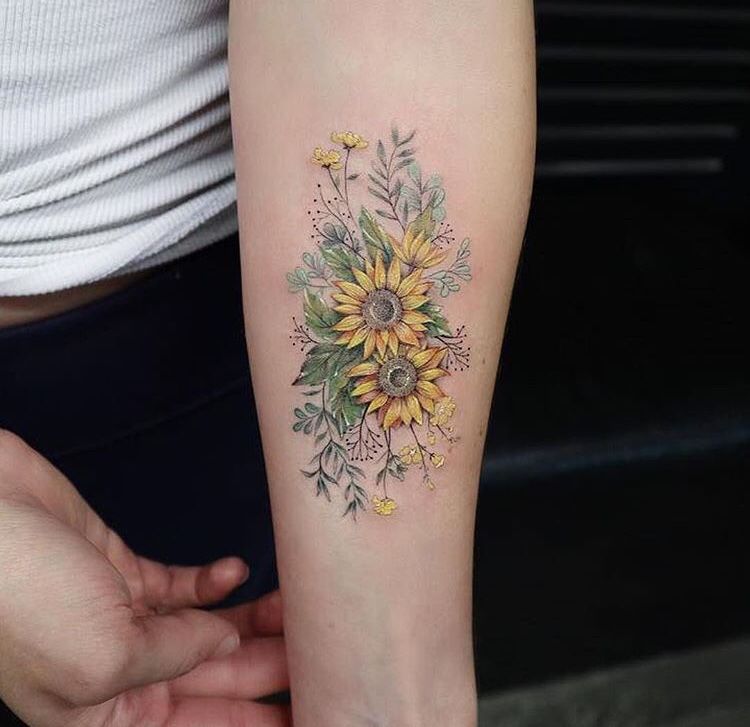 Each bloom has a meaning to it. For instance, daisies are associated with purity and innocence, while sunflowers represent joy and devotion. A combination of these blooms will remind you of carefree and innocent days. Some women get inked with these flowers in honor of their bond with their child, niece, or nephew.
30. A Cluster of Sunflower Tattoos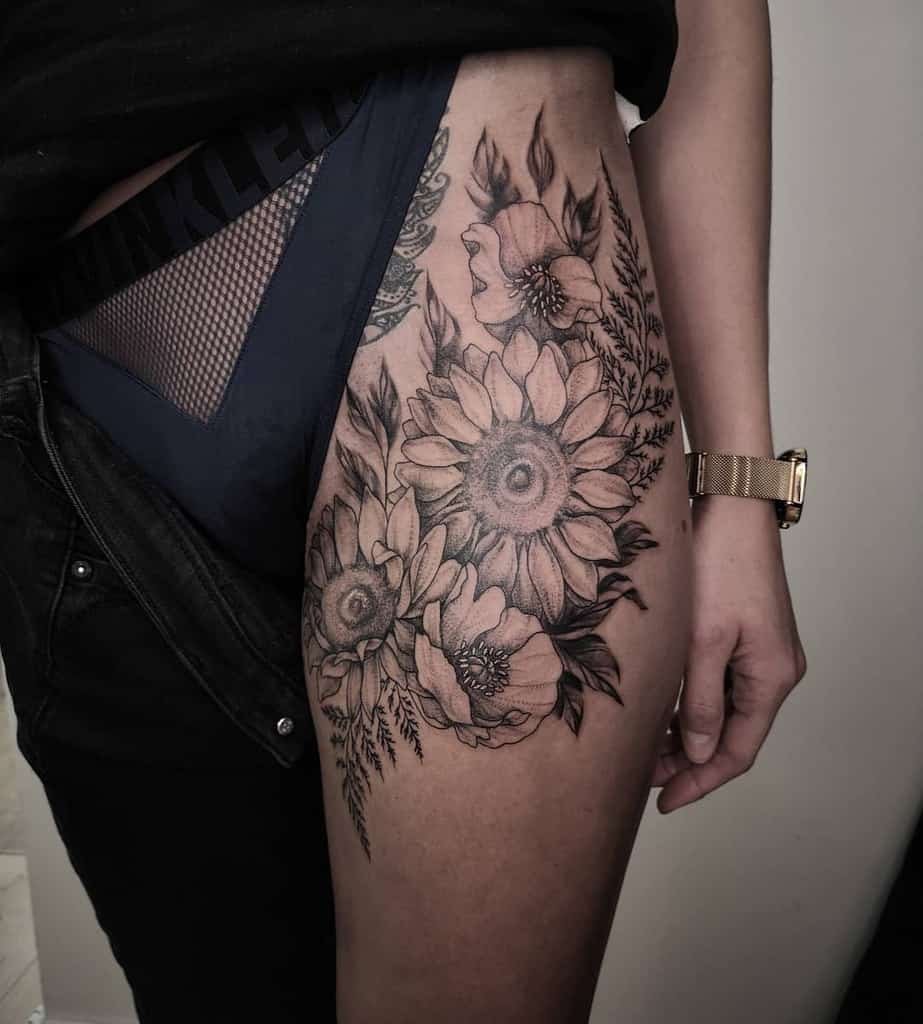 Instead of having just one sunflower, why not go for a bunch of these lovely flowers? It can be a gorgeous bouquet of tiny blooms or a combination of various flower species. This tattoo design is delicate and feminine at the same time.
FAQ
What is the most popular placement for a sunflower tattoo?
The sunflower is an eye-catching tattoo no matter where it is placed. However, for greater impact, and the best visual presentation, the sunflower tattoo should be placed on the shoulder. The gentle curve of the shoulder lends itself to the round shape of the sunflower.
Why is the sunflower tattoo popular with women?
The sunflower tattoo is a symbol for fidelity, devotion and for a search for inner peace. It also represents wisdom and knowledge. A woman's sunflower tattoo is a constant reminder of hope and optimism.
Why is Vincent Van Gogh's sunflower a popular choice for a tattoo?
Vincent Van Gogh is considered as one the greatest impressionist painters. He painted sunflowers during one of his most optimistic phases when he was about to meet Paul Gauguin. The bright colors of Van Gogh's sunflower paintings are replicated in sunflower tattoos and these also radiate a message of optimism and hope.
Why is a Mandala sunflower tattoo popular?
One reason for the popularity of the mandala sunflower tattoo is because the shape of the sunflower fits the idea behind the mandala. Mandala is Sanskrit for circle, and most mandala drawings have curves radiating outwards from the circle's center. You can draw a sunflower with the right placement of the curved lines.
You May Also Like