Team Great Britain came home from the Rio Olympics with a record 67 medals… and 900 identical red bags.
Baggage collection could be interesting. #samesame #greattobeBAck pic.twitter.com/2ujPkLxmL1

— Team GB (@TeamGB) August 23, 2016
Apparently, the challenges didn't end at the games: the athletes' final obstacle of sifting through the baggage claim at Heathrow could've been an Olympic event in itself.
Red bags were everywhere. Took a while to find your bags even with name & sport tags #GreattobeBAck #TeamGB #Rio2016 pic.twitter.com/TfWAziL0Qj

— Elena Allen (@ElenaAllenGB) August 23, 2016
Theoretically, issuing identical bags to ALL Team GB athletes might've sounded cool. But as silver medal windsurfer Nick Dempsey points out, the execution might have overlooked one teeny tiny detail.
Mine's the red one!! pic.twitter.com/Z68nxrDyJ6

— Nick Dempsey (@nickdempsey1) August 23, 2016
Sailors Hannah Mills and Saskia Clark perfectly described how it felt to swim in a sea of red.
Carnage! pic.twitter.com/3ql8WQCkIQ

— 470 Girls (@470Girls) August 23, 2016
Sorry, Alex Gregory. Looks like you won't be getting help anytime soon.
Anyone seen my red bag? @TeamGB #Olympics pic.twitter.com/R7NvpH1zrV

— Alex Gregory (@AlexGregoryGB) August 23, 2016
A few athletes thought it was hilarious to be inside a living "Where's Waldo?" comic.
OMGSHHHH 😱😂 pic.twitter.com/PofNEM3RXj

— Becky Downie (@Bdownie) August 23, 2016
Meanwhile, it seemed only apt that bronze medalist Luke Patience had copious amounts of… patience during this very trying time.
This was a hoot! @TeamGB #greattobeBAck pic.twitter.com/SkWCJC3ws9

— Luke Patience (@patience_luke) August 23, 2016
And if anyone is even planning on rolling their eyes at this pampered-athlete "non-issue", you can stop right there. Sophie Ainsworth already beat you to it. #FantasticProblems
Can anyone find my red bag? It's identical to the other 900… What a fantastic problem to have!! #greattobeBAck pic.twitter.com/rpMZDhFEAO

— Sophie Ainsworth (@SASailing) August 23, 2016
Judging from the time stamps on some of the tweets, it could be assumed that it took almost FOUR hours for the athletes to get out of the airport. Good thing this specific bunch of people don't tire out easily.
Congrats, Team Great Britain! Except for the person who thought 900 red bags was a great idea. No medals for you, whoever you are.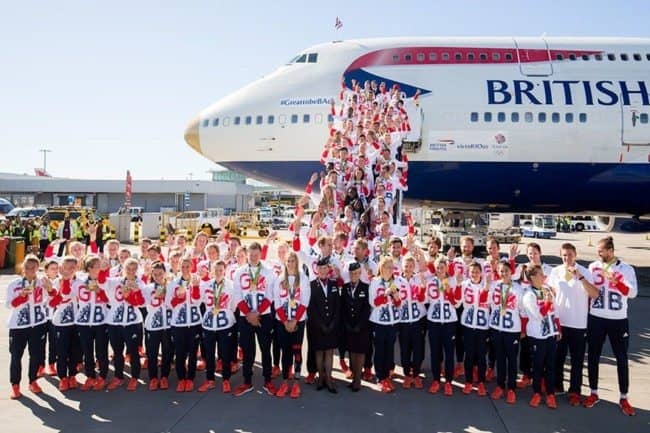 bbc.com