Kaley Cuoco is showing off her growing baby bump!
Cuoco flaunted her pregnant style in a blue floral print Gap dress as she took a selfie with boyfriend Tom Pelphrey in a new Instagram Story post over the weekend. Pelphrey wore a black t-shirt, baseball cap, and sunglasses for the photo, and he gripped onto Cuoco's tummy as the two grinned for the camera.
"M & D," Cuoco wrote over the sweet snap of the expectant parents.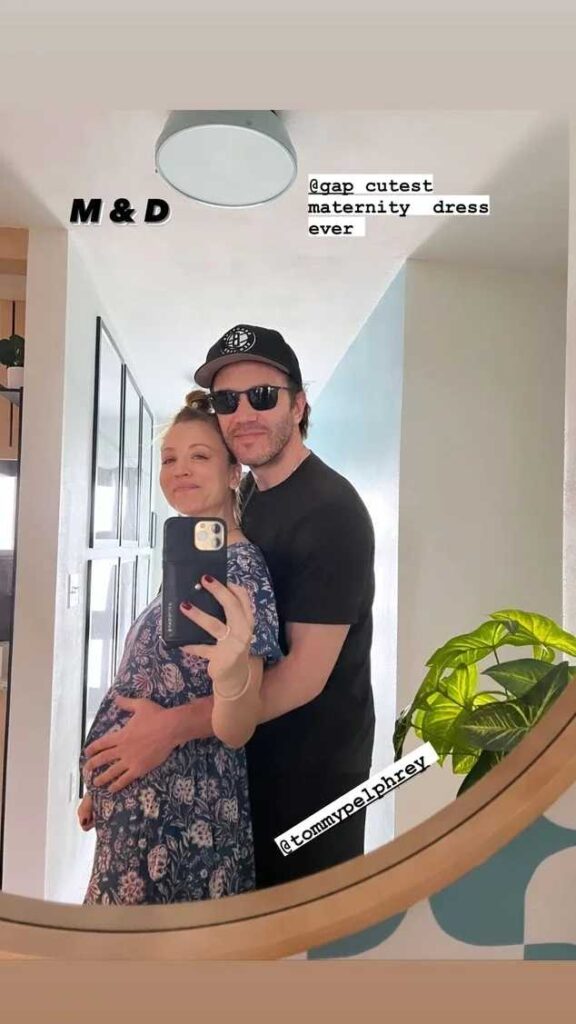 The Flight Attendant star also appears to be wearing a ring on that finger in the photo, prompting suspicion that she and Pelphrey had already married.
On Sunday, Cuoco tweeted another photo of her burgeoning tummy, this time sharing one taken by Pelphrey's sister-in-law, Lauren. Pelphrey's niece was seen affectionately stroking Cuoco's tummy, while the pregnant woman also placed a hand on her stomach and another around Lauren.
"Family. Lily with her growing baby belly "Lauren tagged Cuoco on her tweet.
The 36-year-old actress embellished the post with a crimson heart and a GIF that read, "brb weeping."
Cuoco and Pelphrey announced earlier this month that they were expecting their first child, a baby girl, in a series of adorable images.
"Baby girl Pelphrey coming 2023💕 beyond blessed and over the moon," Cuoco wrote alongside a photo of herself and Pelphrey, 40, holding up a slice of cake with pink icing. "… I 💓you @tommypelphrey!!!"
Chuck Lorre, Cuoco's former Big Bang Theory showrunner, recently opened out about the actress's pregnancy, stating, "She's going to be a helicopter mother! I'm going to be all over this child."
You May Also Like