Watercolor tattoos have been growing in popularity since around 2011. These tattoos have vibrant designs based on shaded colors and layered images. The term "watercolor" comes from the style that emulates that of watercolor paintings on paper. The best watercolor tattoos include a washed up design that highlights the color blending and shading.
In the same manner as watercolor paintings, popular watercolor tattoo designs are also those of birds and flowers. These tattoos look great over large areas of skin like the shoulder blades, the ribs or the shoulders, but they can also be discreet and small on the wrist, the back of the ear and the ankle. Below are some of the popular types of watercolor tattoos.
1. Dreamcatcher Tattoo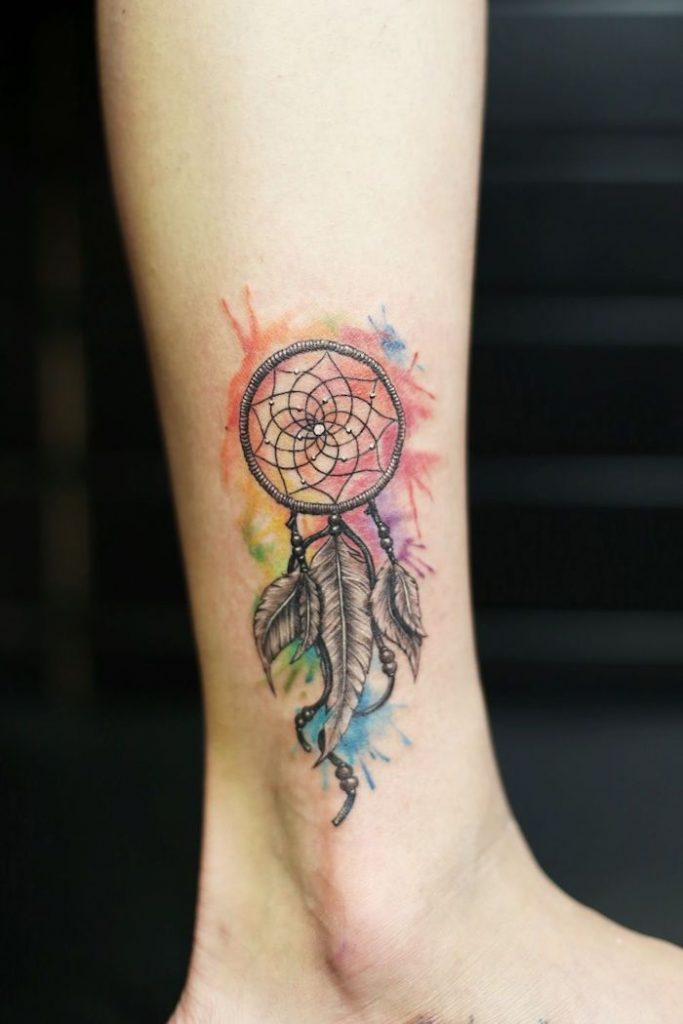 When you look at watercolor tattoos, you will always find yourself amazed at how beautiful they are. There is so much time placed in planning, creating and making these vibrant pieces of art. And despite costing more than the usual black design, many women prefer to have this as an expression of their inner self. A design that is bold, powerful and colorful should go with an element that is meaningful. Consider having a dreamcatcher to match these vivid colors. This handmade trinket represents safety, protection and positivity. It is used by Native Americans to filter out bad dreams and negativity. You will not regret choosing this element for an amazing watercolor tattoo.
2. Hummingbird Tattoo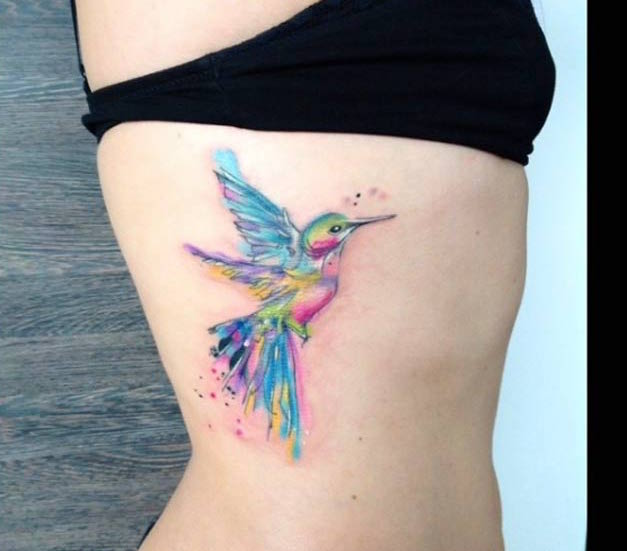 Hummingbirds are beautiful creations with vivid colors. It is a perfect element for your watercolor tattoo design. This amazing winged creature is often used to symbolize life and hope. A watercolor hummingbird tattoo will be something that represents positivity especially women who overcame struggles and came out stronger.
3. Swallow Tattoo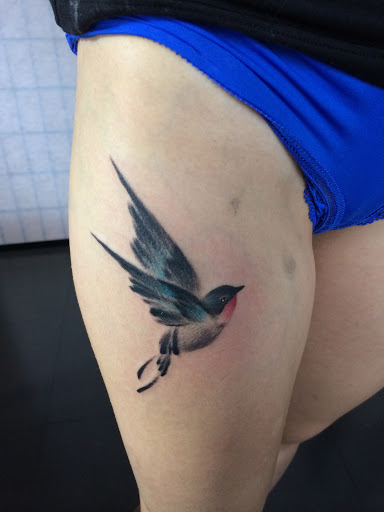 Swallows used to represent the sailor's experiences and adventures on board. But now, these bird tattoo designs have become very popular because of the ever-changing techniques and representations. Swallows are graceful birds and were also thought to guide departed souls into heaven. A colorful swallow tattoo is rich in meaning for someone who wears it. Combine it with vivid watercolors to create an astounding piece of art.
4. Sunflower Tattoo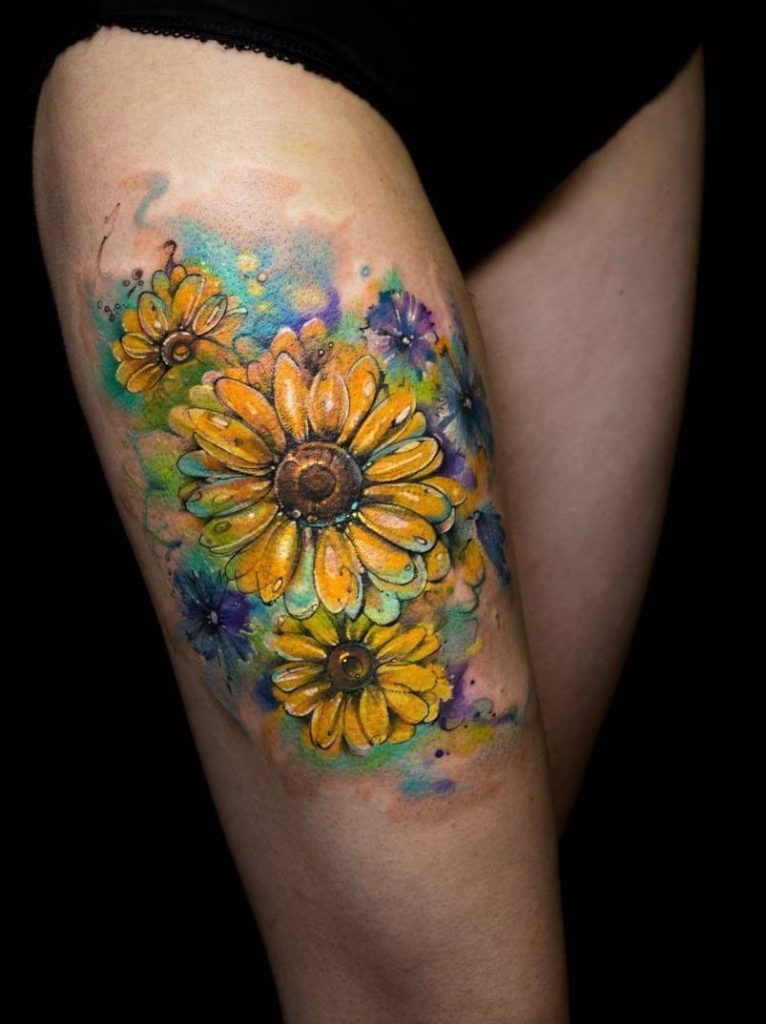 Women often choose flower varieties for body art. A sunflower is the perfect choice if you are considering a vibrant watercolor tattoo that is both eye-catching and meaningful. The bright yellow color of this flower represents vibrancy and feelings of happiness. It is also used to symbolize warmth and fertility, thus, they are perfect for the modern woman. This appealing ink has a bit of a downside though. Watercolor tattoos are indeed beautiful, but they do fade faster than the usual ink.
5. Phoenix Tattoo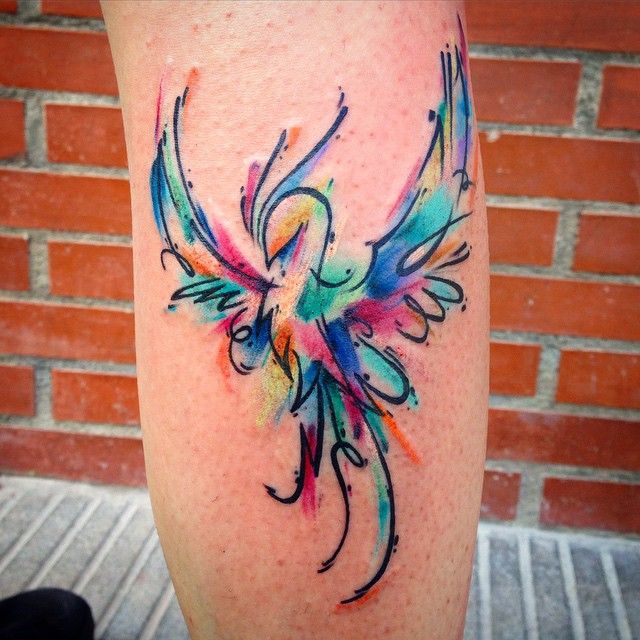 The Phoenix is another popular tattoo element that modern women choose to have. This mythical bird is associated with death and rebirth. Legends say that it rises from the ashes stronger than it used to be. Meanings associated with the phoenix are appealing to women who experienced hardships, struggled and succeeded over it. When created using the watercolor tattoo technique, it comes to life beautifully. Get this tattoo placed somewhere that you can proudly show off, but make sure that it is protected from too much sunlight to prevent it from prematurely aging.
6. Compass Tattoo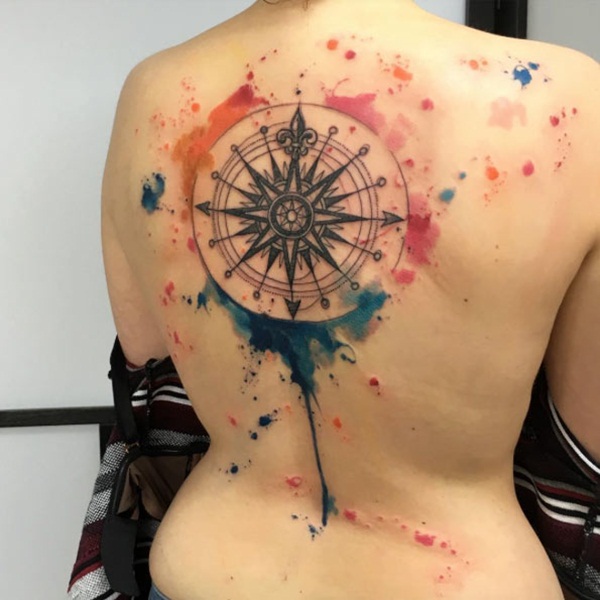 More than a navigational tool used by seafarers and travelers, compass images are used to represent direction and staying on course. It can be a meaningful tattoo to get if you want something to symbolize how you've lost and found your way. Depending on how you feel about it, a simple abstract design combined with a watercolor style shading will create a visually exciting body art.
7. Rose Tattoo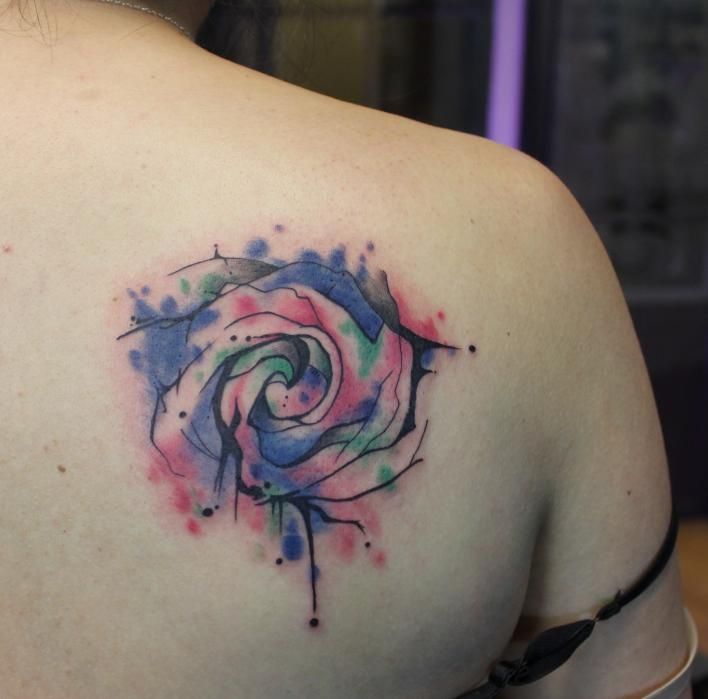 The rose is probably the most common flower tattoo design that both men and women care to include in the elements of their body art. Roses are associated with both beauty in pain. It is a beautiful bloom, but it has thorns that can cause harm. This flower is also associated with passion and love, and it will be perfect ink for women. Although roses are red, a watercolor tattoo technique will look just as amazing and wonderfully creative!
8. Elephant Tattoo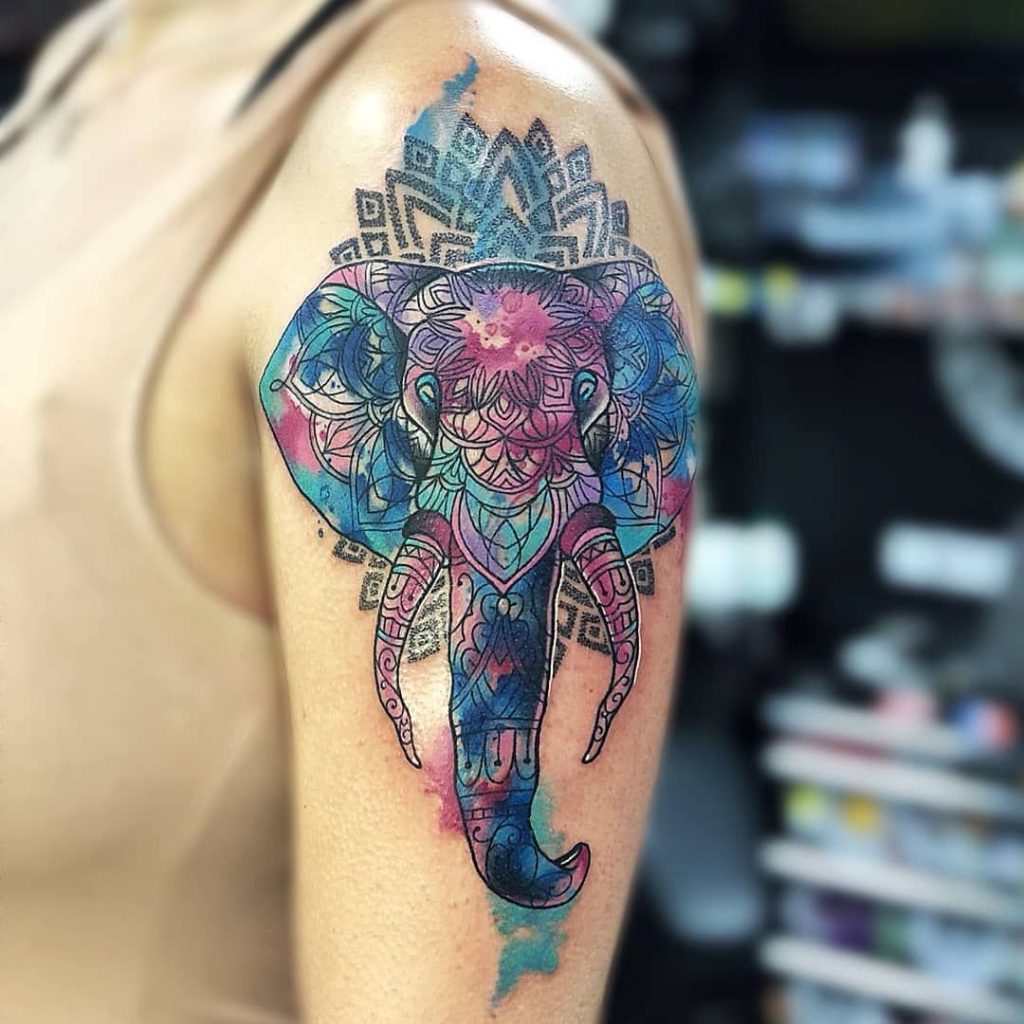 If you haven't decided on what elements to have for your next inking, why not consider a watercolor elephant tattoo? The beauty of this tattoo comes from the bright and vivid hues along with a majestic beast that is rich in meaning and symbolism. The elephant represents loyalty, strength, wisdom and longevity, therefore, it is an excellent choice for women who's a leader. An elephant watercolor tattoo is an amazing representation of femenine power.
9. Owl Tattoo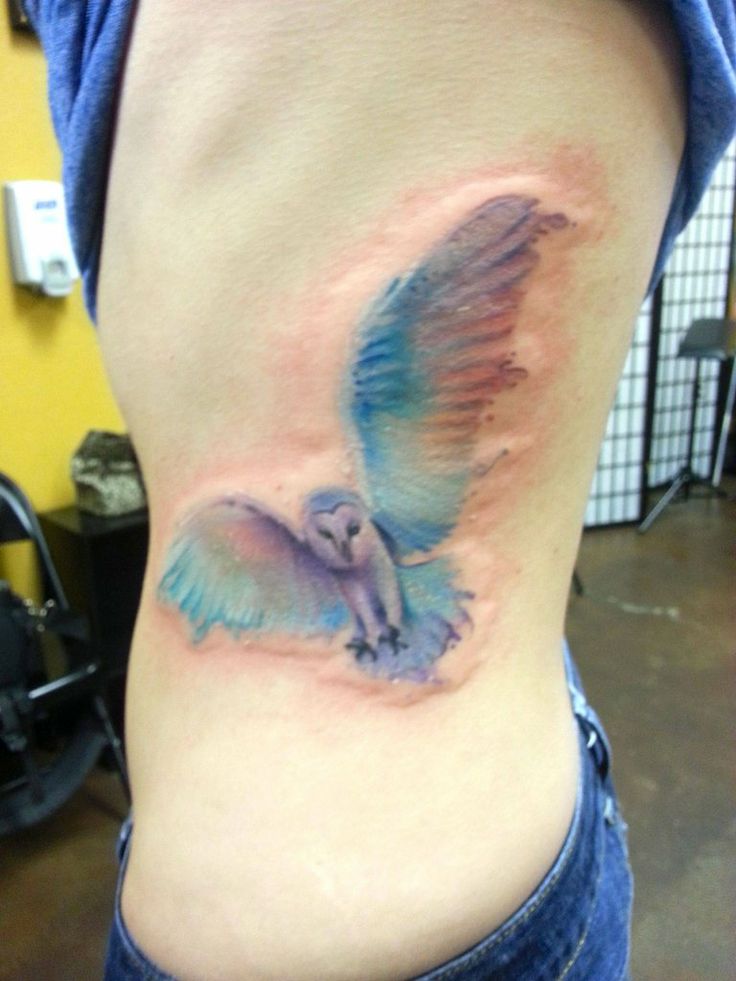 These nocturnal birds are something that is rich in value and meaning. Owls represent wisdom, watchfulness and protection. It has important roles to play in various cultures and symbolizes mystery and transition. These birds are beautiful elements that are more than just visually appealing for your next tattoo. Combined with the vivid techniques used in watercolor tattoo, your owl ink will be nothing but a masterpiece fit for a goddess!
10. Butterfly Tattoo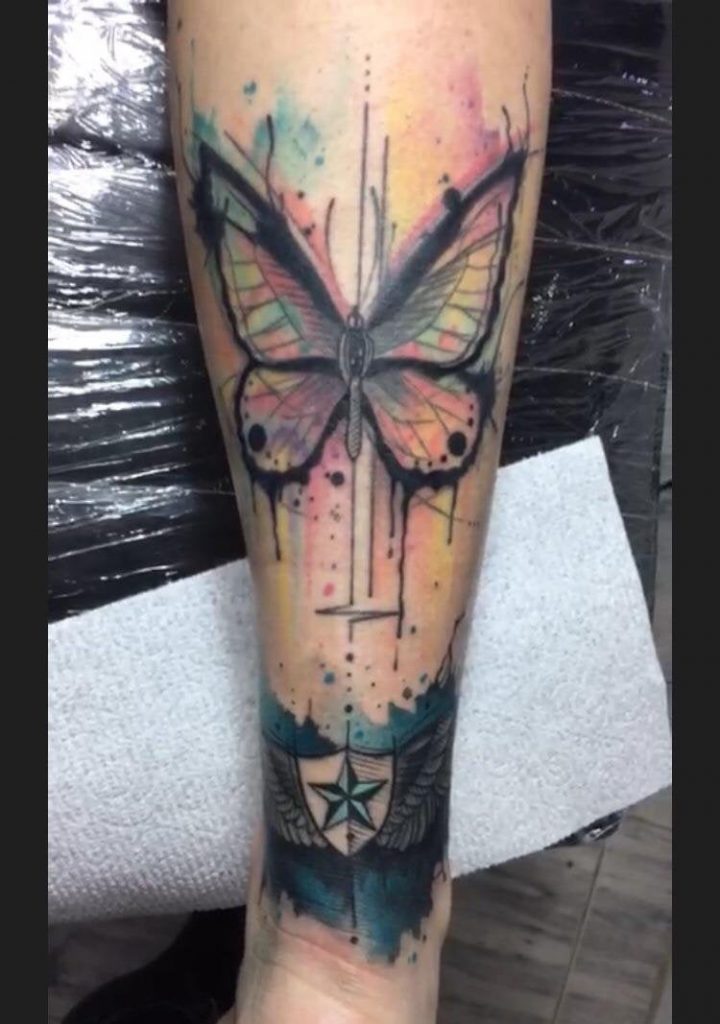 Tattoo experts can create stunning images with the perfect blend of colors for a bright and bold body art. An ideal element to highlight your femininity, beauty and transformation are images of butterflies. It is also a fantastic choice if you want something that represents freedom or triumph. Combined with unique watercolor design, a butterfly tattoo can every well be a unique body art.
11. Lotus Tattoo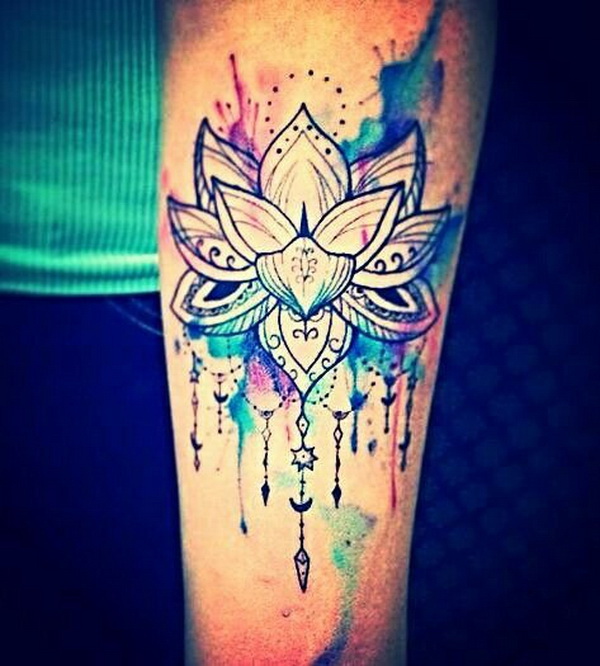 The lotus flower has always been associated with wisdom, grace and the ability to overcome obstacles. It blooms beautifully despite being in muddy and murky water conditions.Let this plant remind you that you can survive any conditions that life puts you in, all you have to do is thrive. Lotus flowers are also associated with purity and peace. If you are into meditation or yoga, this design could also be a perfect choice for you. Make it more unique and personal, but choosing a splattering of watercolor hues for a bold and vibrant outcome.
12. Feather Tattoo
This element is the perfect watercolor tattoo idea if you value wisdom, strength, and freedom in the highest degree. A feather tattoo is interpreted in various ways depending on the bird or the culture you want to pay homage to. For Native Americans, feathers are of high importance, and it is a common element in their tattoo designs. Make it come to life with the watercolor technique and make use of bold colors. Choose your favorite vibrant shades and give more meaning in your life.
13. Dragonfly Tattoo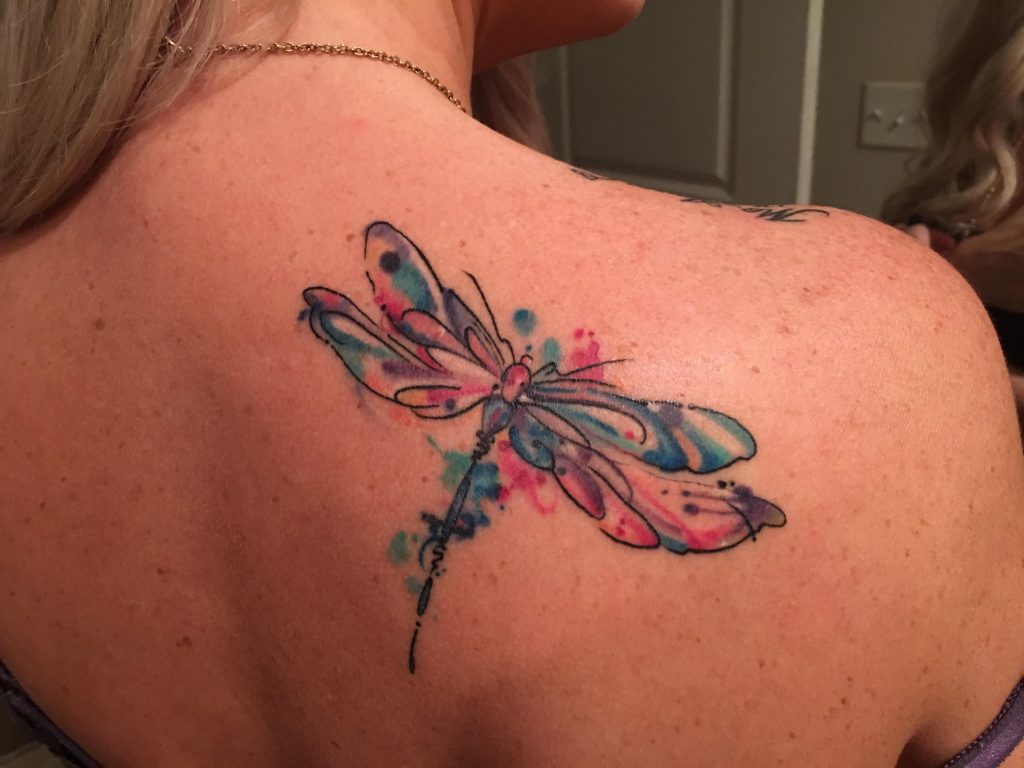 If you are looking for another type of insect element for your next inking session, dragonflies are worth considering too. Dragonflies are associated with strength, harmony, positivity and good luck! It will look even more amazing with the watercolor technique. These small winged insects are naturally bright colored, thus, the technique will work exceptionally well with it. Though watercolor inks will likely need touch-ups in the future, it is still worth it.
14. Tree Tattoo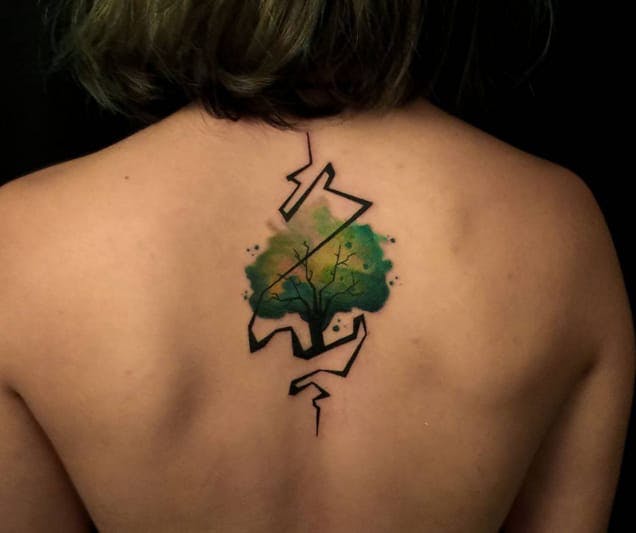 There are different meanings associated with trees depending on its species. These elements are also a very popular option among women who are seeking designs that will aptly represent life or commitment. Trees signify the future or a new beginning. Its symbolism makes it an appealing tattoo design to wear. Using the watercolor technique, you have a bright and bold ink that works really well with anything related to nature – such as these trees.
15. Cat Tattoo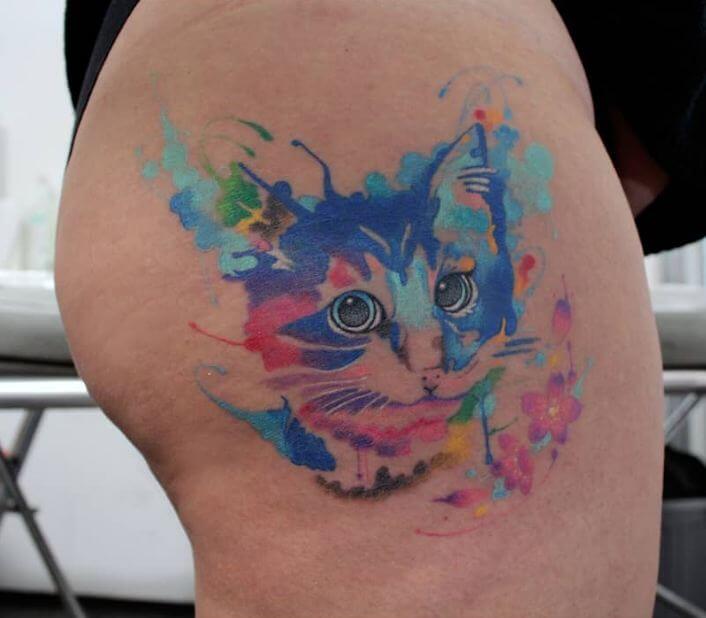 Cats have long been used to symbolize femininity because of their elegance and grace. Cat images represent luck and intelligence, but it is also connected with mystery and death. Honor these amazing creatures or your beloved pet by choosing their image for your next tattoo session. Make it an abstract masterpiece through the watercolor technique and open it for better interpretation.
16. Mermaid Tattoo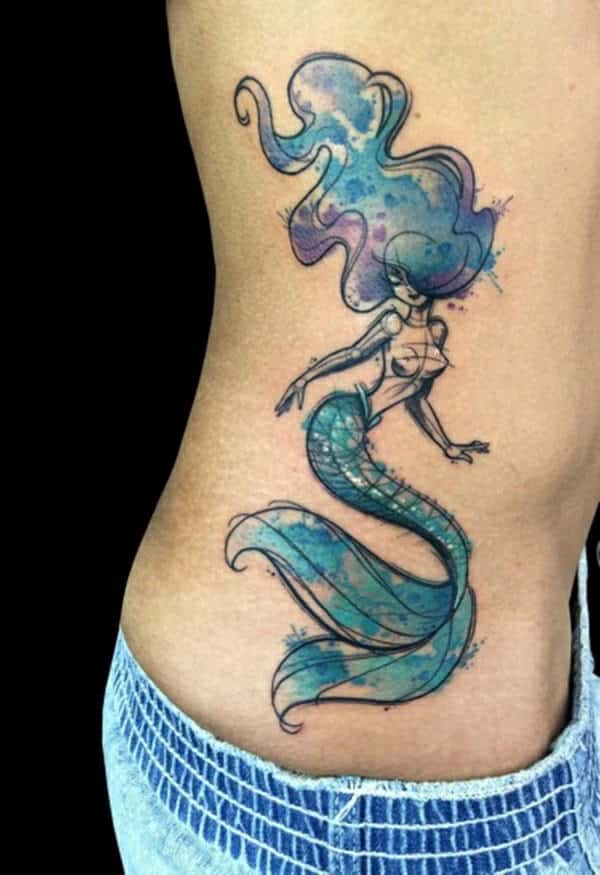 Mermaids represent magic, mystery and allure. Little girls love them, but grown up women also can't let go of its magic. These mythical creatures belong to the sea and there are tales about them that are linked to seduction and strength. Mermaids may also represent female power, thus they would make an amazing feminine tattoo. Using watercolor technique, vivid images of the sea, the mermaid and other underwater elements will easily come alive. And though there are drawbacks to this technique, a lot of people still love and choose it over the traditional ink design. The bright shades are perfectly blended to mimic the effect of paint on canvas.
17. Heart Tattoo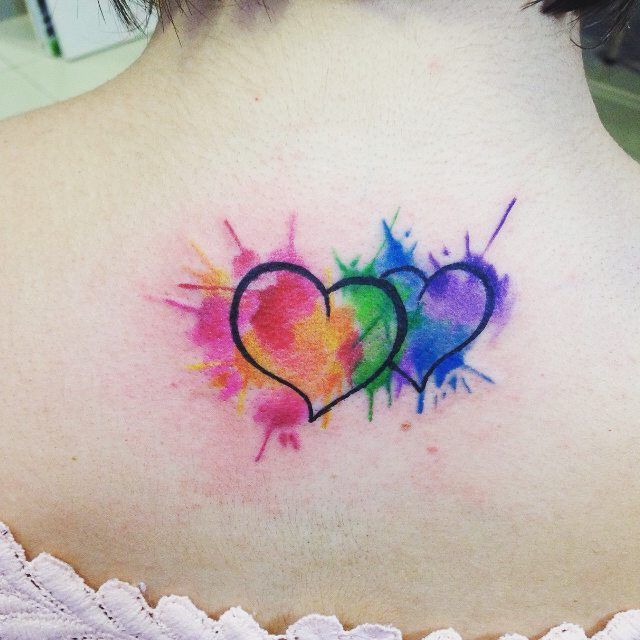 This universally recognized symbol is one of the most popular elements in body art. Hearts symbolizes passion, love and promise. Depending on the colors, it comes with various meanings. Black hearts can mean heartbreak, death or failure. But the simplicity of the element makes it one of the best options if you want to be creative with the design. It can be big or small depending on the placement of your ink. Likewise, a distinct blending of watercolor hues will make this simple element become an amazing piece of art.
18. Lion Tattoo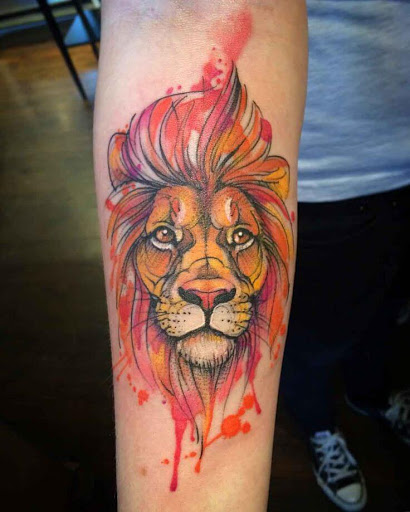 The lion is a majestic animal, thus, it is also a popular element for inking. Women are drawn to this design because of its lithe grace and vigor. It is a symbol of strength, courage, loyalty and power. The face of a lion is very appealing along with the values that goes with it. Get a lion watercolor tattoo for your next inking session for that meaningful, vibrant and magnificent body art to wear.
19. Wolf Tattoo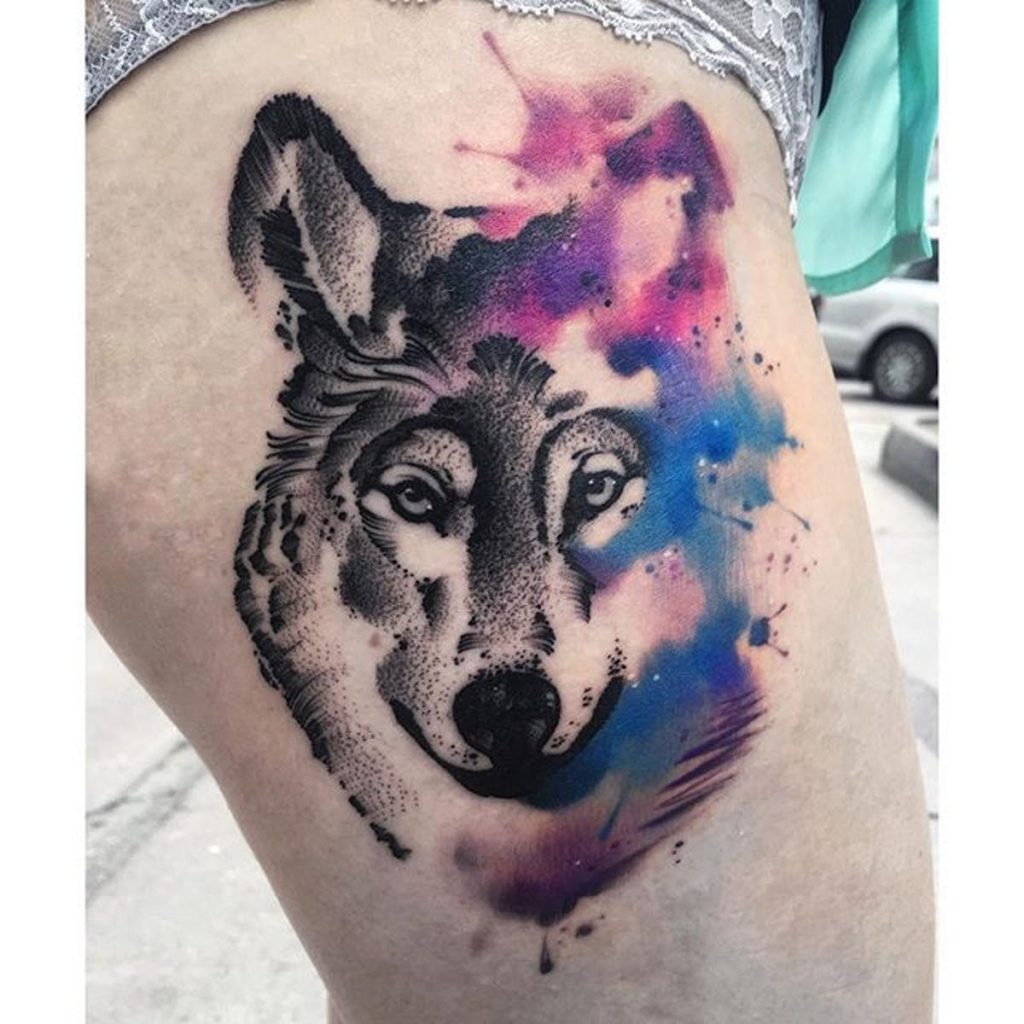 Wolves are pack animals. They are associated with family and loyalty. These animals depend on one another for security, protection and strength. Women who value their loved ones may opt to have a wolf tattoo for her next session. A wolf can be her spirit animal too. Much like the Native Americans, these animals are believed to have a spiritual element that guides people through life. If you intend to have this design along with a vivid watercolor technique in the application, remember that placement is crucial. Choose a spot that is not exposed to sunlight. Watercolor tattoos fade more quickly than traditional ink designs.
20. Dandelion Tattoo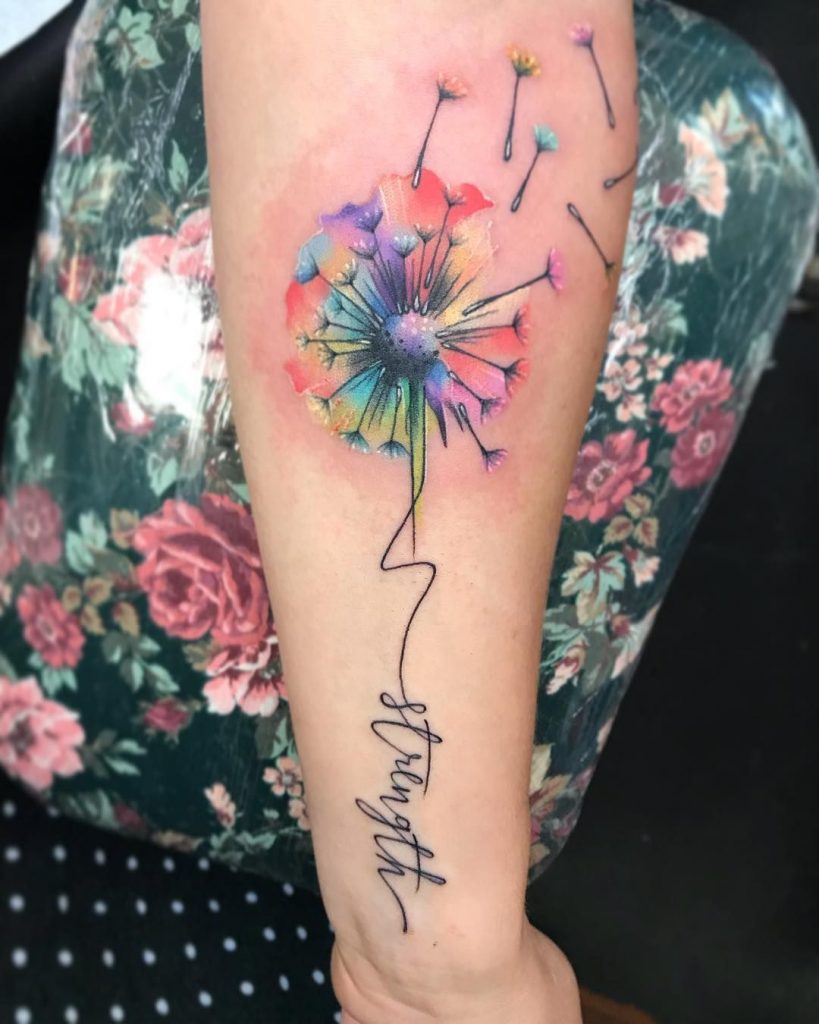 Another floral idea for a feminine watercolor tattoo is the dandelion. These flowers are a trademark of summer and an image of it blowing in the wind paints a lovely picture for your next inking. A watercolor tattoo brings dandelions to the next level with the vibrant hues depicting the wind as if the flowers are floating on your skin.
21. Constellation Tattoo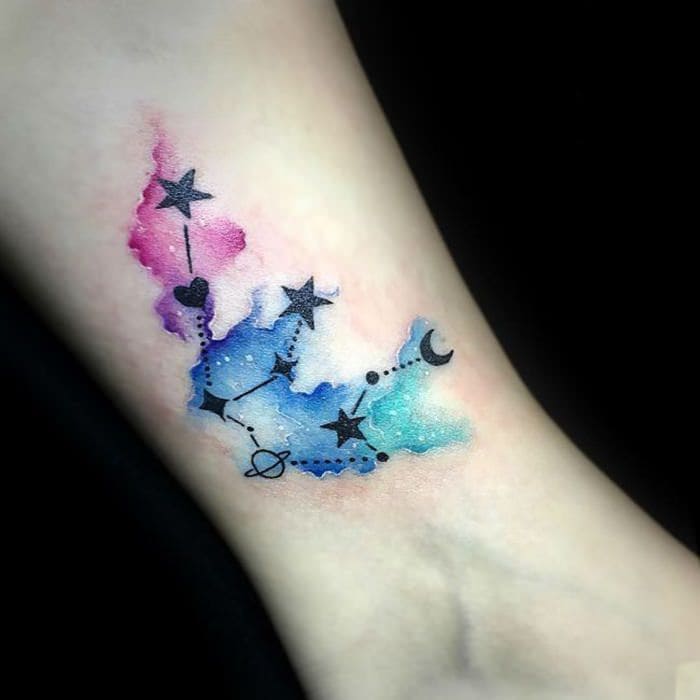 Space is a huge mystery to human beings. Getting a constellation watercolor tattoo is an awesome choice for women who want something that will represent the extent of their dreams, life or the mystery it beholds. This tattoo design is perfect with the watercolor technique because the well-blended color will create an amazing cosmos. This eye-catching piece of art needs a placement that calls attention. Find a spot that is spacious enough to allow details. Ideally, you can have this design on your chest, thigh area, leg and back.
22. Paw Print Tattoo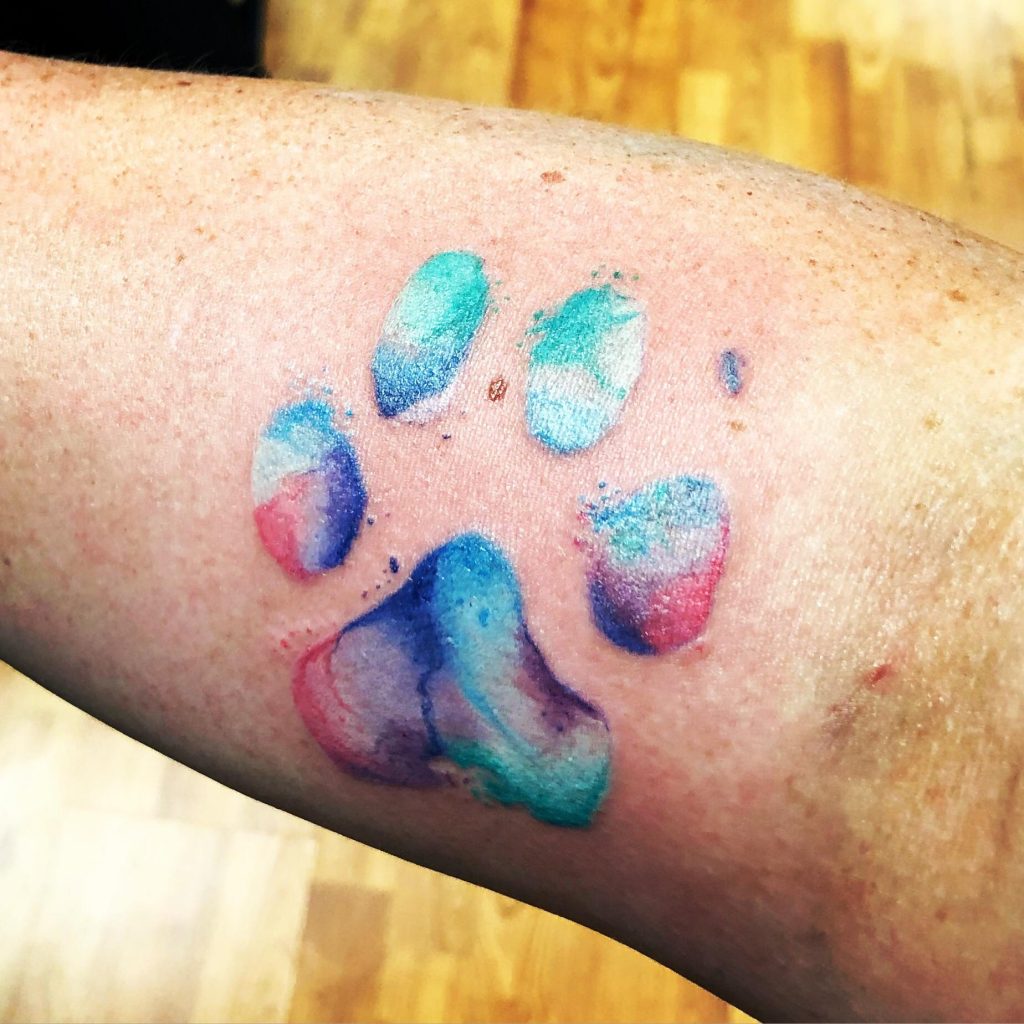 Paw print tattoos are often chosen as a reminder or a memory of a pet who crossed the rainbow bridge. But it is a fantastic choice for animal lovers who wish to have something of their most favorite animal on the plant. Paw prints are very simple designs, but it can symbolize the future or your goals too. You also have the liberty to choose the placement, size and additional elements for your paw print tattoo. For a statement ink, make it as bold, colorful and eye-catching as you can.
23. Origami Watercolor Tattoo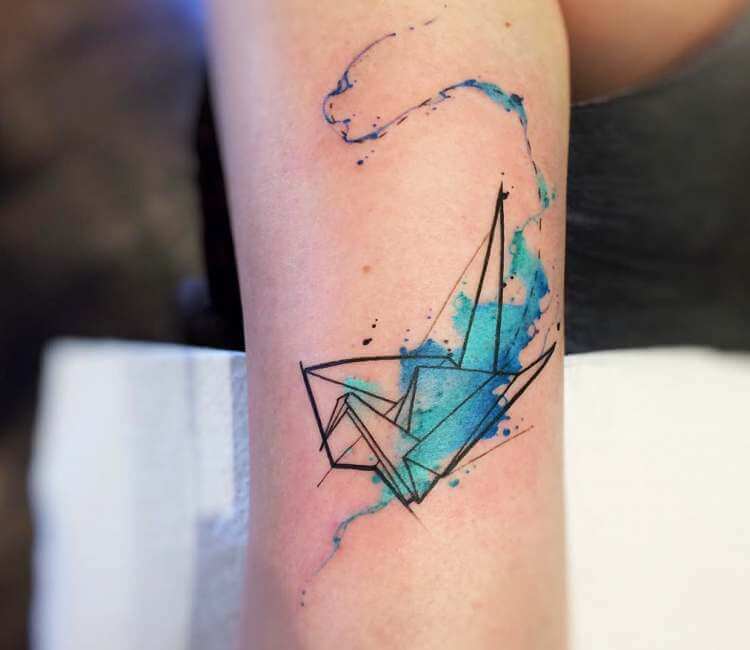 If you like a more minimalistic design, an origami and watercolor tattoo is the perfect choice for you. These two are filled with grace and elegance. Choose the simple, and often plain origami cranes and mix it up with vibrant watercolor hues. They will look amazing as if they are flying and coloring your world. A tattoo design like this can be made big or tiny, and there is no limit to its placement. You can have it on your wrist, ankle, back of your ear and others.
24. Lightning Bolt Tattoo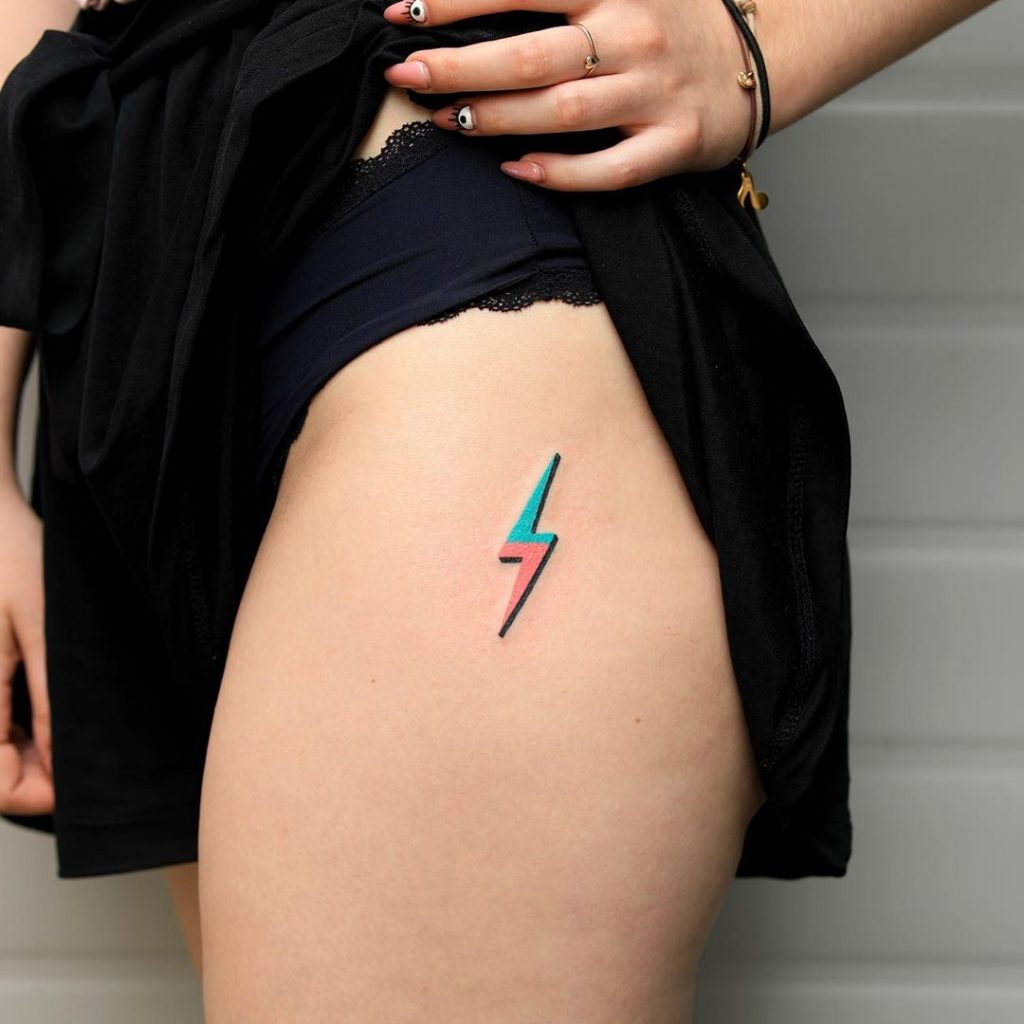 Are you running out of ideas for a watercolor tattoo? If you do not like a straight-up feminine tattoo composed of flowers or butterflies, then think of other natural elements that you can combine for a perfect design. A lightning bolt represents power, strength, intuition, intelligence and spiritual enlightenment. It is also perfectly feminine because ancient Greeks view it as a symbol of fertility. With lightning, comes rain, which means the earth becomes fertile. A lightning bolt, combined with floral blooms, and the watercolor technique provides an amazing ink design that women will surely love.
25. Calm Seas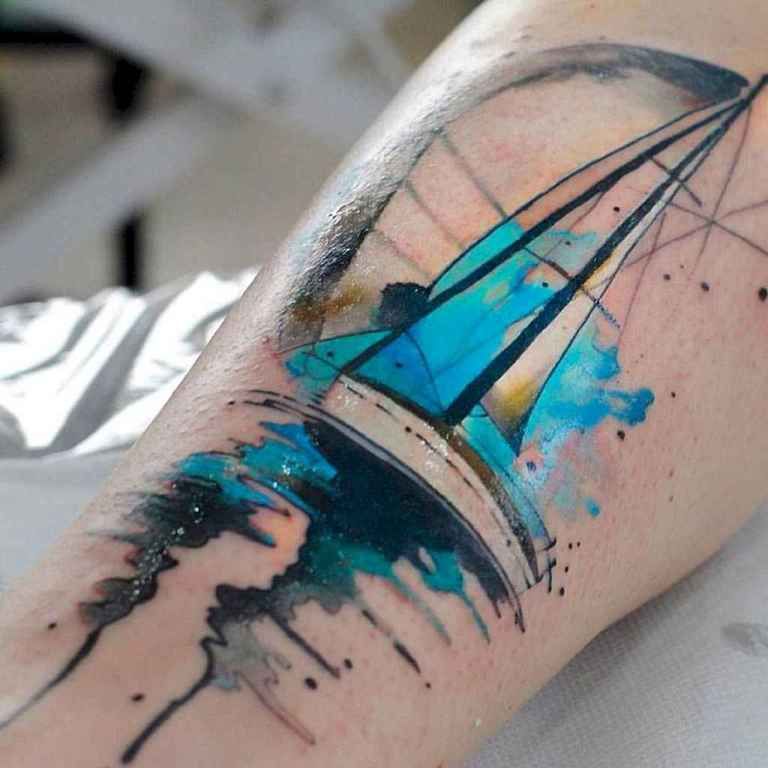 The picture of a calm sea brings quiet sounds of the waves and a tranquil feeling. We often choose this image as a screen saver for our desktop or phones to constantly remind us of that tranquil space. Then, why not make it your next watercolor ink inspiration? The sea has always been a mesmerizing subject of the art. Creating a tattoo using peaceful hues and multi-dimensional lines will bring you a constant reminder of your favorite place – the calm seas.
FAQ
Do watercolor tattoos easily fade?
Watercolor tattoos are made of multilayered shaded colors simulating real watercolor on paper. This means that some shades are thinner than others. Although watercolor inks look brighter, they do not have the bold strokes and dark ink of traditional tattoos. The general opinion is that the thinner inks may fade faster. However, it is best to have the tattoos retouched within six months after it is first applied.
Experts suggest that there should be a distinct black outline to the tattoo, that can be used as the base when reconstructing or touching up the watercolor tattoo.
Are watercolor tattoos more painful than traditional tattoos?
Watercolor tattoos take longer to ink, and use a wider array of colors. However, since there is less ink used in some portions of the image, the tattoo should be less painful overall.