#1. "So tell me about yourself."
https://twitter.com/Iendmeagram/status/735745344890277888
#2. Who's been talking shit about the bard?
'Shakespeare has no talent' explain this pic.twitter.com/HLovorpgwD

— lucy (@xcxlucy) May 2, 2016
#3. There's always someone having a worse day than you.
if anyone is having a rough day I want you to remember I ate half this cup of ice cream before realizing the truth pic.twitter.com/SmvRhEVKNr

— dan (@daniel_merry) December 17, 2015
#4. This little guy is living the high life.
Leland are you kidding me pic.twitter.com/hNytybLK4x

— Gene (@genemonchelli) March 4, 2016
#5. This is the most perfect faceswap we've ever seen.
When your 8 year old brother pulls off the greatest executed face swap you've ever seen 😂 pic.twitter.com/UcMRgrrxUz

— erin 🌞 (@erinumbrella) March 25, 2016
#6. Try to contain your excitement, ladies.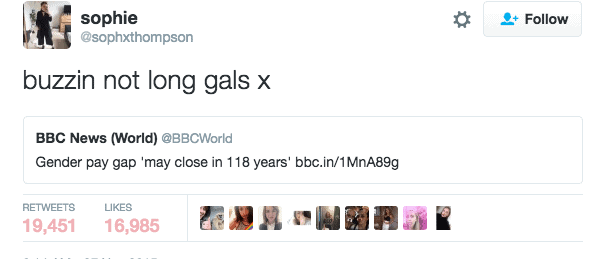 #7. There's literally no way out of this cruel trap.
https://twitter.com/UniqueDude2/status/637851144899985408
#8. There are some things you should really be sure of.
I would respectfully suggest that one of these survey options is terrifying. pic.twitter.com/L5ys0tb0Bm

— Baz McAlister (@bazmcalister) May 25, 2016
#9. Thanks, Mary. Sort of.
When you get tagged in a shocker of a photo and your pal has your back pic.twitter.com/Z3lm6oBmBV

— joss (@joslynlundie) April 21, 2016
#10. Thanks Liam. Oh.
https://twitter.com/melissa_watson/status/733070597211758593
#11. This guy's project was so right but so, so wrong.
Deadass spent 2 hours doing project on Youth in Asia then find out it's supposed to be on Euthanasia. Summer wya 😭 pic.twitter.com/Fvi7hdybSh

— john (@johnnnn_d) May 5, 2016
#12. When you run out of Post-It notes but you're creative AF (and have a stocked fridge).
I've ran out of Post-it notes so I'm using Dairylea cheese slices. pic.twitter.com/w3Uh2E2XXL

— joe heenan (@joeheenan) May 10, 2016
#13. The world's most terrifying greetings card.
this is fucking ominous . I'm going to mail it to someone with no explanation pic.twitter.com/j2C1cErNBm

— Sophia Benoit (@1followernodad) June 3, 2016
#14. This dog walker who got overly attached.
Why is our dog walker acting like she's in an intimate relationship with our dog just because we no longer need her pic.twitter.com/VfKzvCSu8A

— cher (@cherish_lewis1) May 18, 2016
#15. This teen who's a stickler for the rules.
https://twitter.com/mariajavidd/status/739059150664159232
#16. Nothing beats a dad struggling with technology.
https://twitter.com/punkcas/status/737732373127778304
#17. Run out of excuses to shake someone off? Try this truly inspired one.
https://twitter.com/brookehewer/status/734107586530775040
#18. Yes! Oh no, nevermind.
Real women have curves!!! Real women have spirals!!! Real women are plump and covered in a creamy sauce wait nope thinkin of pasta

— Deirdre (@figgled) April 25, 2015