This is the heart-melting moment Lauren Jackson dances with her quadriplegic husband Joel — six years after he was internally decapitated in a car accident.
Lauren and Joel, who first met in high school, married in September 2013, but couldn't have their first dance.
But earlier this month, with the help of a zero gravity harness, Joel was able to stand for the first time in six years and dance with his partner.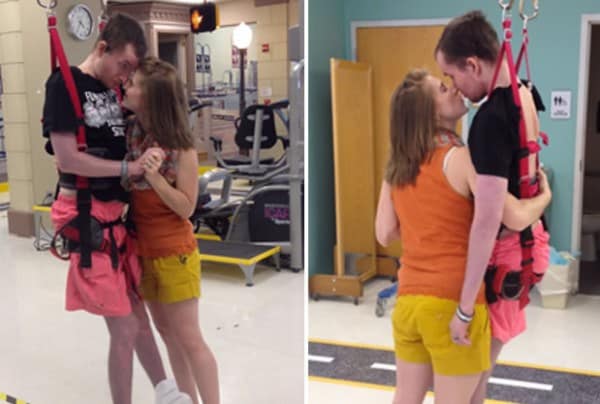 The pair danced to Edwin McCain's "I'll Be" at the Brooks Rehabilitation Hospital in Jacksonville, US. The emotional video shows Joel standing with the aid of the hoist as his wife tenderly leads a dance embrace.
https://www.youtube.com/watch?time_continue=60&v=bzCeNyUa5Xw
Describing the emotional moment, Lauren said: "If I were a crier, this is where I would have been a hot mess. I was just in awe. It was one of those moments that took my breath away."
"I couldn't stop saying, 'goodness, you are so tall'. I forgot how tall he was after all these years."
To help the couple, visit their fundraising page and donate here.