Among the most meaningful tattoos spiritual and religious men can get, nothing's better than an angel tattoo. These celestial beings represent the balance between earth and heaven, typically linked with guidance and hope. Angels are thought to protect humankind, guiding everyone to make good decisions. However, wearers can also change their message through body art, depending on your selected imagery.
Regardless of the angel tattoo style you pick, each one is rich in symbolism, allowing faithfully devoted men to make a crucial statement. That's why it isn't hard to see why many Christian men are inspired to get angel tattoos. If you're looking for inspiration for your next tattoo, here are 25 angel tattoos you have to see.
1. Archangel Michael Tattoo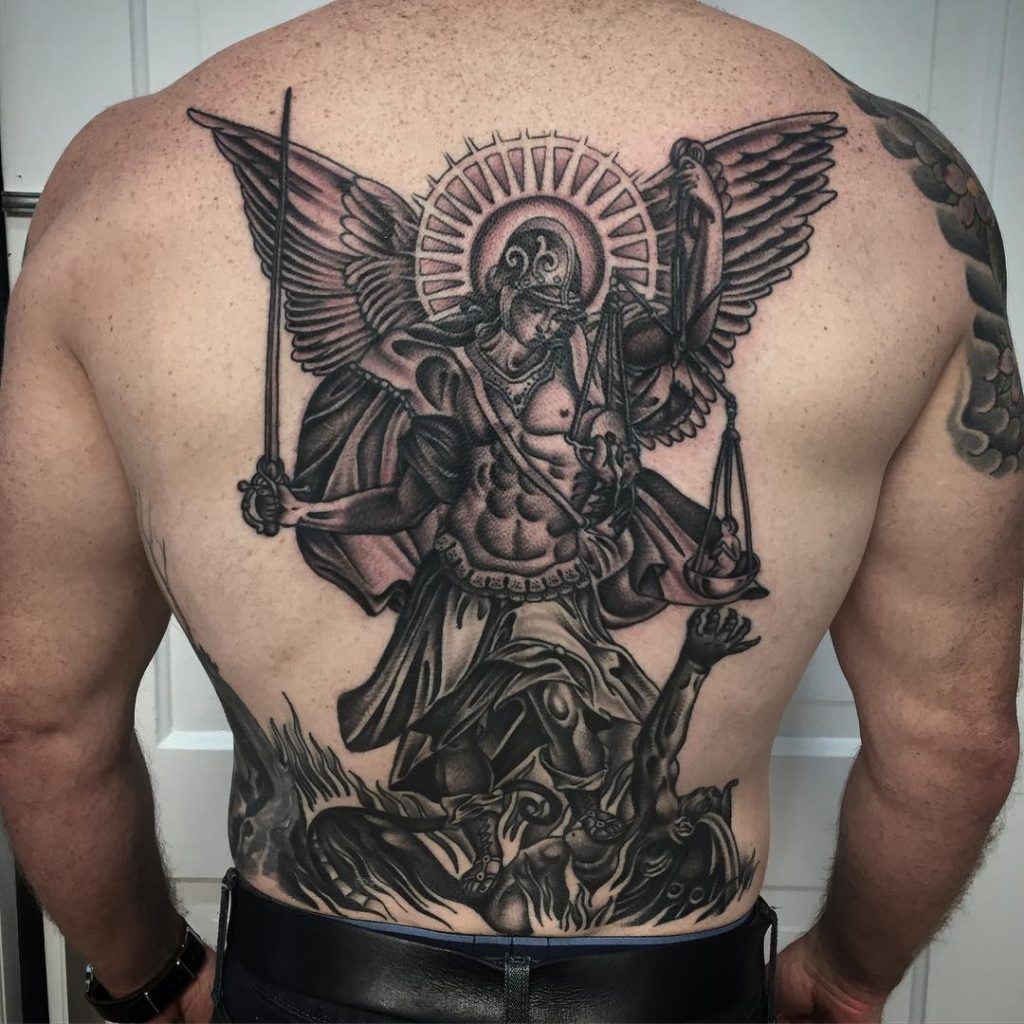 The archangel Michael often represents strength and courage, as this holy being dedicated himself to destroying all things evil. Archangel Michael is often considered as the leader of all angels, often associated with guidance and protection. If you're looking to honor this guardian and immortalize him on your body, consider portraying his heroism and motivational qualities. Additionally, Archangel Michael's image serves as inspiration for several renowned artists, such as the famous Italian High Renaissance artist Raphael.
Regardless of the design you choose, this tattoo concept has many interpretations and symbolism, allowing men to explore their creativity while honoring the celestial being.
2. Archangel Gabriel Tattoo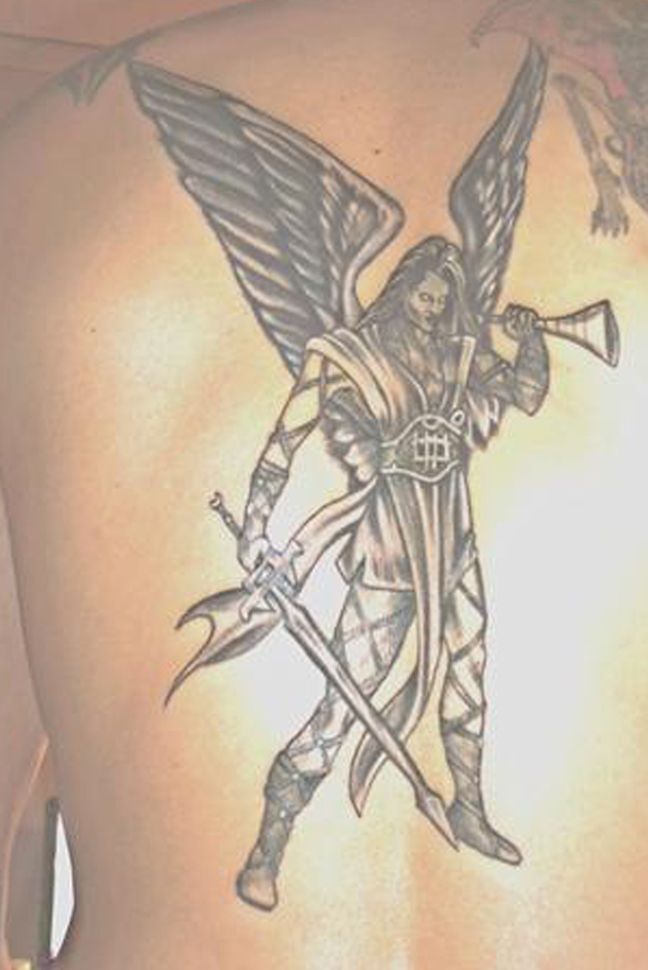 Saint Gabriel is an Archangel who is one of the most potent and crucial messengers for God. This holy being holds immense significance in Christianity and other Abrahamic faiths, and having his image immortalized on one's body is an excellent acknowledgment of him. The appeal of an Archangel Gabriel tattoo is that it can have several interpretations, and what the angel means to you may differ from someone else. However, the best part about this tattoo is that there are no right or wrong interpretations.
3. Angel and Demon Tattoo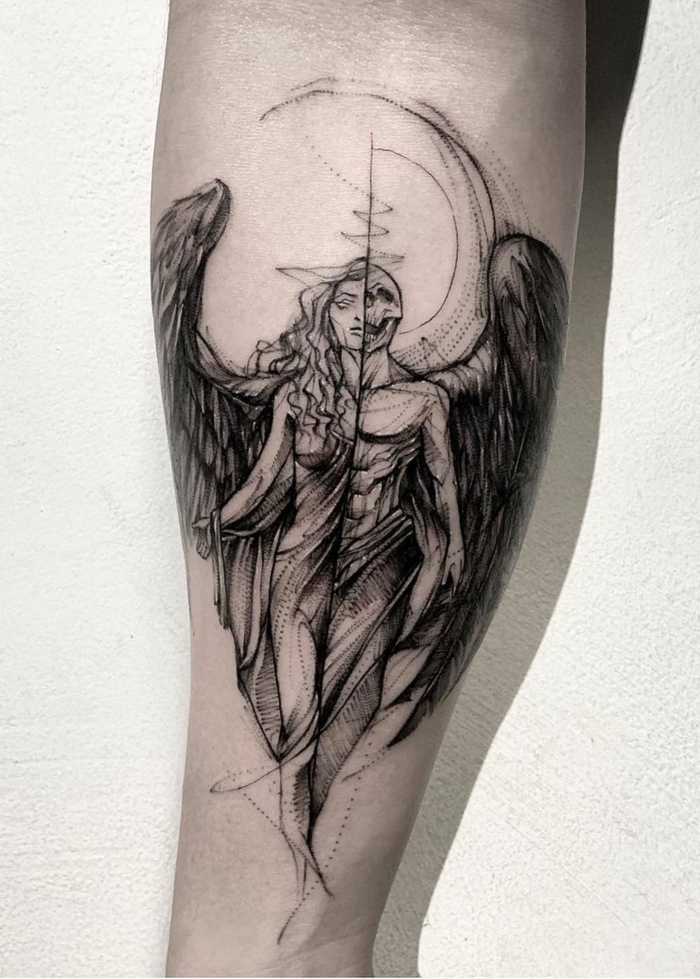 When there's good, there's evil, and there's no better tattoo to express this sentiment than an angel and demon tattoo, representing the clash between right and wrong. It's a popular choice among men struggling with negative thoughts, mental issues, temptations, and the perceived weakness of their character. This tattoo design not only looks appealing, but it can help men make a powerful statement, as angels and demons indicate that there are two conflicting sides.
Ultimately, the demon reminds wearers of the things they overcame in the past, while the angel represents the hope and light in the future.
4. Forearm Angel Tattoo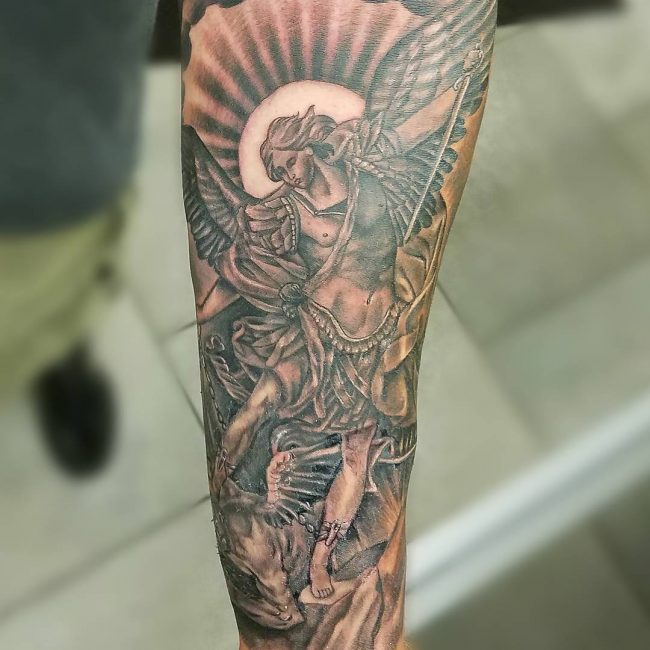 While many individuals get wrapped up in tattoo designs, another component of great tattoos is the placement. If you're looking to stand out and express your message through body art, you need to choose an ideal spot for everyone to see, and in this case, the forearm is a fantastic location for angel tattoos. That's because it's the most visible, and whether you're out at the bar or going to church on Sunday, your angel tattoo is there for everyone to see. Plus, forearm tattoos generally look appealing on men.
5. Small Angel Tattoo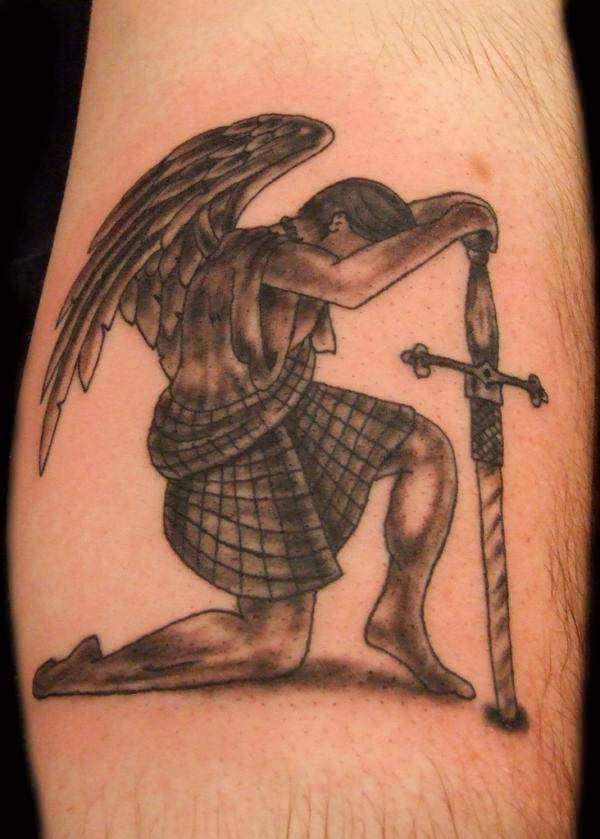 Although most men prefer larger tattoos to express their message more, you don't need a 'big' design to make a more considerable impact or have a significant meaning since small angel tattoos can be impactful too. The best part about small angel tattoos is that men can tattoo them anywhere in their body, whether it's behind their neck or on their chests. Besides that, tiny ink is very versatile. It's relatively easy to cover up whenever necessary, making it a perfect choice for men looking to decorate their bodies but subtly.
6. Guardian Angel Tattoo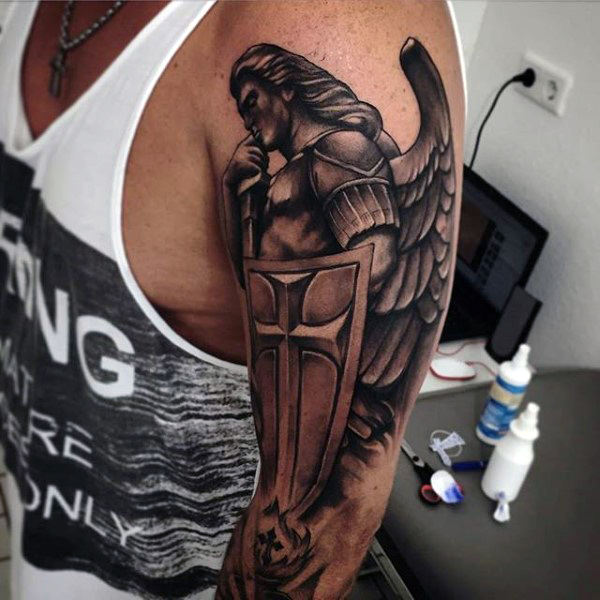 Guardian angels are holy beings that many people perceive as their protectors, helping them feel like someone's always looking out for them in this world. Because of this, guardian angel tattoos are a perfect way for devoted men passionate about their faith to portray their beliefs to the world. A guardian angel tattoo can represent God's presence in your life and serves as a crucial role that your belief serves a massive influence in your decisions. The angelic tattoo also guides and protects the wearer, safeguarding them from harm.
7. Angel Wings Tattoo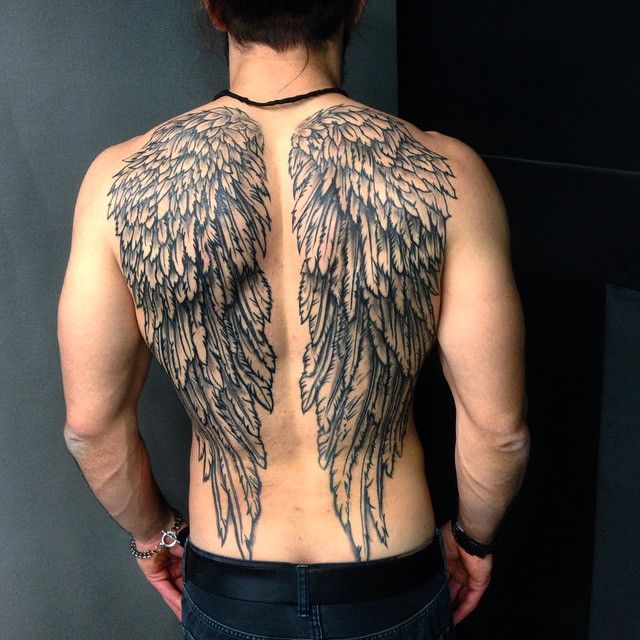 Angel wing tattoos are usually associated with the notion that everyone has a guardian angel watching over them or indicating freedom. Sometimes, these tattoos may also represent the passing of a family member or loved one, with those lost going into a protective guardian angel, like a cherub or archangel—to watch over the wearer. Regardless of the meaning, tattoo depictions of angel wings tattoos typically look alike, with only a particular portion of the tattoo design differentiating them from others.
Some men can get angel wings tattoos to depict their religious faith, but its symbolism may also take on a new meaning, including the idea of protection and guidance from loved ones that have been recently lost. This body art concept should be on the wearer's back to make the angel wings pop off, protruding from their body.
8. Baby Angel Tattoo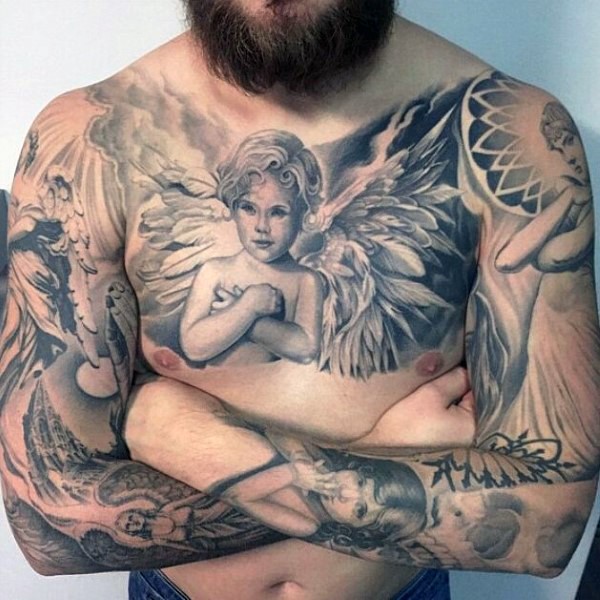 If you're not into realistic tattoo designs but still want to show off your beliefs, there's no better way than getting a baby angel tattoo. Baby angel tattoos are often based on a healthy child with wings and an occasional halo. They also represent the innocence of humanity, serving as the link between heaven and earth. Additionally, they can symbolize God's love and protection to his followers, with some men choosing this option in honor of their child's birth, or sadly, premature passing.
9. Sketch Angel Tattoo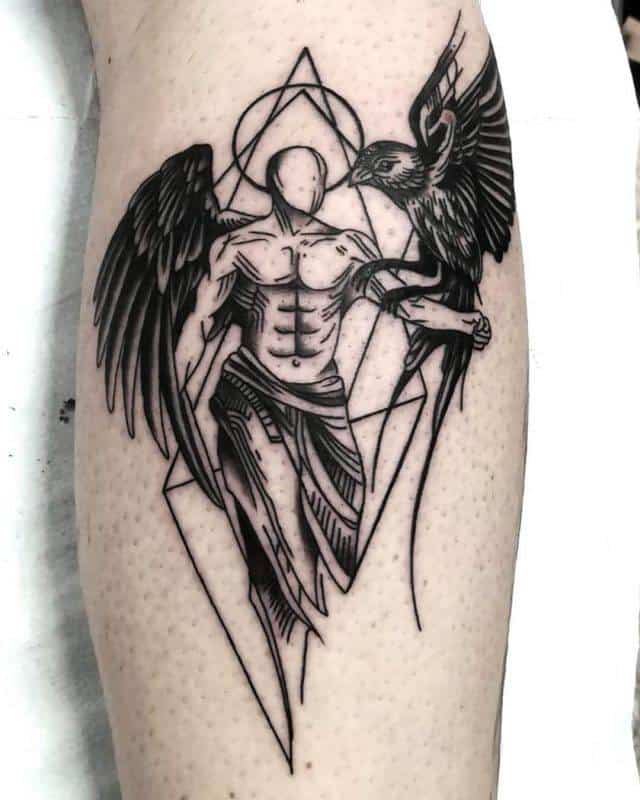 Sketch tattoos are a modern tattoo style that's been recently rising in popularity along with other contemporary techniques thanks to its unique style, resembling a piece of artwork right from the pages of a sketchbook. Sketch angel tattoos are an excellent choice for men looking for something different, boasting original styles with each piece. The best placement for a sketch angel tattoo should be in the shoulders, giving the chance to have more movement on the angel's wings.
10. Angel of Death Tattoo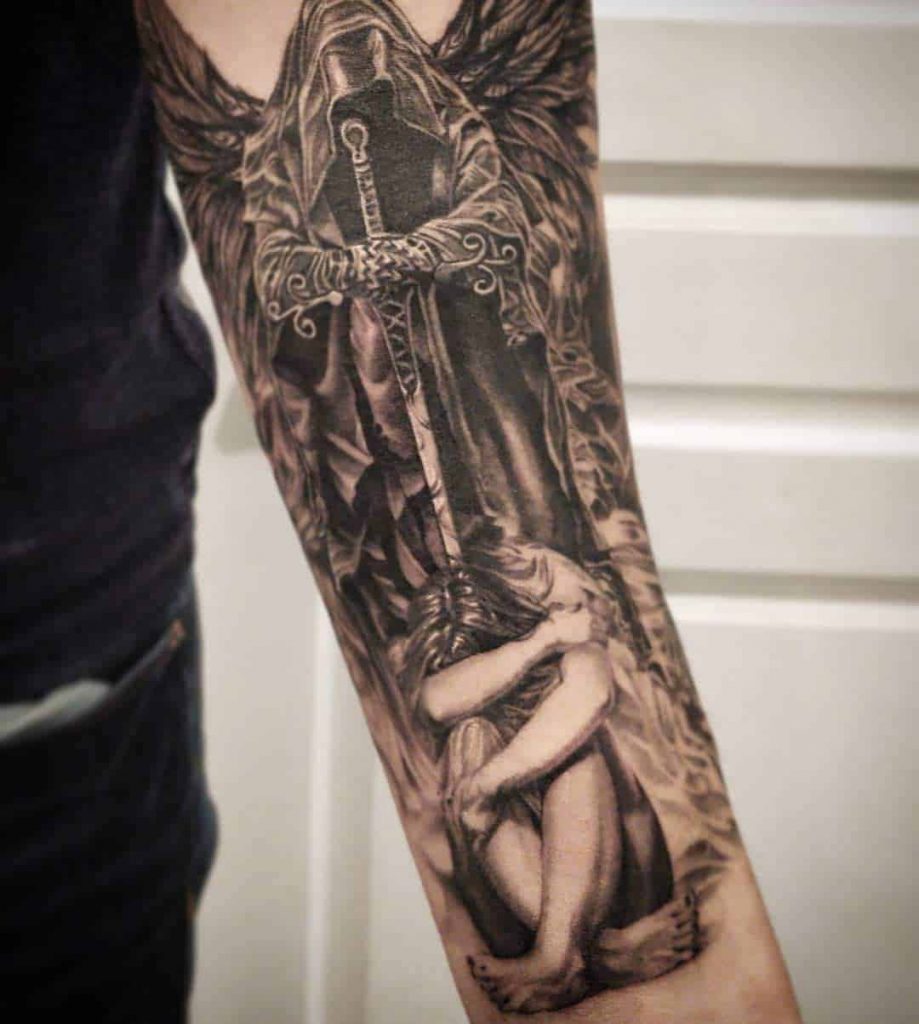 Although life, in general, is uncertain and unpredictable, there's one thing that everyone has in common, and that is: no one lives forever. The angel of death tattoo, as its name suggests, symbolizes death and fear. This celestial being is widely believed to fetch the souls of dying individuals during their last moments on earth. Although the grim reaper isn't necessarily a 'happy' tattoo for men to get, it's an incredibly 'deep' and thought-provoking piece.
That's why the angel of death tattoo is an excellent choice for men who often contemplate their mortality—or for those who are just drawn to the grim reaper's unique look. This tattoo may also serve as a reminder of how temporary one's existence is in this world and how important it is to live each day like it's your last.
11. Full Sleeve Angel Design Tattoo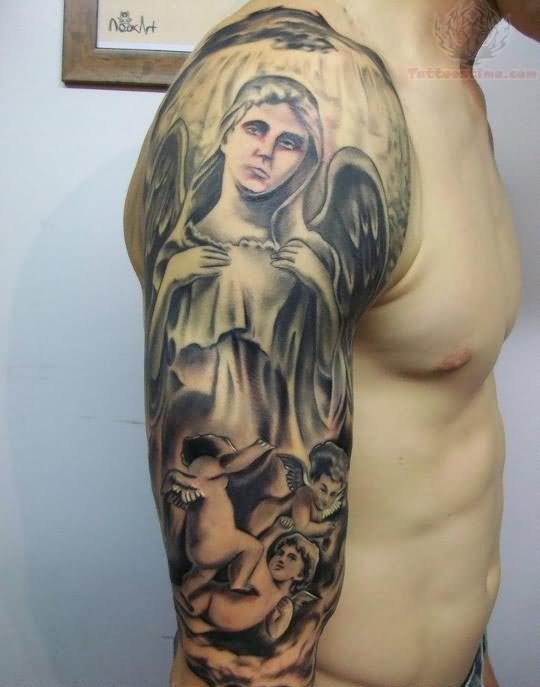 Angel symbolism is a great theme to follow for flowing tattoo sleeves, a popular tattoo design for men. The symbolic meaning behind angels can stand for sorrow, including suffering, pain, and remembrance. Meanwhile, on the other end of the spectrum, angel sleeve tattoos can represent the wearer's ability to rise even after failing or getting into trouble or paying tribute to a person that's helped guide them in life. Regardless of the reason, full sleeve angel tattoos will always have a unique story behind them, making them a popular choice for men.
The best part is, you can depict angels in your sleeve tattoos in different ways, ranging from heavenly beings to fairy angels—and are often balanced by other imagery, negative space, details to recreate darkness, sunlight, and art.
12. Fallen Angel Tattoo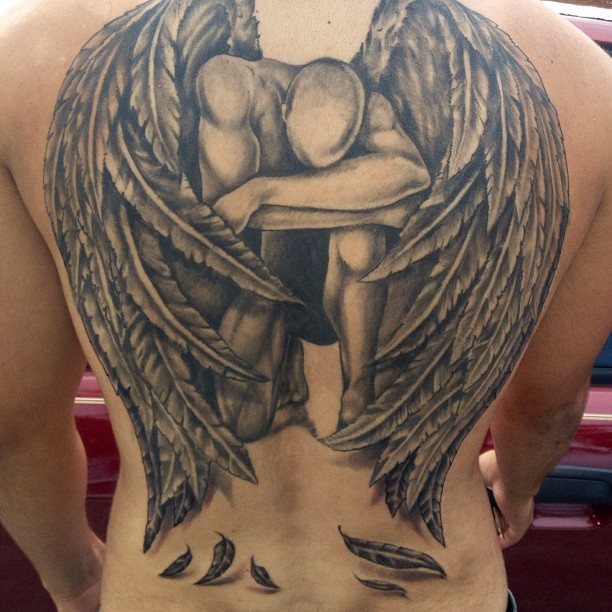 It's no secret that a mere angel tattoo can make a powerful statement about the wearer, giving a glimpse into their beliefs and mind. For instance, a fallen angel tattoo can represent the loss of a person's innocence. That's because fallen angels are believed to be former holy beings that have been exiled from heaven and are forced to live among mortals on earth. Meanwhile, fallen angel tattoos are often associated with the inner struggle of a person's perception between their good and bad personality. That said, the fallen angel tattoo is a great 'somber' addition to any man's body art.
13. Warrior Angel Tattoo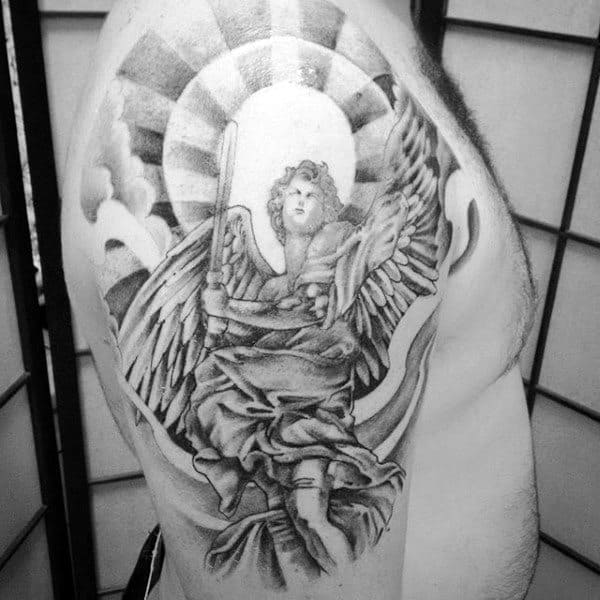 Although angels are revered as holy beings, not every single angel represents innocence, as some are known as mighty warriors. These celestial beings dedicate themselves to conquering evil, always ready to go against their convictions. Body art is usually open to interpretation, making it unique to each wearer, and with warrior angel tattoos, you can make up several meanings with it. Men passionate about their beliefs can express their faith with warrior angel tattoos, all while representing a side of them that's ready to fight any negative thoughts and generally harmful presence.
14. Angel Statue Tattoo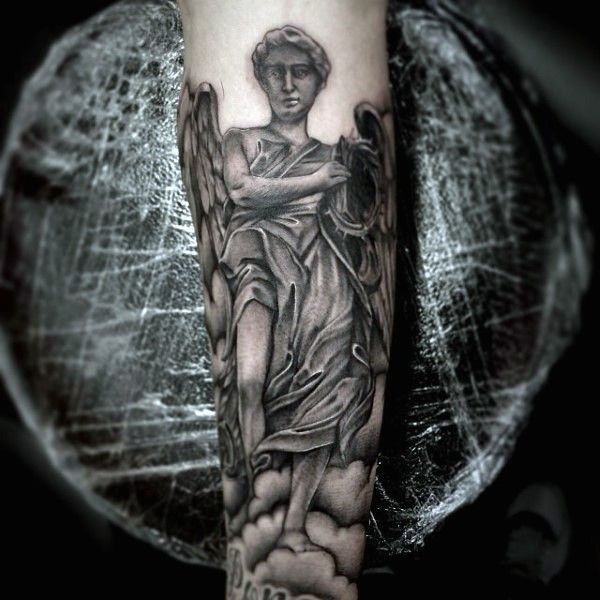 It's no secret that angels are here to guide and protect everyone from evil. The holy beings have inspired several works of art, including sculptures. If you choose a creative individual, you'll want to honor your artistic flair by selecting a design of an angel statue. This tattoo idea is a popular concept among men as the winged creature represents power and order.
15. Praying Angel Tattoo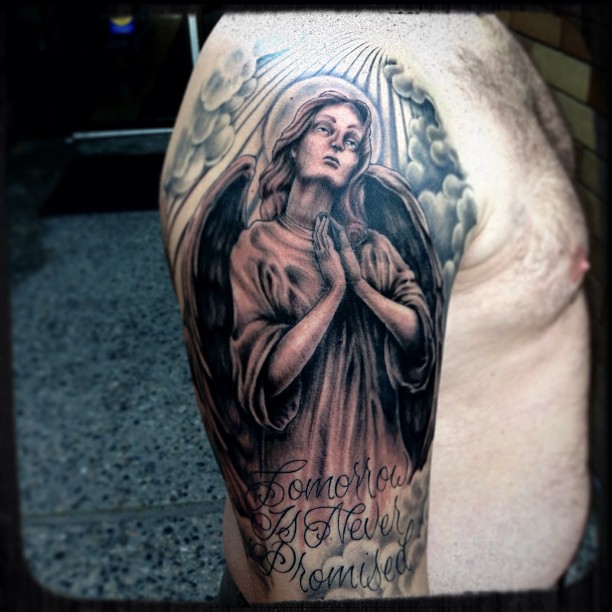 One of the most fun things about choosing angel tattoos is that you have many variations and designs to choose from, with each one representing a unique message or symbol. Praying angel tattoos are among the most popular among devoted Christian men, allowing them to indicate their desire to get closer to God. This tattoo concept is also often associated with hope and guidance, serving as a universal symbol for the love of God.
16. Dark Angel Tattoo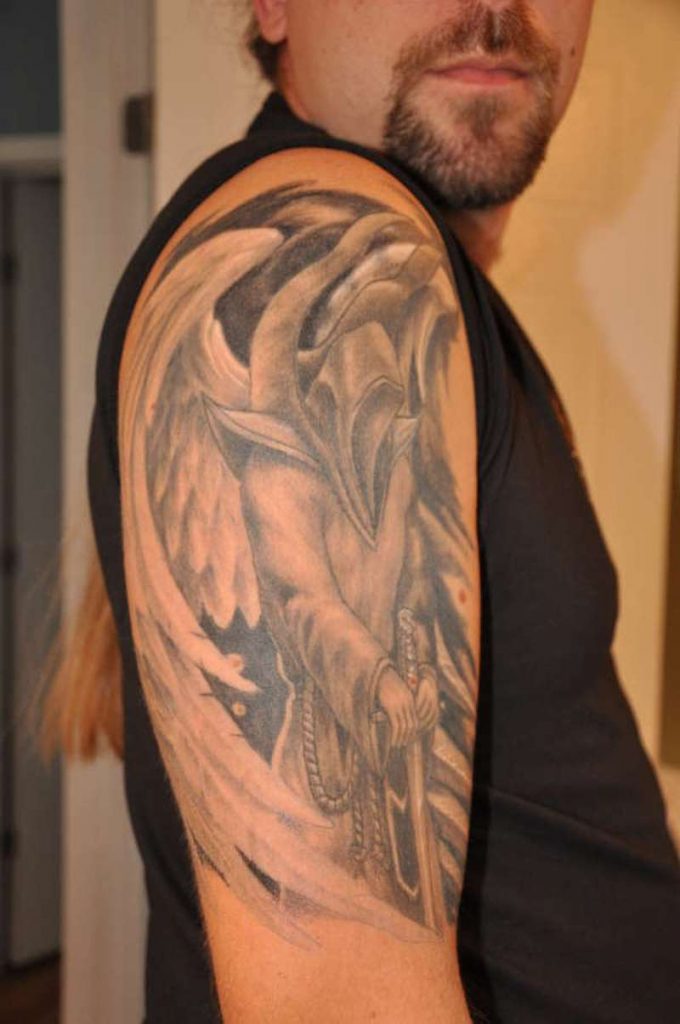 Most people perceive angels as a symbol of happiness, protection, guidance, love, and overall positivity. However, angel tattoos may also represent something more somber. A famous example of this is the dark angel. Many see dark angels as the opposite of an angel of light. These were once holy beings banished from heaven and often represent negativity, bringing darkness to a person's life. If you're struggling with emotional turmoil and mental issues, a dark angel tattoo can be a great way to acknowledge them.
It allows men to express their hardships through art, helping them show the world that they're still here and are thriving.
17. Gothic Angel Tattoo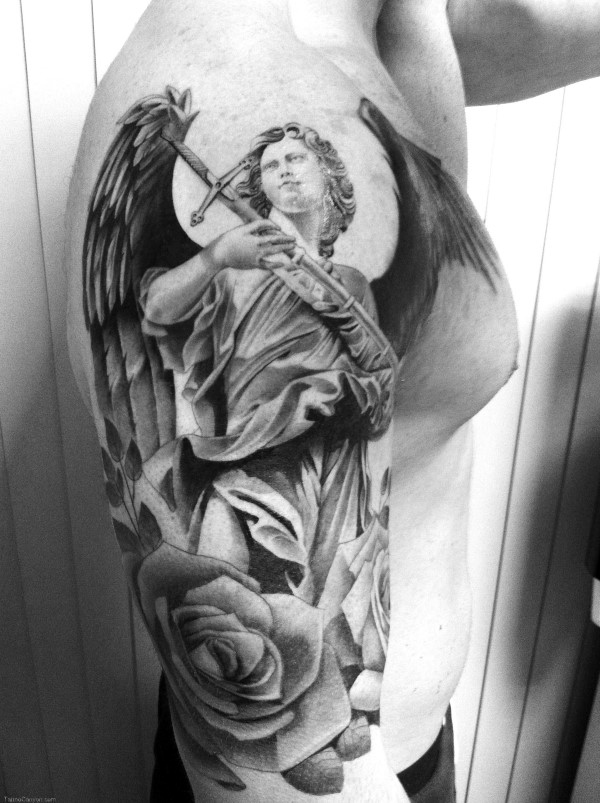 For men looking for something unique while still portraying faithfulness, engrave yourself with Gothic angel tattoos. A few of the most elegant Gothic-theme tattoos implement religious elements like Christian cemeteries, churches, and angels. Sometimes, these may also include darker symbols, like demons. Regardless, Gothic angel tattoos are an excellent option for men looking to implement concepts of ambiguity and the balance between good and evil into their body art.
Whether you're looking for a small piece or are considering an expansive tattoo, Gothic angel tattoos can help express your faith while making you look 'cool.'
18. Rib and Side Angel Tattoo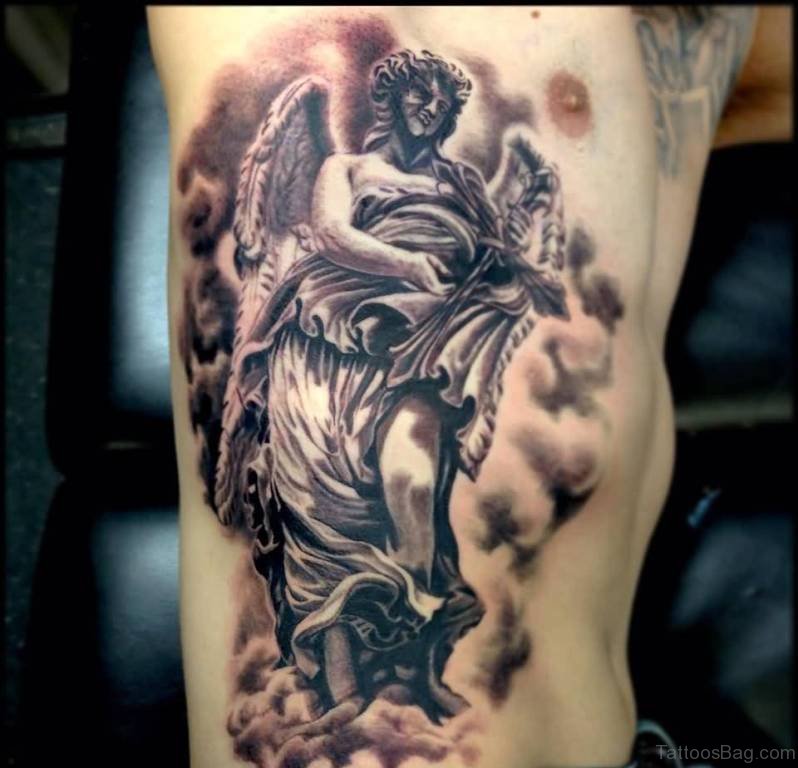 If you're looking to get an angel tattoo to embrace your religious beliefs more, but aren't keen on showing it off to the public, a rib and side angel tattoo is ideal. This tattoo concept is popular with more conservative men looking to get inked and is often created following the thoroughly detailed 'Chicano' tattoo style. There are several angel tattoos you can add to your chest. Just make sure to pick one that can fit the contour of your collar bone, ribs, and chest properly.
19. Memorial Angel Tattoo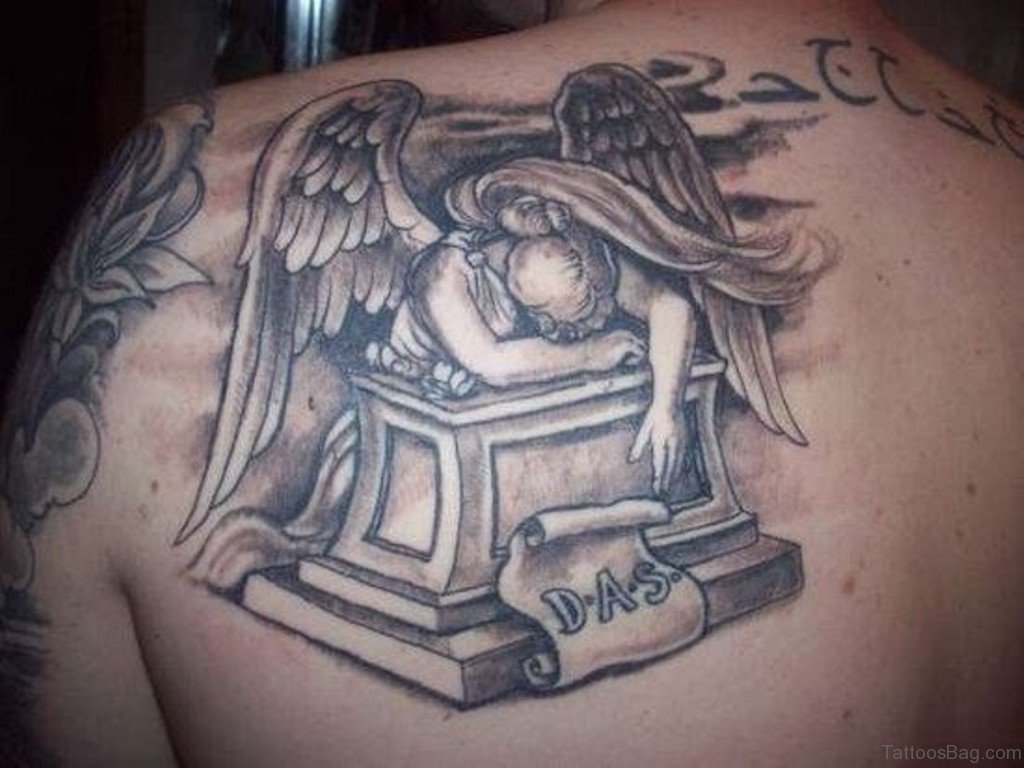 Angels are often associated with memorial pieces, and some choose to get them tattooed to honor a loved one who's passed. It gives the wearer the comfort of knowing that their deceased loved one is watching over them from heaven. Although some religious individuals may see tattoos are taboo, remember that body art is an excellent way to honor those vital in your life. Some men include the names of the person they've lost alongside 'important' dates and times. This piece offers solace to the wearer, reminding them that those who passed away continue to live on in their memory.
20. Angel Halo Tattoo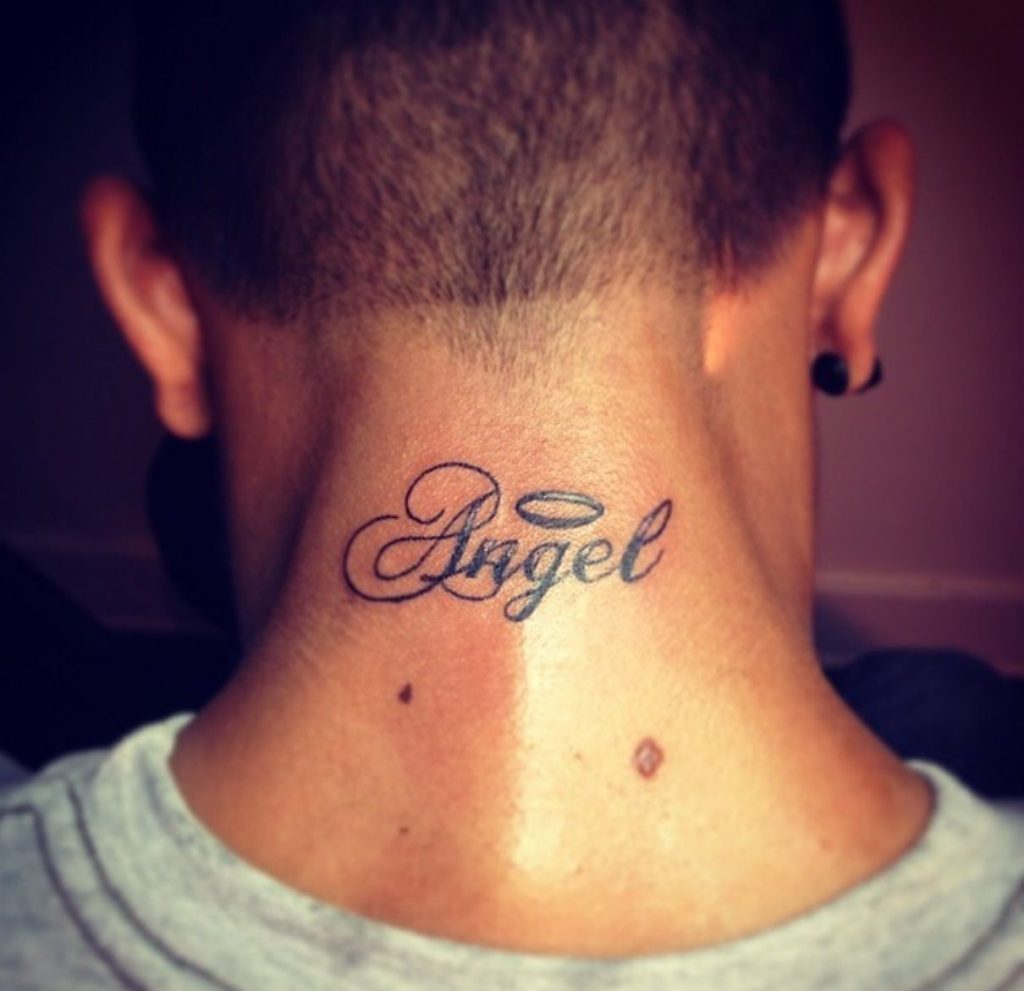 Angels are usually portrayed to wear halos, a crown made from light rays, indicating that they are holy beings. In tattoo form, the combination of traditional memorial inking alongside an angel's halo is a common way to represent a loved one's passing, giving the piece a deeper and more meaningful message. Although it's a generally simple design, it's incredibly impactful, making it a great tattoo choice for men.
21. Angel Rose Tattoo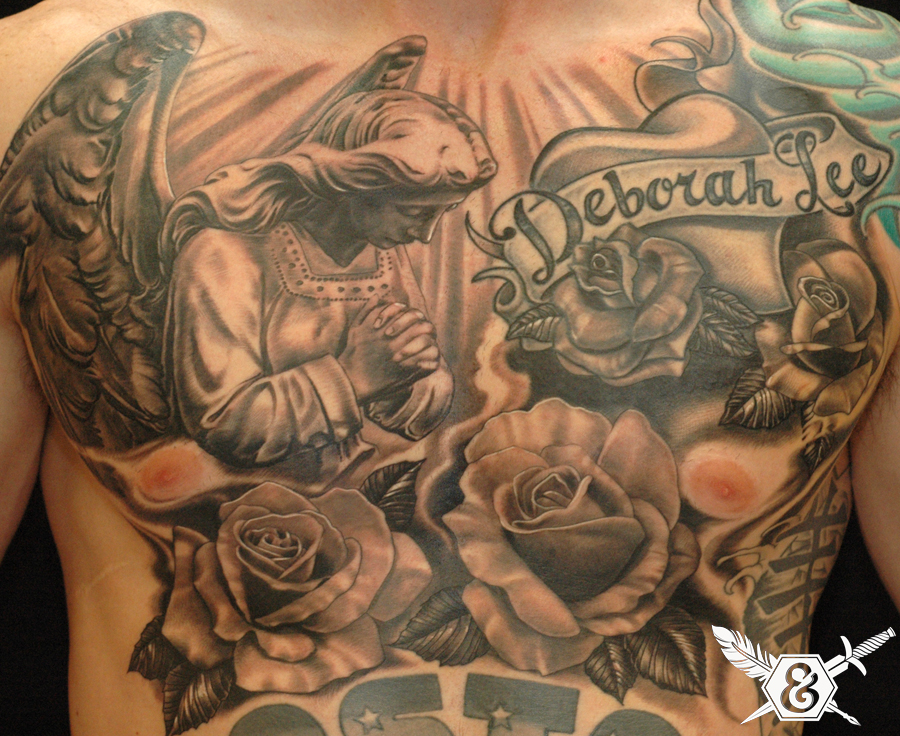 It's no secret that angels boast significant meanings by themselves, usually representing innocence, guidance, and God's love. However, they can also have various symbolic values when combined with other elements, such as roses. Roses are often linked with the balance of passion and pain and typically represent love and passion. Not only is this bloom rich in symbolism, but it also makes general body art pieces more eye-catching, and combining it with an angel tattoo is an excellent choice for men.
22. Angel Whispering in the Ear Tattoo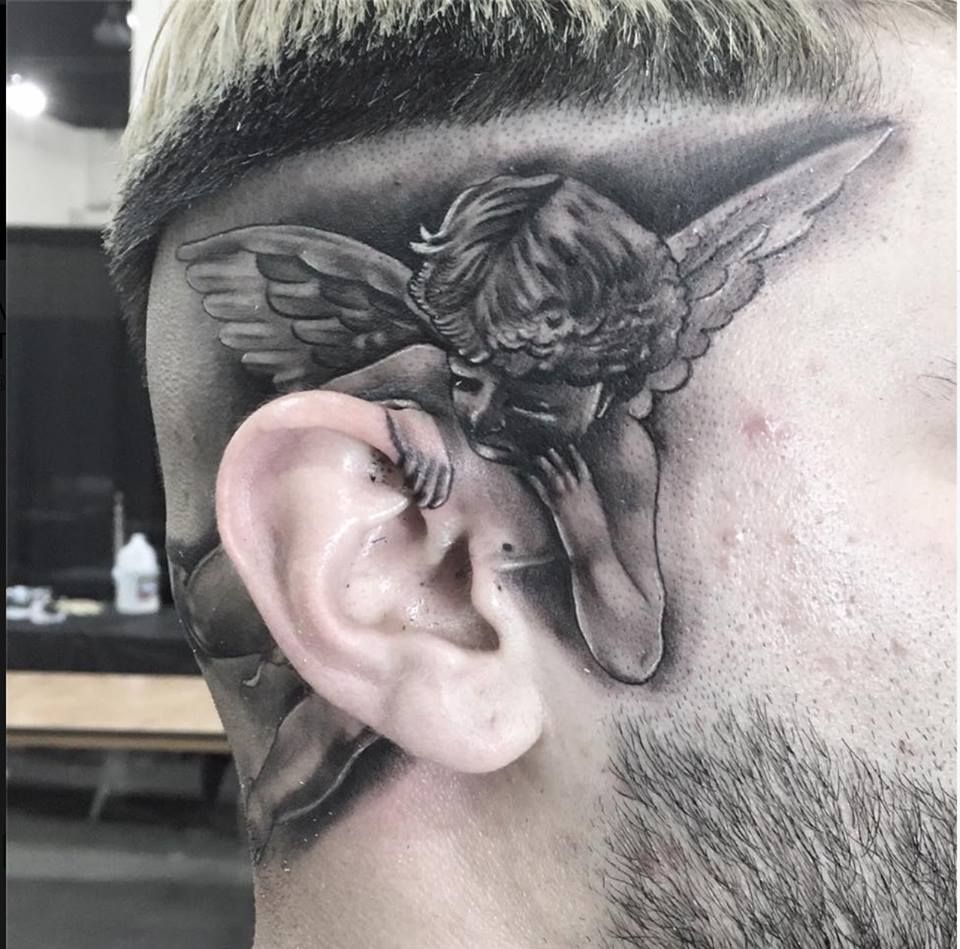 If you're looking for a noticeable tattoo design, the angel whispering in an ear design is an excellent choice. This image is often associated with knowledge and goodness as the angel whispering in the ear is believed to offer great advice. It's a fun piece that reminds the wearer that their decisions should be ethical and should help them stay on the path of righteousness. Although it'll depend on the wearer, this tattoo concept is often paired up with a demon, who supposedly 'encourages' the wearer to make poor choices.
Most men get this tattoo around their ear, adding more to the design's symbolic value and impact.
23. Tearful Angel Tattoo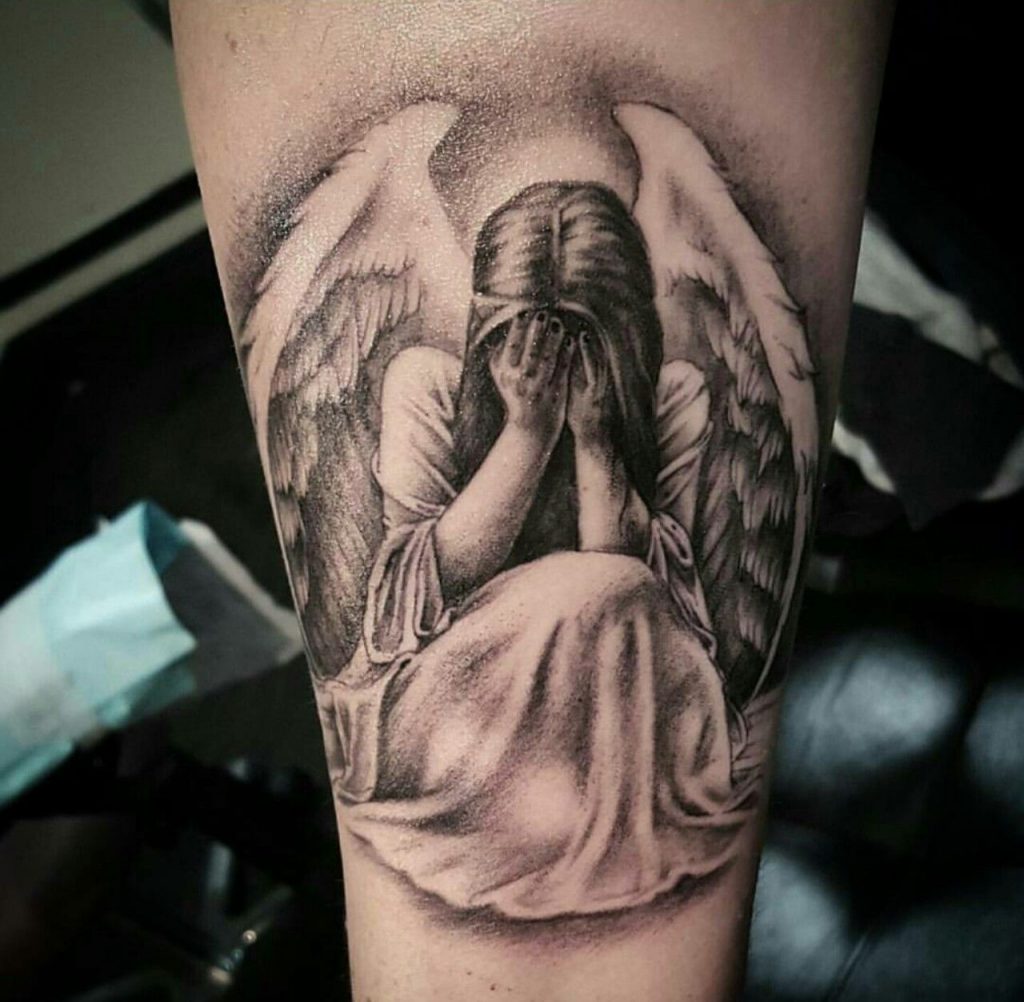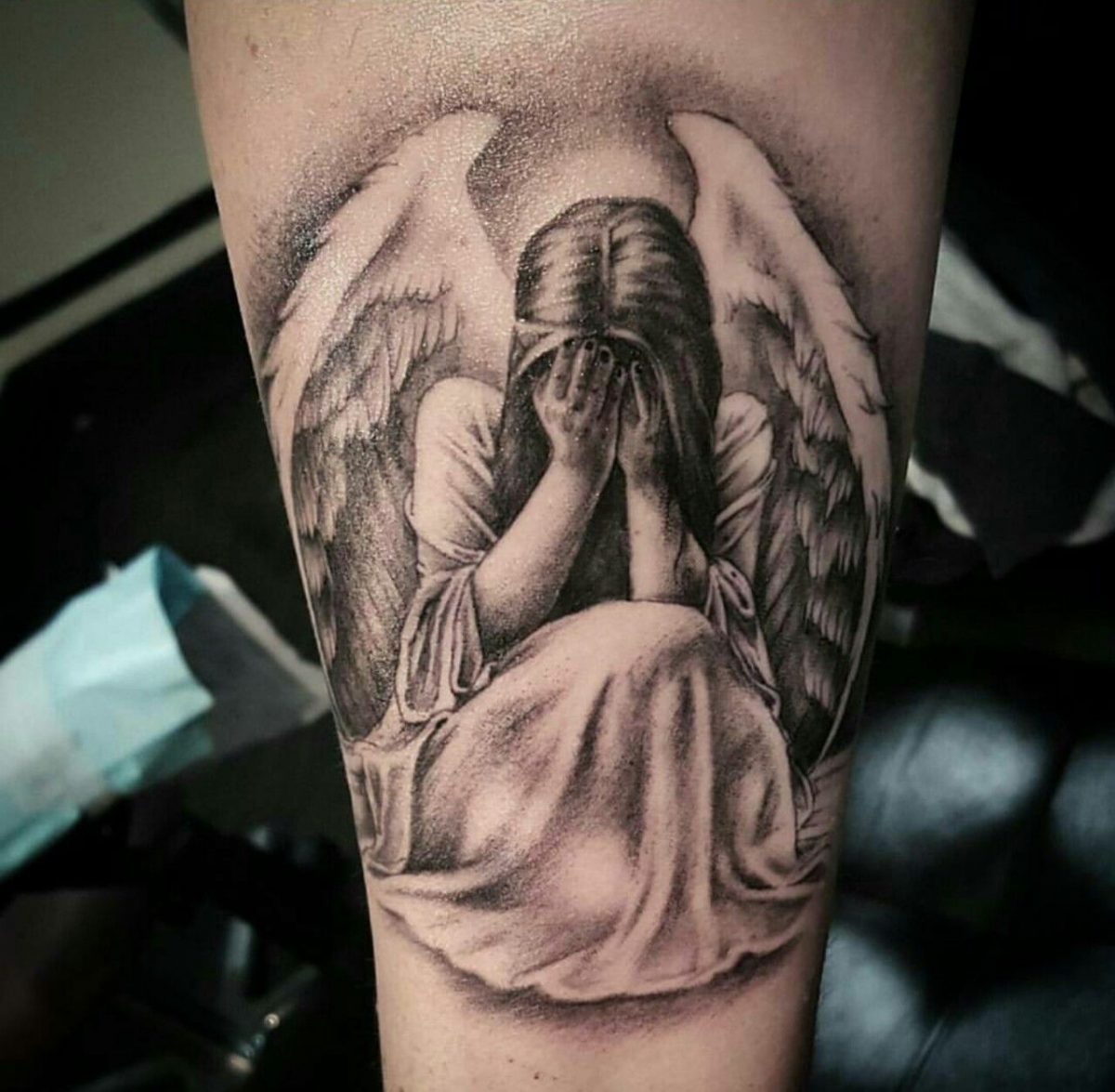 Although a crying angel may not sound great at first, having a teary-eyed angel on your body can also be a beautiful piece, thanks to its deep meaning. A crying angel tattoo may represent several things, such as grieving over the loss of a family member or boasting a more abstract symbolism. However, for some, the tattoo's focus is on the tears and not the angel, representing the angel weeping for the wearer.
24. Cross with Angel Wings Tattoo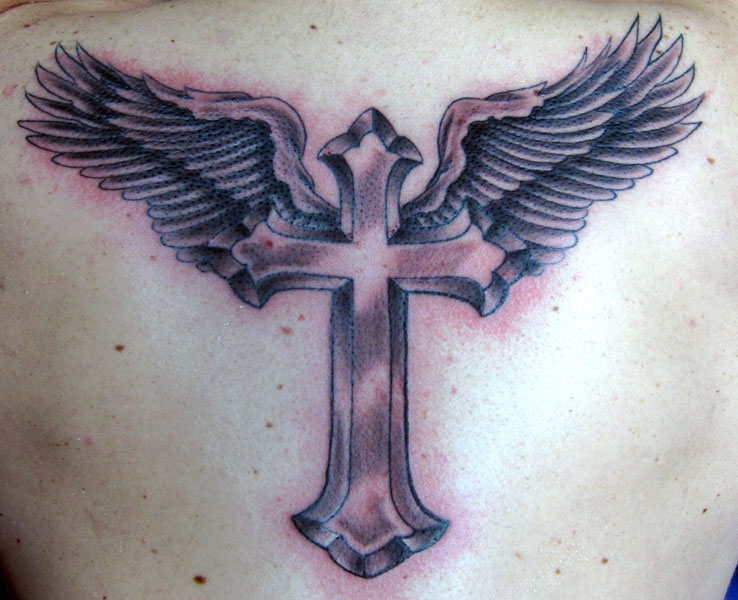 The cross with angel wings tattoo is a famous symbolic piece among individuals who devoted themselves to God. This tattoo concept may represent religious beliefs and the freedom to pick them. Some Christians get a cross with angel wings tattoo to celebrate the recovery of a sickly loved one, whether it's short- or long-term. It can also be inked as a memorial piece, honoring someone who has significantly influenced your life. However, regardless of how you want to interpret this tattoo design, one thing's for sure—and that it can make a powerful and lasting statement.
25. Minimalist Angel Tattoo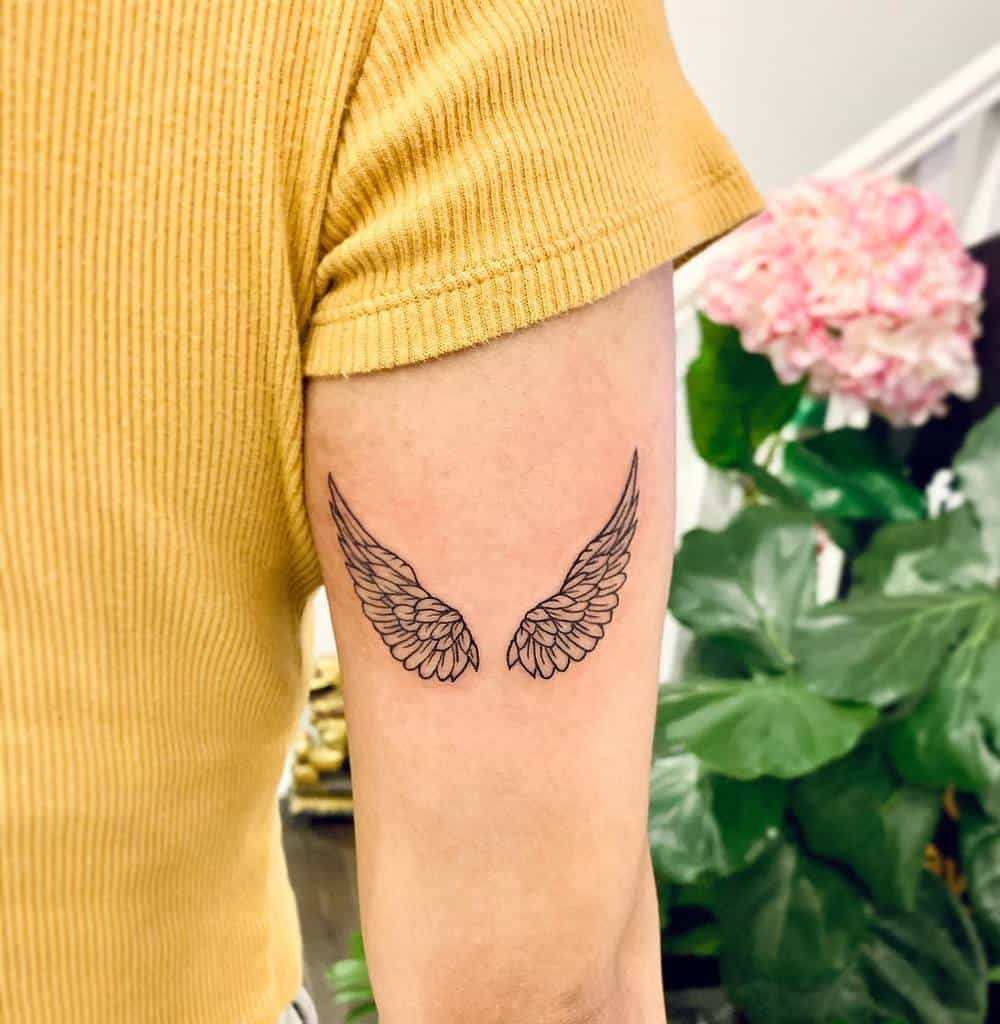 For men looking to get tattooed but on the more mellow side, a minimalistic angel tattoo is a great choice. Whether you find the beauty of the simple things in life or have an overall carefree attitude, getting a minimalistic angel tattoo is ideal. These pieces are often not designed with complex and intricate details and are usually small-scale. A 'simple' tattoo focuses on the piece's essential elements. These inkings usually forgo shading, making the actual art piece uncomplicated while retaining its substantial symbolic value. 
26. Angel Number Tattoo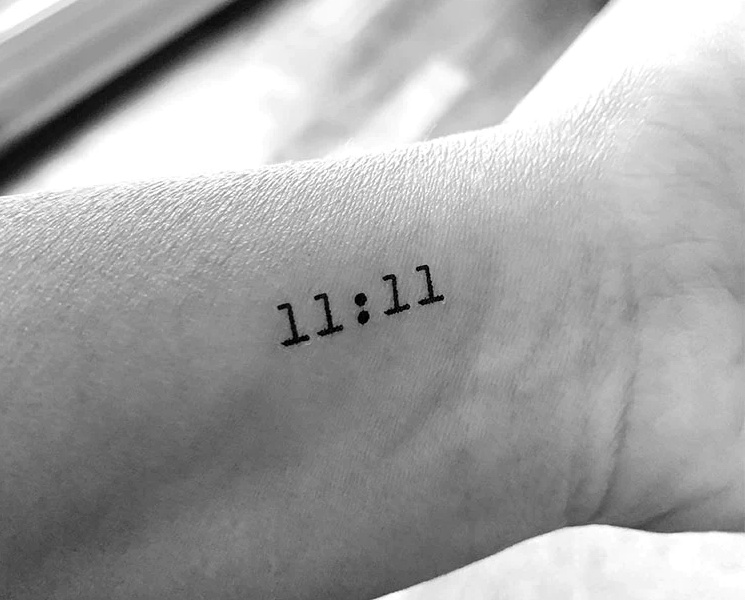 Angel numbers are special numbers that are believed to be signs from the angels. They are thought to be significant because they are often repeated in sequence or appear at significant moments in our lives. Some examples of popular angel numbers include repeating numbers such as 222, 444, 777 and so forth, but there are actually lots of different angel numbers that carry meaning.
FAQ
What do angel tattoos mean?
An angel is a messenger of God, and is tightly bound with a person's spirituality. Angel tattoos can represent a person's religious beliefs, but these can also represent earthly sentiments, romantic love, deep anger, or even personal doubt.
Where is the best place to put an angel tattoo?
The most obvious choice would be the chest or the arms. Although there are angel tattoos on the thighs, the shoulder, shoulder blade, side of the rib and the thighs.
What are angel number tattoos?
Angel numbers are special numbers that are believed to be signs from the angels. They are thought to be significant because they are often repeated in sequence or appear at significant moments in our lives. Some people get these numbers tattooed because of their deep meaning and symbolism.
You May Also Like