Sleeve tattoos are a fantastic option for men who want to cover their entire arm in body art. They are a great choice for the bold and brave who want to make a statement. And perhaps most true of all when it comes to covering your arm in ink is this: the bigger, the better.
1. Full Sleeve Tattoo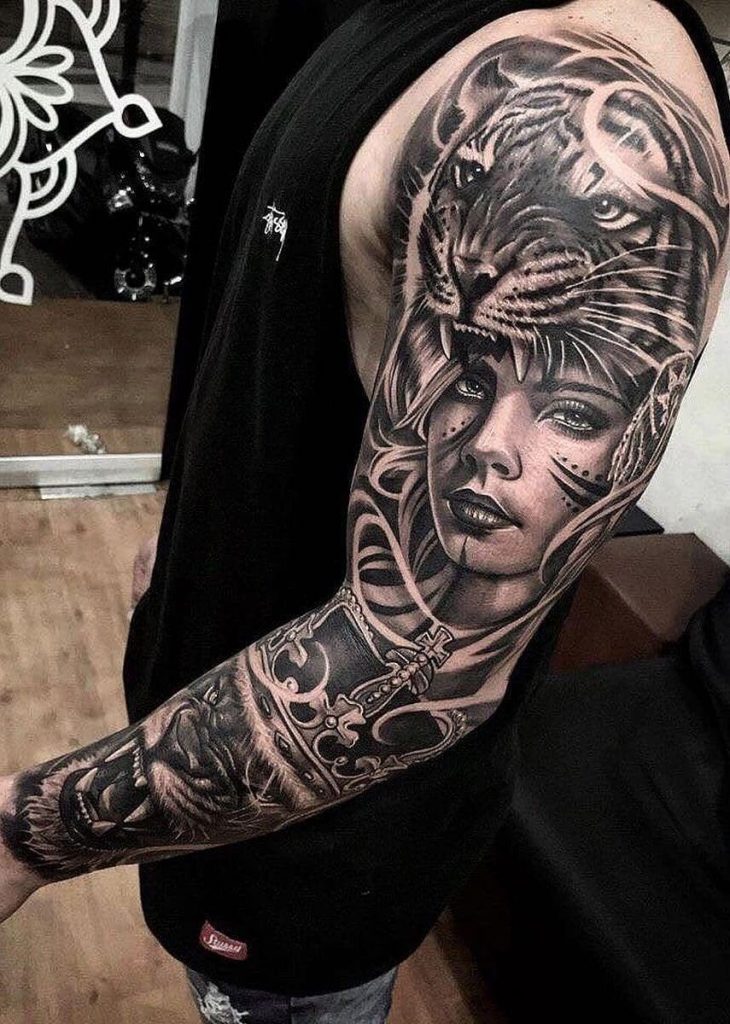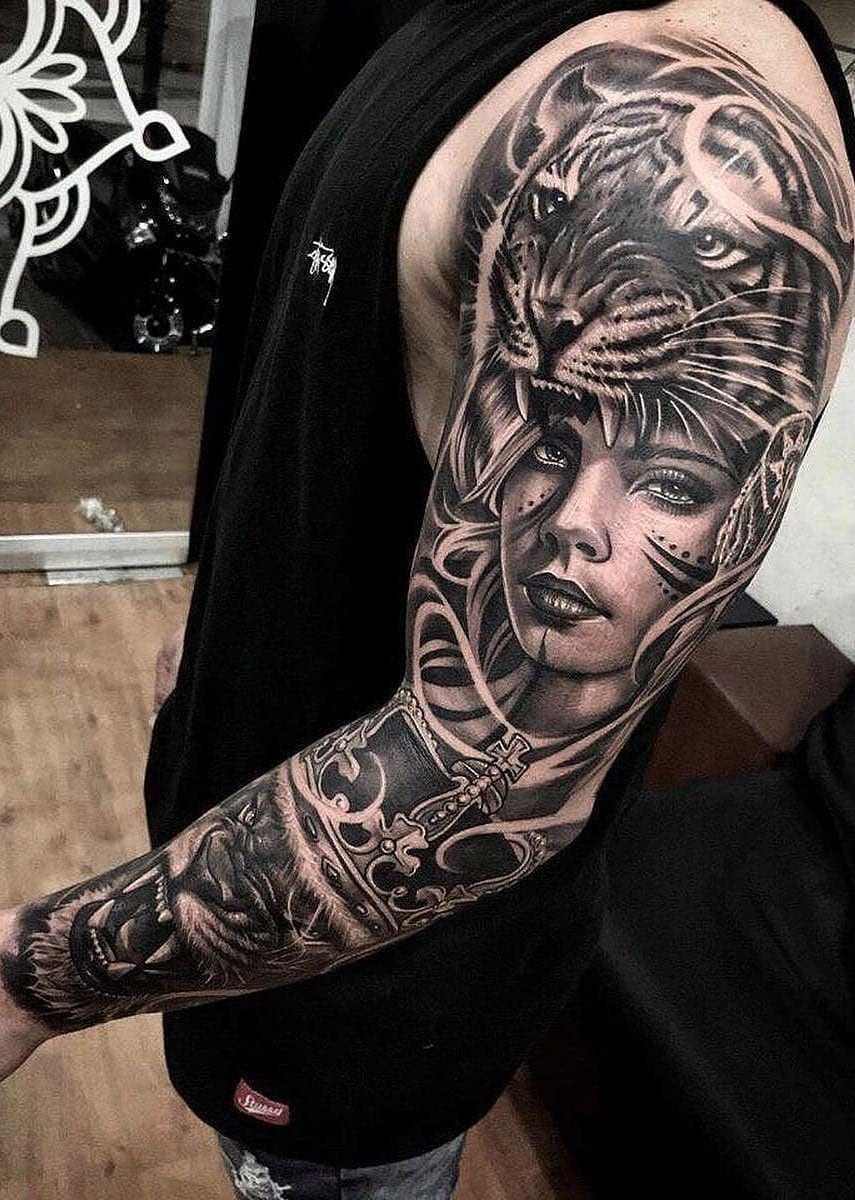 You can never go wrong with full sleeve tattoos. From nature themes to traditional back ink designs, you have many choices. Regardless of the style, full sleeve tattoos let your personality shine through art. Full sleeve tattoos have become a popular choice among men. It allows them to keep a piece of artwork with them at all times. 
2. Half Sleeve Tattoo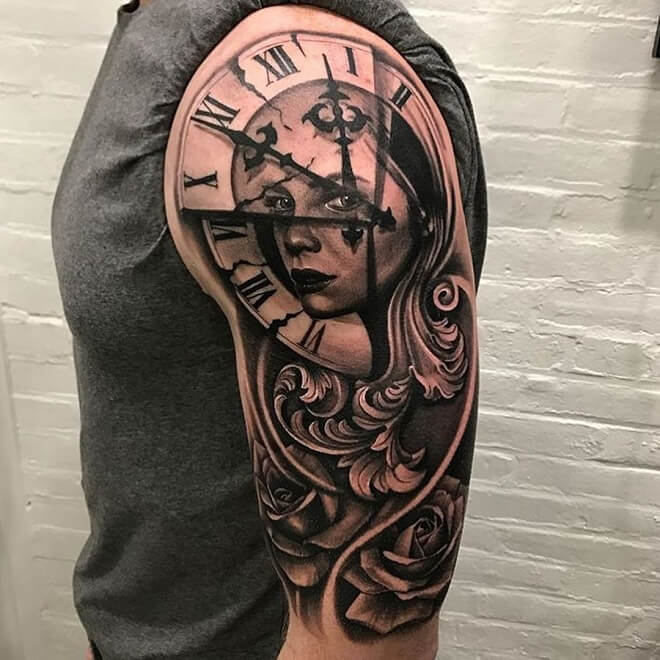 Sometimes, you don't have to go all the way to impress a crowd. That's why half sleeve tattoos are ideal for men who aren't keen on going all out. Half sleeves are perfect for men who want to conceal their artwork but aren't afraid to show it off when the time is right. It's best to choose the upper half of the arm for easy concealing. Meanwhile, go for the bottom half if you want the sleeve to creep onto your hands and fingers. 
3. Quarter Sleeve Tattoo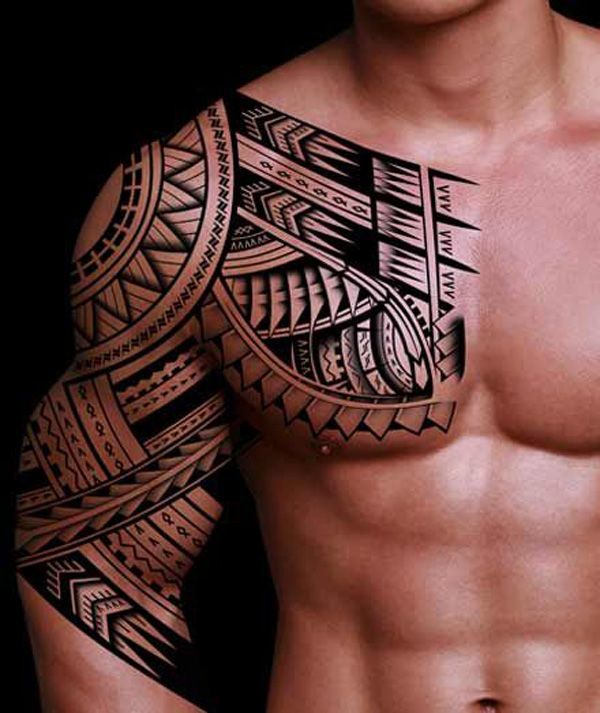 If half and full sleeves are too extensive for you, consider a quarter sleeve tattoo. These are smaller designs that begin along the upper arms and stop mid-bicep. You can also start at the wrist and stop mid-forearm. Besides their size, what makes quarter sleeve tattoos unique is their discreteness. You'll still get to enjoy complete and detailed designs. But this time, it's more concealable. So you can show or cover the tattoo when you want to. Quarter sleeve tattoos are great for men contemplating getting a full sleeve in the future.
4. Skull Sleeve Tattoo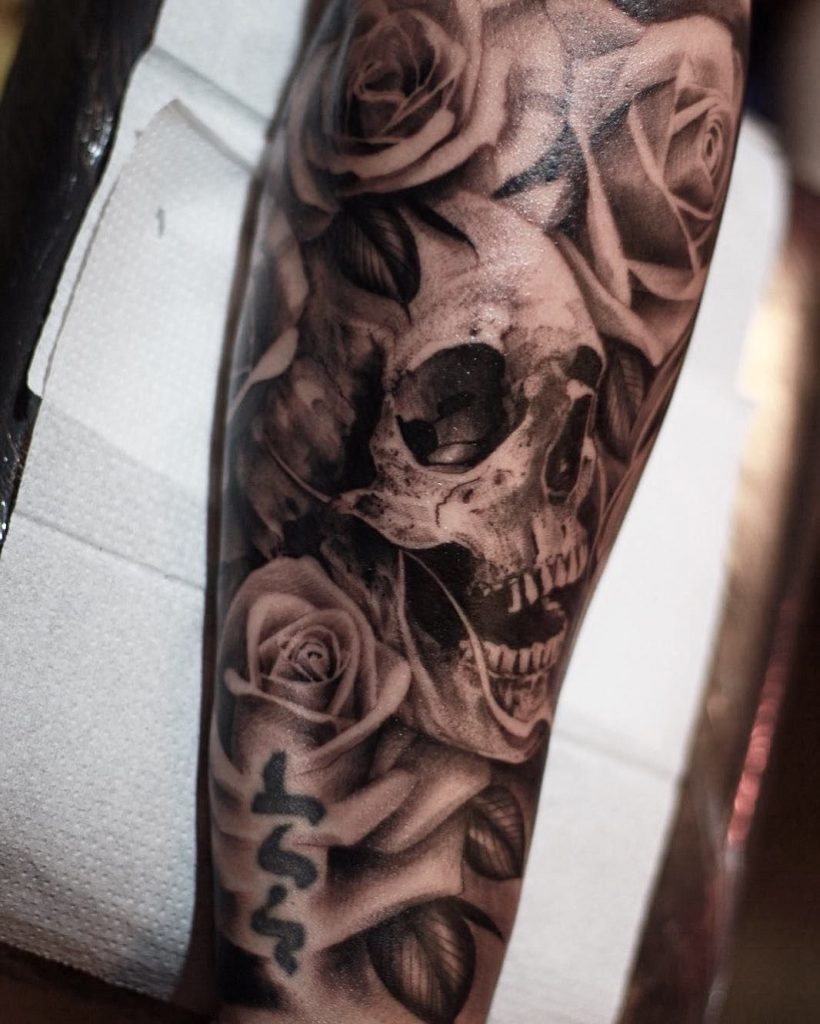 Skulls are a popular tattoo motif for men, thanks to their cool appearance and symbolism. Skull sleeve tattoos usually have a skull face with other elements chosen by the wearer. A common motif that men add to their skull sleeve tattoos is the rose. While the skull represents death, the rose symbolizes love and beauty. Together, they represent the struggle in life between life and death, good and evil. 
5. Flower Sleeve Tattoo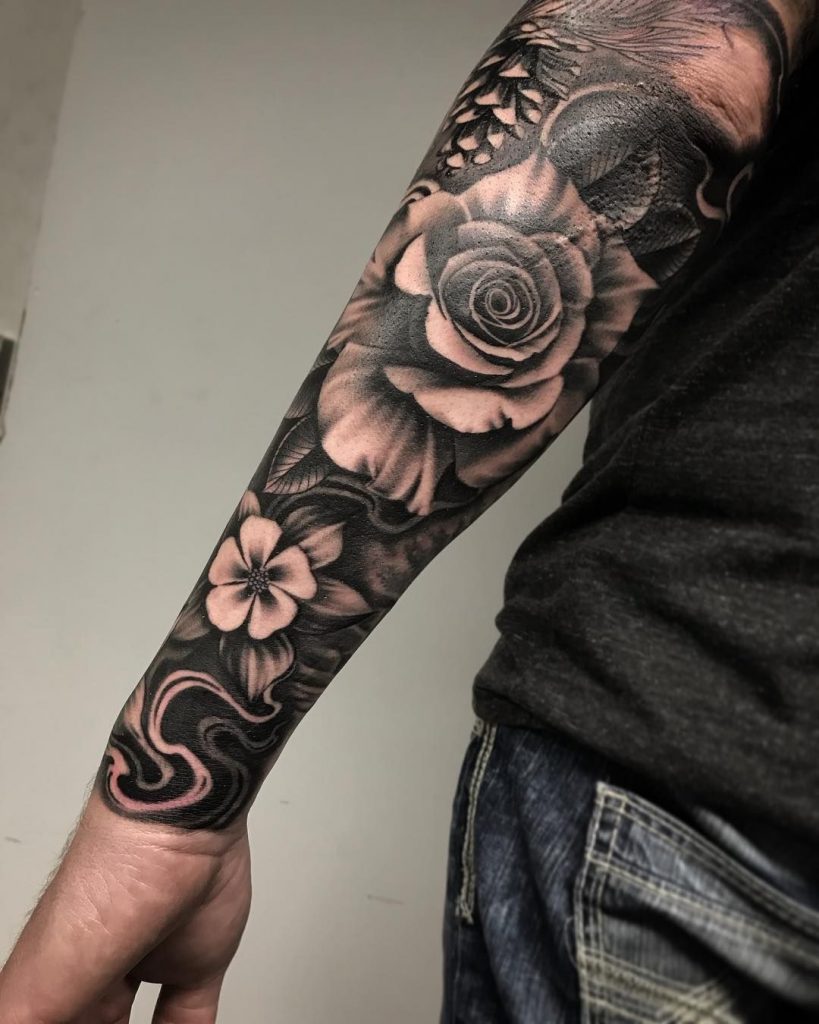 Although flower tattoos are more common among women, they're also popular for men. Flowers symbolize life, love and beauty. Different flowers can represent other things, for example, the snapdragon flower represents strength. There are a huge variety of different flowers and styles to choose from for your sleeve tattoo concept.
6. Dragon Sleeve Tattoo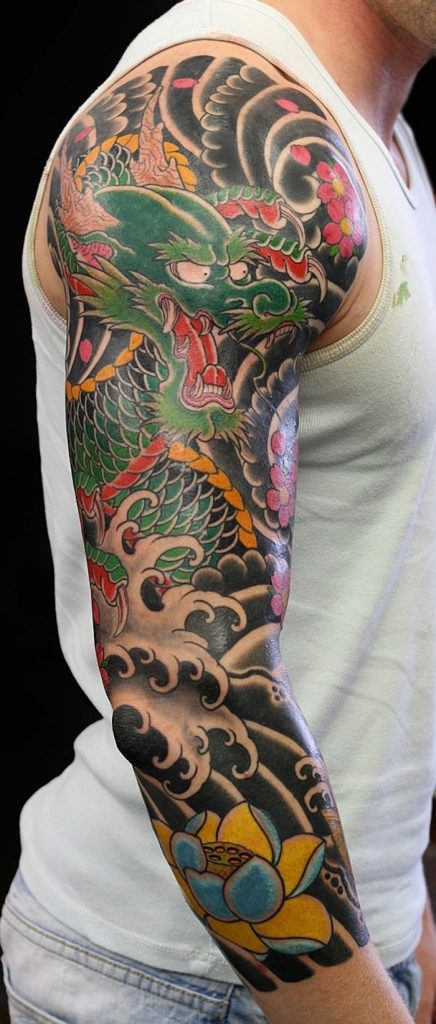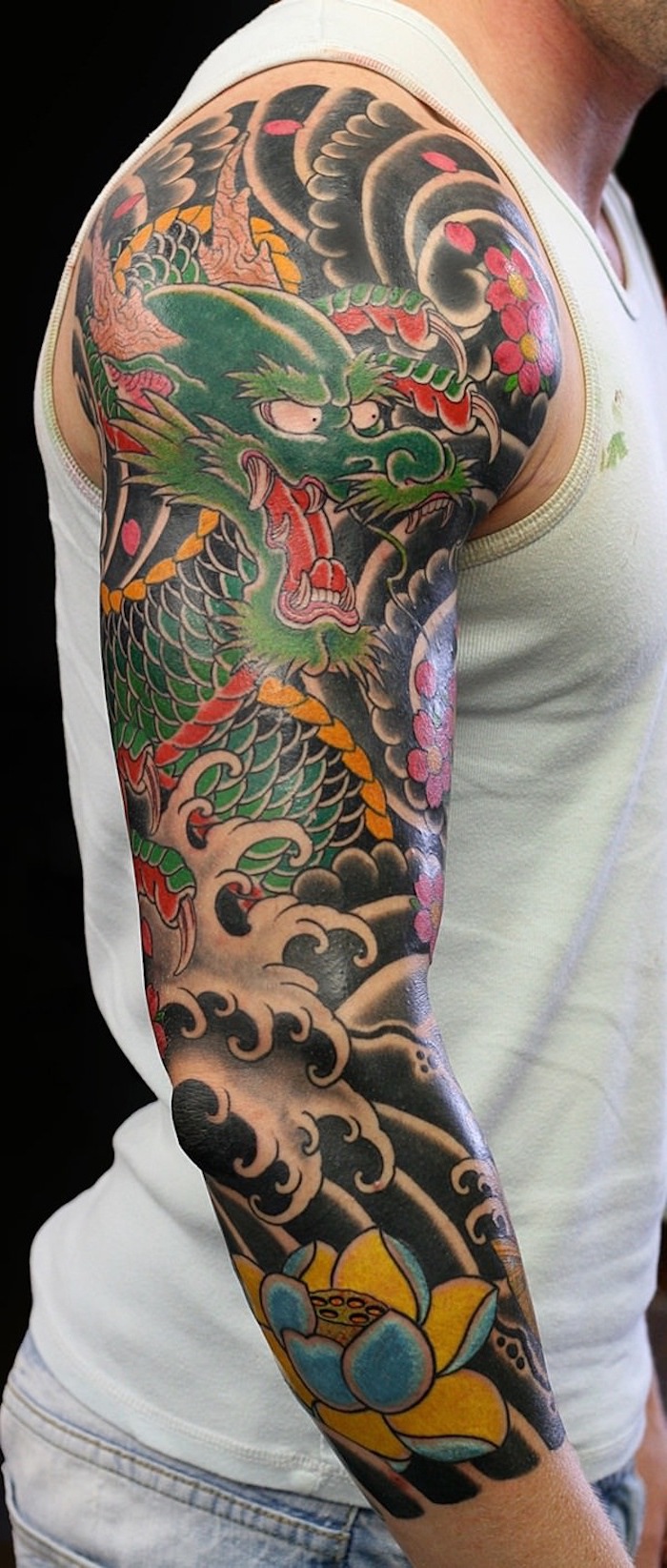 From Japanese-styled drakes to medieval fire dragons, there are many dragon sleeve designs to consider. Make them pop with color, or stick with traditional black ink for a simpler look. A dragon on your arm is a great way to show your more adventurous side. 
7. Viking Sleeve Tattoo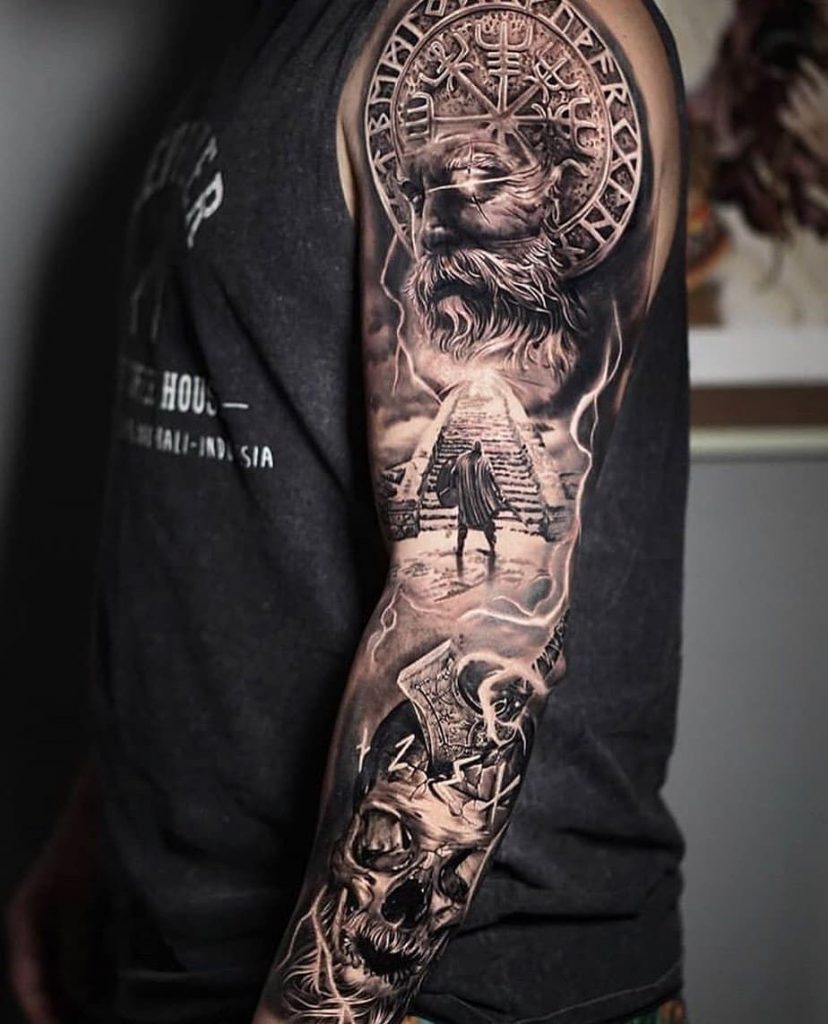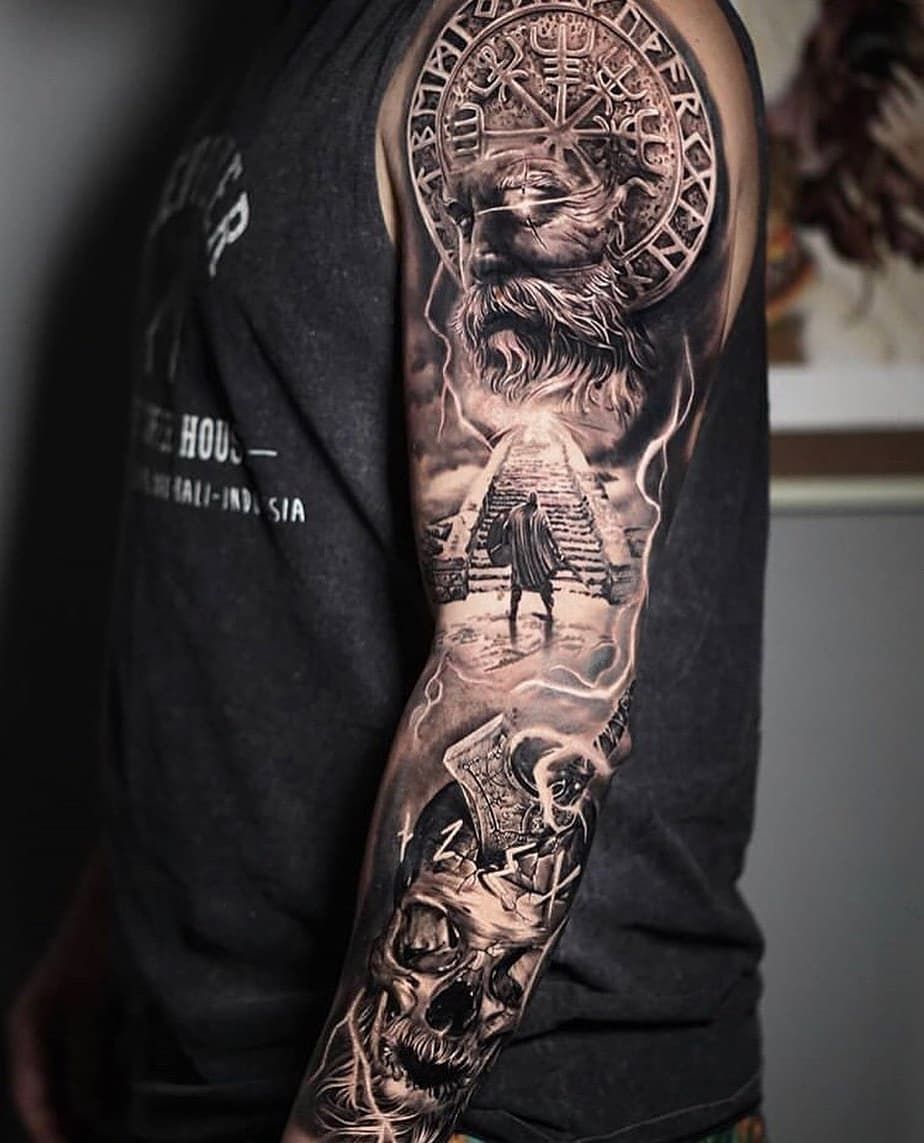 If you're of Nordic descent, you can make your Norse blood rush with a Viking-themed sleeve tattoo. Vikings are considered to be among the fiercest warriors of all time, making them a great design for men who want to embody that spirit. You can make the piece more meaningful by adding other Germanic designs, like skulls or sails. These designs look super as a full sleeve tattoo, so don't hesitate to go all out. 
8. Clock Sleeve Tattoo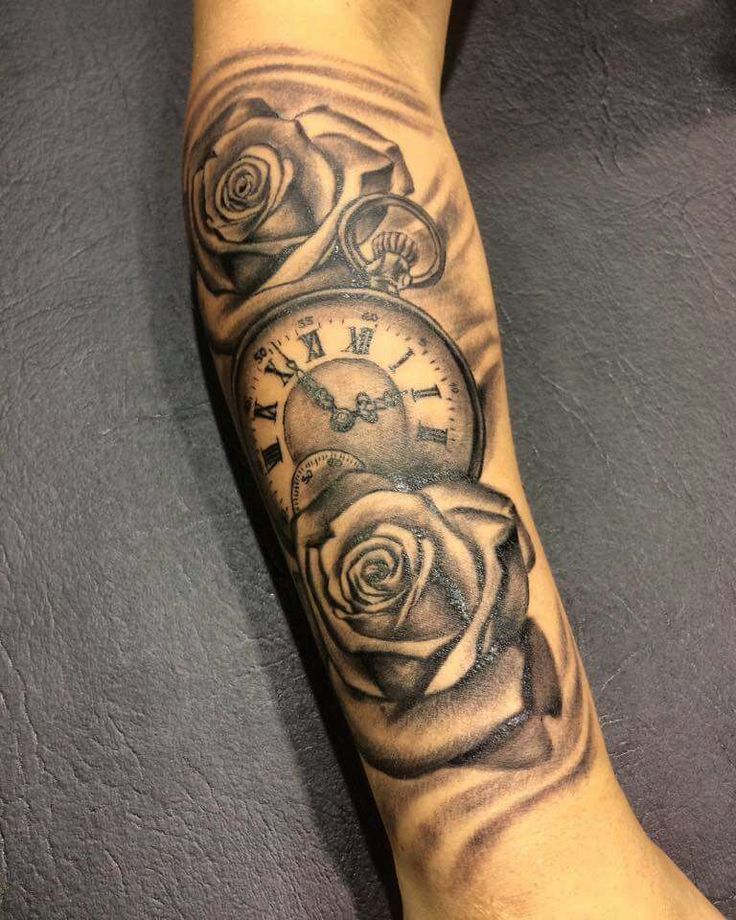 A clock sleeve tattoo is a powerful way to remind yourself and others that time is precious. Pick your favorite timepiece — it can be a grandfather clock, an old fashioned wristwatch or even a modern smartwatch. You can get creative by adding other motifs, such as a rose, to convey different ideas in one piece.
9. Religious Sleeve Tattoo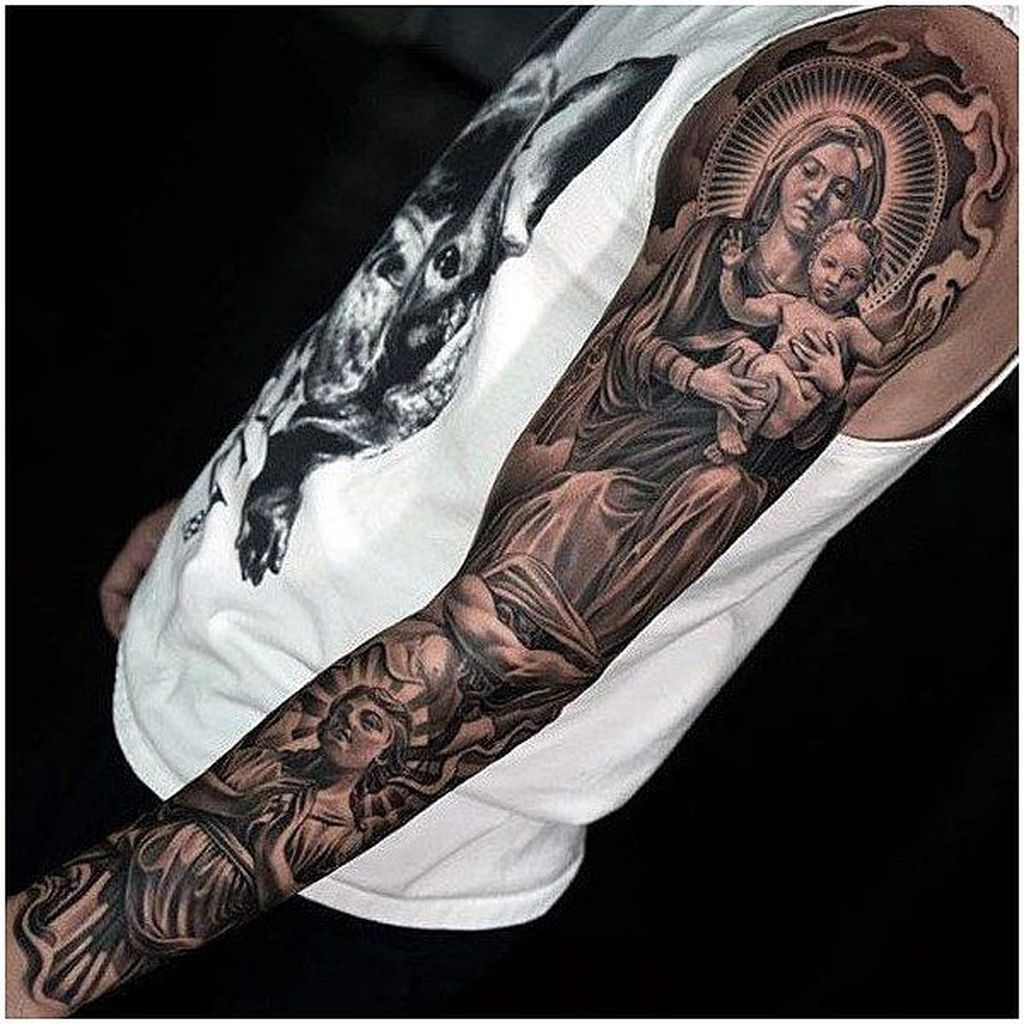 You can stray true and showcase your faith with a religious-themed sleeve tattoo. No matter what the religious symbol, they're bound to look great as a sleeve. For example, you can choose a simple cross or go all out with a photorealistic portrait. A tattoo style worth considering for men of faith. 
10. Wolf Sleeve Tattoo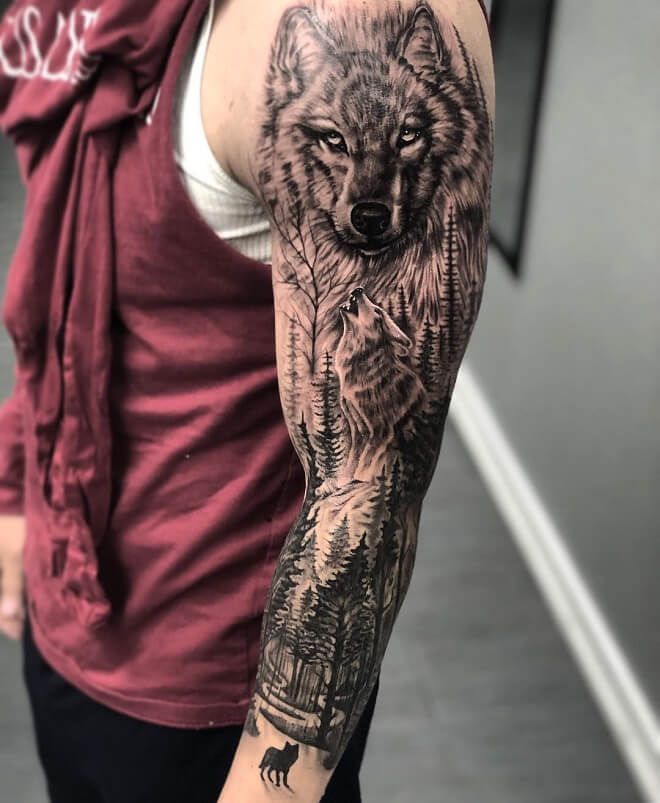 Wolves are the perfect tattoo motif for men who are wild at heart. One of the best ways to unleash your inner beast is by getting a wolf sleeve tattoo. These animals are often associated with power, loyalty, and wisdom. So besides expressing your wild side, wolf tattoos can show the world your strength. Make sure to find an artist familiar with animal tattoos.
11. Quote Half Sleeve Tattoo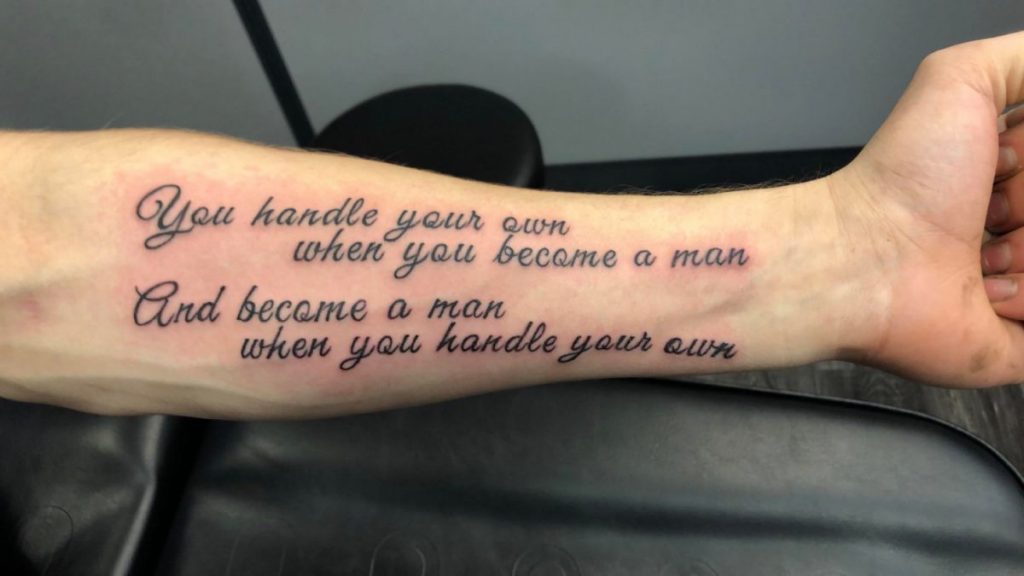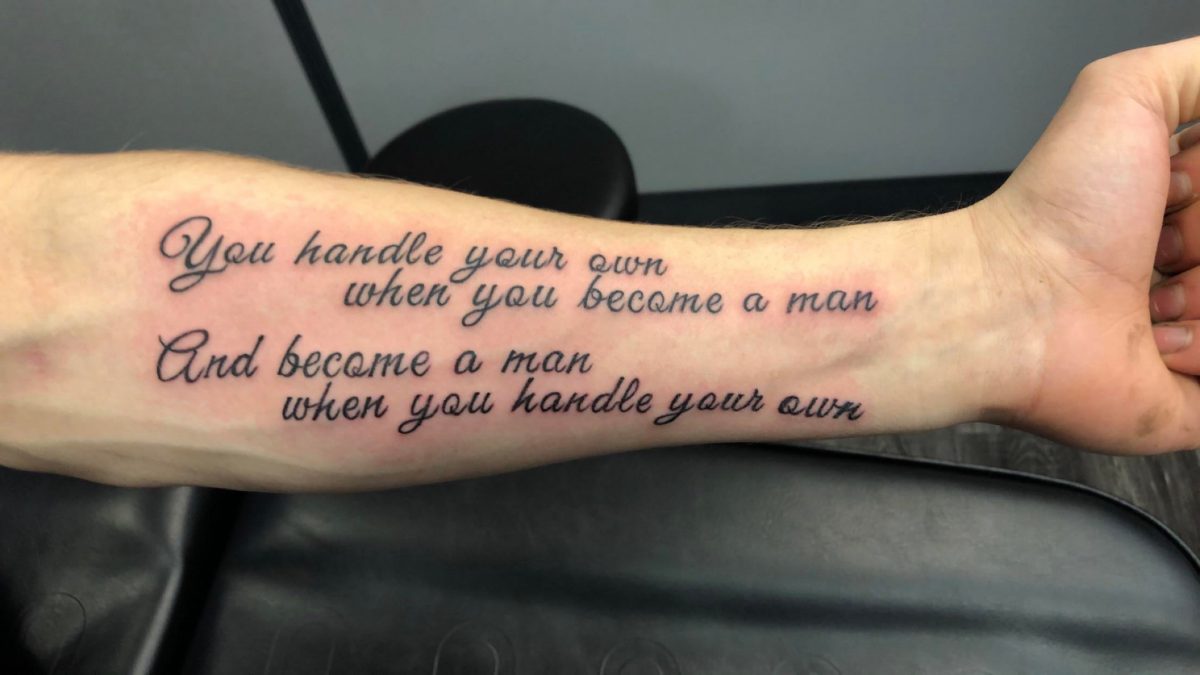 No matter the placement, tattoos look best when they showcase something meaningful. So if you're considering a half-sleeve design, why not make the most out of it and add a quote? It's best if the quote you choose resonates with your beliefs. Whether it's a name of a loved one or a lyric from your favorite song, your tattoo is sure to make an impact. 
12. Angel Sleeve Tattoo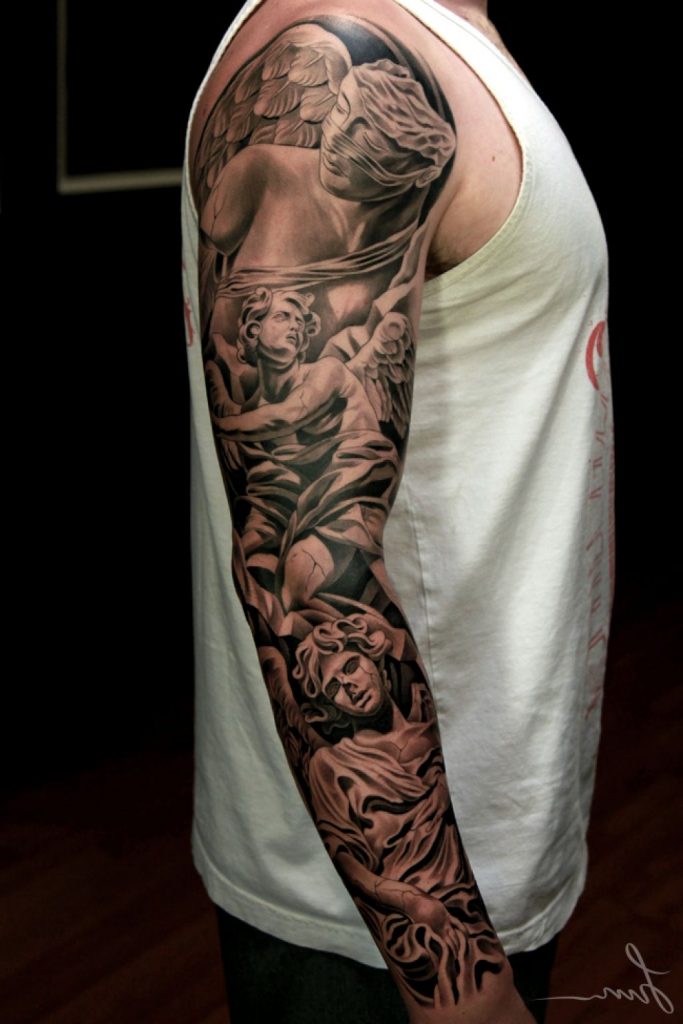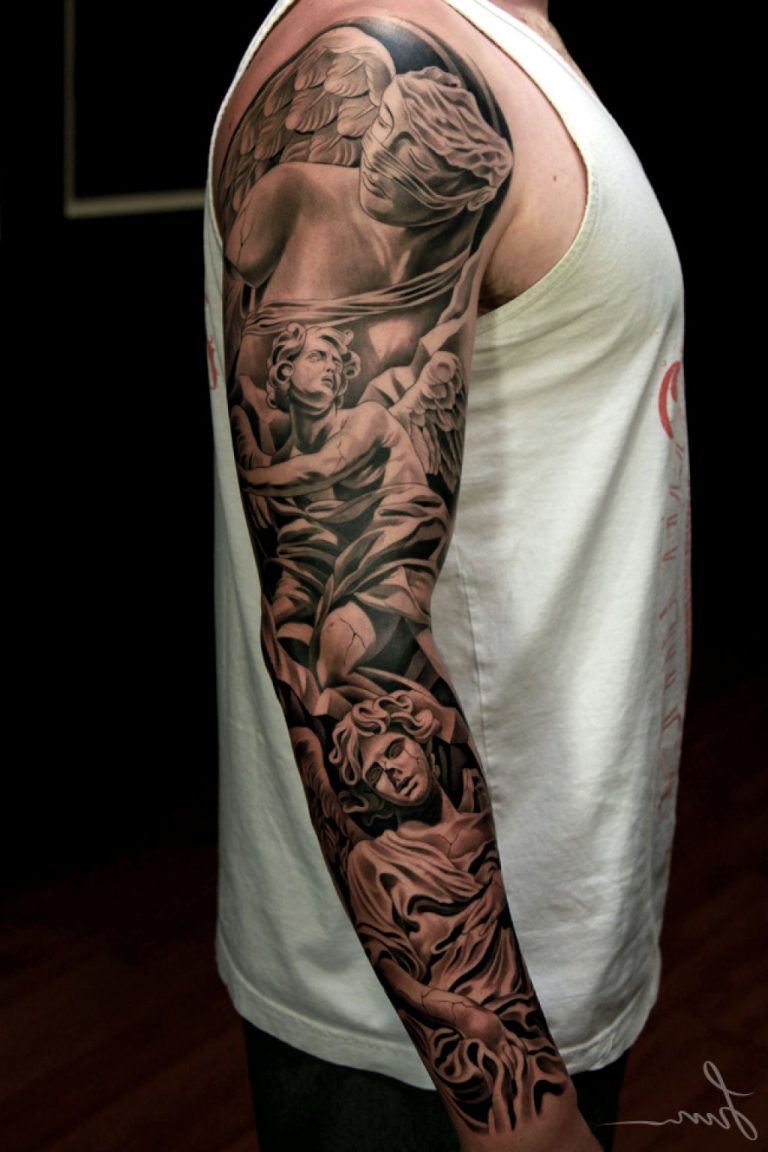 Angels are heavenly beings that represent purity and protection. You can have the angel tattoo reflect your faith by adding other divine elements like the cross. Or you can have sole angels on your sleeve tattoos, like a cherub sleeping or playing the harp. With numerous options, you'll find the perfect angel piece in no time.
13. Portrait Sleeve Tattoo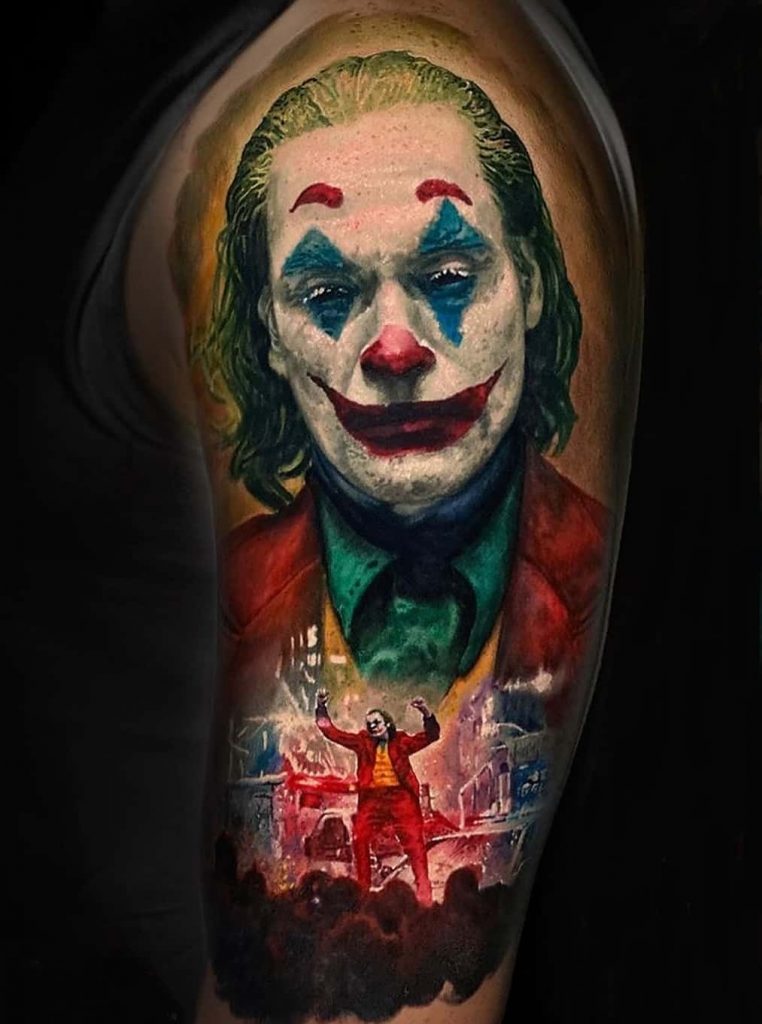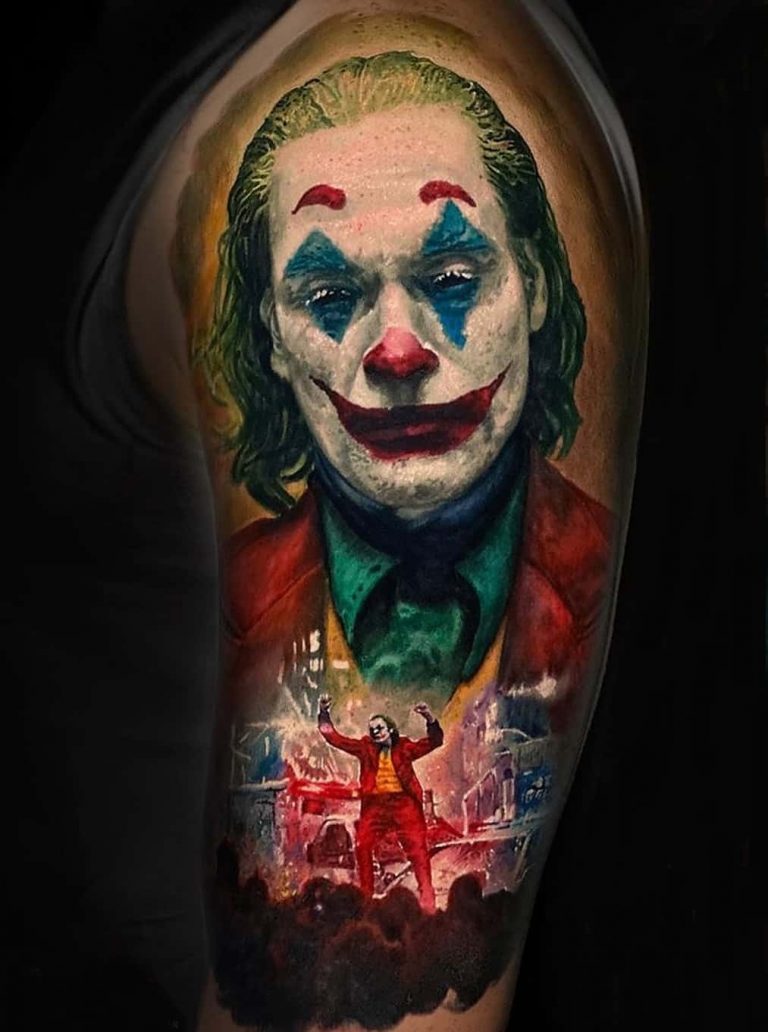 You can dedicate your arm to someone you love or adore by getting a portrait sleeve tattoo. It can be a portrait of a celebrity, family member, or partner. It's very important you choose an artist who has considerable experience inking portrait tattoos, as these require considerable skill. Ask to see examples of their previous work — if it's not to your liking, go somewhere else, otherwise you might end up with a bad portrait tattoo.
14. American Flag Sleeve Tattoo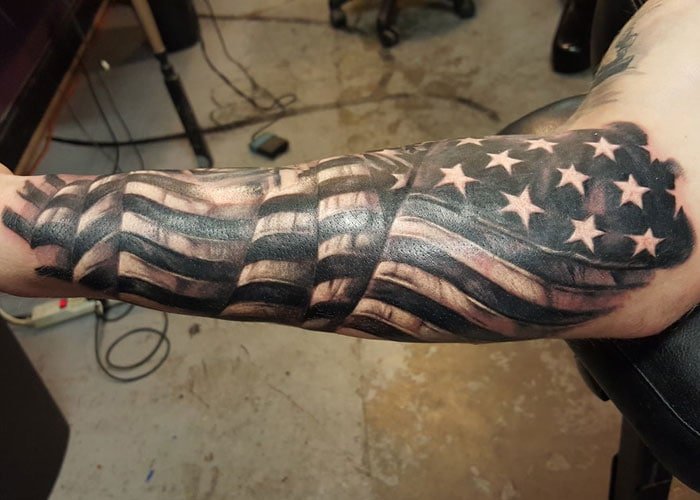 American men can show their love for their country by getting an American flag sleeve tattoo. After all, there's no greater symbol of liberty than the American flag. But you can also add other elements to the piece to make it unique to you. Popular elements for American flag sleeve tattoos are the bald eagle and Uncle Sam's hat. These arm tattoos are a powerful way to reveal your patriotism.
15. Cross Sleeve Tattoo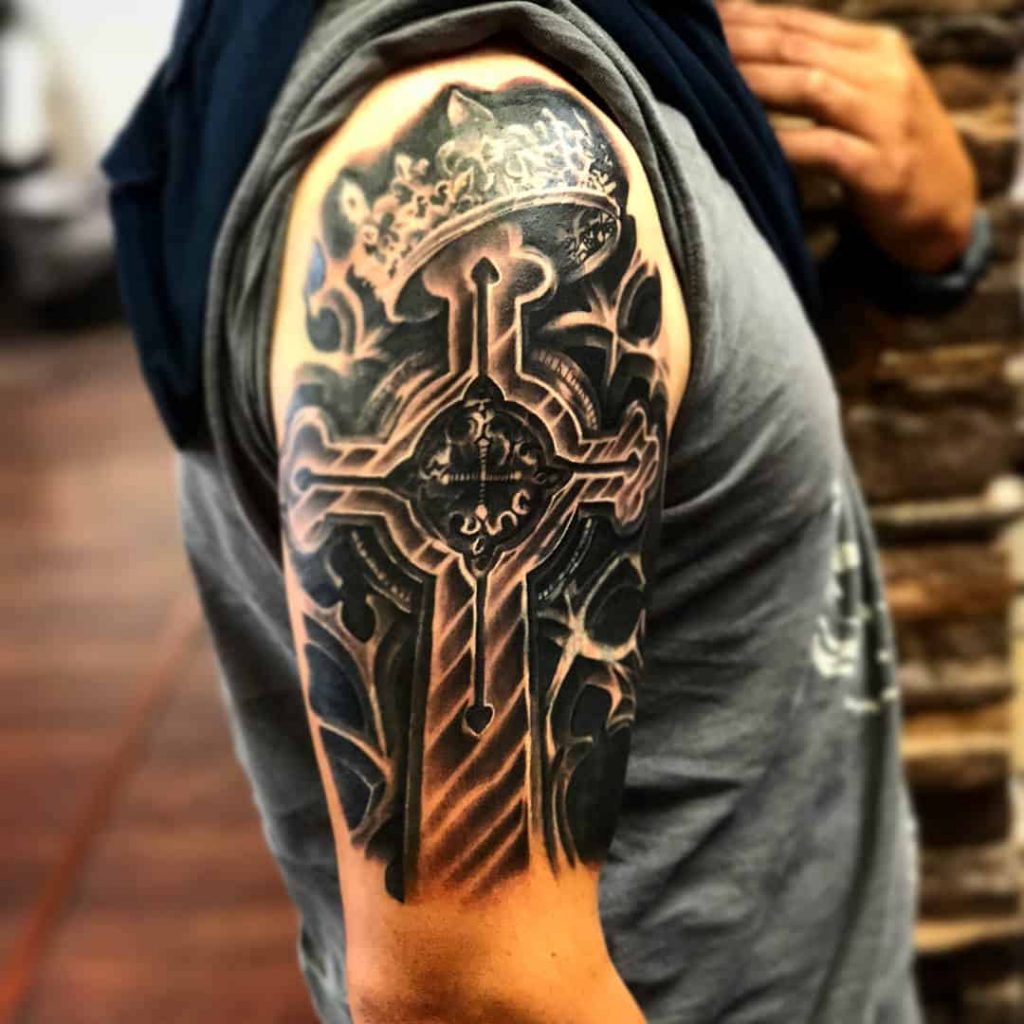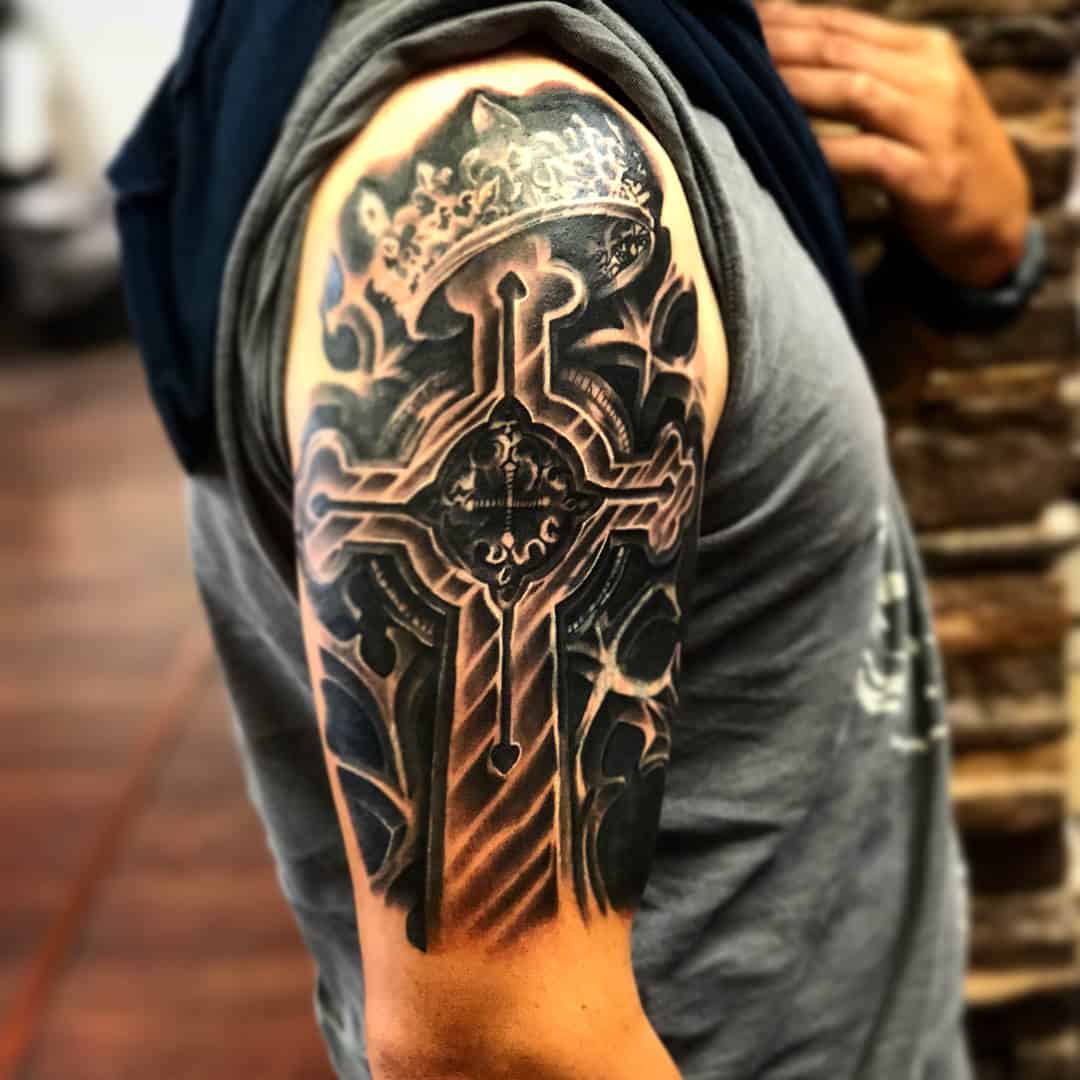 The holy cross is the most sacred symbol in Christianity – so tattooing it on your body will say a lot about how much your faith means to you. There are many ways to experiment with this design. Bring it to life with a 3D effect and combine it with a crown to show Jesus is King.
16. Music Sleeve Tattoo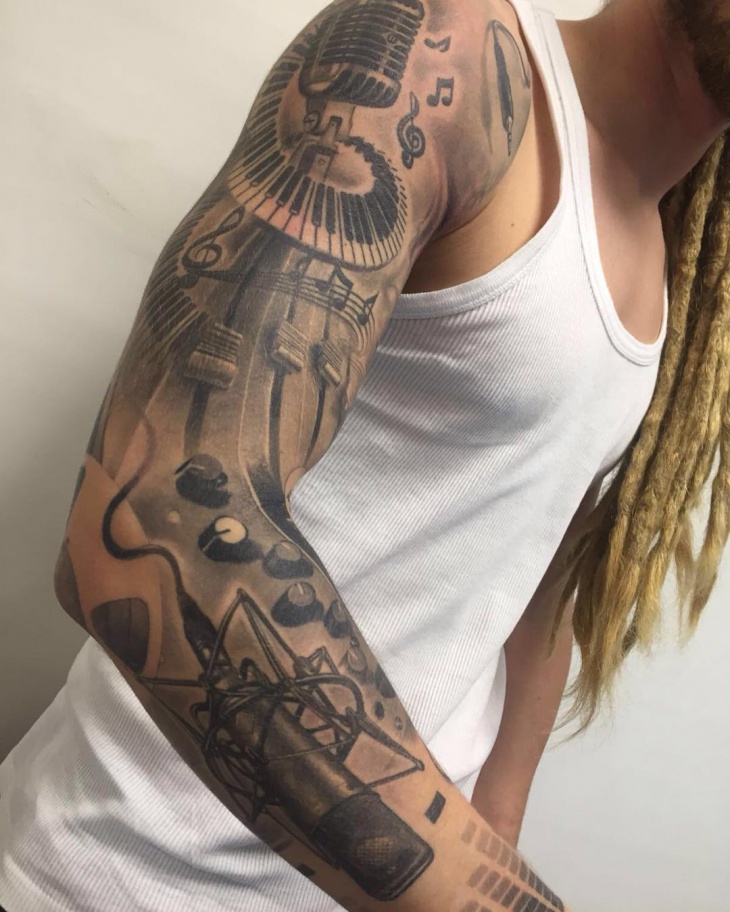 Feel the beat through your skin by getting a music-themed sleeve tattoo. From single treble clefs to complete symphonies, DJ decks to classical instruments, a music themed tattoo can reveal your taste in music as well as your skills as an artist.
17. Family Sleeve Tattoo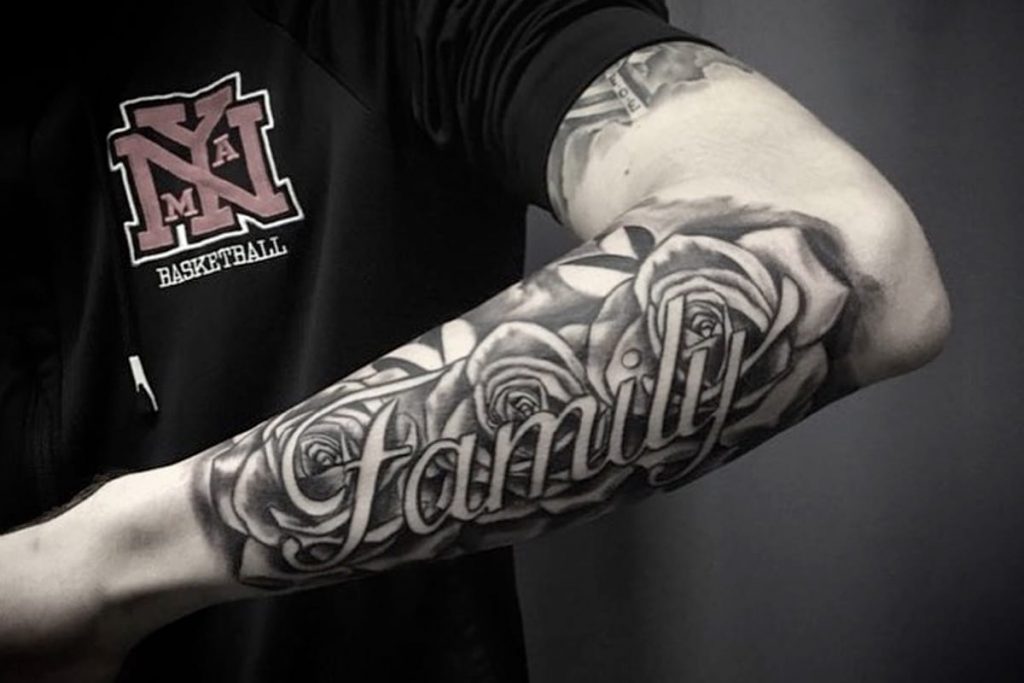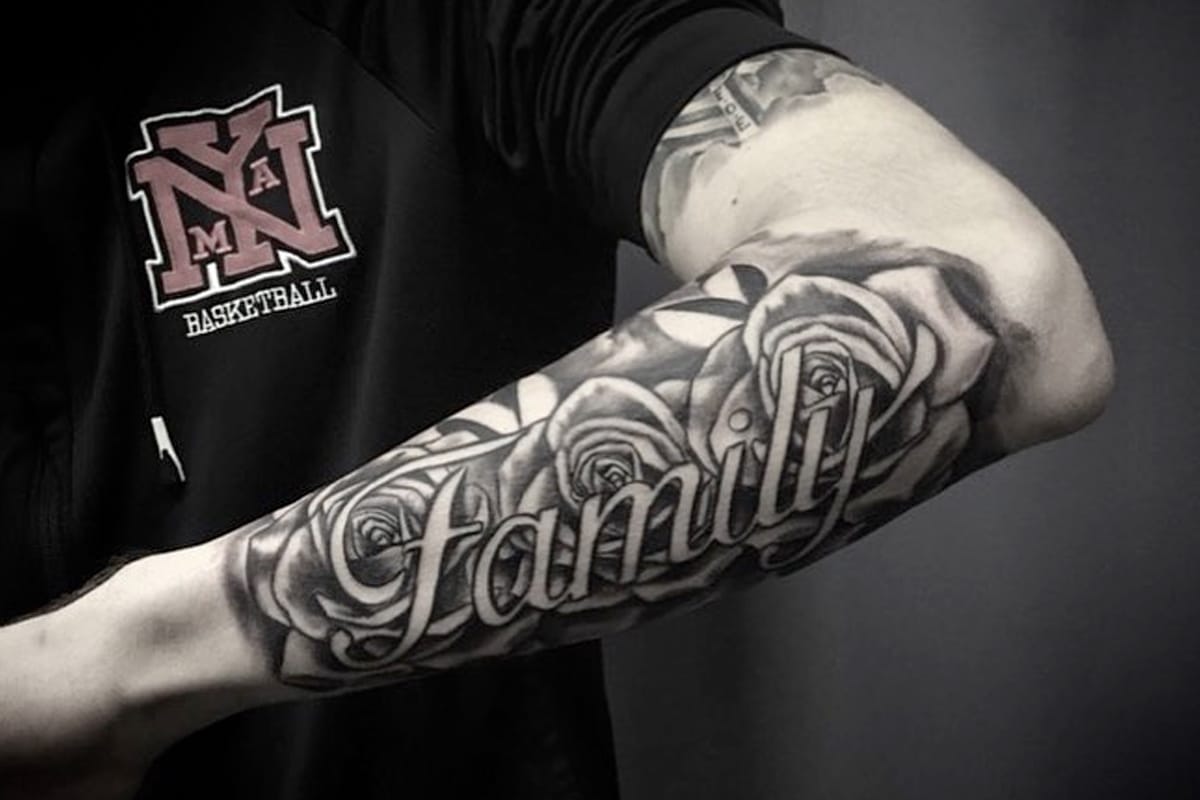 Celebrate and honor your family with a family sleeve tattoo. A great way to remind the wearer and others how important family is to everyone.
18. 3D Arrow Sleeve Tattoo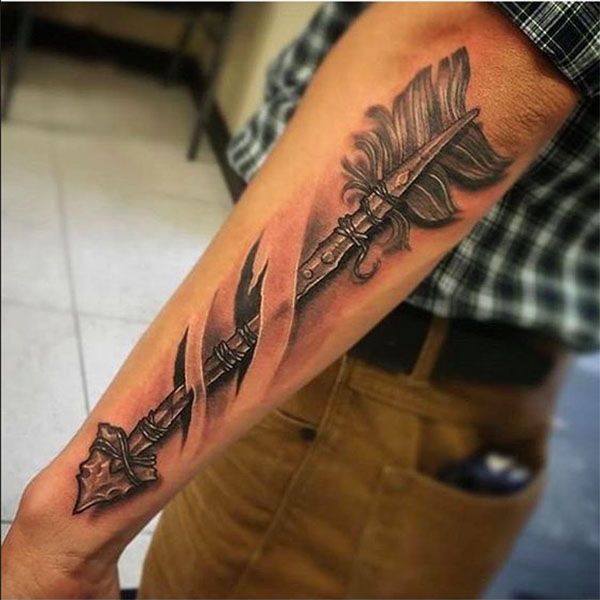 You can head in the right direction every time by getting an arrow sleeve tattoo. This piece signifies guidance, reminding you always to move forward. You can ink traditional darts on your arm or get something more modern – and geometric. You can also think outside the box and get a design that incorporates a 3D art style.
19. Jesus Sleeve Tattoo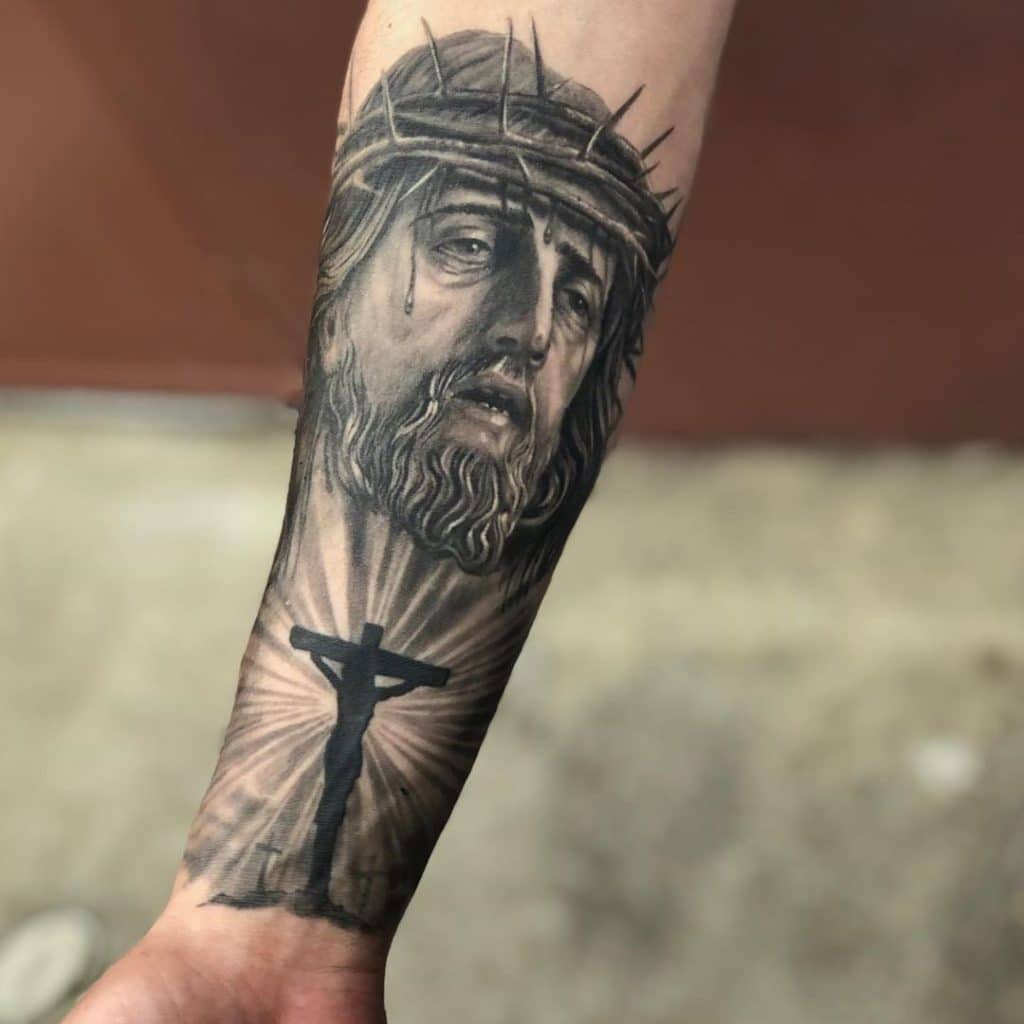 Christian men can show their love and devotion to their faith with a Jesus sleeve tattoo. You can choose to have Jesus as the centerpiece or alongside other elements of your tattoo. The most common features added to a Jesus sleeve tattoo include the holy cross and Bible verses. 
20. Traditional Sleeve Tattoo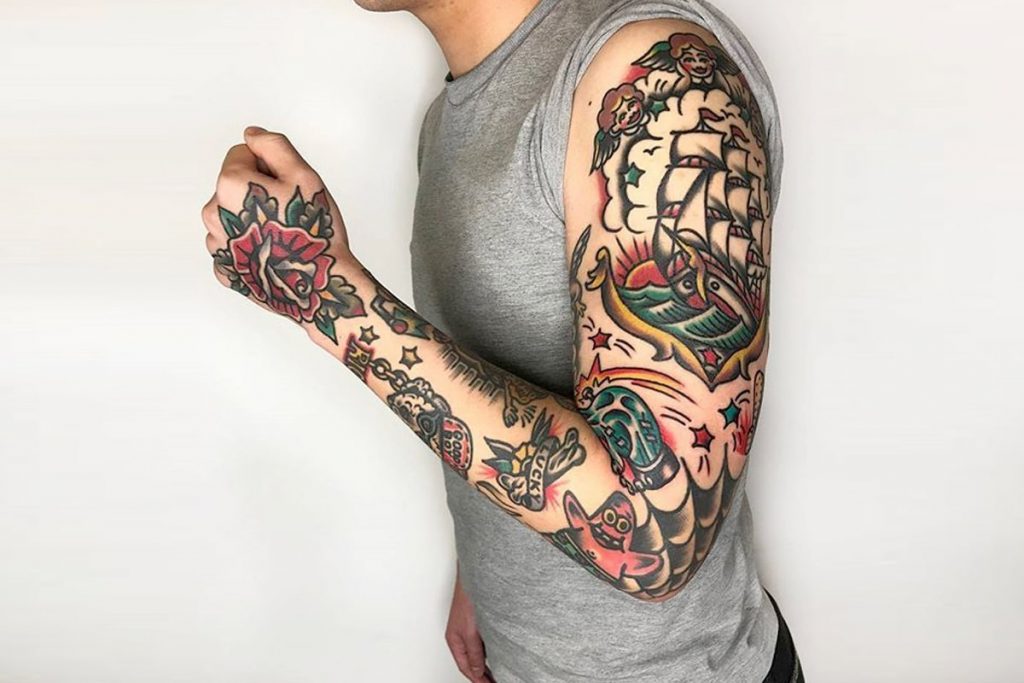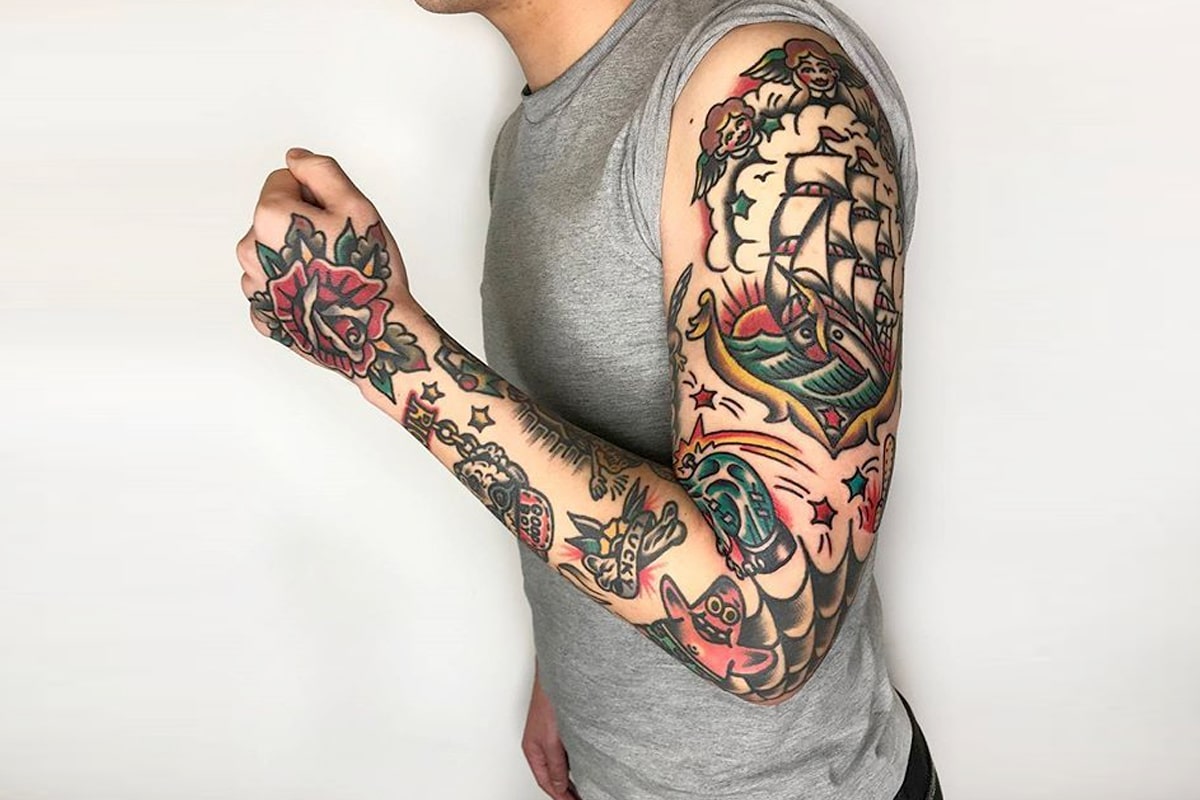 Traditional sleeve tattoos are among the first incarnations of body art in history. Luckily, they remain as some of the best large tattoo designs after several centuries. Most traditional sleeve tattoos use imagery tied together by an authoritative art style. Sleeve tattoos often combine unconnected small tattoo ideas into one.
21. Tribal Sleeve Tattoo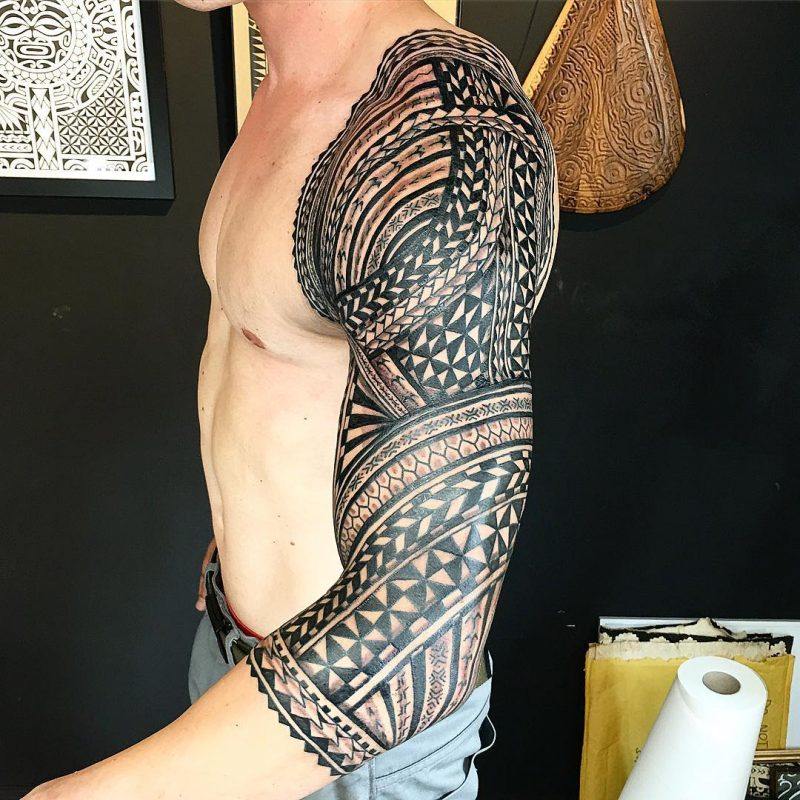 You can let your pride and adoration for your heritage shine through by getting a tribal tattoo. There's no better way to let your tribal design stand out than getting it inked over your entire arm.
22. 3D Sleeve Tattoo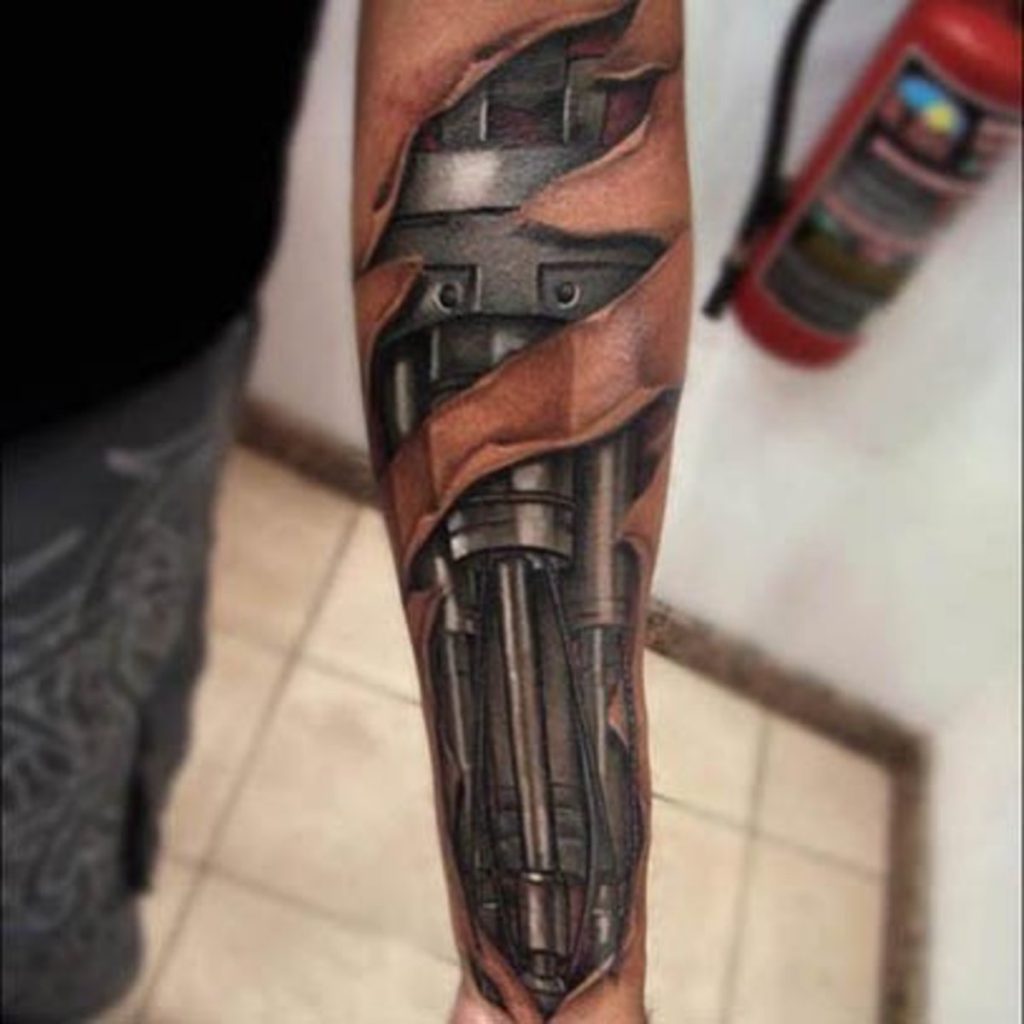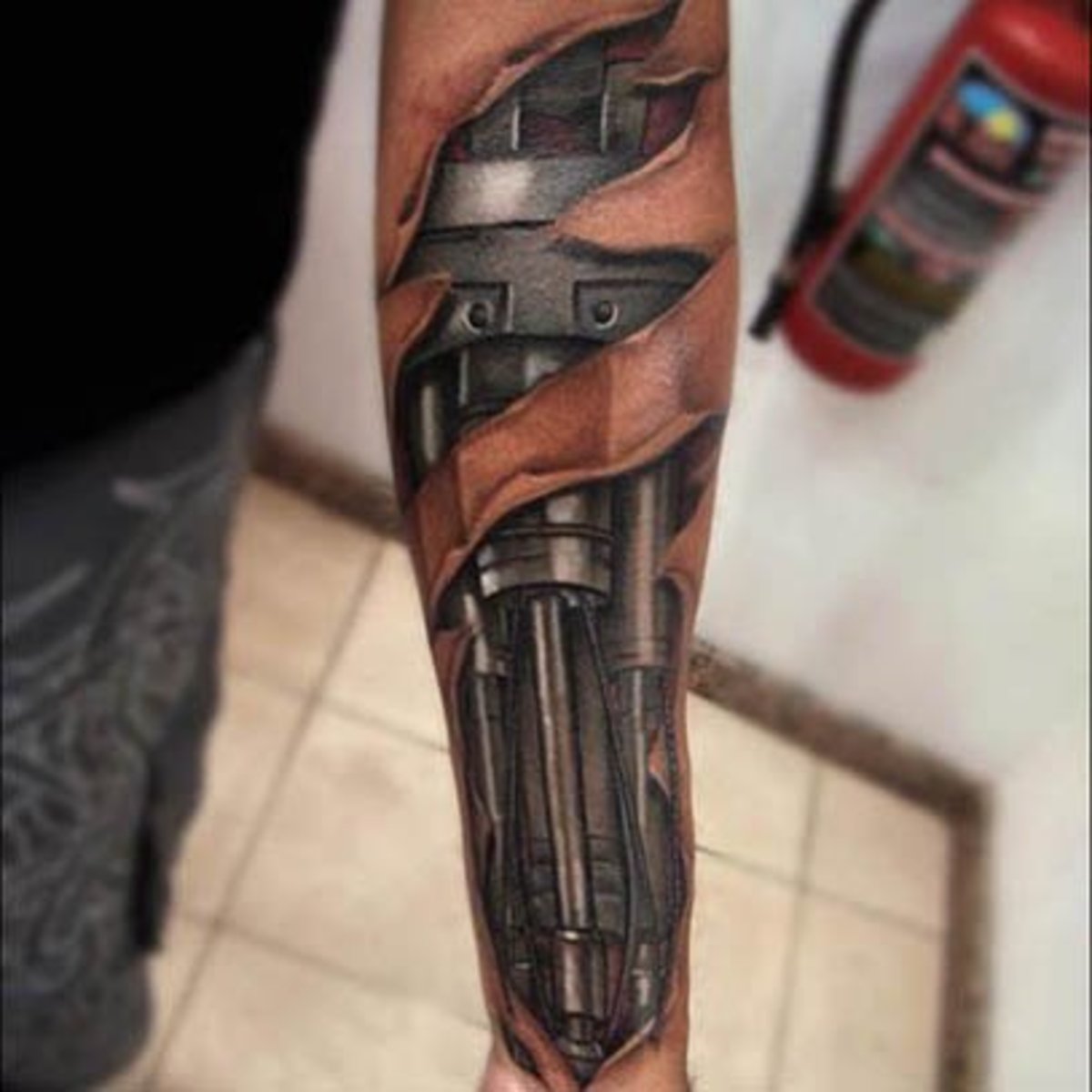 One of the best ways to make your sleeve tattoos stand out more is by having it inked in 3D. Some popular design examples include portraits of family or biomechanics.
23. Celtic Sleeve Tattoo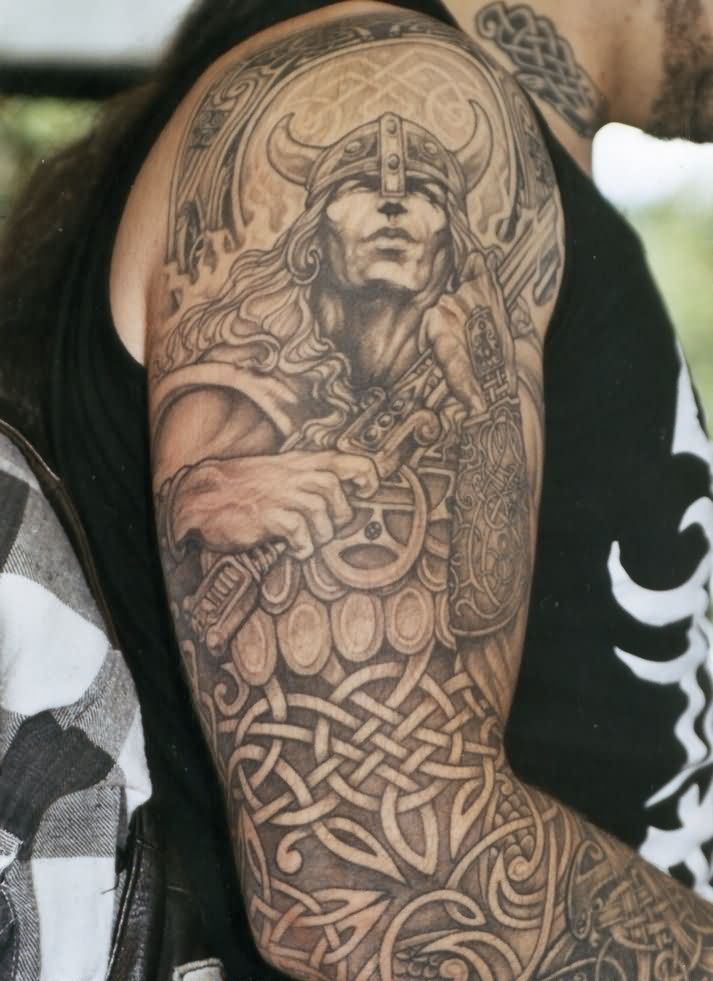 You can express your love for the Celts by getting a Celtic-themed sleeve tattoo. This Indo-European tattoo design consists of traditional intertwined patterns and knots. It can also include ancient warriors and weaponry like the battle-axe.
24. Japanese Sleeve Tattoo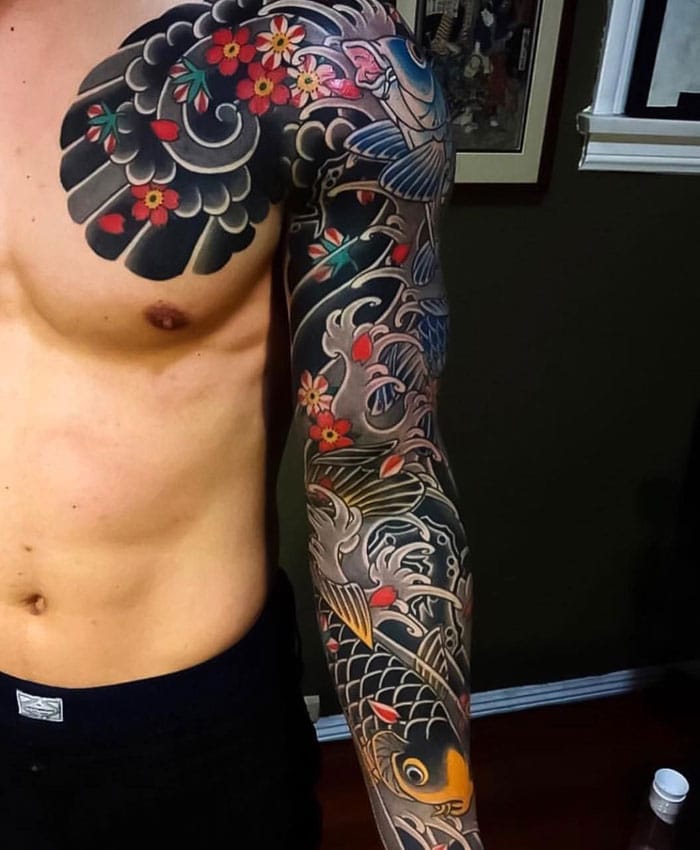 There's always been something different about Japanese tattoos. They usually have colorful and outstanding linework designs and art that's based on their culture and mythology. One of the most popular motifs for Japanese sleeve tattoos are Koi fish and lotus flowers. Men who want a colored piece should consider this design. 
25. Abstract Sleeve Tattoo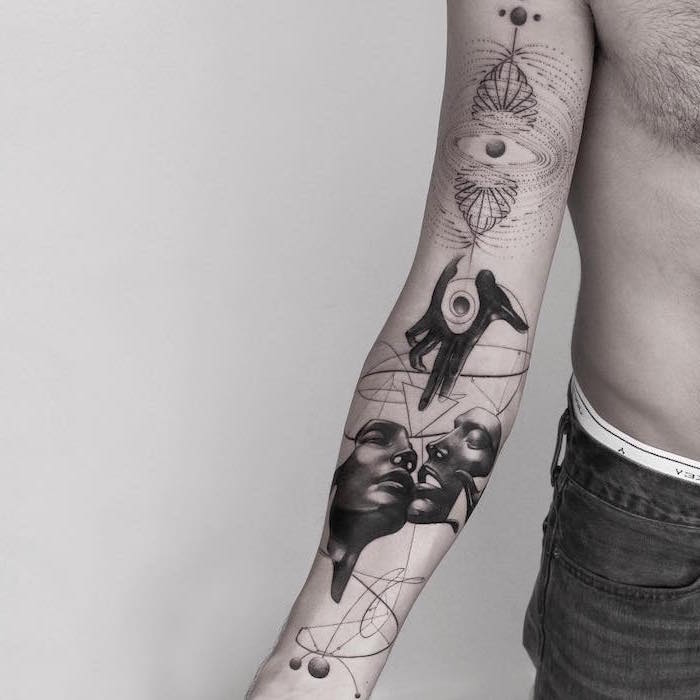 Not every tattoo has to be a traditional one. Abstract pieces can push your creativity to the limit. There are no rules with this design. All you need to do is explore your creativity and let your imagination run wild. Whether it's fun or thought-provoking imagery, you can never go wrong with abstract art. 
26. Watercolor Sleeve Tattoo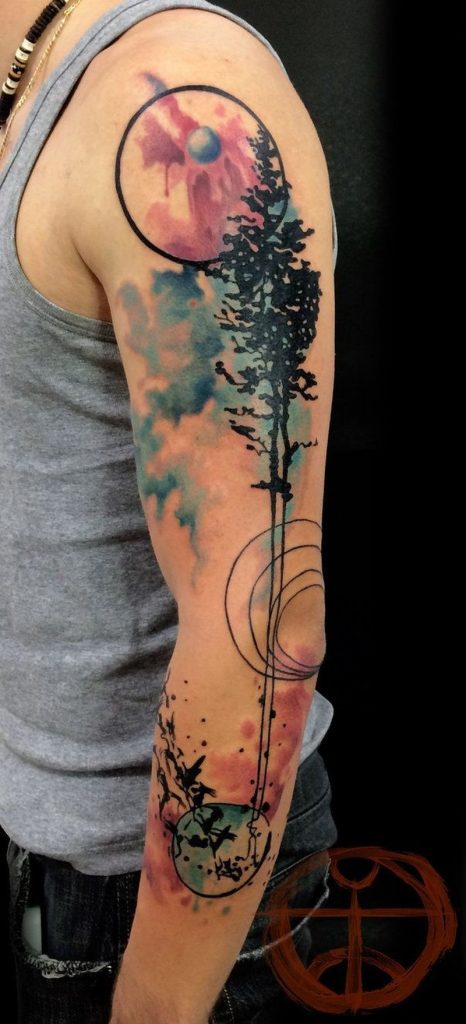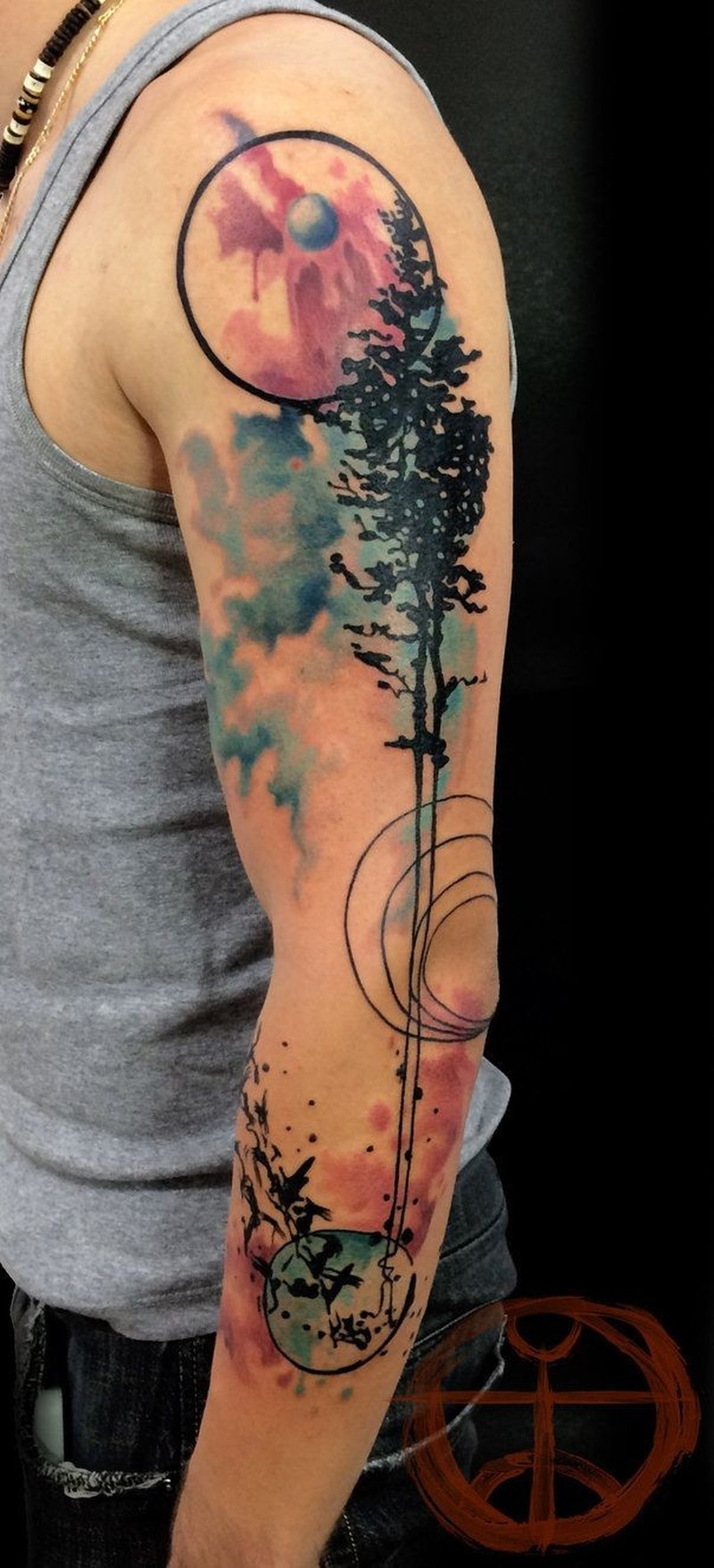 Mimic the effect of a watercolor painting on your arm to reveal your artistic side. These can look wonderful, just be aware that they are more likely to fade over time compared to other tattoos, and they also won't be as easy to touch up in the future.
27. Nature Sleeve Tattoo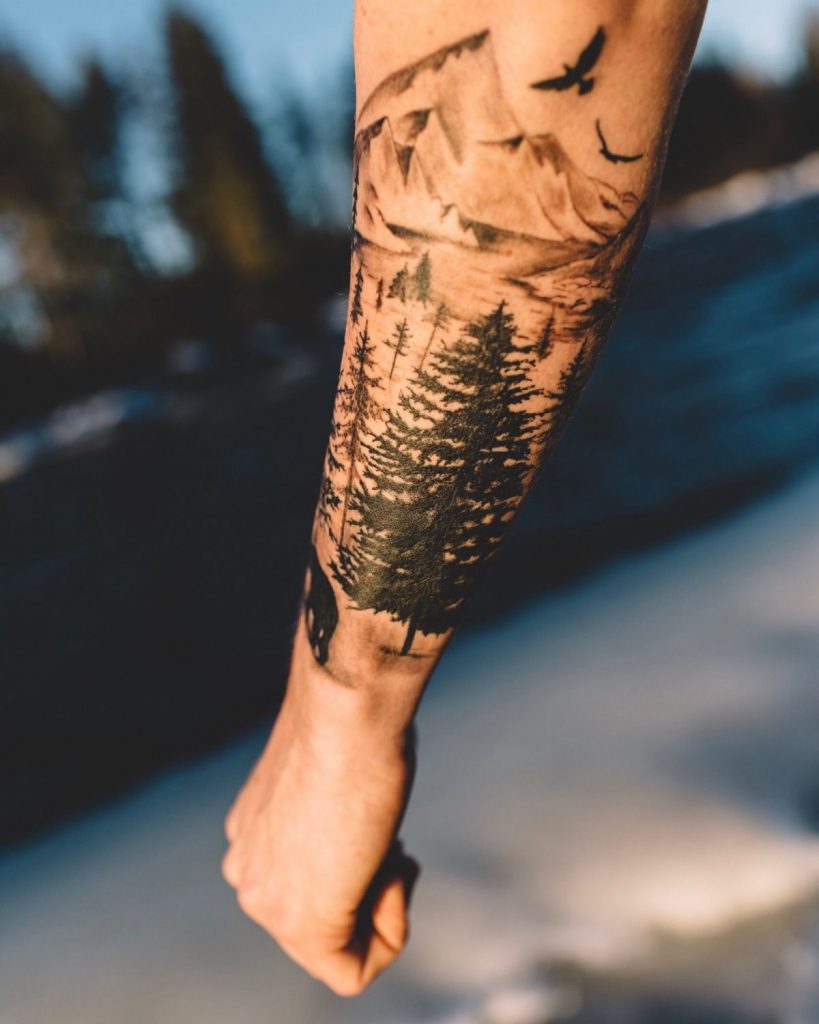 Embrace your love for Mother Nature and plant life by getting a nature-themed sleeve tattoo. Fauna, flora, and everything in between make the best artwork. These pieces look best with bold hues or traditional black ink. 
28. Mechanical Sleeve Tattoo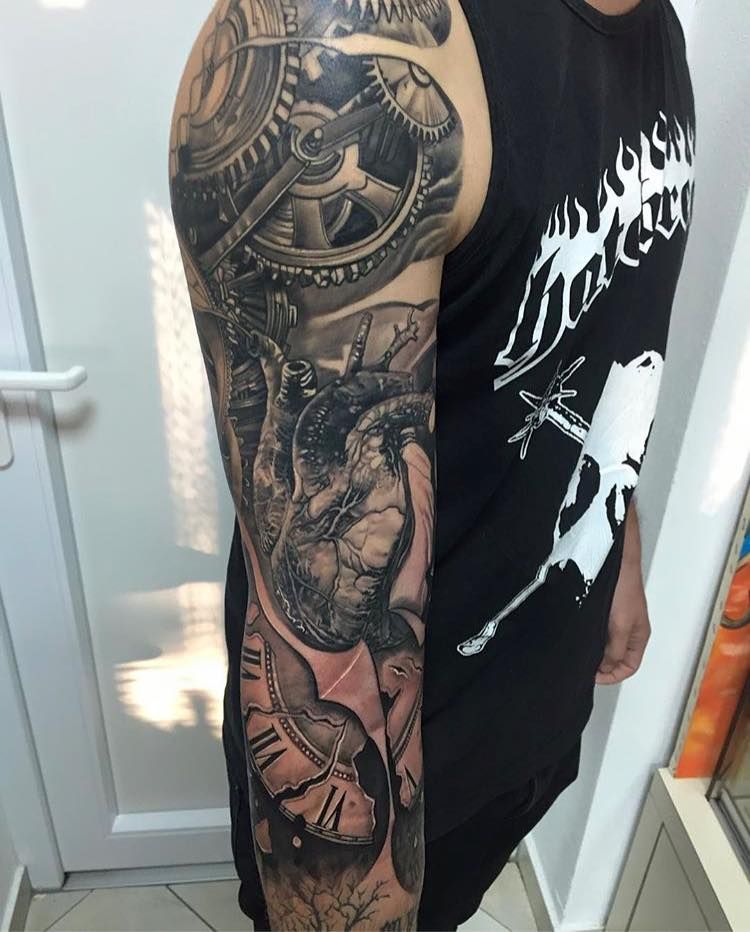 Mechanical tattoos can include combinations of steampunk and conventional motifs. You can choose motifs like a timepiece, or something more robotic. Have it inked as 3D art so it look like you're well oiled and ready for action. 
29. Blackout Sleeve Tattoo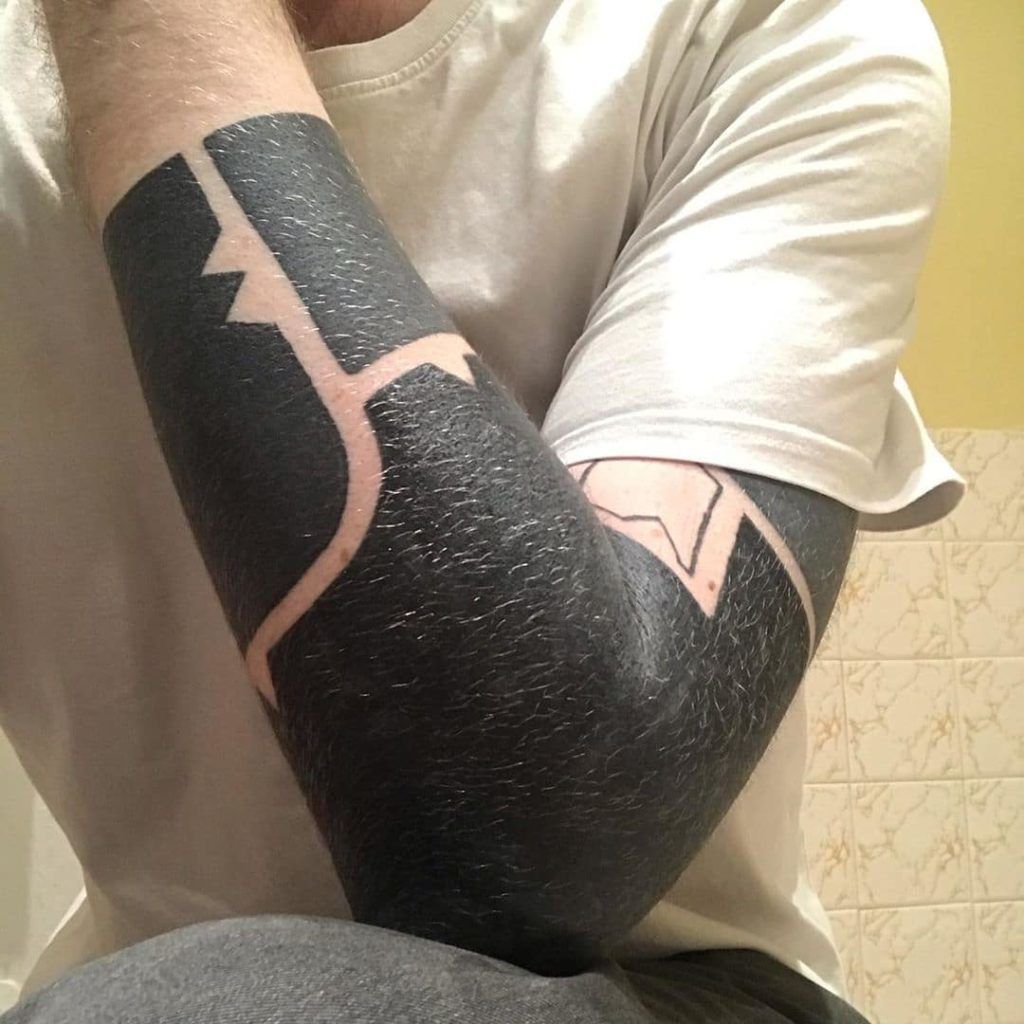 There's no rulebook when it comes to tattoos. For adventurous men who want to stand out, blackout sleeve tattoos are an option. But keep in mind that this sleeve tattoo can take a fair amount of time to complete.
30. Black and White Sleeve Tattoo
Tattoos don't need to be colorful to make an impact. Black and white sleeve tattoos are an impressive feat to portray on your skin. These are made from bold patterns, making them a good option for men who don't want to retouch tattoos often. 
FAQ
How Much Does A Tattoo Sleeve Cost?
Like any other tattoo, there's no fixed price for sleeve tattoos. Whether you're going for a full or half sleeve tattoo, the hourly rate or artists average around $100. But it still depends on the skill and tenure of the tattoo artist and the complexity of the sleeve tattoo. Generally, a full sleeve tattoo that takes around 10 to 15 hours can cost you anywhere from $1,000 to $1,500. However, if you go for a more complex design, it can go as high as $7,000. 
Do Sleeve Tattoos Hurt?
Sleeve tattoos do hurt. That's because you need to be under the needle for several hours per session. You need to come back for several sessions during the course of a few weeks to months. All this depends on the complexity of your chosen sleeve tattoo design. Although the pain is different for each person, many people report feeling the most pain around certain areas. These include the elbows, wrists, and armpits. 
Where Do I Begin to Get an Arm Sleeve Tattoo?
Most artists start around the shoulder if your arm doesn't have any tattoos for a sleeve tattoo. Then they'll work their way down and fill the blank spaces in. Although that's the standard way, other people want to start the other way around. That means artists and customers choose to start from the wrist up. Essentially, both follow the same principles despite being opposite of each other. Either way, by starting on end, you can map out the rest correctly. Finally, don't forget to discuss a flow plan with your artists for a smoother process. 
Why Do Guys Get Sleeve Tattoos?
Most men get sleeve tattoos when they want to go all out on an arm tattoo. Plus, men with ink aren't afraid of being upfront about their feelings or emotions. So that means they wear their heart on their sleeves. In this case, a tattoo sleeve. Overall, tattoo sleeves allow men to express themselves through art.